Content and revenue analytics for affiliate marketers
Affilimate helps affiliate marketers track, monitor, and grow their porfolio of content sites with data instead of guesswork.
Start free trial
Book a demo
Free 15-day trial · No credit card required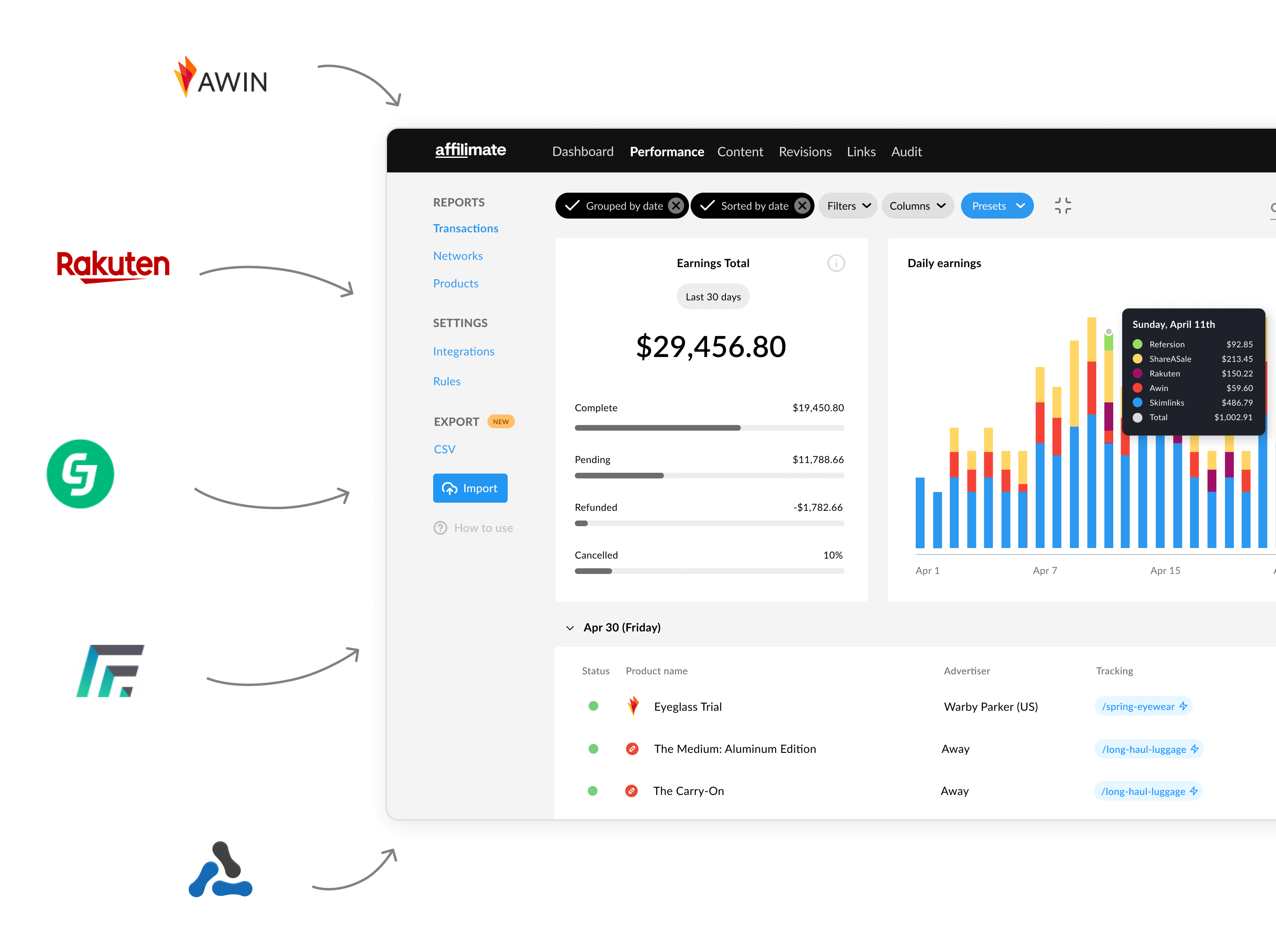 How Affilimate can help you today.
Say goodbye to half-baked spreadsheets, missing data, and working off of hunches to grow your affiliate revenue.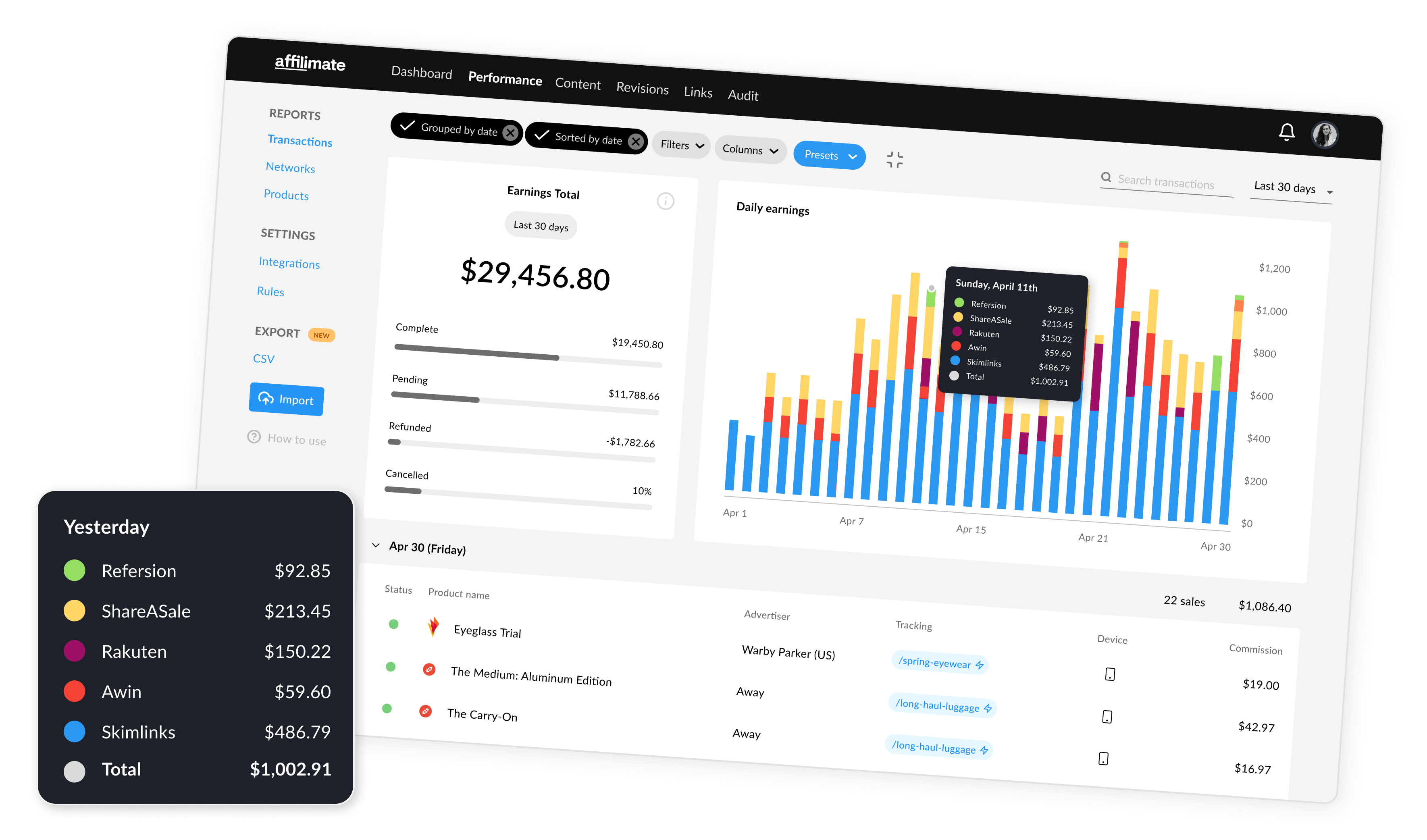 Unified Reporting
Aggregate all your affiliate commissions in one place
Save time by logging into one easy-to-use affiliate dashboard that can aggregate conversions from different networks into a single, unified format.

Use our reporting presets based on popular requests, or create custom reports from scratch.
Multi-site Support
Oversee revenue from multiple websites in one place
Running multiple sites or monitoring a portfolio? Get an at-a-glance understanding of how each of your sites are performing in a shared dashboard.

Collect them in a single workspace, or divide them among several workspaces for different clients or companies.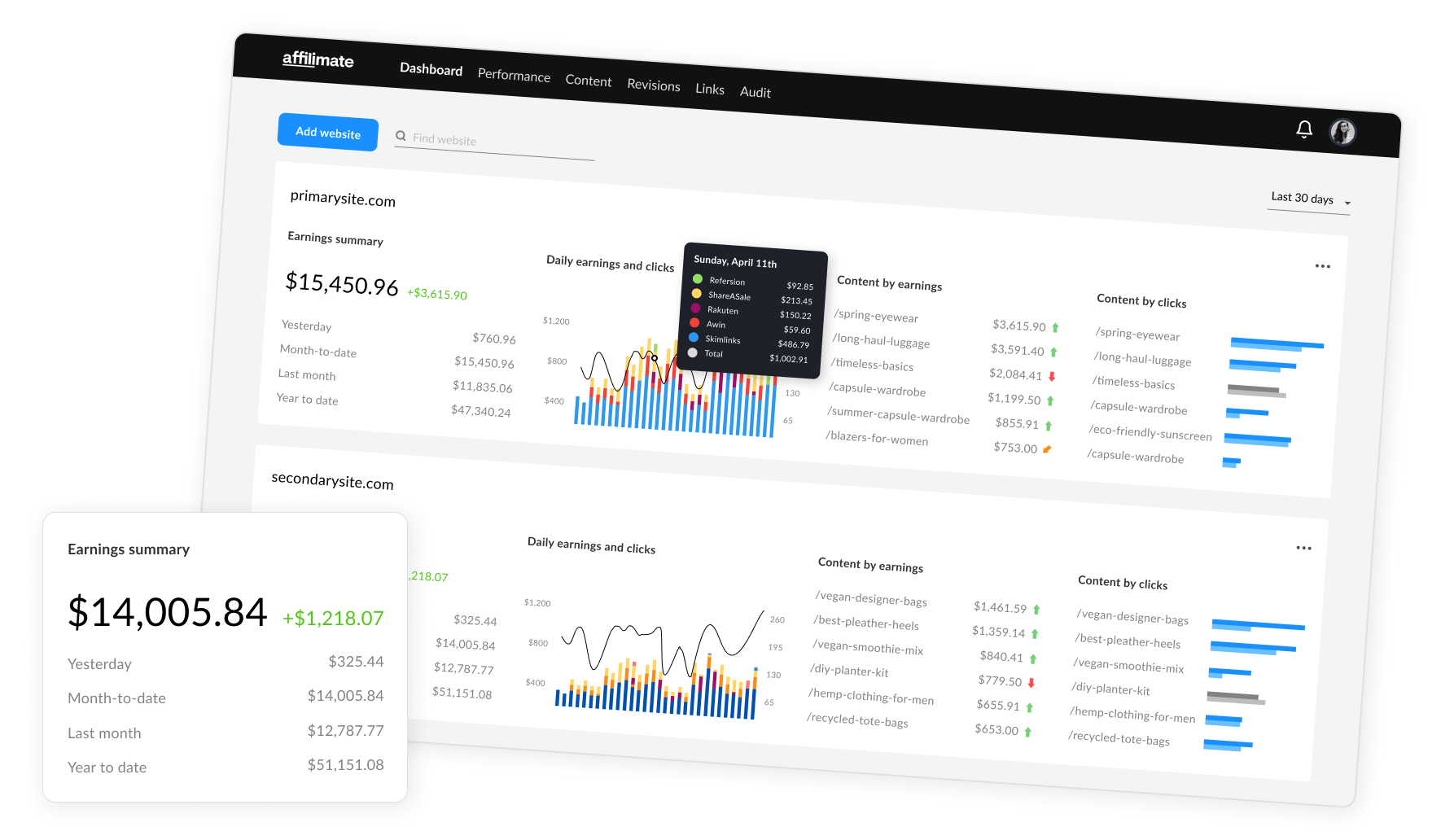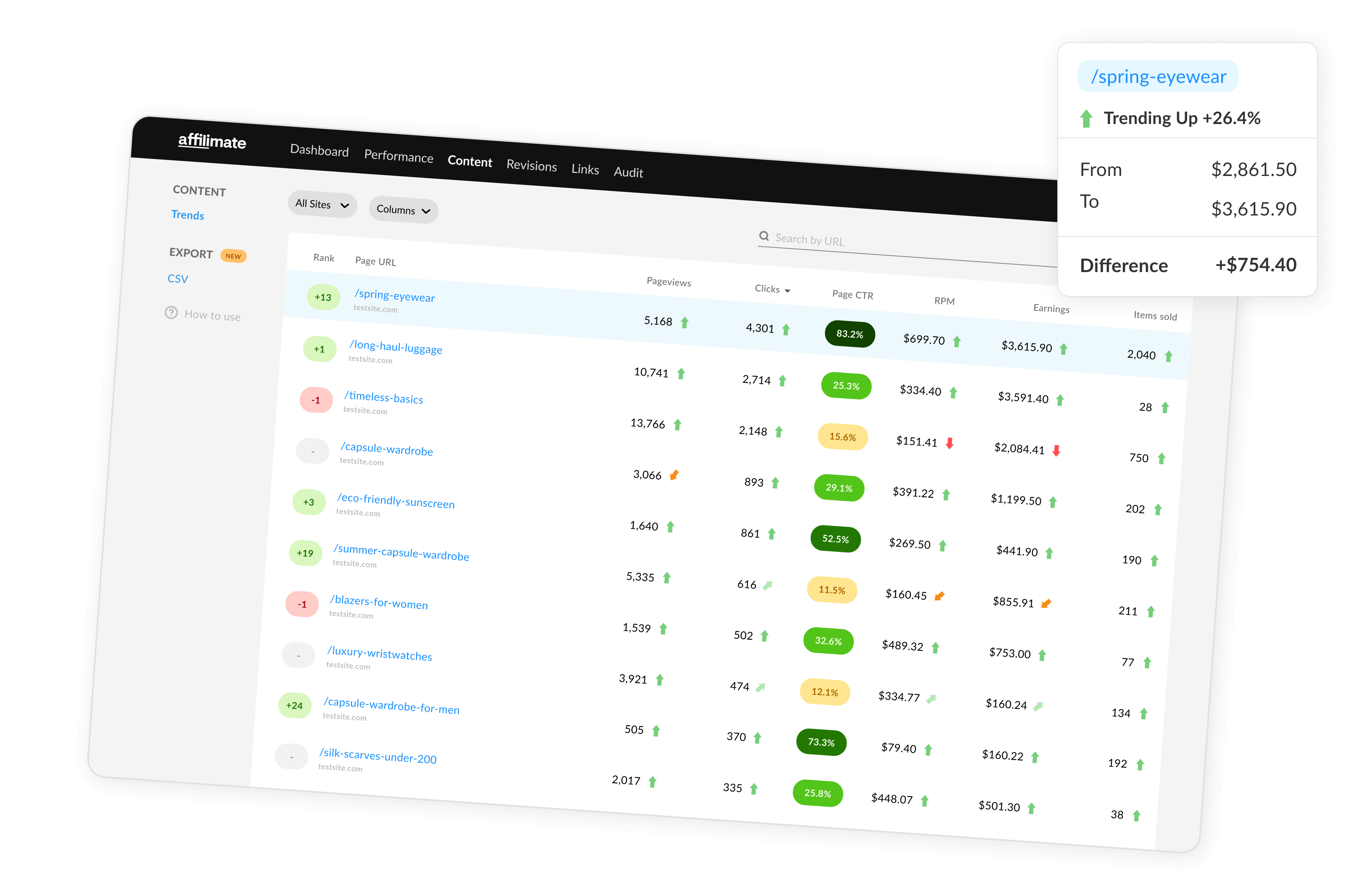 Revenue Attribution
Track which content generates the most revenue. Automated, at scale.
Use Affilimate's content analytics and revenue attribution to find which content and products generate the most revenue, across affiliate programs.

Don't miss out creating more high-converting content because you don't have the right tracking in place.
Amazon Affiliate Link Checker
Stop losing sales to missing or out-of-stock products
Automatically check your Amazon affiliate links on a recurring basis and get notified if any are broken, out of stock, or have other issues that may affect your conversion rate.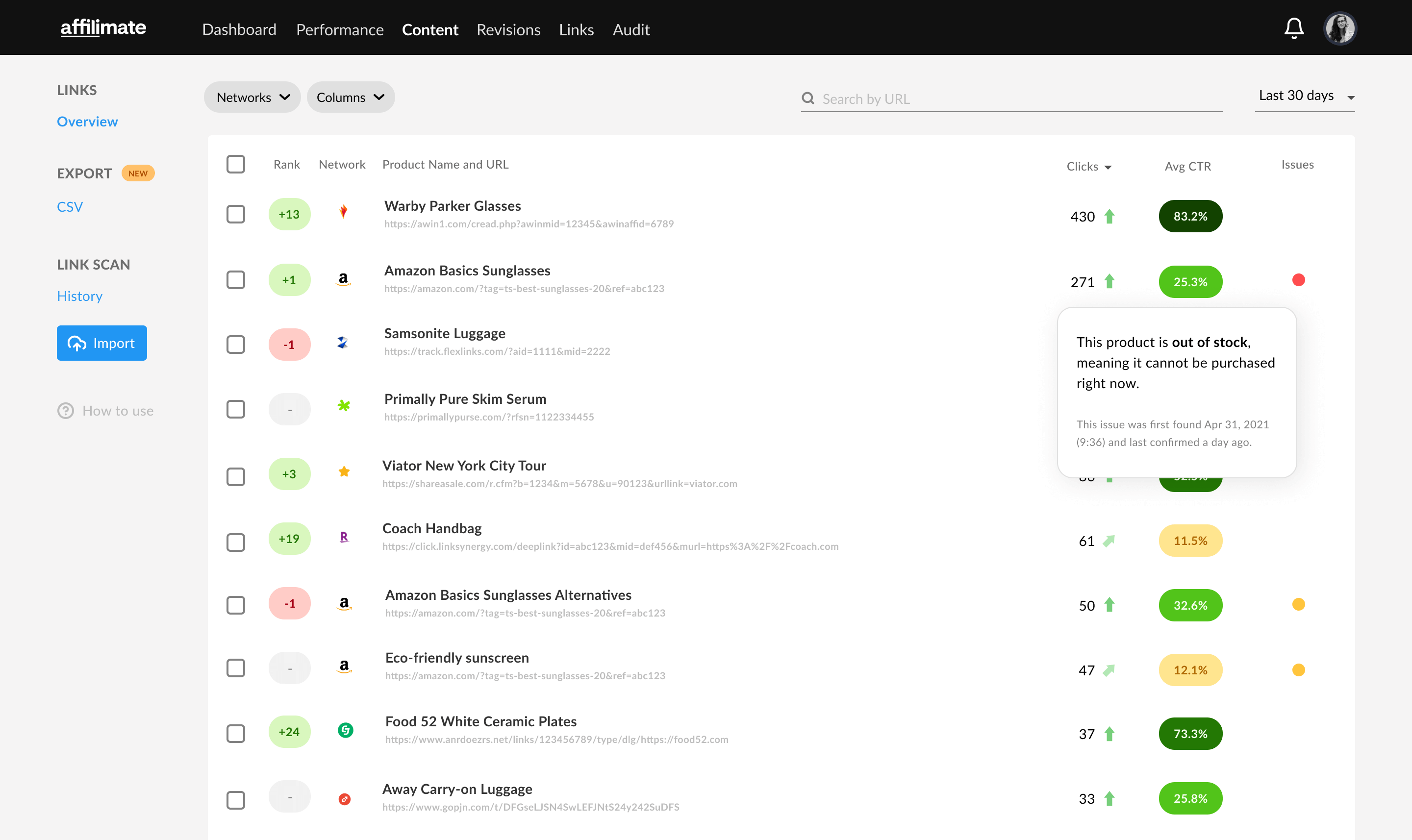 Looking for more? Affilimate also supports editorial teams, revision tracking, email reports, and more to help you grow.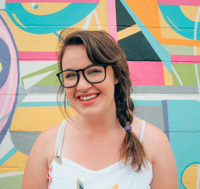 "Affilimate is such a powerful affiliate marketing tool.

Being able to combine reports from multiple affiliate platforms, plus the vastly improved analytics and insights into which content and products perform best — I'm a huge fan."
Lia Garcia, Founder of Practical Wanderlust
Ready to meet you where you are
Our team is here to help every step of the way
Tech Setup
Use our conceirge setup service to get all your sites and networks setup with low effort on your team.
Individual Onboarding
We'll work with you personally to get your site in optimal shape for tracking with specific recommendations
Team Training
Get your editorial team up to speed with training material tailored to your website and workflow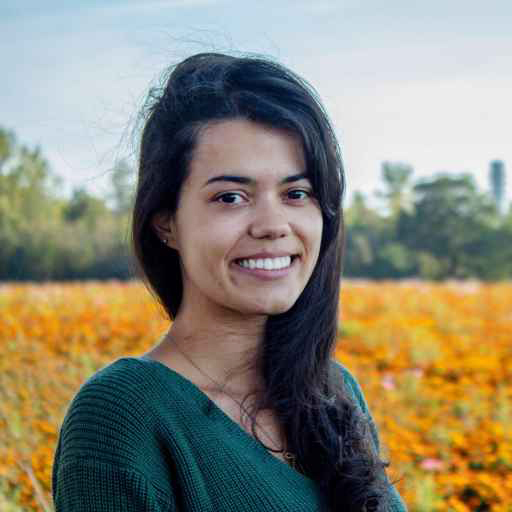 "I've been using Affilimate for over a year and am blown away by the reports' level of detail — advertisers, products, which page converted, and more, all in one place.

It helps us know exactly what is working in our affiliate strategy."
Bruna Venturinelli, Founder of I Heart Brazil
Built for portfolios of all sizes
Costs less than hiring a VA or paying for content that doesn't convert
Paid Monthly
Paid Annually

2 Months Free
Monthly pageviews
Up to 500K
Free 15-day trial · No credit card required
Start free trial
Book a demo
Everything you need to grow your revenue
Get access to powerful affiliate tracking and optimization features, from day one.
Content Analytics
Analyze your visitor behavior and optimize your affiliate content's conversion rate.
Track multiple websites
Content Insights
Conversion Heatmaps
Revision History
Link Management
Track all the existing affiliate links automatically and ensure your Amazon products are in-stock.
Automated Link Import
Amazon Link Checker
Affiliate Dashboard
Aggregate commissions across sites, networks, and programs to compare and optimize performance.
Unified Revenue Dashboard
Product-level (SKU) Reports
Custom Reports
Reporting Presets
Email Reports
Network & Advertiser Reports
CSV Export
Pull data on-demand
Revenue Attribution
Attribute your affiliate revenue back to your content, automatically, at scale.
Dynamic SubID Tracking (Smart Labels)
Label Rules
Support and Training
World class support and training to help you leverage your data to make smarter decisions.
Email Support
Facebook Community
Frequently Asked Questions
How are pageviews counted?
Affilimate operates on a fair-use policy. That means, pageviews are only counted toward your limit if they contain at least one, tracked affiliate link.

Pageview limits can also be distributed across multiple websites. For example, you could track 3 sites, each with 30,000 pageviews per month, on the 100K plan.
What networks do you integrate with?
Affilimate integrates with 100+ affiliate platforms, and thousands of programs through our integrations.

You can find a complete list of all the affiliate platforms we support on our Integrations page, or check our Roadmap for upcoming integrations.
How many sites can I track in Affilimate?
All of Affilimate's self-service plans allow you to track multiple sites per workspace, as long as the cumulative traffic stays within your plan's pageview limit. You can track: 3 websites (100K plan), 10 websites (250K plan), 25 sites (500K plan), up to 50 sites on all higher plans.

If you have a larger portfolio to track, please get in touch with our sales team.
Can you track independent affiliate programs?
We can track many programs which appear independent, and use white-label affiliate software that offers an API for publishers, CSV reports, or other data extraction methods. Get in touch with us at support@affilimate.com.
How can I speak to someone from your sales team?
Simply email us at sales@affilimate.com! We're excited to talk about affiliate marketing and analytics with you, and see if our platform is a fit for your property.
I have other questions! How can I get in touch?
Simply contact us by email at support@affilimate.com. You'll hear from us within 24 hours, Monday to Friday.
Everything you need to get started
For publishers from 10,000 to 10 million monthly readers, and beyond
Tutorials and guides
Our Knowledge Base is full of step-by-step guides so you can learn to use your new analytics and tracking superpowers.
Personal support
Affiliate links and tracking can be a mess. We'll help you get your site in the best shape with individual advice.
No developer required
Most publishers can set up in minutes without a developer. Our video onboarding will show you the way!
---
Running a site or portfolio with over 1M monthly visitors? You're invited to:
Book a demo