Think affiliate marketing is dying out? Think again.
This Awin report from 2020 makes it clear, there's never been a better time to grow your revenue as a content publisher with affiliate marketing.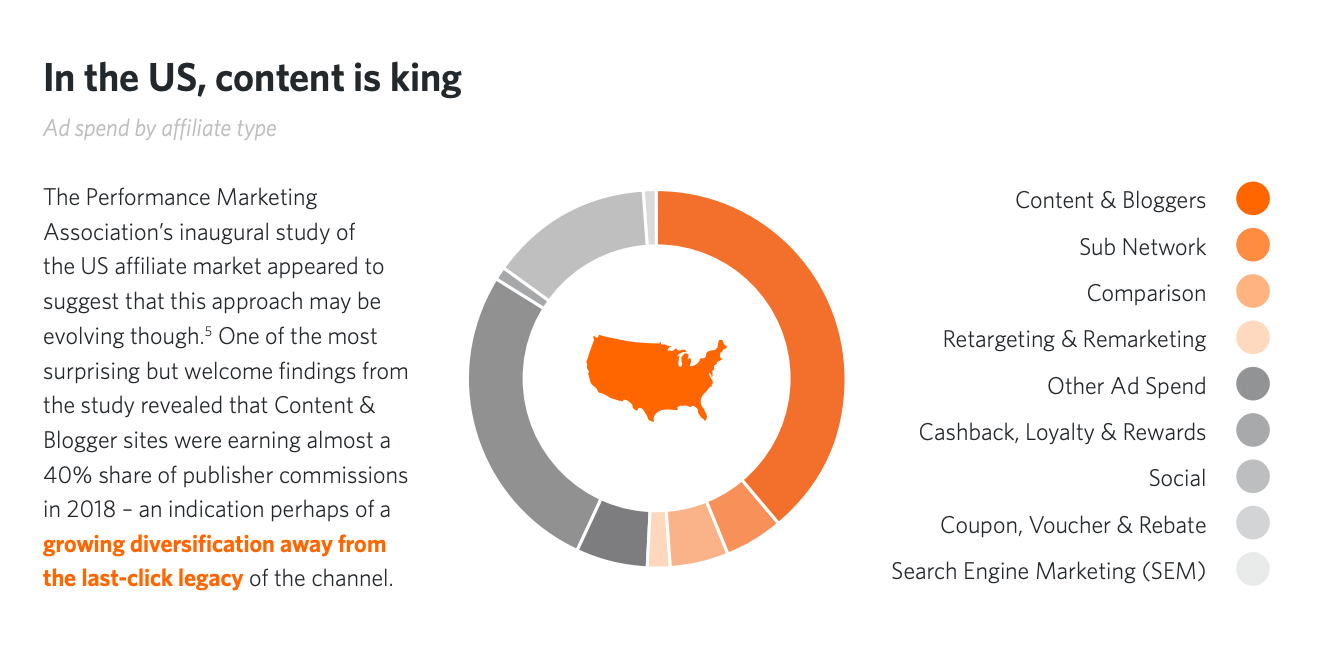 According to the report, content and blogs drive over 40% of affiliate marketing sales in the United States. And the opportunities to monetize content are growing.
Affiliate marketing spend is expected to hit $8.2 billion by 2022, a growth of $2.8 billion in only five years. But if you want to cash in, not all affiliate content is created equal. Driving consistent revenue for your business means focusing on evergreen content.
Unlike content based on trends, which come and go, evergreen content has a long lifespan and can drive revenue months or years after it's published.
So for this post, we talked to three expert affiliate marketers about how they grow their revenue with evergreen affiliate content. Keep reading to learn:
How to choose the right topic for affiliate marketing content
"Affiliate marketing is not as easy as just slapping links all over your blog or social media accounts," says Michelle Schroeder-Gardner, author of Making Sense of Cents, a leading personal finance blog that's been featured in Forbes and Business Insider.
Creating successful affiliate marketing content requires a strategy and it's one that starts with your audience in mind. Here's how to get it right from the beginning.
Step 1: Keep your audience front and center
Affiliate content can't just spark interest, it has to clearly explain why the product you're promoting solves a problem that your audience is experiencing. If you aren't sure what your audience needs (or don't have one yet), ask them. Using forums like Reddit or Facebook groups can help you understand what type of information is missing from the market and allow you to fill the gaps.
Step 2: Find solutions that work
When we talked to Tori Dunlap, money expert and founder of Her First $100k, she recommended starting with products you love or know will be useful. You don't need an affiliate link for every recommendation, but if it's something you talk about anyways, it's worth seeing if they have an affiliate program.
Step 3: Double down on SEO
You can have the best solutions to the most pressing needs, but if no one finds your content, it won't generate revenue. To start, your affiliate content should mostly target buyer intent keywords. These are keywords that appear in search queries when someone is planning to make a purchase. They tell you the information your audience is searching for when they are ready to buy.
Step 4: Consider legal and ethical obligations
Make sure you choose themes and products that you're proud to promote. Best practice is to include an affiliate disclosure stating that you are using affiliate links, so you want to make sure that what you're promoting aligns with your brand.
At the end of the day, great affiliate content marketing is like any other business - it's all about providing value to your customer.
6 Examples of Affiliate Marketing Content
Once you choose a topic that speaks to your target audience, here are six content ideas and affiliate marketing examples to inspire your content strategy.
Product Reviews
One of the simplest ways to branch into affiliate marketing is through writing product reviews.
Online reviews are a go-to source for people looking to make informed purchase decisions and 97% of consumers use online reviews before making a purchase.
When writing a product review, keep in mind that honesty goes a long way in building trust.
Since no product is perfect, sugar-coating the negatives can come off as salesy. Aim for a well-rounded review like the New York Times Wirecutter, which includes a section called "Where It Falls Short".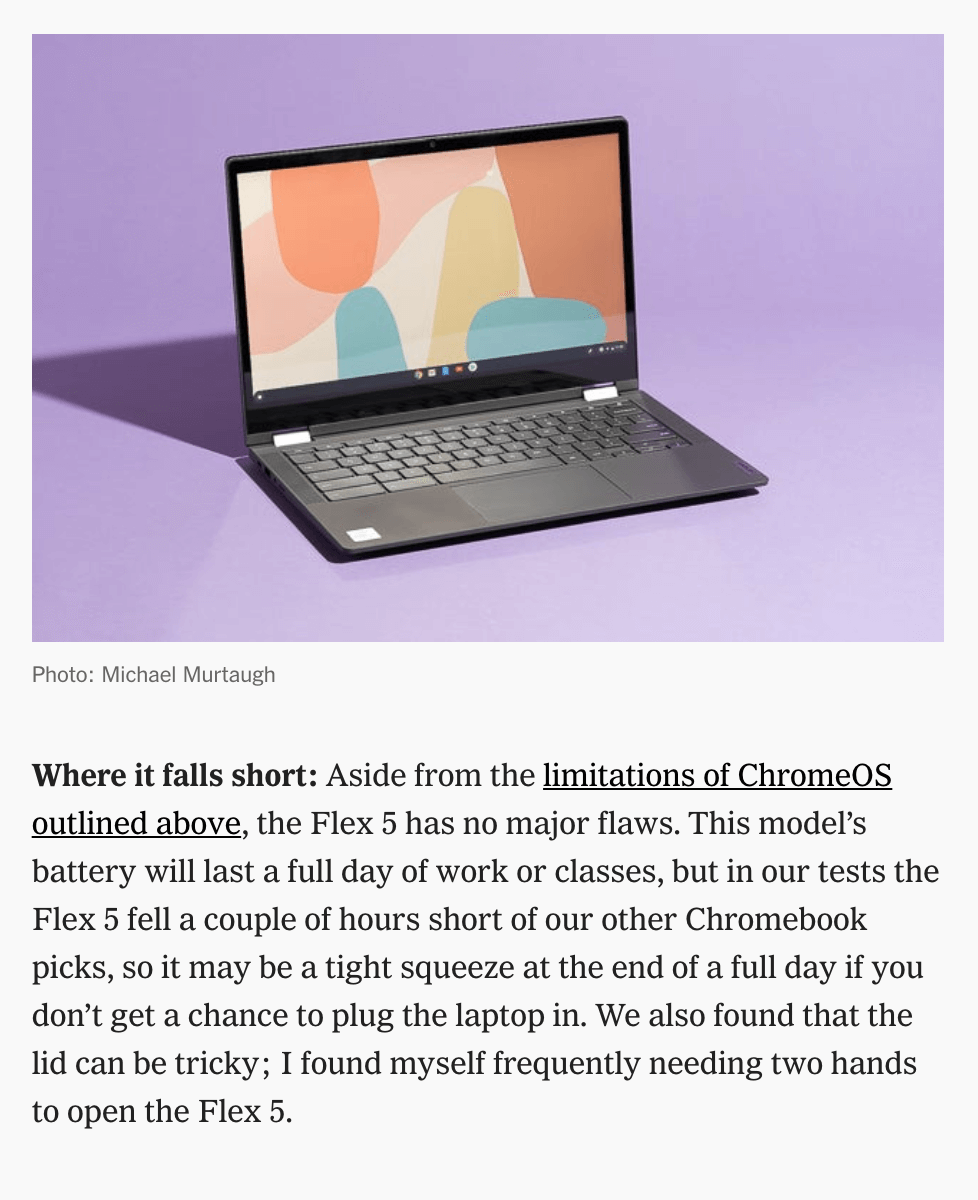 A section like this balances the review and advises customers on potential drawbacks of the product. This increases the chances that they will be satisfied with the sale. That means you get to keep your commission and they are more likely to come back for more reviews!
Product Comparisons
Product comparisons are another excellent way to create trustworthy affiliate content.
Placing similar products side by side gives buyers an overview of the pros and cons of each.
Our first tip is to make it easy for readers to understand the differences between products by creating a rubric for your criteria. For example, if you're comparing computers, you'll want to list which specs you're evaluating (storage, battery life, etc).
If you aren't sure what to include, start with the sales pages on the manufacturer's website or the sales page for the products on Amazon to see what metrics are included.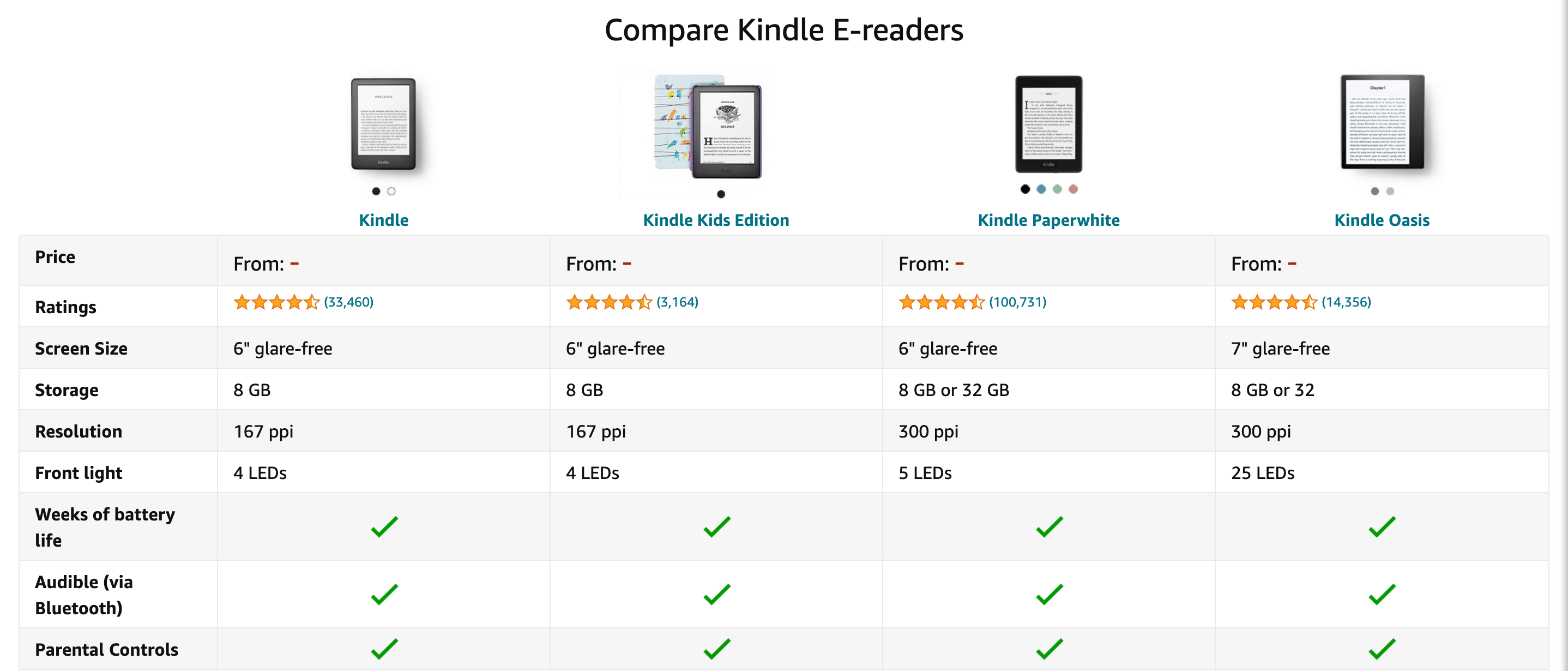 Also keep in mind that many readers skim reviews, so using visual explanations to give the TL;DR version of the review can be useful. In this example from PC Mag, both the rubric and the comparison are very clear. The rubric is the criteria in the first column (price, processor, storage, etc.), which makes comparing the phones quick and easy.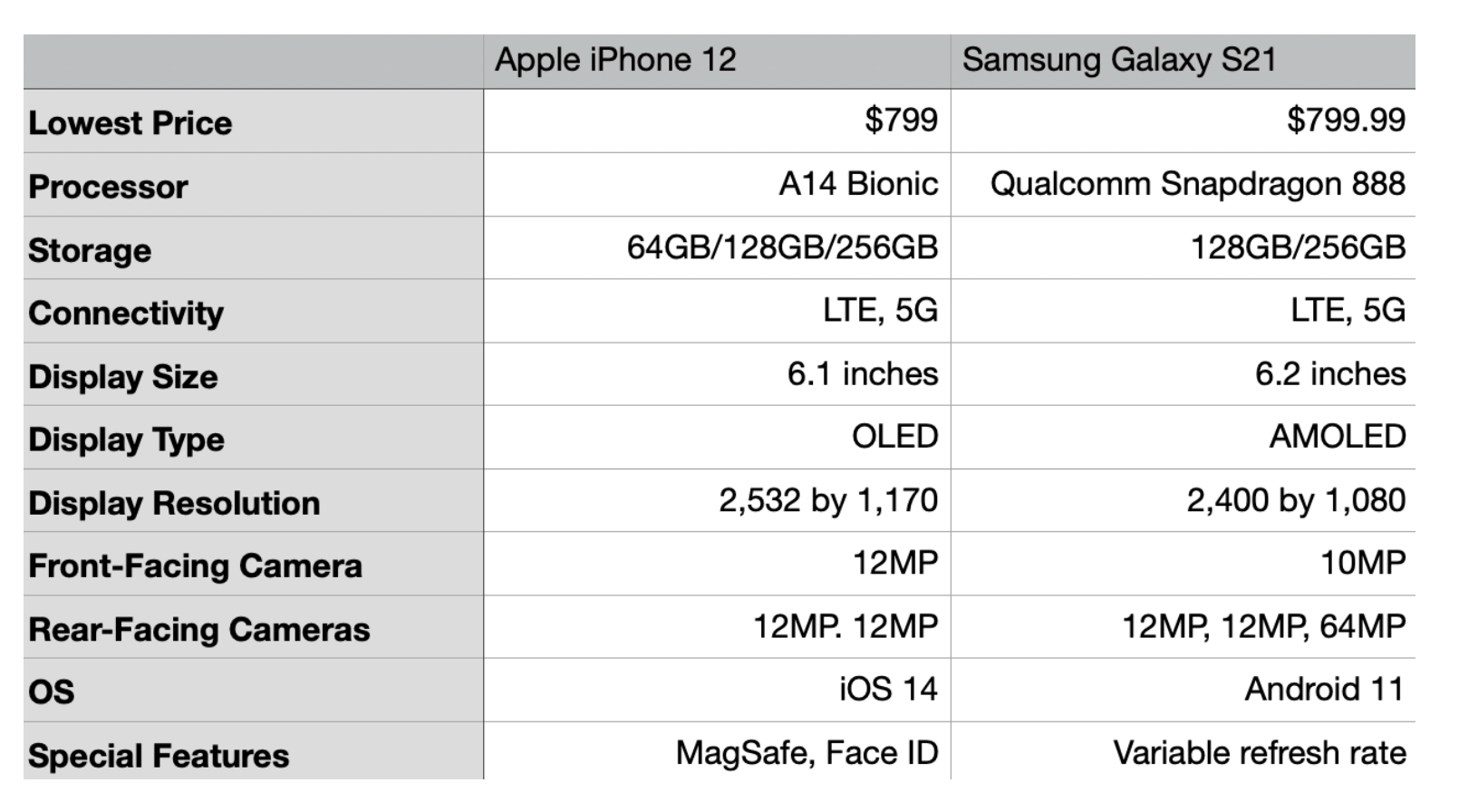 Product comparisons should be relatively straightforward because the readers are close to the end of the buyer's journey. They already know what they need and why they need it. You're just there to swoop in and help people make the final evaluation.
Product Roundups
Product roundups are effective because they can lead different readers to different products. This means your affiliate revenue doesn't necessarily rely on one link.
With that being said, clearly highlighting your recommended product will drive more conversions because it makes it easy for a reader to make a decision.
For example, in this subscription box round up by Byrdie, the very first box listed is the "Best Overall".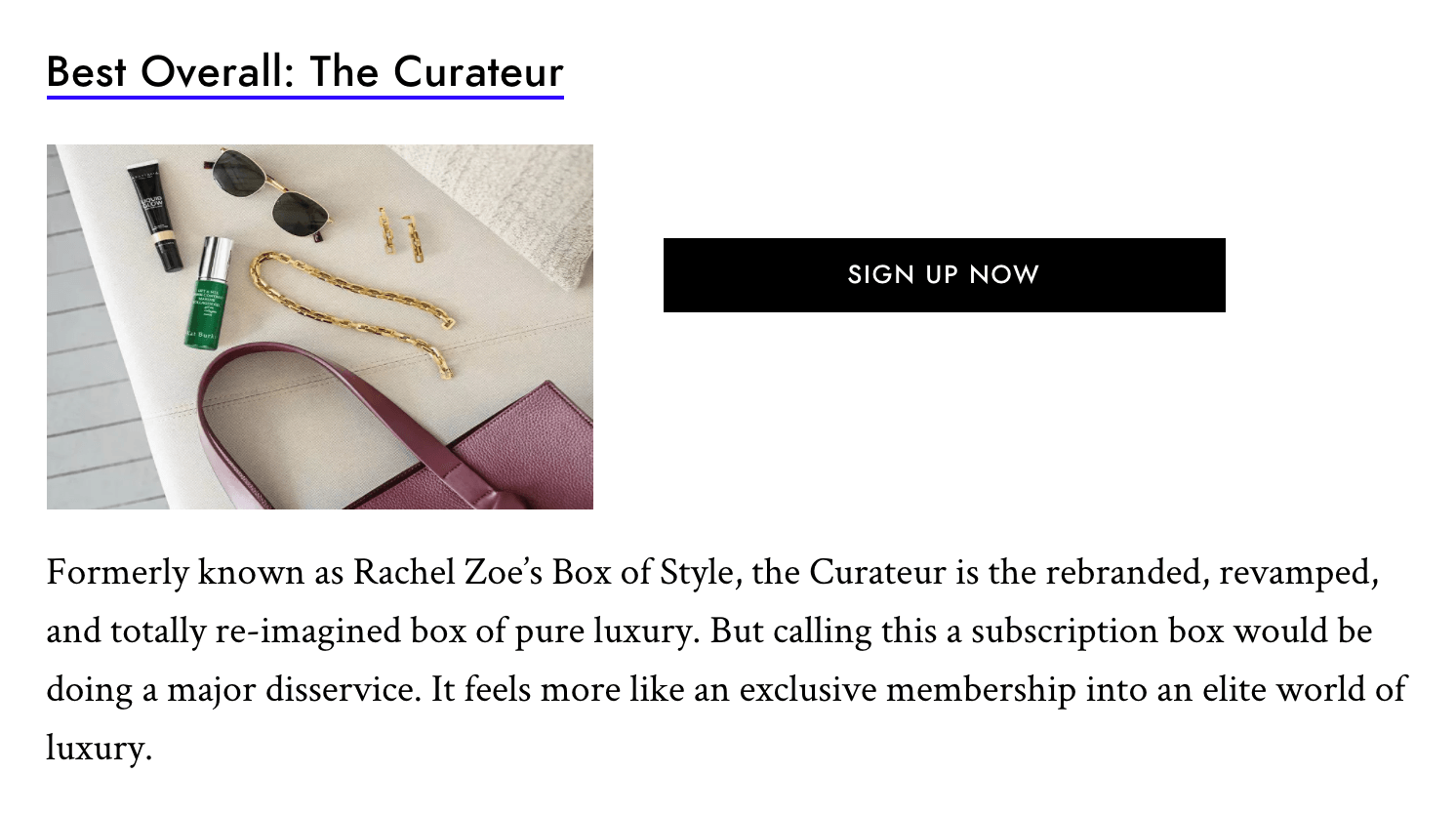 They also include boxes that are best for specific needs, but The Curateur is the clear winner and will likely convert more readers than the other recommendations.
The big difference between product roundups and the product comparison is that the products are sometimes different enough that they can't be evaluated on the same "rubric". If it's tough to do a side-by-side comparison, it makes sense to do a round up instead.
The key to this affiliate marketing strategy is to base your roundup around a specific theme or category that relates to your audience. Refer to your buyer intent keywords to determine what products your users might be looking for, then use those keywords in your headline.
Some headline ideas to get you started:
Top [number] best [product] for [demographic]

Example: Top 8 Best Credit Cards for Teenagers

The best [specific product type] in [year]

Example: The Best Android Phones in 2021

[Number][product] to help you [goal]

Example: 8 Software Subscriptions to Help You Start Your Small Business

[Number][product] to [verb] on your next [activity]

11 Dresses to Pack on Your Next Vacation
Email Marketing
Building an active, engaged email list is a step most publishers overlook: but it's the single most effective channel for getting repeat sales as an affiliate.
Using email affiliate marketing as a way to drive traffic to affiliate content can look like crafting emails as standalone pieces designed to convert directly, or linking back to your existing content (blogs, tutorials, etc). But whether you should link directly in your emails depends on the rules of the network or advertisers you're working with.
For example, Amazon does not allow affiliate links in email. In these cases, it's best to incorporate links to either a blog or landing page within your newsletter.
Either way, you can get creative with monetizing your newsletter with affiliate content:
Adding relevant affiliate links to your Welcome Series
Including a "Recommendations" section in your regular emails
Creating an email course
Rounding up your existing product reviews
Highlighting a product you find especially useful
Regardless of how you choose to present your content, make sure that you continue to provide value in your emails. If your content comes off as inauthentic or salesy, users are more likely to unsubscribe or mark the email as spam.
Resource Pages
A resource page is a compilation of your favorite tools and resources. It helps your audience find all the information they need in one place without wading through text. But it's not just a list of random links - your resource page should have a theme and preferably help your reader accomplish a specific goal
For example, the Minimalist Baker has a resource page that gives readers tools to "build an efficient, well-designed, successful food blog." It's not only clear that the page is meant for food bloggers, but it also distinctly calls out readers who have the ambition to run a "successful food blog."

There isn't a lot of room to persuade the reader on a resource page, so knowing exactly who you're talking to and what they're looking for is key.
Keep in mind that users who end up on your resource page typically don't have a strong buying intent. While it's a great way to get all your links in one place, the conversion rate won't be as high.
Tutorials
Showing buyers exactly how to use a product establishes transparency and trust with your audience. Consumers feel more inclined to buy products when they understand how they work, so it's important that your audience feels confident that they will be able to use what you are promoting.
For example, a viewer who had never used an Instant Pot might feel intimidated by all the buttons, but when they watch the YouTube video, they are convinced of its ease-of-use.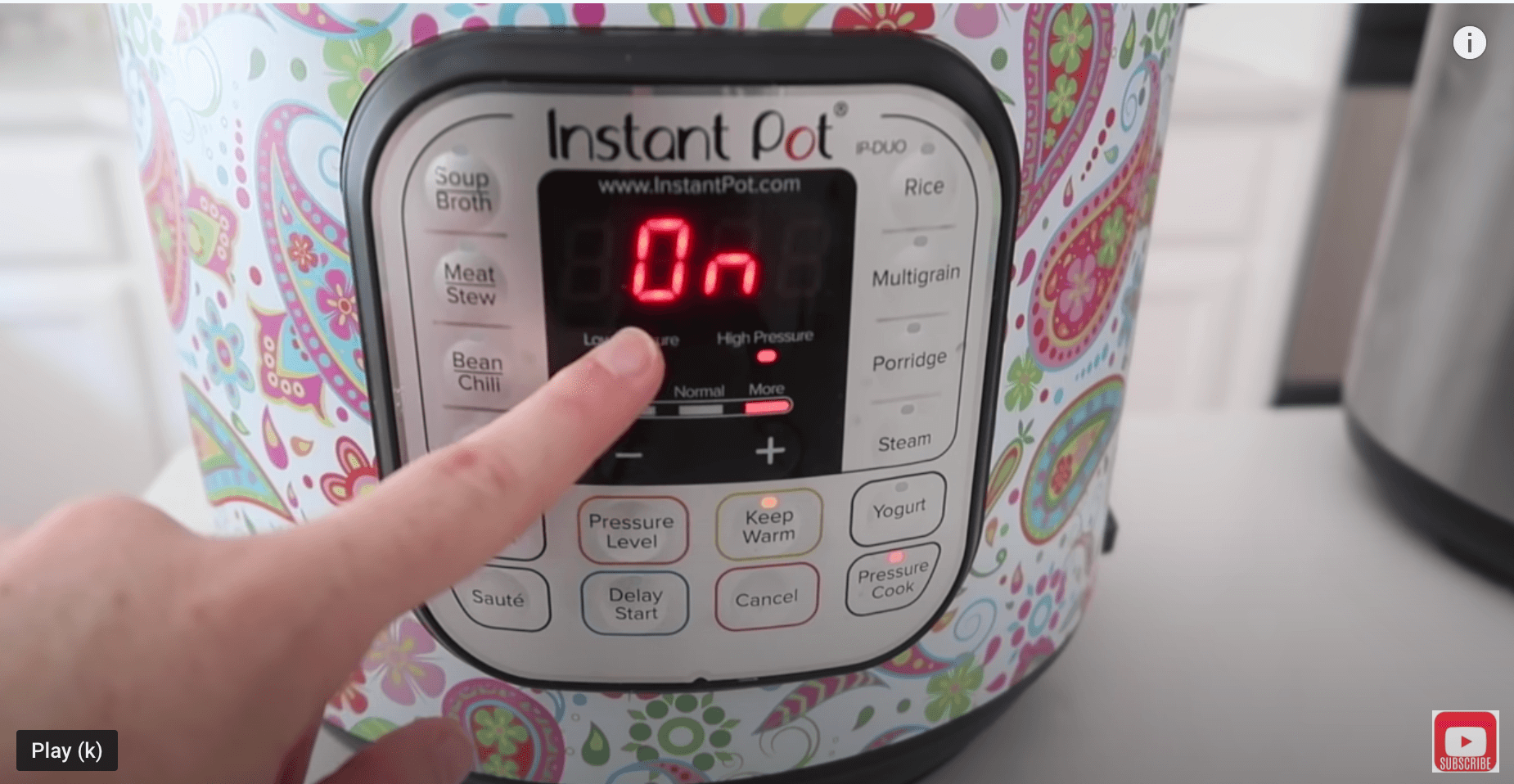 Usually, tutorial affiliate content comes in the form of solving a problem with a product. For example, "How to make chicken breast with a crock pot."
The goal is clear, and the product you're recommending is a way to make it happen.
Ebooks
Some topics are too big for an article or blog post. In this case, ebooks allow a deep-dive on a subject that your audience is interested in — while also building your email list.
Leanne Scott, founder of Passive Income Superstars, starts by including affiliate links within the ebook itself.
"When someone reads your ebook, it is because they hope it will solve a problem for them. If the affiliate products can go on to make solving that problem even easier, the conversion rates can potentially be quite high."
Then, she uses the ebook as an incentive. If readers purchase Convertkit using her link, they receive the ebook as a thank you.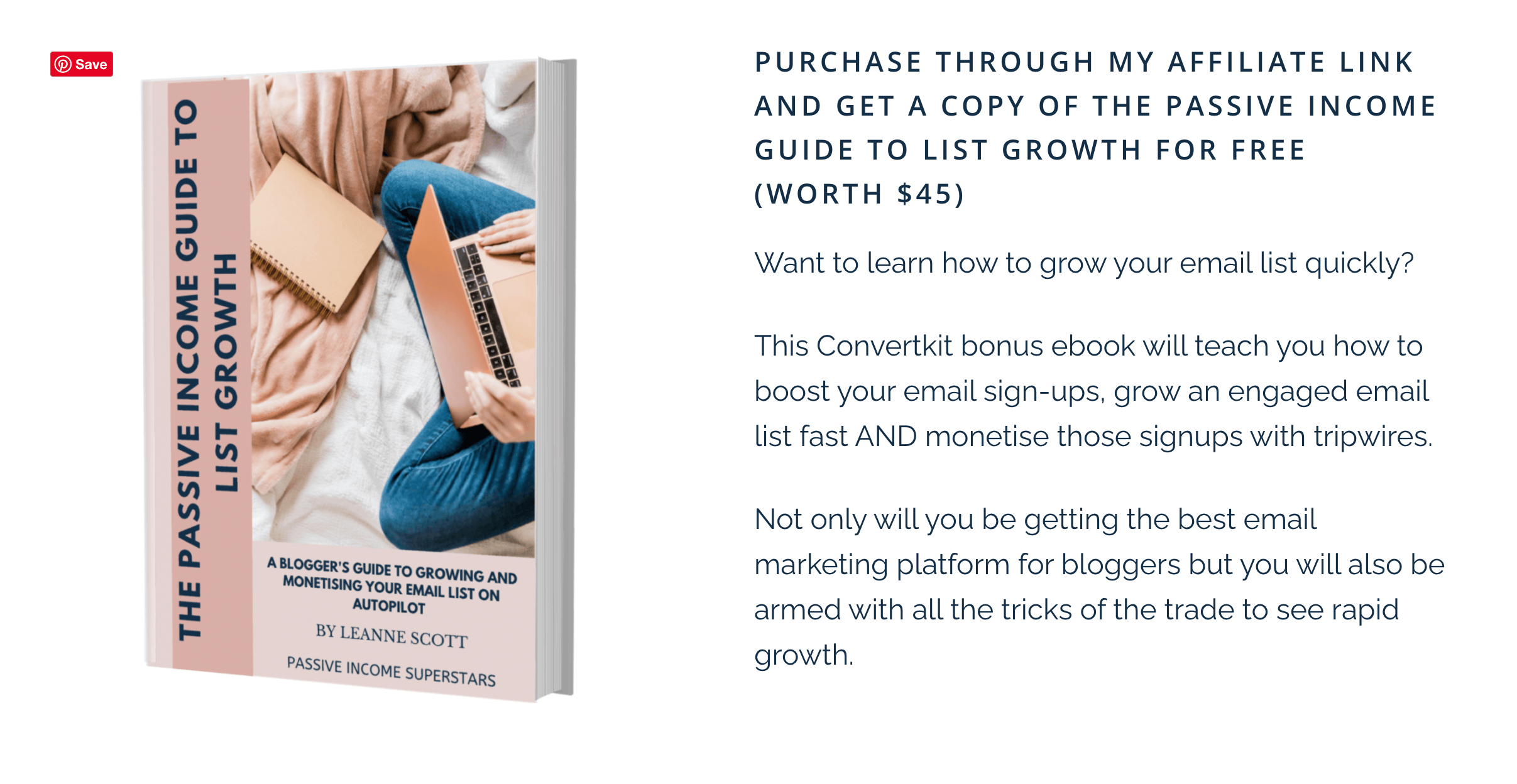 She also uses a discount on the ebook as a tripwire offer to convert new email subscribers to customers. This allows her to nurture her relationship with newer audiences members by offering them more in-depth information on a topic they've shown interest in. Providing value upfront means they know, like and trust her, so they are more likely to use the products she recommends.
Choosing the right content format for your audience
With all these affiliate content ideas, you might be wondering where to start. There are two main questions to consider when deciding which style of content to tackle first:
How long or complex is the buyer's journey?
A buyer's journey typically involves four steps: awareness, consideration, conversion, and loyalty. The earlier your audience is on their journey, the more touch points (and content types) are required.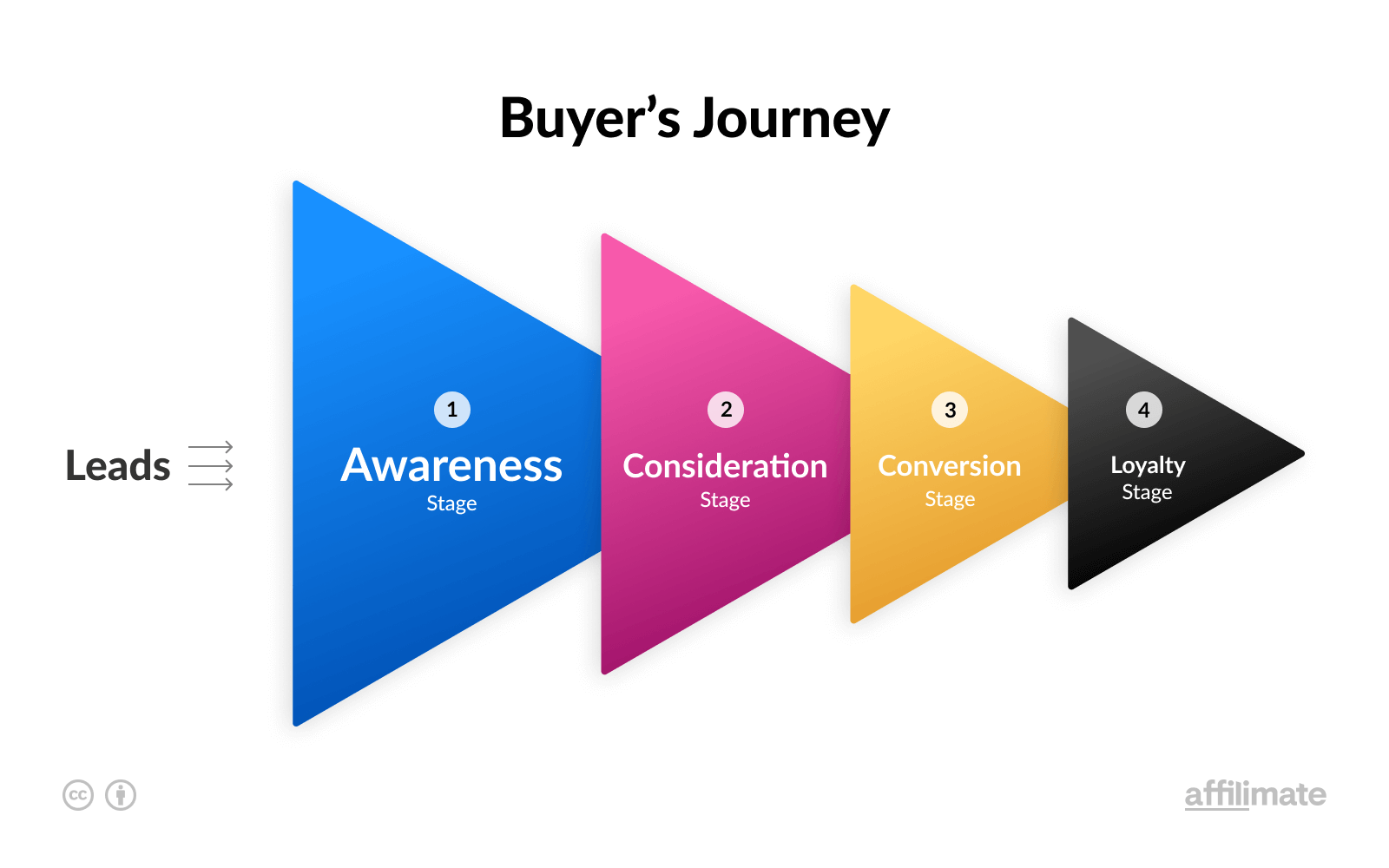 In situations where the buyer's journey is particularly complex, it is a good idea to set up a means to capture an email as this allows for direct contact with tailored content to help inch the buyer towards a purchase decision. This is also true with expensive purchasing decisions.
Where is the person in their education process?
If you know where your audience is in terms of their education about a product, it is easier to create content that provides the information they still need. Do they know the general type of product, but still need brand names? Then a product comparison might help. Do they know the brand names, but aren't sure how each product works? A tutorial can help.
Keep in mind that complex products can require multiple explanations and overviews for buyers to feel confident in their knowledge.
Ready to go further?
It's not enough to create affiliate content, put it online, and pray for conversions. Your content design, copywriting, calls-to-action, and images all contribute to the bottom line: how effectively you are at converting visitors into buyers.
That's why we created Affilimate, to help you optimize conversion and grow your affiliate revenue using analytics. Join our email list for more conversion insights and affiliate marketing tips for content publishers below: