9 Affiliate Link Disclosure Examples from Highly Profitable Websites
By Sofie Couwenbergh   ·   August 13, 2020
Affiliate marketing has made it possible for any kind of website owner to earn an income online, from hobbyist bloggers to internet marketers managing a portfolio of sites.
Just like any other business model, affiliate marketing comes with its own set of rules and legal requirements. While these rules can vary depending on the country your business is located in or the Terms of Service of the affiliate program itself, there is a fairly commmon requirement:
You have to disclose your affiliate links in a clear and understandable way.
In this article, you'll learn tips for doing just that and see how large, profitable affiliate websites are currently disclosing their advertising relationships.
What is an affiliate disclosure?
An affiliate disclosure is a statement that informs your audience that you, the owner of the website, will receive a commission whenever someone signs up for, downloads, or purchases the product or service you recommend through your affiliate links or discount codes.
Site owners are usually legally obliged to include an affiliate disclosure whenever they receive financial benefit for recommending a company, product, or service.
And now for our own disclaimer: This article isn't legal advice either. You should talk to a lawyer who's savvy to the rules surrounding online advertising before deciding on the content and placement of your disclosure.
But to start, here are some examples of affiliate disclosures in the wild that you can use for inspiration.
9 Affiliate Link Disclosure Examples from Profitable Websites
The following in-post affiliate disclosure examples should be observed for their design, wording, and placement.
It's worth noting, there are plenty of highly profitable affiliate websites that appear to operate under different rules than the small guys (else, a few sites in this list could get themselves in trouble with Amazon or the FTC).
We'll point out those potential problem points as we analyze each website.
After the examples, we'll cover a 5-point checklist for making sure you have a clear and compliant affiliate link disclosure for your website.
The Points Guy by Brian Kelly
The Points Guy is all about using credit cards to earn miles so you can travel around the world for free, in luxury. Believe it or not, The Points Guy started as a Google Form and was later acquired in 2018. It's since grown into a 100-employee, $50 million profit per year operation according to sources who spoke to Business Insider.
A large part of those earnings surely come from affiliate programs that the website has a relationship with, such as CreditCards.com.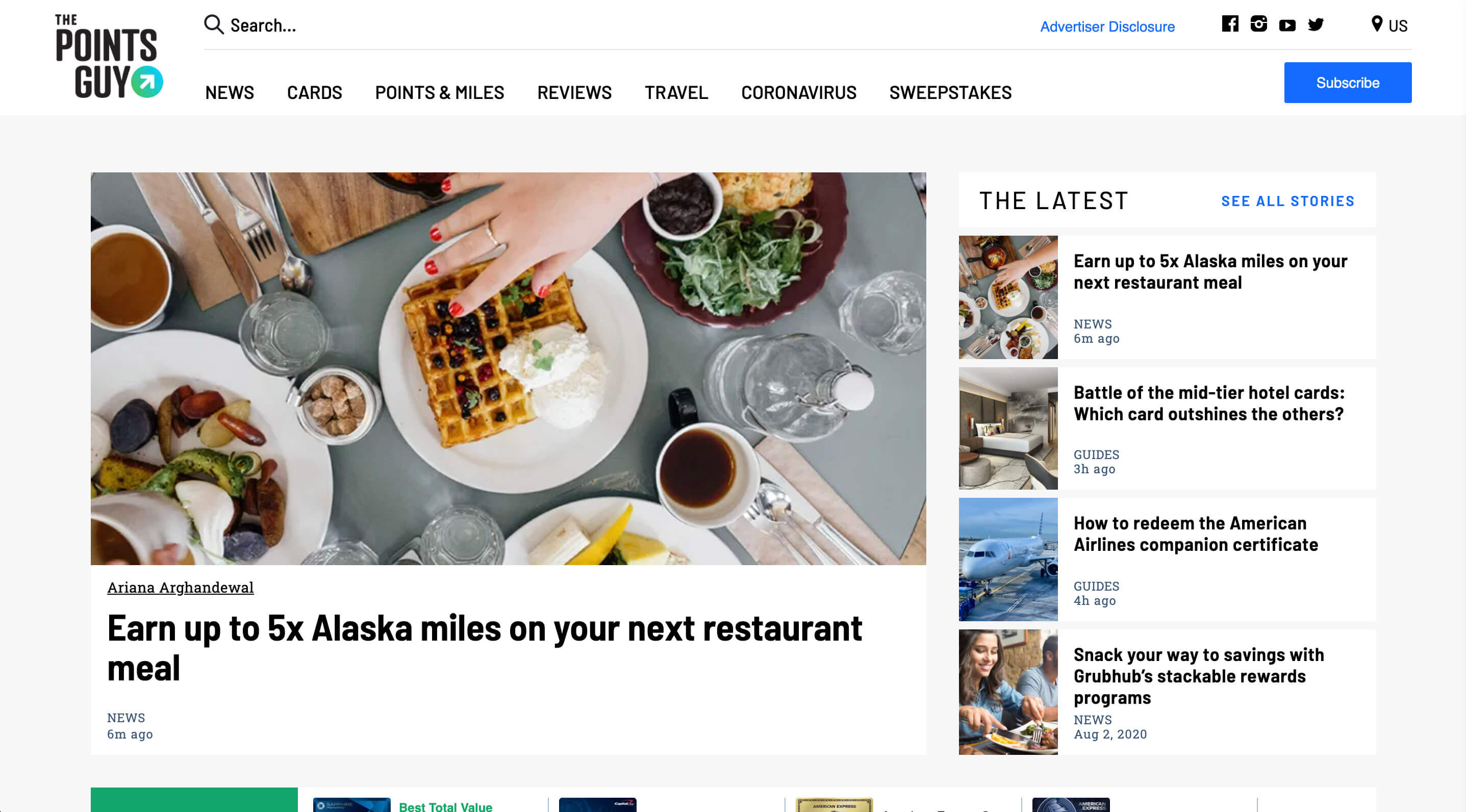 The Points Guy has chosen to place an affiliate disclosure right below the title of their posts, but clearly separated from the body of the content.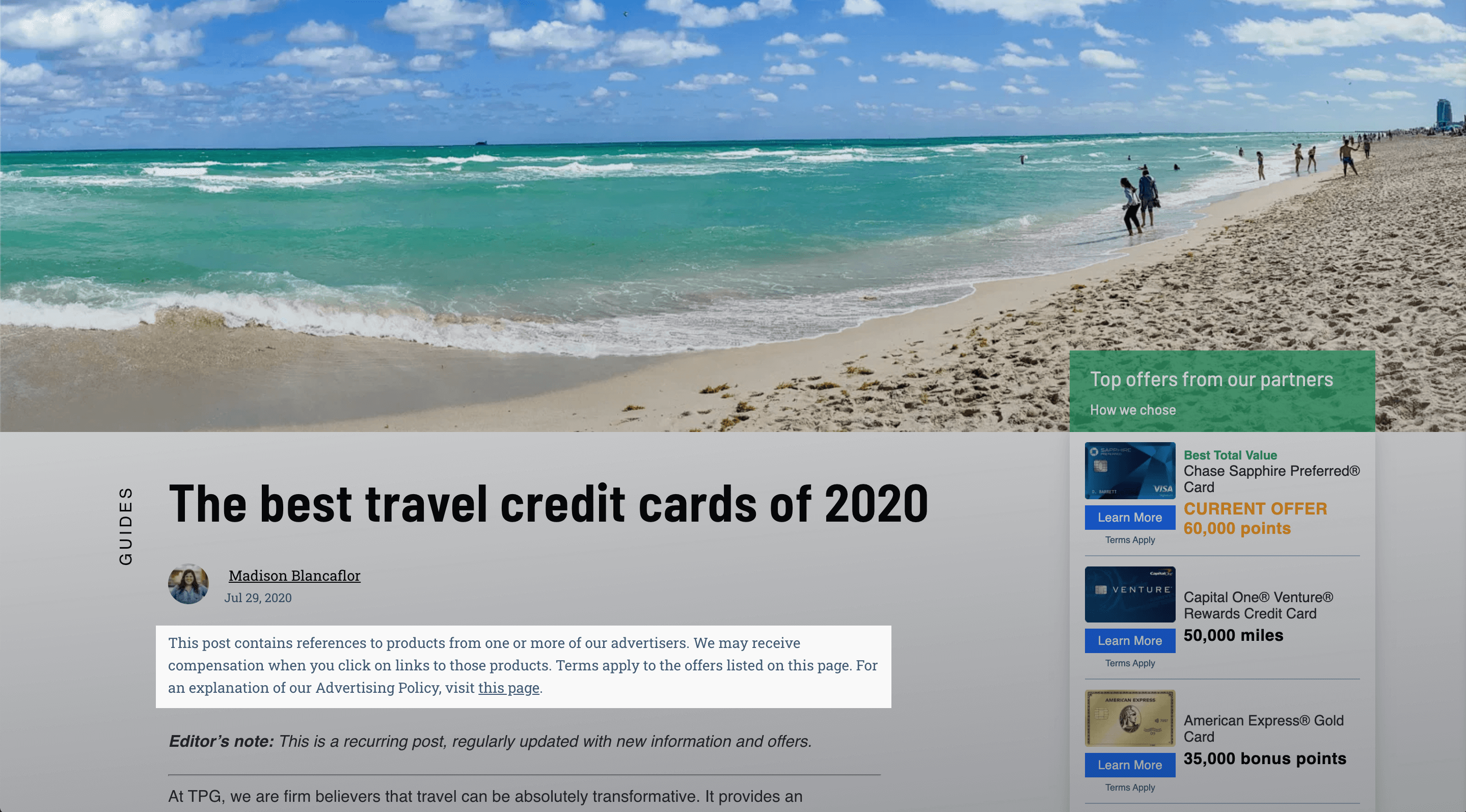 This post contains references to products from one or more of our advertisers. We may receive compensation when you click on links to those products. Terms apply to the offers listed on this page. For an explanation of our Advertising Policy, visit this page. (Source)
The disclosure text is presented in a different font and color than the rest of the article, making it stand out. It also links to the Advertising Policy page, which explains the concept of affiliate marketing and lists all the programs that The Points Guy uses.
The disclosure also clearly mentions that the article contains linked mentions of advertising partners and that The Points Guy may get paid if you click on these links.
It's a great disclosure.
NerdWallet
Started in 2018 by Tim Chen with just $800, NerdWallet is now worth over $500 million. It's a personal finance site that teaches people how to handle their money, in large part through products offered through affiliate programs like insurance, loans, and credit cards.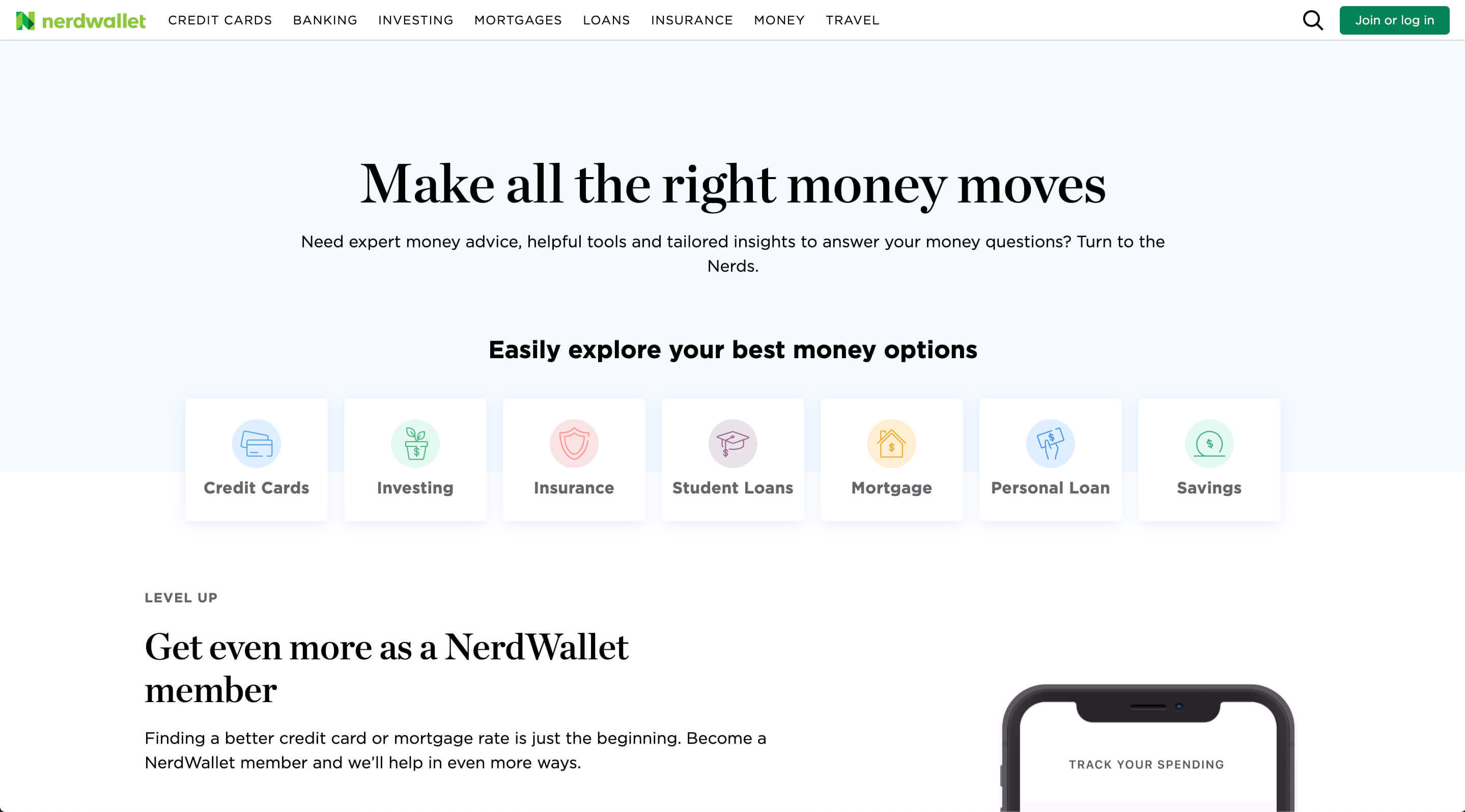 For this affiliate disclosure example, we'll look at NerdWallet's guide to the best credit cards of 2020.
The disclosure for this buying guide is placed at the top of the article, below the title, intro, and description but before the content table. It reads: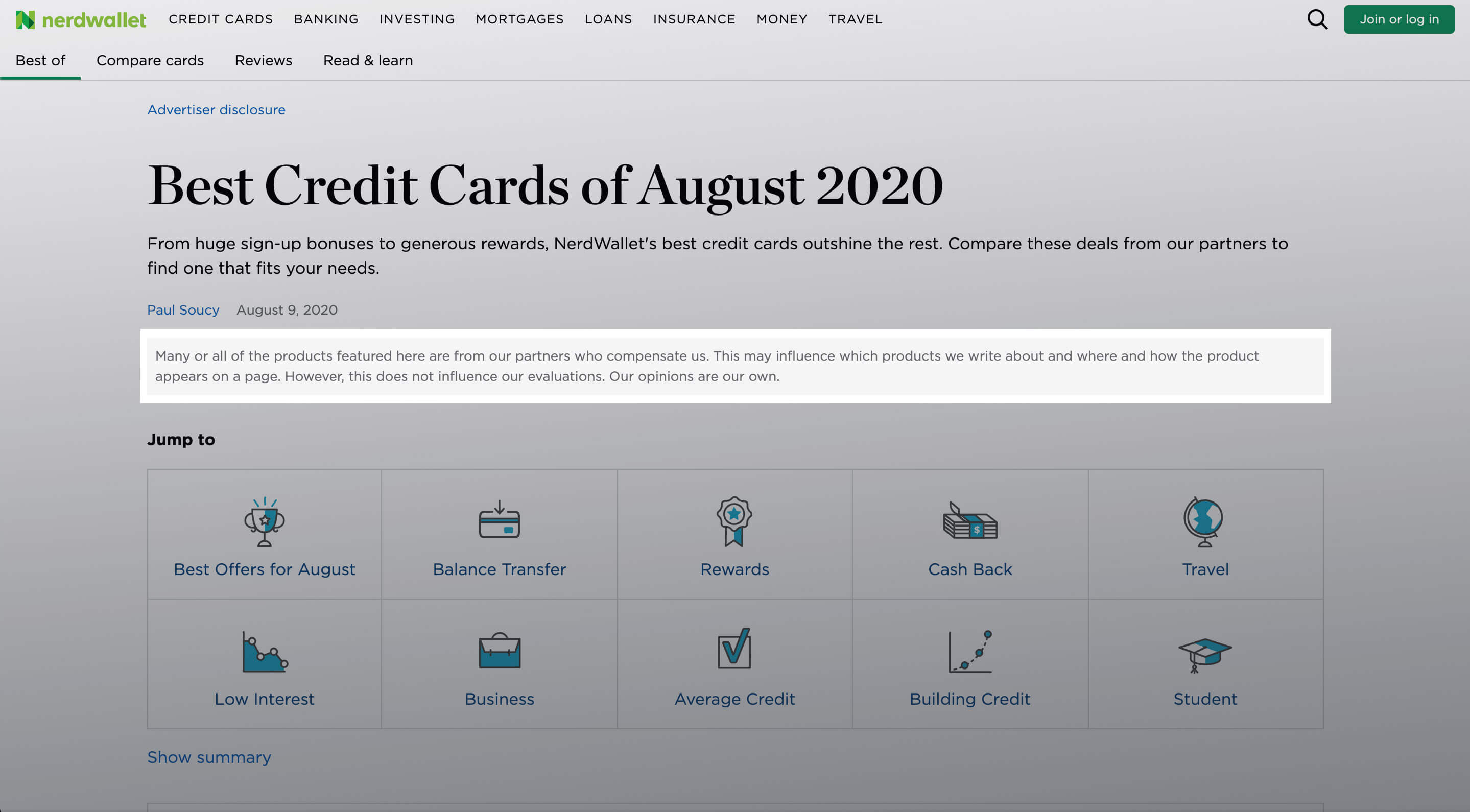 Many or all of the products featured here are from our partners who compensate us. This may influence which products we write about and where and how the product appears on a page. However, this does not influence our evaluations. Our opinions are our own. (Source)
While it gets a different styling than the rest of the text, the font of the disclosure is actually smaller and lighter. It's still easy to read but it's definitely not styled to draw attention.
The disclosure does clearly state that NerdWallet is paid for the inclusion of many or all of the products in the article. They even say that the compensation they receive may influence how these products are being mentioned, and where.
It's a good disclosure that would have been even better had it linked to a dedicated disclosure page or the site's privacy policy.
All your affiliate links, content, and commissions tracked in a single dashboard 💸
Affilimate connects on-page events with affiliate commissions, so you can optimize your conversion funnel and increase sales.
Free 30-day trial · No credit card required
Lucie's List
Lucie's List began as one-woman show after Meg Collins' first daughter was born in 2010. Over the last 10 years, the site has grown up into a highly profitable affiliate business, a self-described "survival guide for new parents."
As of 2017, her weekly newsletter had over 360,000 subscribers. Today she's got a team of six supporting the website, which she manages to keep ad-free thanks to her affiliate revenue.
Lucie's List promotes all kinds of products that help people prepare for and manage parenthood, such as books on pregnancy, car seats, strollers, and more.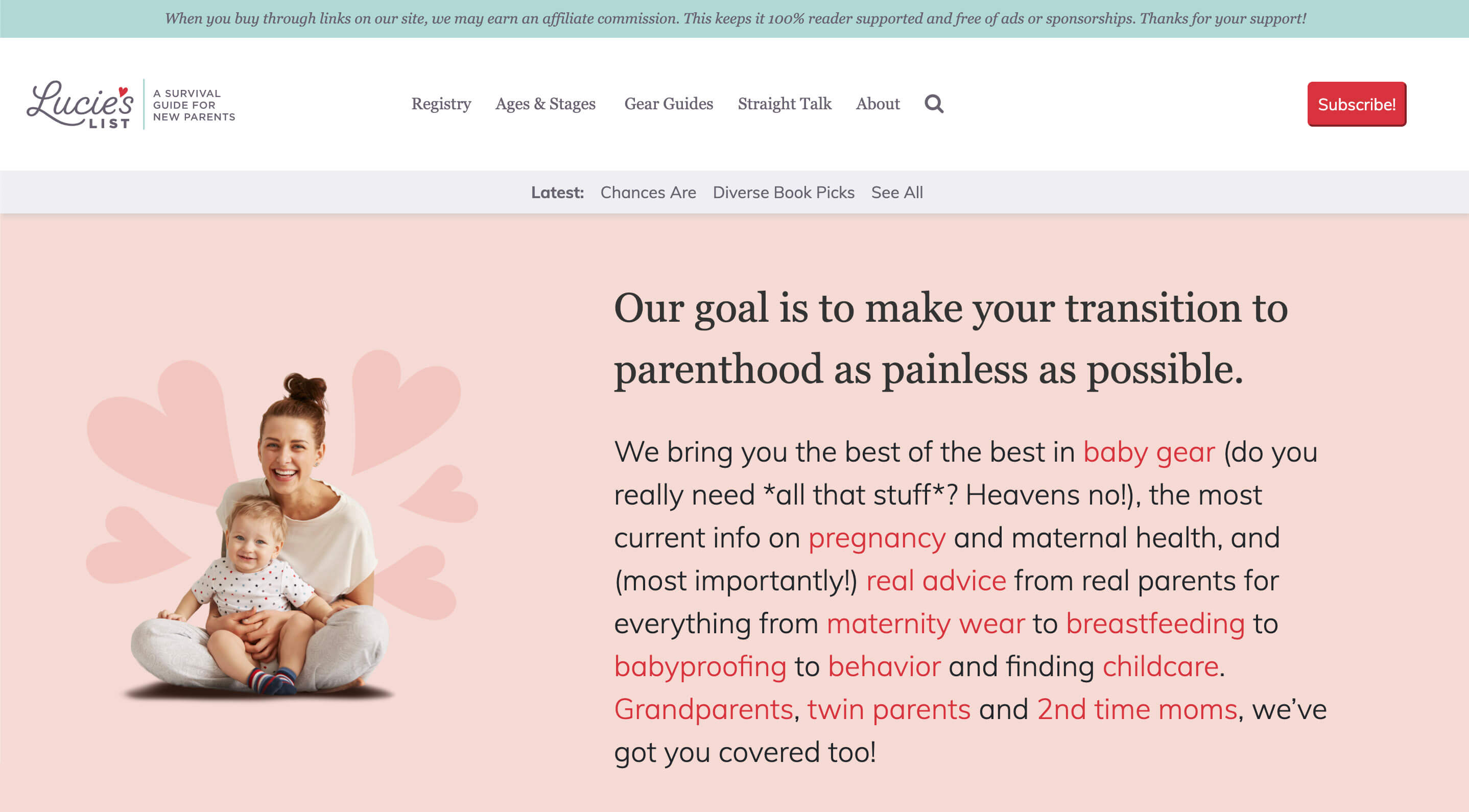 For this example, we'll look at this article about the best books on pregnancy.
While there is an affiliate disclosure banner right at the top of the site, there isn't one in the actual article. On top of that, the banner reads: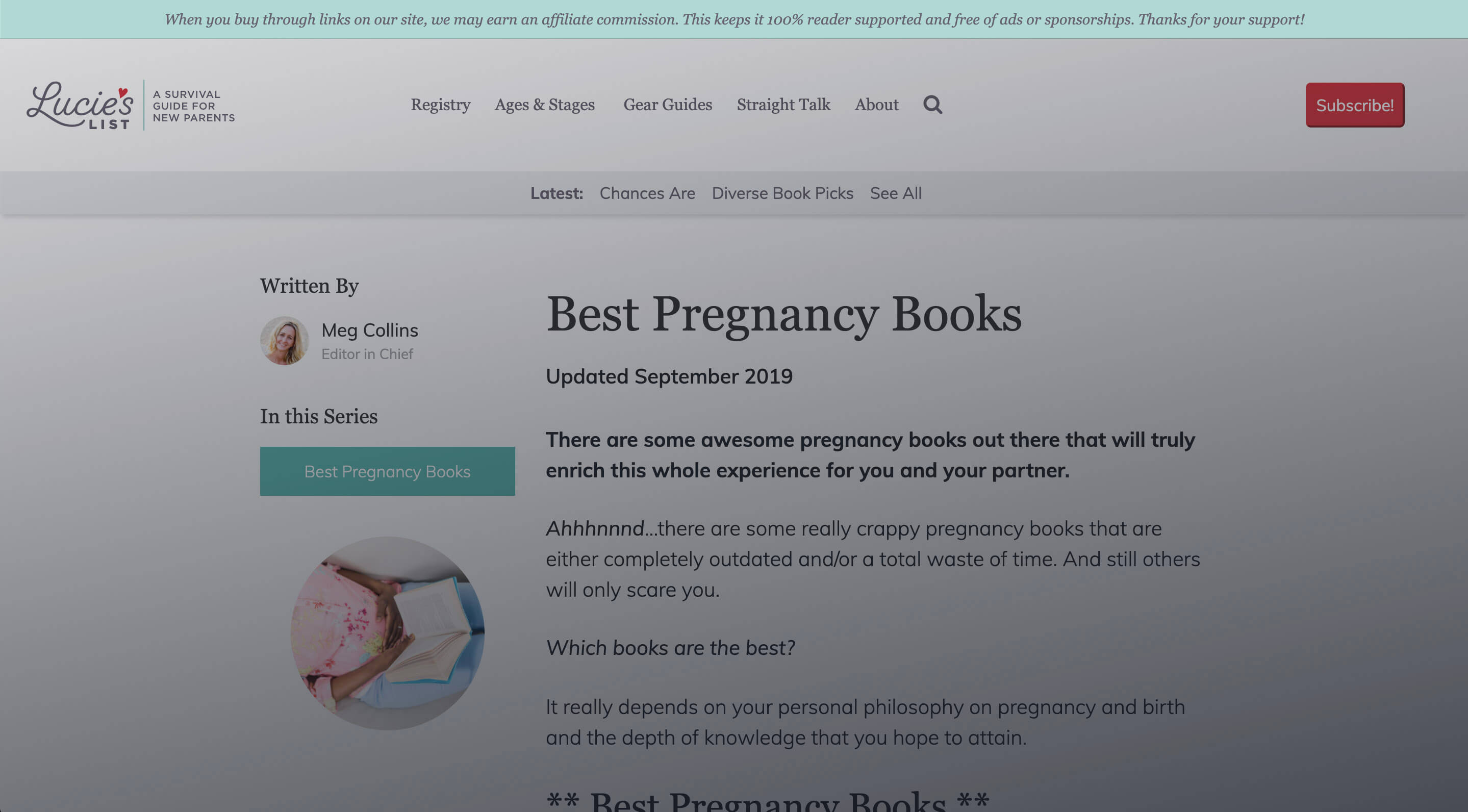 When you buy through links on our site, we may earn an affiliate commission. This keeps it 100% reader supported and free of ads or sponsorships. Thanks for your support! (Source)
With this statement, Lucie's List tells readers that it is because they are buying through the site's affiliate links that Lucie's List remains ad-free. This is a clear incentive for readers to use the affiliate links which would be fine if the site didn't use the Amazon affiliate program, but it does.
So not only is it doubtful that the site-wide affiliate banner on Lucie's List would be considered "conspicuous" by the FTC, it also doesn't comply with the terms of Amazon's affiliate program.
Outdoor Gear Lab
GearLab reviews all kinds of outdoor gear: hiking shoes, backpacks, water filter, sleeping bags, and pretty much anything a nature-lover needs to enjoy the outdoors to the fullest.
While the website design is pretty no-frills, don't let that mislead you — Ahrefs estimates GearLab receives over 750,000 monthly organic visitors (bearing in mind, these traffic estimates can be very conservative).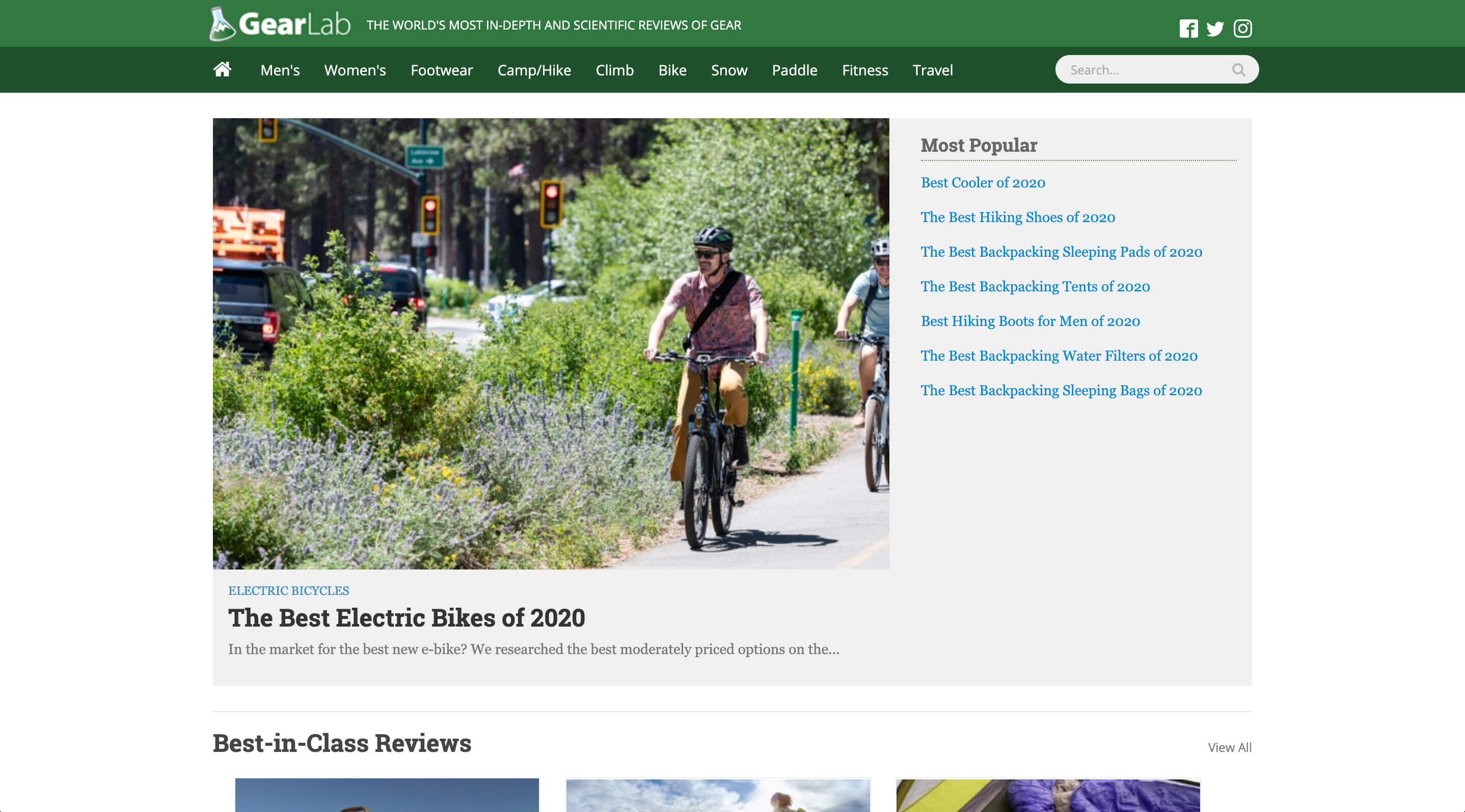 For this example, we'll look at their review of hiking boots. It has an affiliate disclosure at the top of the article, right above the start of the body: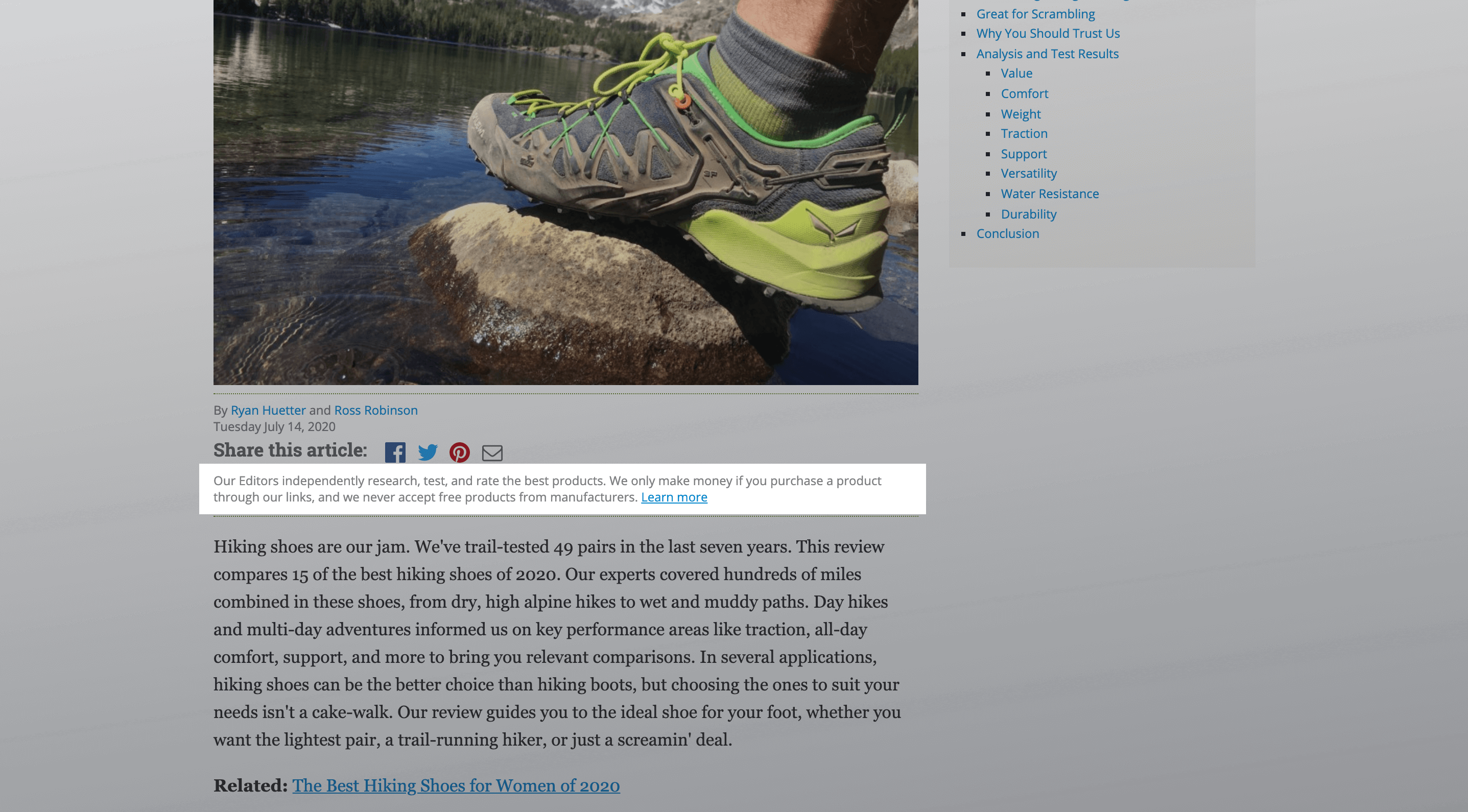 Our Editors independently research, test, and rate the best products. We only make money if you purchase a product through our links, and we never accept free products from manufacturers. Learn more (Source)
While the disclosure is styled in a smaller and lighter font than the rest of the article, it does clearly state that the site makes money when you buy something through its links.
The "Learn more" links to the site's About page where GearLab explains that the site is reader-supported, which could be an issue as it uses the Amazon affiliate program.
Other than that, this is a rather good disclosure.
WebsiteBuilderExpert
As you'd expect from the name, WebsiteBuilderExpert publishes reviews of website builders. But what you might not expect is that in 2017, WebsiteBuilderExpert was acquired by MVF, a marketing company headquartered in London that's ranked on the Inc. 5000 Europe.
MVF also own websites like Tech.co, Startups.co.uk, and ExpertMarket.com.
According to WebsiteBuilderExpert, over 4.5 million people visited their website in 2018 looking for solutions that make it easy to build your own website. As anyone entrenched in the affiliate space will know, site builders and hosting companies typically offer highly lucrative commissions.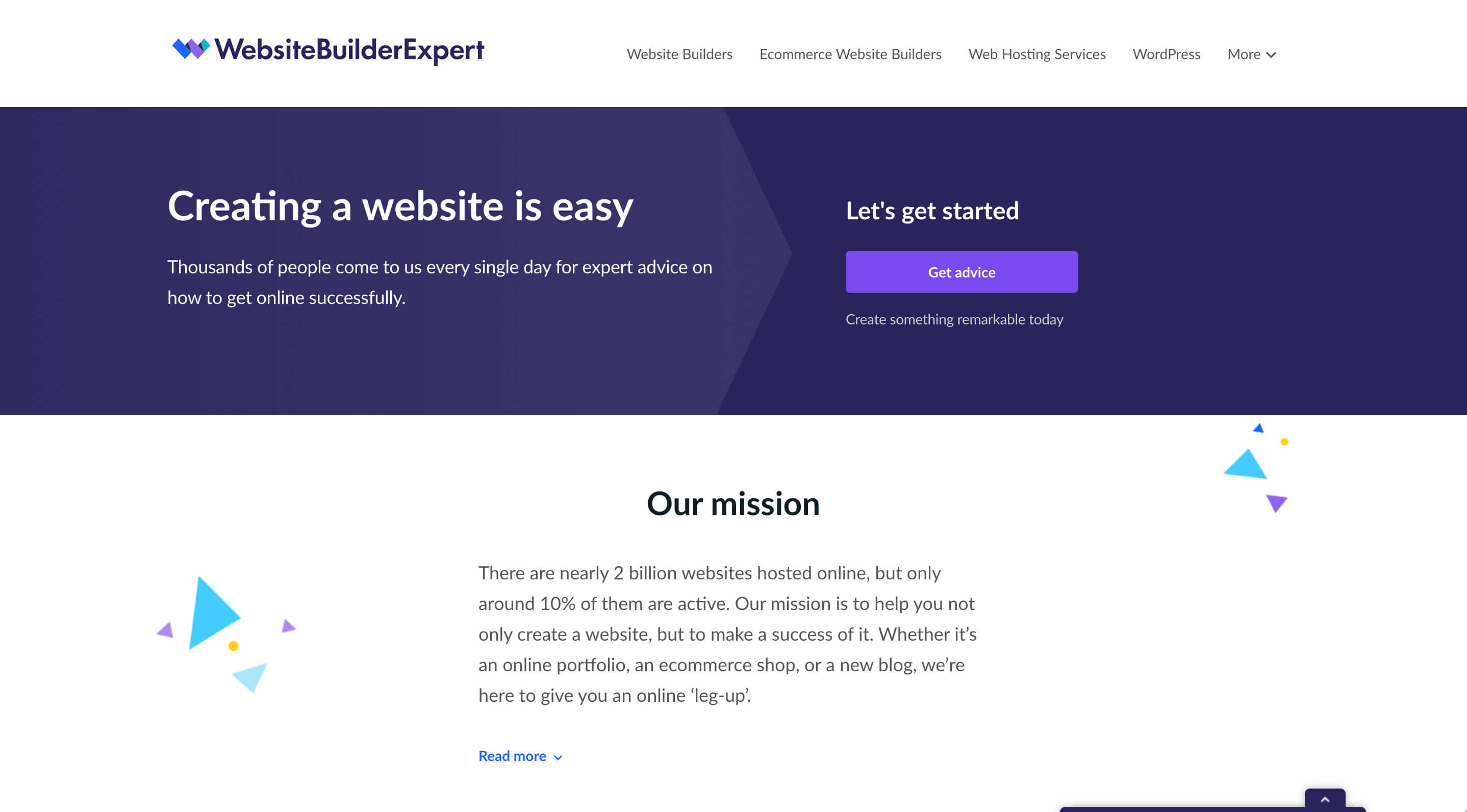 In this example, we'll look at their article about the best website builders of 2020. The site has an affiliate disclosure at the top of the article, between the date, author, and the social share bar: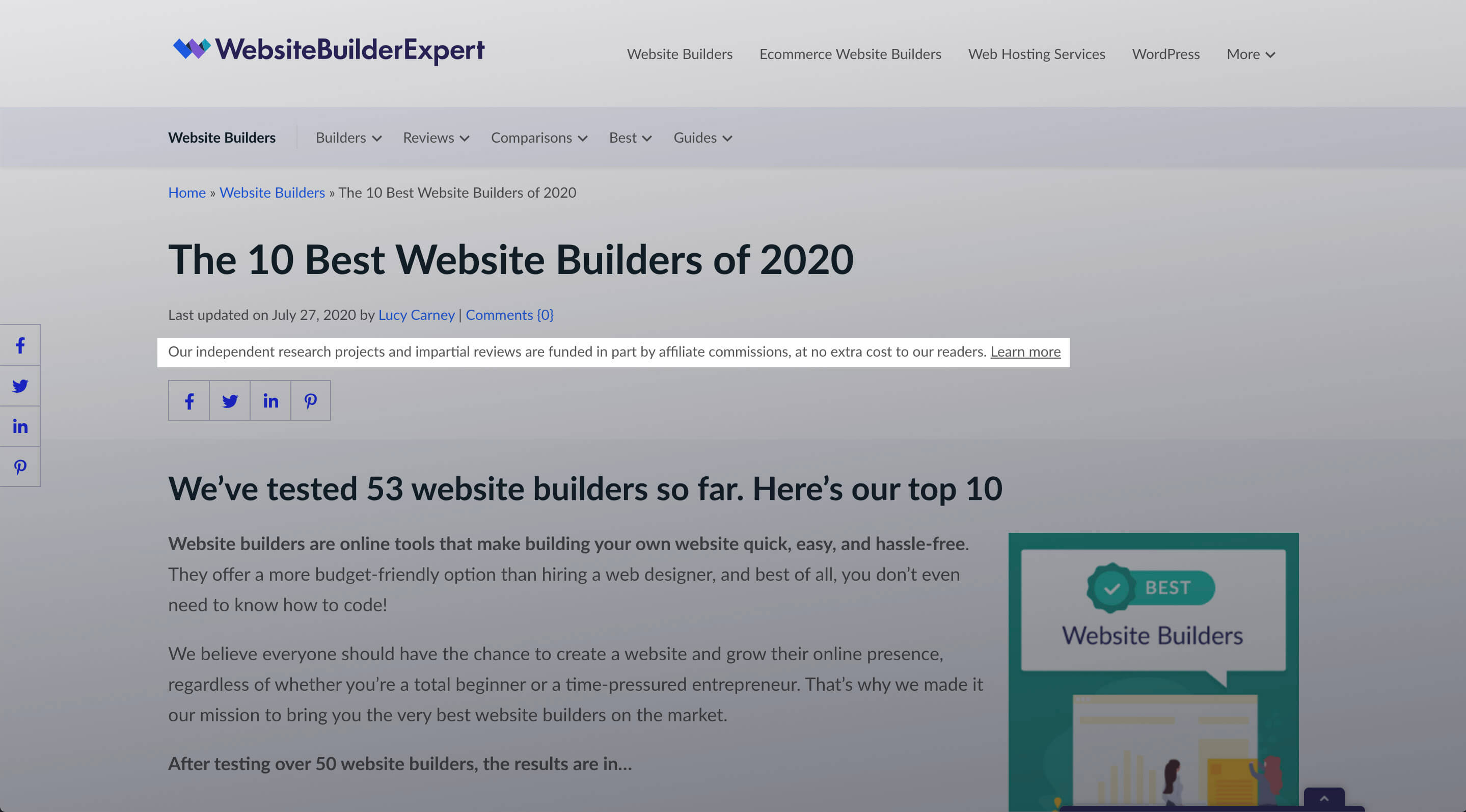 Our independent research projects and impartial reviews are funded in part by affiliate commissions, at no extra cost to our readers. Learn more (Source)
The disclosure has the same styling as the date and author, which doesn't exactly make it stand out, but it is clearly visible. If you don't know what affiliate commissions are, however, you need to click "learn more" to find out.
This disclosure would have been better if it had explicitly stated that the site makes money when readers buy something through its links.
Smart Passive Income by Pat Flynn
Smart Passive Income (SPI) teaches people how to make money online and has always had a large focus on affiliate marketing. The site promotes products that help people run online businesses, such as hosting providers and, in the case of this example post, email marketing tools.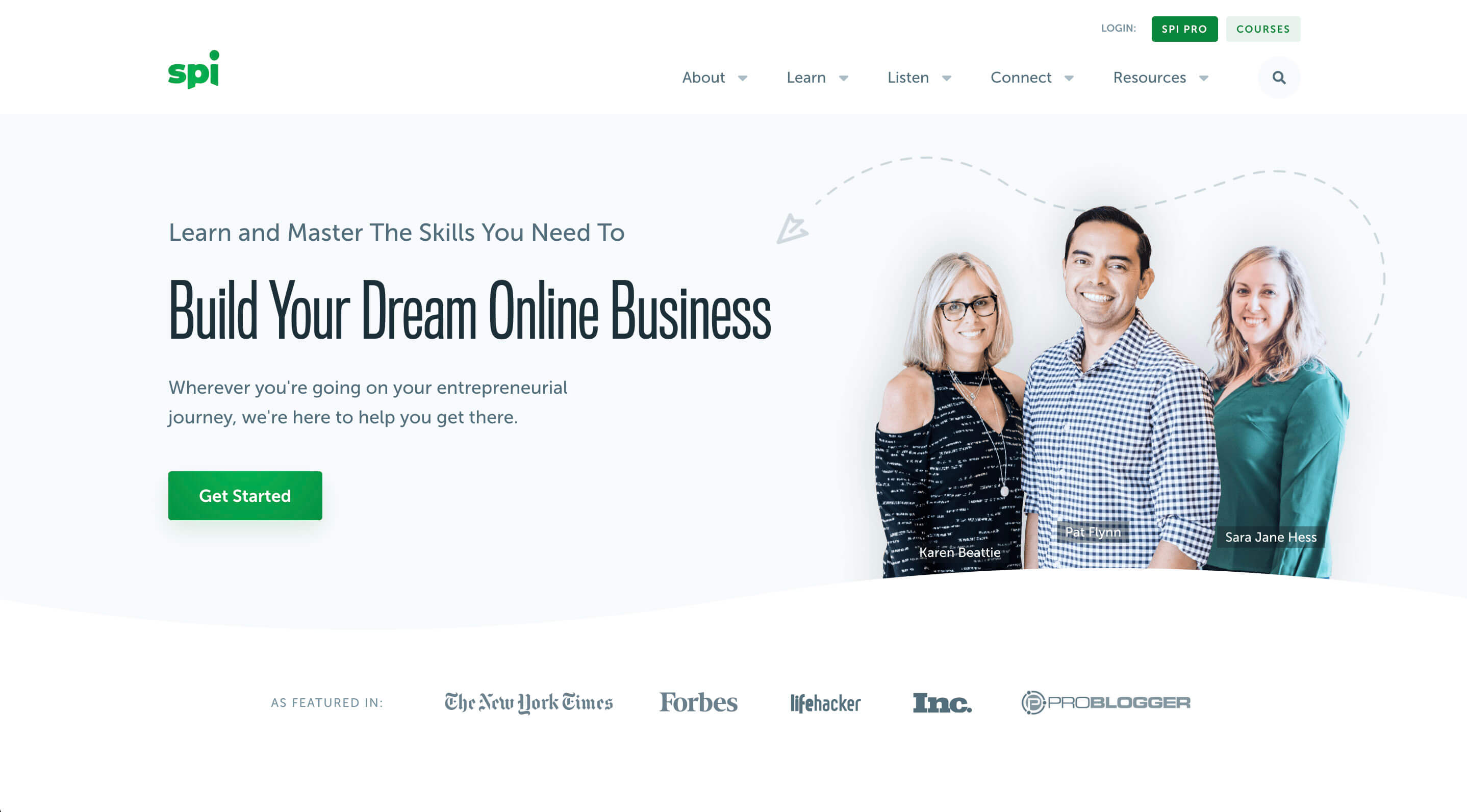 In this example, you can see Pat Flynn chooses to add an affiliate disclosure each time he links to ConvertKit: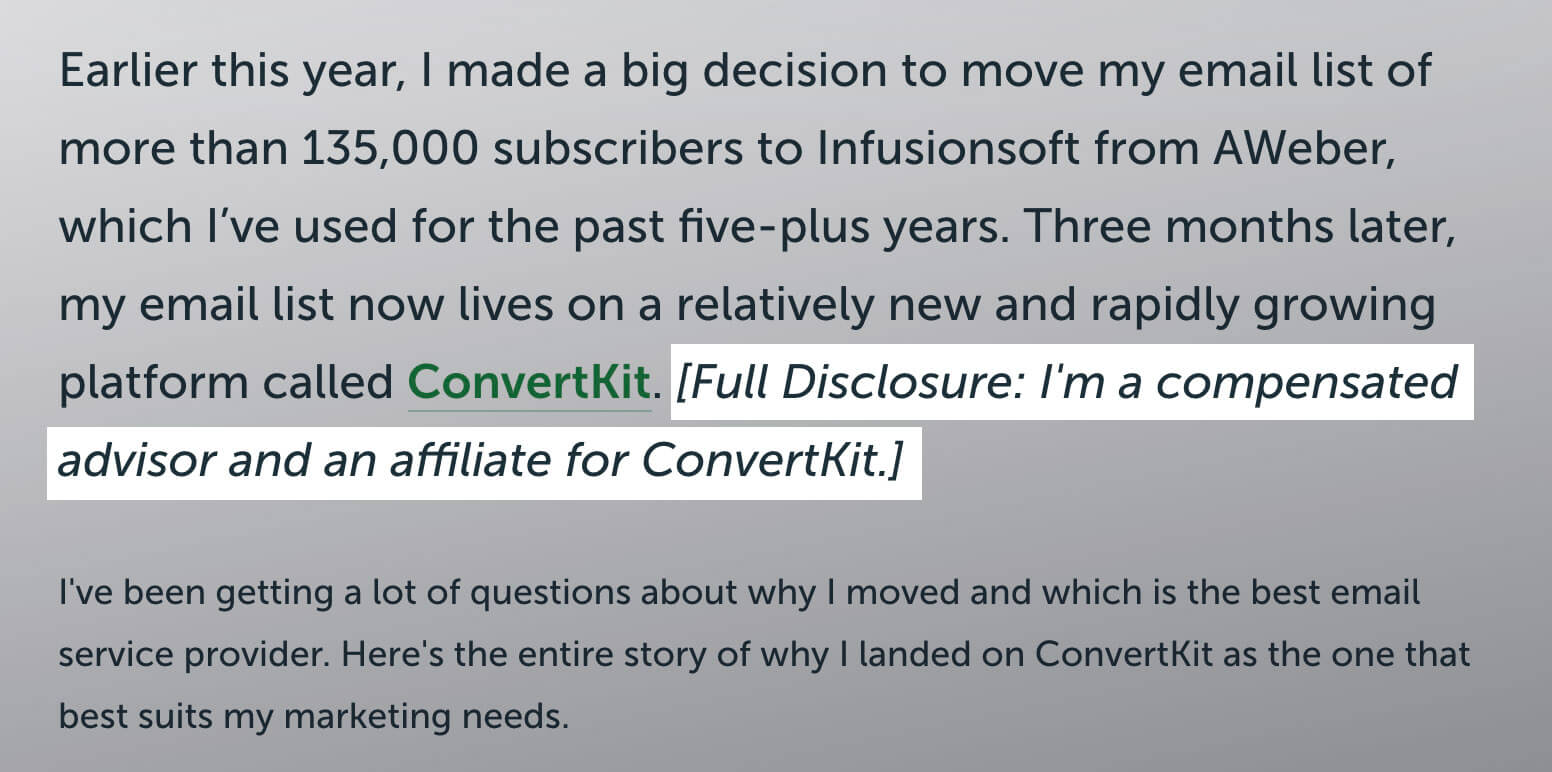 Full Disclosure: I'm a compensated advisor and an affiliate for ConvertKit. (Source)
While the placement of this disclosure is very clear and visible, Pat doesn't tell his audience what exactly an affiliate is and doesn't explicitly mention that he earns a commission when people sign up for ConvertKit through his link.
As his whole website is about making money online, he probably assumes his readers know what an affiliate link is and while that may be the case for 90% of them, SPI likely also gets readers that have just started their online journeys and so a more explicit disclosure might be better here.
Wirecutter by New York Times
Wirecutter was an independent site before it got acquired by the New York Times in October 2016 for $30 million. It's a typical affiliate site in that it focuses on publishing product reviews and buying guides, but with the massive difference that it's become a household name that people trust.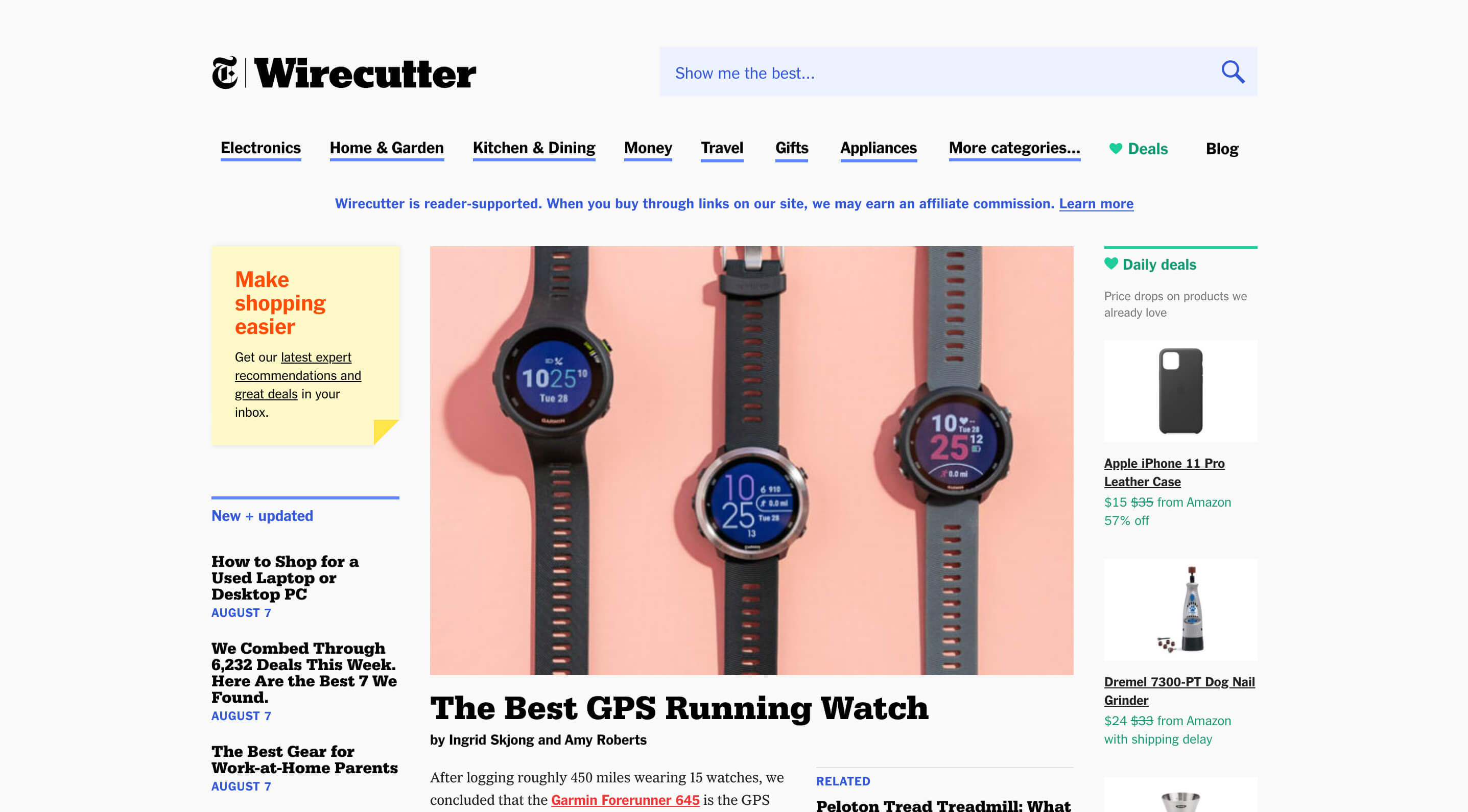 Wirecutter places its affiliate disclosure at the entire top of the content in a clear blue and bold font, passing the FTC's "conspicuous" test. Now let's look at the wording:
Wirecutter is reader-supported. When you buy through links on our site, we may earn an affiliate commission. Learn more. (Source)
It is clearly stated that if the reader buys anything through Wirecutter's links, Wirecutter may receive a commission. However, their "Learn more" link doesn't lead to a list of affiliate programs Wirecutter uses, but to their About page where they try to convince readers that their writers choose products to review regardless of whether Wirecutter is an affiliate for these products.
Moreover, the example article has Amazon affiliate links so Wirecutter's choice of the term "reader-supported" is not ideal as it could be seen as incentivizing by Amazon.
Making Sense of Cents by Michelle Schroeder
Michelle of Making Sense of Cents teaches people how to make and save money. She's been profiled by Entrepreneur and Forbes, and pulls more than $100,000 per month in income from her blog.
She has her own affiliate marketing course and promotes a variety of products, including products that help people run a business online. An example of that is the hosting company Bluehost, which she reviews in this example article.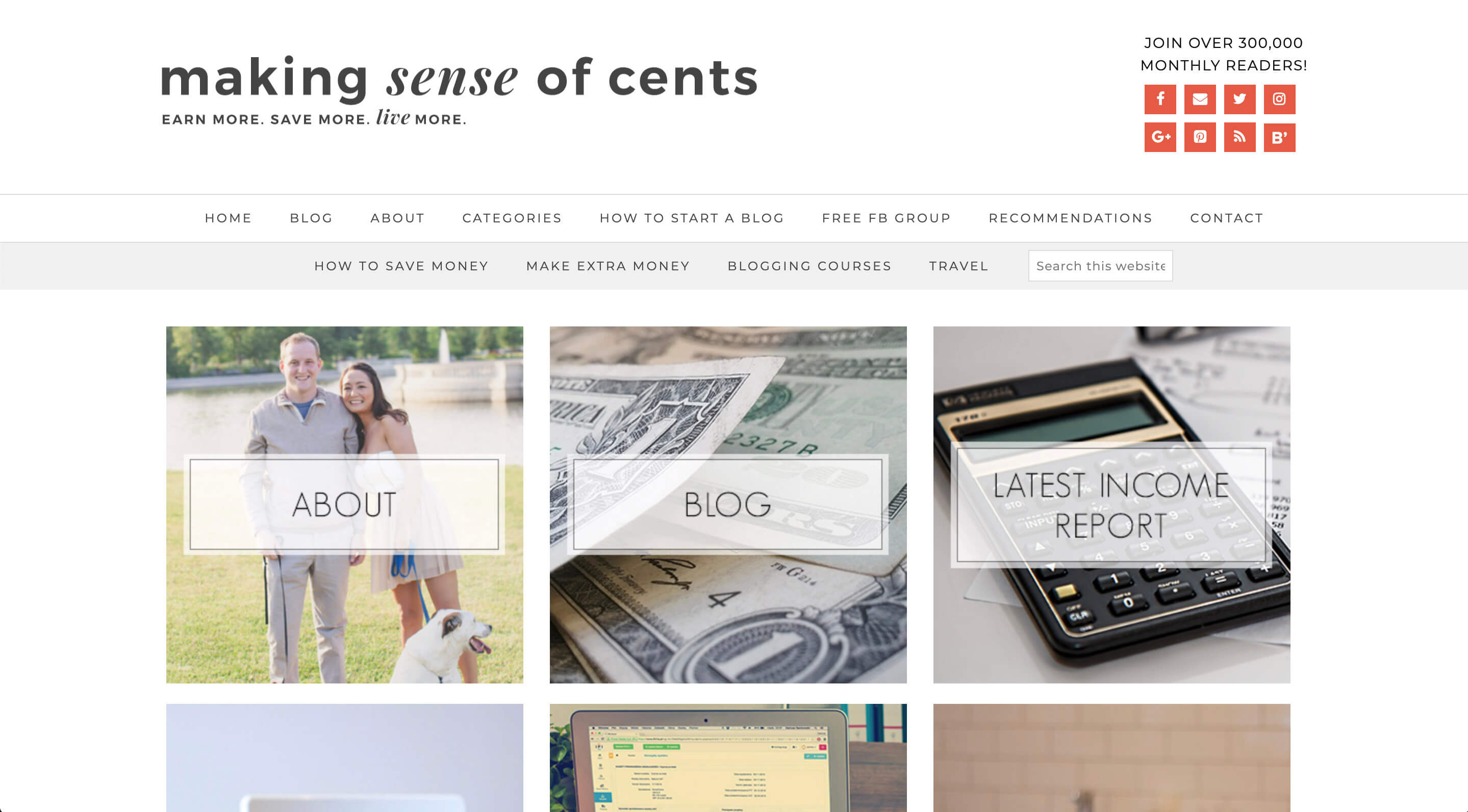 Michelle has an affiliate disclosure not only at the top of her content, in between the post's meta info and its social sharing bar, but also after the post's intro section. The top affiliate disclosure is a general one that she has on all of her blog posts. That way, she's always covered. The disclosure reads: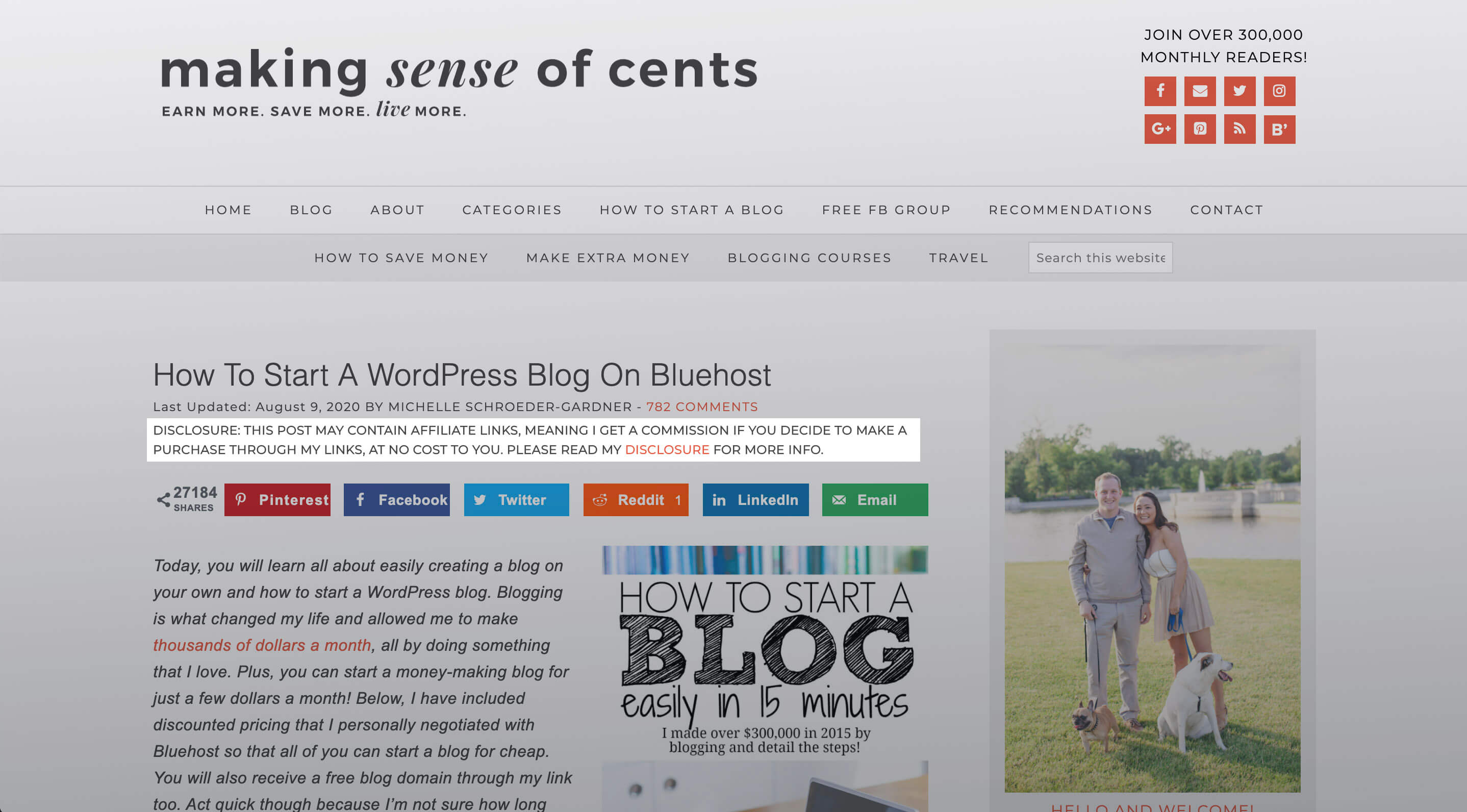 DISCLOSURE: THIS POST MAY CONTAIN AFFILIATE LINKS, MEANING I GET A COMMISSION IF YOU DECIDE TO MAKE A PURCHASE THROUGH MY LINKS, AT NO COST TO YOU. PLEASE READ MY DISCLOSURE FOR MORE INFO. (Source)
It's bold, capitalized, and ends with a link to her disclosure page on which she explains the concept of affiliate marketing a bit more. The disclosure itself explicitly says that if readers decide to buy something through her links, she'll earn a commission. There is no incentive included for readers to use her links, so she can safely use this disclosure on posts that have Amazon links well. It's a great disclosure.
Her second disclosure is specific to this post and states: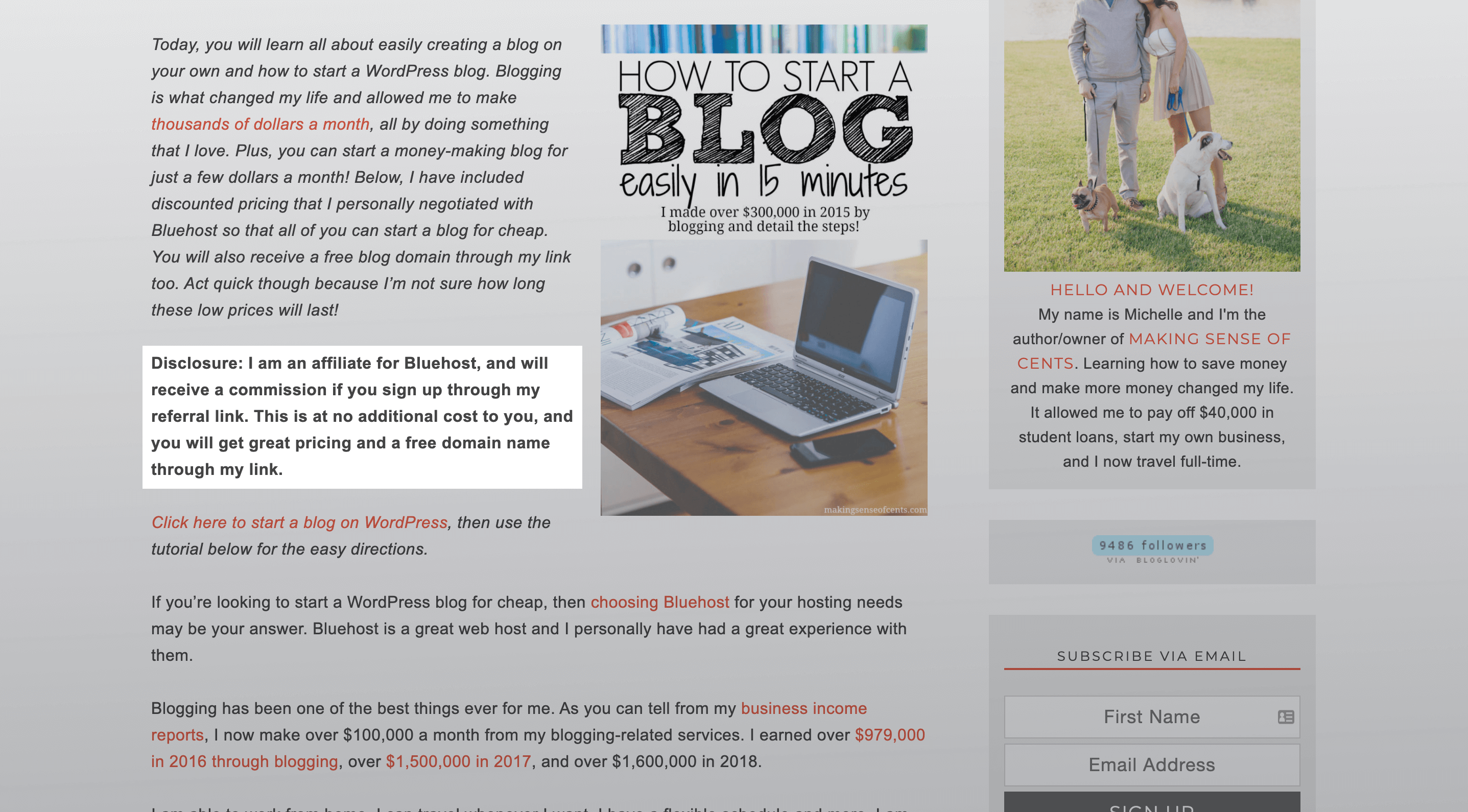 Disclosure: I am an affiliate for Bluehost, and will receive a commission if you sign up through my referral link. This is at no additional cost to you, and you will get great pricing and a free domain name through my link.
Again, the text of the disclosure is bolded and it gets its own paragraph, making it hard to miss. While she does use a bit of technical language in this disclosure ("affiliate", "referral link") she also clearly mentions that she'll receive a commission when people sign up through her link.
Additionally, she mentions her readers will get some benefits when signing up through her. This is incentivizing them but that's fine as she's linking to Bluehost and not Amazon.
All your affiliate links, content, and commissions tracked in a single dashboard 💸
Affilimate connects on-page events with affiliate commissions, so you can optimize your conversion funnel and increase sales.
Free 30-day trial · No credit card required
Financial Samurai
Financial Samurai helps people reach financial independence by sharing tips on investing, wealth management, and more. Founder Sam promotes finance-related products and services but also has his own ebook that he sells.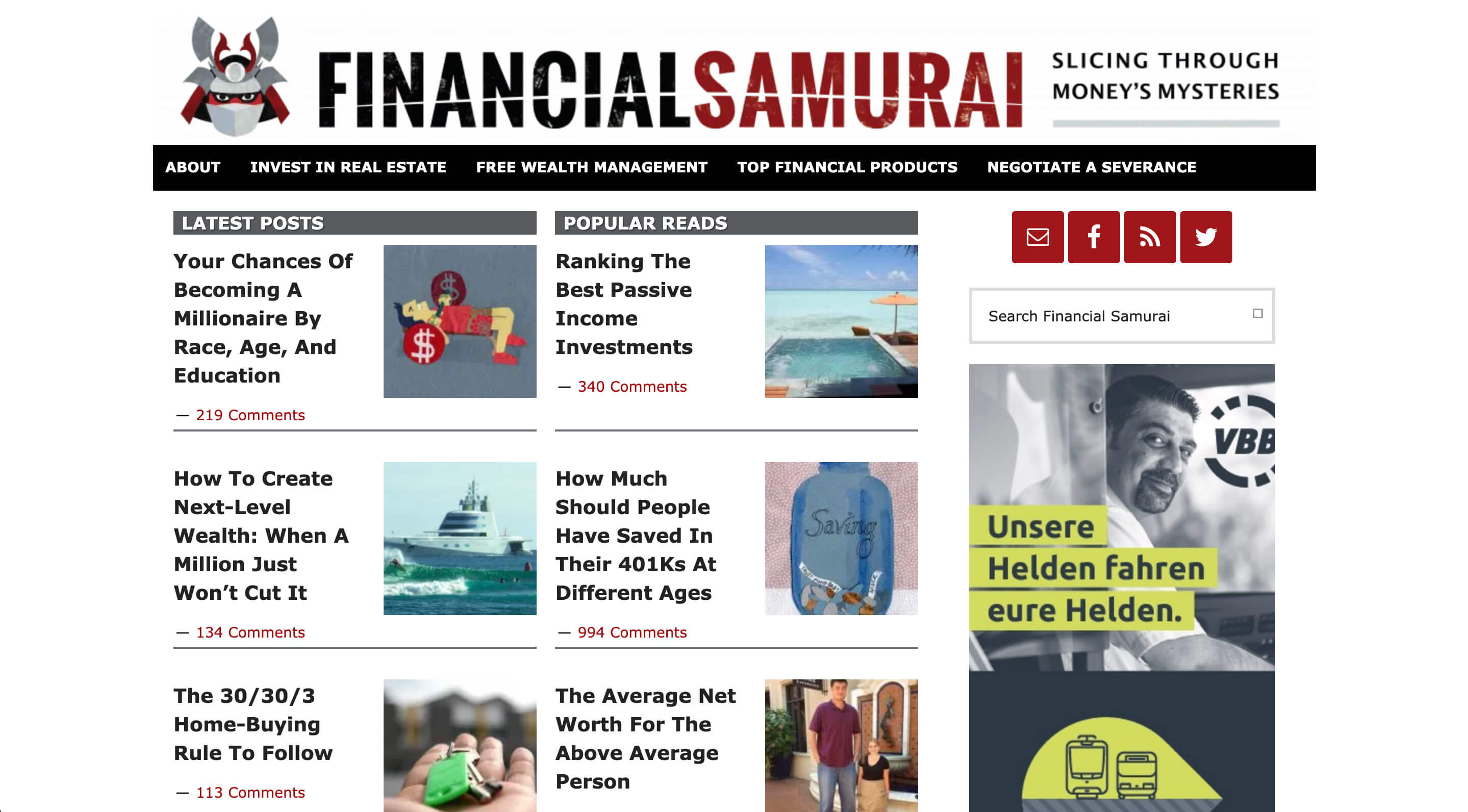 On his About page, he shares his monthly passive income for the last year as well as an advertiser disclosure. However, there is no disclosure to be seen anywhere in the example article we chose while the article does contain affiliate links.
The only way to find out about Financial Samurai's affiliate partnership when reading this post, is by scrolling all the way down to the footer and clicking the rather small-fonted "Read our disclosures".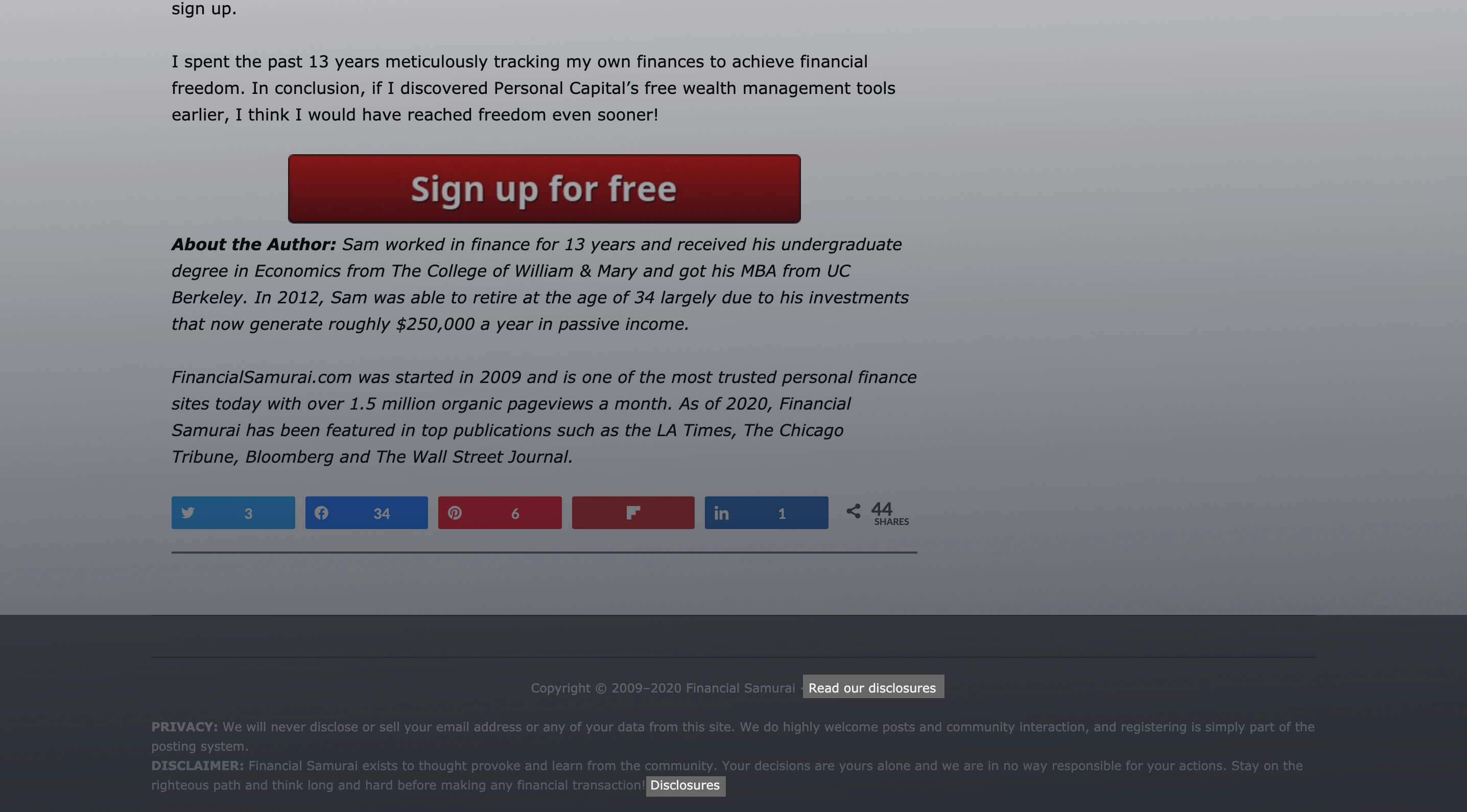 Overall, this disclosure is the least clear and visible of the websites we've surveyed in this article.
5 Tips for a clear (and compliant) affiliate disclosure
Now that you've seen some example affiliate disclosures in action on popular and successful websites, here are a few takeaways for designing, wording, and displaying your own affiliate disclosure.
Again, this isn't legal advice, but should put you on the path to a solid first draft.
1. Place your disclosure visibly before your content
The FTC guidelines state that affiliate disclosures need to be "conspicuous", which means they need to appear somewhere the consumer can't miss them, in a way that they can't miss them. That makes the start of your content a good choice.
For a blog post, that means right at the top; for a YouTube video, that means at the start of the video, and for a social media post, that means at the start of your post or video.
It's also important that the disclosure is clearly visible. Placing it at the top of an article in font size 6 and font color light gray against a white background doesn't pass that test. You need to make sure your affiliate disclosure stands out and is easy to read.
2. You can make it fun, but be clear
The FTC guidelines also state that affiliate disclosures need to be "clear". While you can play a bit with the wording of your disclosures to make them less "legal-y", it should always be clear to the reader that you will earn a commission when they buy through your link even if you use a funny affiliate disclosure.
3. Don't assume your readers know what an affiliate link is
"Clear" also means you can't assume that your readers know what an affiliate link is. The term is industry jargon and doesn't mean much to the average consumer, so simply mentioning that you're an affiliate for brand x or to use the hashtag #affiliate in your social media posts isn't enough to comply with the FTC guidelines.
You should be explicit about the fact that you'll earn money when someone buys through your links.
4. Be aware of Amazon-specific disclosure requirements
Amazon has one of the most popular affiliate programs out there. Unfortunately, it also comes with its own set of disclosure rules (and the propensity to enforce them).
First of all, Amazon does not allow you to incentivize people to use your affiliate links. That means that a disclosure such as the following will NOT work:
Site X is supported by its audience. When you buy something through the links on this site, we may earn a commission.
The key here is the word "supported". It communicates to readers that by buying through the affiliate links, they'll support the site, which Amazon would see as incentivizing.
Amazon also requires you to identify yourself as an Amazon affiliate. The Amazon Associates Program Operating Agreement states:
You must clearly state the following, or any substantially similar statement previously allowed under this Agreement, on your Site or any other location where Amazon may authorize your display or other use of Program Content: "As an Amazon Associate I earn from qualifying purchases."
You'll often find this line in site footers but it can also go on a special disclosures page.
5. List your affiliate relationships in your privacy policy
Every affiliate program you are actively using on your website should be listed in your privacy policy or on a dedicated disclosure page which you'll ideally link to from your individual disclosures.
An example. Based on the tips above, a good example of an affiliate disclosure, placed visibly at the start of your content, could be:
Site X uses affiliate links. That means that if you buy something through these links, we may earn a commission. Click here to learn more.
FAQs about affiliate disclosures
Where should you put an Amazon affiliate disclosure?
Place your general Amazon affiliate disclosure in the footer of your website or on a dedicated disclosure page that you link to from your in-post affiliate disclosures.
Where do most websites put the affiliate disclosure?
Different sites choose different placement for their affiliate disclosure but ideally, you should place it at the top of each content piece.
How to word your affiliate program disclosure?
Word your affiliate program disclosure in a clear way. Don't assume that your readers know what affiliate links are and explicitly tell them that you'll earn a commission at no extra cost to them if they purchase something through your links.
How can you add an affiliate disclosure to WordPress?
There are different ways to insert an affiliate disclosure into your Wordpress posts and which one is the best for you will depend on how comfortable you are making more technical changes to your site. Some of the options are:
Creating a reusable block in the Wordpress block editor that you can then easily insert into old and new content alike.
Creating a short code for your affiliate disclosure that you can then insert into Wordpress' text editor wherever you like.
Editing your (child) theme to always have a certain affiliate disclosure in specific places, like at the top of each blog post.
Using a plugin such as FMTC Affiliate Disclosure to automatically add an affiliate disclosure in certain places.
It's a great time to set up a reusable affiliate disclosure while you're making your affiliate links nofollow on your WordPress website.
How can I automatically add affiliate disclosure to the top of all posts?
To automatically add an affiliate disclosure to the top of all of your posts, ask a developer to code your affiliate disclosure as such into your website or, alternatively, install a plugin such as the FMTC Affiliate Disclosure plugin to easily do it yourself.
Do you need to disclose every affiliate link?
The FTC does not specify whether you need to include an affiliate disclosure before or after every affiliate link if an article contains multiple links. Doing so is the safest approach but you can also make sure to have a very clear and visible disclosure at the top of your content.
How are you feeling about the affiliate disclosure on your website?
Do you think it's clearer or more transparent for your readers than those on the highly profitable affiliate sites we've profiled above? Or does it give you inspiration on how to design your affiliate disclosure in a more beautiful way?
Join the conversation on our Facebook Page:
Want more data-driven affiliate tips and strategies?
Find out anytime we publish an article. No spam or sales funnel. Unsubscribe anytime.