4 Common Affiliate Marketing Mistakes (And How to Fix Them)
By Monica Lent · Updated Oct 20, 2019
Hey everybody 👋 It's Monica here with the next entry in our affiliate fundamentals blog series. I'm really looking forward to today's post about affiliate marketing mistakes because I think these mistakes are so relatable.
I've made these mistakes.
You might be making them too.
And the tricky part is that unless you're throughly tracking what's going on with your affiliate website, you might be making them without even realizing it.
So I'm gonna keep this post super brief, and we can dive right into these affiliate marketing mistakes as well as how to fix them and how to change the way you're writing affiliate posts to avoid them in the first place.
Sounds good? Let's go 🚀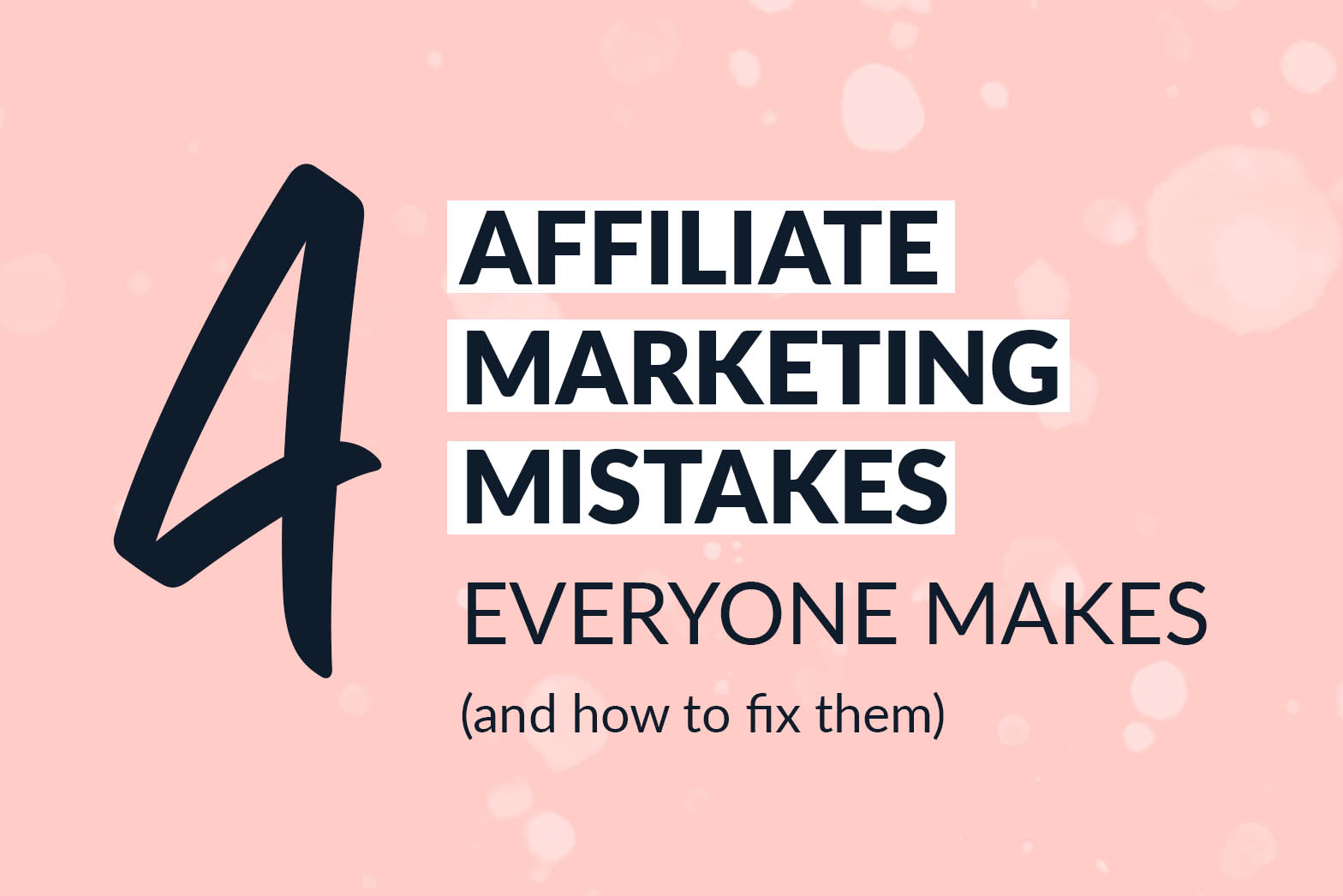 1. Not fulfilling user intent
You might remember from my previous post about the first steps to take in optimizing your affiliate website, when a reader lands on your page, they're usually coming to you with a problem.
And your post's job is to solve that problem.
But unless you wrote your article with that problem in mind in the first place, you might not even know what problem your reader is having.
And that makes it hard to recommend a solution that's going to fix it for them, and possibly earn you an affiliate commission in the process.
Let me give you an example.
Imagine you're writing a post about "10 things to know before climbing Mount Everest". And in that post, you're promoting the following affiliate products: plane tickets to Nepal and a book on Amazon called 'Mountain Climbing 101'.
But would those products be solving the reader's problem?
Maybe people who want to know how to prepare for a trip to Mount Everest have already booked their plane tickts to Nepal and are looking for last-minute advice. Or vice versa: they're aspiring to do it, but aren't serious enough to book tickets.
And at the very least, Mount Everest is too advanced for the kind of climbers who'd want to buy that "Mountain Climbing 101" book.
Your affiliate links will not convert when you forget about the problem your reader came to you to solve for them.
How can we fix that?
How to fix it
You've got a few main ways to solve this problem:
Discover the intent of the readers of your existing posts. If you've already got a lot of readers coming to some of your posts, you need to start by figuring out what problem those people are looking to solve.
Test. Test. Test. The first battle is the click-through, and the second battle is the conversion on your partner site. You can't have the latter without the former! So if you're not promoting a specific product (e.g. in a review post), you can try different products to see if they convert. You can also share "Alternatives" with your readers if they have different needs than yours when you bought the product for yourself.
Check the products they're buying instead. If you're getting click-throughs but not conversions for the product you recommended, check what is converting instead. Sometimes this is a goldmine for understanding what your readers would've liked to see in your blog post!
Write clear problem-solution oriented posts. Finding out the problem retroactively can be hard. It's worth it for high-search volume posts that you already have, but going forward you'll want to focus more on posts where the problem you're solving is clear and you understand the intent of the reader.
Just don't forget that sometimes we think we know what the problems is. Until we don't 😏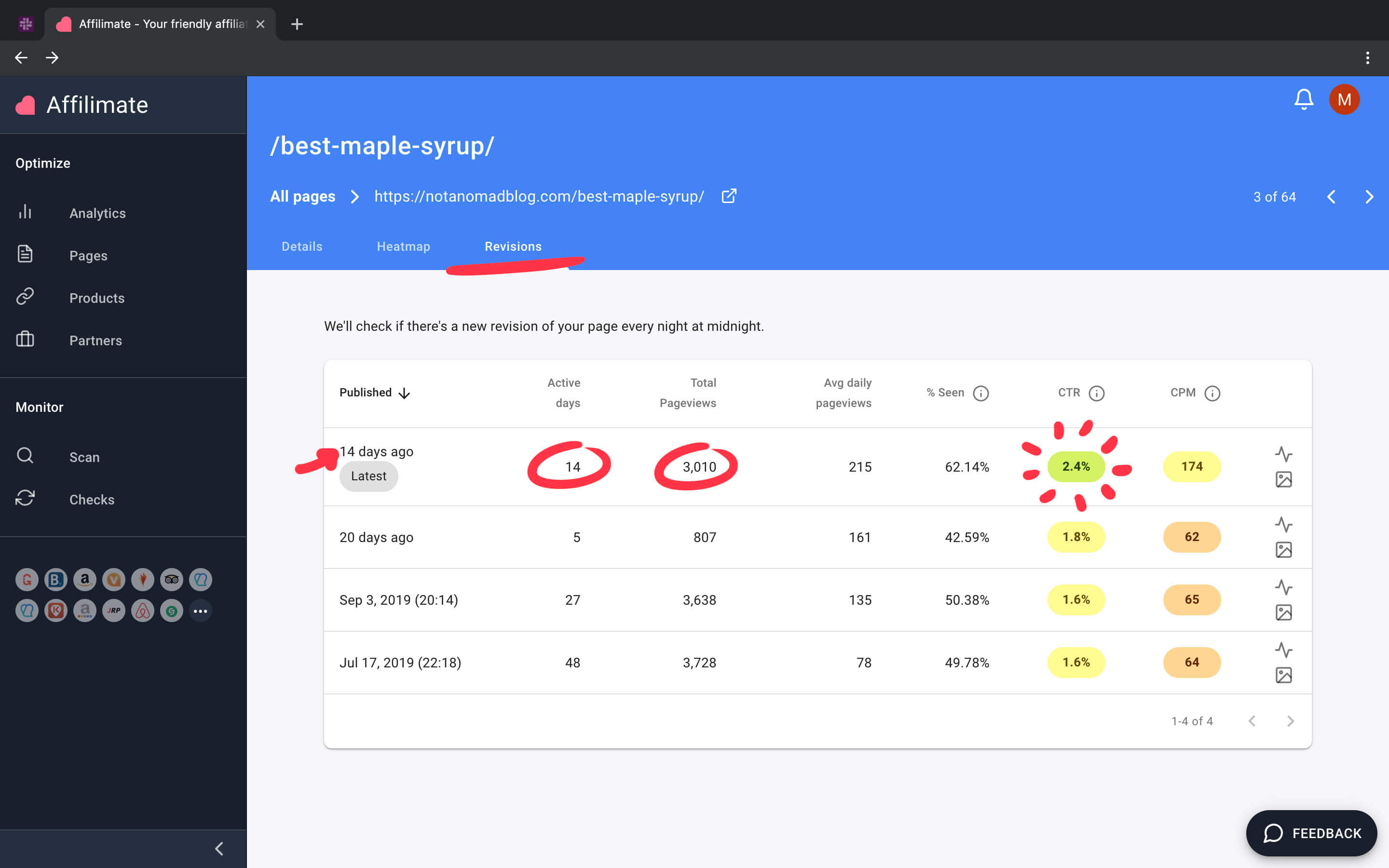 You can use Affilimate's Revision feature to compare versions of your posts and how they perform, so you know if your experiments are working 💪
2. Audience isn't ready to buy
One of the most common phrases you'll hear from people talking about optimizing for affiliate sales is the consumer buying cycle. This cycle can have different parts to it, which can even vary by what the product is exactly. Here's a high-level look:
Problem — Reader has a problem
Discovery — Reader searches for solutions to this problem
Consideration — Reader lands on your page and learns about the solution(s) you propose
Conversion — Reader clicks through to your affiliate partner and makes a purchase, and their problem is solved!
Different types of products have a different length of buying cycle as well, and may need more time or information to transition from one phase to the next. For instance, deciding which computer to buy usually takes longer than deciding which coffee machine to buy. A few pretty clear reasons come into play, like the complexity of the choice, the amount of knowledge needed to make a decision, and probably the biggest one: the high price point.
One of the most popular mistakes bloggers make writing articles for people who aren't minutes away from making a purchase.
Aspirational posts are one of the biggest culprits.
I've made this mistake myself. As a travel blogger, I put hotel links on posts like "Why you should visit Location X" or "15 photos to inspire you to do Y". But how many people are making a buying decision when scrolling through inspirational photos or reasons to take a holiday?
How many people's content is that good to inspire someone to book an entire vacation at that moment? You've at least got to request time off of work first! There are external barriers that make it impossible for that person to convert at that moment.
Instead, we ought to be writing articles that are designed to get people who need that last bit of information in order to make a well-informed purchasing decision.
How to fix it
Target buying keywords. Buying keywords relevant to your niche will vary, but some of the classics are phrases like "best X for Y", "best X under $100", "best X in 2019", "X vs Y", "X review", and so forth.
Join programs with a longer cookie period. If your niche has to selling more expensive items, where it takes people to make a purchase decision, look into affiliate programs with a longer cookie duration. For instance, if Amazon only gives you 24 hours, look into alternatives that may give you 30 days. You can even experiment with providing links to both partners side-by-side and giving your reader a choice.
Look at mid-priced products for partners with short cookie periods. If you want to use a specific affiliate partner, consider the "sweet spot" in terms of cost for the items you focus on. It depends on the demographics of people landing on your post, but generally something between $50-$80 is something people can research and buy in one sitting as opposed to needing a lot of research in between.
Be thorough in your information and research. Don't put your reader in a position where they need to leave your page in order to get the information they need to make a purchase. Be thorough!
3. Service or product just doesn't convert
You can send loads of people with a strong buying intent through to your partner (also called "qualified leads"), however the tricky part is that from that point on – you can't really do much to control the experience your reader is having on your partner's website.
Sometimes it happens that the product just doesn't convert well.
And no matter how many people you send to that product on your partner's website, essentially none of them are going to end up converting. At least, not during the cookie period that partner has granted you.
How to fix it
Pay attention to the click-through ratio vs. conversion rate: It's important to pay attention to to where the problem might be: is it that people aren't clicking on your links at all, or that they aren't converting? You can track the former using Affilimate's on-page tracking and heatmaps.
Read the reviews thoroughly of the product you're promoting: Even if you had a great experience with the product, if there are loads of negative reviews on the website, you're going to have a hard time overcoming that. It might also be that your experience isn't representative of the real scoop. So be sure to check the reviews before sharing a product with your audience!
Promote the same product with a different partner: If you believe in the product but it's not converting well, consider promoting it through a different partner. Either through the site directly, through Amazon, through an aggregate retailer like REI, there are loads of options. Sometimes it just might be that the experience in the online store isn't that good.
Ask for help from your partner: Some affiliate programs offer great support for their affiliates, and you can ask them for insights on why their product isn't converting for you. Maybe they can suggest alternative copy, more updated versions of the product, or generally give you tips about what's worked for other affiliates.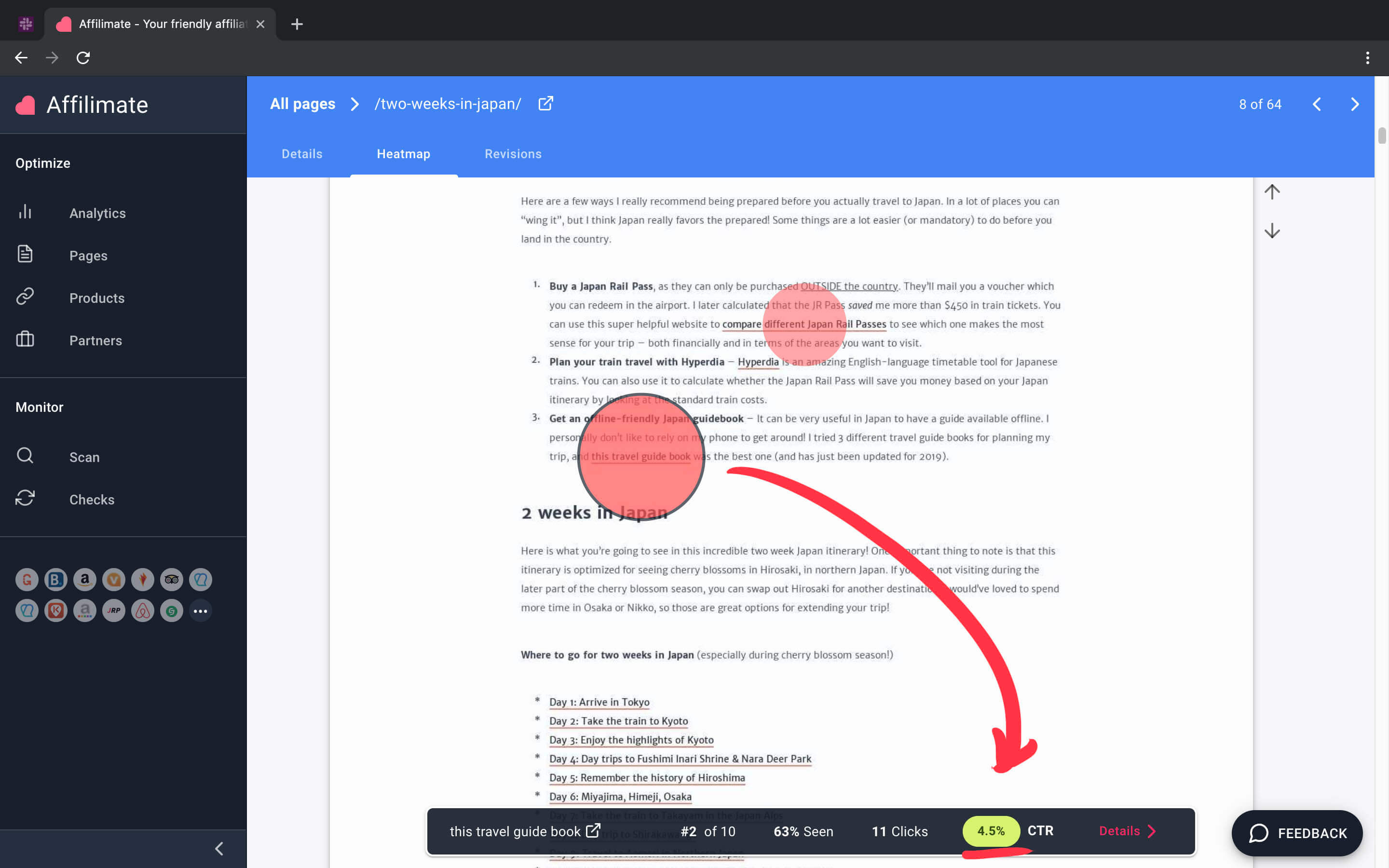 Use Affilimate's heatmap feature to see exactly which links people are clicking through, and compare with your partner reports to understand if the conversion rate is proportional ☝️
4. Post isn't optimized for affiliates
It doesn't take long to figure out that affiliate marketing isn't as simple as sprinkling some affiliate links into existing posts and watching money rain from the sky.
But sometimes, you write an awesome post that is targeted at buying keywords for people who are ready to purchase and then...you're making some sales, but you feel like it should be...better?
When the rest of the ingredients are right for a stellar affiliate post, sometimes it just comes down to a couple of hygiene factors that prevent your post from converting properly.
There's nothing wrong with the audience, but the content isn't cutting it.
Let's see what we can do there to spruce it up.
How to fix it
Make your links visually distinct. Make sure your links are easily distinguishable as links and don't look like a different type of text (such as headlines). Make sure you have an easily distinguishable contrast ratio between the background color on your site and the link color, so it's easier to read the link text.
Ask people to click. Just linking to the name of the product isn't enough to get people to actually click through. It's a decent strategy in some situations, but you'll usually want to follow it up with an actual call-to-action such as a link or button that proclaims "Click here to view the product on Amazon" for instance.
Experiment with different calls to action. Try both different formats (buttons vs. links vs. images) and different text. One of the easiest ways to figure out if your changes are driving more click-throughs is to use Affilimate's Revision feature, which allows you to easily compare the performance of different versions of your posts.
Employ comparison tables. Tables are great because they're a space-efficient way to compare similar products, and often help people come to a decision about which one is a fit for them in a short amount of time.
Develop trust with your audience. No one's going to buy from your post if you're just trying to sell them stuff. Develop trust with your audience by sharing stories or photos of yourself using the product, and what it enabled you to do, or what could've happened without it. Be honest about the drawbacks as well, to provide the complete picture: remember, it's about helping your readers!