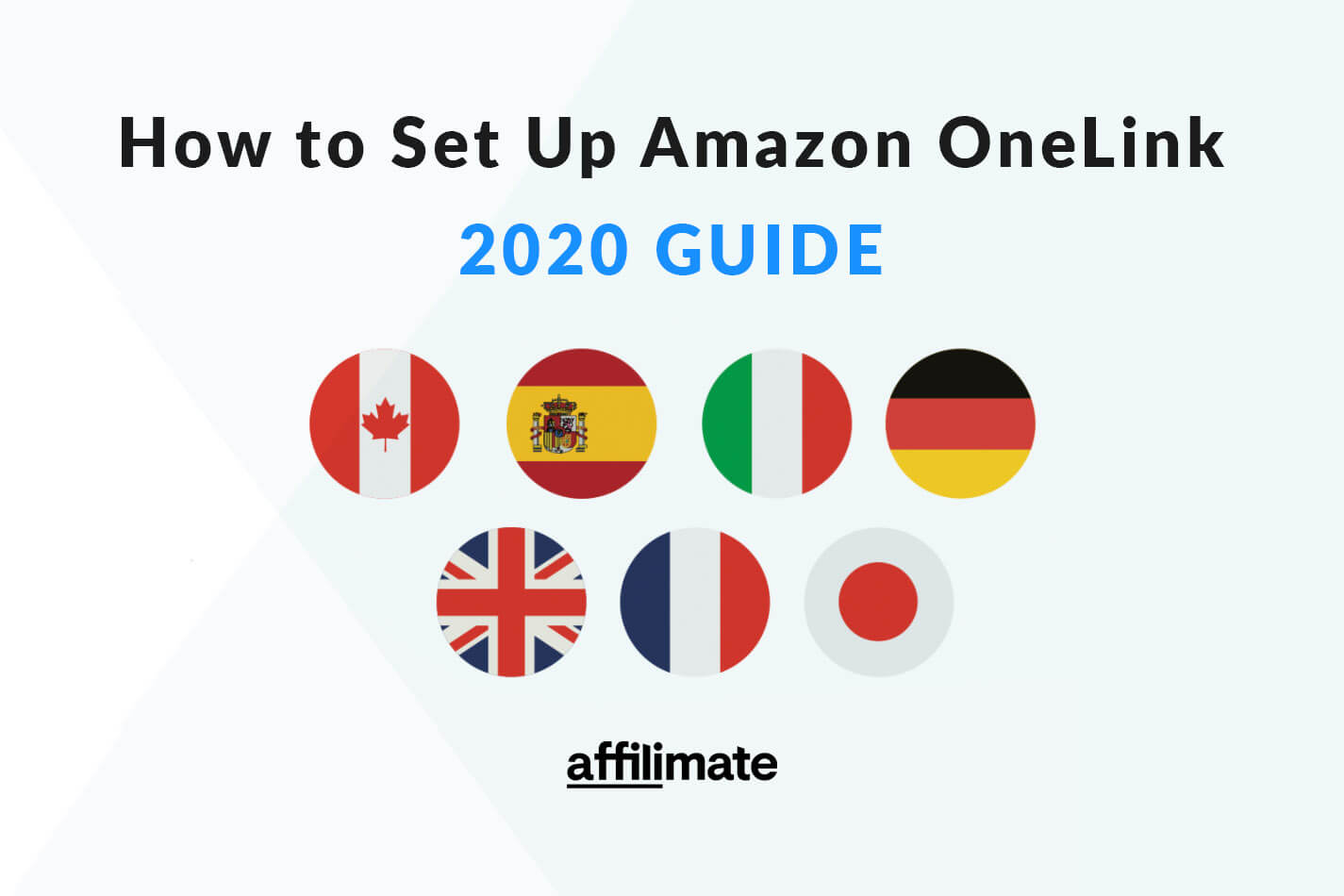 Amazon One Link: How to set up Universal Amazon Links in 2020 (No JavaScript!)
By Monica Lent   ·   August 14, 2020
You might be wondering: what happens when someone who's not from the United States clicks on my Amazon Affiliate link and buys something?
Unless you've set up Amazon OneLink or another geo-redirection tool, you won't see see that commission, even though you clearly earned it.
If you have a fair amount of international traffic on your Amazon affiliate website, setting up OneLink to create Universal Amazon links is a no-brainer.
In this article, you'll learn:
What is Amazon OneLink exactly?
How to set up Amazon OneLink (the modern way)
What if Amazon OneLink is not working?
Does Amazon OneLink work on YouTube?
How to check and optimize your Amazon affiliate links

All your affiliate links, content, and commissions tracked in a single dashboard 💸
Affilimate connects on-page events with affiliate commissions, so you can optimize your conversion funnel and increase sales.
Free 30-day trial · No credit card required
What is Amazon One Link?
Amazon One Link allows Amazon Associates to use Amazon affiliate links on their website, and automatically send visitors from outside the United States to their local, Amazon store while still earning a commission.
For a long time, Amazon's One Link required you to install a JavaScript snippet called OneTag.
As of April 2020, you no longer need JavaScript code to use Amazon One Link to monetize your international traffic to your affiliate website.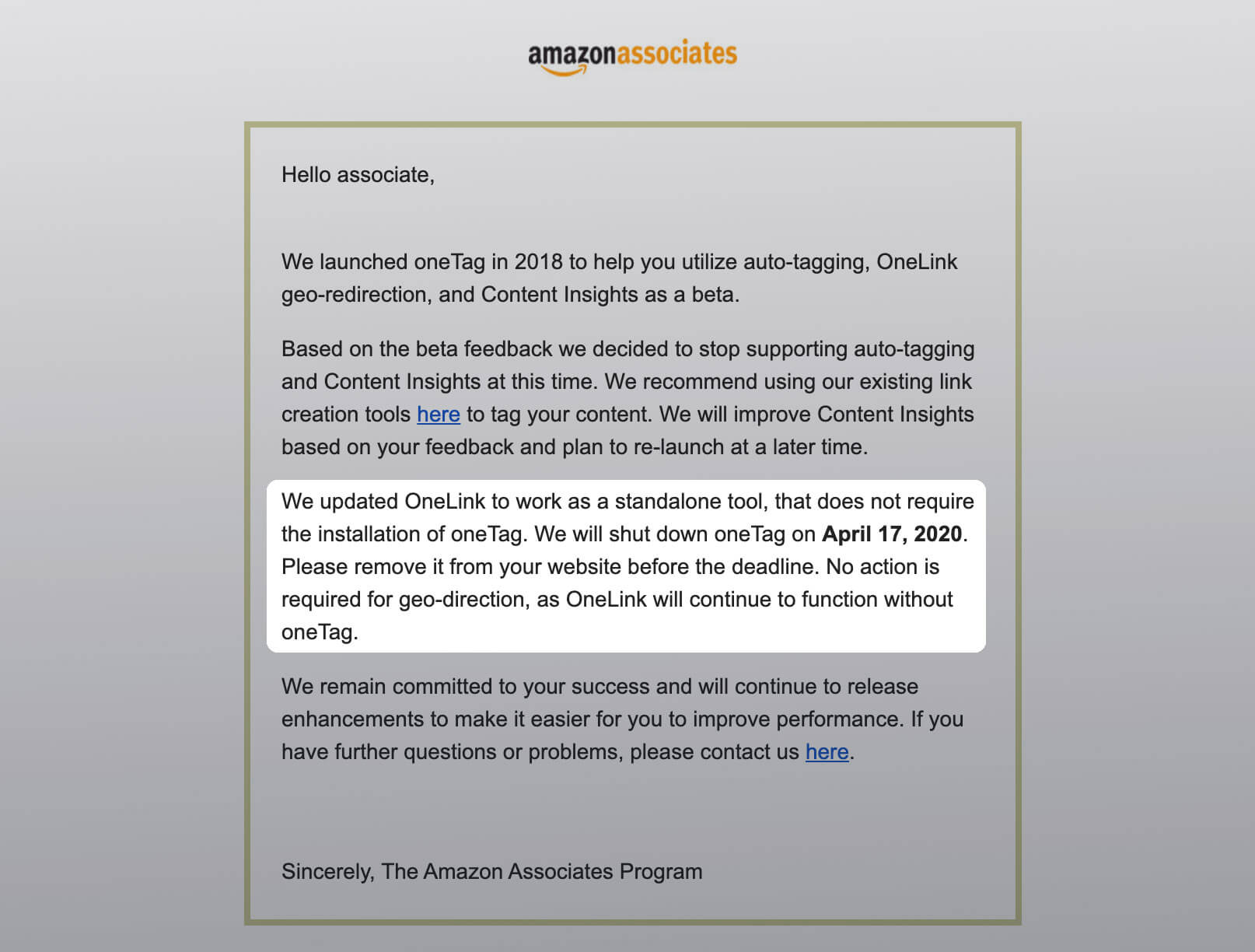 This makes setting up Amazon OneLink easier than ever. Here's a simple 5-step process for setting up Amazon OneLink for your website.
How to enable Amazon One Link for your Affiliate Website
Step 1. Sign up for the Amazon US program
It is only possible to link international accounts to a US account. So if you haven't done it yet, make sure you have an Amazon US account.
You can sign up for one here: https://affiliate-program.amazon.com
Step 2. Open OneLink and choose which country to connect
Go to Tools > OneLink and then click on the first option to link your accounts.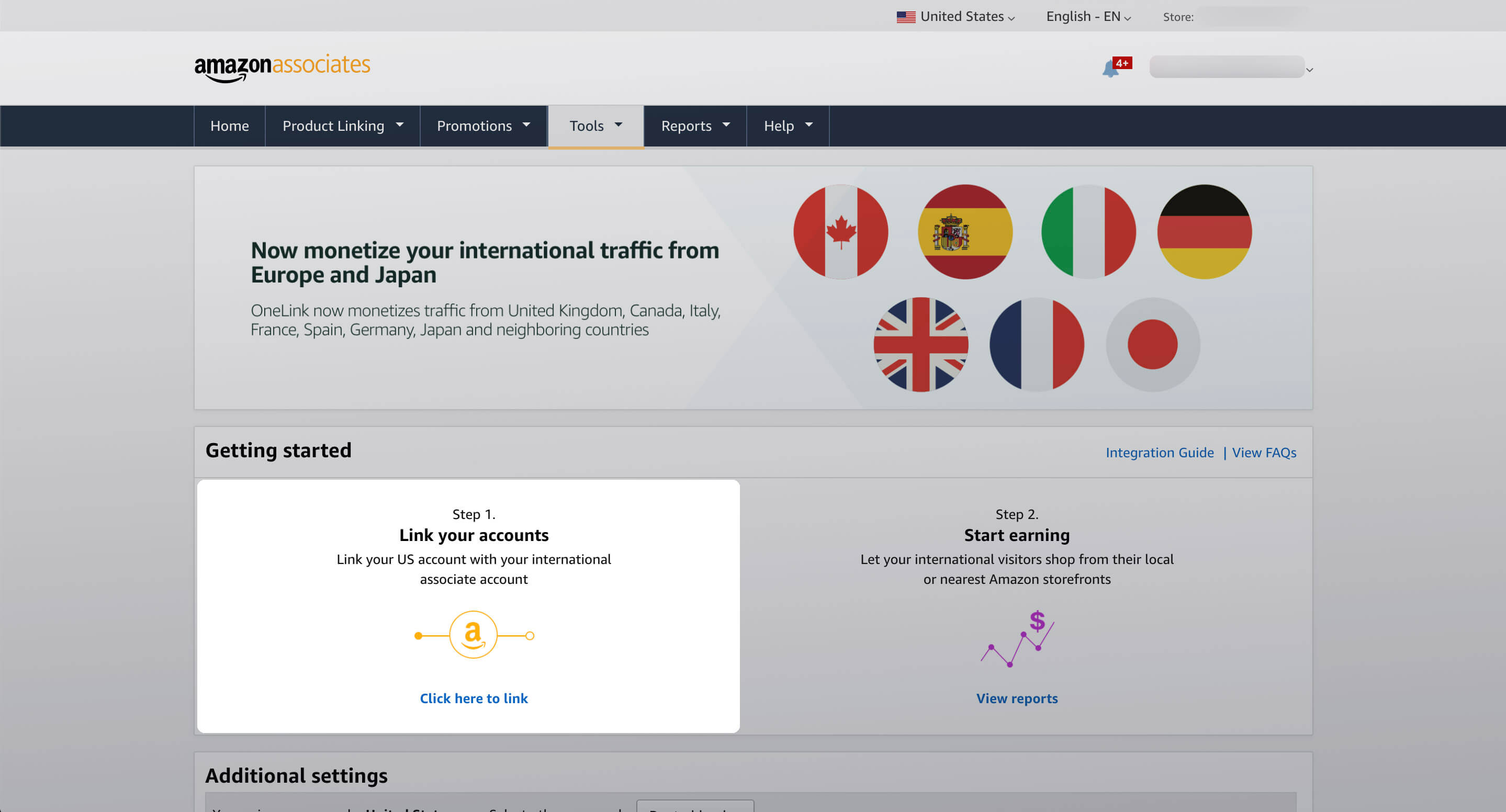 You'll see a list of six possible stores you can connect. Amazon only supports OneLink for a few specific countries (for example, Australia has an Amazon Associates program but is currently NOT available through OneLink).
Choose the first country you want to connect. Ideally, choose the country where a decent percentage of your visitors are coming from: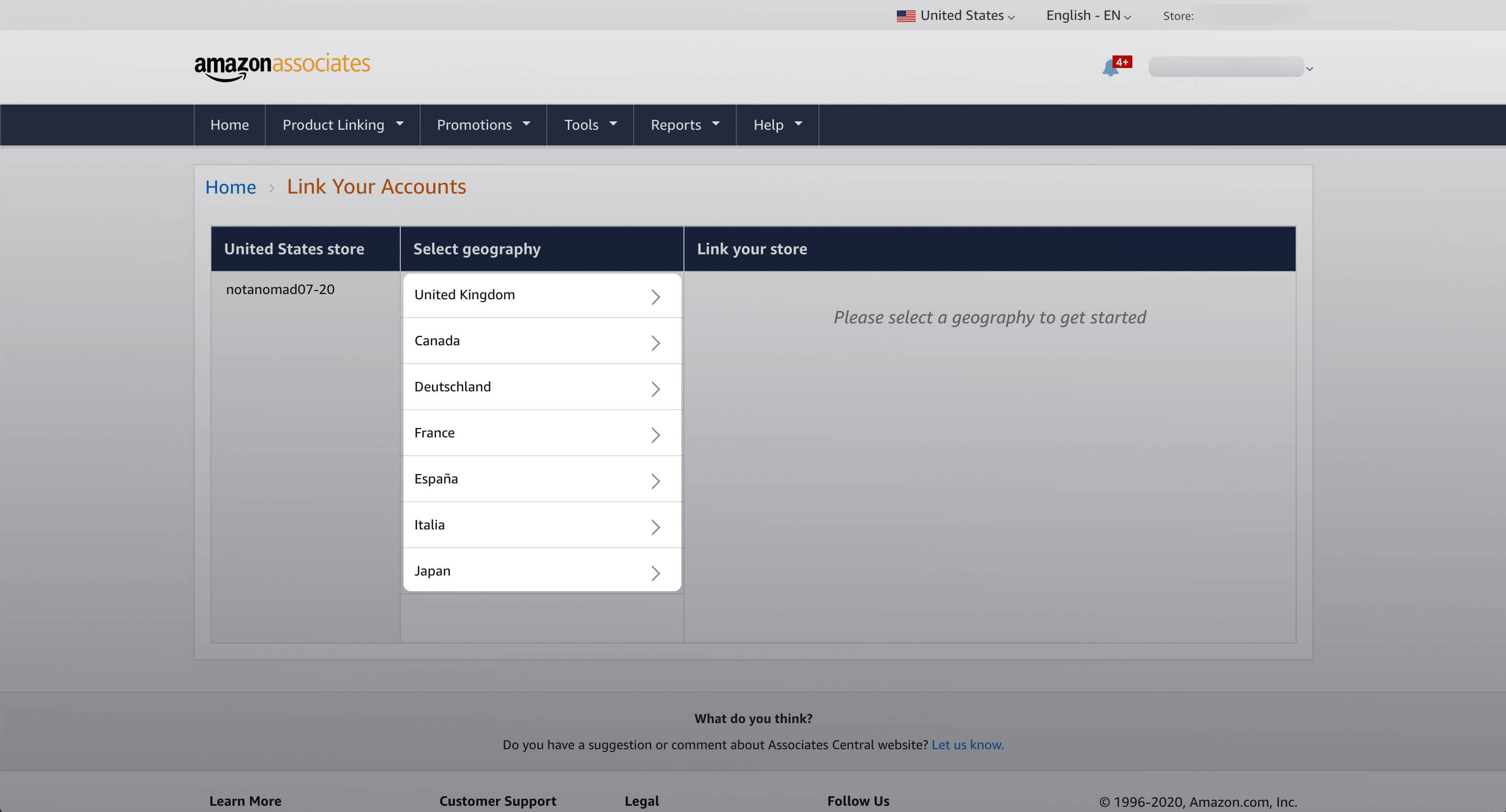 Next, we're going to sign up to an international Amazon store.
Step 3. Sign up to different international Amazon affiliate programs
Click the option that says Sign up here and it will send you directly to the signup flow for that particular country's Amazon program.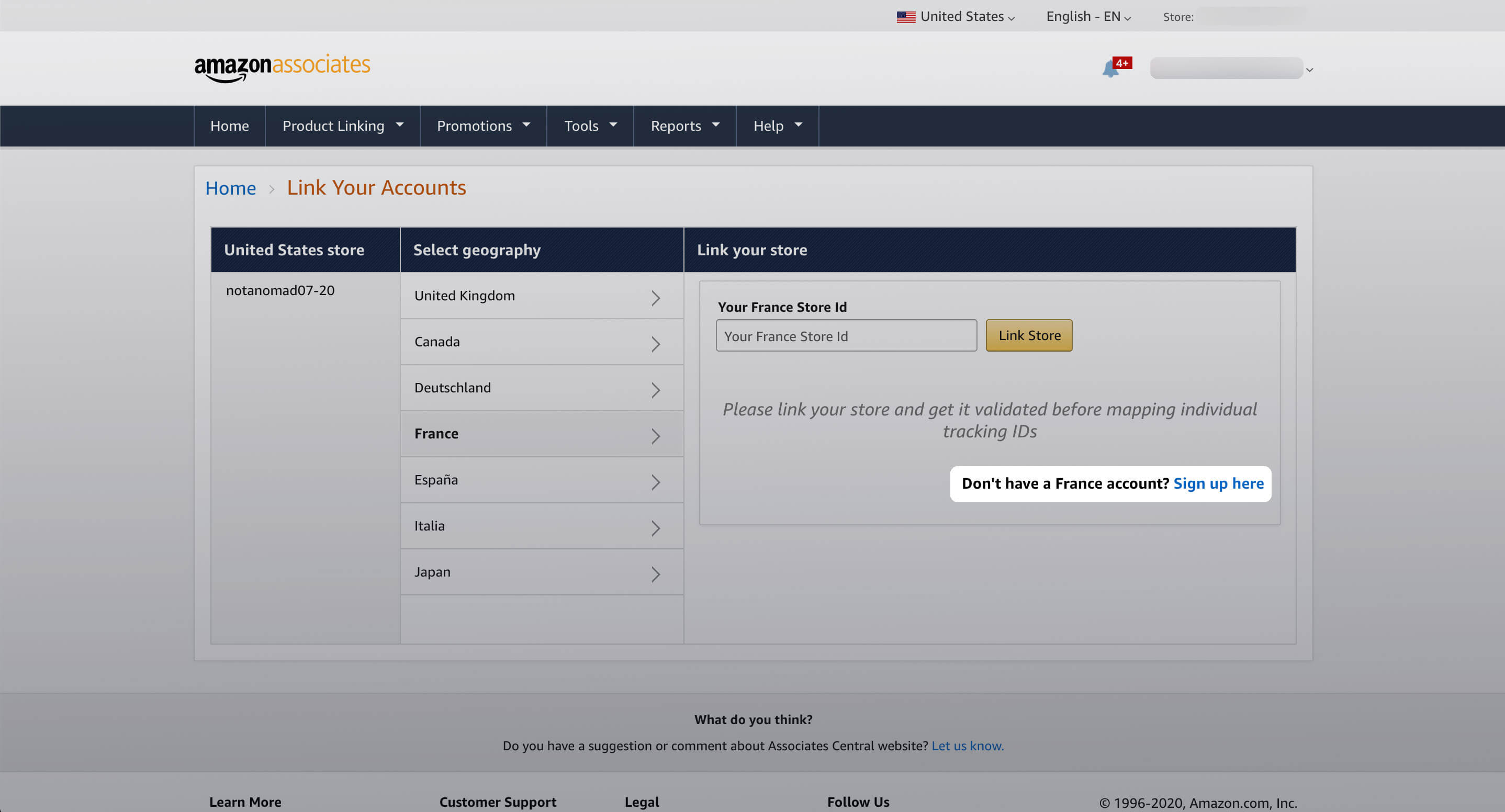 Here's a handy list of all the Amazon programs, but you can also just visit these by clicking the links inside the Amazon Associates Portal.
As you go through each program, the form will be largely pre-populated with the data associated with your account.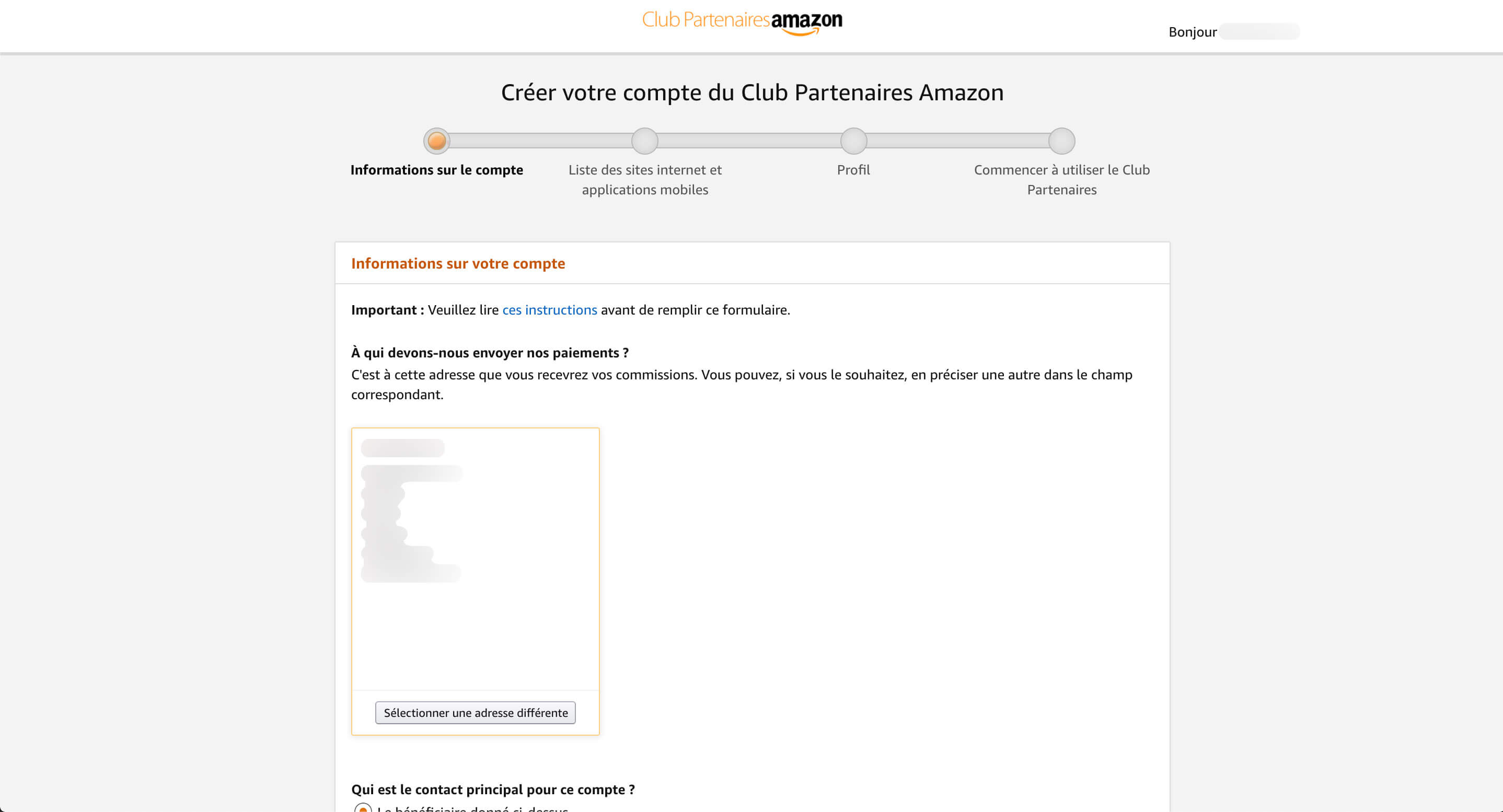 Yes, the signup form is the country's language but you can use Google Chrome's translate feature and you'll have no issue submitting the form afterwards.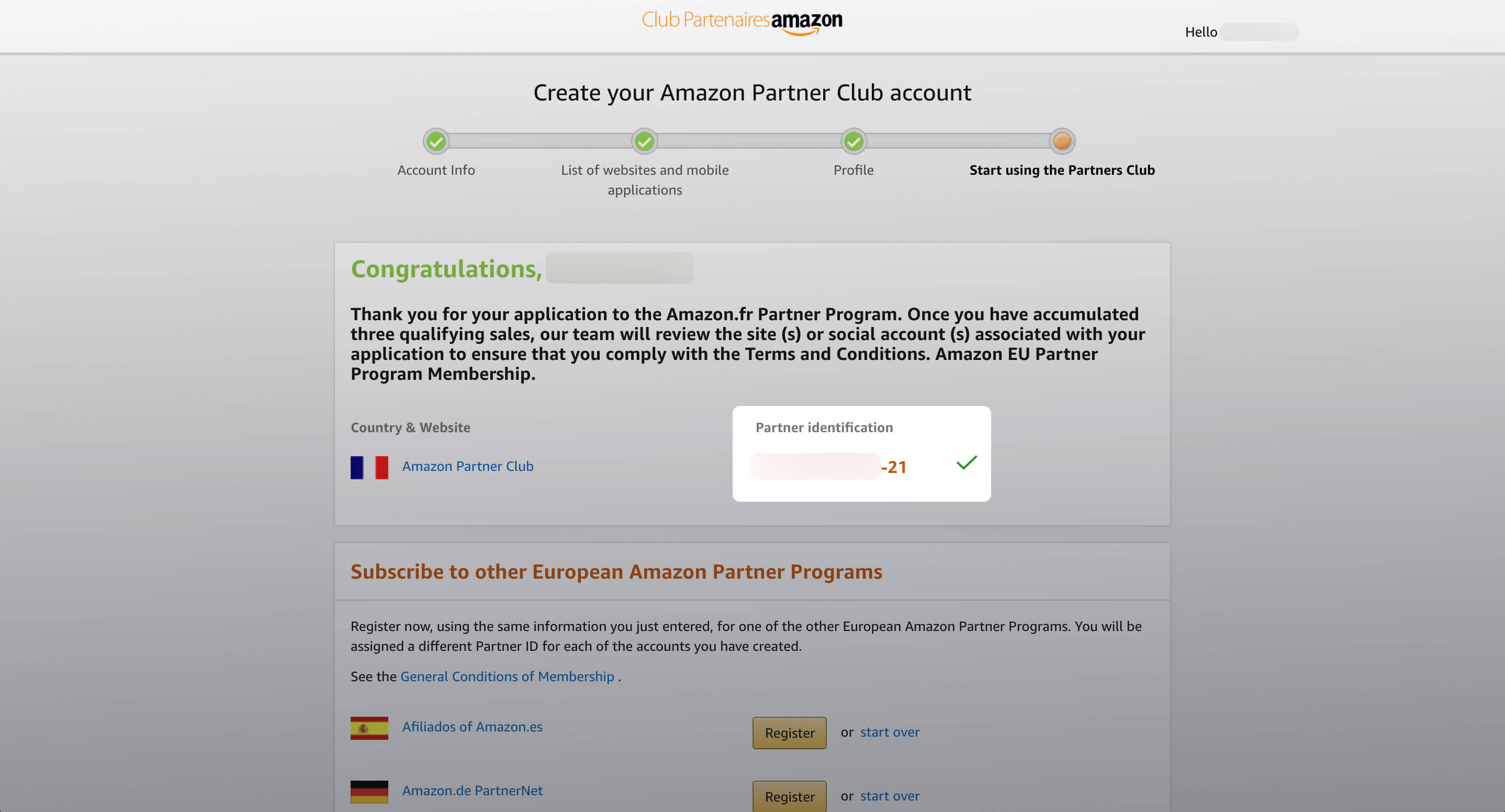 At the end, you'll have an Amazon Store ID! You will eventually copy/paste this into the OneLink settings inside the Amazon US Associates Portal.
If you already have an Amazon Associates account in another country, or you are logging back in after finishing the signup, you can always find your Store ID in the top right corner.

Step 4. Repeat for as many countries as you want
Do keep in mind, for each country you add, you will need to make a minimum of three sales in the first 90 days in order to keep the account open.
This is exactly the same as the normal Amazon program.
If you're signing up for EU programs, you can easily join the remaining ones after setting up a single EU program. You'll see a list under your finished signup form with a bunch of buttons for each country: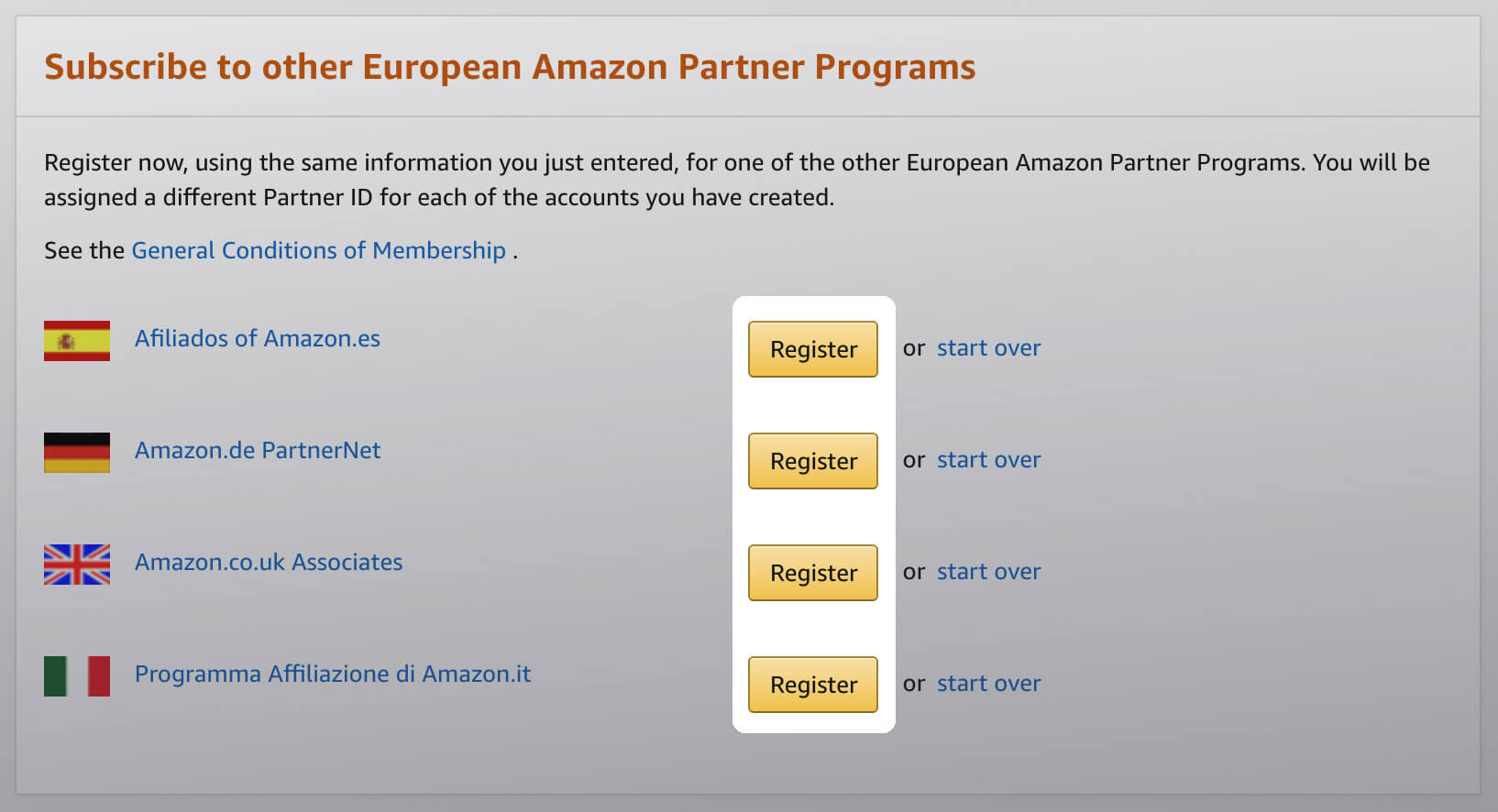 If you just click each one, it'll sign you up for them with zero effort.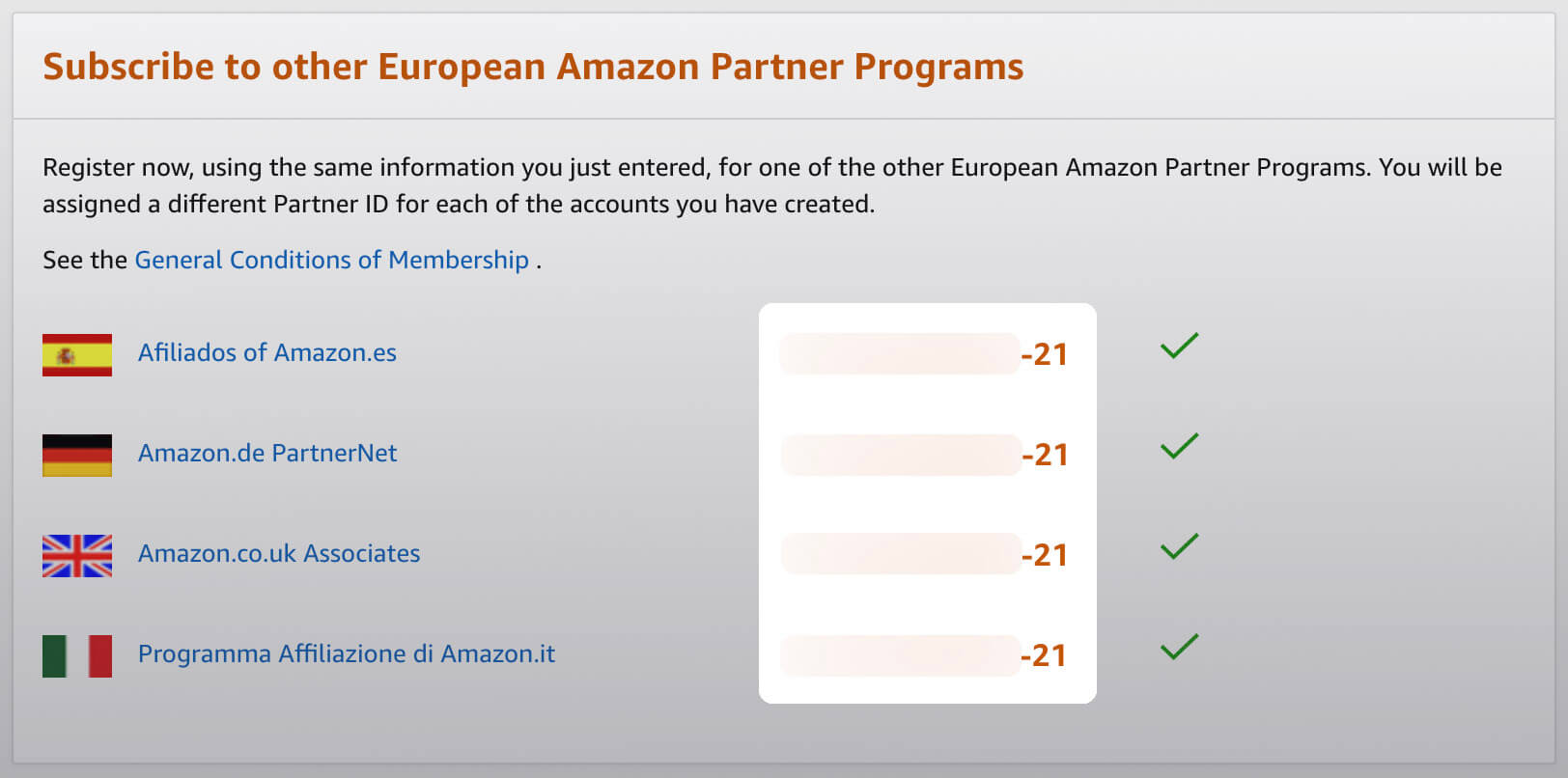 Step 5. Copy your store IDs into OneLink
Finally, you just need to copy and paste those store IDs into the OneLink settings. Just click the name of the country, paste your Store ID into the box, and push "Link Store".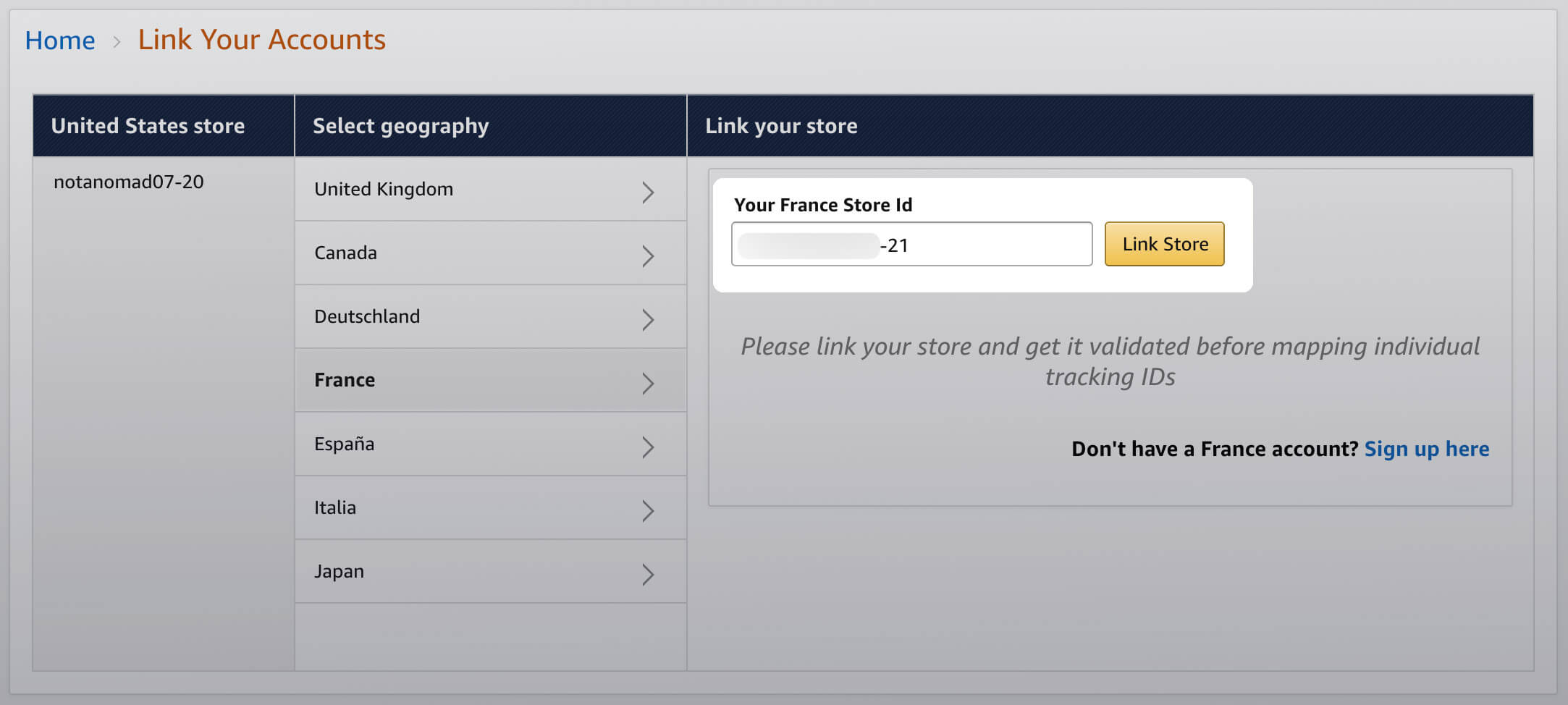 Once you do that, you'll see the other store verified and linked to your account.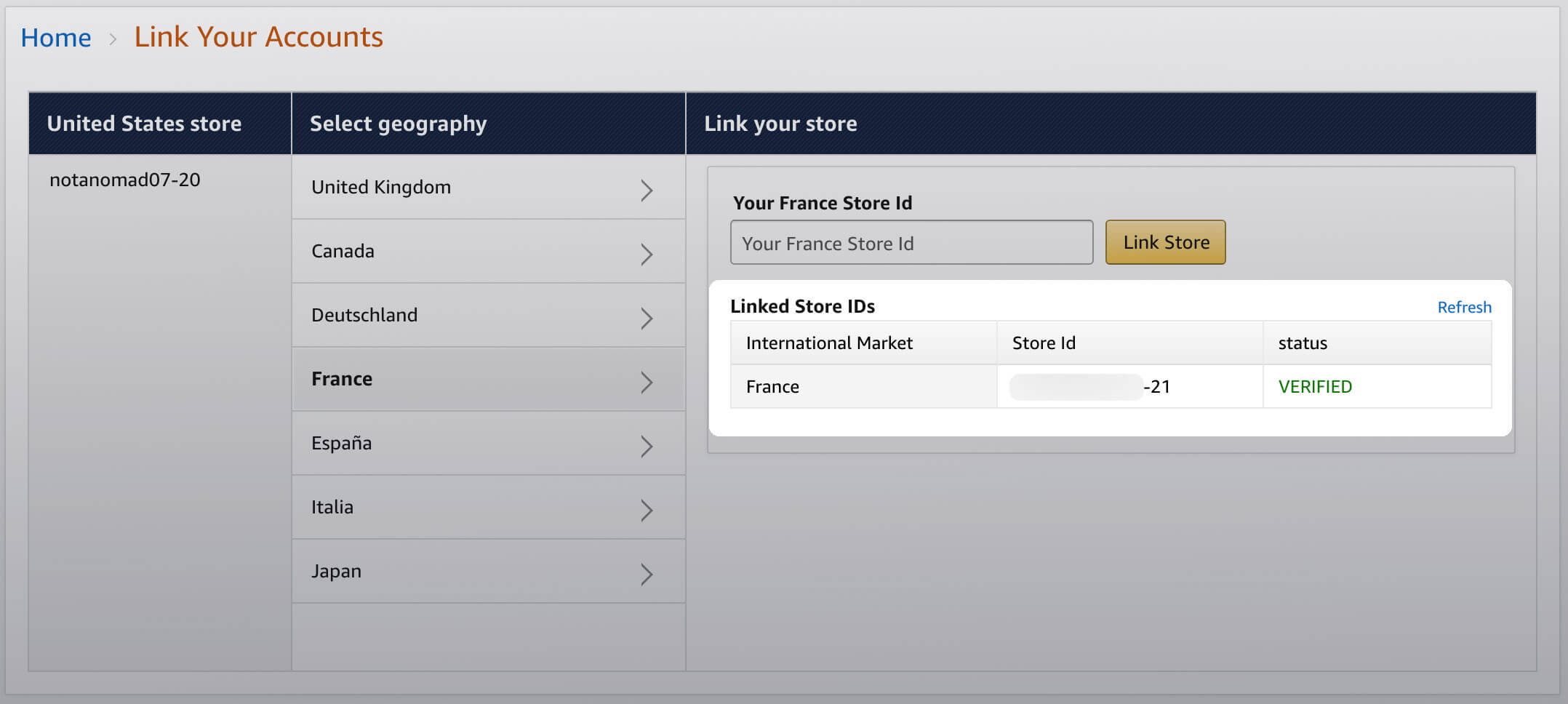 Amazon One Link Not Working?
In my experience, it is extremely difficult to see that One Link is working. Even with a VPN in incognito mode, there's a good chance Amazon still won't redirect you.
But that doesn't mean Amazon One Link is not working.
My recommendation is that after you've done the setup, give it some time, and then check your earnings reports and international reports for evidence of activity (like clicks and conversions).
To see your international revenue, click Reports > Earnings Report.

There you will see earnings from different countries.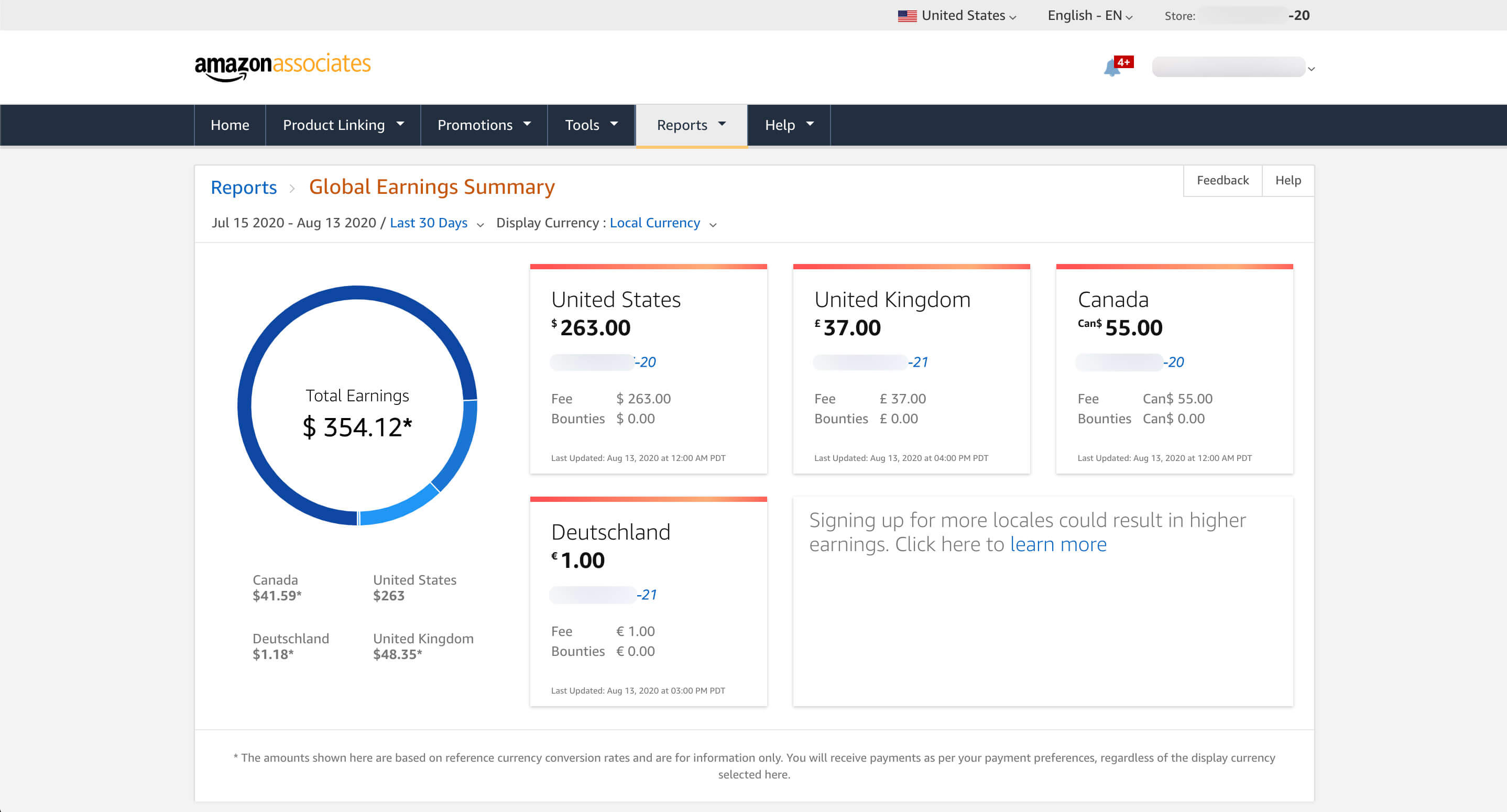 Even if you just added a new country here, it will not show up by default.
Check back in a few days and see whether it shows up, and whether you have any clicks or sales in that particular dashboard.
Does Amazon OneLink work on YouTube?
Now that Amazon OneLink no longer requires JavaScript, it should now work on YouTube :)
All your affiliate links, content, and commissions tracked in a single dashboard 💸
Affilimate connects on-page events with affiliate commissions, so you can optimize your conversion funnel and increase sales.
Free 30-day trial · No credit card required
More tips for getting the most from your Amazon links
While you're tweaking the Amazon links on your site, don't miss these easy mistakes that could be costing you conversions.
Want more data-driven affiliate tips and strategies?
Find out anytime we publish an article. No spam or sales funnel. Unsubscribe anytime.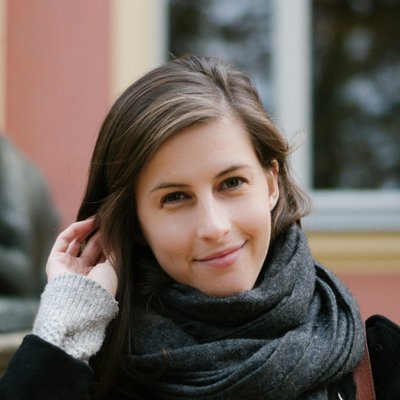 Monica Lent
Hi there! I'm a Monica, one of the co-founders of Affilimate. I blog, I code, and above all else I drink coffee.