How to track your Amazon affiliate sales with Tracking IDs
By Monica Lent   ·   January 7, 2020
So you're making a little bit of money as an Amazon affiliate...but exactly which products are performing best on which posts feels like a black box?
You're not alone.
Trying to get useful tracking on your blog posts with Amazon isn't as straightforward as it is with other affiliate programs that allow you to create unique SubIDs (also called campaign IDs or tracking labels) for every link.
But Amazon does offer a system that can get you part-way there, it just takes a bit of work.
In this post, you will learn how to use Amazon's Tracking ID feature to get more granular insights on which posts on your blog are earning money, which products are selling best, and how to use that data to run experiments and optimize your affiliate blog posts.
Table of Contents
How Amazon's default reports work
What you can learn from the beta Content Insights report – and what you can't
How (and why) to create unique tracking IDs in the Amazon Associates portal
How to optimize an Amazon affiliate blog post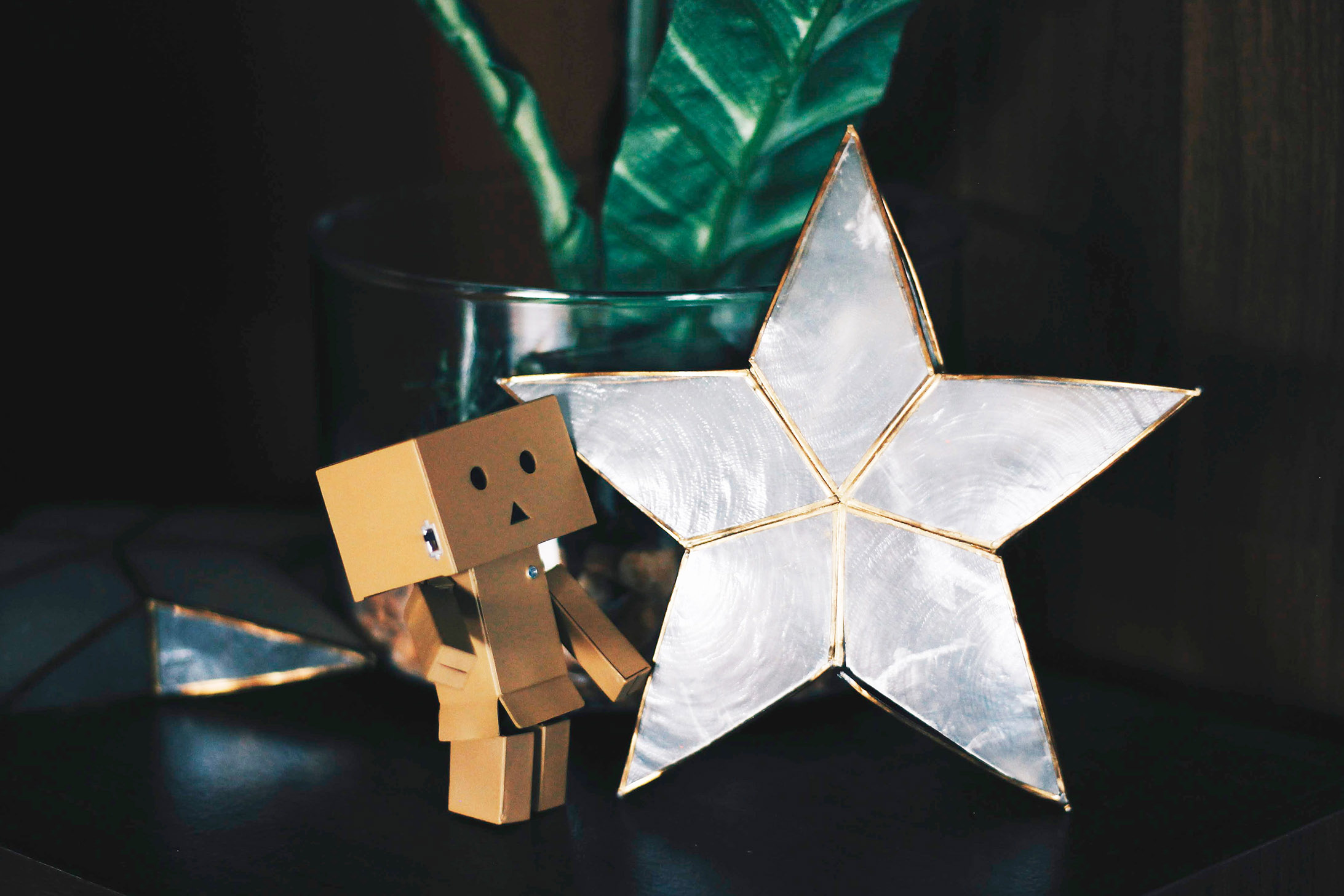 Photos by Daniel Eledut and Jem on Unsplash
How Amazon's default reports work
By default, there are a couple of different kinds of reports Amazon Associates Central gives you in Amazon's combined reporting dashboard:
Ordered items (clicks, items ordered through links, and ordered revenue)
Earnings (clicks, item count, revenue, bonuses, your commission)
Link Type performance (in case you're using the Product Advertising API or Native ads)
You can group this information by date or Tracking ID (which is what we're here to talk about!).
Let's say you clicked "Earnings" and grouped by "Date", it would look something like this: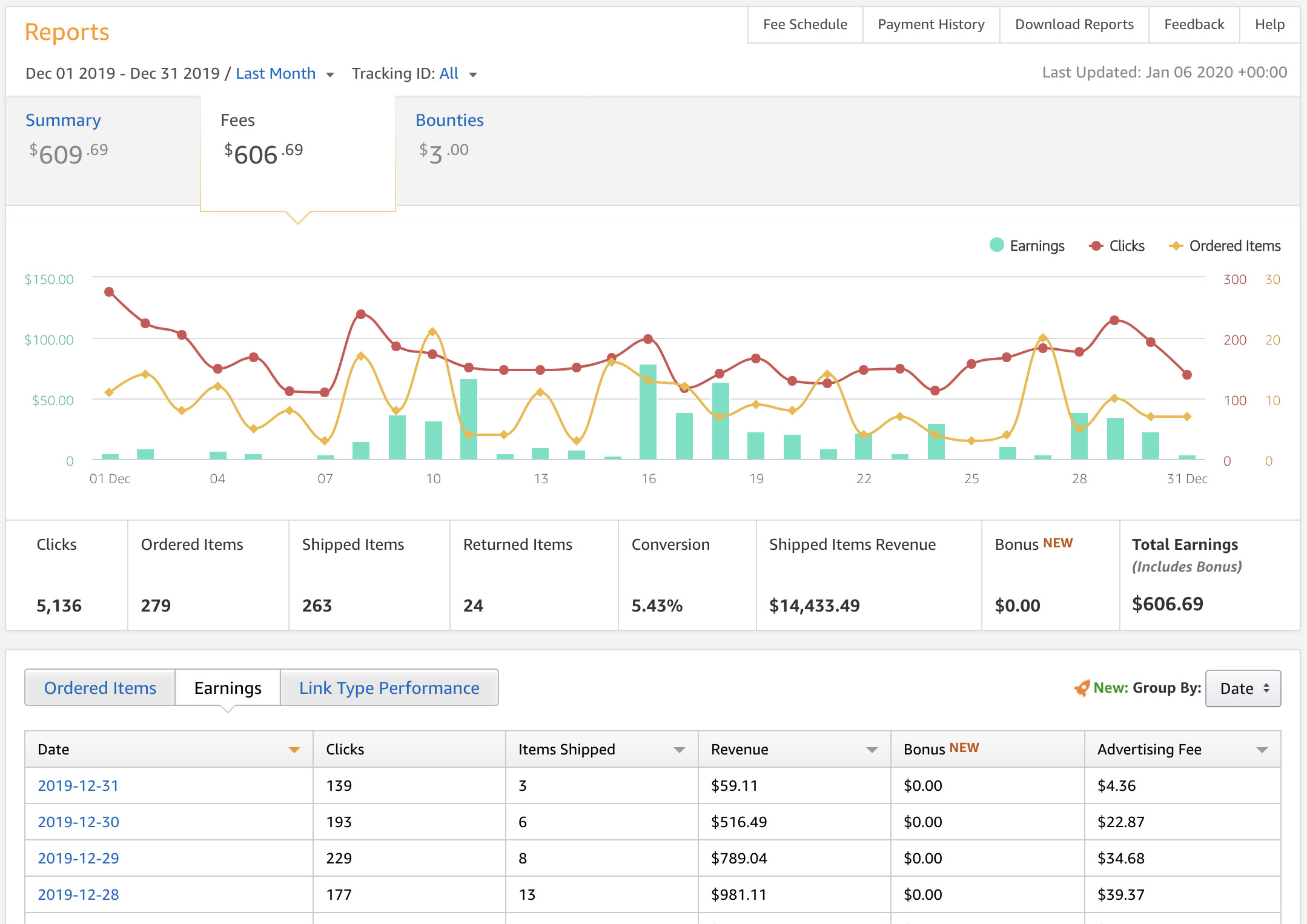 That's nice, but there are a number of things it doesn't tell us:
Which of my blog posts referred these clicks? Which ones made the sale?
Which items are the most sold, broken down my blog post?
Which of my blog posts resulted in the most returned items? What items get returned?
Which items from my blog posts aren't converting, and should be replaced?
Amazon has a new report that's in beta, and can give us part of the answer. We'll look at that before going for the complete solution.
What you can learn from the beta Content Insights report – and what you can't
IMPORTANT NOTE — Amazon has decided to discontinue their Content Insights beta, according to a letter sent to Amazon Associates on March 23, 2020. Scroll down to the next section on how to create your own tracking IDs in the Amazon Associates Portal.
Amazon is working on a new report called Content Insights. The report isn't available for everyone yet, and it's in beta. That said, it's been in beta for quite a long time so it's not clear what the future of this report is. In any case, if this feature is enabled for your account, you can find it right next to the "Reports":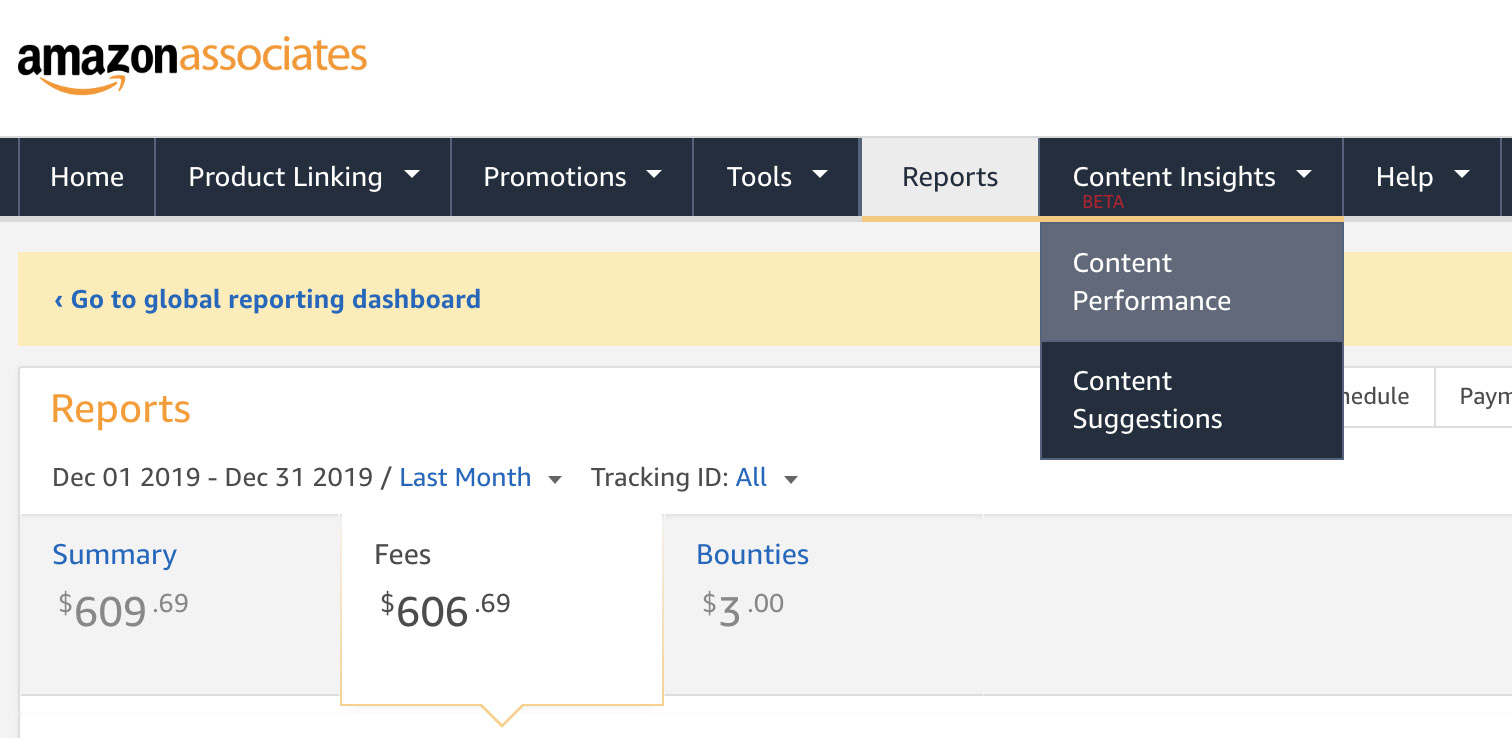 Hover "Content Insights" and then click "Content Performance"
This report is only available if you have Amazon OneLink installed on your site. If you don't, you're out of luck, though you can install OneLink to get these insights on future sales.
To create the report, just pick a date range you're interested in and click "Generate reports". Then once the report has been generated, click "Download":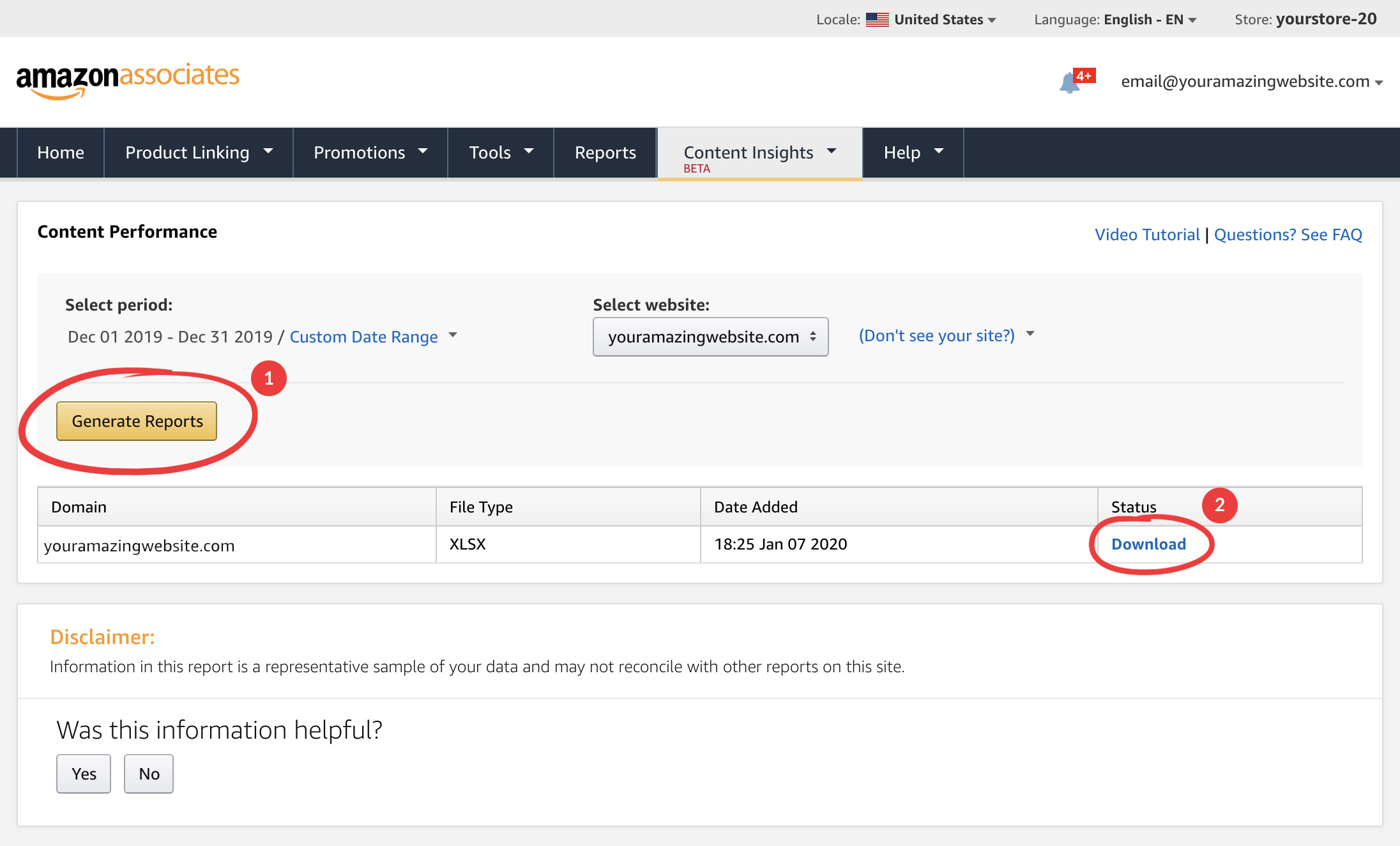 How to read the Content Insights Report
Once you've downloaded the report, you can open it up in Excel, Numbers, or Google Sheets:

There are a couple of things you can learn from this report:
Number of clicks per blog post
Number of items ordered
Ordered revenue (how much Amazon made from the sales you referred)
Earnings (how much you actually earned)
Ordered products (by their ids)
Now, this is useful for a high-level understanding of which posts are earning us money right now. You can also take those product ids insight the "Ordered products" column and use them to build an Amazon URL to see what was sold:
For example, let's say that B008H4SLV6 showed up in your report. Then you could open this url:
https://www.amazon.com/dp/B008H4SLV6/
And you'd see that you'd sold a very expensive blender 😁
Issues with the Content Insights Report
This report is very incomplete. You'll notice the numbers don't add up, and Amazon even writes on the page, "Disclaimer: Information in this report is a representative sample of your data and may not reconcile with other reports on this site."
It takes forever to see which products were sold per post. If you have very few sales, it'll be easy, but as your volume increases it is way too tedious to check on a regular basis.
Tedious work is done irregularly. Let's be honest: human nature dictates that if it takes this much work, you just won't do it very often. Meaning you'll be missing out on learnings (and money).
There's a lot it doesn't tell us. Such as what's been bought and then returned, or what products are often clicked but never sold. Two key pieces of information to help us optimize our posts are missing!
There is a more accurate way to get the data you need to optimize your Amazon affiliate posts.
It just takes a little work.
The good news is that your Content Insights reports can give you an idea of which blog posts and links to start with!
How (and why) to create tracking IDs in the Amazon Associates portal
The Amazon Associates portal gives us the ability to create up to 100 unique tracking ids. You can use these in a number of different ways, but I would recommend that you create one unique tracking ID per blog post.
Of course, it's possible to go more granular (for example, one ID for links on a page, and one ID for buttons, etc.), but a) you don't want to run out of tracking IDs b) that can be a lot of work.
The great thing about these tracking IDs is that when you download your Earnings reports, every single product sold will show the Tracking ID in its own column. That means we will be able to see which products are sold (and returned) for every blog post on our site!
How to create a tracking ID in the Amazon Associates portal
Open Amazon's page, Manage Your Tracking IDs
Click "Add Tracking ID"
Choose a name, ideally the name of the blog post matching the URL (So if your post's URL is /most-badass-blender then use "most-badass-blender")
Select the new tracking ID by clicking on it
Replace your existing links on that page with new ones (see tips for that below)
Here's what that looks like in photos: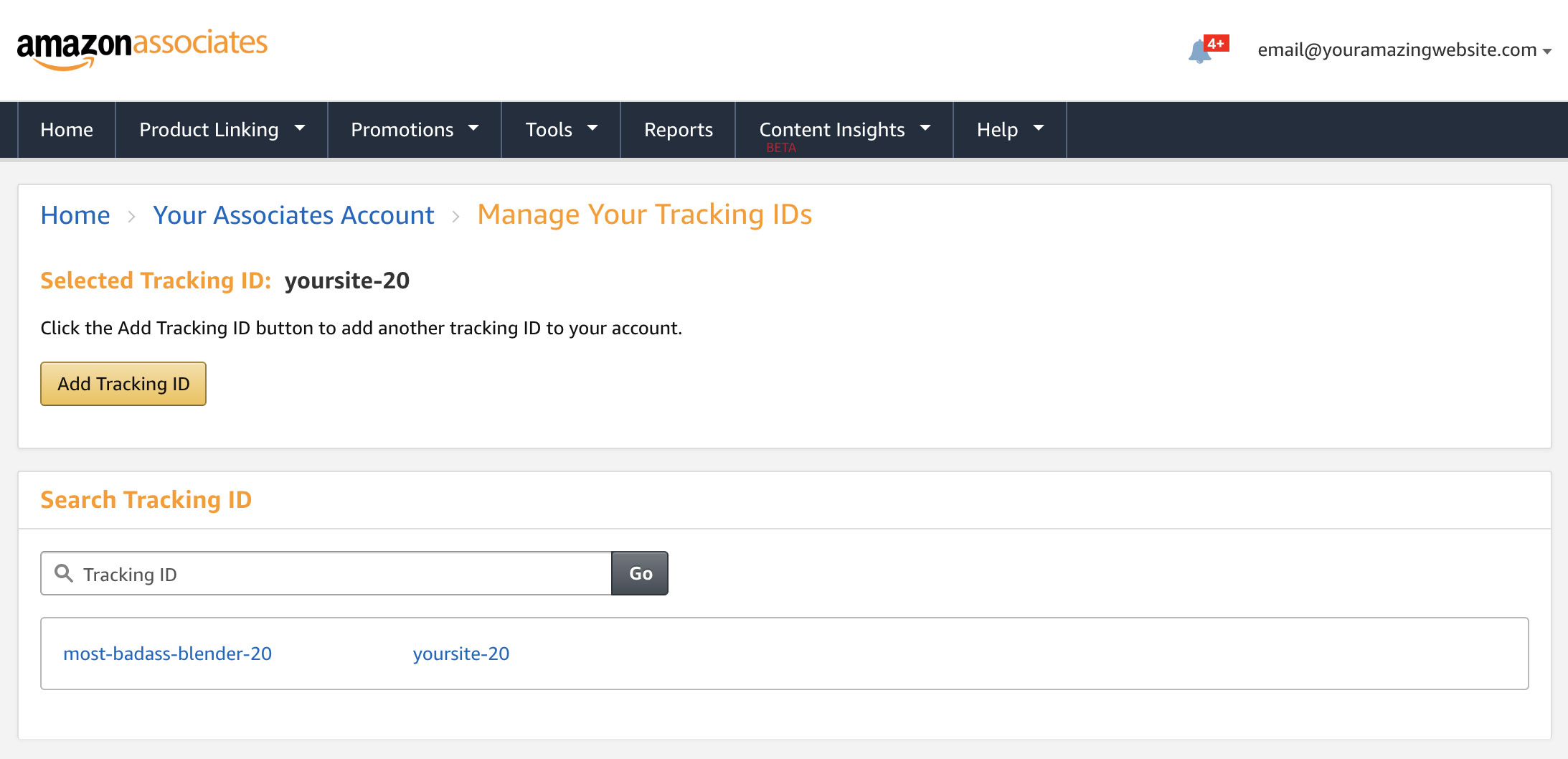 Open Amazon's page, Manage Your Tracking IDs

Click "Add Tracking ID" and then name it according to your blog post. Try starting with one of your top-earners from your Content Insights report.

Now, you can change the "Selected Tracking ID" simply by clicking the tracking ID under the "Search Tracking ID".
After you select the tracking ID you just created, any new links you create will be attributed to that tracking ID! Meaning, you can create new links for your blog posts, and any sales through those links will be attributed to that post.
NOTE: It is not possible to edit or delete tracking IDs after you have created them! So don't go crazy making a ton of IDs right away. Focus on a few posts and see what the results are like before re-doing your entire site.
Advanced usage of Amazon tracking IDs
If you want to get advanced, you can also use this same tactic to test different strategies. Let's say for example you use four main strategies in your Amazon posts:
Table comparison
Content links
Alternatives
Product images
Then you could create four tracking ids:
most-badass-blender-table-20
most-badass-blender-content-20
most-badass-blender-alternatives-20
most-badass-blender-product-imgs-20
Just keep in mind not to go overboard because you have a maximum of 100 ids for your account. So you can start by thinking about how many articles you want to track in depth, and divide up how many you want.
You can also just use something like most-badass-blender-variant-20 to track whatever you're testing. Given Amazon's short cookie period, you should be able to determine which Revision of your blog post led to that sale.
How to update your existing links
Go back to the Amazon Associates Home. We're going to start replacing the Amazon affiliate links in our posts one-by-one 😱
QUICK TIP — If you haven't shortened your Amazon links, you can easily search and replace in your blog post for the old ID (e.g. yoursite-20) and replace it with the new id (e.g. most-badass-blender-20) However, if your affiliate links are shortened, you'll need to create brand new links for your posts.
For example, if I search for "Vitamix blender":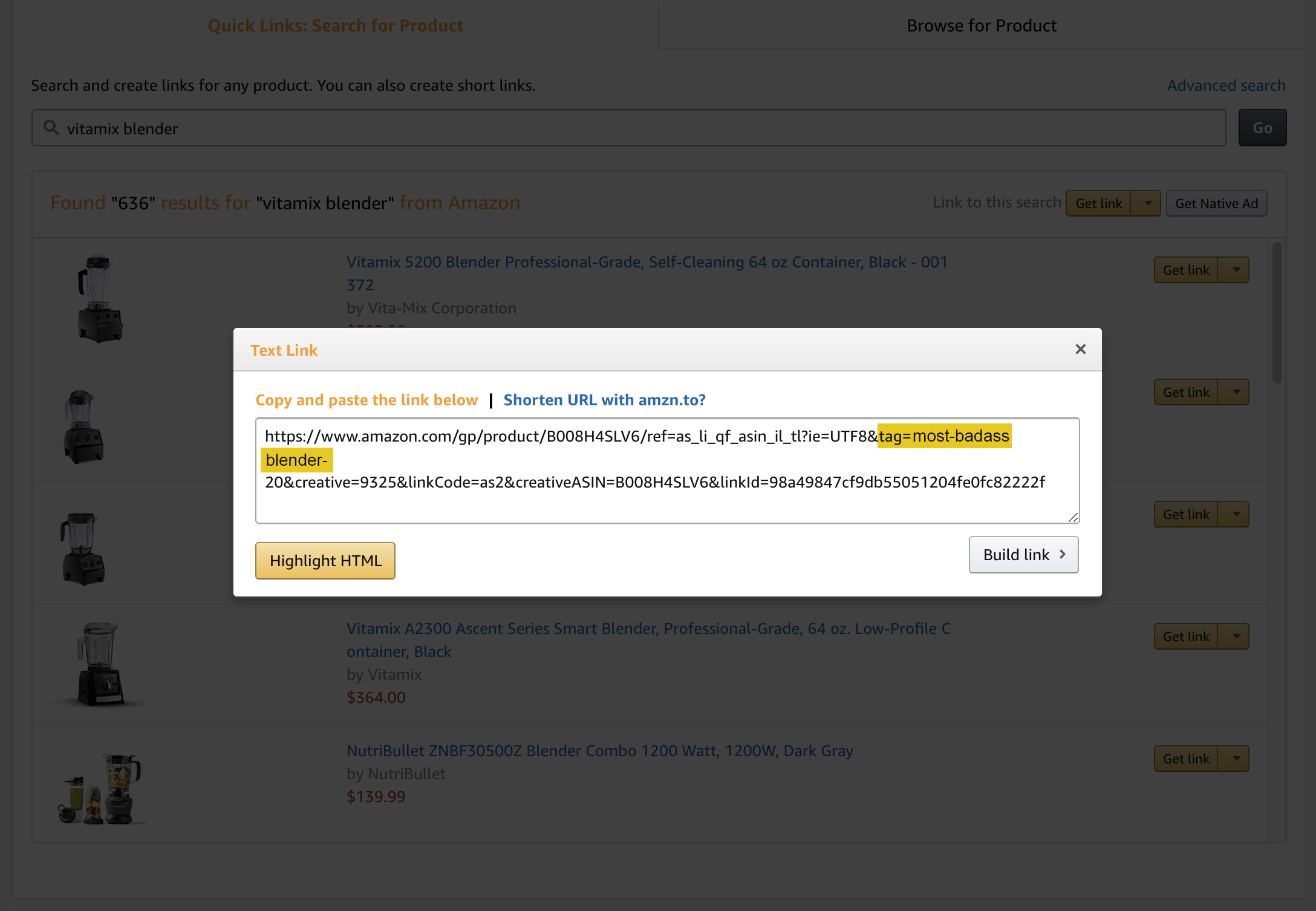 Our new Tracking ID is appended to the link! Keep going until you've replaced the links in your blog post with new ids.
Note: Your IDs need to be unique globally, among all Amazon Associates. So if you get a message that says the ID is taken, just add a few numbers at the end, but keep the blog post name!
Great, so now we have unique tracking IDs for all the Amazon affiliate links for every blog post.
Now, what's the best way to use this data and actually optimize our blog posts?
How to optimize an Amazon affiliate blog post
Want to learn how to optimize an affiliate blog post once you have all this nice tracking data? All the tips and tricks I know will be coming in a second follow-up post!
In the second post, you'll learn:
How to run experiments on your affiliate blog posts
Ideas for experiments to run
How to measure and evaluate the results
Sign up for our newsletter below and get the follow up blog post delivered straight to your inbox!
Looking to up your game? Join our mailing list!
No spam, just awesome affiliate tactics. Straight to your inbox. Unsubscribe anytime.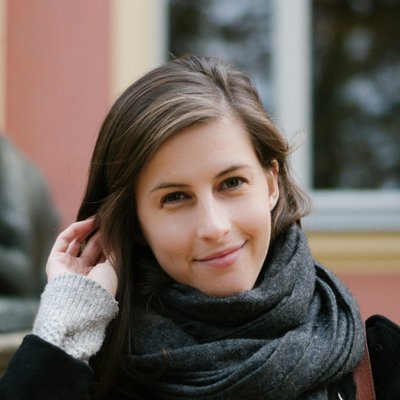 Monica Lent
Hi there! I'm a Monica, one of the co-founders of Affilimate. I blog, I code, and above all else I drink coffee.