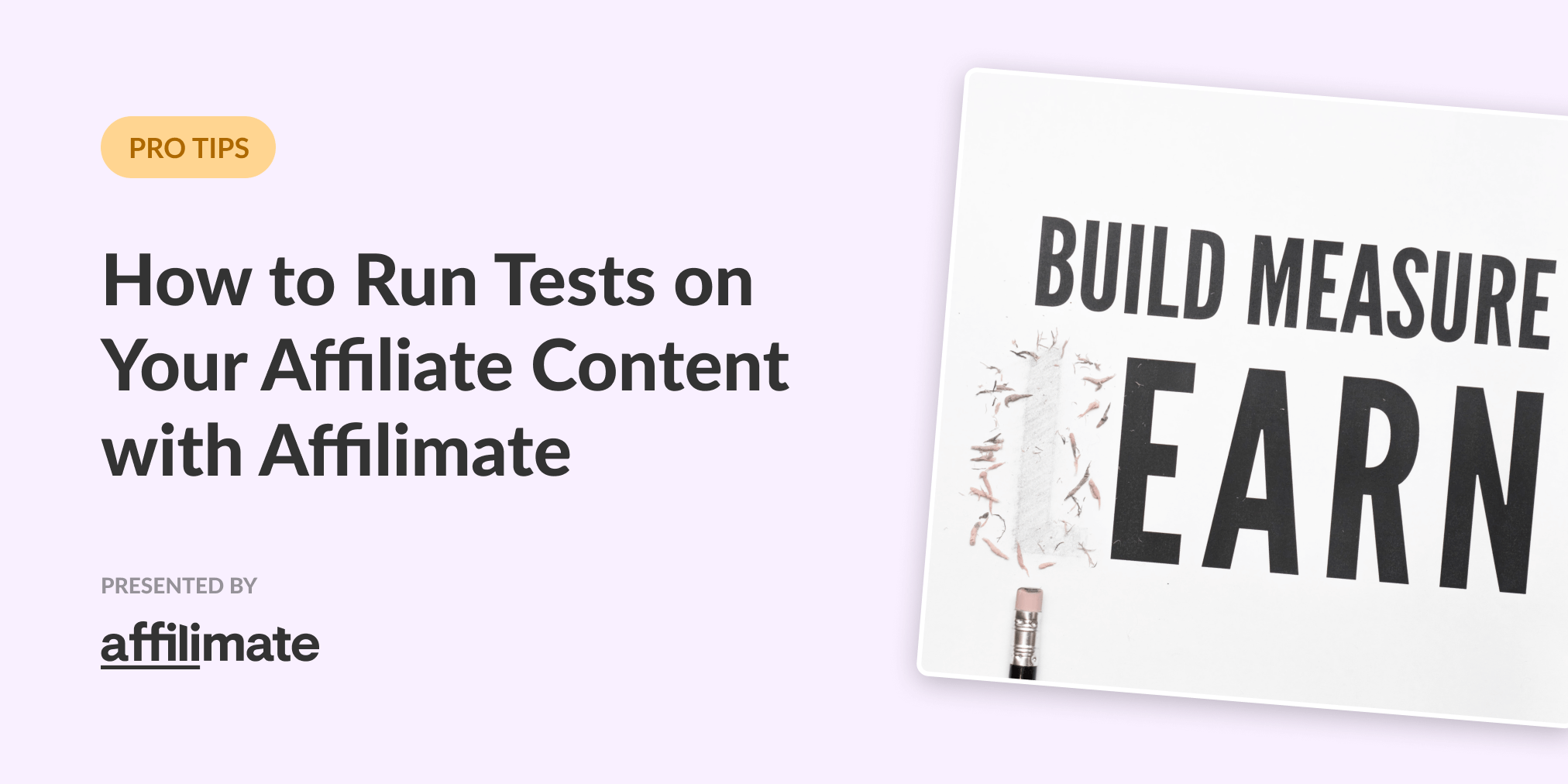 How to run tests on your affiliate blog posts (and measure the results!)
By Monica Lent   ·   January 17, 2020
Unless you're waiting for the Google fairy to rain new traffic on your blog (and let's be real, that's becoming harder every day), the easiest way to earn more affiliate income is to make the most out of the traffic you already have.
While we highly encourage you to be regularly writing new, targeted affiliate blog posts, the truth is that optimizing existing content you've already researched, written, and published can yield big results with minimal effort.
In this post you will learn:
How to identify posts to test
How to find opportunities for optimization in a post
Ideas for tests to run on your post
How to measure results
Photo by Domenico Loia on Unsplash
How to run tests on your affiliate blog posts
How to identify posts to test
First things first — you need to figure out what posts you're going to run tests on. A lot of people tell me that they focus almost exclusively on their highest traffic blog posts.
While that's a great way to run tests quickly, owing to the amount of traffic, it's not necessarily going to give you the best results if people visiting those posts aren't in a buying mindset.
Luckily, we can use Affilimate to quickly identify posts worth optimizing.
1. High traffic posts
This one is the easiest and most obvious! Sometimes, even though your post doesn't have much reader intent to purchase, you can earn more just based on the sheer volume of traffic. Here's how to quickly find your most visited blog posts:
Go to Affilimate's Pages Overview
Sort your pages by "Pageviews" by clicking on the column label
Viola! Your most viewed posts are at the top of the list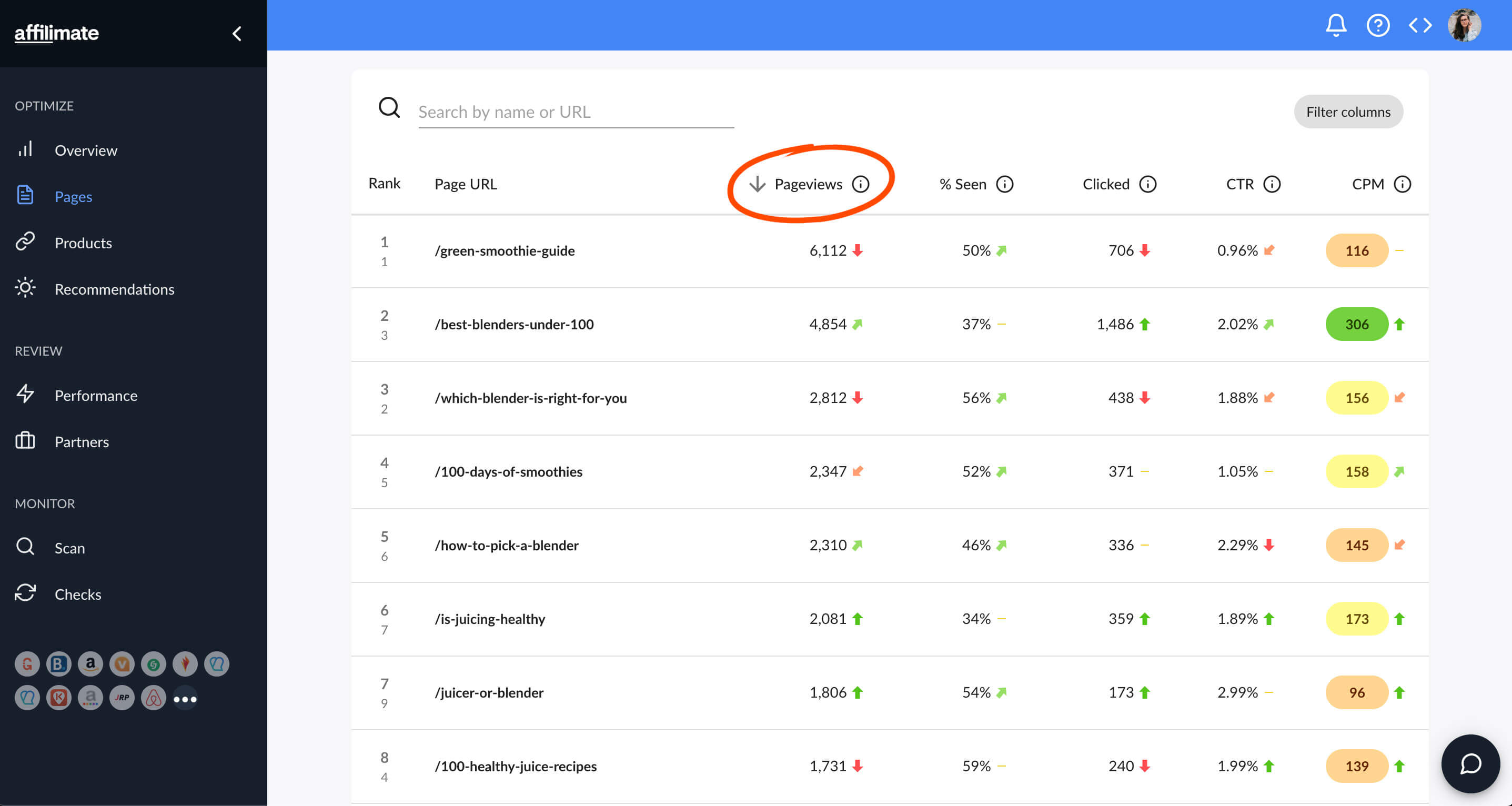 In this example, I might choose to focus on the post "Which blender is right for you", which is receiving traffic, seems to indicate buying intent, yet has a low CPM (clicks on affiliate links per 1,000 pageviews).
2. Posts with new traffic
You know that blog post you wrote months ago? Finally Google is picking it up, and now that it's getting traffic, you want to makes sure it's properly optimized! Here's how to find posts with a recent surge in traffic:
Go to Affilimate's Pages Overview
In the "Gains and Losses" section, change the metric from "Clicks" to "Pageviews"
Viola! Your posts with recent increases in traffic are visible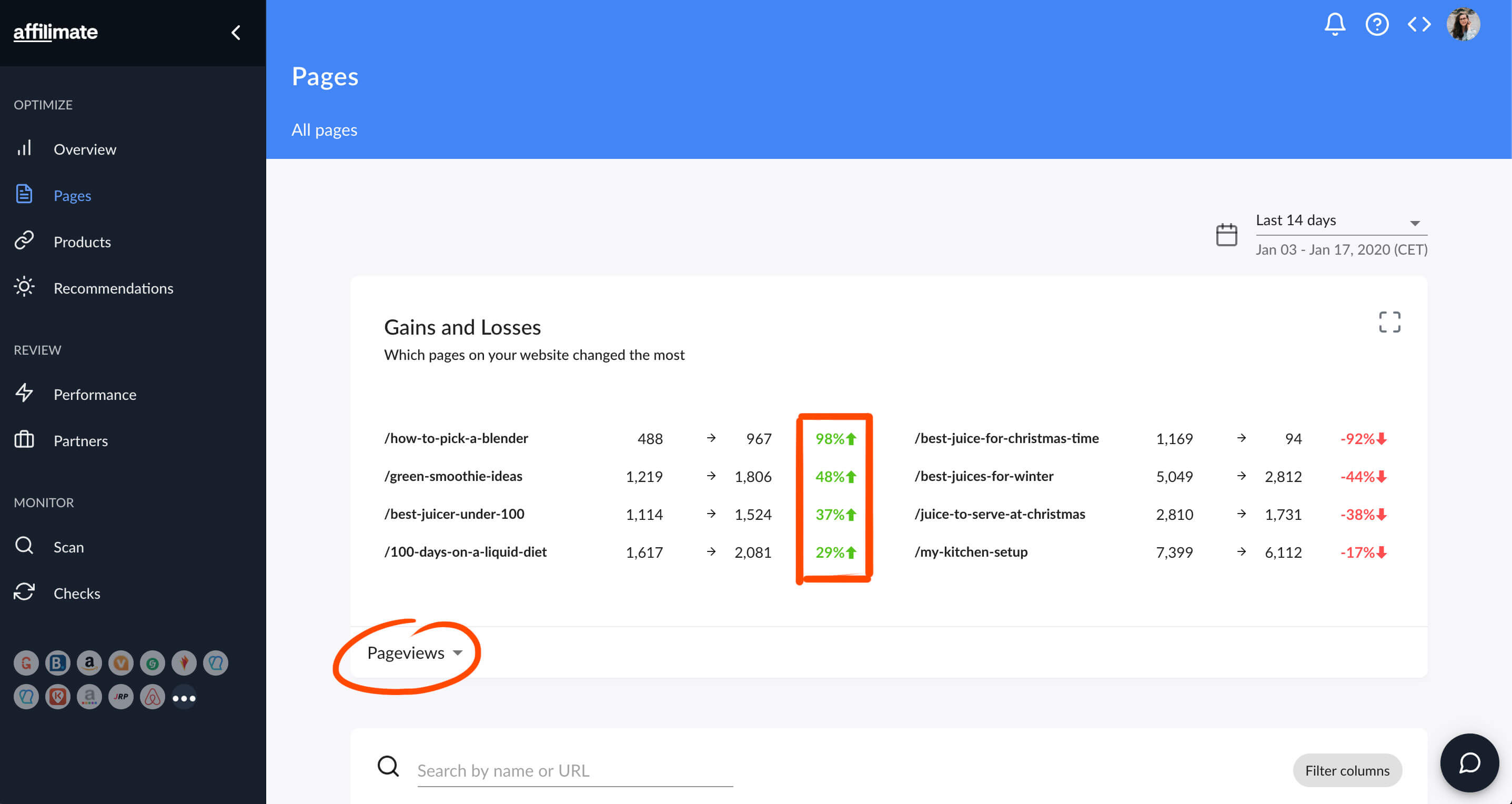 After finding a post that's got new traffic, click on that post to check out its current stats like CPM and the click-through rate of the product links on the page.
3. Posts with high intent and low CPM
Let's say you've got a blog post that you carefully keyword-researched, wrote with SEO in mind, and you know that people searching for it are looking to buy.
Yet, it's still underperforming.
You can find these posts by checking the CPM column, and looking for posts that aren't green. Especially if you see an orange or red CPM, you know that you're leaving money on the table!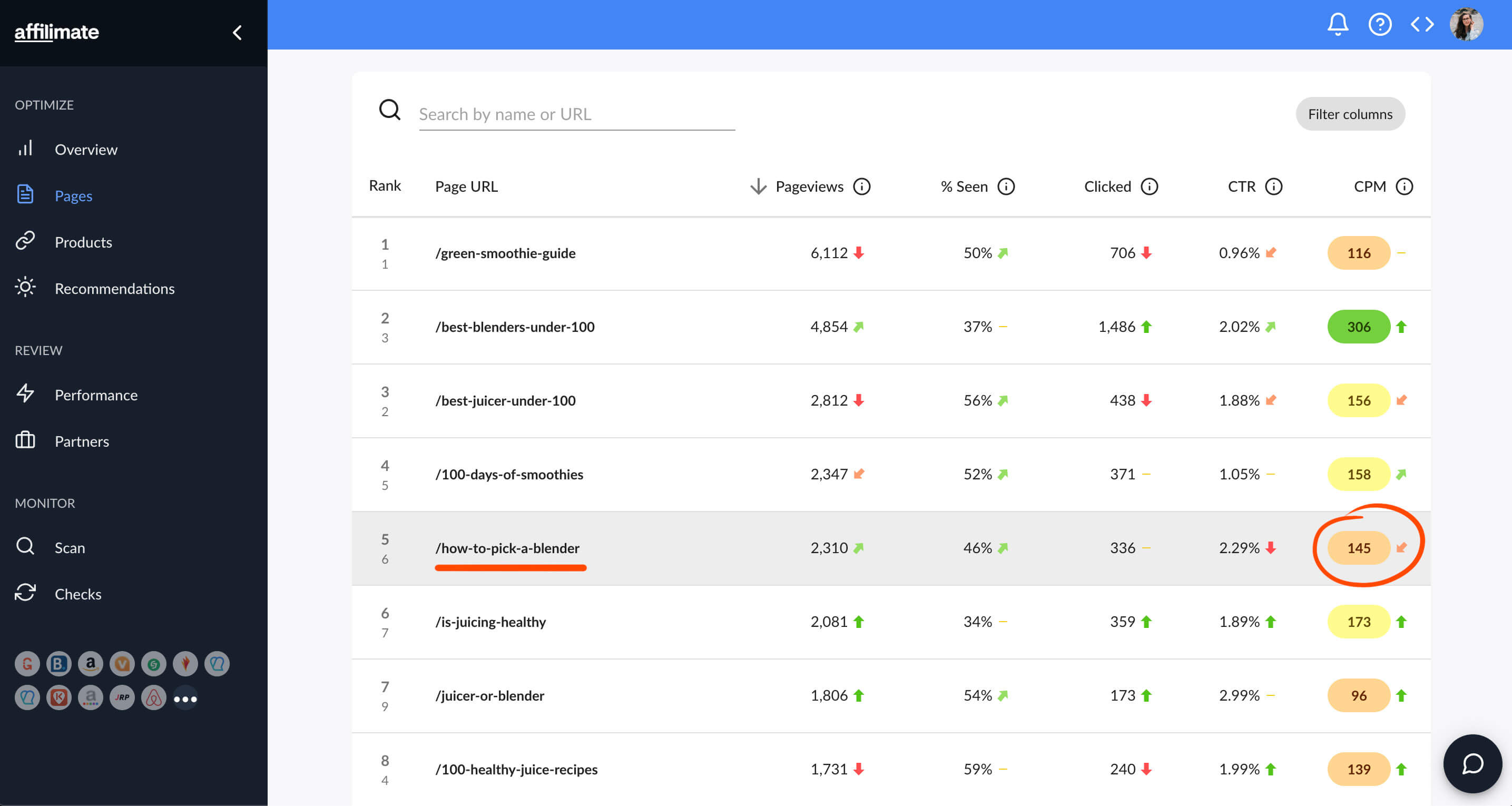 In this example, it seems obvious that your post should be doing better than it is. So we can try to optimize it!
4. Similar posts with different CPMs
There are a lot of really common formulas for affiliate targeted blog posts. Let's say you have one that is performing great, and another one that's performing poorly. This can be a strong signal that the post is not living up to its potential!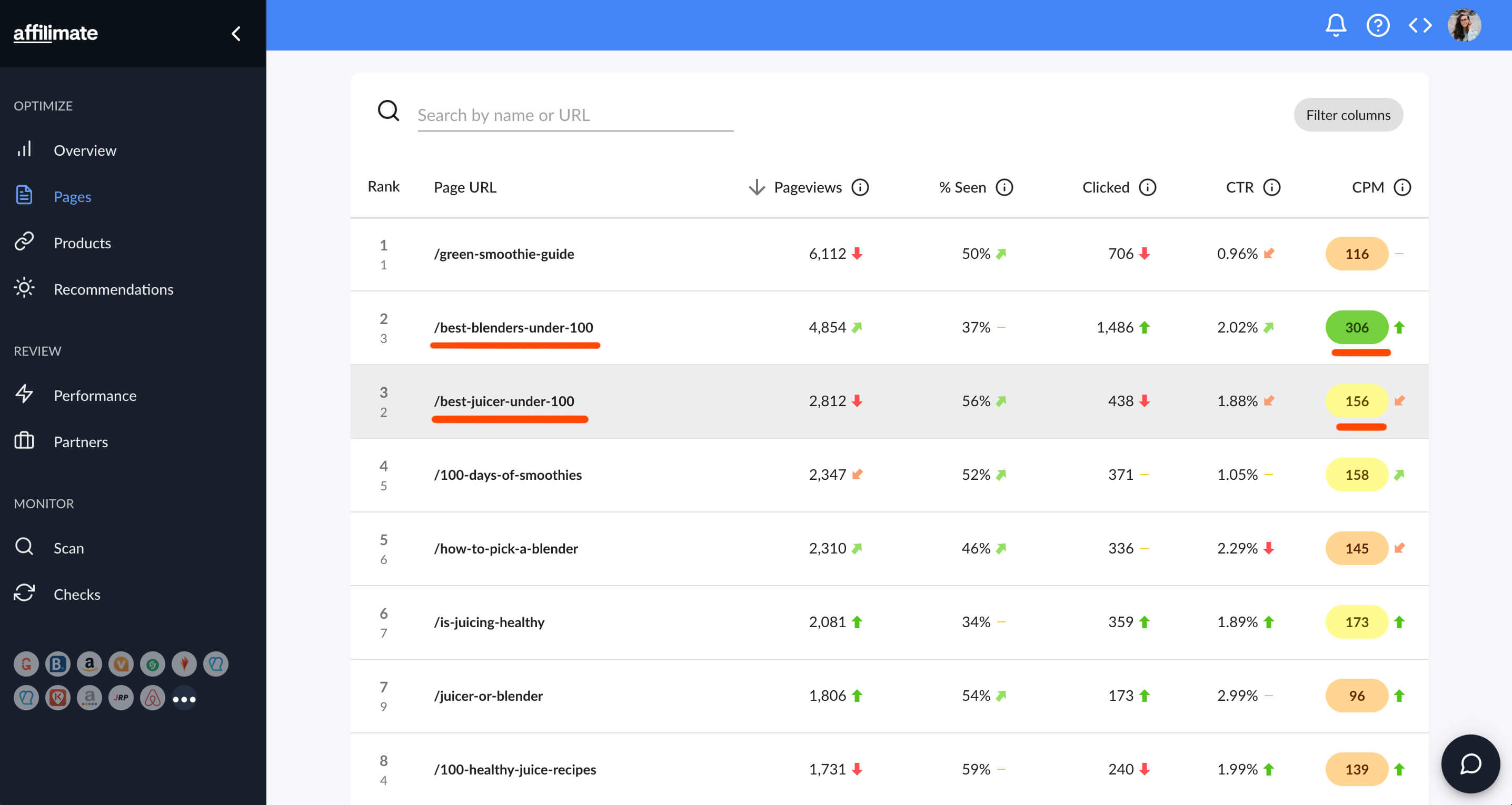 In this example, you have two posts "Best X under $100". Yet one of them has an extremely strong CPM, and the other is getting roughly half the clicks on average! It's a great idea to check these posts and see what you might be able to borrow from the post that is working.
TIP: A great way to find these posts is through search! For example, if you search for "best-" or "how-to", you can easily find and compare posts with similar structures.
How to find opportunities for optimization in a post
Let's say you've selected the post you want to run a test on. How do you find opportunities for improving your post, both in terms of click-through rate but especially in terms of earnings?
In terms of your existing content, here's a three-step process for optimizing the order of your affiliate links in your blog post:
Open the Details of the page you want to optimize.
Sort the products by the "%" seen
Look for high click-through products that are rarely seen
(Recommended) Check the earnings for that link placement and decide whether to move or copy it higher in the post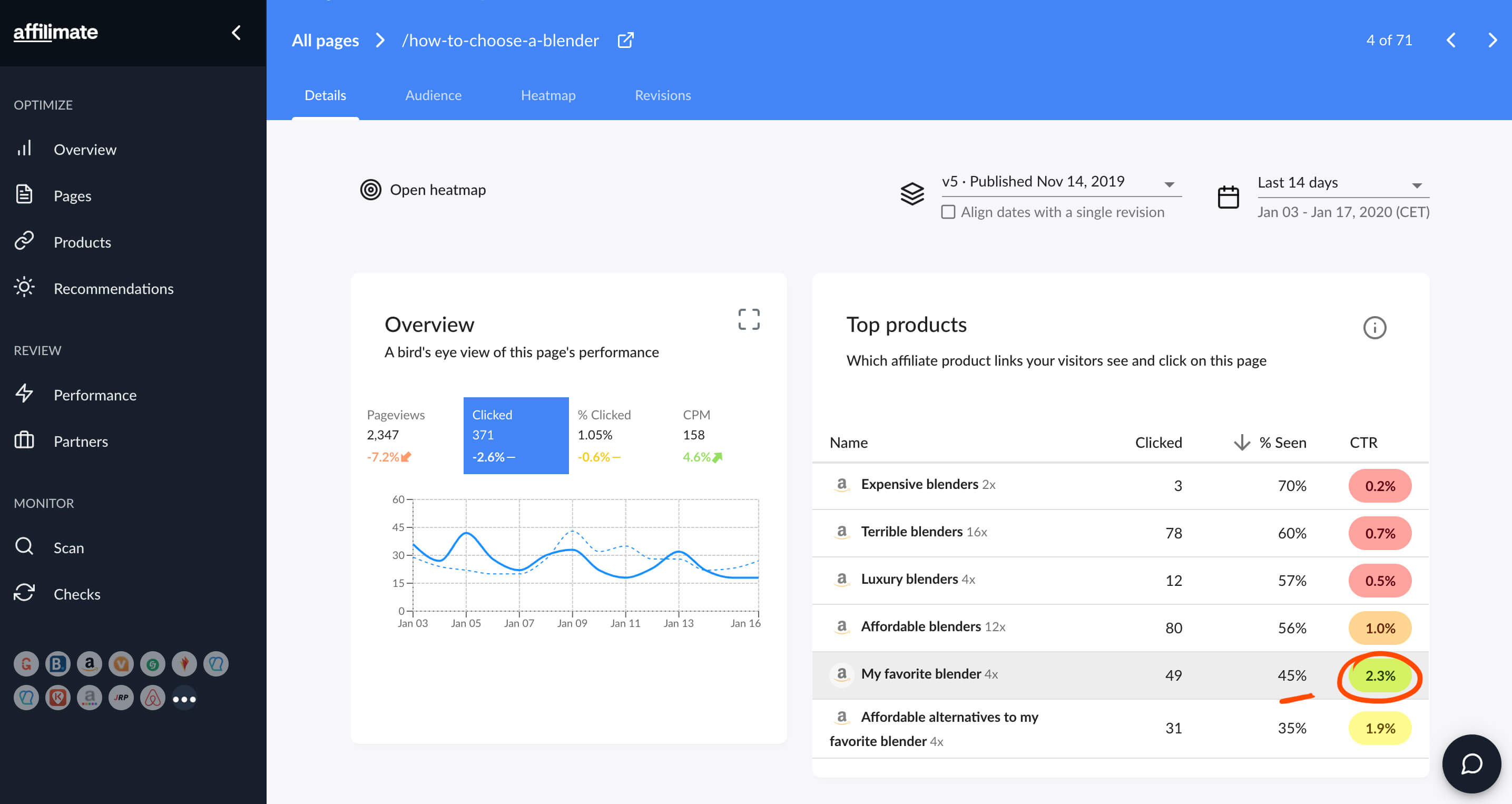 When you find an opportunity like this, you have a few options:
Move the section — Easy to do if you're just re-ordering a listicle, like a "Top 10" post or similar.
Copy the section — Make sure to look at the content and context of where it is in the article, and see if you can introduce it sooner, before most of your visitors have bounced.
Partially copy — Introduce the subject and the link earlier in the article, without making a complete copy of the surrounding content.
As always, you need to consider where you want to place it higher in the article in a way that makes sense, and doesn't detract from other high-earners!
Now, if you don't find these kinds of links on your post, and your post is overall not performing as you'd like, here are a few ideas for how to spruce things up ;)
Ideas for tests to run on your post
Here are a few quick ideas for tests to run on your affiliate blog posts. As always, think about the reason the reader is coming to your page and see how you can help them!
Make a comparison table with calls-to-action buttons — If you're mentioning multiple items in your post (e.g. It's a listicle, or a "Best X" post), do a quick comparison table with the key features before the in-depth explanation.
Include links to alternative items — Even if you have a recommendation you personally love, you can also link to products that might be a better fit for your reader if they have different needs.
Test buttons vs. links — Or both! Make sure you don't ask the user to scroll too far up the page to click your affiliate link, once you've convinced them with sexy photos and compelling copy.
Try removing clutter — If you links that don't convert at all, try removing those and slimming down your post so the reader's eye is more focused to higher converting products.
Test different link text — Asking people to click your links (like "Click here to check the latest...") can dramatically improve your click-through rate. Test it out and see what performs best!
An easy way to get inspiration is to check the top posts in the search results who are competing for the same keyword. Remember, most people don't actually test their affiliate link performance! So take the strategies you see with a grain of salt. Give them a try and draw your own conclusions!
Alright, let's say you've made a change to your post, and now you want to see how it performs.
How to measure results
Every night, Affilimate will check your website for updates to your blog posts. Whenever it finds a new version of your post, it'll generate a new heatmap and create something called a "Revision".
Revisions are a lightweight way to run experiments on your affiliate blog posts.
To find your revisions, open a blog post you've recently optimized and click the "Revisions" tab.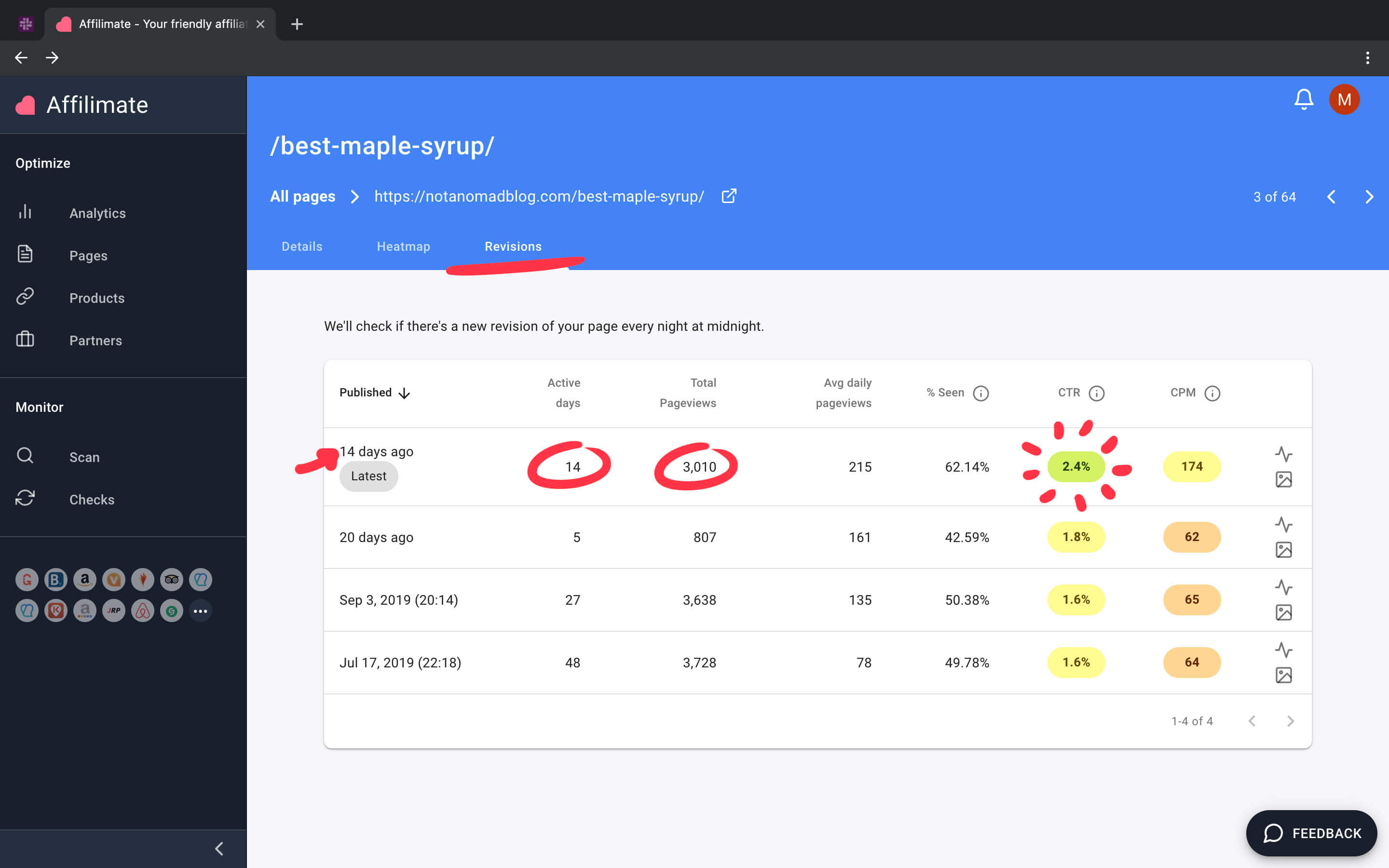 Here you can get a high-level overview of whether you've improved your average click-through rate and your CPM. This can tell you whether your on-page performance has improved.
Open the Heatmap tab
Check the checkbox "Align dates with a single revision" (so you're only looking at the latest version of your post)
Find the link you want to look at, and make a mental note of its CTR, CPM, and earnings
Switch the revision to the previous version (so if you were looking at "v6", switch to "v5")
Compare the results!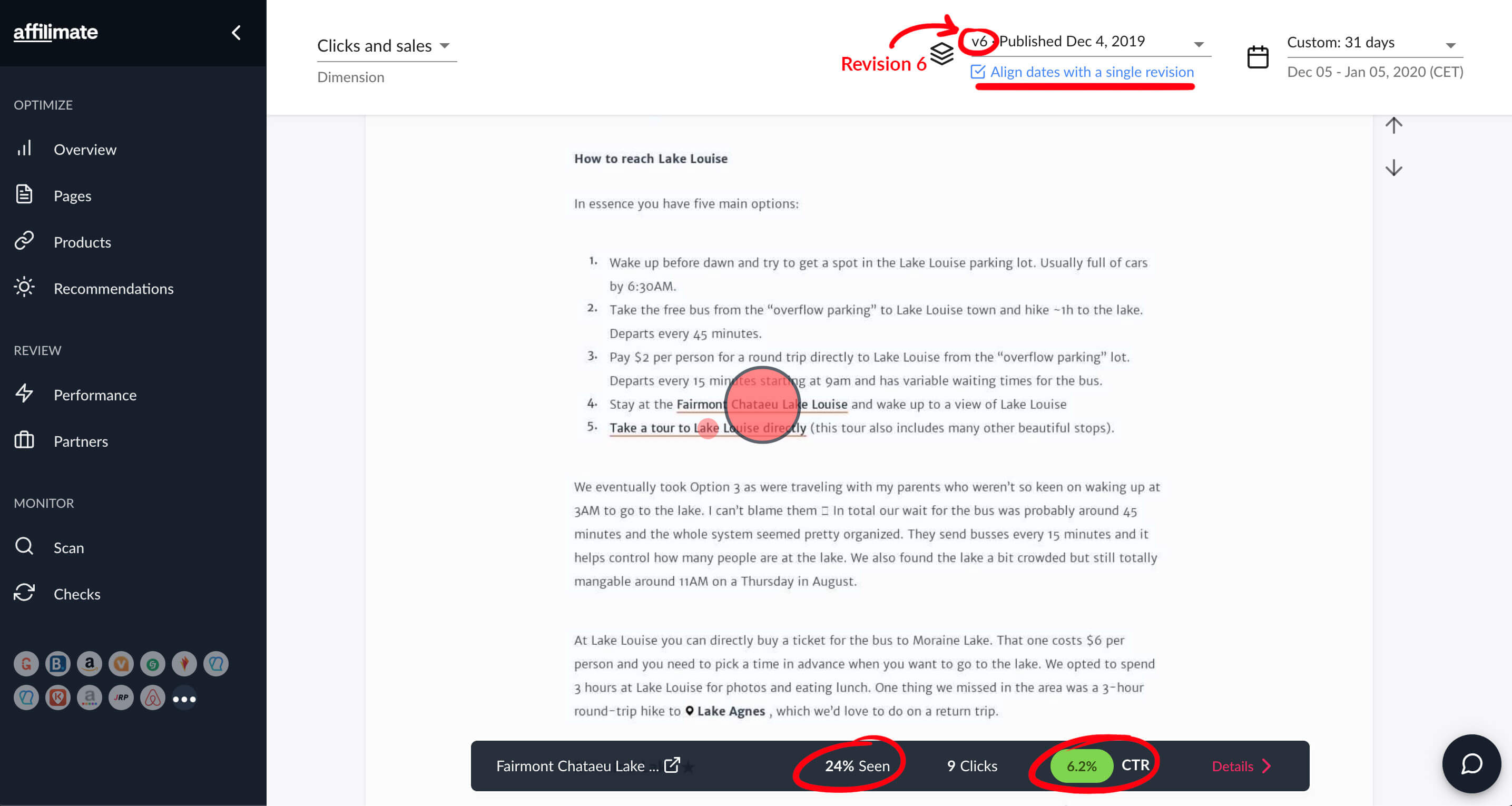 v6: Link at the bottom of the page. Only seen by 22% of visitors, but still had a 10% click through rate. Clicked 9 times over 31 days.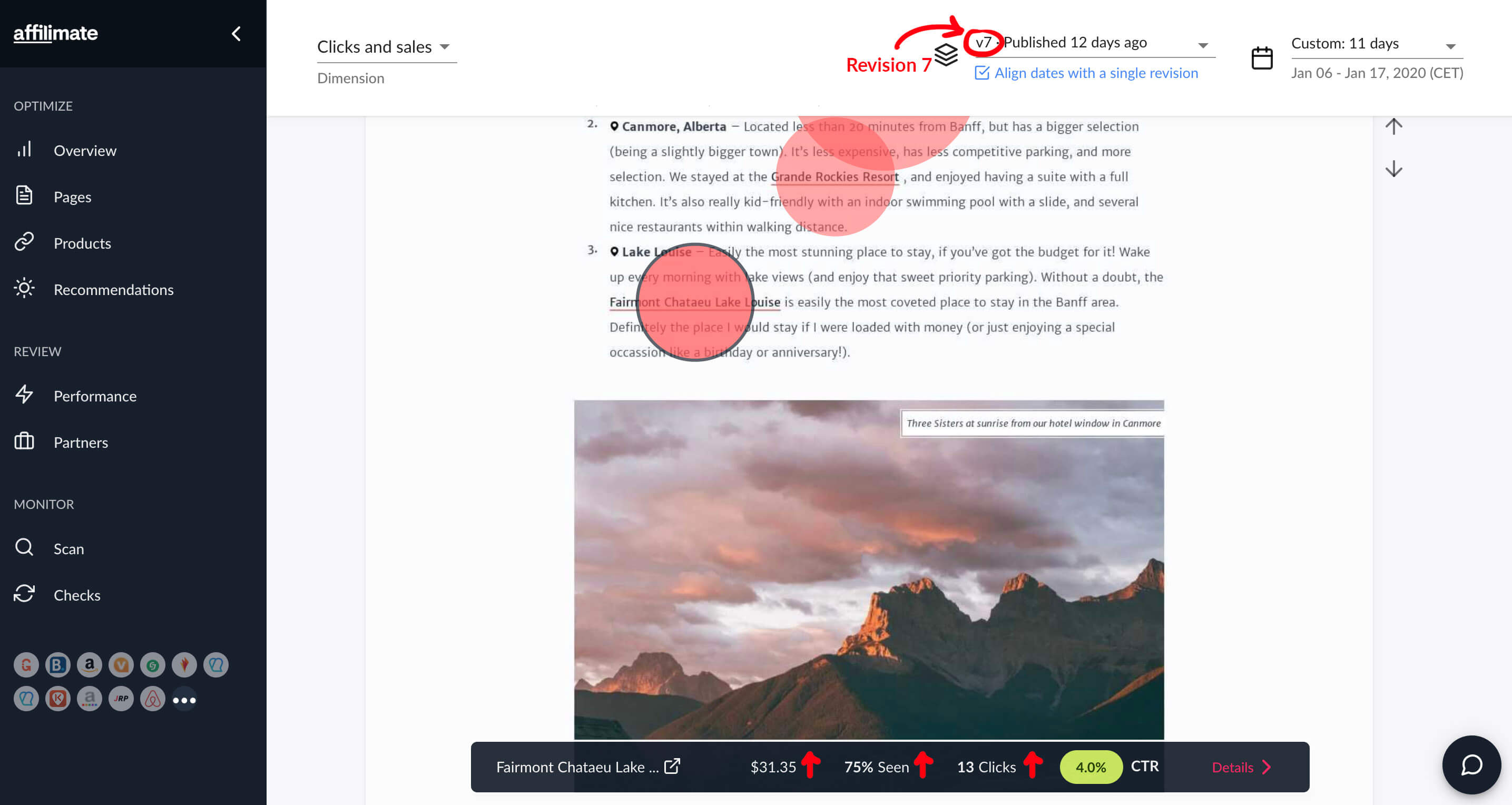 v7: Moved to the top of the page. Lower click-through rate, but higher number of clicks (13 clicks in 11 days), higher seen rate (75% vs 22%), and a conversion!
Conclusion
Experimentation is an important part of leveraging the traffic your blog already gets as effectively as possible.
With Affilimate's click tracking, revenue reporting, heatmaps, and revisions, you've got a full suite of tools you can use to run experiments and measure their results.
This post covers optimizing an individual link in a specific post, but there's a lot more you can measure to make sure you're going in the right direction!
Stay tuned, as we work on new features to help you make the most out of your affiliate blog posts, such as RPM tracking and alerts about the most important changes happening on your site ✨
Want more data-driven affiliate tips and strategies?
Find out anytime we publish an article. No spam or sales funnel. Unsubscribe anytime.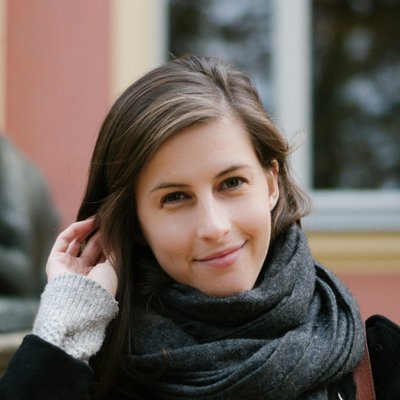 Monica Lent(@monicalent)
Co-founder of Affilimate. Software engineer by day, blogger, affiliate marketer, and SEO geek by night. I'm here sharing data-driven tips for earning more from your website.