Affilimate's service includes Amazon an Amazon Link Checker.
Every week on Monday, we'll check your Amazon links and send you a notification if there are any new issues with your links. You'll also be able to see when the issue was first detected, and the current status.
Read on in this article to learn how to use this report to recoup lost revenue to broken Amazon links!
In this article:
How to find your broken Amazon links
Either click here to open your Amazon Issues report, or follow these steps:
Log in to your Affilimate account and go to Links
In the left menu, click Amazon Issues
You'll see a column of all your Amazon link statuses called Issues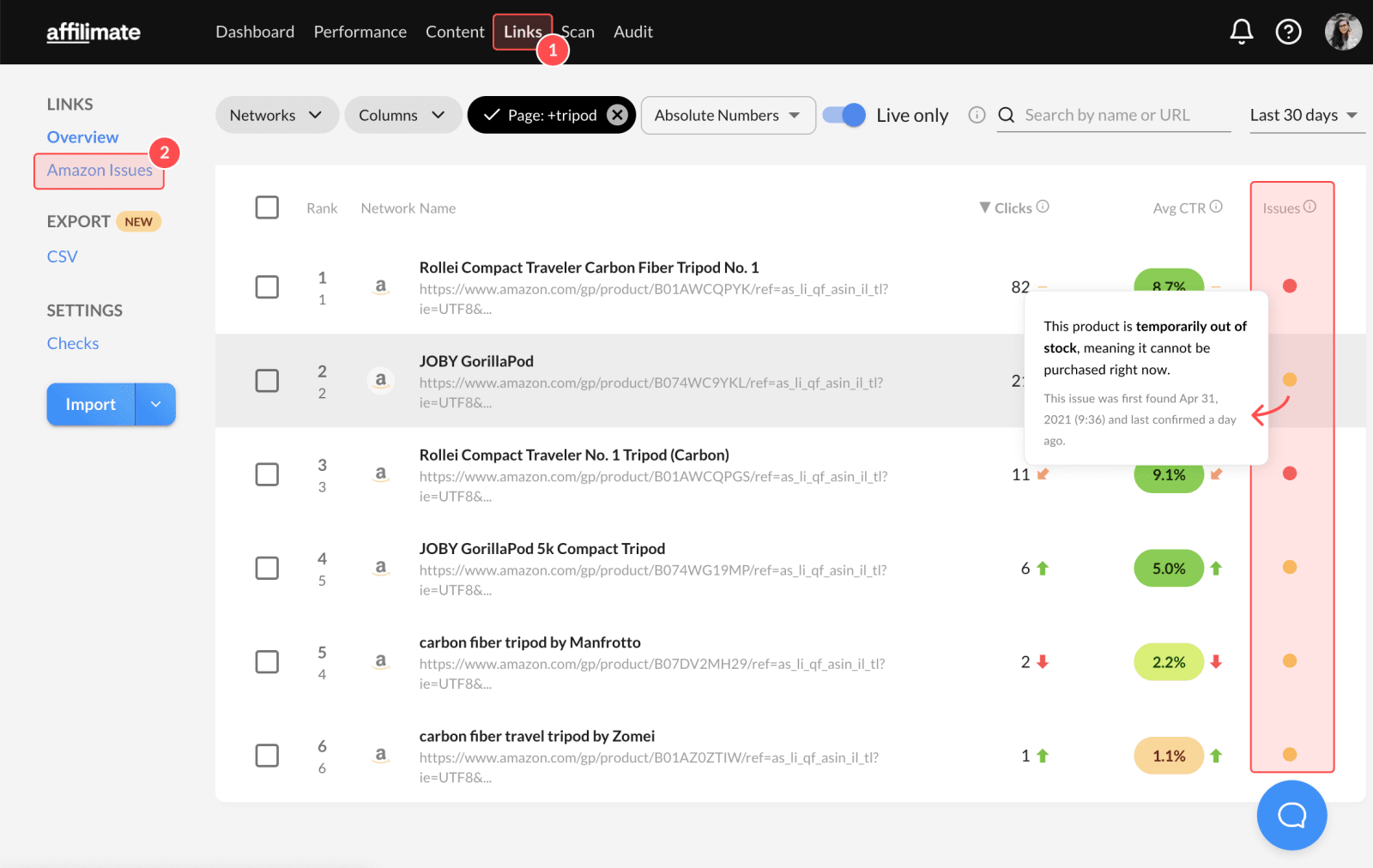 How to set up the Amazon Link Checker
To start, Import Your Links, including any that are currently on Amazon.
We'll parse your link, grab the product ID and country code from the URL, and begin running checks on your links. Your links will be checked according to your Amazon Links Settings, by default on Monday mornings.
Make sure you've also added your Product Advertising API credentials to check non-US stores.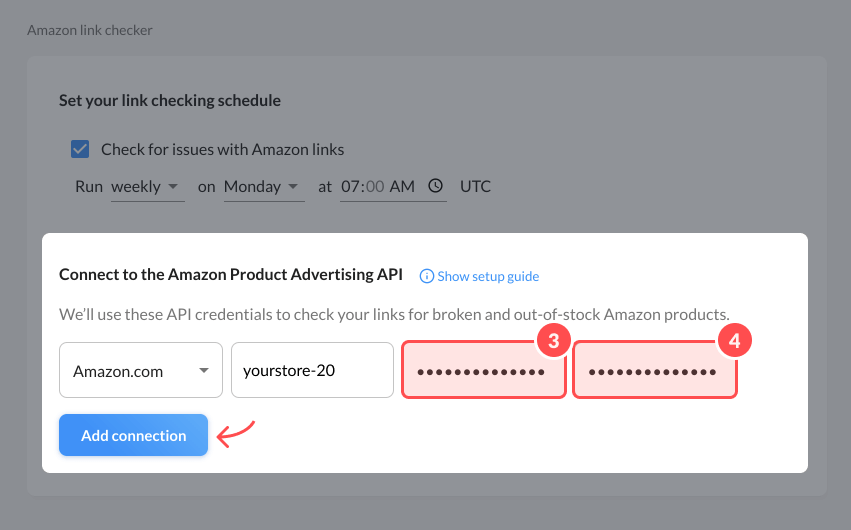 Every week, if you've got new Amazon issues, you'll get a notification like this: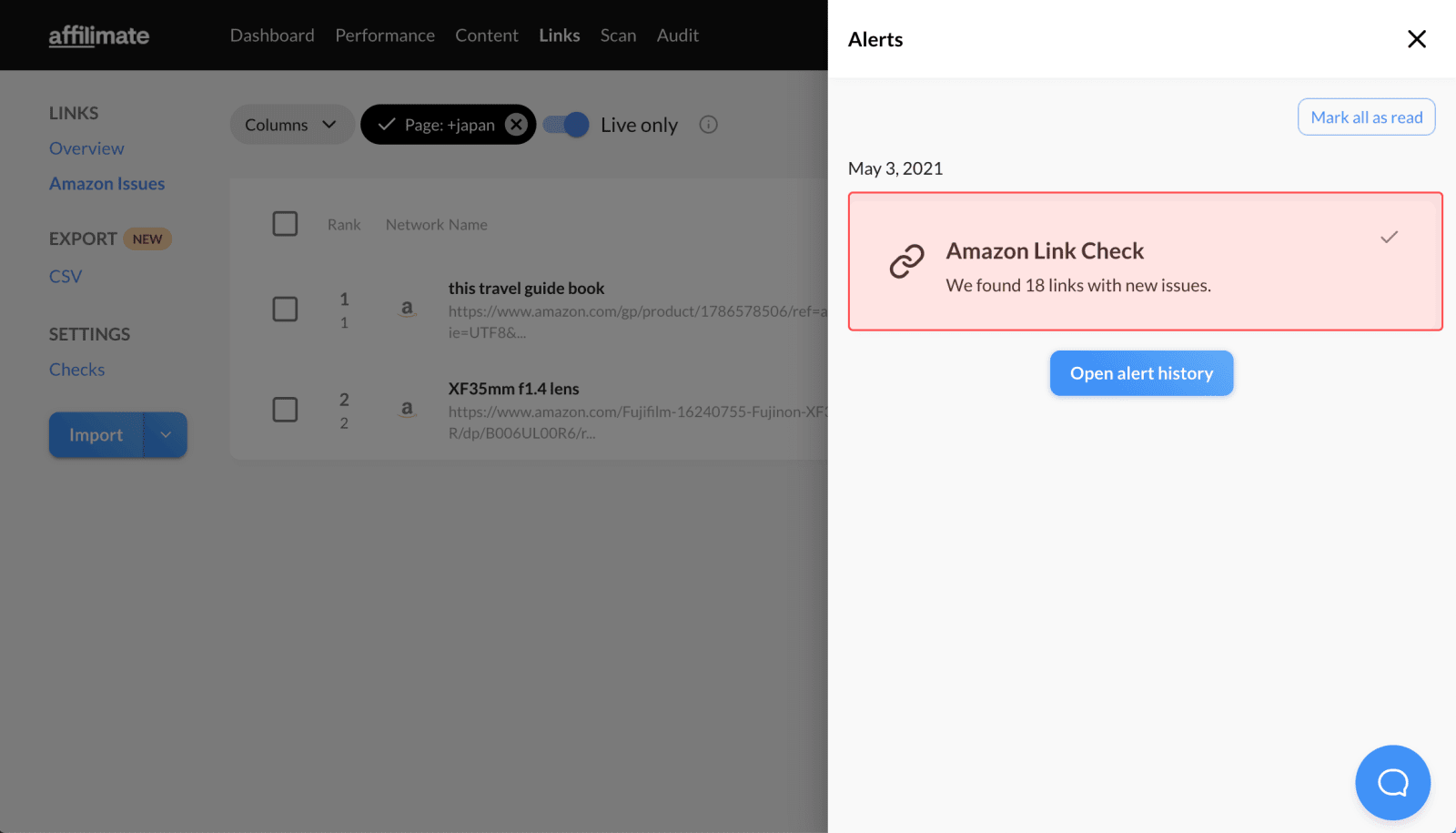 How to use the Amazon Issues report
There are a few main types of Amazon issues:
Out of stock, Unavailable - The product is out of stock, and there is no foreseen date when the product will be available again.
Temporarily out of stock - Even though the product is out of stock, it may be restocked soon*
Marketplace - Product is only available through the marketplace.
Preorder - Product is only available via pre-order.
Unknown - Product is an unknown status.
Note: It's extremely common for Amazon products to go out of stock. If you run a large site, you'll want to focus your energy on replacing links to your top-converting products, and links on your most valuable pages. You can use the Clicks metric, alongside the Page filters, to hone in on links you want to keep up-to-date.
*Be aware that the restocking time for Temporarily Out of Stock products is broad. You may notice products "temporarily" out of stock for months on end. Use the "First found" date to keep an eye on products that have been out of stock longer than a few weeks.
How to sort and filter your Amazon Issues report
You have a few options to filter your Amazon issues and find the ones you want to work on:
Filter by Page - You can use the Page Filter to only display links which appear on certain pages on your site.

This filter supports partial match. For example, filtering by "tripods" will show links that appear on both "/best-tripods" and "/best-travel-tripods".
Filter by Issue Type - You can use the Issue Filter to only display links which have particular issues, such as Out of Stock and Unavailable.

Issues you probably want to focus on include Out of Stock, Unavailable, Not Found (404).
Depending on how long a product has been Temporarily Unavailable, you may also wish to replace those links.
How to export your broken Amazon links
Apply any filters or search terms you want to your links. Then, click CSV in the Export section in the left menu.
In the default export, you'll see:
Link name - Whatever you've named the link in Affilimate
URL - The affiliate link itself
Clicks - How many clicks were generated in the timeframe you've chosen, e.g. Last 30 Days
Issues - Such as OUT_OF_STOCK or TEMP_UNAVAILABLE
Pages - Pages on your site where this link appears on your site
Created at - When you imported the link for tracking in Affilimate
You can remove some of these columns, or change the default format from CSV to XLSX.
Which Amazon stores are supported
You can set up Amazon stores in any country through the Product Advertising API.
What if some statuses are different than what I see in Amazon?
We use Amazon's official API. Because of this, we depend on the statuses that Amazon reports. Sometimes, their reporting may be behind or may differ than what you see in the shop.