Migrating from ClickMagick to Affilimate can be a pretty straightforward process. You don't need a developer or someone with technical knowledge to do it.
The main steps for migrating to Affilimate from ClickMagick are:
Move your links to an alternate platform – You can typically do this without having to edit or search/replace links in your content.
Install Affilimate on your website and crawl for links – Following our standard setup process.
Set up your integrations – Using our simple integration guides.
Map your historical data – If you have an export which includes a SubID to page URL mapping.
Step 1. Move your links to an alternate platform
One key difference between ClickMagick and Affilimate is that Affilimate doesn't care what affiliate link cloaker you use. Affilimate will also track and attribute revenue to uncloaked links on your website.
While we work with many different link cloakers, the two we often recommend are:
Thirsty Affiliates - A link cloaker WordPress plugin. Affordable annual pricing ($49 / $99 / $149 for 3/5/10 sites respectively), one-click checkbox to forward parameters, and lets you import from CSV.
Short.io - Not a WordPress plugin. Free plan up to 50,000 clicks per month and 1,000 links. Offers both subdomain-based and path-based redirects. Also lets you import from CSV.
Export your links from ClickMagick to a CSV file and then import them in your new link cloaker.
Provided that the links have the same structure in ClickMagick as in your new link cloaker, you won't need to replace any links directly in the content on your website.
Step 2. Install Affilimate on your site and crawl for links
Create your Affilimate account if you haven't yet.
Then when you install Affilimate on your site, you'll need to add two things:
A verification code in <head> of your site, used to verify ownership of the property
A tracking snippet, just before the </body> of your site, used to apply tracking to your links
Open the Setup flow by clicking the button called Waiting for data next to your first site (or pressing Add website for additional sites):
Then check any of our platform-specific guides for instructions and videos on how to install the two snippets:
Installing the snippet itself typically takes 1-2 minutes. Clear any caching plugins and your CDN, and your website will automatically verify.
After this, you'll crawl your website for affiliate links and import them for tracking.
Affilimate will scan your website using your sitemap, find the affiliate links on your site, and sort them into "Links to Import" and "Ignored Links" according to our algorithm.
Then, you can either Import all links or go through the suggestions to refine the links you want to track.
Step 3. Set up your integrations
The last step is to import your affiliate commissions. Go to Affilimate's Performance tab and click Import: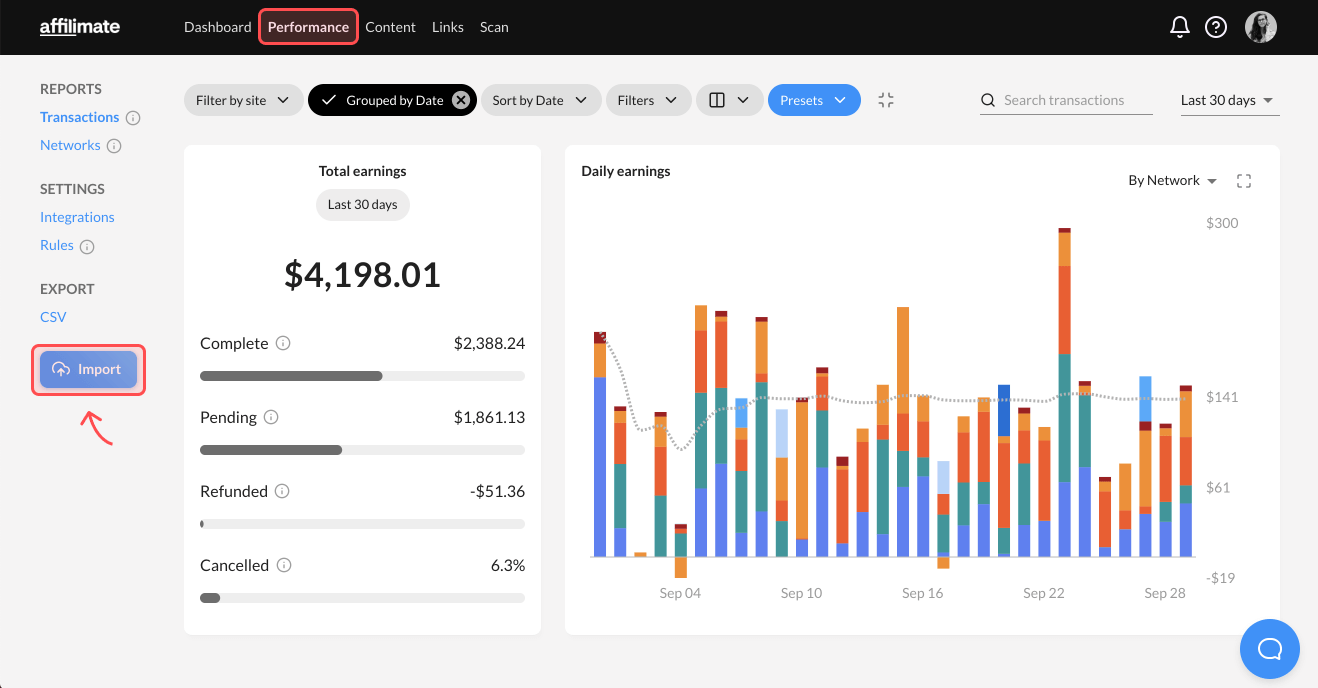 From here you'll see a long list of affiliate networks and platforms that Affilimate integrates with.
Search or scroll to find the platform you want to integrate with, click on its name, and then click Show instructions.
You'll see a popup with documentation on how to find the information we need to pull your commissions from that platform. Paste the details in, click Test connection, and import your commissions.
For a complete list of our current and planned integrations, go here. To request an integration, please follow these steps.
Step 4. Map your historical data
If you are able to export data from ClickMagick which maps a SubID to a specific page on your website, you can import those mappings in bulk using our Rules bulk creation feature.