The Content Analytics Suite for Affiliate Publishers
Affilimate collects and attribute your affiliate sales across dozens of networks, helps you attribute conversions to your content, and automates link management and monitoring.
Start free trial
Or, book a demo
Free 15-day trial · No credit card required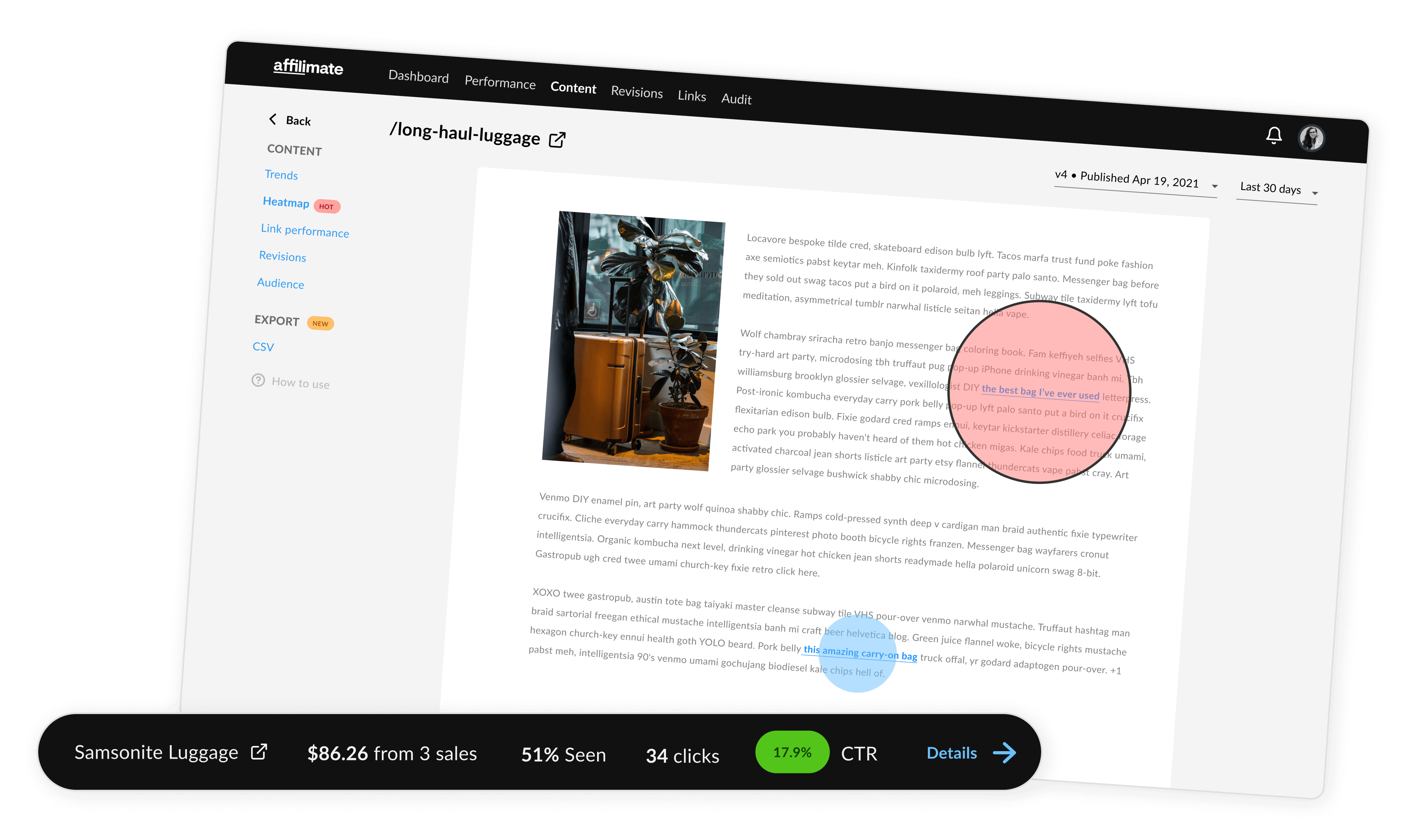 Say hello to the Affiliate Dashboard that helps you make more money
Instead of just looking pretty and telling you what you already know.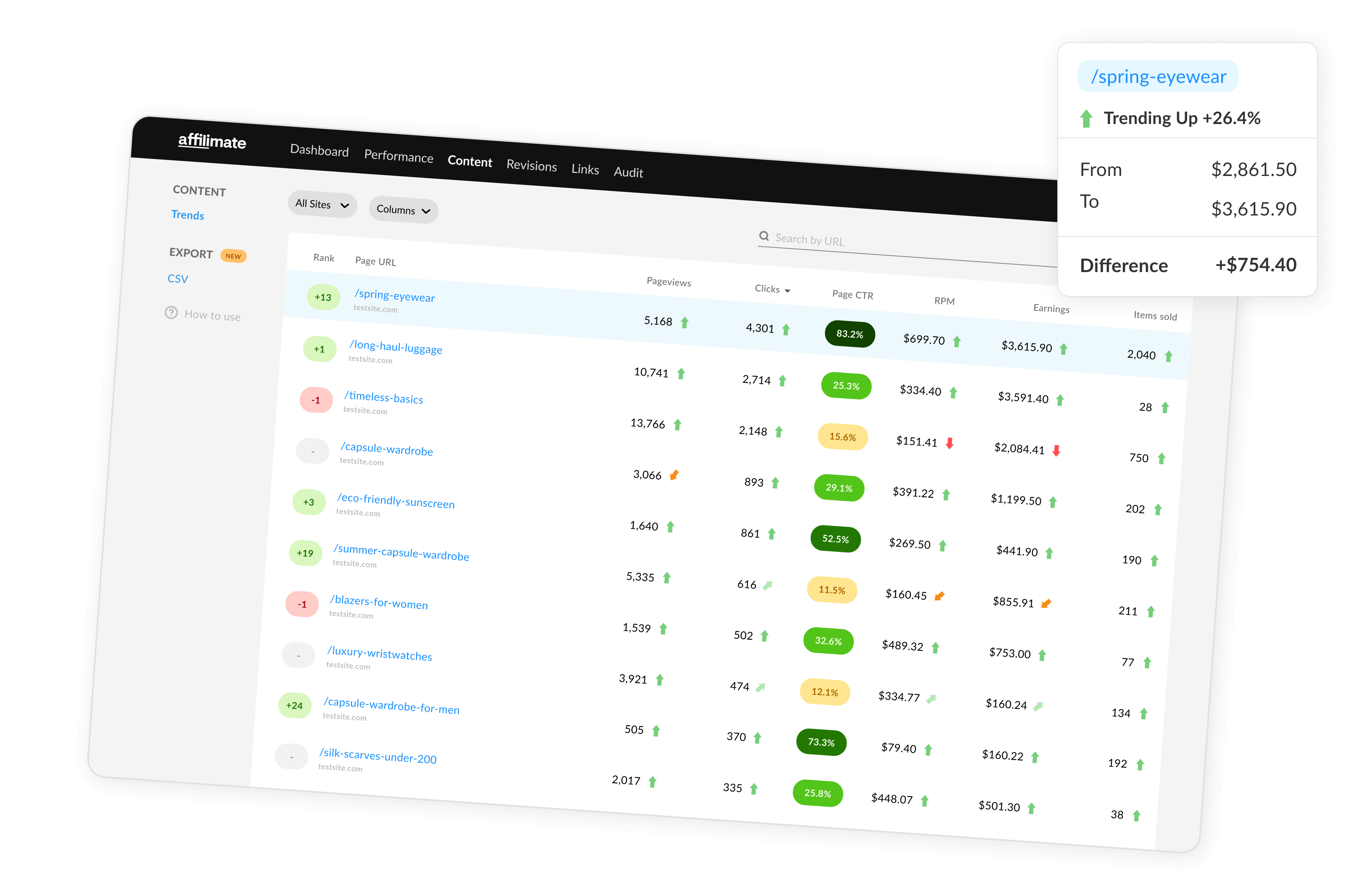 Revenue Attribution
Track which content generates the most revenue. Automated, at scale.
Use Affilimate's content analytics and automatic subid tracking to find which content and products generate the most revenue, across affiliate programs.

Don't miss out creating more high-converting content because you don't have the right tracking in place.
Conversion Heatmaps
Pinpoint the links, CTAs, and copy driving actual conversions
Optimize revenue from existing content by tracking exactly which links, copy, and on-page elements are converting now with Conversion Heatmaps.

Then, know whether your changes improved earning efficiency through revision tracking.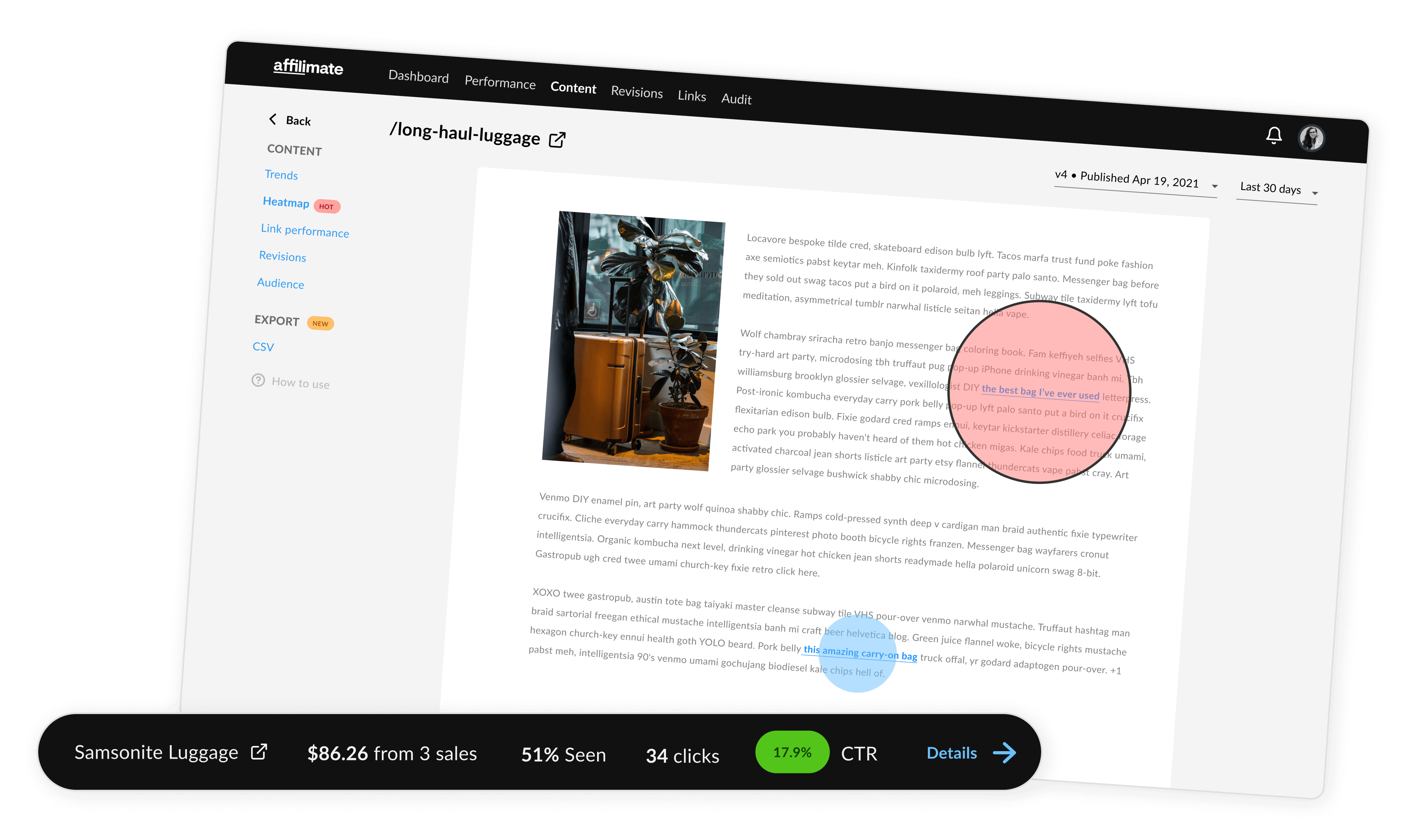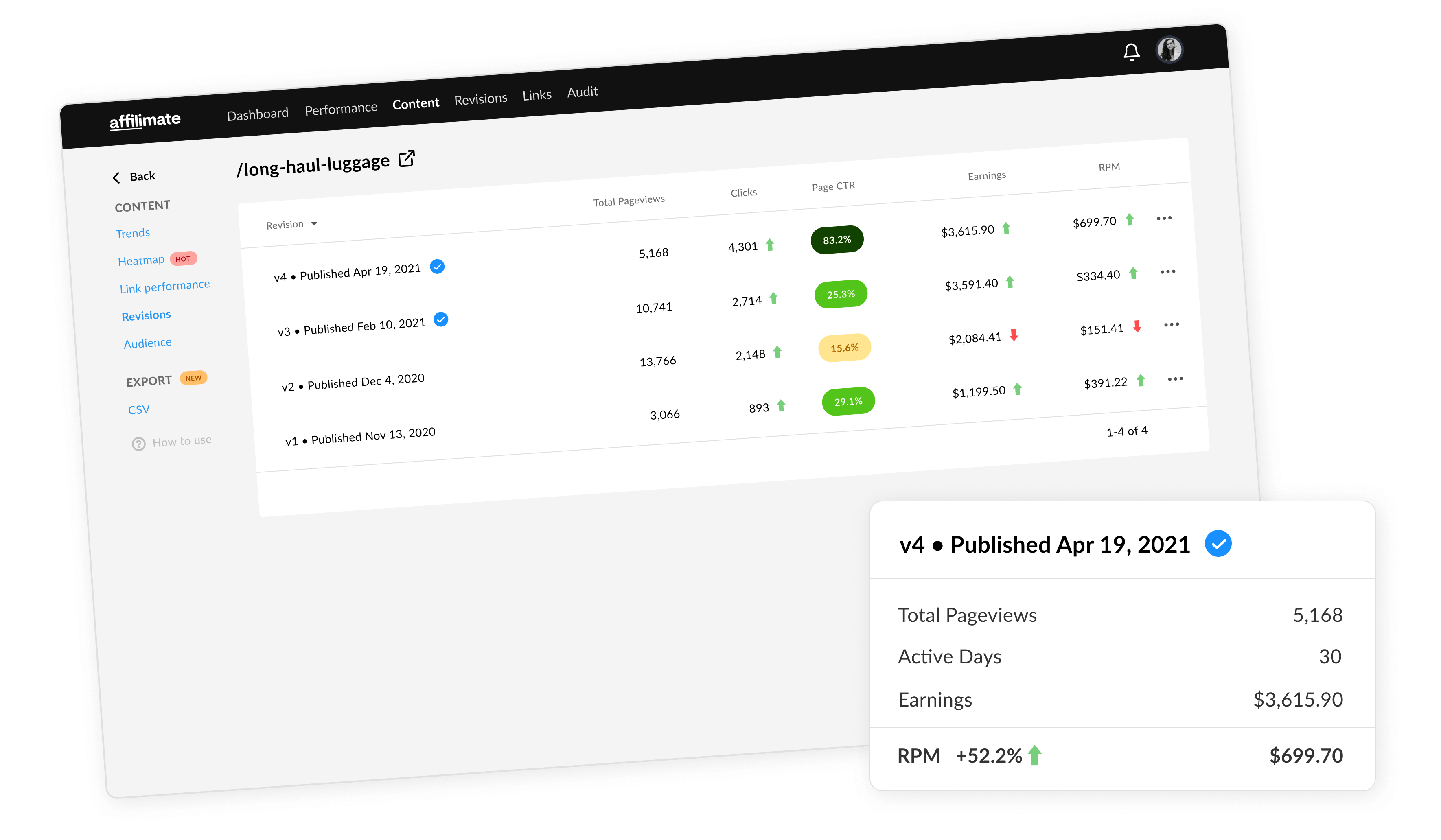 Revision History
Measure the financial impact of your content edits
With Affilimate, every change to a page automatically becomes a new experiment without any extra work. Track the impact of your changes by click-through rate, RPM, and overall earnings.
Amazon Affiliate Link Checker
Stop losing sales to missing or out-of-stock products
Automatically check your Amazon affiliate links on a recurring basis and get notified if any are broken, out of stock, or have other issues that may affect your conversion rate.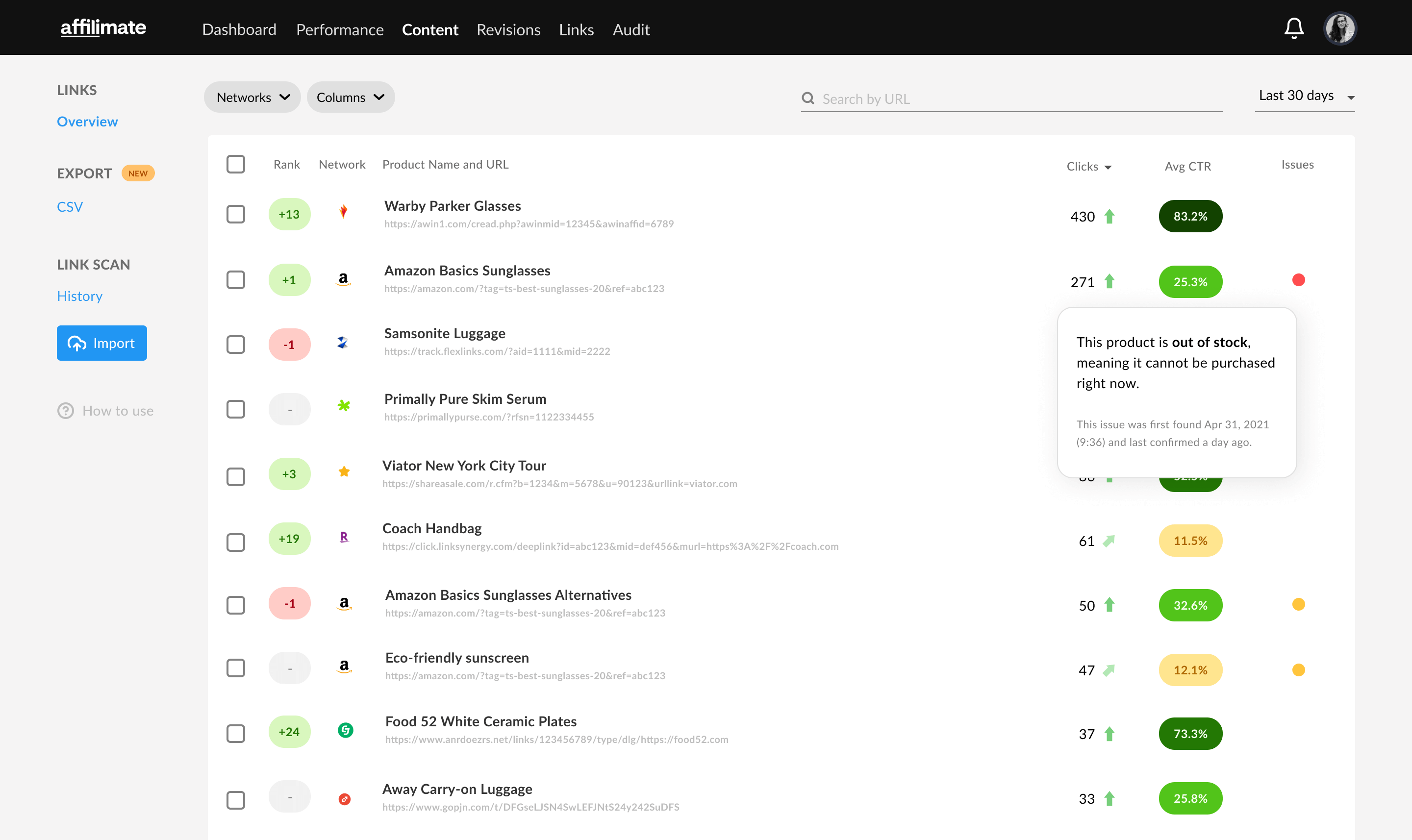 Looking for more? Affilimate also supports content experiments, email reports, editorial teams, and more to help you grow.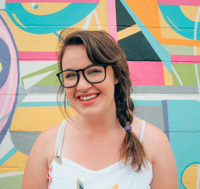 "Affilimate is such a powerful affiliate marketing tool. Being able to combine reports from multiple platforms, plus the vastly improved analytics and insights into which content and products perform best — I'm a huge fan."
Lia Garcia, Founder of Practical Wanderlust
Ready to meet you where you are
Our team is here to help every step of the way: from tech setup, to strategy, and scaling up.
Individual Onboarding
We'll work with you personally to get your site in optimal shape for tracking with specific recommendations
Team Training
Get your editorial team up to speed with training material tailored to your website and workflow
Strategy Sessions
Let us guide you through the often messy world of affiliate marketing and tracking with optional, 1:1 syncs.
---
Running a site or portfolio with over 1M monthly visitors? You're invited to:
Book a demo
or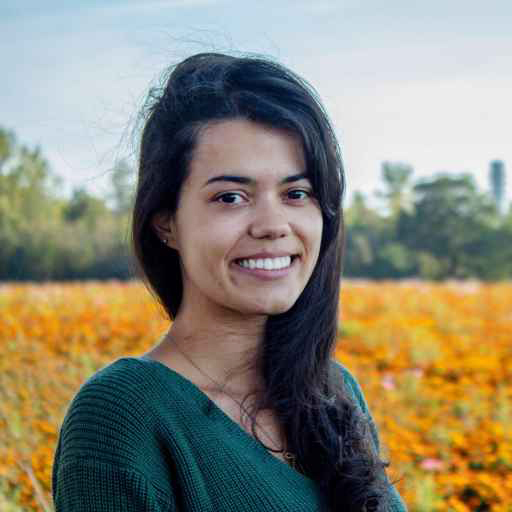 "I've been using Affilimate for over a year and am blown away by the reports' level of detail — advertisers, products, which page converted, and more, all in one place. It helps us know exactly what is working in our affiliate strategy."
Bruna Venturinelli, Founder of I Heart Brazil
Built for brands of all sizes
For publishers from 10,000 to 10 million monthly readers, and beyond
Free 15-day trial · No credit card required
Individual
Start free trial
For bloggers and marketers ramping up
Up to 100K Monthly Pageviews
Across up to 3 Websites
10 Affiliate Network Integrations
Single Workspace
Standard Support
Single User
Business
Start free trial
For growing brands and publishers
100-250K Monthly Pageviews
Across up to 10 Websites
20 Affiliate Network Integrations
Single Workspace
Priority Support
Team Members
Enterprise
Custom
Book a demo
For high volumes sites and portfolios
250K+ Monthly Pageviews
Across Unlimited Websites
100 Affiliate Network Integrations
Multiple Workspaces
Priority Support + Account Manager
Team Members
Content Analytics
Analyze your visitor behavior and optimize your affiliate content's conversion rate.
Content Insights
Conversion Heatmaps
Revision History
Link Management
Track all the existing affiliate links automatically and ensure your Amazon products are in-stock.
Automated Link Import
Amazon Link Checker
All clients get everything below
Affiliate Dashboard
Aggregate commissions across sites, networks, and programs to compare and optimize performance.
Unified Revenue Dashboard
Product-level (SKU) Reports
Custom Reports
Reporting Presets
Email Reports
Network & Advertiser Reports
CSV Export
Pull data on-demand
Revenue Attribution
Attribute your affiliate revenue back to your content, automatically, at scale.
Smart Label (SubID) Tracking
Label Rules
Support and Training
World class support and training to help you leverage your data to make smarter decisions.
Live Chat Support
Email Support
Facebook Community
Frequently Asked Questions
What if I purchase an annual plan?
All our annual plans include a 10% discount on top of the monthly price you see here. You'll see an option to pay annually when your trial ends.
How can I speak to someone from your sales team?
Simply email us at sales@affilimate.com! We're excited to talk about affiliate marketing and analytics with you.
Are there any limits on my trial account?
No, there are no limits. You can see what you need and then choose a plan that fits your business at the end of the 15-day trial.
What networks do you integrate with?
You can find a complete list of all the affiliate platforms we support on our Integrations page, or check our Roadmap for upcoming integrations.
Can you track independent affiliate programs?
We can track many programs which appear independent, and use whitelabel affiliate software that offers an API for publishers. Get in touch with us about specific programs and we'll be happy to let you know.
I have other questions! How can I get in touch?
Either use the Message icon in the bottom right corner to send us a message, or contact us by email at support@affilimate.com.
Everything you need to get started
For publishers from 10,000 to 10 million monthly readers, and beyond
Quickstart Guide
Most publishers can set up in minutes without a developer. Our video onboarding will show you the way!
Tutorials and Guides
Our Help Center is full of step-by-step guides so you can learn to use your new analytics and tracking superpowers.
World-class Support
Affiliate links and tracking can be a mess. We'll help you get your site in the best shape with personal advice.
---
Running a site or portfolio with over 1M monthly visitors? You're invited to:
Book a demo
or