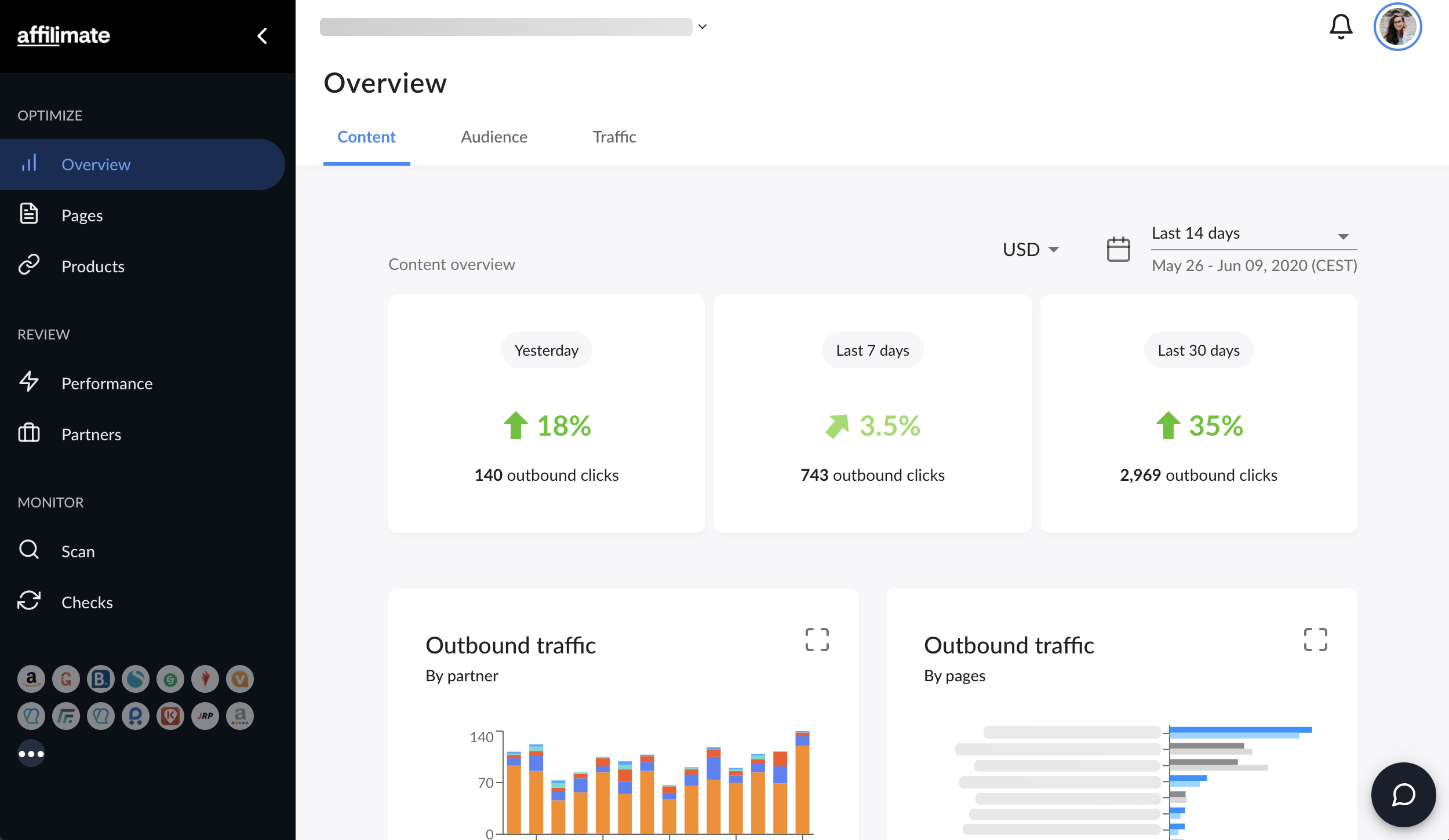 Features
Here's a selection of the most popular features from our affiliate analytics toolkit.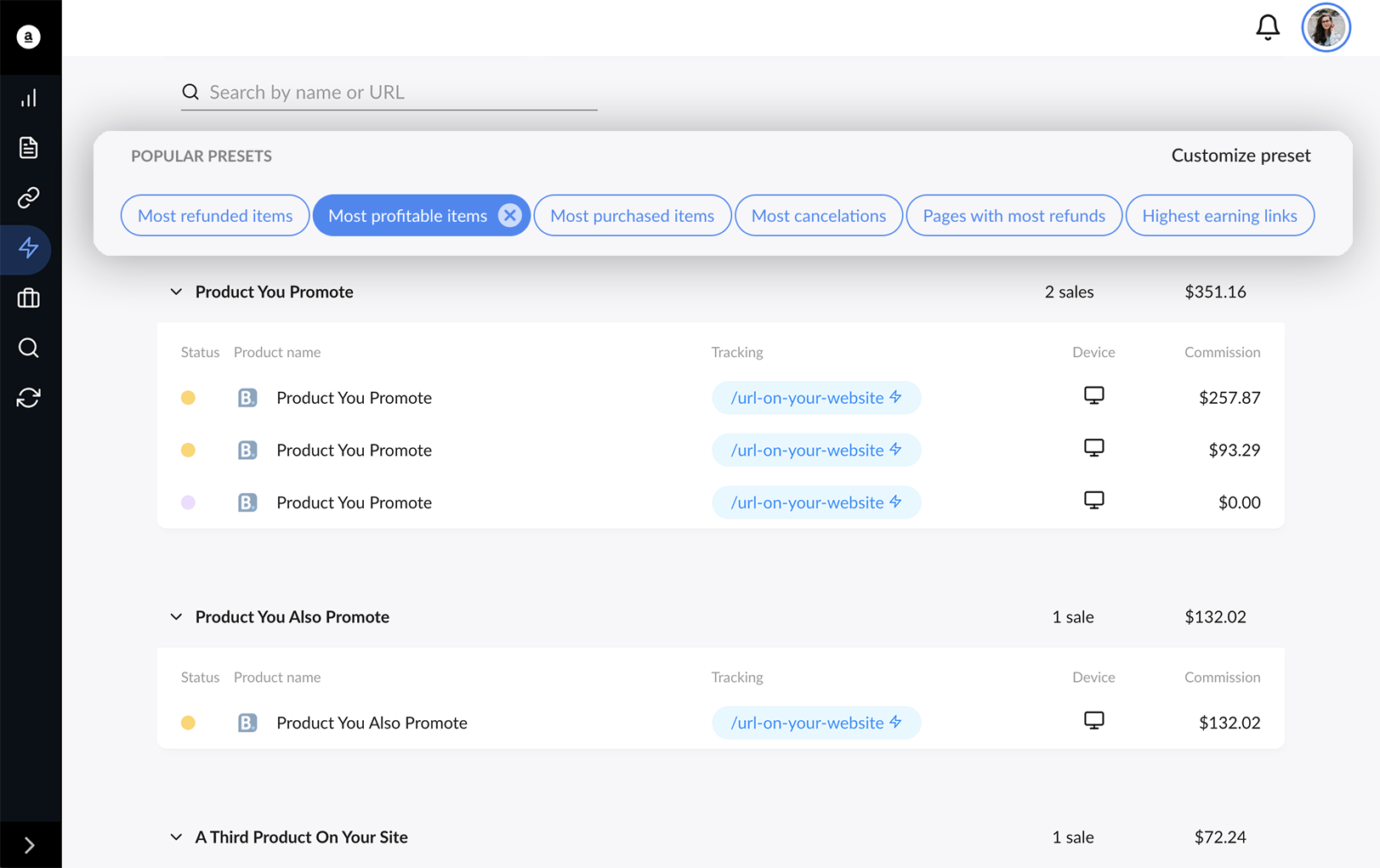 Unified reporting
Aggregate commissions in one place
Get an overview of your conversions from every network you're a part of. Apply custom reports that cut across networks by clicking a button.
Uncover patterns with reporting presets
Apply a one-click preset to your reports for useful views like frequently returned items, most profitable products sold, and highest earning links site-wide.
Answer cross-cutting questions with custom performance reports
Apply custom groups, filters, and sorting to your unified commission reports. Free yourself from hacky, hobbled-together (and irregularly-used) spreadsheets.
Save time from logging into every network
Understand the performance from all your sites on all networks at a glance, without having to touch every single one. Immediately see drops or spikes you should act on.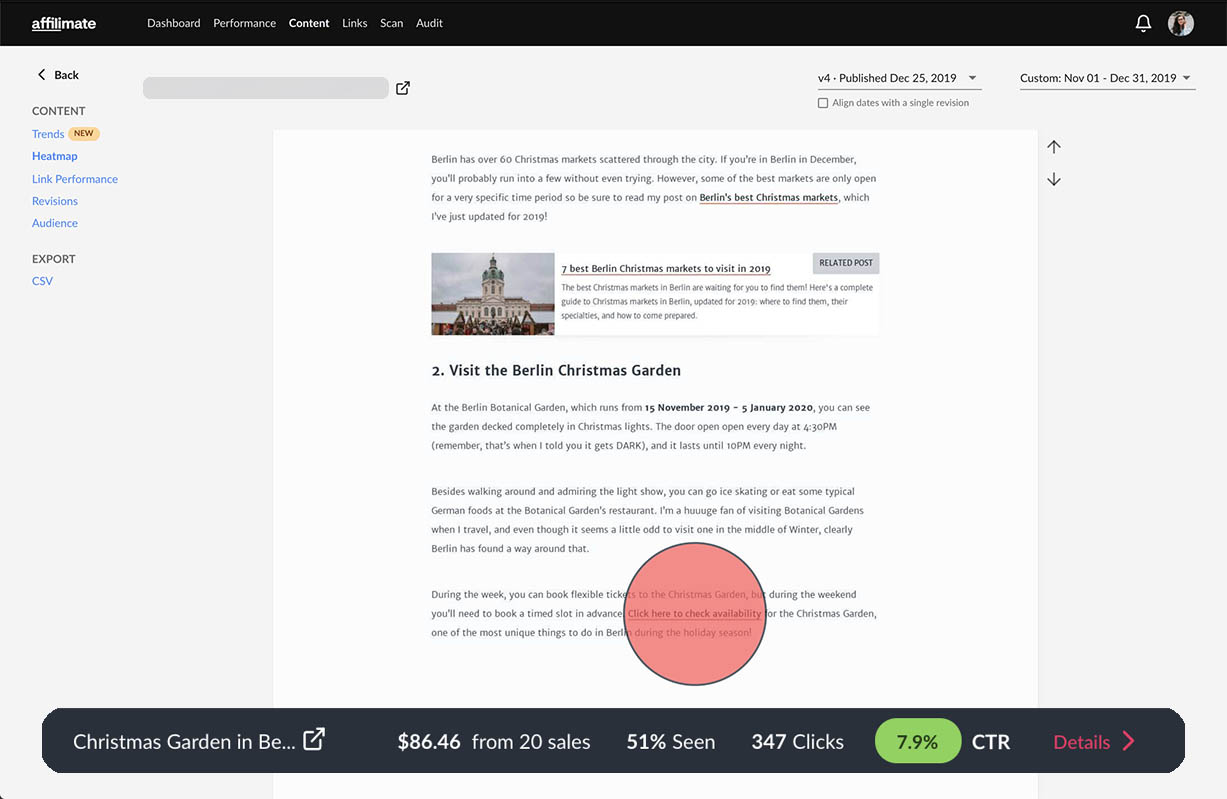 End-to-end tracking
Conversion heatmaps
Use our dynamic subid technology to trace back your conversions to the exact link, button, or widget that triggered it on the screen.
See which links you need to move or replace
Find links with excellent click-throughs or conversions but low visibiliy, and test boosting that link higher in your page.
Doesn't slow down your website
Most heatmapping tools slow down your site to the point that it negates the conversion improvements you're making.

Affilimate's click tracking efficiently collects and batches updates to respect your reader's experience.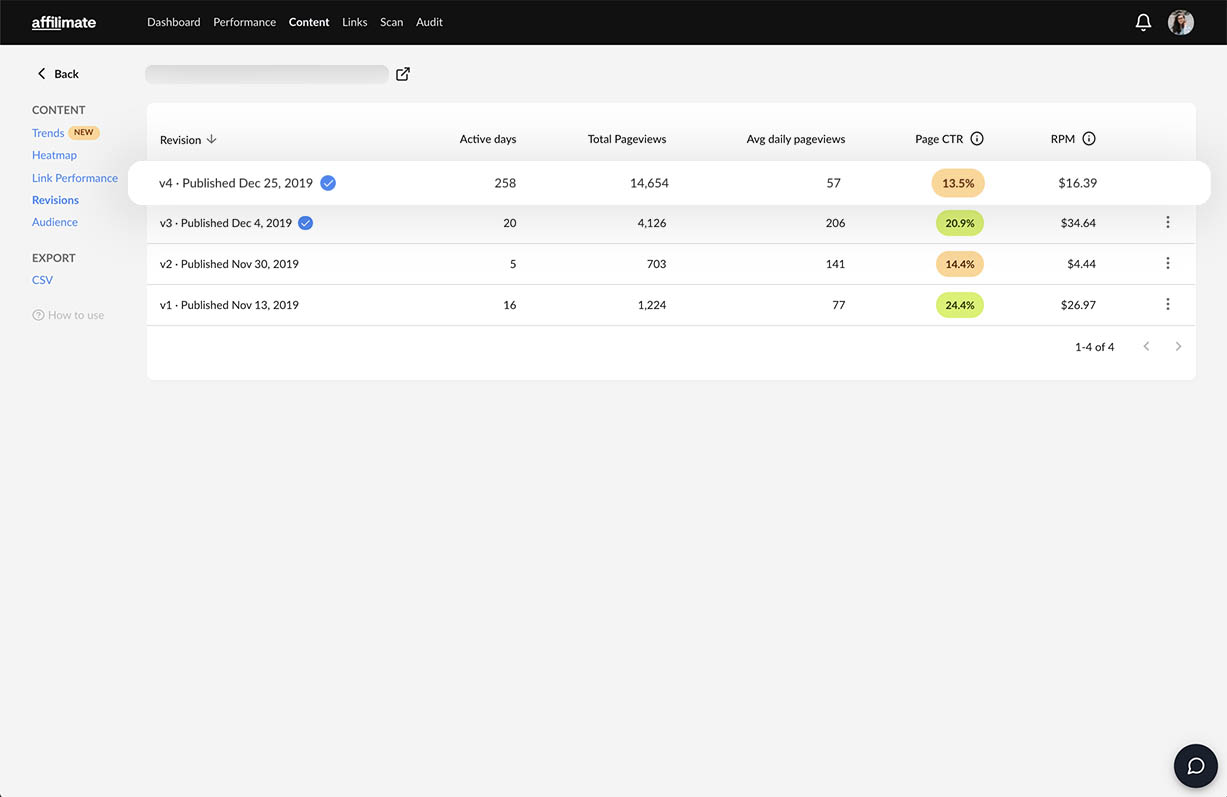 Experiments
Passively test your page edits
Testing is great but rarely gets done. Instead of relying on your once-a-year motivation to run an A/B test, let Affilimate make every edit to your page its own test.
Pinpoint problems to a specific edit
For any drops that arise, use the revision history to track down exactly what changed on which date so you can reverse the effect and restore your earnings.
Compare results based on metrics like CTR and RPM
Easily see whether your clicks and earnings are on an upward trend with traffic-stable metrics like RPM and CTR.
No manual setup for running tests
All you need is a standard sitemap, and we'll consider any edit as a new test on your behalf. Easy as.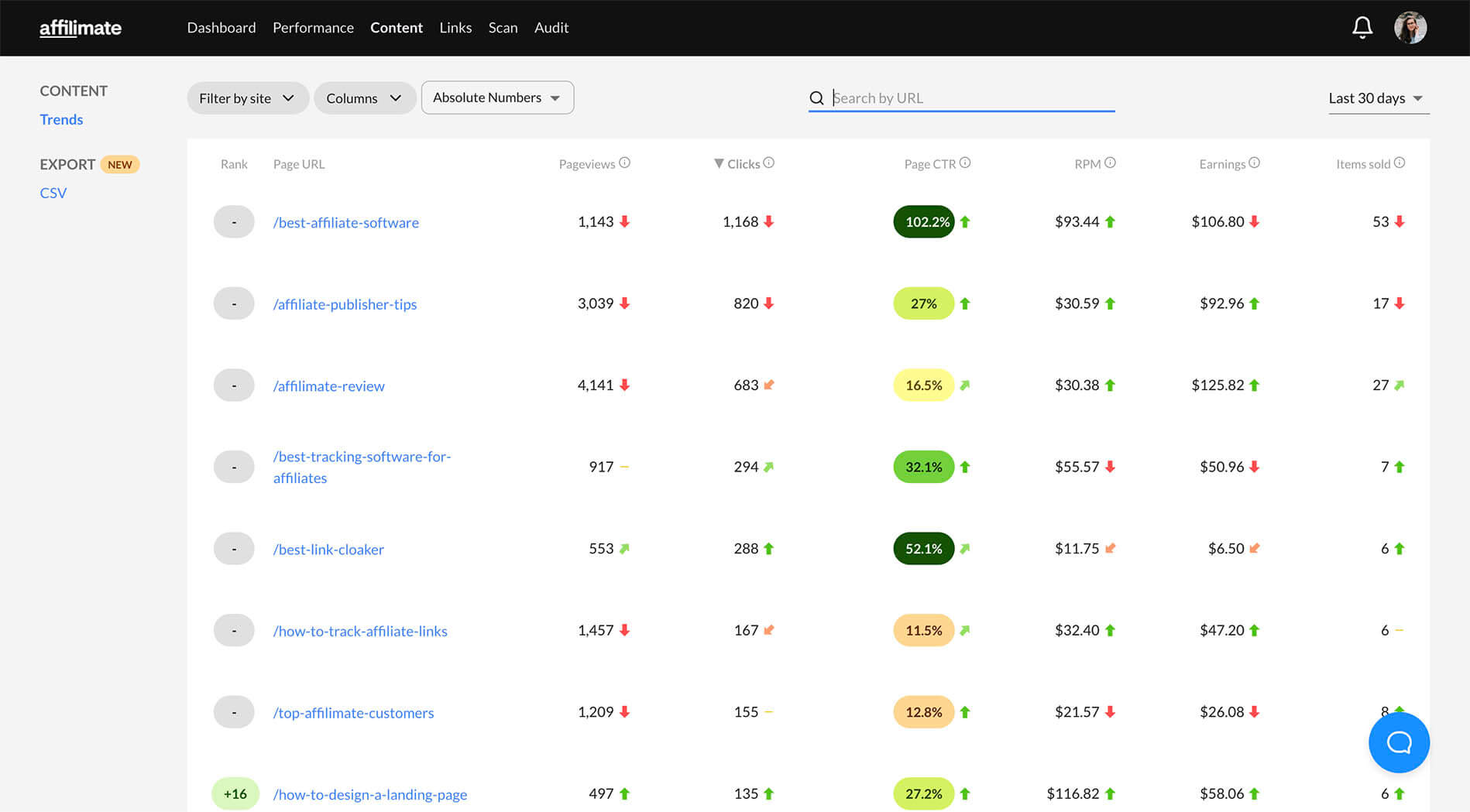 Link and page-level analytics
Track content-level stats like CTR, RPM, and sales
Affilimate's content-centric approach helps you learn what is and isn't working on your site in a contextual, content-aware way — specifically designed for affiliates who drive most of their traffic from Google.
Find hidden gems to build traffic to
Instead of focusing exclusively on your current top-traffic pages, find content with excellent CTR and RPM, and focus on improving those rankings. Leverage what's already working instead of optimizing pages with less than stellar intent.
Spot underperformers you need to optimize
Single out content that is not performing as well as its peers and use our on-page tools like conversion maps and visibility-based CTRs to understand why views aren't turning into commissions.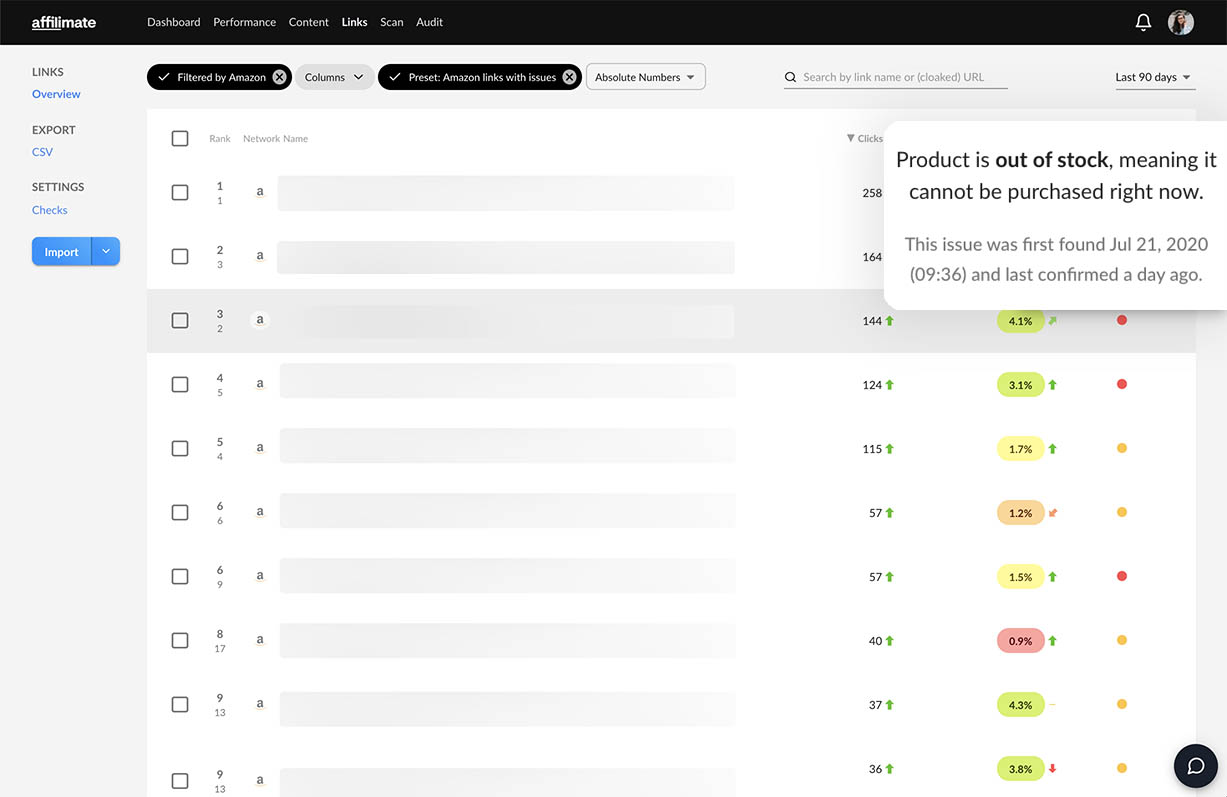 Amazon Affiliate Link Checker
Find broken and out-of-stock Amazon affiliate links
Fix them in-place instead of letting them cost you revenue by leading to products that can't convert.
Easily prioritize which links to fix
By focusing on Amazon links that are already getting clicks, you can fix links that are likely to result in actual conversions.
Get an in-app alert anytime a new Amazon link becomes broken
Fix your links as part of a weekly website maintenance task after our scan runs every Monday.
Doesn't slow down your website
Since the link checking happens on our servers, your website speed is never affected (even by "background checks").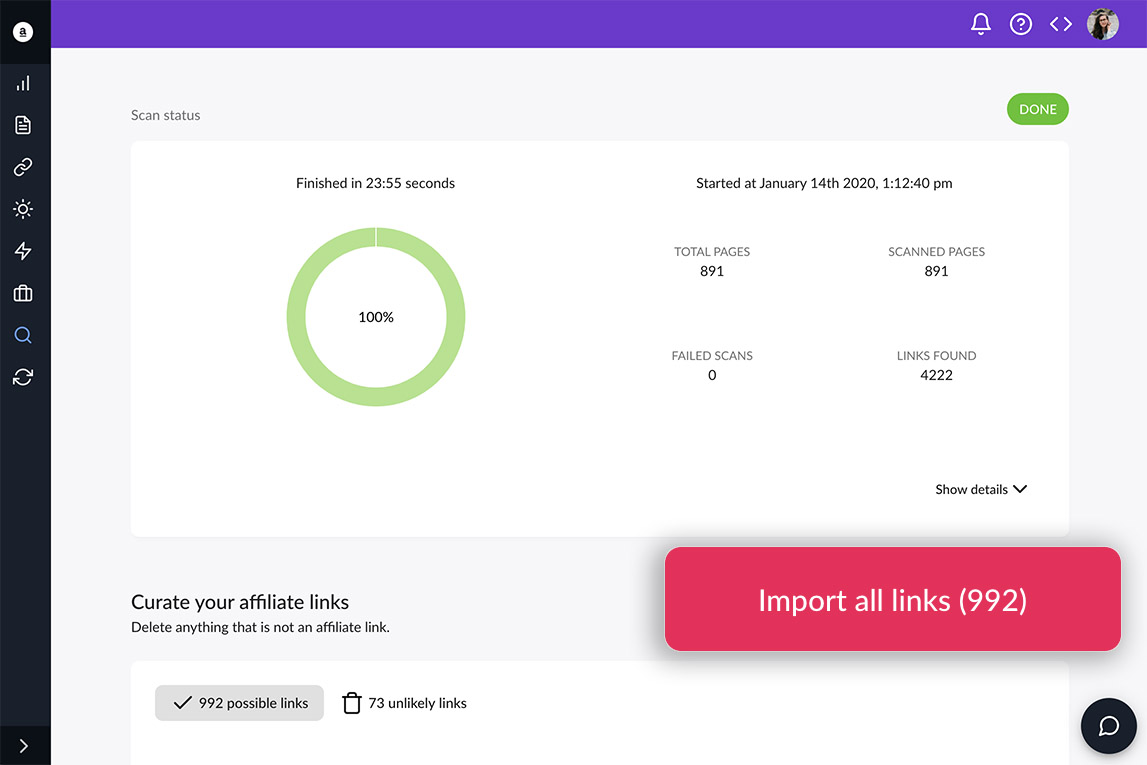 Automated affiliate link tracking
Fully automated import of your existing links
Run our link scan on your website, and we'll find and recommend new affiliate links for you to track.
Works with link cloakers
Whether you're already using a popular link cloaking solution like Thirsty Affiliates or Pretty Links, we can find and work with those links, too.
Check regularly for new links
Get a notification anytime new links pop up on your website that need to be tracked. Stop forgetting to set up tracking (or paying hundreds of dollars to get someone to do it for you).
Link-level analytics
Learn which pages a specific link performs best on, its click-through rate, and how it's converting on your website.