All Your Affiliate Data in a Single Dashboard
Affilimate aggregates analytics from all your affiliate platforms, links, and sites in a single, unified dashboard so you can save time and grow your revenue
Free 30-day trial · No credit card required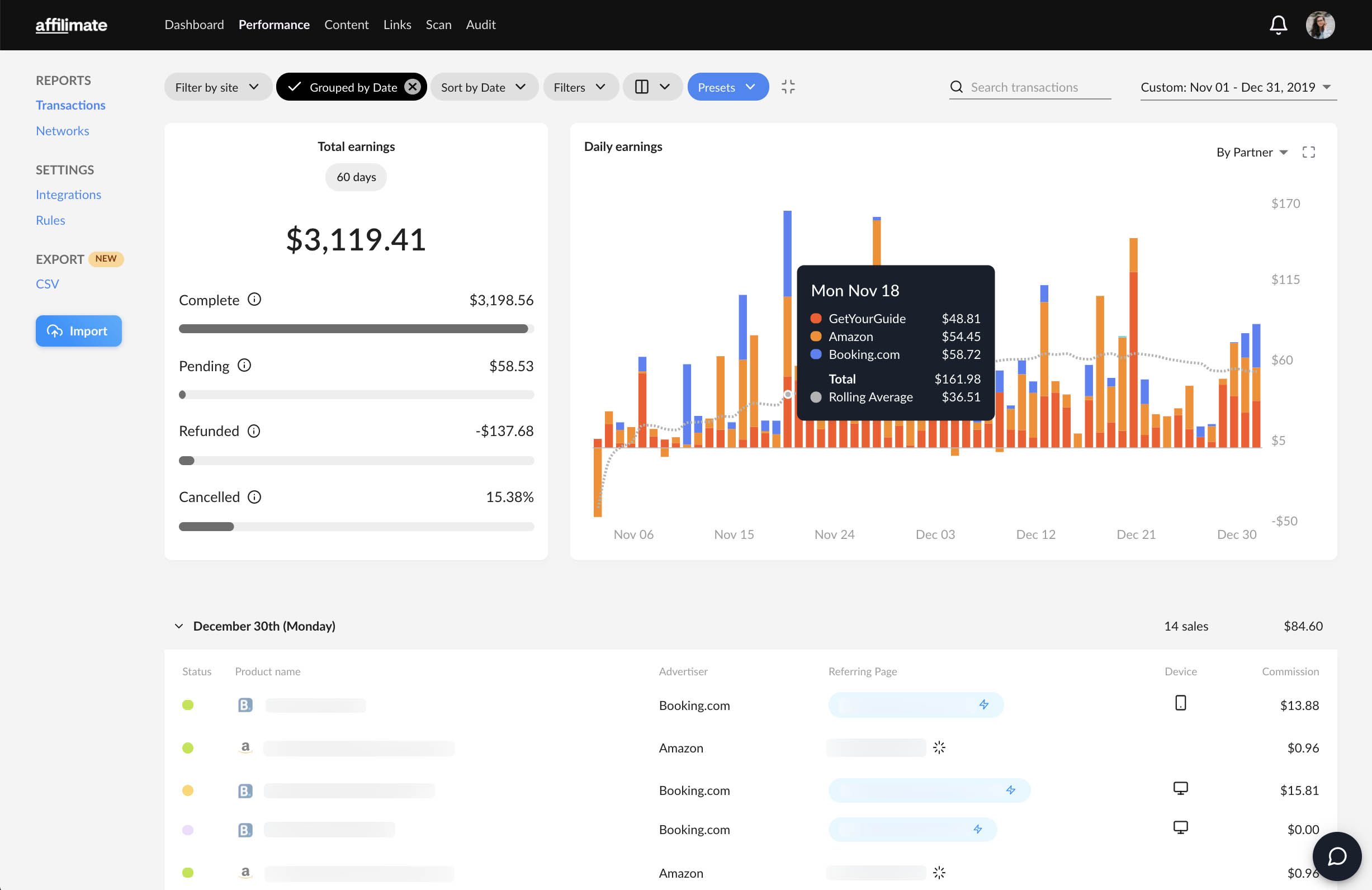 Here's what you can unlock in under 5 minutes
Import your links with our automatic scan, and we'll do the rest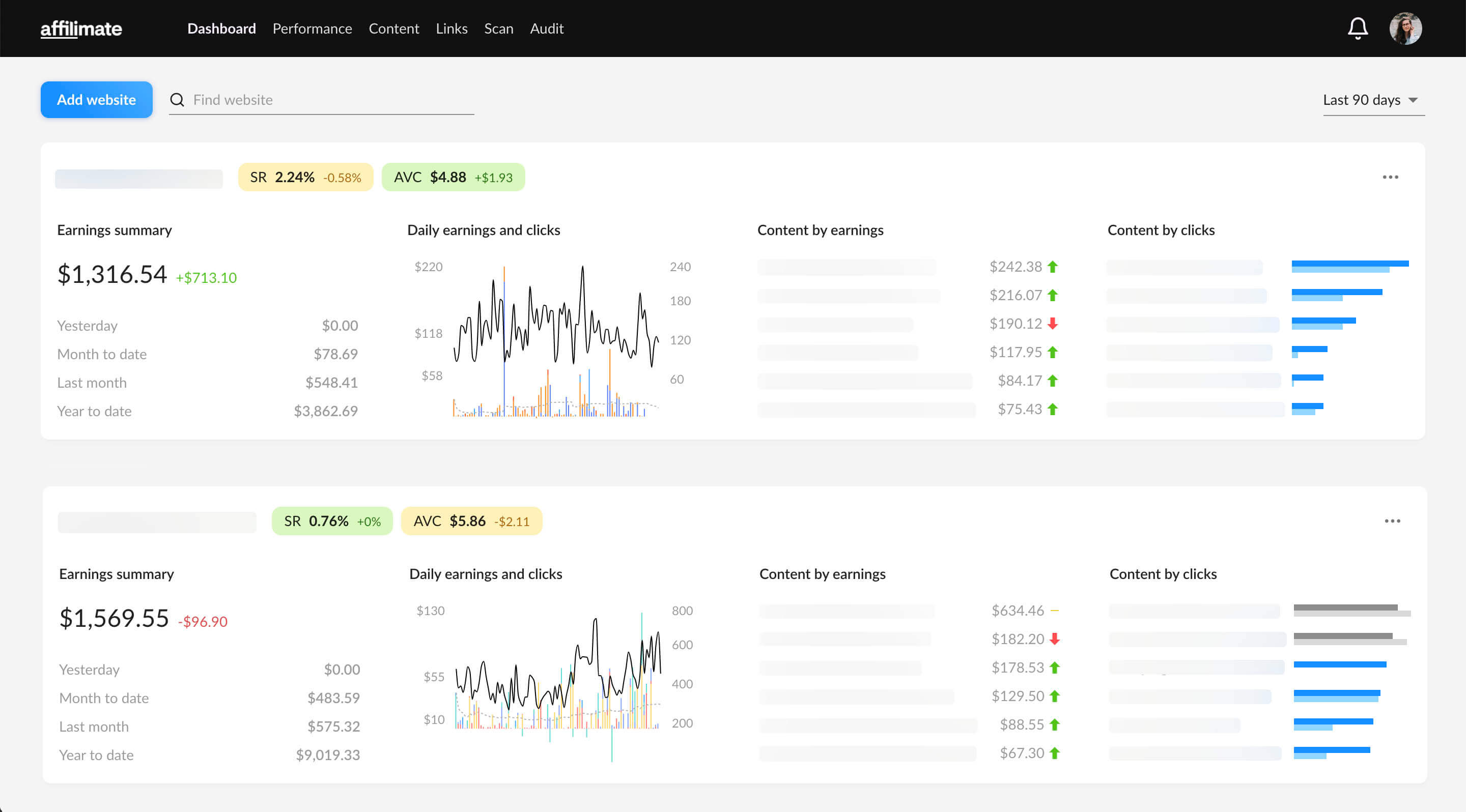 Track affiliate commissions and analytics across all your websites
Get an at-a-glance understanding of how each of your sites are performing in terms of revenue over time, clicks and views on monetized content.
Receive a daily digest of what you earned the previous day
Monitor your websites, articles, affiliate networks, and advertisers for commissions earned in the previous day.

Then dive into the exact conversions through detailed, SKU-level reports.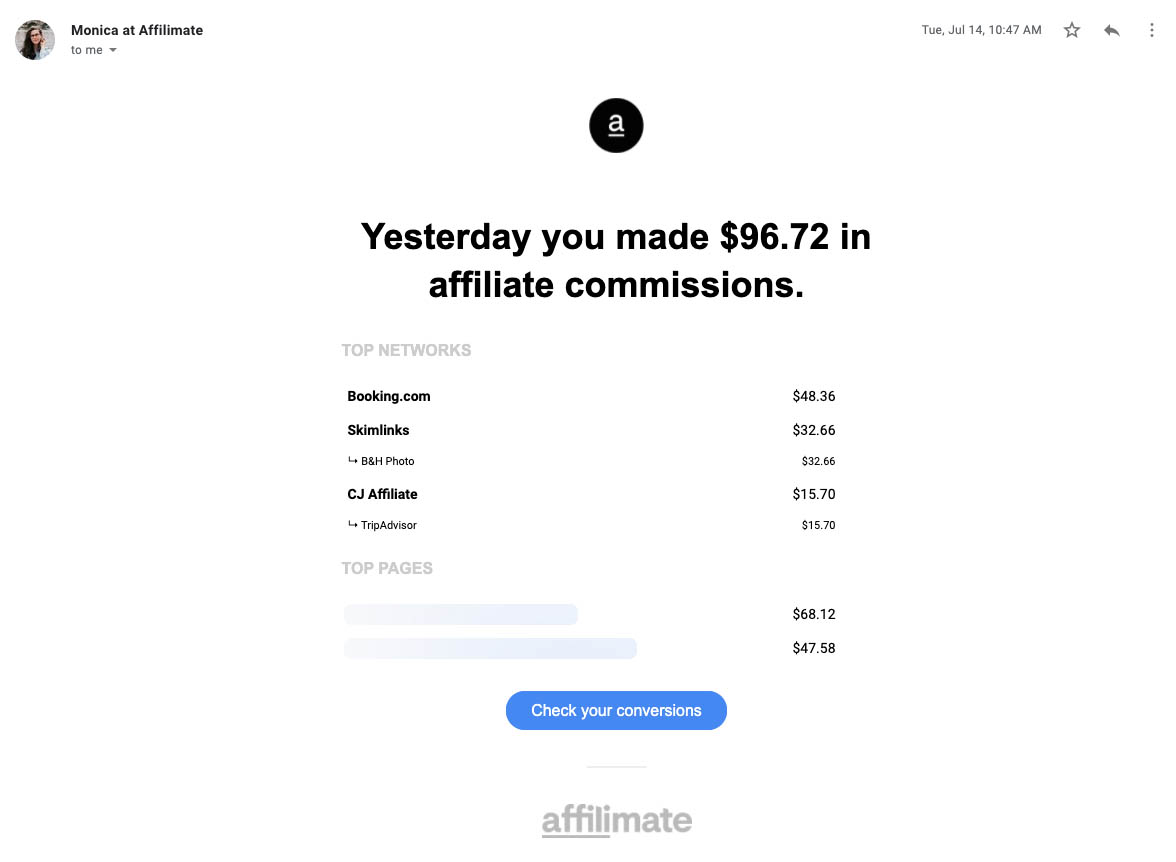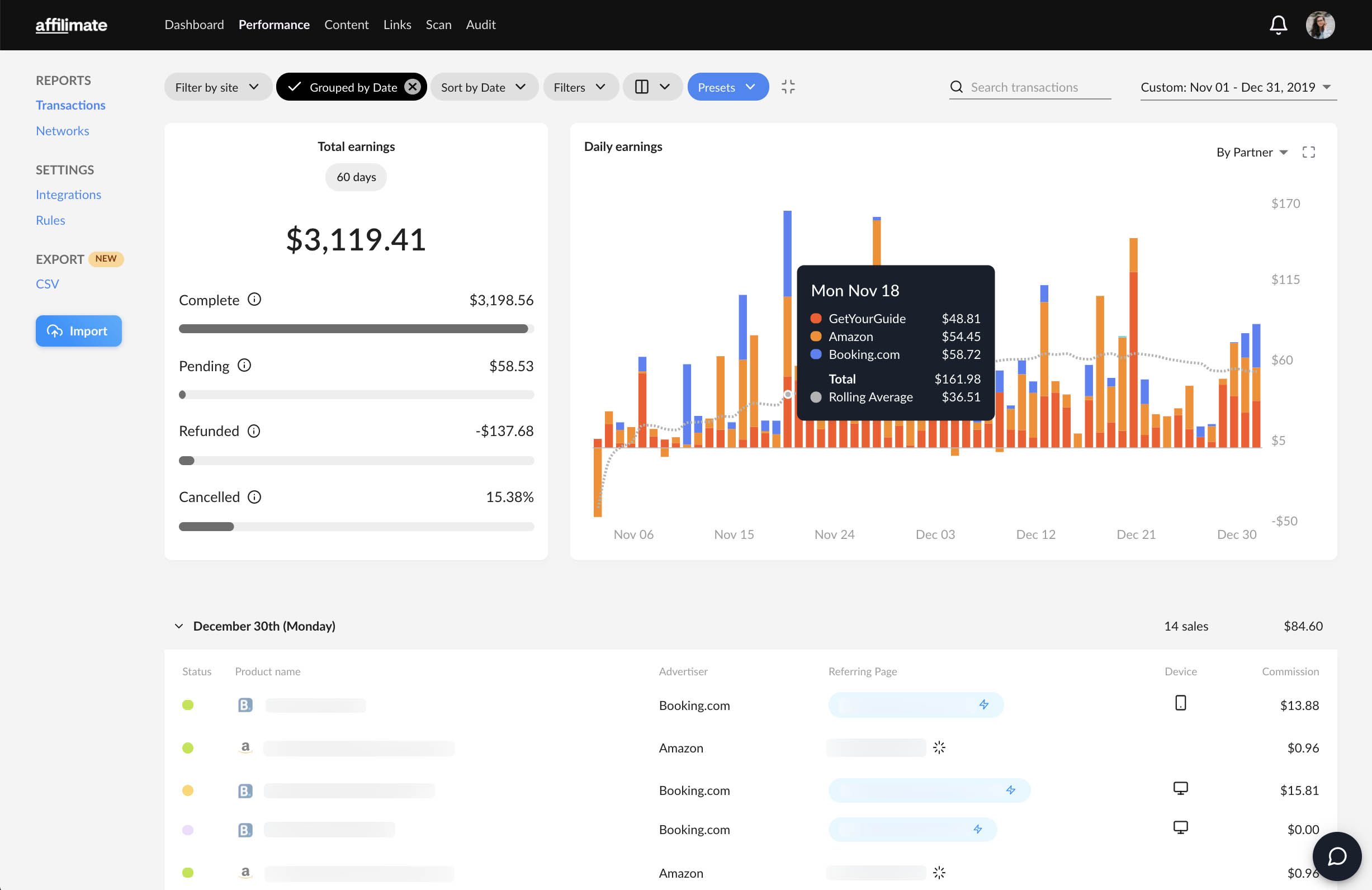 Review all your affiliate commissions in one unified place
Save time by logging into one easy-to-use dashboard that can aggregate your affiliate reports into a single, sortable, searchable, and groupable format.

Find patterns in your conversions with our reporting presets, or create your own from scratch.
Learn exactly which affiliate links are earning you money
End-to-end tracking from click to commission. Understand exactly which buttons, deep links, images, or widgets are converting on your website in a visual way (and no manual setup) using Affilimate's dynamic subid tracking.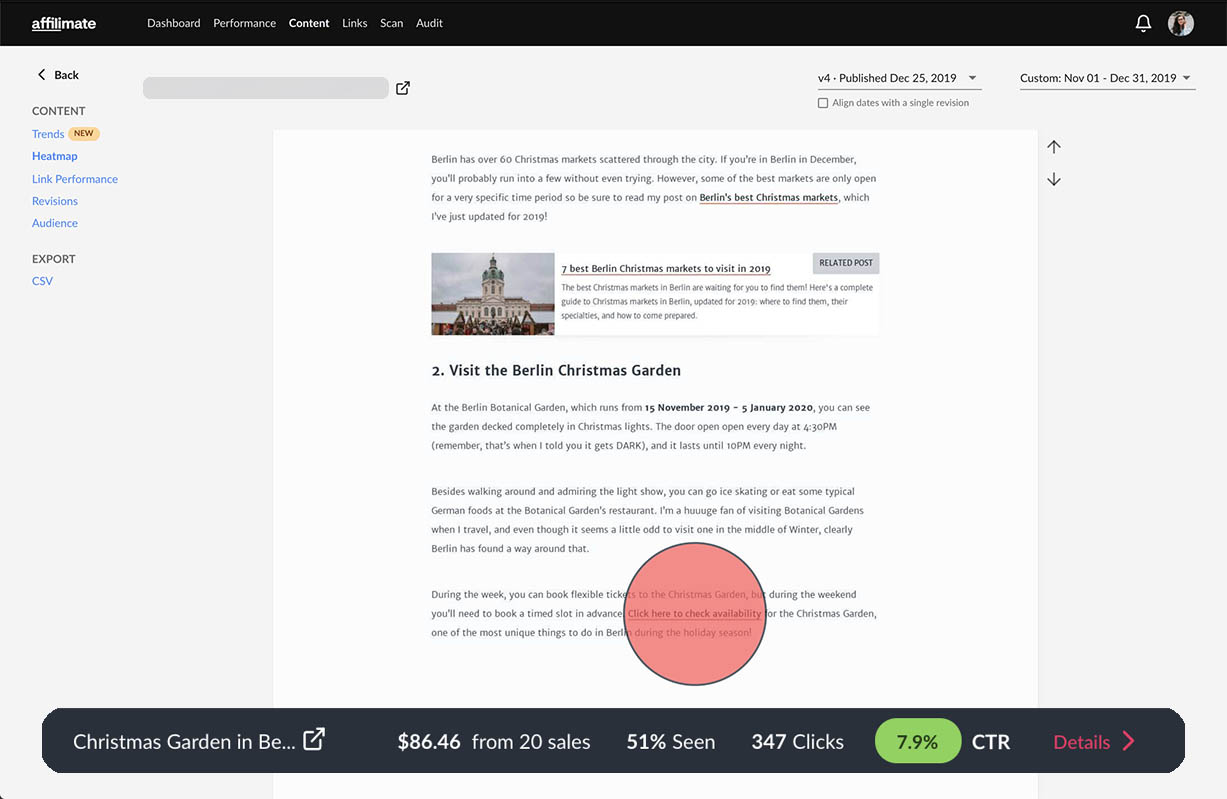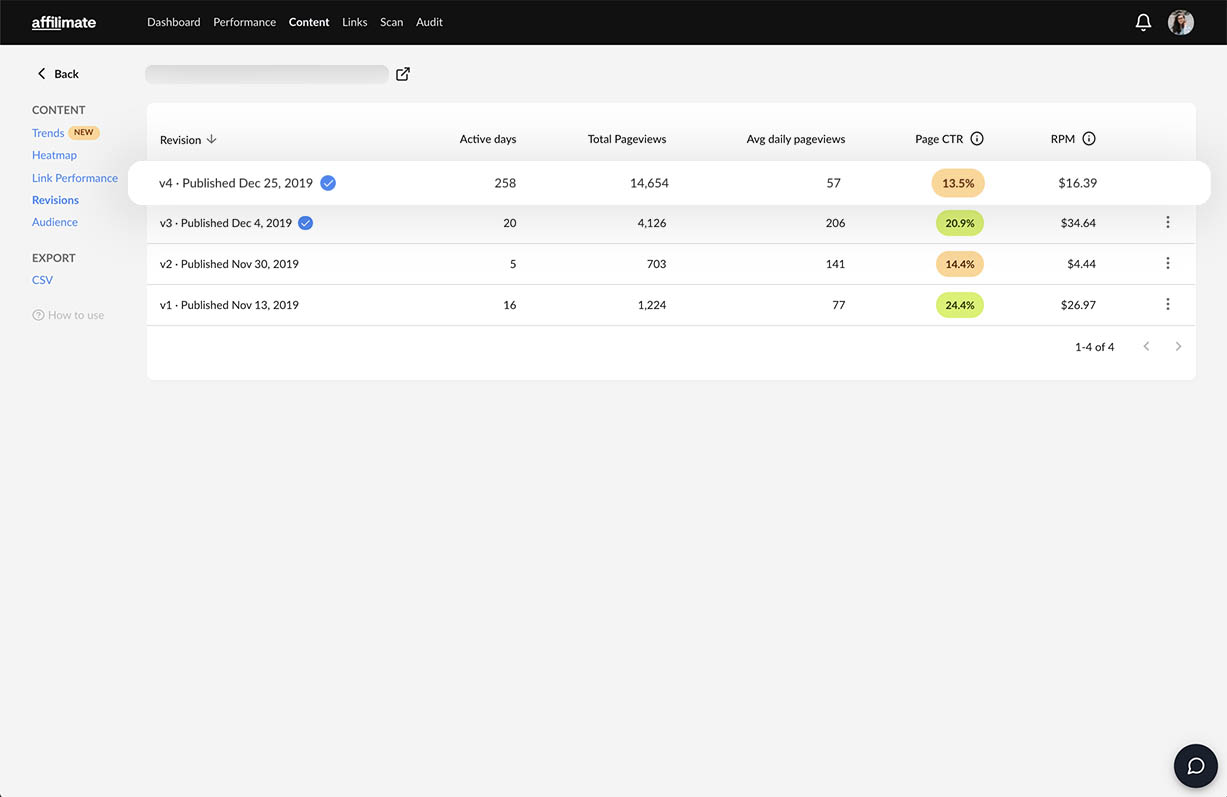 Spot specific changes that led to spikes or drops in conversion rate
Testing is something everyone knows they should do (but tend to forget about). With Affilimate, every change to a page automatically becomes a new experiment without any extra work.

Measure the impact of your edits by click-through rate, RPM, and overall earnings.
Find out which content is worth building traffic for (and which is underperforming)
We all know that your top traffic pages aren't always the ones that make the most money. Use Affilimate to find unexpected gems worthy of your traffic-building efforts.

Don't miss out on building traffic to high-converting content by because those insights are hidden in pieces across half a dozen reports in different tools.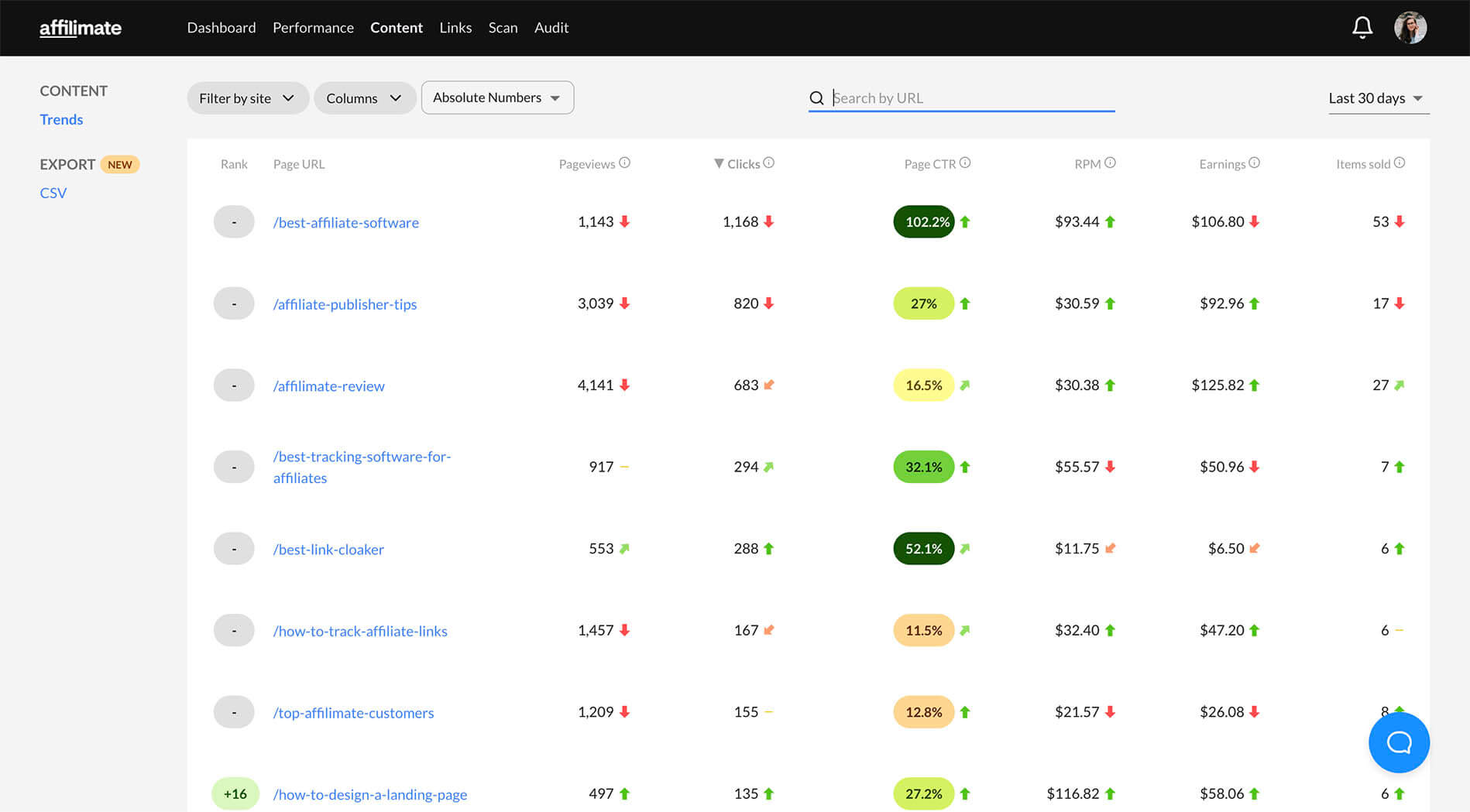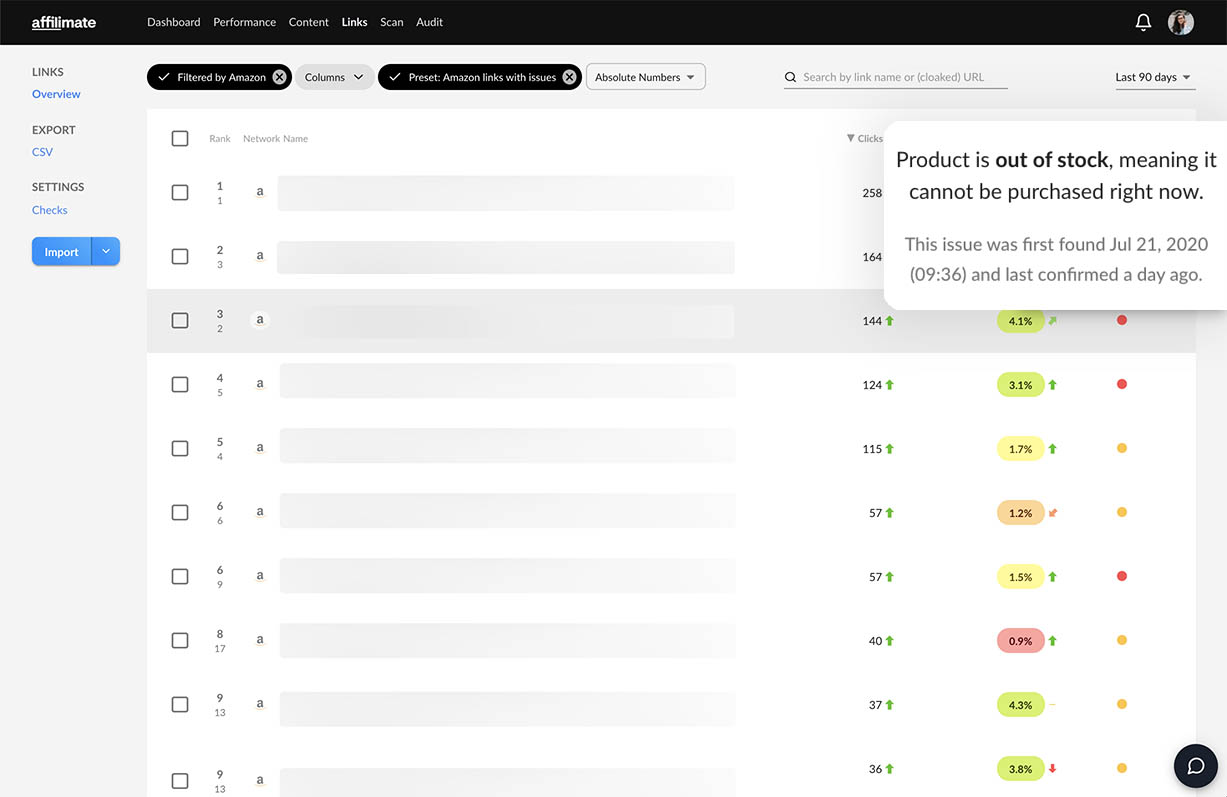 Amazon Affiliate Link Checker
Get notified when your Amazon Affiliate Links have issues that could affect conversion.
Affilimate checks your Amazon affiliate links on a weekly basis and notifies you if any are broken, out of stock, or have other issues that may affect your conversion rate.
What sets Affilimate apart from other affiliate tools?
Here's why Affilimate is different than any affiliate tool you've used before.
Not a WordPress plugin
Eliminates the performance, security, and functionality limitations that come with plugins.
Not a link cloaker
Keep whatever cloaker or shortener you like. We won't make you do manual work before you get tracking.
Not a single-solution tool
Most tools give you just one piece of the picture, like heatmaps, click-tracking, or commission reporting.
Cloud-based
Our massive data-crunching happens on thousands of servers — without impacting yours.
Automatically tracks your links
Don't worry if you have short links, long links, or a mixture. We'll find them for you automatically.
Complete suite of tools
We believe the real insights comes from a tight integration of analytics across your entire affiliate conversion funnel.
Free 30-day trial · No credit card required
Draw on experience beyond your own portfolio
Get experience-based recommendations and insights from our team and community
Expert community
Join our Facebook Group of Affilimate members who are serious about growing affiliate sites in a data-driven way
Personal onboarding
We'll work with you personally to get your site in optimal shape for tracking with specific recommendations
Members-only content
Get actionable, data-based CRO insights from the content we create exclusively for our members
Free 30-day trial · No credit card required
What's on your mind?
Perhaps you have some questions. Let's talk about that.
That depends! Do you consider yourself:
An affiliate or niche site owner
A blogger or content creator with a website
Anyone with a website that wants to earn more from affiliate marketing
If you answered "Yes!" to one of those questions, we could be a good fit for each other.
That said, Affilimate will be most impactful for you if you've already got a bit of traffic on your website. We recommend starting with a site that will give you significant insights after less than a week of tracking.
It is an analytics tool, after all, so we need things to measure :)
Amazon has a few quirks that limit how impactful some of our features can be (such as their lack of on-demand Tracking IDs and lack of an API).
However, we offer a few features that specifically fill in some of these gaps for owners of Amazon-focused affiliate sites, such as our Label Rules and Amazon Affiliate Link Checker.
To enjoy all our features completely, you should be using at least a combination of Amazon and our other integrated networks.
Besides, we always encourage our members to diversify :)
SubIDs are like extra data you can attach to your affiliate links. These can help you get a better idea of where your conversions are coming from.
Here's an example of an affiliate link with a subid attached:
shareasale.com/r.cfm?b=12&u=345&m=678&afftrack=name-of-your-article
The problem is, if you type subids by hand, you can only fit a very small amount of information in AND you need to know that information ahead of time (when you create the link).
What Affilimate does is dynamically enrich your subids with both human-friendly and machine-friendly data.
So instead, your link's subid looks like this:
shareasale.com/r.cfm?b=12&u=345&m=678&afftrack=name-of-your-article__amcid-294hr2i3yhr23iyfs
That code at the end is an Event ID that lives in our data store.
Anytime your reports are pulled from an affiliate network, we reference that event to give you richer data insights about each conversion: the page it was on, the product that was clicked, the position of the link on the page, which channel referred the conversion, and more.
The key point is that Affilimate can do all of these things for you automatically, at scale, across all of your websites and content.
This feature alone has saved our members thousands of man-hours (and dollars) from doing it manually and ending up with half the insights.
Nope! We've gone to positively extreme lengths to make Affilimate the fastest, lightest, and most performant thing on your entire website (yes, even the heatmaps are performant).
Absolutely. We have two different ways to track multiple sites, depending on whether they have shared affiliate network accounts or are separate (for example, if you are part of an agency).
Yes. In general, Affilimate can track clicks on any affiliate link on your website.
We also support dynamic subids for popular link-cloakers like Thirsty Affiliates or Pretty Links when you enable parameter pass-through.
There are some shortened affiliate links that don't support dynamic tracking well, such as those like fave.co (Skimlinks), shrsl.com (ShareASale), and bit.ly. In those cases, we recommend replacing those short links with long links (either cloaked in your favorite link cloaker or directly in your article).
Not only does it make Affilimate's dynamic subid tracking possible, but it makes your website's links 100x easier to transfer to a new owner if you decide to sell it.
We currently support detection and reporting of broken or out-of-stock Amazon affiliate links through the official API.
We have an integrations roadmap that's completely based on feedback from our members.
If you see a network that's missing, and important for your site, let us know and we'll see what we can do.
For sure! We can help you add team members to your account, and delegate tasks like managing reports (for example, if you are part of an agency).
No. Affilimate is a cloud-based SaaS. You can install it on your website the same way you would the Google Analytics snippet :)
Absolutely. Affilimate does not record your reader's IP addresses or send data to third-party tracking systems outside of our cloud environment.
The short answer is no.
Affilimate is a fully cloud-native analytics platform, which runs on the Google Cloud Platform.
Our solution uses serverless technology to scale automatically across thousands of servers as needed, and leverages fully managed databases suitable for big data analysis.
You would need a sophisticated and trained team of software and infrastructure engineers to maintain your own replica of our cloud environment.
If you have access to these kind of resources and want to discuss the possibility self-hosting your data, you can contact us at hi@affilimate.com.