All your affiliate data in one dashboard.
Affilimate helps publishers like you collect affiliate revenue and analytics in one place so you can optimize conversion and grow your earnings.
Get started
Free 30-day trial · No credit card required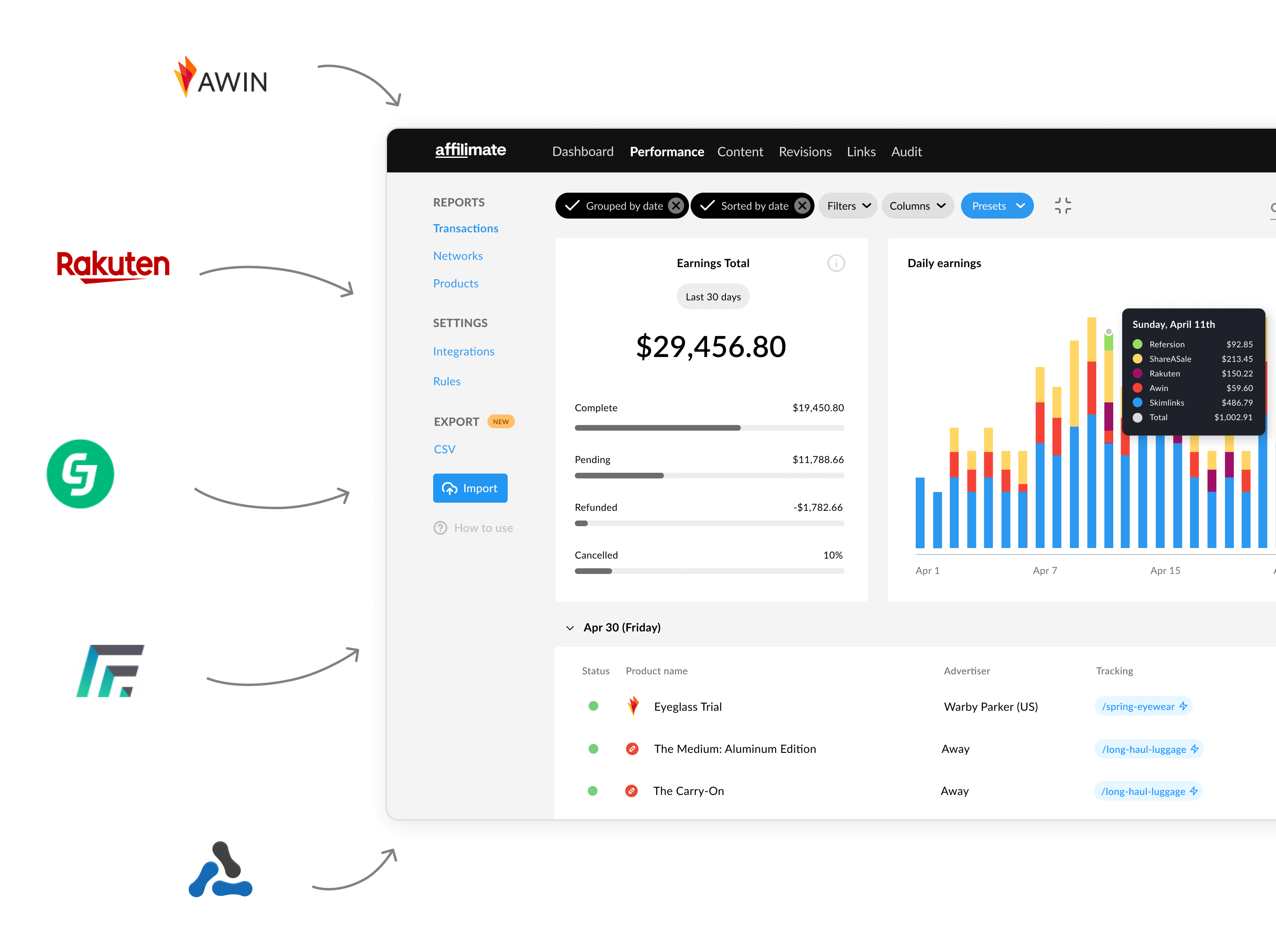 Here's what you can unlock in under 5 minutes
Import your links with our automatic scan, and we'll do the rest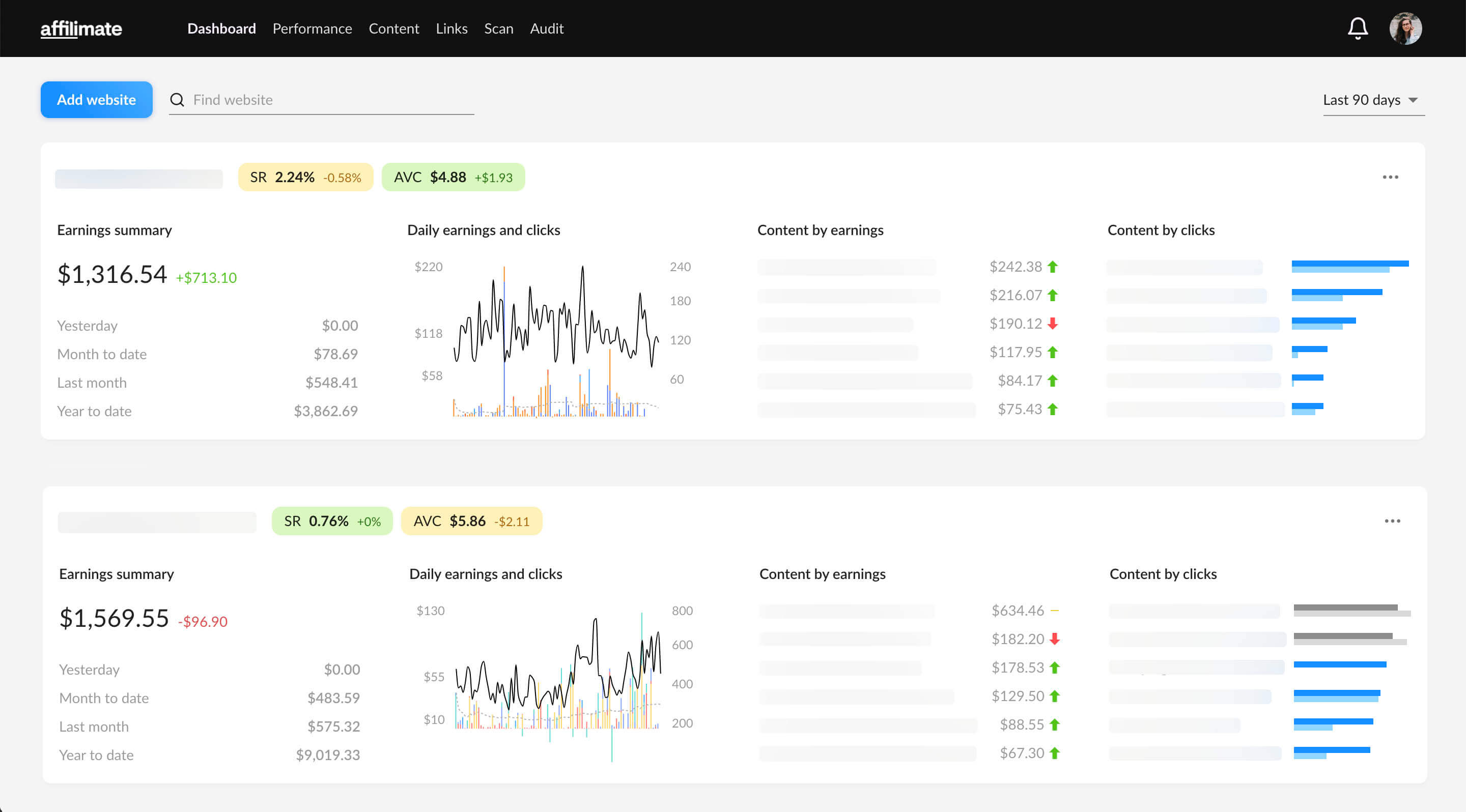 Track affiliate commissions and analytics across all your websites
Get an at-a-glance understanding of how each of your sites are performing in terms of revenue over time, clicks and views on monetized content.
Receive a daily digest of what you earned the previous day
Monitor your websites, articles, affiliate networks, and advertisers for commissions earned in the previous day.

Then dive into the exact conversions through detailed, SKU-level reports.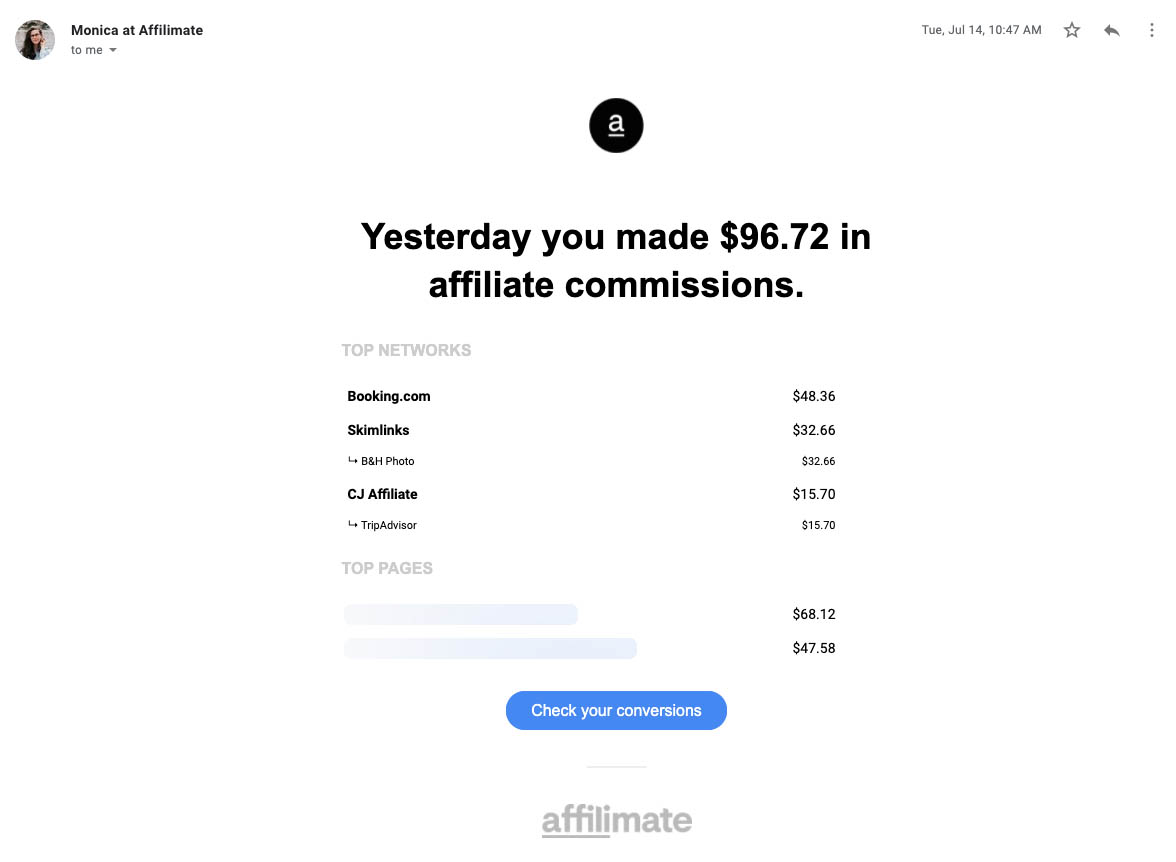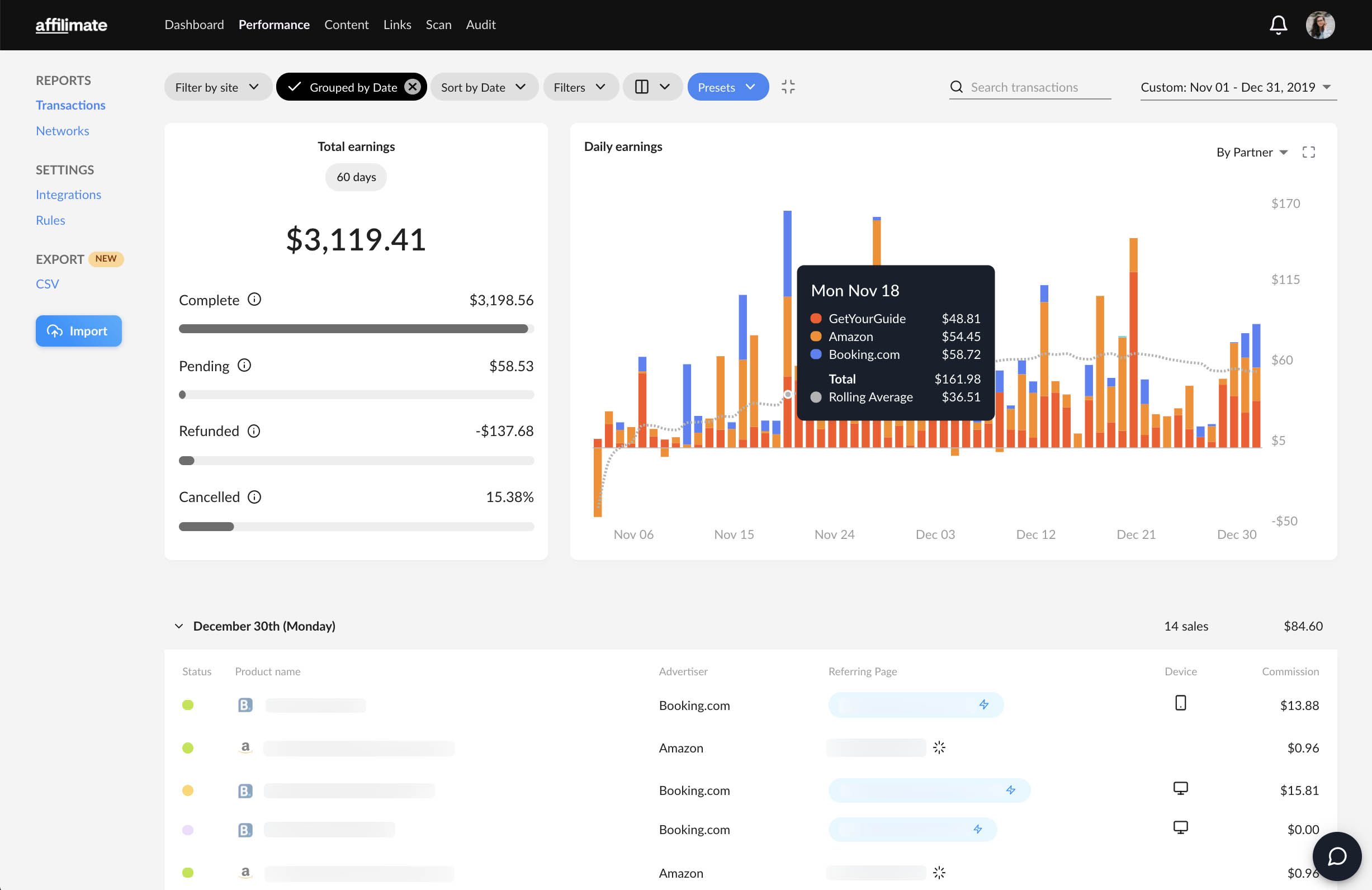 Review all your affiliate commissions in one unified place
Save time by logging into one easy-to-use dashboard that can aggregate your affiliate reports into a single, sortable, searchable, and groupable format.

Find patterns in your conversions with our reporting presets, or create your own from scratch.
Learn exactly which affiliate links are earning you money
End-to-end tracking from click to commission. Understand exactly which buttons, deep links, images, or widgets are converting on your website in a visual way (and no manual setup) using Affilimate's dynamic subid tracking.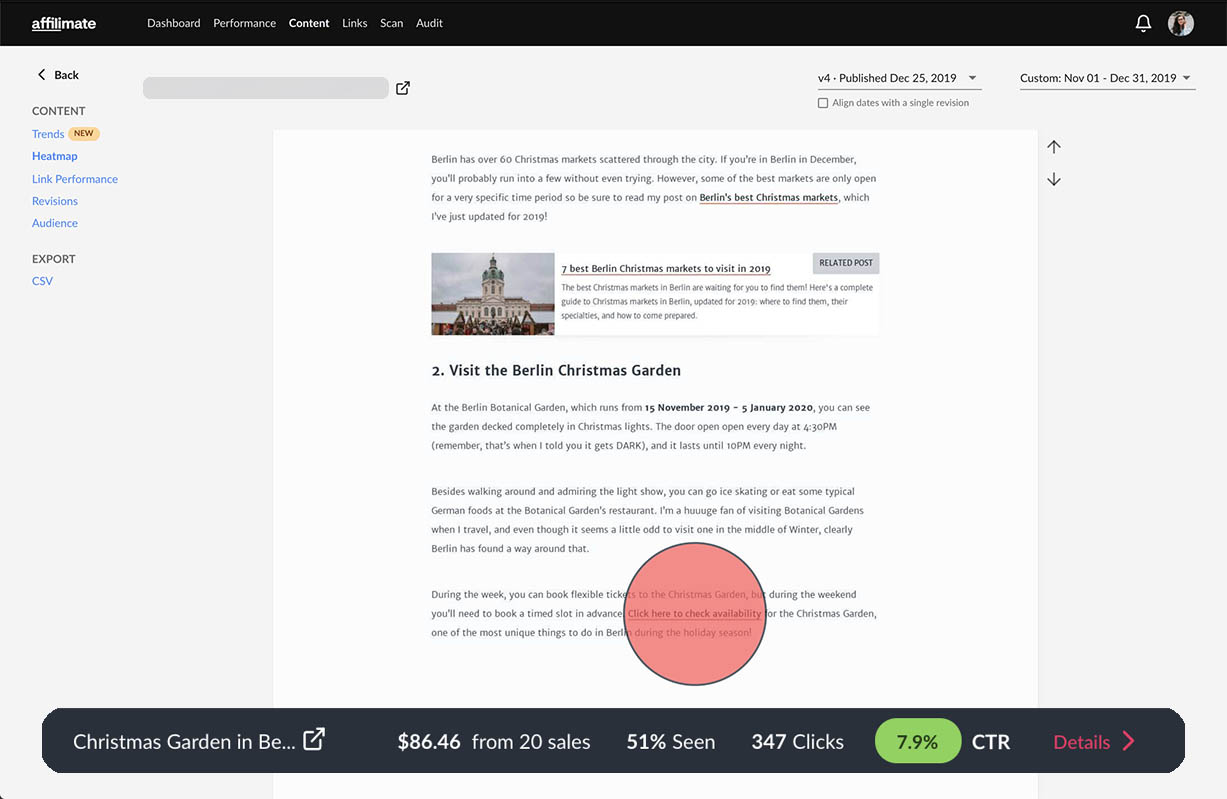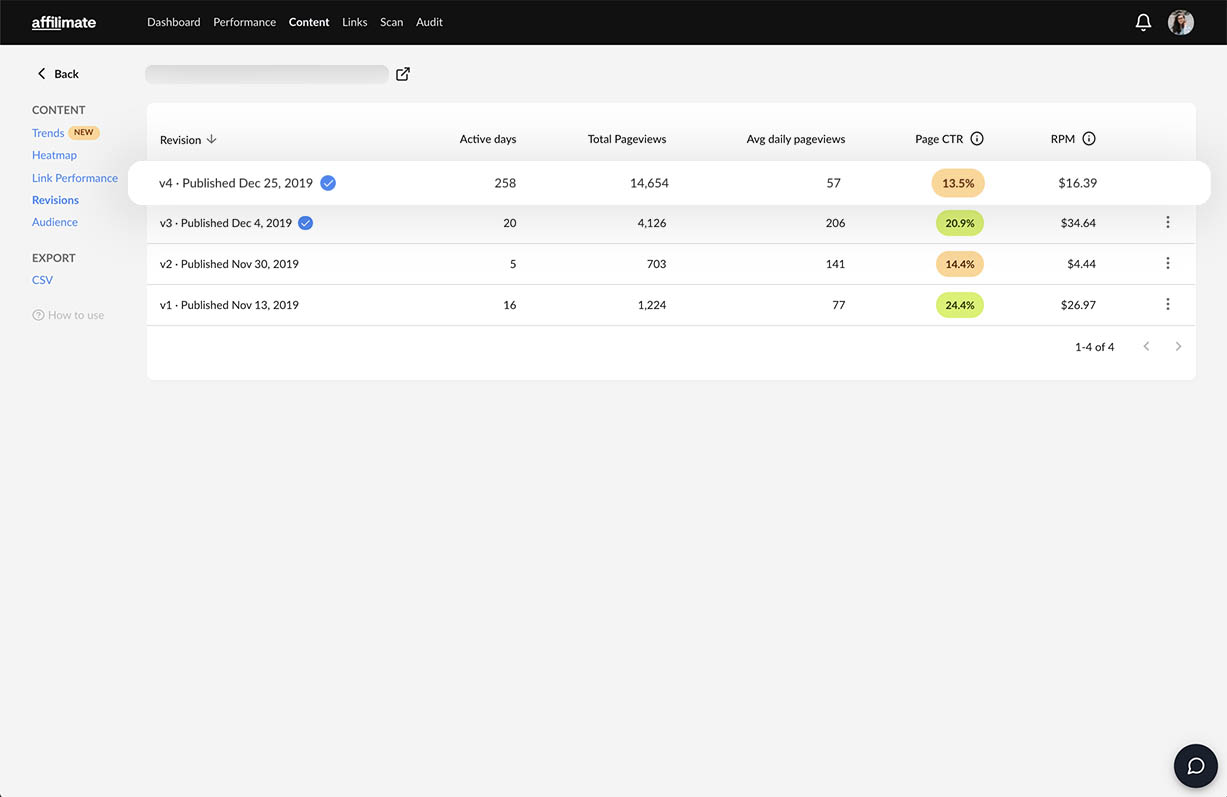 Spot specific changes that led to spikes or drops in conversion rate
Testing is something everyone knows they should do (but tend to forget about). With Affilimate, every change to a page automatically becomes a new experiment without any extra work.

Measure the impact of your edits by click-through rate, RPM, and overall earnings.
Find out which content is worth building traffic for (and which is underperforming)
We all know that your top traffic pages aren't always the ones that make the most money. Use Affilimate to find unexpected gems worthy of your traffic-building efforts.

Don't miss out on building traffic to high-converting content by because those insights are hidden in pieces across half a dozen reports in different tools.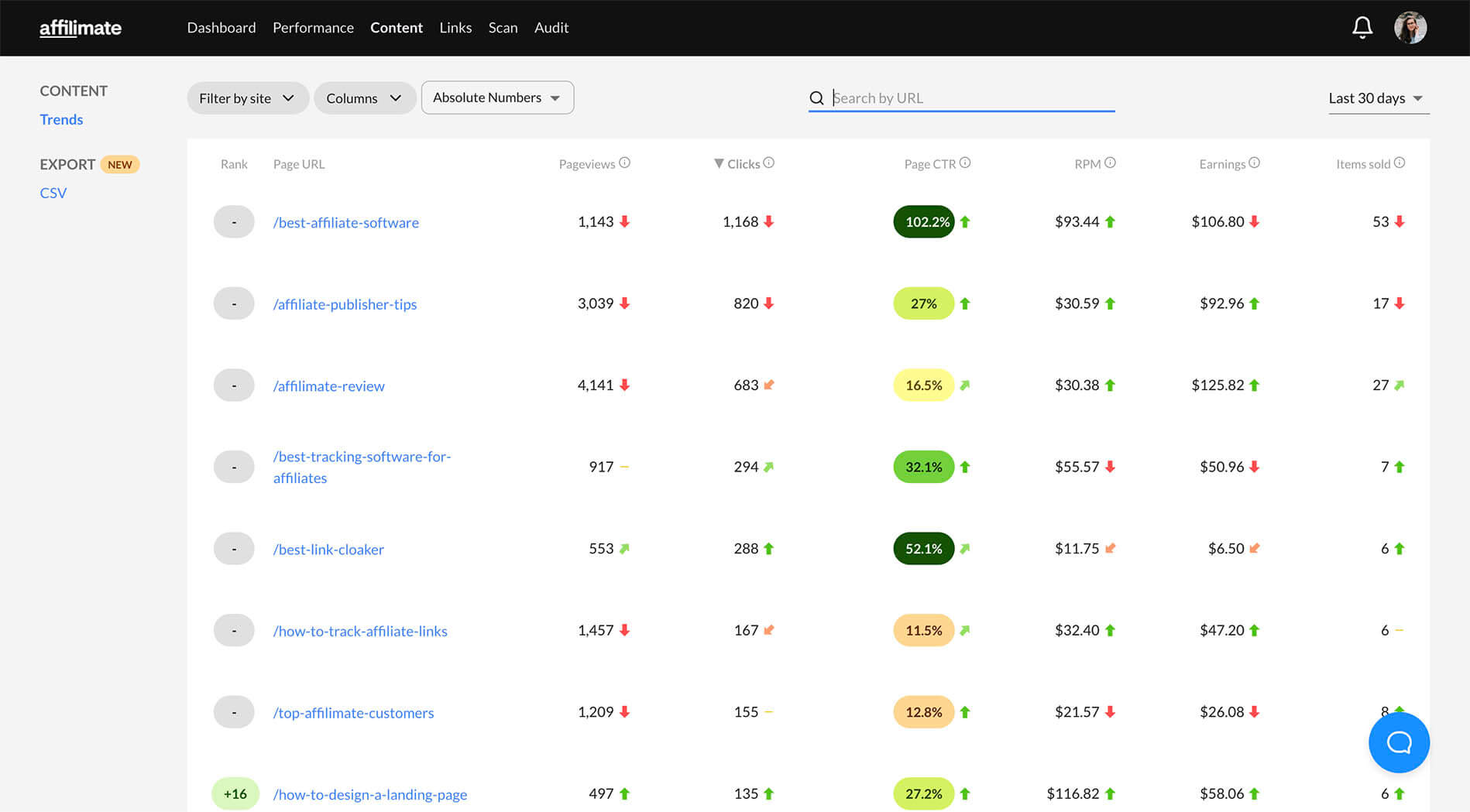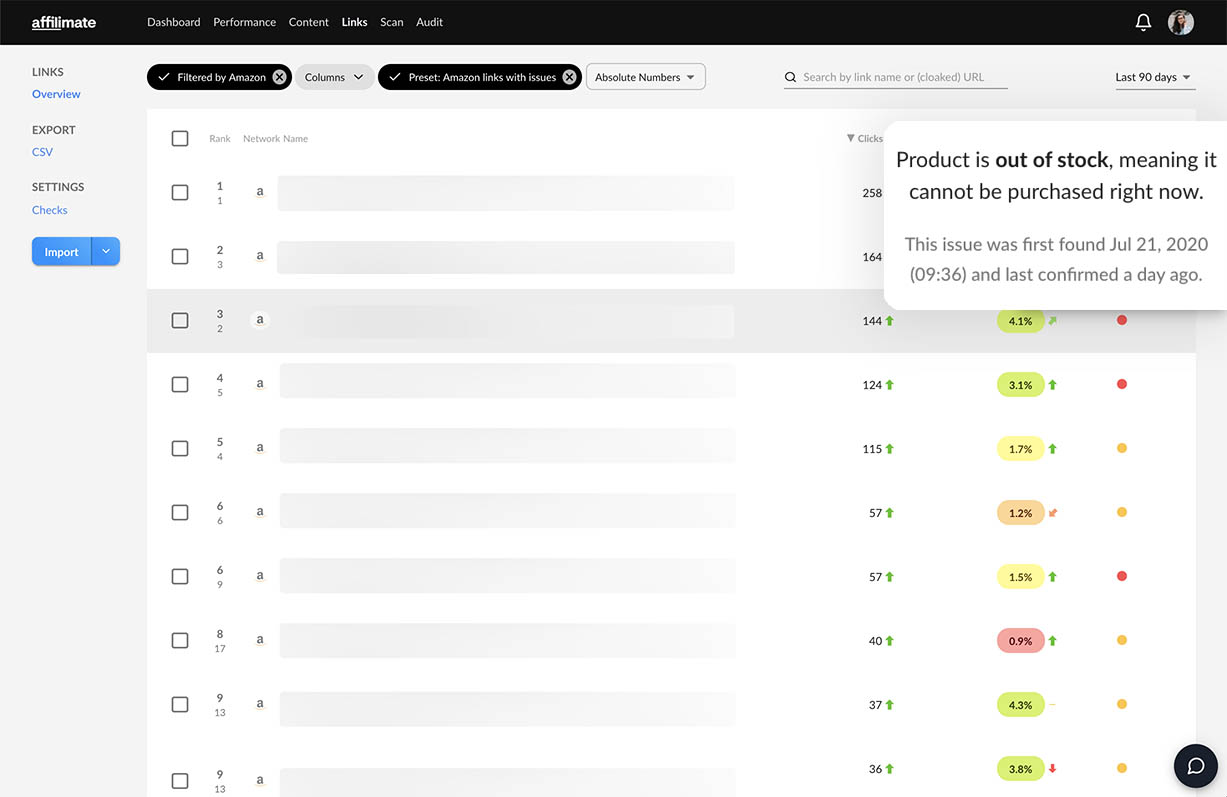 Amazon Affiliate Link Checker
Get notified when your Amazon Affiliate Links have issues that could affect conversion.
Affilimate checks your Amazon affiliate links on a weekly basis and notifies you if any are broken, out of stock, or have other issues that may affect your conversion rate.
What sets Affilimate apart from other affiliate tools?
Here's why Affilimate is different than any affiliate tool you've used before.
Not a WordPress plugin
Eliminates the performance, security, and functionality limitations that come with plugins.
Not a link cloaker
Keep whatever cloaker or shortener you like. We won't make you do manual work before you get tracking.
Not a single-solution tool
Most tools give you just one piece of the picture, like heatmaps, click-tracking, or commission reporting.
Cloud-based
Our massive data-crunching happens on thousands of servers — without impacting yours.
Automatically tracks your links
Don't worry if you have short links, long links, or a mixture. We'll find them for you automatically.
Complete suite of tools
We believe the real insights comes from a tight integration of analytics across your entire affiliate conversion funnel.
Draw on experience beyond your own portfolio
Get experience-based recommendations and insights from our team and community
Expert community
Join our Facebook Group of Affilimate members who are serious about growing affiliate sites in a data-driven way
Personal onboarding
We'll work with you personally to get your site in optimal shape for tracking with specific recommendations
Members-only content
Get actionable, data-based CRO insights from the content we create exclusively for our members