18 Best Keto Affiliate Programs in 2023 (Based on Data)
By Monica Lent · Updated Jan 16, 2023
People are more aware than ever before about how food affects their health, energy and overall well being. If you're a wellness or food blogger, these keto affiliate programs could be a great way to introduce your audience to new food brands and healthy meal plans.
The ketogenic diet has become a buzzword in the health and wellness space, but it actually started out as a diet option to help people manage particular health conditions.
However, many of these brands and products would be suitable for anybody looking to try a few healthy snack options – even if they don't follow a strict diet plan.
This list of keto affiliate programs includes everything from personalized meal planning, to Monk Fruit sweeteners, to a Ryan Reynolds-backed snack company (scroll down to check out their campaign, you won't want to miss it!).
No matter whether you have an audience of keto diet enthusiasts, or simply a health conscious crowd, this compilation of affiliate programs has something for everyone. After all, who doesn't love trying tasty new snacks?
How we compiled this list
To compile this list, we analyzed 25 of the most popular keto and keto diet blogs to discover which affiliate programs they promoted most often, using our Affiliate Link Scanner.
We then categorized them into the most linked-to affiliate programs on top blogs in the keto niche. After all, if a blog or website links to the same merchant hundreds of times, there's a good chance it's because it converts.
The result is a data-backed list of keto affiliate programs based on what's working for top sites in the niche. All based on publicly available data.
Keto Affiliate Programs
Within the keto niche, there are affiliate programs for everything from diet plans to supplements, specialty foods, and more. What's nice is there's a mix of physical and digital products you can promote to help your audience stick to their keto diet goals.
Here are the best keto affiliate programs to promote in 2023:
Perfect Keto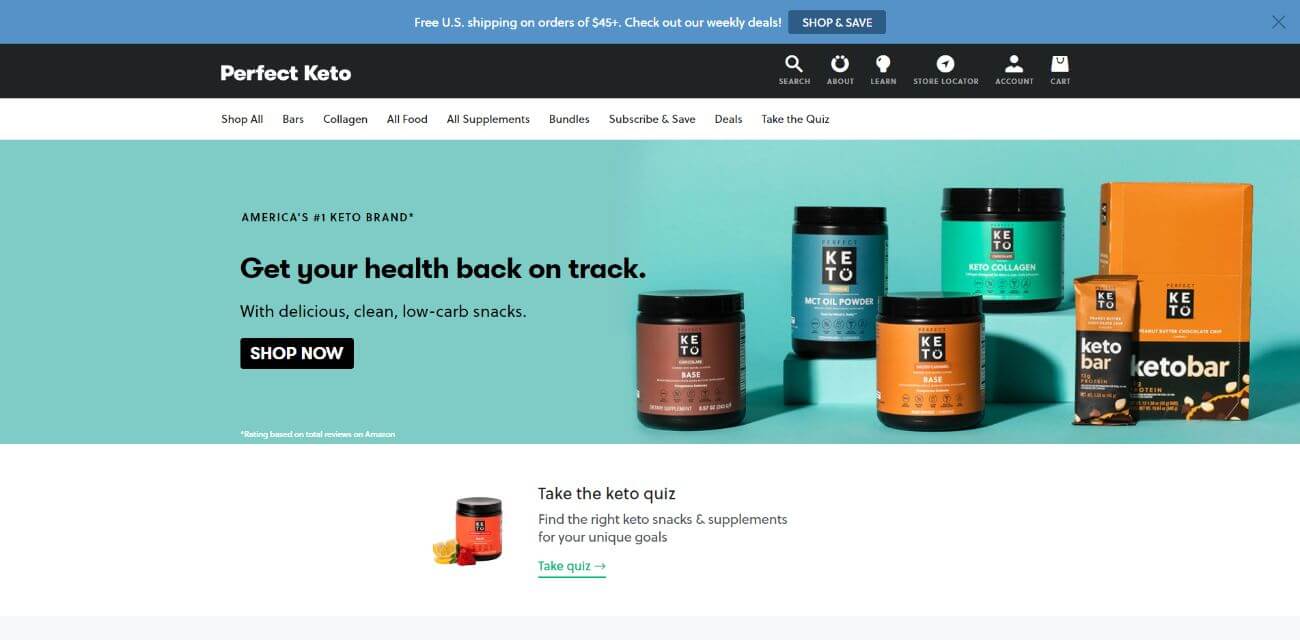 Perfect Keto is a nutritional snack and supplement company with a mission of empowering people to make healthier food choices. The brand offers products including pancake mix, sprinkles, and nut butters.
Perfect Keto offers an exclusive affiliate program that only accepts content creators who have hit the 5000 subscriber mark with email, social media, or monthly website pageviews.
With a great branding, nearly 500k followers across social media accounts, and a solid content marketing strategy, Perfect Keto has a strong brand presence to tap into as an affiliate.
Lakanto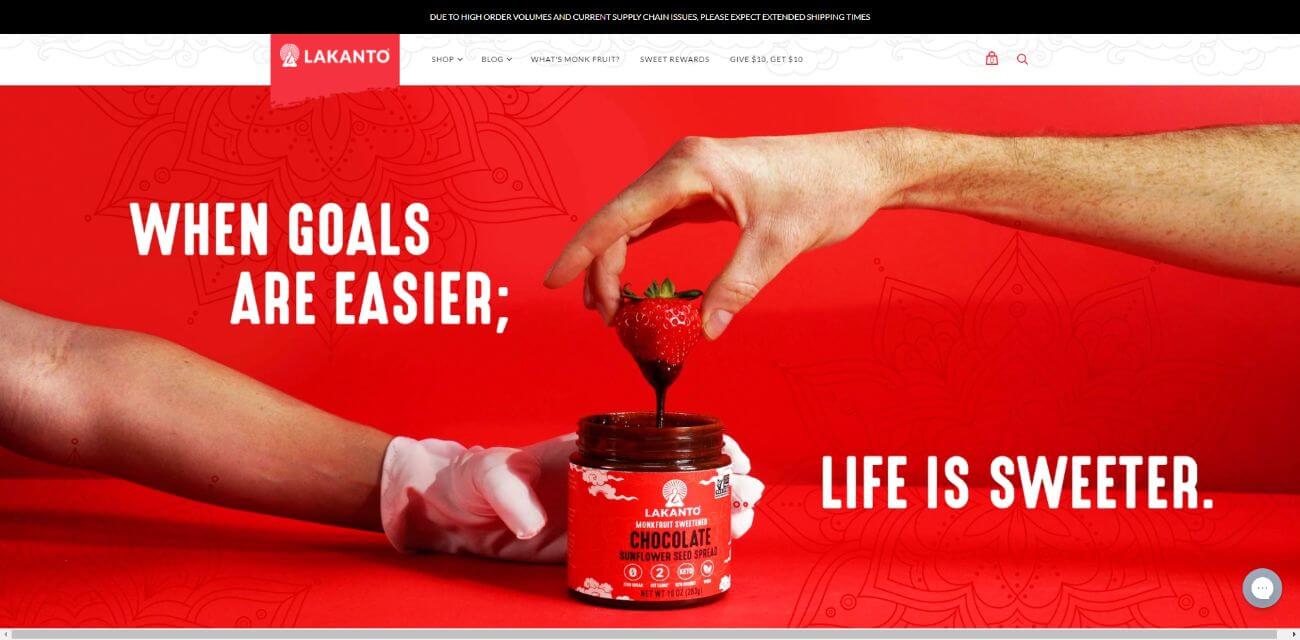 Lakanto makes sugar free products from monk fruit, which is known for its health enhancing benefits. The company's motto is to help people find their chi – life force energy – through balancing their physical and spiritual well-being.
Lakanto is looking to partner with affiliates with an established audience of at least 10k followers on social media platforms. They are especially seeking out lifestyle and wellness creators to help support their message.
With 190k combined social media followers, a compelling brand story, and a niche product, Lakanto could be an interesting company to partner with if you're a health, lifestyle or food blogger. Especially if you know your audience loves sweets!
Magic Spoon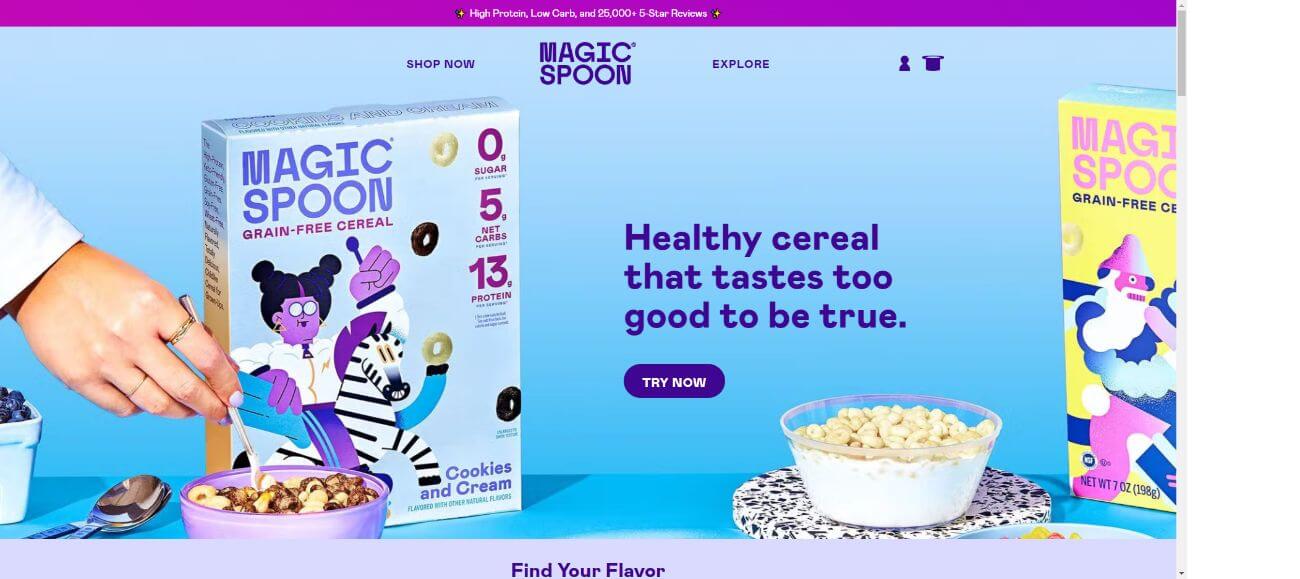 Magic Spoon is a healthy cereal brand that transports you to your childhood sugar cereal nostalgia. Their products are gluten, grain, and sugar free. They're also high in protein, naturally flavored, and low carb.
Magic Spoon affiliates can benefit from 20% commission on sales. One caveat of the program is that affiliates must meet a minimum sales volume of 10 cases of cereal a month in order to be eligible to continue the partnership. The cookie duration of this affiliate program is also very short at only 7 days, which could be a potential downfall.
If you have a health conscious audience of kids at heart, partnering with this fun cereal brand as an affiliate could be a great revenue generator.
Catalina Crunch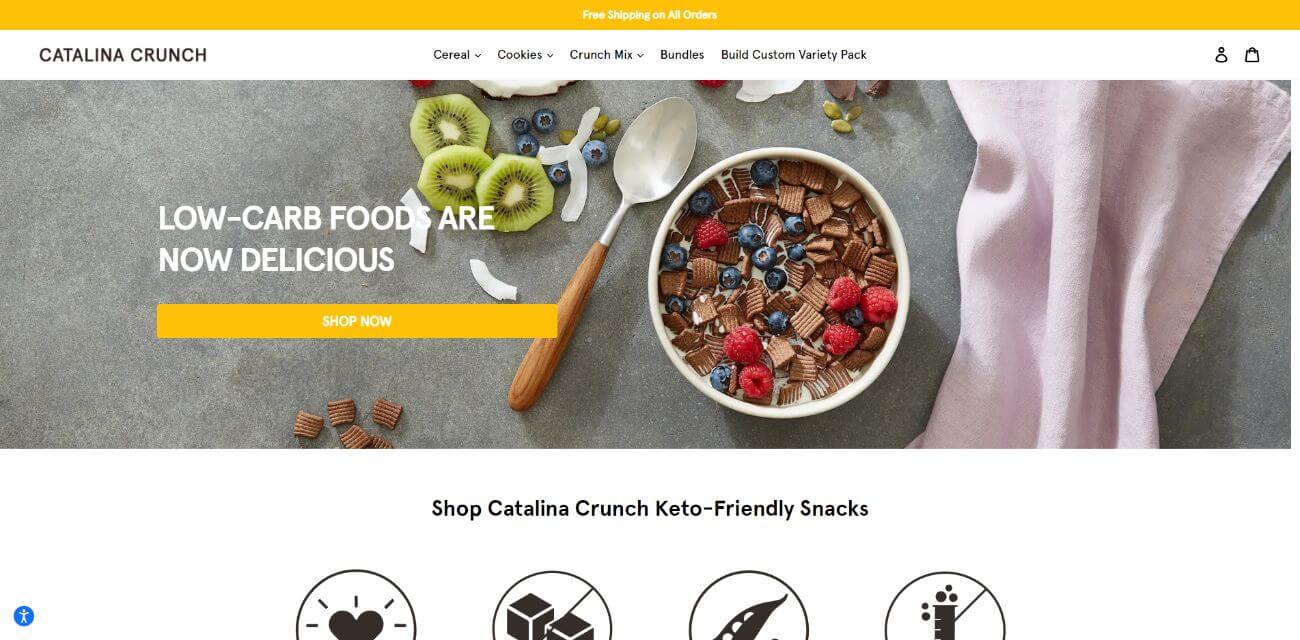 Catalina Crunch is an Indianapolis-based company creating keto cereals, cookies, snack mixes, and more. Their keto-friendly cereal was recently featured in Forbes, and the brand has over 70k followers on Facebook and Instagram.
This keto affiliate program is hosted on two different platforms, and can be accessed directly on their website. Affiliates can earn commissions of between 2% and 20% per sale, within a standard 30 day cookie window.
If you have a health-aware audience looking to make conscious choices without sacrificing taste, this could be the affiliate program for you.
Kiss my Keto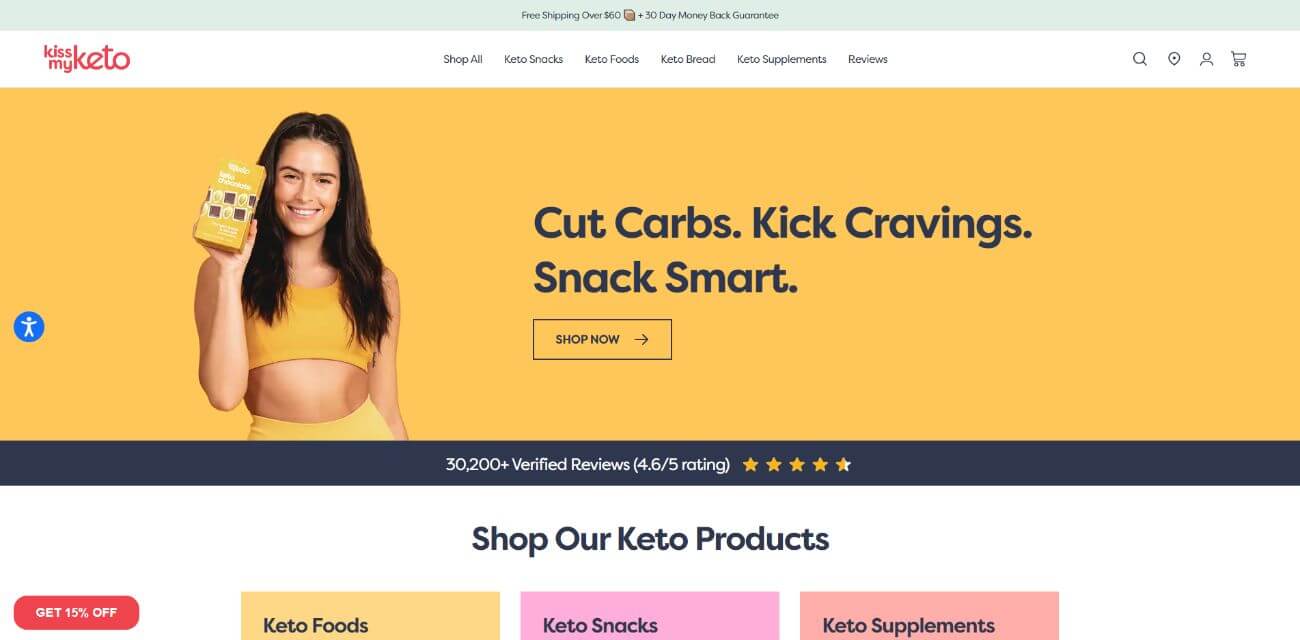 Kiss my Keto is based in Hollywood, California, one of the wellness-obsessed capitals of the world, and its influence shows. The company makes all kinds of keto-friendly snacks, from gummy candies, to bars, foods, and supplements.
Content creators can join this keto affiliate program to earn commissions of up to 15%, with a 90 day cookie duration. Most products from this brand range from $20 to $70 per item, which would set commissions at around $2 to $10.50 per item.
However, their website is set up like an online grocery store, which may prompt customers to buy more than one item at a time, resulting in higher commissions.
Built Bar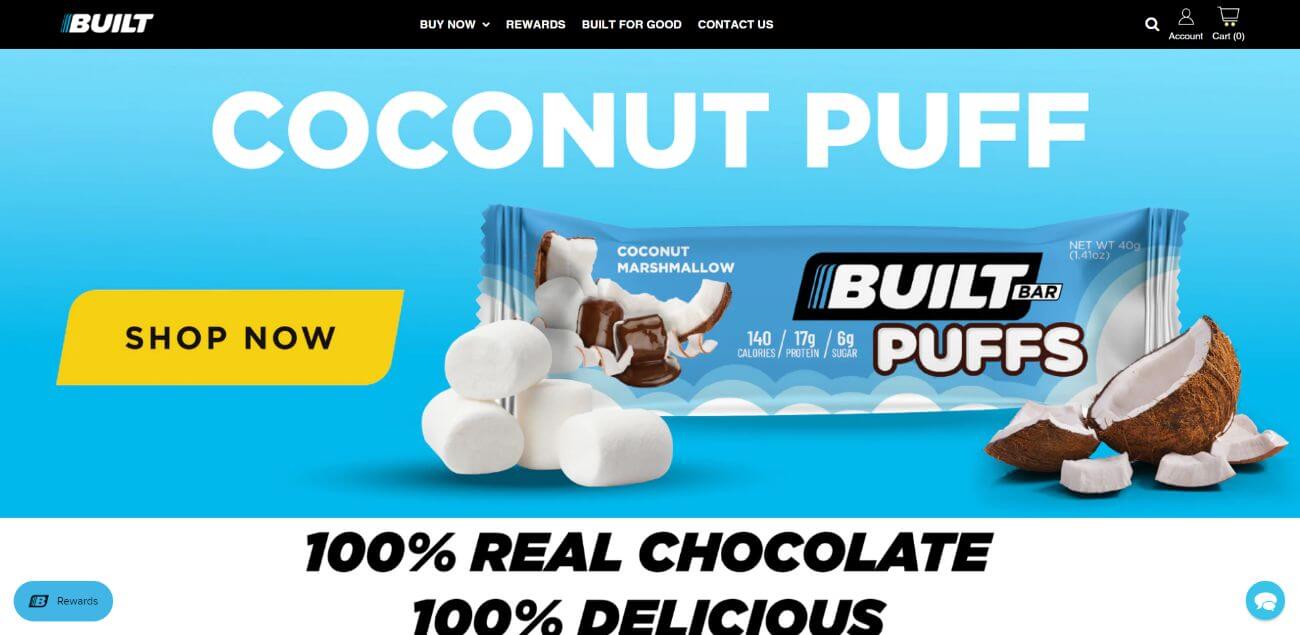 Program name: Built Bar Affiliate Program
Network / Software: ShareASale, Skimlinks, Yazing, Sovrn, FlexOffers
Commission: 7% per sale, 100% Coupon Code Matches Pattern: Must Match Pattern (ShareASale), 7% per sale, 100% Deal Commissions available via select Deal Creatives Coupon Code/Matches Pattern: Must Match Pattern (Skimlinks), 7% (Yazing), 1.49% network commission rate (Sovrn), (FlexOffers)
Cookie duration: 7 days (ShareASale, FlexOffers), Not listed (Skimlinks, Yazing, Sovrn)
Markets: CA, US (ShareASale), US, CA (Skimlinks), Global (Yazing), Global (Sovrn), Global (FlexOffers)
Alternatives: Naked Nutrition at 10%
Built Bar is on a mission to make protein bars that actually taste good. They're based in Utah, and currently ship to US and Canadian addresses. Their product range also includes immune boosters, small bites, and broth.
Their bars are sold in boxes of 12, which retail at around $30 a box. With a commision rate of 7%, affiliates can expect around $2 per box sold.
If you have an audience of fitness enthusiasts that would be interested in a protein bar that tastes great, consider partnering with Built Bar. If they're as good as they say they are, hopefully you'll have return customers!
Miracle Noodle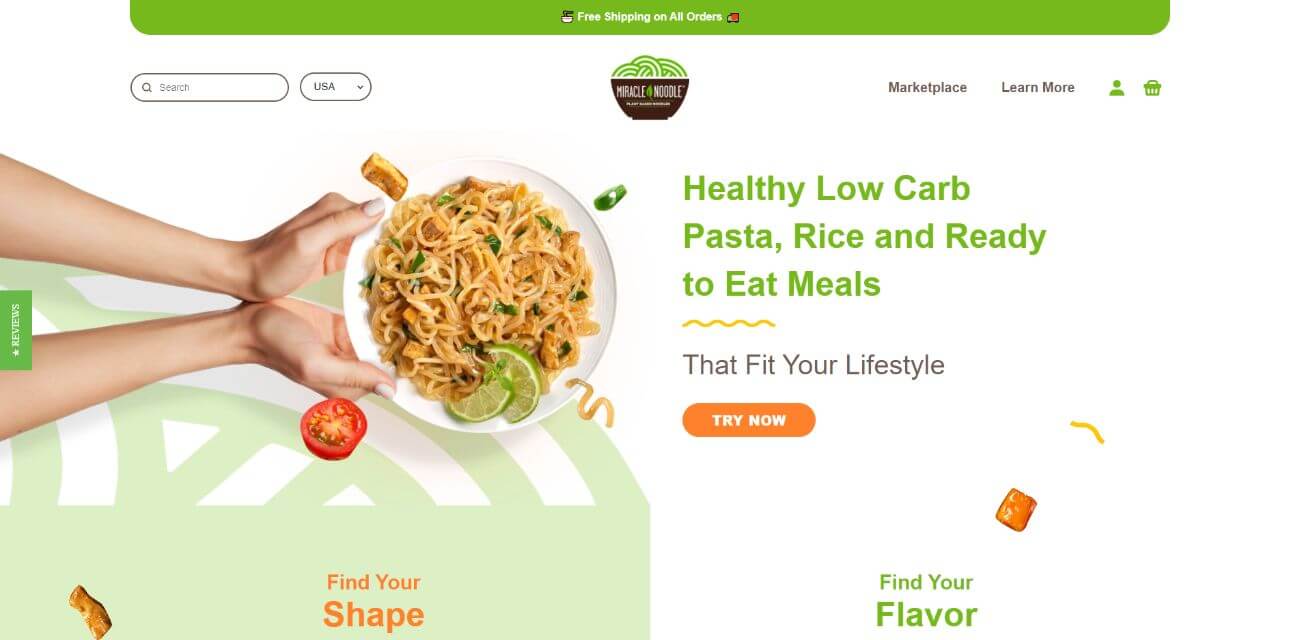 Program name: Miracle Noodle Affiliate Program
Network / Software: ShareASale, Skimlinks, Sovrn, Yazing, FlexOffers
Commission: 20% (ShareASale), 20% Sale Commission, 23% Transaction Date Must be: Between or Equal to 01/14/2022 AND 03/14/2022 (Skimlinks), 10% (Sovrn), 10% (Yazing), (FlexOffers)
Cookie duration: 30 days (ShareASale, FlexOffers), Not listed (Skimlinks, Sovrn, Yazing)
Markets: Global
Miracle Noodle sells plant-based, keto friendly pasta and rice. Their products include mix and match 10 to 30 unit noodle pack bundles, and are priced between $50 and $117.
With a 10% to 20% commission rate, affiliates can benefit from a pay out of $5 to $23 per pack. Considering this is an item that many people buy in bulk, commissions for a single sale may be substantially higher than that.
As always, be sure that you are properly informing your audience of the ingredients, and particularities of these products when you're promoting them.
Nuts.com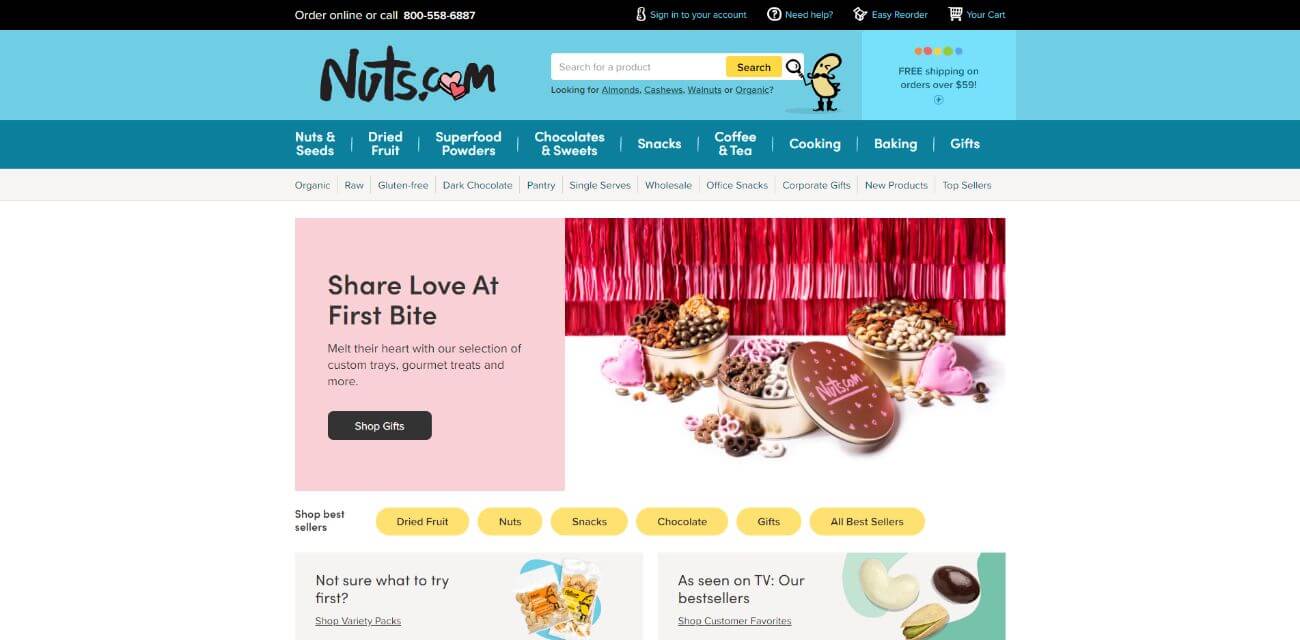 Program name: Nuts.com Affiliate Program
Network / Software: ShareASale, Skimlinks, Sovrn, FlexOffers
Commission: 5% (ShareASale), 5% (Skimlinks), 9.54% network commission rate (Sovrn), 4% (FlexOffers)
Cookie duration: 30 days (ShareASale, FlexOffers), Not listed (Skimlinks, Sovrn)
Markets: US, CA (ShareASale), US, CA (Skimlinks), Global (Sovrn), US (FlexOffers)
Nuts.com sells bulk trail mixes, powders, sweets, chocolates, and everything else you'd expect to find at your local bulk retailer. The difference? They deliver their goods directly to your door. The company is based in New Jersey, and sells to a US and Canada customer base.
Lifestyle and food bloggers can sign up to this affiliate program, and benefit from the large range of products the website has to offer. The commission rate is fairly low, at 5%-9.5%, however purchases in bulk can add up quickly, earning affiliates a higher commission.
High Key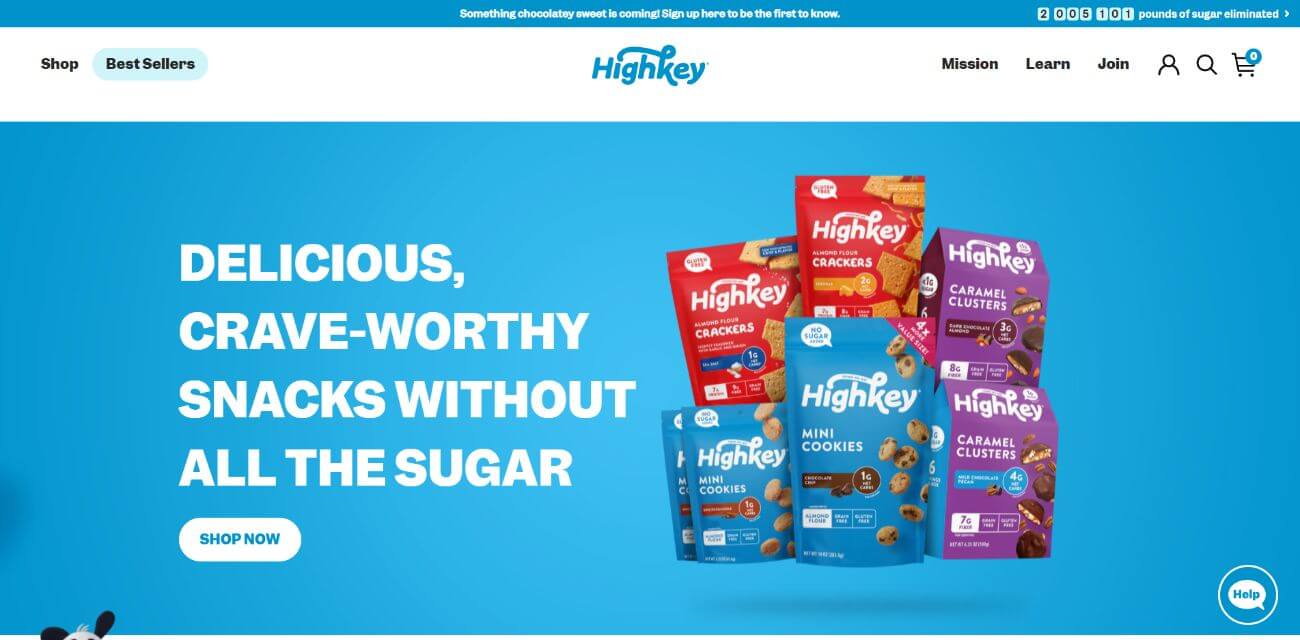 High Key is a gluten free, low sugar snack company based in Orlando, Florida. They recently partnered with Ryan Reynolds for a hilarious ad campaign featuring 'Sugar Panda', after the actor's marketing firm Maximum Effort became a minority owner of the brand in early 2021.
While the terms of this affiliate program aren't available publicly, this brand could still be an interesting one to partner with. Especially after such a well received ad campaign, and a high-profile partnership, the prospects for growth look good.
High Key also hasn't skimped on social media. With over 300k followers across platforms, plus an iconic marketing campaign, affiliates can jump on the opportunity to partner with an up and coming snack brand.
Diet to go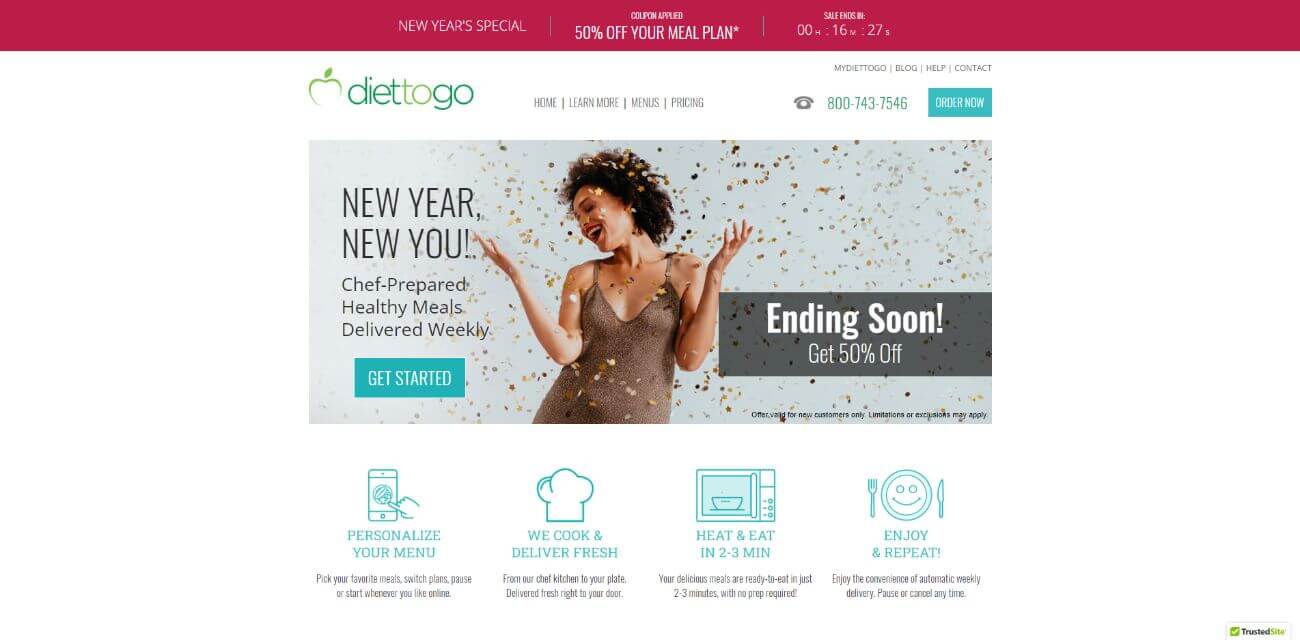 Diet-to-Go is a custom nutritional food delivery service for those looking to lose weight. Customers can choose from a selection of pre-made meals including keto friendly and vegetarian options. The company serves the US market, and customers can enter their zip code on the website to see if it delivers to their area.
A 7-day meal plan is around $220 a week, and affiliates can earn commissions of $40 to $70 per sale. The cookie window is also fairly long, giving affiliates 45 days to make a sale. If you enjoy Diet-to-Go meals, this affiliate program has the potential for high commissions.
Netrition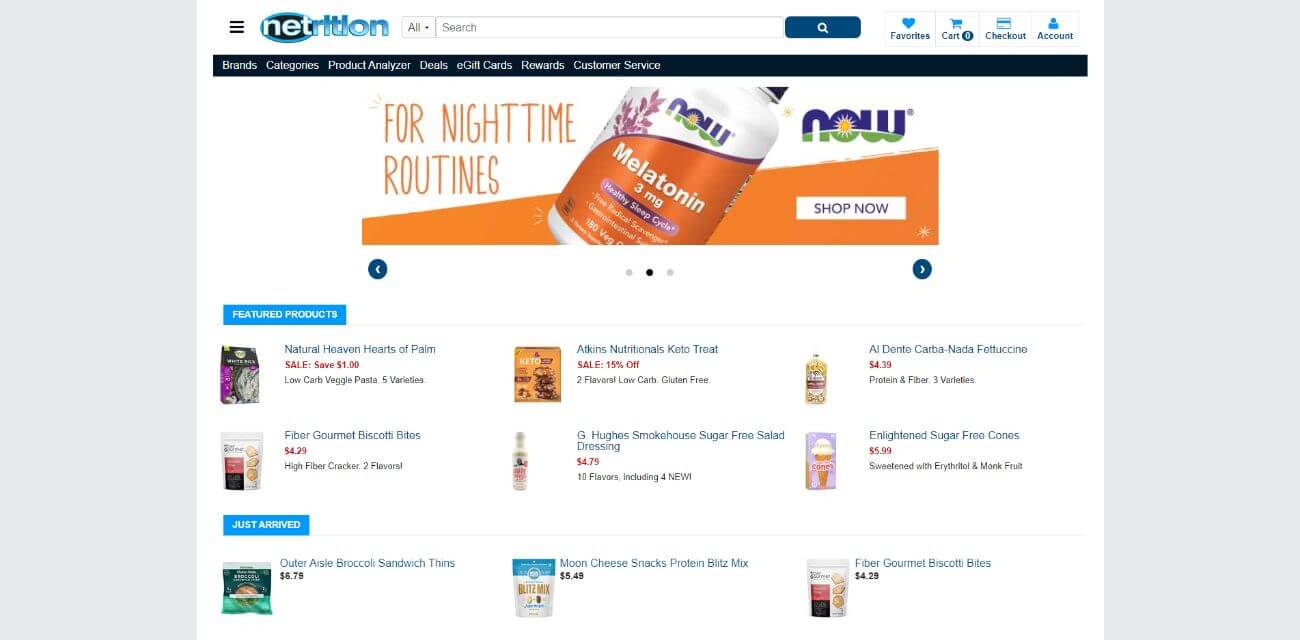 Netrition is an online health food retailer based in Albany, New York. According to their website, Netrition was founded in 1996, and the company aims to be the first to bring new health products to market.
Netrition's affiliate program is hosted directly on their website. Affiliate's can earn 5% per sale, with a maximum of $20 per transaction. This cap on earnings could be a potential downfall of this affiliate program. However, if Netrition is your go-to online health product retailer, this affiliate program is a chance to make commissions to match your recurring purchases.
Sukrin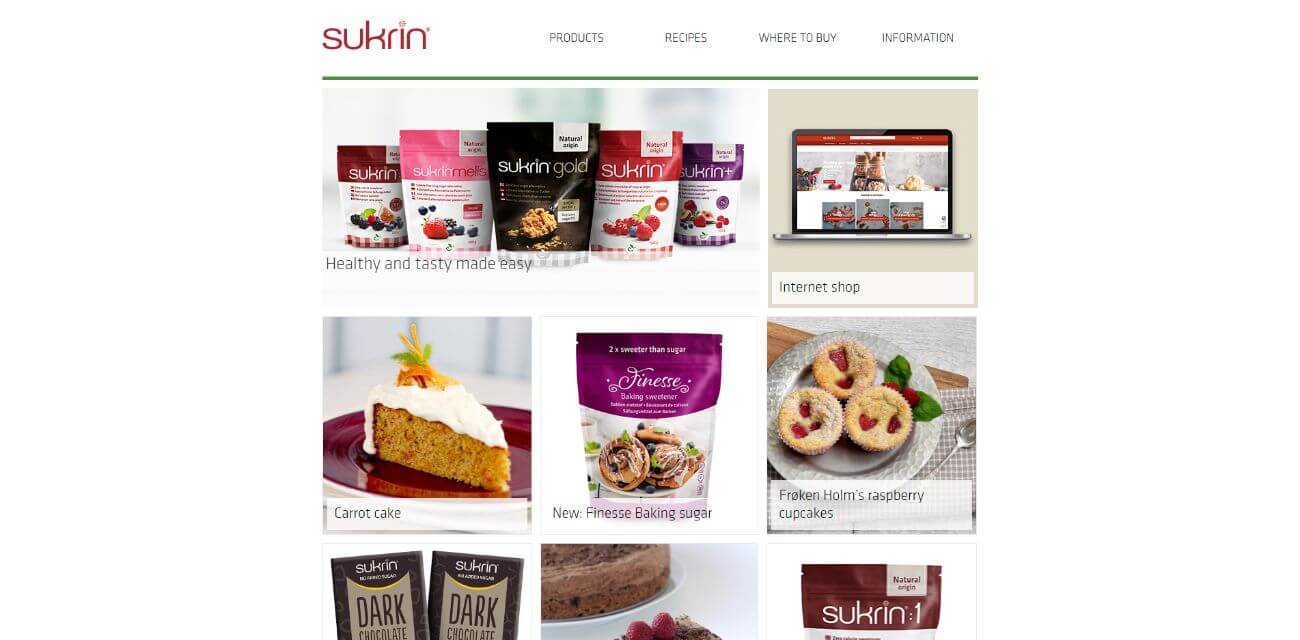 Sukrin is a Norwegian brand owned by parent company Funksjonell Mat AS. Their products include natural sugar alternatives, snacks and baking mixes. The Sukrin affiliate program is available through their Australian website, and serves the New Zealand and Australian market.
Affiliates can earn a 5% commission on sales, and they are paid out when they hit a $50 threshold. As the online store acts as a grocer offering everything you need for sugar-free baking, sales are likely to include multiple products, earning affiliates higher commissions.
Whether you're a food blogger, or a mom blogger who shares healthy recipes, the Sukrin affiliate program could be a good fit for you.
Kettle & Fire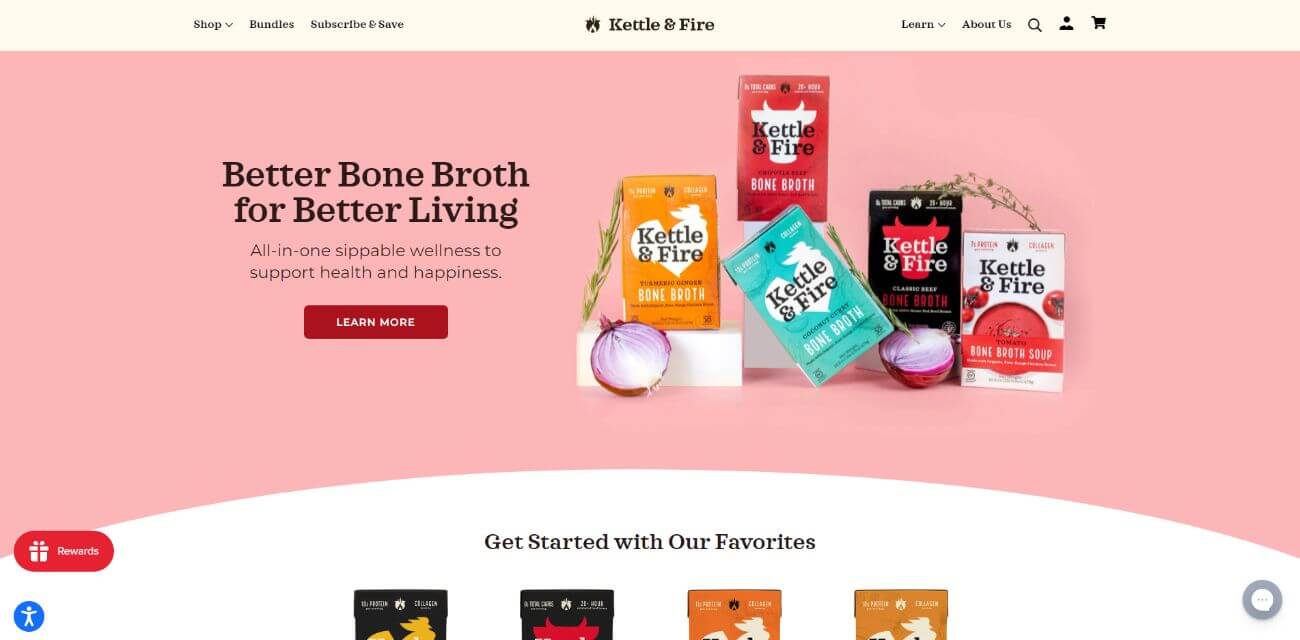 Kettle & Fire makes shelf-stable, grass-fed bone broth that's easy and convenient to use and prepare. The brand has a pretty substantial social media following, with nearly 200k followers across their different platforms, and currently serves the US and Canadian market.
The Kettle & Fire affiliate program is hosted directly on the company website, as well as through ShareASale and Sovrn. The program offers a comparatively high commission rate of 20% per sale, and a 30 day cookie window.
If you're an affiliate with a health conscious audience of athletes, or simply people looking for new wellness alternatives, Kettle & Fire is a high paying affiliate program to consider.
Wholesome Yum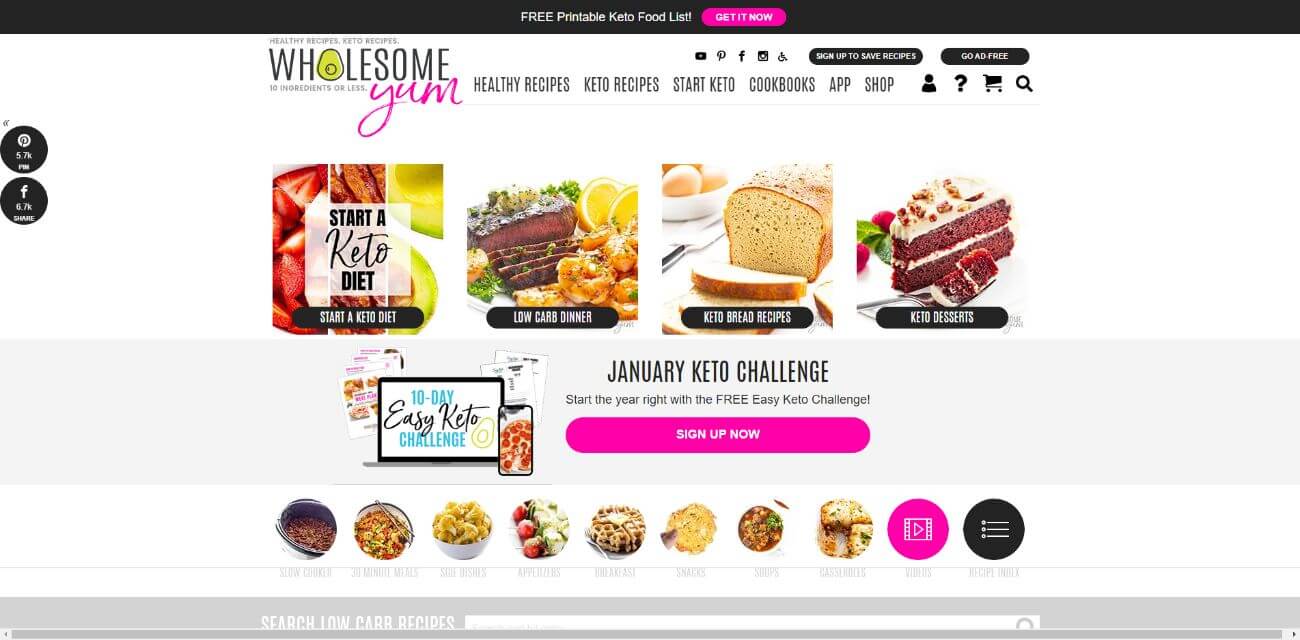 Wholesome Yum is a keto food company selling sweeteners, flours, syrups, and baking mixes. The brand was founded by food blogger Maya Kampf, who runs a blog by the same name.
The Wholesome Yum affiliate program is hosted directly on the company's website, and affiliates must have at least 10k followers or readers on one platform in order to be accepted.
The brand has a huge Pinterest following of over 600k, with another 30k on Instagram and Facebook. This suggests that the Wholesome Yum blog has a strong readership, and affiliates can lean on this brand awareness when promoting Wholesome Yum products.
Real Plans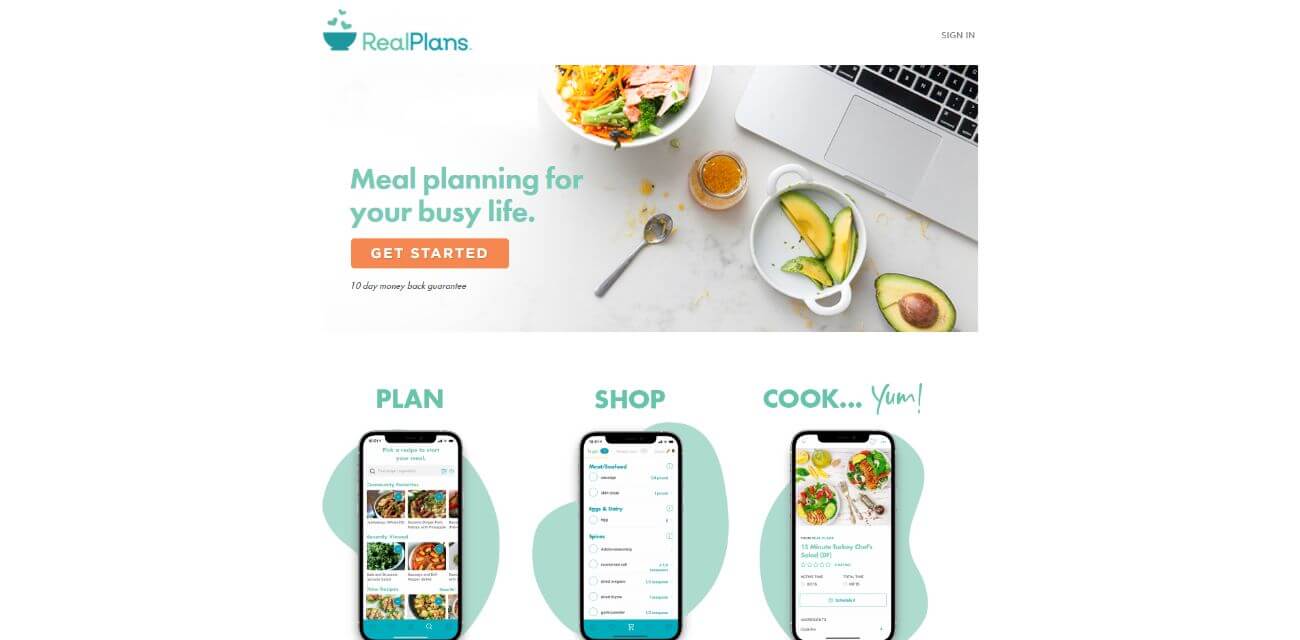 Real Plans was founded by food blogger Emily Bartlett, and creates meal plans for every kind of dietary need. The personalized digital meal plans come with a calendar and shopping list, so you know what to prepare when, and what to buy.
The Real Plans affiliate program is hosted directly on the company website, and creators can sign up via UltraCart to learn about the terms and conditions.
This business model could be a good fit for a number of demographics. From personal trainers and chefs, to fitness enthusiasts, and moms juggling their kid's food restrictions. If you have an audience that you think this business could help, creating an affiliate partnership could be a great fit for you.
KetoKrate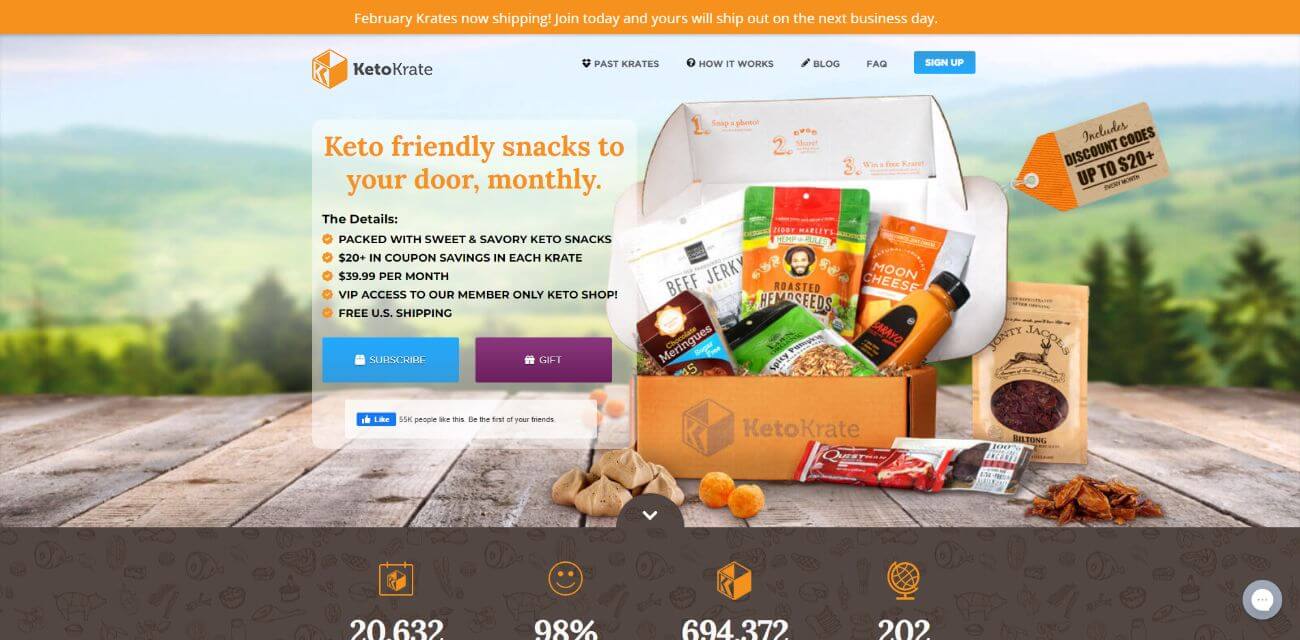 Program name: KetoKrate Affiliate Program
Network / Software: ShareASale, Skimlinks, Yazing, FlexOffers, Grin, Sovrn
Commission: 15% per sale, $50.00 bonus upon reaching 25 sales (ShareASale), 17-18% (Skimlinks), 15% (Yazing), $8.00, $40.00 bonus upon reaching 25 sales (FlexOffers), (Grin), (Sovrn)
Cookie duration: 30 days (ShareASale, FlexOffers, Grin), Not listed (Skimlinks, Yazing, Sovrn)
Markets: Global
KetoKrate is a keto subscription service that packs their boxes full of the latest and greatest keto snacks, and sends them straight to your door. The boxes are $39.99 a month, and are delivered within the US.
The KetoKrate affiliate program offers a 15% to 18% commission per sale, and a $50 bonus when affiliates reach 25 sales. The brand has nearly 200k followers across social media channels, which suggests a high level of brand awareness.
Whether you have an audience that follows the keto diet, or they would simply be interested in trying new healthy snacks every month, this could be the affiliate program for you.
iHerb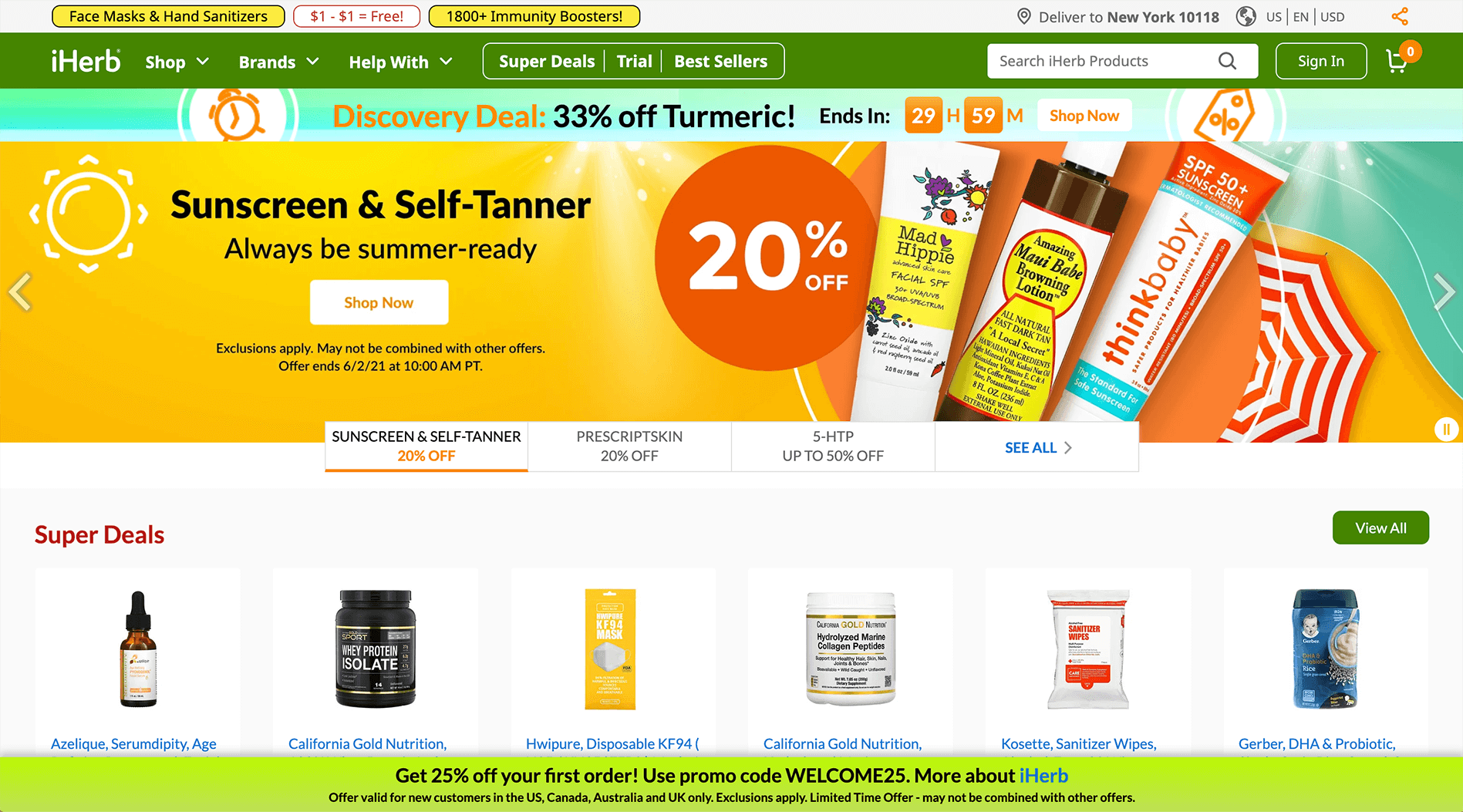 iHerb is a popular online marketplace for supplements and health products. If you can't promote the Ethical Superstore since you're not UK-based, iHerb is a great alternative.
Plus, iHerb has local versions of their website and ships to a ton of different countries. So you can practically join iHerb from any country in the world.
Inside iHerb, you can promote popular health supplements, sport supplements, groceries, beauty products, and pet supplies.
Anyone on a specialty diet, whether they're vegan, keto, paleo, or something else, generally tend to be health-conscious. That's why iHerb can be a great affiliate program for promoting supplements to people on all sorts of diets.
ButcherBox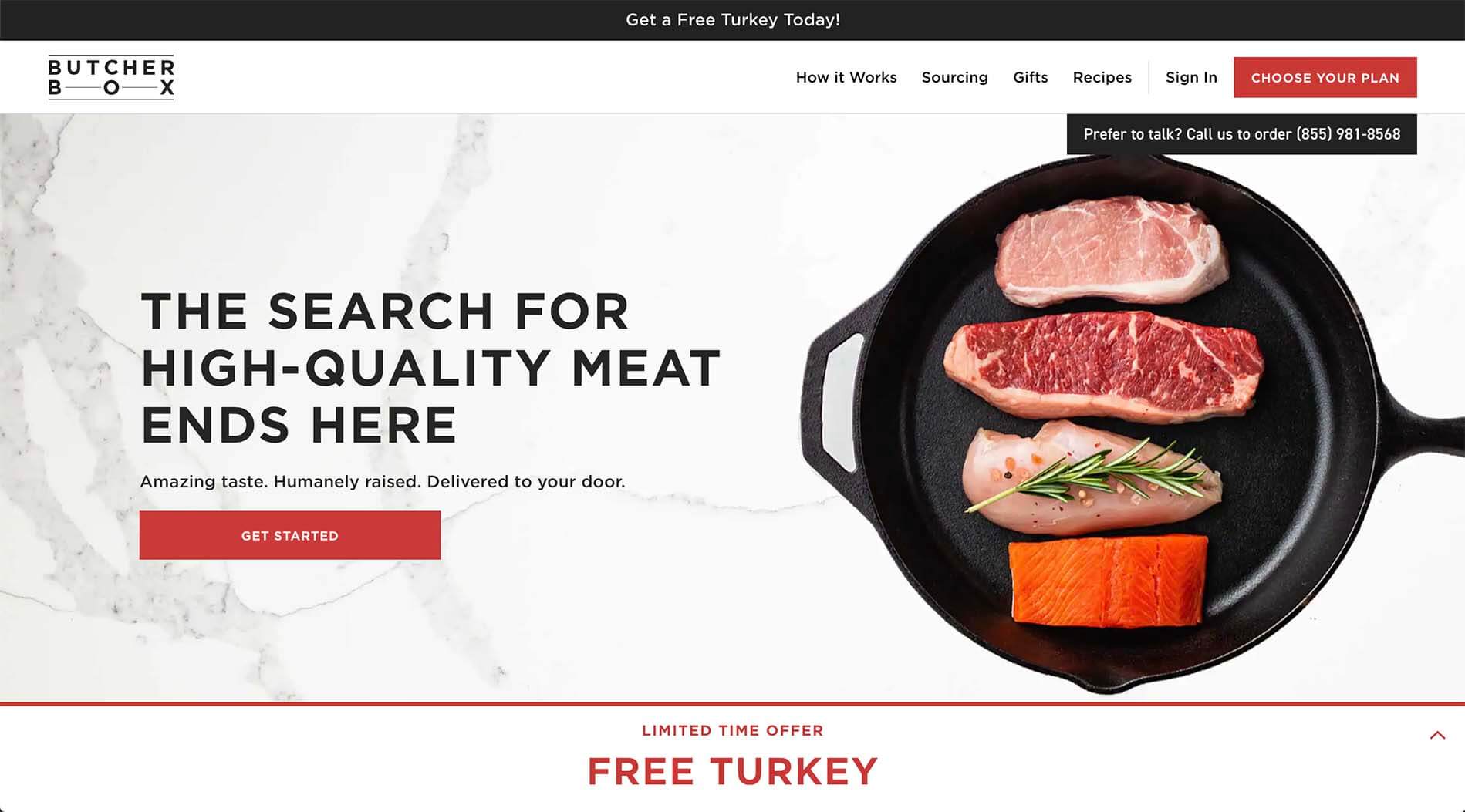 According to their landing page, ButcherBox gave out a whopping $1 million in affiliate commissions last year alone. And with a nearly 5.5% conversion rate according to ShareASale, it's not surprising.
From what we can tell, ButcherBox converts. What is it exactly?
In a nutshell, ButcherBox is a meat subscription membership. They offer different types of "boxes" you can subscribe to, and get a variety of meats to your door on a monthly basis.
The price per box ranges is $137 per month for any of the standard boxes. Boxes on offer include a mixed box including free-range and organic chicken, pork, and seafood, a beef and chicken box, beef and pork box, or the diehard fan's "All Beef Box." A custom box can be arranged for an extra $22/mo.
In terms of the ideal audience, ButcherBox says it right on their landing page: paleo loyalists, fitness junkies, or busy moms, consumers who are looking to save time without sacrificing quality.
This should give you a pretty clear idea of the niches where you can promote ButcherBox to your audience: paleo and fitness, parents, cooks, and consumers of all kinds.
Give it a try yourself, and include it in any meat-heavy recipes or those that focus on using a grill.