12 Best Wine Affiliate Programs in 2023 (Based on Data)
By Natalie Robin · Updated Jan 16, 2023
People are spending more time at home than ever before, and online wine subscription companies are booming.
After all, what connoisseur wouldn't want a selection of the world's best wines to show up at their door?
For affiliates in the wine industry, this direct-to-consumer business model presents a huge opportunity. Especially with 21% growth in 2021.
Not only do some of these programs offer great commission rates, but most subscription wine affiliate programs will offer great flat fees per referral (to the tune of $20-$40).
Many of these companies have developed clever ways of matching their clientele with the perfect wines, from algorithms to questionnaires.
With suave marketing to match, these online wine clubs are exciting options to introduce to an audience of sommeliers and casual wine enthusiasts alike.
Before we share our research, a word on how we conducted it.
How we compiled this list
To compile this list, we analyzed 25 of the most popular wine blogs to discover which affiliate programs they promoted most often, using our Affiliate Link Scanner.
We then categorized them into the most linked-to affiliate programs on top blogs in the wine niche. After all, if a blog or website links to the same merchant hundreds of times, there's a good chance it's because it converts.
The result is a data-backed list of wine affiliate programs based on what's working for top sites in the niche. All based on publicly available data.
Wine affiliate programs
It's no surprise: most people selling wine accessories (think coolers, racks, and bottle openers) chose Amazon as the place to send their readers.
But if you want to sell actual wine, there are a ton of alternatives with better selection — and better commissions. Our research revealed programs targeting US, UK, and Australian audiences as well as with global shipping.
Here are the best wine affiliate programs to promote in 2023:
Firstleaf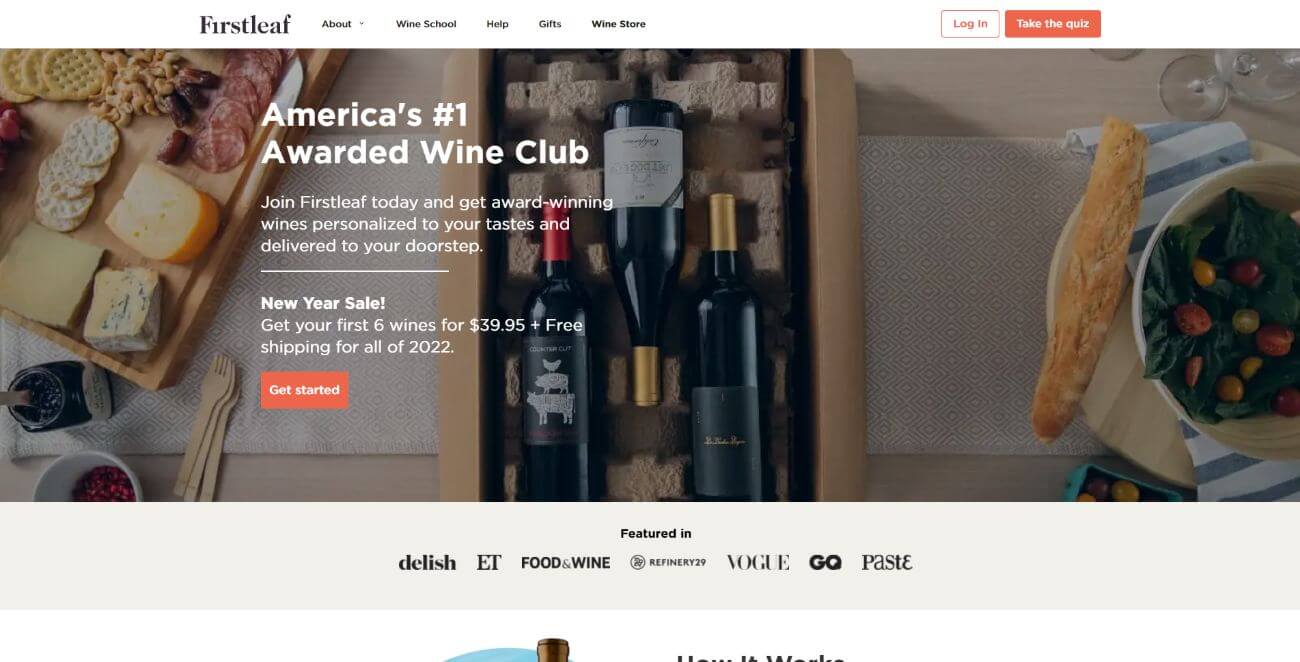 Firstleaf is a subscription-based wine startup based in Napa Valley, California. They deliver a curated selection of wines to customers' doorsteps at a competitive price thanks to their direct-to-consumer business model. The company was awarded the title of 'Wine Company of the Year,' at the 2021 Winemaker Challenge International Wine Competition.
If your audience appreciates the novelty of trying new wines every month, this could be a great opportunity to earn commissions.
One potential downfall of this program is the short cookie duration. Firstleaf offers affiliates a 14-day cookie window, which is substantially less than the 30 industry average. However, if you have built a nurtured email list that you are regularly in contact with, this might not be an obstacle.
Wired for Wine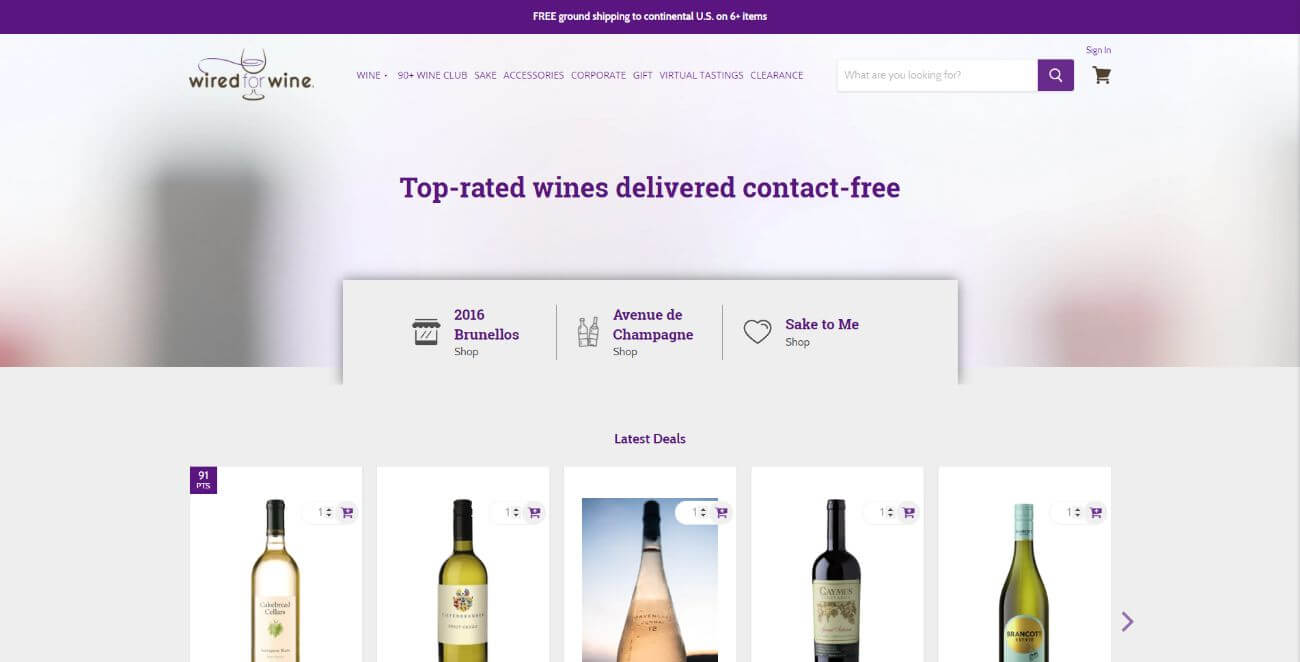 Wired For Wine is a U.S-based online wine company offering a range of wine, sake, and a virtual tasting service. Customers can sign up to a quarterly subscription which includes a selection of 12 wines for $188.
The Wired For Wine affiliate program is promoted prominently on the company's website, which may indicate that it has been successful for the business. Affiliates can benefit from a 7% commission per sale and a 30-day cookie window.
It's worth noting that the company is limited to shipping to select states. Affiliates should take care to check that Wired For Wine's shipping abilities line up with their audience demographics.
Winc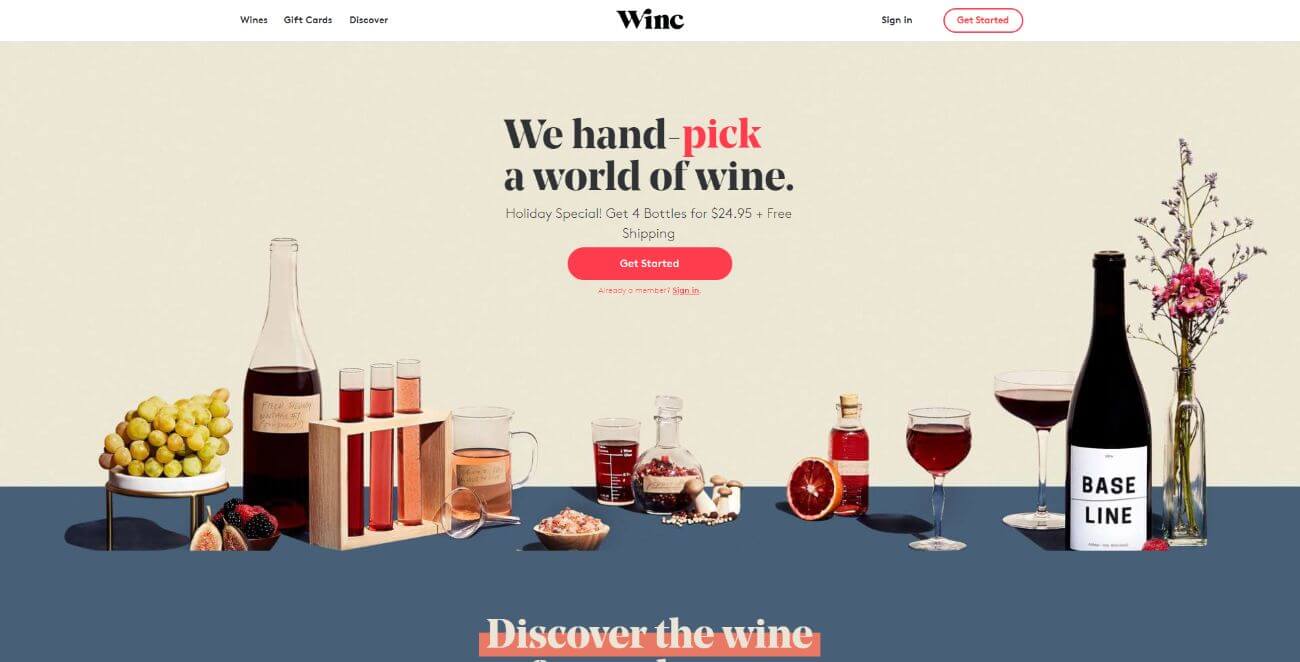 Program name: Winc Affiliate Program
Network / Software: Impact, Sovrn, Yazing, Skimlinks, FlexOffers
Commission: 25% on gift cards, $18.00 online wine sale (Impact), 40% (Sovrn), 25% on gift cards, $18.00 per sale (Yazing), 25% Gift Card Purchase, $75.00 online sale (Skimlinks), $32.00 on wine subscriptions, 19% of giftcard sales (FlexOffers)
Cookie duration: 30 days (Impact, FlexOffers), Not listed (Sovrn, Yazing, Skimlinks)
Markets: US (Impact), Global (Sovrn), Global (Yazing), US, MX, CA, ID (Skimlinks), Global (FlexOffers)
Winc is a personalized wine membership program with impressive branding, an easy-to-navigate website, and fun, upbeat marketing. The company makes and sells its own wine based on feedback from their clientele, which sets them apart from the competition. The brand has been featured in the likes of Forbes, Refinery29, and BuzzFeed, which supports its credibility when introducing it to new buyers.
The Winc affiliate program is hosted on a number of major platforms, each with above average competitive commission parameters. Thanks to its solid marketing strategy, branding, and social awareness, Winc is easy to remember, and easy to like, which makes it the full package for affiliates.
Cellars Wine Club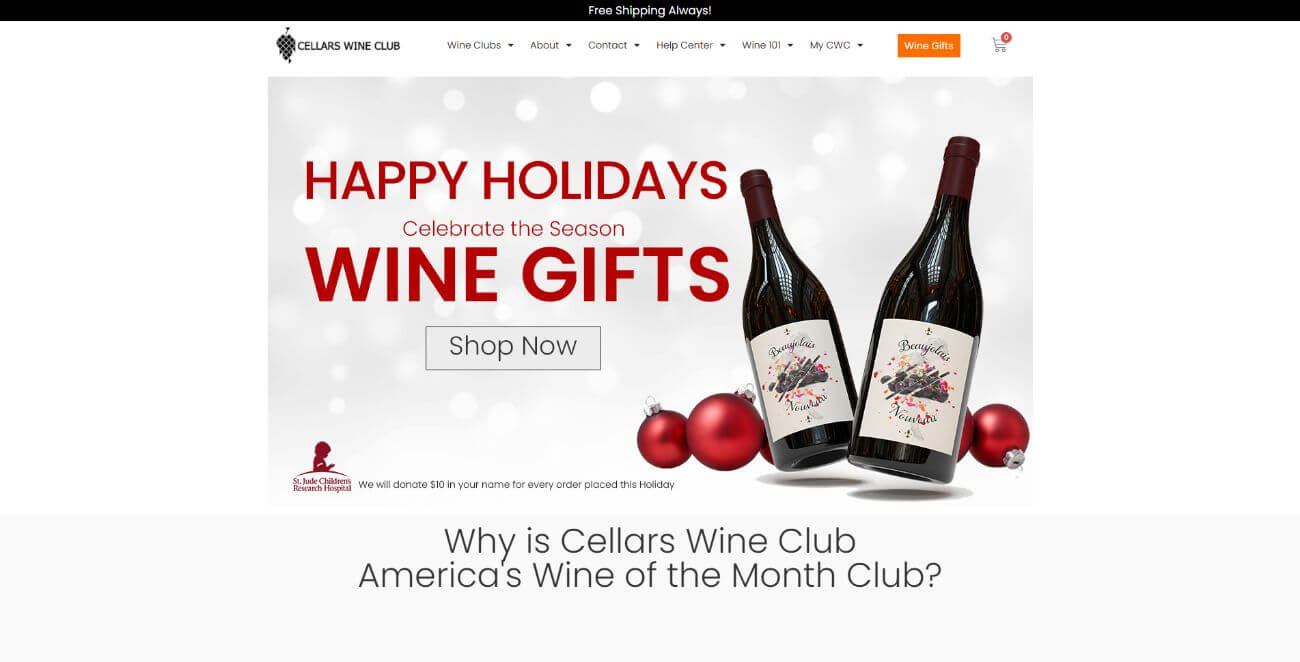 Cellars Wine Club is a Washington State based, family-owned company that opened its doors in 1999. They offer a tiered subscription service, where customers can choose one bottle or a case of wine at a monthly, bi-monthly or quarterly basis.
Affiliates are given 90 days to convert sales, which is a generous timeframe compared to the competition. Products are priced from $29 to $369, which works out to a $2-$55 dollar commission per item.
Cellars Wine Club has a small social media following, which indicates that they don't have as much brand recognition. However, if you have a Washington-based audience, supporting a local family-owned business could be a great selling point.
Bright Cellars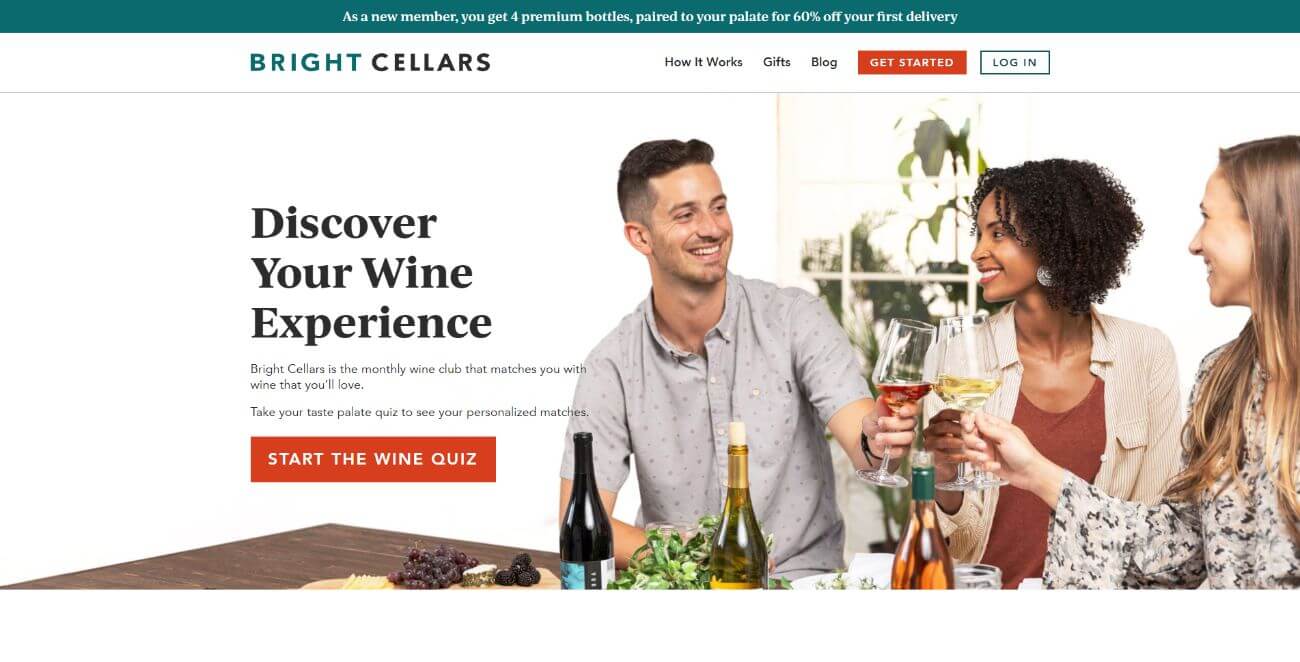 Program name: Bright Cellars Affiliate Program
Network / Software: Skimlinks, Pepperjam, Yazing, FlexOffers
Commission: 8% Default Commission Rate. Product List: Gift Card, $20.00 Order Level (Skimlinks), $20.00 per order, 8% per gift card (Pepperjam), 8% on gift cards, $20.00 per First Sale (Yazing), 6.4% on gift card purchases, $15.00 per sale on all other sales, excluding email acquisition (FlexOffers)
Cookie duration: Not listed (Skimlinks, Yazing), 30 days (Pepperjam), 14 days (FlexOffers)
Markets: US
Bright Cellars is a wine subscription service founded by two MIT grads in 2013. They've combined the expertise of data engineers and sommeliers to create an algorithm that pairs customers with wine that they are sure to love.
This unique approach sets Bright Cellars apart as a brand, and makes them memorable to a fresh audience. This savvy storytelling is carried onto social media channels, where they have approximately 200k followers across different platforms.
The commission rate is standard, ranging from 8%-$20, with a 14-30 day cookie window. Nonetheless, as the only wine algorithm on this list, and a solid online presence, affiliates wouldn't have to do too much work to make this brand click with their audience.
Dry Farm Wines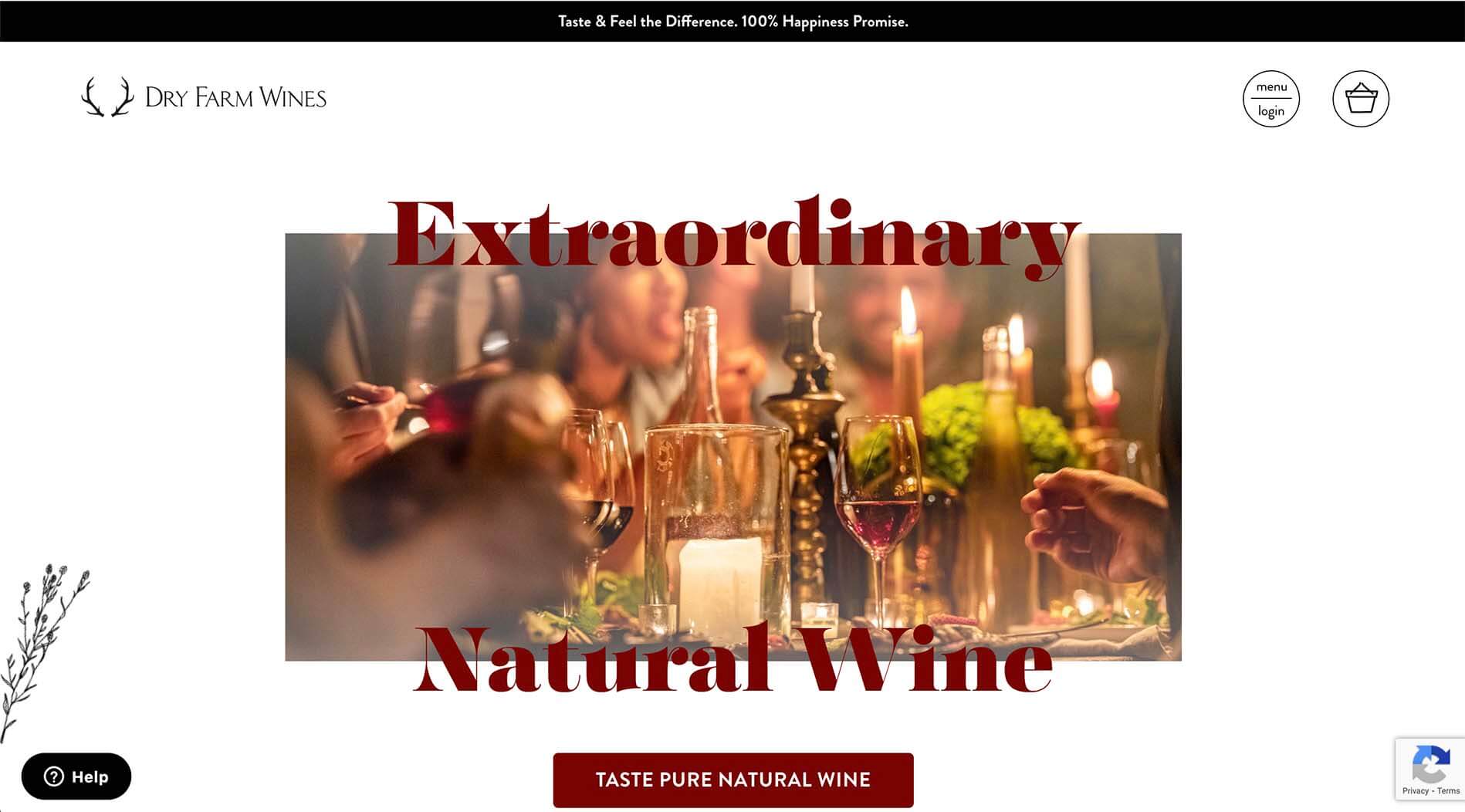 Dry Farm Wines is a wine subscription club that offers natural, artisan wines. They're free of sugar and contain lower alcohol content than traditional wines.
One of the things that makes Dry Farm Wines' affiliate program unique is that offers recurring commissions. This means you get paid every month for each customer you refer, as long as they maintain their membership.
Recurring commission affiliate programs can be incredibly lucrative if you make the effort to educate your readers about the benefits of the membership first.
The team at Dry Farm Wines does lay out some expectations for affiliates: a website or business operated in the United States, and a social following or email list of over 5,000 contacts.
Their goal is to have each affiliate convert 10 orders within the first 90 days. If you don't meet this expectation, you may risk getting booted from the program.
What's good about this approach is that if you end up performing well, you'll get individual attention and tips from the Dry Farm Wines team. And that's what an affiliate partnership is all about.
Wine.com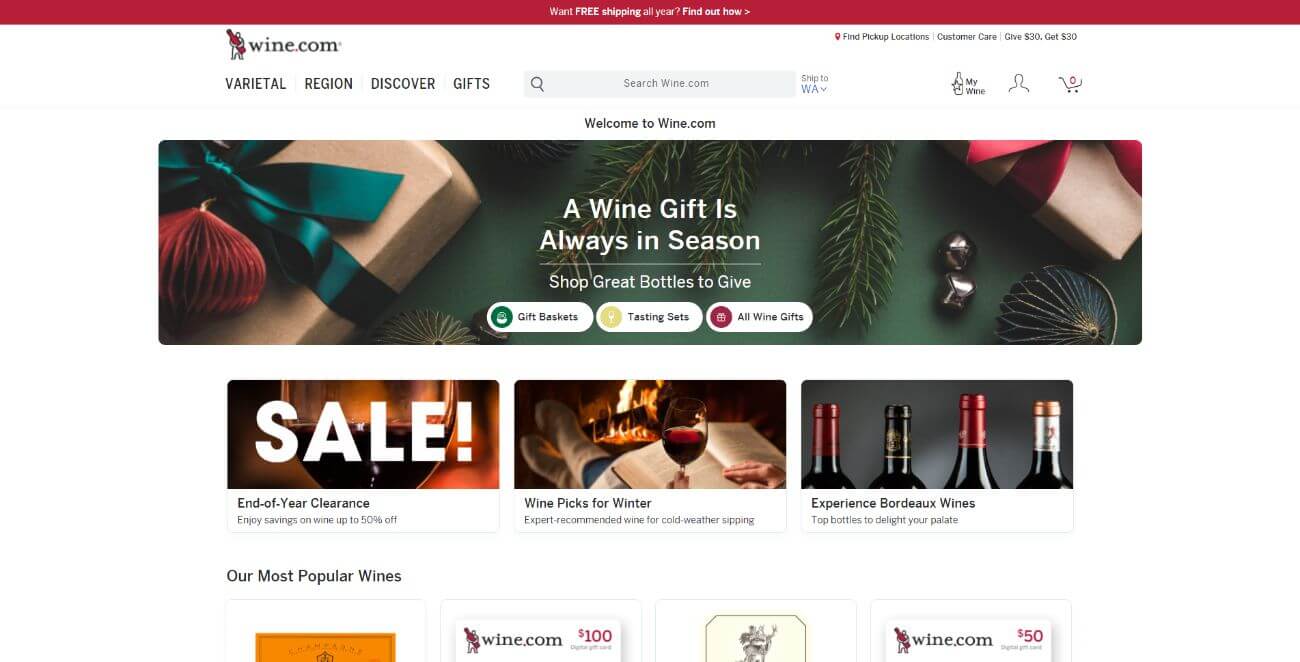 Online subscription businesses are booming thanks to people spending more time at home, and Wine.com is no exception. According to Global News Wire, the online wine store reached $355 million in their 2021 fiscal year.
This is a great sign for affiliates in the subscription industry, as consumers appreciate convenience more than ever before. Wine.com stands out with the largest variety of inventory, and offers an extensive array of wines, glassware, and gift baskets.
Wine.com also carries premium labels, from Armand de Brignac to Dom Perignon vintage. This gives affiliates the chance to market high ticket items, and to receive a higher commission in return. As a one-stop wine shop, Wine.com is a great option.
Somm TV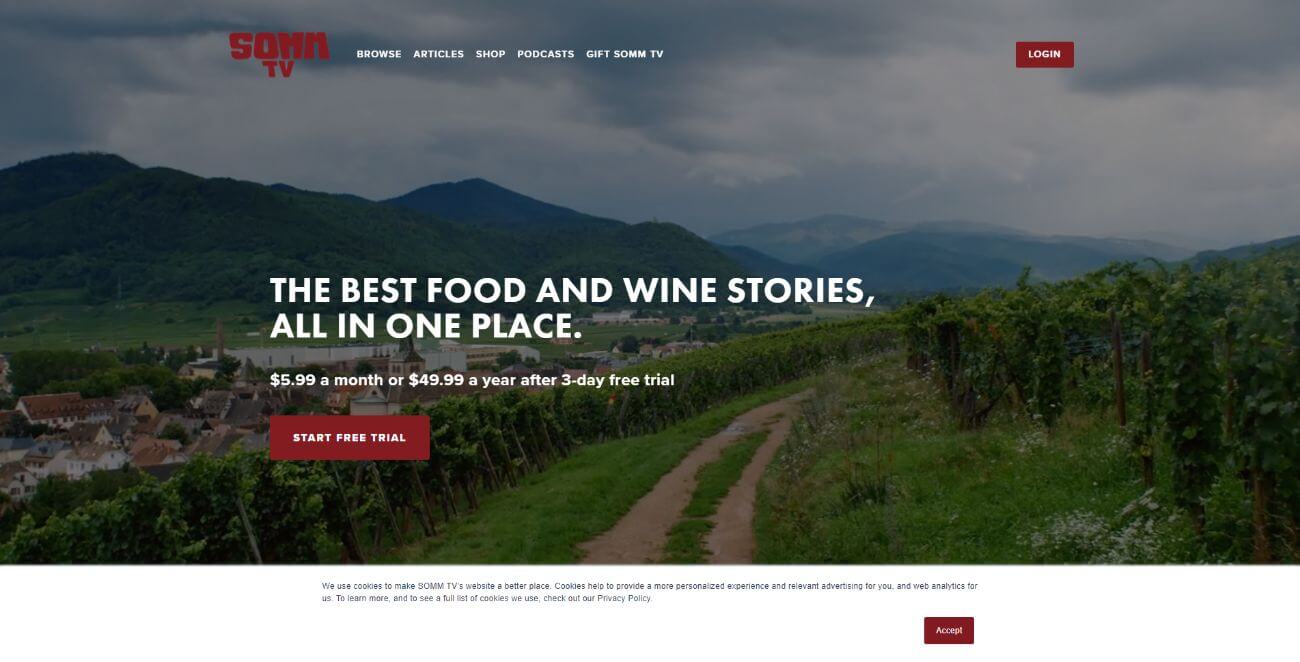 Somm is a video streaming service that creates exclusive documentaries for wine enthusiasts. Their films are available on Netflix, iTunes, and Hulu. Somm TV is available on a subscription basis for $68 dollars a year or $8 a month.
Somm is a lifestyle brand for true wine lovers, and the online store has a range of merchandise, most notably 'Blinders,' a blind wine tasting card game, listed at $35.
While general program terms aren't listed, affiliates are invited to pitch collaboration ideas directly on the Somm website.
If you have an audience that would appreciate niche wine content, this could be the affiliate program for you.
The Hamper Emporium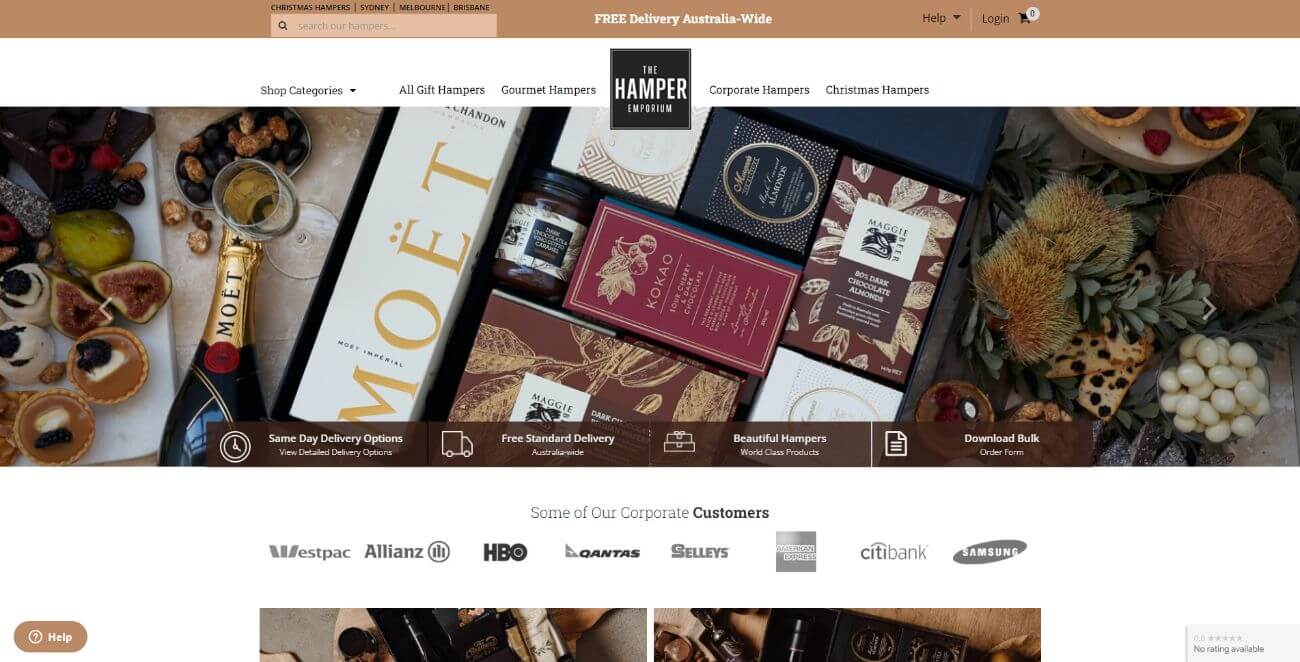 The Hamper Emporium is an Australian company that carefully curates a selection of fine food and wine from some of the world's leading gourmet brands. The hampers are great for gifting, and there are a variety of arrangements, from corporate to Christmas.
Top selling hampers range from $89-$179, generating a commission between $7-$17 per item. It's worth noting that while the affiliate program is global, free shipping only applies to Australian orders.
These hampers serve as great thank you gifts for business clients. Affiliates with an audience of business owners and professionals can benefit from an evergreen product that can be promoted year round.
VINOMOFO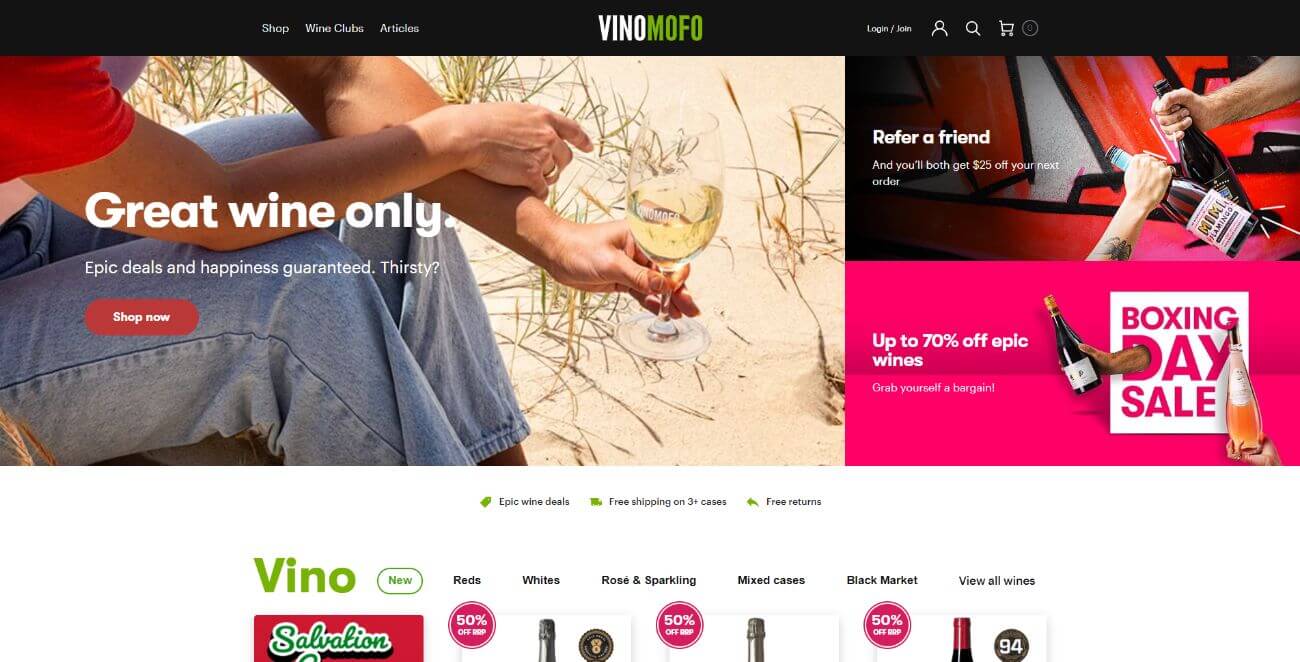 VINOMOFO is an Australian wine brand with attitude - and a great handle on marketing. Their modus operandi is to work with the best wine producers in the world to curate select wines for their dedicated audience, at the very best prices.
A standout feature of this brand is what they call their 'Black Market' deals. VINOMOFO offers premium wines at a massive discount by not disclosing the name of the wine until it arrives at customer's doorsteps.
The company acquired the events company Revel in December 2021, which shows the brand is making moves to grow. With such an interesting business model and great marketing, VINOMOFO would be an unforgettable brand to introduce to wine enthusiasts through their affiliate program.
Dan Murphy's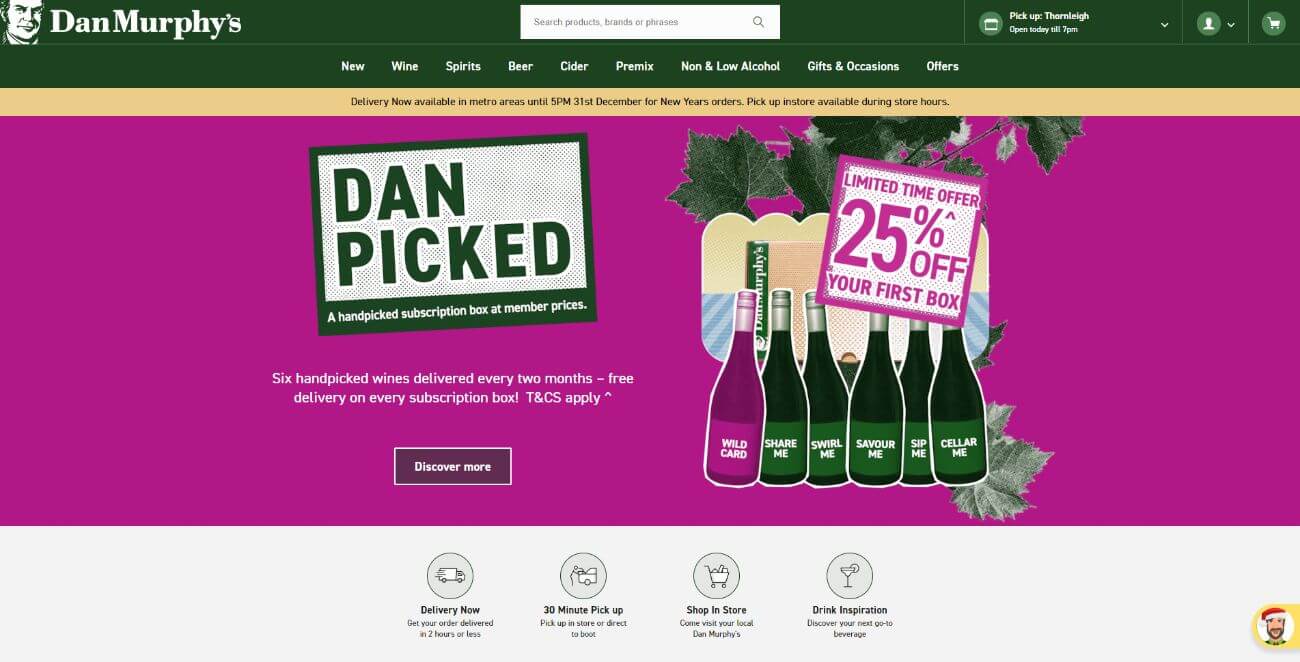 Dan Murphy's is a Melbourne-founded online spirits, wine, and beer retailer with roots in Australia as far back as 1879. Like Wine.com, they saw huge growth thanks to the recent popularity of online delivery services.
Affiliates can sign up to this program through three different platforms with a range of payout structures. A potential drawback of this program is that it has one of the lowest commission rates among this list, ranging from 0.5%-4%.
If you have an audience interested in supporting an Australian heritage spirits brand, this affiliate program could be a great fit.
Laithwaites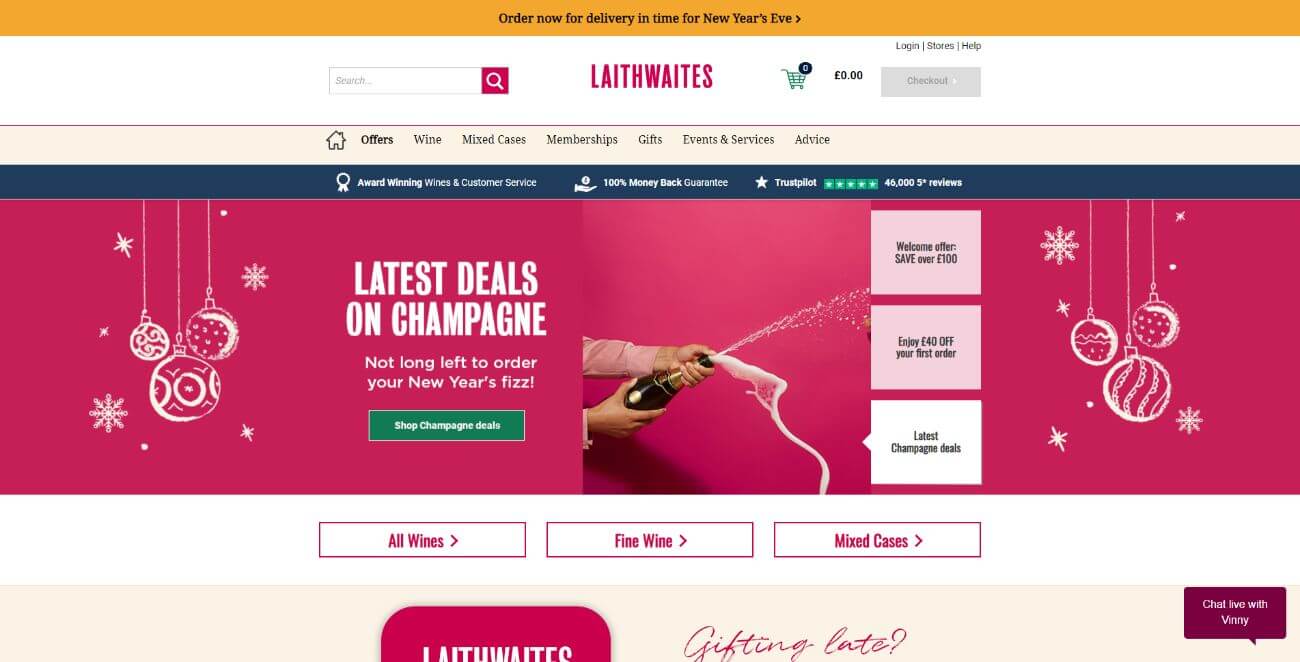 Program name: Laithwaites Affiliate Program
Network / Software: Rakuten
Commission: 3-7% base commission (Rakuten), $20.00 per Club subscription (Rakuten), 10% base commission, 12% when sales are greater than $3,500 (Rakuten)
Cookie duration: 30 days (Rakuten), 7 days (Rakuten), 14 days (Rakuten)
Markets: UK (Rakuten), US (Rakuten), AU (Rakuten)
Laithwaites is a global direct-to-consumer wine vendor, delivering straight to customers' doorsteps. In September of 2021, they partnered with U.K-based creative agency LOVE to undergo a rebrand. This new look gives Laithwaites a modern and whimsical feel that appeals to young wine enthusiasts.
The commission structure of their affiliate program is slightly above average depending on the platform. However, the Rakuten, Australia, program offers a standout commission rate of 12% on orders over $3.5k. This presents an opportunity for affiliates serving an audience of event planners, vendors, or even wine collectors who regularly place large orders.
Are you struggling with tons of affiliate platforms and links?
If you're running website that's monetized with affiliate marketing, there's a high probability your affiliate commissions are scattered across a ton of different platforms.
This makes it hard to get an overview of what's working well, efficiently test different products and programs, let alone optimize your content for conversion.
Affilimate was designed to fix that. It helps you collect your affiliate data (clicks, commissions, and content analytics) into ONE place so you can optimize conversion and grow your revenue.
Start your free Affilimate account and get tracking today.