Unlock your site's hidden affiliate revenue with content insights for publishers
Affilimate helps you generate 2–10x revenue growth per article with optimization tools & content insights tailored for commerce content.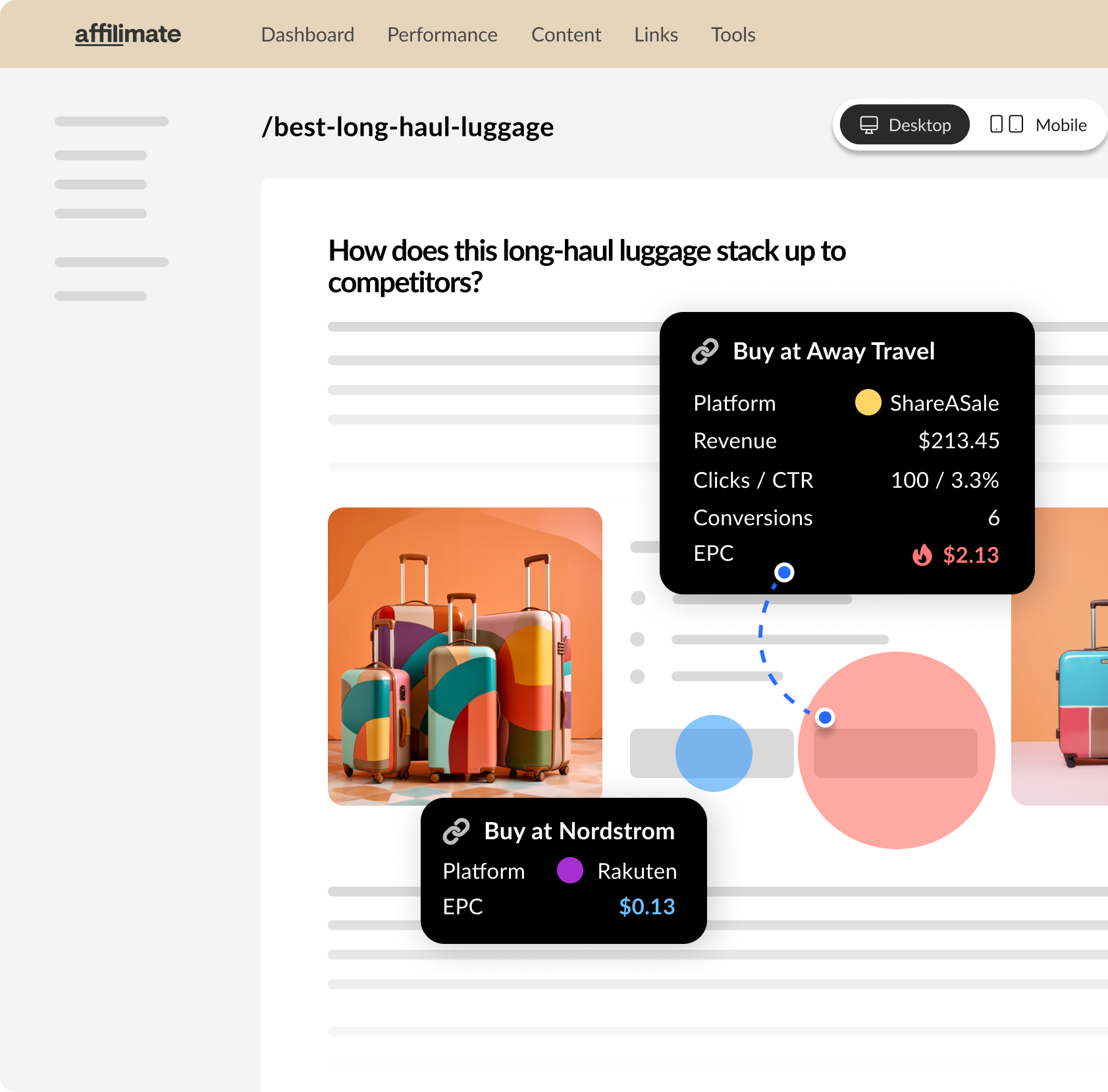 Integrates with 100+ affiliate platforms
---
Affilimate gives publishers the ability to truly maximize in-page affiliate performance. Add your networks, track your links, and grow your revenue from existing commerce content.
Media companies
Drive incremental revenue from existing content with in-page optimization tools and insights, designed specifically for business and editorial teams.
Get a demo  
Professional creators
Get the content insights and optimization tools every professional creator needs to unlock fast and systematic affiliate growth.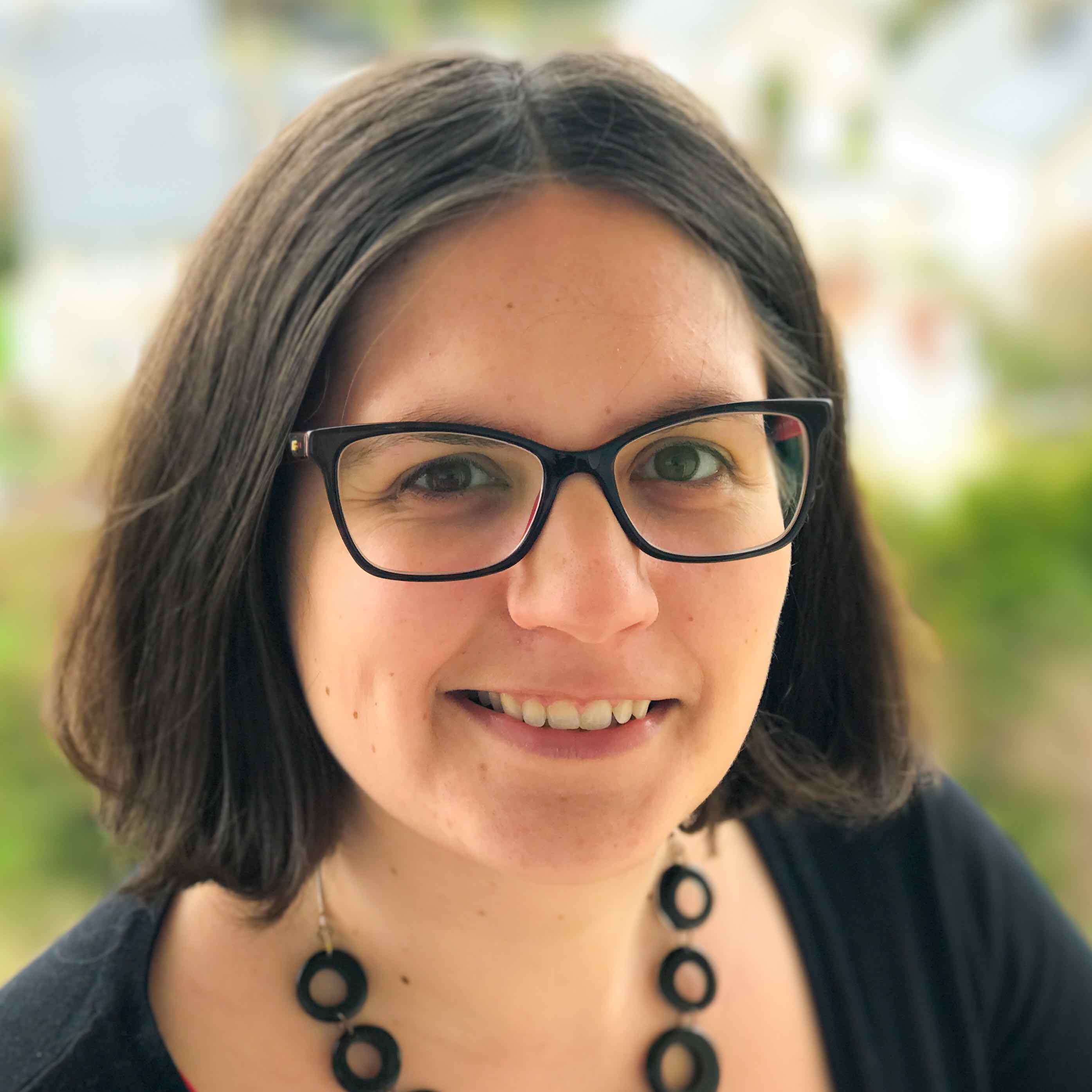 "Affilimate helped me take a single offer from $500 per year to almost $7,000 in the last four months." — Claire Robinson, ZigZag Roadtrips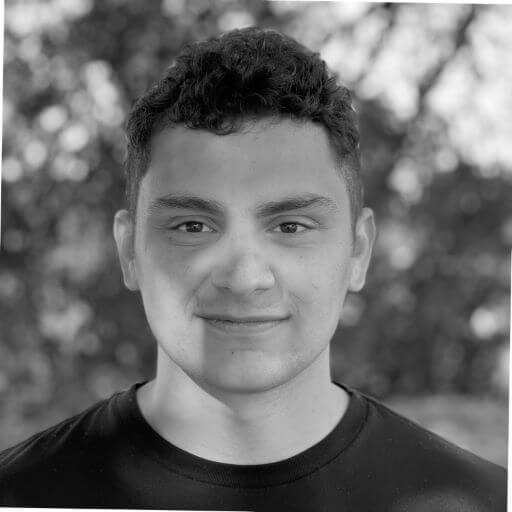 "In just one month of integration, we were able to discover simple opportunities that doubled revenue for specific pages." — Alex Elkoury, VentureKite

"If you're serious about affiliate marketing, you need Affilimate. It's become a game-changer for our business." — Shelley Marmor, Travel Mexico Solo
Tap in to 2–10x revenue growth per article
Affilimate gives you link-level visibility into your on-page performance, so you can discover lightweight improvements that multiply your affiliate RPM, EPC, and revenue.
Affiliate Heatmaps
Affiliate revenue attribution down to the pixel
Discover exactly which affiliate links, buttons, images, and calls-to-action within your pages are driving conversions (and which aren't).

Explore color-coded, link-level metrics presented in a simple way anyone can turn into an action plan.

Then, multiply revenue from existing content by optimizing link placement, retailer selection, and get the leverage you need to negotiate higher commission rates.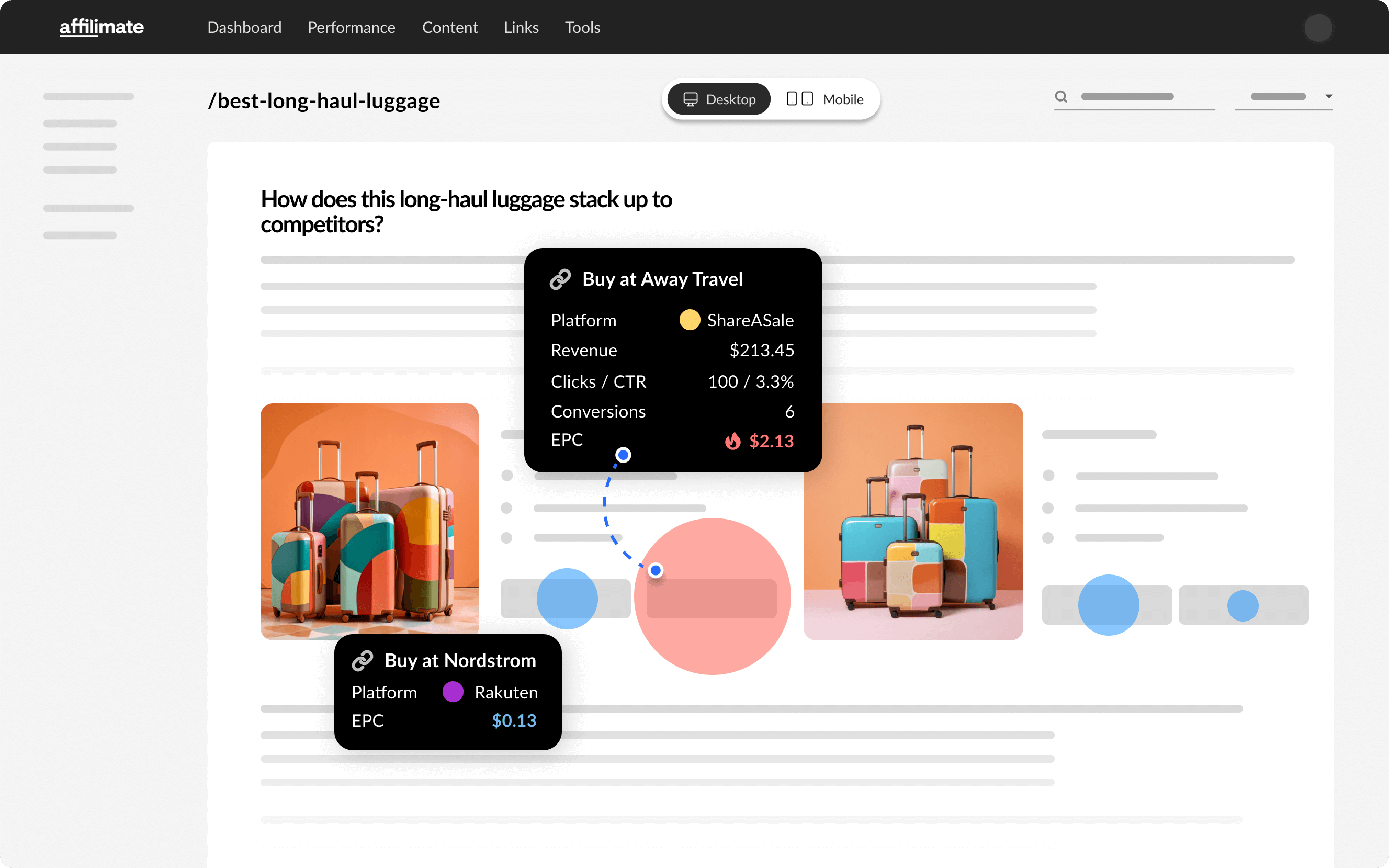 Content segmentation
Create more profitable content based on top performing segments
Benchmark performance between different content formats, product categories, target demographics and more. See which segments are driving the most revenue, or have the highest EPCs and RPMs.

Create custom content types and tags, and apply them to your content portfolio without changing any links. Identify your most profitable content strategies in seconds.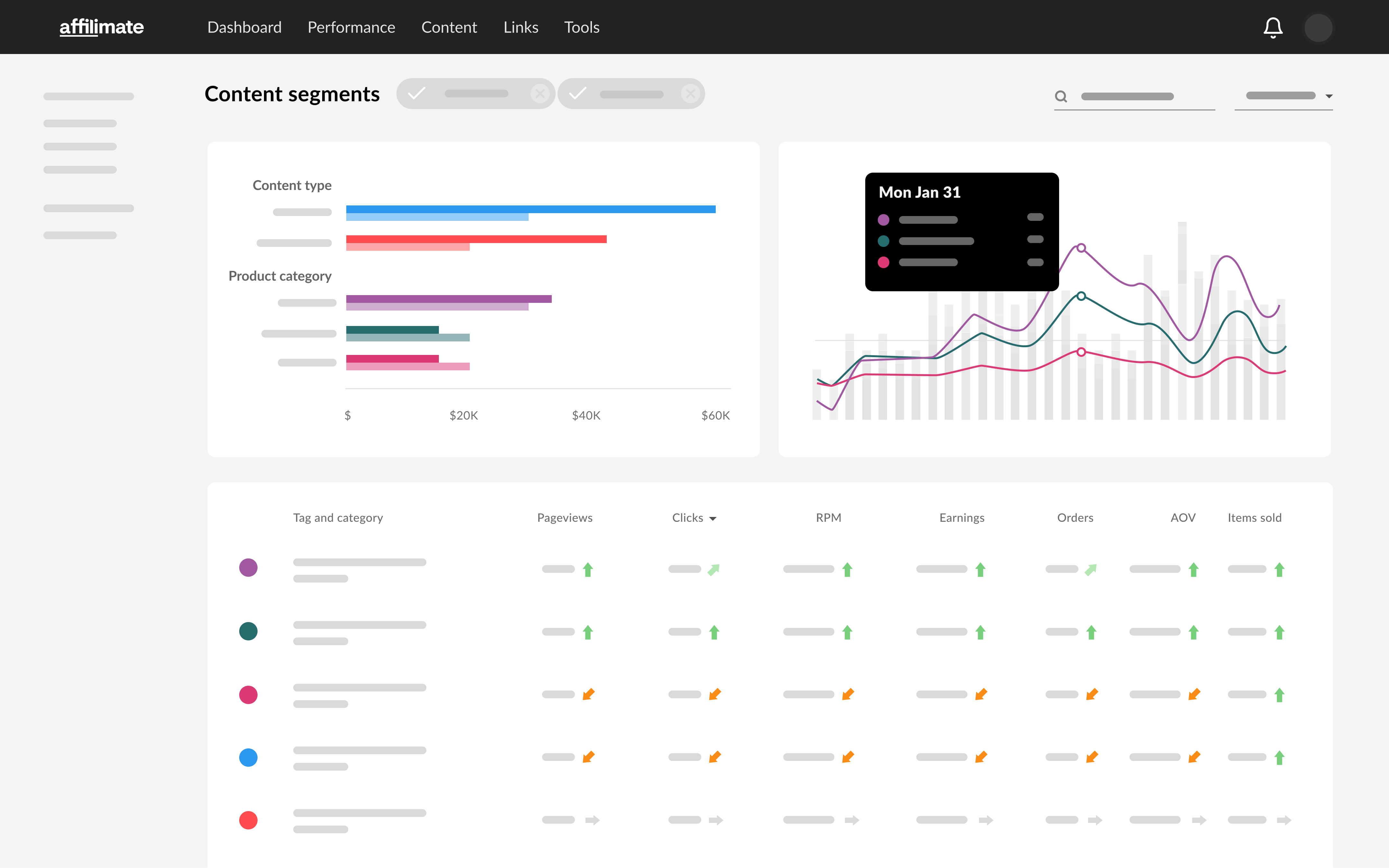 Revision Tracking
Track the impact of content updates on affiliate revenue
Track how editorial changes affect affiliate revenue, click-through rate, and affiliate RPM and EPC on pages across your site, without manually setting up experiments each time.

Generated automatically from your existing markup. Fits perfectly into your existing workflow. And scales effortlessly across your entire portfolio of content.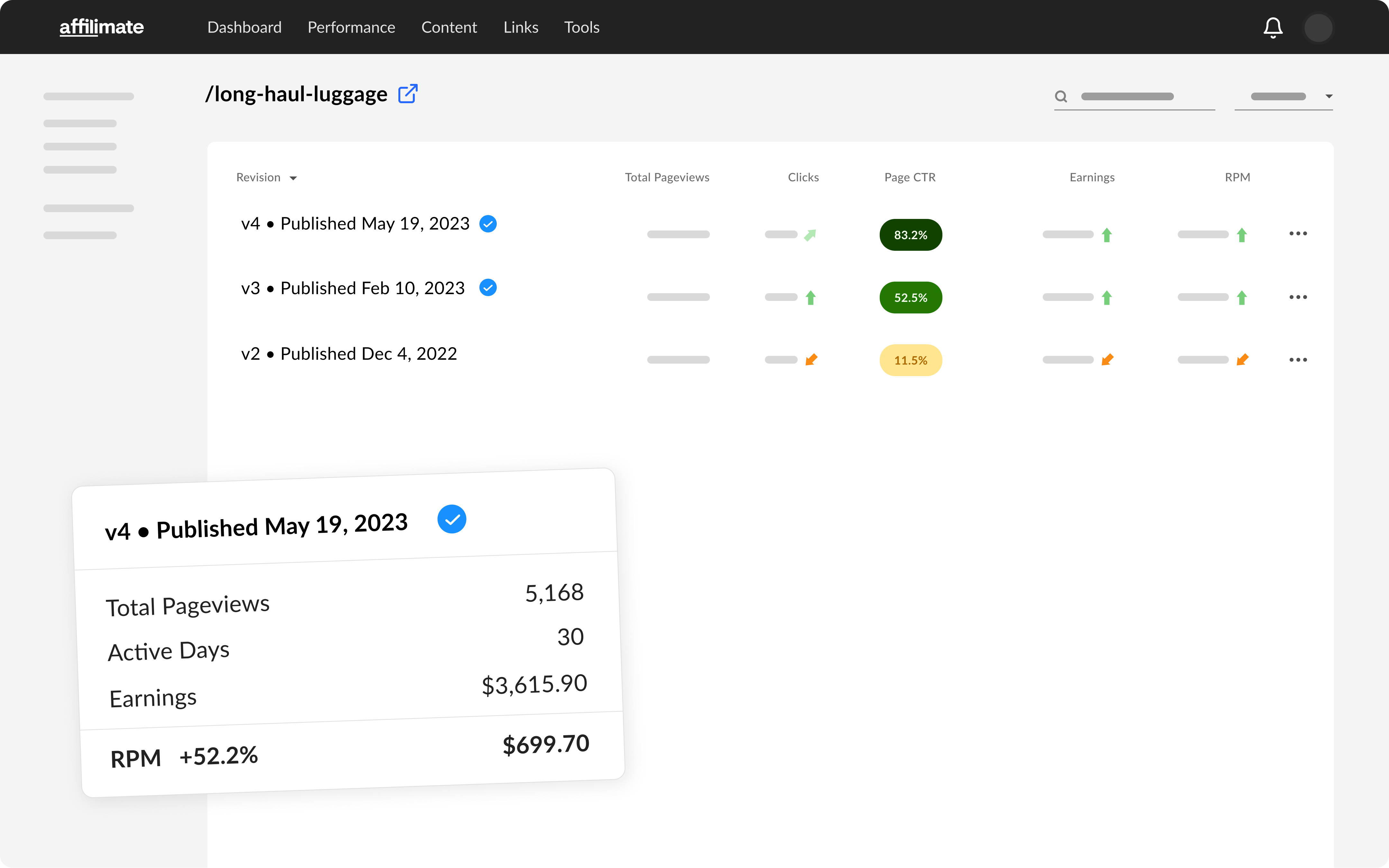 Content trends
Monitor your content portfolio for revenue spikes and drops
Use Affilimate's content analytics and revenue attribution to find which content and products generate the most revenue, across affiliate programs.

View your content portfolio by the fastest growing or declining articles, so you can target which articles need updates today.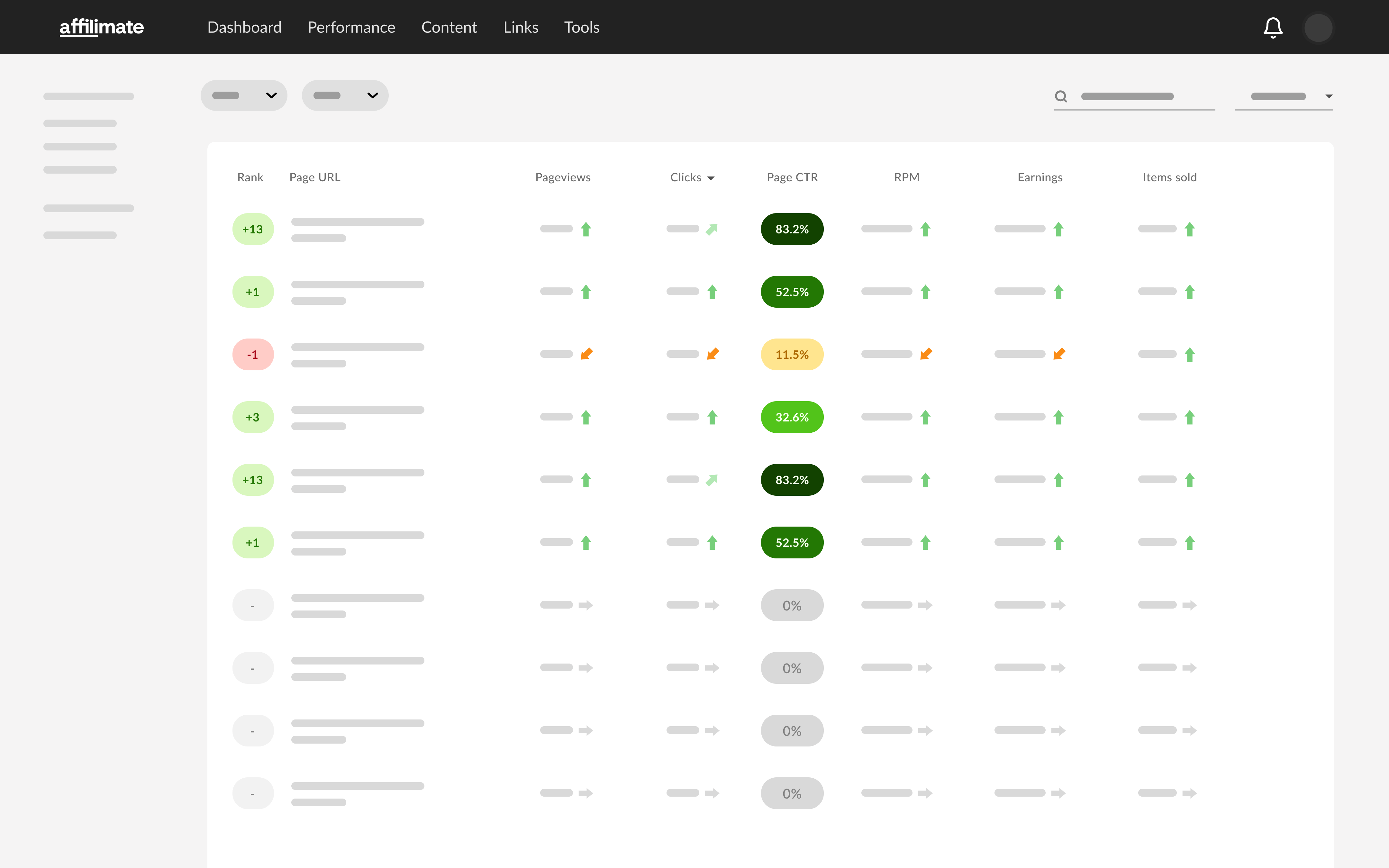 Reporting & APIs
Unified affiliate revenue reporting and publisher APIs
Take all your detailed affiliate insights and roll them up into stunning charts and custom reports you can share.

Expand into custom use cases with Affilimate's robust reporting APIs, that let you pull your data quickly and into internal systems like your data warehouse.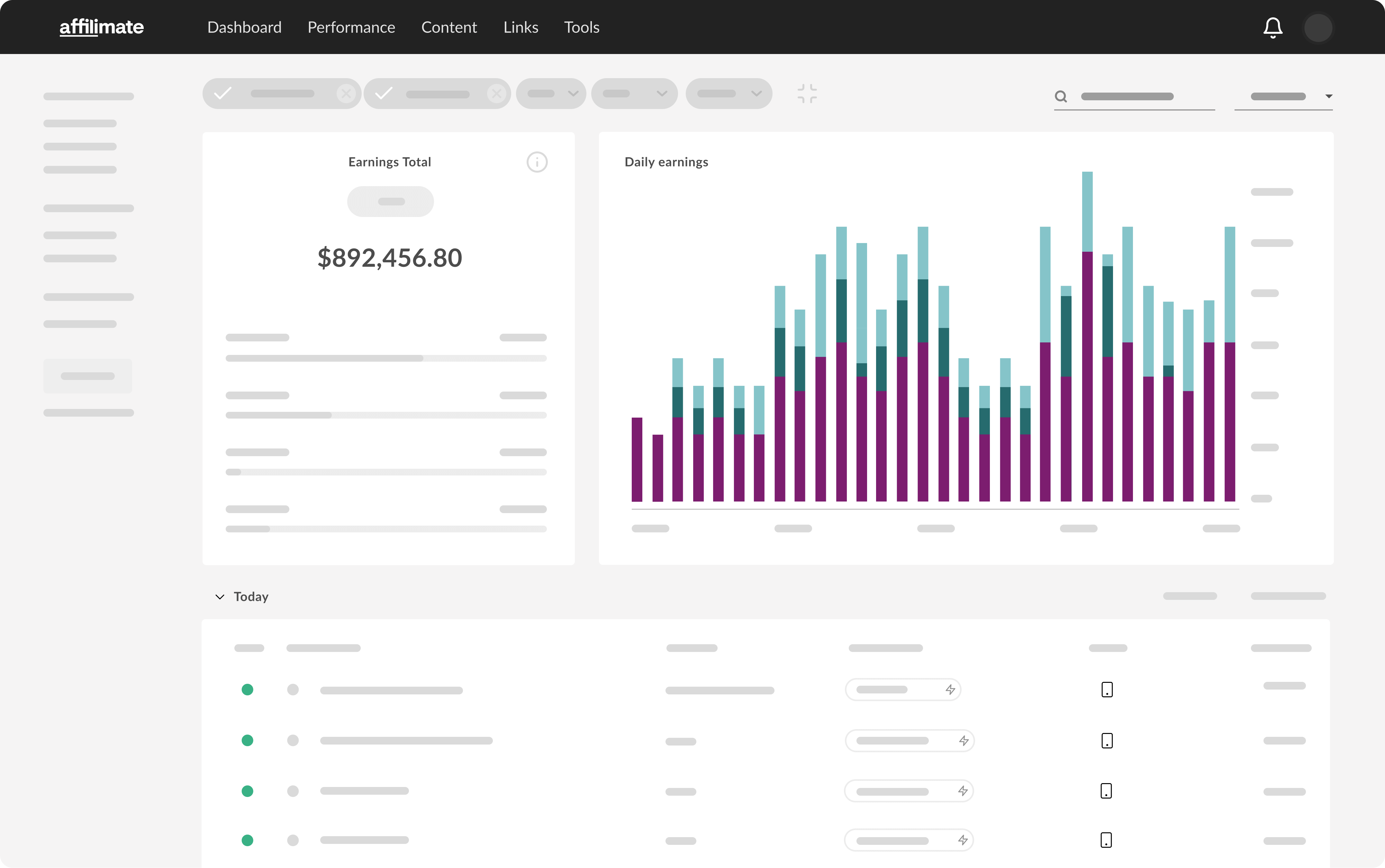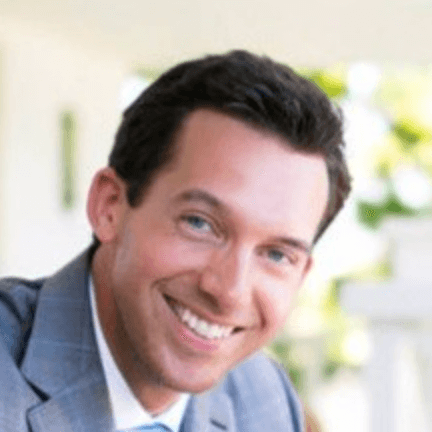 "Smartly designed, packed with thoughtful features, Affilimate helps us save time and increase revenue by optimizing our affiliate performance."
— Simon Beauloye, Luxe Digital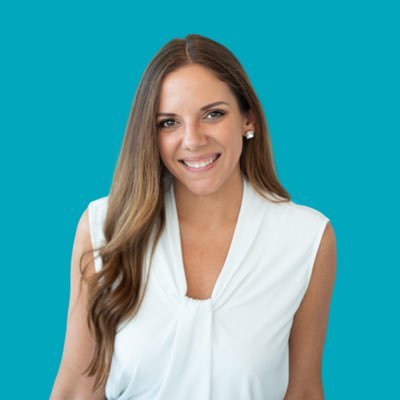 "Affilimate has changed the game for our content strategy. This platform will grow with any size publisher, I couldn't recommend it enough."
— Jessica Bishop, The Budget Savvy Bride
See how media companies like yours are achieving commerce clarity
Book a 1:1 demo and see how Affilimate has helped hundreds of publishers across 1000+ sites scale their affiliate revenue and operations.
Book a 20-minute demo  
Explore Affilimate's revenue generation tools
Meet the fast, modern suite of growth tools you'll use to scale your affiliate revenue stream.
Looking for more? Affilimate also supports editorial teams, email reports, and more to help you grow.
Connect with us
Meet the team at an upcoming event.
Connect with our team at Affiliate Summit West!