12 Best Alcohol Affiliate Programs in 2023 (Based on Data)
By Irene Lopez · Updated May 2, 2023
On-demand alcohol delivery brands have taken off in a big way. While the average sales for this niche peaked at 12% in 2019, the market experienced a spike during the lockdowns, climbing 43% in sales.
If the growth continues at the same pace, we're looking at a market value of over $40 billion by 2024 for alcohol on-demand delivery apps.
It's an opportune time for marketers, content creators, and influencers dabbling in the alcoholic beverage space. You can tap into a large selection of alcoholic products to suit different budgets and tastes, ranging from casual drinks to ultra-luxury drinking experiences.
Best of all, many delivery apps offer delivery in an hour or less, sure to appease even the most demanding of pro-convenience shoppers.
In this list, we've compiled the best alcohol affiliate programs available in the market today, with varied product offerings and high customer ratings. You're sure to find a program (or programs!) that you'll enjoy selling and start generating passive income on the side.
Alcohol affiliate programs
These are the best alcohol affiliate programs, based on data:
Drizly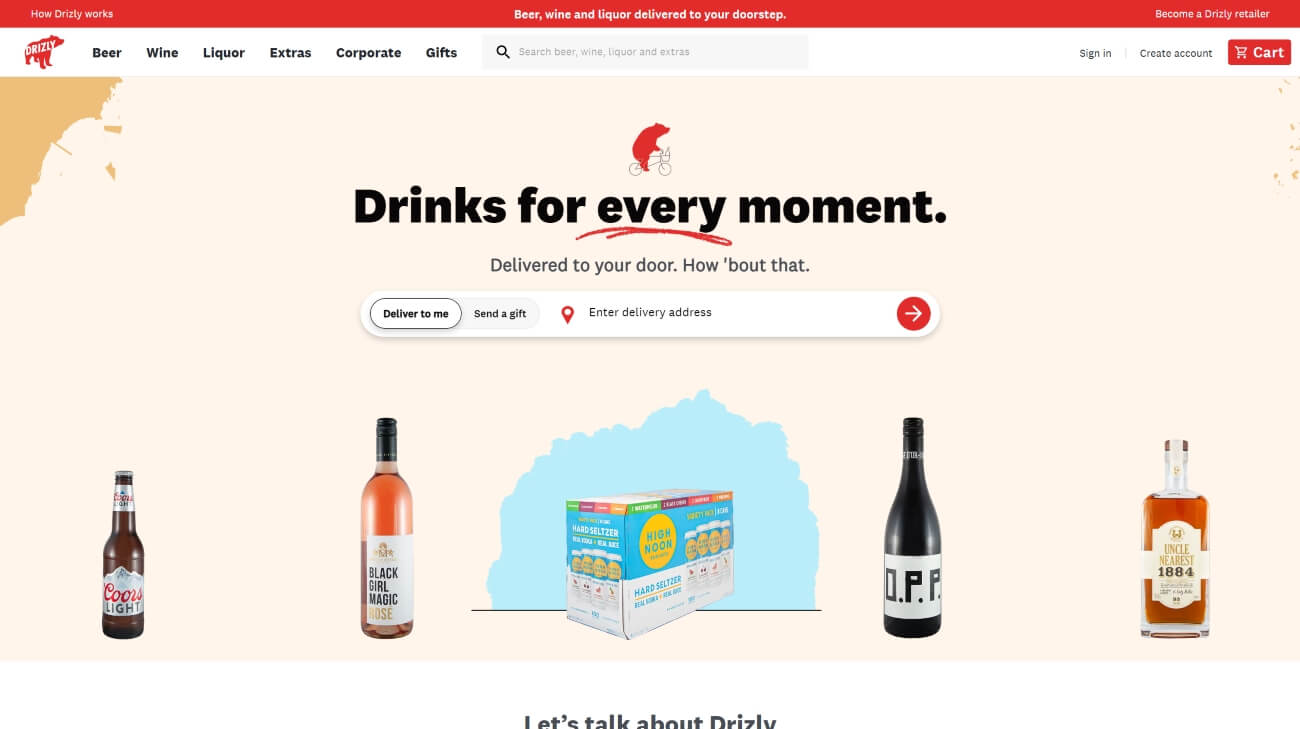 Program name: Drizly Affiliate Program
Network / Software: Impact, Skimlinks, Sovrn
Commission: 0% (Impact), 8% of in app sales and online for new customers (Skimlinks), 0% (Sovrn)
Cookie duration: Not listed
Markets: CA, US (Impact), CA, US, MX, UK (Skimlinks), Global (Sovrn)
Drizly stakes claim to being the largest online marketplace for alcohol in North America. Consumers can compare prices across multiple stores as they shop for their favorite alcoholic beverages online.
An Uber company, Drizly has partnered with over 1400 retailers across North America and Canada to sell a wide selection of beer, wine, liquor, and other "extras" (think food and snacks, party supplies, bitter, gifts, juices, etc.) through their online ecommerce store. The promise? Alcohol delivered to adults of legal drinking age in under 60 minutes!
Drizly joined forces with GoPuff in January to further expand its base of products while taking advantage of GoPuff's extensive e-commerce fulfillment locations.
Drizly currently offers its affiliate program through Impact. Affiliates can expect to earn 3% commissions on all sales with an average order size of $70+ (average cookie duration of 30 days). The payments are made for the first time a customer visits the company site to make a purchase. Affiliates can also access a dedicated account management team, marketing creatives, and ongoing promotions and special offers.
Drizly has an average rating of 4.4 out of 5 stars on the Google Play store, as rated by over 27k reviewers. It's also rated 4.8/5 by over 140k reviewers on the Apply app store.
Total Wine & More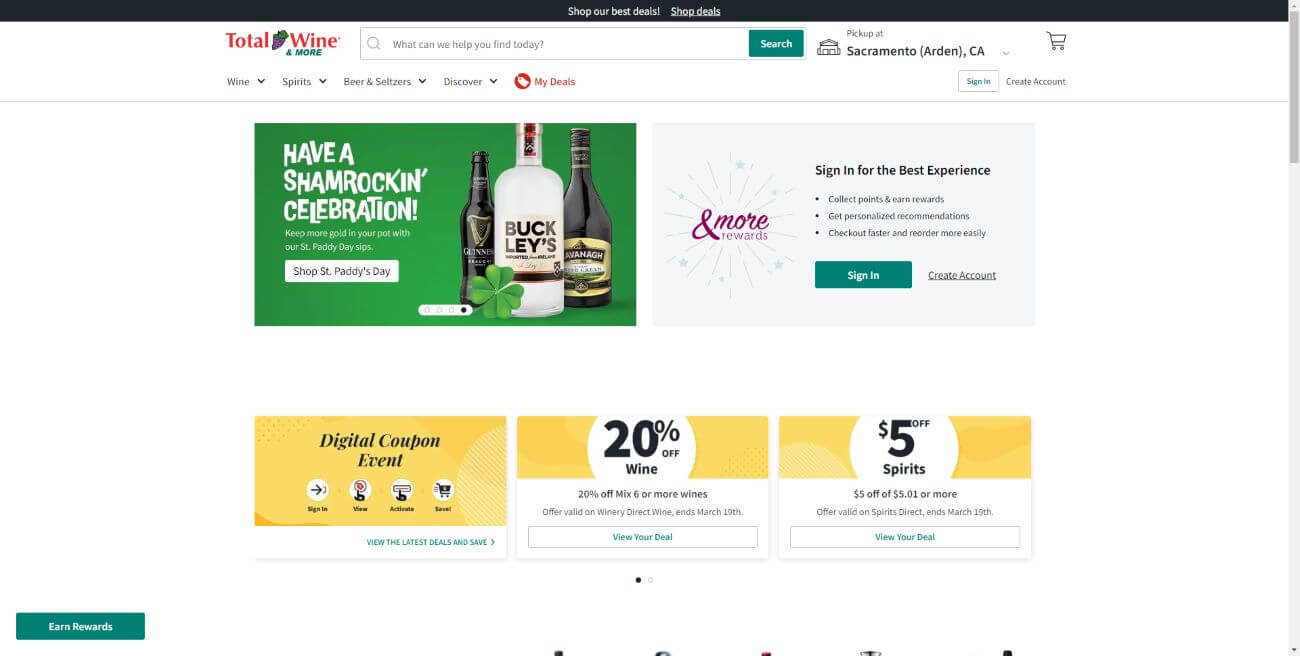 Program name: Total Wine & More Affiliate Program
Network / Software: FlexOffers, Pepperjam, Yazing, Sovrn
Commission: 4% per sale, excluding items in the categories: Beer-BD, Beer-NB, Misc.-NB, Gifts-NB, Gift Cards (FlexOffers), 2-6% per item, payout 1%, excluding items in the categories: Beer-BD, Beer-NB, Misc.-NB, Gifts-NB, Gift Cards (Pepperjam), 1% of sales (Yazing), (Sovrn)
Cookie duration: 1 days (FlexOffers, Pepperjam), Not listed (Yazing, Sovrn)
Markets: US
With 18 new store locations opening in 2023, Total Wine & More is on track to reach new highs (pun unintended!). This Maryland-based beer, spirits, and wine retailer, founded in 1991, has a national presence with 246 stores spanning 27 states and counting. On offer for customers is a selection of 8000 wines, 3000 spirits, and 2500 beers at attractive prices.
The company also regularly hosts on-site events and classes, in-store wine tastings, and live-streamed virtual tastings and events. Customers can opt to host private wine tastings or business meetings with complimentary wine tastings.
Aside from events, Total Wine & More offers digital gift cards to the value of $1000 and consultation with Wine Experts for wedding planning. If you'd rather learn to become a Total Wine Professional (wine expert), that's covered in-house too, through a world-class certification program.
Total Wine & More's affiliate program is currently available on the networks FlexOffers, Pepperjam, Yazing, and Sovrn. Commissions can vary from 1 to 4%, with exceptions for specific items like gift cards and beer categories. The affiliate program has a 1-day cookie duration.
Master of Malt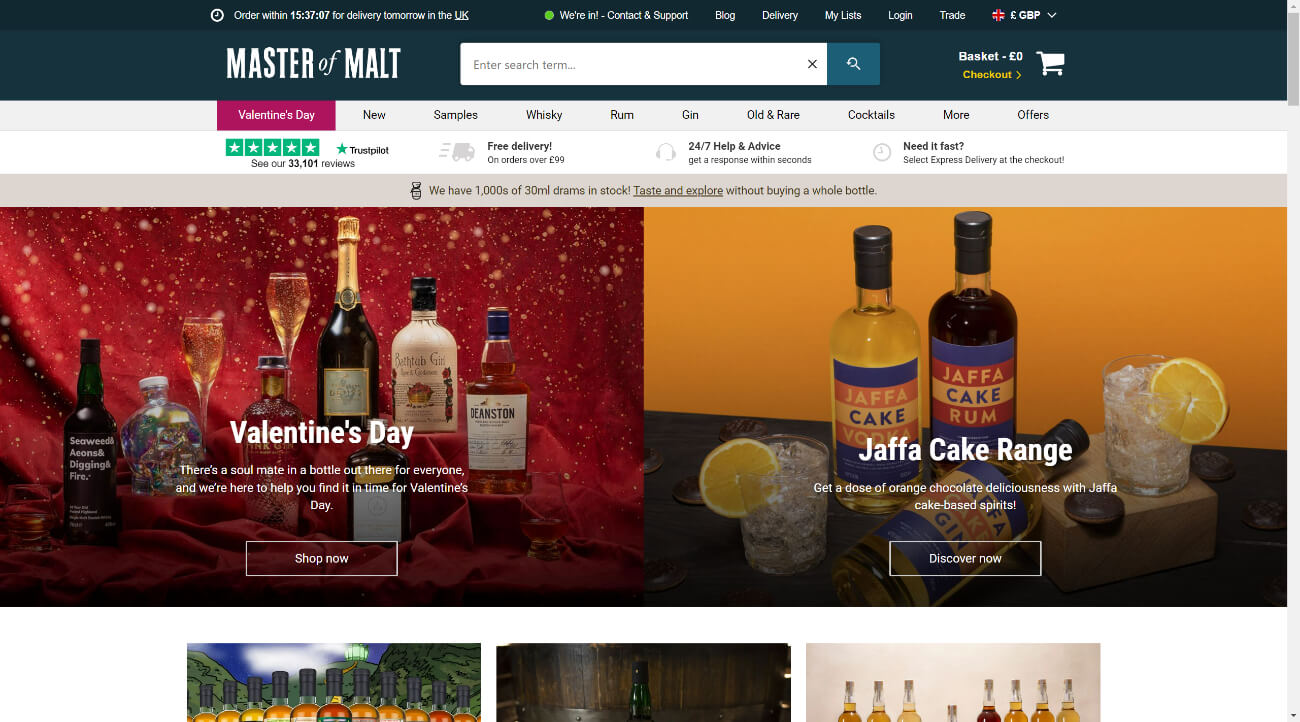 Program name: Master of Malt Affiliate Program
Network / Software: Affiliate Future, Skimlinks, Sovrn
Commission: 5% average commission (Affiliate Future), 7.66% average network payout commission (Skimlinks), 4.97% average commission rate (Sovrn)
Cookie duration: Not listed
Markets: UK, AU, XC, OC (Affiliate Future), UK, AU, XB, XC, OC (Skimlinks), Global (Sovrn)
UK-based Master of Malt started life in 1985 as an independent bottler fulfilling mail orders for single malt whiskies from the best distilleries around the world. It now offers a wide selection of alcoholic beverages, with the prime focus being on delivering drinks experiences. It's currently the UK's leading and fastest-growing spirits retailer.
Aside from purchasing drinks, you can also participate in private auctions or purchase old and rare whiskies and spirits, Master of Malt exclusives, and even buy from a hallowed breed — closed distilleries.
Master of Malt was named the "Food and Drink eCommerce Website of The Year" for the second time in 2022, competing against established stalwarts like Domino's Pizza. They were also named "Icons of Whisky's Online Retailer of the Year" in 2019.
The company currently offers affiliate programs through AffiliateFuture, Skimlinks, and Sovrn. They've also recently opened up their affiliate program to the APAC region via *Commission Factory. Commission rates for affiliates can vary depending on the network and range from 4.97% to 7.66%.
ReserveBar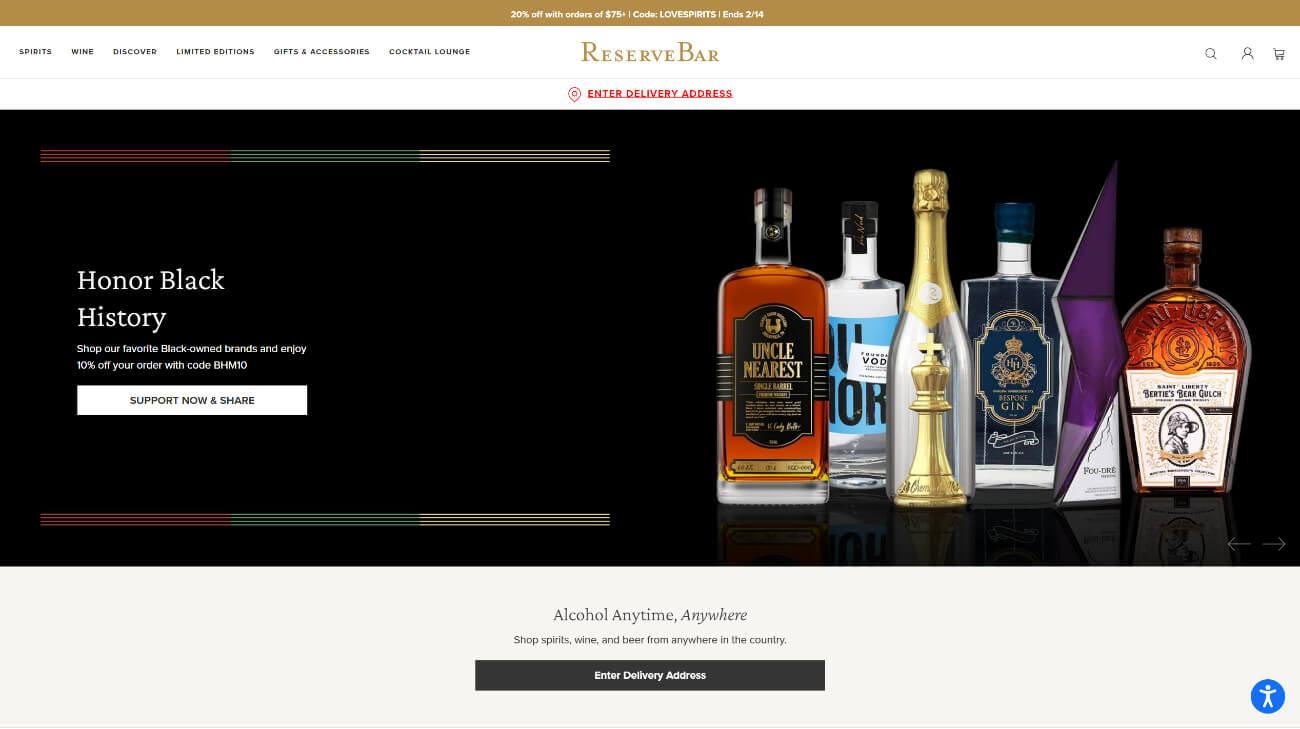 Program name: ReserveBar Affiliate Program
Network / Software: FlexOffers, Skimlinks, Sovrn, Pepperjam
Commission: 0.08% payout rate and when buyers use coupon code WELCOME20 and REWARDS10, excluding SASSENACH blended Whisky and Giftcards (FlexOffers), 6% (Skimlinks), 5% on default payout (Sovrn), 1% payout per item (Pepperjam)
Cookie duration: 30 days (FlexOffers, Pepperjam), Not listed (Skimlinks, Sovrn)
Markets: US (FlexOffers), UK (Skimlinks), Global (Sovrn), US (Pepperjam)
ReserveBar is an online marketplace dealing exclusively in rare, limited-edition, luxury, and ultra-luxury spirits for all occasions — perfect for drink experiences, collecting, gifting, and setting up a unique bar. The brand prides itself on being inclusive and has partnered with black, brown, female, and LGBTQ+ entrepreneurs to offer some extraordinary selections.
ReserveBar launched GetStocked in January this year, a similar offering but tailored for "cooler occasions." There's beer, ready-to-drink cocktails, hard seltzer, and non-alcoholic beverages to the tune of over 600 SKUs (Stock Keeping Units) delivered to the customer's doorstep in under two hours.
Commission rates for affiliates can vary depending on the network. Expect 0.08% with coupon codes WELCOME20 and REWARDS10 on FlexOffers (offer not valid on SASSENACH blended whisky and gift cards). Expect 6% affiliate commissions on Skimlinks, 5% on default payouts on Sovrn, and 1% per item on Pepperjam. We recommend you check back regularly on the networks for the latest commission rates and discount coupons.
The average cookie duration is 30 days on FlexOffers and Pepperjam.
Saucey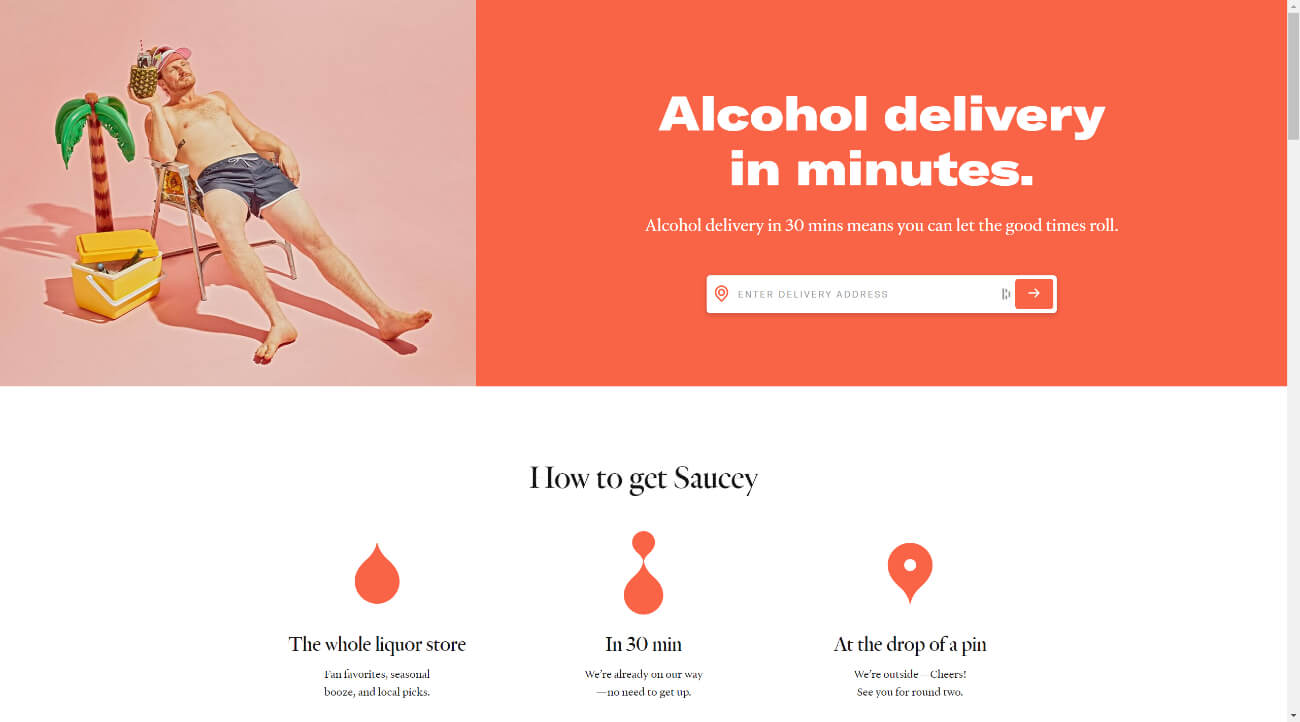 Program name: Saucey Affiliate Program
Network / Software: Skimlinks, Sovrn, ShareASale
Commission: 10%, 15% if sale transaction date is within the time range Oct 24th 2022 to December 31st 2022 (Skimlinks), 6% on default payout (Sovrn), 4% per sale (ShareASale)
Cookie duration: Not listed (Skimlinks, Sovrn), 30 days (ShareASale)
Markets: US, UK (Skimlinks), Global (Sovrn), US (ShareASale)
Los Angeles-based Saucey, founded in 2013, is another fast-growing player in the on-demand alcohol delivery space. The brand is able to assure fast deliveries in under 30 minutes on account of its solid delivery network spread across the US. More cities are continually being added to the network. They also offer a two-day and ground shipping service in New York and California.
Saucey's core USP is, in their own words, being "the fastest, easiest, and most reliable way to order beer, spirits, and wine." You can opt to have your delivery done as soon as possible or schedule it for later. Customers can also buy liquor, mixers, ice, and party supplies online through the website.
Saucey's affiliate program is currently being managed by DMi Partners, and you can find the program listed on affiliate networks such as Skimlinks, ShareASale, and Sovrn. Commissions can vary depending on the network. The average cookie duration is 30 days.
Minibar Delivery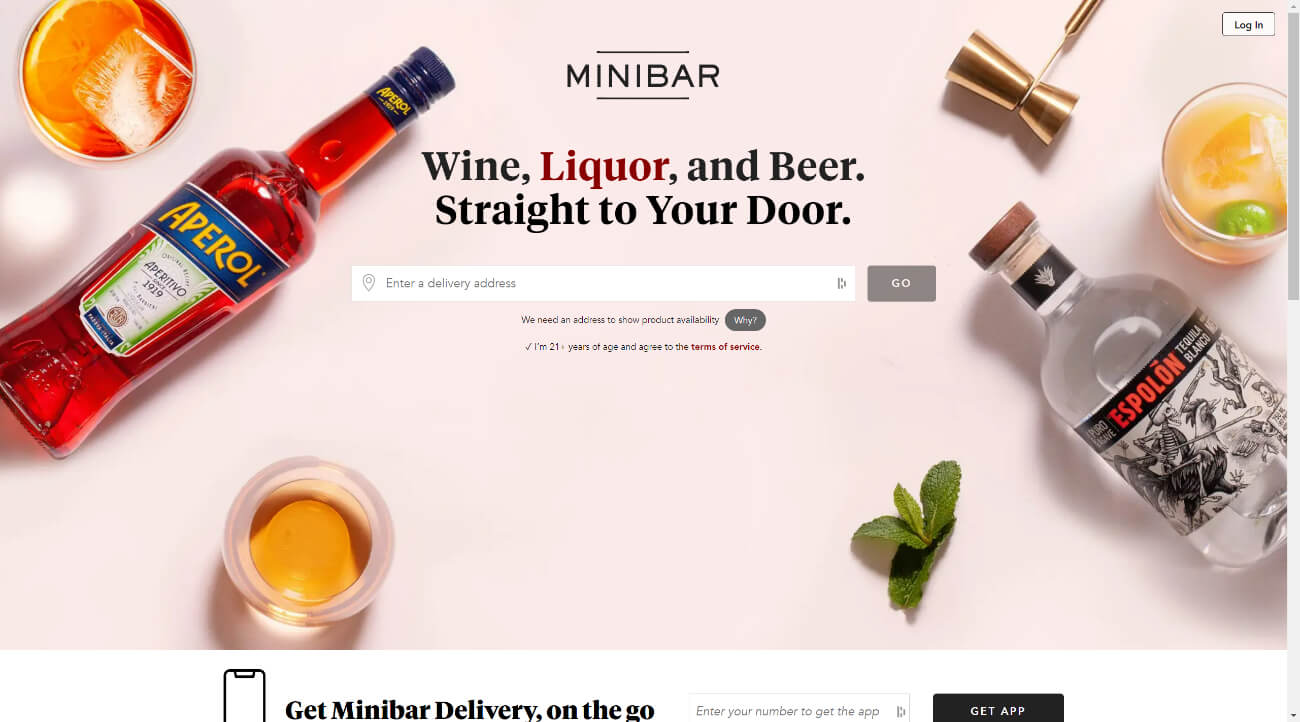 New York-based Minibar Delivery is a leading provider of on-demand delivery services for wine, beer, liquor, mixers, and more in over 50 cities in the US. The brand's USP is its large selection of alcohol at competitive prices and instant delivery in as little as 60 minutes of the purchase through tie-ups with local vineyards and vendors. Minibar Delivery also ships to 40 states in the US.
The brand has a strong presence on social media, with over 35k followers on Facebook and a similar followership on Instagram. It's also rated a solid 4.7/5 by close to 6,000 reviewers on the Apple app store.
Minibar Delivery was acquired by ReserveBar in 2021.
Affiliates can expect to earn $2 per sale/lead on ShareASale and 4.43% as an average network rating on Sovrn. Minibar Delivery also has its own Refer a Friend program applicable to new customers. Referral rewards are paid out in increments of $10 provided the individual order value is greater than $25 minus other charges like taxes, shipping, returns, etc.
Dry Farm Wines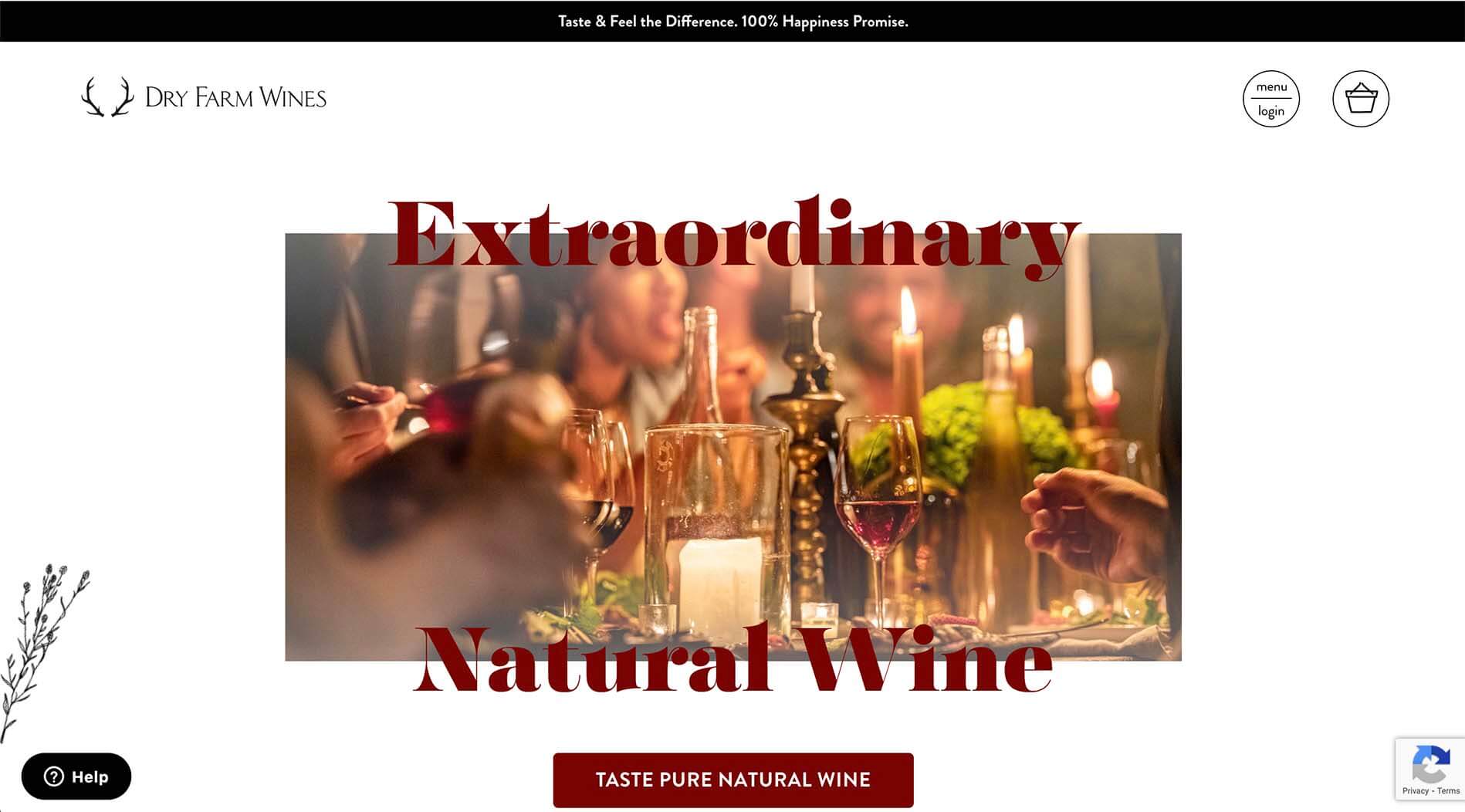 Dry Farm Wines is a wine subscription club that offers natural, artisan wines. They're free of sugar and contain lower alcohol content than traditional wines.
One of the things that makes Dry Farm Wines' affiliate program unique is that offers recurring commissions. This means you get paid every month for each customer you refer, as long as they maintain their membership.
Recurring commission affiliate programs can be incredibly lucrative if you make the effort to educate your readers about the benefits of the membership first.
The team at Dry Farm Wines does lay out some expectations for affiliates: a website or business operated in the United States, and a social following or email list of over 5,000 contacts.
Their goal is to have each affiliate convert 10 orders within the first 90 days. If you don't meet this expectation, you may risk getting booted from the program.
What's good about this approach is that if you end up performing well, you'll get individual attention and tips from the Dry Farm Wines team. And that's what an affiliate partnership is all about.
Firstleaf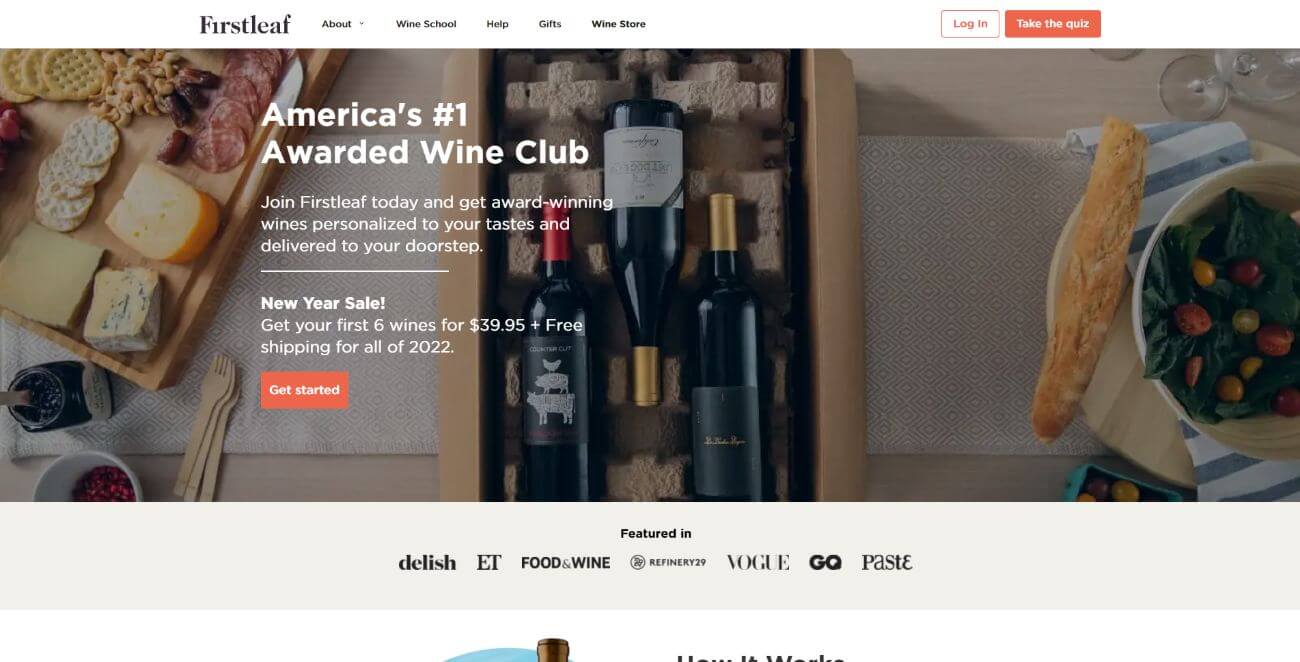 Firstleaf is a subscription-based wine startup based in Napa Valley, California. They deliver a curated selection of wines to customers' doorsteps at a competitive price thanks to their direct-to-consumer business model. The company was awarded the title of 'Wine Company of the Year,' at the 2021 Winemaker Challenge International Wine Competition.
If your audience appreciates the novelty of trying new wines every month, this could be a great opportunity to earn commissions.
One potential downfall of this program is the short cookie duration. Firstleaf offers affiliates a 14-day cookie window, which is substantially less than the 30 industry average. However, if you have built a nurtured email list that you are regularly in contact with, this might not be an obstacle.
Wine.com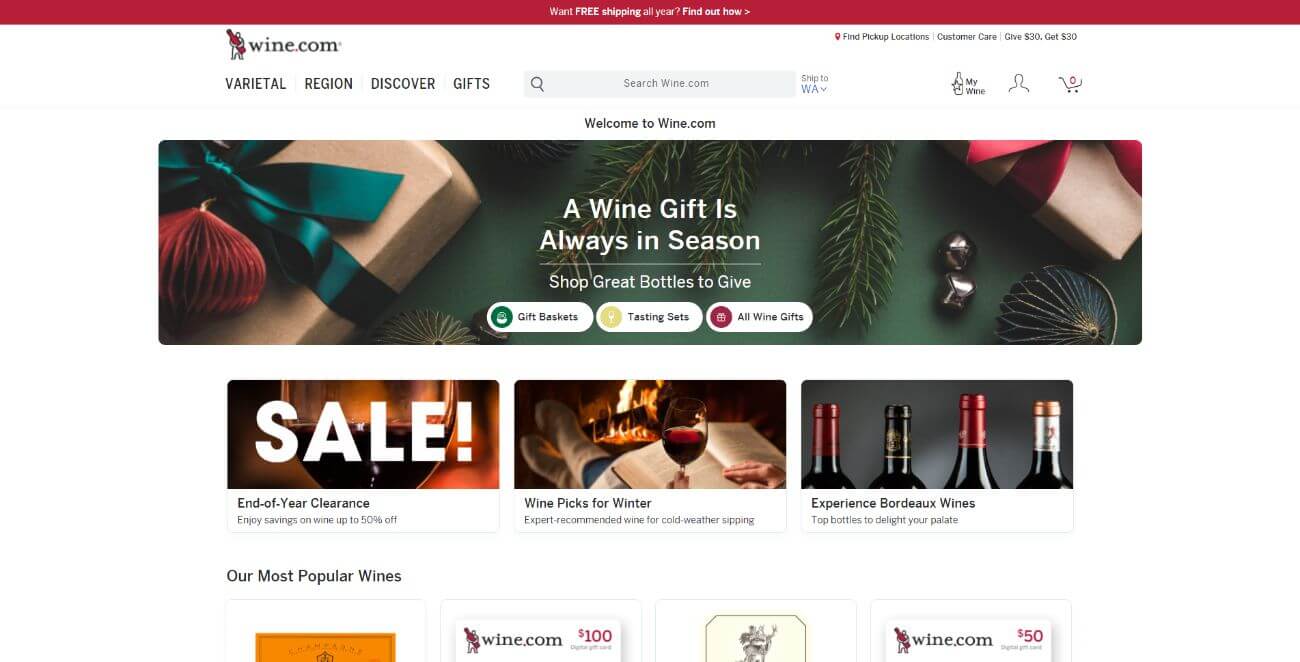 Online subscription businesses are booming thanks to people spending more time at home, and Wine.com is no exception. According to Global News Wire, the online wine store reached $355 million in their 2021 fiscal year.
This is a great sign for affiliates in the subscription industry, as consumers appreciate convenience more than ever before. Wine.com stands out with the largest variety of inventory, and offers an extensive array of wines, glassware, and gift baskets.
Wine.com also carries premium labels, from Armand de Brignac to Dom Perignon vintage. This gives affiliates the chance to market high ticket items, and to receive a higher commission in return. As a one-stop wine shop, Wine.com is a great option.
Craft Beer Club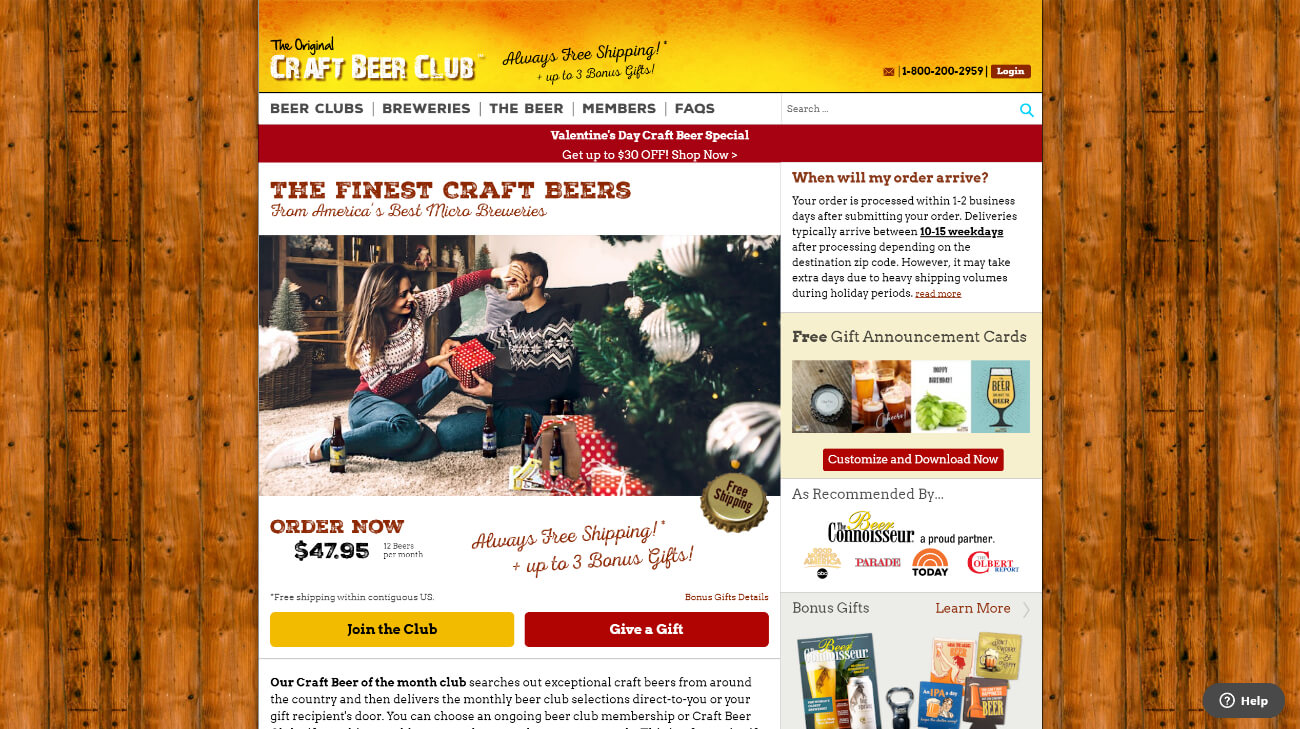 CraftBeerClub provides high-quality beers from America's best breweries with no shipping fee, ever, within the contiguous US. The brand's USP is its Craft Beer Club, where you can sign up to be a member without paying a membership fee and purchase 12 beers a month (currently for the price of $47.95 per shipment). Three bonus gifts are included in the first shipment on all eligible orders.
If you have beer lovers on your affiliate marketing list, they are sure to enjoy the monthly Craft Beer Club selections. Each monthly shipment features two different breweries from two different regions in the US and includes four different beer styles (two from each brewery). The selections change monthly and incorporate the finest award-winning, flagship, or most popular beers from the respective breweries.
Your referrals can purchase the monthly beer selections themselves or gift them to others. Customers can choose from between 1 and 12 shipments. They can also opt for monthly, every-other-month, or quarterly shipments.
Affiliates can earn 5 or 10% commissions depending on the network. Worth noting is the cookie duration which is seven days only.
The Whisky Barrel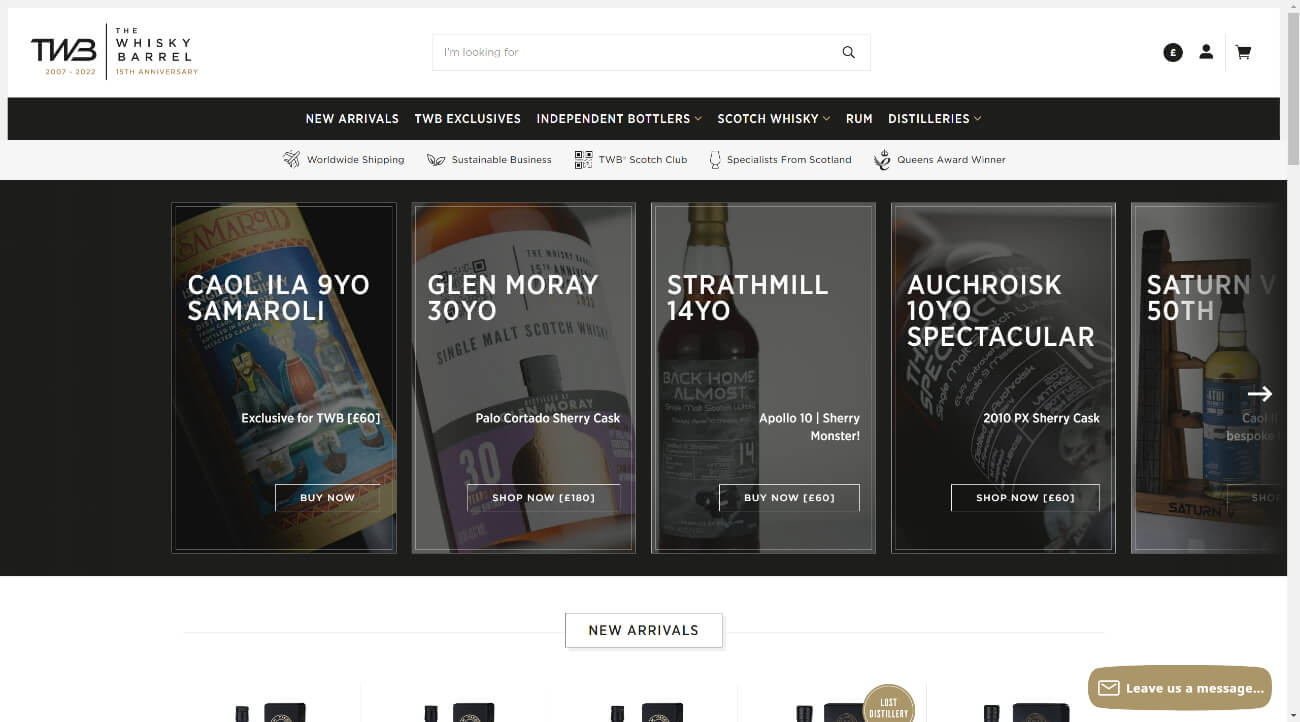 Currently celebrating its 15th anniversary, The Whisky Barrel is a family-owned-and-run whisky retailer and bottling company based out of the magical-sounding Kingdom of Fife in Scotland. Discerning customers can purchase fine and rare malt whisky, single grain Scotch and Irish whisky, and independent single cask whiskies.
The Whisky Barrel also presides over the largest privately held collection of maturing Scotch whisky casks in the world, according to the official blurb. Connoisseurs can purchase rare whiskies, if they so wish, from the likes of the GlenAllachie, Edradour, The Macallan, Laphroaig, Caol Ila, and Ben Nevis distilleries through the brand's website.
The Whisky Barrel ships worldwide and is a pro-sustainability business. They won the Queen's Awards for Enterprise in the International Trade category in 2019.
The Whisky Barrel's affiliate program is available on three networks: Awin, Sovrn, and FlexOffers. Affiliates can expect to earn 5% commissions on Awin, 5% on default commissions on Sovrn, and 4% of the sales on FlexOffers.
Winc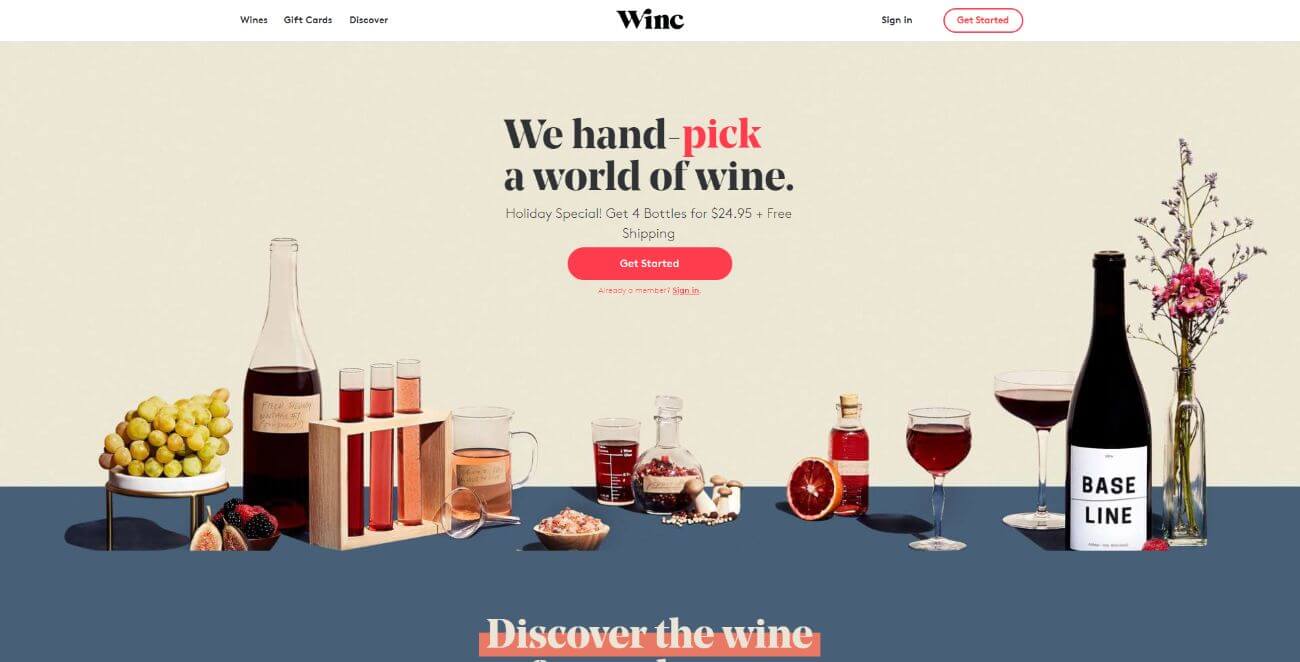 Program name: Winc Affiliate Program
Network / Software: Impact, Sovrn, Yazing, Skimlinks, FlexOffers
Commission: 25% on gift cards, $18.00 online wine sale (Impact), 40% (Sovrn), 25% on gift cards, $18.00 per sale (Yazing), 25% Gift Card Purchase, $75.00 online sale (Skimlinks), $32.00 on wine subscriptions, 19% of giftcard sales (FlexOffers)
Cookie duration: 30 days (Impact, FlexOffers), Not listed (Sovrn, Yazing, Skimlinks)
Markets: US (Impact), Global (Sovrn), Global (Yazing), US, MX, CA, ID (Skimlinks), Global (FlexOffers)
Winc is a personalized wine membership program with impressive branding, an easy-to-navigate website, and fun, upbeat marketing. The company makes and sells its own wine based on feedback from their clientele, which sets them apart from the competition. The brand has been featured in the likes of Forbes, Refinery29, and BuzzFeed, which supports its credibility when introducing it to new buyers.
The Winc affiliate program is hosted on a number of major platforms, each with above average competitive commission parameters. Thanks to its solid marketing strategy, branding, and social awareness, Winc is easy to remember, and easy to like, which makes it the full package for affiliates.
Are you struggling with tons of affiliate platforms and links?
If you're running website that's monetized with affiliate marketing, there's a high probability your affiliate commissions are scattered across a ton of different platforms.
This makes it hard to get an overview of what's working well, efficiently test different products and programs, let alone optimize your content for conversion.
Affilimate was designed to fix that. It helps you collect your affiliate data (clicks, commissions, and content analytics) into ONE place so you can optimize conversion and grow your revenue.
Start your free Affilimate account and get tracking today.