13 Best Art Affiliate Programs in 2023 (Based on Data)
By Irene Lopez · Updated Jan 16, 2023
There is a genuine market for art and craft supplies, which means that this niche can be just as profitable as an affiliate segment.
Online hobby and craft supplies in the US alone have steadily increased from $12.2 billion in 2018 to $15.1 billion in 2021. Globally, the arts and crafts supplies market is expected to grow at a CAGR of 8.1% to $62.51 billion by 2027.
Cash in on the wave by becoming an affiliate partner.
The sheer number of art affiliate programs out there can be overwhelming. But we've done the work so you won't have to! On this list, we're featuring some of the best art and craft supplier affiliates for a range of different product types so you can get started with earning commissions straight away.
How we compiled this list
To compile this list, we analyzed 25 of the most popular art and DIY blogs to discover which affiliate programs they promoted most often, using our Affiliate Link Scanner.
We then categorized them into the most linked-to affiliate programs on top blogs in the art niche. After all, if a blog or website links to the same merchant hundreds of times, there's a good chance it's because it converts.
The result is a data-backed list of art affiliate programs based on what's working for top sites in the niche. All based on publicly available data.
Art Affiliate Programs
The art affiliate programs below include a combination of places to buy art supplies, art courses, and DIY, craft, and paint affiliate programs.
Here are the best art affiliate programs to promote in 2023:
BLICK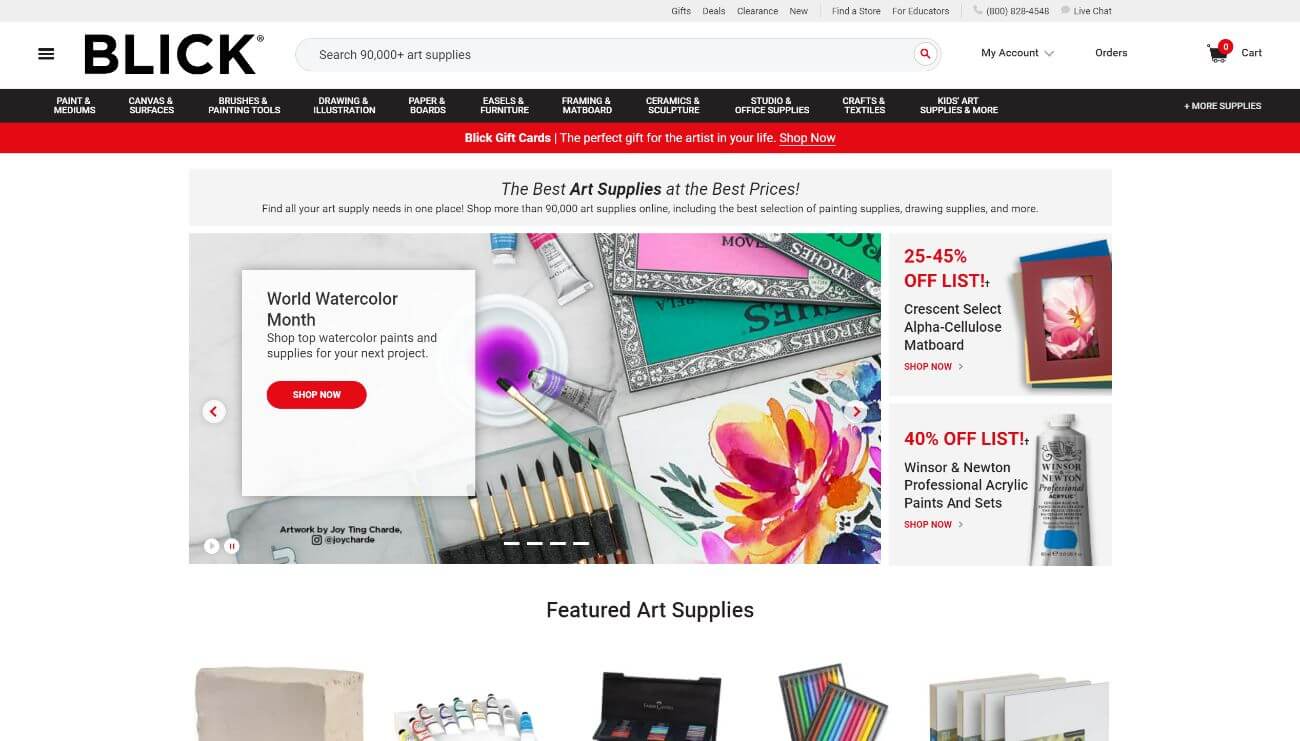 BLICK has a large collection of over 90,000 products featuring everything an art creator could possibly need. Just some of the items available for purchase include different types of paints, paint mediums and accessories, brushes, papers and boards, art studio furniture, clay and modeling materials, and office supplies.
The family-owned business has been serving the community since 1911 and was also voted America's Top Choice for Best Online Shops & Best Customer Service by Newsweek in January this year.
Currently, on BLICK's affiliate program, you can expect to earn 10% commissions for every online sale with one caveat — the sale should be completed within 24h of visiting the site. Also, orders for schools and business supplies are not considered eligible for commissions.
While the company is open to affiliates of any size, they do require you to abide by the Federal Trade Commission (FTC) guidelines with respect to the use of endorsements and testimonials to sell products. You also have to ensure your website doesn't contain any material that may be considered objectionable or offensive, like adult, hate, or defamatory content.
Yarnspirations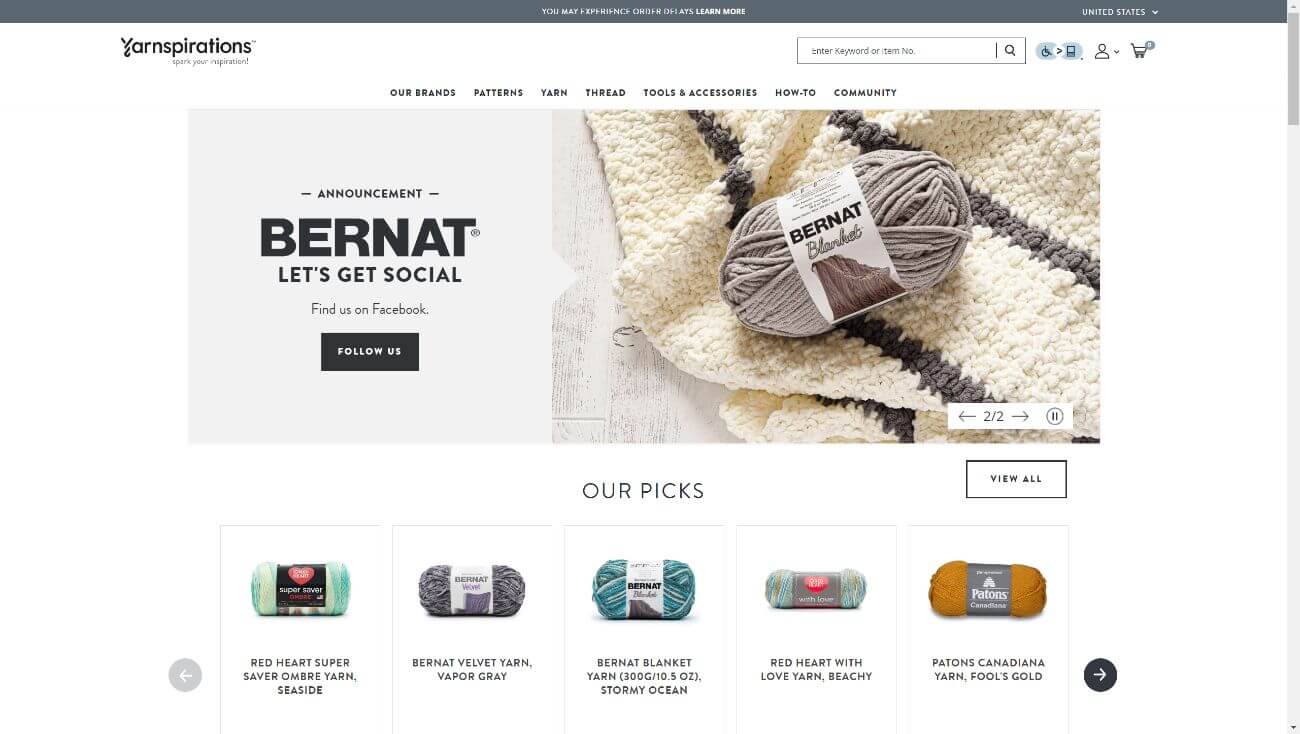 Canadian yarn retailer Yarnspirations is a crowd favorite among knitting and crochet enthusiasts featuring well-known brands like Bernat, Caron, Red Heart, Parsons, Lily Sugar'n Cream, and Coats & Clark in their portfolio. They're also a very visible brand with over 400K followers on Facebook and another 227K subscribers on YouTube.
In 2020, they partnered with Good Housekeeping to develop a Stitch club selling crochet and knitting projects for both beginners and experts.
The brand's affiliate program, available on CJ Affiliate, provides 8% commissions on qualifying sales. At the same time, you don't have to make minimum sales to qualify for commissions. Simply submit an application through CJ Affiliate to become an affiliate, and you can expect to receive a response or approval within 48 hours.
LoveCrafts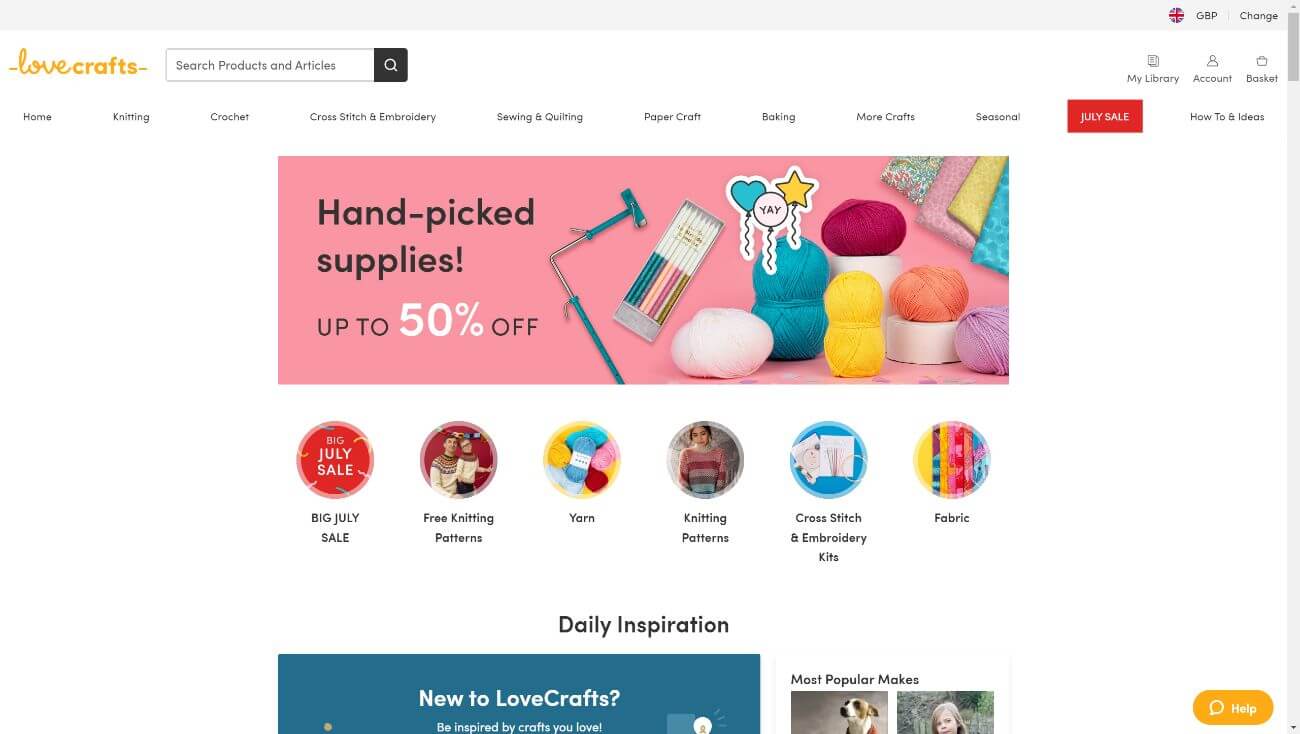 LoveCrafts is simply an online supply paradise for knitters, crafting, and crochet enthusiasts. Formerly known as LoveKnitting, the brand is home to over 80 brands, more than 50,000 patterns, and an exhaustive collection of accessories for devoted crafters. You'll also find an inspiring selection of how-to's and design ideas on the website.
For affiliates, to start with, you can expect high conversion rates as the site consistently offers attractive pricing together with regular deals. There's also a decent cookie window of 30 days. Earn 15% commissions for new customers and 5% commissions off of the sales from existing customers.
You have to achieve a minimum threshold of £10 ($13) in earnings before you can start to cash out on your commissions. The commissions themselves are paid out monthly.
Cubebrush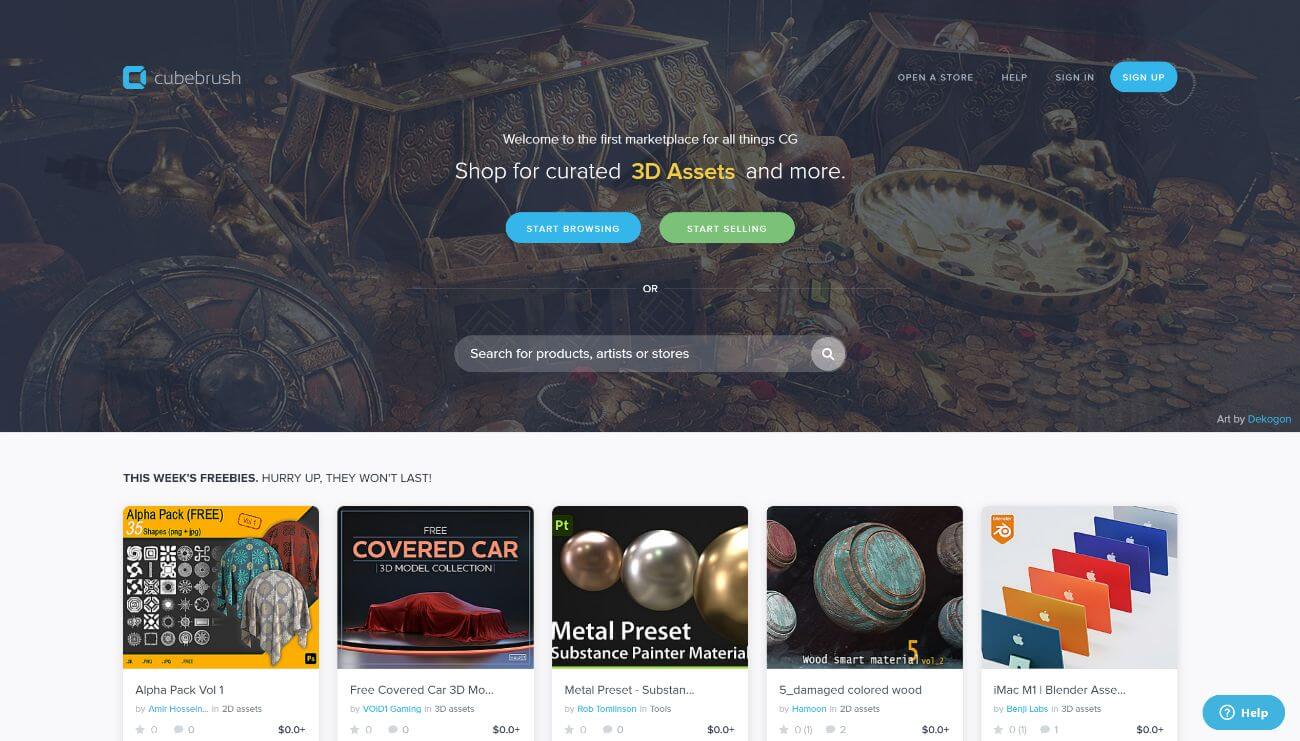 Program name: Cubebrush Affiliate Program
Network / Software: Direct
Commission: 75% for sales Cubebrush generate on your behalf, 90% for sales generated when you share your URLs directly or via social networks
Cookie duration: 30 days
Markets: Global
Cubebrush has the unique distinction of being the first online marketplace for all things CG (Computer-Generated) art. Artists, game developers, and designers can find various products, including 2D game assets, 3D print models, VR and AR models, tools, applications, stock photos, and sounds.
Cubebrush works on a revenue-sharing model and offers two options if you want to work with the brand — opening your own store on the platform or becoming an affiliate partner. To become an affiliate, there's just the one requirement — more than 100 followers, friends, or subscribers on at least one website.
Affiliates stand to earn 10% commissions on the sales generated from both existing and new customers. You'll be given a trackable link, and earnings will be credited twice a month.
Arteza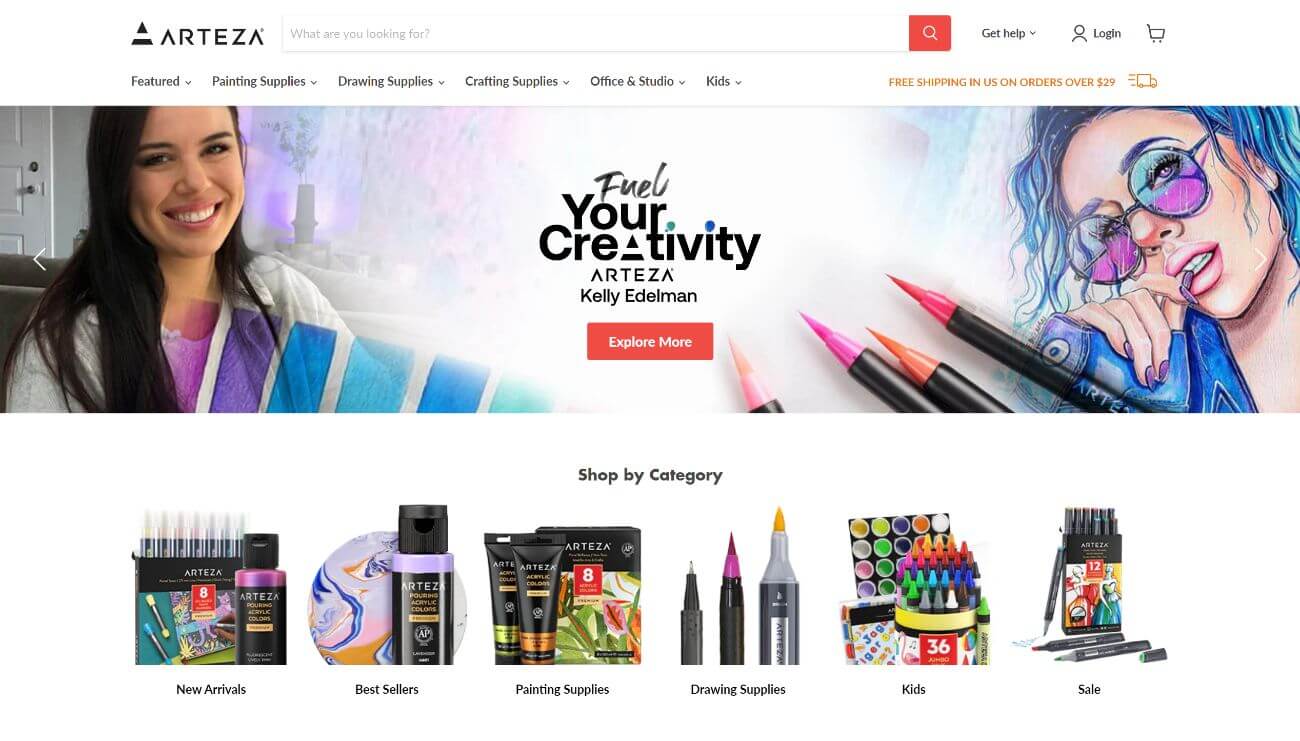 Program name: Arteza Affiliate Program
Network / Software: FlexOffers, Sovrn, Impact
Commission: 4% of sales [payout rate] (FlexOffers), 5% on online sale (Sovrn), 5% of order sale amount (Impact)
Cookie duration: 30 days (FlexOffers, Impact), Not listed (Sovrn)
Markets: US, UK (FlexOffers), Global (Sovrn), US, UK (Impact)
Arteza is a leading art and craft supplier headquartered in Florida close to Wynwood, one of the most well-known districts in the world for street artistry. Their products are sold to over 12 countries worldwide. The collection includes painting, drawing, crafting, kids' art, and office supplies.
The brand has previously been highlighted as one of the fastest growing businesses of 2020 and one of the "Best in Business" brands of 2021 by Inc. 5000.
Arteza's affiliate program is simple and easy to sign up for. Affiliates have the potential to earn 15% commissions on sales. The brand promises high conversion rates, and to support sales, they'll even create customized referral links for you. The links are trackable, and you'll have full visibility on your earnings through your dashboard.
You can also contact the team by email for any questions or concerns.
Creative Market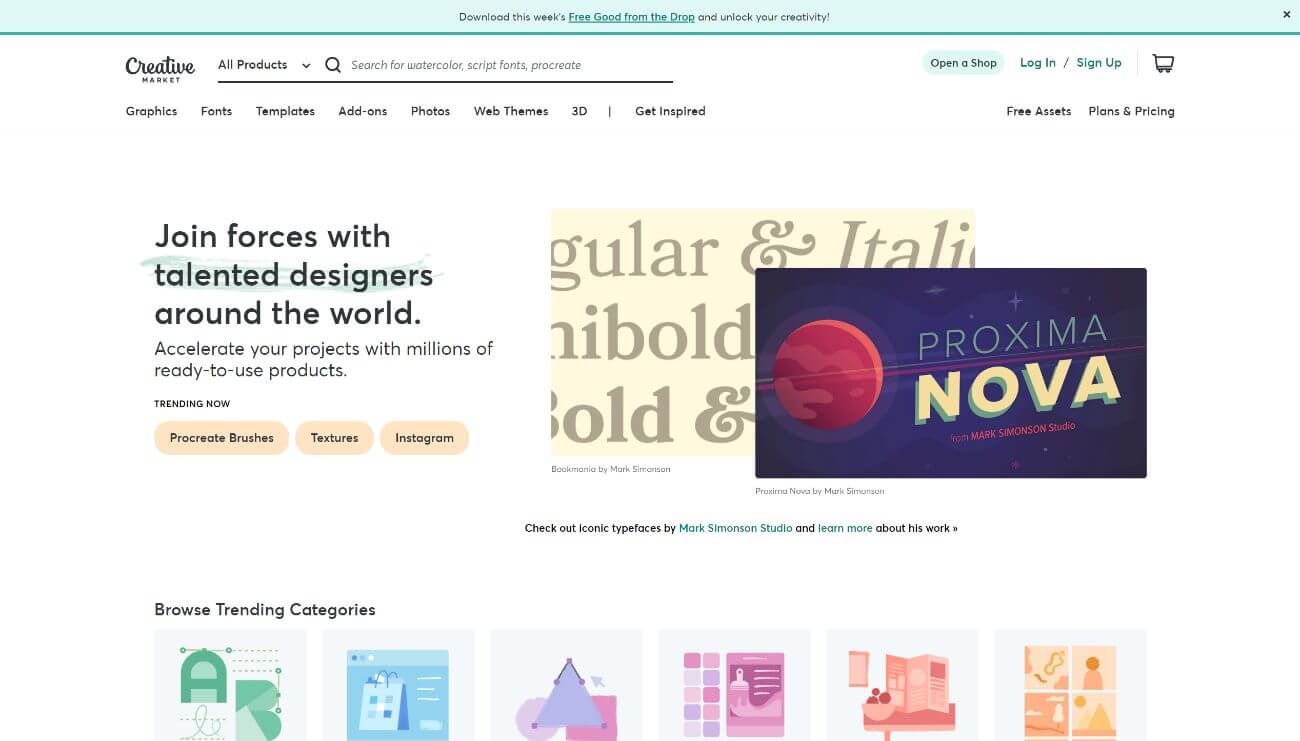 Creative Market is one of the most popular online marketplaces in the world for all kinds of digital art assets created by independent artists. You can find a large selection of graphics, fonts, photos, 3D models, templates, photos, and even website themes to kick-start your next design project.
Similar to how Arteza's partnership model works, you can create your own store on the Creative Market platform or become an affiliate for the brand.
Creative Market's affiliate program offers 15% commissions for new customers and 5% for existing customers. The purchases must have been made within 30 days of clicking your referral link to be eligible for the commissions.
You'll be asked two major questions when you sign up to be an affiliate partner — why you want to become a partner and how you plan to promote Creative Market as a partner. You'll also be asked to share your website link during the application process.
RedBubble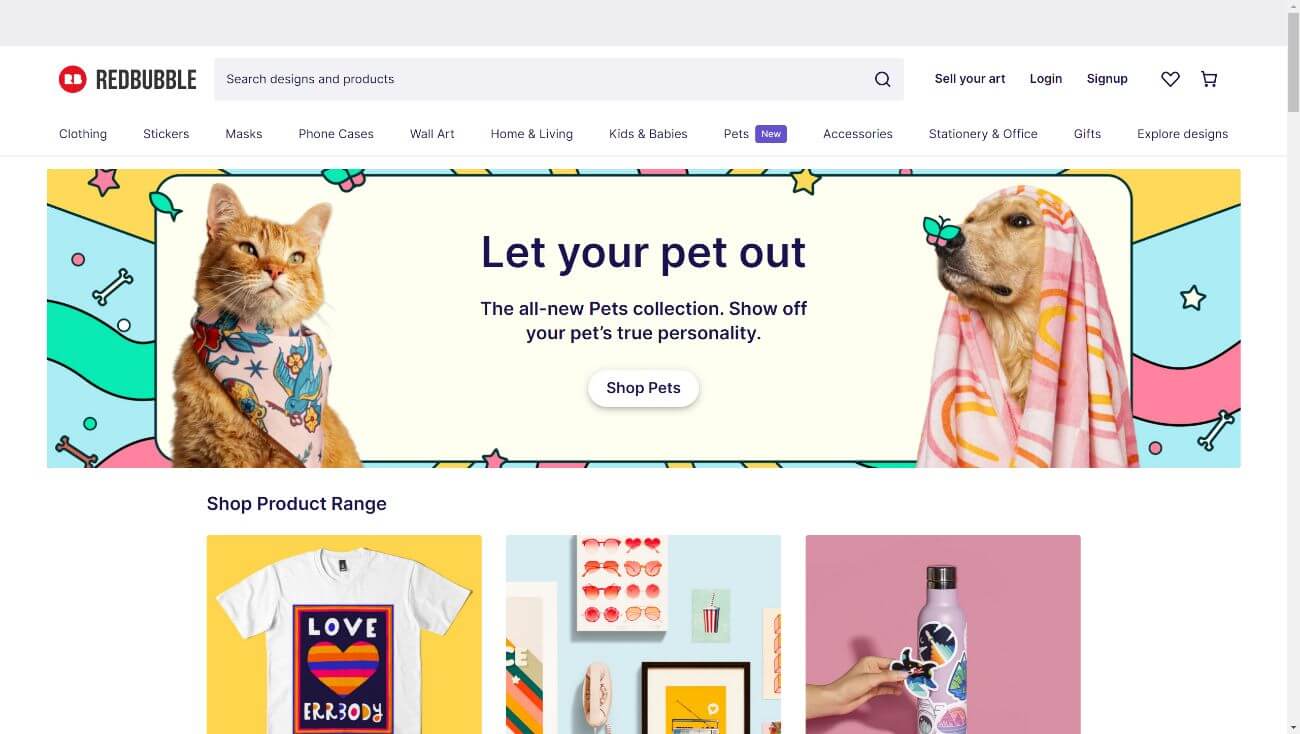 RedBubble is a global online marketplace for print-on-demand products based on designs created by independent artists. So, you can buy apparel, stickers, masks, phone cases, home, and living accessories, gifts, and so much more. Contributing artist members, meanwhile, can continue to hold copyright, set prices, and even decide which products can have their images on them.
To give you some sense of the numbers, the company expects to hit $1.25 billion in revenue by 2024.
RedBubble's affiliate program is pretty straightforward. You simply complete an online application form and have yourself approved. Choose your preferred products from the large range available and earn 10% commissions on all online sales plus bonuses. The company has a 30-day attribution window.
Creature Art Teacher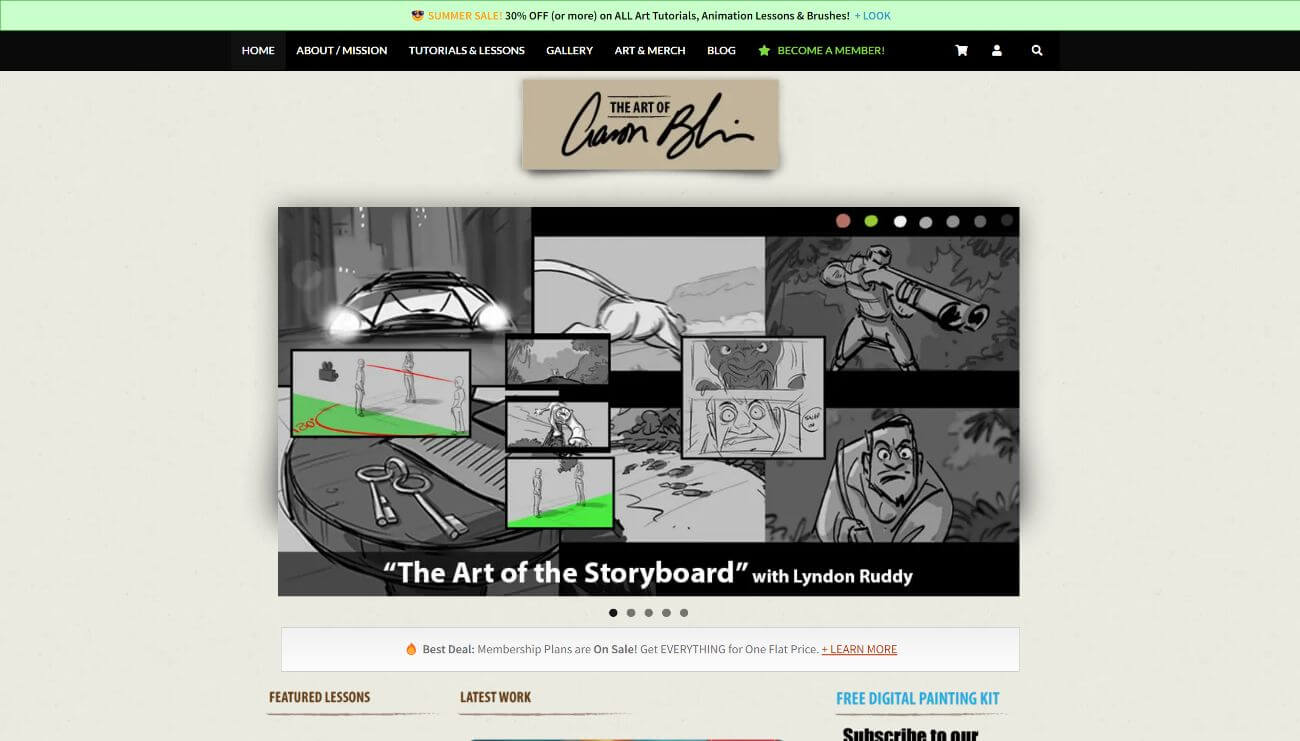 The Creature Art Teacher website is the brainchild of veteran animation film director and wildlife artist Aaron Blaise. Blaise has several well-known and much-loved animated films to his credit, including Disney classics like Beauty and the Beast, Aladdin, The Lion King, and Pocahontas.
Creature Art Teacher features animation tutorials and lessons on other forms of drawing. Blaise also sells art, merchandise, and art books in his store. Members can sign up for monthly or yearly plans to avail of discounts on video art courses, merchandise, and artwork.
Only registered members are eligible to participate in the affiliate program currently. Contact Aaron's support team here for more information.
Swing Design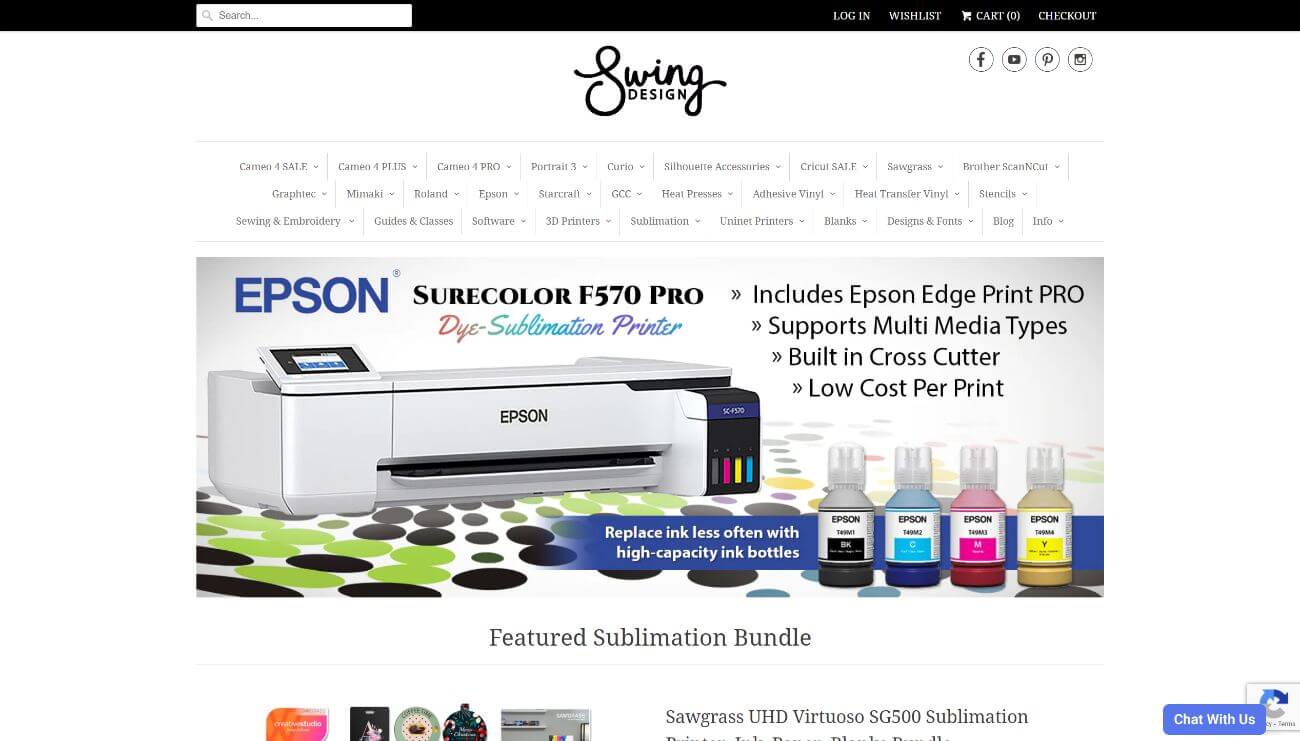 Swing Design specializes in products for the Silhouette Cameo desktop cutting machines range, sublimation, and solvent printing. Other well-known brands in the portfolio include Oracal, Sister, Epson, Brother and Cricut. Desktop cutting machines, incidentally, are a favorite for serious DIY enthusiasts as they offer precision cutting of different kinds of art and craft materials like vinyl, cardstock, crepe paper, foam, fabric, chipboard, and leather.
Swing Design's affiliate program is currently available on ShareASale and you can apply for the program here. They currently offer 5% commission per sale and to give you some sense of earning potential, the company states that their average order value is in the region of $150.
Aside from desktop cutting machine products, the company also deals with large retailers like Crate & Barrel, Restoration Hardware, and Bed Bath & Beyond. So if these companies are aligned to what your website sells, there is an opportunity to sell even more!
Design Cuts
DesignCuts is an online hub for affordable digital design assets. Their exhaustive range includes graphics, templates, and fonts. The graphics section alone has backgrounds, elements, textures, infographics, patterns, photo packs, icons, motion graphics and illustrations.
The company also appears to have an excellent reputation online, with an average Trustpilot rating of 4.8/5 from over 400 users.
As an affiliate, you'll receive 20% commissions on all referred customers. All you need to do is complete the application form, and you're in - no approval required. You'll be directed straightaway to your own dashboard so you can create your unique referral links and track your earnings.
You'll also be given access to the company's Affiliate Academy for training resources and receive promotional emails weekly. The team is on hand to answer any questions you have or for additional support.
Etsy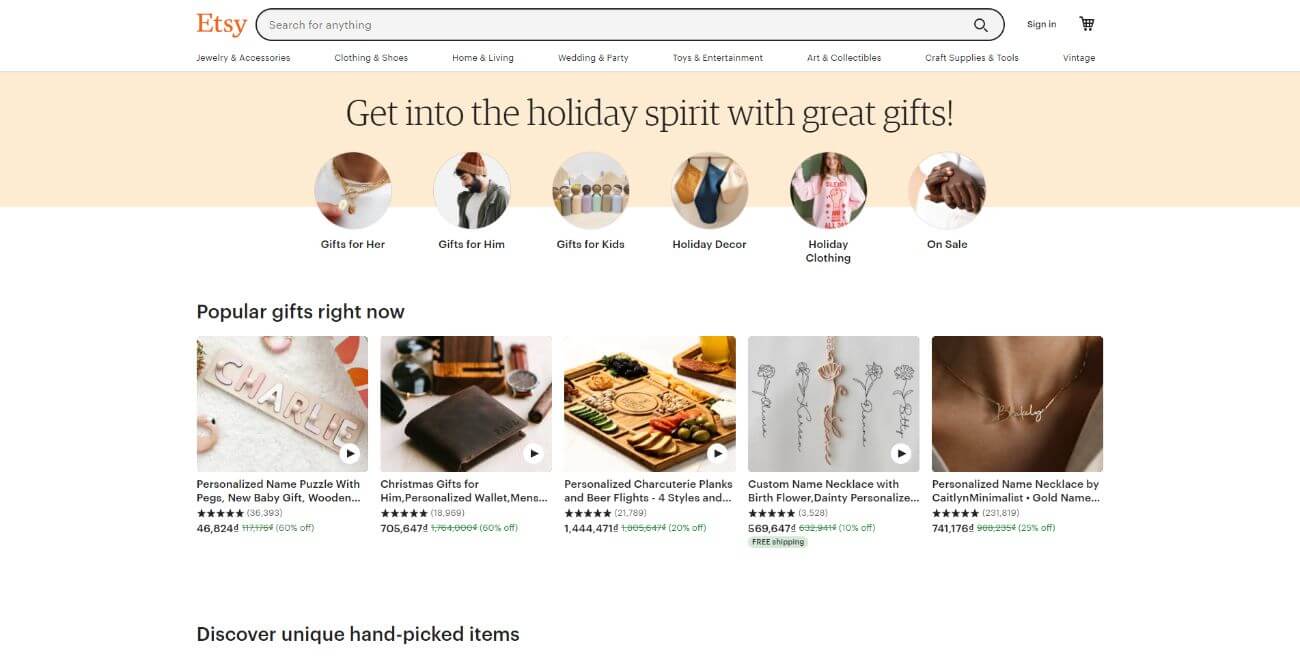 Etsy is an online retailer hosting all kinds of products from artists, and makers from around the world. You can find just about everything on their platform, from clothing and apparel, to homeware, to wedding accessories. Etsy is especially useful for customized gifts and unique finds.
If you're a lifestyle blogger, Etsy is a great affiliate option because it covers so many categories. The program offers an average 4% commission per sale, but because there's such a range of products and prices, commissions could be huge if you have a niche audience.
Adobe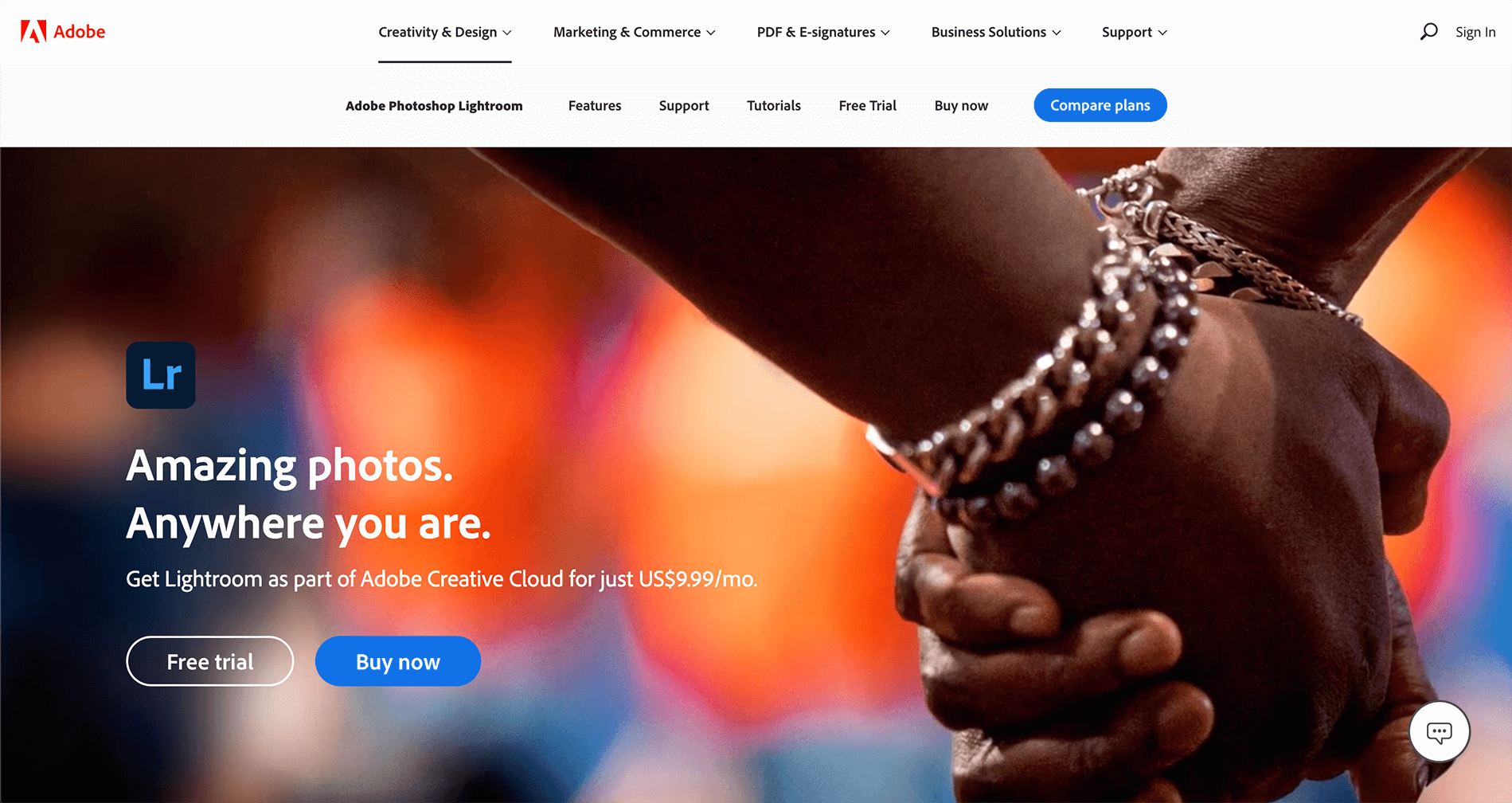 Program name: Adobe Affiliate Program
Network / Software: Partnerize
Commission: 85% of first month (for Creative Cloud), 8.33% of first year (for Creative Cloud), $72.00 for Adobe Stock subscriptions, 8.33% for single stock photo purchases
Cookie duration: 30 days
Markets: Global
Alternatives: Canva at $36.00 per sale of Pro plan
If you've been doing affiliate marketing for any amount of time, you'll quickly learn that software and non-physical goods tend to offer some of the best commissions. That's why we're including not just places to buy gear but also some of the most popular software photographers use day-to-day.
Adobe Lightroom is easily the most popular photo editing software used by photographers. If you do tutorials for Lightroom or create introductory content for photographers, this program could be a great fit for your site.
Offers: Photo and video editing software, stock photos (one-off or subscription)
Udemy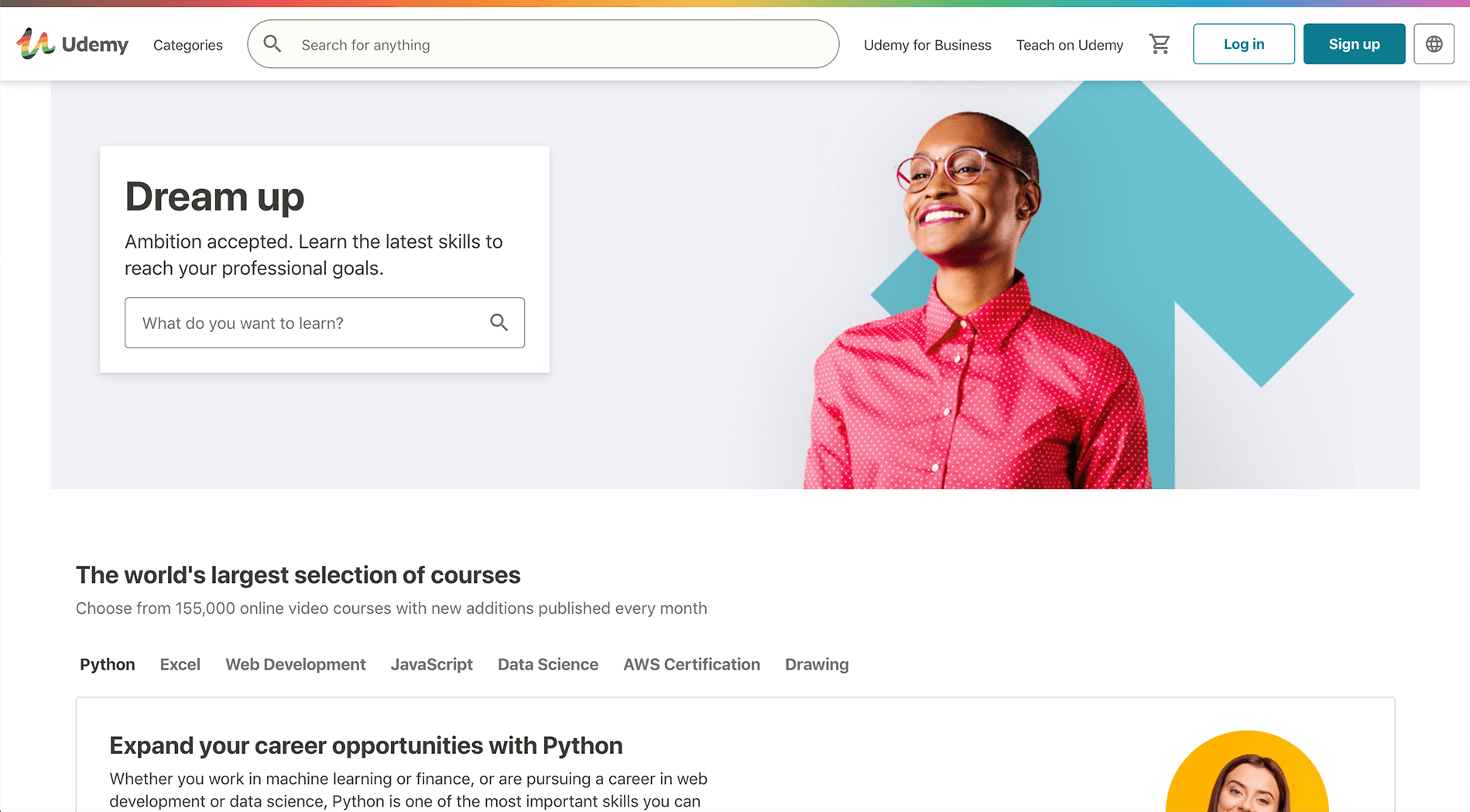 Program name: Udemy Affiliate Program
Network / Software: Rakuten, Sovrn, Awin, AdmitAd
Commission: 15% depending on publisher
Cookie duration: 7 days
Markets: US (Rakuten), Global (Sovrn), US, ES, NL, IT, FR, CA, PL, DE (Awin), US, RU (AdmitAd)
Alternatives: Coursera at 10-45% commission (Rakuten), 10% commission (Skimlinks), Masterclass at 25% Commission (Skimlinks), 25% per subscription purchase (Impact), or Teachable at 30-70% Depends on the course, often 30-70%
Udemy is without a doubt, one of the most popular education affiliate programs, according to our analysis of affiliate links from top elearning websites.
It has over 155,000 courses, each managed by independent instructors. Anyone can create and publish a course on Udemy, so be sure to vet the quality of courses before recommending them.
At only 7 days, it's cookie window is 75% shorter than the industry standard of 30 days. In practice, this means customers must arrive at your link ready to buy. Luckily, Udemy has a Marketplace Insights tool that you can use to gauge the most popular courses and perform niche research.
Although Udemy does provide assets like banners and images, these assets look like ads and in general do not convert as well as deep links. Deep links are hyperlinks that direct your audience to a specific place on a website. In this case, a specific course.
Are you struggling with tons of affiliate platforms and links?
If you're running website that's monetized with affiliate marketing, there's a high probability your affiliate commissions are scattered across a ton of different platforms.
This makes it hard to get an overview of what's working well, efficiently test different products and programs, let alone optimize your content for conversion.
Affilimate was designed to fix that. It helps you collect your affiliate data (clicks, commissions, and content analytics) into ONE place so you can optimize conversion and grow your revenue.
Start your free Affilimate account and get tracking today.