8 Best Beer Affiliate Programs in 2023 (Based on Data)
By Chrissy Kapralos · Updated Mar 5, 2023
From sours and ciders to stouts and IPAs: people like beer. Monetize that universal pleasure with beer affiliate programs.
In Ireland, the smooth, creamy dark Guinness is the provision of choice. In Italy, you're looking at a crisp, refreshing Peroni. Yet North Americans get to enjoy beers from all over the world with every local restaurant's import list. About 42% would pick beer over any other alcohol offering. And innovative beer subscriptions give your audience the best of all worlds.
Today's affiliate marketer doesn't have to be a marketing guru to make money. All it takes is an interest, expertise, and a little persuasion. Do you get excited about your local pub's amber-ale special or relish discoveries of new breweries and flavors? You're halfway there already. Eighty-one percent of brands have affiliate programs, and the beer biz is no exception.
If you're ready to make money off your passion for beer, keep reading. We'll walk you through our roundup of the best beer affiliate programs of 2023.
How we compiled this list
Here at Affilimate, we know a thing or two about analytics, especially in the blogging world. Our business is to measure performance for our clients, tracking every click, dollar, and insight in their affiliate partnerships.
Our link scanner tool reveals the most linked-to merchants and programs in the beer niche, by looking at top beer blogs.
Digital food publication Delish was just one of those examples. Hint: they're promoting Beer Drop, one of the beer affiliate programs on our list!
We used those results from the Link Scanner to put together this list, entirely based on publicly available data.
Beer affiliate programs
These are the best beer affiliate programs, based on data:
Beer of the Month Club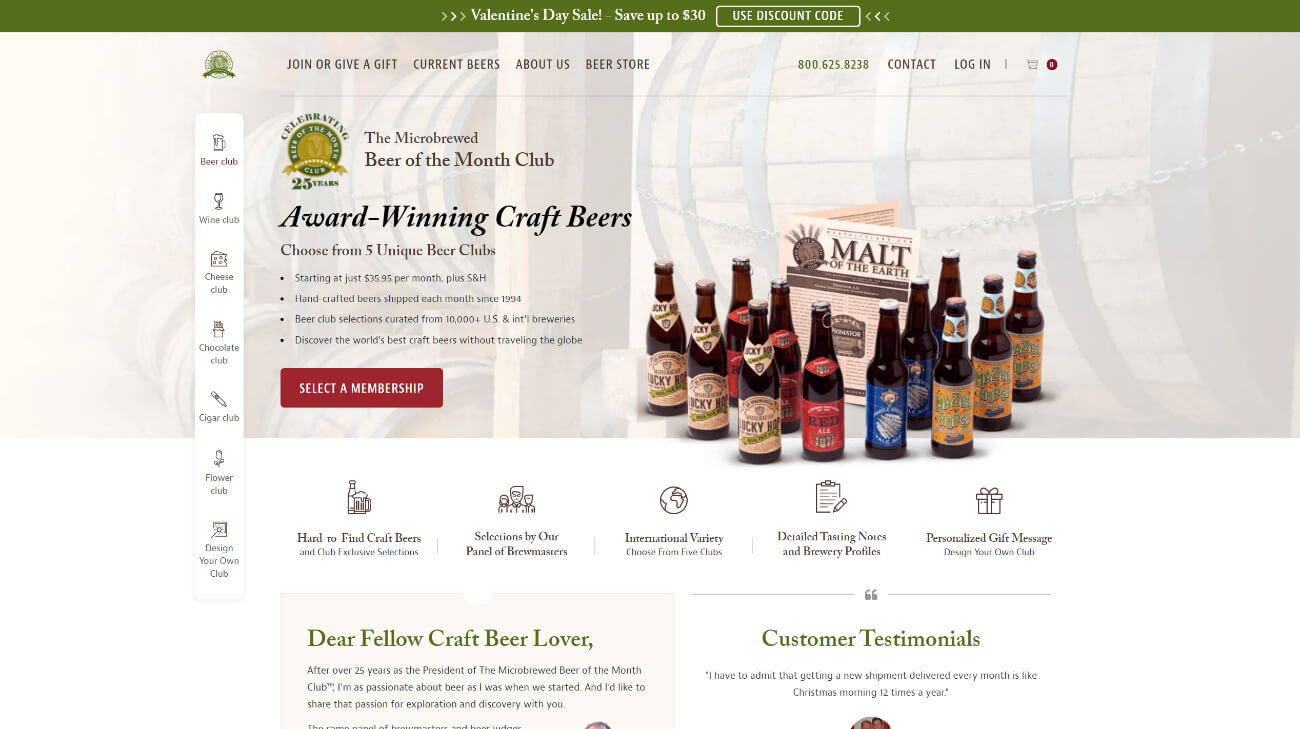 Program name: Beer of the Month Club Affiliate Program
Network / Software: CJ Affiliate, Yazing, Skimlinks
Commission: $10.00 per item, commission increased by number of purchases (CJ Affiliate), $0.00-$18.00 per sale (Yazing), 5% per sale (Skimlinks)
Cookie duration: 90 days (CJ Affiliate), Not listed (Yazing, Skimlinks)
Markets: US, MX, CA, DE, UK (CJ Affiliate), Global (Yazing), US, UK (Skimlinks)
If you're looking to wow a beer-enthusiast audience with a killer subscription, Beer of the Month Club is a sophisticated partner for your affiliate strategy. These guys have tons of industry experience (launched in 1994) and have worked up to becoming the #1 beer subscription in the country.
They're super invested in seeing you succeed. We can't think of other beer affiliate programs that actually give their affiliates long-tail keyword suggestions to drive traffic! Beer of the Month also scores serious points for their 90-day cookie window and $12-$18 flat commission rates. This is a sigh of relief for some affiliates. You don't have to stress about marketing the most expensive item to see worthy revenue.
Just give your online presence a sensitivity sweep first. This affiliate program won't take kindly to any offensive or questionable content regarding legality.
Beer Drop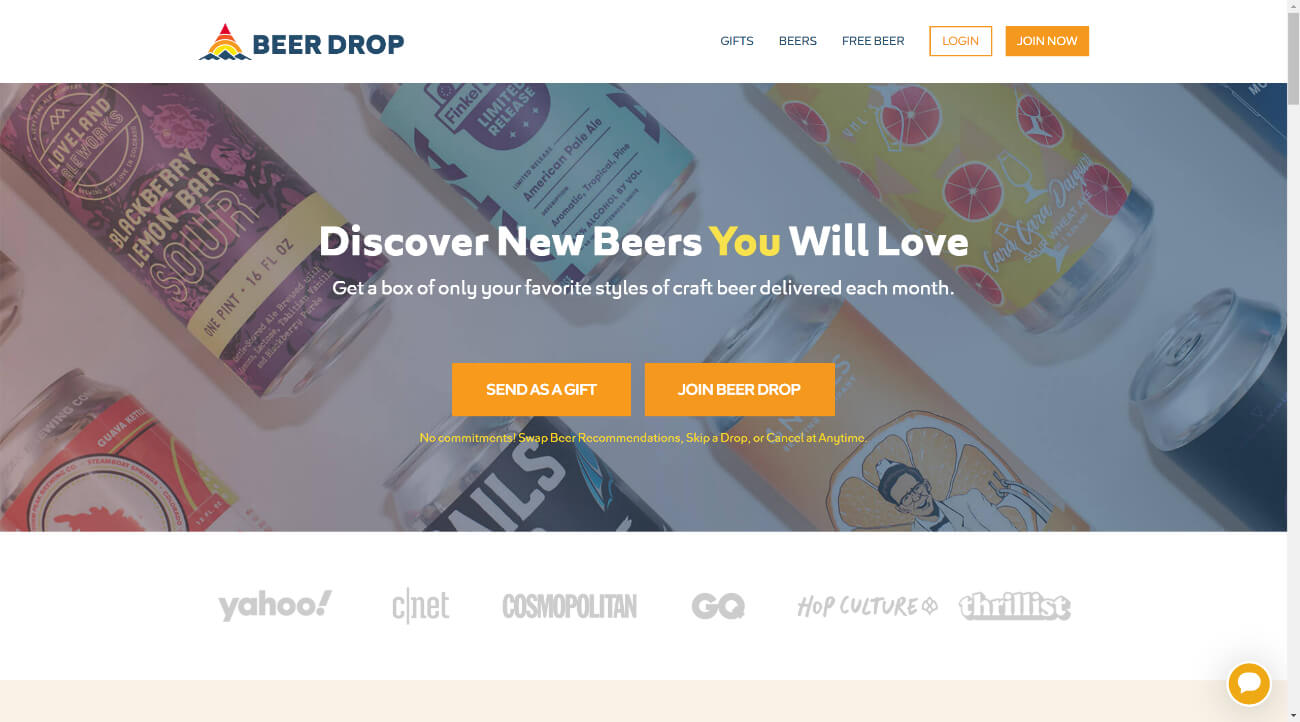 Beer Drop is the perfect subscription for beer beginners and aficionados for its awesome customization and flexible month-skipping policy. You're not limited to a serious beer audience with this one either, since subscribers will enjoy a choice of lagers or stouts, sours or hops — endless tastes (and budgets) to satisfy!
Still, a heavy-informed beer audience will enjoy Beer Drop's 1,500+ annual beers, including the small breweries too far away to try on their own.
The customization aspect makes it a perfect content addition to gift guides for him or her, or a fabulous social media affiliate campaign where you try a new category of beers each month. Now, for the moolah. Enjoy a nice 10% affiliate commission for one-month or 12-month (hello, dollar signs) orders. Your audience might take longer to decide on a commitment, but Beer Drop's generous 90-day cookie window helps you manage indecisiveness.
On top of that, Beer Drop offers performance bonuses to reward your hard work. And if you're itching for a stout or amber yourself? You can try Beer Drop's subscriptions for free as an affiliate.
BrewDemon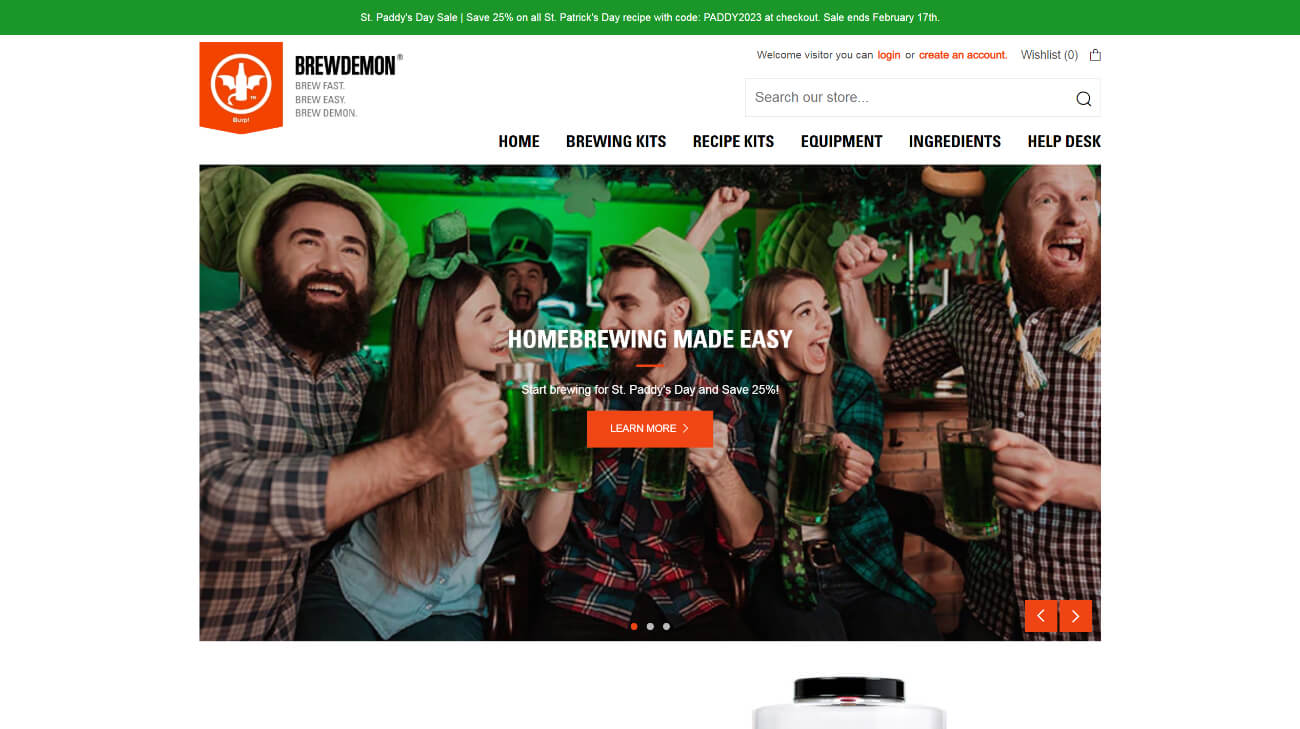 BrewDemon's affiliate program is for marketers, bloggers, and publishers with an audience who knows their beer. If you cater to at-home brewers, bar owners, and bartenders, too — all the better. This brewing-kit company is based in Arizona, which could also be a plus for lifestyle affiliates with a desert vibe.
Still, this brand also sells seltzer and cider kits too for audiences with varied alcohol tastes.
We love the 8-12% commission with AvantLink, which can bring you a pretty penny if you could swing sales for the more expensive $155 kits. But you'll have to balance that with a 30-day cookie window, which isn't competitive compared to other programs on our list. However, BrewDemon loses points for their nothing-special 30-day cookie window. You'll have to up the urgency to catch those commissions, or ensure your audience is primed to buy.
We're big fans of the holiday-inspired kits, promising a ton of content opportunities year-long. And if you crave some inspo, pick from BrewDemon's regularly updated creatives.
Brooklyn Brew Shop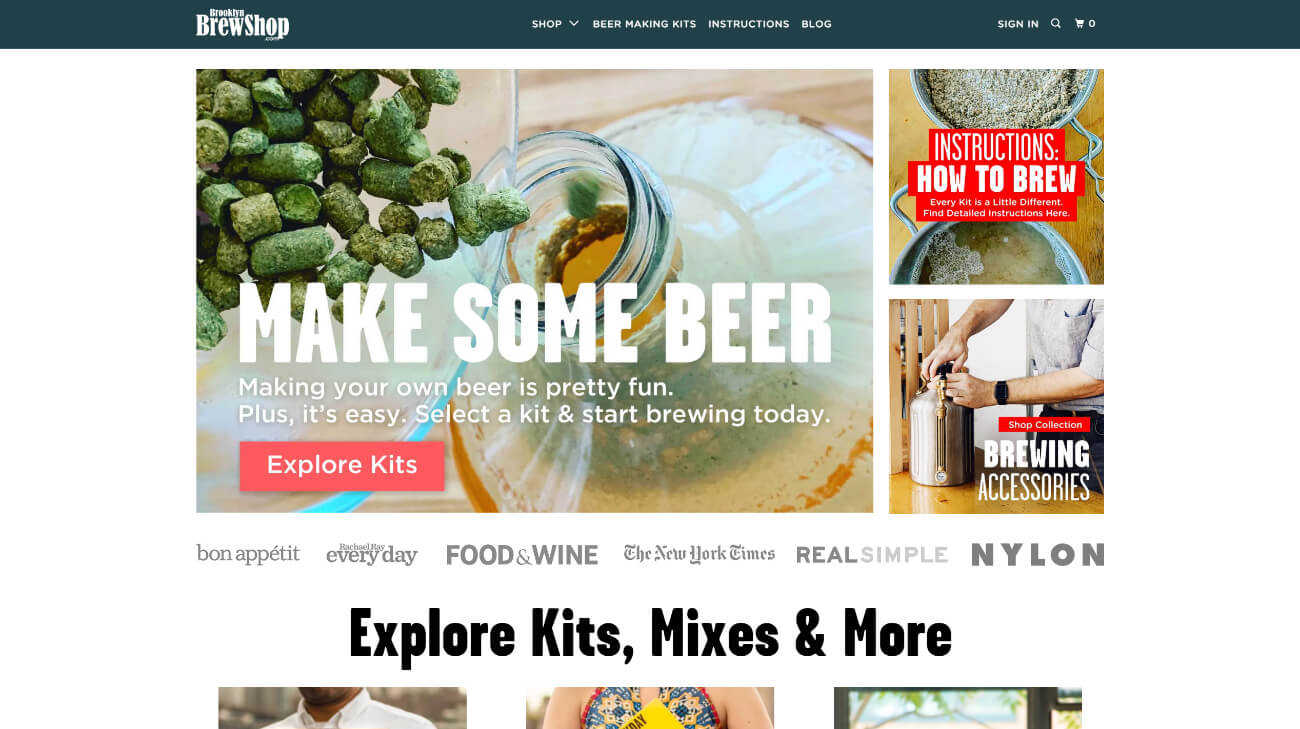 Looking for a beer partner with serious street cred?
You might seek a brand featured in the New York Times, CBS, Forbes, Rachel Ray, and Food & Wine Magazine — like the Brooklyn Brew Shop!
This beer-making kit provider has been catering to the DIY and beer crowds since 2009. They also have a unique selling point in their kits — compact enough for small spaces, a fantastic addition for affiliates with New York City or minimalist audiences.
The 60-day cookie window is better than average, but the commission is off the charts compared to other beer affiliate programs at 15%. A nice bonus is their wide range of shipping options. Affiliates in the US, Asia, Europe, and Canada can comfortably partner with them, as they ship all over.
Drizly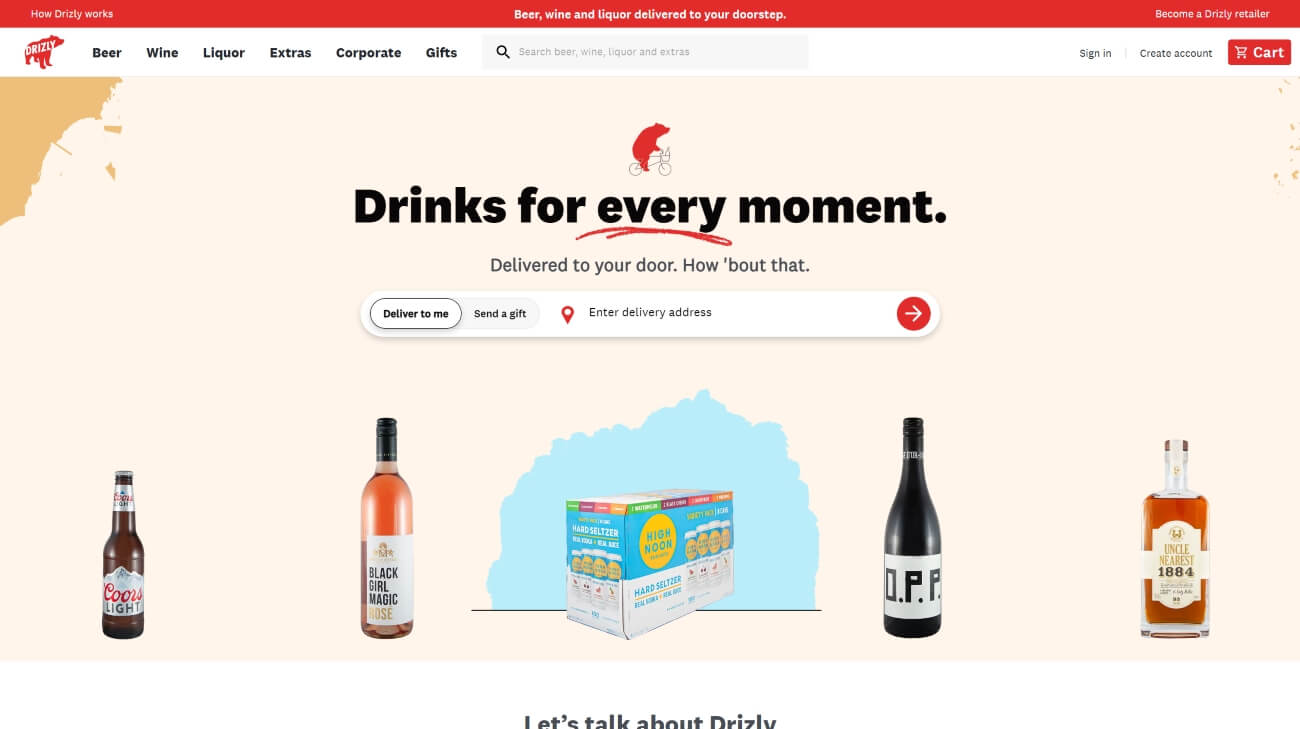 Program name: Drizly Affiliate Program
Network / Software: Impact, Skimlinks, Sovrn
Commission: 0% (Impact), 8% of in app sales and online for new customers (Skimlinks), 0% (Sovrn)
Cookie duration: Not listed
Markets: CA, US (Impact), CA, US, MX, UK (Skimlinks), Global (Sovrn)
Drizly stakes claim to being the largest online marketplace for alcohol in North America. Consumers can compare prices across multiple stores as they shop for their favorite alcoholic beverages online.
An Uber company, Drizly has partnered with over 1400 retailers across North America and Canada to sell a wide selection of beer, wine, liquor, and other "extras" (think food and snacks, party supplies, bitter, gifts, juices, etc.) through their online ecommerce store. The promise? Alcohol delivered to adults of legal drinking age in under 60 minutes!
Drizly joined forces with GoPuff in January to further expand its base of products while taking advantage of GoPuff's extensive e-commerce fulfillment locations.
Drizly currently offers its affiliate program through Impact. Affiliates can expect to earn 3% commissions on all sales with an average order size of $70+ (average cookie duration of 30 days). The payments are made for the first time a customer visits the company site to make a purchase. Affiliates can also access a dedicated account management team, marketing creatives, and ongoing promotions and special offers.
Drizly has an average rating of 4.4 out of 5 stars on the Google Play store, as rated by over 27k reviewers. It's also rated 4.8/5 by over 140k reviewers on the Apply app store.
Saucey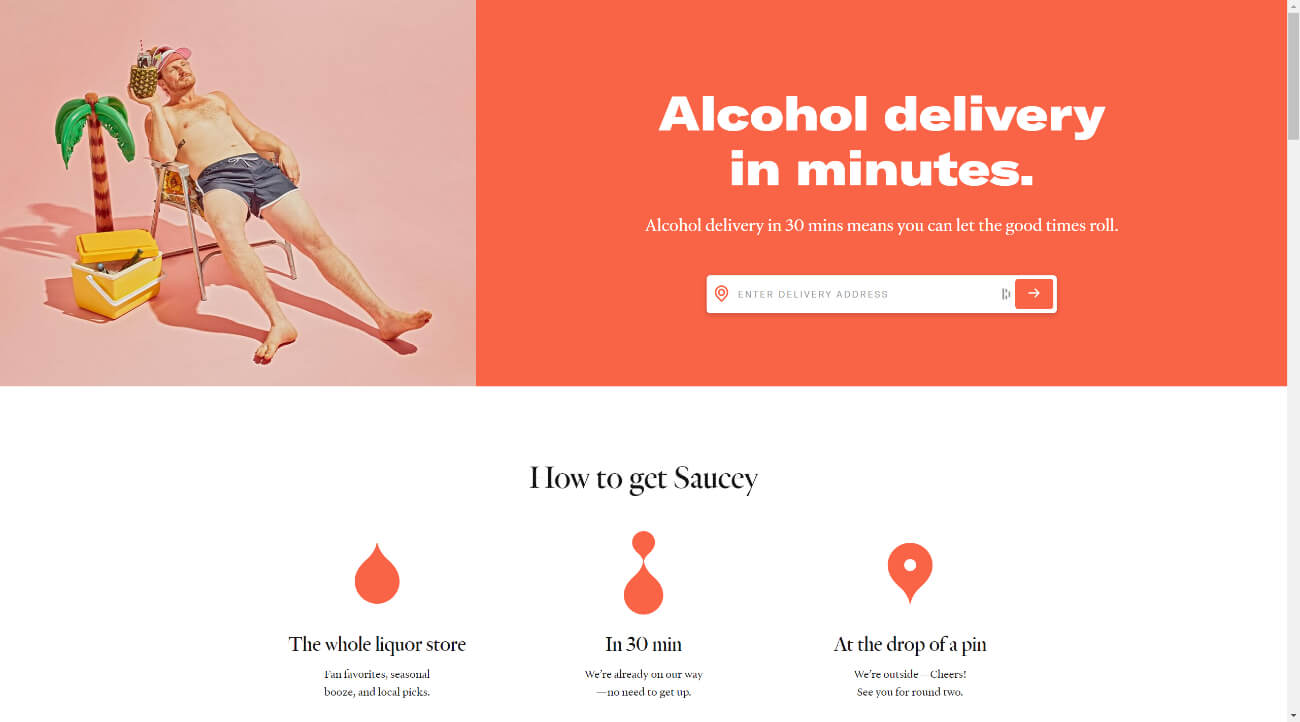 Program name: Saucey Affiliate Program
Network / Software: Skimlinks, Sovrn, ShareASale
Commission: 10%, 15% if sale transaction date is within the time range Oct 24th 2022 to December 31st 2022 (Skimlinks), 6% on default payout (Sovrn), 4% per sale (ShareASale)
Cookie duration: Not listed (Skimlinks, Sovrn), 30 days (ShareASale)
Markets: US, UK (Skimlinks), Global (Sovrn), US (ShareASale)
Los Angeles-based Saucey, founded in 2013, is another fast-growing player in the on-demand alcohol delivery space. The brand is able to assure fast deliveries in under 30 minutes on account of its solid delivery network spread across the US. More cities are continually being added to the network. They also offer a two-day and ground shipping service in New York and California.
Saucey's core USP is, in their own words, being "the fastest, easiest, and most reliable way to order beer, spirits, and wine." You can opt to have your delivery done as soon as possible or schedule it for later. Customers can also buy liquor, mixers, ice, and party supplies online through the website.
Saucey's affiliate program is currently being managed by DMi Partners, and you can find the program listed on affiliate networks such as Skimlinks, ShareASale, and Sovrn. Commissions can vary depending on the network. The average cookie duration is 30 days.
Craft Beer Club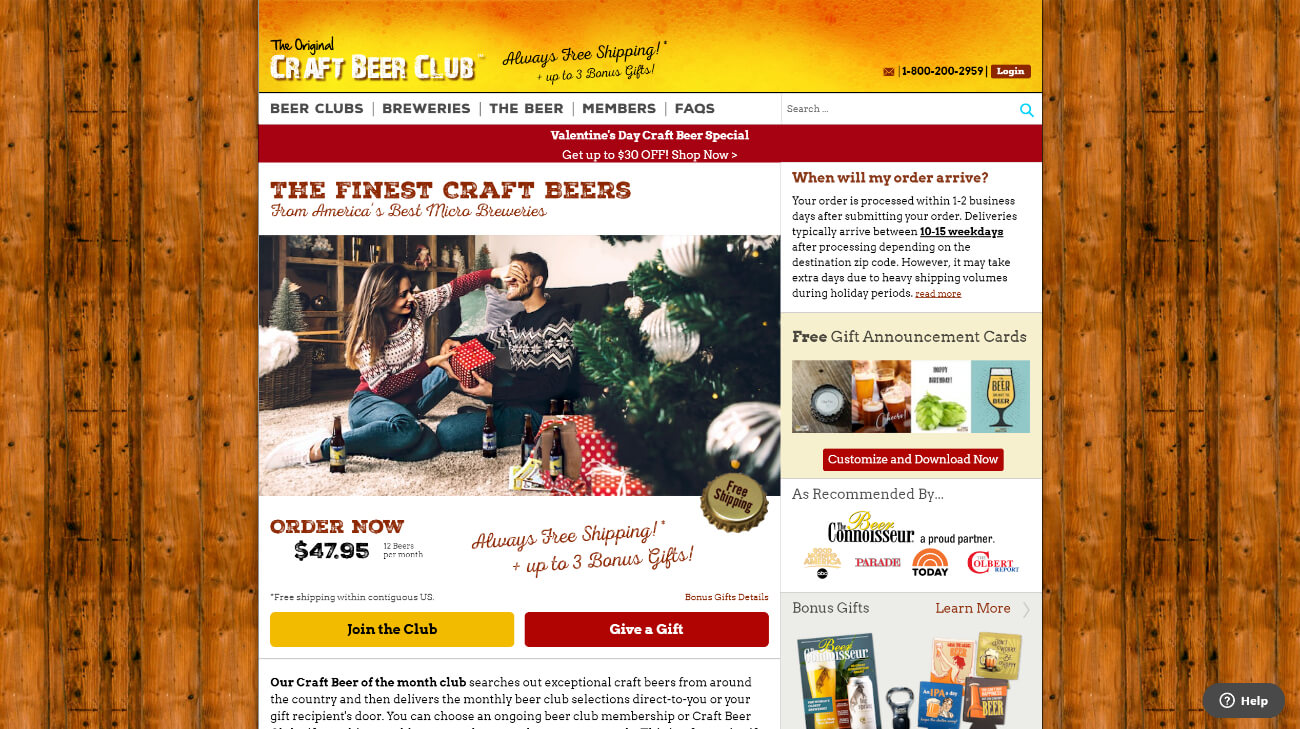 CraftBeerClub provides high-quality beers from America's best breweries with no shipping fee, ever, within the contiguous US. The brand's USP is its Craft Beer Club, where you can sign up to be a member without paying a membership fee and purchase 12 beers a month (currently for the price of $47.95 per shipment). Three bonus gifts are included in the first shipment on all eligible orders.
If you have beer lovers on your affiliate marketing list, they are sure to enjoy the monthly Craft Beer Club selections. Each monthly shipment features two different breweries from two different regions in the US and includes four different beer styles (two from each brewery). The selections change monthly and incorporate the finest award-winning, flagship, or most popular beers from the respective breweries.
Your referrals can purchase the monthly beer selections themselves or gift them to others. Customers can choose from between 1 and 12 shipments. They can also opt for monthly, every-other-month, or quarterly shipments.
Affiliates can earn 5 or 10% commissions depending on the network. Worth noting is the cookie duration which is seven days only.
Minibar Delivery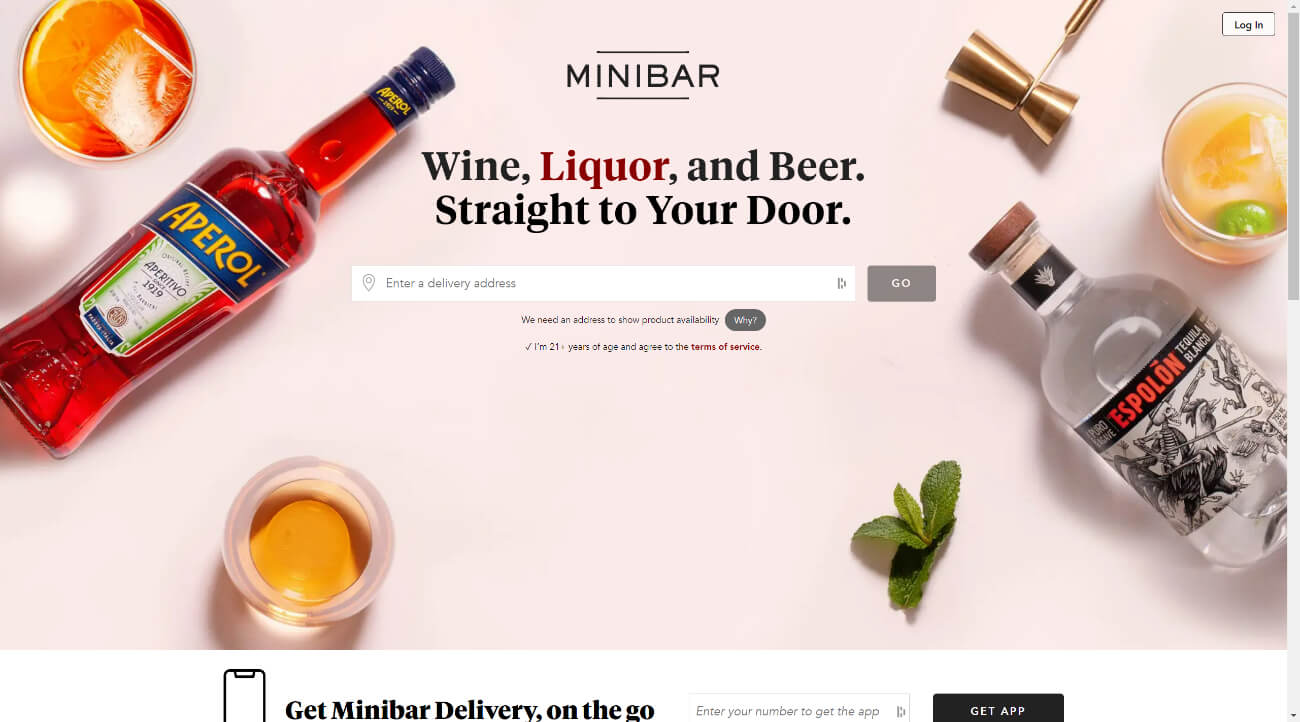 New York-based Minibar Delivery is a leading provider of on-demand delivery services for wine, beer, liquor, mixers, and more in over 50 cities in the US. The brand's USP is its large selection of alcohol at competitive prices and instant delivery in as little as 60 minutes of the purchase through tie-ups with local vineyards and vendors. Minibar Delivery also ships to 40 states in the US.
The brand has a strong presence on social media, with over 35k followers on Facebook and a similar followership on Instagram. It's also rated a solid 4.7/5 by close to 6,000 reviewers on the Apple app store.
Minibar Delivery was acquired by ReserveBar in 2021.
Affiliates can expect to earn $2 per sale/lead on ShareASale and 4.43% as an average network rating on Sovrn. Minibar Delivery also has its own Refer a Friend program applicable to new customers. Referral rewards are paid out in increments of $10 provided the individual order value is greater than $25 minus other charges like taxes, shipping, returns, etc.
Are you struggling with tons of affiliate platforms and links?
If you're running website that's monetized with affiliate marketing, there's a high probability your affiliate commissions are scattered across a ton of different platforms.
This makes it hard to get an overview of what's working well, efficiently test different products and programs, let alone optimize your content for conversion.
Affilimate was designed to fix that. It helps you collect your affiliate data (clicks, commissions, and content analytics) into ONE place so you can optimize conversion and grow your revenue.
Start your free Affilimate account and get tracking today.