20+ Up-to-date Affiliate Marketing Statistics for 2023
By Natalie Robin · Updated Jan 20, 2023
Affiliate marketing is a very hands-off business model, which makes it a great revenue stream for online publishers.
However, developing marketing strategies to support your affiliate marketing business is a must, and a great strategy is always backed by data-driven affiliate marketing statistics.
In this article, we'll be covering the top affiliate marketing statistics of 2023 so that you can add this data to your digital marketing toolbelt.
This includes global and US-based affiliate marketing trends, online shopping innovations, data security best practices, and current industry opportunities.
With these affiliate stats, you can create an informed content strategy to set yourself up for success whether you're a business looking to start a program of your own, or a publisher hoping to earn some extra cash.
What is affiliate marketing?
Affiliate marketing is a revenue model in which online publishers earn commissions on products they refer sales to.
Think of it as the digital version of a retail salesperson working for commission.
The process is simple enough; creators and publishers with established online audiences can sign up to affiliate marketing programs in order to advertise products and services.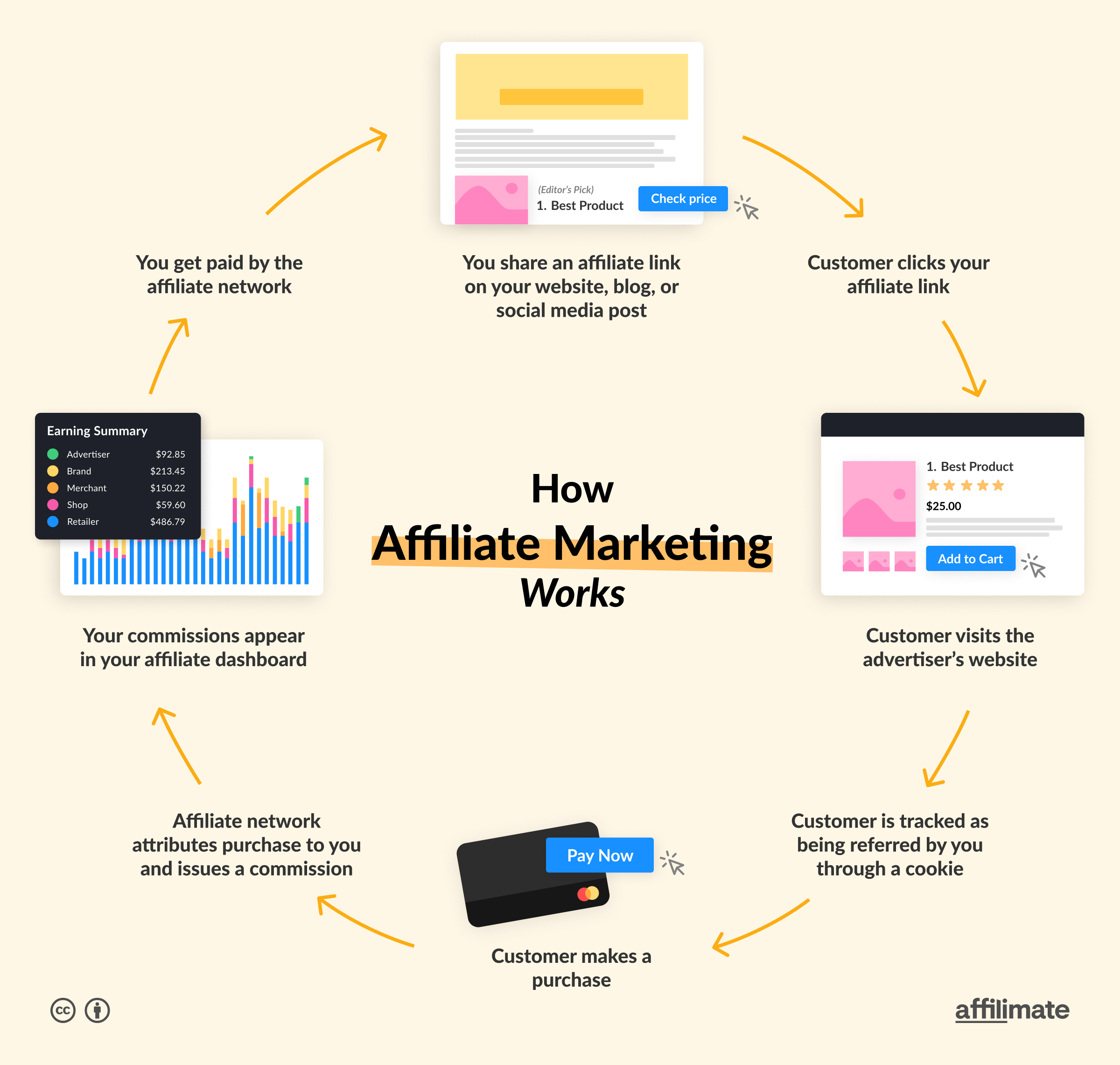 However, while the process is straightforward, each individual's data-backed strategy will determine their affiliate marketing success rate.
So if you're still wondering, "Is affiliate marketing worth it?" Ask yourself: have you done your research and established an affiliate marketing strategy based on data?
Whether you have a product-based business, or you're a content creator, you can use the latest affiliate marketing statistics in this post to develop a marketing strategy that converts.
Affiliate marketing statistics
Key affiliate marketing stats:
81% of brands operate affiliate programs.
84% of businesses rate affiliate marketing ROI as better than other marketing channels.
Affiliate marketing is estimated to have driven $71 billion in ecommerce revenue in the United States in 2021.
The average return on ad spending (ROAS) was 12:1 across all industries. Which means each $1 spent on the affiliate channel drove an average of $12 in ecommerce revenue.
Almost 40% of all affiliate commissions were earned through content/blogs in the United States in 2019.
Affiliate marketing spend reached $9.1 billion dollars in 2021 in the United States alone, an increase of 47% from the 2018 estimate of $6.2 billion.
The top publisher category in 2021 was Cashback, Loyalty, and Rewards, which drove 35% of total spending.
84% of media publishers and bloggers create content for affiliate marketing.
Social, influencer, and content creators captured 5% of affiliate channel spend in 2021, a substantial increase over the last few years.
Retail brands are responsible for 76% of affiliate channel spend, with about 1/3 of that going to clothing affiliate programs.
1. 84% of businesses rate affiliate marketing ROI as better than other marketing channels
Affiliate marketing requires almost no financial investment to get started, which makes it a great option for online businesses and content creators alike.
This is just one of the reasons why professionals in a recent affiliate marketing industry surveyed rated it as a high ROI channel: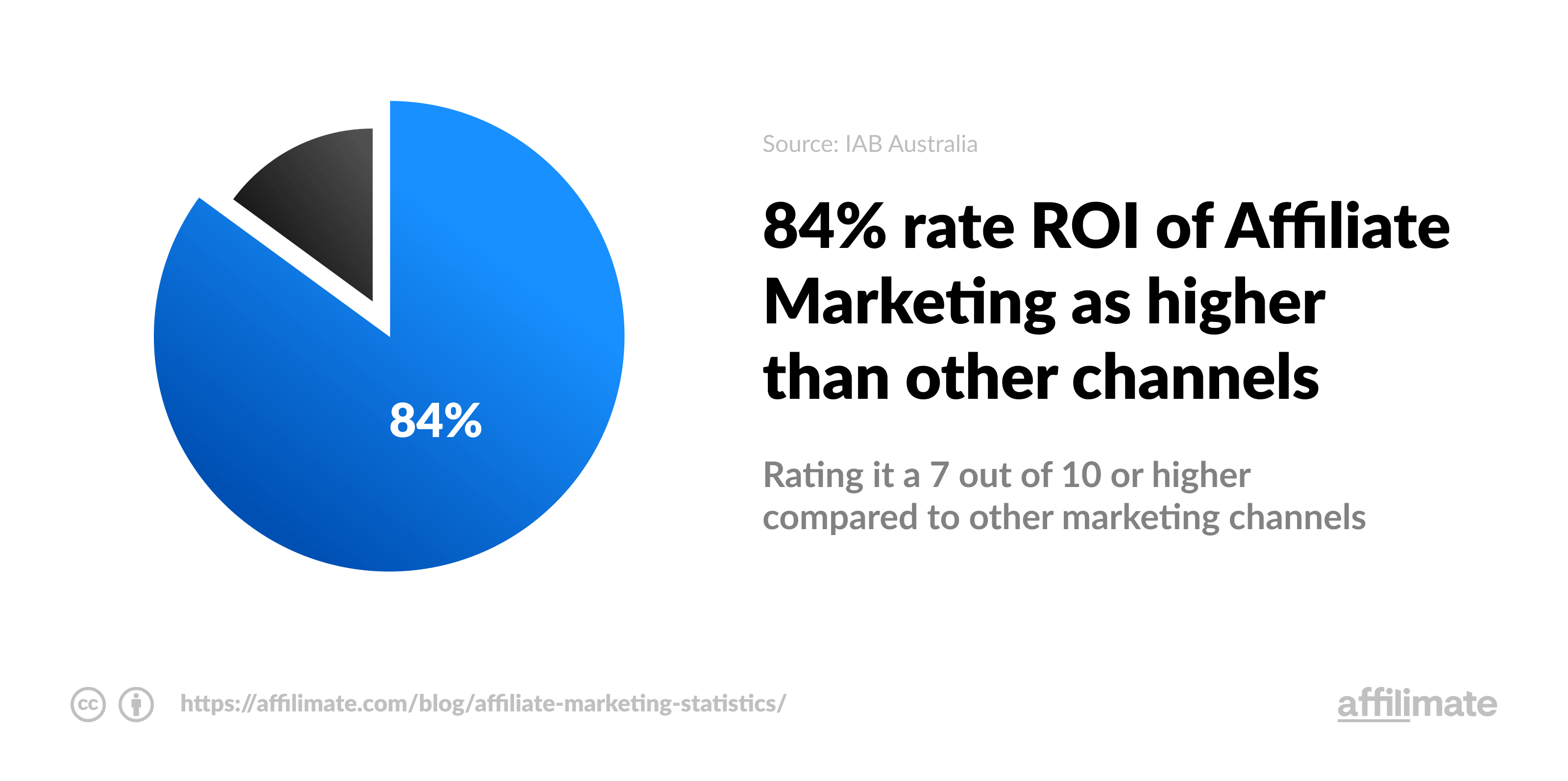 Business owners can take advantage of curated audiences, and save thousands on creating marketing assets in-house.
Likewise, content creators can benefit from an easy barrier to entry, recurrent sales, and high commissions.
These key benefits make affiliate marketing the perfect recipe for a high ROI for both businesses and content publishers.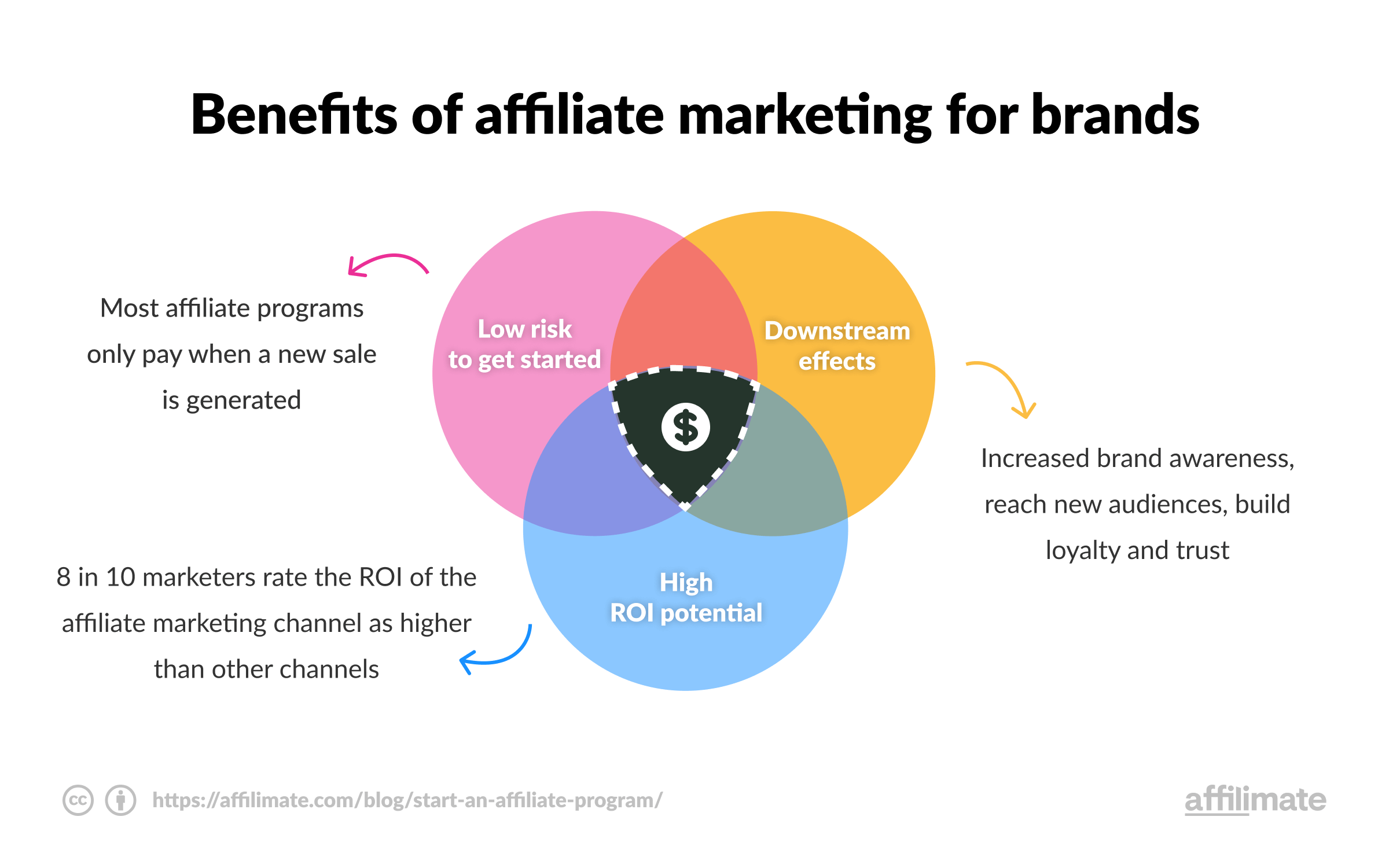 Companies in the tech, wellness, and personal finance are especially well-positioned in the highest converting industries.
Businesses like web service providers and fintech platforms also see great success with affiliate marketing, because when people search for online services, they're often searching with intent to buy.
(Published 2020)
2. The affiliate channel had a 12:1 return on ad spend (ROAS) across industries in 2021
Meaning, every $1 in performance marketing ad spend resulted on $12 in ecommerce revenue on average.
The industry with the best ROAS within the affiliate channel is automotive, at $26 for every $1 spent. Up next is travel ($21), retail ($12), media and entertainment ($9), and telecommunications ($5).
Within the retail industry, the sector with the best ROAS was Games & Toys followed by Home & Garden: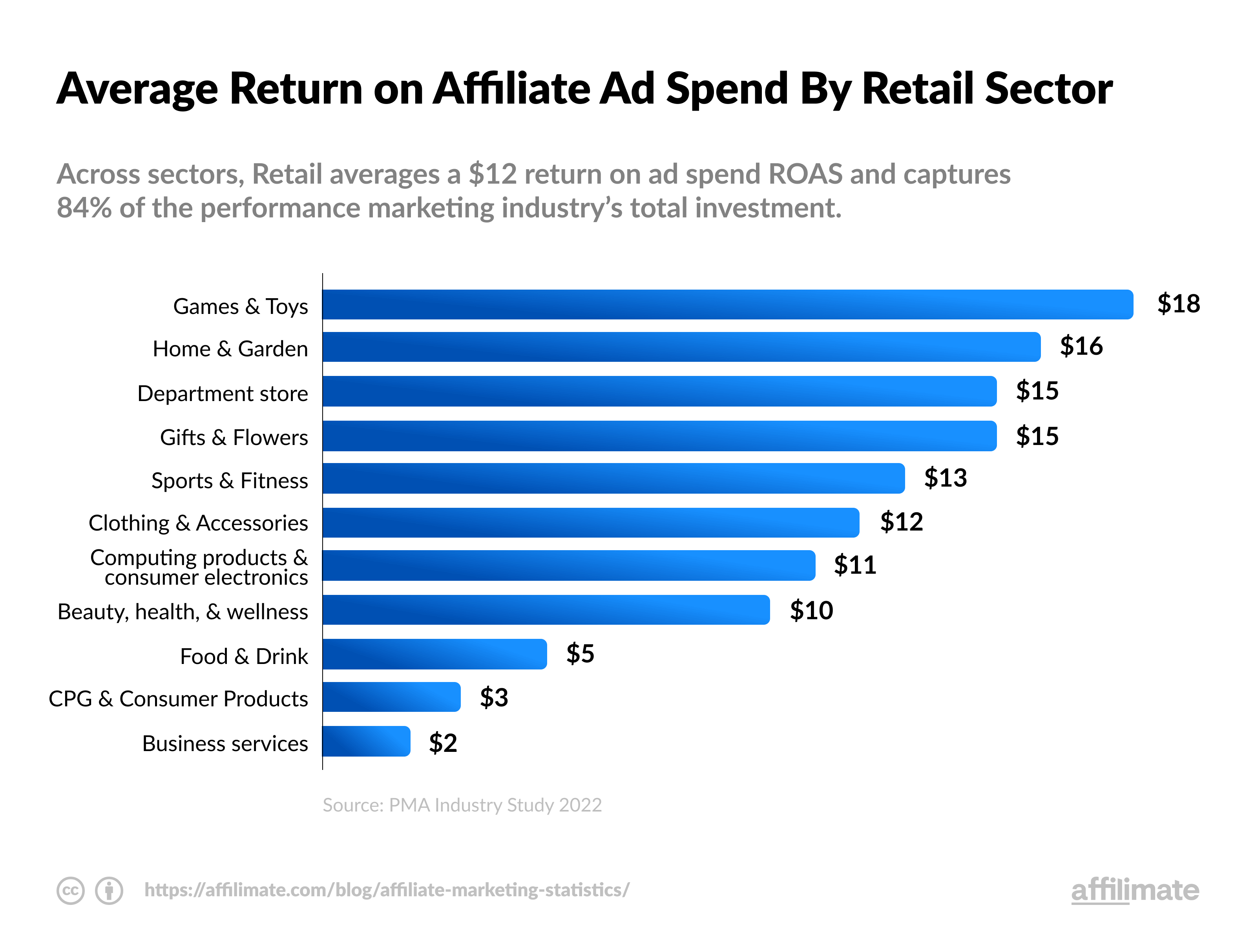 (Published 2022)
3. 81% of brands operate affiliate programs
In a study conducted by Rakuten, it was found that 81% of brands run affiliate programs.
This gives businesses access to talented content creators who can promote their products at a fraction of the cost of hiring a marketing agency to build a campaign.
For businesses with a small marketing budget, affiliate marketing is an obvious choice.
(Published 2016)
4. Almost 40% of all affiliate commissions in the United States were earned through content/blogs in 2020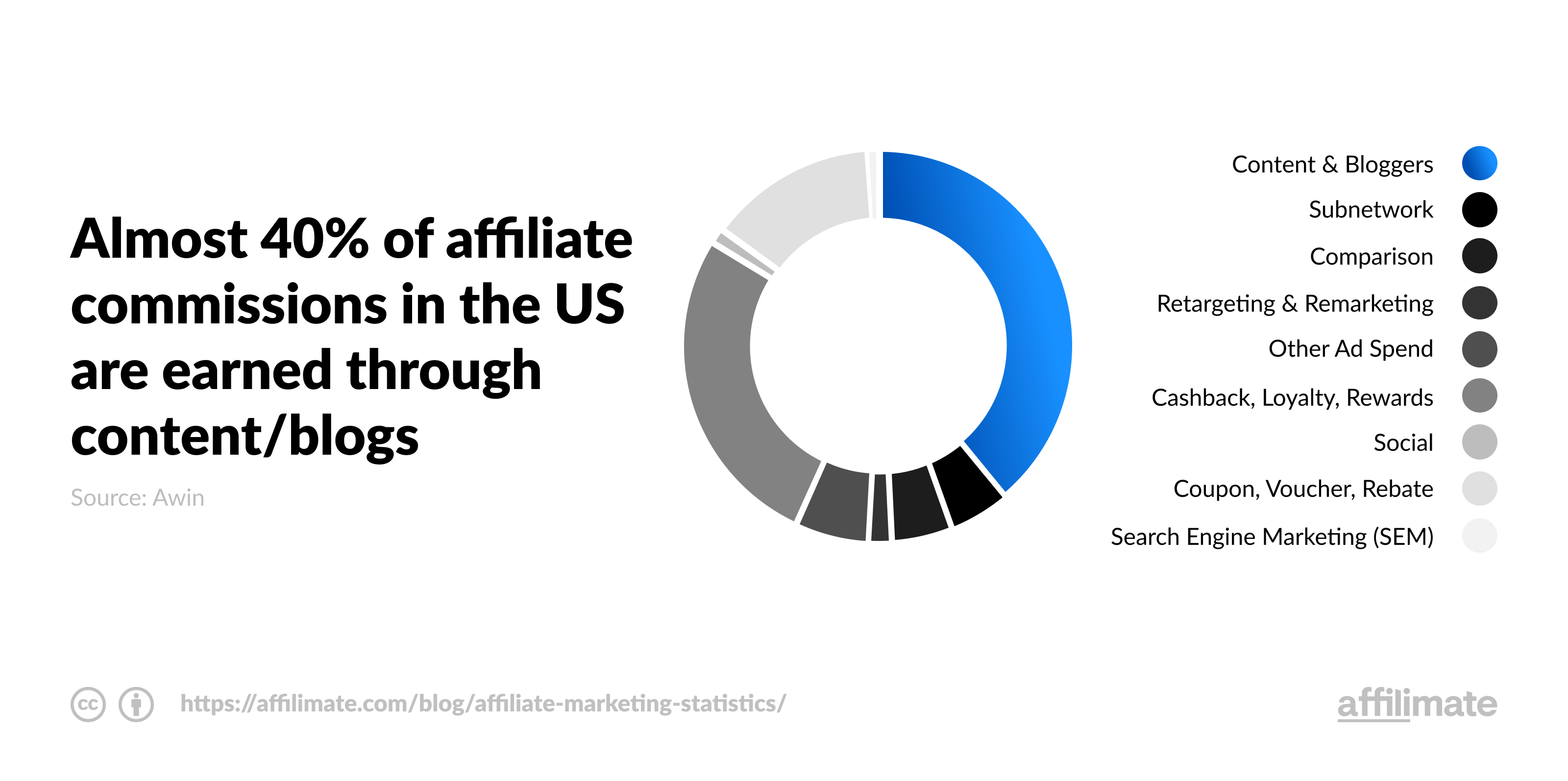 The most challenging part of affiliate marketing as a publisher is building an initial profitable audience.
Whether you're driving traffic through SEO, or social media, building an audience that trusts you takes time, consistency, and frequency of posting.
Content creators are clearly seeing the results of their efforts, and 40% of publisher commissions come from content and blogs, according to Awin.
(Published 2020)
5. 51% of affiliate commissions in the US were earned by coupon or cashback publishers in 2021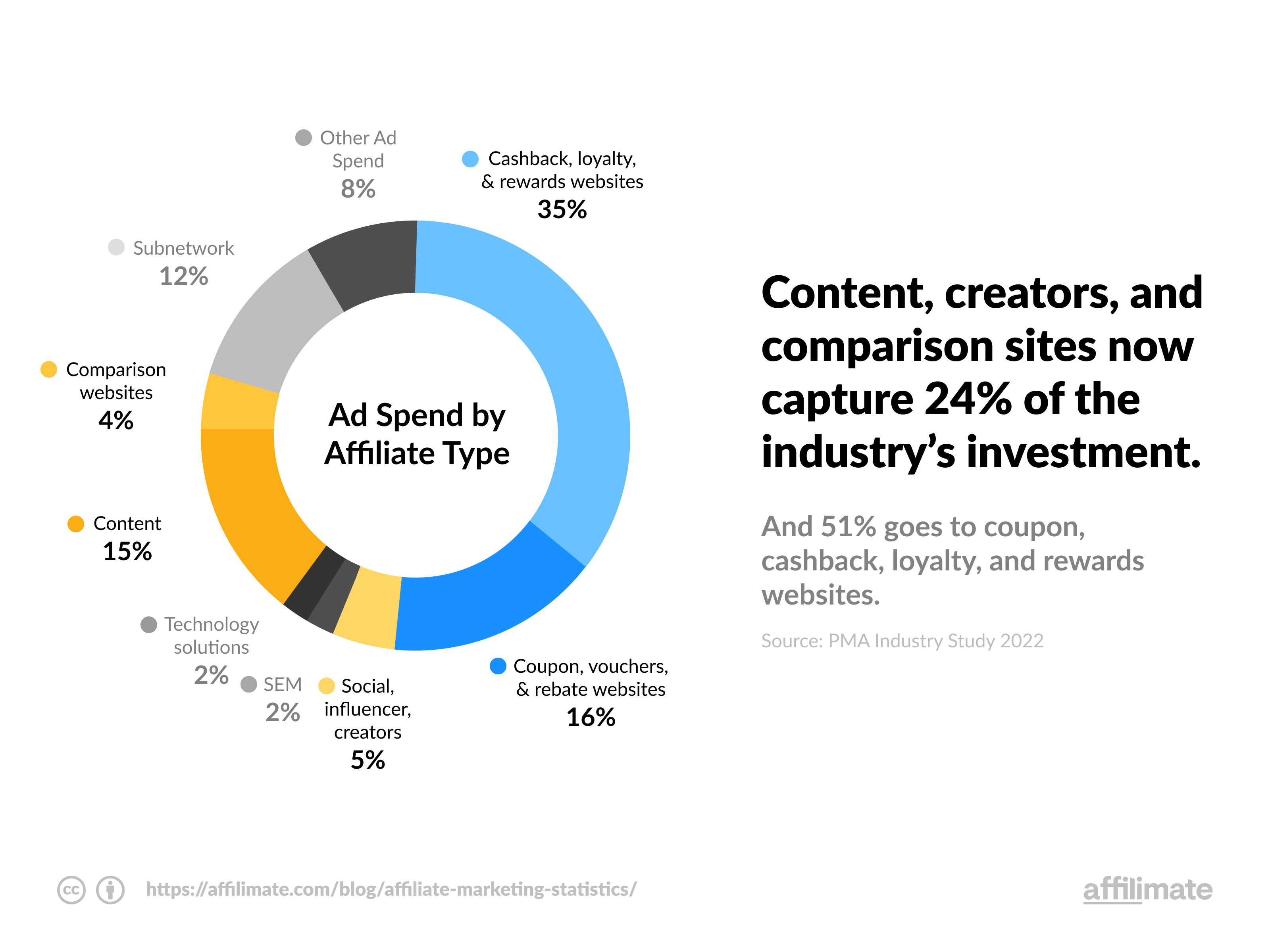 Fast forward by a year, and 51% of affiliate commissions were awarded to publishers with coupon, voucher, loyalty, and cashback business models.
Content publishers and content-heavy subnetworks now capture 27% of the industry's investment.
Social, influencer, and content creators captured 5% of affiliate channel spend in 2021. This marks a substantial increase over the last few years.
Retail brands are responsible for 76% of affiliate channel spend, with about 1/3 of that going to clothing affiliate programs.
Financial services are the next largest investor at 12%. Travel in 2021 made up about 5%.
(Published 2022)
6. Influencers can make from $50 to more than $25,000 per month using affiliate marketing
Affiliate marketing is a powerful revenue generator, and can be one of the first sources of income for newbie content creators.
ith platforms like TikTok creating overnight successes, new influencers are looking for fast and relevant ways to profit from their newfound audiences.
Business Insider polled several lifestyle influencers, who revealed that they earned $50 to $25,000 per month, depending on the individual's platform.
This group of content creators had audiences of 7000 to 1.7 million followers, so you can estimate the size of audience you'll need to pull in the big bucks.
That said, correlation doesn't equal causation, and small influencers can convert extremely well if they have highly engaged niche audiences.
(Published 2021)
7. As of 2022, the average salary for an affiliate marketer is $36,000–$72,000 per year
An affiliate marketing industry salary median of $4,300 per month in the US might convince even the most cynical of people that affiliate marketing is worth it in 2022.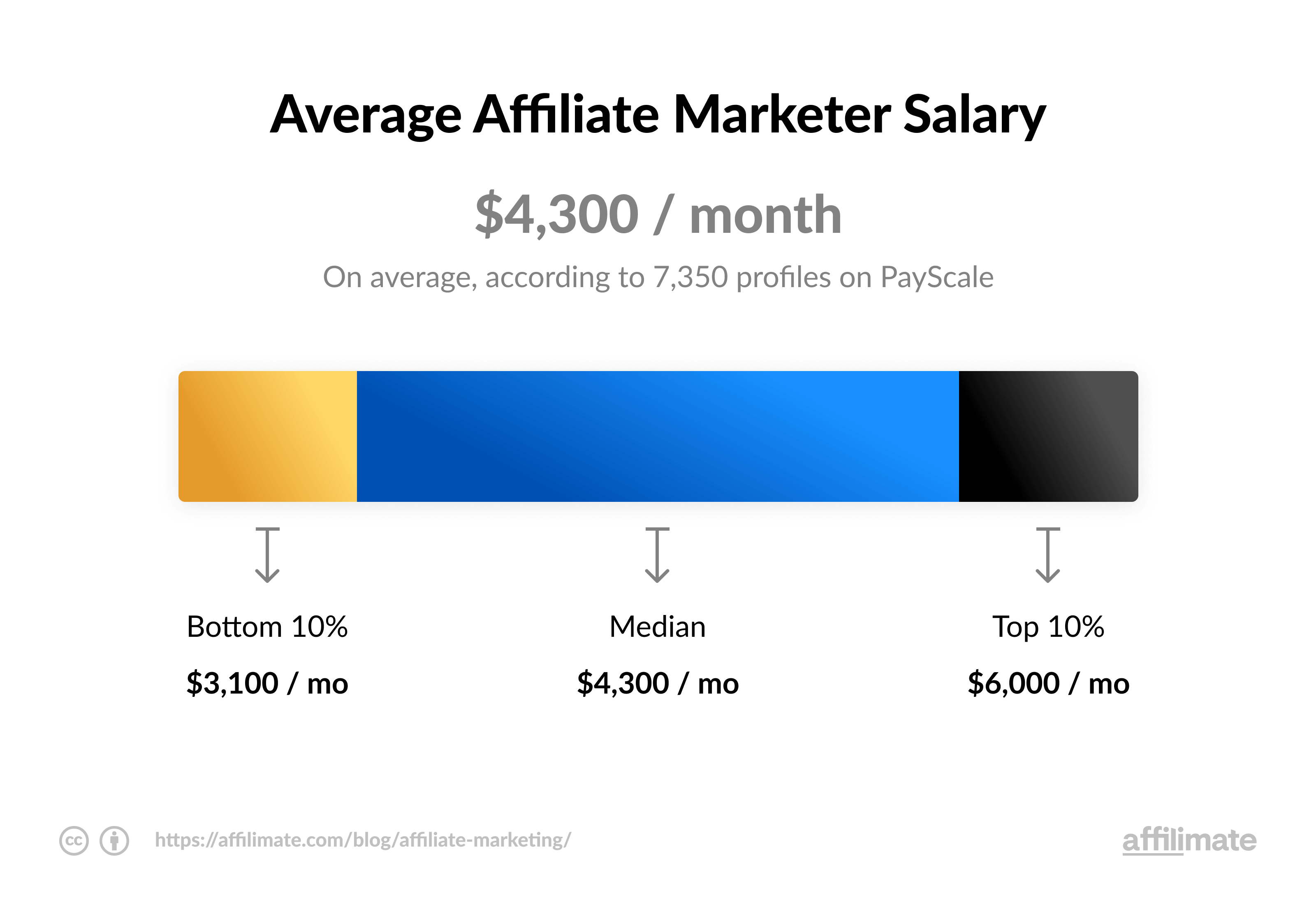 However, despite the impressive salary that corporations are willing to pay, many independent would-be affiliate marketers earn far less – with some struggling to generate affiliate marketing revenue altogether.
The most successful affiliate marketers approach things the same way as the highest earning retail sales people – they perfectly match the product to the person.
(Published 2022)
8. Affiliate marketing spend was estimated to reach $8.2 billion dollars in 2022
The affiliate industry was projected to hit $8.2 billion dollars in 2022 in the United States alone, and there are several key reasons for it.
For one, content marketing is time consuming, so for product-based businesses, outsourcing promotional work to talented content creators is a great ROI.
Thanks to this ease of access, businesses of all kinds are signing up.
There are affiliate marketing opportunities for almost every industry and niche; from fashion, to food, to pets and everything in between.
So, if you're wondering, "How many affiliate marketers are there?" The affiliate marketing market size is larger than you might think.
While you might not consider influencers, bloggers and content creators to be traditional marketers, every time they share a product, there's a high chance that it's an affiliate link.
(Published 2019)
9. By 2020, the affiliate marketing industry was estimated to be worth $15 billion globally
In 2020, the affiliate marketing industry was worth $15 billion globally, with the US leading the pack, followed by Japan and Germany.
Affiliate marketers should keep a keen eye on these leading markets in order to identify opportunities.
(Published 2020)
10. The largest affiliate marketing country is the United States, at $6.8 billion
The US leads the affiliate marketing industry with a valuation of $6.8 billion in 2020. This is thanks in part to it being home to major affiliate marketing platforms including Amazon and eBay.
Other popular US-based affiliate programs include the fashion affiliate program RewardStyle, as well as CJ Affiliate and ShareASale.
The US also spends the most online per capita in the world after the UK, which takes first place.
(Published 2020)
11. The Japanese affiliate marketing market is growing by 15% per year
The Japanese affiliate marketing industry is expected to be valued at nearly 4 billion domestically by 2024.
The country is home to Rakuten, a leading affiliate marketing company.
Affiliates interested in entering the Japanese affiliate market should understand the nuances of business etiquette within the region and industry.
(Published 2020)
12. 10% of all digital marketing spend in Australia is spent on affiliate marketing
Australian companies allot 10% of their marketing budget to affiliate marketing, which adds up to $930 million annually.
The consumer goods and retail stores sector is one of the country's biggest industries, which translates into a large variety of Australian-grown businesses to partner with as an affiliate.
(Published 2020)
13. Amazon Associates has by far the largest market share of any affiliate program, with 45.98%
Amazon Associates speaks for 45.98% of the affiliate market share – more than any other program.
As a brand, Amazon doesn't only cater to affiliate marketers. It serves many demographics through its movie streaming services, online retail platform, and global presence.
Therefore, Amazon Associates is already a familiar face that's top of mind, and is the first point of entry into the affiliate marketing world for many new affiliate marketers.
Amazon Associates is also an industry leader thanks to its global brand recognition and reliability, which helps its affiliates to convert sales. It also has a huge range of products, so it makes sense for affiliates from almost any niche to sign up.
In addition, Amazon Associates enables affiliate marketers to embed images of products. This contributes to high conversions when compared to other platforms that only provide text links and banner ads to their affiliate partners.
This ease of use, combined with a trusted service and recognizable brand name, all play into why Amazon accounts for nearly half of the affiliate market share.
(Published Not specified)
14. More than 80,000 companies using the Amazon Associates program
An affiliate market share of 45.98% translates to 80,000 companies using the Amazon affiliate platform globally.
That figure is astronomical when considering that CJ Affiliate, the runner up, holds a market share of 8.17%, and 15,255 users globally.
A pool of 80,000 companies means that affiliate marketers have countless products to choose from, within every price range, which makes Amazon Associates a great option to start with.
(Publish date Not specified)
15. 55% of the market share for devices is mobile. Desktop is 42.48% and tablet is only 2.48%.
With our fast-paced lifestyles, it's not surprising that mobile has overtaken desktop as a primary browsing device.
Mobile makes up 55% of the market share, and 58% of shoppers use mobile to make payments during multi-device transactions.
With this in mind, affiliate marketers should prepare for how multi-device shopping experiences will affect affiliate link referral attributions.
(Publish 2022)
16. More than $120 billion was spent via apps in 2020
Over $120 billion was spent via apps in 2020, and begs the question – how are sales via these platforms being attributed to publishers?
Not all affiliate networks implement cross-device attribution, so how can marketers optimize on sales coming from mobile applications?
According to Awin, app tracking is one way for affiliate marketers to overcome this revenue hurdle.
App tracking works by enabling advertiser's to track purchases made through mobile apps. This way, advertisers can attribute mobile conversions to their campaigns.
As privacy becomes top of mind for the everyday consumer – and a legal requirement in many jurisdictions – affiliate marketers will have to adjust to continue to provide a seamless online shopping experience.
(Published 2021)
17. $1.4 billion of worldwide affiliate marketing spend is lost every year for fraud
Affiliate marketing has its downfalls. As an industry dependent on online transactions, it is susceptible to fraudulent activity.
One issue to look out for is click fraud, in which bots and spammers jeopardize campaigns and affiliate statistics through invalid engagements.
Businesses and affiliate marketers can protect themselves from fraud by screening new affiliate applicants and companies, monitoring analytics and campaign activity, and installing anti click fraud software.
(Published 2020)
18. 4 in 10 respondents are still using third-party cookies for affiliate tracking
Data protection is top of mind for everyday consumers, businesses, and governments, who are considering new software to protect their online footprints.
Data security is changing quickly, from virtual private networks, to new data protection laws like the European GDPR, and regulations governing email marketing best practices.
These developments have put a wrench in third-party cookie tracking, which is how 4 in 10 advertisers track their referral traffic.
A further 25% are unaware of the need to prepare to track affiliate referrals without the use of third-party cookies.
While the change won't be immediate, affiliate marketers should begin adjusting their marketing strategies in order to continue to generate revenue within these constraints.
A few possible workarounds? Paid platforms, first-party data, and server-side tracking.
On the plus side, if third-party cookie tracking goes belly up, affiliate marketers won't have to lose out on commissions any time their audience clears their browser cache.
(Published Jan 2020)
19. CPA dominates payment models among affiliate programs (in Australia)
"Cost per action," is the most popular payment model among affiliate marketing programs in Australia, with 99% of companies using it.
Other payment models include cost per click, tenancy fees, cost per lead, and cost per 1000 impressions.
(Published 2020)
20. Travel sector performance increased by 99% in Q4 2021 compared to the same period in 2020
After a couple of stagnant years, the travel sector is making up for lost time.
Affiliate marketing performance in the travel industry increased by nearly 100% in Q4 of 2021, compared to 2020.
This proves that paying attention to economic drivers, market trends, and affiliate marketing statistics, can be highly profitable.
(Published 2021)
21. Global shopping demand category of careers based on daily YOY actions performed to increase 171% on November 29th 2021
This date and filters set up shows the best growth of this performance in 2021
Statistics on affiliate marketing in the career sector demonstrate the benefits of keeping an eye on global affiliate marketing trends.
The career sector changed drastically over the course of the pandemic, with many people changing jobs, and certain employment sectors were eliminated altogether.
Many career influencer accounts skyrocketed to success thanks to their helpful tips for finding a dream job at a time when so many people were job hunting.
These influencers then recommended platforms, products, and services to their ambitious audiences.
If you keep up to date with affiliate marketing stats, you might come across a major affiliate marketing growth opportunity, just like these successful influencers.
(Published 2021)
22. More than half of long distance travelers have spent $2,000 on 2022 travel plans
Data shows that consumers are finally feeling comfortable with jet-setting again, with 47% saying they will travel as much as usual in 2022.
More than 90% of travelers report that they will scour for deals when booking their next vacation.
Affiliate marketers in the travel industry have the opportunity to promote vacation deals to an upper income audience that's itching to travel.
(Published 2021)
Is affiliate marketing worth it?
After considering the statistics, is affiliate marketing worth it?
Let's do a quick recap.
The last couple of years have changed the way that consumers shop, and more than $120 billion was spent online via apps in 2020 during the height of the pandemic.
With more online shoppers, there's a bigger opportunity than ever before for affiliate marketers to earn commissions on their product recommendations.
Thanks in part to this, the affiliate marketing industry is projected to be valued at $8.2 billion in 2022 the US alone.
Amazon Associates is a popular entry point into the industry. The affiliate program accounts for a huge market share of 45.98% as a result of its brand recognition and reach.
However, there are a number of other international leaders in the affiliate industry to partner with, including Rakuten, CJ Affiliate, ShareASale, Sovrn, and Awin, and the range of products is endless.
Established affiliate marketers should keep a close eye on the changing security landscape of affiliate marketing. As data protection becomes mainstream, third party cookies might be on their way out.
Therefore, affiliate marketers should stay informed on best practices and adjust their marketing strategies and security practices in order to remain profitable and compliant.
Despite these challenges, businesses highly value affiliate marketing, and the average affiliate marketing salary is over $154,000 per year in the US.
While the affiliate marketing success rate depends on the strength of your strategy, affiliate marketing can be extremely profitable if well executed, with almost no cost of entry, and a high ROI.