9 Advanced Affiliate Marketing Strategies to Increase Your Sales
By Jules Costa · Updated Jan 16, 2023
Making your first $100 or $1,000 from affiliate marketing is exhilarating. But that excitement eventually dies down once you realize that your current strategies will only take you so far.
Glassdoor and PayScale estimate the average affiliate marketing salary at $50,000 to $65,000 per year, with top earners bringing in six figures or more. In other words, it's more than possible to make a living as an affiliate marketer.
When you're just getting started with affiliate marketing, you're focused on the fundamentals.
Best practices like choosing a niche, building your website, and attracting your target audience are essential for starting your affiliate business.
But once you've laid the groundwork, it's time to scale your revenue with these advanced affiliate marketing strategies.
9 Advanced Affiliate Marketing Strategies
1. Own the entire SERP with multiple affiliate websites
Have you found a lucrative product or keyword? Try building multiple affiliate websites around that niche and rank more than one piece of content around your most profitable keywords.
This strategy is used by some of the biggest names in the content publishing industry.
For example, Future is a large online publisher with more than 160 brands under its belt, many of which are household names. Properties owned by Future dominate the top results for "best wireless earbuds":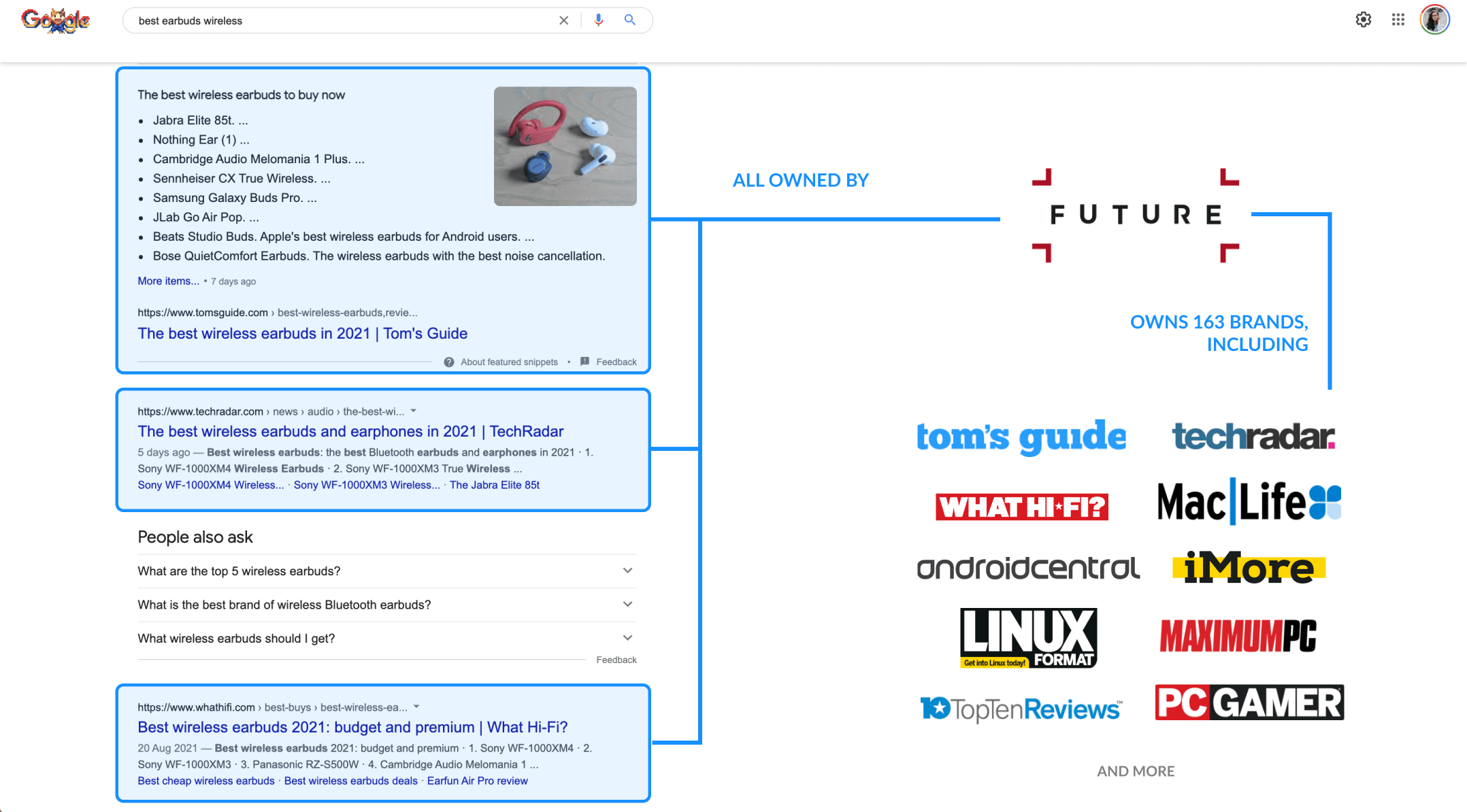 Why does this work so well? Consumers read multiple articles before they make a purchase decision. If you create all the top content in the niche, the likelihood of them clicking on your links is extremely high.
Own the entire Search Engine Results Page (SERP) and drive customers to your offers and links across the board.
Copying this strategy leads to similar success, even for smaller publishers and website investors building niche websites. Even better, do this within an evergreen niche so that you can narrow down to less competitive keywords that are continuously sought after.
More benefits. Besides owning more real estate on Page 1, owning multiple sites in the same or adjacent niches makes it easier to build links, negotiate sponsorships, and roll out experiments.
Just don't get caught up trying to wrangle multiple sites until your first one is a success.
2. Set up proper affiliate tracking
A study by Rakuten found that 94% of affiliate marketers use more than one program, and 20% use 5 or more. Actively tracking all your affiliate programs allows you to keep your finger on the pulse of what's working and adapt as you go.
Expert affiliate marketers set up two steps to collect relevant data points:
First, aggregate sales. Sales aggregation can be done manually using spreadsheets where you log revenue from each network and program but data aggregation tools make it way easier. An affiliate dashboard gives you an overview of all your affiliate programs with the relevant data, and takes the headache out of sales aggregation.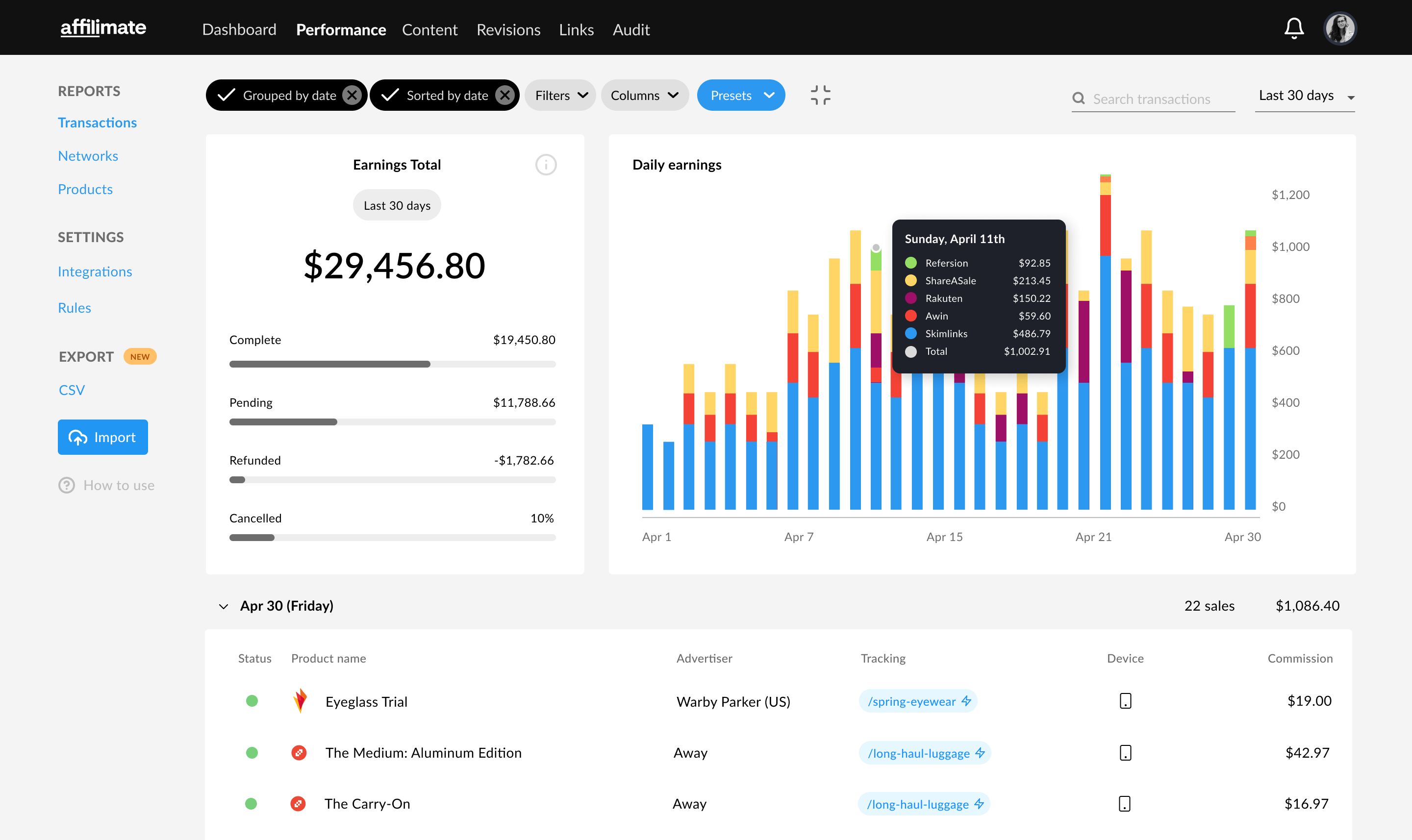 Second, set up SubID tracking. SubID tracking can give you better data about which content, links, and strategies are converting best, by adapting each of your affiliate links to contain a SubID.
Here's an example of how that looks: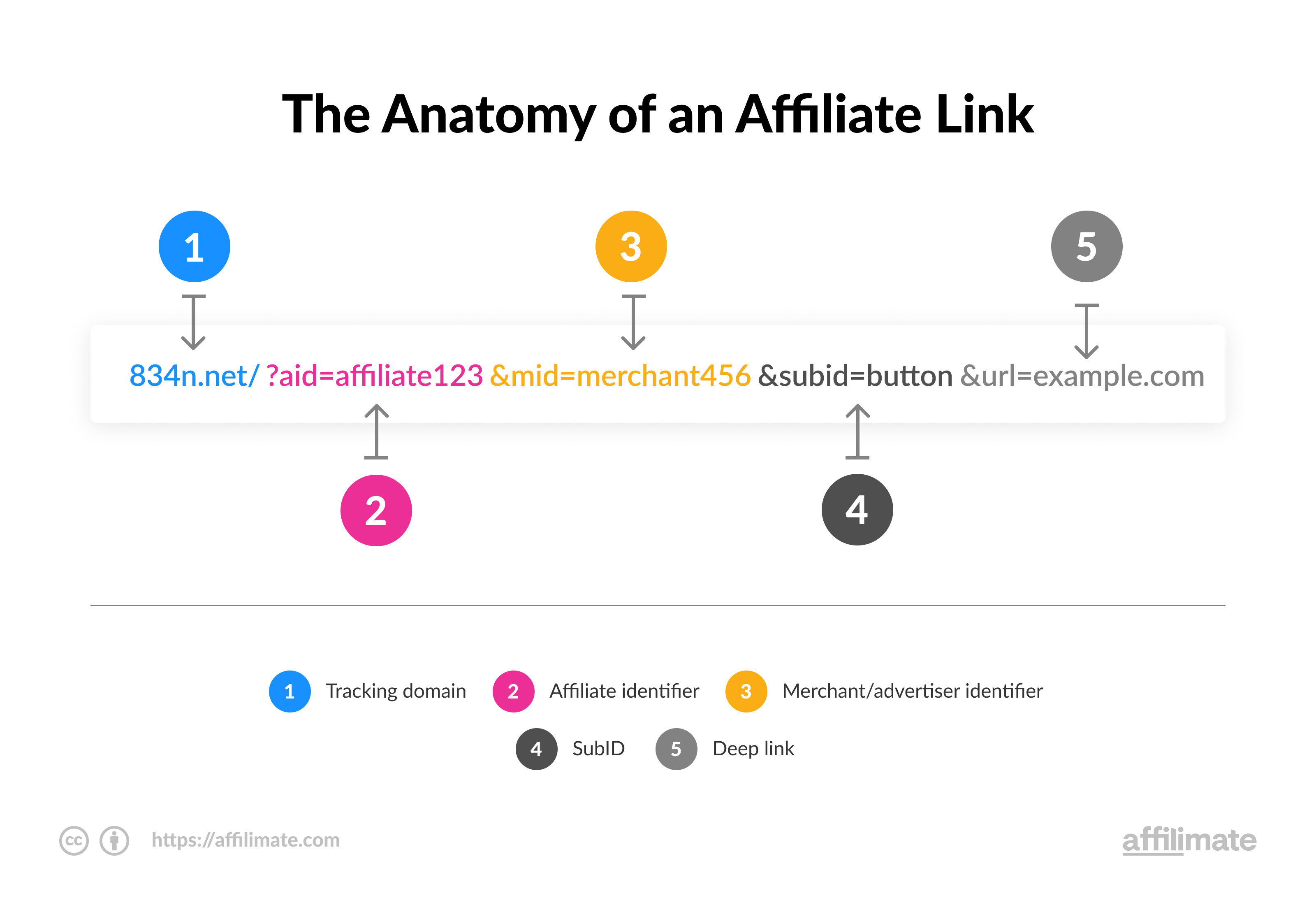 Adding this data to your affiliate links helps you make confident choices when optimizing your content.
For example, you can copy the language or CTAs from high-performing posts in your new posts. Or, experiment with low-performing posts because you'll be sure that you aren't impacting revenue.
Using SubIDs is critical for getting actionable insights from your experiments.
And if you use a tool like Affilimate, you can automatically apply unique SubIDs to all your links — even if you've got thousands of links scattered across your site today.
3. Get your on-page optimization dialed in
Once you've leveled up your affiliate tracking, it's time to apply what you've learned to your content. Drive higher conversions by improving on-page metrics like click-through rate (CTR), and watch how those affect downstream metrics like revenue and revenue per 1,000 visitors (RPM).
Here are a few optimizations to try:
Increase the density of your affiliate links. Give your audience more opportunities to click. You never know when a visitor will decide to check out the available offer. Conveniently placed links make it easy for them. Just make sure not to overwhelm your audience in the process – balance is key.
Make your links stand out. Your links and CTA buttons should stand out and be easy to spot. Using colors that contrast with the main site or brand color will make your link eye-catching and more visible. Be sure to leave plenty of white space, to avoid overwhelming readers.
Add an exit-intent popup. An exit-intent popup follows your visitor around the page and appears only when they move away from the page. They catch your user with a reminder before they leave to give them a final opportunity to act on your offer. It's also a great spot for limited time offers and deals.
Add a comparison table early in your post. A comparison table at the top of your page presents your offer to your visitors early on in the form of useful information.
Include social proof. Customers seek input from many sources before making purchase decisions. Reviews and testimonials are forms of social proof that keep your customer on your page by giving them all the information they need without having to search elsewhere.
What's key is after you make these changes, you need to be able to split how much revenue your page was earning before and after on a per-visitor basis.
Not just in terms of when the conversion happened, but what version of your page was live when the original click was made. This is commonly called the "Click Date".
One of the easiest ways to do this is with Affilimate's Revisions, which will split and calculate your revenue per visitor based on changes to your site.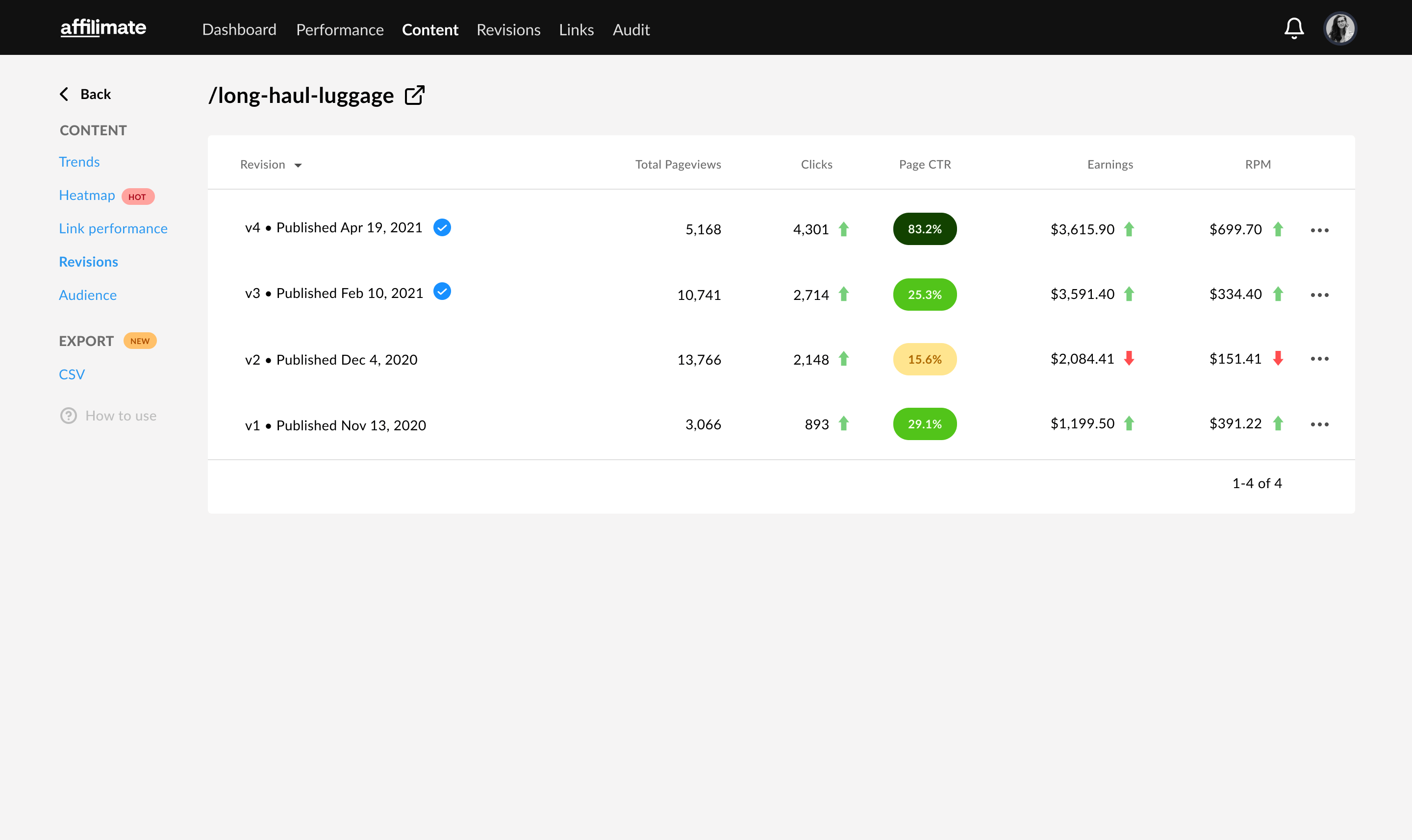 4. Promote the right products, more efficiently
Beginners tend to sign up for dozens of affiliate programs, but experts know that real revenue lies in the niche itself.
With general affiliate marketing programs, such as Amazon, revenue tends to grow in relation to the traffic. The more clicks you send, the more money you make. The result is a high volume of small commissions, and building bigger and bigger properties with tons of articles.
That's a lot of work for the rewards.
Work smarter by choosing offers with higher commissions. This allows you to make more revenue with less traffic and less content. Adding higher ticket items usually means going beyond Amazon and diversifying your affiliate programs.
So how do you select high-paying affiliate offers? Think about the three revenue levers:
Lever 1: Conversion Rate — How well does this product convert?
Conversion rate comes down to how the brand positions itself in the market. Even if you do everything right, your influence is limited after your audience clicks to the sales page.
High-converting brands will have:
Well-designed and mobile-optimized sales pages
A recognizable brand (consistent colors, logo, font, etc)
Straightforward UX/UI, making it easy to sign up for and pay for products or services
Another way to tell if a program converts is by noting how often your competitors promote it. While it's counterintuitive, following the competition often yields better results because the brand is better-known.
Lastly, you can improve the conversion rate through your copywriting. Sharing personal experiences, a strong recommendation, and sharing the results the product helped you achieve all go a long way in establishing trust.
Here's another tip for promoting products from less-known advertisers:
Conversion Tip. It's not always possible to promote a retailer or service provider your audience is familiar with. Be sure to introduce unfamiliar with brands or merchants to your audience in your affiliate content itself.
Sharing your personal experience, refund policies, customer support, benefits like free shipping, and so forth can all help you build trust on behalf of the advertisers before you send a click their way.
Lever 2: Average Order Value — How expensive is the product, and how does it affect my commission?
Some affiliate networks like Skimlinks and ShareASale show you the average order value. You can use this to estimate the average commission per order.
For example, if the commission is 20% and the average order value is $100, you can calculate that the average commission is $20. Often times, it's easier to earn more money from fewer conversions if the average order value is high.
Here is a specific example from Rebag, a popular luxury handbag consignment marketplace: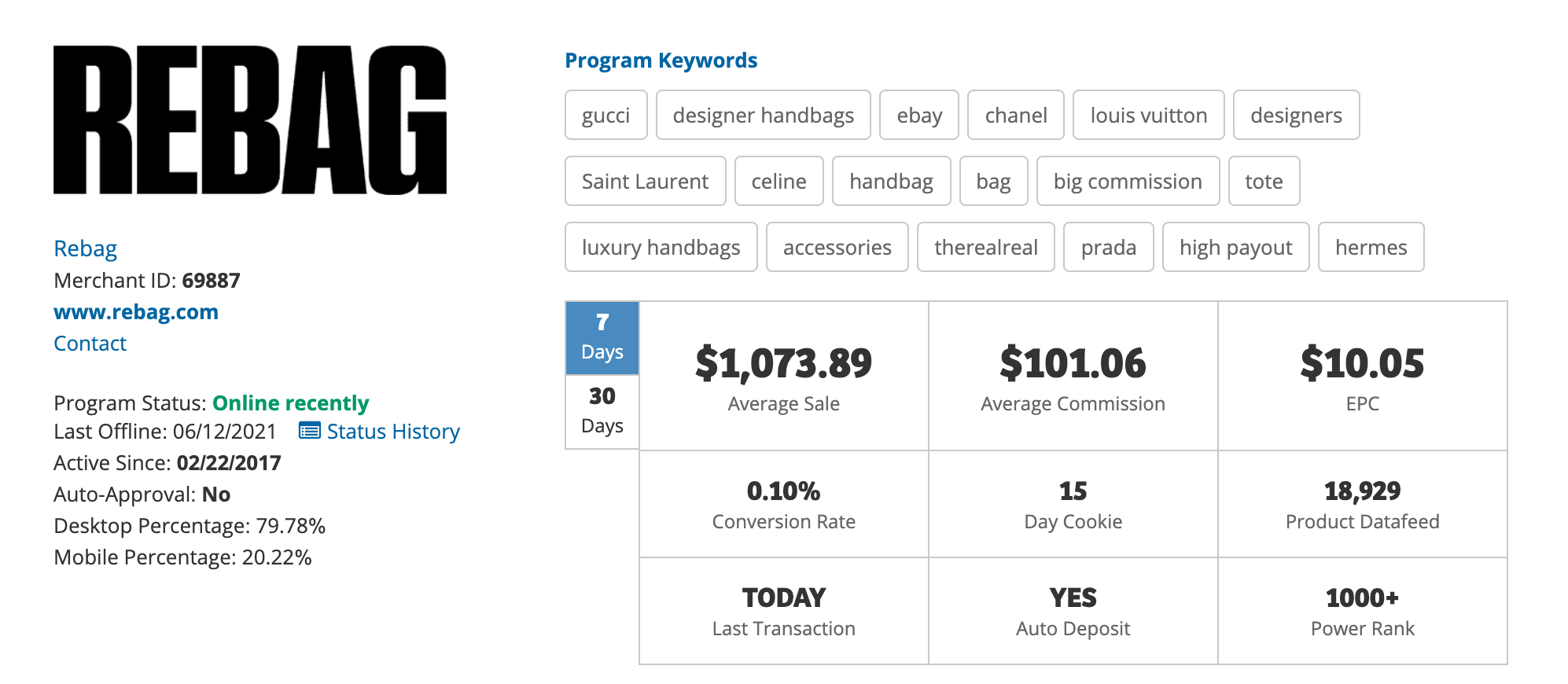 Even if the conversion rate isn't high at 0.1%, the high average commission largely compensates for this. Doing a bit of math can help you figure out how many conversions you need to reach your target revenue.
Lever 3: Volume — How many of this offer can I sell?
Because demand drives sales, you can predict your volume by researching search volume for buyer intent keywords.
Be sure to factor keyword difficulty into your estimate, as 75% of users never make it past the first page of Google.
To calculate a volume, think about how many pieces of your content will rank on the first page and how much traffic that will drive. Then, take 0.5-1% as an average affiliate conversion rate for that traffic. This helps you calculate how many people will actually convert.

For example, if I search "copywriting courses" in a keyword research tool like Ahrefs, it returns a search volume of 1,600 in the United States. Then, I can see that other top pages have a traffic estimate of about 2,000.
Bearing in mind that Ahrefs usually underestimates traffic, assume the potential monthly search traffic of 6,000 or so. With 6,000 visitors at an average conversion rate, that's up to 60 conversions.
Now compare that to an article with just 600 monthly visits — the result is then just 6 conversions.
But both articles could result in the same revenue, if the commissions were higher in the second article. But if you're promoting low-cost products or products with slim margins, volume is the lever you need to turn by focusing on big "best product" keywords with high volume.
All in all, it's a balancing act to bring these three levers into optimal positions and drive the most revenue.
5. Create a simple affiliate funnel for your high-ticket offers
An affiliate marketing funnel guides your prospects through the various stages of the buyer journey and addresses their unique needs at each point.
Not all affiliate products need a sales funnel, but they are crucial for high-ticket offers or purchases that require more information to educate the audience on their value (think of high-value niches like SaaS products, luxury items, and B2B services).
The steps of an effective funnel include: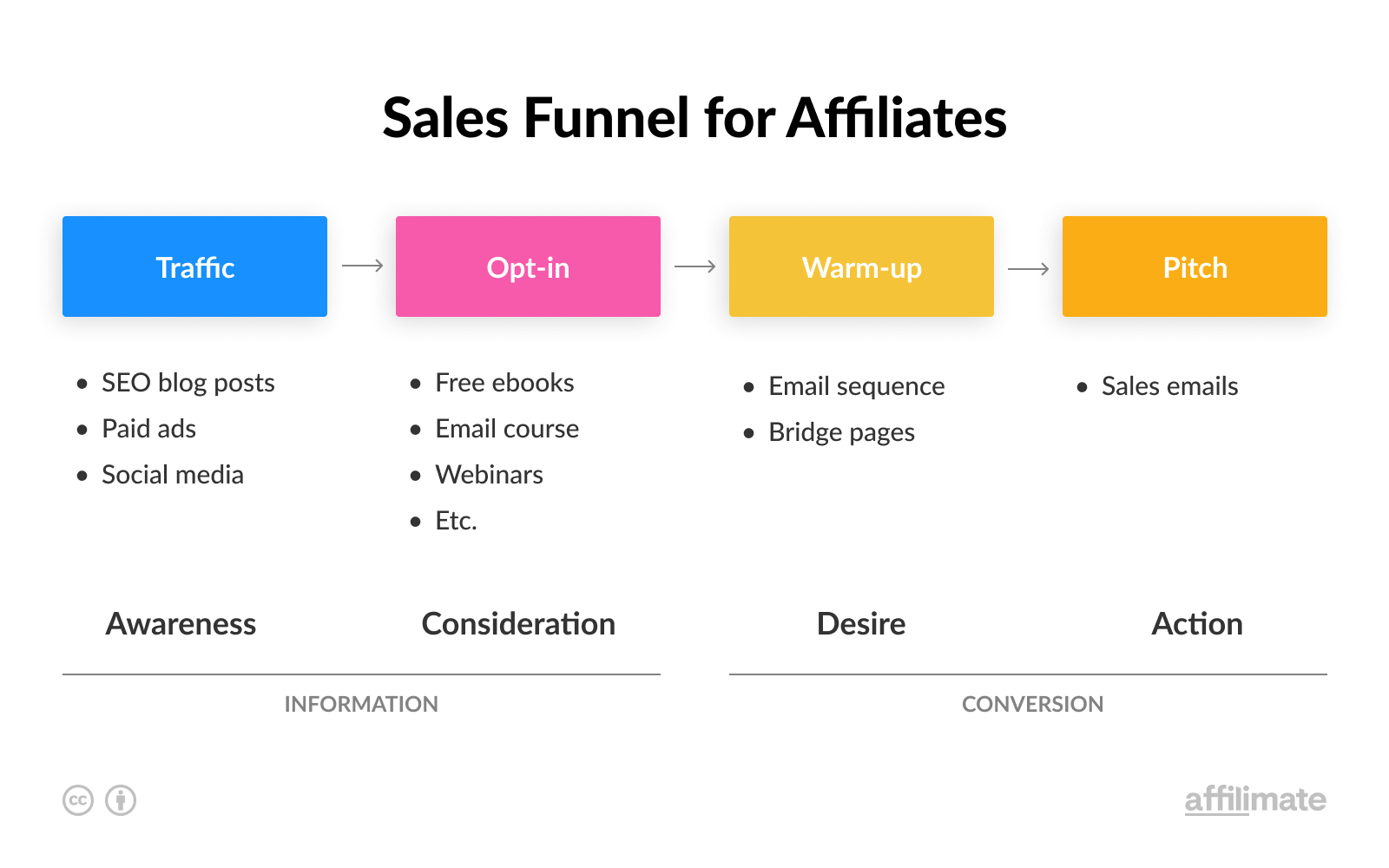 Traffic: This is the first stage where you drive traffic towards your offer using SEO blog posts, paid ads, and social media content.
Opt-in: This is the second stage of the funnel where you convert traffic using things like free offers to create more direct contact with them.
Warm-up: The third stage is where you warm up your audience to ensure they're primed for conversion.
Pitch: The final stage is where you pitch your offer to the buyer.
Make sure that your customer journey includes a "warm up" stage where you offer education and information without a hard sales pitch. While email lists are awesome for pitching and for creating repeat customers, a prospect that is not sufficiently warmed up is likely to fall out of the buying cycle or worse — mark your email as spam.
Think of affiliate sales like a romantic relationship. If you propose (i.e. pitch) before they get a chance to know you, they'll be alarmed and run away. Give your prospects time to get to know your brand and your offer before closing the deal.
6. Build your email list (and actually email them)
Emails let you talk directly to your audience in a more personal way than social channels or blogs.
The more intimate connection explains why you're six times more likely to get a click from an email than a tweet.
Your email audience has already shown interest, so they've moved past the "awareness" stage on their buying journey. In addition to convincing them to know, like and trust you, your email content helps buyers make more advanced purchasing decisions.
As a result, an engaged email list boosts the value of your website if you ever want to sell it on a marketplace like Empire Flippers or FE international.
Some techniques for building an email list include:
Offer special promotions or sales. Give your email audience first dibs or exclusive access to promotion and sales. This works especially well for retail and ecommerce affiliates.
Create gated content. A free ebook or guide that's relevant to your offer is a great way to give your audience value in exchange for their email.
Ask for feedback from your visitors. Question forms are not only a way to learn more about your audience and their wants and needs but also to grow your email list.
Use a blog that your audience can subscribe to. When you create valuable content, your existing pieces are enough to drive interest. If your audience already looks to your content for information, they will want to sign-up to stay updated.
Teach readers via an email course or value-packed newsletter. Turn your emails into subscription-worthy content by including deep dives into a relevant topic. Offer this as a "mini-course" in your welcome series or as a regularly scheduled newsletter.
Create and use quizzes, with results available via email. Start by working backwards from your results set to a series of questions you can ask readers. Done right, quizzes convert like crazy and build your email list on autopilot.
7. Join affiliate programs with recurring commissions
Now that you have perfected your on-page optimization and have a working funnel, apply your process to affiliate programs with recurring commissions.
Unlike one-off commission structures, these programs keep paying you for as long as the customer sticks with the product and for every repeat purchase they make using your link.
Some programs limit recurring commission to the first year, while others will pay out for the lifetime of the customer.
Why is this such a game-changer? Recurring revenue gives you a more predictable income stream, since you'll generate revenue from the same sales month after month.
Let's imagine, for example, that you want to make 100 sales per month.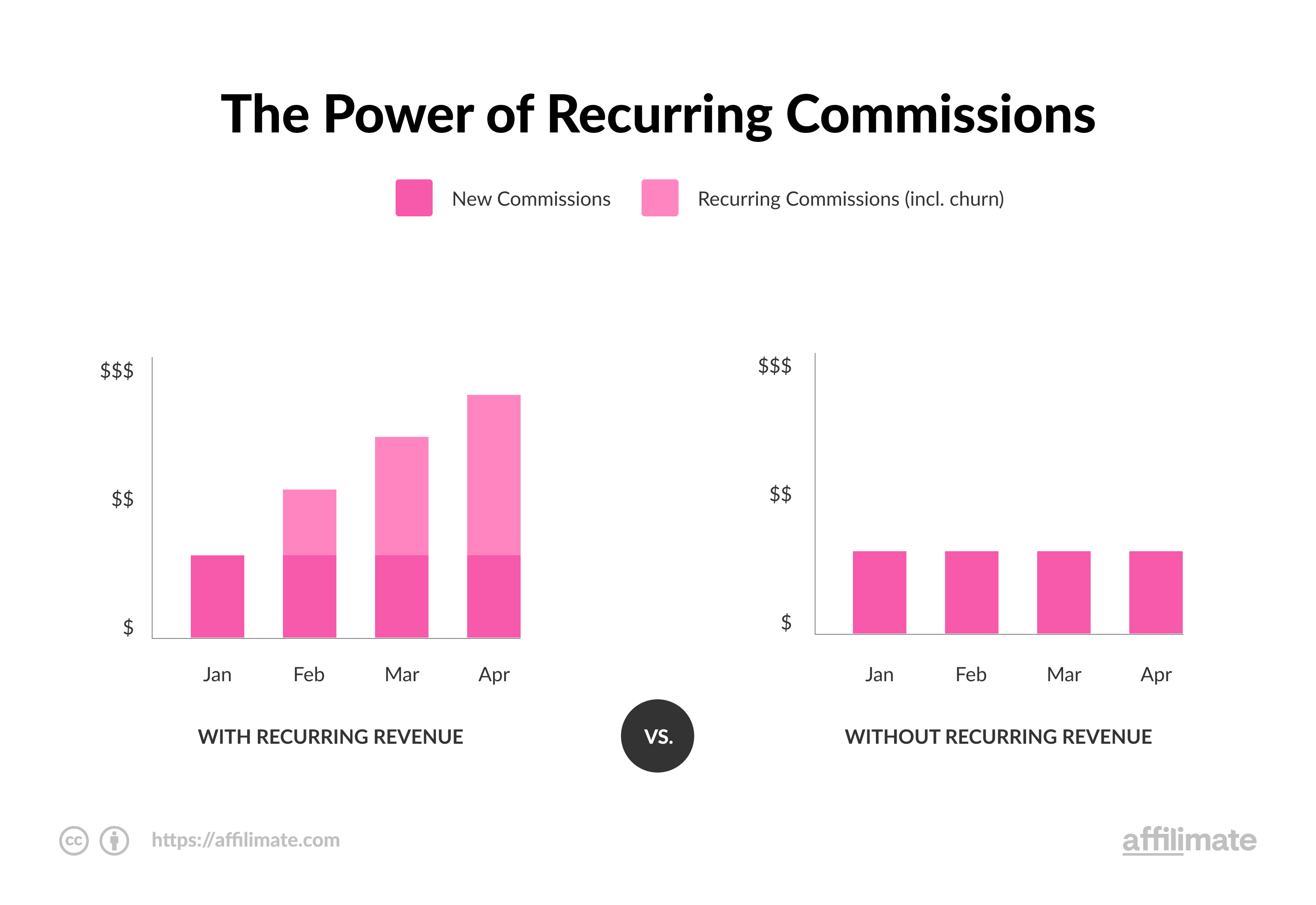 In a one-off commission structure, you'd have to make 100 sales in January, then another 100 sales in February and so on and so forth. With recurring commission, you make 100 sales in January and that's it. As long as those customers keep paying for the service, you keep generating revenue.
Assuming you're continuing to grow your site and traffic, the compound effect of recurring commissions can be dramatic.
Because it's easier to retain existing customers than find new ones, you need customers to stick around. At this point, your focus becomes retention in addition to sales.
Reduce churn and convert stragglers by creating affiliate marketing content that sets customers up for success and gives them new ideas on how to continue using the service or product. Then, use email marketing to regularly touch base with audience members who may have bought through your affiliate links, to remind them of benefits and teach them new techniques.
Here are some examples of programs with recurring affiliate commissions:
Shopify — 20% recurring commission, 30-day cookie
Teachable — 30% recurring commission, 90-day cookie
Active Campaign — 20% recurring commission, 90-day cookie
In general, you'll find than many SaaS affiliate programs offer recurring commissions.
8. Run retargeting campaigns
Free traffic sources are fantastic and many affiliates build their businesses without tapping into paid sources.
But it can be worthwhile to use retargeting on Facebook and Instagram to bring prospective buyers back to your website, especially because return customers are valuable to affiliate marketers.
If you're not sure what your ads should look like, browse the Facebook Ads Library for inspiration. Here's one from The Points Guy pitching a new credit card: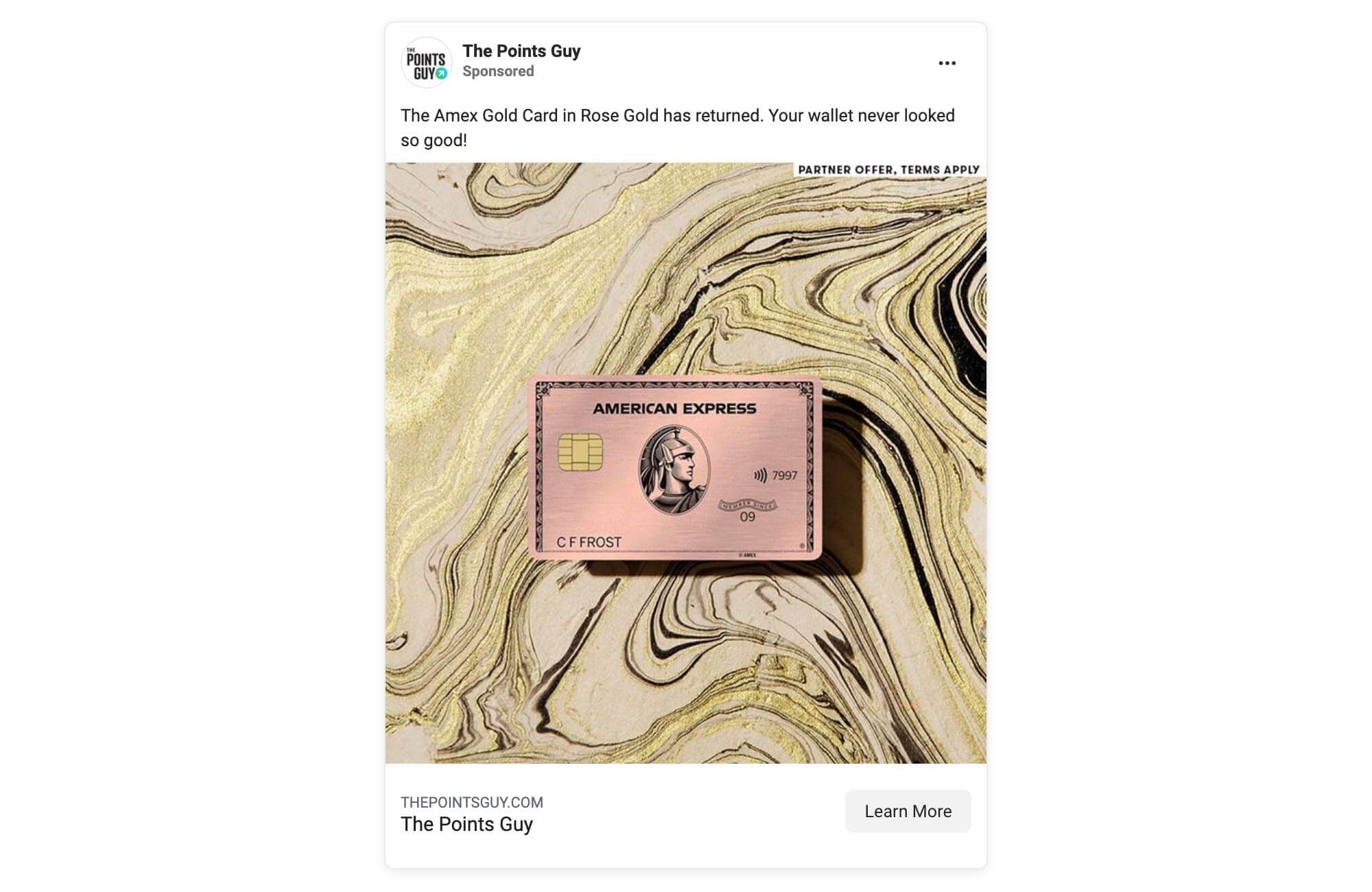 If you go this route, keep an eye on your ROI and make sure you're still running at a profit. It doesn't make sense to spend $5 acquiring a customer if you're only making $3 in commissions. The good news is that retargeting campaigns can also be adapted and adjusted based on their results.
To do this, send people from the retargeting campaign to a separate affiliate landing page which promotes the same products as the organic content they discovered you on. This landing page should not be discoverable by Google, so make sure you noindex it.
Track metrics for each step in the funnel: clicks on your ad, clicks on your links, and revenue. Use these numbers to calculate your affiliate EPC (earning per click) and balance these against the cost per click on Facebook.
A word of warning. Keep in mind that some merchants do not allow paid advertising as part of their affiliate terms. Be sure to re-read the agreement and pay attention to the fine print so you know exactly what kinds of promotional methods are allowed by the advertiser.
9. Double down on what's working now
Before chasing new tips and tricks, focus your energy on what's already working. If your strategy is sustainable today, it may just be time to commit and scale.
Here are two straightforward ways to do that:
Way #1: Create more content around your most profitable products
There is a reason your highest sellers are doing so well. People need them and are finding them through your content. Diversify your content by addressing multiple stages of the buyer journey and approaching the affiliate product or service from different angles. All of the content should lead readers to the same product.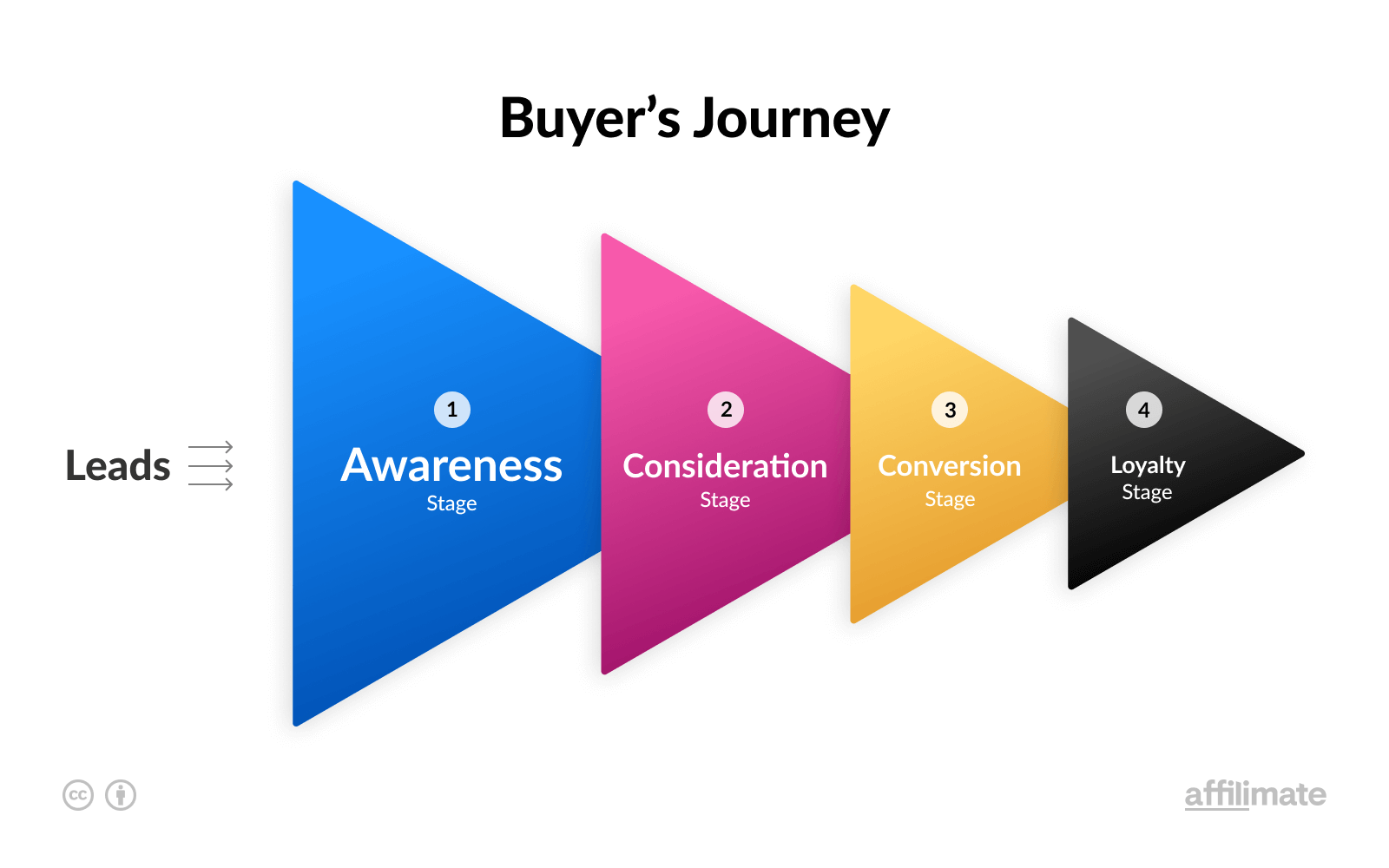 For example, if you've already included the product in a product roundup article, try supporting that with a dedicated product review. Or, create tutorial content that can capture or re-engage buyers who may not yet be solution-aware.
Many successful affiliate marketers have a limited set of products and product categories that drive most of their revenue. Find out what yours are, and commit.
Way #2: Run experiments on your most visited affiliate articles
Running tests on your most visited articles will help you make the most of the traffic you already have. And since they receive a high volume of traffic, you'll be able to get statistically significant results sooner.
Here are a few experiments you can run:
Change call-to-action button color, size or location
Try adding power words near your links
Declutter articles by removing links that aren't converting or inserting alternative links
Refresh the copy, especially link copy
Add or swap out images
Include popups on high-traffic pages
Sometimes, the smallest adjustments can result in the biggest rewards — you just have to try.
Wrapping up
Affiliate marketing profit has no hard limit, but reaching your goals requires diligence with tracking, testing and optimizing your affiliate content.
These advanced strategies are not silver bullets, but best practices that require weeks, months and sometimes years of trial-and-error to push your revenue to where you want it to be.
The right insights get you there faster.
Rather than going off intuition or guesswork, create a cohesive dashboard using Affilimate. Keep track of your revenue, identify top-performing content and gain insights into optimization all in one place.