7 Clever Examples of Affiliate Websites (And Why They Work)
By Monica Lent · Updated Jan 18, 2023
Ever wondered what the most successful affiliate websites are doing, that you're not?
After all, you put in hours of keyword research, painstakingly select products your audience will love, and optimize your site speed like your life depends on it.
But you're still not earning as much as you think you could.
You're either scrambling for pennies in Amazon affiliate sales, or wondering why none of the other programs you're in seem to convert. Is your problem the advertiser's site, a poorly-converting product, or worse – something you're doing wrong?
Turns out, the fastest way to increase your revenue from affiliate marketing is to learn from others and adjust their strategies to your context and niche.
You just have to know what to look for, so you're not copying the wrong thing.
In this guide, I'll share 7 examples of successful affiliate websites you can learn from, and what they're doing right – and wrong.
Let these smart affiliate marketing websites inspire you.
1. The Diamond Pro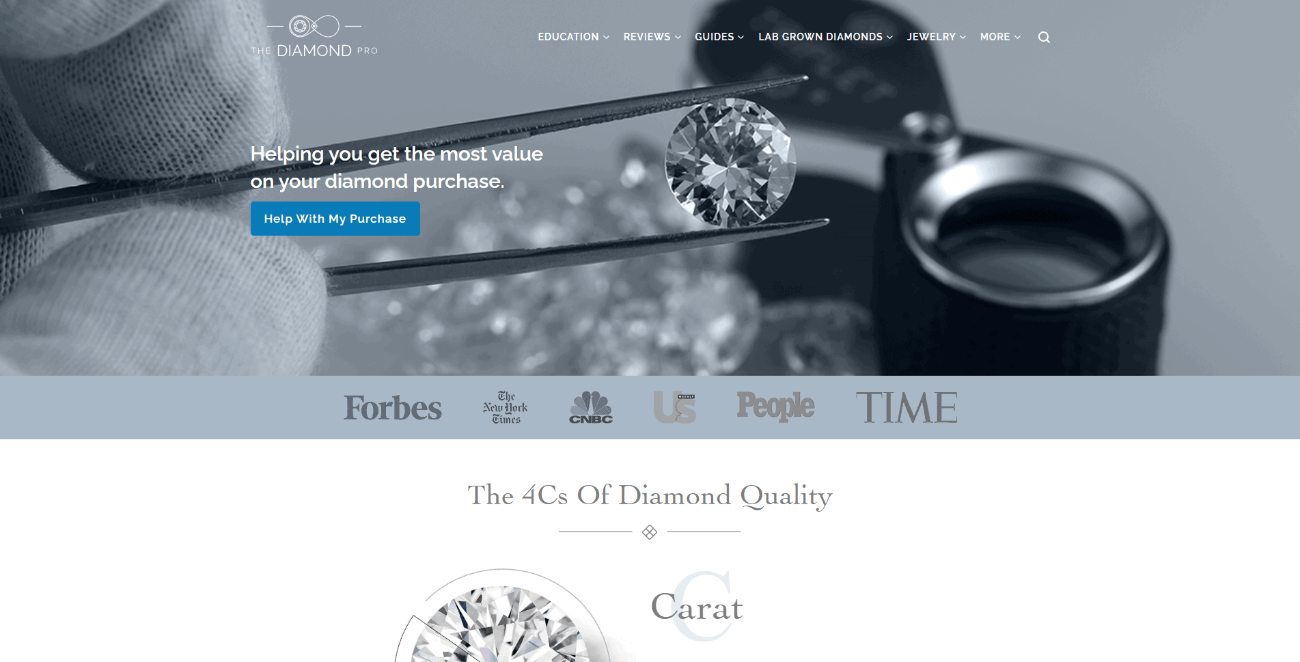 Diamond Pro is a review and educational site about, you guessed it, diamonds.
Ahrefs estimates they receive about 661,000 organic visitors per month, which makes it all but certain that number is closer to 1-3 million or more.
They hold impressive rankings for terms like "diamond price", "white gold", and "how to tell if a diamond is real." Content on the site is a good mix of commercial and educational, and covers the diamond-buyer's journey well.
But the most interesting thing about this website isn't how much traffic they're earning from Google.
It's the clear decision they've made to prioritize collecting email addresses over quick clicks over to their top jewelry affiliate programs, like Blue Nile.
At the top of each page, they entice readers to click with a big red "Deal Alert" offering 15%: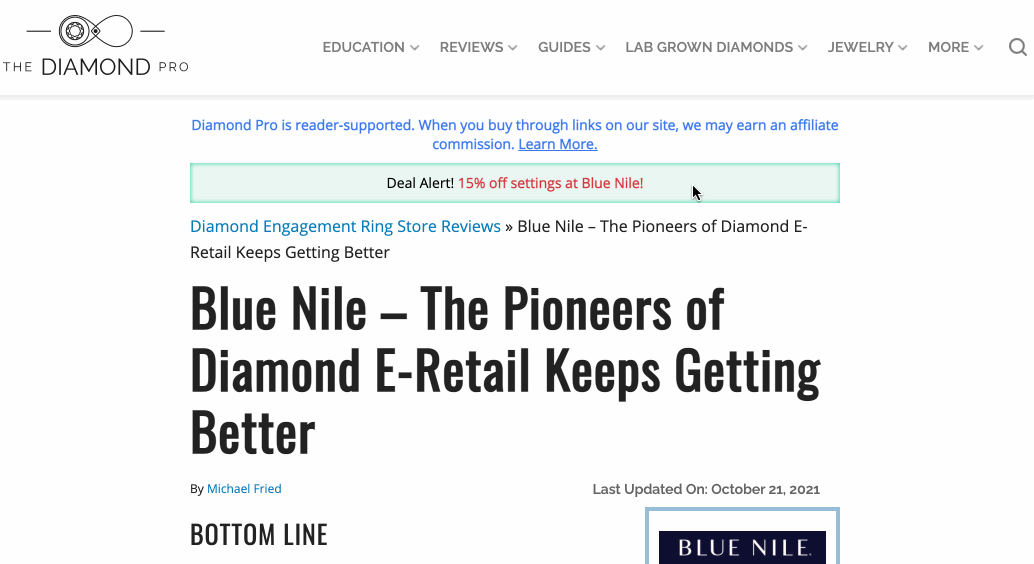 But instead of taking the opportunity to set an affiliate cookie, they're banking on your email address being worth more in the long run.
Which makes total sense.
Blue Nile's affiliate program offers a 5% commission with a 30-day cookie. Their rings start at around $800 before quickly ascending to several thousand dollars each: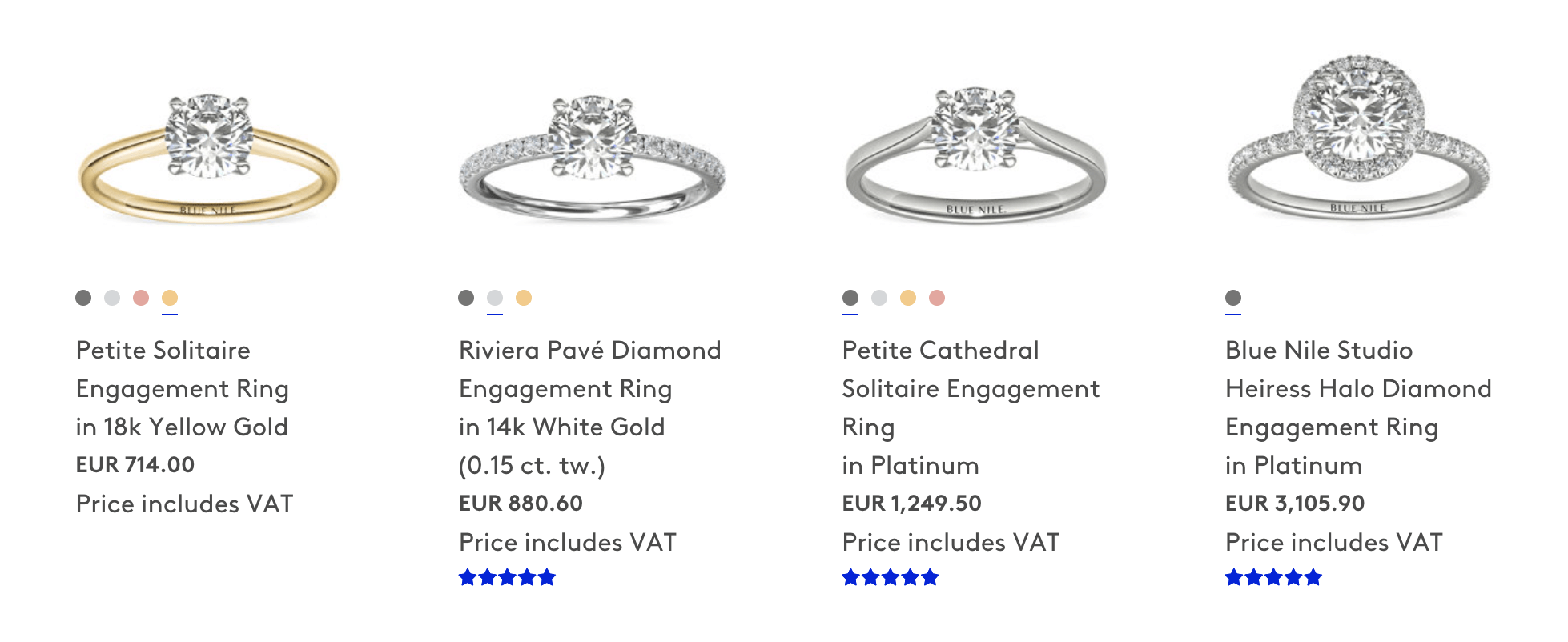 No one makes that kind of purchasing decision just 30-days after landing on a basic educational article like, "Cubic Zirconia vs Diamonds: What's the difference?"
A quick Google reveals that the average length of an engagement ring buying process is 3 months, from consultation to delivery. Which is way longer than the 30-day cookie would allow.
So instead, Diamonds Pro knows that if they can get into your inbox, they can educate you about diamonds over a longer period of time. That way, when you're ready to buy, it'll more than likely correspond to an email they've just sent you.
Diamonds Pro does have other unique mechanisms for promoting affiliate links.
Take for instance these quizzes, which challenge you to pick the best diamond deal and "see if you're a Pro":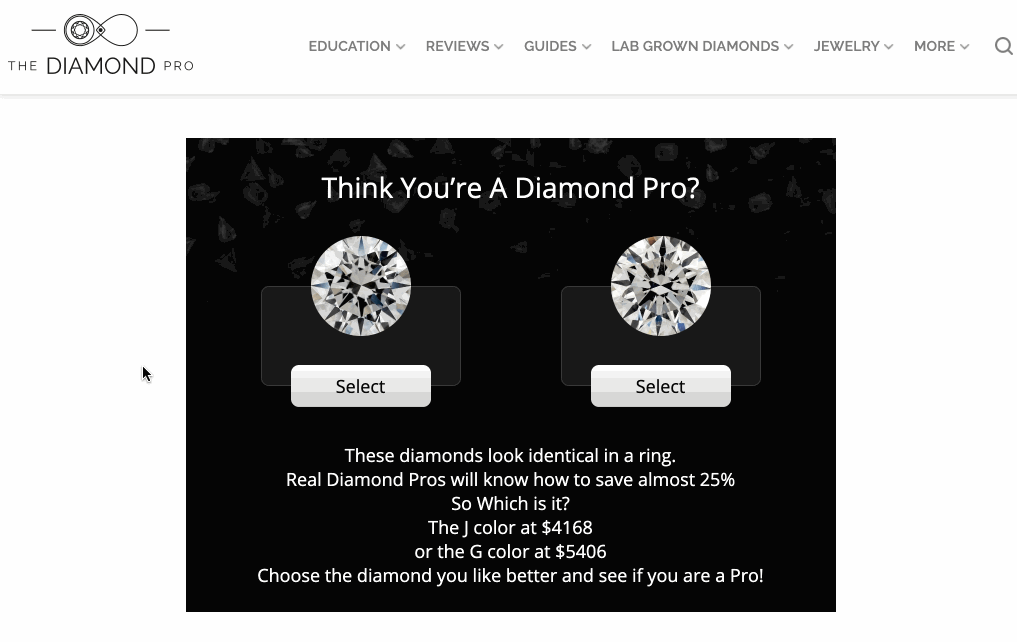 Still, based on the placement of their email opt-in, it's clear their primary goal is growing and monetizing their email list.
What can you learn from Diamonds Pro?
High ticket affiliate programs can be extremely profitable, but usually have a longer buying cycle that outstrips the program's cookie length.
The best way to stick with your reader through their buyer's journey is to obtain their email address, even if that means fewer direct affiliate link clicks on your website.
Offering a concrete, money-saving deal in exchange for an email address is a solid way to grow your list and compensate for longer buying cycles.
2. Your Dream Coffee
What's just as valuable as a diamond to someone who just rolled out of bed?
A great cup of coffee.
And Your Dream Coffee is an affiliate website in the coffee niche which leans heavily on readers' never ending quest for the perfect cup.
Started just this year, Your Dream Coffee has picked up impressive rankings such as being #5 for the brand keyword "Aeropress", with a US search volume of 33,000 per month.
What I like most about this site is that its owner, Jeffrey, uses his own images when promoting products. One of my personal bets about Google's 2021 December Product Review update was that they would be able to detect (and reward) original images like these: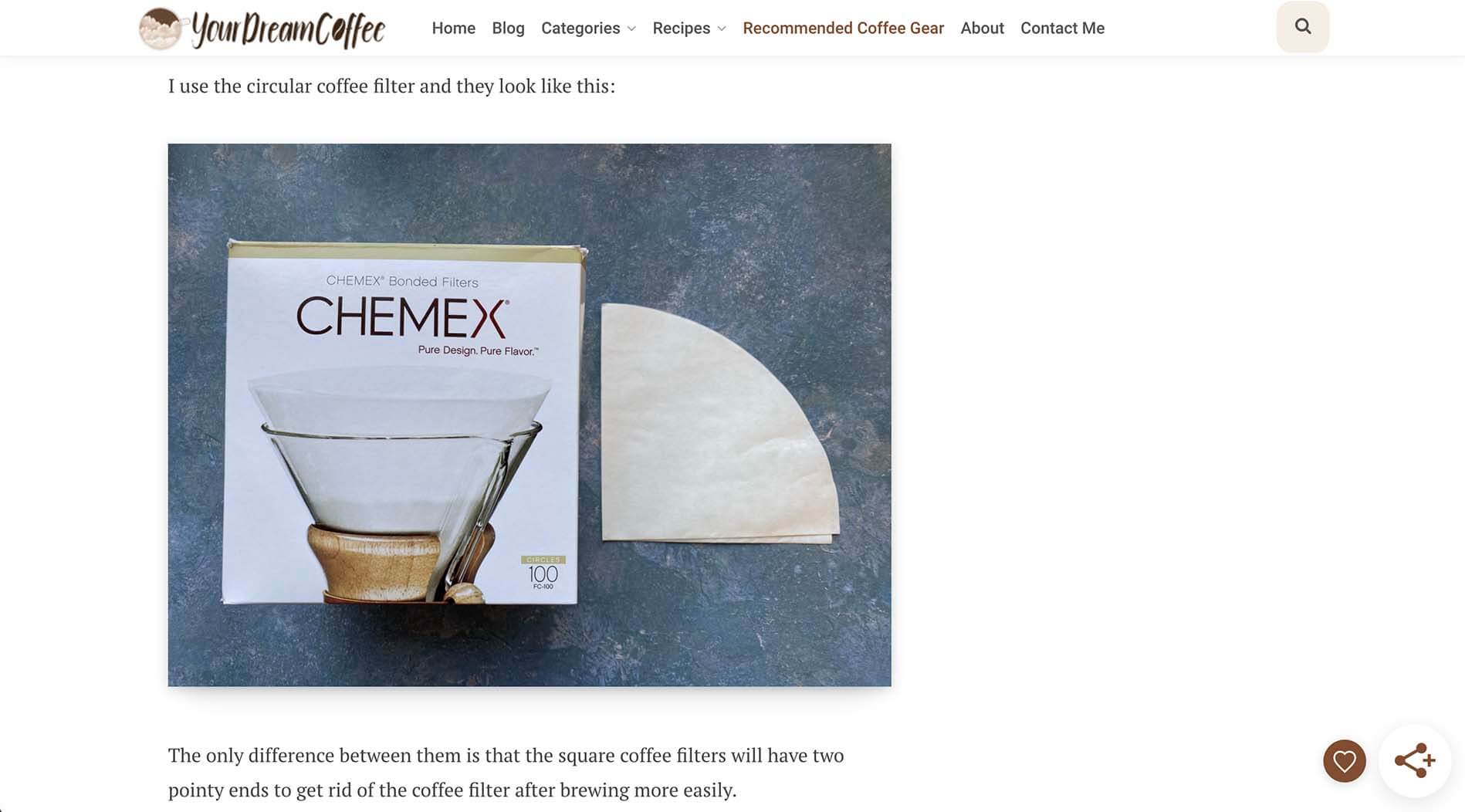 And so far, it looks like this site has skated through without a hitch:

Compare that to other sites which have been impacted by the December 2021 update like this one:

Or this one:

Jeffrey is clearly doing something Google likes.
Something else I appreciate: he also uses language like "I use" and "my recommendation". Phrases like these make it clear to the reader that he's actually put the products on his website to the test.
You'd be surprised (or not) at how many affiliate websites don't, and then wonder why their conversions and click-through rate are so low.
Real-life images, paired with personal recommendations, come across as much more authentic than a site stuffed exclusively with product images from Amazon. Honestly, it's just better for both users and for Google.
Finally, there's a good mix of content that'll bring readers back, or at least offer some kind of value for repeat visitors.
For example, his homemade syrup recipes contain 100% original images and 0% affiliate links. True coffee lovers might just find him through these recipes, and want to pick up their next piece of kit thereafter. Less likely, but possible.
What can you learn from Your Dream Coffee?
Invest in product photography to add authenticity to your reviews and recommendations.
Use personal language like "I use" and "personally recommend" to emphasize your experience with the products.
Lean on brand keywords to siphon off readers who are already on the fence, and help them make a buying decision before leaving your site.
3. SaaSList
SaaSList is a great example of an affiliate marketing website that isn't your typical content site or blog. Instead, it's a review site for SaaS products, monetized via links to a number of SaaS affiliate programs.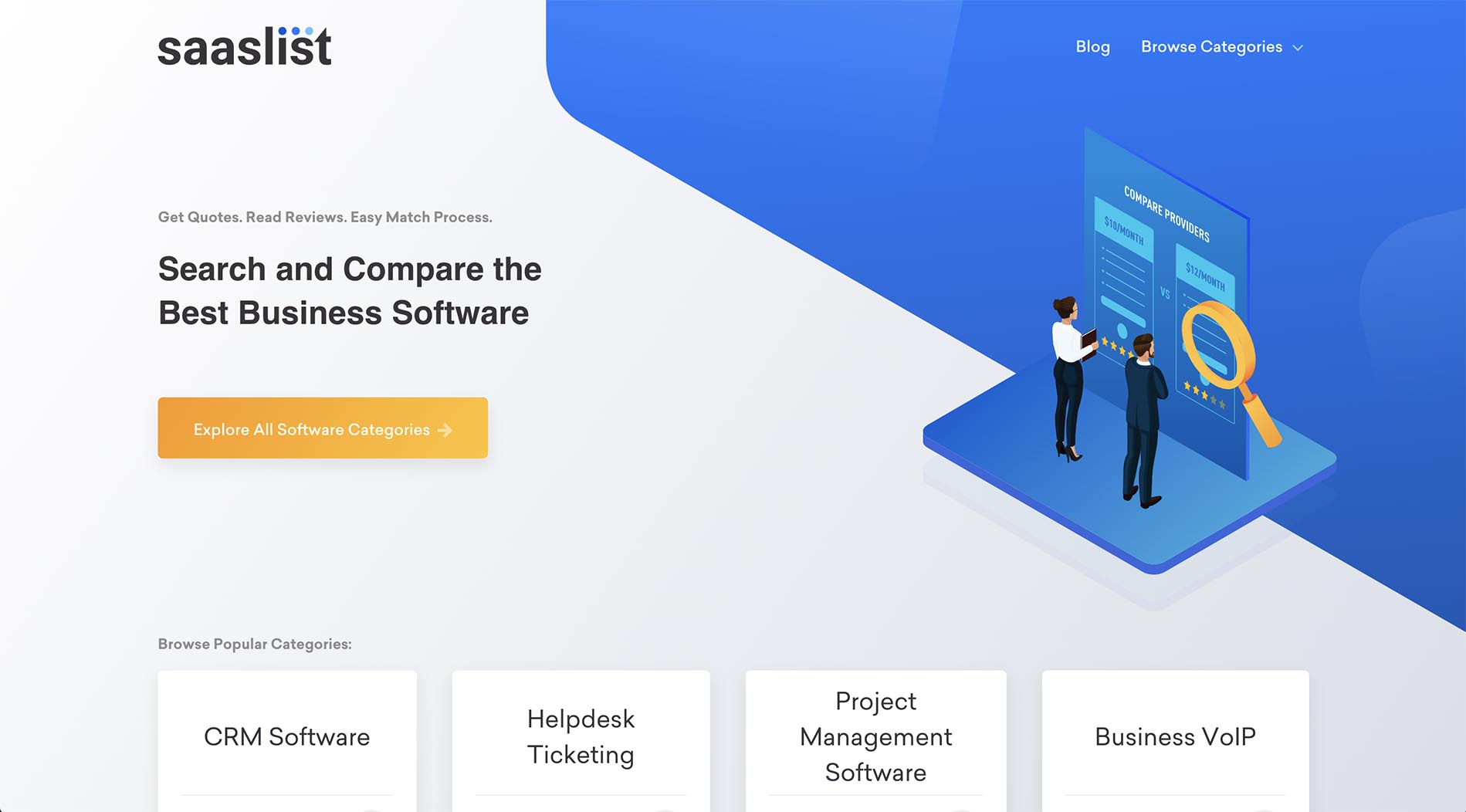 What's interesting about SaaSList is that its pages still rank without being chock full of content. Take for example this landing page for the best all-in-one CRM software: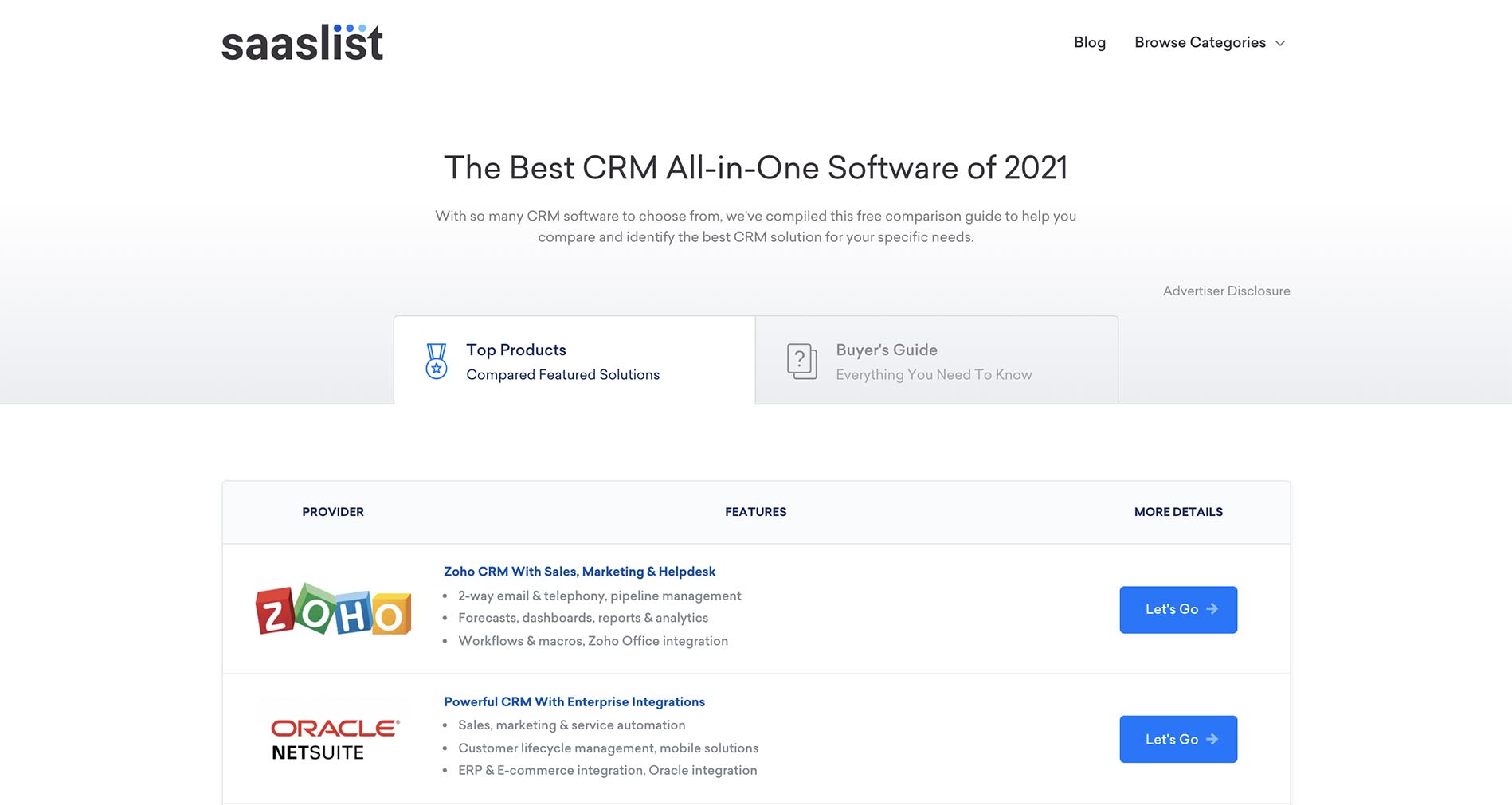 This website does, indeed, rank #1 for "best all in one crm" according to Ahrefs. And even though it's only estimated to reach about 150 people per month, that's probably fine considering the affiliate links on this page:
Point is, you don't need a ton of traffic to earn well if payouts are this high.
What's also interesting is that according to their about page, SaaSList used to be known as GetCRM. The fact that they've branched out into more SaaS product categories is probably a strong indication that their original CRM angle was so profitable, it made sense to expand.
Just take a look at the categories SaaSList is targeting: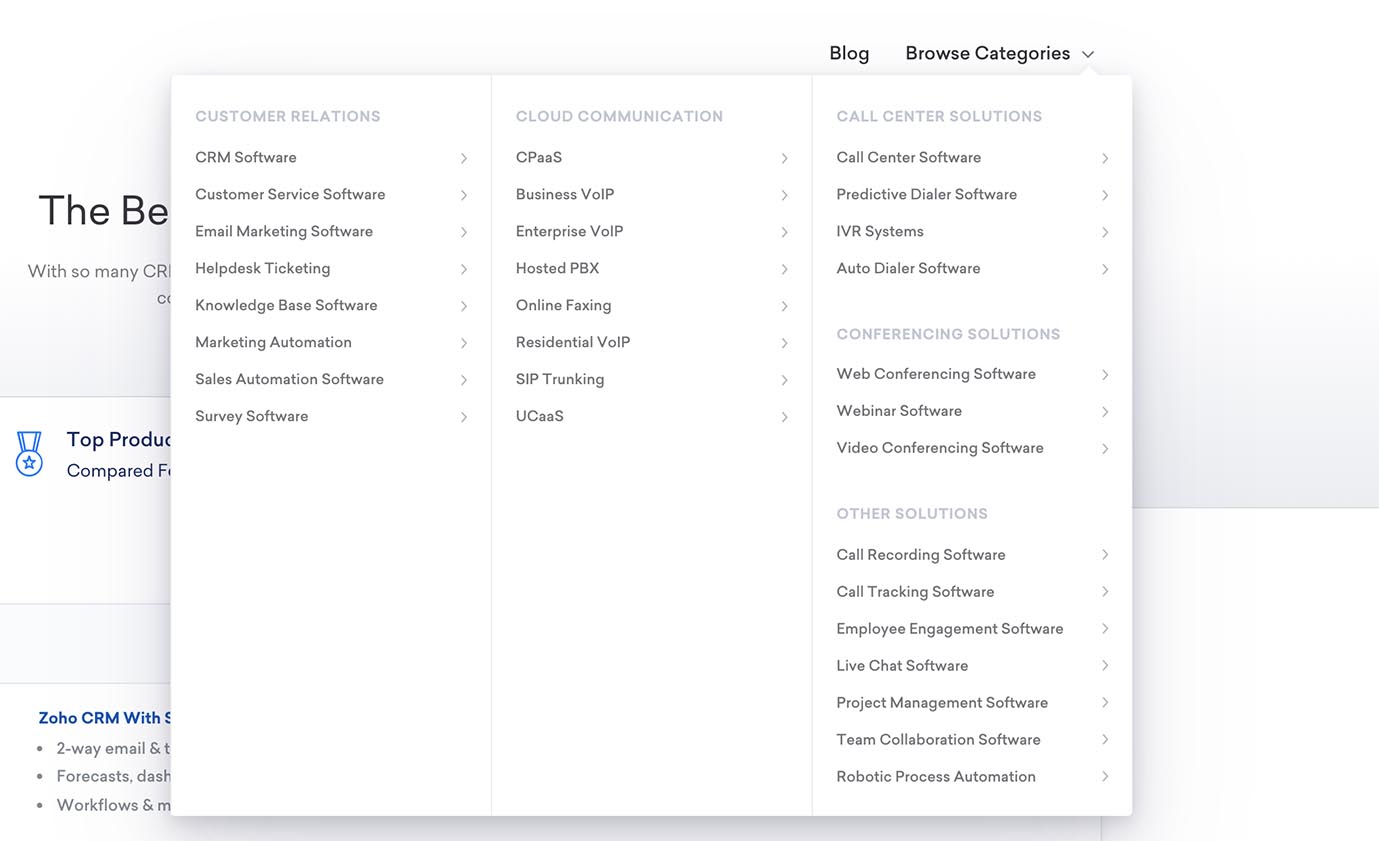 You can do the same by starting super niche within a broader, competitive space. Outrank your competitors by focusing tightly on a single product and category, and establishing topical authority on it.
Once you've dialed in your strategy, expand into more categories. Just like SaaSList.
Another benefit is that once you build your review site into an authority in your niche, more monetization methods open up: sponsored listings and more direct partnerships to name a few.
The likes of G2 and Capterra are two such examples. Each charges companies thousands of dollars to be featured prominently in their listings.
Once SaaSList is big enough, that could be their next step.
What can you learn from SaaSList?
Use user-generated content to scale your content creation. If you can incentivize readers to leave comments or reviews, that's great (and free) material you can use to make Google happy.
Affiliate marketing isn't just for blog posts. If you can create a more customized type of website, such as a reviews site, you'll have a moat against competitors who either can't afford developers or don't know how to replicate what you're doing.
High commissions means less traffic needed to profit. People often shy away from higher-ticket affiliate programs because they're worried about competition. The flip side is, you need far fewer commissions to make a profit.
4. NerdWallet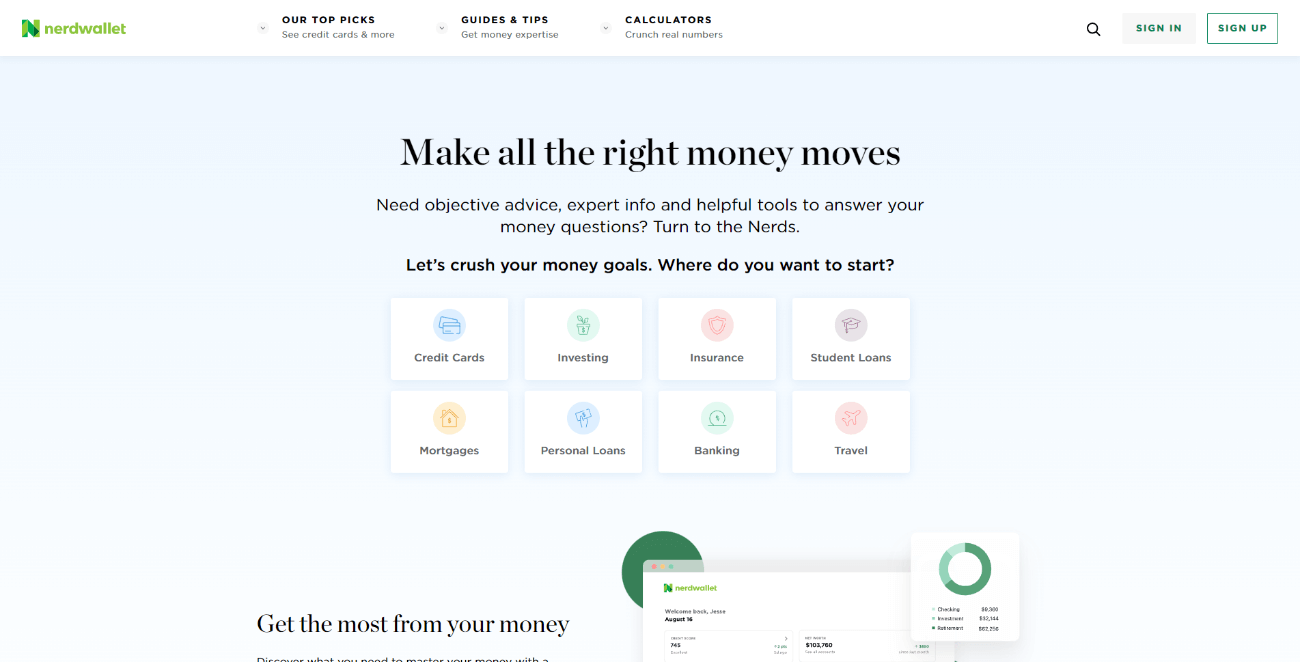 No list of affiliate websites would be complete without NerdWallet, and I'm not one to disappoint.
But for the uninitiated, here's a recap: NerdWallet is a juggernaut media brand in the personal finance space. They cover topics like credit cards, insurance, getting a great mortgage, and investment advice.
To give you an idea of the scale of their operation, NerdWallet's brand name alone commands over 160,000 in search volume per month.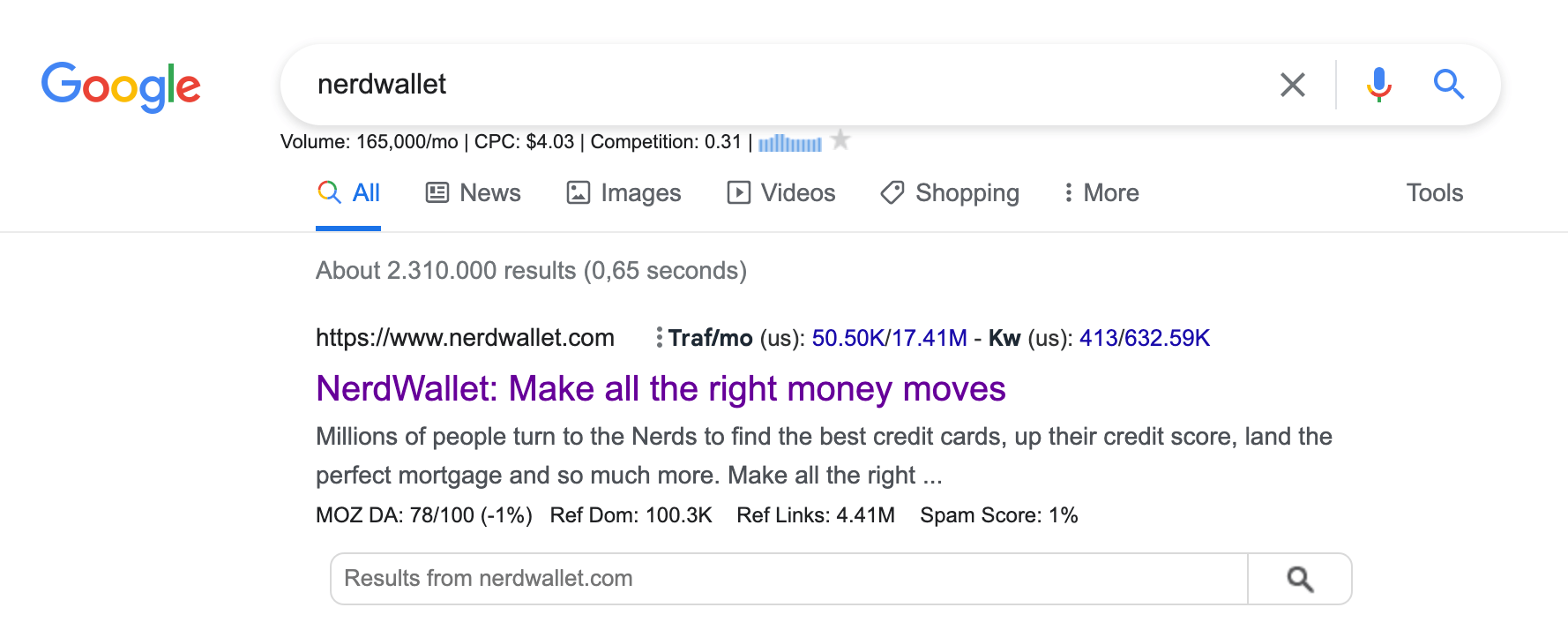 NerdWallet also just IPO'd. And it's the only company in this list to do that.
So how exactly does what looks like a simple financial affiliate website make itself worthy of the public market? Here's one of NerdWallet's more clever strategies.
NerdWallet has heavily invested in personal finance calculators.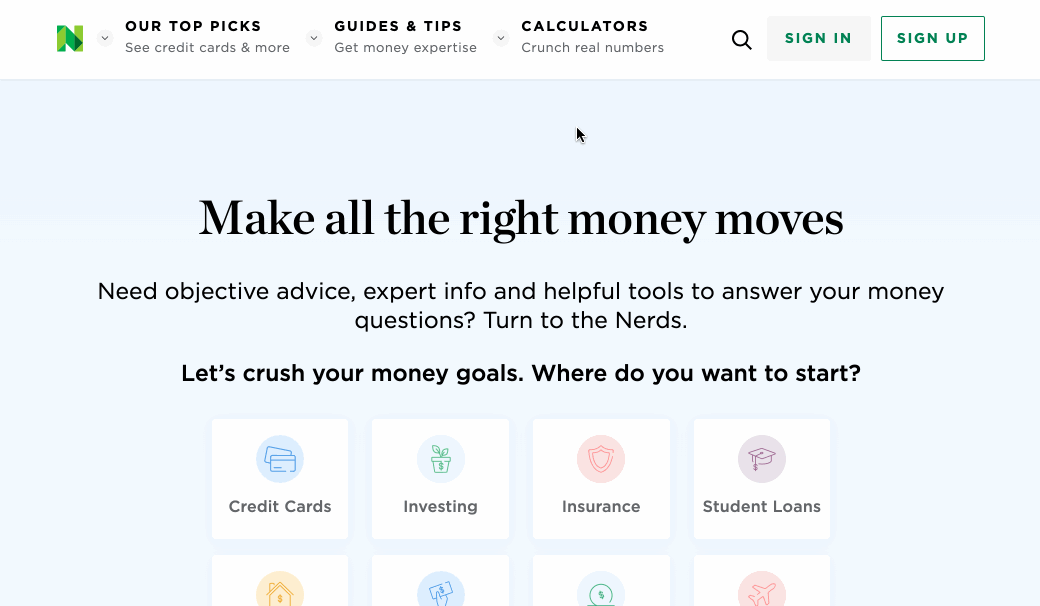 The way it works is that each calculator helps you calculate something (your Roth IRA contributions, for example). And next to the results, they'll recommend places where you can open the relevant accounts. Each is, of course, an affiliate link.
It's actually a pretty simple concept. It's also repeatable.
And when you see a successful affiliate website like NerdWallet do something ten, twenty, or thirty times, it's not just for fun.
It's because it works.
What can you learn from NerdWallet?

Creating 10x content doesn't necessarily mean your articles are longer. You can get an edge by doing what your competitors can't – in this case, interactive calculators.
It pays to get creative when you promote affiliate links. Quizzes and calculators are two unique ways to do just that.
Pay attention when a major site is clearly doubling down on a strategy. That means it works.
5. Photofocus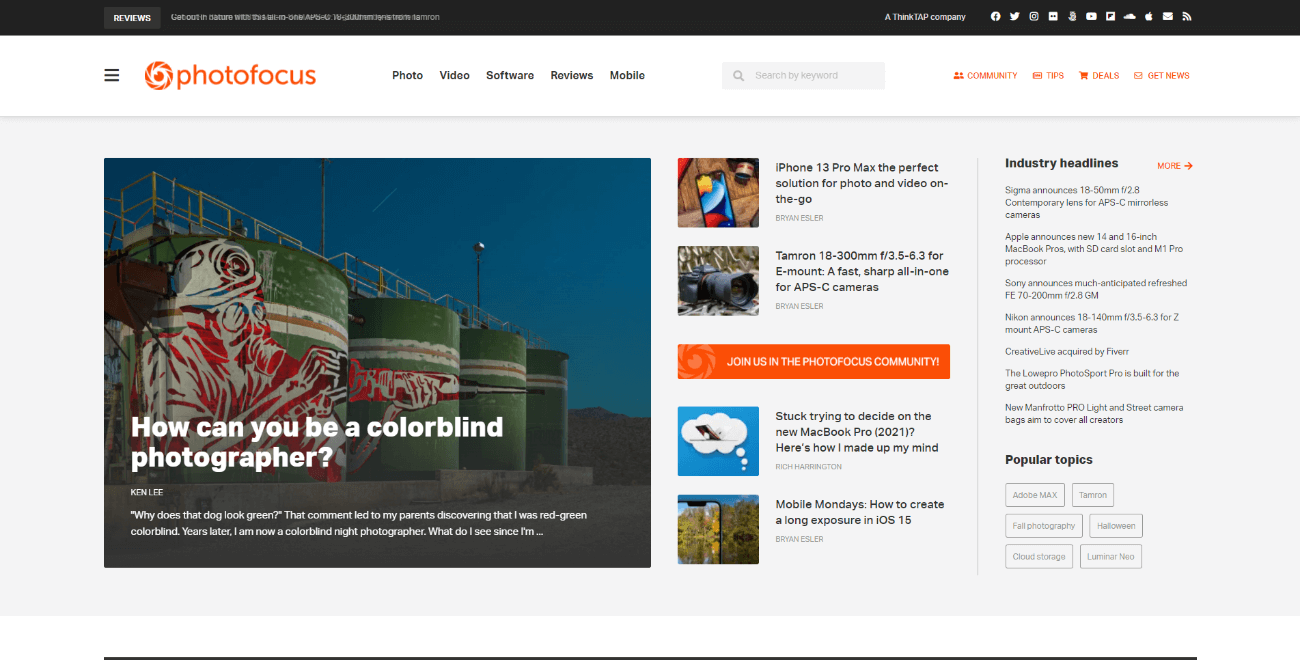 Photofocus is a photography website with a combination of news, opinion, and product review content.
As a photographer myself, the photography niche is near and dear to my heart. Not just because it's a personal hobby, but because it's a great industry to enter...if you can keep up with the lingo.
Aperture. ISO. Shutter speed. Exposure compensation. White balance. Chromatic aberration. The photography niche comes with a slew of slang that makes the writing difficult to outsource to a run-of-the-mill writer.
But for those who can make it work, commissions from photography affiliate programs can be sizable. With average order values in the high hundreds of dollars, it's hard not to make bank if you've got an audience that's ready to buy.
Even if it's relatively small or more niche than the one of Photofocus.
One way that Photofocus is capitalizing on pricy gear is through news-style content that shares the latest camera deals: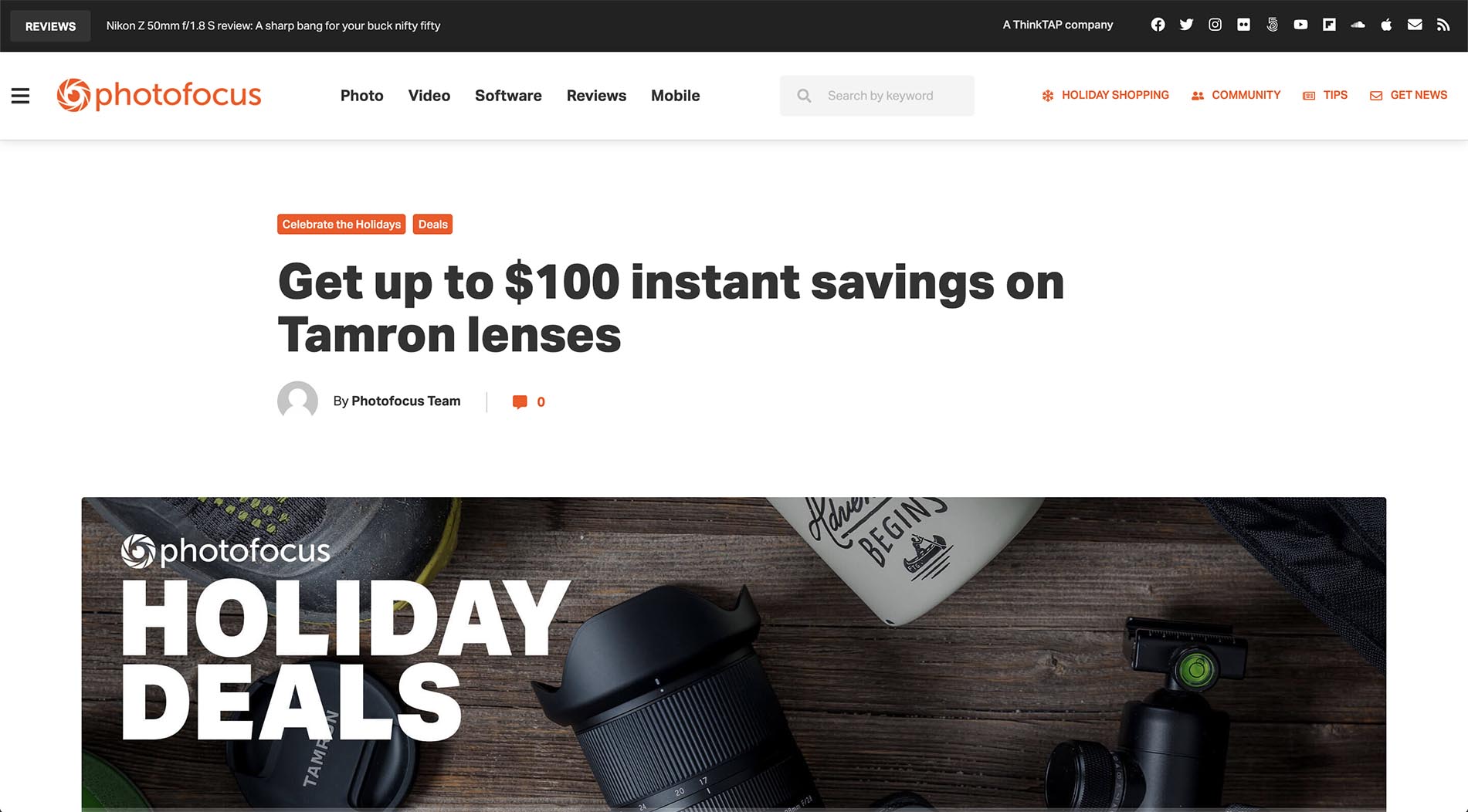 This content is clearly not designed to rank. If anything, their goal is to get featured in Google Discover, News, or just to push the deals to their email list.
Which brings us to an important lesson:
Not every piece of content on your site has to rank.
For example, if your homepage gets significant traffic and you advertise deals on the homepage, you've got a clear way to drive readers to that part of your site without ranking at all.
The other takeaway here is obviously about deals.
Tons of affiliate platforms have a way for you to find deals and coupons to share with your readers. After all, coupon and deal websites base their entire affiliate business model around this concept.
Finally, let's talk about choosing your affiliate programs. With a niche like photography, it's easy to end up with a pure Amazon affiliate website on your hands. But this puts you at risk of being on the bad end of an Amazon commission reduction.
Photofocus has mitigated this risk with a couple strategies.
First, they doesn't link exclusively to Amazon. For example, in their article about the best cameras for YouTube, links to B&H Photo dominate the list. I'm willing to guess they've negotiated a favorable rate with B&H, in order to make up for the inevitably lower conversion rate than you'd get from Amazon.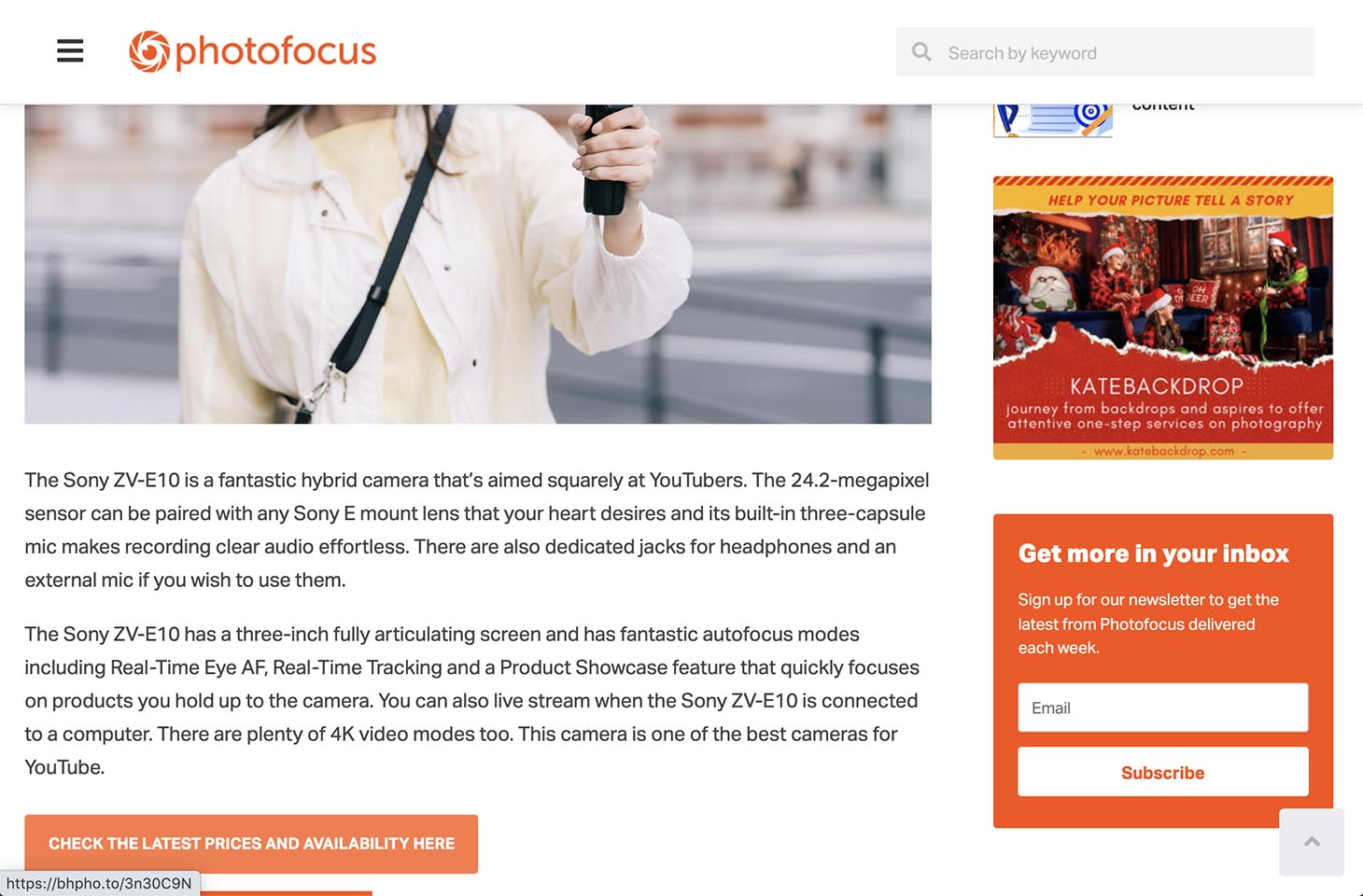 Second, Photofocus does sponsored content. Instead of relying on a pure affiliate model, they're bringing in revenue from a variety of sources. A strategy far too many affiliates ignore in favor of the traditional ads and affiliate monetization route.
Finally, Photofocus diversifies a typically physical product-focused niche with software. The site prominently features links to photo editing software like Luminar and Skylum.
Each of these strategies is a great way to diversify your affiliate income streams, even if your site's topic is about products most consumers buy on Amazon.
What can you learn from Photofocus?
Look for SaaS (software) affiliate programs to complement the products you're reviewing, even if your main focus is on physical products.
Limited-time deals can be a great way to earn an affiliate commission. Just make sure you're not violating any terms and conditions (with your email provider or the brand you're working with).
You don't have to rank every article. Instead, use your homepage, sidebar, or top navigation to lead readers to time-sensitive offers.
6. HelloGiggles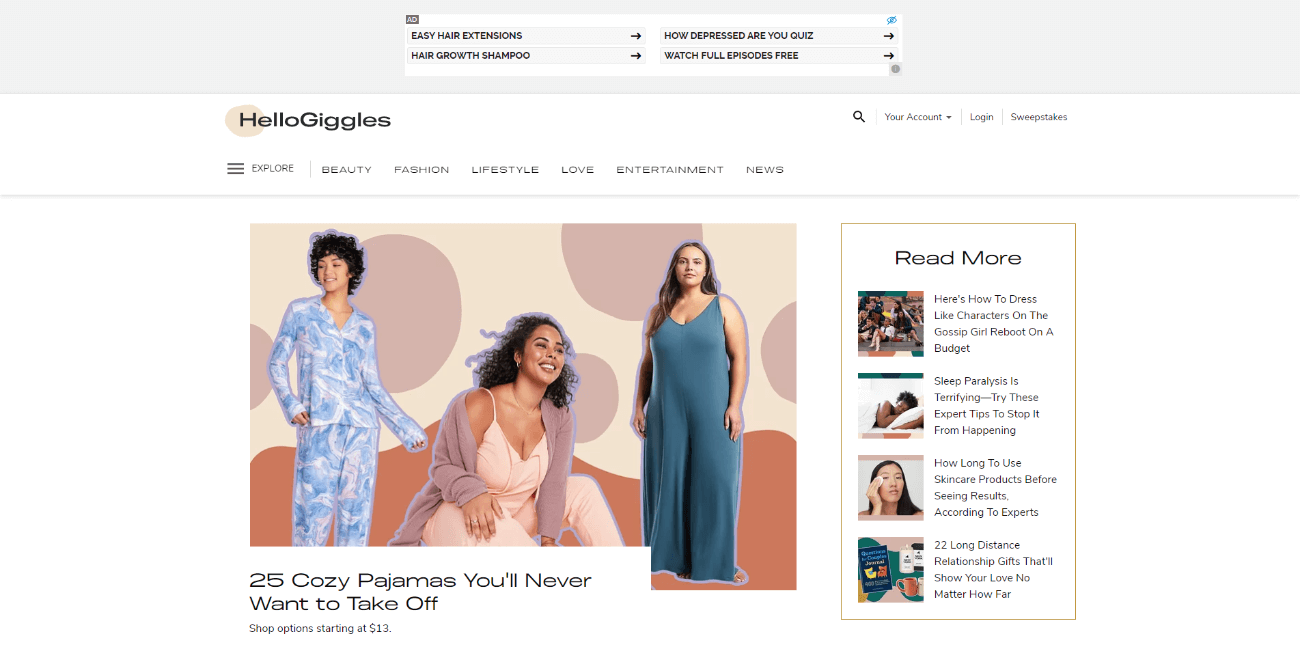 Dotdash Meredith is one of the largest media companies on the planet.
They own properties that exist online and off, like AllRecipes, Better Homes and Gardens, and Eating Well. Many of their brands are household names your mom probably reads (like Martha Stewart).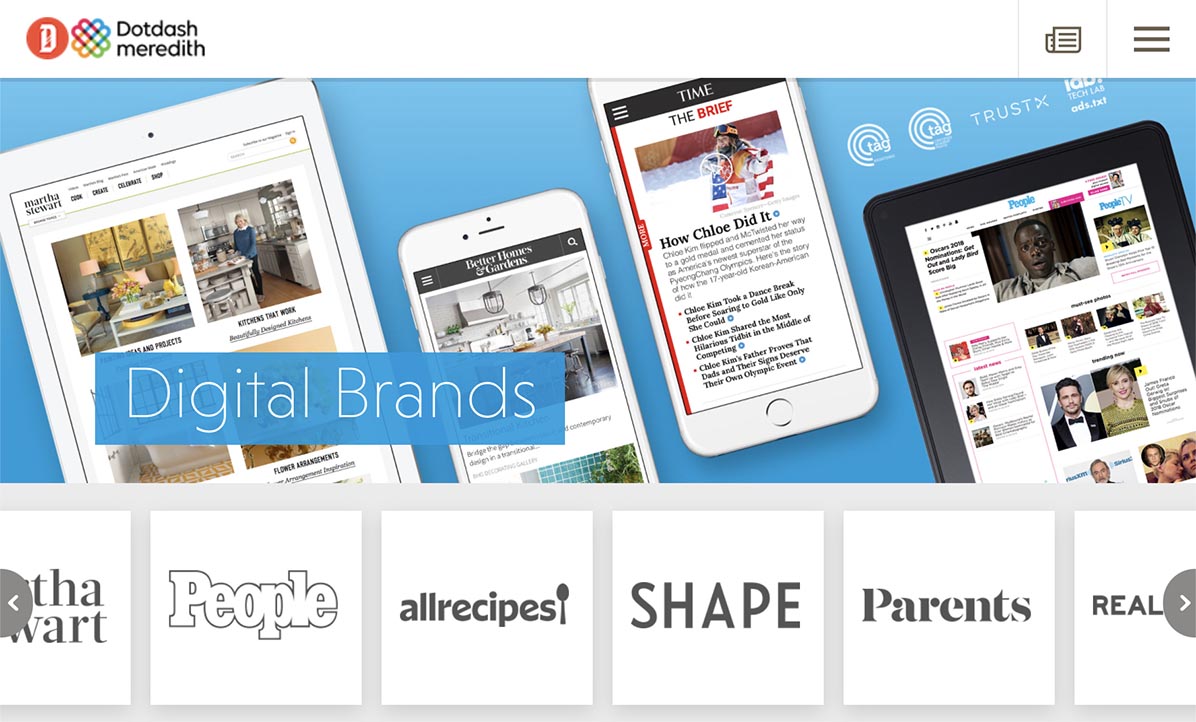 Plus a few you might not know about, like HelloGiggles.
Originally founded by Zooey Deschanel in 2011, HelloGiggles was ultimately acquired by Time Inc. for an undisclosed amount.
But an inside source revealed to Business Insider that the deal was in the ballpark of $30 million. A respectable sum if I do say so myself.
What exactly makes this website so successful as an affiliate publisher — and worthy of that kind of price tag?
Let's start with the basics.
HelloGiggles reaches 1.2 million people organically every month according to Ahrefs. Knowing how dramatically Ahrefs tends to underestimate traffic, my guess is closer to 5-10 million or more per month. Add on top their 380K instagram followers and it's clear — Giggles got reach.
Next, let's dig into their content. Here's an example of affiliate content being linked straight from the homepage: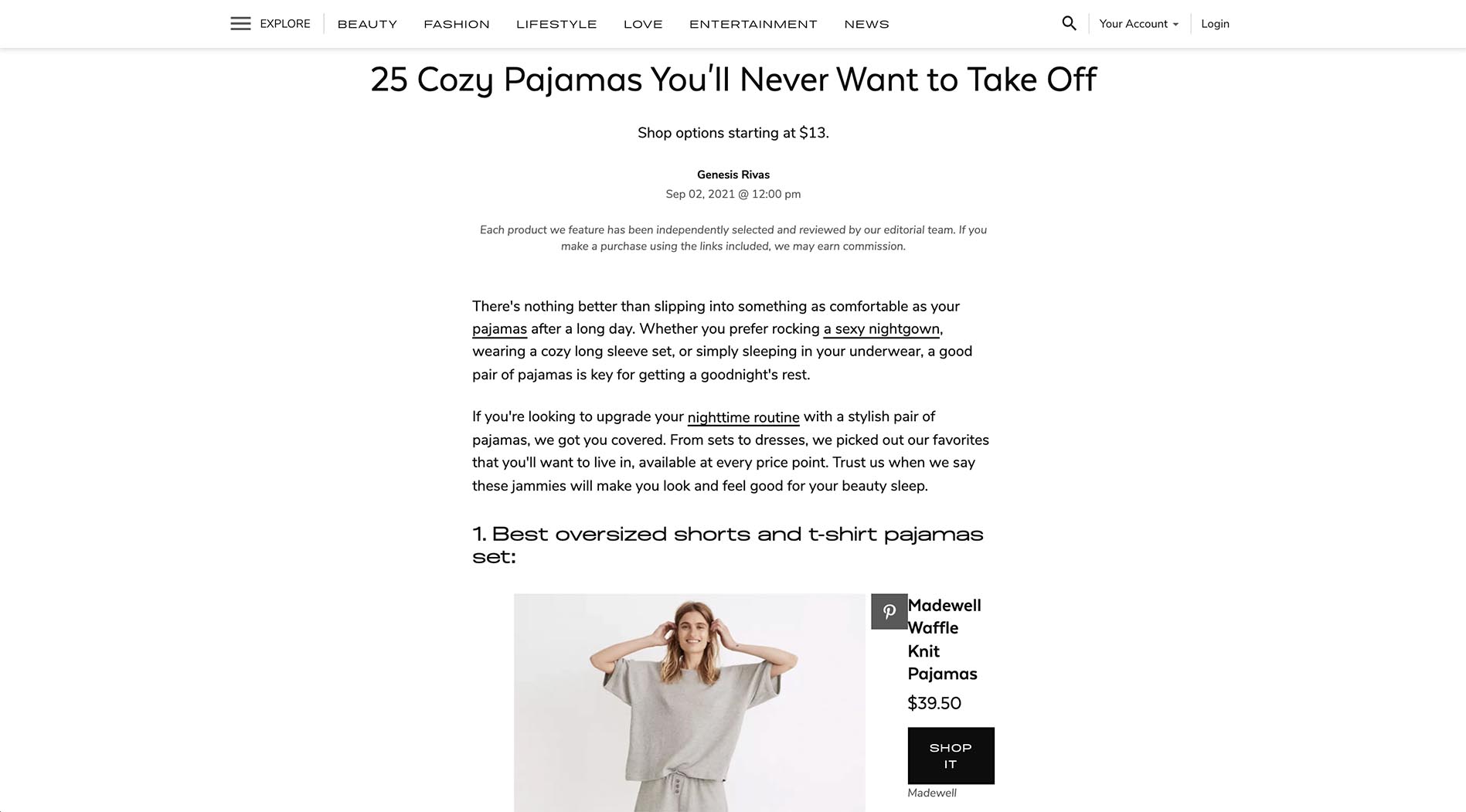 There are a couple of things that HelloGiggles is clearly doing right.
First, each product featured in their list of "cozy pajamas" has multiple affiliate links. The image, the button, and and in-text link all goes to show that they are clearly optimizing for conversion.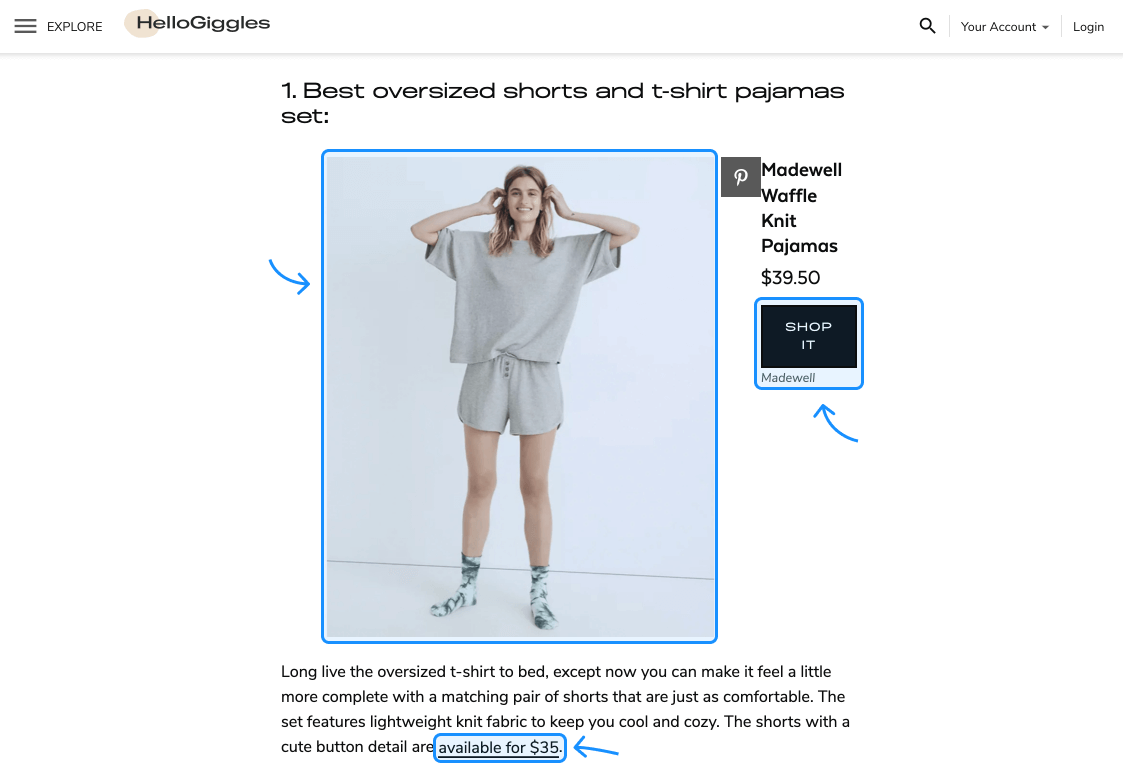 Hovering over each link also shows they're doing intense SubID Tracking. That's why their links to CJ Affiliate include information about the page, the product, and probably more:
https://www.anrdoezrs.net/links/8191803/type/dlg/sid/HG25CozyPajamasYoullNeverWanttoTakeOffgrivasFasAff7608355202109I/https://www.madewell.com/waffle-knit-pajama-tee-NB412.html?color=KF2320
Chances are, HelloGiggles can attribute each of their affiliate conversions down to the link level on their website (just like you can if you use Affilimate).
All that to say, the incredible price tag of this site is no surprise.
They're data-driven, making bank, and are currently inching back up to the traffic highs they enjoyed in 2018 and 2019.
This becomes even more apparent when you consider where their affiliate links lead. HelloGiggles is not going the easy route of linking out to Amazon. They prefer merchants they can build a direct relationship with. In this article, that includes the likes of Madewell, Nordstrom, Victoria Secret, and more.
In other words: they're playing the long game. And that's what partnership marketing as an affiliate is all about.
Another very interesting move by HelloGiggles is how prominently they feature their Pinterest button next to each item. Affiliate marketing on Pinterest isn't known to convert as well as Google. But if your audience isn't ready to buy, that's a the next best thing to a bookmark for the right audience.
What can you learn from HelloGiggles?
Build your affiliate website around an identity instead of a product category. This makes it possible for you to build an audience and an email list, and ultimately gives people a reason to come back (and shop your referrals again).
Track which pages are generating revenue on your affiliate website, so you can focus on writing and ranking content that makes money. The best way to do this is through SubID tracking.
Play the long game when it comes to your site, whether that means setting up direct affiliate partnerships with brands or giving readers a way to save and share your content for later.
7. SkillScouter
SkillScouter is a perfect example of a niche website monetized with affiliate marketing. In this case, the niche is online education and elearning.
The most prominently promoted course platforms on the site include Skillshare, Udemy, LinkedIn Learning, and a number of other education affiliate programs.
You get one guess at the program generating the most revenue for the site based on this screenshot: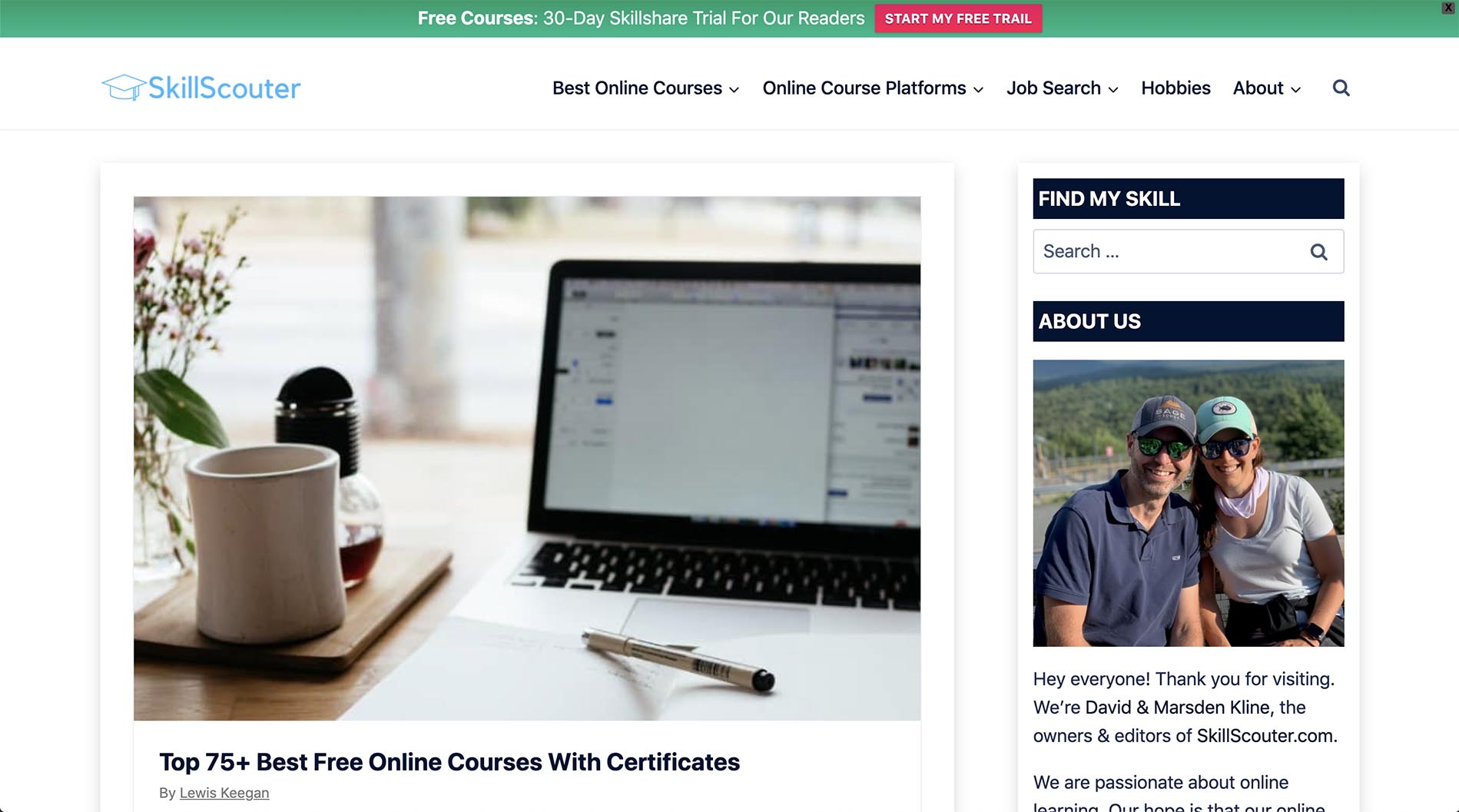 Yeah, I'm willing to guess it's Skillshare. In case you had any doubts, one look at their Skillshare review will change your mind.
Plenty of social proof through statistics, photos of the authors, and stand-out summary boxes at the top of the review featuring a big, orange button. The creators of SkillScouter have clearly been optimizing this article for conversion for a while.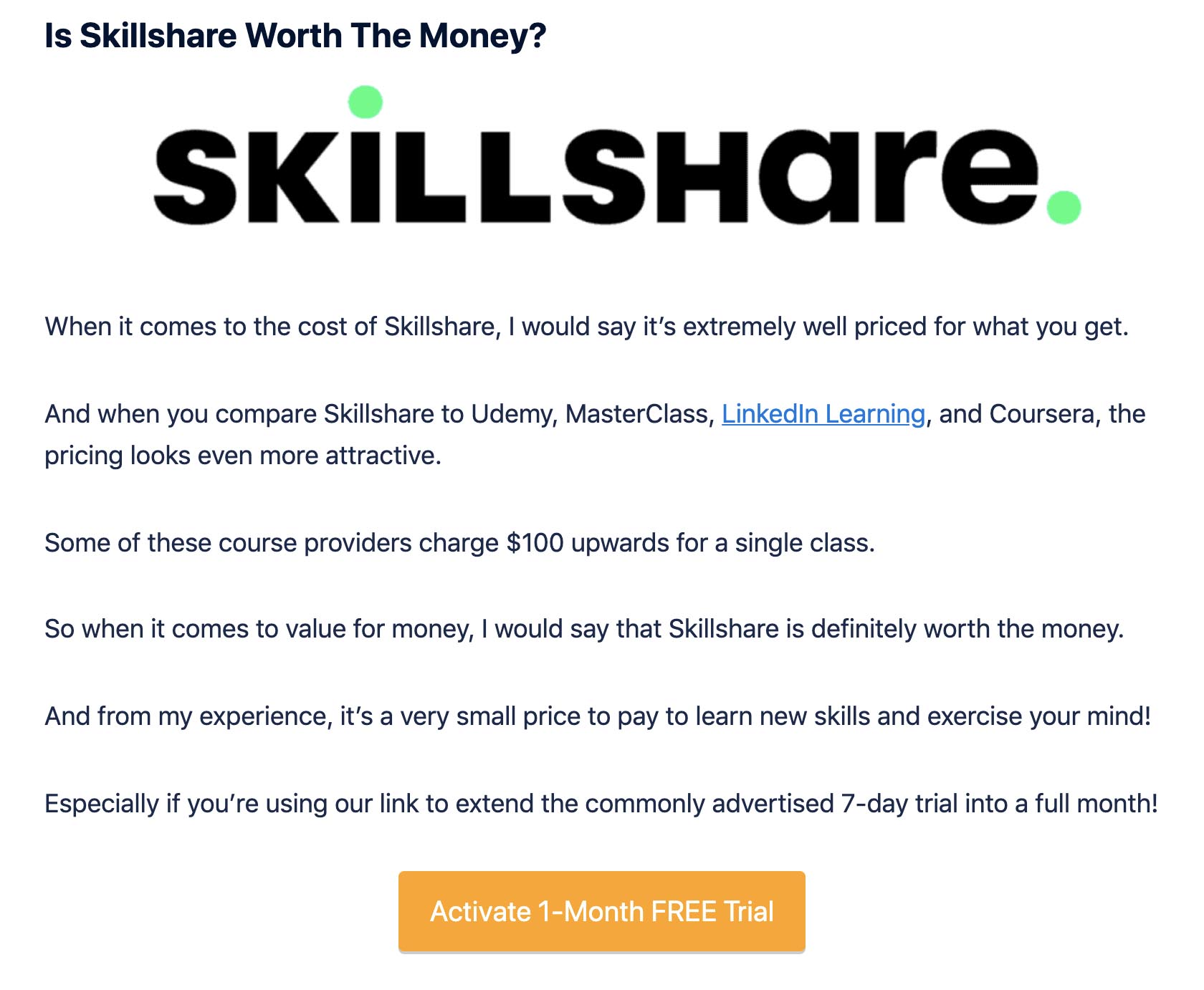 SkillScouter has also honed in on the power of "free".
They review a ton of free courses, platforms, and memberships with the hope that people may still decide to spend in the long run (thus, generating a commission for them).
What can you learn from SkillScouter?
Targeting keywords including the word "free" can still result in commissions. Especially for a program like Skillshare where the platform requires a credit card up front for the free trial.
Use bold, visual elements to promote your main offer. As long as your website has a clear focus, that offer will be relevant to just about every visitor.
Link building for affiliate content can be hard, but you can take a page out of SkillScouter's book to create statistics pages that command links —even from your competitors.
Your next steps to success as an affiliate
Please don't read this article and think that your ticket to greatness is to copy — or dare I say, rip off — these successful affiliate websites.
Each of them has some kind of moat. Whether it's incredible amount of traffic, years worth of authoritative backlinks, deep experience in their niche, or just truly unique and original content.
Your best bet is to learn from their affiliate marketing strategies, and then adapt them to your niche and context.
By remixing what's working for them with your own content and website, you can actually bring a fresh take to the industry you're operating in.
And doing that is far easier than trying to compete on the exact same terms as established players.