12 Best Ways to Promote Affiliate Links
By Monica Lent · Updated Jan 27, 2023
Why is it that some affiliate links earn thousands of dollars, while others are virtually ignored? Turns out, it has just as much to do with the offer as how you promote them.
Promoting affiliate links is part art, part science: you've got to share affiliate links in a way that stands out in a sea of content, appeals to your audience's goals, and succinctly sells the products' benefits.
All without looking (or acting) like a desperate spammer.
Want to learn how to tastefully promote affiliate links in a way your audience will thank you for? Read on to learn:
How affiliate links work
An affiliate link is a unique referral link given you to by a brand or company. It allows them to track any referrals you send and pay you a commission for any successful sales. It's a win-win model because the company only pays if they get results.
Here's an overview of how affiliate links work: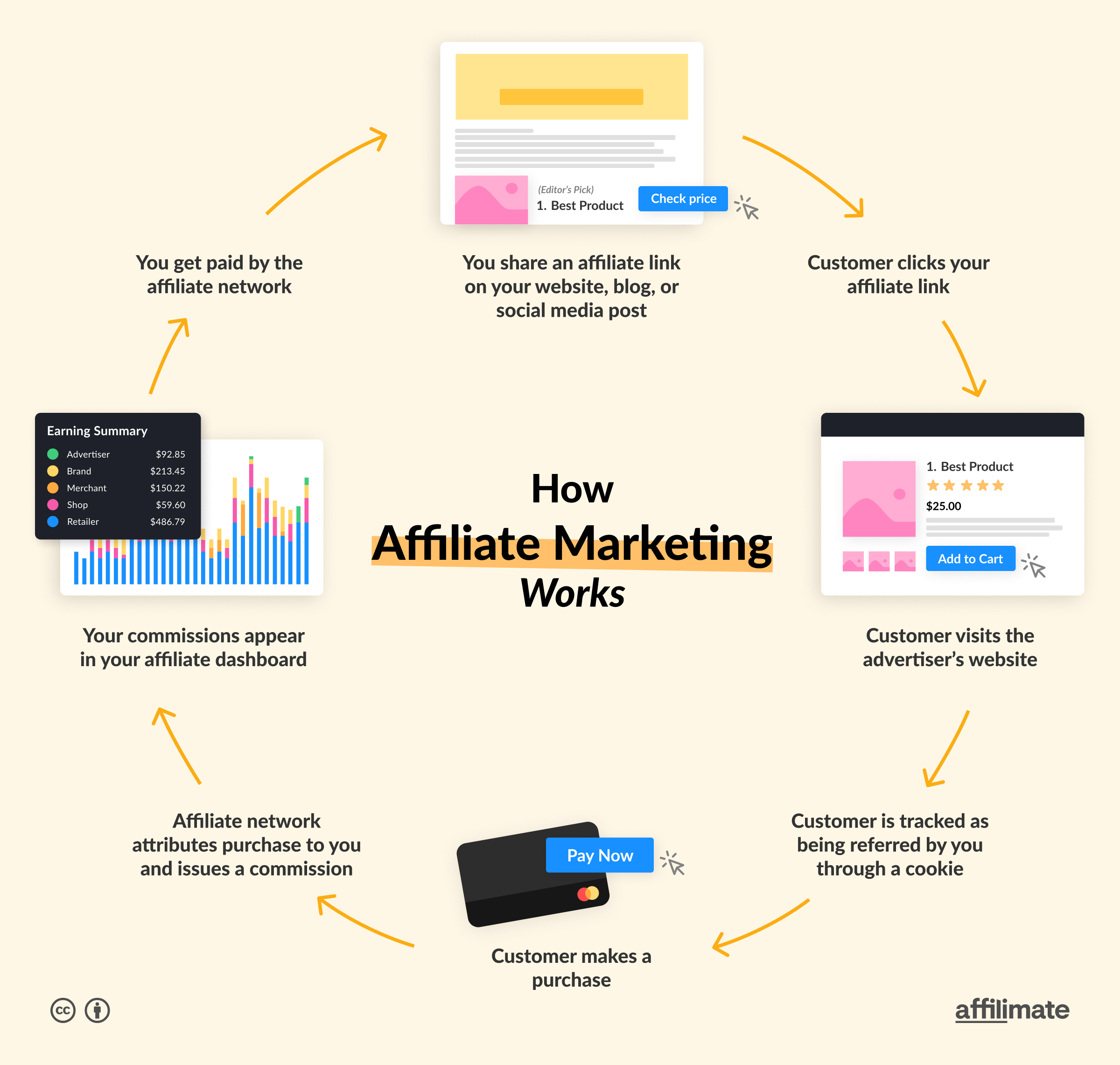 You share an affiliate link on your website, blog, or in a social media post
A customer clicks your affiliate link
Customer is redirected to the advertiser website
Customer is tracked as being referred by you through a cookie
Customer makes a purchase
An affiliate network attributes the purchase to you and issues a commission
Commissions appear in your affiliate dashboard
You get paid (!) by the affiliate network
To the untrained eye, an affiliate link might look like a complicated piece of code.
But in reality, every affiliate link is made up of a few simple parts which help make sure you get credit for your referrals: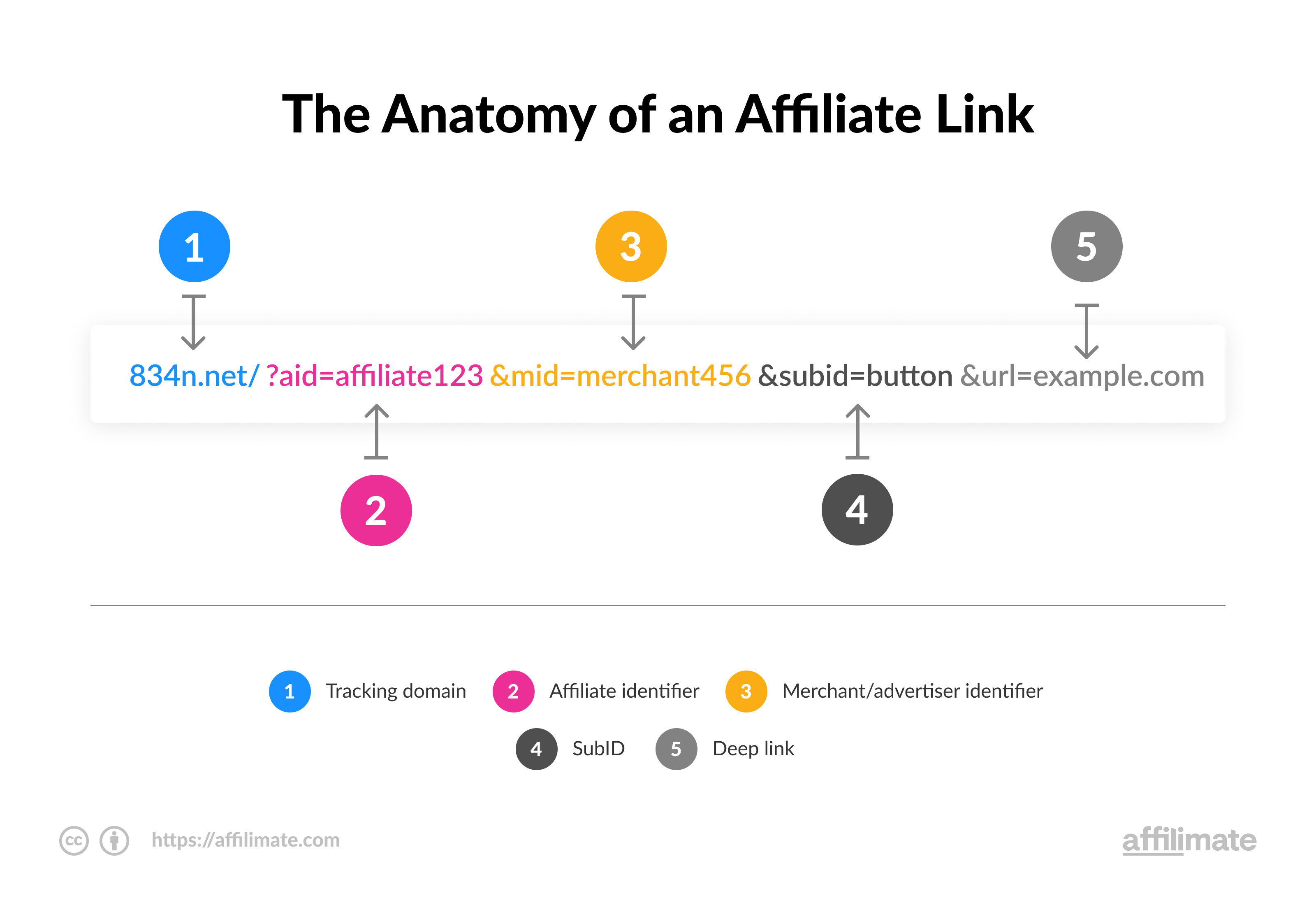 Affiliate tracking domain: A domain set up by the affiliate network which forwards your user on to the brand or advertiser.
Affiliate identifier: Identifies you as the affiliate sending the referral
Merchant / advertiser identifier: Identies the merchant receiving the referral
SubId: Customizable text you can use to track which content and links are driving the best conversions
Deeplink: Which page on the advertiser's website you want to send the visitor to instead of the homepage (such as a product page or landing page)
Each affiliate link is going to look a little different. But pretty much all of them are going to combine these elements into a totally unique link you can use across your website, social media, and email list.
Here's how to promote affiliate links on your blog or website.
How to promote affiliate links
1. Product reviews for affiliate offers
Product reviews are one of the most popular types of content for affiliate marketing. The general idea is that anyone reading reviews of a product is seconds away from making a purchasing decision.
And if you can swoop in with your affiliate link and refer that imminent sale, it's an easy way to earn money on products people would buy anyway.
The key is to review products with a strong conversion rate, solid commissions, and enough volume that you'll earn a meaning full amount of revenue.
Think beyond typical consumer products you'll find on Amazon to get an edge.
For example, you can review:
In particular, digital products and services can offer especially high commissions since production costs are dramatically lower than those of physical goods.
Creating a high-converting product review isn't rocket science, but it does take experimentation.
Here's a product review template we've created, which should give you a good starting point: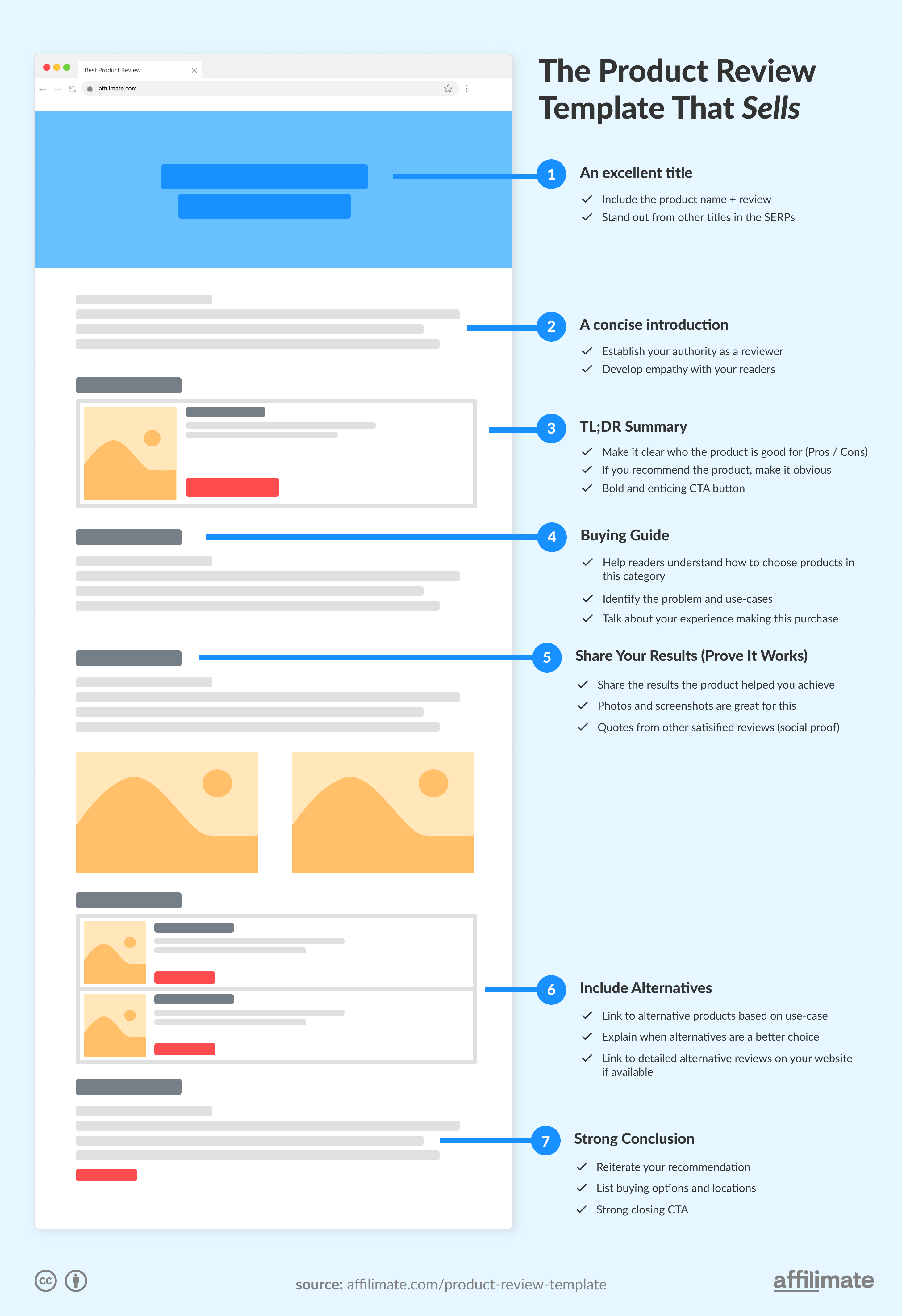 Use affiliate links early and often, without over-doing it. To promote affiliate links effectively, use anchor text that sparks interest in the content behind the link.
For example, phrases like "this exact [product type]" or "see more photos" both promise helpful information is just a click away.
2. Inside a free email course
Email has long been cited as the most cost-effective marketing channel. That's still true in 2021, and it applies to affiliate marketing as much as other types of digital marketing. This is because email affiliate marketing lets you:
Reach buyers reliably. Regardless of ongoing Google and social media algorithm updates.
Sell to the same people over and over. Instead of convincing new buyers from ground zero every time.
Share time-sensitive information. Such as discounts and deals, which boost conversion rates.
And one of the best ways to build an email list is through email courses. Which so happen to be the perfect place for your affiliate links, too.
An email course is a sequence of emails delivered over a set period of time, with the goal of teaching subscribers how to accomplish something. By promoting affiliate links inside an email course, you can enable subscribers with the tools they need to reach their goal.
Take a look at this 7-email series from The New York Times for inspiration. It's built around educating people on how they can use the internet safely: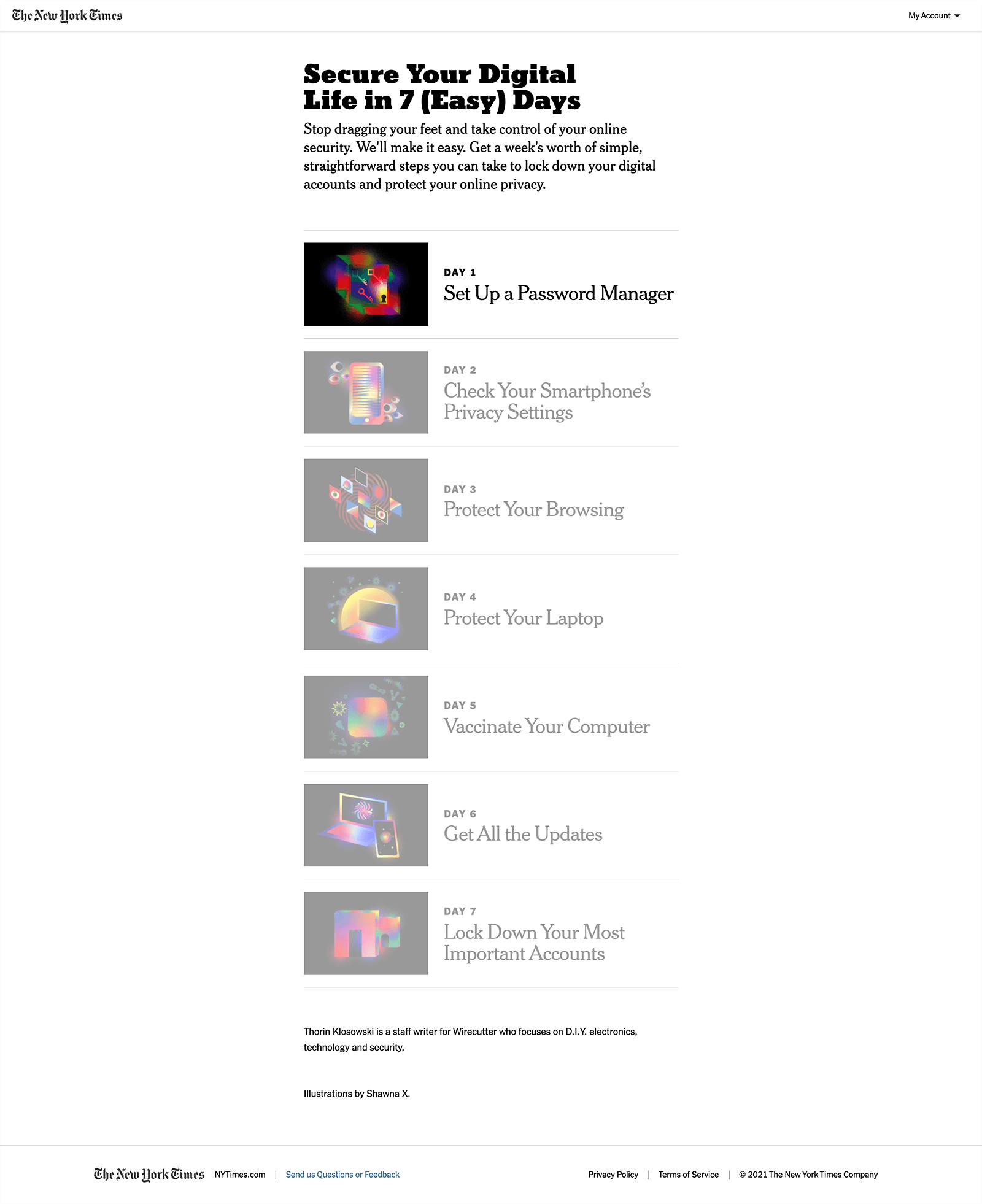 Every email in the series doesn't just offer great educational content but also allows for natural affiliate promotions:
The first email could recommend a premium password manager.
The third email can suggest a VPN affiliate program
The fifth email could review an antivirus program.
You can do the same with just about any email course, so long as the topic is aligned with your blog or website's niche.
The best part? Most email courses are evergreen. This means a single free course can build your list, earn you affiliate revenue, and then upsell to a more expensive paid product.
A triple threat to monetize your email list through automation.
3. Link your own products with affiliate links
Selling your own products is one of the most effective ways to monetize a website. Because instead of getting a small commission, you can get all of the profit.
But what if you could have both?
Some platforms and merchants will allow you to use affiliate links to share your own products — without reducing what you're getting paid per conversion.
For example, LinkedIn Learning allows instructors to use affiliate links to share their own courses. You can even earn more as an affiliate than an instructor with this model — but the best part is, you'll be doing both.
The same concept applies to Udemy courses. Or when promoting your own Kindle books through Amazon affiliate links.
Any time you mention your own course or book, include an affiliate link to increase the revenue you'll be getting anyway.
4. Gift guides and product roundups
Product roundups, also called "best product reviews", are some of the highest-converting ways to promote affiliate links in your content for a couple of reasons.
First, the person looking for product roundups is usually early enough in their buying journey that they are exploring all their options. Which means more clicks on your links.
Second, they're less likely already have someone else's affiliate cookie stored in their browser.
Finally, roundup posts are a great way to test different products for conversion and then write dedicated reviews or additional content on just the products that your audience is buying.
Sound good?
Here's an example of the most common format top websites are using for their product roundups.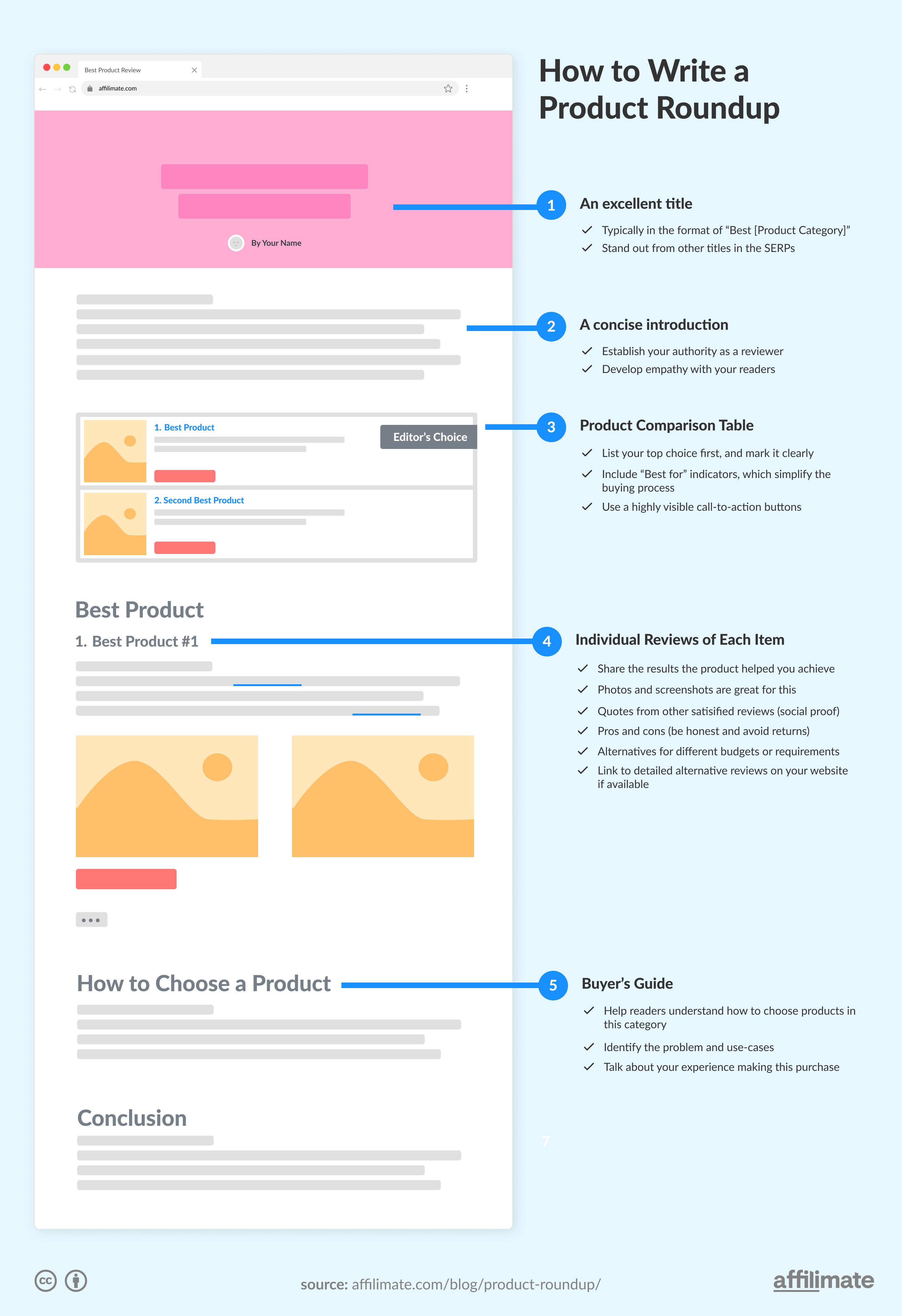 The key is to include your links early and often, in a tasteful way. Don't make the reader learn your life story before spilling your #1 pick for "best toothbrush".
5. Run pay-per-click ads
Getting organic traffic on your site, but you think the conversion rate could be higher? Social media ads could be the answer.
Depending on your cost-per-click and the commissions, running retargeting ads are a great way to get visitors who first found you through Google back on your website.
They just need a little nudge to go through with the purchase.
Wondering what this looks like in practice? Here's an ad from The Points Guy pitching a new credit card: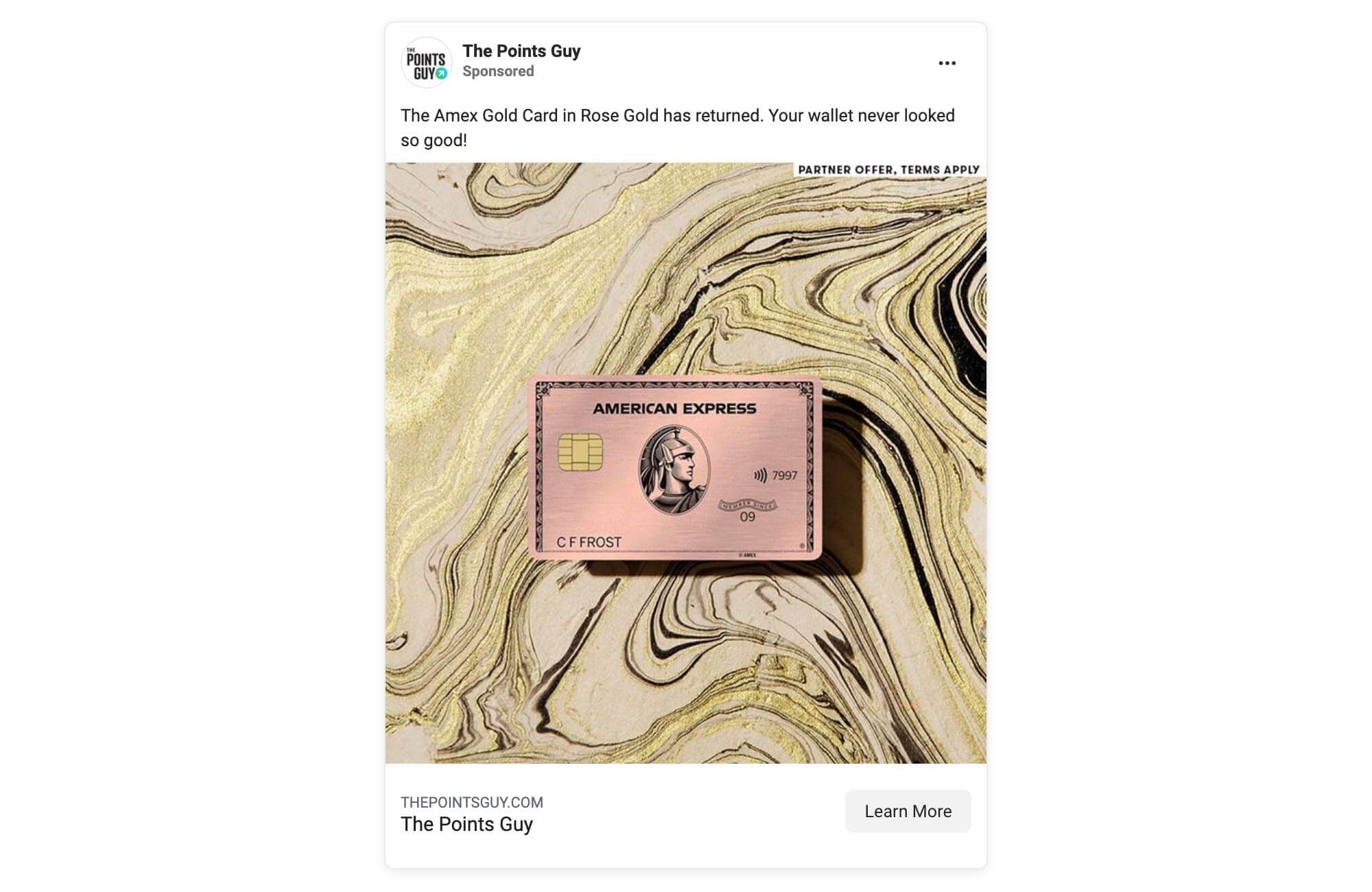 If you're not sure what your ads should look like, browse the Facebook Ads Library for inspiration. Just type in the names of your favorite blogs (or your competitors) to see which ads are being run with their Facebook page.
Not every affiliate program allows PPC ads. The problem is, when affiliates and brands are retargeting visitors, the price for both gets higher.
That's why some brands don't want you promoting your affiliate content through ads — or worse, promoting your affiliate link directly in a practice known as "direct linking".
Even better, look for affiliate programs where you still get credit if the customer comes through retargeting campaigns after your cookie was set.
6. Share deals and offers with your email list
Fake scarcity is one of the tactics that works well in the short term, but hurts your brand and reputation. Which is especially problematic if you want to build up a base of repeat buyers.
But there is a great way to use natural scarcity to your advantage as an affiliate:
Limited time offers and deals.
Whenever your favorite brand puts up a seasonal sale, or offers discount codes for affiliates, you can share those timely offers via email.
Since email converts better than just about any marketing channel, and you've got natural urgency baked in, this strategy can be highly effective.
The key is to email the list regularly, not just when you want to promote a product.
Watch the commissions for sale items. Lots of advertisers will reduce the commissions they offer on sale products — or not offer commissions at all.
Make sure to check the commission policy of the brand you're working with to find out if this is the case.
You might still earn conversions on full-price items that're in the basket, but building an audience that is only interested in deals could backfire in the long run.
7. Inside podcast show notes
Podcasts are often referred to as the new guest post: guests get links to their website, and you get free content for your audience.
But if you've got a guest on with a great product or offer, you can also link to them through an affiliate link.
Here's an example from Pat Flynn's podcast: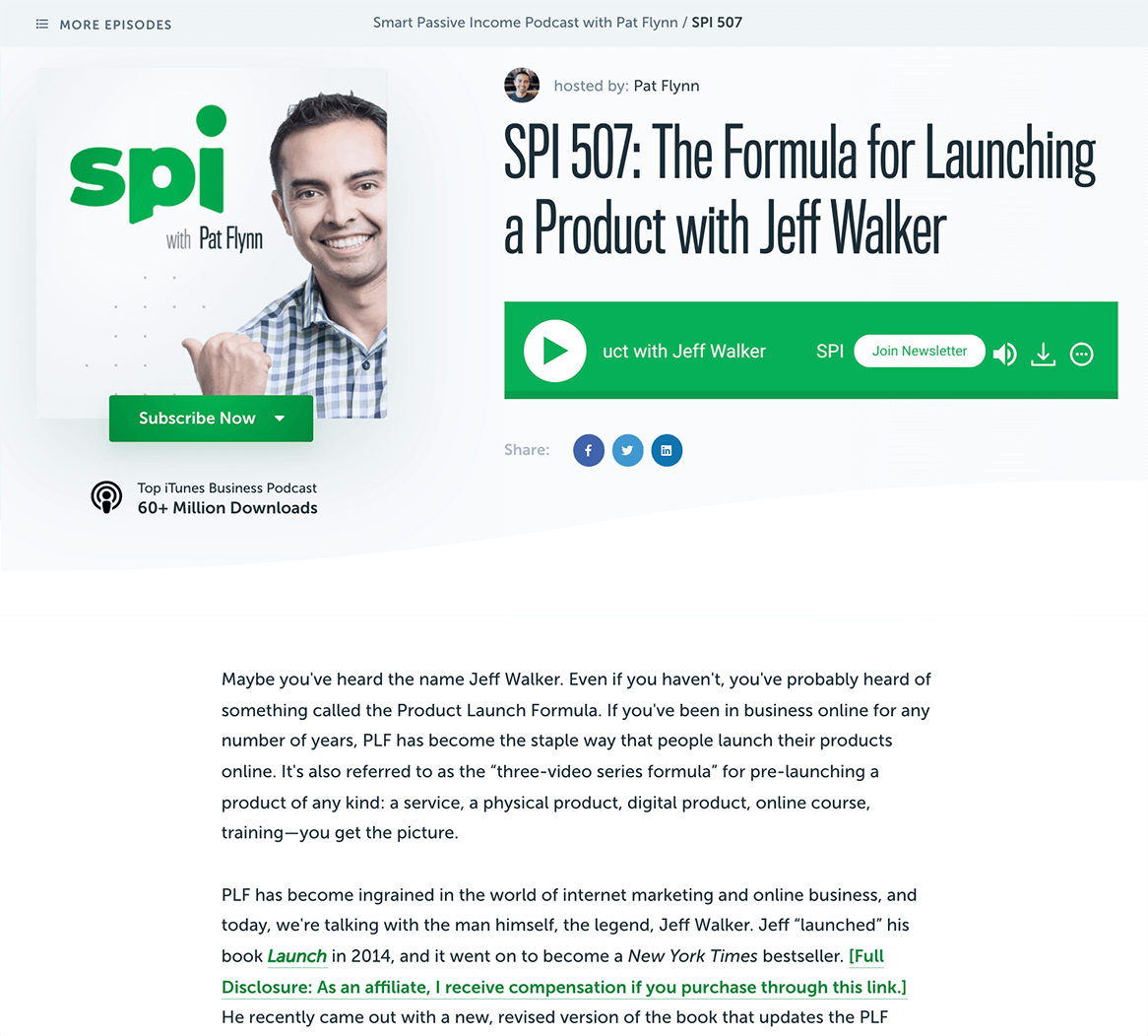 Pat's link to Launch is an Amazon affiliate link. That way, before or after someone listens to the podcast, they can click the link and place the affiliate cookie in their browser.
Note that just like on blog posts, you need a clear affiliate disclosure somewhere before the link on the page.
8. Resource pages
Resource pages are pages on your website where you collect all the tools you use on a regular basis. These could be your favorite services, brands, or anything else you want to reference regularly.
And for each resource, you can include an affiliate link. Even better if there's a deal or discount code to nudge the purchase along.
For example, take this list of baking resources: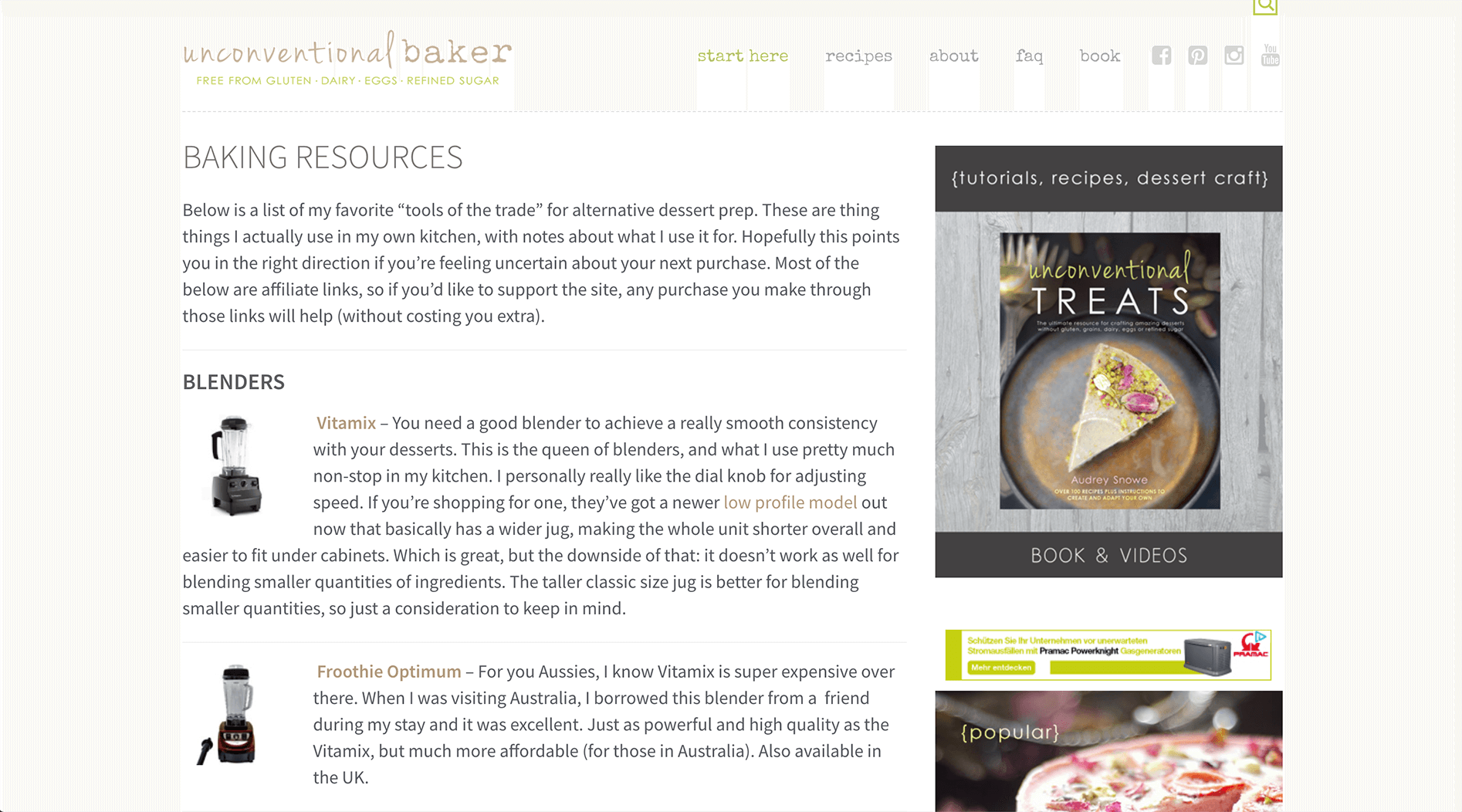 Since each of these resources is used by the blogger, they can share their personal experience next to each recommendation.
While resources pages won't always get a ton of organic traffic, resource pages work great when you promote them regularly via email.
Then, if someone subscribes to your email list with the goal of "Become a better baker", then including a link to your personal pantry of baking equipment is a great fit for buying intent.
9. Affiliate links on Pinterest
Even though Pinterest is traditionally classified as social media, those in-the-know realize it's closer to a search engine than anything else.
And the best part is, Pinterest has a fraction of the competition of Google when it comes to getting your content in front of the masses.
Plus, Pinterest favors fresh content. This makes it much easier to get early eyes on your website while Google is taking its dear sweet time in trusting your domain.
Like a dozen other free traffic sources, Pinterest can be used for affiliate marketing. But not in the same way as Google.
Pinterest users, known as Pinners, are cold traffic. To succeed with affiliate marketing on Pinterest, you'll need to use it for building an email list and create content that is specifically designed to rank on Pinterest.
Here's an example from another food blog: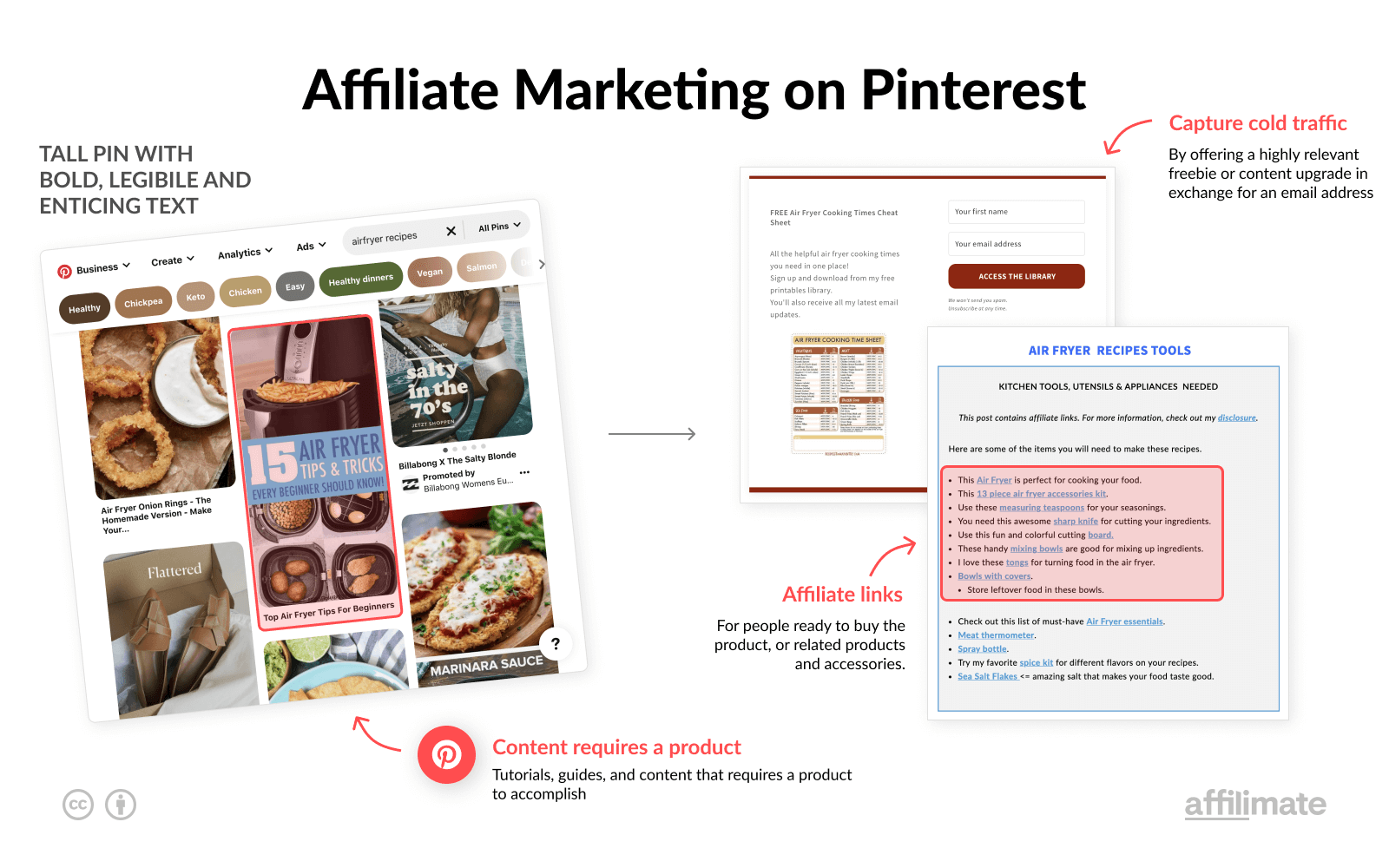 Capturing clicks from Pinterest on affiliate links is great, but the real power of Pinterest is to build an audience that will likely buy from you in the future.
10. Affiliate links on YouTube
YouTube has become one of the most popular places for people to watch product reviews, and for a good reason:
With written product reviews, half the content out there is recycled information from the manufacturer's website.
It's an open secret that most product reviews are written by freelance writers who've never seen or touched the product they're reviewing.
YouTube is different.
Since it's based on video, consumers are more certain to get a hands-on look at the product being reviewed.
And with the added complexity of video, the competition for ranking in YouTube is often lower than for buyer intent keywords on Google.
Here's an example of YouTube affiliate marketing from the world of video gaming: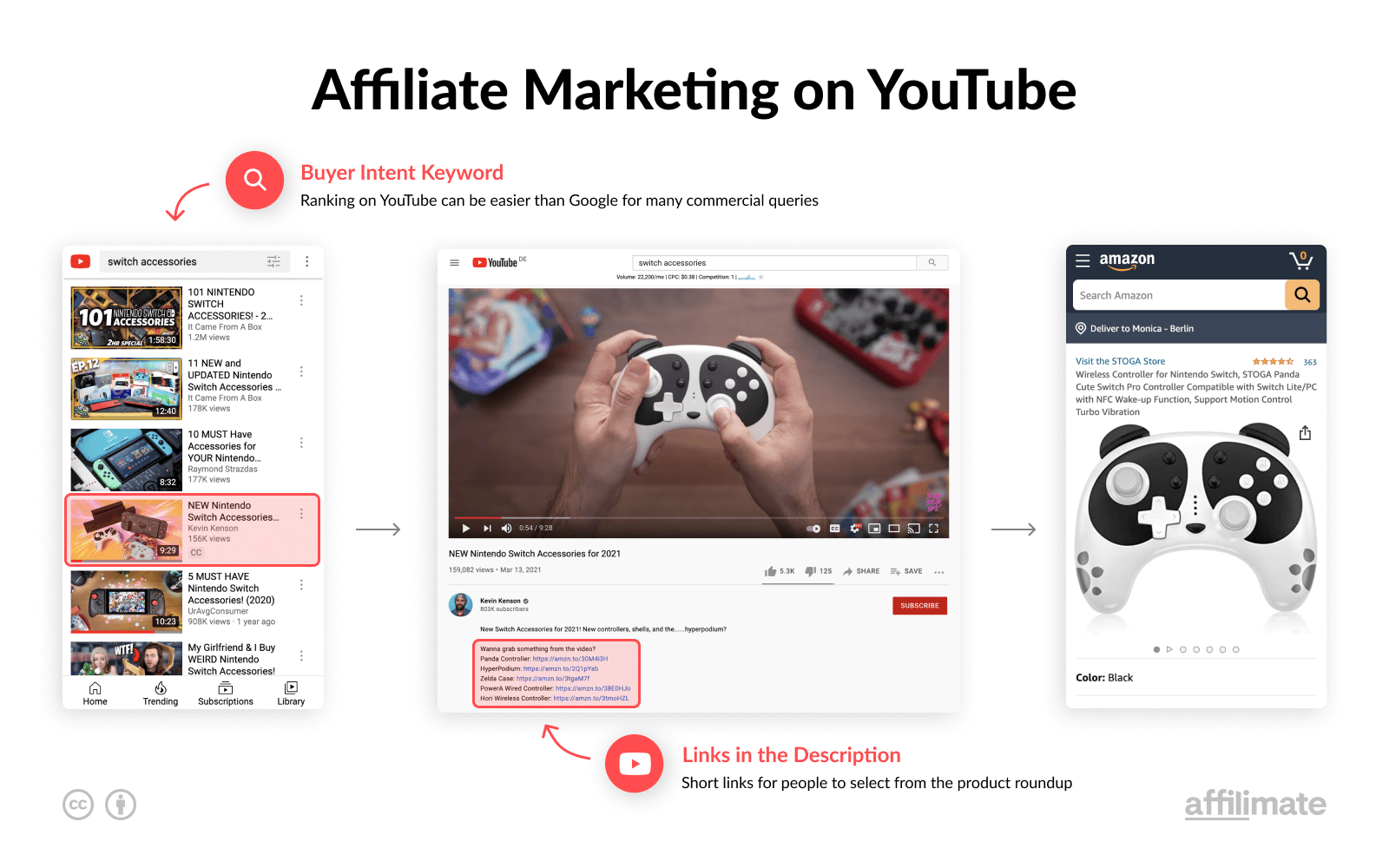 For the best of both worlds, create YouTube videos you can also embed in your blog posts. That way, you can improve time on page and get your affiliate links in front of even more people.
11. Facebook affiliate links
While some brands use Facebook to promote affiliate links, the best way to get your affiliate content in front of people is by building a community.
Meaning, running your own Facebook Page and Group.
Facebook groups are an excellent way to bring together people with common interests and goals. And if you produce content that can help them solve that problem, you've got a way to reach them on repeat.
12. Affiliate marketing on Instagram
In contrast to Pinterest, Instagram users are ready to buy. Promoting affiliate links through Instagram is one of the few places that can work at a similar level as organic traffic, provided you've curated the right audience.
Here's an example from The Everygirl, a popular lifestyle brand for women. They use a self-hosted, Instagram landing page on their site to help followers find the exact products mentioned in each post.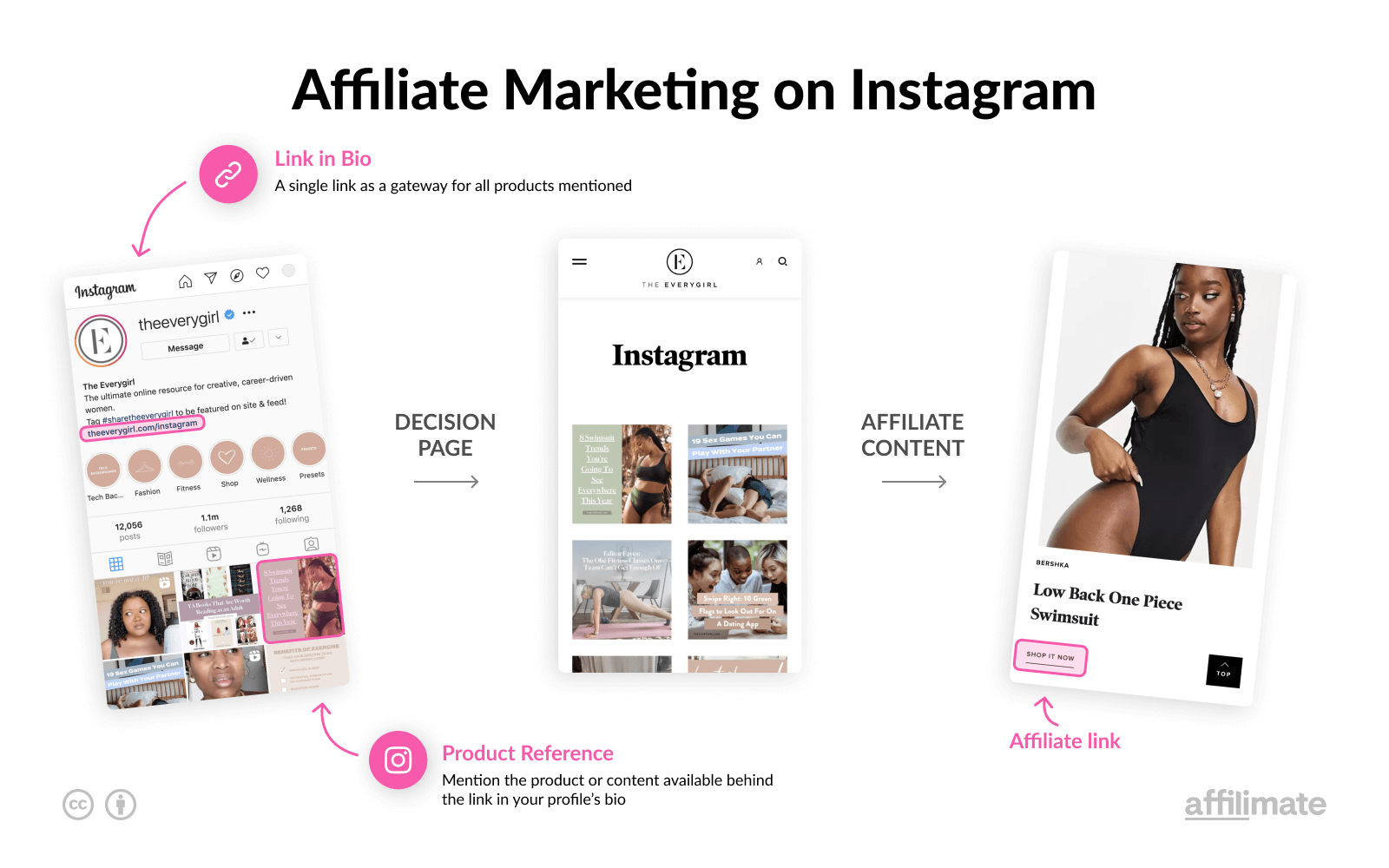 Having a mobile-optimized affiliate landing page for Instagram is key. Since the platform only allows one lonely "link in bio", that landing page will need to be a portal to all the products you've promoted recently.
How to track affiliate links
With each of these promotion methods, you need to be able to try out different strategies and see which ones convert for your audience.
Don't try all of them at once and end up with revenue improvements, only to wonder exactly where they came from.
The main way to track your affiliate links is known as SubId tracking. It's similar to tracking a utm_campaign in Google Analytics, but works with affiliate links instead. Here's an example for how you might track revenue back to a specific button on your website: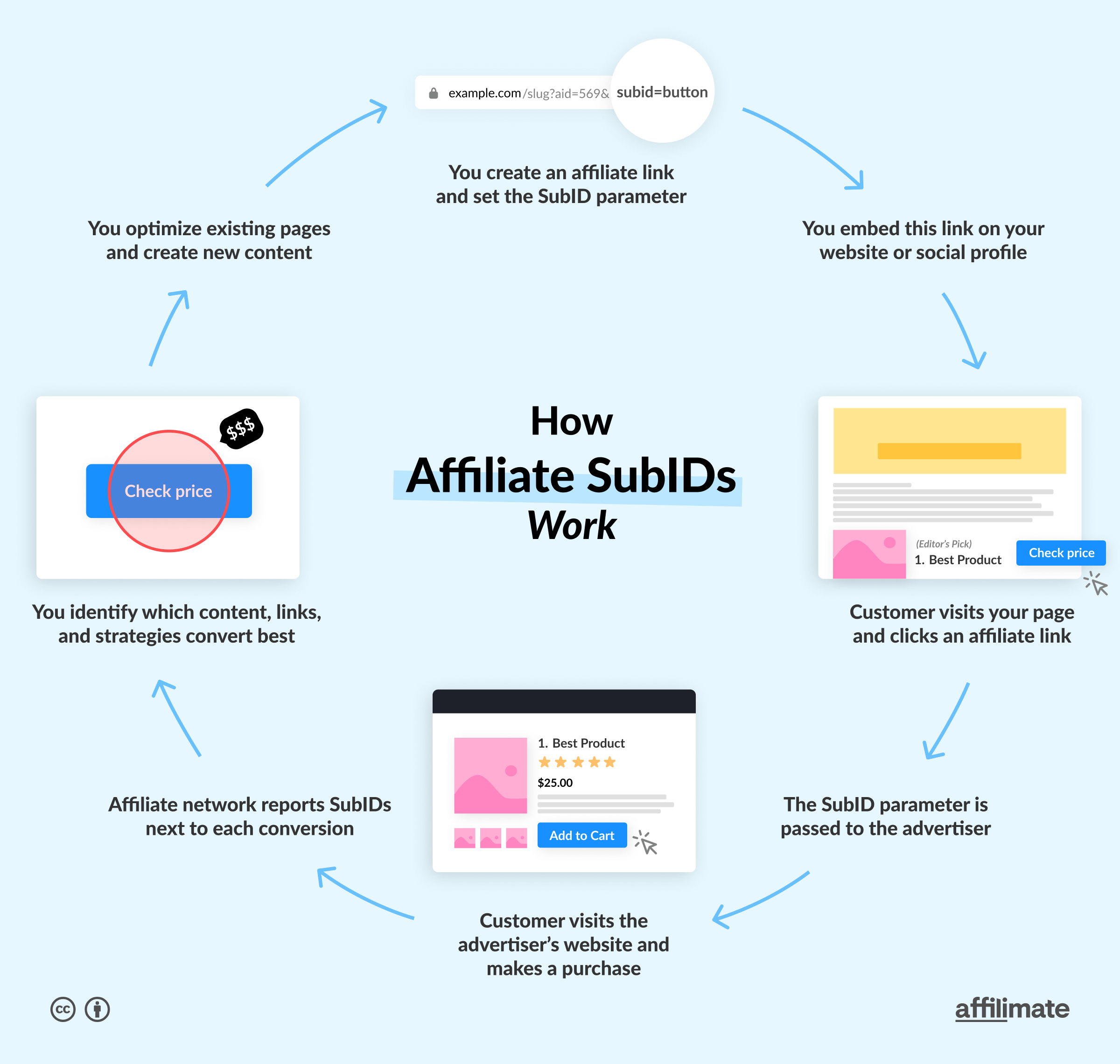 If you're mostly trying to get more visitors to your affiliate content website or blog, you'll probably want to use an automated method instead.
Affilimate, for example, can help you apply these SubIds to your content site-wide by flipping a single switch. Plus, aggregate your affiliate revenue from numerous sources into a single, powerful dashboard.
Wrapping up
Most publishers make a couple of critical mistakes when promoting affiliate links. They either choose the wrong traffic sources, include links too late in their content, or promote offers that just don't convert.
Try these tips for promoting your affiliate links, and see what works for your site and audience. Just make sure you track the results, so you know which strategies to double-down on.
A simple and scalable way to do that is through Affilimate's revenue attribution.