10 Best Education Affiliate Programs in 2023 (Based on Data)
By Jules Costa · Updated Jan 16, 2023
The global e-learning market is set to reach $457.8 billion in the next 5 years. Luckily, you don't have to be an educator to take advantage of this trend.
As online education becomes more popular, so do education affiliate programs.
Unlike teaching, you don't need to be an expert to make money with online education affiliate programs. These programs are suitable for university students, job-seekers, or career-changers.
Since you don't have to invest in physical products, the cost of entry is low and anyone with an audience stands to earn revenue.
But which programs offer the highest return? Here are the best education affiliate programs for different kinds of courses and trainings right now.
How we compiled this list of programs
To start, we found websites to analyze based on who's ranking for "learn" keywords.
Keywords beginning with the word "learn" are some the highest volume and most profitable keywords for course providers (and affiliates, too). For example, here are some global search volumes according to Keywords Everywhere:
"Learn to Code" (90,500 searches per month)
"Learn German" (40,500 searches per month)
"Learn social media marketing" (1,600 searches per month)
Then, we identified common affiliate tracking domains among the programs we found. For example, the affiliate tracking domain for LinkedIn Learning is linkedin-learning.pxf.io.
Simply putting this into a backlink checker makes it easier to find and build out a list of the top elearning affiliate blogs and websites based on overall traffic. This helped us build a list of about 50 blogs to analyze.

Finally, we did a rinse-through using our Affiliate Link Scanner. This helped us pick up more programs these websites are using, which you may not have heard of.
The result is our data-backed list of education affiliate programs, based on those being promoted by the most successful elearning and education blogs online.
Tips for success as an education affiliate
The biggest misconception about education affiliate programs is that you have to be a teacher or educator to promote these products. In fact, there are such a variety of courses that almost every audience could benefit from them.
These platforms with affiliate programs offer courses on everything from language-learning to programming and personal finance. The key is to figure out what type of courses your audience would be interested in and look for affiliate partnerships that match that need.
Understanding which affiliate programs to promote comes down to two basic questions:
What does my audience already know? Are they beginners or do they have a more advanced background?
Where do they want to go? This can also be understood as "who do they want to be". What is the ideal version of themselves that this course will help them achieve?
A course should close the gap between who your audience is and what they want to be. Effective course promotion requires a transformation narrative. Think about what they will be able to accomplish after completing the course, whether that's changing careers through a skills-learning program or traveling the world with language-learning.
Now, onto our list of the best education affiliate programs.
Education Affiliate Programs
Here are the best education affiliate programs to promote this year:
Udemy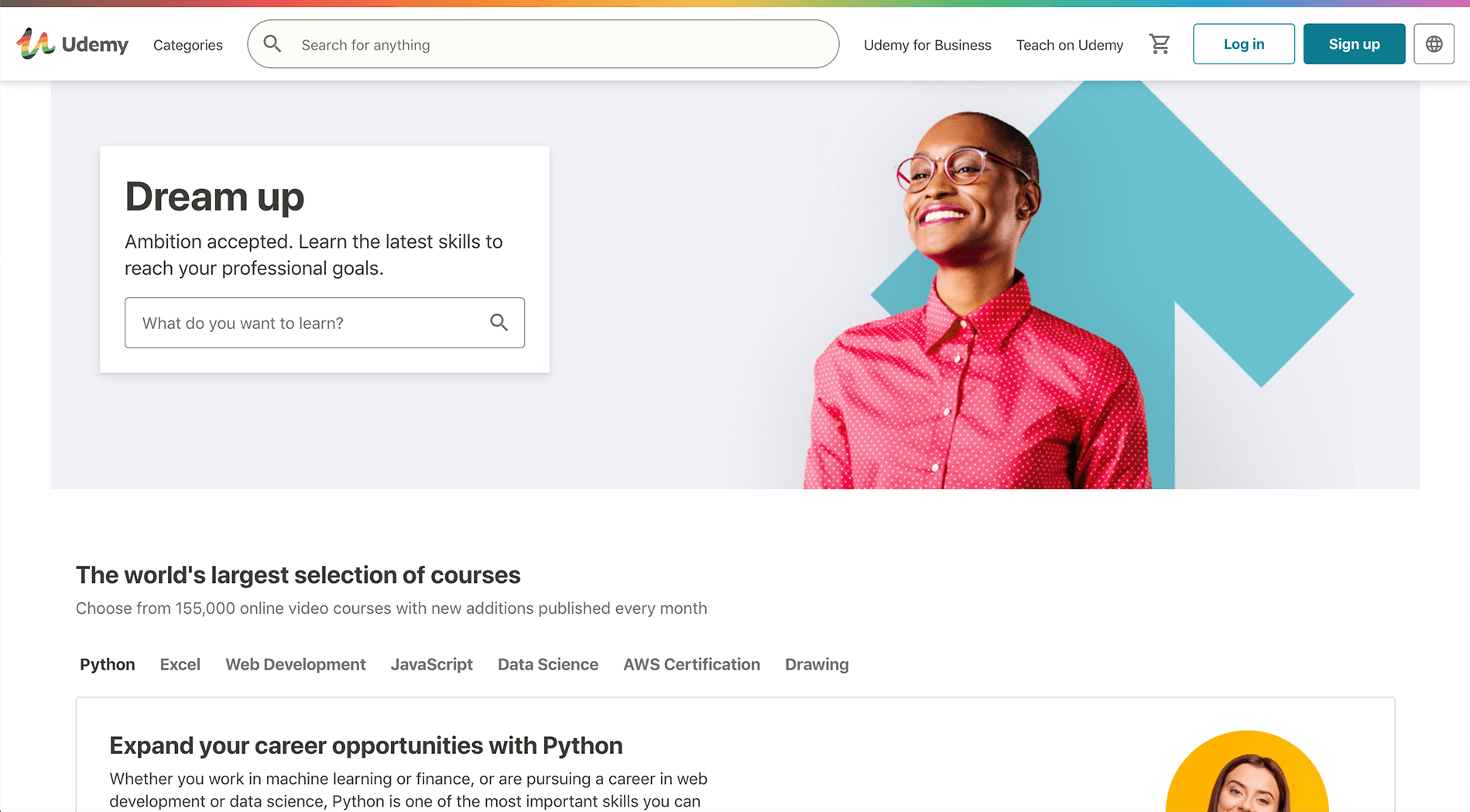 Program name: Udemy Affiliate Program
Network / Software: Rakuten, Sovrn, Awin, AdmitAd
Commission: 15% depending on publisher
Cookie duration: 7 days
Markets: US (Rakuten), Global (Sovrn), US, ES, NL, IT, FR, CA, PL, DE (Awin), US, RU (AdmitAd)
Alternatives: Coursera at 10-45% commission (Rakuten), 10% commission (Skimlinks), Masterclass at 25% Commission (Skimlinks), 25% per subscription purchase (Impact), or Teachable at 30-70% Depends on the course, often 30-70%
Udemy is without a doubt, one of the most popular education affiliate programs, according to our analysis of affiliate links from top elearning websites.
It has over 155,000 courses, each managed by independent instructors. Anyone can create and publish a course on Udemy, so be sure to vet the quality of courses before recommending them.
At only 7 days, it's cookie window is 75% shorter than the industry standard of 30 days. In practice, this means customers must arrive at your link ready to buy. Luckily, Udemy has a Marketplace Insights tool that you can use to gauge the most popular courses and perform niche research.
Although Udemy does provide assets like banners and images, these assets look like ads and in general do not convert as well as deep links. Deep links are hyperlinks that direct your audience to a specific place on a website. In this case, a specific course.
Pluralsight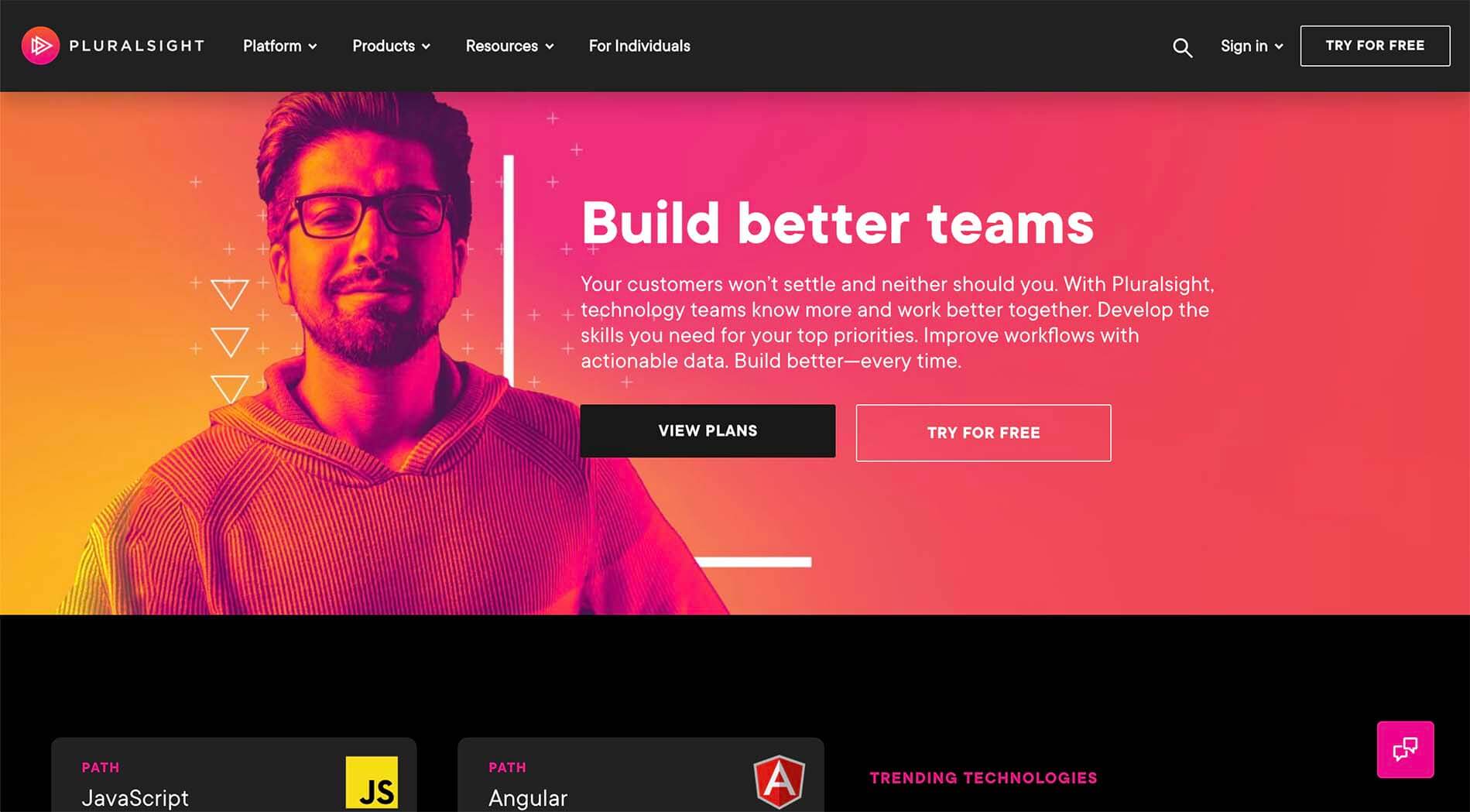 Program name: Pluralsight Affiliate Program
Network / Software: Impact
Commission: $5.00 per lead, 50% on monthly plans, 15% on annual plans, 10% on premium plans
Cookie duration: 45 days
Markets: US
Alternatives: Udemy at 15% depending on publisher, Treehouse at $3.00 per lead, 20-50% per sale, or Coursera at 10-45% commission (Rakuten), 10% commission (Skimlinks)
Pluralsight is a learning platform for code and software development. It offers generous affiliate compensation. First, you're paid $5 for every lead that signs up for a 10 day free trial. Then, you receive 50% of monthly revenue or 15% on an annual subscription. This is a significantly higher base payout than the 15-30% that is typical of the industry.
What's more is the generous cookie duration gives you time to warm up your audience until they are ready to buy. They also offer robust affiliate resources such as optimized banner ads, free trials to certain courses and even a monthly newsletter.
LinkedIn Learning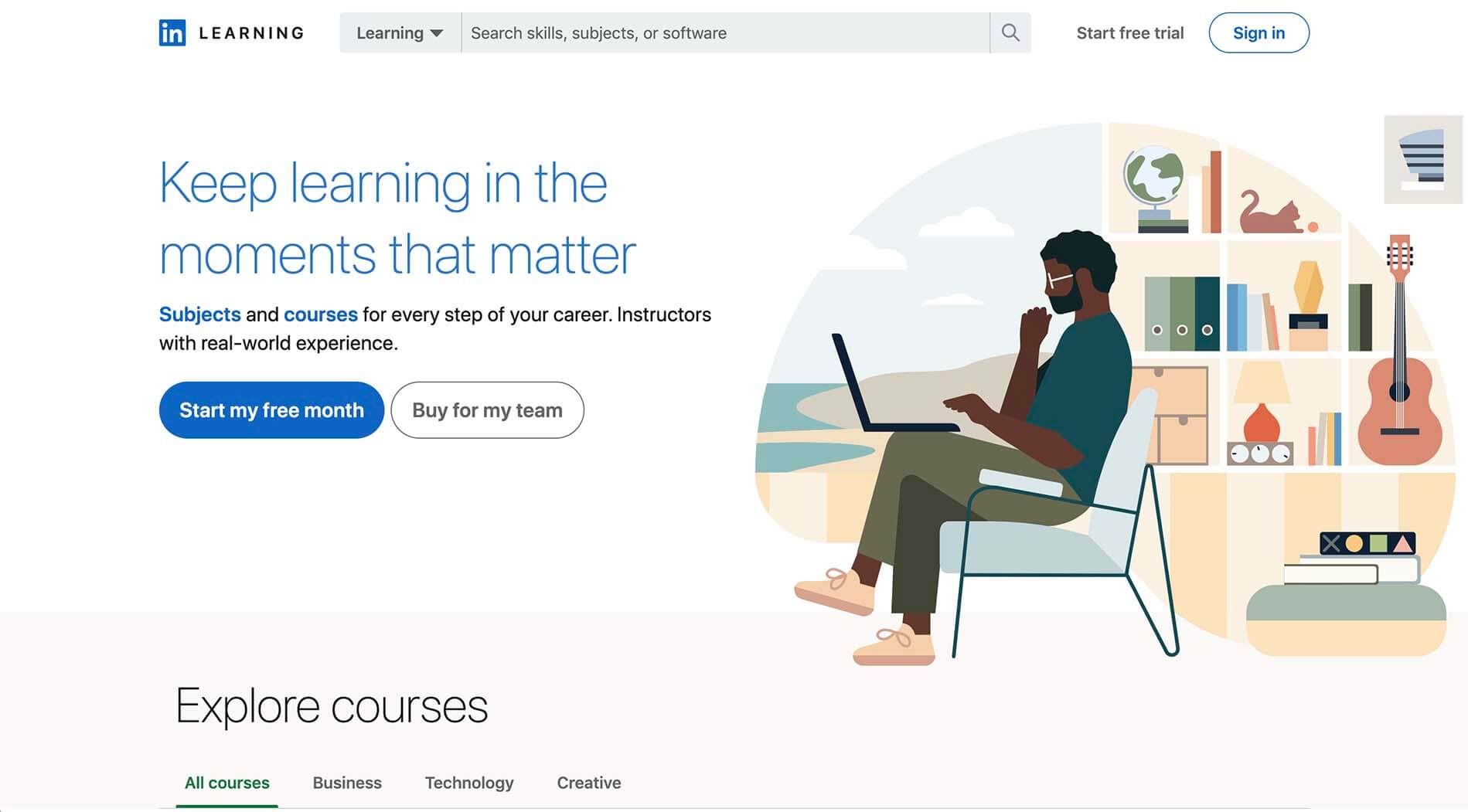 Program name: LinkedIn Learning Affiliate Program
Network / Software: Impact
Commission: $40.00 at most per monthly subscription, 35% on individual courses
Cookie duration: 30 days
Markets: US
Alternatives: Treehouse at $3.00 per lead, 20-50% per sale, or Coursera at 10-45% commission (Rakuten), 10% commission (Skimlinks)
Linkedin is a growing social media platform with over 750 million members. What's more impressive is these users tend to be high-earners, with 44% of American Linkedin users earning over $75,000.
Knowing this, it's no surprise that Linkedin has a hefty budget to put towards their learning program. They pay $5 per lead and 35% per sale and invest heavily towards promoting their courses both on-platform and through offline advertising. Anecdotally, I took some Linkedin Learning classes offered on a flight entertainment system once.
These classes are offered globally, but note that commission is subject to change if your audience pays in a currency other than USD. Nevertheless, this is a potentially lucrative route if you're serving a professional audience.
Kaplan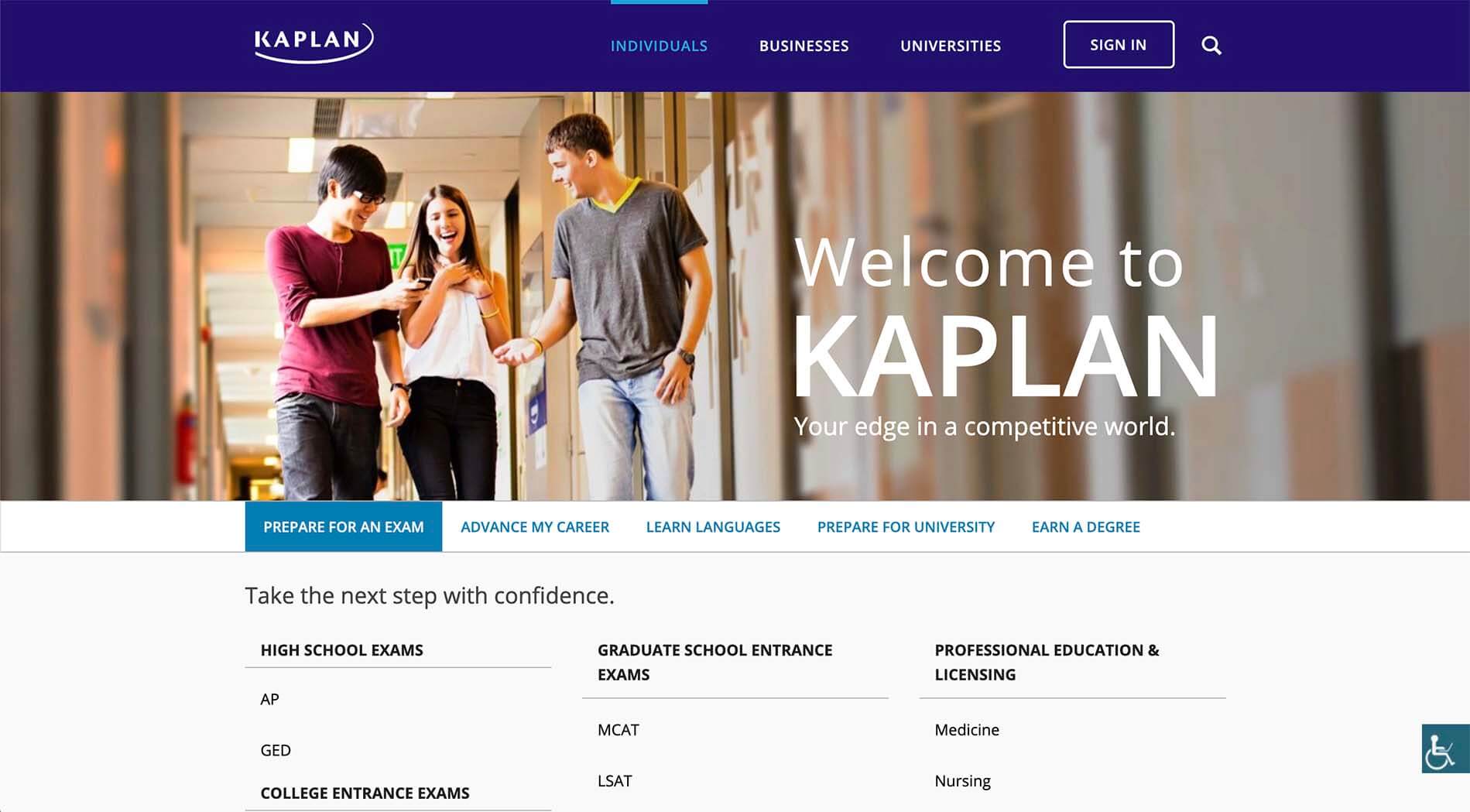 Kaplan is the oldest education program on this list. It started in 1938 when founder Stanley Kaplan tutored students in a New York basement. Now, the company offers everything from SAT prep for high schoolers to Bar review for soon-to-be lawyers. The brand is internationally recognized, with employees in 28 countries across the globe.
While the commission rate may seem low, the average purchase runs upwards of USD $1,200 (€1.1k), bringing the potential earnings up. The program also adds value to affiliates through co-branded "bespoke content and press releases", as well as discounted member pricing. Even so, it would take a high conversion rate to make this a viable affiliate choice.
Rocket Languages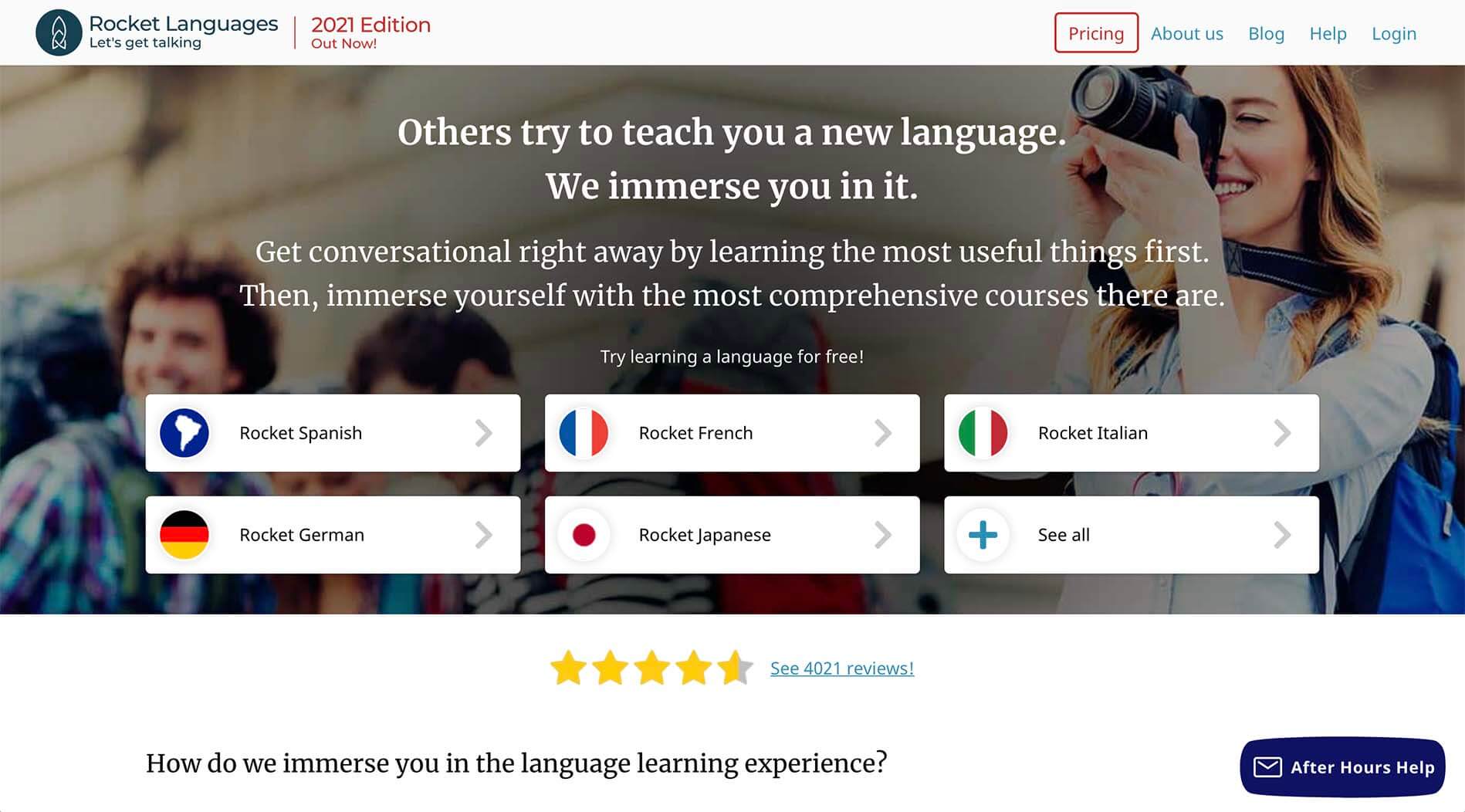 Rocket Languages is one of the most generous language affiliate programs and comes with a personal recommendation from one of Affilimate's customers and founder of French Together, Benjamin Houy.
Both the commission percentage and cookie duration are quite generous for the education industry and a high conversion rate is the cherry on top.
With their top courses priced at $449, your 40-70% commission rate can net between $179 and $314. Lower priced courses at $99 still provide decent commissions as well.
You can choose to promote one of 14 languages: Spanish, French, Italian, German, Japanese, Chinese, Korean, Russian, Arabic, Hindi, Portuguese, ASL, English. Monica recommends inserting their pre-made free trial form into high-performing blog articles to optimize for conversions.
Teachable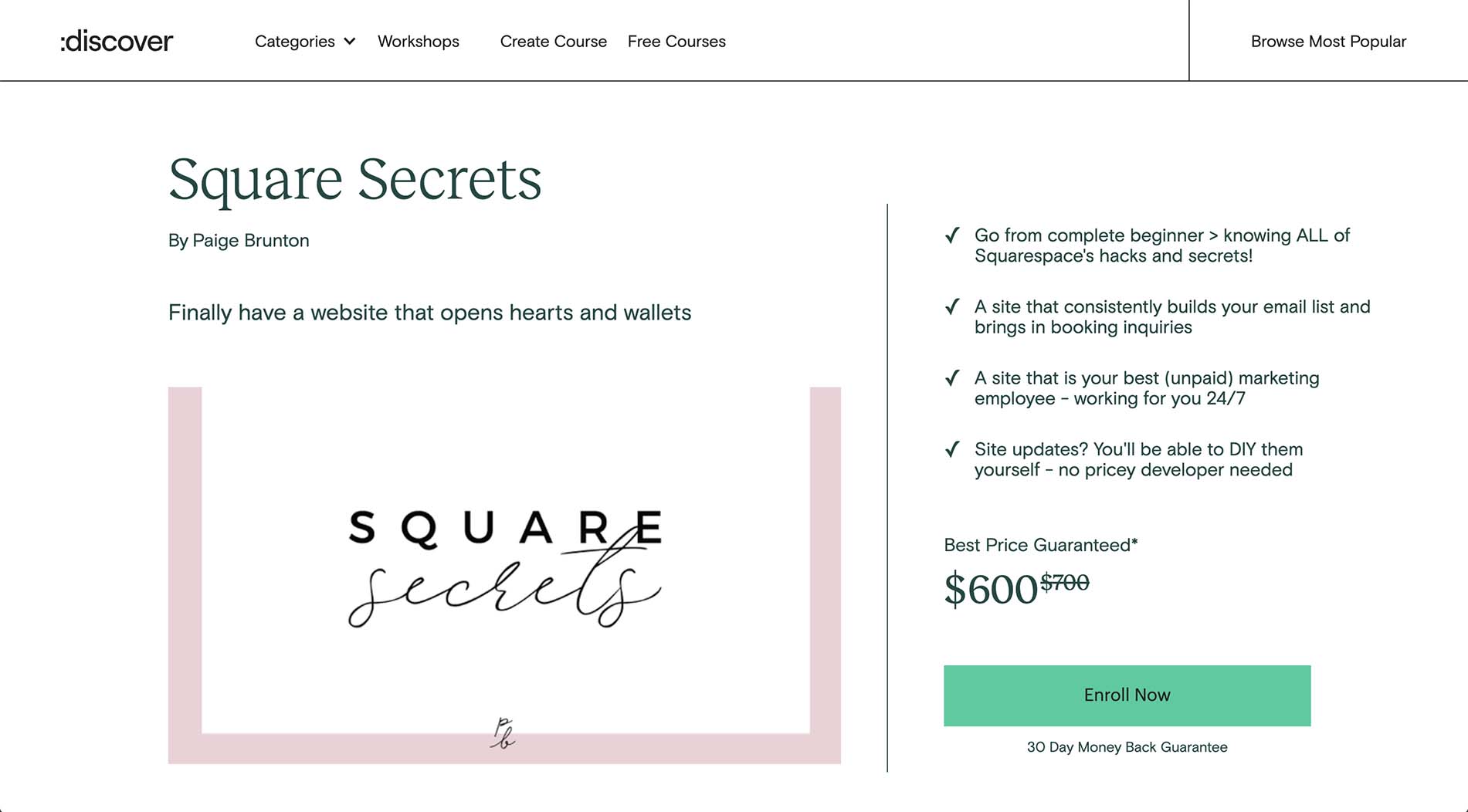 It is possible to promote Teachable as a software product, to an audience of course creators.
But beyond that, many Teachable course creators can run their own affiliate programs. Meaning, you can promote individual courses by Teachable instructors and earn a commission.
On one hand, this democratizes knowledge-sharing and allows for a wide range of courses. But this also means you must be careful to vet the courses you promote.
Teachable has a course discovery tool which you can use to discover Teachable courses in a bunch of different categories. Topics range from everything including fitness, investing, food, yoga, and more.
So no matter what topic you are covering on your website, there's probably a Teachable course you could try yourself and promote to your audience.
Note that not every Teachable course offers an affiliate program, and the terms can vary greatly between programs. Definitely check the individual course (or even email the instructor) before buying it if you are planning to write a review, and need to know the affiliate terms first.
Treehouse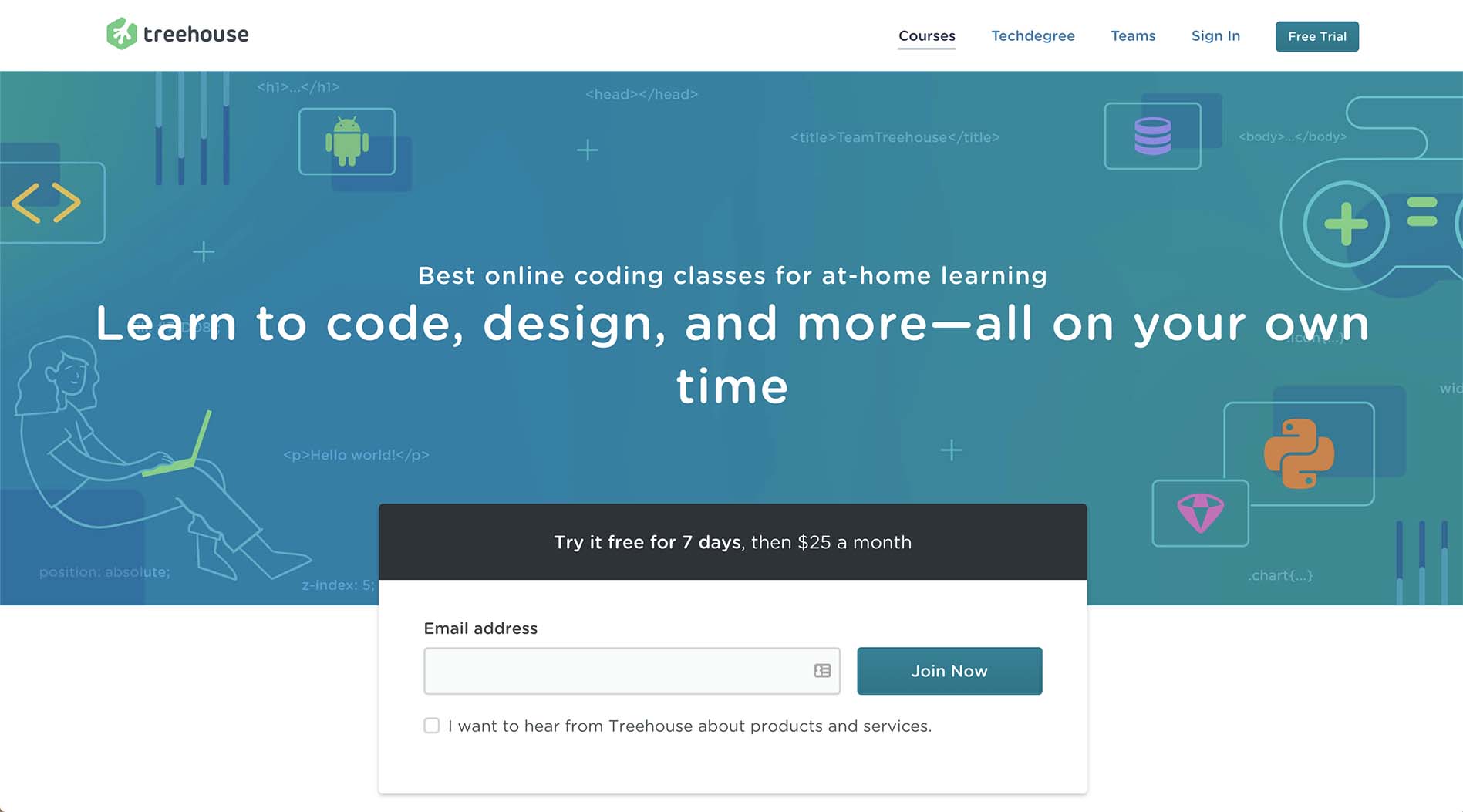 Program name: Treehouse Affiliate Program
Network / Software: Impact
Commission: $3.00 per lead, 20-50% per sale
Cookie duration: 30 days
Markets: US
Alternatives: Pluralsight at $5.00 per lead, 50% on monthly plans, 15% on annual plans, 10% on premium plans, or Coursera at 10-45% commission (Rakuten), 10% commission (Skimlinks)
Treehouse is another learn to code affiliate program with a slight twist. It not only offers programming courses, but also has a specific focus on networking and community. It has a wide range of offers, from true beginners to more advanced levels.
This wide range is appealing because it allows you to speak to a wider audience, but it comes with a complex payment structure. Subscriptions have payouts ranging from 20-50% and free trials earn $3-10. Trials have a payout period of 30 days and subscriptions take 45 days to go through.
Lambda School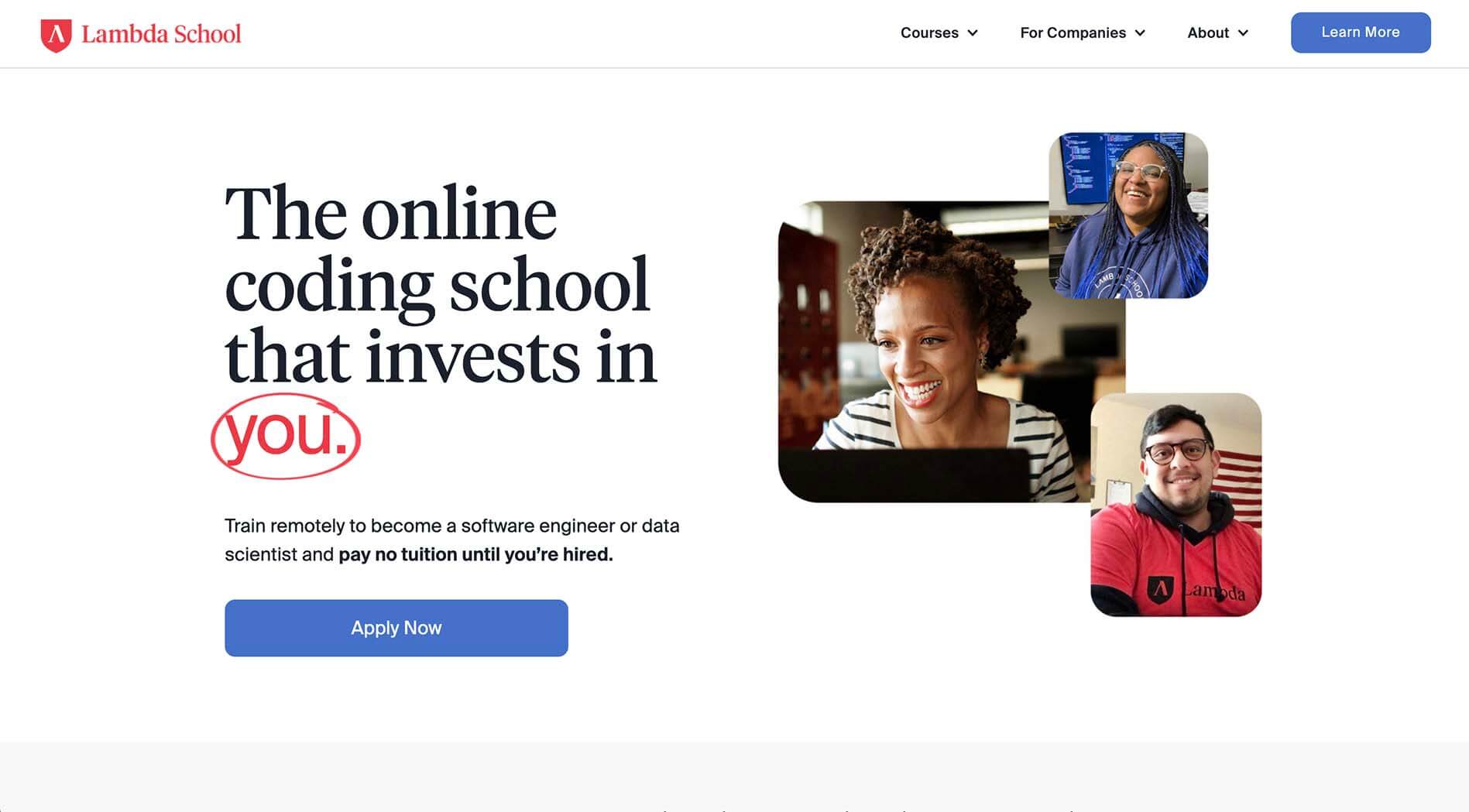 Lambda provides in-depth learn to code courses in exchange for a percentage of a future paycheck. Their programs cost no money down and instead rely on this income-sharing agreement.
Unlike other platforms, which offer highly specialized short courses or even singular classes, Lambda focuses on intensive, A-Z courses geared towards career changes or early career development. These classes used to take place in-person, but have since moved online.
Their affiliate program pays out a whopping $500 per student who begins the program. They offer a 90-day free trial prior to commitment, so while the commission is high, the payout period is longer than most.
Coursera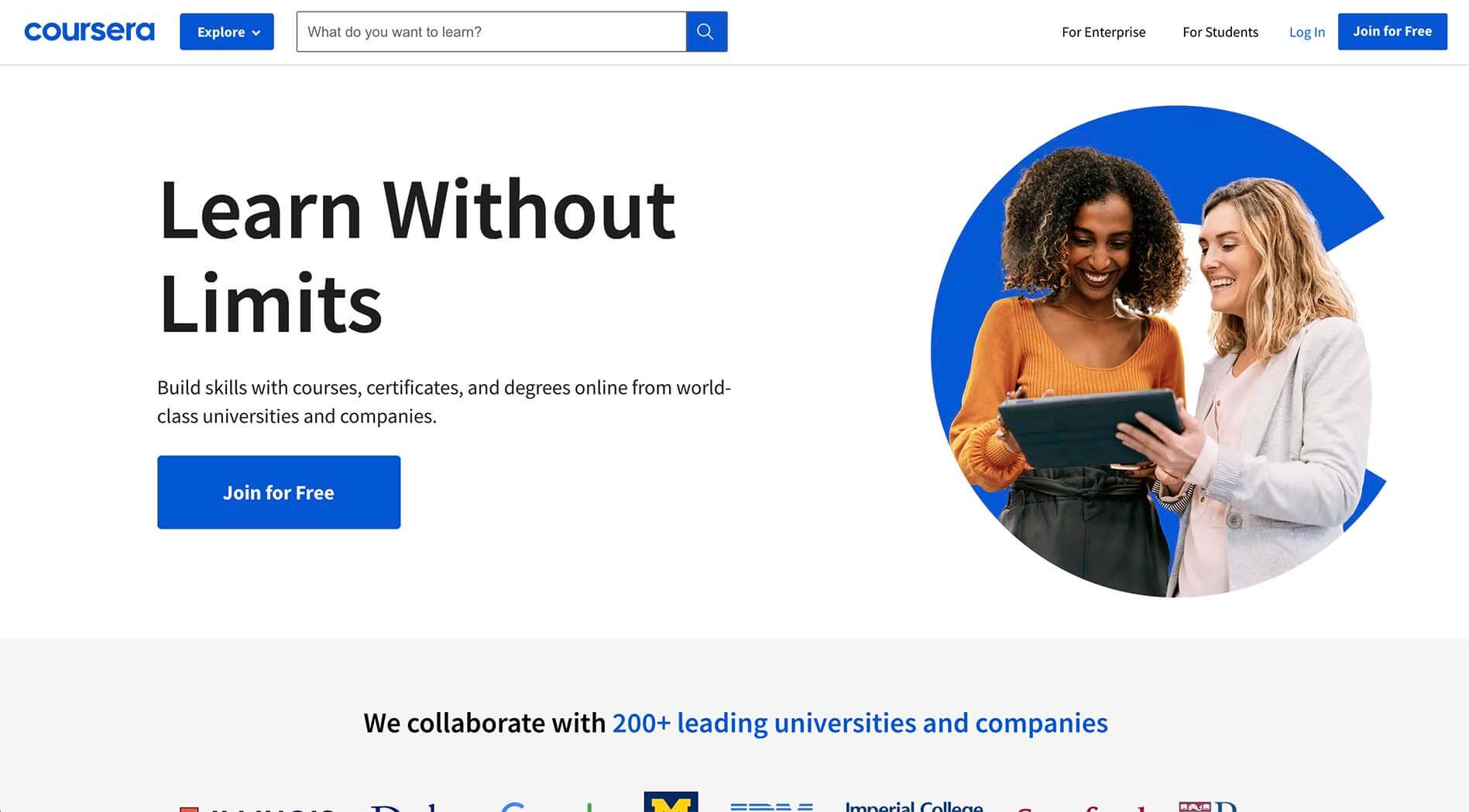 Program name: Coursera Affiliate Program
Network / Software: Rakuten, Skimlinks
Commission: 10-45% commission (Rakuten), 10% commission (Skimlinks)
Cookie duration: 29 days (Rakuten), Not listed (Skimlinks)
Markets: US
Alternatives: Udemy at 15% depending on publisher, Masterclass at 25% Commission (Skimlinks), 25% per subscription purchase (Impact), or Teachable at 30-70% Depends on the course, often 30-70%
Coursera partners with universities and professors to offer over 3000 courses on a diverse range of topics. Many of these courses can be taken for free, but require payment for certification. As an affiliate, your audience must have a need not only for the information, but also for the certification in order for this to be a revenue stream.
As far as commission structure, Coursera has different incentives based on the product purchased. Base commission for individual courses is set at 20%. "Specializations and professional certificates" earn a commission of 45%, as does a monthly Coursera Plus subscription. An annual subscription receives a 10% payout.
This already complex commission structure becomes even curiouser upon closer inspection. Unlike other affiliate programs, which typically pay out up to the first year, Coursera only pays commission on the first month of a monthly subscription.
The good news is that it's possible to receive commission on multiple purchases. Let's say you promote two specific courses with certification. If one of your followers buys both courses, you should receive payout for both of them, even if they are already signed up.
Masterclass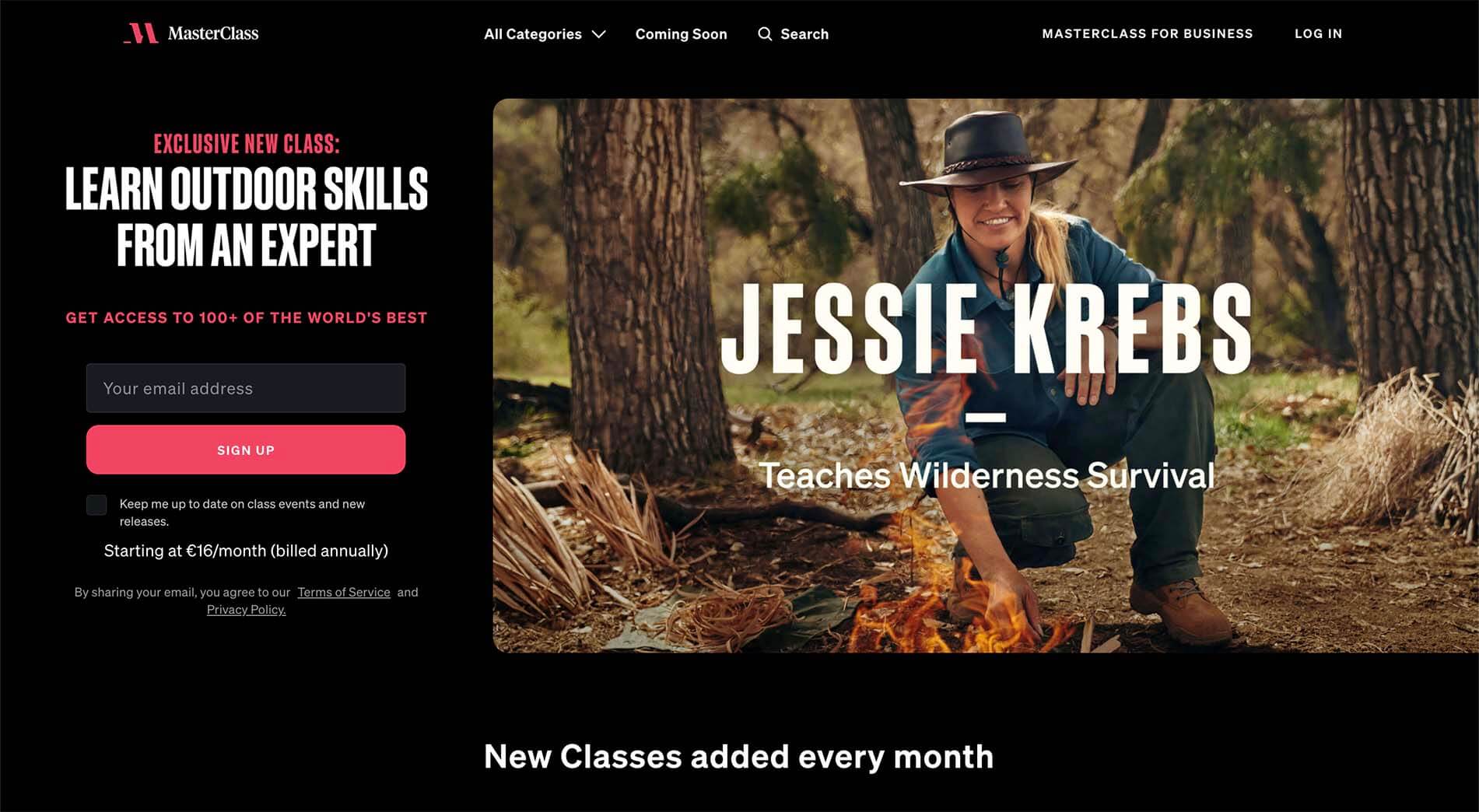 Masterclass takes a unique approach to online learning by leveraging well-known celebrity voices such as Gordan Ramsey, Issa Rae and Steve Martin. Their videos have high production value and take on a podcast-like tone. Full disclosure: this is one of my favorite platforms to learn from.
However, Masterclass is very strict about brand image and will deny affiliates whose websites rank for search terms like "Download, Free, Torrent, Discount, Coupon, Promo, [or] Offer".
Their cookie window and commission payout is conservative compared to other programs that offer incentives for leads. While they offer tiered volume bonuses, their process is not as transparent as other affiliate programs.
Are you struggling with tons of affiliate platforms and links?
If you're running website that's monetized with affiliate marketing, there's a high probability your affiliate commissions are scattered across a ton of different platforms.
This makes it hard to get an overview of what's working well, efficiently test different products and programs, let alone optimize your content for conversion.
Affilimate was designed to fix that. It helps you collect your affiliate data (clicks, commissions, and content analytics) into ONE place so you can optimize conversion and grow your revenue.
Start your free Affilimate account and get tracking today.