22 Best SaaS Affiliate Programs to Promote in 2023
By Deb Mukherjee · Updated Jan 16, 2023
Affiliate marking is as popular as ever.
This industry is worth over $12 billion and expanding as we speak. If you're reading this post, you know affiliate marketing is one of the most popular and sought-after ways of earning money on the internet, and it has a ton of perks compared to traditional business:
No customer support, no product to handle. The profit is there for the taking.
And companies are game, too: more than 80% of brands are using affiliate marketing programs and that includes SaaS companies.
As a veteran marketer for early-stage SaaS startups, I've seen how an effective affiliate programs and partnership with publishers can help both parties grow at record rates.
So in this post, I'll show you exactly how to take a slice of the pie for yourself. Read on to learn:
Why should you become a SaaS affiliate?
If you need any more convincing, here are 6 reasons why SaaS products can lead to better affiliate commissions than many physical products:
High commissions. Usually 10-30%. SaaS products generally cost less, offer high commissions, and tend to have huge profit margins.
You have a wide range of products to choose from. Since companies don't keep physical inventory, you also don't have to worry about products going out of stock.
Often, commissions are recurring. This means that you get paid every month for as long as the customer you referred stays with the company. If there is one thing that sets SaaS affiliate programs apart, it's the recurring commissions.
In SaaS, there are a lot of comparison keywords available to promote the products. For example, "ConvertKit alternative" or "ConvertKit vs Flodesk". There are endless options to mix and match.
Sticky products. Many products, once purchased, require effort to setup and install. But once they're there, it requires even more effort to switch later. This means, you're more likely to keep your recurring commissions than for products that are easily canceled or returned.
You don't have to be its customer to promote it. But we'll show you in a second how using the product yourself can help you drive better conversions, and retain customers (and therefore, keeping your recurring commissions in tact).
Above all else, SaaS is absolutely booming right now. With revenue expected to reach $623 billion in the next 3-5 years, you don't want to be left behind.
I'll share my picks for the best SaaS affiliate programs in a second, but first: a few tips for becoming a successful SaaS affiliate.
Tips for promoting SaaS affiliate products
Our top tip for become a successful SaaS affiliate is honing in on tutorials as your affiliate content format of choice. While review content is great, ranking for reviews can be difficult for SaaS products with some of the best commissions in the industry.
On the other hand, you can scour the SaaS product's Help Center and find tons of keywords they're ranking for with next to zero effort. Here's an example from ConvertKit: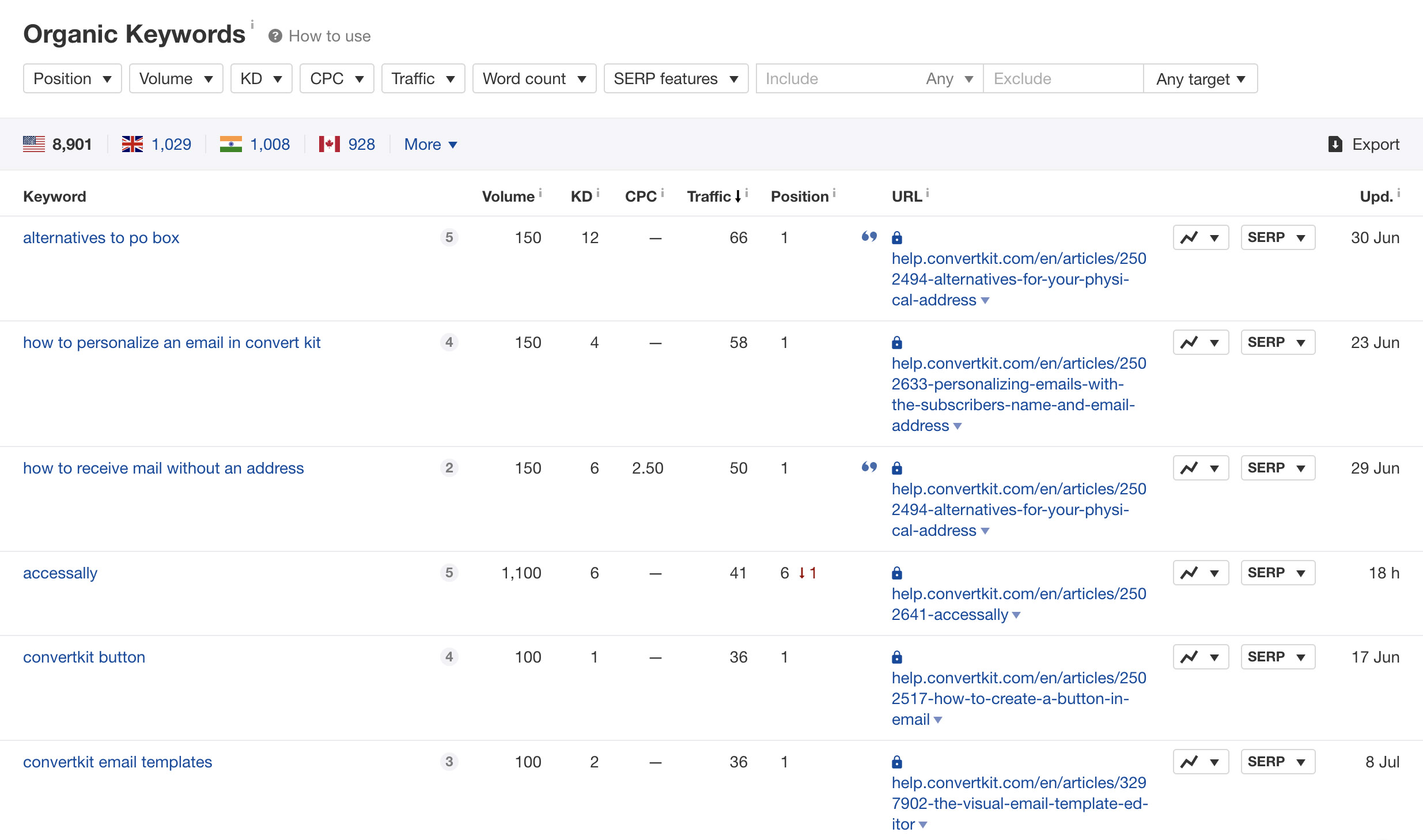 Right now ConvertKit is ranking for "convertkit email templates". This keyword could be the perfect place to write an article either offering paid templates, or doing a tutorial on how to customize a ConvertKit template. If people searching for this term are at the pre-buying phase of their consumer journey, it's a term worth targeting.
Play off the company's existing brand recognition, and focus on content that helps people solve a problem with the product they're already looking to try.
And with that, onto the list.
SaaS Affiliate Programs
These affiliate programs fall into a couple main categories: email marketing, course platforms, SEO tools, CRM and sales tools, and general marketing affiliate programs.
You'll be most able to promote these products if your audience is other businesses, entrepreneurs, creators, or even if you run an agency that helps your clients set up and use these products.
Here are the best SaaS affiliate programs based on my experience as a SaaS growth expert:
Affilimate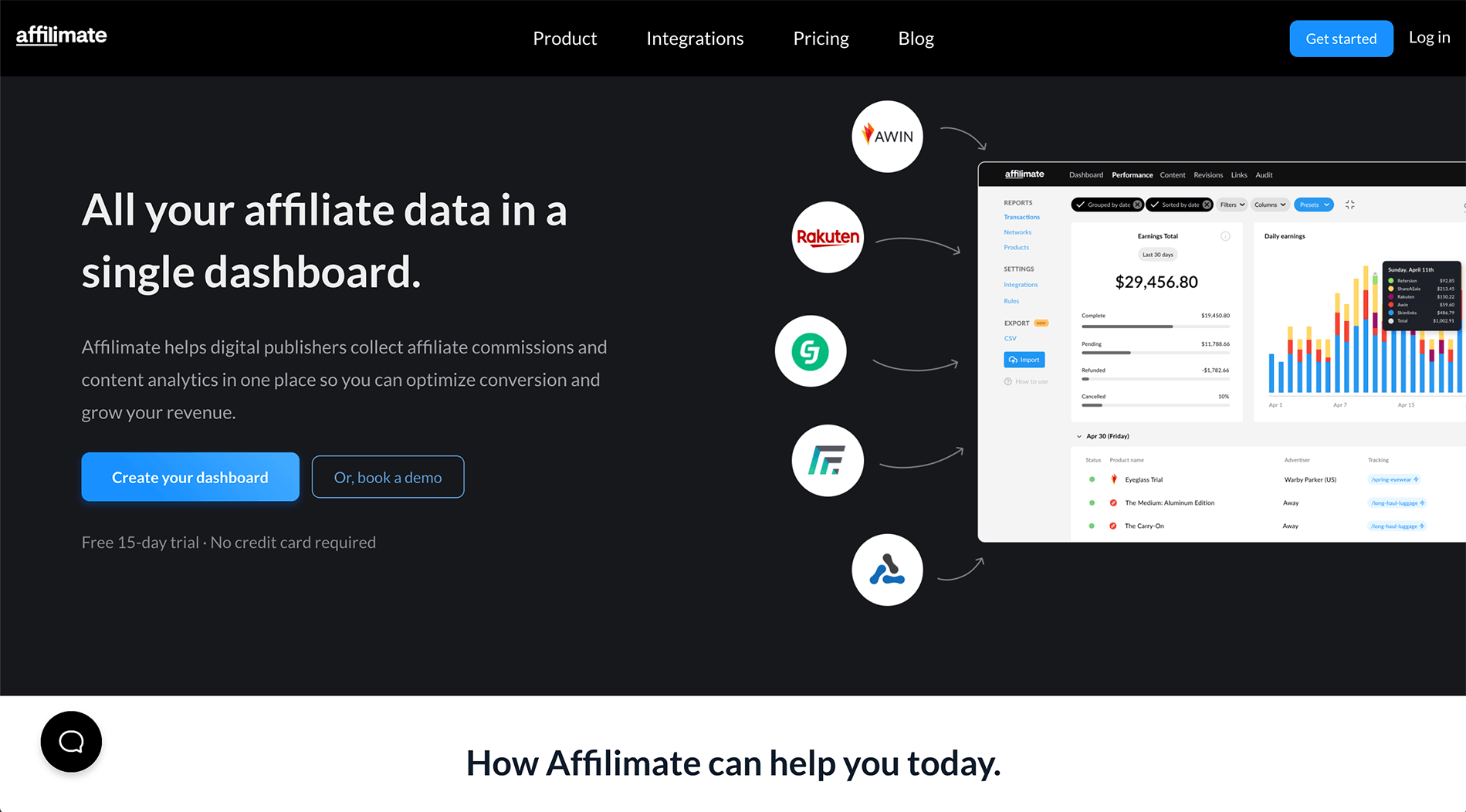 Got an audience of creators, affiliate marketers, or online business owners? There's a good chance that – like you – they're in a lot of affiliate programs. Collecting and analyzing data from all of them can be a nightmare if you try to do it with spreadsheets.
That's where Affilimate comes in. It aggregates your affiliate data and helps you run cross-cutting reports that connect your commissions back to the content on your site that actually drove the revenue.
And not only is the product a fit for affiliates, but commissions are a generous 20% recurring commissions, forever.
With plans ranging from $29 to $239 per month, you can net anywhere from $5.80 to $47.80 every month per referred customer for your first year. And if the customer buys annually, take that and multiply it by 10.
That's up to $478 per referred customer, up front.
Webflow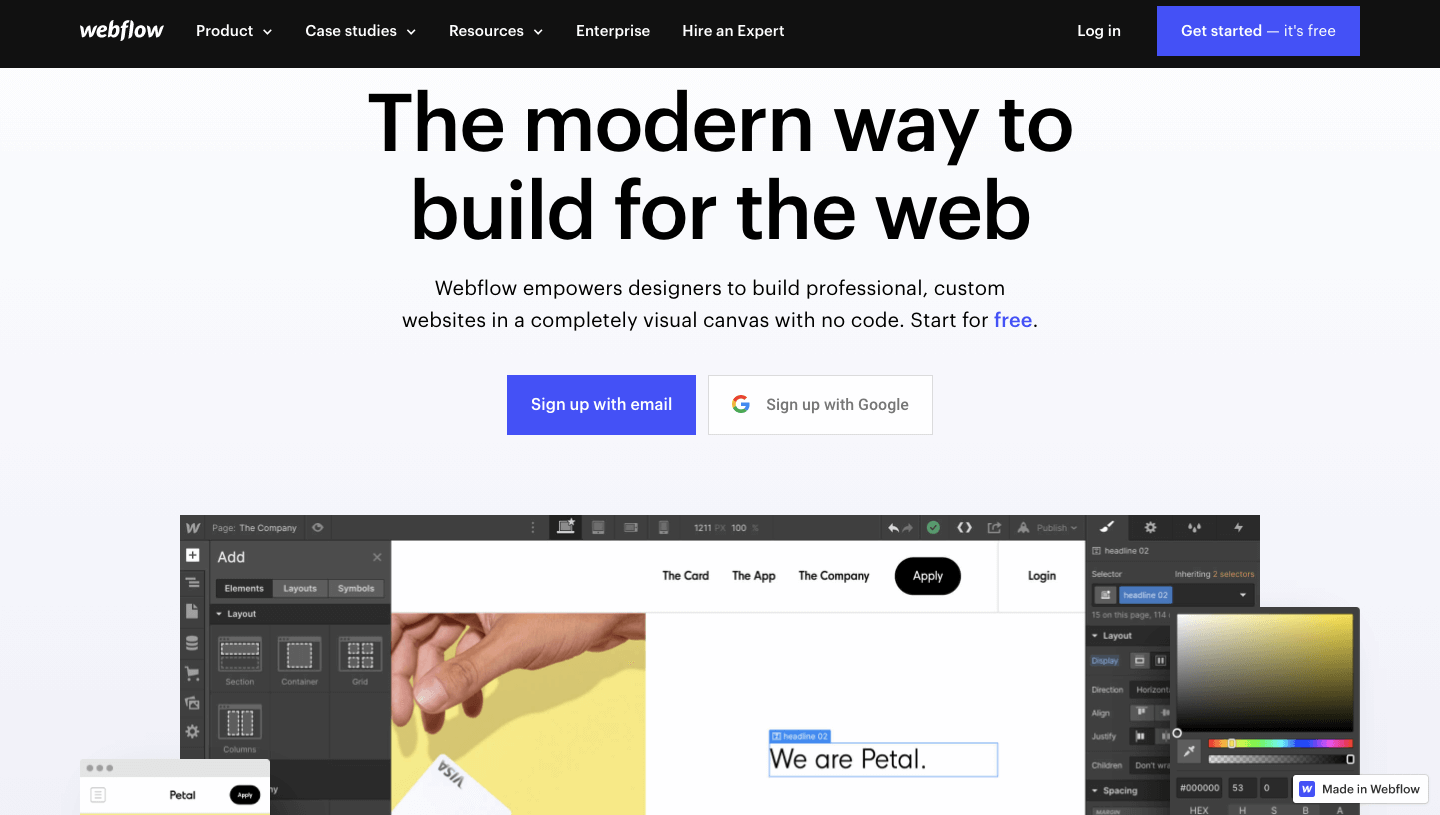 Webflow is a no-code web design tool and a hosting platform that allows designers to create responsive websites, landing pages, and blogs.
Their basic plan is priced at $12 per month. And for every customer referred, you earn 50% of all the monthly subscriptions for 12 months.
Some of the most successful Webflow affiliates are designers that create their own templates and designs. That way, when someone wants to use it, they need to sign up for Webflow first – through an affiliate link.
FreshBooks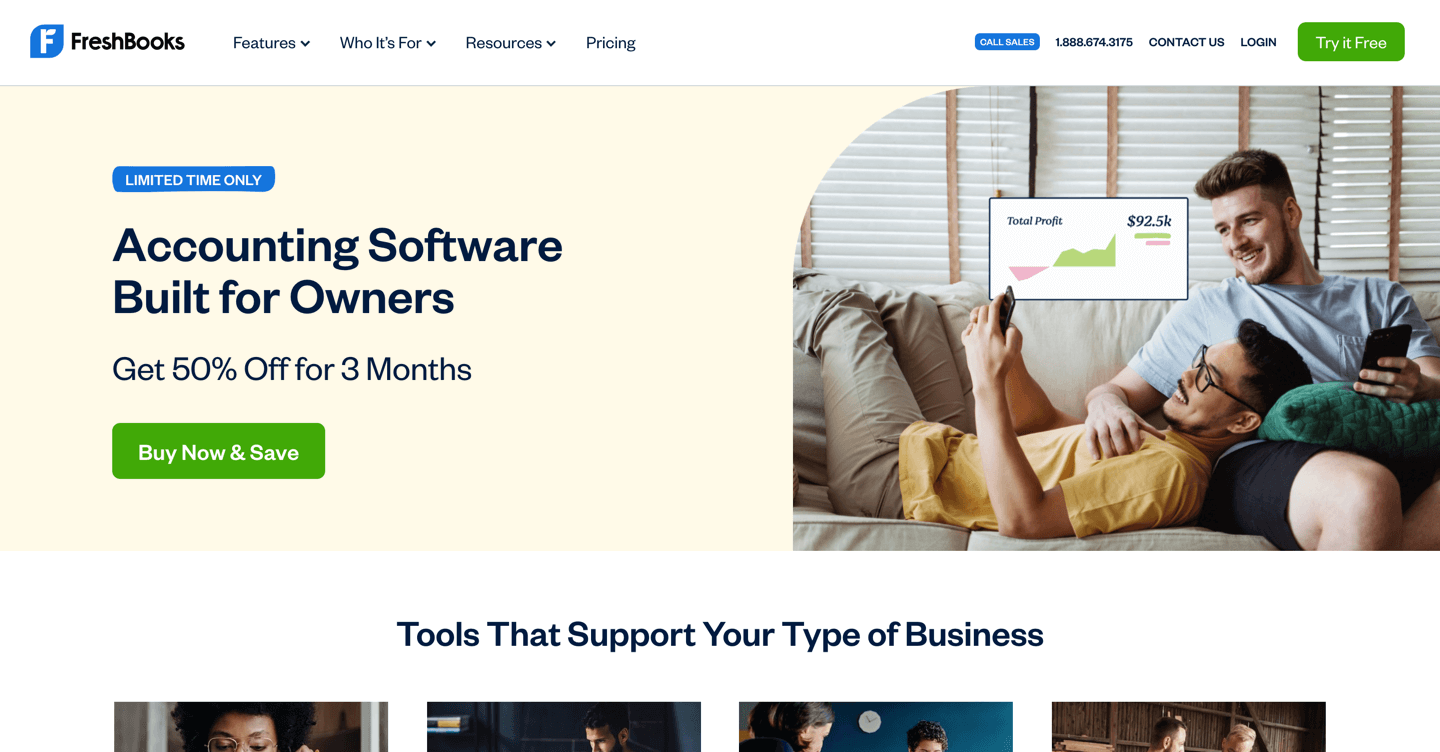 FreshBooks is a popular SaaS accounting solution that helps with automating invoicing, time tracking, expenses, and payment collection.
With FreshBooks, business finances can be managed from any part of the world. That said, it's most popular in the United States and with US-based businesses.
FreshBooks is user-friendly enough for businesses ranging from freelance writers to large corporations. Their Lite pricing plan starts at $15/month.
You can earn up to $10 per free trial, plus up to $200 for every paid subscriber.
Pipedrive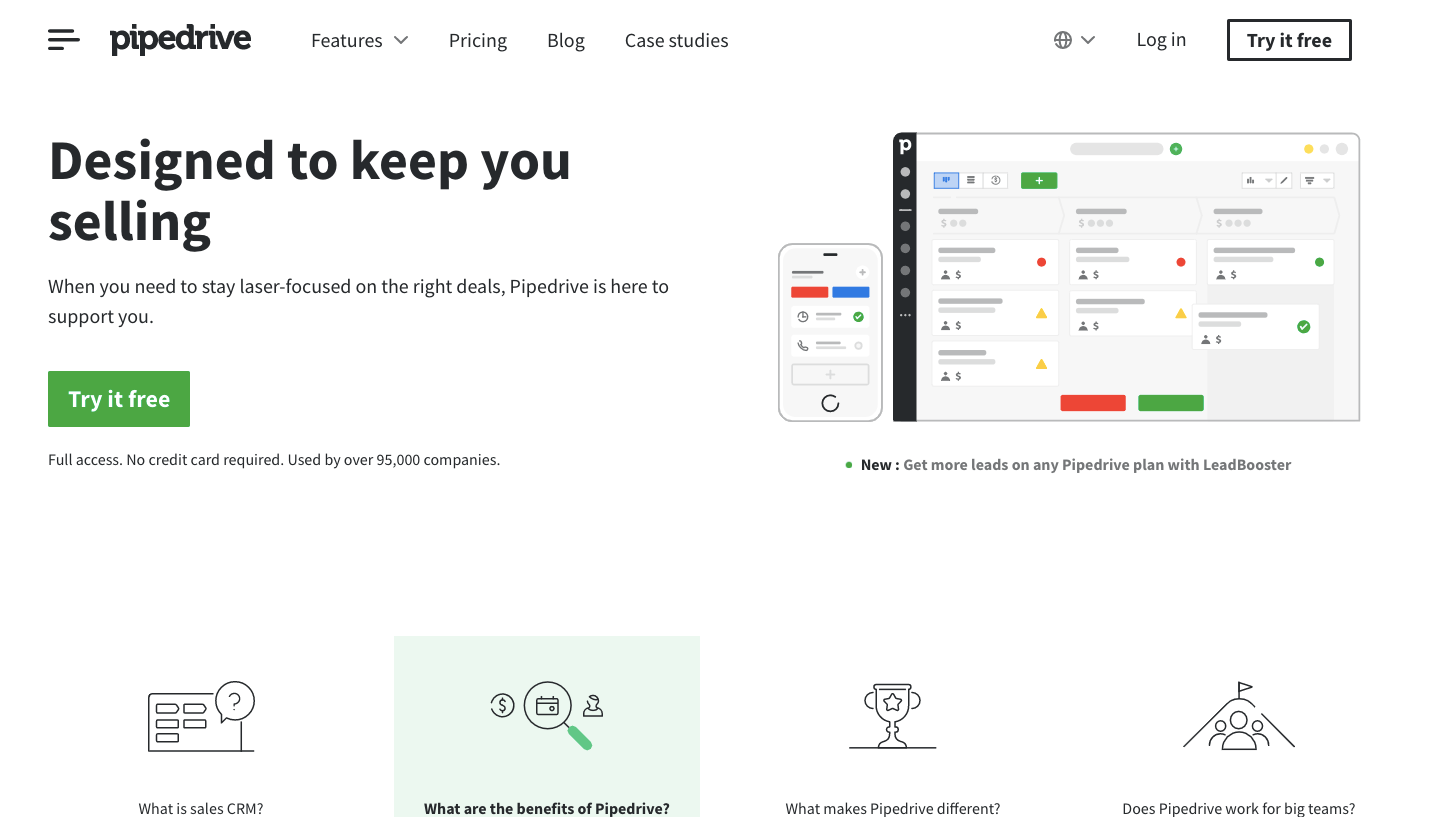 Pipedrive is a popular CRM tool that helps businesses plan their sales activities and monitor their deals. With Pipedrive, you can track calls, emails, and your contact history right where you need it. You can enjoy complete visibility and control over your schedule.
Getting started costs just $15 per month.
As an affiliate, you earn a 33% commission for every referral for the first 12 months the customer is with Pipedrive. Unlike other affiliate programs that offer unlimited recurring commissions, this one comes with a cutoff.
ConvertKit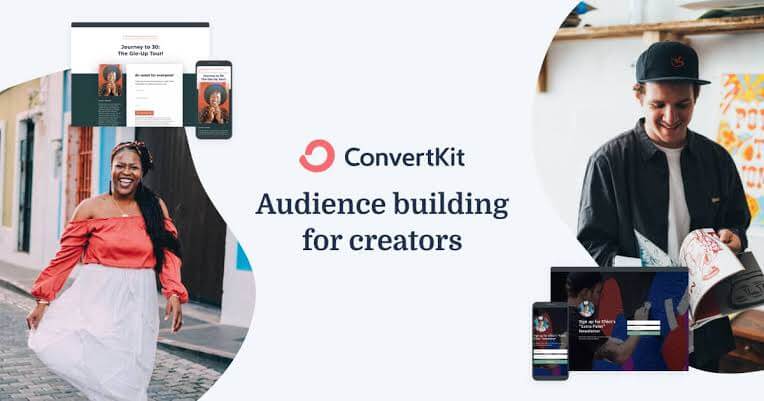 Program name: ConvertKit Affiliate Program
Network / Software: Linkmink
Commission: 30% recurring
Cookie duration: 90 days
Markets: Global
Alternatives: ActiveCampaign at 20-30% commission
ConvertKit is a popular email marketing platform that has quite a few interesting features. You can do everything from creating a basic landing page to sending a broadcast email to your list. It was built keeping creators in mind.
It's a dream tool for YouTubers, podcasters, and musicians. ConvertKit's paid plan starts at $9/month.
ConvertKit pays its affiliates recurring 30% commissions. Their plans are priced between $9 and $2,000 per month. It's one of the fastest-growing email marketing companies on the block.
Now that ConvertKit offers a freemium plan for up to 1,000 subscribers without certain features like automations, it might take you longer to see the ROI from this program. But teach your audience how to use ConvertKit's more advanced features, and you'll get a slice of every monthly payment they make.
Close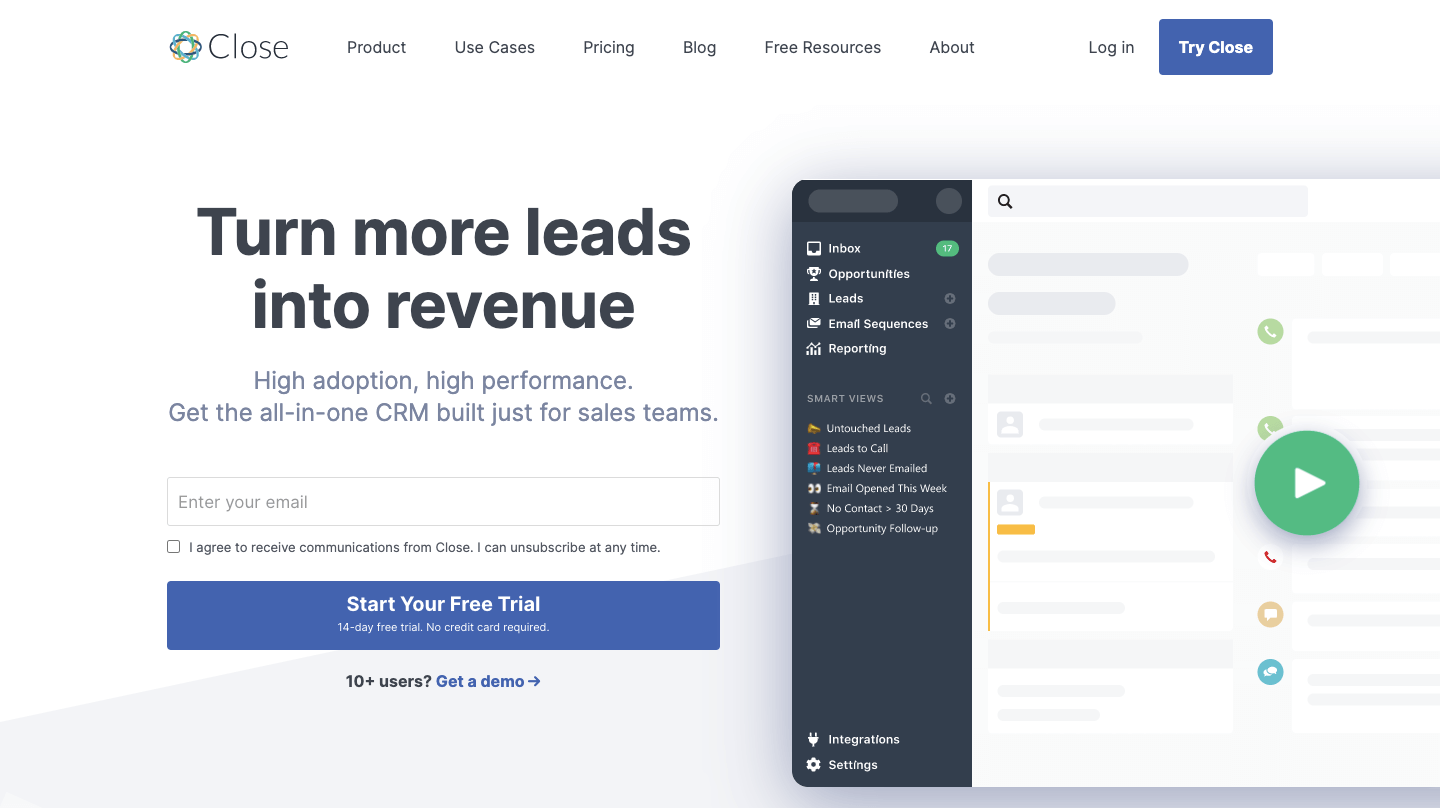 Close is a CRM tool designed to help businesses convert more leads into paying customer. The basic version is available at $25 per month, per user, making it a fair bit more expensive than Pipedrive for people getting started.
That said, per seat pricing can be beneficial for affiliates if your audience is businesses a bit beyond the stage of solopreneur.
With Close, a team of four pays $100 per month. Making your yearly commission from that single referral a cool $120 based on 10% recurring commissions, if they stick with the product.
Podia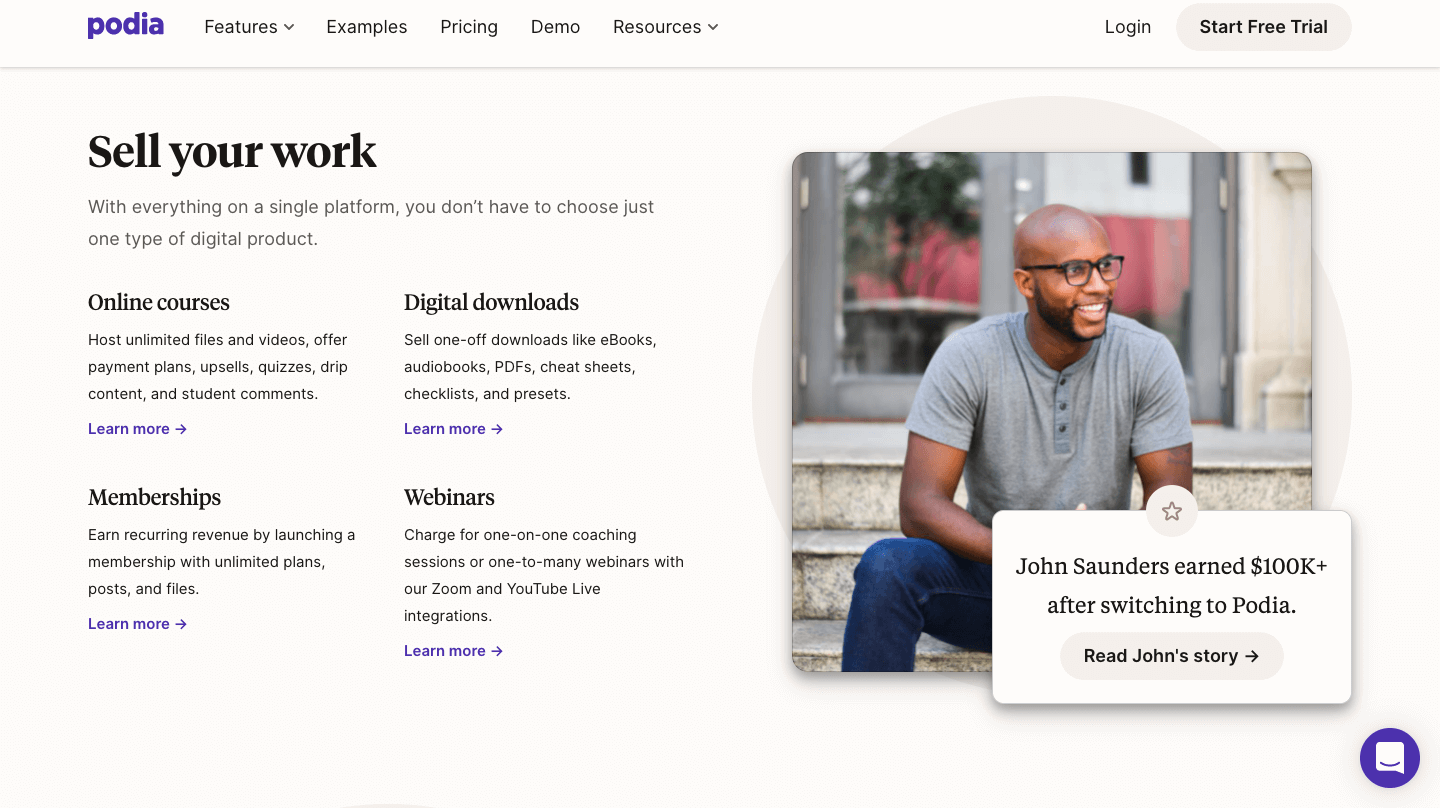 Program name: Podia Affiliate Program
Network / Software: Rewardful
Commission: 30% recurring
Cookie duration: 15 days
Markets: Global
Alternatives: Teachable at 30-70% Depends on the course, often 30-70%
Podia is an online platform for online courses. It helps creators sell ebooks, audiobooks, and PDFs, launch memberships with recurring fees, host webinars, coaching sessions, and email their audience.
Its basic plan is available at $39 per month, the same as its main competitor Teachable. The key difference being, Teachable's base plane also includes a 5% transaction fee where Podia doesn't.
From an affiliate perspective, you'll earn 30% commissions every month for as long as your referral stays active. Teachable, in contrast, lets you level up to 50% after a certain number of referrals.
Shopify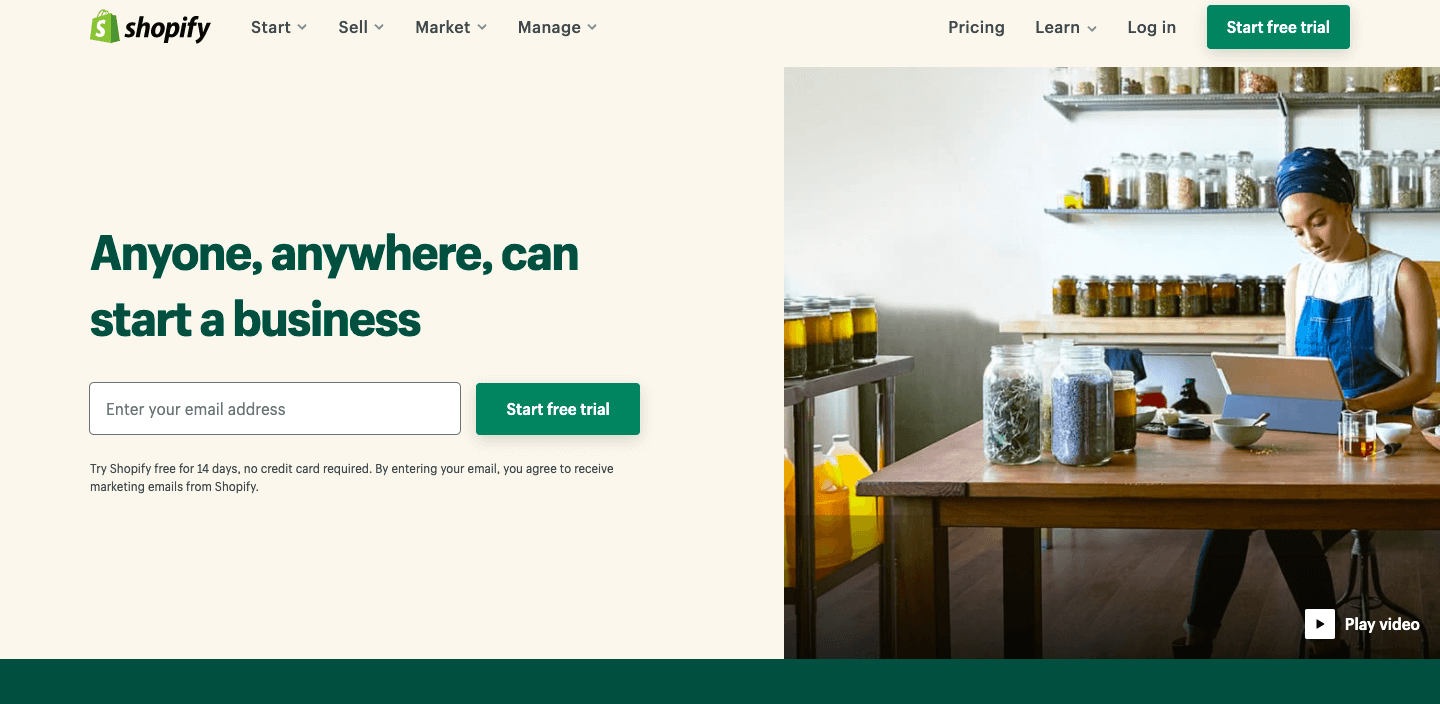 If you want to have your ecommerce store, you can either create one on your own or simply use Shopify! It is a great ecommerce platform for entrepreneurs who are just starting out, with a stellar affiliate program, too.
Affiliates earn an average of $58 per signup, but this is calculated in the following way:
Affiliates earn a 200% bounty for each successful merchant they refer to Shopify. This means that they earn 2x the monthly plan price selected by the merchant that they referred, after the merchant has been active for 2 months.
In short, your referral needs to stick around for at least two months for you to get paid, but once they do, you get two months worth of commissions as a single payout.
That said, commissions aren't recurring and if the referral buys an annual plan, you still only get the 2 months commission.
You'll be paid via PayPal, and the payment threshold is a low $25 to get your commissions.
Elementor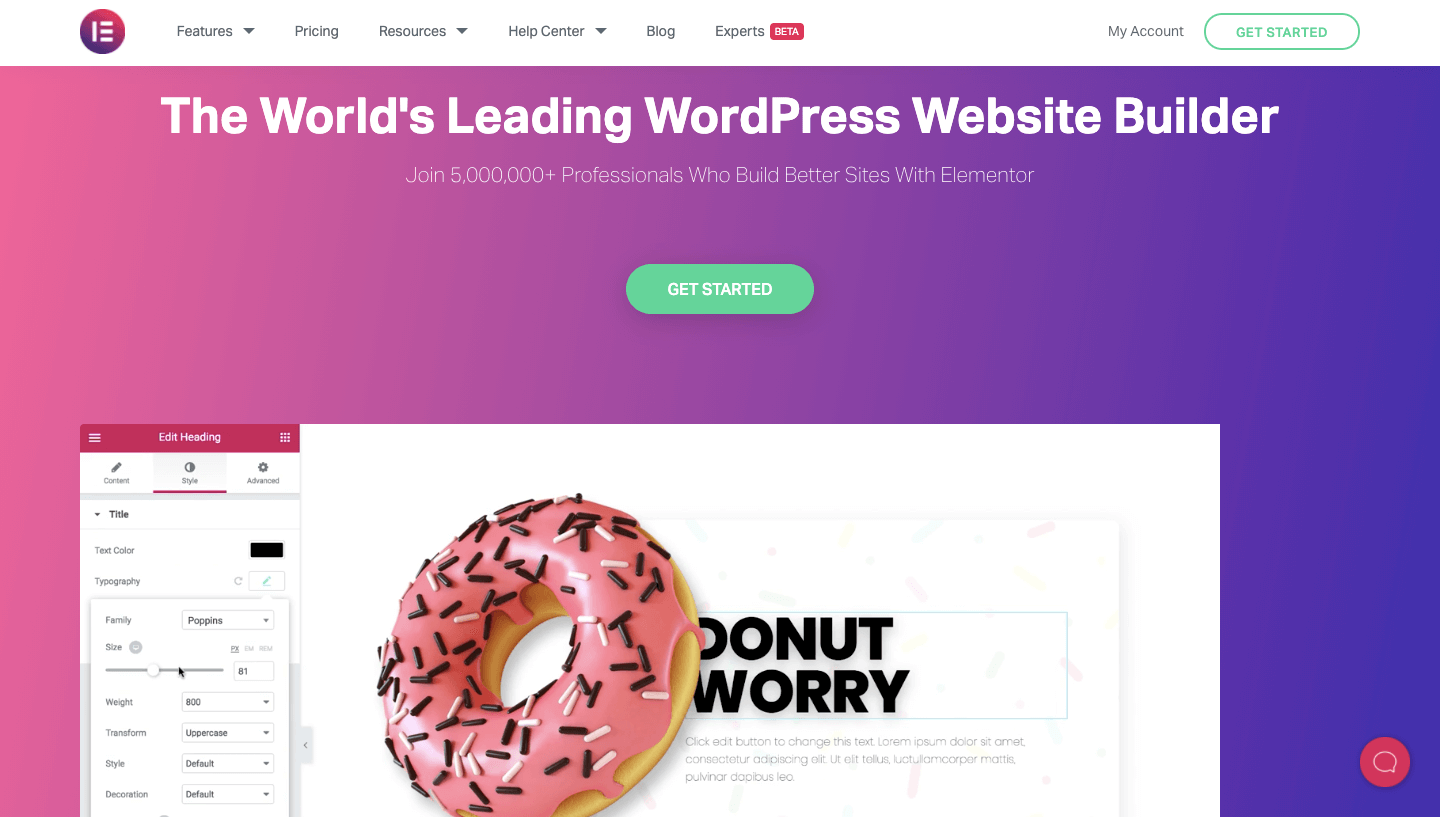 Elementor is a platform where WordPress users can create and edit websites using the drag and drop technique. The tool was mainly created for designers, developers, and marketers.
With the help of Elementor, you can customize your website to include motion effects, different fonts, and background images that fit your brand. You can create beautiful landing pages too with the help of a visual editor.
Elementor's plans start at $49 for a year and high commissions of 50% are paid to affiliates, making it one of the most lucrative SaaS affiliate programs out there.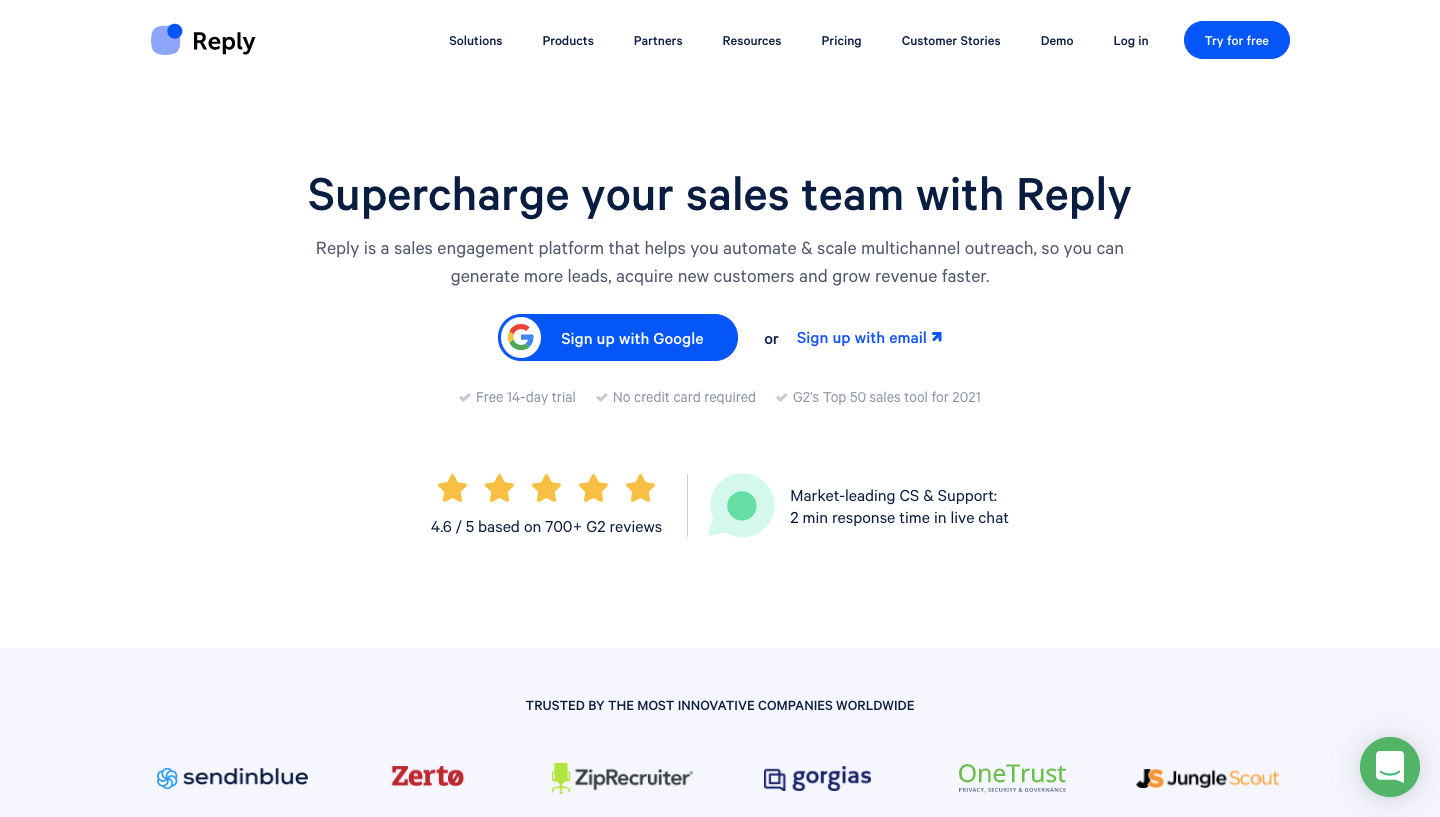 Reply.io is a sales engagement platform powered by AI, that automates all multi-channel touchpoints along a sales process. The monthly subscriptions start at $70/user.
You can sign up for their affiliate program and earn up to 30% recurring commissions.
ActiveCampaign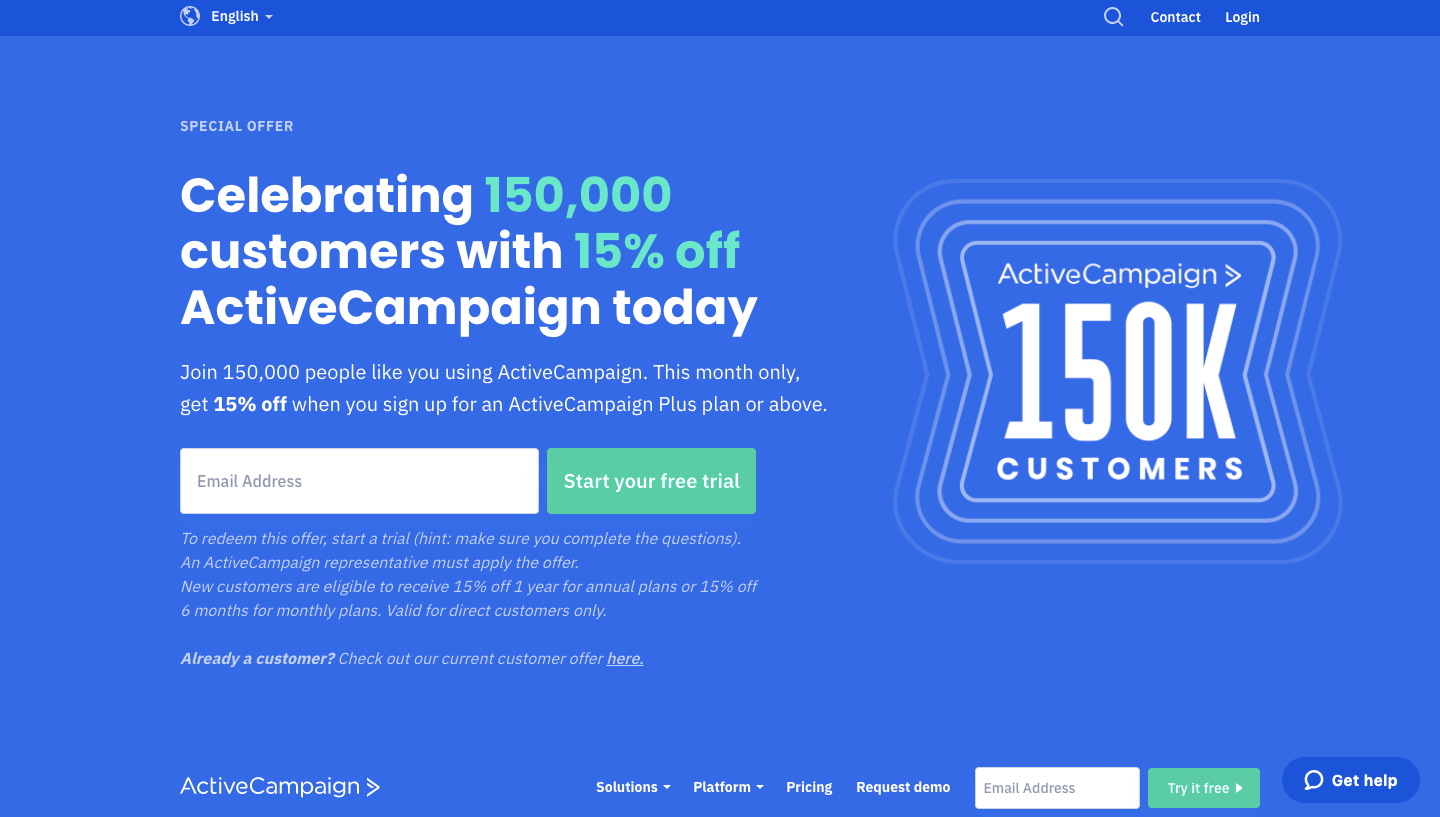 Program name: ActiveCampaign Affiliate Program
Network / Software: Direct
Commission: 20-30% commission
Cookie duration: Not listed
Markets: Global
Alternatives: Close at 10% recurring, ConvertKit at 30% recurring, or Pipedrive at 33% recurring for 12 months
ActiveCampaign is an automated customer experience platform that enables businesses to connect and engage with their customers through a simple yet powerful email marketing and contact management strategy.
It has a simple pricing plan that starts at $9 per month with limited email marketing features and automation. But for a bigger list, ActiveCampaign campaign costs scale up sharply. Especially if you want access to their more advanced features, such as the integrated CRM.
You can become an ActiveCampaign affiliate and earn up to 30% in commissions, with 20% as the base commission.
1Password
1password is a password manager that's safe and easy to use. On this platform, users can store their passwords, software licenses, and other sensitive information.
Its top features include data breach alerts and unlimited password storage. You can sign up for their basic plan for businesses at just $3.99 per month. You can also sign up for a plan that protects yourself and your family at only $2.99 per month.
If you get onboard their affiliate program you earn 25% for each completed signup, with a minimum of $2.
Semrush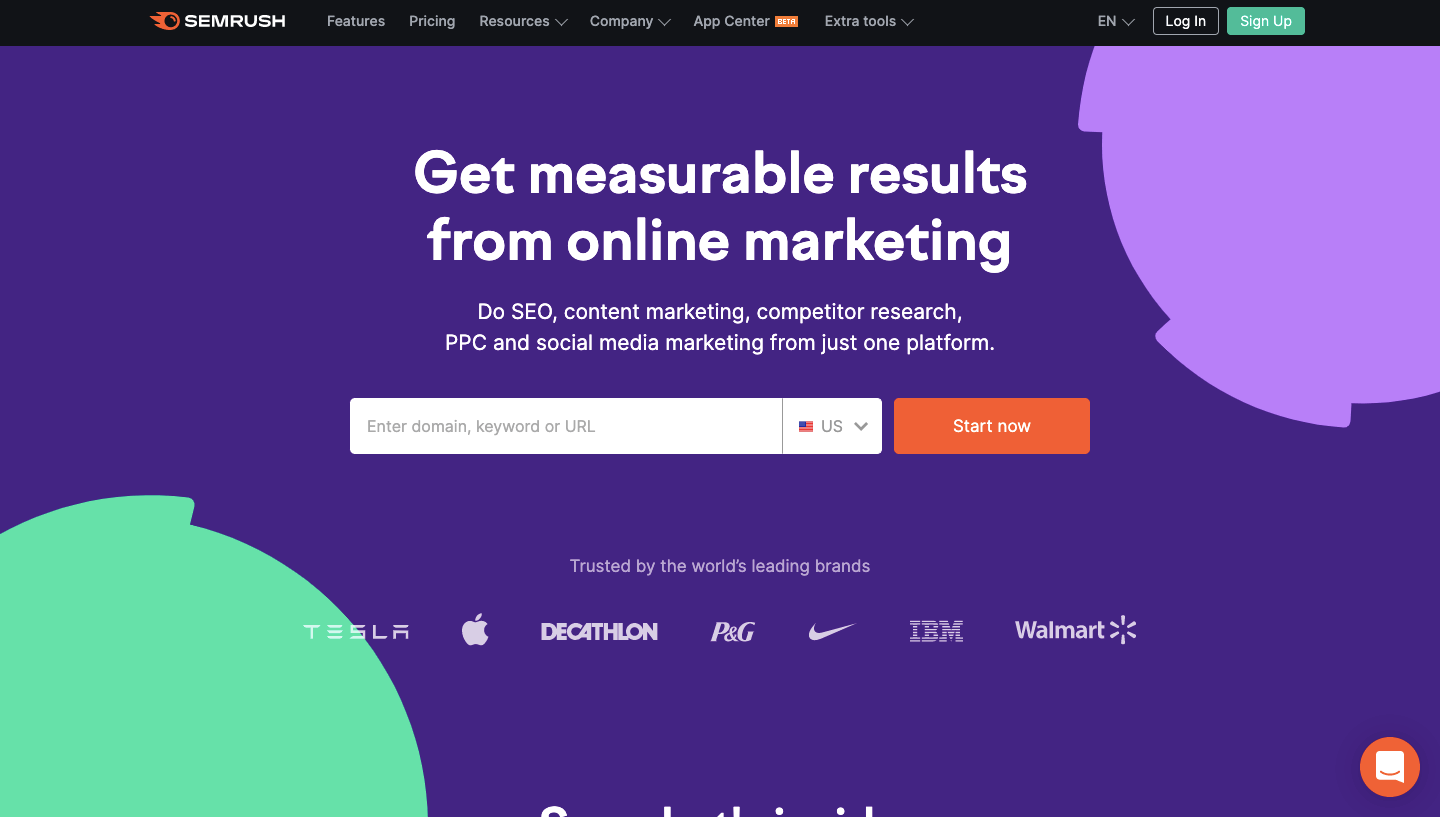 Semrush is a leading online visibility management SaaS platform that offers businesses around the world the opportunity to harness the full potential of search engine optimization, pay-per-click, content, social media, competitive research campaigns, and more.
The company boasts a roster of industry-leading companies including Tesla, P&G, and Forbes as clients. Subscription plans initiate at $129.95 per month.
Affiliates can partner with the Semrush program to earn a $200 commission per new subscription sale.
Here's what affiliates can look forward to:
Access an extensive array of comprehensive training resources
Utilize a diverse collection of pre-designed, high-converting promotional materials
Regular incentives and exclusive offers
A responsive and dedicated support team, and more
Semrush is one of the most trusted keyword and SEO tools on the market, which means that companies searching for their services will likely have already heard about them.
As Semrush is a familiar face among marketers, it makes their affiliate program easier to convert.
Canva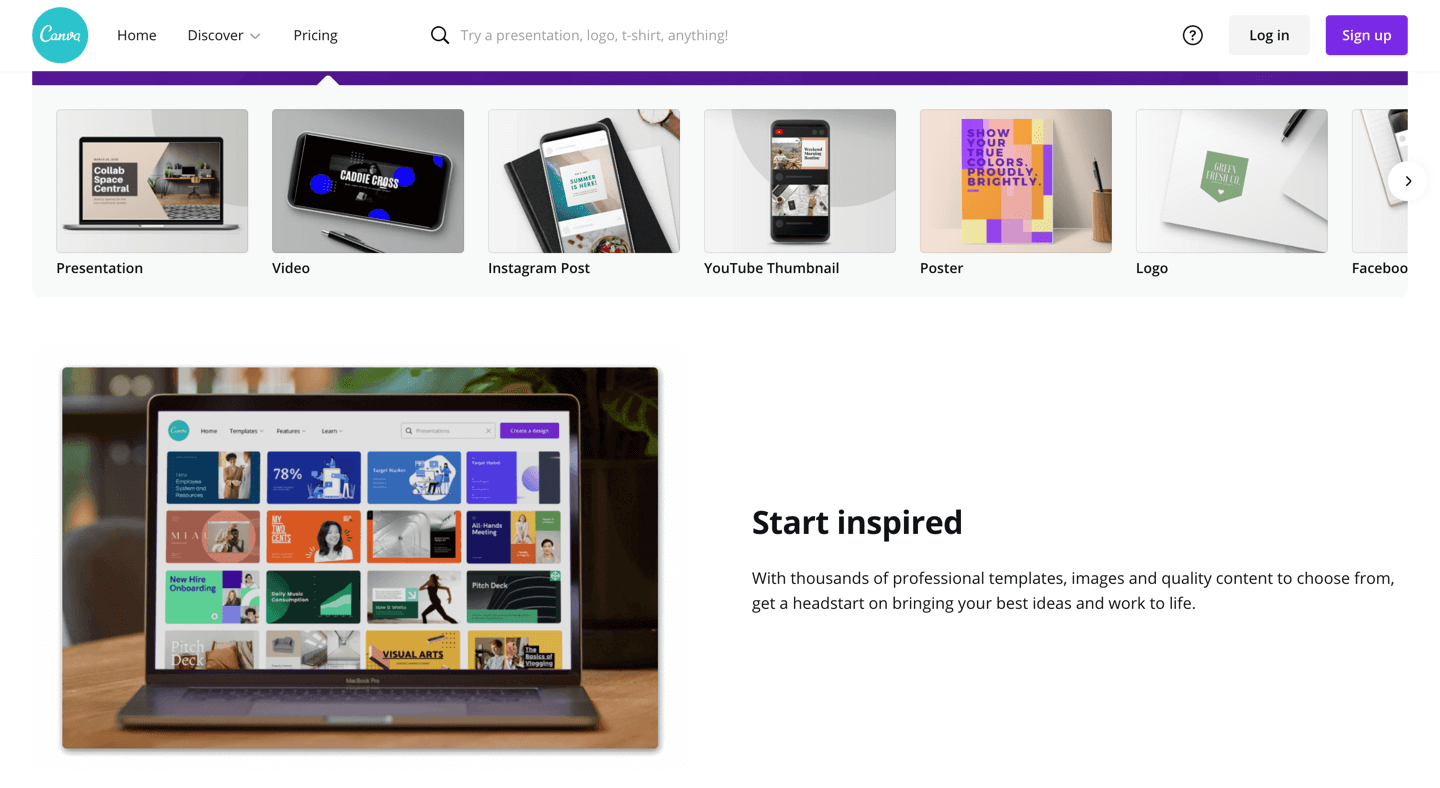 Canva is one of the most popular web-based platforms offering a range of design templates and layouts for designers and marketers to choose from.
Canva lets you create high-quality graphics and visual designs and is available in more than 100 languages. You can use Canva for free or opt to sign up for Canva pro which is priced at $12.99 per user per month.
Get on board the Canva affiliate program and earn $36 for each new Canva Pro subscriber that signs-up with your unique referral link.
LiveAgent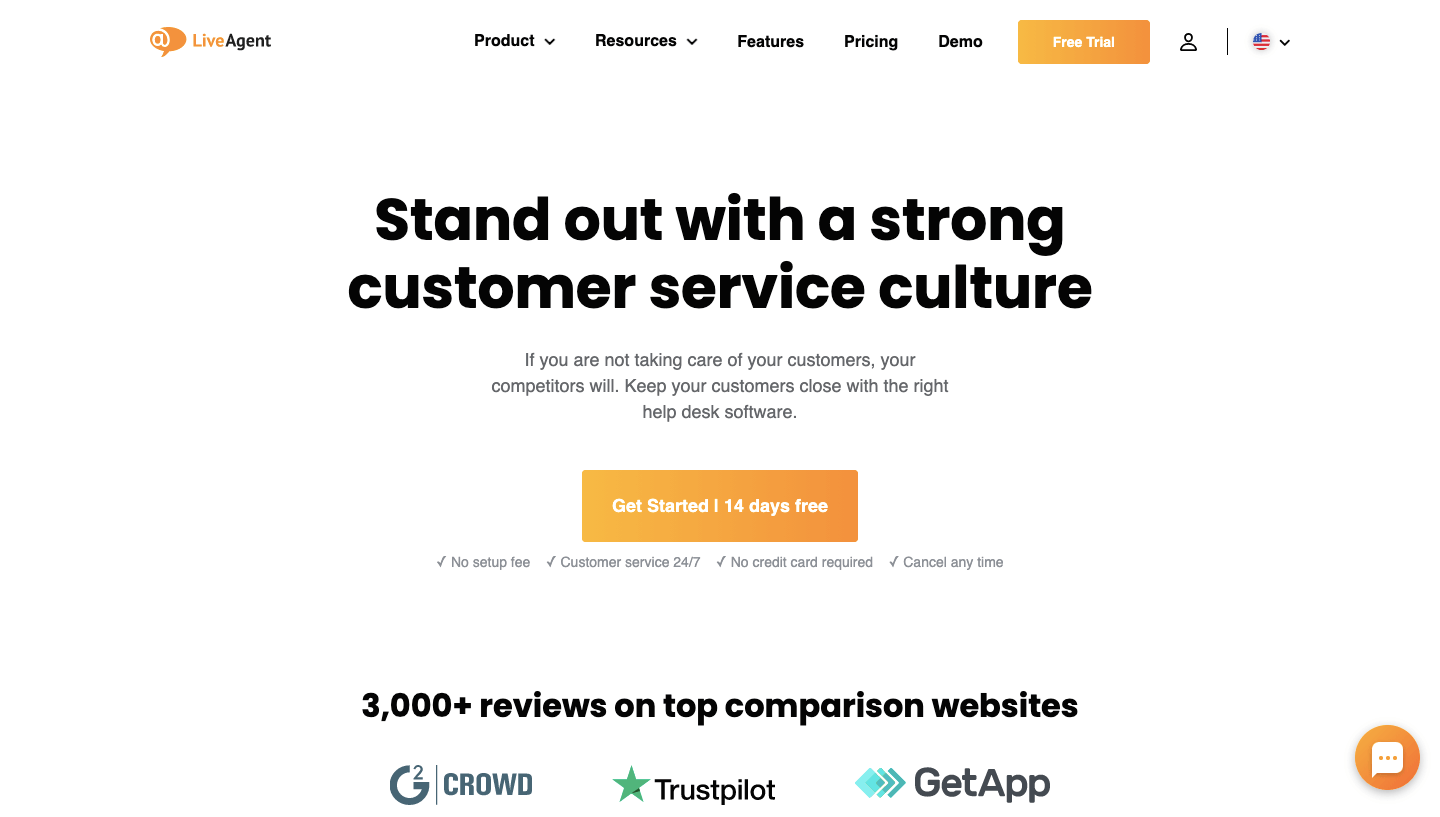 A help desk software that boasts of the fastest chat widgets in the market. It was rated #1 live chat software for SMB this year.
Its features include real-time live chat, a built-in call center, and an efficient customer service portal. Its basic plan is available at $15 per agent per month.
Simply sign-up to their affiliate marketing program and earn $5 as an on-sign bonus. Post that, affiliates are offered recurring commissions at 20%.
SiteGround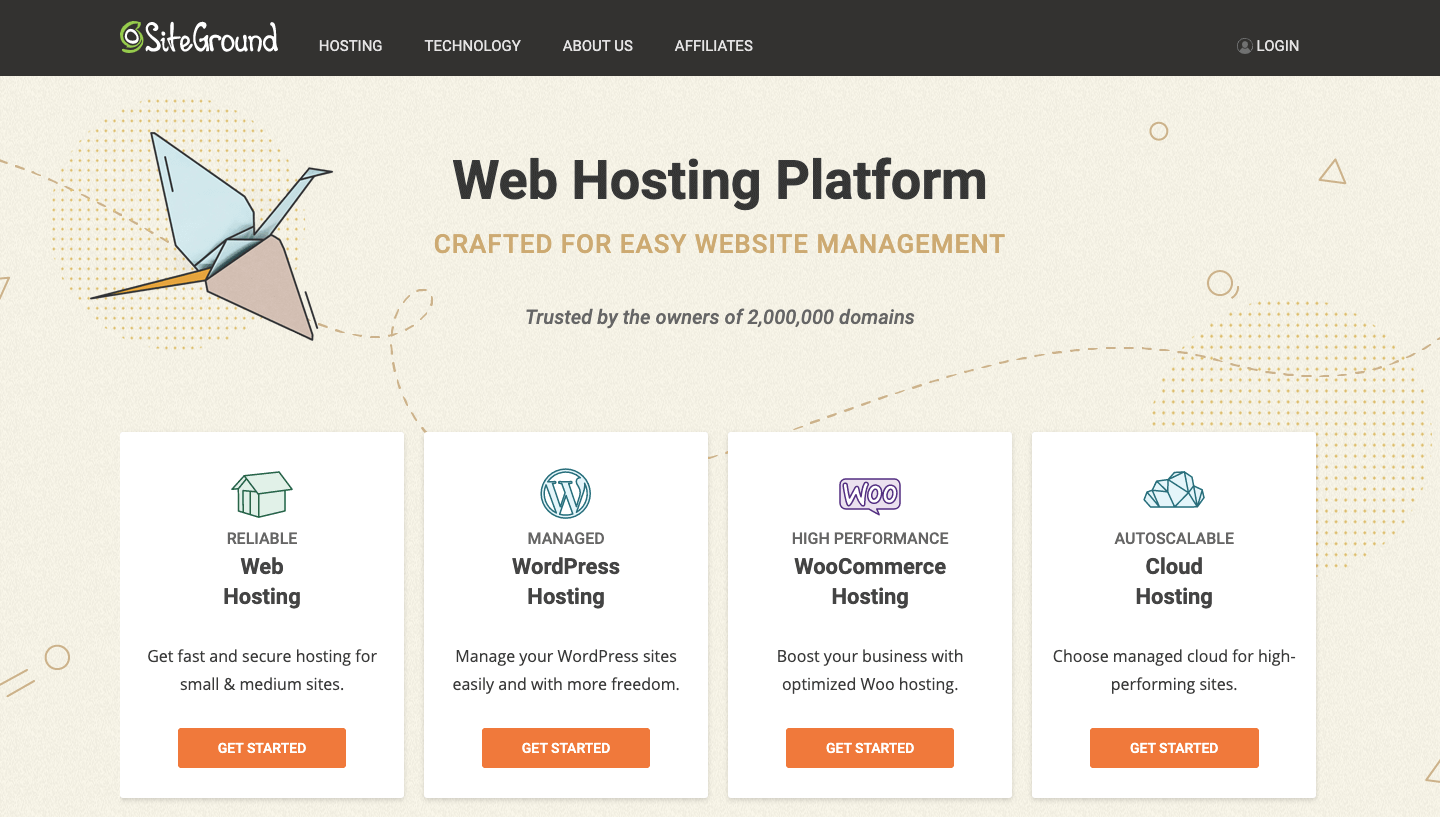 Program name: SiteGround Affiliate Program
Network / Software: Direct
Commission: €40.00-€75.00 per sale or more, depending on volume
Cookie duration: 60 days
Markets: Global
SiteGround is a popular web hosting company whose services include email hosting, website building, website transfers, and much more. You can sign up for their basic plan at a monthly fee of $4.99.
The commissions for Affiliates are determined by the total number of sales generated by them in a month. SiteGround has the below payment structure in place:
1 to 5 sales - $50 per sale
6 to 10 sales - $75 per sale
11- 20 sales - $100 per sale
21 plus sales - Custom commissions
Worth noting: These rates vary depending on whether you're based in the US or EU, from $50 as the base to 50€ (which, at time of writing, is an extra $11 per commission). Given that SiteGround is based in Sofia, Bulgaria, it makes sense they might offer localized pricing.
Privy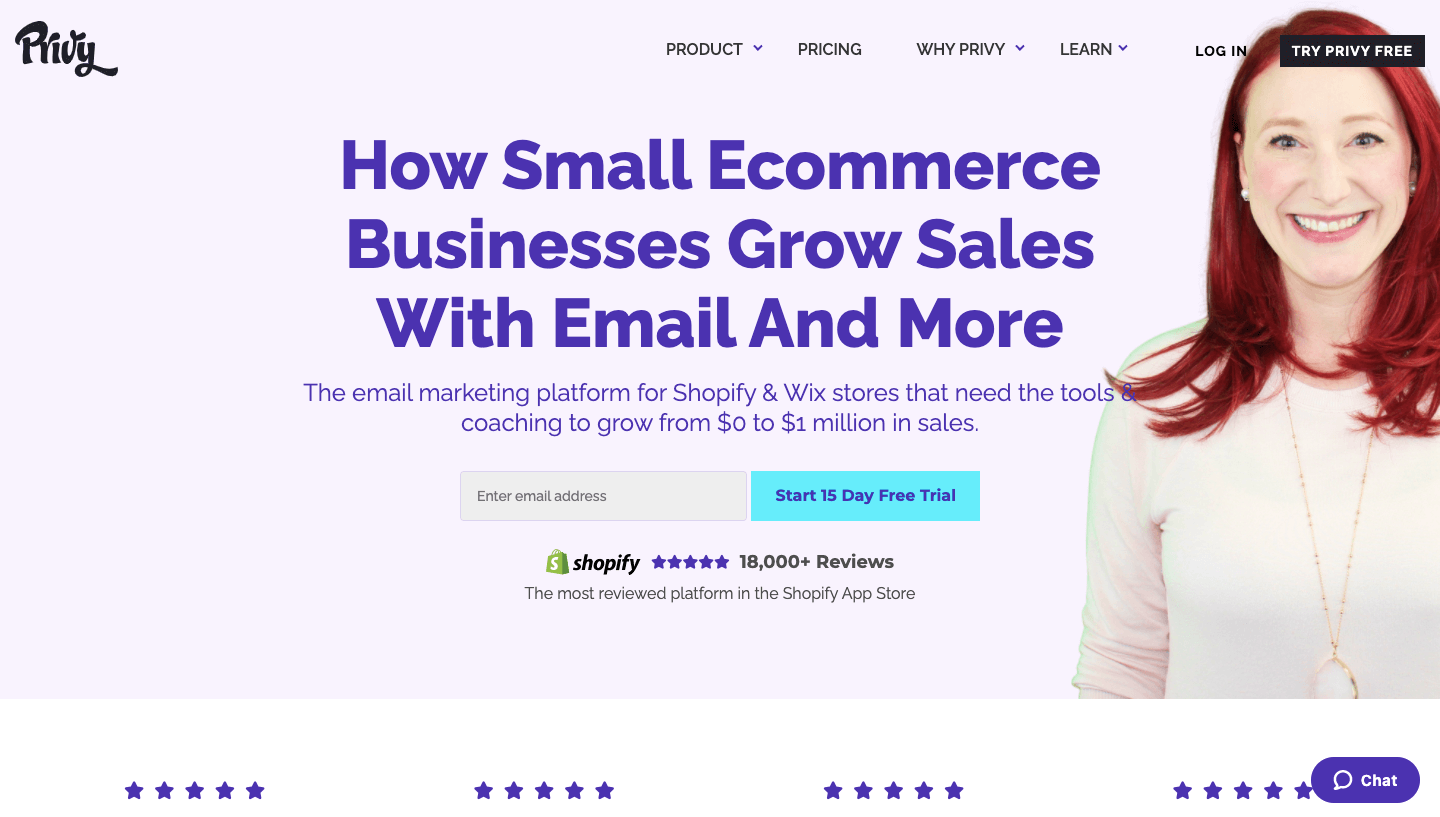 Privy is a cloud-based email marketing platform that allows E-commerce businesses to roll out custom campaigns, talk about their products and generate new leads. Its key features include product recommendations, follow-up emails, building mailing lists, and a lot more.
With Privy, businesses can reduce the cart abandonment rates by sending targeted messages and offers that are hard for the recipients to overlook. You can sign up for the privy starter plan at $15/month.
Privy offers its affiliate marketers 10% recurring commissions.
Iconosquare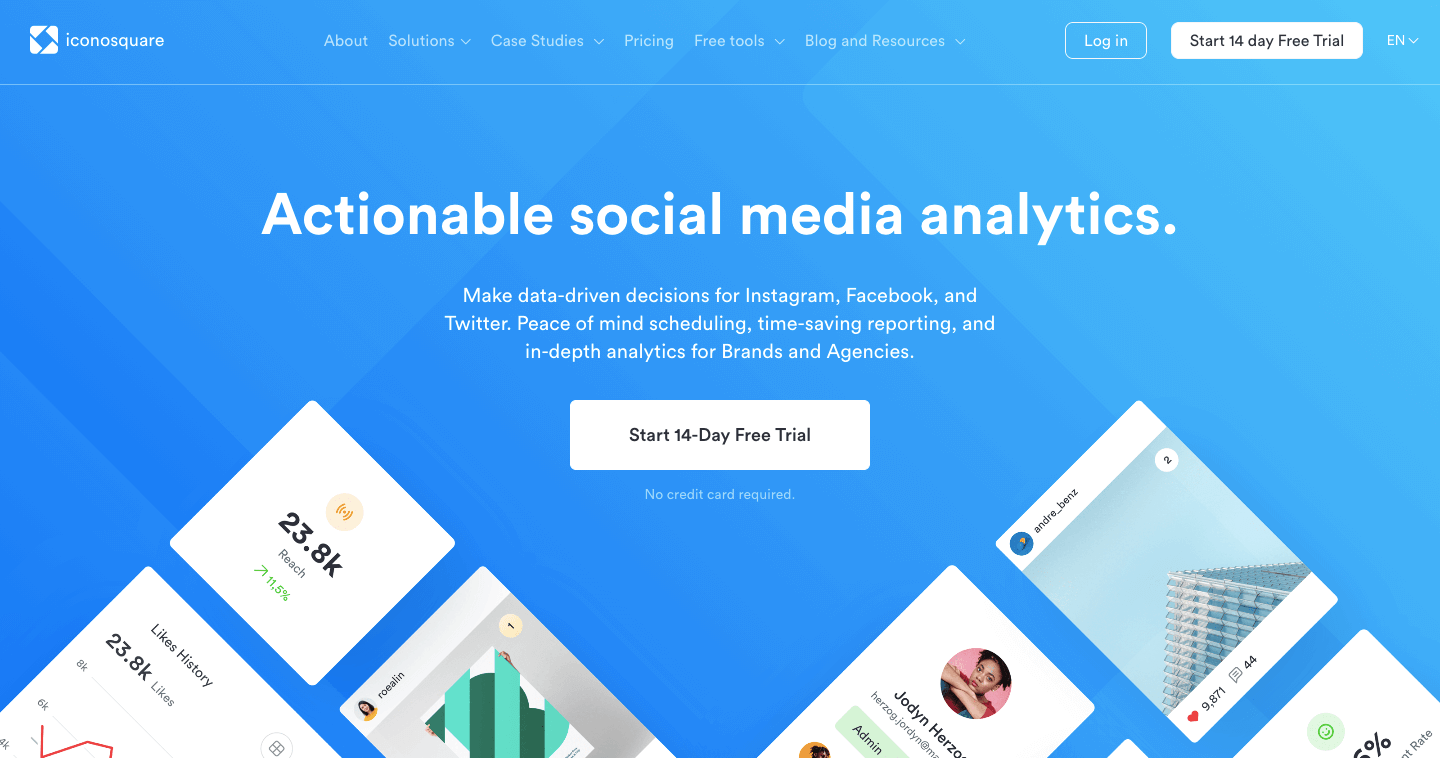 For brands and agencies looking to enhance their social media presence, Iconosquare is solid analytics, management, and scheduling platform. It started out as a tool focusing on Instagram analytics, but later branched out into other social media platforms like Facebook and Twitter.
You can subscribe to their basic plan at $49 per month, and promote the same product to your audience and earn 15% recurring commissions for it as an affiliate.
Unbounce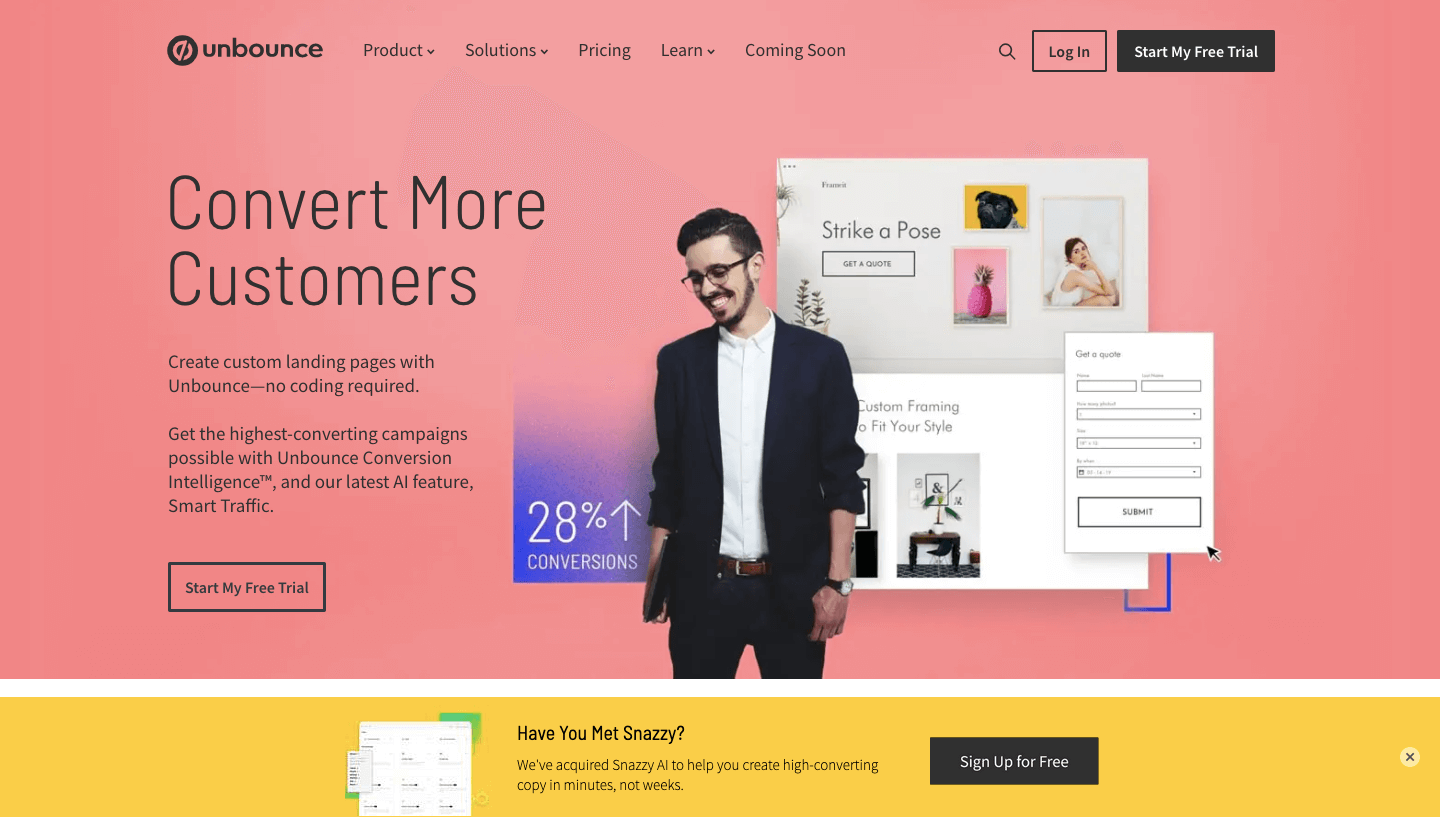 Unbounce is a landing page platform where you can create beautiful landing pages which require no coding. This is an excellent solution for marketers who know very little coding.
Unbounce helps businesses convert their visitors to customers. Its optimization, pricing starts at $79 per feature per month.
Partner with Unbounce on their affiliate marketing program and earn 20% recurring commissions.
Automate.io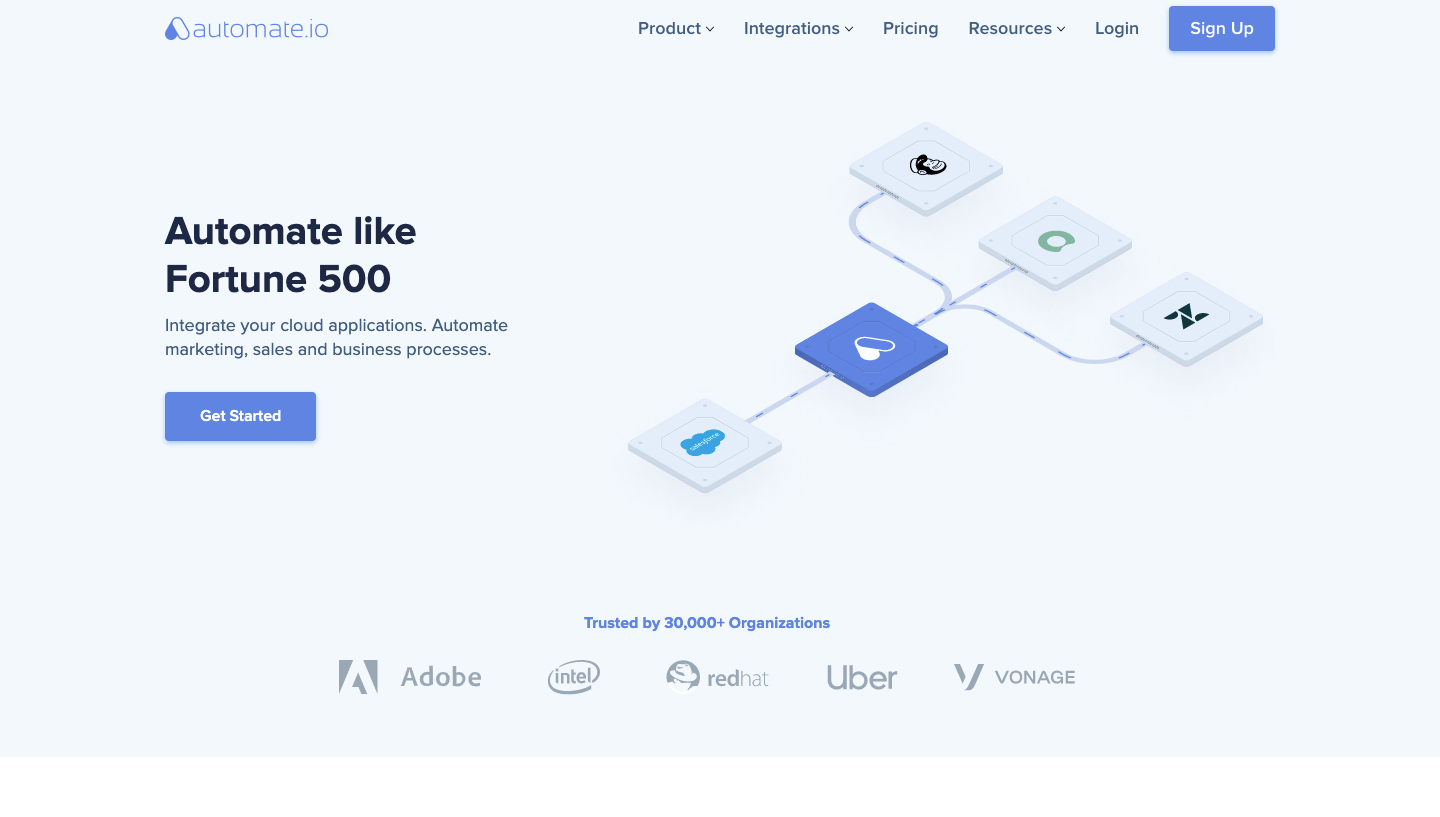 This is an IPAAS platform that connects your cloud applications. It also allows you to automate tedious, repetitive tasks that businesses might otherwise be managing in complicated or error-prone spreadsheets.
If you're a business, you can use this app for free or sign up for their basic plan for a fee of $9.99 a month. For every successful referral, affiliates earn 20% recurring commissions.
TubyBuddy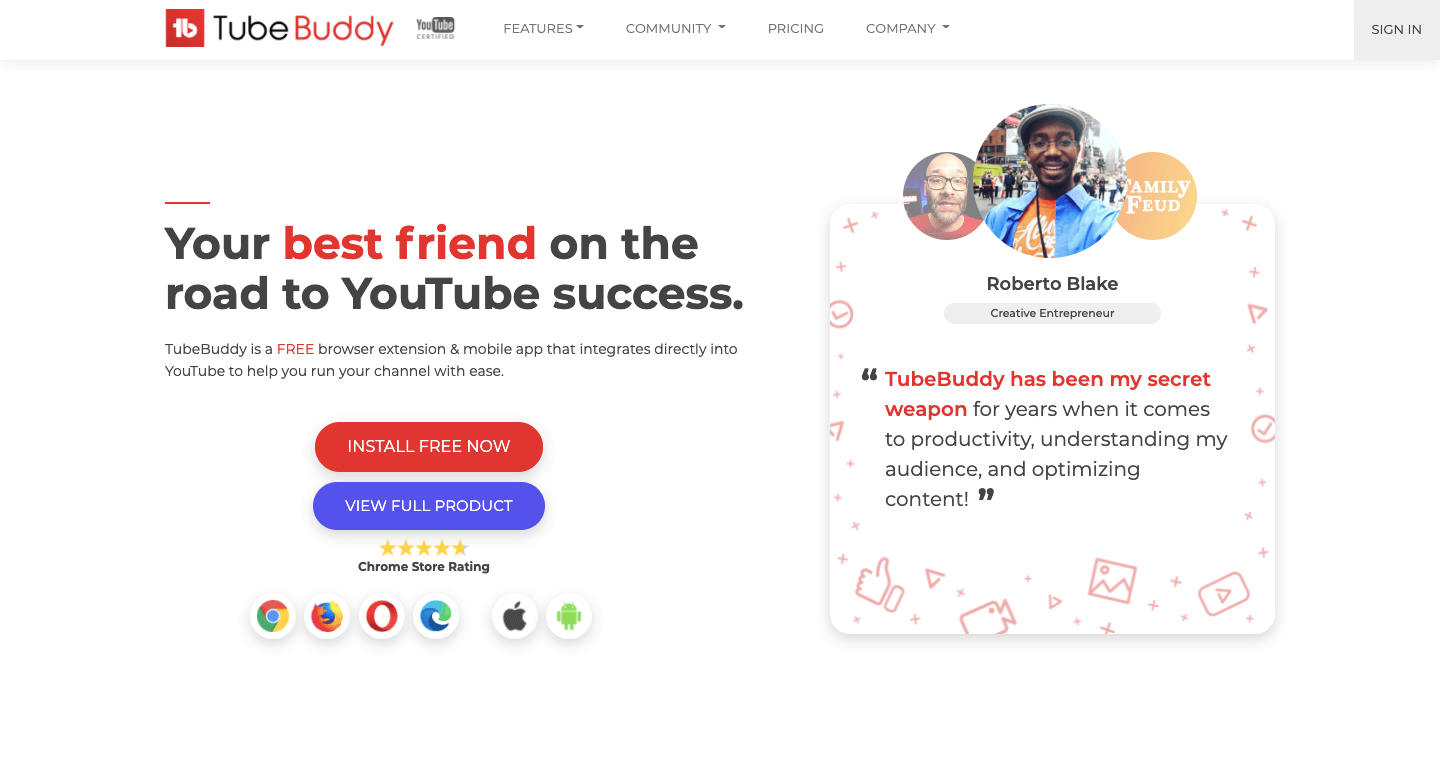 Tubebuddy was rated as the best YouTube channel management and optimization tool kit. It has a lot of tools that will enable you to publish and promote videos on YouTube with ease.
TubeBuddy's pricing begins at $9 per feature per month. Sign up to be an affiliate with TubeBuddy, and earn up to 50% recurring commissions.
Binance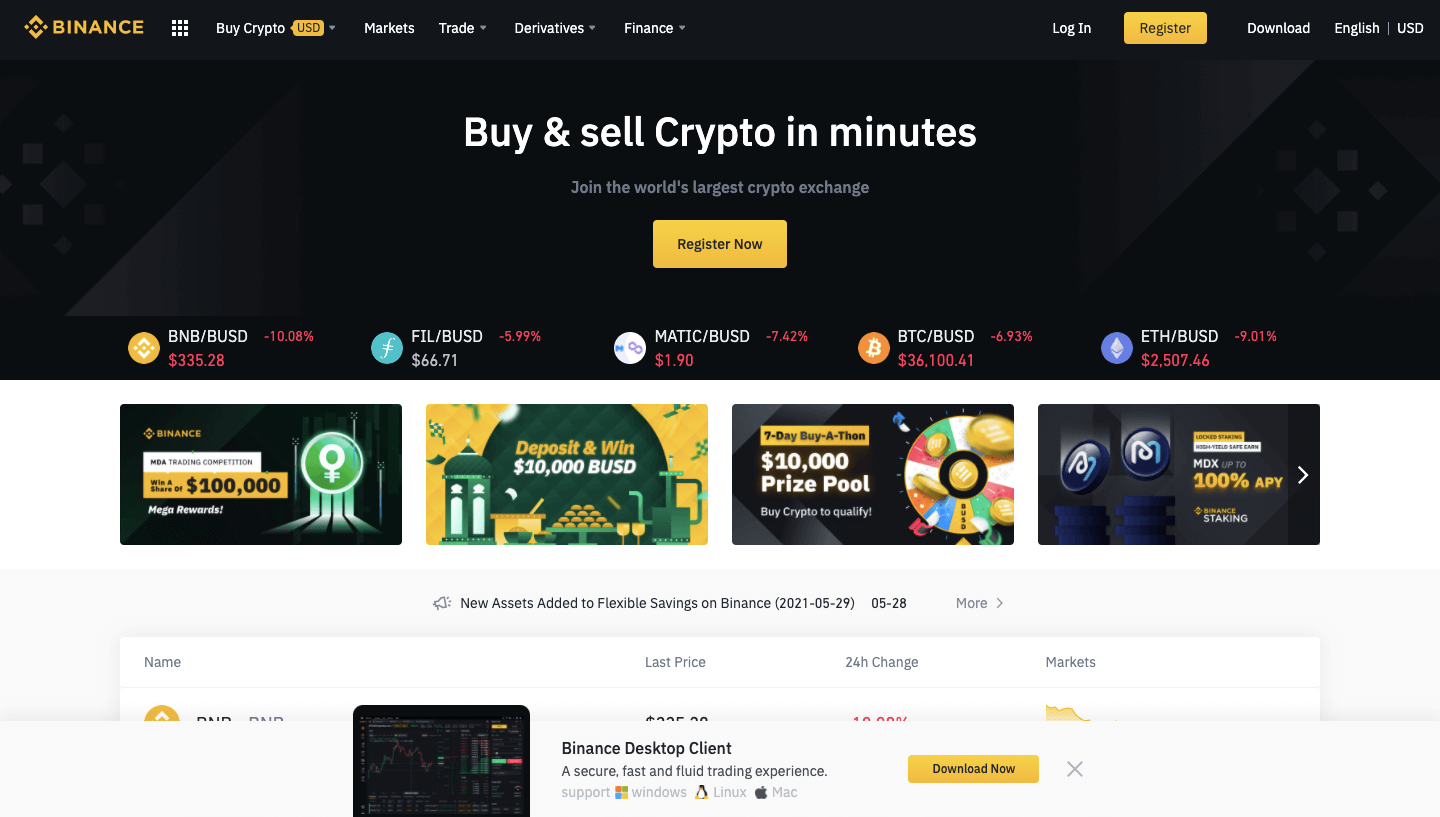 Program name: Binance Affiliate Program
Network / Software: Direct
Commission: 50% at most
Cookie duration: days
Markets: Global
Alternatives: Coinbase at 50% recurring for the first three months
It's a platform for trading in cryptocurrencies. It's compatible with multiple devices and is a convenient and safe mode for trading online.
Become an affiliate marketer for Binance and earn up to 50% commissions.