15 Types of Content for Affiliate Marketing (Ideas + Examples)
By Jules Costa · Updated Jan 18, 2023
There's never been a better time to grow your revenue as a content publisher with affiliate marketing.
According this Awin report from 2020, content and blogs drive over 40% of affiliate marketing sales in the United States.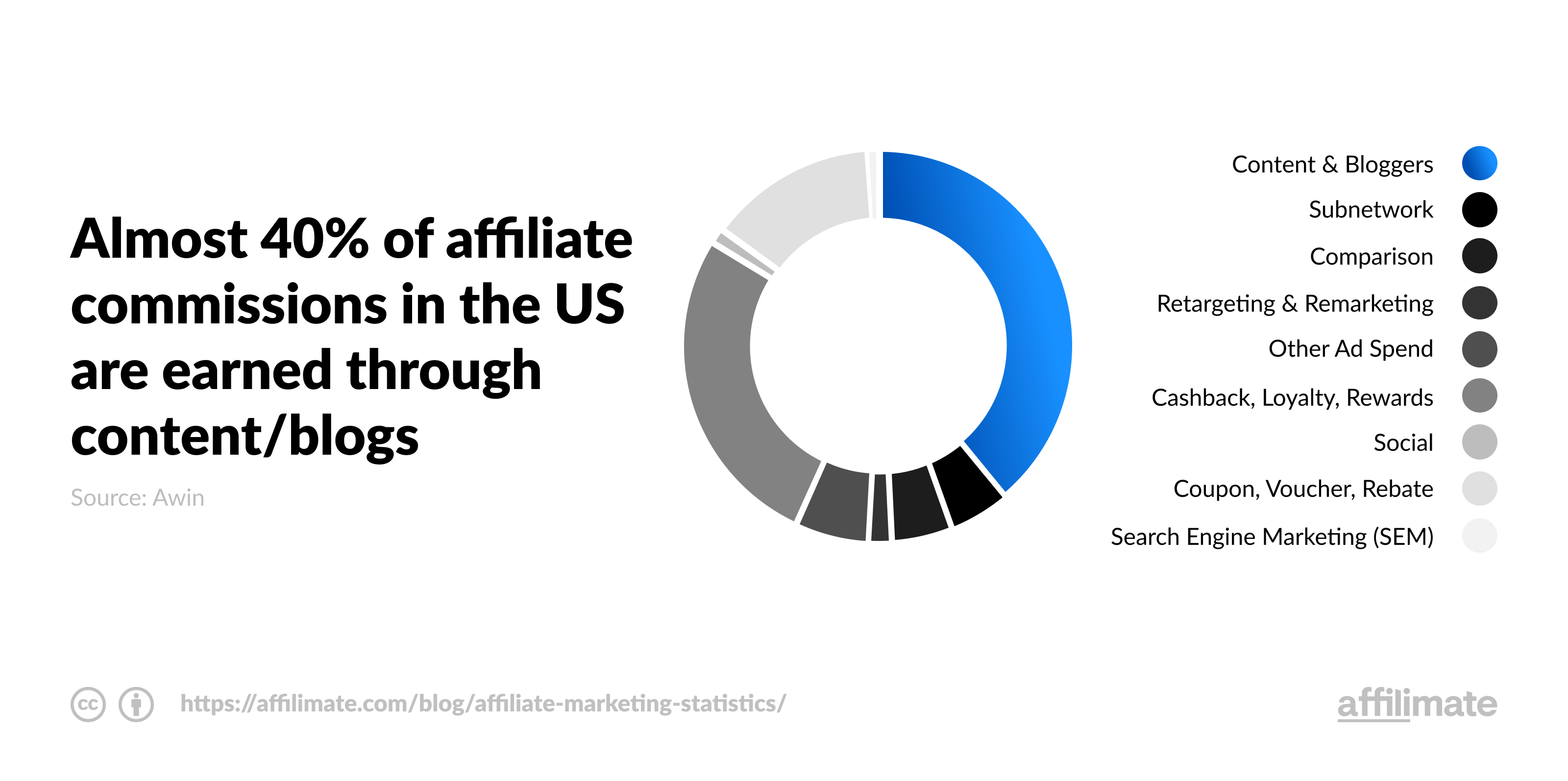 And the opportunities to monetize content are growing. Affiliate marketing spend is expected to hit $8.2 billion in 2022, a growth of $2.8 billion in only five years.
But if you want to cash in, not all affiliate content is created equal. You need to find a balance between evergreen commerce content that converts year round, and seasonal and limited-time offers to maximize your sales.
Want to get some ideas for affiliate marketing content that works best, and see examples of how successful affiliate websites drive conversion? Then keep reading.
Here's a list of 15 popular types of content for affiliate marketing: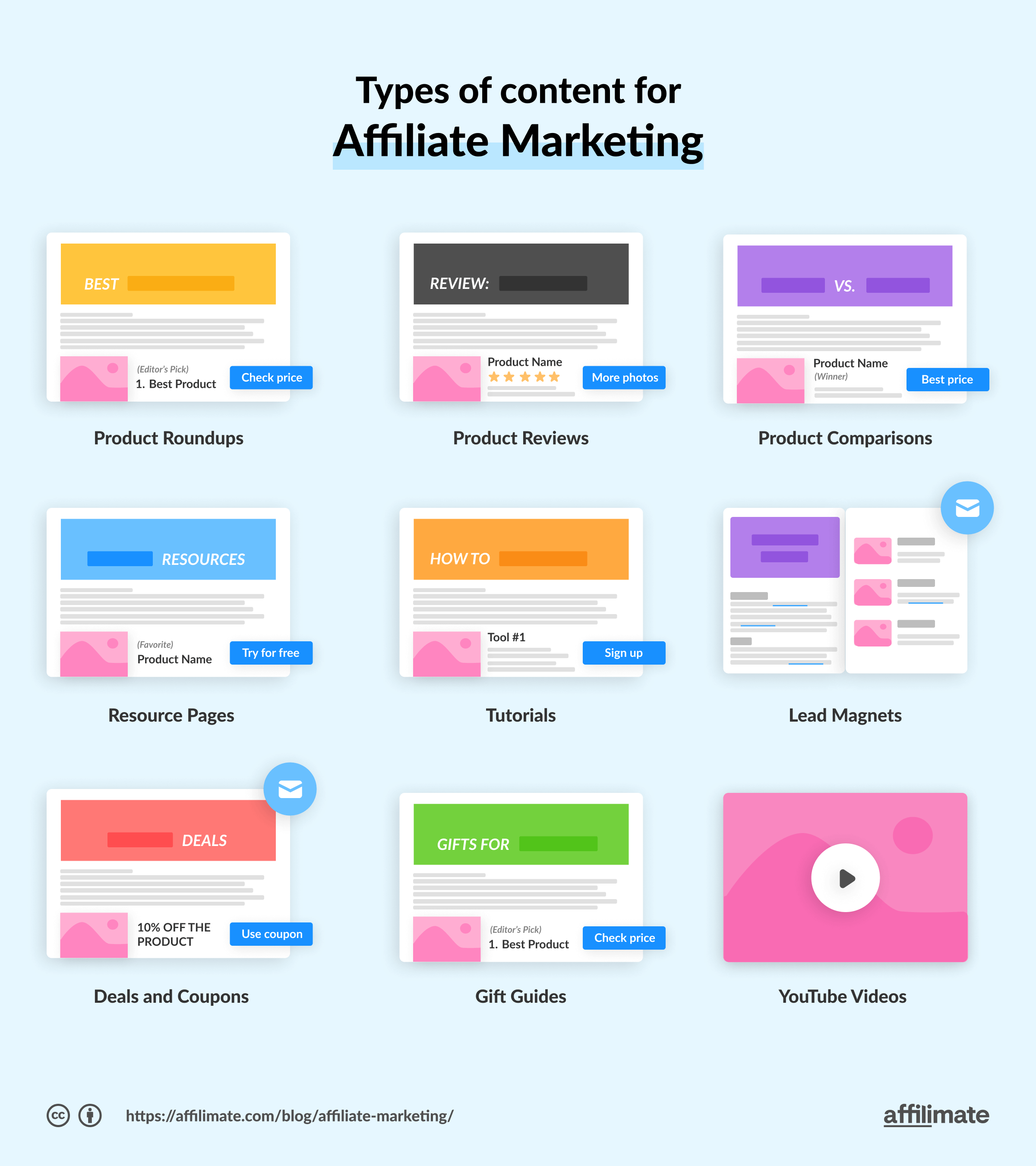 1. Product Reviews
One of the simplest ways to branch into affiliate marketing is through writing product reviews.
Online reviews are a go-to source for people looking to make informed purchase decisions and
97% of consumers use online reviews before making a purchase.
When writing a product review, keep in mind that honesty goes a long way in building trust.
Since no product is perfect, sugar-coating the negatives can come off as salesy. Aim for a well-rounded review like the New York Times Wirecutter, which includes a section called "Where It Falls Short".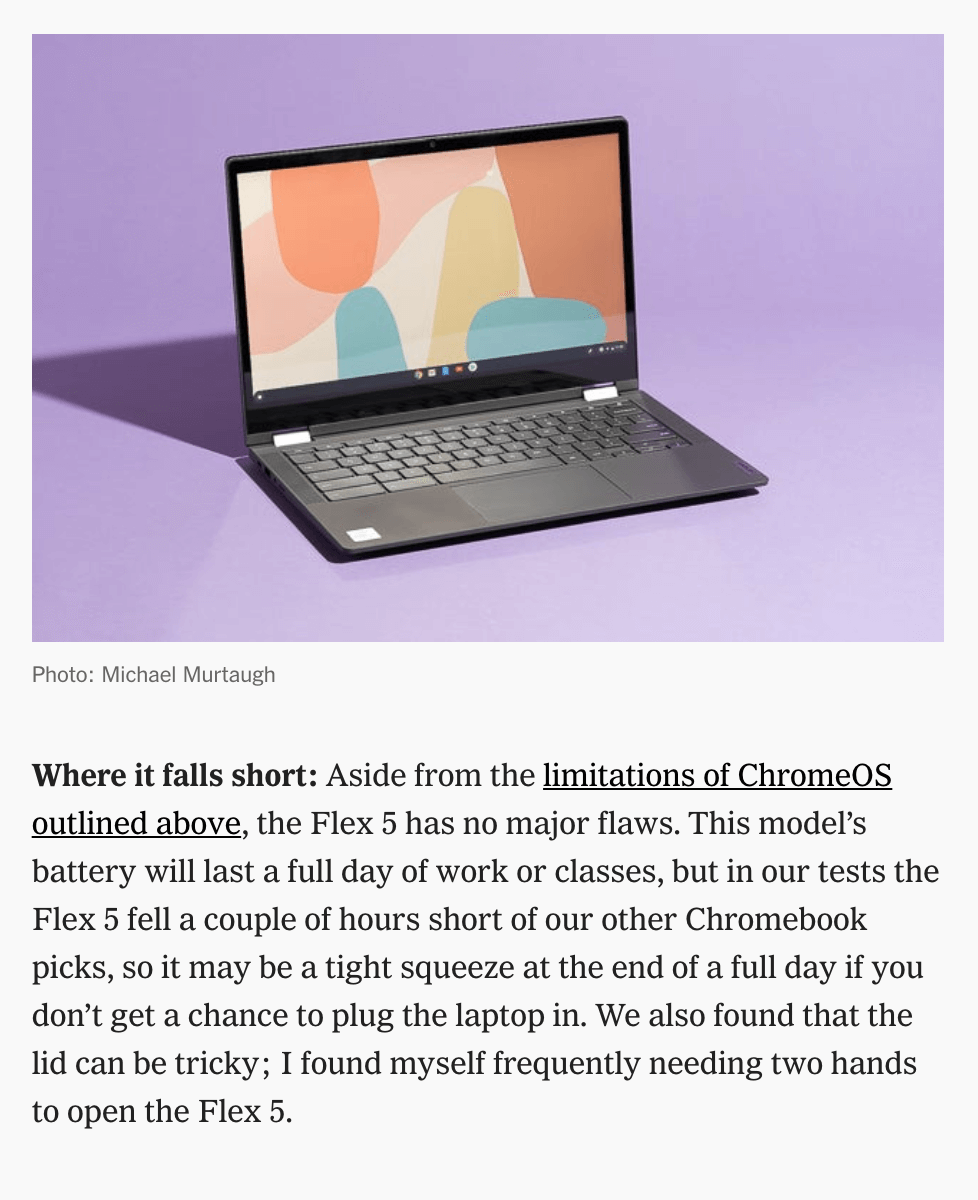 A section like this balances the review and advises customers on potential drawbacks of the product. This increases the chances that they will be satisfied with the sale. That means you get to keep your commission and they are more likely to come back for more reviews!
Pro Tip. Make sure to include alternatives to the product you're reviewing. No single product is the best fit for everyone, and by including alternatives the reader hasn't heard of, you can earn a click (and place your affiliate cookie) early in the decision-making process.
2. Product Comparisons
Product comparisons are another excellent way to create trustworthy affiliate content. Placing similar products side by side gives buyers an overview of the pros and cons of each.
One of our top tips for affiliate marketers is to make it easy for readers to understand the differences between products by creating a rubric for your criteria. For example, if you're comparing computers, you'll want to list which specs you're evaluating (storage, battery life, etc).
If you aren't sure what to include, start with the sales pages on the manufacturer's website or the sales page for the products on Amazon to see what metrics are included.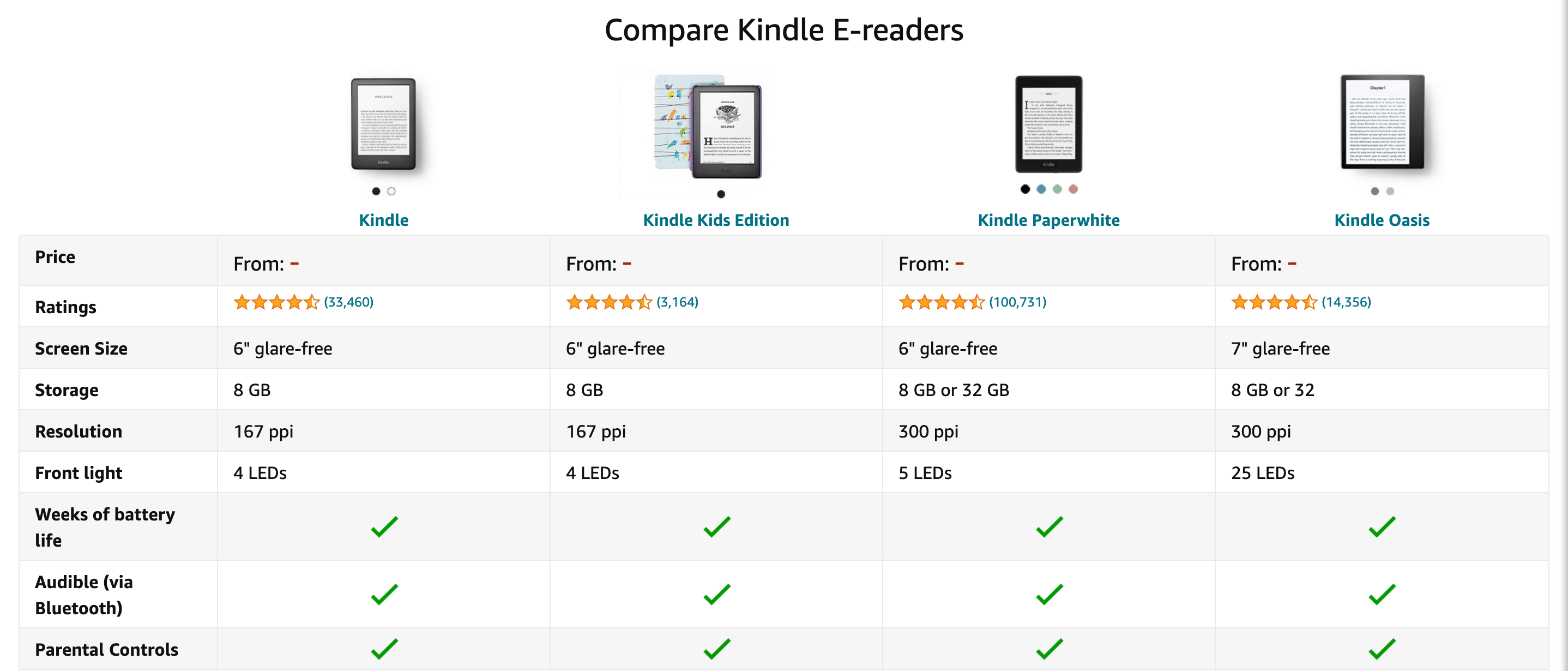 Also keep in mind that many readers skim reviews, so using visual explanations to give the TL;DR version of the review can be useful.
In this example from PC Mag, both the rubric and the comparison are very clear. The rubric is the criteria in the first column (price, processor, storage, etc.), which makes comparing the phones quick and easy.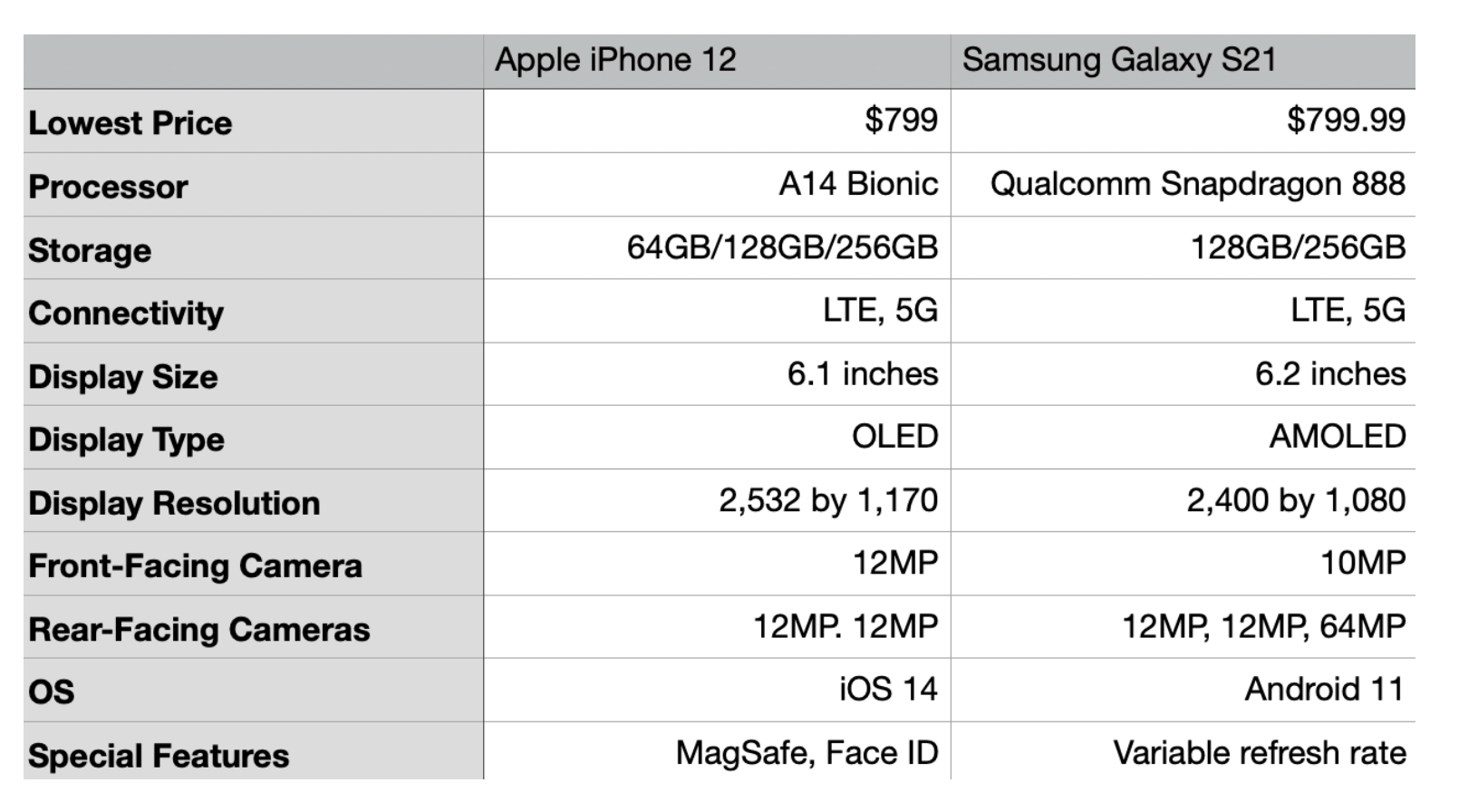 Product comparisons should be relatively straightforward because the readers are close to the end of the buyer's journey. They already know what they need and why they need it. You're just there to swoop in and help people make the final evaluation.
Pro Tip. You can target more than just two products in your product comparison. For example, To add to your reach, compare three products side by side and mention all of them in your article's title.
3. Product Roundups
Product roundups are effective because they can lead different readers to different products. This means your affiliate revenue doesn't necessarily rely on one link.
With that being said, clearly highlighting your recommended product will drive more conversions because it makes it easy for a reader to make a decision.
For example, in this subscription box round up by Byrdie, the very first box listed is the "Best Overall".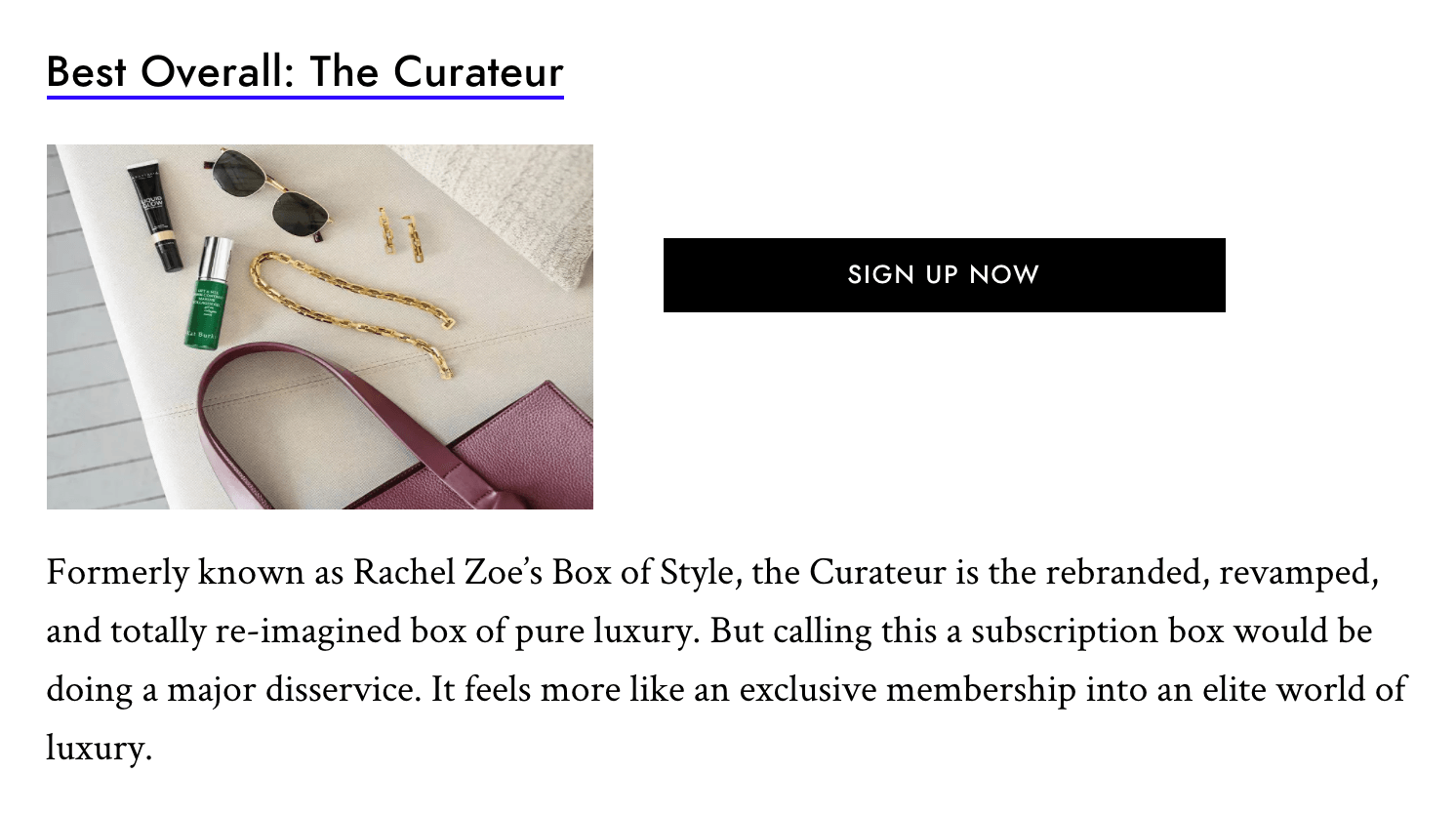 They also include boxes that are best for specific needs, but The Curateur is the clear winner and will likely convert more readers than the other recommendations.
The big difference between product roundups and the product comparison is that the products are sometimes different enough that they can't be evaluated on the same "rubric". If it's tough to do a side-by-side comparison, it makes sense to do a round up instead.
Here's another example of a roundup of minecraft hosting servers. Since the post is comparing different options, the author includes a list of pros and cons to help readers pick the best server for them: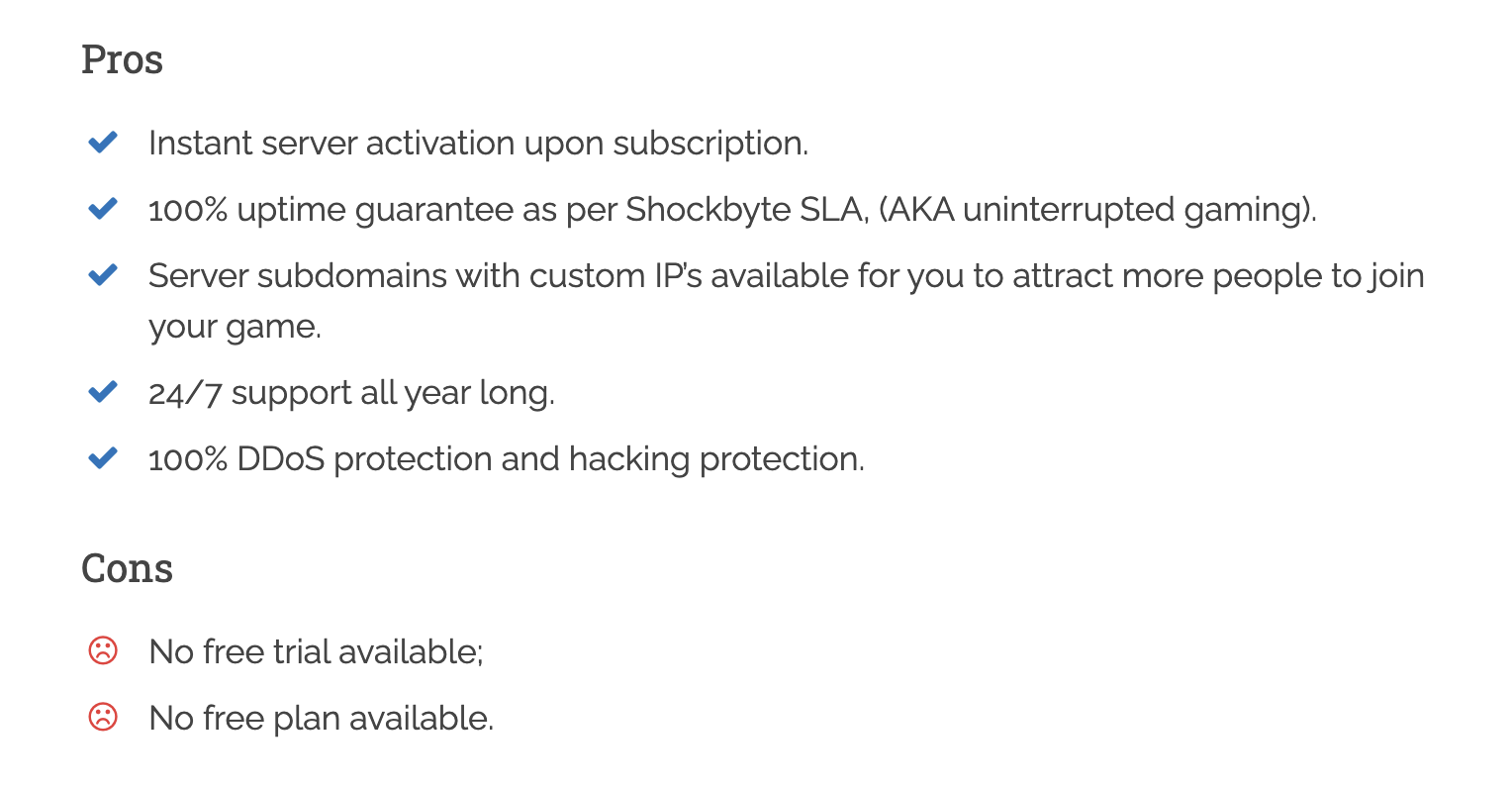 The key to this affiliate marketing strategy is to base your roundup around a specific theme or category that relates to your audience. Whether that's beauty fans or hardcore gamers.
Refer to your buyer intent keywords to determine what products your users might be looking for, then use those keywords in your headline.
Some headline ideas to get you started:
Top [number] best [product] for [demographic]

Example: Top 8 Best Credit Cards for Teenagers

The best [specific product type] in [year]

Example: The Best Android Phones in 2021

[Number][product] to help you [goal]

Example: 8 Software Subscriptions to Help You Start Your Small Business

[Number][product] to [verb] on your next [activity]

11 Dresses to Pack on Your Next Vacation
Pro Tip. Product roundups can convert extremely well, as long as you make it abundantly clear what your top choice is early on in the article. Read our dedicated guide on how to write a product roundup for a template and examples of how to create this type of affiliate content.
4. Email Marketing
Building an active, engaged email list is a step most publishers overlook: but it's the single most effective channel for getting repeat sales as an affiliate.
Using email affiliate marketing as a way to drive traffic to affiliate content can look like crafting emails as standalone pieces designed to convert directly, or linking back to your existing content (blogs, tutorials, etc). But whether you should link directly in your emails depends on the rules of the network or advertisers you're working with.
For example, Amazon does not allow affiliate links in email. In these cases, it's best to incorporate links to either a blog or landing page within your newsletter.
Either way, you can get creative with monetizing your newsletter with affiliate content:
Adding relevant affiliate links to your Welcome Series
Including a "Recommendations" section in your regular emails
Creating an email course
Rounding up your existing product reviews
Highlighting a product you find especially useful
Regardless of how you choose to present your content, make sure that you continue to provide value in your emails. If your content comes off as inauthentic or salesy, users are more likely to unsubscribe or mark the email as spam.
Pro Tip. Email is an excellent place to promote deals and limited-time offers. Check if the affiliate program you're promoting is willing to give you a discount code to share with your readers. If the campaign is successful, you're in a great position to negotiate rates and do more collaborations with the brand.
5. Resource Pages
A resource page is a compilation of your favorite tools and resources. It helps your audience find all the information they need in one place without wading through text. But it's not just a list of random links - your resource page should have a theme and preferably help your reader accomplish a specific goal
For example, the Minimalist Baker has a resource page that gives readers tools to "build an efficient, well-designed, successful food blog." It's not only clear that the page is meant for food bloggers, but it also distinctly calls out readers who have the ambition to run a "successful food blog."

There isn't a lot of room to persuade the reader on a resource page, so knowing exactly who you're talking to and what they're looking for is key.
Keep in mind that users who end up on your resource page typically don't have a strong buying intent. While it's a great way to get all your links in one place, the conversion rate won't be as high.
6. Tutorials
Showing buyers exactly how to use a product establishes transparency and trust with your audience. Consumers feel more inclined to buy products when they understand how they work, so it's important that your audience feels confident that they will be able to use what you are promoting.
For example, a viewer who had never used an Instant Pot might feel intimidated by all the buttons, but when they watch the YouTube video, they are convinced of its ease-of-use.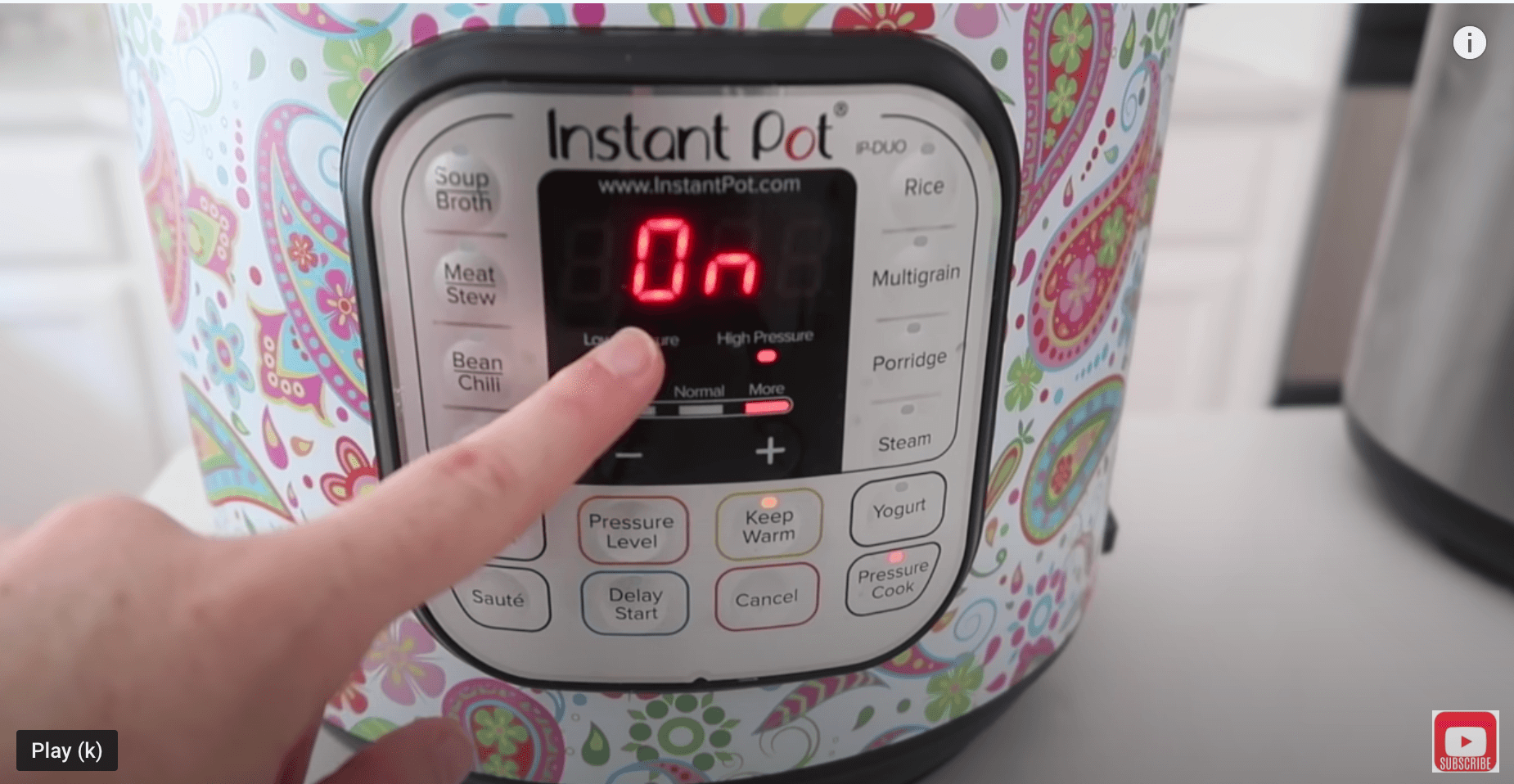 Usually, tutorial affiliate content comes in the form of solving a problem with a product. For example, "How to make chicken breast with a crock pot."
The goal is clear, and the product you're recommending is a way to make it happen.
Pro Tip. One way to tackle tutorials is by helping people solve common error messages, or search terms like "[X] not working". People encountering an error are usually pretty motivated to solve the problem, and willing to make a purchase in the process.
7. Ebooks
Some topics are too big for an article or blog post. In this case, ebooks allow a deep-dive on a subject that your audience is interested in — while also building your email list.
Leanne Scott, founder of Passive Income Superstars, starts by including affiliate links within the ebook itself.
"When someone reads your ebook, it is because they hope it will solve a problem for them. If the affiliate products can go on to make solving that problem even easier, the conversion rates can potentially be quite high."
Then, she uses the ebook as an incentive. If readers purchase Convertkit using her link, they receive the ebook as a thank you.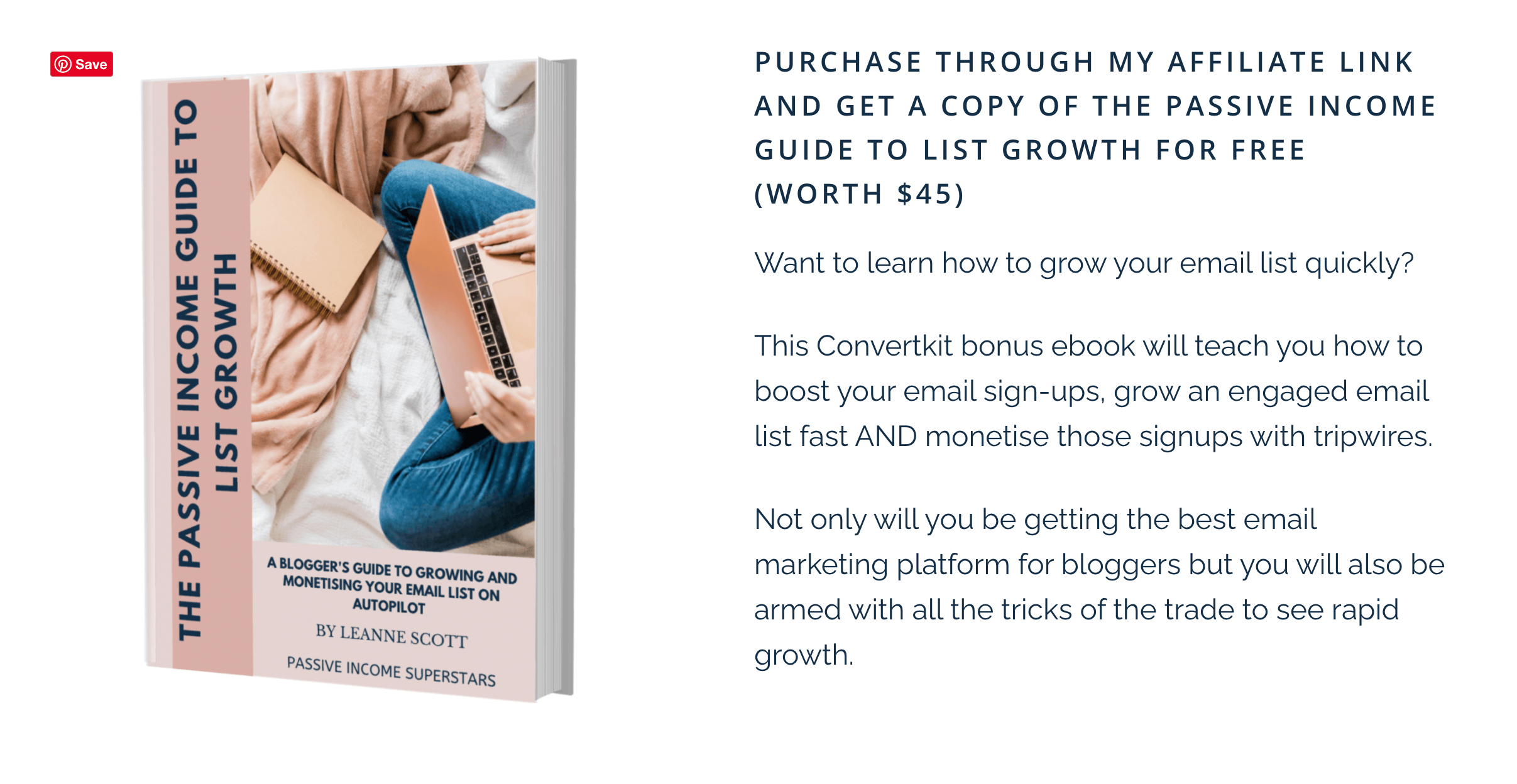 She also uses a discount on the ebook as a tripwire offer to convert new email subscribers to customers. This allows her to nurture her relationship with newer audiences members by offering them more in-depth information on a topic they've shown interest in. Providing value upfront means they know, like and trust her, so they are more likely to use the products she recommends.
Pro Tip. Not every affiliate program will let you promote your links inside non-public resources, such as ebooks. Amazon is a prime example of this. So be sure to check the terms and conditions of any affiliate program you join to avoid getting booted over putting links in your ebooks.
8. Gift guides
Holidays, birthdays, weddings or just because. Gifts are a part of almost every occasion. But choosing that perfect one can be downright exhausting. Make the process easier for your audience and they'll reward you with high conversion.
Gift guides are carefully selected and compiled gift recommendations that address an audience-specific need. Make it straightforward for readers to find your content by categorizing your list by occasions, relationship type, budget, or other factors.
Pinpointing a theme helps not only with searchability, but also with conversion because you can tailor your list to a specific buying intent. For example, "15 gift ideas under $25 for him on Valentine's Day" will naturally have higher conversions than a generic 15 item list.
The success of gift guides is two-fold:
Convenience. They eliminate the hassle of looking for that perfect gift. The easier you make the gift selection process, the more successful your affiliate efforts will be. Include key information directly on your page such as price, dimensions, or ratings so that readers are able to quickly compare gift ideas and find the one that's best suited for them.
Guidance. Gift guides tap into the recommendation and review aspect that audiences often look for when making purchase decisions. They improve audience trust because your guide means you've already done the work. You've scoured the internet, tried and tested products, and then rounded up the best options for them. Don't be afraid to include your personal pros/cons for each item and make your favorite item obvious.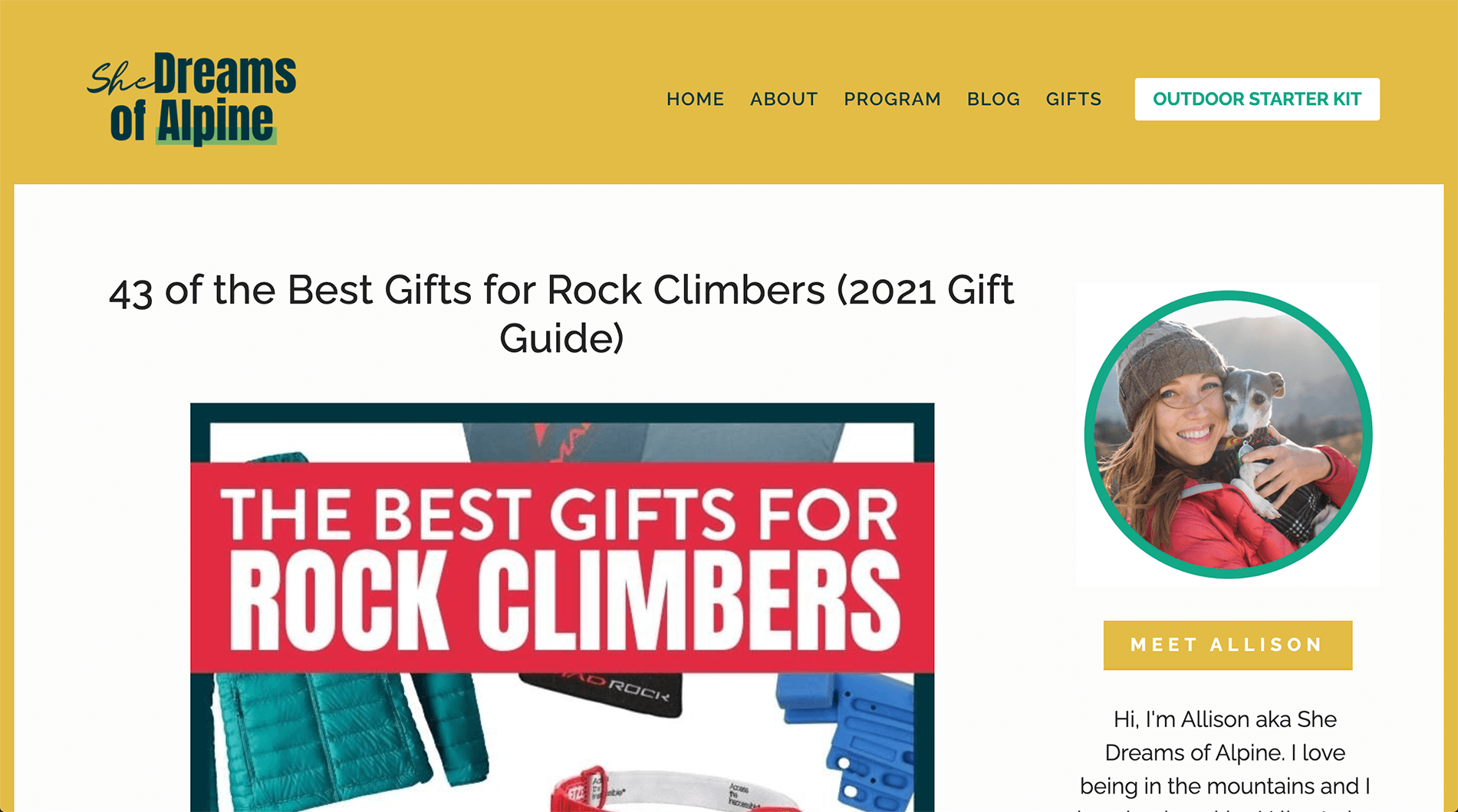 This example focuses on climbers. Not only does it target the blog audience niche, but also anyone that needs to buy a present for a climbing enthusiast. The author segments her recommendations into seven categories, making it easy for a diverse viewership to navigate the page and choose the right gift.
Pro Tip. Cash in on both seasonal and year-round purchases by adding evergreen elements to your content. For example, even if you write an article geared towards Christmas shopping, you can use a more generic URL like "10 budget gift ideas for mom" so that it's searchable throughout the year.
9. Affiliate landing pages
Landing pages are standalone website pages that move visitors towards their last step in your affiliate funnel.
Unlike other web pages, landing pages have just a single goal. They are optimized for a single CTA, and because of this, their design is conversion-focused. Traffic to a landing page generally comes from other web pages including social media, organic searches, or email newsletters.
Think of landing pages as the last step of a bigger, targeted campaign. Building a landing page requires warming up your audience and priming them for conversion. The landing page should not be the first piece of content that they see about this affiliate offer, but rather a final push towards conversion. For this reason, best practice is to create a unique landing page for each campaign.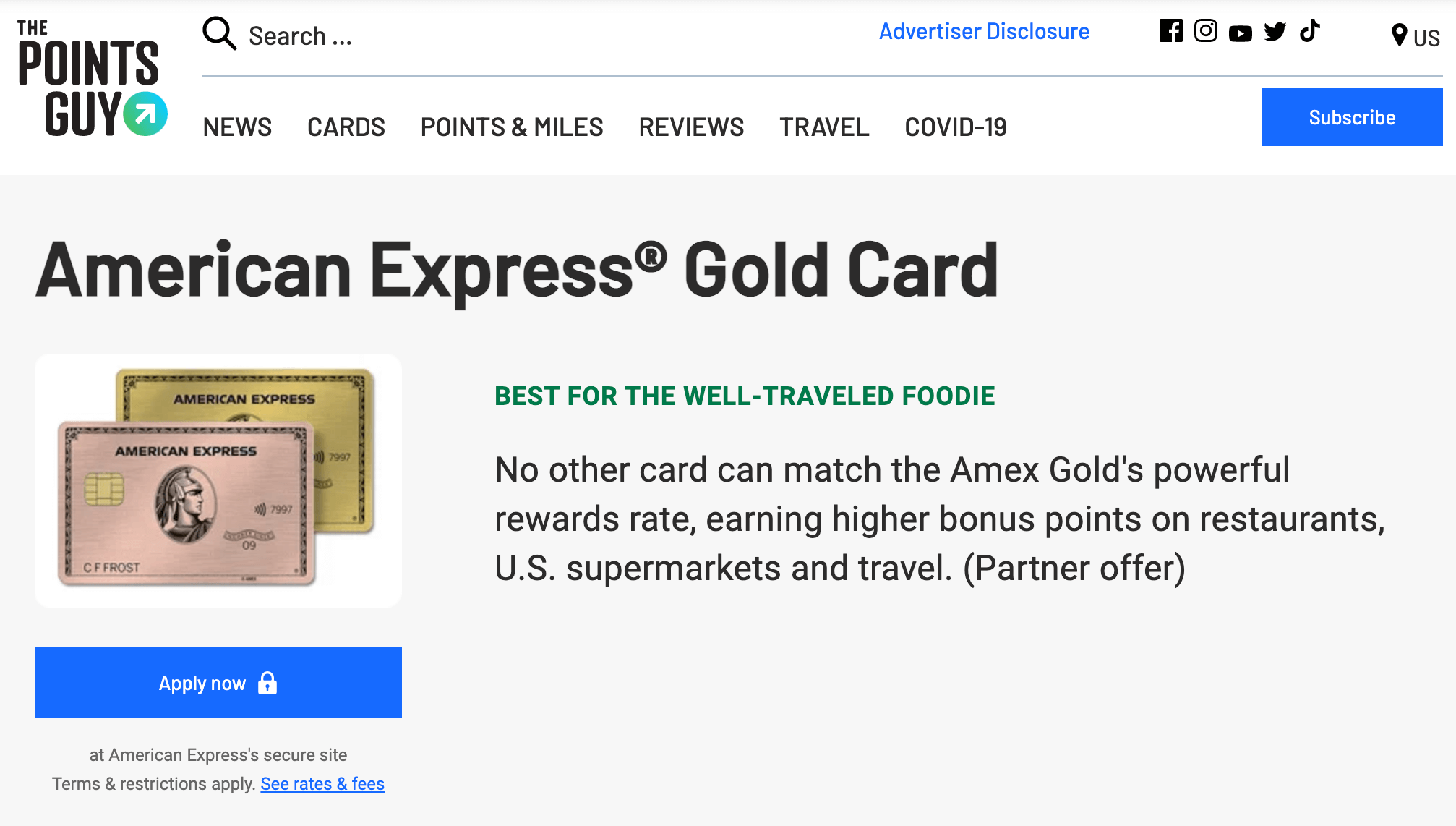 For example, the popular website The Points Guy, includes a landing page as the final step of a Facebook ads funnel. It includes convincing copy right off the bat, pinpointing who the offer is for ("the well-traveled foodie") and why it's relevant ("powerful rewards rate" and higher bonus points on food purchases.)
Notice that the Facebook ad appeals to the same audience by using the image of a person shopping for food and calling out the $1,200 bonus value. By the time someone clicks on the landing page link, they are already intrigued by what the card has to offer.
Pro Tip. Link to your affiliate offer early on the page so that your visitor sees it immediately. You only have seconds to grab their attention, especially if you're targeting visitors on mobile devices.
10. Videos
Persuasive. Personable. Powerful. Video content is a firm favorite for content creators because it has the ability to convey a lot of information in a short time frame. Video content includes everything from vlogs and how-to videos, to live streams and even gifs.
The most obvious platform for video-based affiliate marketing is YouTube, but the increasing popularity of video platforms means this isn't your only option.
TikTok has led to a massive surge in video content creation on social platforms. Instagram and Facebook have followed suit and adapted to video content with things like Reels, IGTV and Facebook Live.
Videos are successful because of their direct nature that allows audiences to feel connected to creators. The space also is less competitive because video content is more difficult to create than written content, making it easier to rank for buyer intent keywords.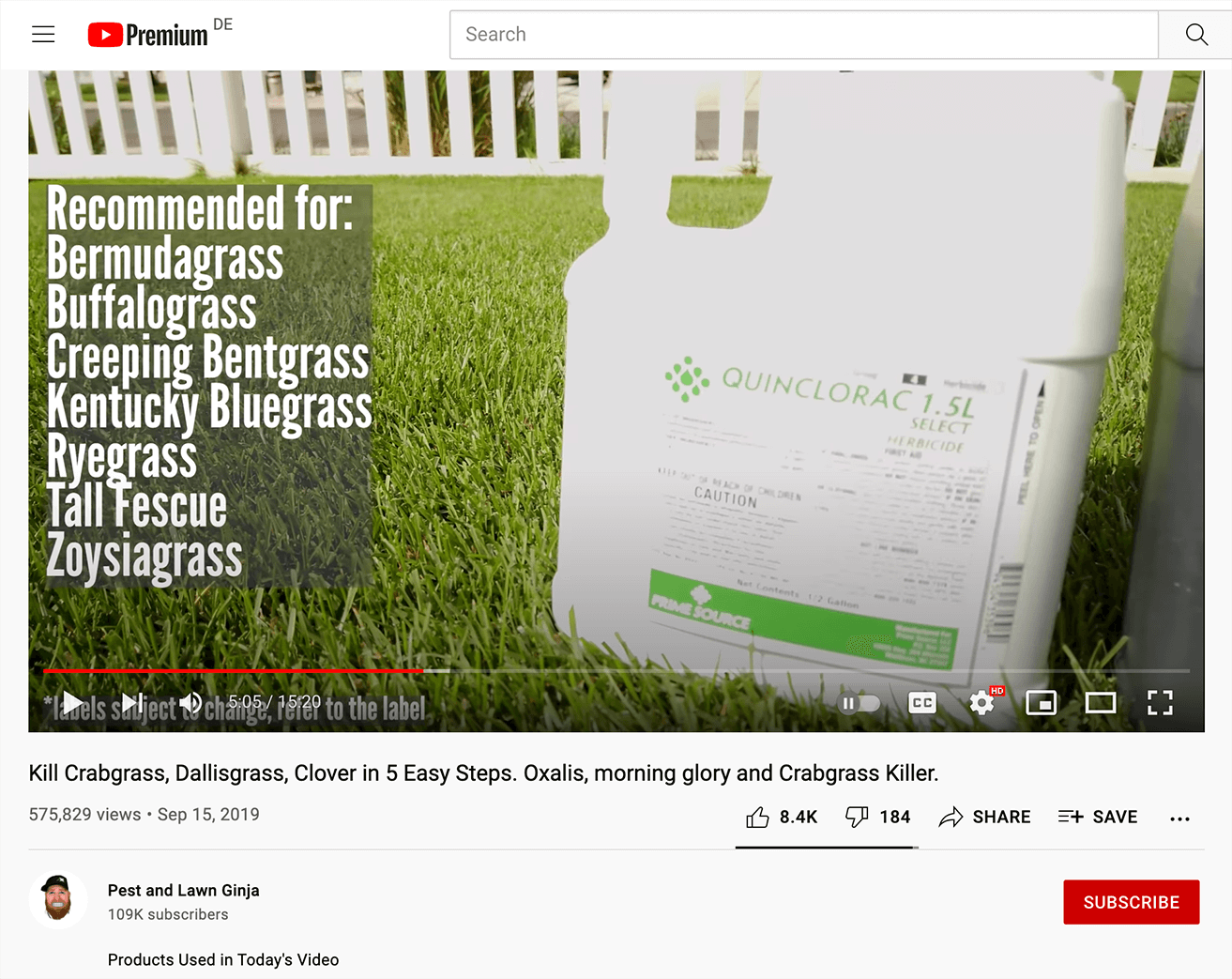 The creator Pest and Lawn Ginja successfully speaks to his audience with his videos by packing them with information and guidance. He answers audience questions, illustrates exactly how to carry out the task, and highlights which products need to do it. He includes product affiliate links in his description so that the audience can easily purchase what they need to complete the job.
Pro Tip. Understand the linking rules in each platform. For example, Youtube allows direct affiliate links in the video description. Meanwhile, TikTok doesn't allow links in non-sponsored posts, so you'll need to direct to the link in bio.
In either case, use storytelling videos to pique your audience's curiosity and make them more receptive to direction. Stories about how you use the product will keep them engaged until the end of your video, where you can include a CTA to check out the products in your description or link in bio.
11. Case studies
Case studies are real-world examples of the impact that your offers have on people's lives. They comprise stories that outline why and how someone benefited from a product or service and the problem they solved.
Case studies are relatable for audiences because they talk about the actual problems people face and how these are overcome using a product you promoted. They are compelling because your audience will be able to see themselves in the story and identify with the need for your product.
Case studies also show your audience that you aren't the only one recommending a product. It adds to the element of social proof to see other audience members vouch for the purchase. Real examples and responses are key to effective case studies that will get your audience to know, like, and trust you.
12. Buyer's guides
Buyer's guides are comprehensive outlines that help your visitors make purchase decisions. They are geared towards a particular person or activity or both. For example, "scuba diving for beginners: everything you need to get started".
Buyer's guides work because they simplify the task your audience has of deciding what to buy beyond just a single step. They walk your audience through the whole process and make it easy to select all the things they need. A buyer's guide is a start-to-finish resource for your audience.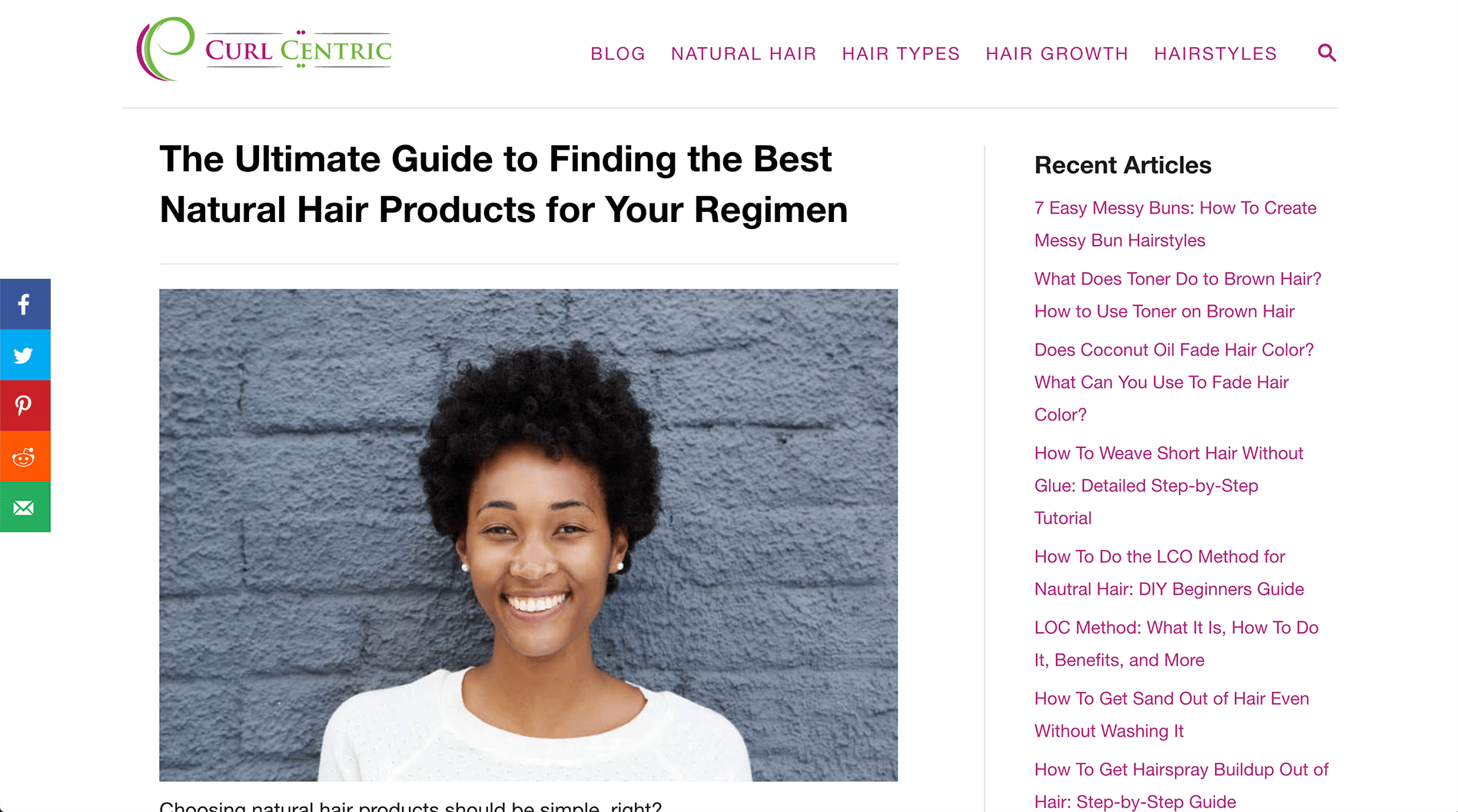 This natural hair product guide from Curl Centric takes the buyer through the entire journey of choosing the best natural hair care products for their regimen. At each stage, it highlights what to look for when choosing a product before presenting the recommended options. The FAQ section is an added measure that ensures no questions are left unanswered.
Pro Tip. Make sure you convey all the information a person needs to complete a particular task so they don't have to look elsewhere for other bits of information. Think through the A to Z of finishing the task well and then provide step-by-step guidance.
13. Social media posts
These days, it's pretty weird if someone doesn't have at least one social media profile. Over 3 billion people use social media globally which means that reaching more people has never been easier.
Social media posts are pieces of content, like written text, photographs, videos, infographics, basically anything found on social media. Social media posts are a versatile tool to direct your audience to an affiliate offer or convey useful information as you build trust. Social media content varies based on the platform because what works for Instagram, doesn't necessarily work for LinkedIn, even if both can be used to drive website traffic.
Social media is an easy and convenient way to engage with your audience but in order to be effective, it needs to be consistent. Genuine regular engagement with your audience build trust. Your audience will look to you for information and recommendations because they feel personally connected to you.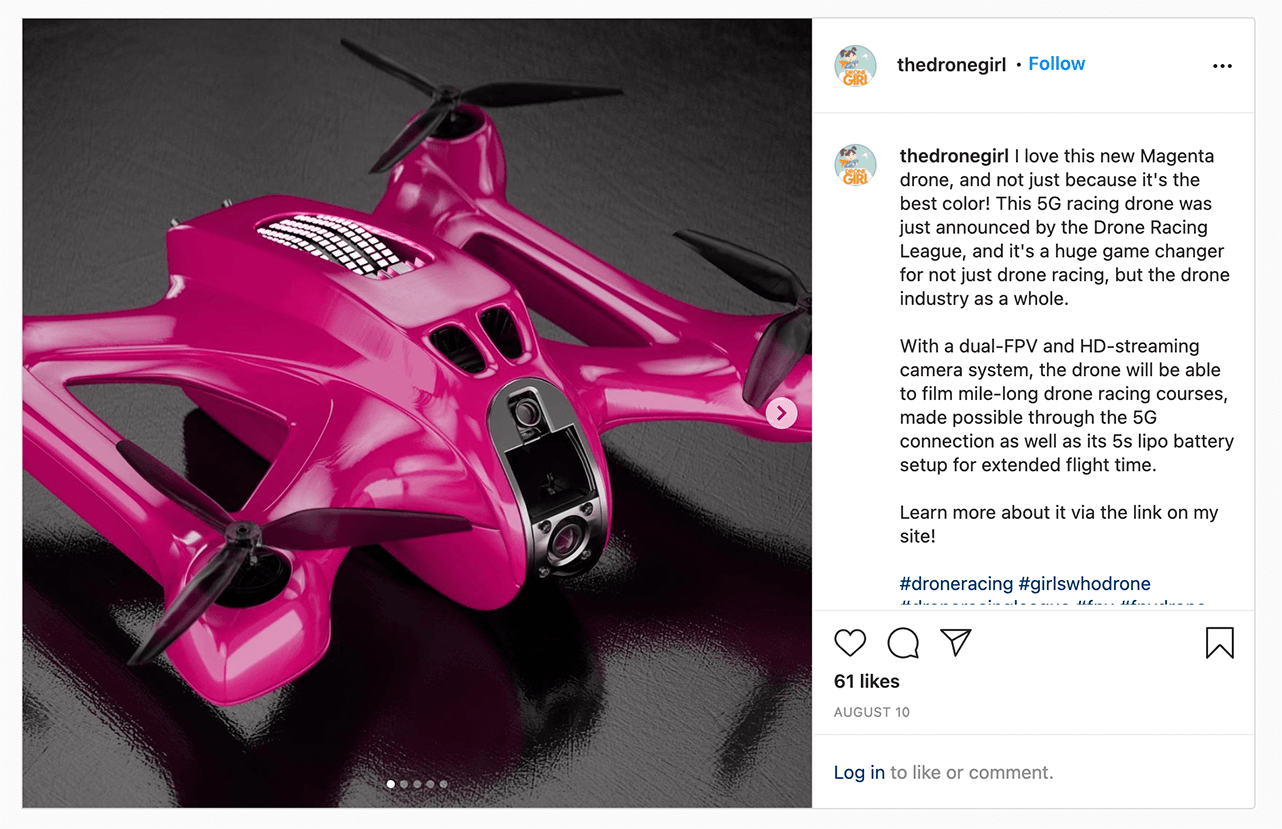 The Drone Girl uses her post to direct the audience to her website by providing just enough information about the item to pique the interest of her audience that they are inclined to click on the link and learn more.
Pro Tip. It can be tempting to create accounts on every single platform but remember quantity does not equal quality. Trying to keep up with creating content for each platform type is unsustainable. Find out where your target audience hangs out and what platform would suit your content best. The intersection of these is where you should start and build your following.
14. Curations
Curations are collections of products you recommend for a particular niche or demographic. They are carefully chosen and evaluated by you to be the best of the best. They are a smaller subset of product roundups focused on creating a very personal feel for your audience by highlighting your experience with the product as a standalone item.
A curation provides your audience with your expert recommendations of products. They include insight into product performance and qualities that differentiate it from the rest.
Curations work because they feel personalized, and have been selected with care and consideration for audience members. They convey the feeling of appealing only to a small group of people and make those included in that group feel special and catered to.

This blog addresses a variety of tools that are used on the body but each have different purposes. The products are tied together by a focus on sustainability and quality. The author includes photos of her using each product, which adds to the personalized feel of the curation.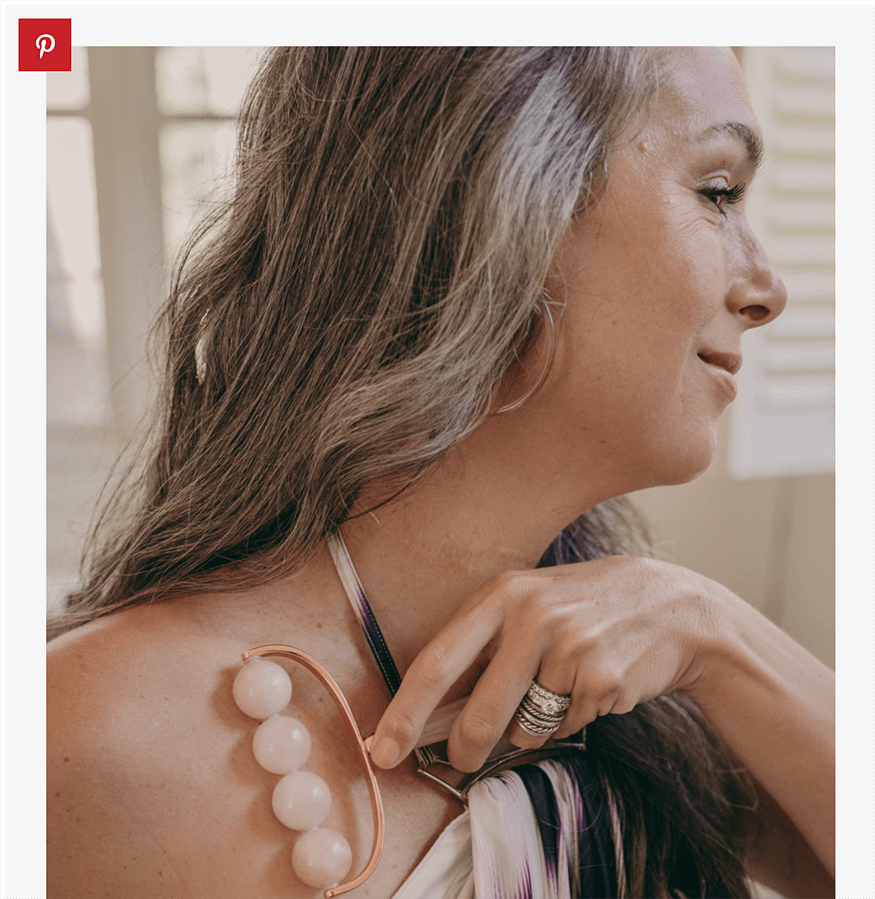 Pro Tip. A curation needs to feel as though time and effort went into the selection. They should be products you have personally tried and tested. Make sure to choose your products carefully and be honest about why you are including them.
15. Deals and coupons
Deals and coupons are extremely effective tools for an affiliate marketer with digital coupon redemption on track to surpass $90 billion in 2022.
Deals and coupons are visual "vouchers" that allow your audience to make use of your affiliate offer and as a result get a discount, a freebie thrown in, or multiple items for the same price. Digital deals and coupons include banners on your site, pop-ups, or any other visual components that convey the offer.
The success of coupons and deals is easy to quantify because if you save someone money, they already know the value of what you're offering.
People often search for coupons or deals towards the end of their buyer's journey. Presenting a discount or bonus offer to someone once they've already made the decision to purchase makes them more likely to go with you than anyone else. A coupon or discount is also a way to give someone that final push when they are contemplating a purchase.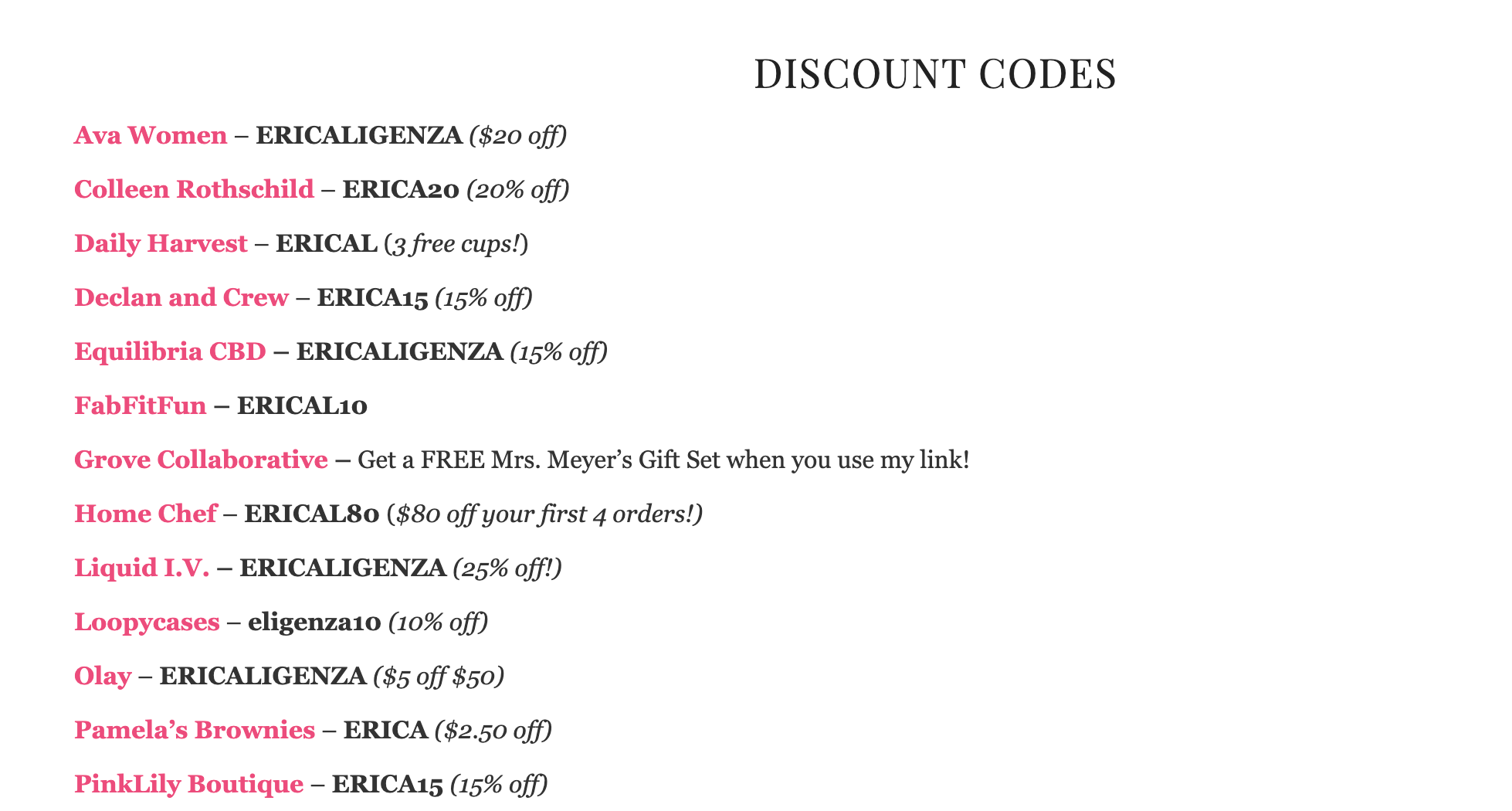 The audience of this Coming Up Roses can easily find a whole collection of discounts and coupon codes in one section, making it easy if there's a particular brand they want to buy from and are looking to get that little bit off.
Pro Tip. Keep your deal or coupon design eye-catching, simple and clear. Contrasting colors, easy-to-read fonts, and placement towards the top of a page are ways to do this.
Ready to go further?
It's not enough to create affiliate content, put it online, and pray for conversions. Your content design, copywriting, calls-to-action, and images all contribute to the bottom line: how effectively you are at converting visitors into buyers.
That's why we created Affilimate, to help you optimize conversion and grow your affiliate revenue using analytics.
Sign up for a free, 15-day trial or join our list for new case studies, tutorials, and conversion-rate optimization content for affiliate publishers.