20+ Affiliate Marketing Tips That Work in 2023
By Natalie Robin · Updated Jan 22, 2023
We've rounded up some of the best affiliate marketing tips from successful industry professionals, so that you can learn from their wins – and from their mistakes.
In this post, you'll find the nuggets of wisdom shared by successful affiliate marketers that will help you make progress in your own affiliate marketing business.
Read on for 20+ tips for affiliate marketing success to accelerate your growth.
1. Double down on products your audience is already buying
Demonstrating in-depth knowledge of a product, while sharing both its pros and cons is extremely important when you're promoting affiliate products.
This is especially true when it comes to high ticket affiliate items, because people carefully consider their expensive purchases.
By taking this honest, audience-first approach, your readers and followers will trust that you won't hold back when it comes to the negatives of a product as well.
Plus, you'll see fewer returns and fewer lost commissions.
Micky Reed, founder of the Three Snackateers found that honing in on the products her audience loved was a great way to see continued engagement:
My comprehensive "best of" posts that are laser-focused on products my audience loves have been my biggest success.
I started with one post that really took off when it landed on page 1 of Google among some huge DR sites.
I built on that success with a whole series of interlinked articles on related topics.
So we can learn from Micky that identifying the content that your audience already loves, and creating more of it, as well as interlinking related articles, is a great way to see continuous conversions.
You can also link from informational content to commercial content to meet your audience at different points of the buyer's journey.
This can help to turn a browser into a buyer, by giving them helpful information that accelerates their purchasing decision.
2. Present your readers with a limited number of recommendations
Overwhelming readers is the quickest way to get them to close the tab.
Here's what Patrick Wareing, founder of Scratchcard Winners had to share about keeping your product offering concise:
Give your readers limited options in the number of affiliate links you present.
Choose three to five options, all of which make sense and are highly relevant to the landing page. Too much choice can result in information overload.
Another way to increase your rate of conversions (and decrease decision anxiety) is to include comparison tables in your affiliate content.
This gives your audience easy-to-digest information that facilitates the buying process. In addition to this, make sure that your links are visible and easy to click in order to increase your CTR.
These simple changes will help you create content that drives clicks and sales while you sleep.
3. Give your affiliate website an edge with a backlink strategy
Learning how to identify buyer intent keywords is probably the most important part of creating affiliate content that's SEO-driven.
That's because you're meeting your audience at the end of the buyer funnel – which means that they're more likely to follow through on a purchase.
So, if you can land in the top 10 results in the SERPs, and make it easier for your audience to make their purchase, you'll be rewarded with commissions.
And one way of increasing your chances of getting your affiliate content in the top ranking pages is by building relationships (and links) with other brands and websites in your niche.
Alex Birkett, co-founder of Omniscient Digital and alexbirkett.com had these affiliate marketing success tips to share about his keyword and link building strategies:
Affiliate marketing is hard, so you have to have a unique edge. For me, that's link building.
My goal is to drive organic traffic and rankings to high CPC/high intent keywords (stuff like "best copywriting software"). Because there's so much competition, I need to have a good moat for link building.
So I've spent years building relationships with tons of editors in my niche and have built an internal guest writing program to maintain a high link velocity to these pieces.
Some of the best ways to build links to affiliate content is through Facebook Groups and private Slack communities dedicated to link building.
4. Don't shy away from targeting high ticket affiliate programs
Amazon's affiliate program is often a starting point for new affiliate marketers because of how well known the brand is.
But there are many alternatives to Amazon's affiliate program to consider that pay higher commissions and require less traffic to succeed.
Here's what John Serbell, co-creator of Gnomad Home, had to share about his experience with promoting high ticket items.
I've built two sites to over $15k per month each in affiliate revenue.
It's important to have helpful, trustworthy content that solves problems. From a revenue standpoint, promoting items that are more expensive, have a higher commission, or both, means that you don't have to do as much sales volume.
Brands offering especially high commissions operate what're known as high ticket affiliate programs.
These programs are often in industries like SaaS, luxury goods, finance, and online education. And while they're competitive, you can start highly niche and work your way into bigger, better offers.
5. Track which pages and links are earning the most commissions
If you're seeing success with affiliate marketing, it can be a great time to start integrating affiliate marketing tools with a clear ROI.
Tools like Affilimate identify content and links that convert best in an easy to understand analytics dashboard.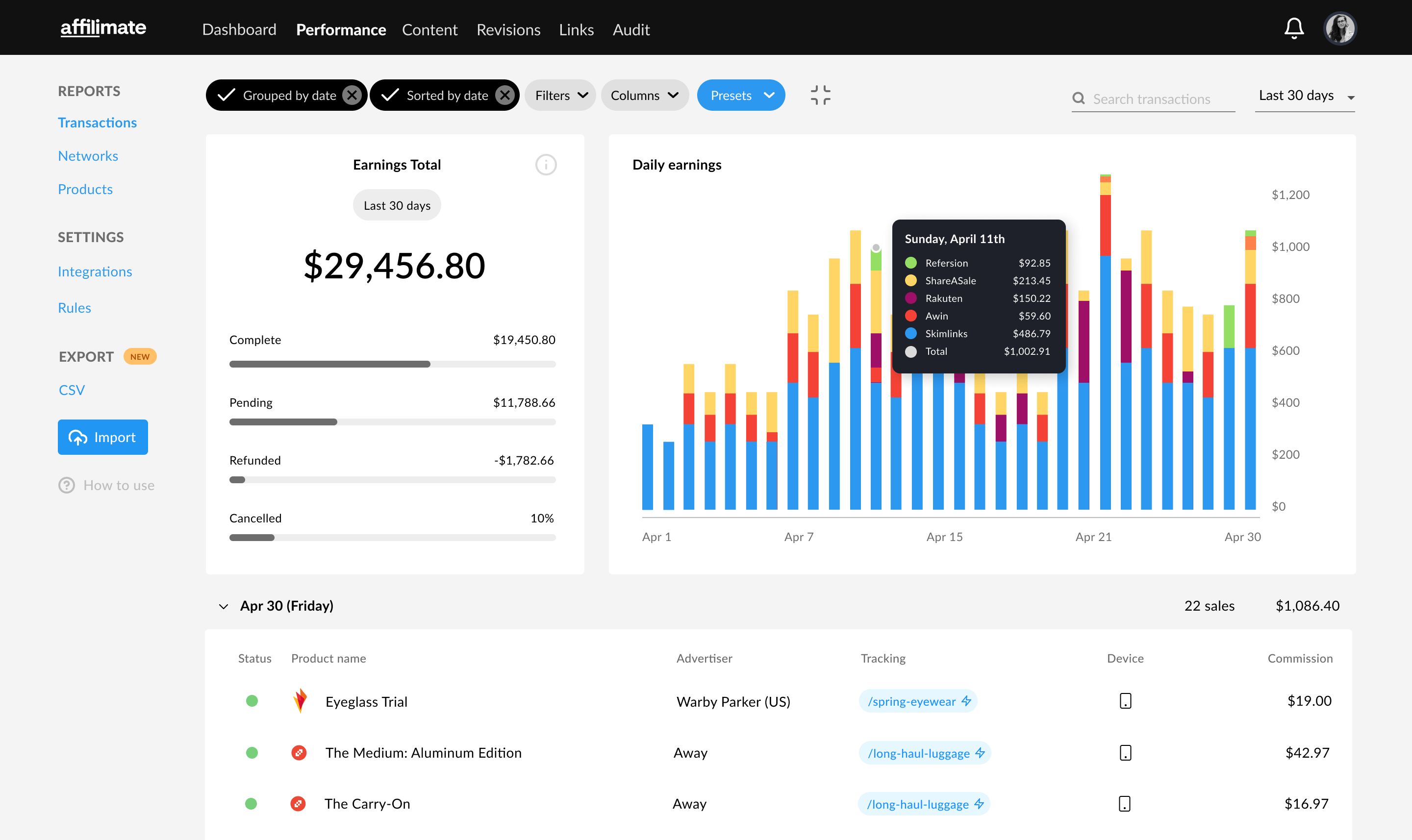 You can also use heatmaps point out areas that are driving conversions, and copy those elements on other pieces of content.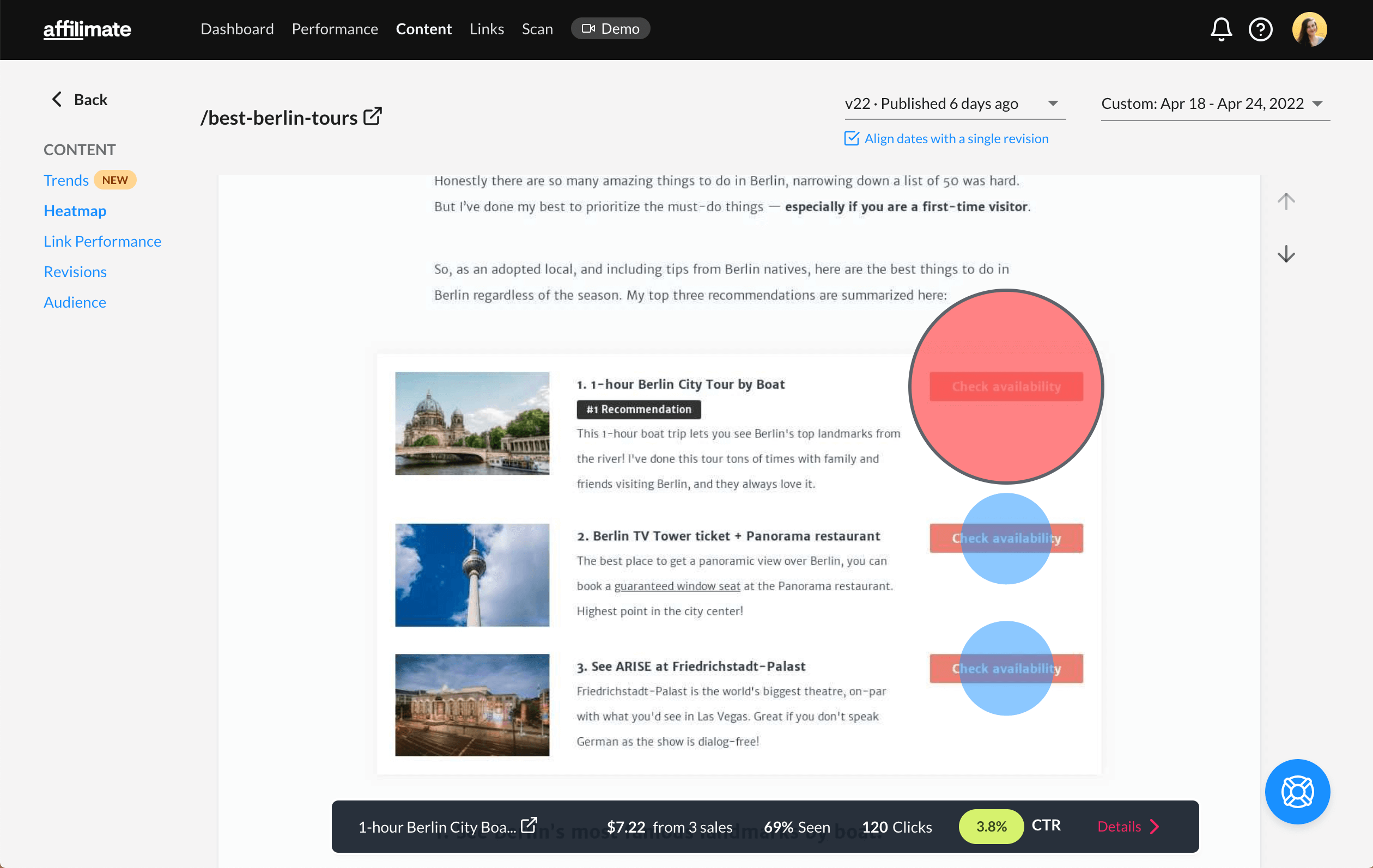 These kinds of systems can also streamline the process of updating links and content, to save you dozens of hours of time down the road.
Setting up these tools when your website is in its beginning stages can help you to be much more effective (and earn more) in the long run.
6. Choose a niche with existing competition
As an affiliate marketer, you've probably heard some variation of the advice to "niche down," or "focus on your niche" a million times by now.
Well, this is one million and one.
Choosing a high-earning niche based on market research can make or break your business' success. Plus, it can completely change your business model.
For example, in some niches, products have commissions of a few dollars.
In other niches, commissions can be upwards of several thousands of dollars for a single item.
See the difference?
On one hand you'd have to focus on sales volume. On the other hand, a few sales could make you much larger commissions with less work.
While you're looking for niche ideas, one of our top affiliate marketing tips is to go for a niche with competitors you can learn from.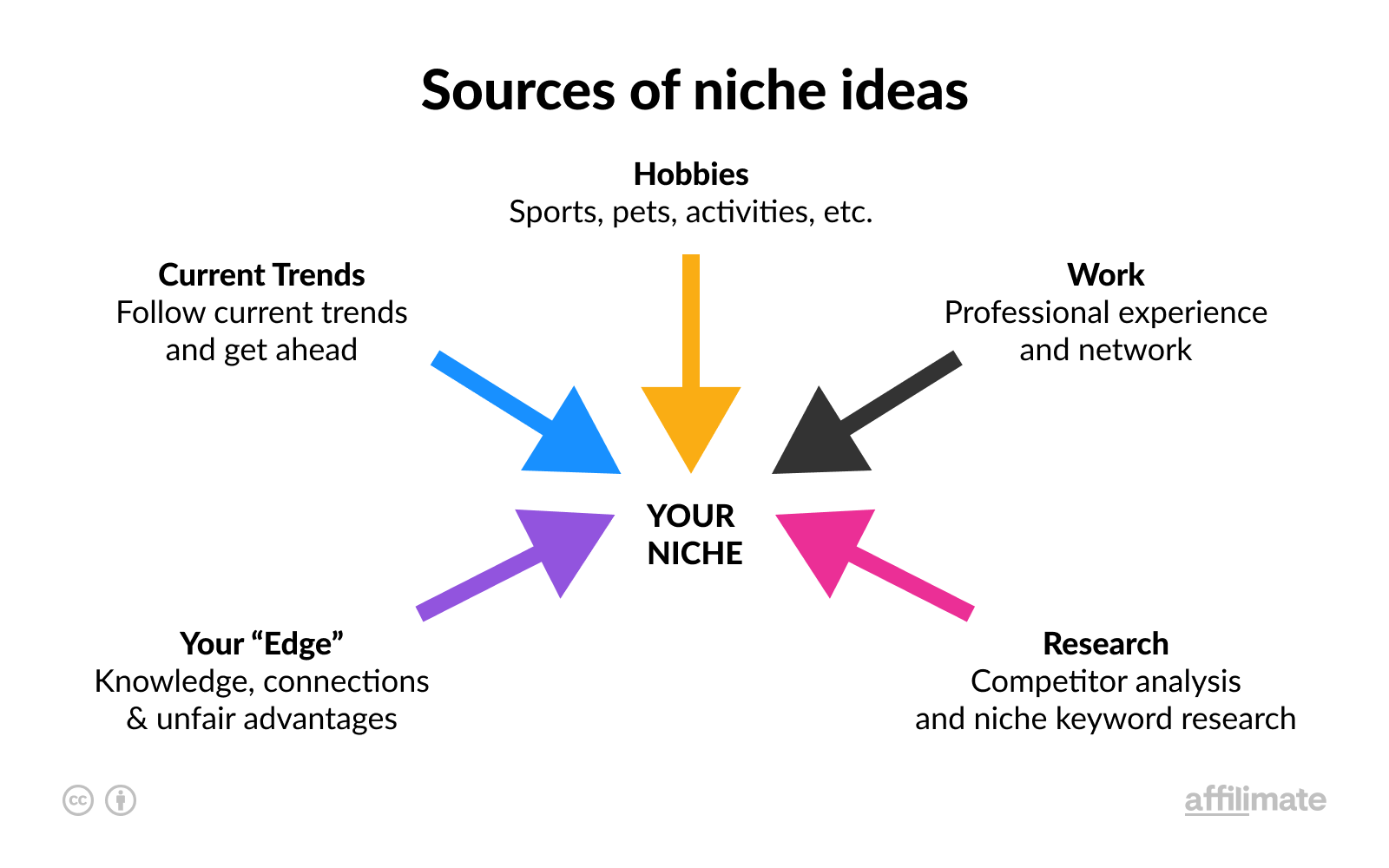 And once you've chosen your niche, assess the market in order to determine which products your competitors are promoting the most.
You can do this by looking at their outbound links in a tool like Ahrefs or Semrush, and see which affiliate platforms and merchants they're linking to most often.
This will give you immediate insight into the products that convert best within that niche.
7. Operate multiple websites in the same niche
Have you found a lucrative product or keyword?
Try building multiple affiliate websites around that niche and rank more than one piece of content around your most profitable keywords.
This strategy is used by some of the biggest names in the content publishing industry.
For example, Future is a large online publisher with more than 160 brands under its belt, many of which are household names.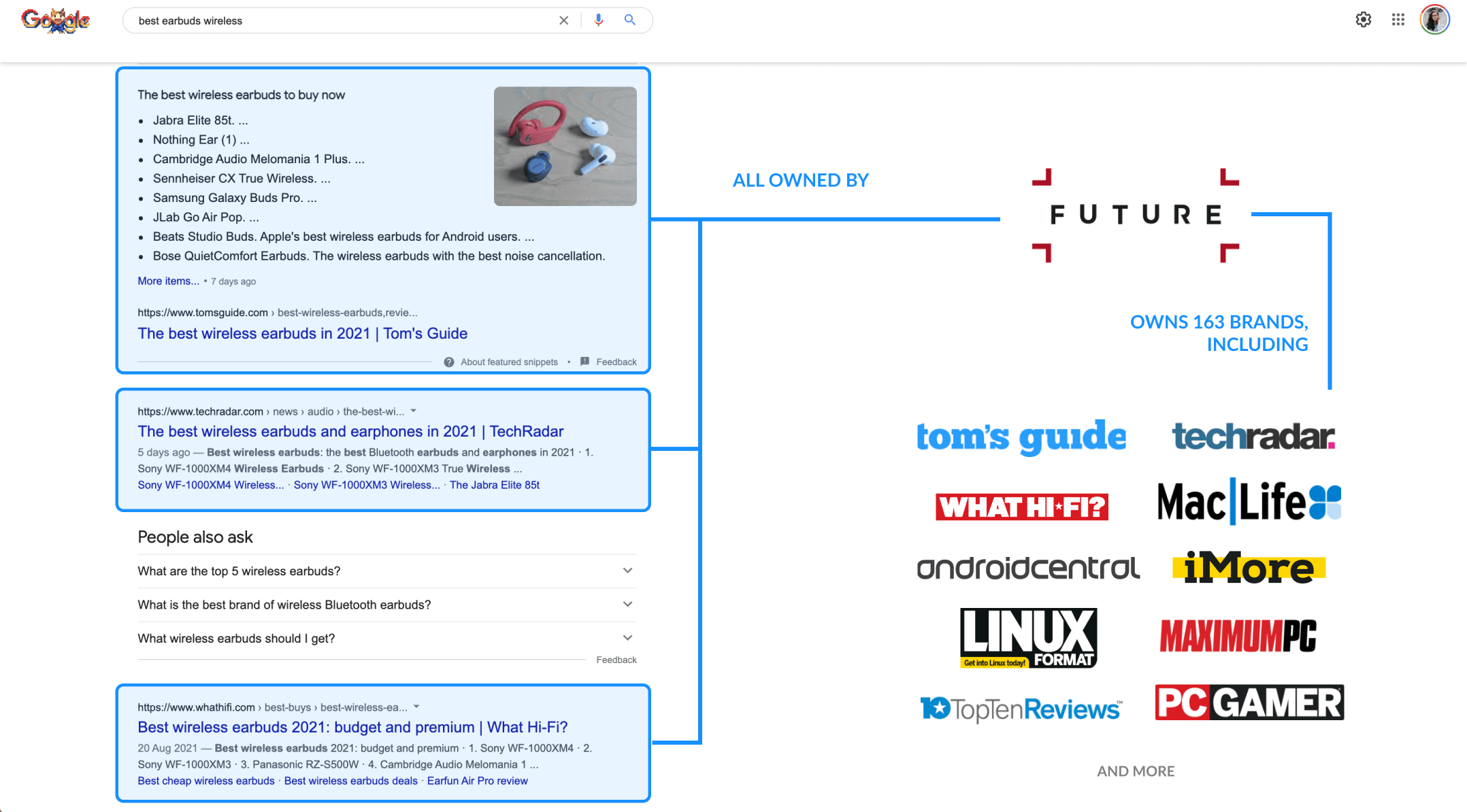 Properties owned by Future dominate the top results for "best wireless earbuds". You can apply the same technique by operating multiple websites in the same niche.
Not only will you guarantee most visitors searching for a single term land on one of your sites, but you can build links to multiple sites at the same time.
8. Promote the same affiliate link in multiple formats and content types
There is in fact, a right and a wrong way to promote affiliate links.
Affiliate linking best practices include linking to the same product multiple times within one article, and using an anchor text that entices readers to click.
Examples of a click-worthy anchor text include "check price," "check availability," "shop now," or "shop this product on [insert platform]."
Then once you have an affiliate offer that converts well, promote that offer in many types of affiliate marketing content.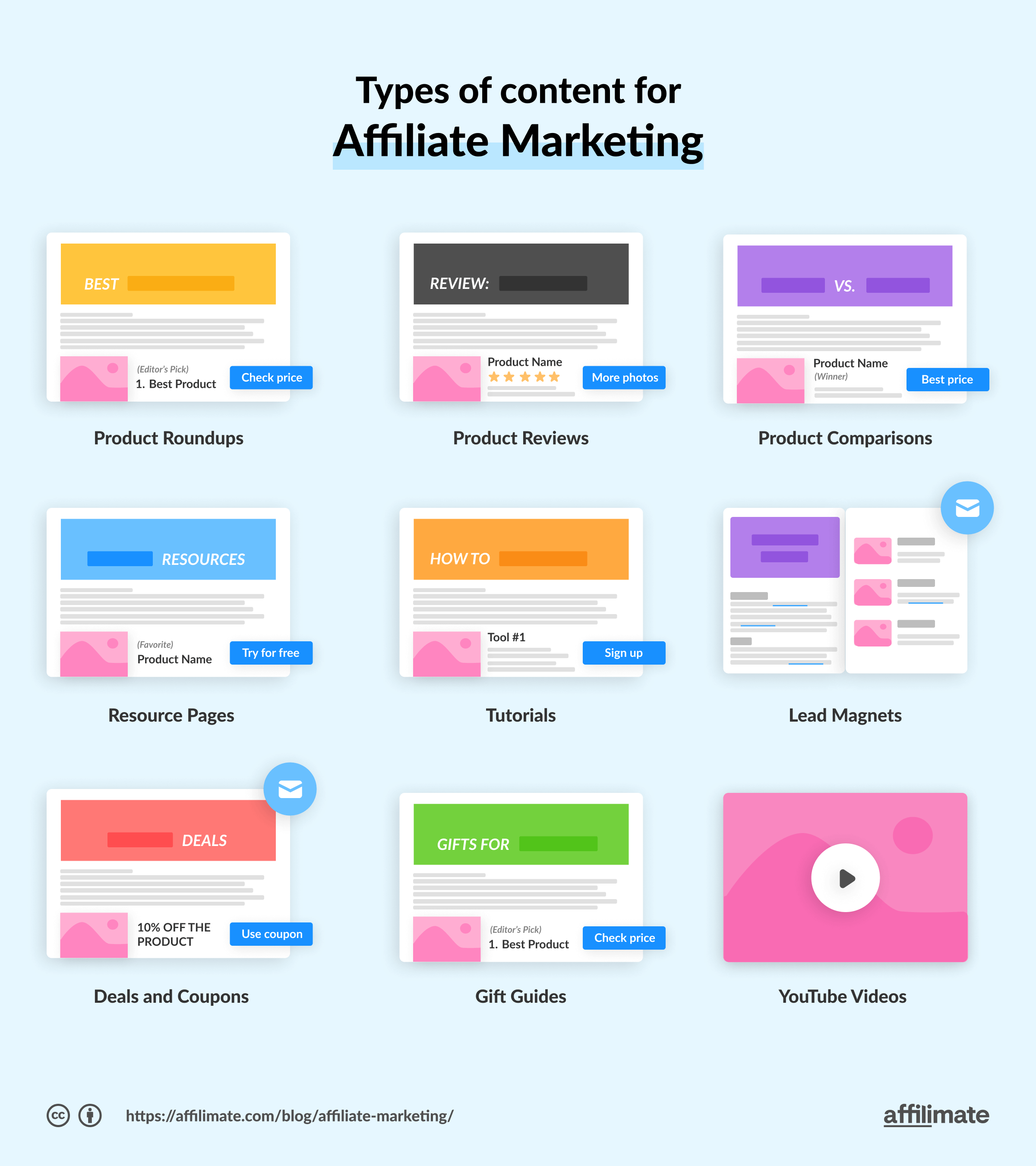 You can promote affiliate links in content like:
Product reviews, roundups, and comparisons ("vs" content)
Resource pages and deal/coupon roundups
Gift guides
Tutorials and how-to's
Social Media and YouTube
Most affiliate programs require you to specify which channels you intend to promote links on, so be sure to disclose this when signing up.
9. Use multiple monetization strategies in each piece of content
Every time you write a piece of content, assess the different ways it can benefit your business.
Figure out whether your goal is to garner affiliate commissions, generate display ad revenue, or sell products, and develop your commerce content strategy accordingly.
Just one article can do the following for your business:
Improve brand awareness
Educate and provide value to your audience
Position your brand as an expert/go-to source of information
Connect you with brands in your industry
Generate affiliate revenue
Generate display ad revenue
And more.
By looking at your articles from a business lens, and creating commerce content, you'll maximize the value of each article that you publish.
10. Present yourself as an expert on the products you promote
As a buyer, wouldn't you want to be advised by an industry expert?
That's why as an affiliate marketer, positioning yourself as (and being!) an expert in your niche is so important. It builds credibility and eventually translates into commissions as you build your brand.
One of the best places to do this is in the intro paragraphs of your product review or product roundup.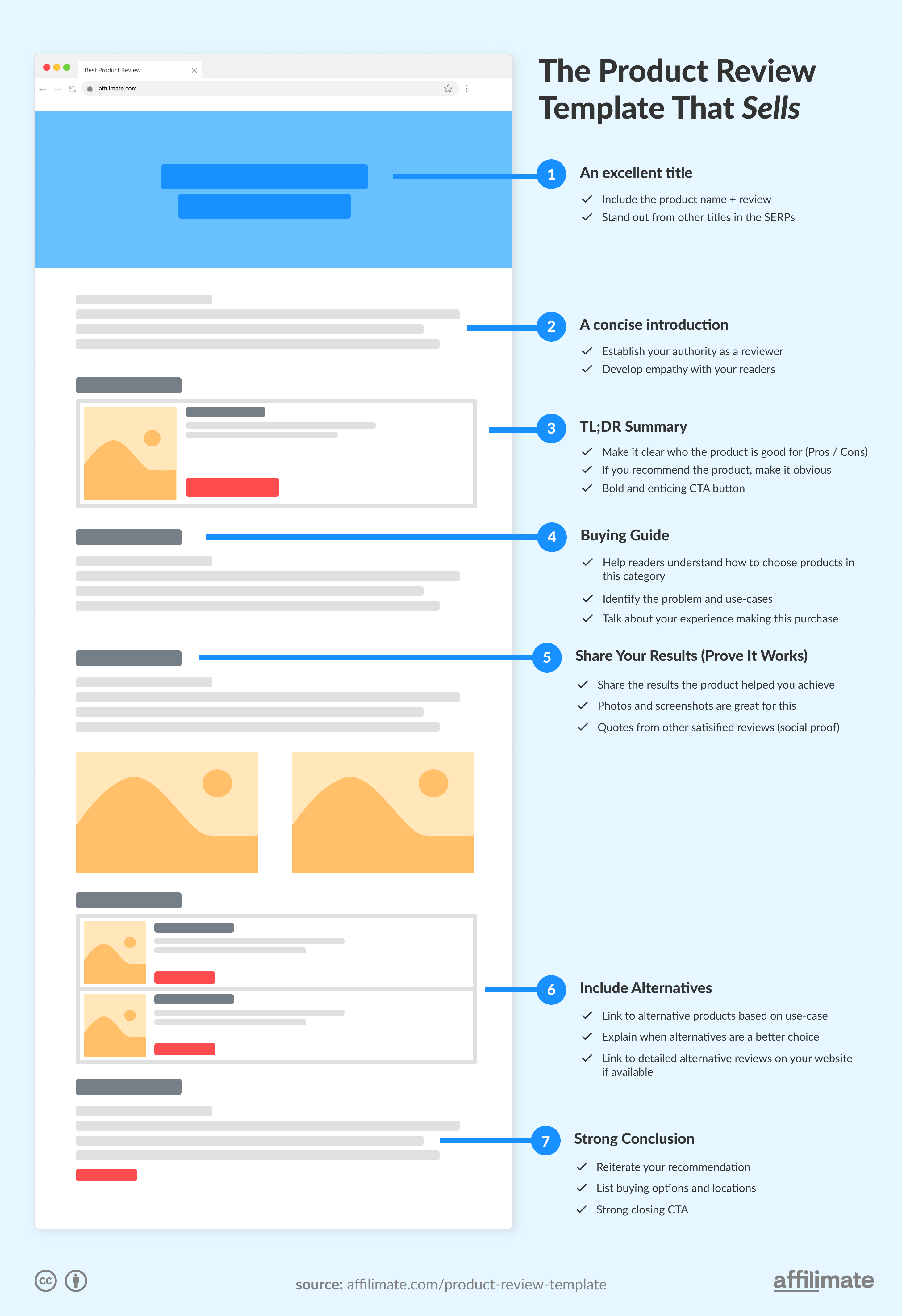 In order to do this, you need to fully understand the ins and outs of the products you promote, so that you're delivering thorough and accurate information every time.
From a business standpoint, you'll also want to understand the conversion rate of each product, its average order value, and estimated volume of sales.
That way you can predict how profitable the product will be month over month.
You can learn more about choosing products to promote in our post about affiliate marketing strategies.
11. Refresh your affiliate content on a regular basis
This affiliate marketing tip is often overlooked, especially as affiliates focus on publishing new, fresh content.
But by keeping your affiliate content and links up-to-date, you can avoid missing commissions when products sell out – which happens often.
On a monthly or quarterly basis, site owners should:
Use a tool like Affilimate to see if any affiliate links or articles are dropping in revenue
Check which links and products are leading to the most returns or cancelations and replace them
Update affiliate content with new product models or manufacturer news
The result will be more commissions, better rankings, and a more useful resource for your audience.
12. Be data driven when choosing affiliate partners
Signing up to work with an affiliate program takes time and energy.
You typically have to make a pitch for yourself and your brand, or jump through the hoops of an online application.
Needless to say, if you're going to put the energy into signing up, you'll want to make sure that it pays off, so be sure to choose the right programs.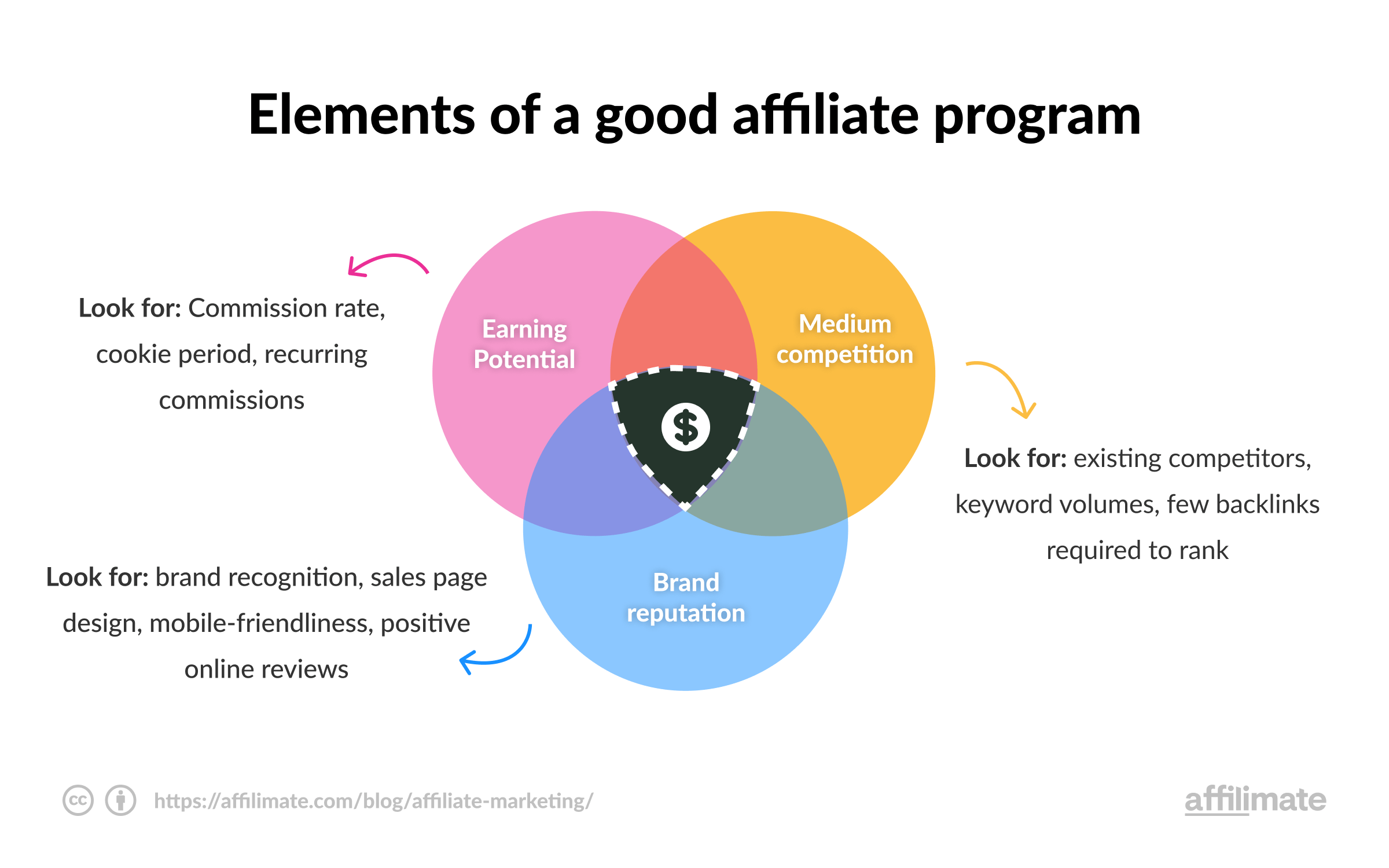 Here are a few of things to consider when choosing affiliate programs and partners:
The affiliate program conversion rate
The average conversion rate in the latest months or weeks
The quality of the brands that a program hosts
Any online reviews (good and bad)
Checking these criteria up front will save you time in implementing affiliate links and content for programs that will never convert.
13. Diversify your affiliate marketing traffic sources
With Google's slew of Product Review updates in 2021 and 2022, many site owners are realizing how transient their traffic really is.
That's why anyone investing in websites looks for traffic diversity when evaluating how much a website is worth.
If you want to guarantee an income month after month, you need to diversify.
The good news is, affiliate marketing exists across all content platforms, and that includes social media, apps, and email.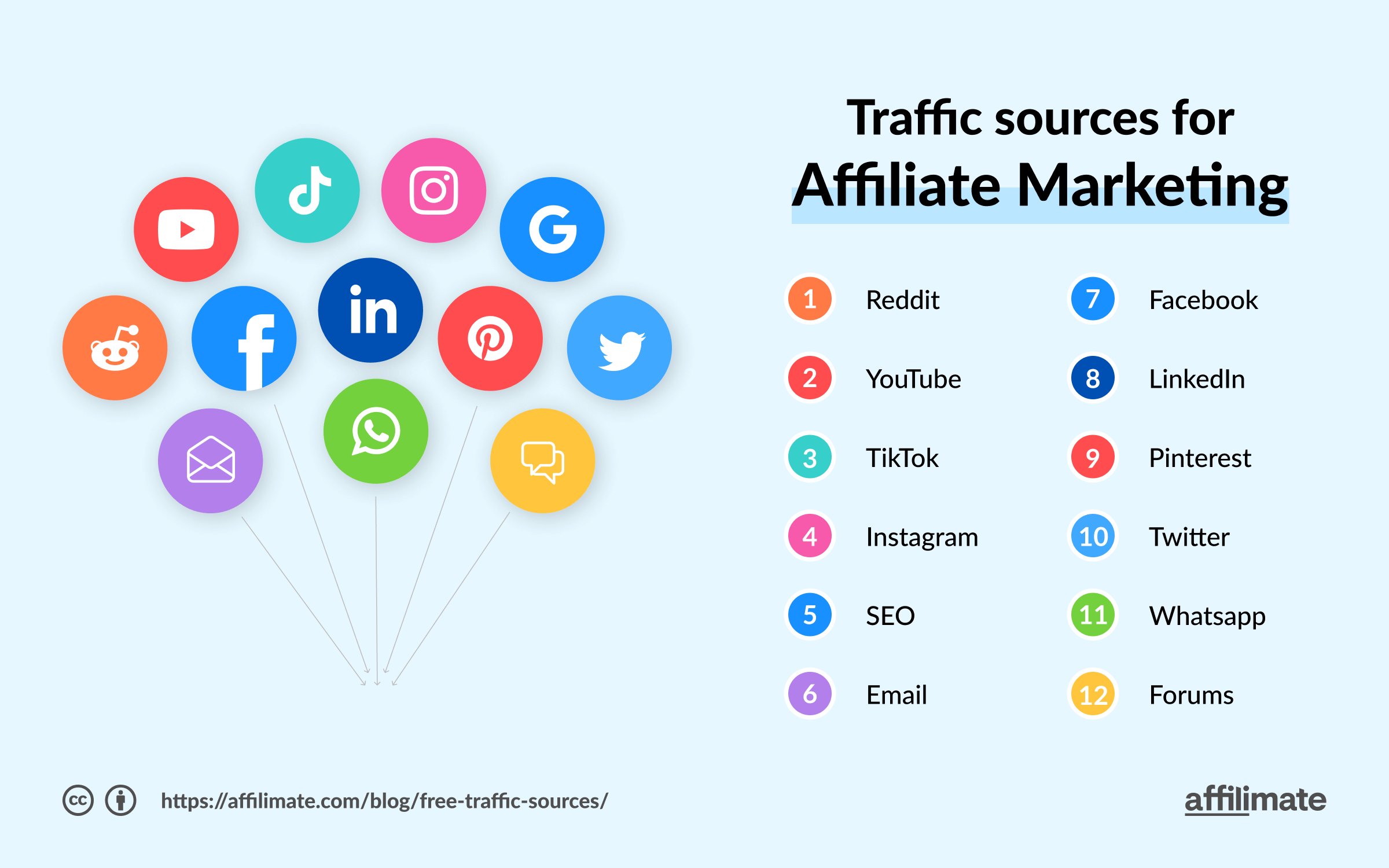 In particular, social media can be a huge traffic driver for bloggers and site owners, and it's another avenue to share affiliate links on (as long as you make the proper disclosures).
If you plan to build out your social media strategy this year, check out one of our thorough guides on social media affiliate marketing below:
Just one or two additional traffic sources can boost your site's valuation and give you a sense of security if you ever need to recover from a Google update.
14. Stablize your earnings by choosing an evergreen niche
Another way to avoid unpredictable revenue is to choose a niche that remains relevant year-long.
This kind of niche (aka: market segment) is called "evergreen," because its profitability isn't subject to seasonal trends.
So, by choosing an evergreen niche, your content will continue to be popular throughout the year.
One way of honing in on an evergreen niche is by considering whether your niche speaks to a demographic's identity in some way.
For example, parents would be considered an evergreen market segment, because being a parent is a part of a person's identity that doesn't shift.
On the flip side, the travel industry would be considered a seasonal niche because it's always subject to fluctuations based on the time of year.
So when you're selecting a niche, it's good to keep this in mind so that you can avoid slow sale seasons as much as possible.
15. Join affiliate programs with recurring commissions
Unlike one-off commission structures, recurring affiliate programs keep paying you for as long as the customer sticks with the product and for every repeat purchase they make using your link.
Some programs limit recurring commission to the first year, while others will pay out for the lifetime of the customer.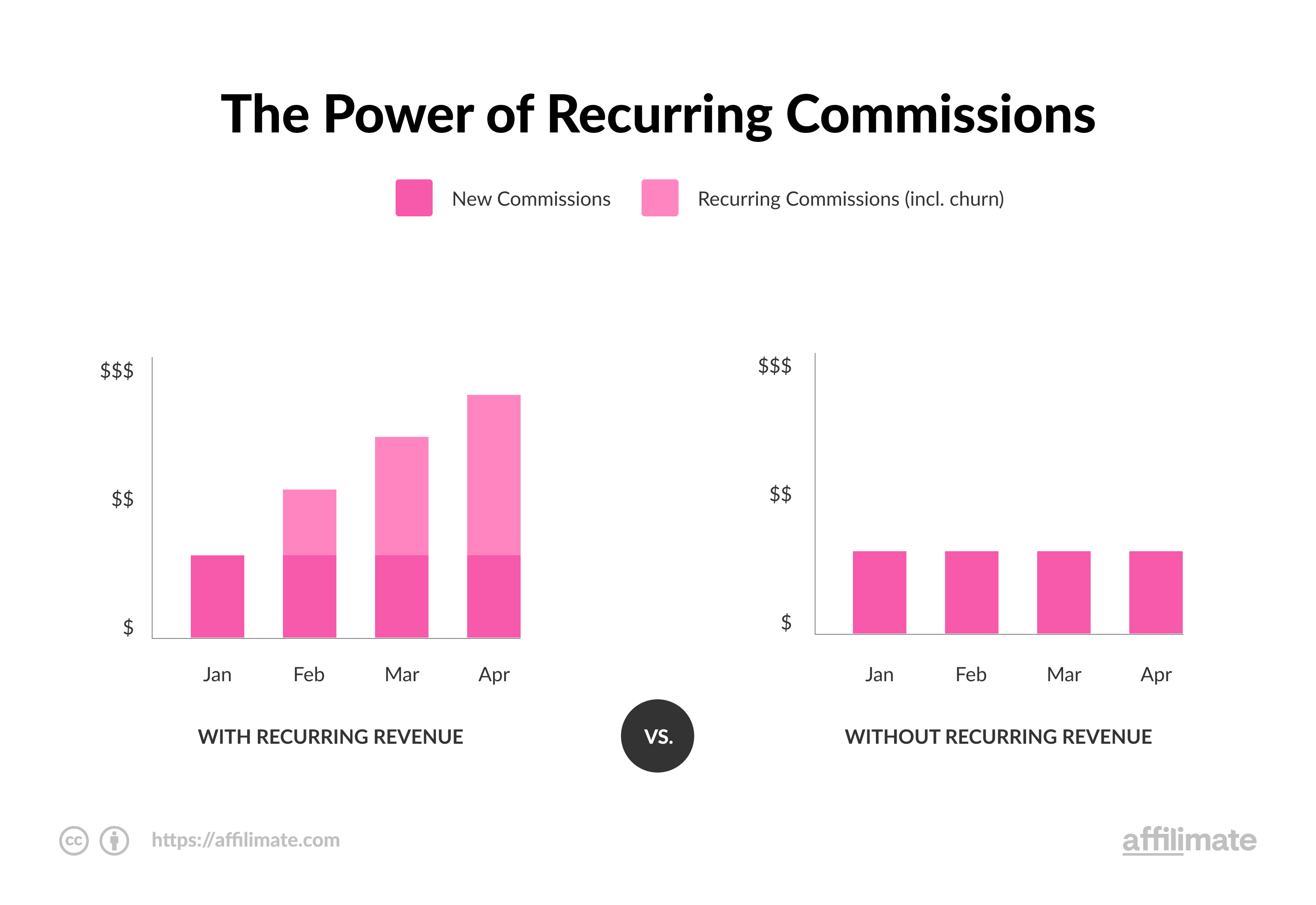 Here are some examples of programs with recurring affiliate commissions:
Shopify — 20% recurring commission, 30-day cookie
Teachable — 30% recurring commission, 90-day cookie
Active Campaign — 20% recurring commission, 90-day cookie
In general, you'll find than many SaaS affiliate programs offer recurring commissions.
16. Don't just drive clicks, create an affiliate funnel
A marketing funnel should be a key part of your affiliate marketing planning.
It carries your audience from being a reader or follower, all the way to being a buyer (and eventually, a fan).
Having an effective affiliate marketing funnel in place will make converting sales go far more smoothly – and will be much more effective to your overall business model.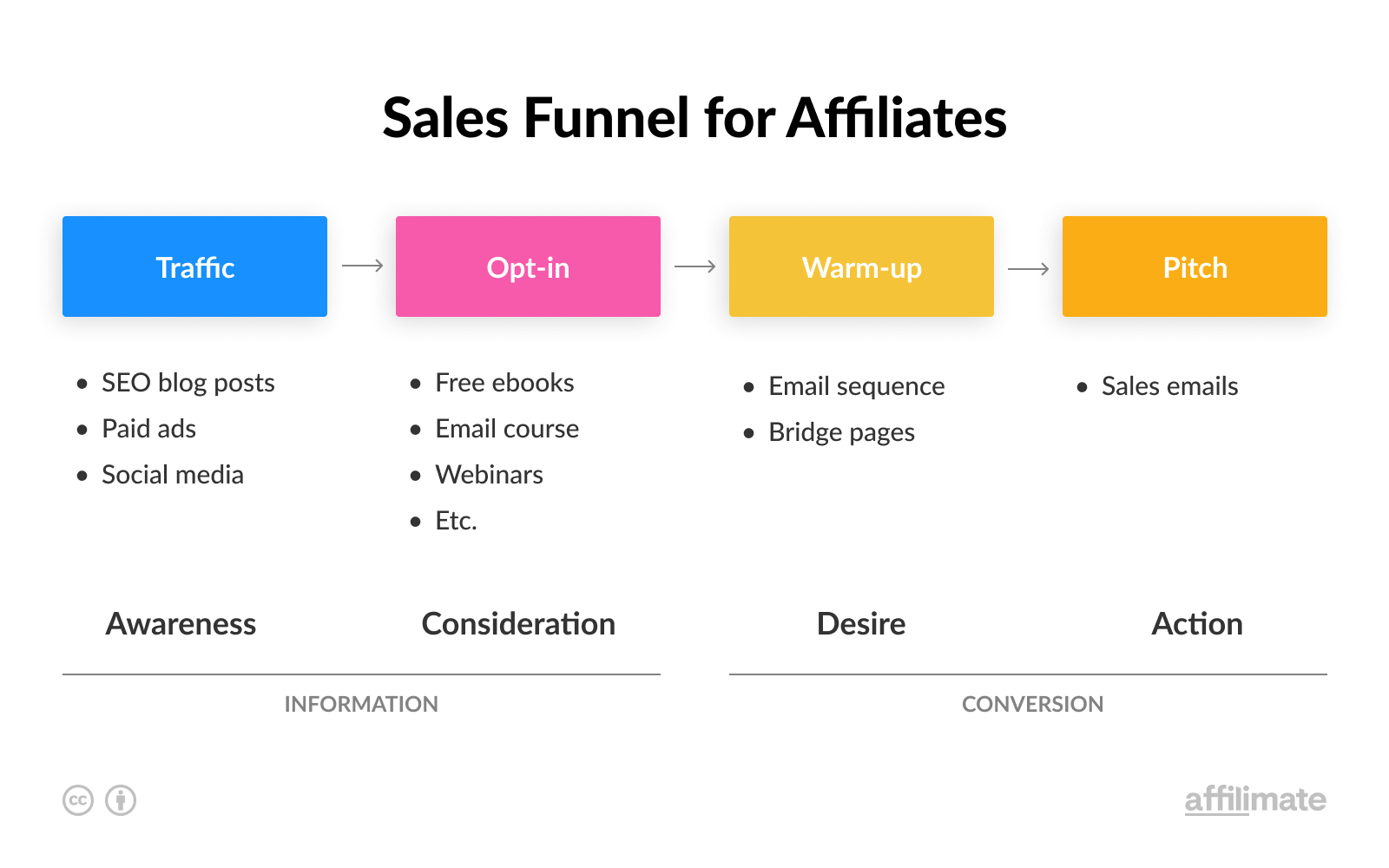 Learn how to build and affiliate marketing funnel here.
17. Set up a high converting affiliate landing page
An affiliate landing page is a web page that's built intended to drive conversions.
This can include a roundup blog, or even a Leadpage that's dedicated to a single product.
When setting up a great affiliate landing page, there are a few best practices to follow. These include writing a great headline, linking to your offer early on, and including social proof like testimonials.
Take a look at our in depth guide on building an affiliate landing page here.
18. Use email to build trust with your audience
Email marketing can be a great way to stay top of mind to your audience.
You can position yourself as an expert (and familiar face or brand) in your space by popping into their inbox with valuable, niche-related content every couple of weeks.
This can help build a stronger relationship with your audience, as they can get a closer look into your brand's mission and values.
Just like any sales strategy, email affiliate marketing requires a funnel that carries people from learning about your product to being a devoted, repeat buyer.
Not sure what to actually email your audience? Take a look at our guide on affiliate marketing strategies for email.
19. Network with super affiliates in your niche
Super affiliates are the highest earning marketers within their niche.
It's not uncommon for a super affiliate to generate 50% to 90% of affiliate sales in an entire marketing campaign, which makes them highly sought after brand partners.
Needless to say, we could all take a few affiliate marketing techniques out of super affiliates' books.
20. Make timely business decisions based on industry trends
Keeping up to date with the latest marketing trends, industry news and affiliate marketing statistics will keep you relevant, and give you an edge on the competition.
From there, you'll be able to make data-driven strategic decisions that will help to increase your affiliate revenue, while continuing to give value to your audience.
The Affilimate blog is a great resource to check out for specific and actionable tips on affiliate marketing, tools, and up to date content trends that will improve your affiliate strategies.
Final Thoughts
Successful affiliate marketing depends on a good strategy, and these affiliate marketing tips and tricks will help you to build exactly that.
Like we covered above, understanding buying stages and improving your audience's overall shopping experience is key.
Plus, having good affiliate marketing tips and resources on hand will guide you along the way, and hopefully help you to see success much more quickly.
Make sure to bookmark this list, and subscribe to the Affilimate blog so that you never miss out on the best affiliate marketing tips, tools and industry news.