Affiliate Marketing on Pinterest: An Actionable Guide for 2023
By Monica Lent · Updated Jan 18, 2023
The Pinterest algorithm is constantly changing.
As one of our customers recently shared when asked about Pinterest, "She changes her mind like a girl changes clothes." (Cue Katy Perry). It's true — keeping up with what's working on Pinterest right now takes a lot of time and energy.
Luckily, we've done the hard work for you.
So, you want to learn how to do affiliate marketing right on Pinterest in 2023?
You probably know that affiliate marketing is a popular tactic used by businesses to drive sales and generate significant revenue through online referrals. As a brand, publisher, or content creator, you can use Pinterest as a powerful distribution channel for your affiliate content.
Once you've got your Pinterest engine going, it can become one of the best free traffic sources for your site and drive conversions for a long time to come — with a bit of upkeep and maintenance.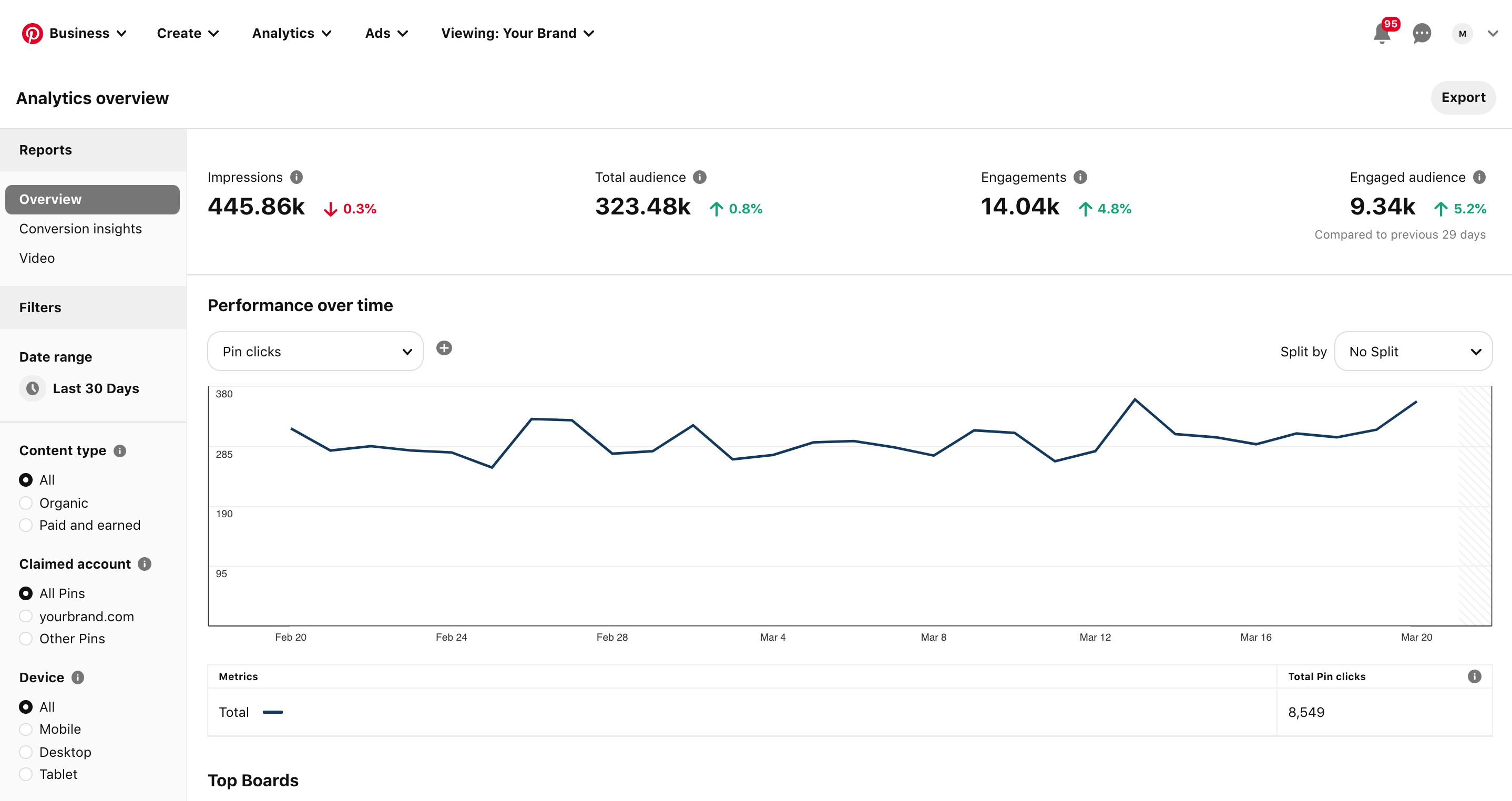 It's also a great way to diversify revenue if you're primarily relying on organic traffic today.
At Affilimate, we will be introducing how you can use Pinterest for affiliate marketing, plus some best practices and some tips for how our platform can help you sharpen your current affiliate marketing strategy. Here's what you'll find in this post:
Why use Pinterest for affiliate marketing?
If you're new to the platform, Pinterest is a visual search engine with a social networking component. It has a large active user base of 320 million, where most of its users are women who use the platform to supplement their buying decisions. Popular niches include travel, recipes, fashion, wedding planning, DIY and crafts, home decor, workout ideas, and more.
Beyond this, Pinterest users also have a relatively high spending power, with a median household income of $75,000. And up to one third of women in the US market are on Pinterest.
So if you're a publisher targeting women or the niches and markets we just mentioned, Pinterest can be a very powerful channel for affiliate marketing.
Here's how to get started.
How to add affiliate links to Pinterest
Step 1: Find the Create Pin tab
Adding a pin to affiliate content is similar to creating a normal pin. Go to the top menu and click Create > Create Pin just like you would for any other pin.

It's worth noting that in 2021, Pinterest appears to favor pins created natively on the platform instead of using a third-party scheduling tool such as Tailwind or Buffer. There is a basic scheduler built into your Pinterest Business account in case you want to space out your pins.
Step 2: Draft your pin details
Fill in everything else like you normally would such as your title, description and which board where you want to save the pin. Some tips:
Be detailed in your description with 2-3 relevant keywords. Pinterest is a search engine that operates a bit like Google. When your main target keyword appears key locations like your pin title and description, you've optimized your pin to rank highly for that keyword.
Pinterest SEO is important in boosting your content reach, within the platform and on Google Search! You can make use of the Pinterest algorithm to boost your content by telling it exactly what your pin is about through keywords.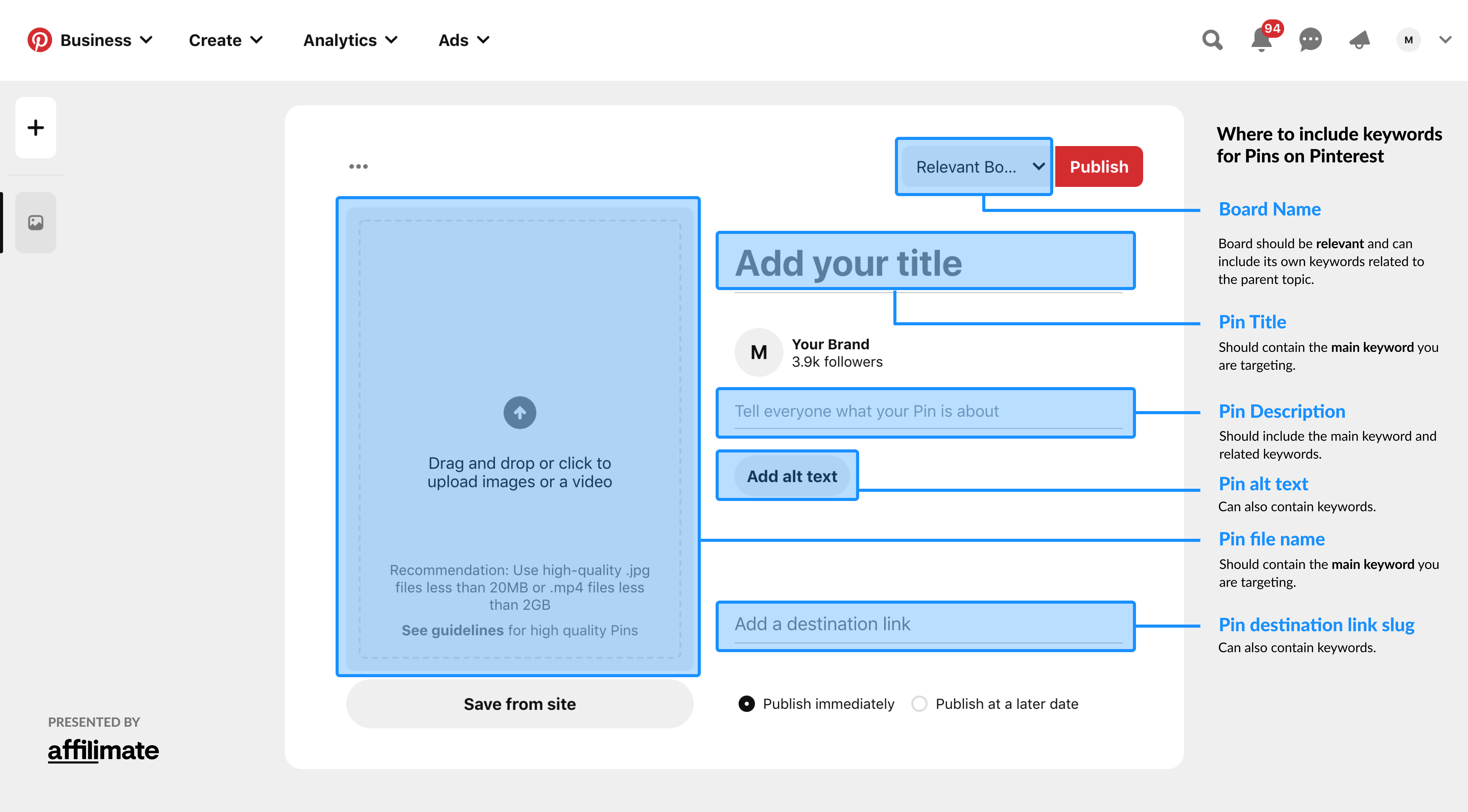 In terms of affiliate marketing on Pinterest, it's also important to choose keywords late in the buyer's journey. Instead of writing content for planners and dreamers, focus on content for buyers.
This means choosing keywords that are more specific, and show someone has already narrowed down their product search. Think "levi's jeans" instead of "jean outfits", as this demonstrates stronger commercial intent.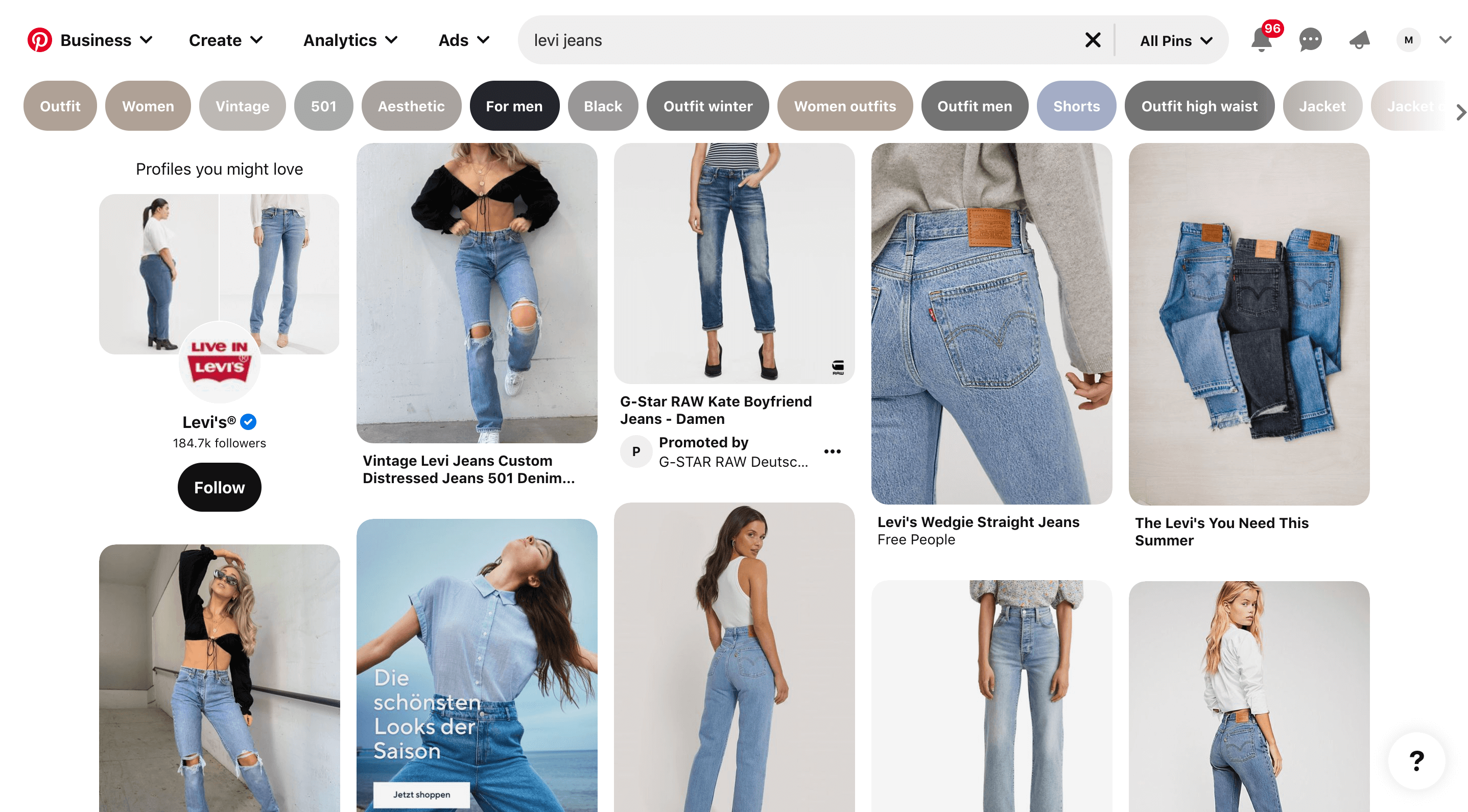 If you want to measure exactly which links and products are converting inside your affiliate content, you can do this automatically with Affilimate. We'll actually show you visually which products are driving conversions on your site, using our heatmaps: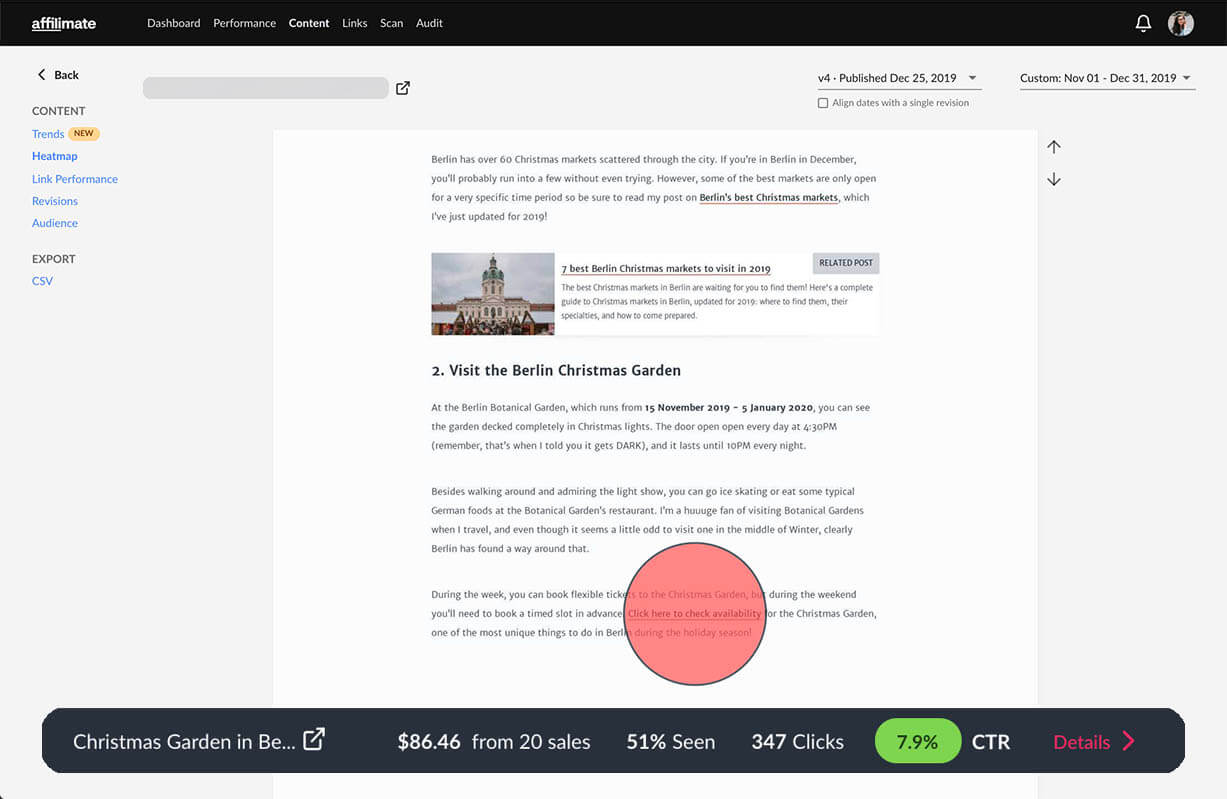 It's not enough to get traffic from Pinterest on your website, you also need to make sure your content on the other side of the pin actually converts.
Step 3: Add a Pinterest-optimized image
The most important thing to remember about Pinterest as an affiliate publisher is that your goal is to drive clicks on your pins. Not impressions, not re-pins, and not even followers.
Here are some best practices for click-worthy pins:
Tall image format. The ideal Pinterest image size is 1000 x 1500px.
Big, bold text. Avoid scripts, light colors, or anything that is hard to read.
Avoid human faces. Pinners want to imagine themselves in photos, so avoid human faces.
Beautiful, interesting image. Clean, non-busy images with multiple dominant colors perform best, but don't oversaturate your image. An important note is that you cannot use Amazon's images, so either use your own or search for stock photos.
The exact imagery that resonates best will depend on your target audience, so make sure to try multiple pin formats in order to see which image formats drive the most overall clicks.
Bonus tip: Pinterest uses image recognition to classify pins into different categories and topics. Make sure that if the affiliate product you're promoting is more conceptual (such as software or digital products), that your pin isn't mis-classified by using a seemingly "irrelevant" image.
Step 4: Add a link to your affiliate content and publish
Finally, enter the link to your affiliate content in the Destination Link box. You might be tempted to add your affiliate link directly onto your pin, but direct affiliate links tend to have poorer conversion rates compared to linking to an affiliate blog post or landing page.
We'll explain why in a second, but here's what your Pin could look like at this point: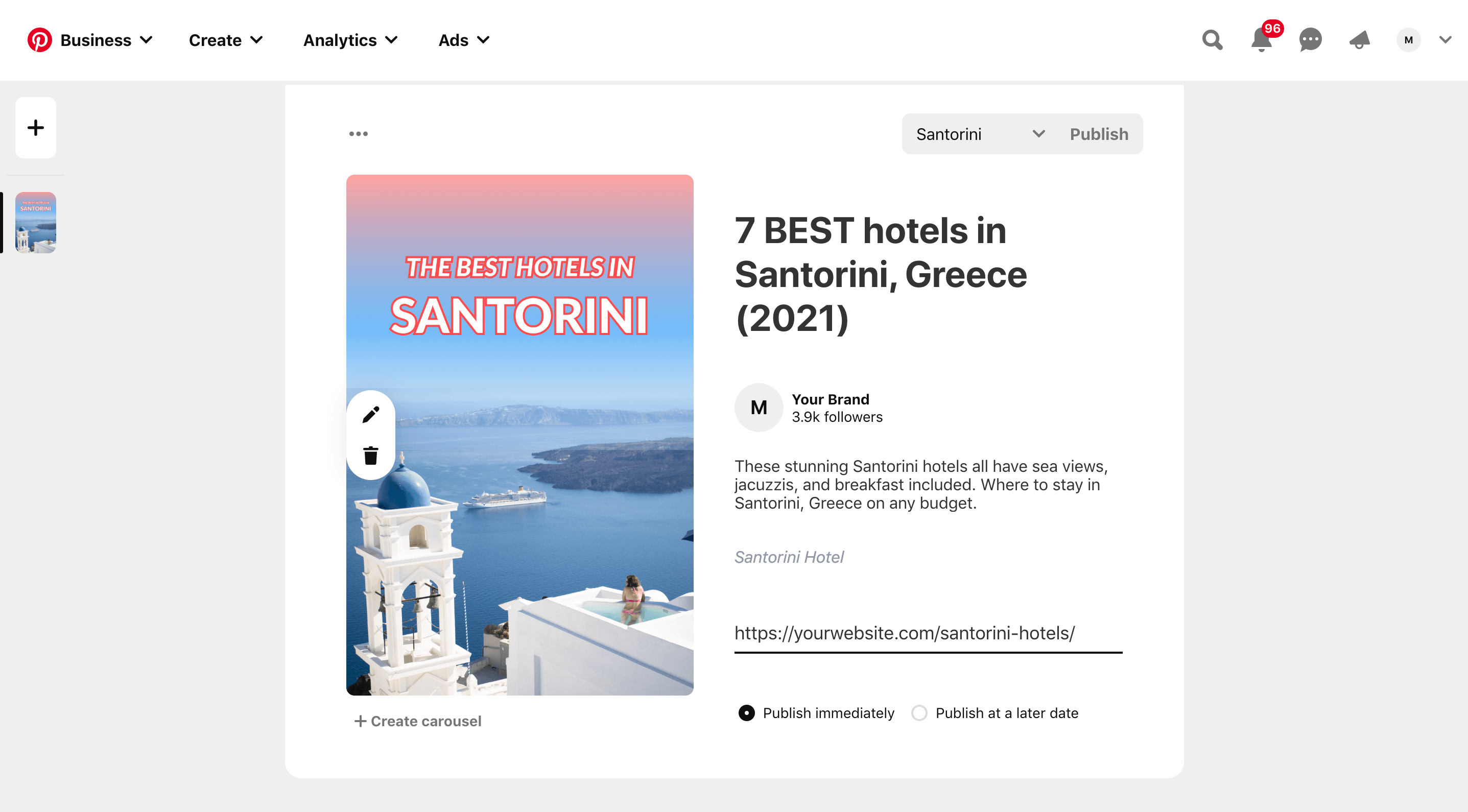 You'll see it follows our recommended best practices: keywords in the right places, a long vertical format, bold and readable text, and multiple dominant colors to stand out in the Pinterest search results.
Keep in mind that the "prettiest" pins may not result in the most clicks. So focus more on a balance between grabbing someone's attention, sparking interest that drives clicks, and making pins attractive enough to re-pin.
With this, you're done! You can either publish the pin immediately or schedule it for a later date.
Should You Directly Link Your Affiliate Link On Pinterest? Or Link To a Landing Page
When it comes to linking, you're probably asking yourself these important questions:
Should I include the affiliate link directly on Pinterest, so that the user goes straight to the product purchasing page?
Or should I link the pin to a blog post or landing page that has more information about the product and its value?
What kind of content should the landing page include to boost conversions?
Here's what we've found works for affiliate marketing on Pinterest in 2021.
Why landing pages convert better than direct affiliate links
Linking directly to affiliate products is easy, and can be convenient for users. However, this method misses out on some vital components of a successful affiliate marketing strategy.
Users may not trust the merchant website if they've never seen it before. Users may also avoid buying products and services without adequate information or research — which then happens outside your website, risking your affiliate cookie to another publisher.
Your blog posts or landing pages may contain multiple affiliate links. This includes popular alternatives that may suit the buyer better.
You can include more trust-building content (e.g. product details, reviews, your personal experience, and so on) in your article.
Disclosing affiliate links on Pinterest
The other challenge with linking to products directly on Pinterest is affiliate link disclosures.
As an affiliate, you may fall under disclosure requirements enforced by the network or merchant, or your local government. For example, the Federal Trade Commission requires a clear and visible disclosure that the Pin leads to an affiliate link.
This also means that you may not cloak affiliate links according to Pinterest's Community Guidelines.
Another complication is that some merchants may not allow you to use their affiliate links anywhere besides approved properties (such as your website). Violating the terms of any affiliate agreement can result in your account terminated — sometimes without payment!
Both of these issues, plus the potential for cookie loss and lower conversion rates, are solved by linking to a blog post or landing page instead.
How to improve conversion on your Pinterest landing pages
One of the most important elements of conversion copywriting is building trust with your reader. After establishing trust, the reader needs to have all their questions and objections answered through your article. You can achieve this with:
More information on the product. Answer possible questions and objections proactively so the reader doesn't need to open a new tab.
Additional photos, especially of you using the product. Avoid photos that look overly like stock photos, opting for your own images when possible.
Photos of results achieved with the product. Don't just focus on the product itself, but what it will allow your reader to achieve or become.
Link to alternatives to the product. Help the reader classify their use case by including product alternatives that could work better for them.
Establishing your authority as a reviewer. Share how long you've had the product, how it helped you, and why you're an expert on the topic.
Outside ratings, reviews, and social proof. Besides your opinion, bring in quotes, reviews, and ratings from other sources.
What's important is that as you refine the content behind your Pinterest pins, you need to be able to measure that it's actually improving your revenue.
One easy way to do this is with Affilimate's revision tracking: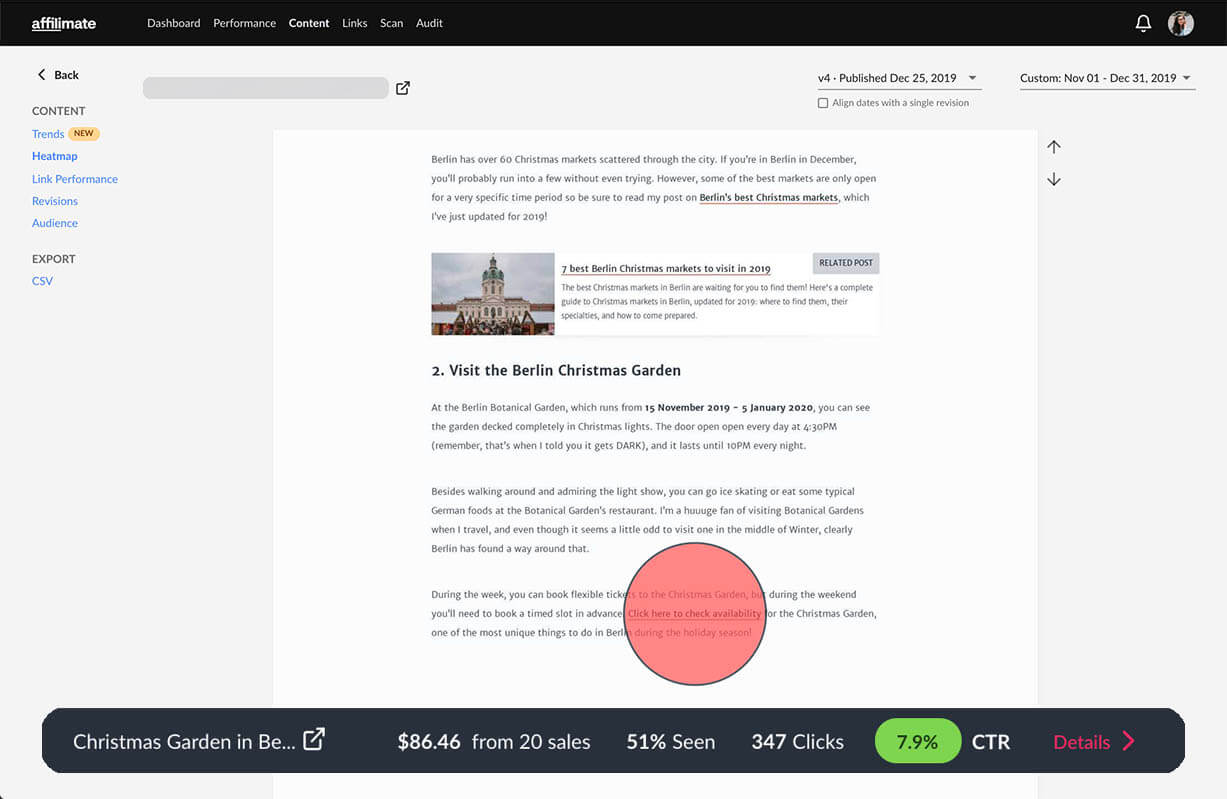 So you can actually see whether key affiliate marketing KPIs like click-through rate and RPM (revenue per 1,000 visitors) is increasing according to your latest changes.
If you are at the very beginning of your Pinterest journey, here's how to grow a new account from scratch.
How to grow a new Pinterest account, fast
Doing Pinterest affiliate marketing successfully heavily depends on your presence on the platform.
Luckily, it can be a lot faster to get results from Pinterest SEO than from Google since Pinterest favors fresh pins (meaning, new, unique images that have been recently uploaded to the platform).
Here are some foolproof, high-level tactics to grow your account.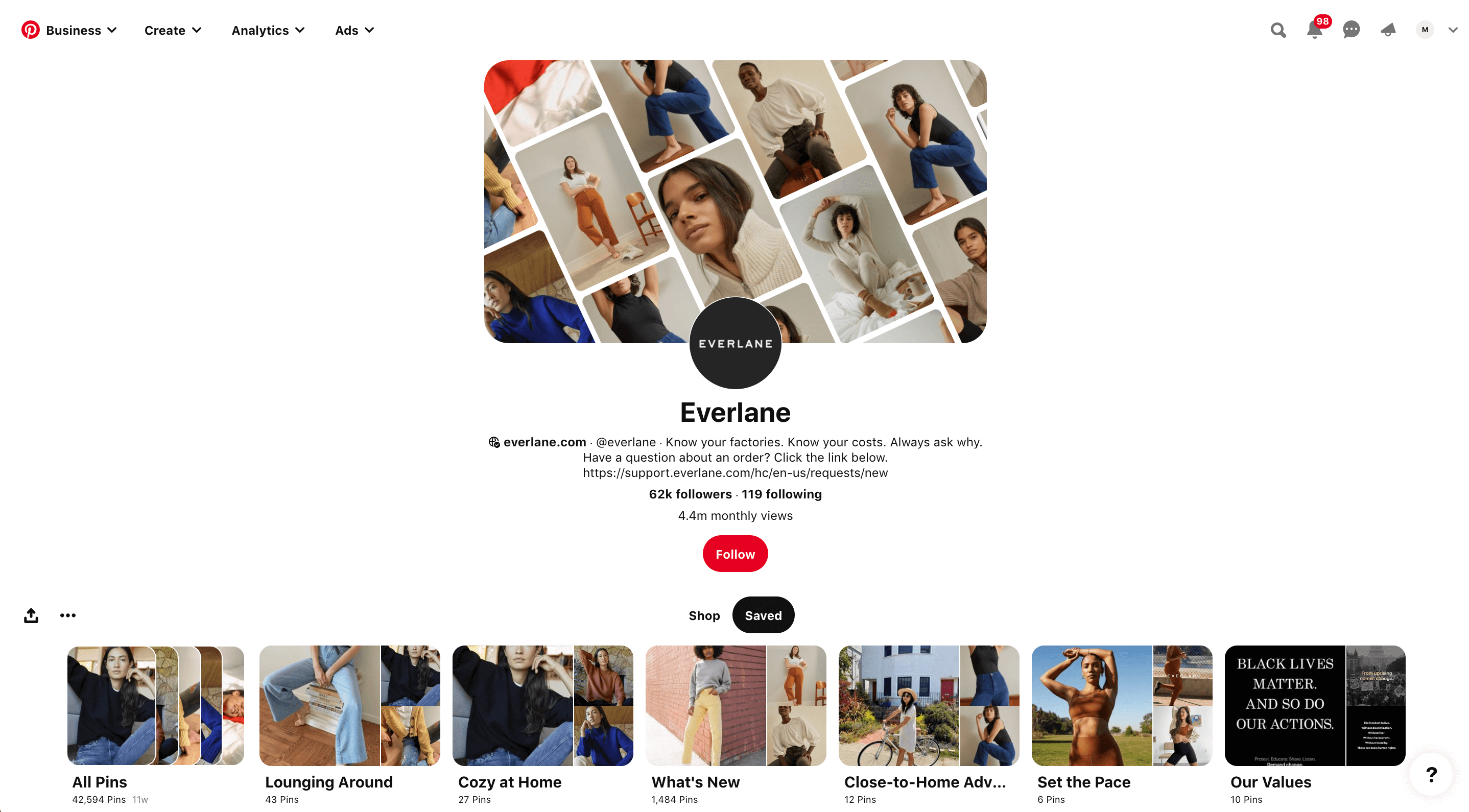 1. Optimize your Pinterest branding
First things first, do some research on how popular Pinterest users in your niche communicate with others in the platform. You could do some competition analysis within the platform by:
Going through popular pins and determining visual styles that are most prominent in the search results.
Going through popular profiles and seeing how they write their bio text, design their cover photos and display their profile photo.
Checking out what types of content resonate the most with your target audience, based on recommended pins and boards.
You want to figure out what garners the most attention and proceed accordingly. After all, what you like isn't necessarily the same as what what generates clicks and attracts your target audience.
For example, if my target audience is fashion-conscious moms, I can immediately find topics and accounts that people in that audience are interested in.

Tip — Try including a keyword in your account name, so you have a chance of showing up in Pinterest's autocomplete like these accounts. You can use something like "Your Brand - Keyword 1 & Keyword 2".
2. Create 8-10 boards on relevant topics
You'll want to theme your boards according to topics you want to cover, and give them Pinterest SEO-friendly names. Here are a few ways to discover relevant keywords for your niche on Pinterest:
Use the search bar. As we just mentioned, Pinterest suggests popular topics relating to the keyword you've entered. Here's an example, where we searched for "Jeans" and Pinterest shows us some of the most common modifiers people add to the word "jeans" when searching on Pinterest.

Click a topic to see more related terms. At this point, Pinterest offers more relevant subsections in the form of colored tiles:
Use Pinterest Trends, which can help you adapt the words you're using to match the exact terms people actually search on Pinterest. For example, I can see that "Mom Jeans" are trending right now. And, its search trend over time is indexed between 0 (no relative interest) to 100 (peak interest):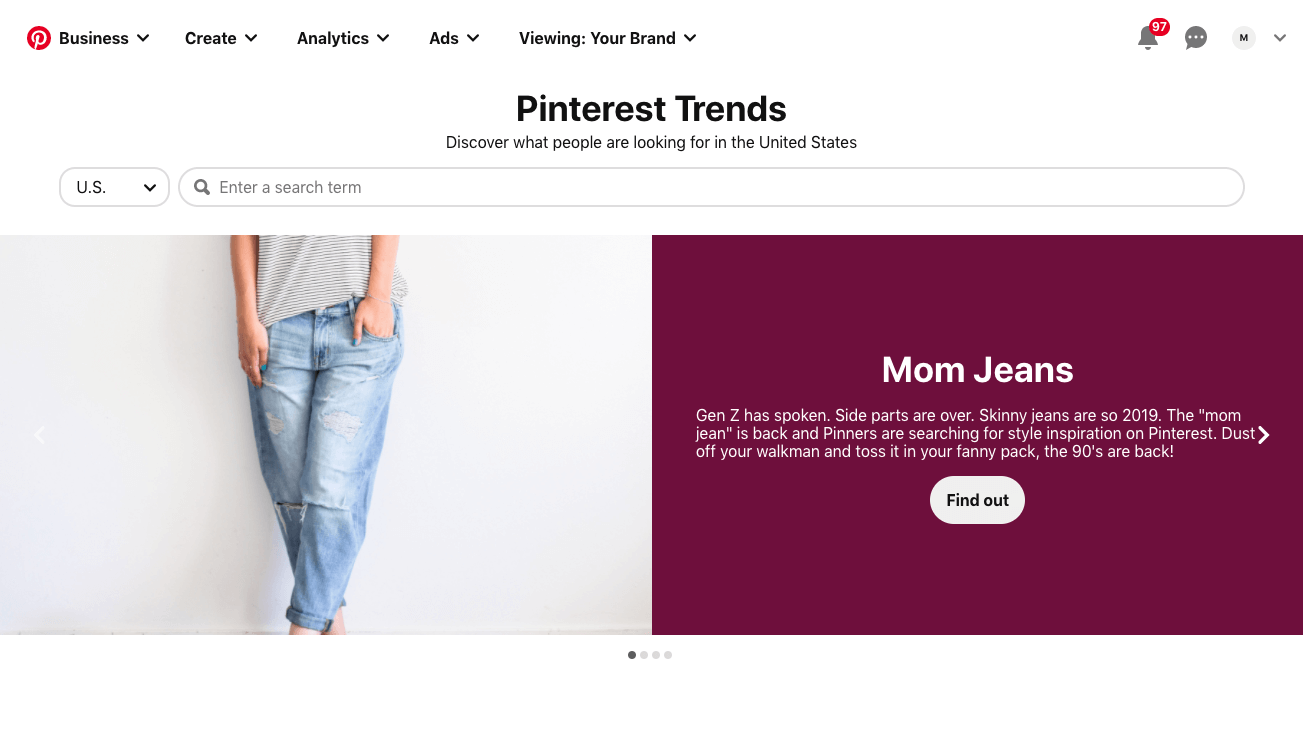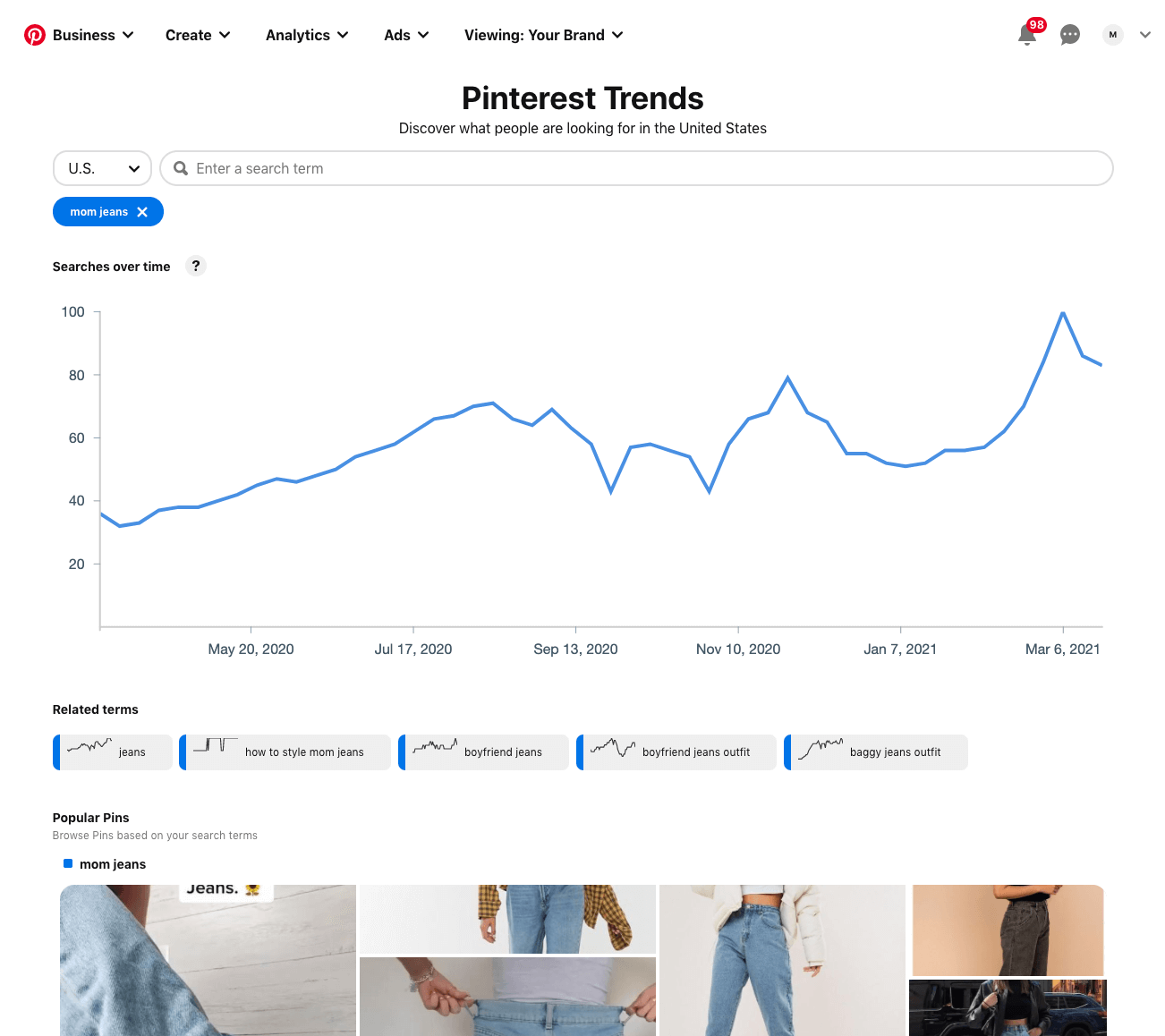 3. Pin consistently, 5-10 images per day
It's a lot of work! But you need to put in some effort to gain traction up front. Create fresh pins (i.e. new and unique graphics) for old website content that's been gaining organic traffic, or has performed well in the past on Pinterest but is seeing its traffic taper off. Here are some best practices:
Create multiple pins around the same product, article, or landing page
Each pinned image should have a unique graphic
Test different designs, pin copy, and product image styles
Regularly check Pinterest referral traffic on your website pages
And, which pins are driving most clicks in your Pinterest Analytics
Always add keyword-rich pin titles and descriptions for SEO
Not forgetting that if you're doing affiliate marketing on Pinterest, you'll want to focus on late buying stage keywords where people are closer to a purchasing decision.
4. Give your pins an initial boost
Pinterest is an incredible platform for viral content, but it's hard to go viral at the beginning when you have no followers or traction. Here are a few ways to get started:
Follow other relevant people. Not only will you see their pins, but you can end up being a recommended follow next to them.
Repin popular and trending content in your niche. There's a lot of lore around how much of your own content vs. other people's content to pin, but consider at least supplementing your content at the beginning to fill in your boards.
Creating keyword-rich information on your pins. Especially if you can use trending keywords, you may be able to rank your pin while there's still less competition than more established terms.
Join repinning groups on Facebook for specific topics. If you search Facebook for Pinterest groups, you may be able to find some in your niche to help you get initial exposure.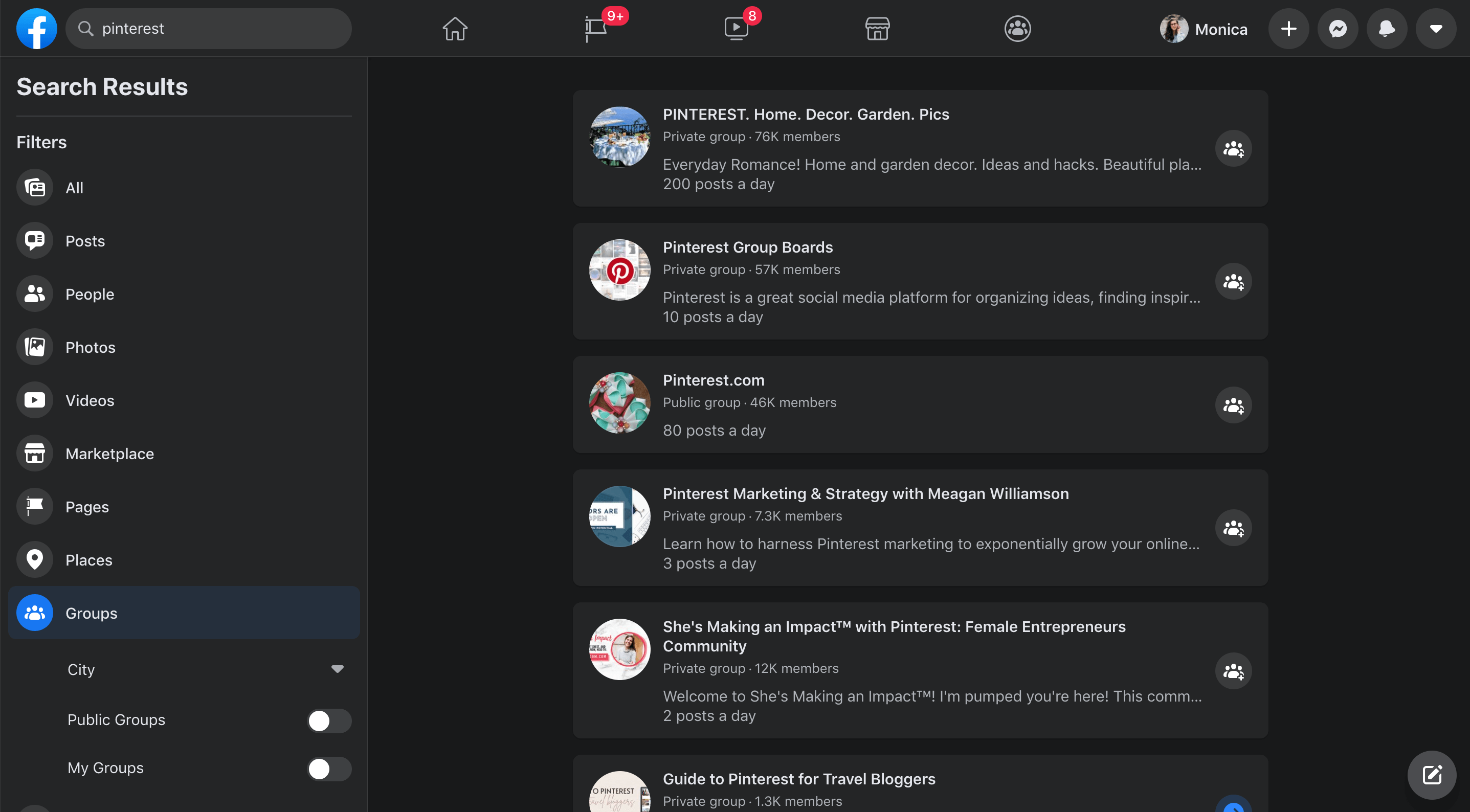 5. Always include a title and description
Again, even though Pinterest only requires an image, we highly recommend including keyword-rich titles and descriptions. Why? Because every single pin is an opportunity to teach Pinterest what your boards are about.
Your descriptions will give more context to your account, each board, and the other pins on that board. This also gives users more insights into what kind of content they'll be able to find pinned to your boards and what your account is about.
Pinterest does do image recognition, but for the best results, help them classify your content using keywords.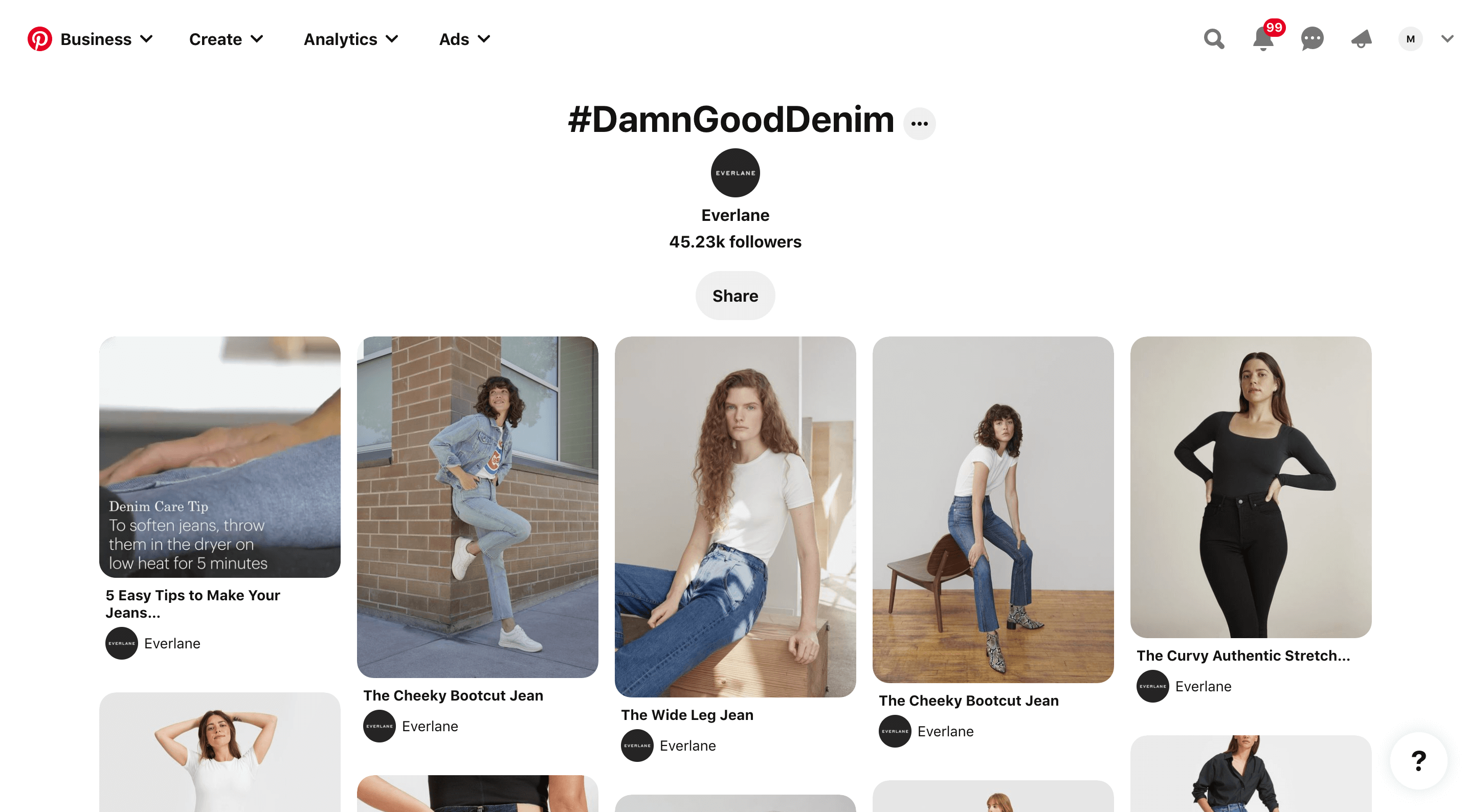 For example, this board contains a title with the word "Denim" and has exclusively pins related to "jeans" and "denim", as described by the pin title.
How to tailor your content for Pinterest for affiliate marketing
Most of the time, Pinterest users approach your content with a different mindset than those using Google. Pinterest users tend to be aspirational, planners, browsers, and curators.
So it's up to you to help them move from the consideration stage to a buying decision, perhaps with more effort or urgency than organic visitors.
You can do this by sharing sales, seasonal trends, or ensuring that you've got compelling copy that encourages readers to act now.
1. Create pre-sale content such as product reviews
Pre-sale content includes informational blog posts and product reviews designed to educate users about the product.
For example, if you are promoting "home workout equipment", you could draft up a list of "Top 10 home workout equipment for effective exercise" where you introduce the pros and cons of the products, how to use them, comparison of features with similar products, etc. and back these up with facts and screenshots from the actual product listing.
The nice thing about e.g. a list post of 10 items is that you can easily:
Create 10 pins for the items
Create 10 more pins with helpful advice
...and even more, if you know how to repurpose your content into pins!
Ideally, the merchants you promote at this stage have longer cookie periods, so you'll still be able to snag that conversion if the visitor is still undecided after reading your article.
2. Carefully select the products you promote
One of the most common affiliate marketing mistakes new publishers make is joining a ton of networks and programs without having specific products in mind.
At the same time, you don't want to promote such a small number of merchants that any one of them terminating their program would cause a substantial problem for you financially.
Ultimately, you want to work with a select group of merchants and a small number of products with good commissions that convert well. Having this selection will help you identify and focus on what works and be able to double down on your efforts.
3. Build a brand and make it personal
When it comes to long term growth and success on Pinterest, it often boils down to your branding.
A trustworthy brand is more important than a single well-ranked post on the search engine, especially if you are selling products to consumers. With a personal brand, once you become an authority, people may start to recognize your pins and your aesthetic.
There is no shortage of products that you can promote. Hence, it is important to pick and choose products that you personally believe in so your marketing campaigns center around truly valuable products that your consumers will enjoy like you do.
This will help you write more compelling (and high converting) copy.
4. Include time-sensitive information
As we mentioned before, Pinterest users tend to use the platform to make future plans. It's your job to help people take action and make a purchase before closing their browser or locking their phone.
Time-sensitive information can include things like sales and deals, seasonal offers, or other incentives to make the purchase now.
Which affiliate metrics to track for Pinterest
To conclude this article, it's important to talk about which affiliate metrics matter on Pinterest. How can you actually tell whether your Pinterest content is converting? Which products resonate? And how to format your content, calls to actions, and visuals like images and tables?
Here are the top 3 metrics we recommend tracking:
Clicks on each pin. The number of clicks indicate your product's level of exposure across your promotional channels. A very high number of clicks (and therefore traffic) driving only a small amount of sales can be an indicator of low affinity between the audience and your affiliate products.
Products sold. Not just how many, but which products you sold. If you're recommending one product to your readers but they consistently choose another, that's an indicator you could write content about that product instead.
Conversion rate. If a product simply doesn't convert, you're wasting your energy driving traffic to it. You can switch up the merchant through which you recommend the product, choose a different product, or promote the same product in a different article.
If you're a member of a number of different affiliate networks and are having trouble staying on top of tracking, check out Affilimate!
Our platform is tailored for affiliate publishers, and brings all your data into one place to help you save time and grow your revenue. Get your free trial below: