20 Affiliate Marketing Tools Used By Successful Marketers
By Natalie Robin · Updated Jan 18, 2023
It's no secret that marketers wear many hats, and affiliate marketing tools can help you to sport them all much more effortlessly.
With (what feels like) a million different items on your to-do list, any good marketing manager knows that in order to be effective, you have to have systems in place.
Marketing tools are absolutely essential for keeping all of these to-do's moving, and the affiliate marketing industry is no different.
Now we get it – you're probably thinking, "another tool?" all while staring at your three desktops and sixty four open tabs.
But, hear us out!
Tracking tools for affiliate marketing can help to maximize your affiliate sales efforts, identify revenue opportunities, and drive traffic to your website.
And who wouldn't want that?
So, whether you're a blogger, a media brand, or a website investor, if affiliate marketing is a main revenue stream for your business, these affiliate tools should be an integral part of your workflow.
In this post, we're sharing the best tools for affiliate marketing so that you can optimize your conversion efforts, and maximize your earning potential.
First things first, why use affiliate marketing tools?
When you first get started with affiliate marketing, you'll spend a lot of time signing up with different affiliate networks.
Having affiliate marketing tools in place will streamline your processes, save time, reveal areas for improvement, and ultimately allow you to earn more, with less effort.
Here are a couple of key reasons to use the affiliate marketing tools in our list:
1. Affiliate tracking tools help you generate revenue more efficiently
Investing in tools will optimize your affiliate marketing strategies, allowing you to manage and generate sales from affiliate websites.
Instead of guessing which strategies are working, you can look at numbers easily tell where your conversions are coming from.
Most publishers start with spreadsheet-based systems, and then adapt to most sophisticated tools as their budget allows. We've included a number of tools for varying budgets and levels of website maturity in this guide.
2. Affiliate tools save you time by streamlining your workflow
If you too have sixty four open tabs in your browser at all times, tools for affiliate marketing will feel like an absolute game changer.
No need to feel like your head is spinning when one platform can host your entire affiliate marketing strategy.
Save time and streamline your workflow with some of the best affiliate marketing tools in the industry.
This list of the best affiliate tools was curated specifically for each platform's focus on affiliate marketing capabilities and easy integrations with affiliate programs.
You can get some of these affiliate marketing tools free, while others have affordable plans for individuals, and premium plans for media and marketing teams.
Best affiliate tracking tools and analytics suites for publishers
Affiliate tracking tools and analytics suites allow you to see all of the moving pieces in your affiliate strategy at once.
They can help you to work more efficiently and find workflow flaws that can be improved on.
1. Affilimate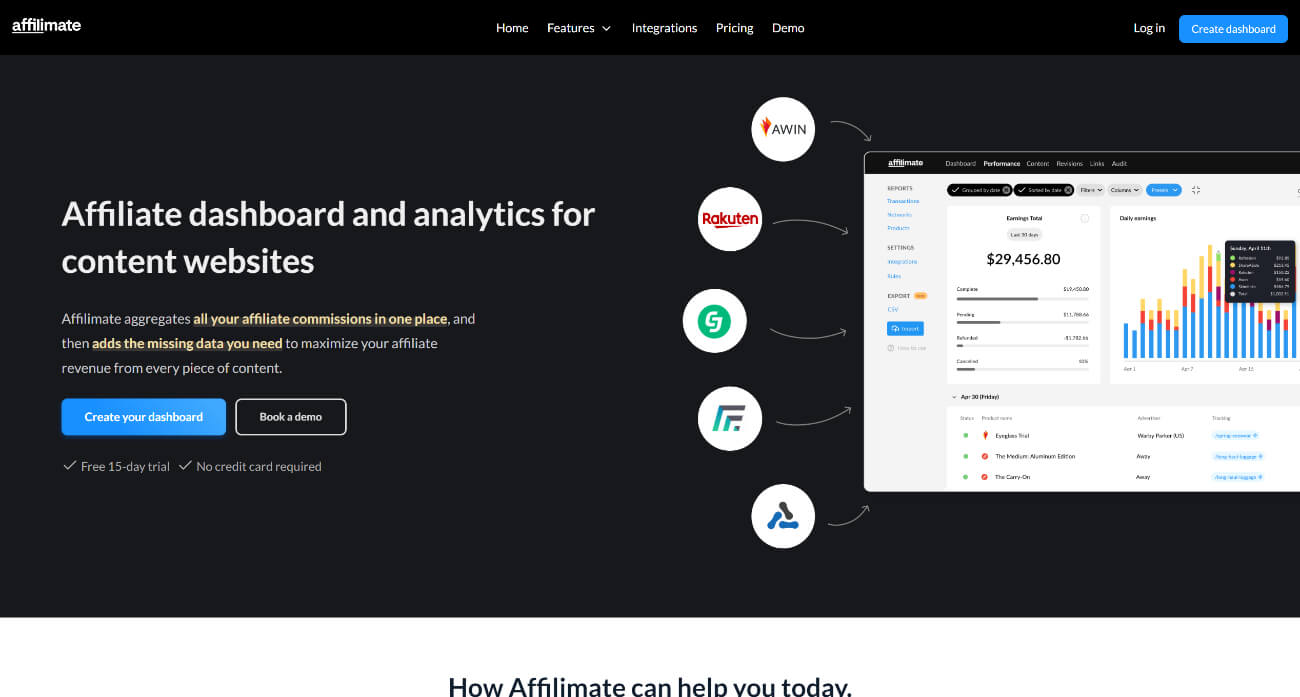 Why yes, we are (shamelessly) opening this list with a mention of our own platform. Because as any good affiliate knows, your first recommendation should be clear to readers!
So what do we do? Affilimate is an analytics suite and affiliate dashboard designed specifically for affiliate marketers, publishers, and media brands.
It's the leading platform for unparalleled insights on your best performing affiliate marketing content.
Here's what one of our customers, Jessica Bishop from The Budget Savvy Bride had to say about her transition to Affilimate:
Affilimate gives us deep levels of data so we can analyze and optimize our best-performing content.
This makes improving our site, content, and earnings that much easier. It's truly a platform any size publisher can grow into. I can't recommend it enough!
So, how does it work?
Affilimate aggregates your affiliate revenue from over 100 affiliate platforms, networks, and data sources, and automatically attributes conversions to your content – on a page, link and element level – using dynamic SubID tracking.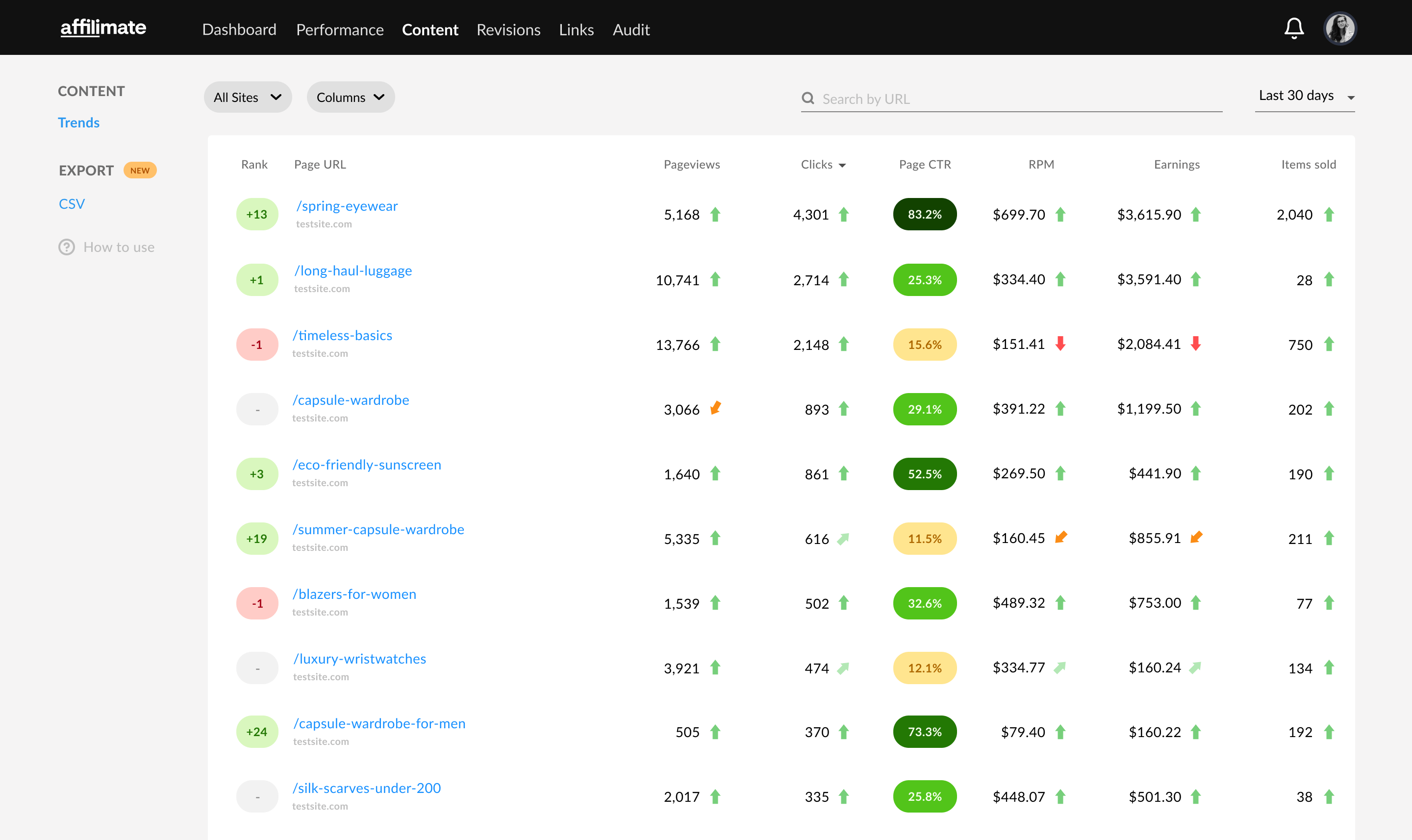 It allows you to determine your highest converting affiliate content, as well as optimize existing pages, posts, and platforms using CRO tools like conversion heatmaps and revision tracking.
With Affilimate, no affiliate marketing effort goes to waste – because the data will show you how to optimize it.
Best for: Established affiliate marketers running blogs and content websites, media brands, portfolio operators, and larger affiliate teams.
Pricing: Monthly plans available from $29 per month.
Sign up for Affilimate here.
2. Geniuslink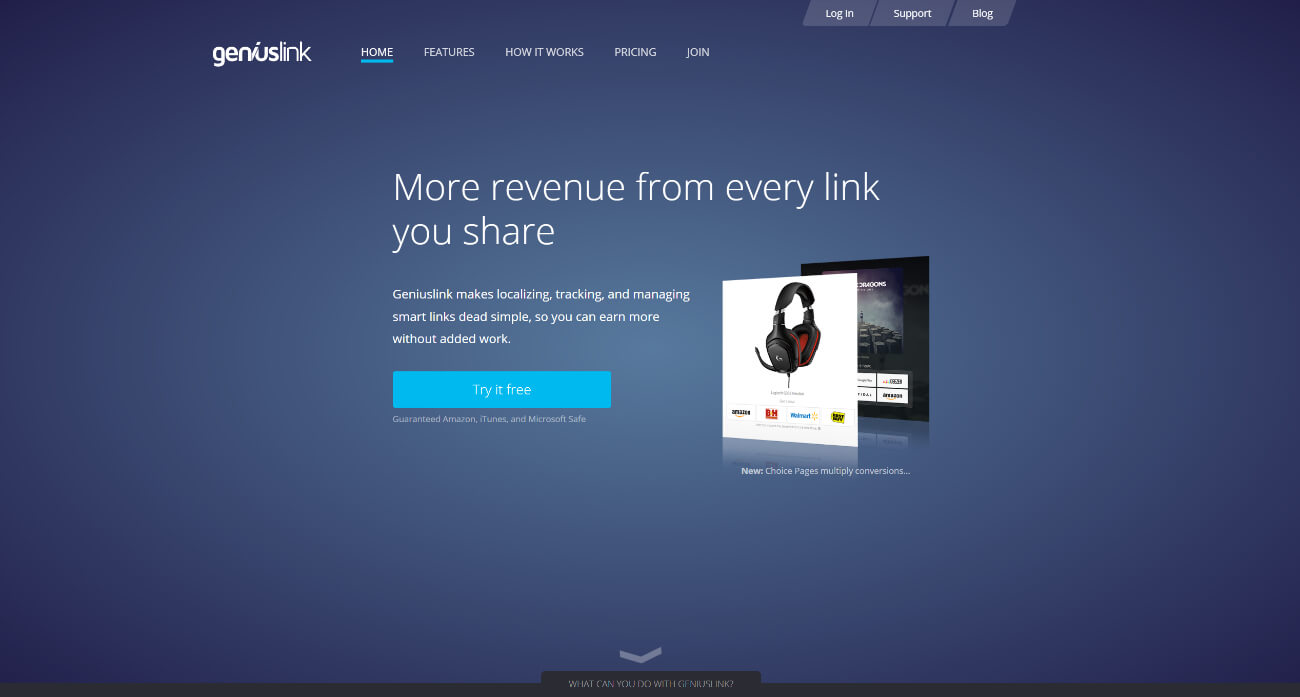 Geniuslink is a link shortener that can help boost your Amazon Associates revenue with a simple link.
It directs international readers to the correct Amazon page, offering products that they can purchase in their country.
Think about it: When you send readers to affiliate products that they can't purchase in their jurisdiction, you lose out on sales.
For example, if you're an American affiliate with an international audience, you may be consistently missing out on conversions every time you send them to the US website.
Geniuslink is a no-brainer way to maximize your earnings with a simple link.
Best for: Amazon affiliates with international audiences.
Pricing: Pay per click pricing starts at $5 for 2,000 clicks.
3. Moonpull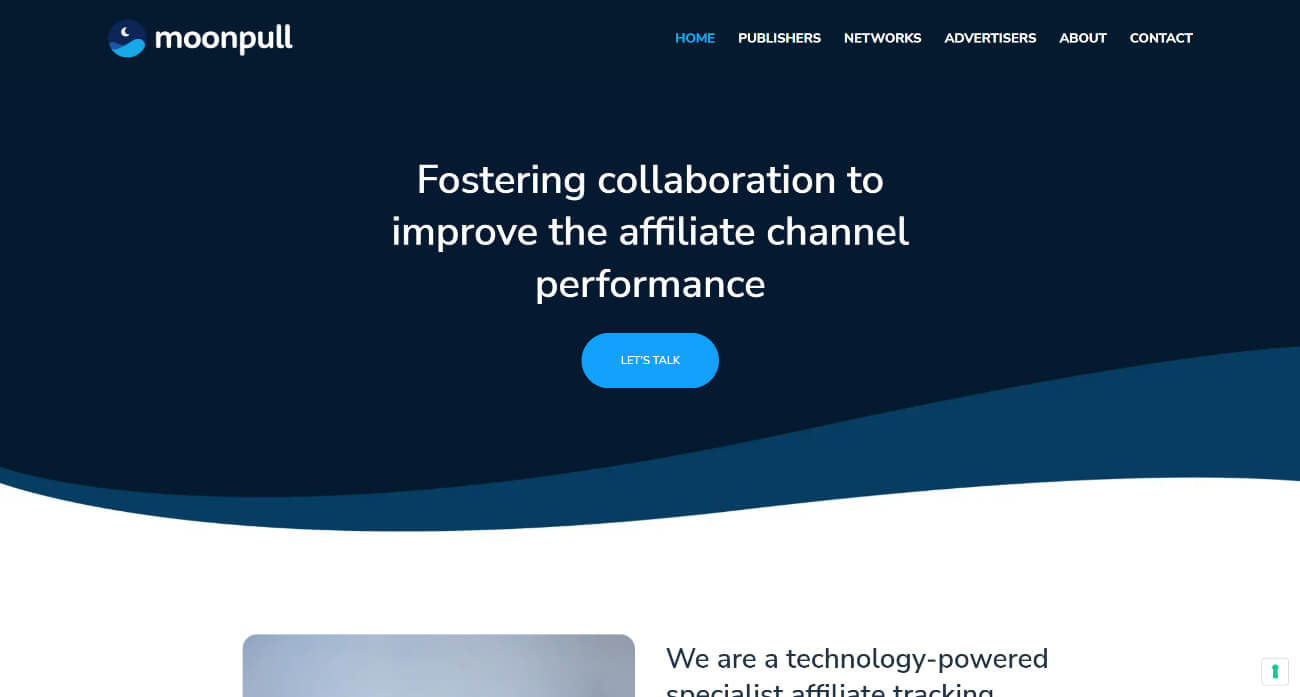 Moonpull is a new affiliate tracking agency that helps to maximize performance marketing efforts through personalized consulting.
They offer automated tracking evaluations, to help publishers make sure that the link they're using are being properly tracked all the way through to the advertiser.
Moonpull also recently partnered with Awin, a giant in the affiliate marketing space, to improve the accuracy of tracking on affiliate transactions.
Best for: Affiliates with large websites and media brand groups.
Pricing: Reach out to the Moonpull team for a quote.
4. Hotjar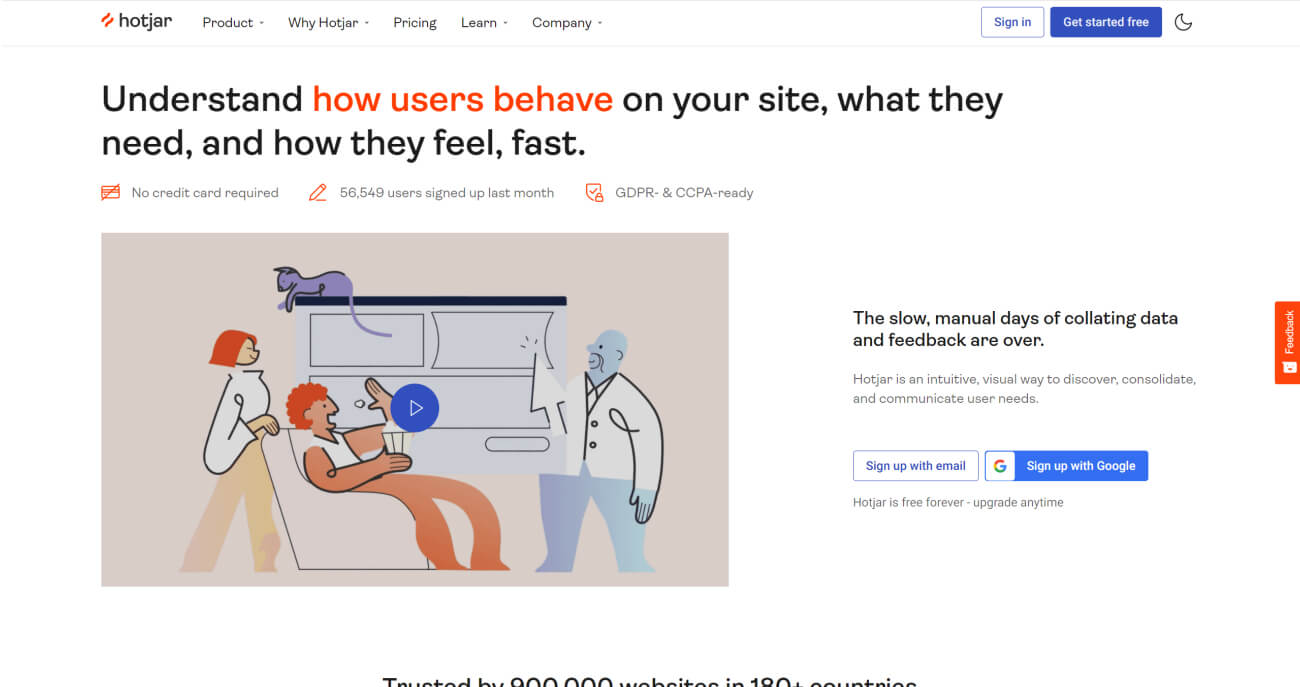 Hotjar allows you to understand how consumers behave on your website through heatmap tracking.
This is key for affiliates who want to identify why a certain page isn't converting like it should.
Hotjar also provides recordings, surveys, and feedback support, so that you can see what your customers see, and get direct feedback on user experience.
The downside to Hotjar is that it's designed primarily for landing pages, not long-form content. This means that it can end up being very expensive if you're tracking a lot of high-traffic articles on your website.
If this is the case for you, Affilimate can be a good alternative.
However, if you have a small website with only a couple of key pages to analyze, Hotjar is a good place to start.
Best for: Affiliates who use landing pages as primary conversion platforms.
Pricing: Plans start at $31 a month.
Page builders and table plugins for affiliates
Implementing tables and page builders into your affiliate strategy can help simplify the buying (and website building) process.
For example, tables can present multiple affiliate offers in a succinct way.
People can quickly decide which product suits them, and click through to the advertiser's website.
Think of it this way: if you were in a rush to find a specific outfit for a business conference, would you go into a thrift store and dig through hundreds of items?
No, you'd go directly to your favorite store for business casuals.
Page builders and table plugins allow you to offer that same streamlined buying process to your audience through visually appealing websites and easy to understand product layouts.
Here are the four best page builder and table plugin affiliate tools to try:
5. AAWP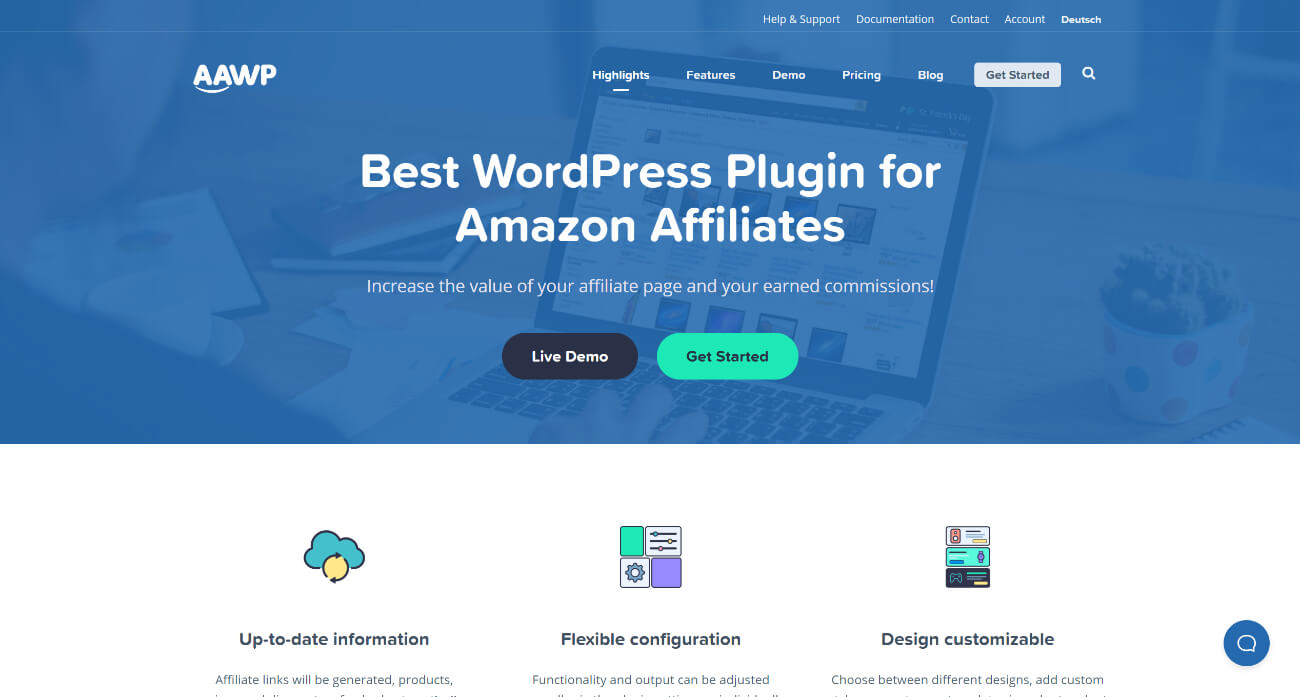 AAWP is a WordPress plugin for Amazon affiliates.
AAWP offers comparison tables, bestseller lists, data fields, and new release lists, which organizes your content in the most shoppable way possible.
The plugin is available in over a dozen countries, and can be applied to any theme.
Other features include click tracking, translations, and accelerated mobile pages.
Geotargeting is also available with the AAWP WordPress plugin, which forwards foreign site visitors to their local Amazon website.
That way, you never miss out on commissions.
Best for: Affiliates who want to optimize their WordPress websites.
Pricing: Starts at 49 EUR for one website and one year of support.
6. Affiliatable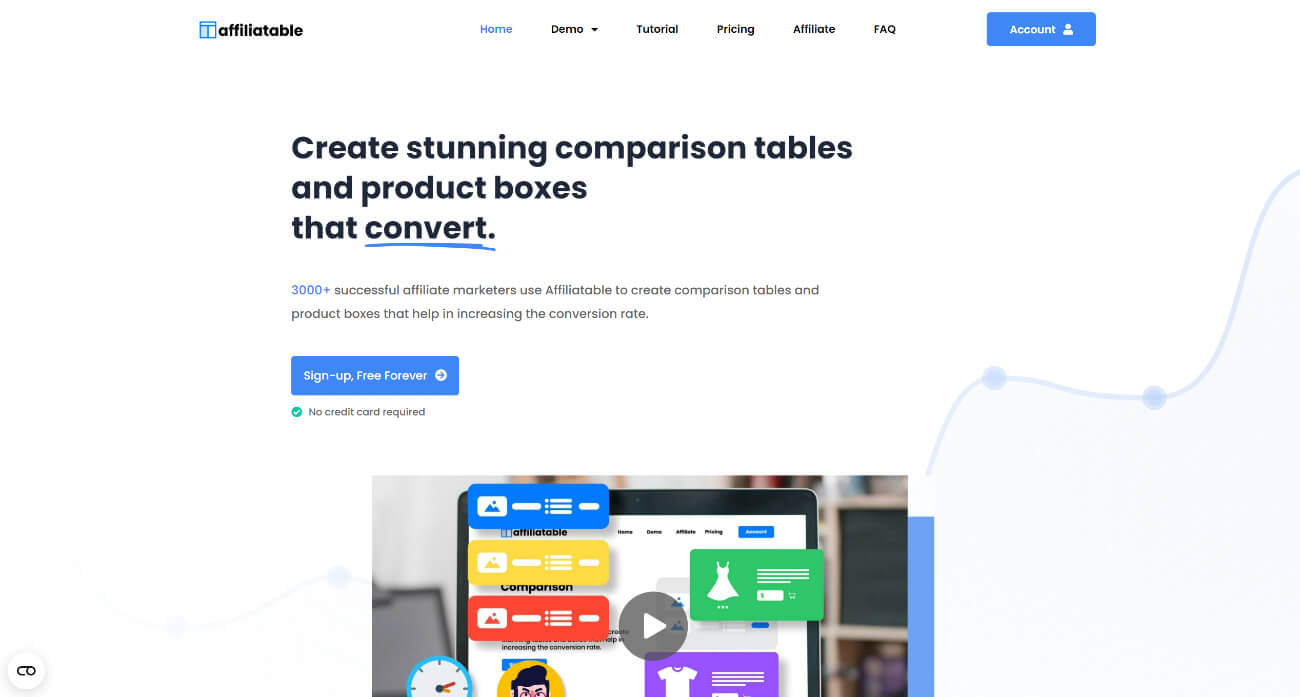 With the Affiliatable plugin, you can create comparison tables and product boxes to help improve your conversion rates.
The different kinds of boxes include top 3, pros and cons, ratings, and versus boxes.
Affiliatable is also a cloud-based WordPress plugin, so it won't affect your site speed the same way many other plugins can.
Other features include Amazon API integration, schema optimization, WordPress plugin, geotargeting, clicks reporting and more.
Best for: Streamlining the affiliate website development process to save time and earn more.
Pricing: Starts at a one-time purchase of $199.
7. Elementor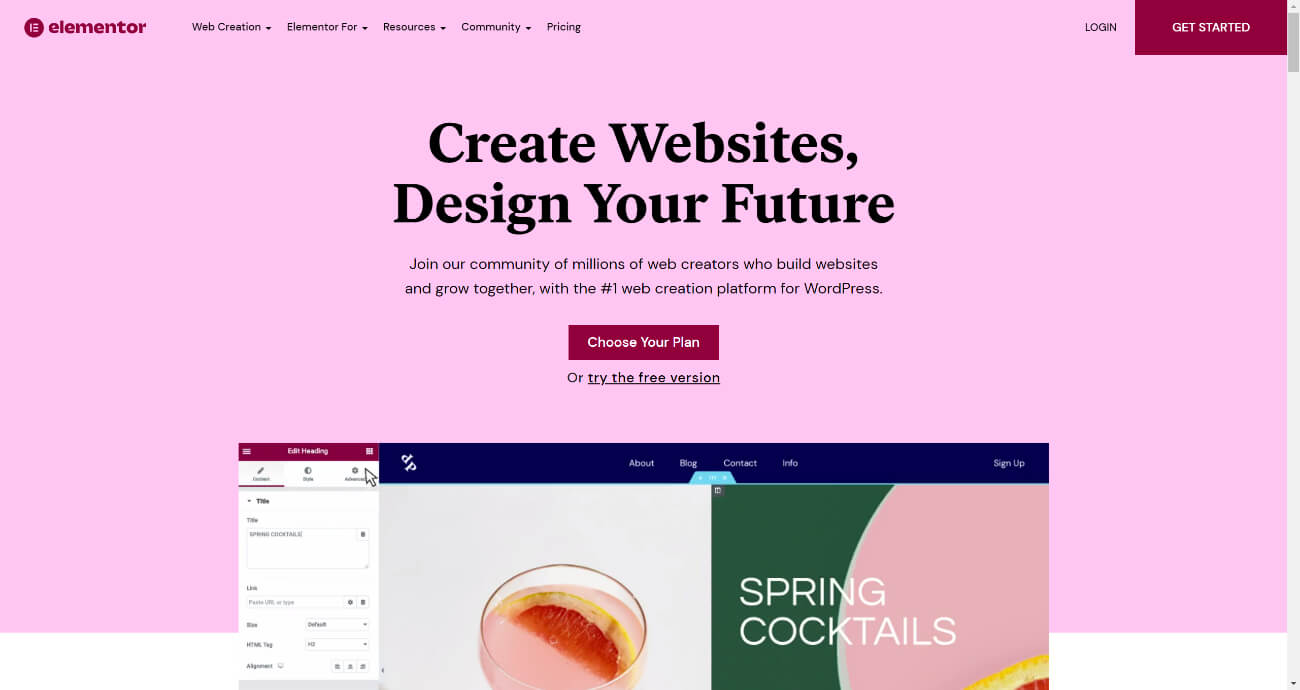 Elementor is a drag and drop, cloud-based website creation platform for WordPress.
It gives you a huge array of options when it comes to the design and user experience of your website.
Elementor's features include responsive and live editing, a theme builder, landing page and ecommerce builders, and much more.
Elementor also allows you to create animations on your website landing pages, and choose from dozens of website templates, affiliate tools and plugin integrations.
Best for: Affiliates looking for a dynamic and responsive website design platform that integrates seamlessly with affiliate marketing tools.
Pricing: Starts at $69 per year.
8. Thrive Architect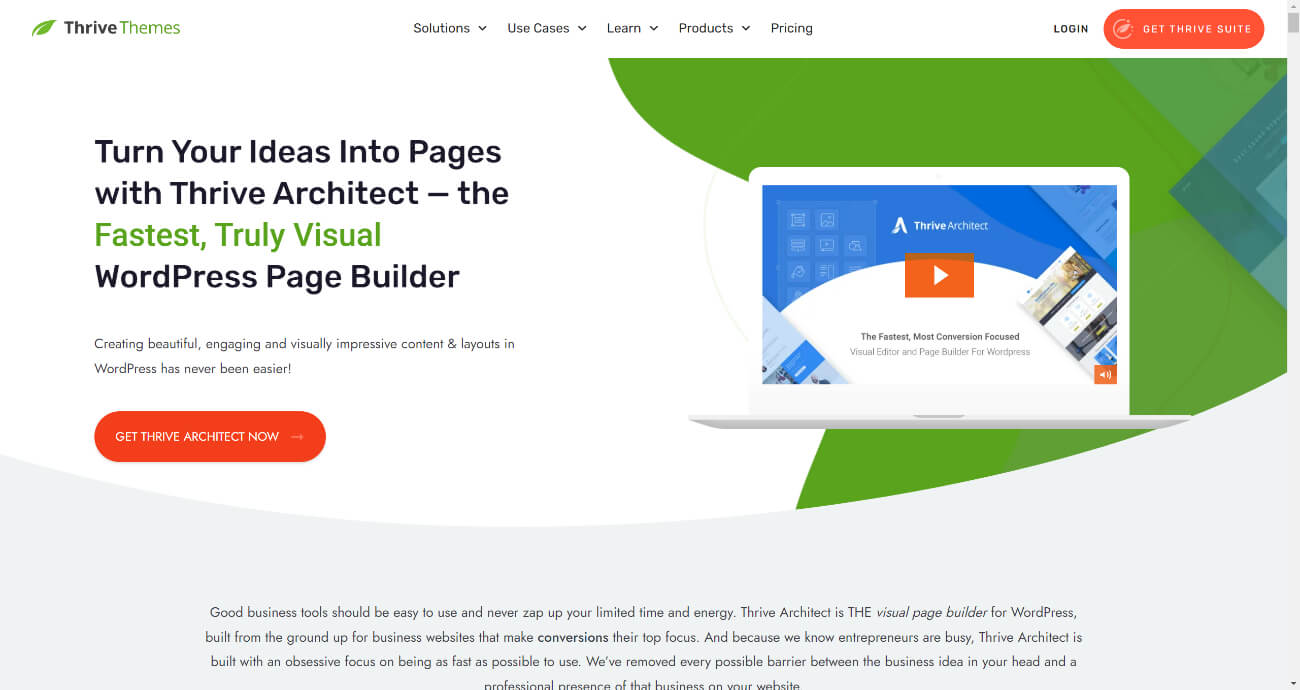 Thrive Architect is a fast and efficient WordPress visual page builder that specializes in optimizing conversions.
Features include pre-built conversion elements, landing page templates, blog post templates, mobile responsive editing, and dynamic animations.
The platform has suites for consultants and agencies, coaches, online courses, ecommerce businesses, bloggers and affiliate marketers.
In short, Thrive Architect is a great platform to build your digital presence if you want to focus on optimizing affiliate conversions from day one.
Best for: Media brands creating multiple conversion-focused websites, and affiliates looking for an intuitive page builder.
Pricing: Quarterly plans start at $99, yearly plans are $299.
Link cloakers and shortener tools for affiliates
While the term "link cloaking" can sound like a clandestine tactic, it's actually just a simple way to make your affiliate links more visually appealing.
As long as you follow FTC best practices, and disclose all of your affiliate links, link cloaking is a completely legitimate (and profitable) affiliate marketing strategy.
By using the link cloaking software below, you can make it easier to re-use and replace links when it's time to update your content, which saves a huge amount of time.
It can also allow you to keep your affiliate ID private by putting it behind a URL redirect to protect your commissions.
While some link shorteners can make it difficult to add SubID tracking later on, we've specifically chosen the following affiliate tools because they don't have this issue.
9. ThirstyAffiliates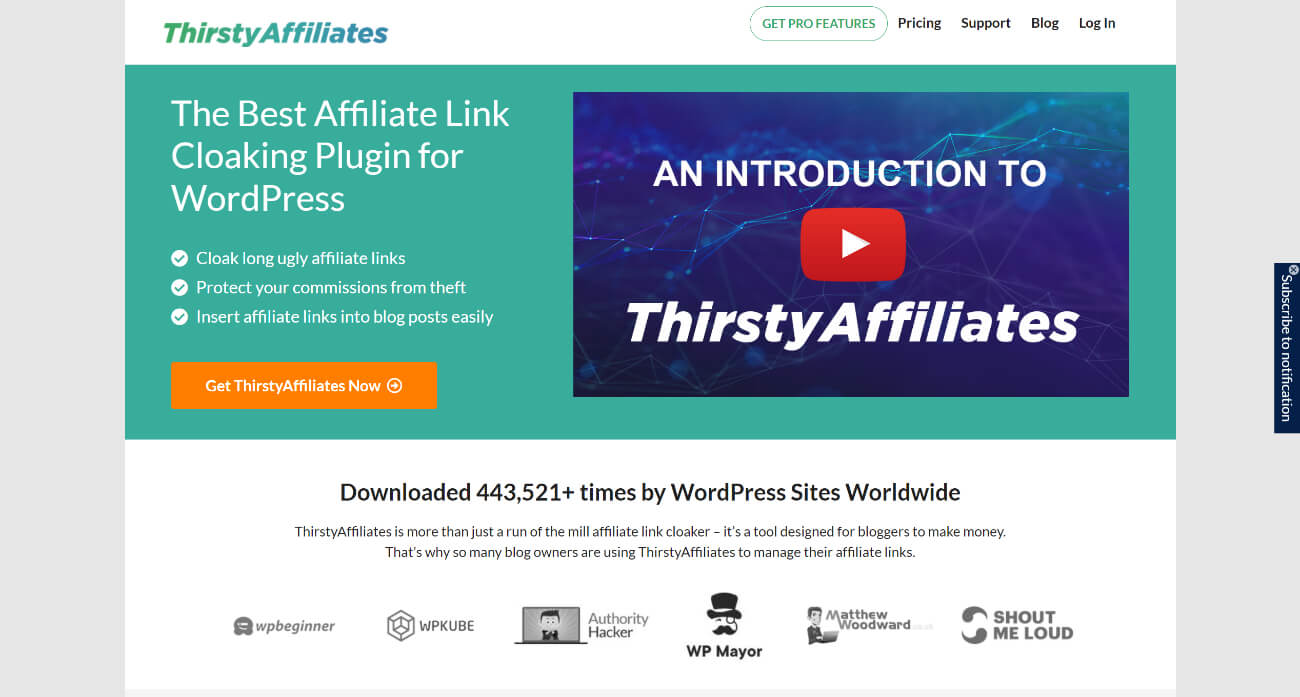 ThirstyAffiliates is a link cloaking software that allows you to use a single checkbox to pass through query parameters to your affiliate links.
It's an easy way to re-use links across multiple pages, while keeping track of the page that originally referred to the commission.
ThirstyAffiliates also includes a number of helpful features including a proactive link fixer that automatically updates your affiliate links.
In addition to this, affiliates can take advantage of third party link importing, reports, and smart link uncloaking, if they so choose.
Best for: Any affiliate who wants to save a ton of time updating their links.
Pricing: Basic plans start at $49.
10. Pretty Links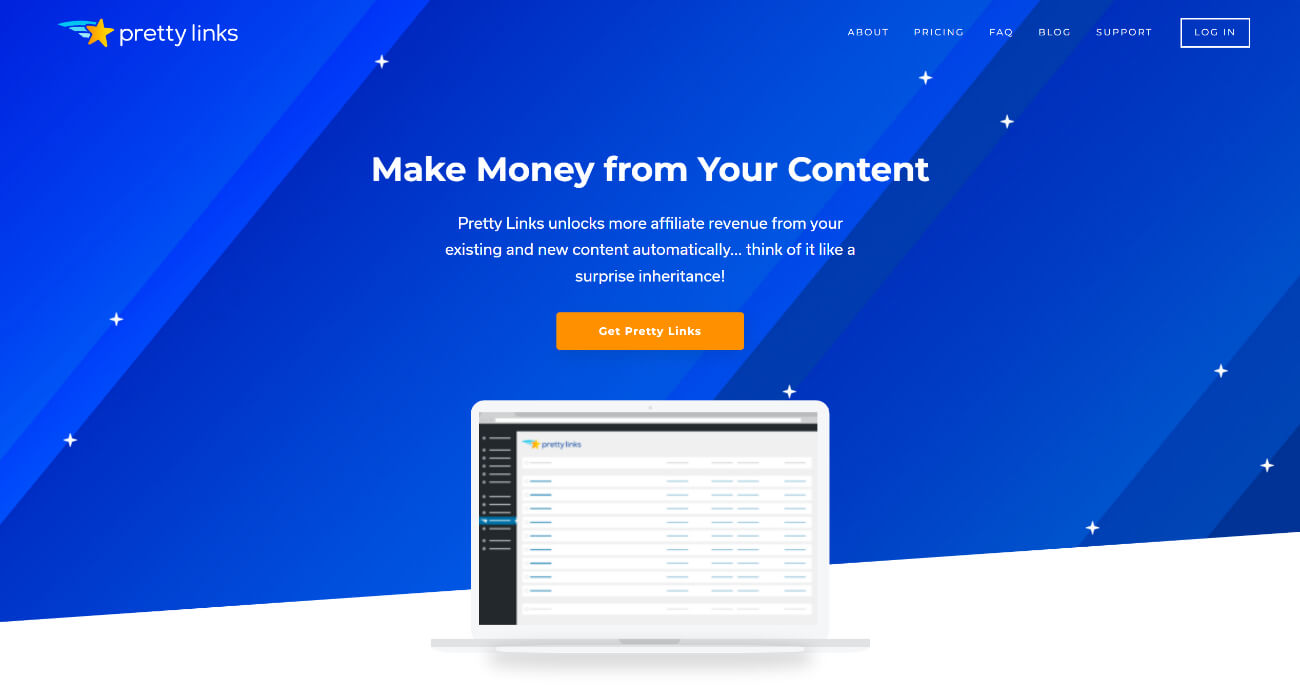 Coincidentally, Pretty Links is owned by the same company as ThirstyAffiliates.
Pretty Links is an easy way to place affiliate links throughout your content with a simple one-time integration on WordPress.
The brand calls itself "the multi-tool of URL redirection," for its ability to do server-side and advanced URL redirects.
A potential downside of Pretty Links is that in order to set up parameter pass-through, you need to check a box for each link on your website.
Nevertheless, with its array of affiliate tool features, Pretty Links can still save you time – and make you money.
Best for: Bloggers and media companies with a large portfolio of websites (and links).
Pricing: Plans start at $99 a year.
11. Short.io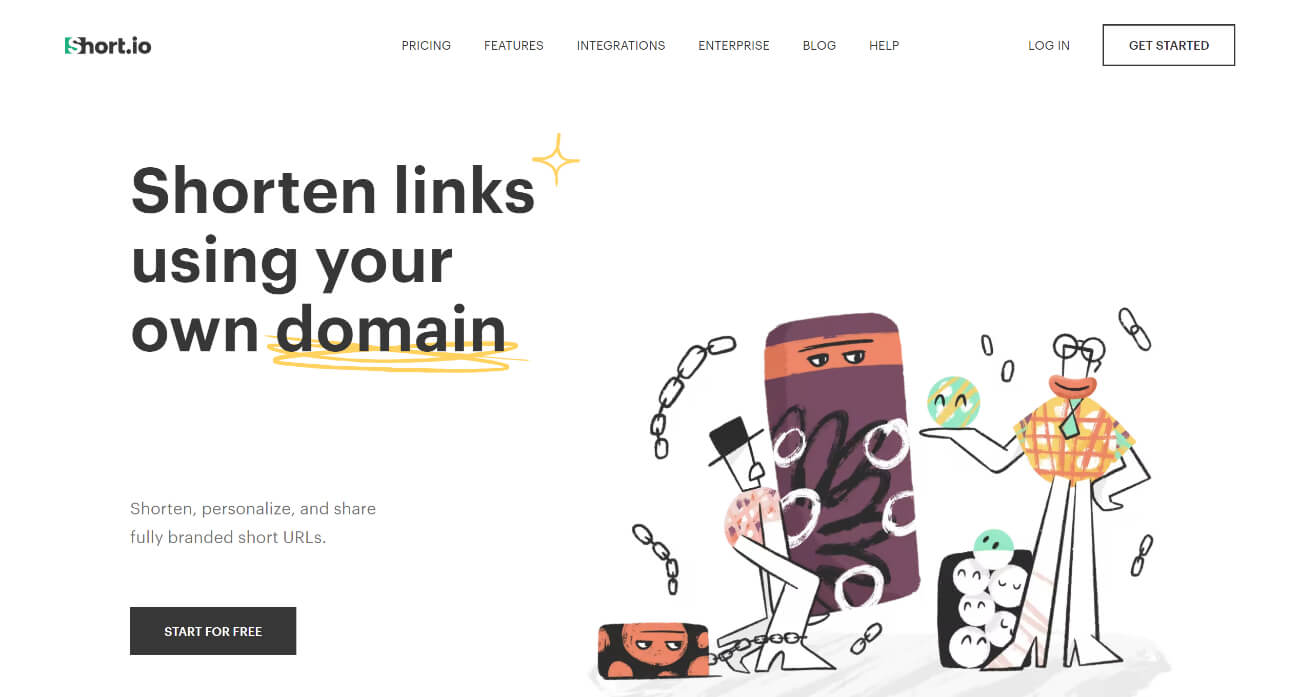 Short.io allows you to personalize affiliate links and shorten URLs, so that they're more visually appealing and shoppable.
Short.io is also a good option for affiliates who want to host their links outside of WordPress, which can get slow as you start to have thousands of cloaked affiliate links.
As a bonus, the platform has a single checkbox for passing-through parameters, which saves time and simplifies the setup process.
Best for: Affiliates who aren't using WordPress, or what to detach their affiliate links from their WordPress instance.
Pricing: Personal plans start at $20 a month.
Social media and email tools for affiliates
12. CoSchedule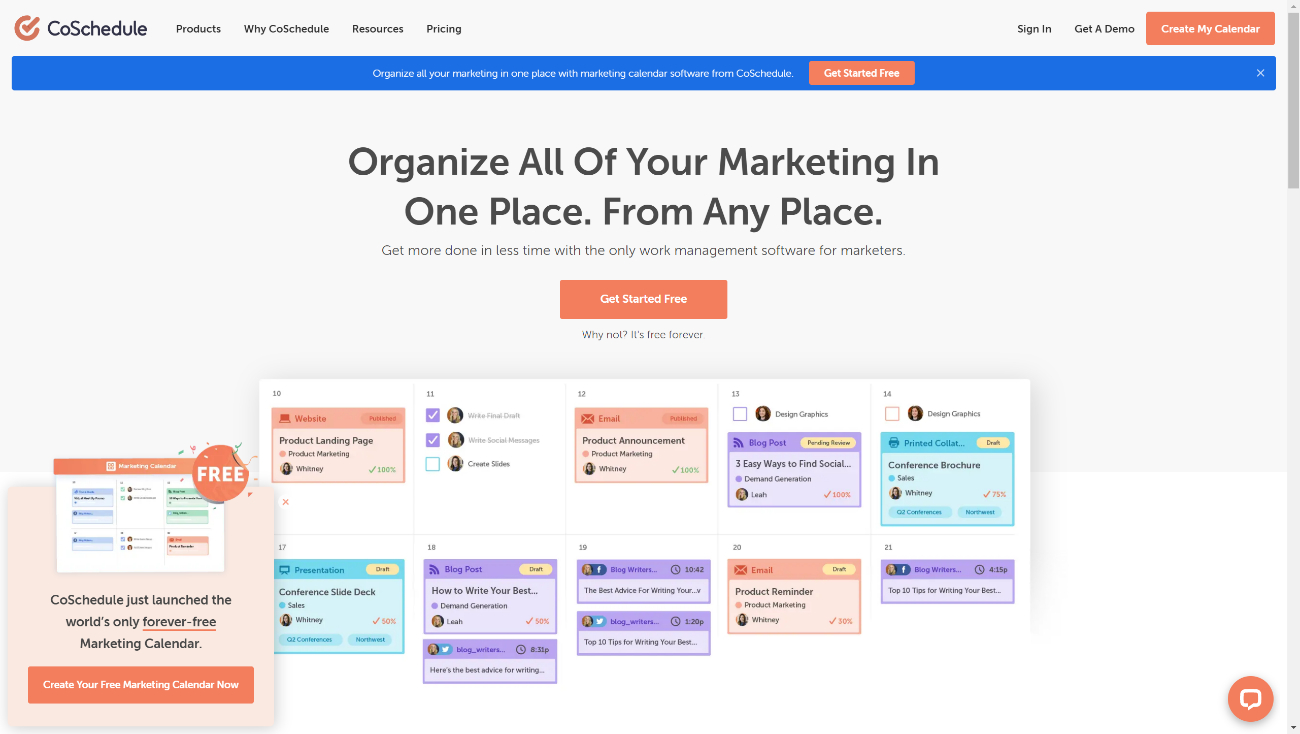 CoSchedule is a comprehensive marketing suite that helps you to organize all of your marketing projects in one place.
With CoSchedule, you can share your progress and marketing calendars with your managers, as well as measure the success of your social media campaigns.
Features of this affiliate marketing tool include a marketing suite, calendar, and training materials.
Best for: Marketing managers, teams, and media agencies looking for a full-service marketing suite.
Pricing: Individuals can sign up free. Teams can reach out to CoSchedule for a quote on the marketing suite.
13. ConvertKit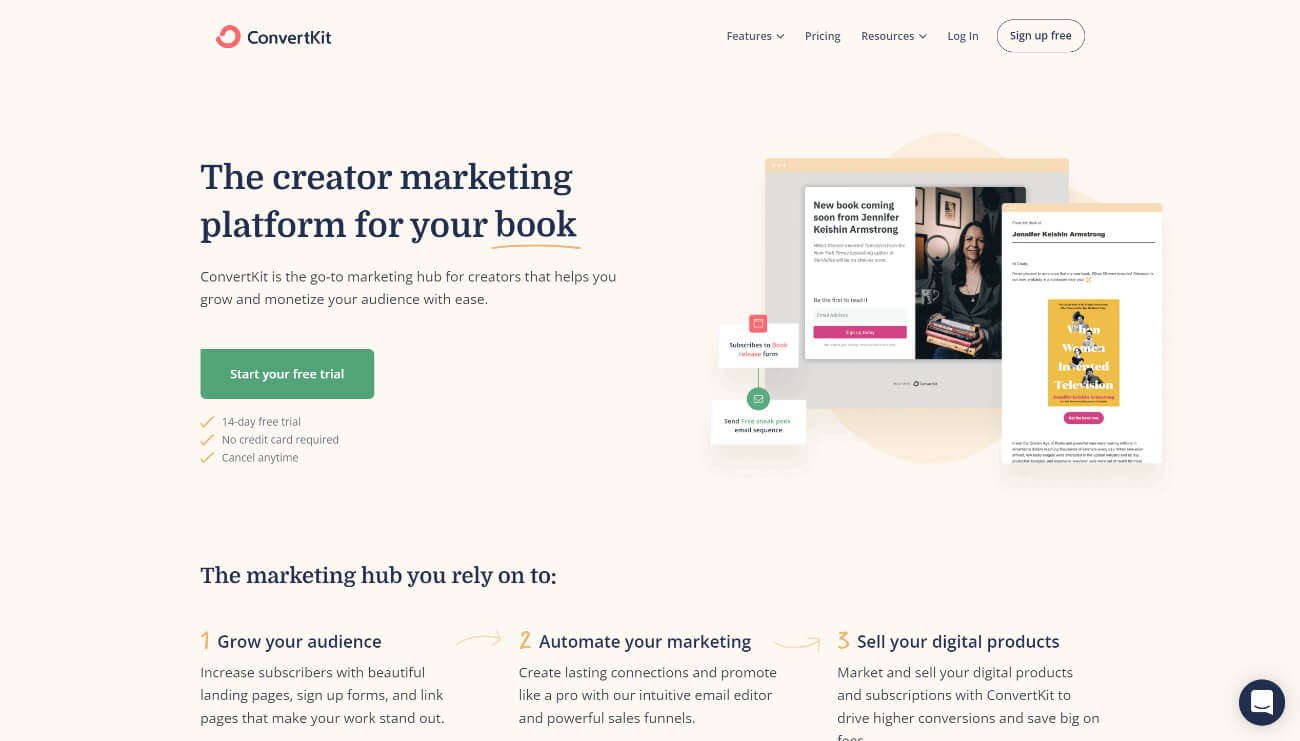 ConvertKit is a go-to marketing platform for creators and affiliates thanks to its design-first ethos.
Its email features include sign up forms, email marketing templates, design capabilities, and automations.
ConvertKit also offers landing page builders, integrations, and ecommerce platforms, which sets it apart from other email-only competitors.
However, if you're looking for a very simple email marketing service, options like MailChimp, and Constant Contact can be a good place to start, priced at $11 and $9 a month respectively for beginner premium plans.
Best for: Affiliates that use email marketing as a main conversion method.
Pricing: Email pricing is dependent on the number of subscribers you have.
14. Sparkloop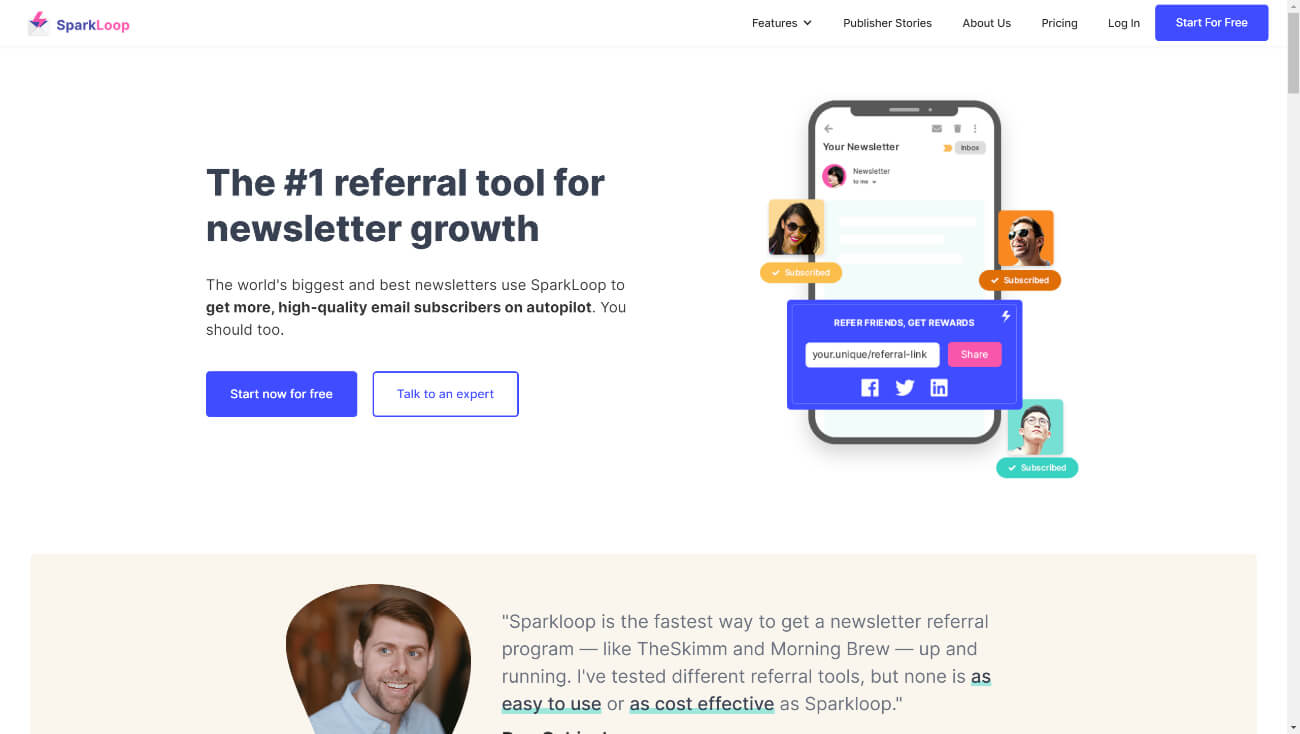 Sparkloop is a referral tool that allows you to grow your newsletter subscriber base by providing incentives for sharing with family and friends.
Think of it as doubling or tripling your email subscribers with the digital version of "word of mouth" marketing.
So, if you're already selling digital products successfully, Sparkloop can be a great way to expand your reach.
If you're a ConvertKit user, you can get Sparkloop included for free with a Creator Pro account.
Alternatively, you can buy it separately if you're using a different email service provider.
Best for: Affiliates who want to quickly grow their email lists, and media brands who send regular newsletters with offers from their advertising partners.
Pricing: Starts at $199 per year for small publishers, or $99 per month for larger publishers.
Affiliate marketing courses and communities
If you want to fast-track your affiliate marketing journey, joining courses and online communities can be great free tools for affiliate marketing.
Here are three affiliate marketing courses and communities that allow you to learn from marketing experts who have been there, done that.
15. affLIFT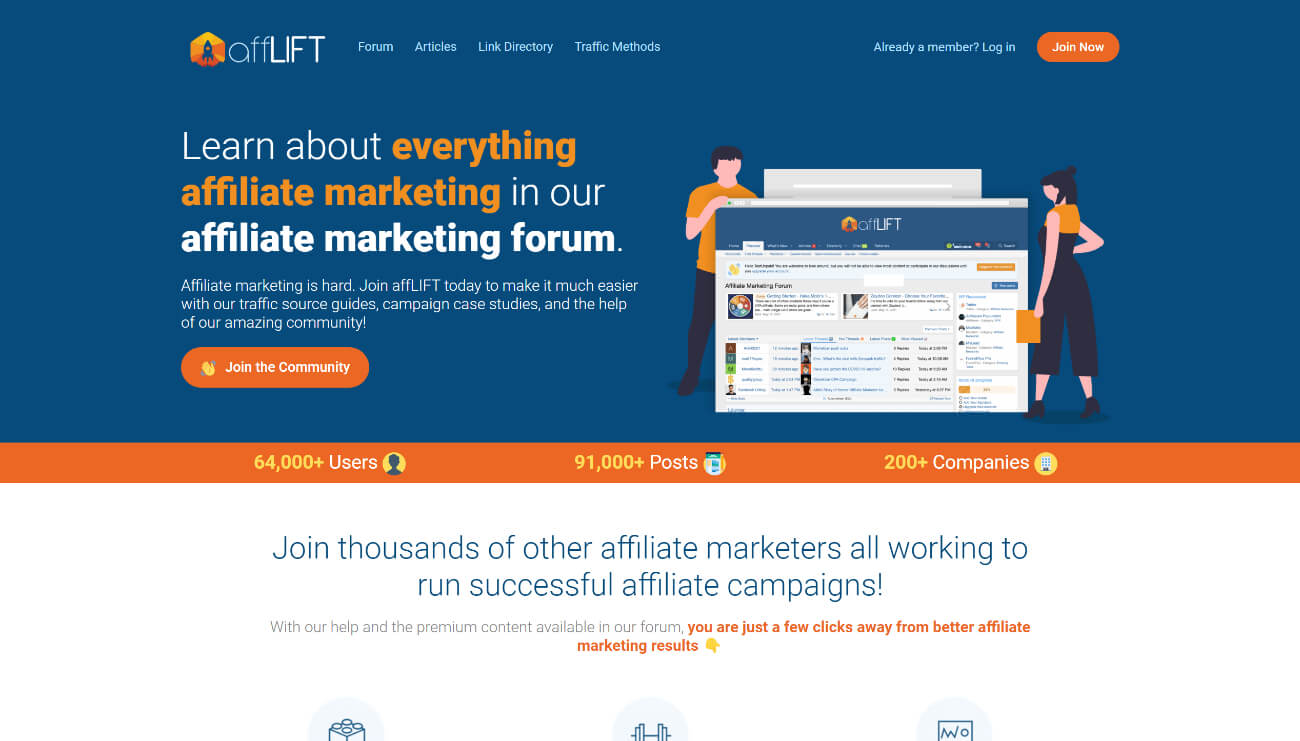 affLIFT is an affiliate marketing community that covers different aspects of the industry through helpful forums, guides, and resources.
The platform especially focuses on media buying and paid traffic affiliate marketing, so if this is an area of interest for you, affLIFT could be a great place to start.
Best for: Newbie affiliates and seasoned marketers looking for fresh ideas.
Pricing: affLIFT is one of the best free affiliate marketing tools to learn firsthand accounts of the industry.
16. Affilorama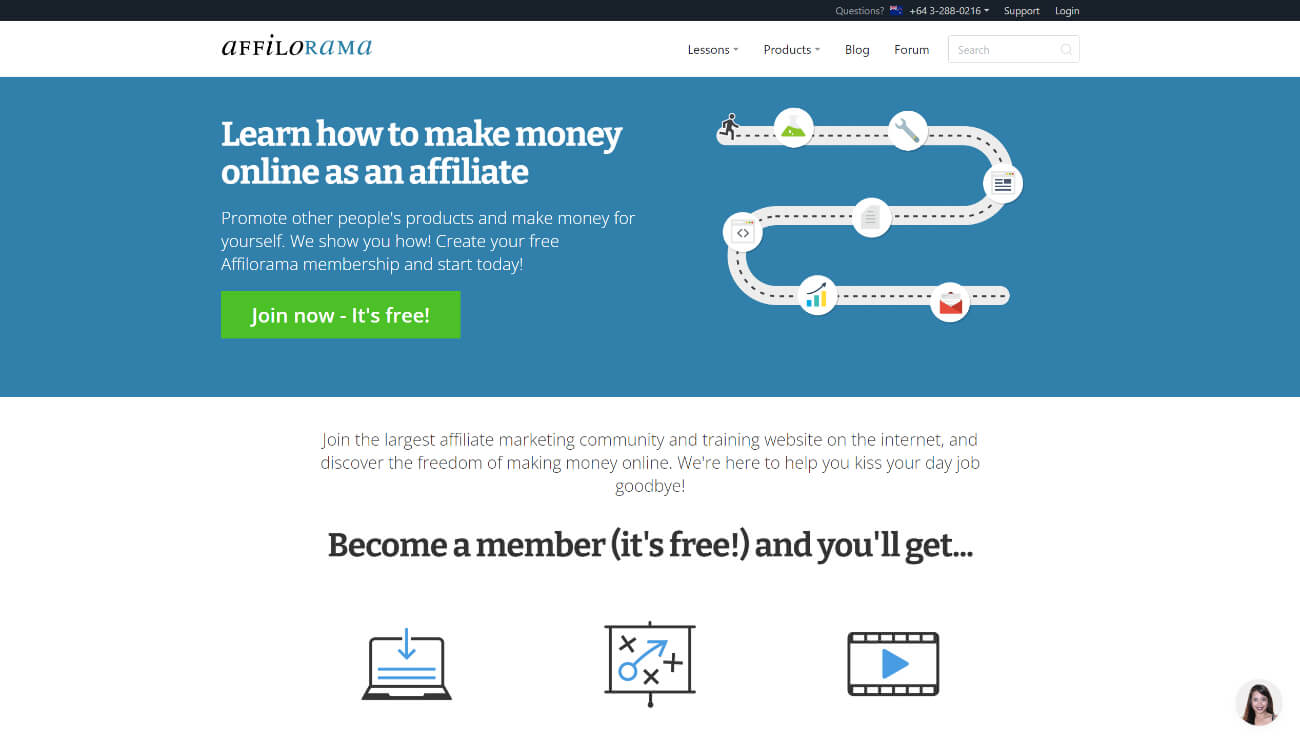 Affilorama is an affiliate marketing training and tools platform that teaches you how to get off on the right foot in the industry.
The platform offers training videos and guides on everything from site building, to market research, to content creation, and website promotion.
If you're looking for a resource full of free learning tools that you can translate into real affiliate dollars, consider joining the Affilorama platform.
Best for: Affiliates looking for the latest strategies and a new perspective.
Pricing: Paid guidebooks start at $37.
17. /r/juststart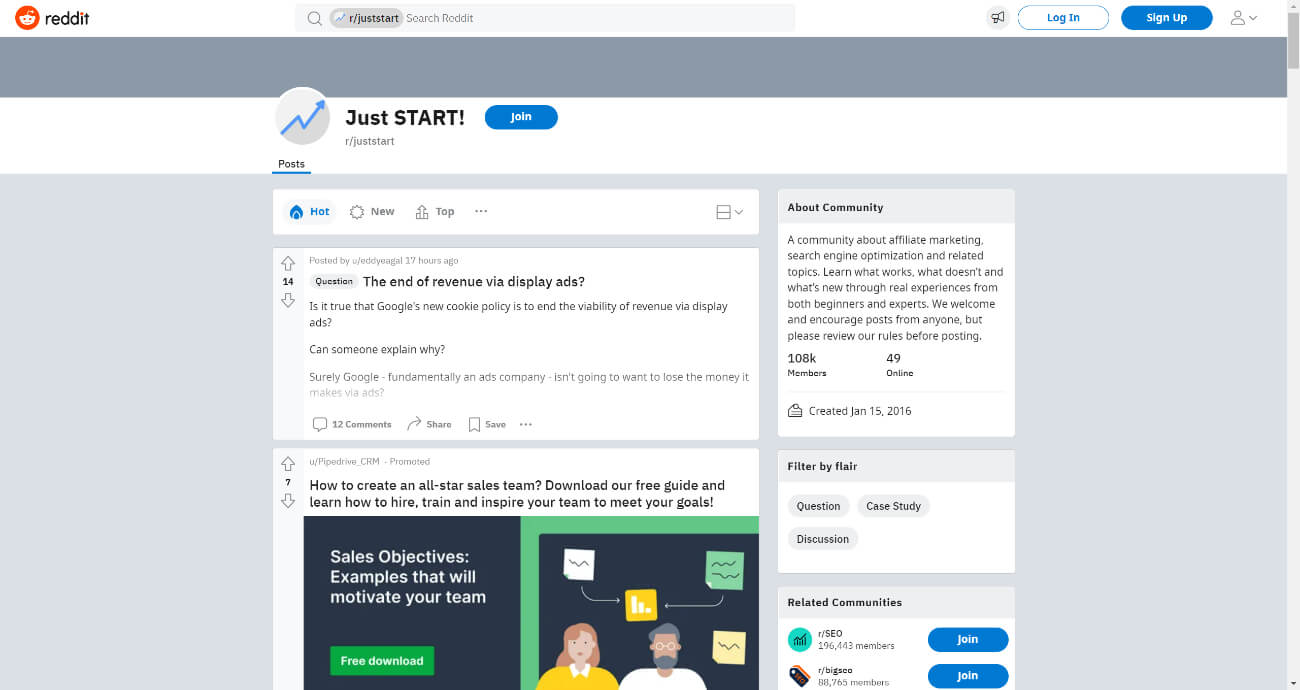 /r/juststart is a Reddit community that focuses on affiliate marketing, SEO, and industry-relevant topics.
On the forum, you can find trending affiliate marketing topics, first hand success stories, and frequently asked questions with tons of great advice.
As a free platform, it's a great way to understand the landscape of the affiliate industry without making a monetary investment.
Best for: New and seasoned affiliate marketers looking to learn from first-hand affiliate marketing storiesof trial and error.
Pricing: FREE
Interested in learning more about affiliate marketing? You can also subscribe to the Affilimate blog, where you'll learn from a data-driven approach to generating revenue through affiliate marketing.
SEO tools for affiliates
SEO and keyword tools for affiliate marketers are a key ingredient to getting clicks and conversions on your affiliate offers.
With a little focused keyword research, they can help you pinpoint high volume, high buyer intent keywords that convert.
These SEO tools can also help you to spot issues on your website, from broken links, to slow page speed and errors.
That way, you can fix any bugs in your affiliate pages, and grow your website much more quickly.
Here are the best affiliate marketing tools for SEO and keyword research, suitable for everyone from media companies, to one-person affiliate marketing shows.
18. Semrush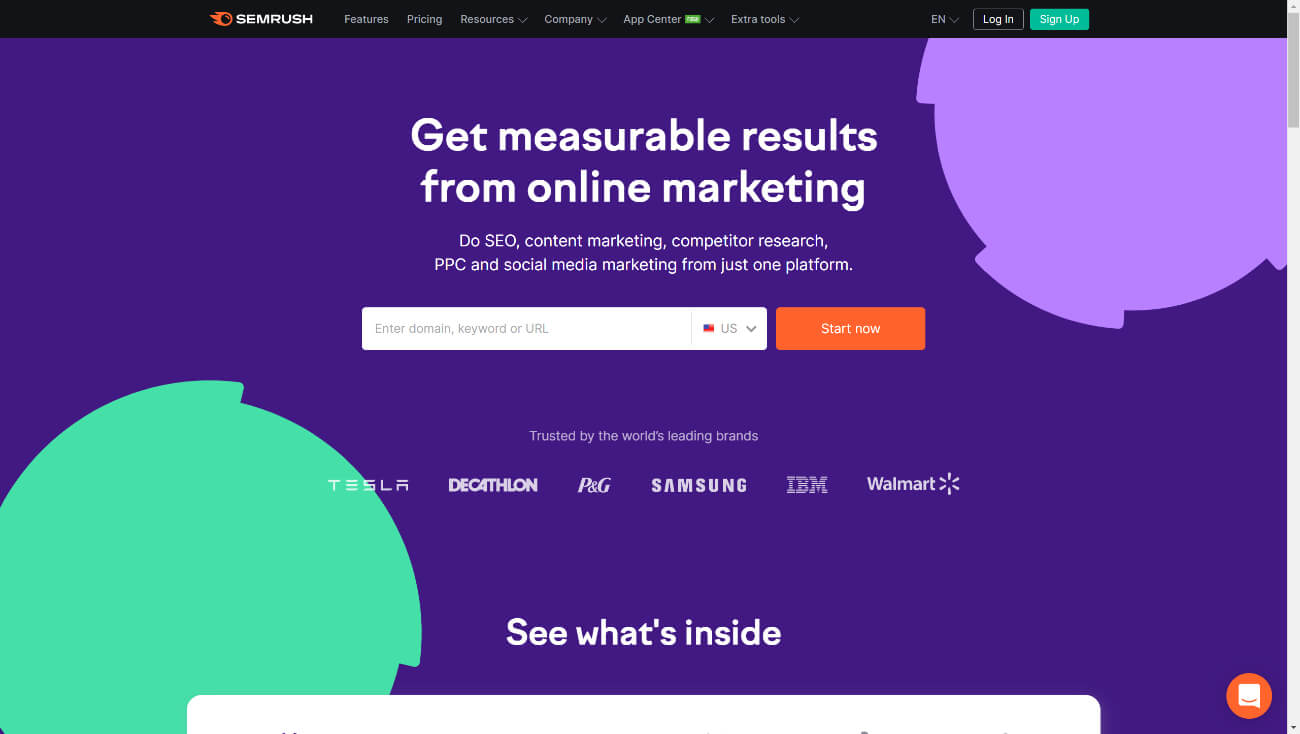 Semrush is an award winning SEO tool that gives you comprehensive insights on how to grow your website's organic traffic.
Features include content marketing, organic and PPC keyword research, competitor SEO analysis, link building, content optimization, rank tracking, and much more.
Through the Semrush platform, affiliates can also hire content writers, marketers, use content builder software, and optimize their Amazon Associates strategy.
With monthly plans starting at $119.95, Semrush is best for small businesses, agencies, and large enterprises.
Best for: Small marketing teams to large enterprises.
Pricing: Pricing starts at $119.95 per month.
19. Ahrefs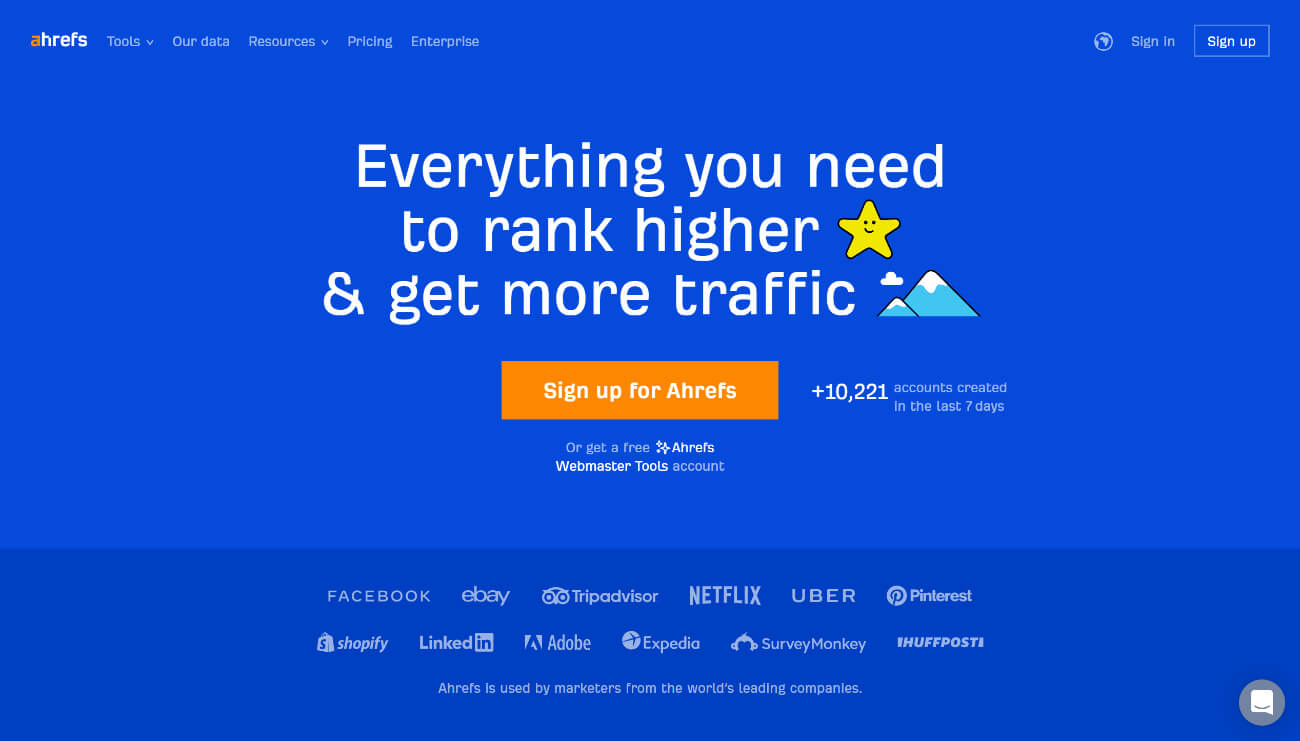 Ahrefs is another keyword research tool that's used industry-wide thanks to its wide range of analytics insights.
Affiliates can use Ahrefs to easily find high volume, low competition keywords, build lists, and organize their competitive keyword efforts.
With Ahrefs, you can also assess your website's health score, domain rating, and monitor website traffic and organic backlinks.
Best for: Ahrefs has plans for small businesses, SEO professionals, and large enterprises.
Pricing: Monthly plans start at $99.
20. Keysearch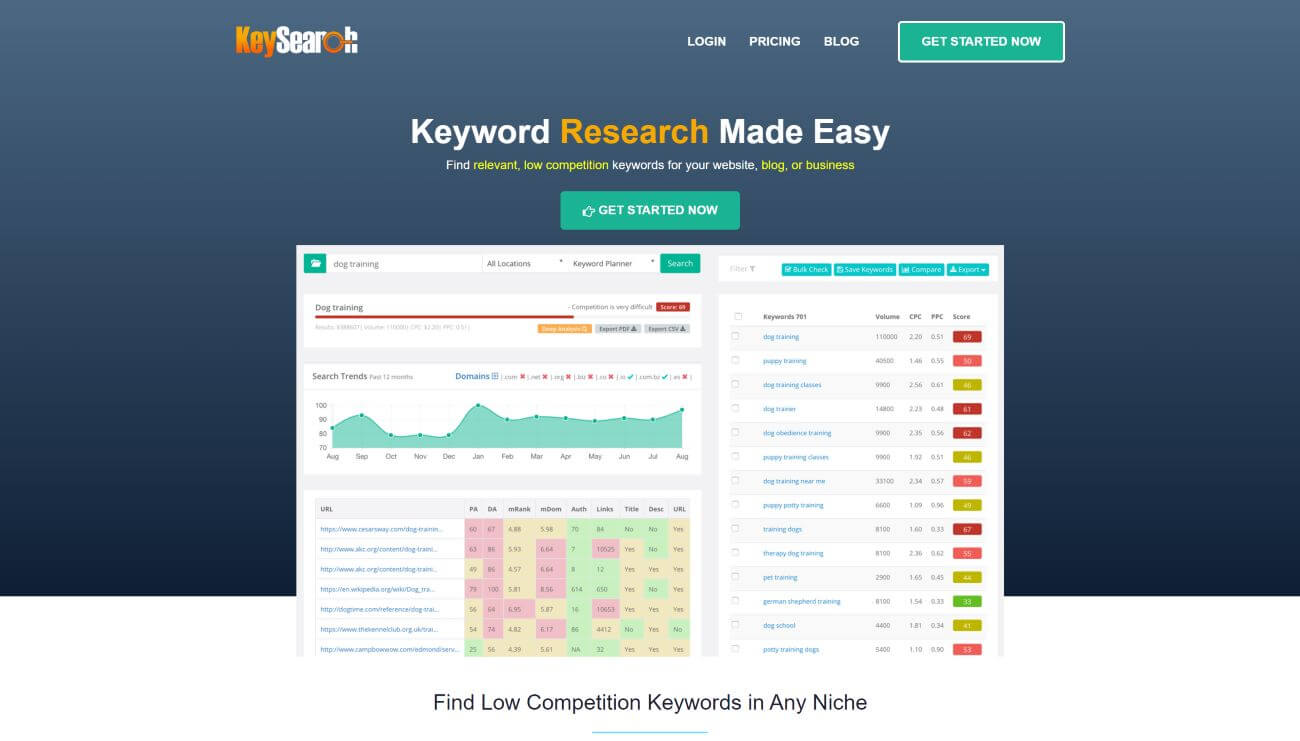 Keysearch is a budget-friendly keyword tool that's popular with bloggers thanks to its in-depth analytics at a fraction of the cost of most competitors.
Keysearch's features also include a content assistant, YouTube researcher, backlink checker, rank tracking and SEO competition analysis, and more.
Best for: Bloggers and freelance SEO content writers.
Pricing: Plans start at $17 per month.
Conclusion
To summarize, are affiliate marketing tools the right choice for your business?
If you like streamlined processes, more commissions, and automated systems that save you time and money, then absolutely.
While new affiliates can benefit from keyword tools like Semrush, Ahrefs, and Keysearch, established affiliate marketers can integrate performance marketing suites like Affilimate.
Each of these tools cater to different needs depending on the level you are at in your affiliate marketing business.
All in all, when deciding which affiliate marketing tool is right for you, consider where your affiliate marketing strategy might be falling short.
One of these affiliate marketing tools could be the missing piece to consistent conversions.