YouTube Affiliate Marketing: Monetize Your Channel in 2023
By Natalie Robin · Updated Jan 17, 2023
With over 14.3 billion monthly visits to the platform, there are countless opportunities to convert YouTube affiliate sales.
Plus, YouTube affiliate marketing can be done in practically every niche – from entertainment, to inspirational, to educational content.
The platform is even jokingly known as "YouTube University," thanks to the hundreds of tutorials you can find.
So, with billions of visitors flocking to YouTube in search of niche content, is it any wonder that YouTube is one of the best marketing channels for affiliate marketers?
Affiliate marketing on YouTube works much the same way as traditional affiliate marketing: affiliates promote links in their video descriptions in exchange for a commission on sales.
However, Youtube affiliate marketing stands out as an opportunity because video content makes it easier to connect with your audience on a personal level.
On YouTube, you can set yourself apart in competitive niches by letting your personality shine.
In this post we break down affiliate marketing on YouTube, from high converting video ideas, to the step-by-step process of making YouTube affiliate sales.
Why should affiliates use YouTube?
YouTube can help affiliate marketers to maximize their brand recognition and earnings.
You might be thinking, "That's what they say about every social media platform," *insert eye-roll emoji here*.
We get it – as an affiliate marketer, it can be tough to know where to invest your energy.
That said, there are four key factors that set YouTube apart:
1. It's the second most visited website in the world
Next to Google, YouTube is the second most popular search engine in the world.
The monthly audience of over 30 billion visits, (21% of which are US-based) is a huge potential customer base for aspiring YouTubers.
2. It's easy to get started
Just like the infamous design principle states, when it comes to starting a YouTube channel "keep it simple".
As long as you have good information to share, you don't need to have amazing videography skills.
Think about your favorite YouTubers: many start by sitting in a quiet room, with a simple background, sharing helpful information.
3. You can reuse content from your blog posts to make new videos
There are so many ways that you can cross-promote content on YouTube.
For example, you could easily turn an existing blog into a YouTube video.
You could then embed the video into the blog post to make it more dynamic, and you don't even have to come up with a new content topic.
4. You don't need 1,000 subscribers to start affiliate marketing on YouTube
Lots of new YouTubers focus on being monetized with YouTube's Partner Program.
But you can actually start earning through YouTube affiliate marketing long before you qualify to be monetized with YouTube ads.
Use YouTube SEO, keyword strategies, and good old networking to get your first few thousand video views from your target audience. Take, for instance, Cathrin Manning – a US-based content creator and YouTuber who shares her lifestyle and online business journey with nearly half a million subscribers on YouTube.

6 types of affiliate marketing YouTube videos
The sky's the limit when it comes to the kinds of videos that generate revenue on YouTube.
Here are the different types of YouTube affiliate marketing videos, and how they convert sales:
Product Review Videos
Product review videos generate affiliate marketing revenue thanks to high buyer intent searches.
Think about it: when you're searching for "the best of" a certain item, it's often because you want to purchase the product in the near future.
In this example, YouTuber Corey Jones shares lifestyle and YouTube-related content to over 80k subscribers. His video on YouTube gear currently ranks #2 for the keyword "the best video equipment for youtube."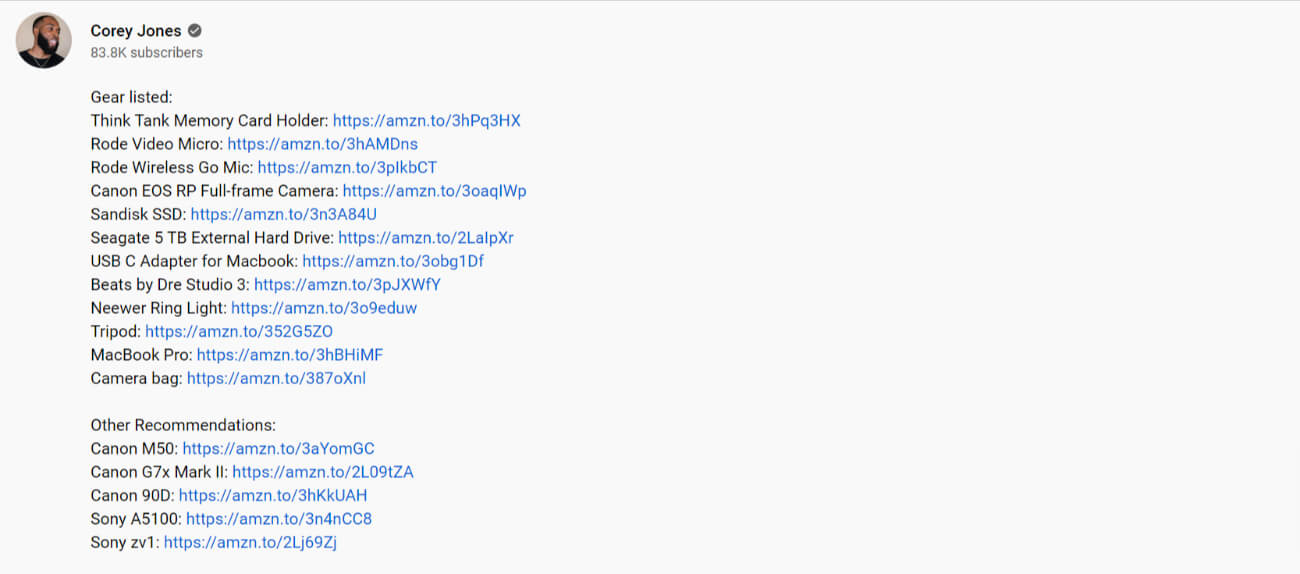 This video from YouTuber Corey Jones demonstrates how product reviews drive affiliate sales.
Corey describes all of the tech equipment he uses, and invites users to check out those exact products through his affiliate links.
This example of affiliate marketing on YouTube works because Corey has established trust as a YouTuber using these products himself.
At the same time, new traffic has already expressed high buyer intent by searching for the keyword "the best video equipment for YouTube."
If the video adequately answers their questions about YouTube gear, they'll be inclined to click through his affiliate links to check out the products.
"How-to" Videos
Think of "how-to" videos as content that solves a specific problem.
For example, say you create videos for an audience of newbie graphic designers.
You could film technical videos on how to use Adobe Creative Suite, and become the go-to source for panicked college students pulling their hair out at 3AM (the stress is real!).
By creating these kinds of helpful how-to videos, you help solve a major stressor, and you establish trust by immediately solving a problem.
You can then promote related affiliate partnerships in the online education space, like deals on design software, or online design courses.
This video by Kate Silver Adobe Teacher is a great example. She ranks in the top five for the keyword "how to use pages in indesign." She includes a link in the video description to a personalized Skillshare affiliate link, as well as an online Adobe InDesign course.

Unboxing Videos
Unboxing videos can perform well in just about every niche, but they're probably the most popular in lifestyle and fashion.
This video by The Everyday Dad shows how focusing on a specific product can help drive purchasing decisions.
Think about it: if you're searching for Sony A6100 unboxing videos, it's probably because you want to see all of its bells and whistles before making the purchase.
This means that a large percentage of the people searching for these kinds of videos are at the end of the "buyer funnel."
YouTuber "The Everyday Dad"'s video below is an example of how you can hone in on a specific product to discuss its features and benefits, and help viewers make a purchasing decision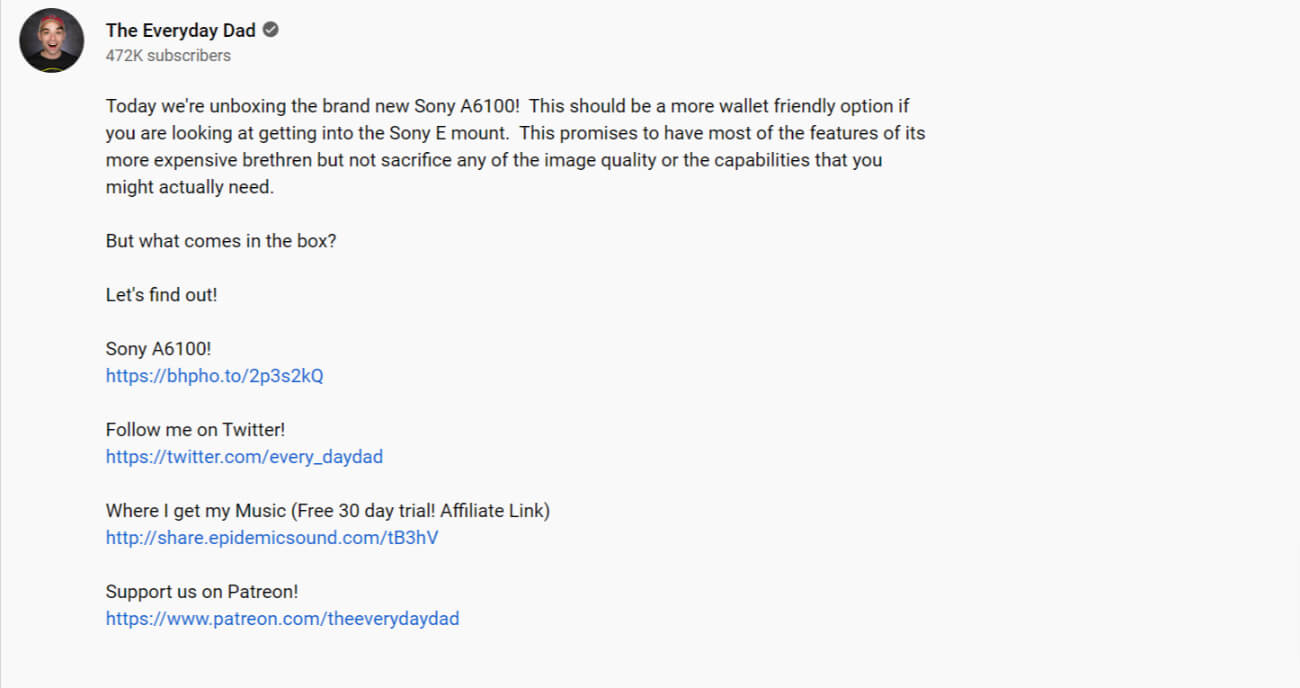 If you give your audience a great informational video on a product they're already interested in, you'll be in a good position to earn YouTube affiliate commissions.
"Best-of" Videos
"Best of" videos talk about a range of the best products within a particular category.
They can be based on your personal tastes, or on objective reviews that you've compiled.
This video on the best matcha powders by YouTuber Meredith Mao is a great example of how to create an informative video that drives affiliate marketing traffic.

In this video, Meredith Mao compares matcha latte powders in this YouTube affiliate marketing example demonstrating how promoting different brands of one specific product can help drive sales.
Her video ranks in the top two results for the keyword "best matcha green tea powder."
She offers a price-conscious solution to a high buyer intent keyword, which gives her a high chance of quick sales.
Keep in mind that when promoting more expensive high ticket products, you typically need to nurture your audience through a longer sales funnel.
Roundup Videos
Roundup videos introduce multiple products to a very niche audience, increasing your chances of making an affiliate sale.
Abbey Yung has created a loyal audience based on her transformative hair tips and advice.
Which means that when she posts a video called "If I Could Only Keep 10 Products," her audience takes her recommendations seriously.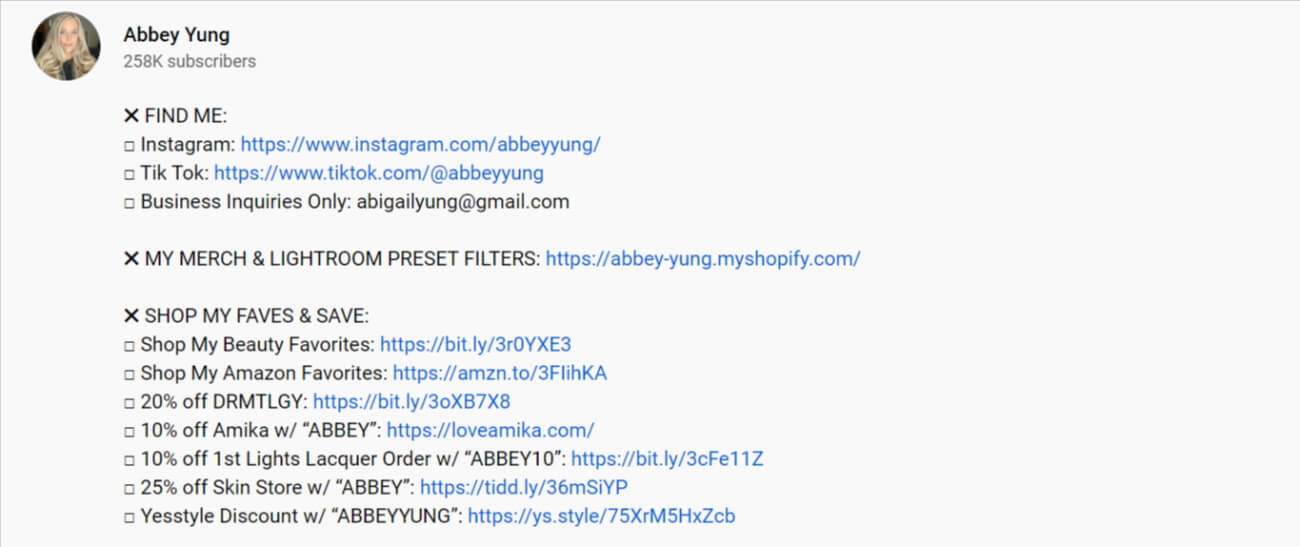 YouTuber Abbey Yung's haircare video "If I Could Only Keep 10" is a great example of how you can structure your content through roundup posts. In the description of the video, she promotes the relevant affiliate links after raving about her favorite products.
So how can you re-create this YouTuber's success in a roundup post, you ask?
Think about what you're an expert in; what your friends and family already come to you for. Or, in the business world: what tools and products would you recommend to colleagues?
Once you've determined the topic that would work best for you, you can create a helpful round-up video and include YouTube affiliate links and promotions in each description.
Tutorials
Tutorial and "how-to" videos have a lot of similarities, but the distinction here is that tutorials are in-depth lessons.
The video doesn't have to be very long, as long as your audience comes away feeling like they've learned a new method or strategy.
As a YouTube affiliate marketer, a tutorial can be a great way to introduce multiple products you love to your audience.
Take this example from YouTuber Nina Ubhi, who shows "the correct steps to take when applying makeup." This video demonstrates how affiliate marketers can promote multiple affiliate products in one piece of video content.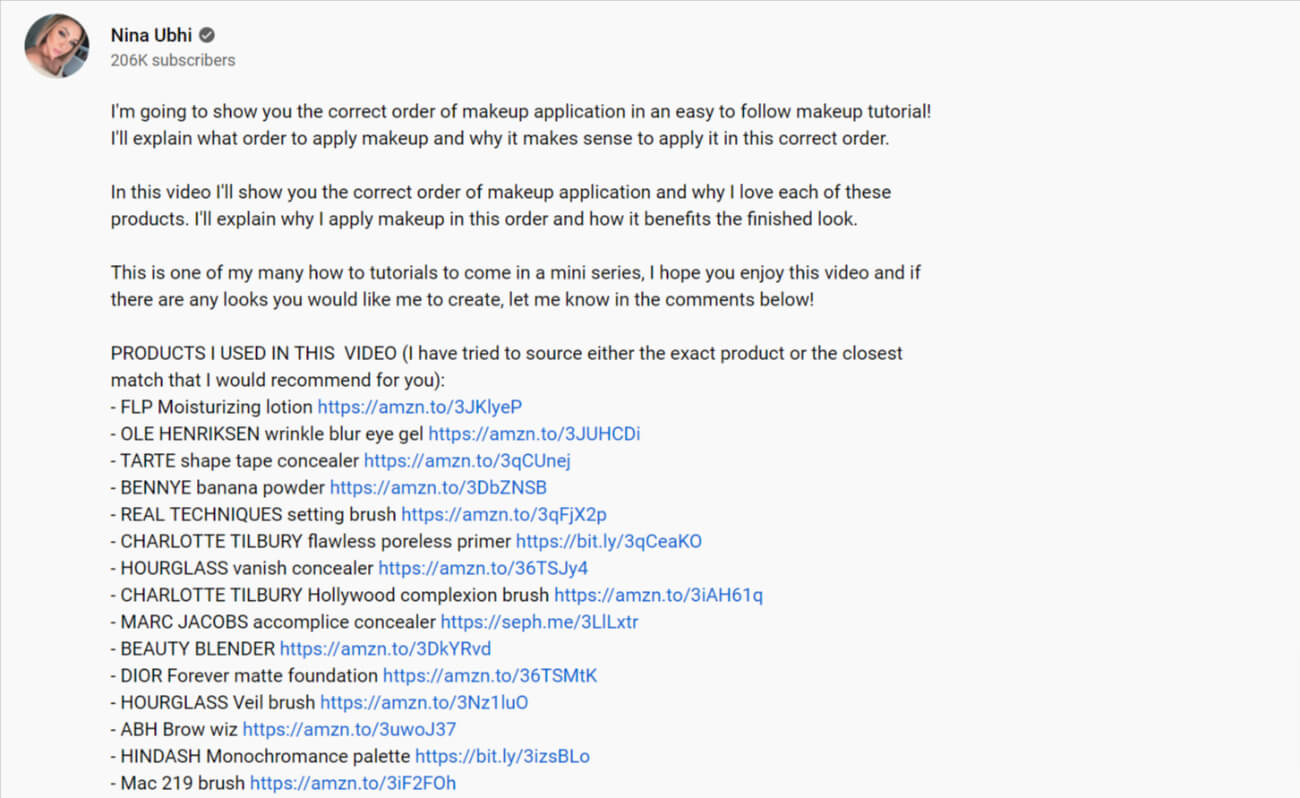 In the description of the video, Nina shares the affiliate links of each of the makeup products she used in the tutorial.
If her audience wants to get the same effect, they can easily purchase the products through her affiliate links.
How to make money with affiliate marketing on YouTube
If these YouTube affiliate marketing ideas have you excitedly brainstorming potential posts, you're nearly ready to dive into the world of affiliate YouTube content.
Here are a few strategies you can take to help direct your efforts:
1. Promote "direct" affiliate links in your videos
"Direct-linking" works by sending your audience directly from a traffic source to the advertiser's sales page through your affiliate link.
In the case of YouTube, direct linking is used anytime a content creator includes an affiliate link in the description of their video.
When asked about the best converting strategies for affiliate linking, here's what Aaron Radcliffe, the founder of the YouTube channel Nomads Nation had to share:
"Use Geniuslink or similar software to cloak your affiliate links.
This makes them more aesthetically pleasing and trustworthy, therefore increasing your CTR.
For example, at Nomads Nation we use go.nomadsnation.com for all our affiliate links, which is much nicer (and less spammy) looking than a normal affiliate link or a bit.ly link.
Doing this will absolutely increase your CTR and sales."
"Link cloaking" is a way to rebrand your affiliate links via a URL redirect so that they are easier to track. This can make affiliate links look more trustworthy than a link with a series of letters and numbers.
Important to note: You must disclose anytime you share an affiliate link.
YouTube generally allows affiliate marketing direct links, but not all affiliate marketing programs or social media platforms allow it.
Read the terms and conditions of each program and social media platform to ensure that your affiliate marketing efforts comply with the terms.
2. Convert potential customers more effectively through an affiliate funnel
In general, an affiliate funnel gives potential customers a more well rounded idea of what they will get from the product.
With a landing page funnel, you would first click on a YouTube affiliate link that looks like this:

Then you would go to page like this, where you can purchase the product: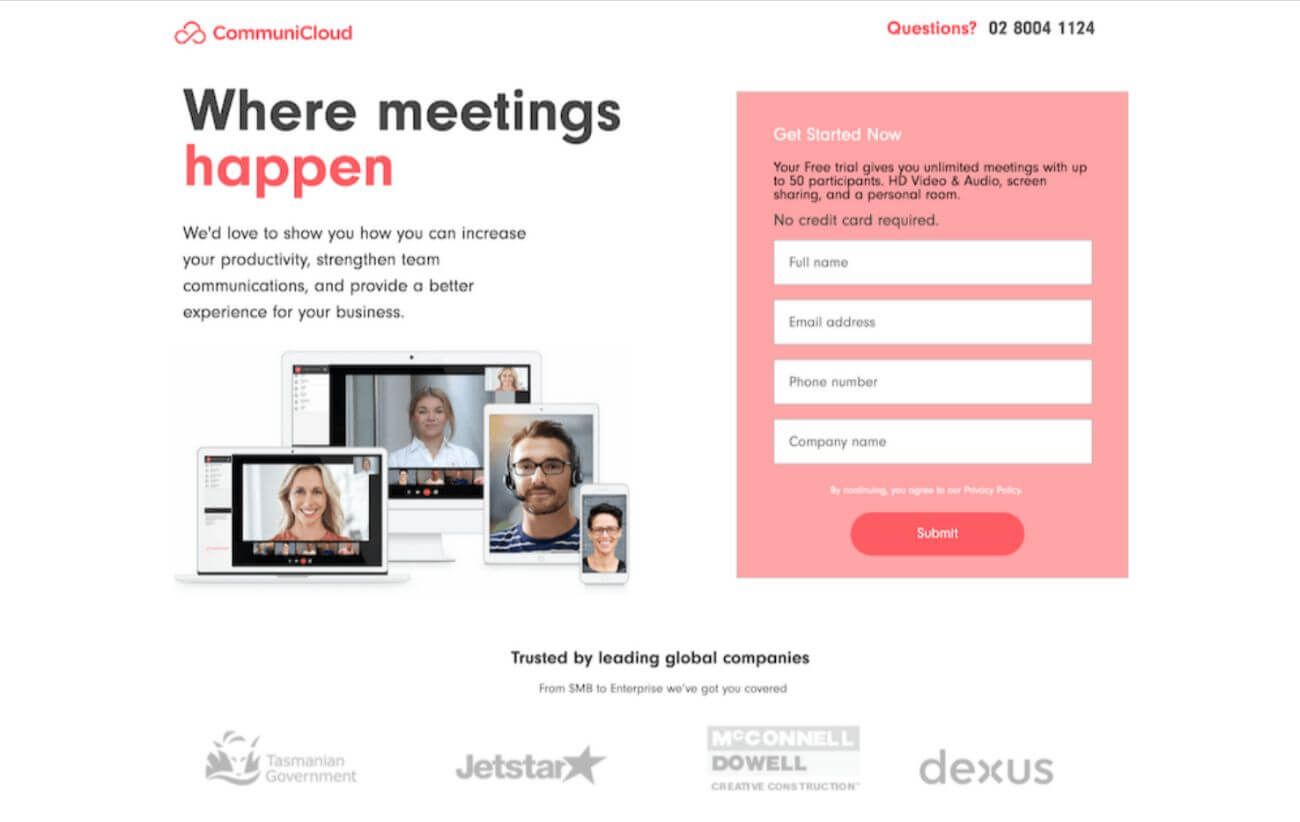 This landing page from Communicloud is a good example of a simple sales page that affiliate marketers can link to. They can either set up the landing page themselves, or partner with an affiliate program that offers a more robust sales funnel.
As another example, consider an email marketing funnel.
The subscriber is led through a series of emails introducing them to a product or service and explaining all of the features and benefits.
In general, an affiliate funnel is a good way to nurture leads that aren't ready to buy immediately.
3. Use a tracking tool like Affilimate to track your affiliate income
Once you have your YouTube affiliate marketing strategy in place, sign up to a tracking tool like Affilimate which will help you to get a bird's eye view of your earnings and maximize your revenue potential as a result.
How to do affiliate marketing on YouTube (step-by-step)
1. Find the right affiliate marketing niche
If YouTube is your first introduction into content creation and affiliate marketing, you'll need to identify your niche.
Ask yourself the following questions to hone in on your niche:
What am I already an expert on?
How can I leverage my professional background to create helpful content?
What's one topic/industry that I never get tired of talking about?
Once you've narrowed down a few possible niches, it's important to do competitive market research to make sure your YouTube channel will be relevant (and profitable!).
No one wants to spend weeks creating high quality videos only to launch to crickets.
By doing niche research, you'll give yourself the best chance of launching your YouTube channel to an active and engaged audience.
Check out this Affilimate blog post on niche research tools that will help you gain a competitive edge.
2. Choose your YouTube affiliate programs
After determining your profitable niche, the next step is to find affiliate programs that align with your content and audience.
There are countless YouTube affiliate programs available for a huge array of content topics.
Affilimate has curated some of the best potential YouTube affiliate marketing programs in different industries, so that you can start your YouTube affiliate efforts on the right foot.
Take a look at the affiliate program round-ups here:
Don't see your niche listed? Visit the Affilimate Blog where you can find up-to-date lists on the best affiliate programs from every industry.
3. Produce niche-specific videos to promote affiliate products
Brainstorm video ideas that fit your niche and add them to your content calendar to help you to publish videos on a consistent basis.
Talk about the products you're promoting in an organic way, and let your viewers know that they can access the products through the affiliate links in the YouTube video description.
4. Add affiliate links for products or services you recommend to your existing videos
Audit your published videos to see if any of them would benefit from including new affiliate links.
You can also update and optimize your video and channel descriptions to include relevant keywords.
5. Disclose your affiliate links
Whenever you promote an affiliate link, make sure to properly disclose it to your audience in alignment with FTC guidelines.
Affiliate marketing is a fairly new business model, and many up-and-coming content creators build massive audiences seemingly overnight.
Because of this, these content creators often end up playing catch up when it comes to the legalities of the affiliate agreements they're entering, which isn't a position you want to be in.
Remember: affiliate marketing is a business partnership that you enter whenever you click the little blue "Accept" box on the terms and conditions page.
Here's an example from luxury fashion YouTuber Cassie Thorpe of how to disclose YouTube affiliate direct links in the descriptions of your videos: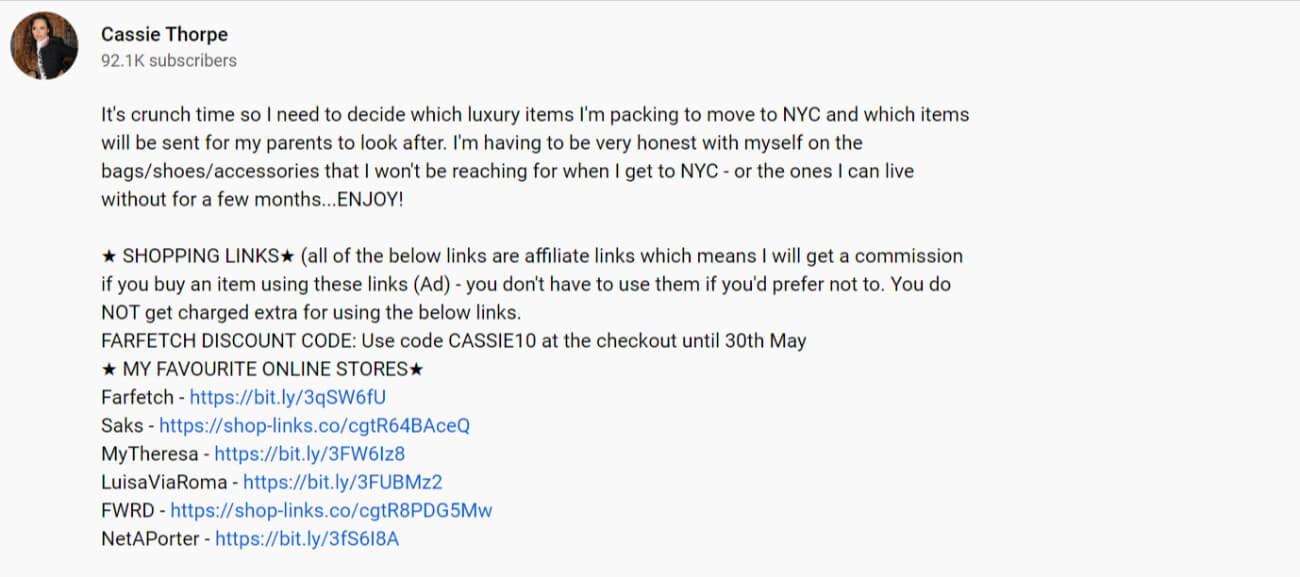 In this example of an affiliate disclosure, YouTuber Cassie Thorpe discloses affiliate links before they are listed. This is a key component of writing an FTC compliant disclosure: it must be listed before the links.
Many YouTubers make affiliate disclosure statements at the bottom of their video descriptions, which while common, doesn't adhere to FTC guidelines.
6. Drive traffic to your affiliate videos
The YouTube affiliate process doesn't stop after you hit publish – you need to actively promote your videos, and use SEO best practices to give them the best chance of ranking.
Here are a few strategies you can use to drive traffic to your affiliate YouTube videos:
YouTube SEO & Keyword Strategy
Think about it: YouTube is a search engine, just like Google.
Therefore, you should find high buyer intent keywords and include SEO best practices in video headlines and descriptions.
If keyword research and SEO is new to you, take a look at this Affilimate blog that explains high buyer intent keywords from A to Z.
This video by Ahrefs also explains the keyword research process that you can implement on YouTube.

Social media marketing
If you have an established social audience, consider cross promoting your YouTube videos to build your subscriber base.
Whether your audience is on Instagram, Twitter, Pinterest, or email, these platforms can help give your YouTube channel a major boost.
Publish consistently and frequently
By keeping your channel up to date, you'll be top of mind to your audience and show the YouTube algorithm that your channel is active.
Posting frequency also helps to keep you top of mind and relevant to a brand new audience.
Embed YouTube videos in relevant blog posts
You can make your articles more engaging and dynamic by embedding YouTube videos into blog posts that cover the same topic.
This is also a great way to drive traffic from your blog to your YouTube channel and vice versa.
To wrap things up, is affiliate marketing on YouTube worth it?
According to the data, it's a resounding yes.
YouTube is the second most popular search engine in the world, and has over 14 billion monthly visits from a huge range of demographics.
Plus, YouTube can help set you apart from the competition by better connecting you with your audience on a personality basis.
While these positives might make YouTube affiliate marketing sound easy, a focused, value-first, strategic approach is still needed to see sales.
That said, affiliates on YouTube should identify their niche, find relevant affiliate programs, optimize their channel using SEO, and regularly publish quality content.
With these key points in place, new YouTube affiliates will have the best chance of expanding their brand and developing a new profitable revenue channel – with the potential for a huge audience.