8 Best Hotel Affiliate Programs for 2023 (Based on Data)
By Monica Lent · Updated Jan 16, 2023
It turns out, hotels affiliate programs are some of the most profitable to promote for travel affiliates.
Especially when each night often ends up at $100 or more, and multi-day trips explode the average order value. (You've probably felt that way about your wallet while booking your last trip.)
Now imagine that your target audience is families with kids or teenagers, and you can picture how earning a percentage of someone's accommodation bill can be incredibly lucrative.
But it's not as simple as throwing a link into existing content about the hotel you stayed at and calling it a night.
To succeed as a hotel affiliate, you have to write content that will reach people just before they're about to book. Go a step further by promoting high-end or niche accommodation (think, "sleeping in an igloo in finland") to really earn as a hotel affiliate.
To help you along the way, we've compiled the list of the best hotel and accommodation affiliate programs to promote this year.
How we compiled this list
We compiled this list by analyzing over 50 top travel blogs, and seeing which accommodation affiliate programs they linked to most often. After all, if someone's put in the effort to include links to a single platform in hundreds of articles, there's a good chance it's working for them.
The result is a list of hotel affiliate programs that are actually being promoted, successfully, by travel affiliates and bloggers. We hope you find this list helpful!
Hotel affiliate programs
Here are the best hotel and accommodation affiliate programs to promote this year:
TripAdvisor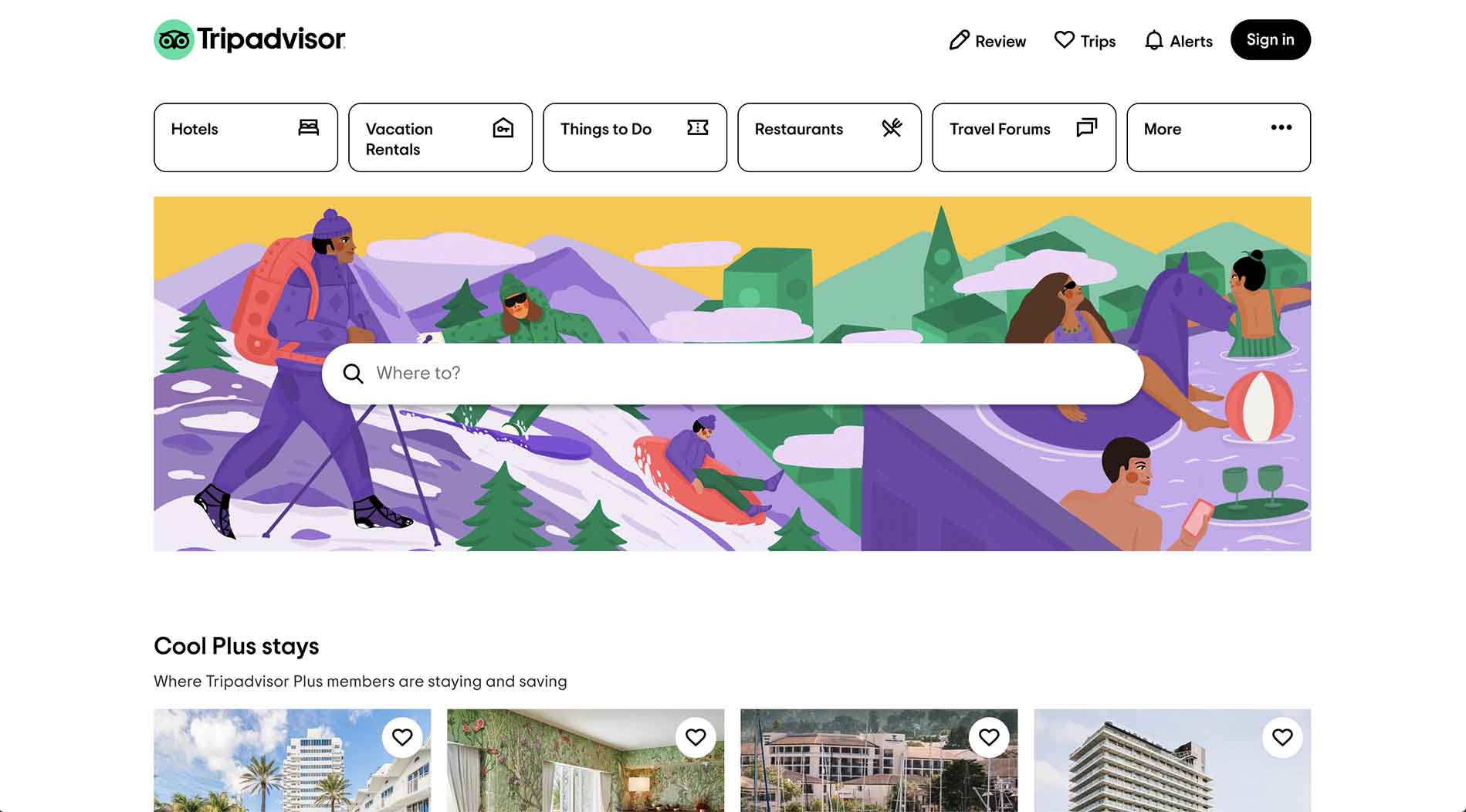 TripAdvisor is one of the most popular trip-planning websites online. On TripAdvisor, you can link to restaurants, attractions, and accommodation.
Basically, the TripAdvisor affiliate program shares revenue with affiliates based on leads, rather than sales. That means you'll generate many more, smaller commissions (think, $0.20 - $0.50 in most cases) than you would if you linked directly to the accommodation providers that TripAdvisor partners with.
But it's important to know that you'll only generate affiliate revenue if the click you send to TripAdvisor results in a click out to a hotel property. No other type of click out generates a commission for you.
Whether or not this is a good strategy for you heavily depends on the type of content you're writing. For content that's early in the trip-planning journey, this could make sense. But there you're still hoping to get lucky, as opposed to being intentional about the kind of content and links you're promoting.
If you're writing guides designed for people who are actively booking their stay, promoting hotels through Booking.com, Agoda, or Hotels.com will likely prove more profitable.
Booking.com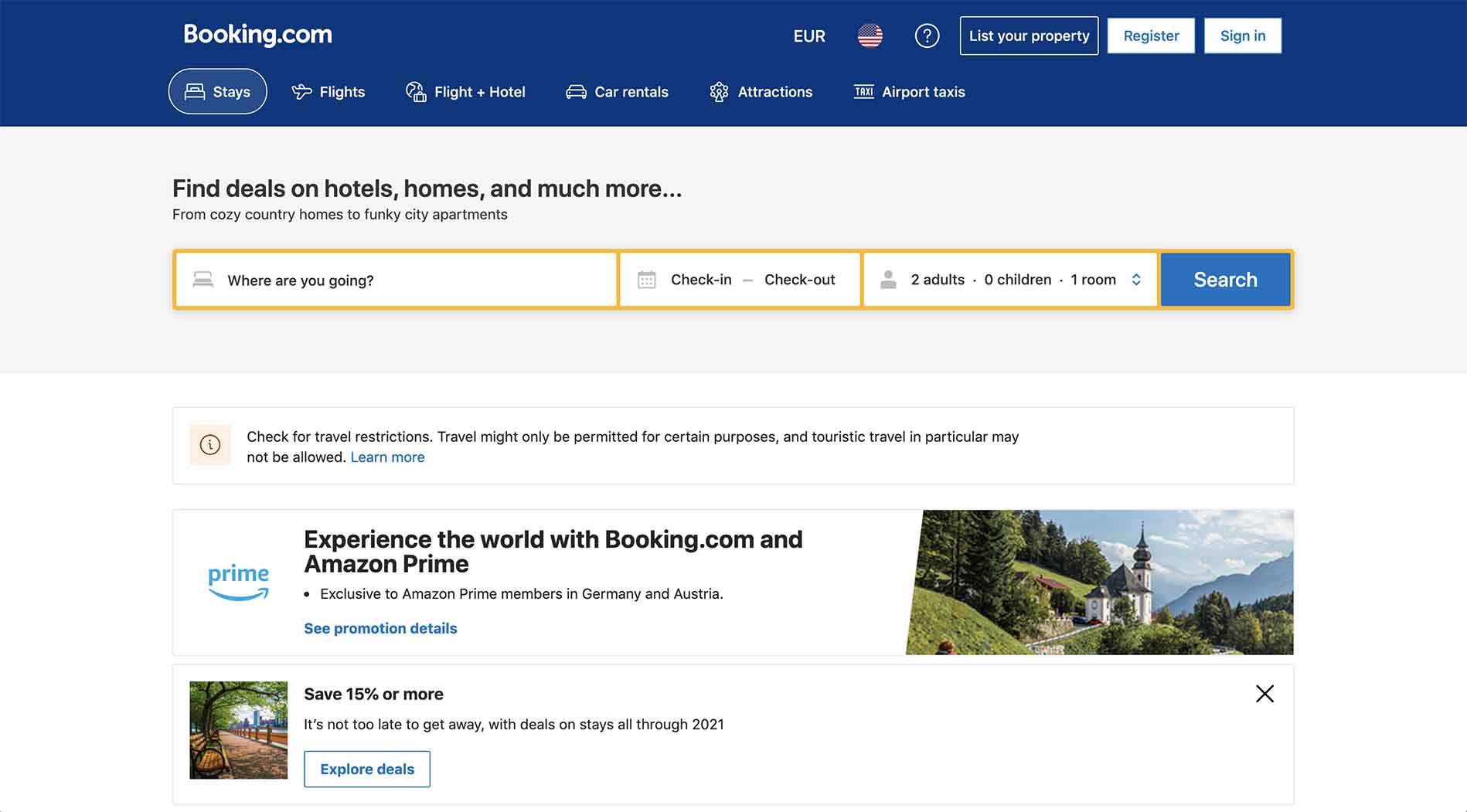 Booking.com is the single most popular travel affiliate program from all our research across dozens of top travel blogs.
And for good reason: hotels are extremely profitable. First off, they're expensive at around $100 per night in a lot of destination. And then, people tend to book multiple nights in a single session.
The result is great commissions, so long as you're writing content that captures people right before they book.
What you'll notice as a hotel affiliate is a high cancelation rate, sometimes as high as 30-40%. It's hard to avoid, as free cancelation policies virtually encourage this. Even so, the profits to be made are still exceptional.
One unusual aspect of Booking.com is that it doesn't use an actual cookie. You only get credit for Bookings that happen "in-session". So you'll want to target people who are minutes away from booking accommodation to secure a sale.
Despite the drawbacks, Booking.com has such name recognition and converts well enough to make it one of the best travel affiliate programs you can promote.
Hotel affiliate tips: Here are a few of my top tips for recommending hotels and accommodation to your travel blog readers as an affiliate:
Make your recommendation early. Don't make the mistake of putting your recommended hotel links at the bottom of your posts. Summarize your recommended place to stay at the top in a "Trip Summary" with scannable bullet points.
Make your recommendation clear. If you loved somewhere you stayed, make it clear. 1-2 sentences are enough to earn the click if your recommendation is genuine.
Test your link text. Try calls-to-action like "check availability" and "see more images". These demand less commitment from the reader than "book now". But no matter what, you should be tracking and testing these to see which converts best for your audience.
One important note for new affiliates is that Booking.com does require you reach a minimum of 100€ in commissions before they pay you out. Given the average commission though, most travel affiliates will be able to reach this in a reasonable amount of time.
You also only earn a commission after a booking is completed and the host or hotel has reported a successful stay. That means your commissions are often only paid many months after the booking happens.
While the money with Booking.com isn't quick, the payouts are dependable and the revenue from a high season's worth of bookings can set you up for a good part of the year.
Hotels.com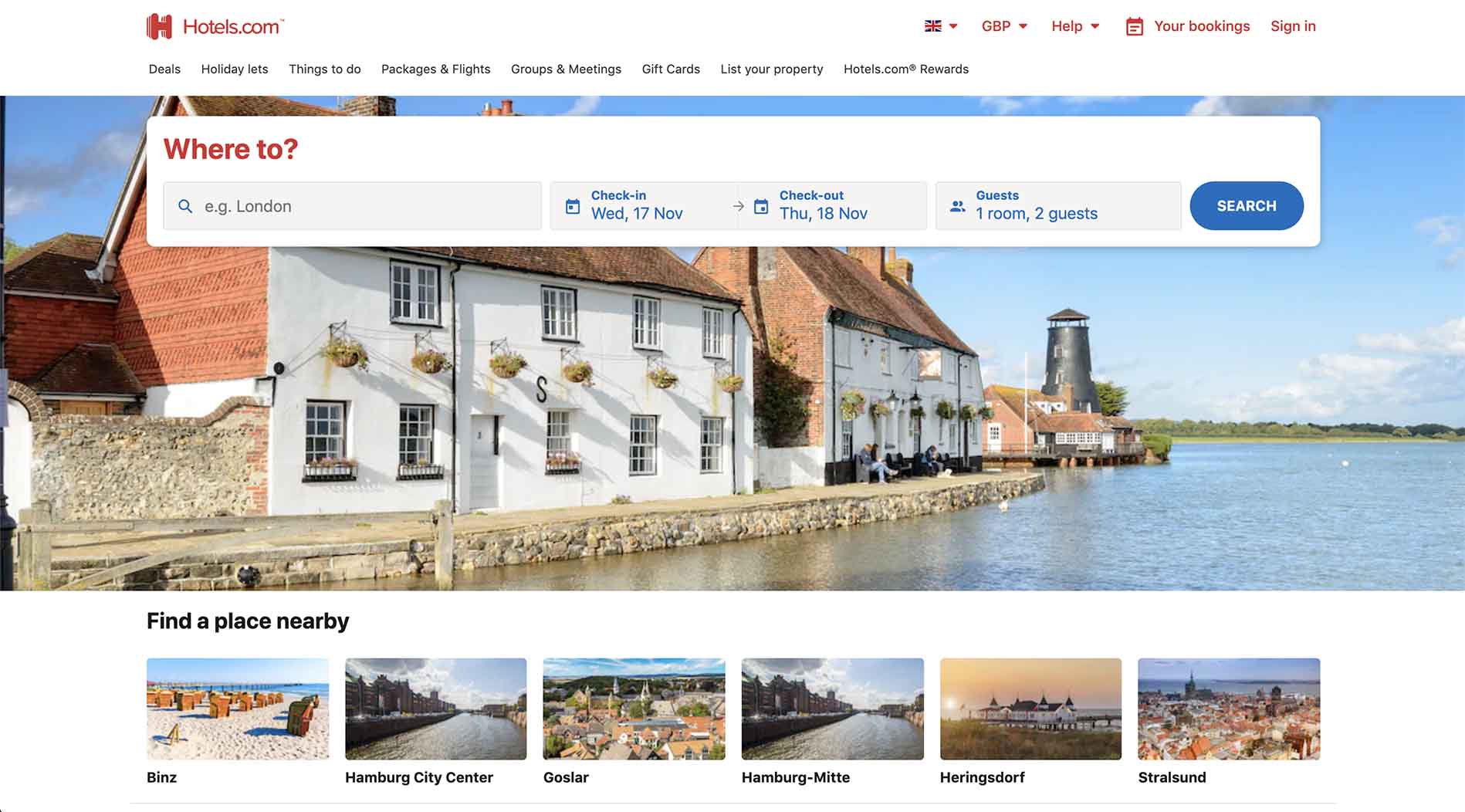 Program name: Hotels.com Affiliate Program
Network / Software: CJ Affiliate
Commission: 4%
Cookie duration: 7 days
Markets: Global
Alternatives: Booking.com at 25-34% of Booking.com's cut (Booking.com), 4% of gross sale amount (CJ Affiliate)
Hotels.com is part of the Expedia network, and doesn't offer a direct program like Booking.com or Agoda. To join the platform, you'll need to go through CJ.
But, one positive thing Hotels.com has going for it is that CJ offers a 7-day cookie. This stands in contrast to the Booking.com and Agoda direct programs which only offer commissions for in-session bookings, both of which are effectively one day or less.
Like which each of the big hotel players, you'll want to test how it performs for your audience and how it affects profitability of your content.
Heatmaps are a good way to gauge initial interest and brand familiarity when testing similar affiliate programs against one another for the same offer.
Agoda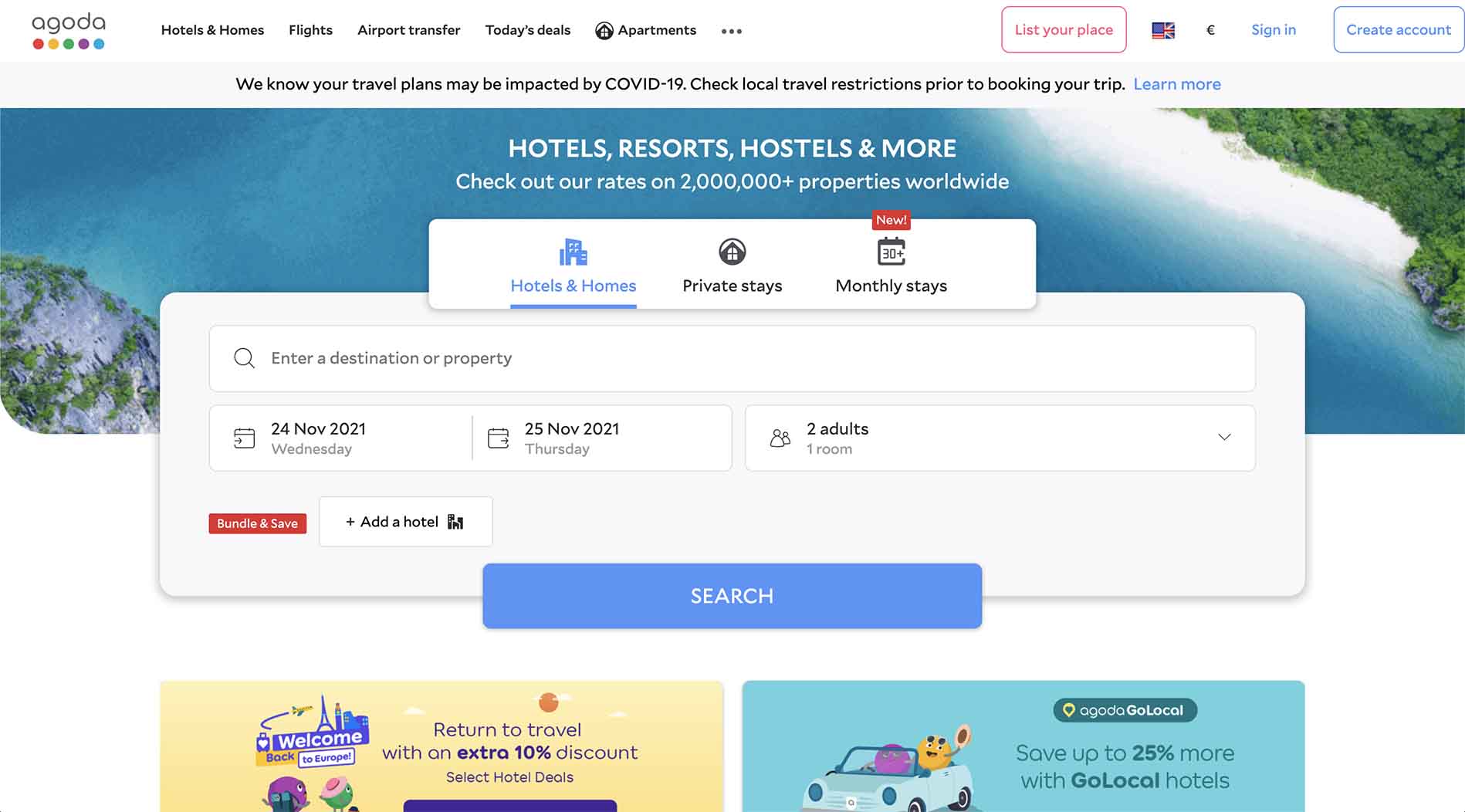 Program name: Agoda Affiliate Program
Network / Software: CJ Affiliate, Agoda
Commission: 6% (CJ Affiliate), 4-7% based on number of completed stays per month (Agoda)
Cookie duration: 30 days (CJ Affiliate), 0 days (Agoda)
Markets: US, EU, UK (CJ Affiliate), Global (Agoda)
Alternatives: Booking.com at 25-34% of Booking.com's cut (Booking.com), 4% of gross sale amount (CJ Affiliate), or Hotels.com at 4%
Agoda is one of the most popular accommodation affiliate alternatives to Booking.com. Both are online travel platforms where travelers can book hotels, apartments, and full homes.
Both hotel affiliate programs only offer an in-session cookie. Meaning, the visitor you send over has to book in the same tab they opened originally when coming from your site in order for you to get credit for the referral.
A lot of properties that are listed on Agoda are also listed on Booking.com. So you have a couple of options when deciding which platform to stick with:
Test the affiliate RPM of the page when promoting Booking.com links vs. Agoda links
Or, simply offer your readers a choice (e.g. "Check availability on Booking.com or Agoda")
Ultimately, it comes down to brand familiarity and what your audience knows best.
In CJ Affiliate's publisher dashboard, Agoda's highest 30-day EPC (earnings per click) occurred in the UK, followed by the US and Canada. So if you're running a site with a British audience, it's worth testing how Agoda performs next to Booking.com.
One downside of Agoda is the minimum payout threshold of $200. On top of that, Agoda only pays out via bank transfer and charges affiliates $10 for each payout.
In contrast, Booking.com's minimum payout is 100€ (about $113 USD), pays out by both bank transfer and PayPal, and doesn't charge a service fee to pay you out.
HostelWorld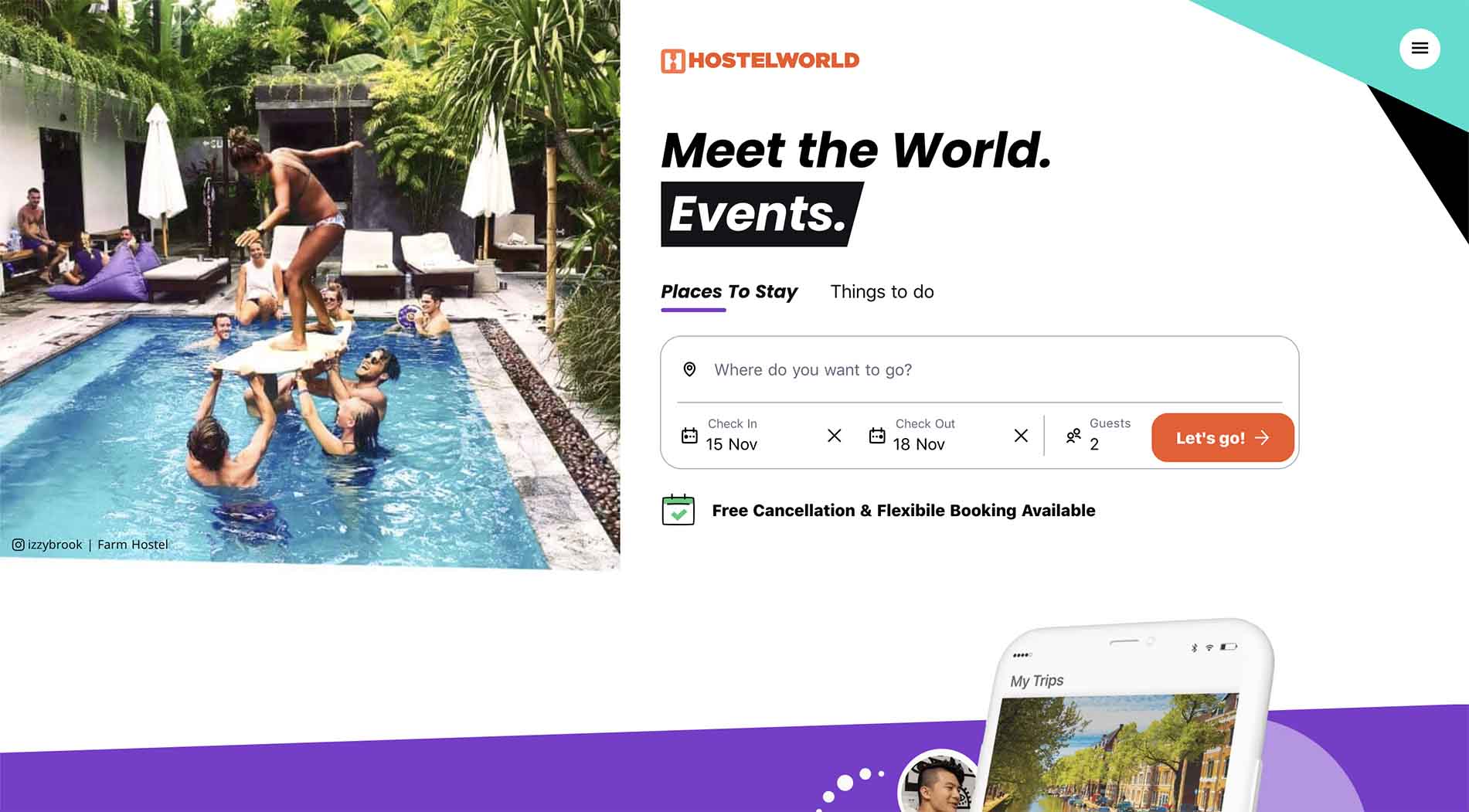 Got a budget-conscious audience? HostelWorld is a great alternative to Booking.com if your readers are college students, young people, or generally looking to travel long-term on a shoestring budget.
It's been a pretty long time since I stayed in a hostel, so I don't promote hostels myself. However, in our research we found tons of links to HostelWorld on top travel blogs and websites.
And even if you're not into hostels, HostelWorld seems to be branching out into the suddenly crowded market for travel experiences.
Tips for promoting hostels: Most people staying in hostels are doing it for budget-conscious reasons. So promote hostels in content targeting a younger demographic (such as college students).
Plum Guide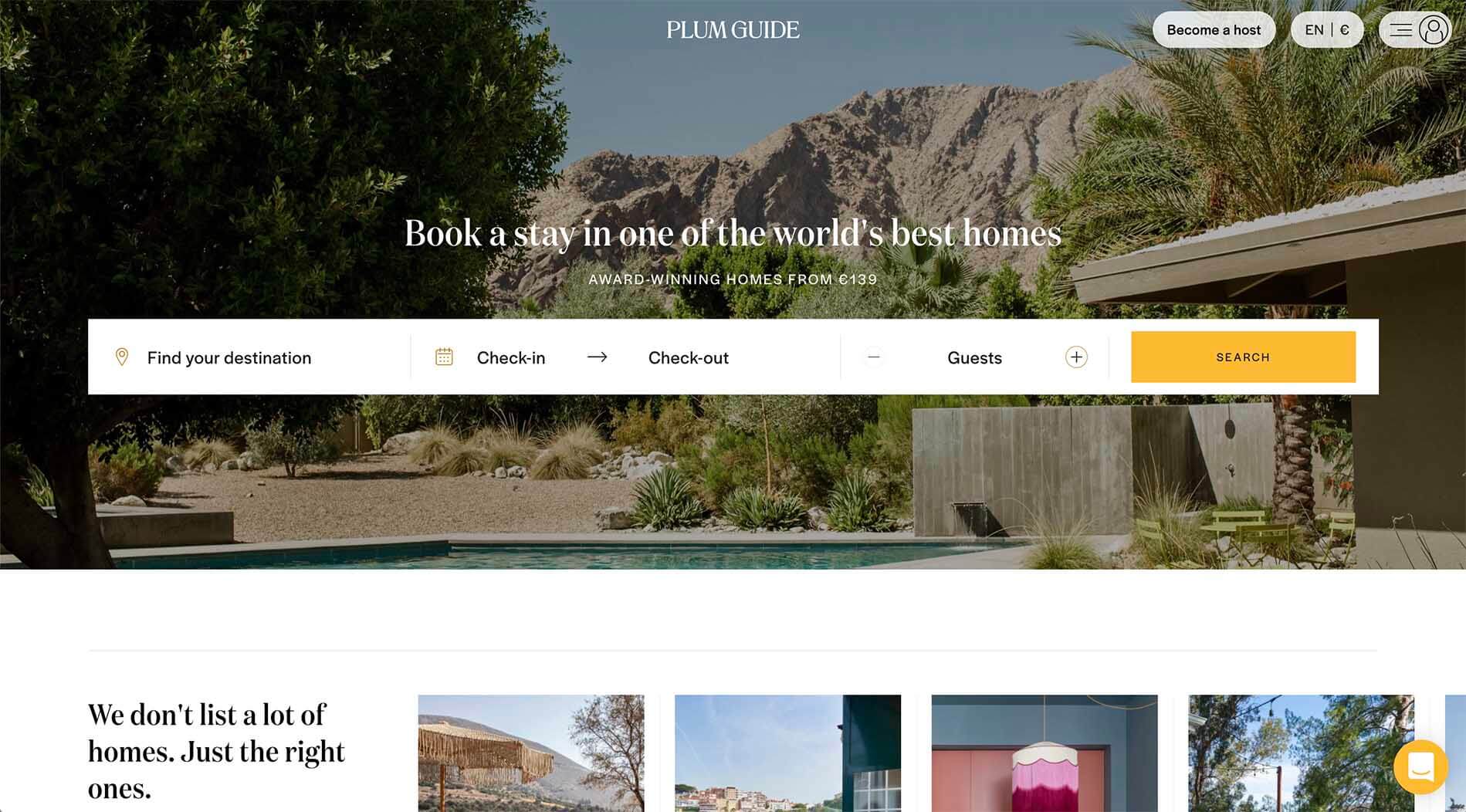 Plum Guide is like a fancier version of Airbnb, where stays start at 139€ and go up from there. They select the top 1% of properties in a few of the most popular vacation destinations, like London, Paris, New York, Los Angeles, Rome, Milan, Copenhagen, Madrid, Barcelona, Lisbon, Berlin and Tel Aviv.
So while the properties on Plum Guide might be too expensive for the average traveler, the bookings you can make through this program tend to be on the higher end if they go through.
On top of that, the generous 90-day cookie period means you have a lot of time for the guest to actually book their stay after they start their research process on your website.
If you cater to luxury travellers, Plum Guide could be a good addition to the hotel affiliate programs you're already promoting.
Vrbo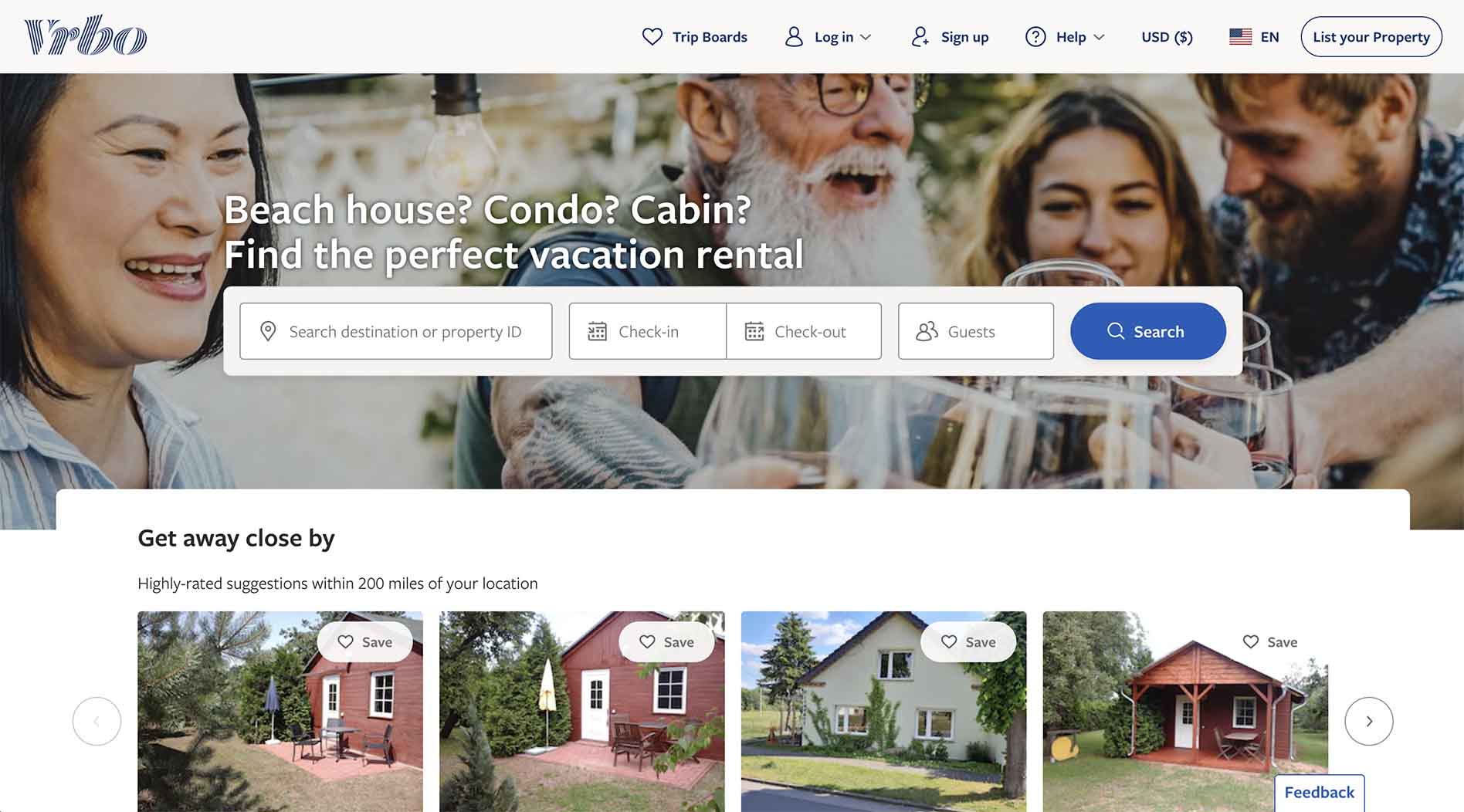 Program name: Vrbo Affiliate Program
Network / Software: Skimlinks, CJ Affiliate, Partnerize
Commission: 2.5-4% depending on country (Skimlinks), 2% on bookings, $20.00 on new property listings (CJ Affiliate), 2% (Partnerize)
Cookie duration: Not listed (Skimlinks), 7 days (CJ Affiliate), 2 days (Partnerize)
Markets: Global (Skimlinks), Global (CJ Affiliate), US, UK, AU, CA (Partnerize)
When the Airbnb affiliate program finally shut down in 2021, a lot of travel affiliates were left wondering where to send their readers.
The main option that emerged was Vrbo: an acronym that stands for "vacation rentals by owner". It has a similar concept behind it as Airbnb, but with a fraction of the brand recognition.
A lot of times, you'll be able to find the same accommodation on Vrbo as you would on Airbnb or even apartments on Booking.com. Hosts often list their property in multiple locations in order to reach as many possible guests as they can.
Since your audience might not be familiar with Vrbo, sharing your experience on the platform can go a long way in establishing trust. Trying out Vrbo as an end user will give you more ideas for how to promote this affiliate program effectively and genuinely.
And as always, you can test whether it converts and try promoting the same property on another platform if it doesn't.
Trusted Housesitters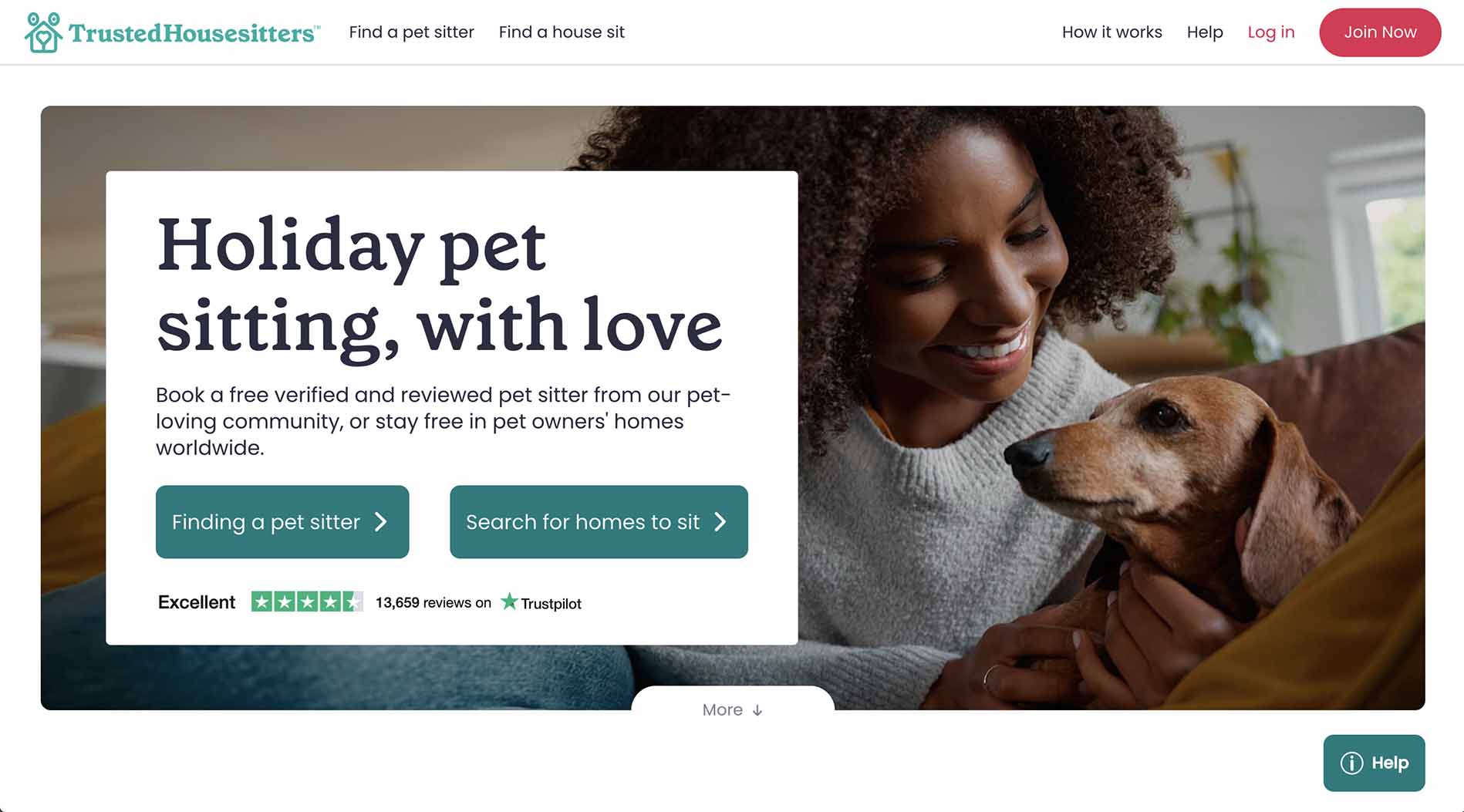 I realize this isn't exactly a hotel, but hear me out. A lot of travel affiliates have recommended Trusted Housesitters, and the commissions look extremely promising.
In short, Trusted Housesitters is a membership platform where people with houses and house-sitters meet to arrange a housesit. Usually, sitters will be taking care of pets, but sometimes they're just asked to mind the house for a prolonged period of time.
A typical housesit can last from two weeks up to several months at a time.
The benefit is, the housesitter gets to stay somewhere for free. The only thing they need to do is pay an annual membership to be part of the platform. Same story for people who want their house "sat".
The price of joining Trusted Housesitters is $259/year for both Owners and Sitters for the premium plan, $169/year for the standard plan, and $129/year for the basic plan.
With a 40% affiliate commission, that's $103.60, $67.60, and $51.60 respectively. Those are extremely good rates for sending over a simple, annual subscription.