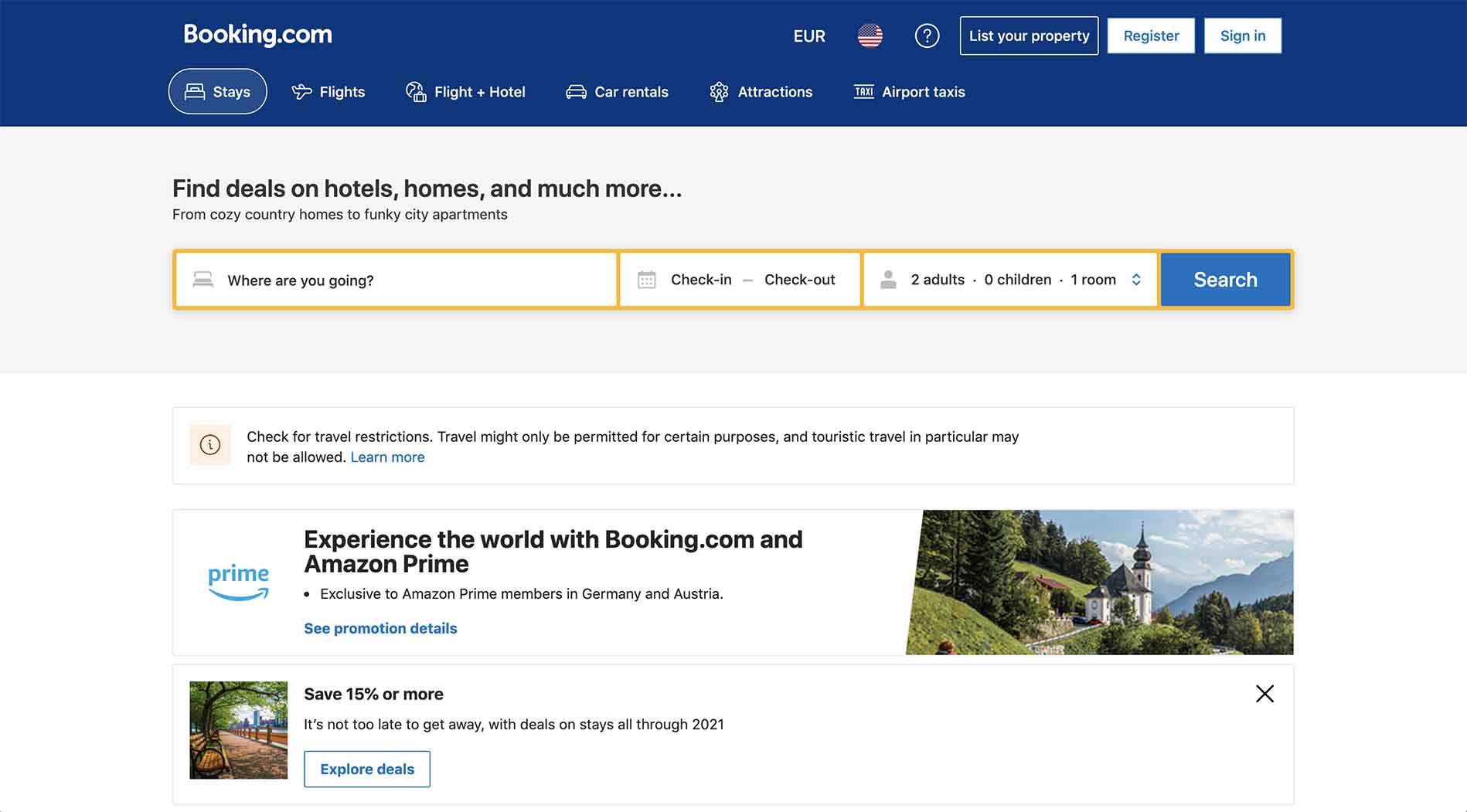 Data integrates with Affilimate
Join the Booking.com Affiliate Program
Booking.com has an affiliate program in the Travel niche with commissions up to 25-34% of Booking.com's cut on Booking.com. Learn how to join the Booking.com affiliate program, where to get the best rates, and the longest cookie period through our affiliate program guide below.
| Network | Commission rate | Cookie | Markets | Details |
| --- | --- | --- | --- | --- |
| | 25-34% of Booking.com's cut | 0 days | Global | Join program |
| | 4% of gross sale amount | 0 days | Global | Join program |
Data integrates with Affilimate
Already earning commissions from Booking.com? Track your affiliate earnings from all networks in one dashboard.
Affilimate is an analytics tool that aggregates all your website's affiliate data in a single dashboard.

Then, gives you attribution data & content insights that reveals which pages and links are earning the most, so you can grow your revenue.
Affilimate is a paid analytics product, not an affiliate network.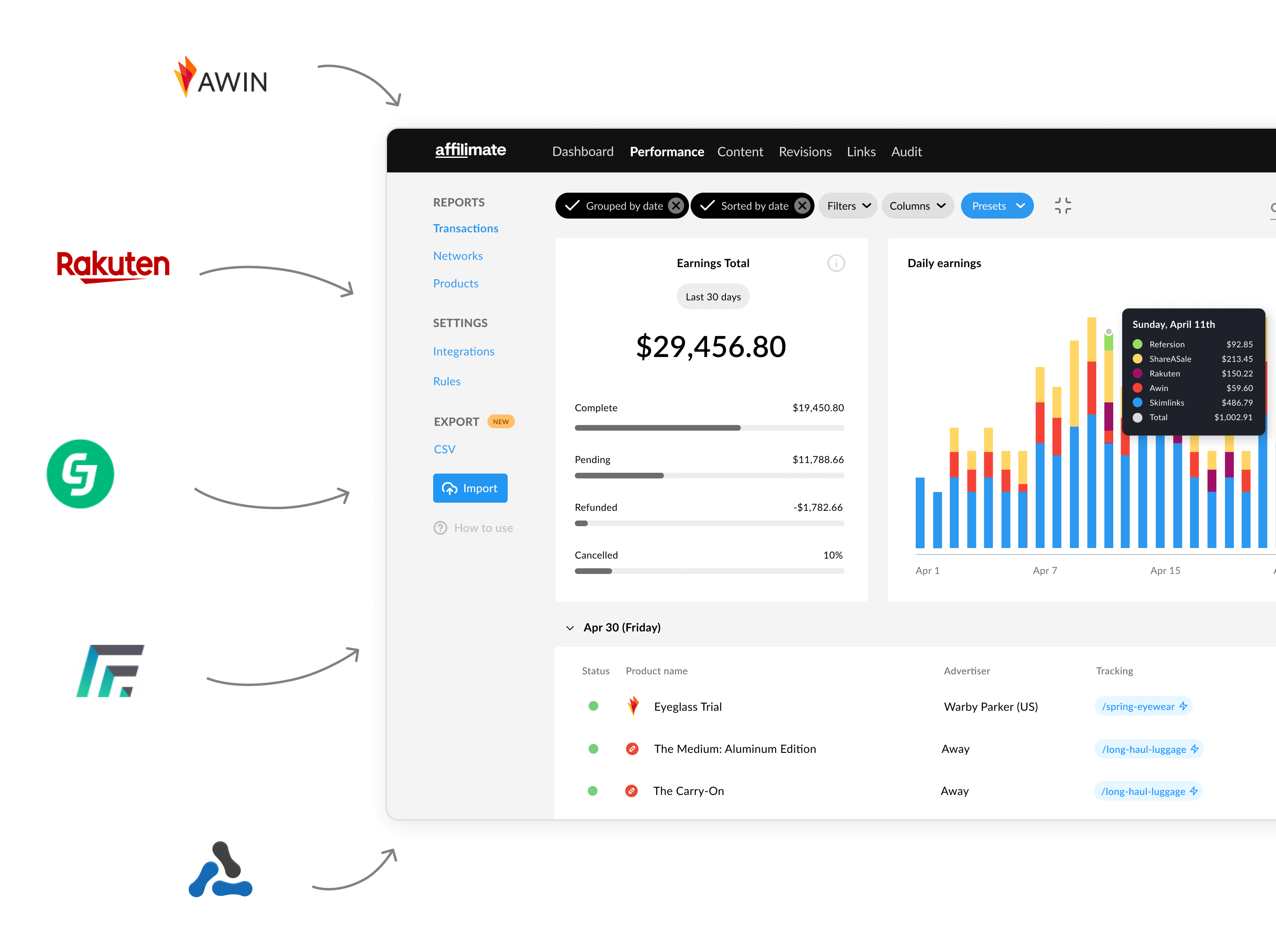 What you should know about the Booking.com affiliate program
Booking.com is the single most popular travel affiliate program from all our research across dozens of top travel blogs.
And for good reason: hotels are extremely profitable. First off, they're expensive at around $100 per night in a lot of destination. And then, people tend to book multiple nights in a single session.
The result is great commissions, so long as you're writing content that captures people right before they book.
What you'll notice as a hotel affiliate is a high cancelation rate, sometimes as high as 30-40%. It's hard to avoid, as free cancelation policies virtually encourage this. Even so, the profits to be made are still exceptional.
One unusual aspect of Booking.com is that it doesn't use an actual cookie. You only get credit for Bookings that happen "in-session". So you'll want to target people who are minutes away from booking accommodation to secure a sale.
Despite the drawbacks, Booking.com has such name recognition and converts well enough to make it one of the best travel affiliate programs you can promote.
Hotel affiliate tips: Here are a few of my top tips for recommending hotels and accommodation to your travel blog readers as an affiliate:
Make your recommendation early. Don't make the mistake of putting your recommended hotel links at the bottom of your posts. Summarize your recommended place to stay at the top in a "Trip Summary" with scannable bullet points.
Make your recommendation clear. If you loved somewhere you stayed, make it clear. 1-2 sentences are enough to earn the click if your recommendation is genuine.
Test your link text. Try calls-to-action like "check availability" and "see more images". These demand less commitment from the reader than "book now". But no matter what, you should be tracking and testing these to see which converts best for your audience.
One important note for new affiliates is that Booking.com does require you reach a minimum of 100€ in commissions before they pay you out. Given the average commission though, most travel affiliates will be able to reach this in a reasonable amount of time.
You also only earn a commission after a booking is completed and the host or hotel has reported a successful stay. That means your commissions are often only paid many months after the booking happens.
While the money with Booking.com isn't quick, the payouts are dependable and the revenue from a high season's worth of bookings can set you up for a good part of the year.