26 Best Travel Affiliate Programs for 2023 (Based on Data)
By Monica Lent · Updated Jun 1, 2023
This year my travel blog has generated over $50,000 in revenue from affiliate marketing alone. And it's only August!
Here's a peek at what it's looked like so far this year: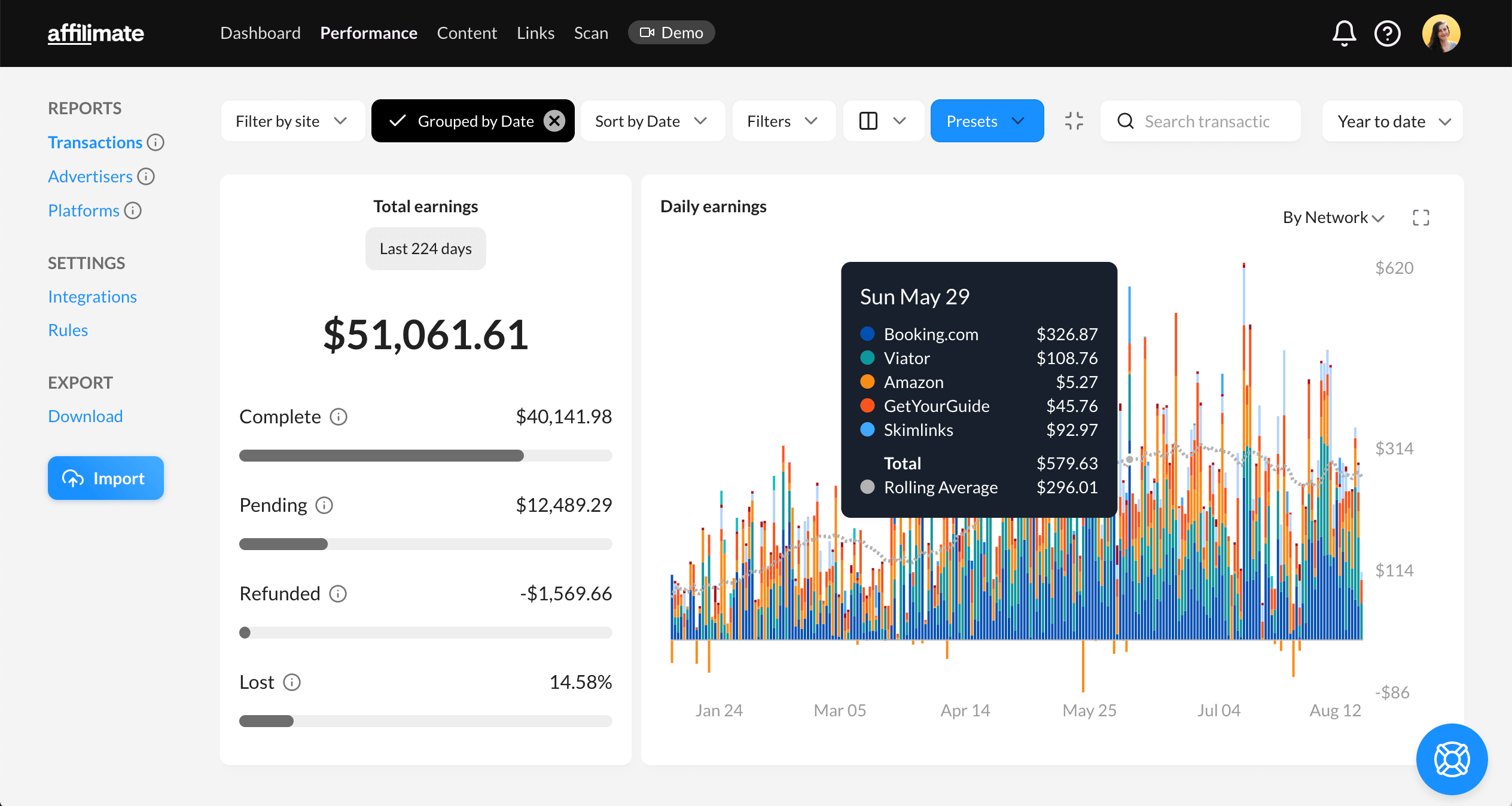 What's more, this travel blog earns twice as much through affiliate marketing than it does from display ads with Mediavine.
So in case you're wondering, YES, you can still do great as a travel affiliate today. It all comes down to writing the right type of content that fits into the "buying phase" of the trip-planning process.
Want to learn more? In this post I'm going to share:
The most profitable affiliate programs for travel bloggers
Tips for promoting different types of travel products and services
Common mistakes travel bloggers make when monetizing their websites
But first, a quick note how I created this list (so you know it's legit).
How we compiled this list of programs
We compiled a list of roughly 50 top travel blogs. This include mainstays like Nomadic Matt, Santorini Dave, and Expert Vagabond. Plus, smaller and niche sites focusing on specific destinations, geographies, and activities to add in some variety.
Then, we ran each site through our Affiliate Link Scanner to discover which affiliate programs and merchants they linked to the most.
(Because after all, if someone creates 10 articles about a single product, there's a very good chance it's converting for them.)
Finally, we grouped together the programs by common categories, like accommodation, tours, and insurance, so it'd be easier for you to navigate.
The result is a list of the best travel affiliate programs for bloggers — all based on what the world's best travel blogs are promoting today. So, here it is.
Travel Affiliate Programs
These travel affiliate programs fall into a couple of main categories: hotel affiliate programs, travel tours affiliate programs, outdoor gear affiliate programs, luxury travel affiliate programs, rental car affiliate programs, train and airline affiliate programs, and travel insurance affiliate programs.
A mouthful, I know — but exactly which products you choose will depend on the kind of content you like to write and who your audience is.
Here are the best travel affiliate programs to promote in 2023:
Booking.com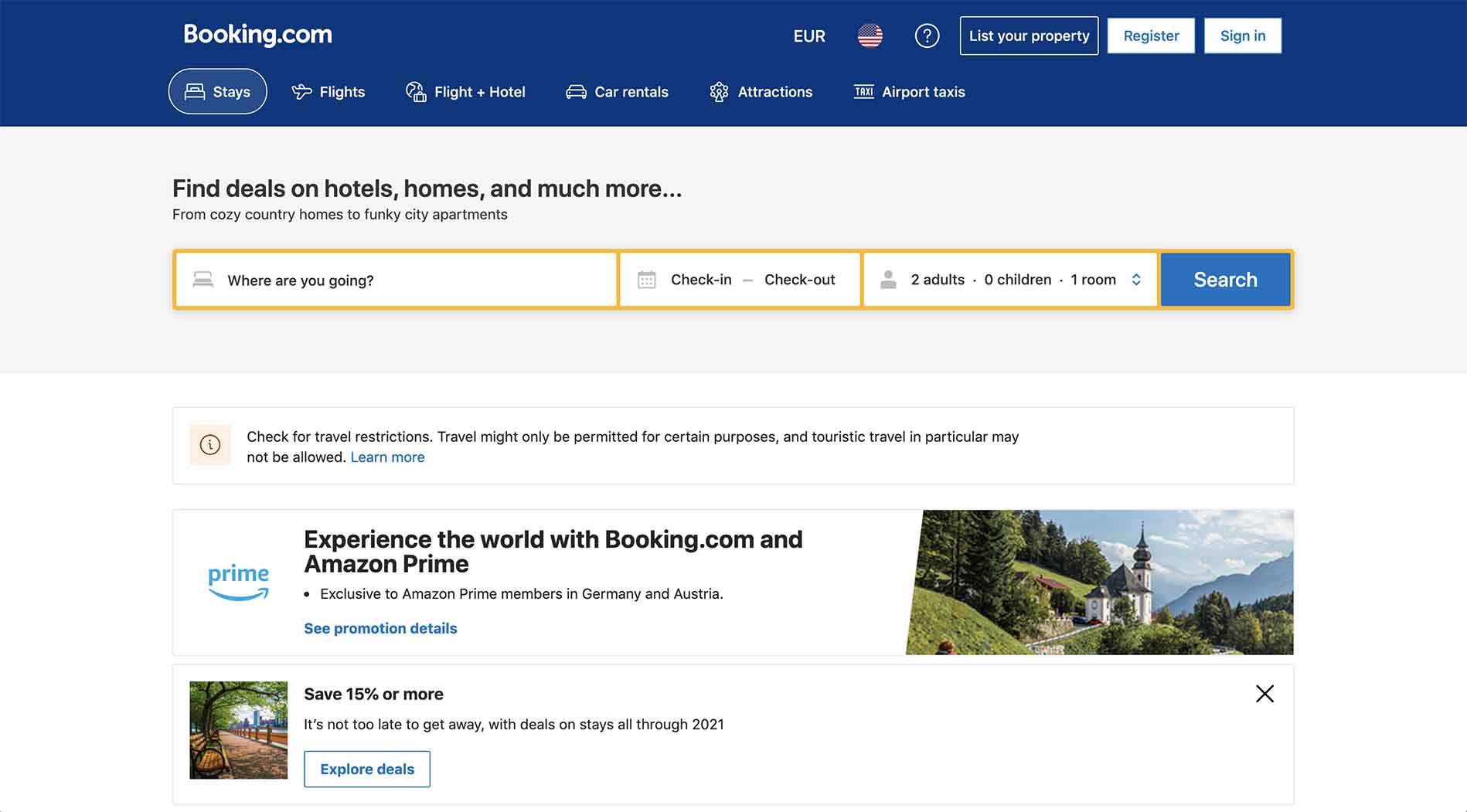 Booking.com is the single most popular travel affiliate program from all our research across dozens of top travel blogs.
And for good reason: hotels are extremely profitable. First off, they're expensive at around $100 per night in a lot of destination. And then, people tend to book multiple nights in a single session.
The result is great commissions, so long as you're writing content that captures people right before they book.
What you'll notice as a hotel affiliate is a high cancelation rate, sometimes as high as 30-40%. It's hard to avoid, as free cancelation policies virtually encourage this. Even so, the profits to be made are still exceptional.
One unusual aspect of Booking.com is that it doesn't use an actual cookie. You only get credit for Bookings that happen "in-session". So you'll want to target people who are minutes away from booking accommodation to secure a sale.
Despite the drawbacks, Booking.com has such name recognition and converts well enough to make it one of the best travel affiliate programs you can promote.
Hotel affiliate tips: Here are a few of my top tips for recommending hotels and accommodation to your travel blog readers as an affiliate:
Make your recommendation early. Don't make the mistake of putting your recommended hotel links at the bottom of your posts. Summarize your recommended place to stay at the top in a "Trip Summary" with scannable bullet points.
Make your recommendation clear. If you loved somewhere you stayed, make it clear. 1-2 sentences are enough to earn the click if your recommendation is genuine.
Test your link text. Try calls-to-action like "check availability" and "see more images". These demand less commitment from the reader than "book now". But no matter what, you should be tracking and testing these to see which converts best for your audience.
One important note for new affiliates is that Booking.com does require you reach a minimum of 100€ in commissions before they pay you out. Given the average commission though, most travel affiliates will be able to reach this in a reasonable amount of time.
You also only earn a commission after a booking is completed and the host or hotel has reported a successful stay. That means your commissions are often only paid many months after the booking happens.
While the money with Booking.com isn't quick, the payouts are dependable and the revenue from a high season's worth of bookings can set you up for a good part of the year.
Viator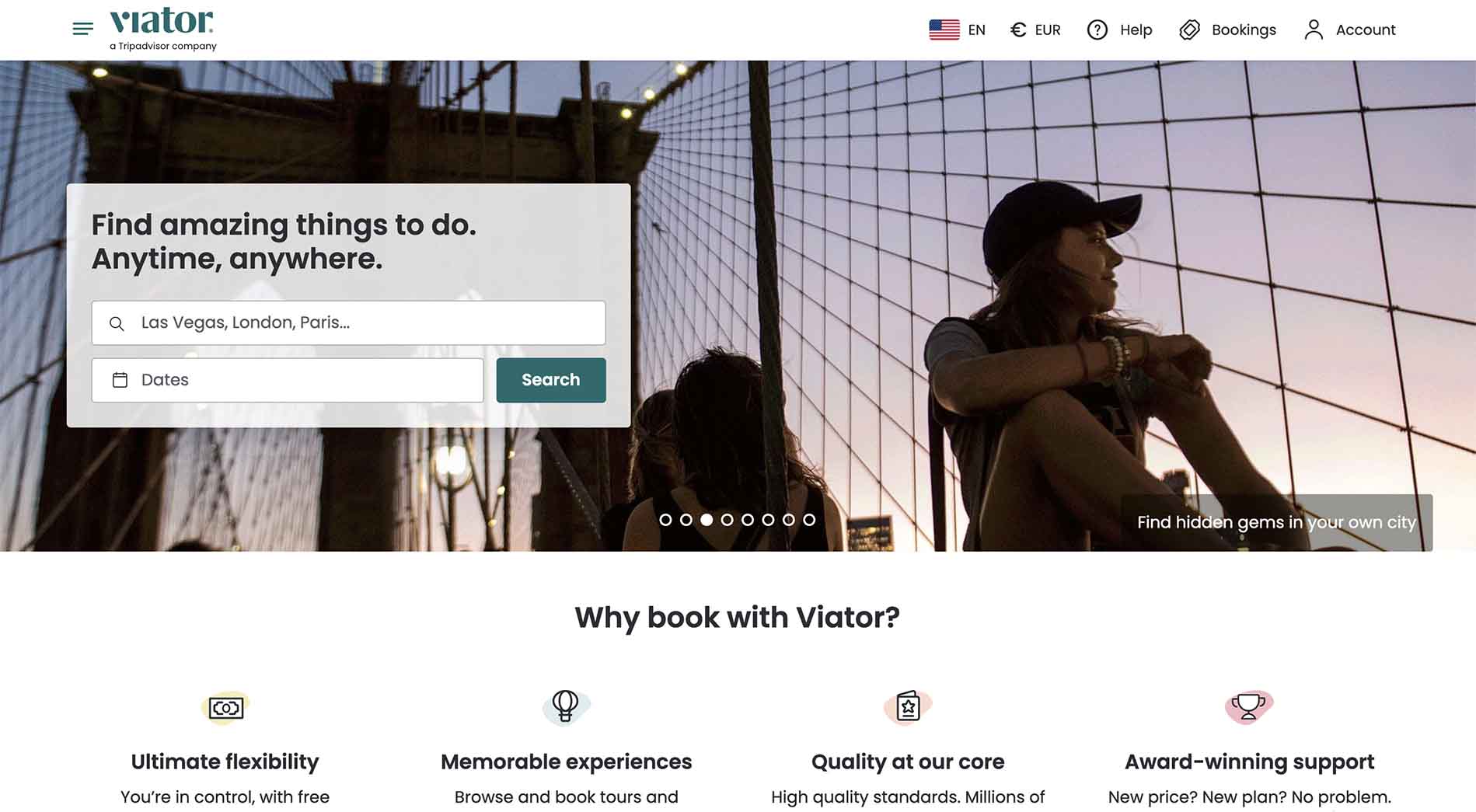 Viator is an online platform for booking travel tours, experiences, and activities. While GetYourGuide could be seen as more present in Europe, Viator has an excellent selection of activities in the United States and Canada.
So if your focus is on domestic tourism within North America, this could be a great affiliate program for your travel blog.
Viator's direct program offers an 8% base commission rate. Paired with the 30-day cookie period, and your reader has a lot of time after clicking your link to go through with booking their travel experience.
To make the most from Viator, make sure that tours you promote have great reviews, ratings, and photos. If you can add your own into the article itself and share a personal experience, that's a recipe for a strong conversion rate.
FareHarbor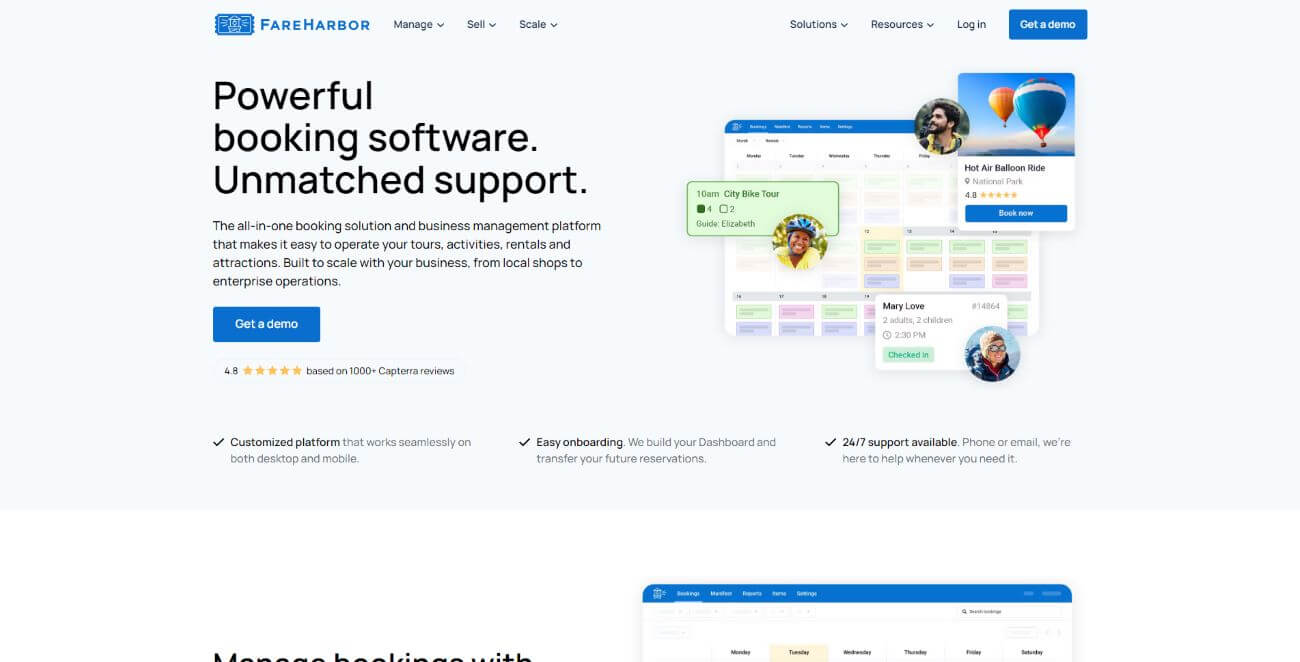 FareHarbor, a Booking Holdings company, is the leading booking platform for tour and activity operators worldwide, with its largest presence in North America and Europe.
FareHarbor has its own affiliate network — the FareHarbor Distribution Network (FHDN). It directly connects 30,000 guided tours, outdoor activities, and other experience providers with affiliates like you - with no middleman to share commission with.
You can earn a commission rate as high as 15% (one of the highest in the industry!) for an average basket value of $100-$150.
Commissions are paid for bookings made "in-session"; so there is no cookie window, but research has shown that most activity bookings happen while bookers are already in-destination.
Within its affiliate network, FareHarbor also offers the possibility to connect with account managers who provide insights and suggestions of the best tours to feature on your website, answer questions, and automates the invoicing and payment process.
GetYourGuide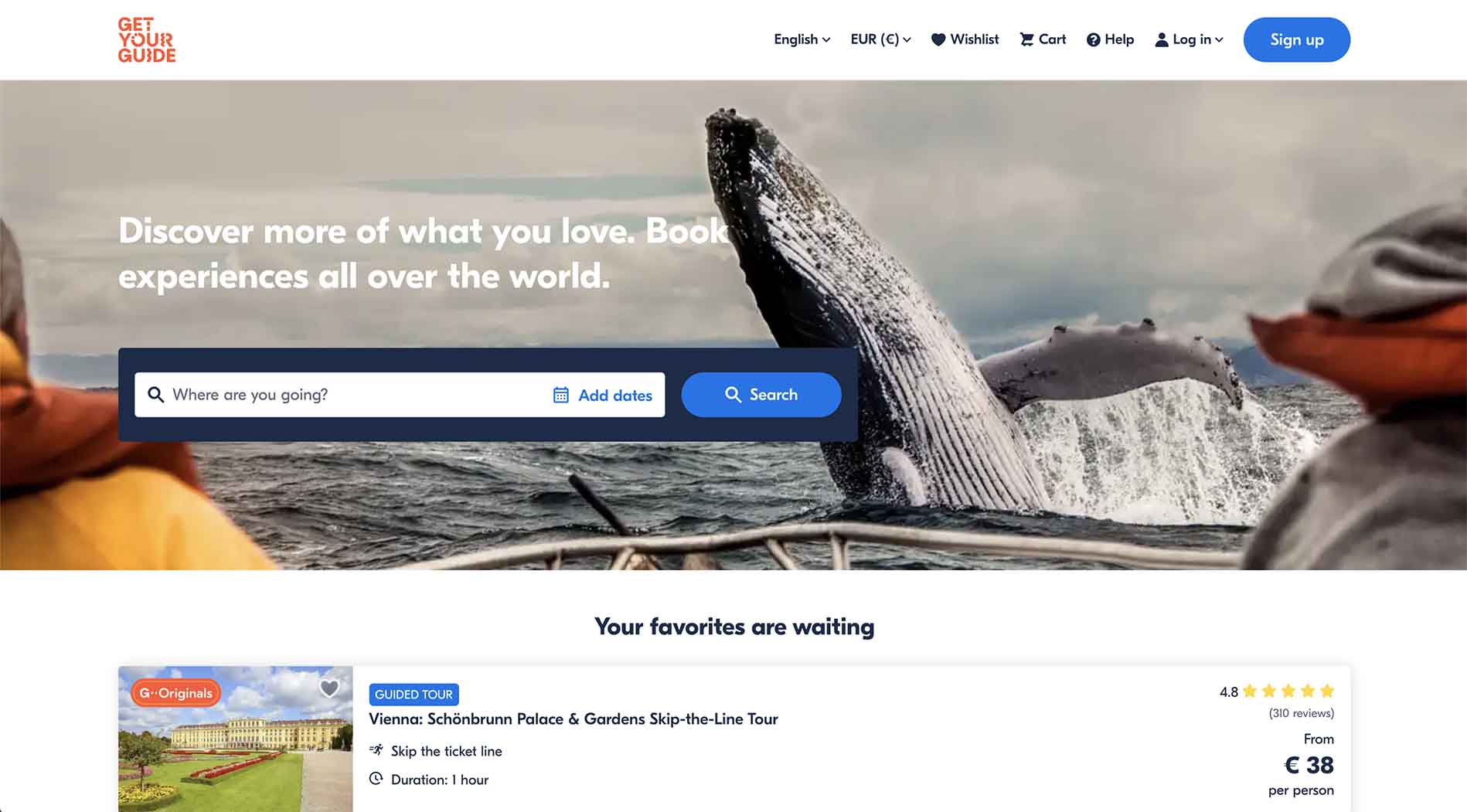 Program name: GetYourGuide Affiliate Program
Network / Software: GetYourGuide, Skimlinks, Awin, CJ Affiliate
Commission: 8% and up (GetYourGuide), 5% (Skimlinks), 7% base (Awin), 7% (CJ Affiliate)
Cookie duration: 31 days (GetYourGuide), Not listed (Skimlinks), 30 days (Awin, CJ Affiliate)
Markets: Global (GetYourGuide), Global (Skimlinks), US (Awin), US, FR, DE, UK (CJ Affiliate)
Alternatives: Viator at 8% (Viator), 4% (ShareASale), or Klook at 2-5%
GetYourGuide is a place to book travel experiences and activities online. Think guided tours, boat rides, skip-the-line tickets, city guides, and group tours large and small.
In addition to working with local tour operators, GetYourGuide also has their own Originals series of tours they run themselves. These tours are based the massive amount of data they have about the kinds of activities people like best.
GetYourGuide offers an 8% base commission rate through their direct program, though successful affiliates can negotiate for rates as high as 10 and 12%.
Paired with a 30-day cookie period, the rates are favorable for landing commissions. Especially if you cover Europe on your travel blog, since the selection on GetYourGuide is great.
The key is to promote these activities in the right kind of content, at the moment when people are most likely to book. Here are some tips on that.
Tips for promoting travel tours as an affiliate: Link to tours on articles about things to do in a city, itineraries, day trips from a city, how to reach a place, food tours, or guides to a location-specific activities or bucketlist experiences.
One thing to consider is that people browsing "things to do" posts tend to fall into two camps: people who are dreaming of a destination and people who are already there.
As such, these kind of posts can result in good revenue for affiliates, but have a lower affiliate RPM because the traffic intent is split between far future planning and immediate booking.
RentalCars.com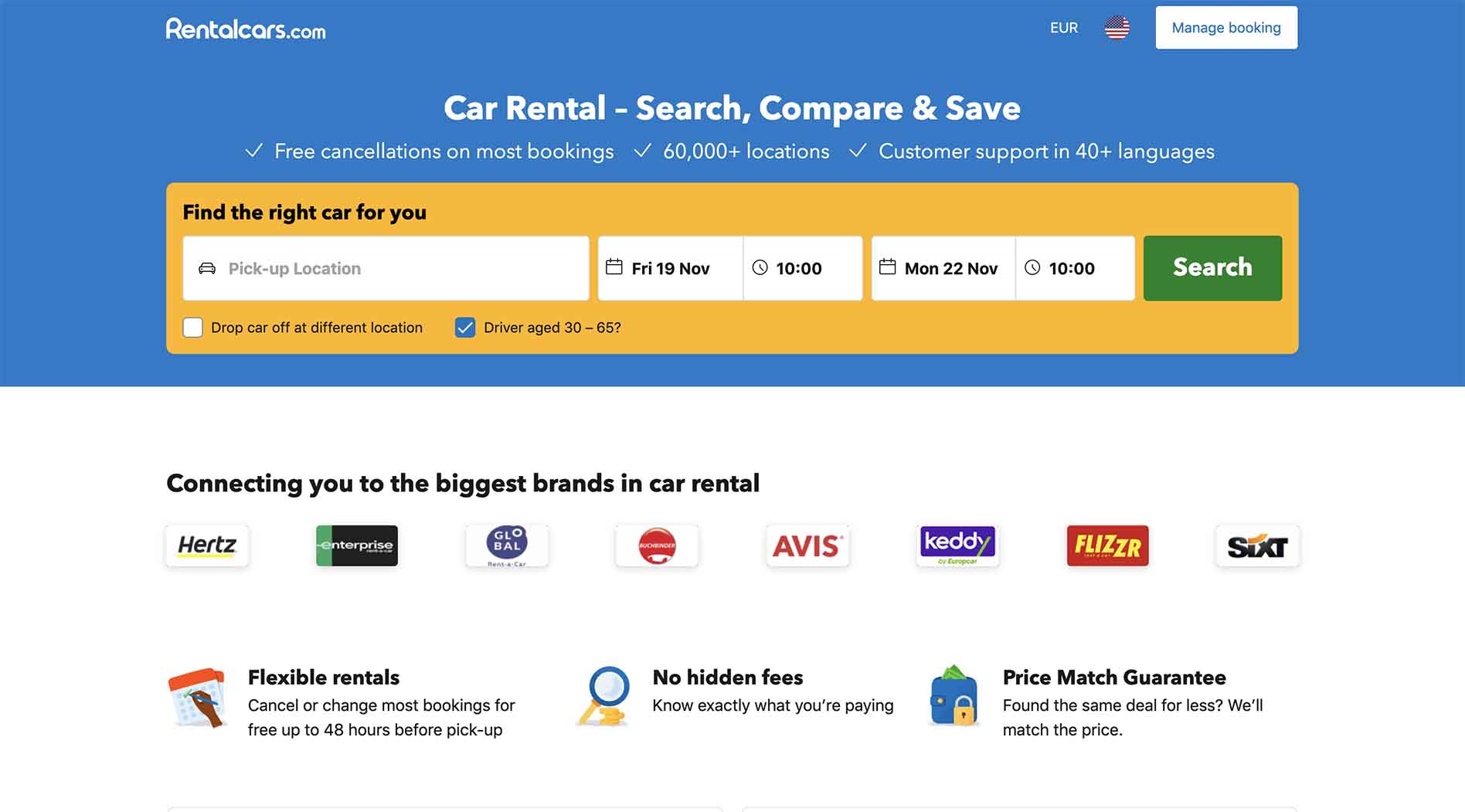 RentalCars.com is a great example of how much of an opportunity transportation is a big opportunity for travel blogger affiliates.
As one of the biggest rental car comparison websites online, RentalCars.com has got great brand recognition and overall does prove to have some solid deals.
If you tend to do road trips or just prefer to socially distance from your fellow travelers, rental car affiliate programs are a great addition to your travel content.
The two main rental car affiliate programs we found in our analysis were RentalCars.com and Discover Cars (also in this guide). Depending on your audience, one or the other might convert better, so it's worth testing each.
Tips for promoting rental cars: Obviously, it works best to promote rental cars for places where you might like to have a car to get around, and parking isn't too terrible. Think road trips, regional trips, and destinations where people are likely to visit multiple towns or cities in a single trip.
The longer the person's trip is, the more commission you earn. So thinking about destinations where people tend to spend a longer amount of time driving around is helpful.
Discover Cars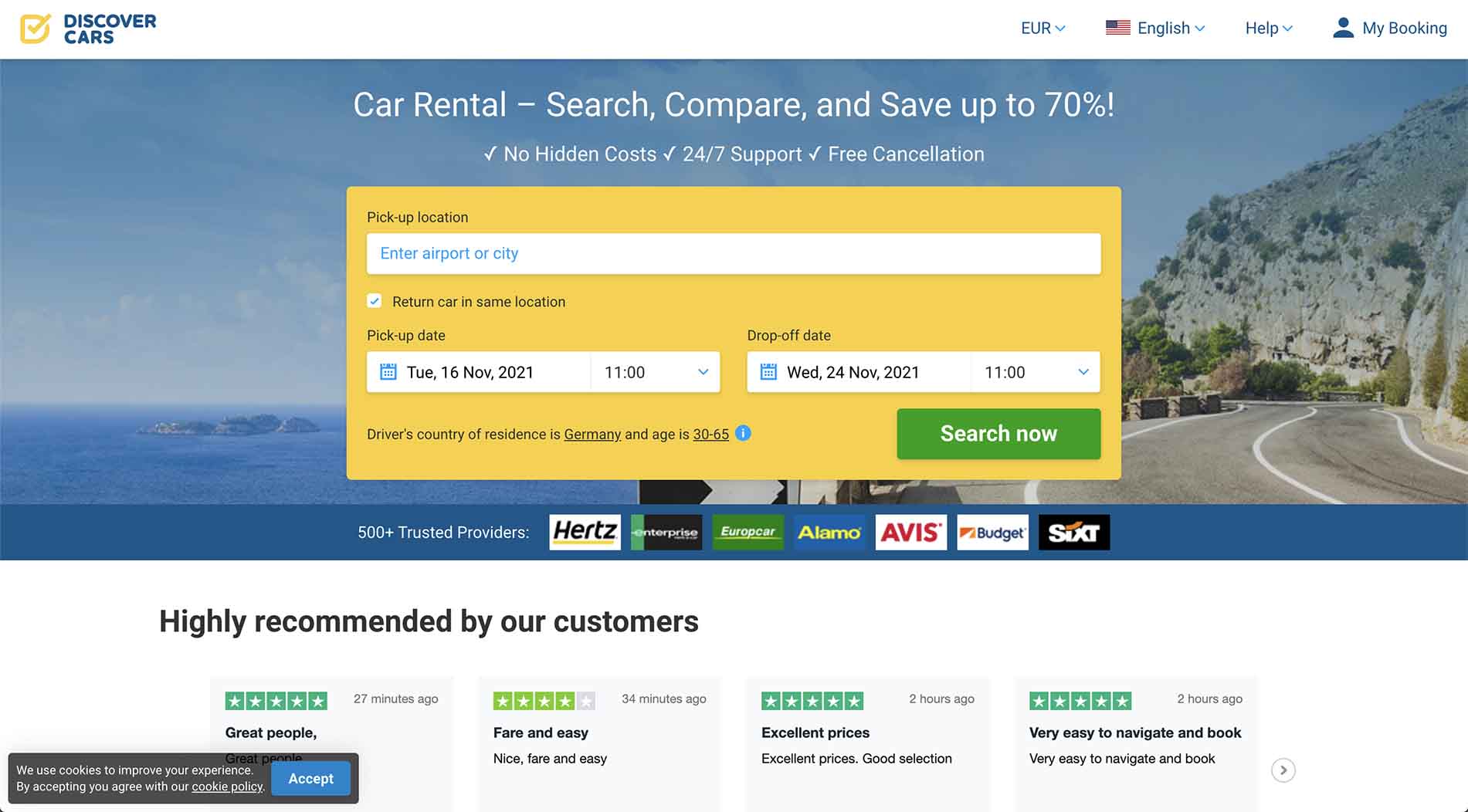 Discover Cars is a brand I wasn't familiar with until compiling the data for this article. But then I saw it everywhere.
Their merchant page on ShareASale got my attention:
"We partner with some of the top webmasters in the travel vertical who are earning on average $2,500 USD per month with a traffic of 100K."
This means average commissions vary from $20-$50 per sale, and with a super generous 1-year cookie. With affiliate commissions like that, it's easy to imagine that adding some car rental links to your existing content could be pretty profitable.
You may find it interesting to try out both RentalCars.com and Discover Cars and see which one converts better for your readers.
Klook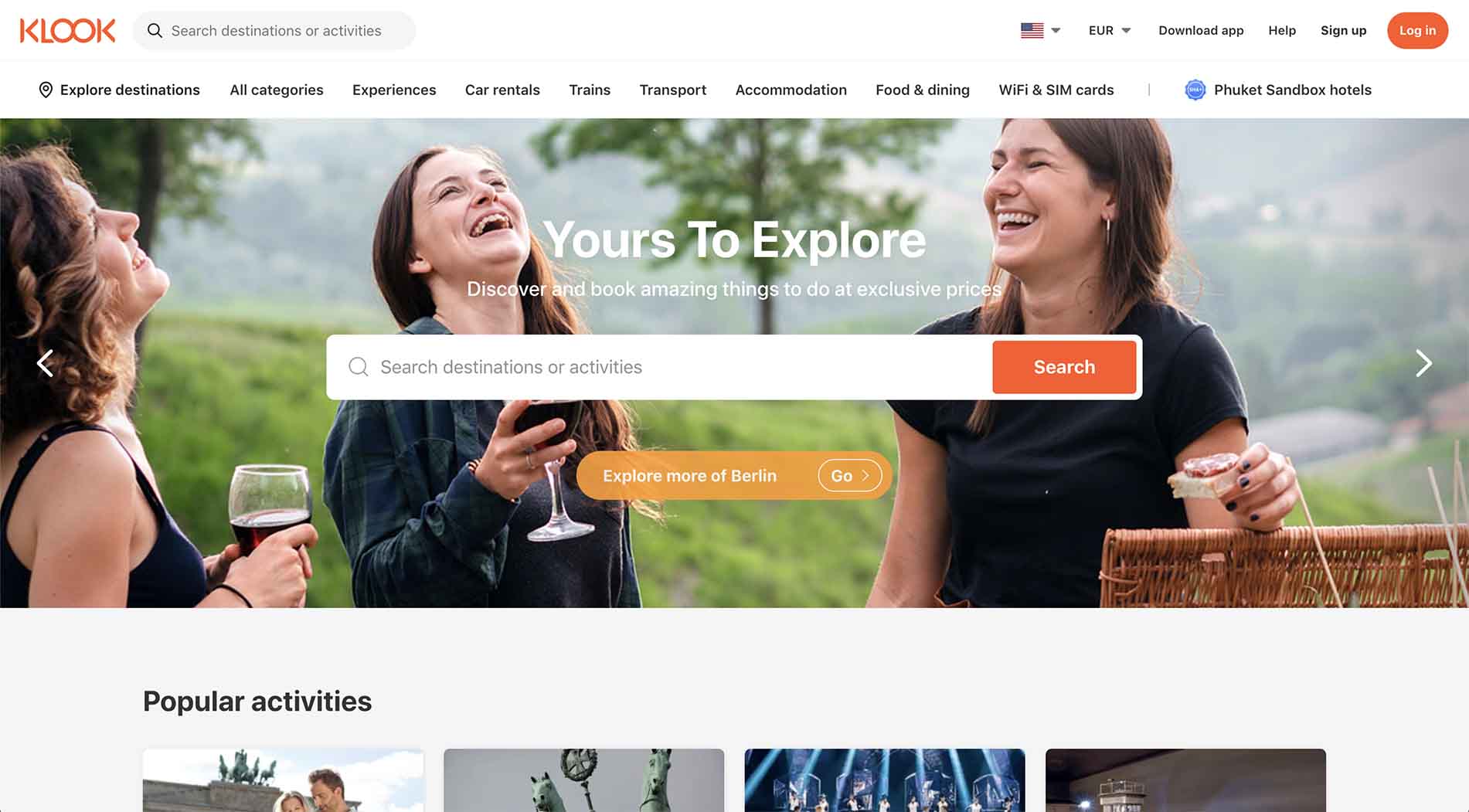 Program name: Klook Affiliate Program
Network / Software: Klook
Commission: 2-5%
Cookie duration: 30 days
Markets: Global
Alternatives: GetYourGuide at 8% and up (GetYourGuide), 5% (Skimlinks), 7% base (Awin), 7% (CJ Affiliate), or Viator at 8% (Viator), 4% (ShareASale)
Klook is a Hong Kong-based travel tours and experience platform. As such, we found Klook promoted most on blogs that focus on Asian countries like Japan, Korea, Singapore, China, Taiwan, and Vietnam.
With that said, since the pandemic and the turndown of international tourism in Asia, Klook has doubled down on Europe and North America as target markets. So you'll want to test promoting similar activities between Klook, Viator, and GetYourGuide to see which resonates most with your audience.
Right on the bottom of their homepage, you can see a pretty clear list of their top performing activities and tours.
Let this inspire you on the type of content to create as a travel affiliate: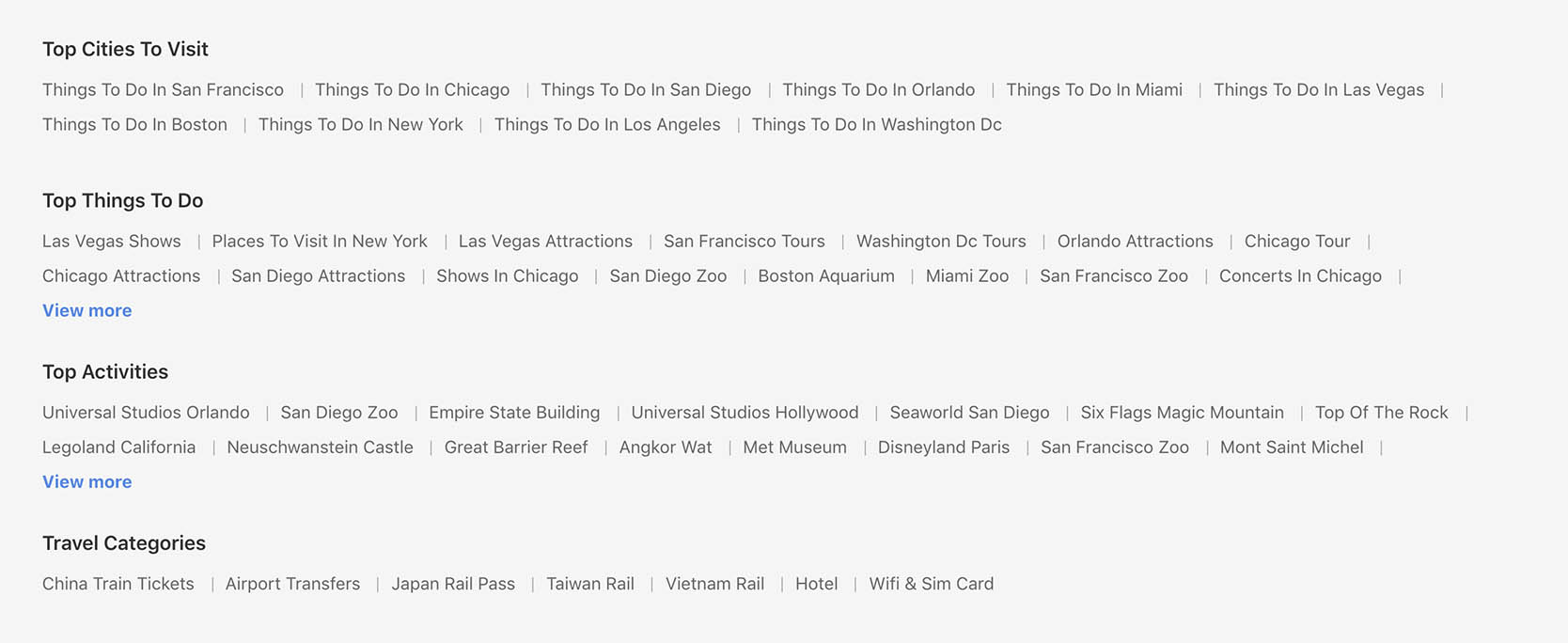 Apart from tours and activities, Klook is also a reseller of train tickets, WiFi rentals, and Sim cards. Especially if your readers are traveling to a country in Asia for the first time, there are probably a number of products and conveniences you can help them discover through Klook.
Plum Guide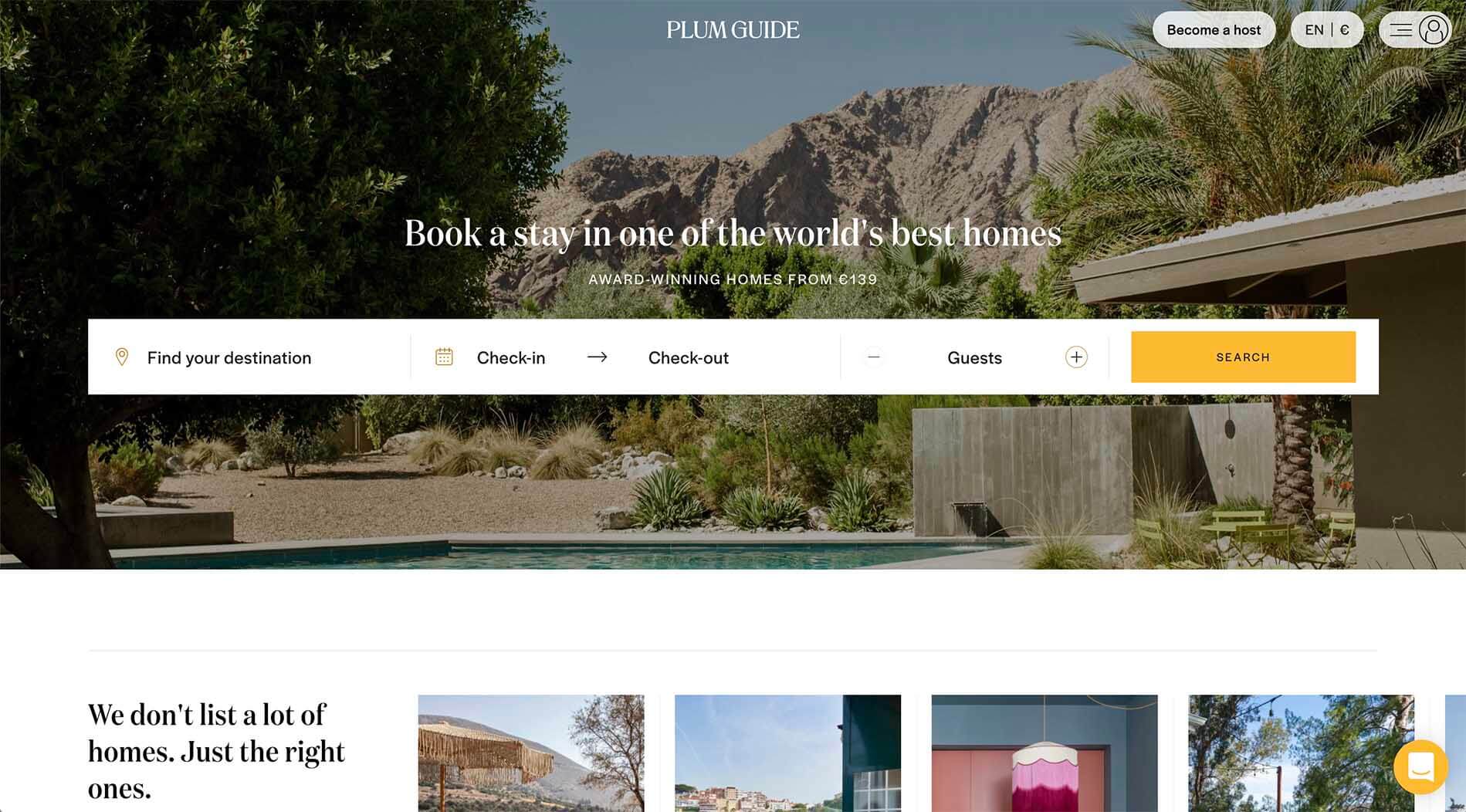 Plum Guide is like a fancier version of Airbnb, where stays start at 139€ and go up from there. They select the top 1% of properties in a few of the most popular vacation destinations, like London, Paris, New York, Los Angeles, Rome, Milan, Copenhagen, Madrid, Barcelona, Lisbon, Berlin and Tel Aviv.
So while the properties on Plum Guide might be too expensive for the average traveler, the bookings you can make through this program tend to be on the higher end if they go through.
On top of that, the generous 90-day cookie period means you have a lot of time for the guest to actually book their stay after they start their research process on your website.
If you cater to luxury travellers, Plum Guide could be a good addition to the hotel affiliate programs you're already promoting.
Outdoorsy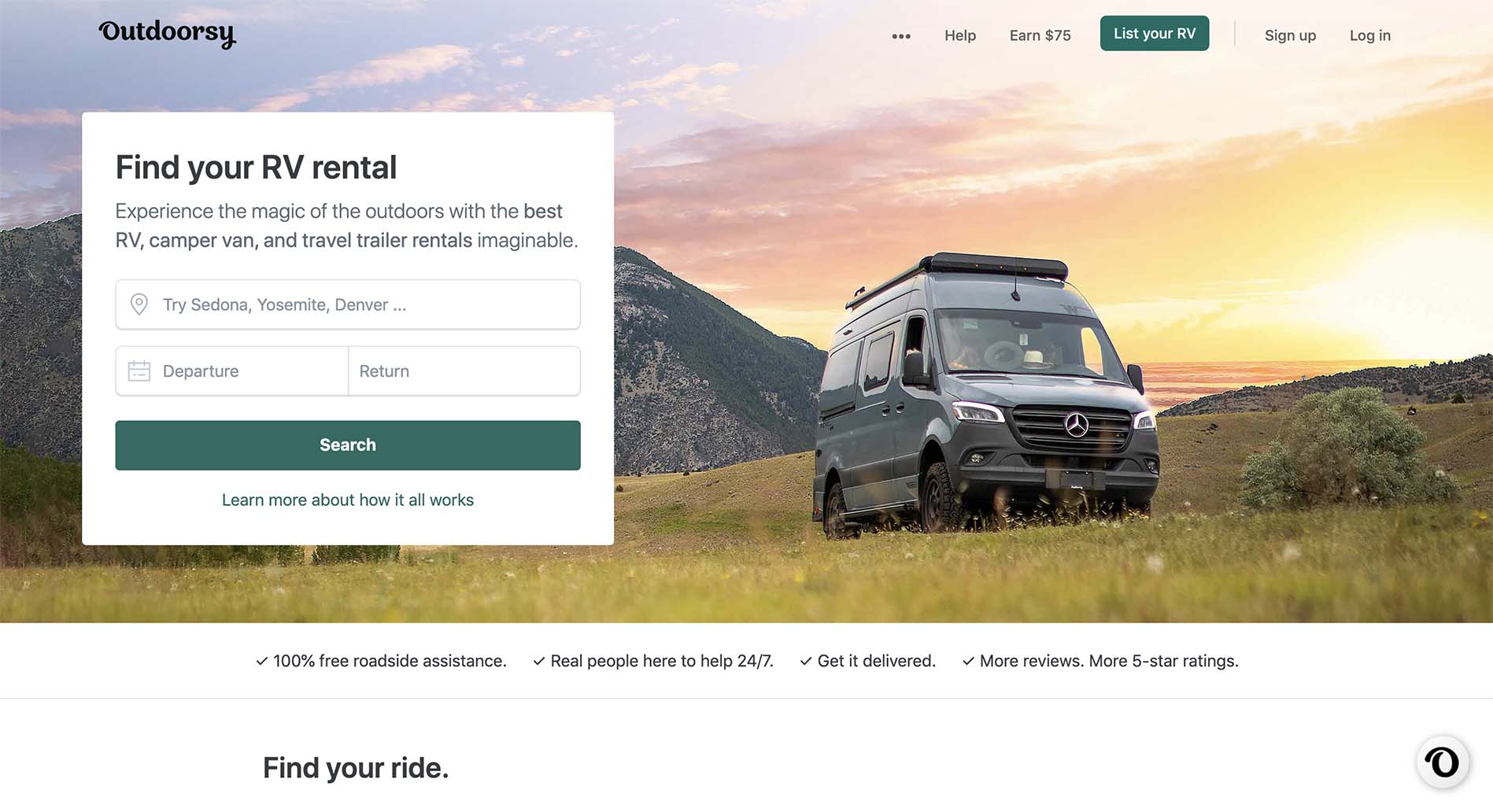 Program name: Outdoorsy Affiliate Program
Network / Software: AvantLink, CJ Affiliate, Tune (HasOffers)
Commission: $60.00 or more per booking
Cookie duration: 30 days
Markets: US, CA (AvantLink), US, CA (CJ Affiliate), US, CA (Tune (HasOffers))
Alternatives: RVShare at 5% for each stay, $7.00 for each new RV listed (CJ Affiliate), 6.4% for each stay, $7.00 for each new RV listed (FlexOffers), or Camping World at 4% commission
Who wants to take bets that RVing, renting camper vans, and hitting the road is going to be the most popular travel activities next Summer?
While hotels are some of the most lucrative affiliate programs for travel bloggers, RVs and camper vans take their place when it comes to destinations popular for their natural beauty.
Think about national parks and places famous for their camping and wildlife.
Apart from the solid commissions at $60+ per booking, Outdoorsy is available in both the US and Canada. So if you're outdoors activities in North America, there's a good chance you'll be covered.
Look no further than the Outdoorsy homepage for a roadmap (ha!) to their most popular places to rent an RV: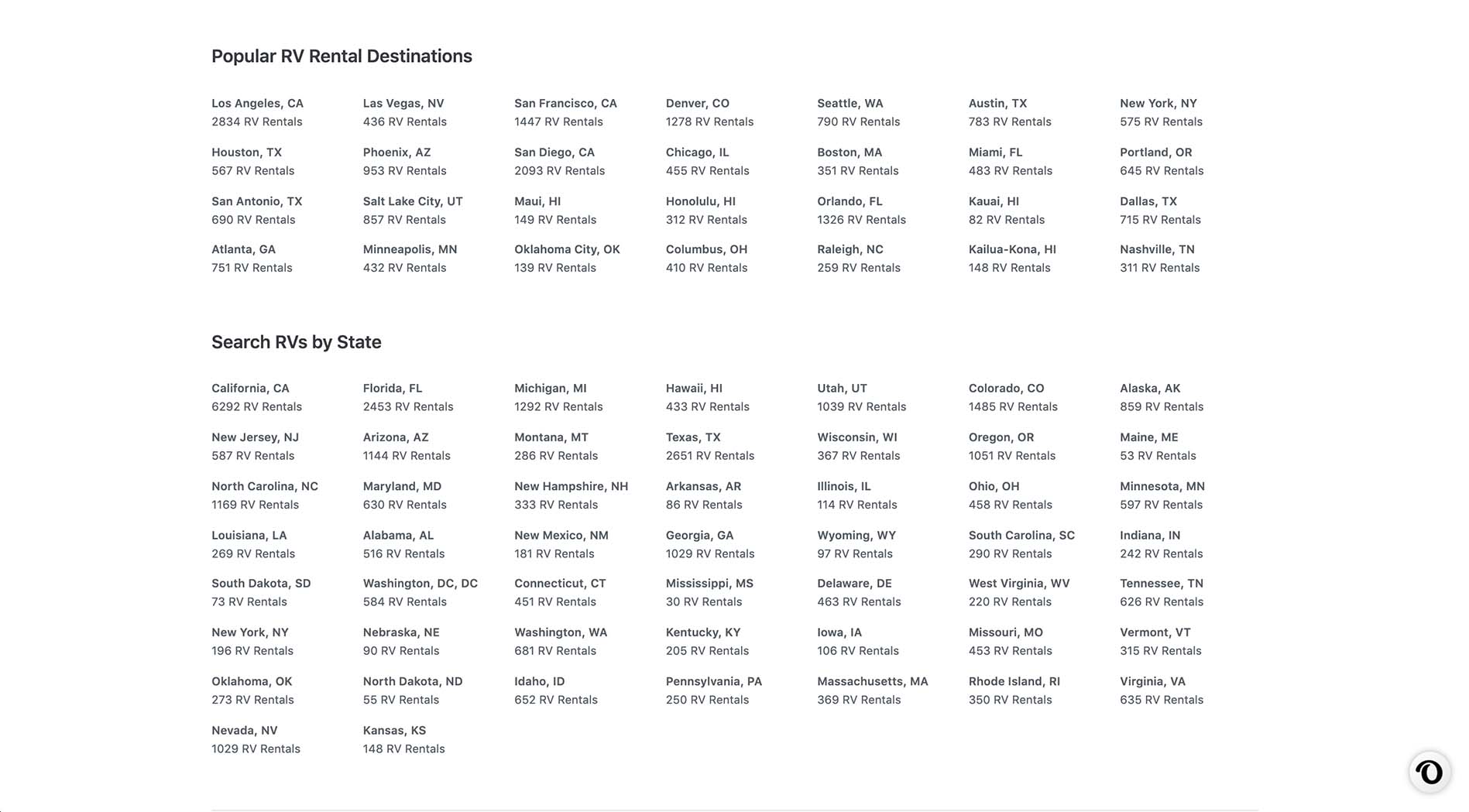 The great commissions and cookie period make this an excellent affiliate program for both travel and outdoors-focused websites.
You will need to reach $100 in earnings to trigger a payout from AvantLink, CJ, or Tune (formerly HasOffers). But with these commissions, that shouldn't be an issue.
RVShare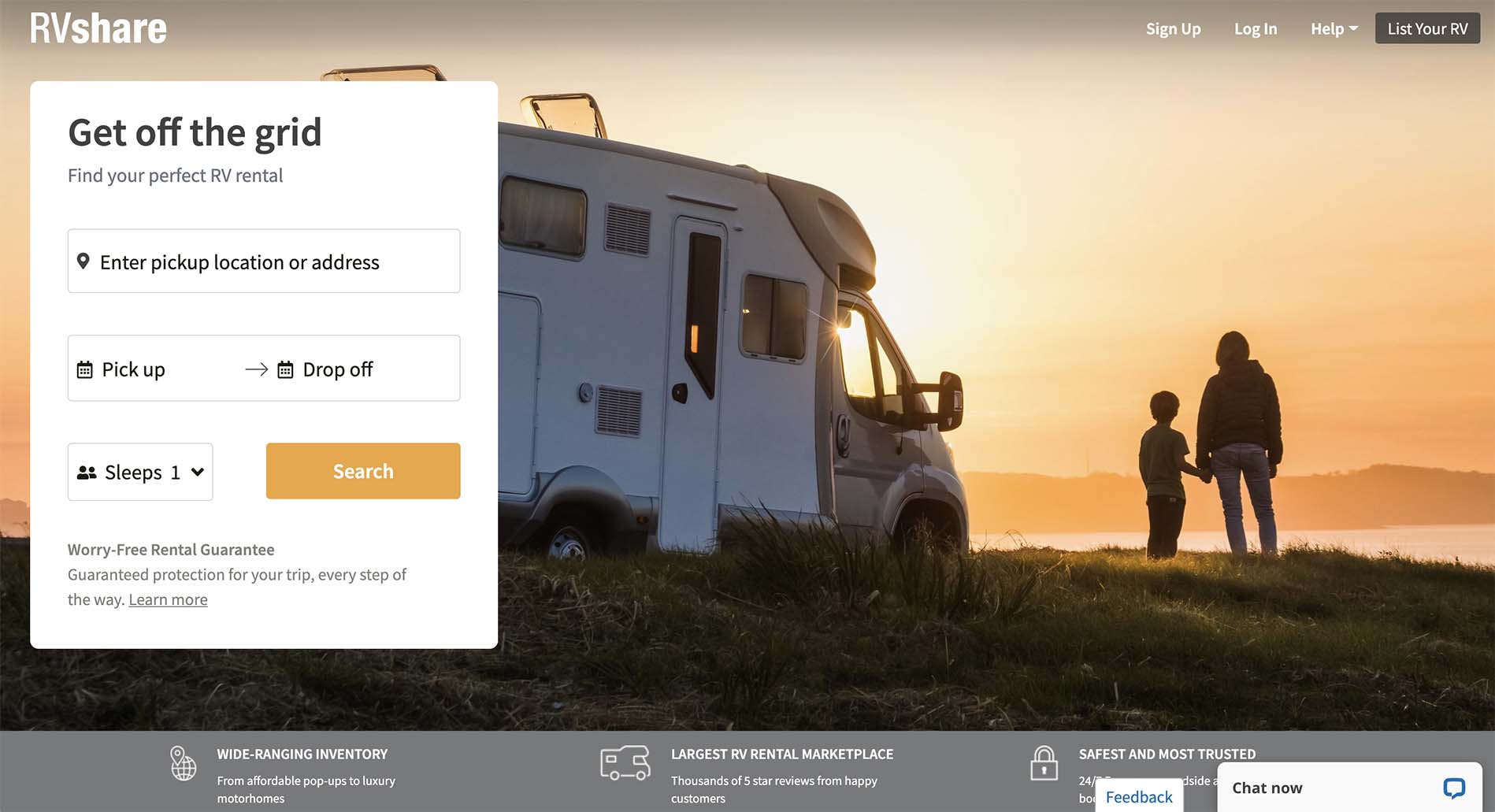 RVShare is an RV marketplace where both RV owners and those looking to rent can connect. It includes a range of vehicles from pop-ups to luxury motor homes.
With an average order value of $699, according to the program landing page, that means an average commission of about $34.95. Not bad at all, but not nearly as good as Outdoorsy, assuming a comparable conversion rate.
Still an extremely solid option if you need to promote RV or van rentals in places Outdoorsy doesn't cover. At least, as the homepage claims, it is the largest RV rental marketplace.
Similar to Outdoorsy, popular destinations are plastered right on the homepage: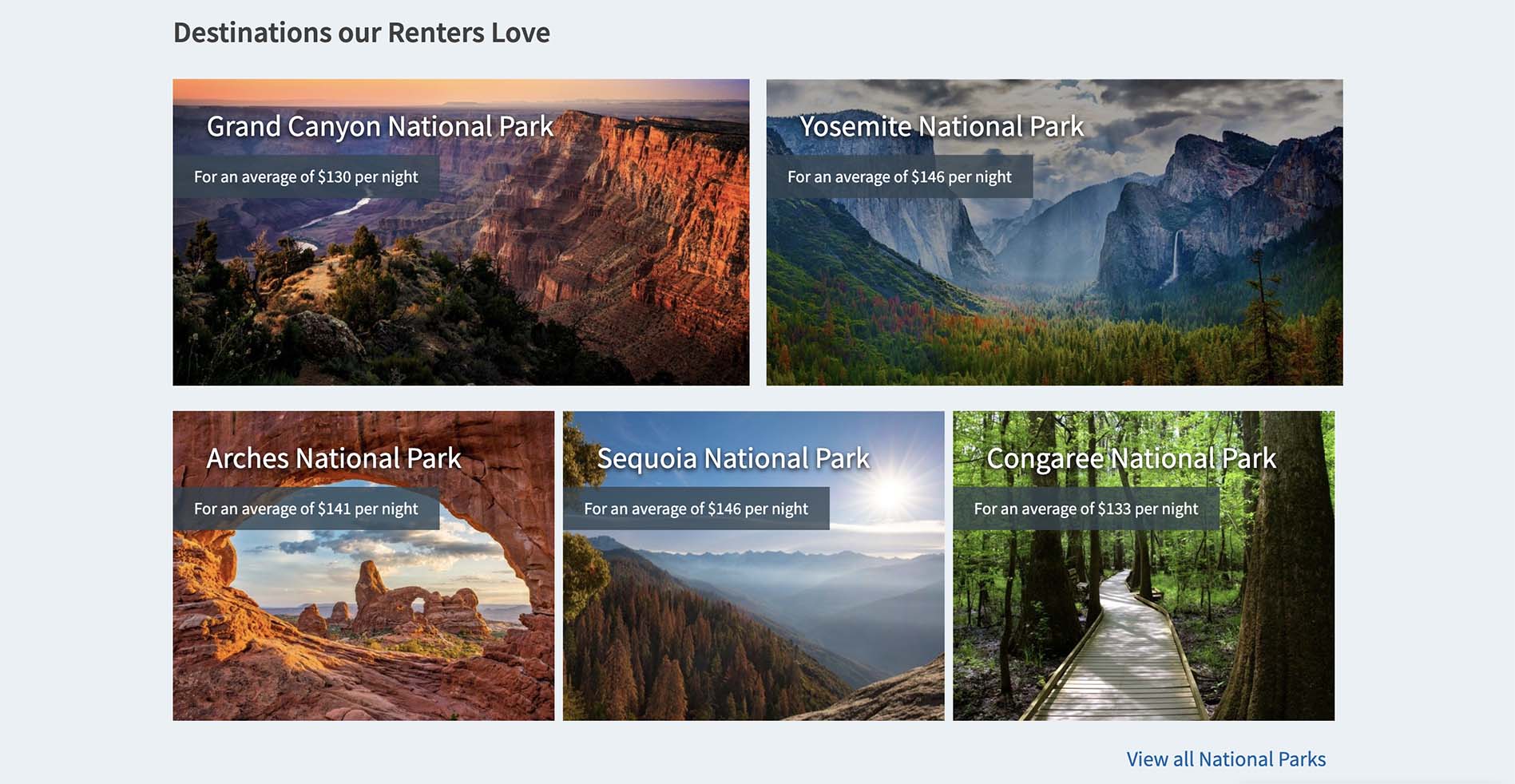 Take any of these for inspiration on the types of destinations that people tend to visit by RV, and you'll be ahead of the curve.
Skyscanner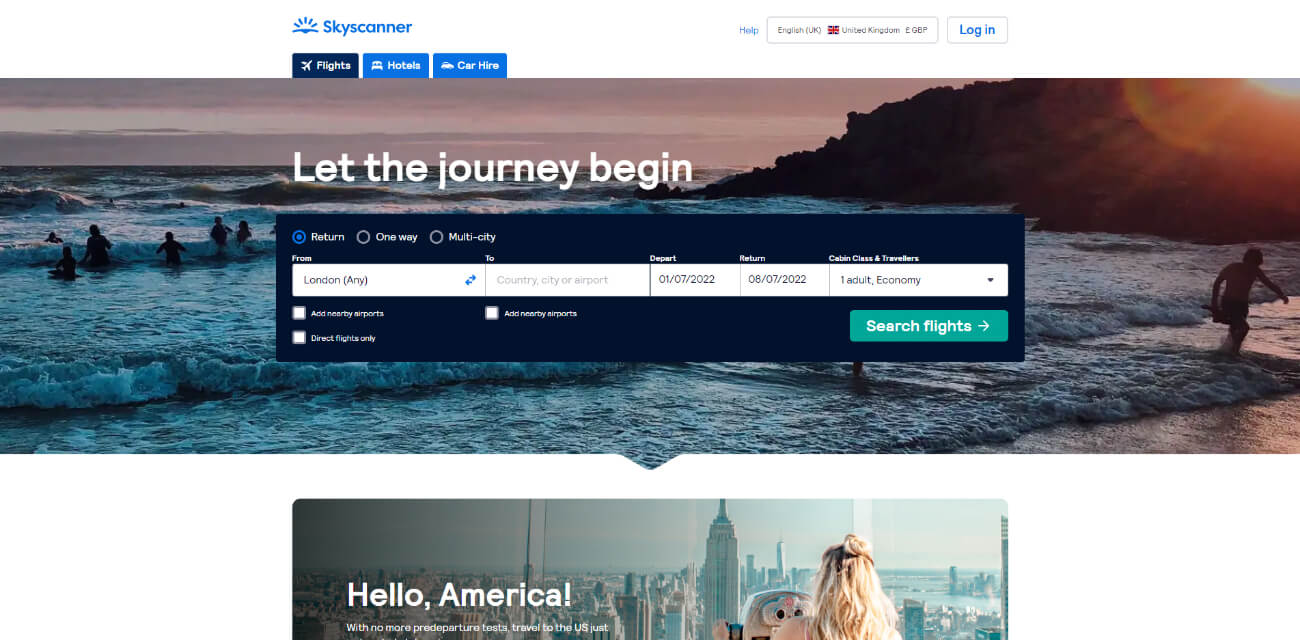 Skyscanner is a metasearch engine and travel agency based out of Scotland with average site visits of over 100 million people per month. The site specializes in helping travelers search, choose, and book from a wide variety of flight, hotel, and car hire deals from over 1,200 travel providers. The website is also available in 35 languages across 60 countries.
Skyscanner is an easy sell, given its brand recognition and how trusted it is among regular travelers. The company's airline affiliate program currently provides commissions on sales of flights and hotel bookings. The pay-outs are a share of the commissions offered to Skyscanner by their travel partners. Expect to earn in the region of 20% commissions for bookings.
You have three different ways to sell Skyscanner's products:
Embed widgets on your website.
Use the company's text links or banners or generate your own unique referral link.
Create an innovative travel website or app by connecting to Skyscanner's Flights API.
Overall, Skyscanner is a reliable choice for travel deals and a superior inventory of travel products.
Momondo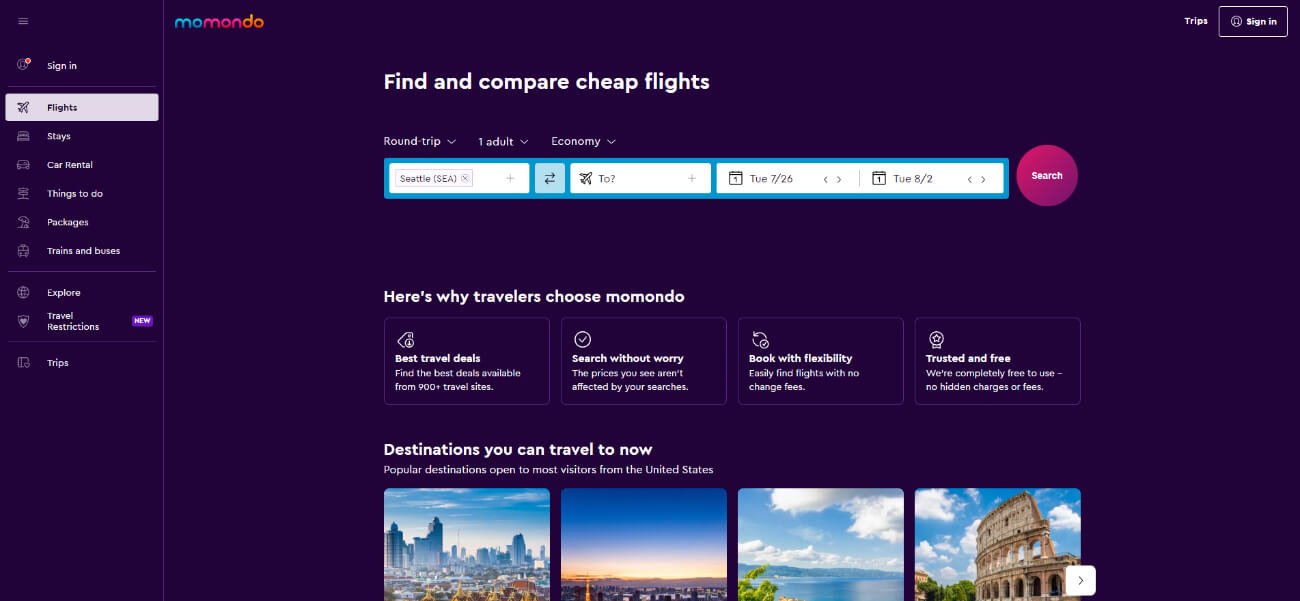 Program name: Momondo Affiliate Program
Network / Software: CJ Affiliate, Webgains, FlexOffers, Skimlinks, Sovrn
Commission: $0.06-$0.60 per sale depending on the types of product and clickout (desktop, mobile) (CJ Affiliate), $0.09-$0.87 per sale depending on the types of product and clickout (desktop, mobile) (CJ Affiliate), $0.45 per click out for desktop and tablet, $0.65 per click out for mobile (Webgains), 0.05-0.46% per sale depending on the types of product and clickout (desktop, mobile) (FlexOffers), $0.07-$0.66 per sale depending on the types of product and clickout (desktop, mobile) (FlexOffers), A$0.38-A$0.83 (Skimlinks), (Skimlinks), (Sovrn)
Cookie duration: Not listed
Markets: CA (CJ Affiliate), US (CJ Affiliate), Global (Webgains), CA (FlexOffers), US (FlexOffers), AU (Skimlinks), Global (Skimlinks), Global (Sovrn)
Momondo is a travel fare metasearch engine and aggregator owned by KAYAK. Similar to KAYAK, Momondo searches and displays cheap fares for tickets, stays, car rentals, and experiences.
The good news about Momondo's affiliate program is that they're open to even smaller blogs. So, if you're just starting out as an affiliate, this might be a great opportunity. They're open to content sites, established travel sites, and even email as long as the email content has been pre-approved by the company.
All you need to do is sign up on any of the associate affiliate network partners, receive your link and embed it to your website. You have the potential to earn US$0.65 per click on desktops and tablets and US$0.45 per click on mobile searches. Right now, the affiliate product is available for flights only. Also, reach out to the brand directly for additional support and exclusive deals if you have more than 200,000 unique site visitors a month.
KAYAK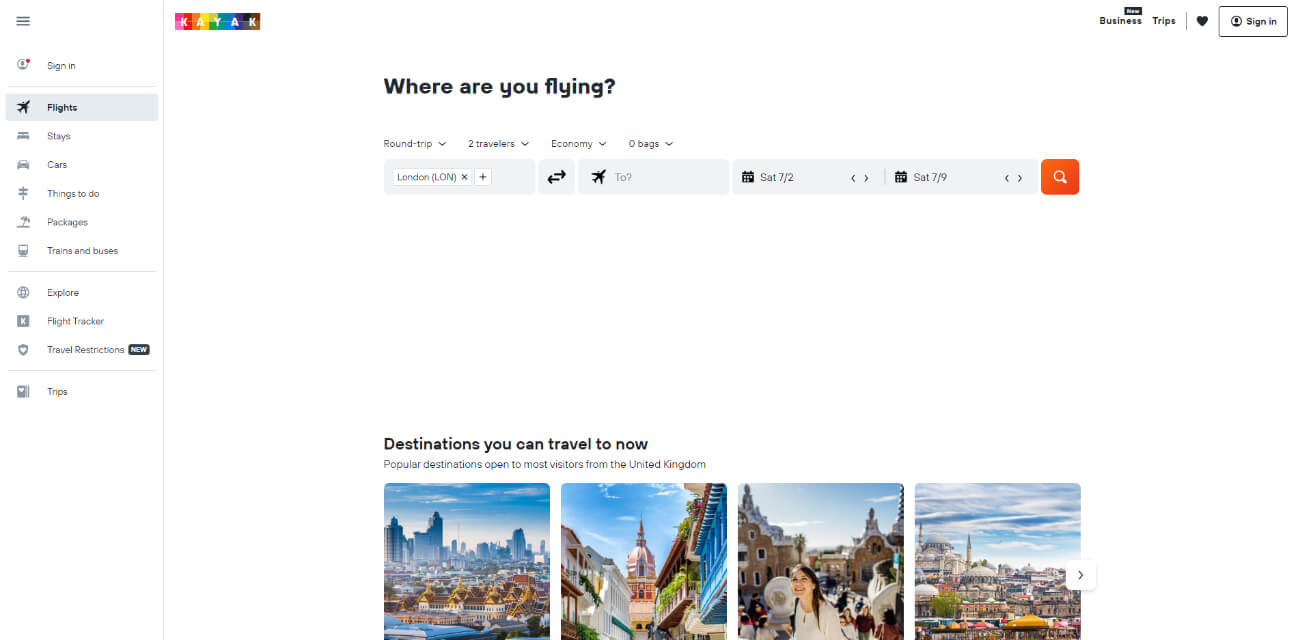 Program name: KAYAK Affiliate Program
Network / Software: KAYAK, CJ Affiliate, FlexOffers, TradeTracker
Commission: 0-50% (KAYAK), $0.08-$1.90 per sale depending on the types of product and clickout (desktop, mobile) (CJ Affiliate), £0.11-£0.33 per sale depending on the types of product and clickout (desktop, mobile) (CJ Affiliate), $0.08-$0.66 per sale depending on the types of product and clickout (desktop, mobile) (CJ Affiliate), $0.07-$0.61 per sale depending on the types of product and clickout (desktop, mobile) (FlexOffers), 0.06-0.83% per sale depending on the types of product and clickout (desktop, mobile) (FlexOffers), £0.28 per click on flights, hotel and car searches (TradeTracker)
Cookie duration: Not listed (KAYAK, CJ Affiliate, FlexOffers, TradeTracker), 30 days (CJ Affiliate, FlexOffers)
Markets: Global (KAYAK), US (CJ Affiliate), UK (CJ Affiliate), CA (CJ Affiliate), CA (FlexOffers), US (FlexOffers), CH, DE, ES, FR, IT, NL, PL, UK (TradeTracker)
KAYAK is a popular metasearch engine and online travel agency from the United States. The company offers a wide range of travel products, including flights, stays, car rentals, and experiences. From a branding perspective, the KAYAK website accounts for more than 6 million searches annually, and affiliates have already earned over US$76 million in sales.
KAYAK also has one of the most advanced and rewarding airline affiliate programs:
Earn 50% commissions from clicks, bookings, and ad revenue for flights, hotels, cars, and packages.
Easily customize your website for marketing with deep links, widgets, search boxes, white labeling, and API. You can even customize the solution to your needs.
Dedicated affiliate support includes technical setup and assistance for scaling up.
Track your earnings and performance on your very own affiliate portal.
Sign up to the KAYAK affiliate network directly on their website. Alternatively, you'll also find the affiliate program listed on CJ Affiliate, FlexOffers, and TradeTracker.
HostelWorld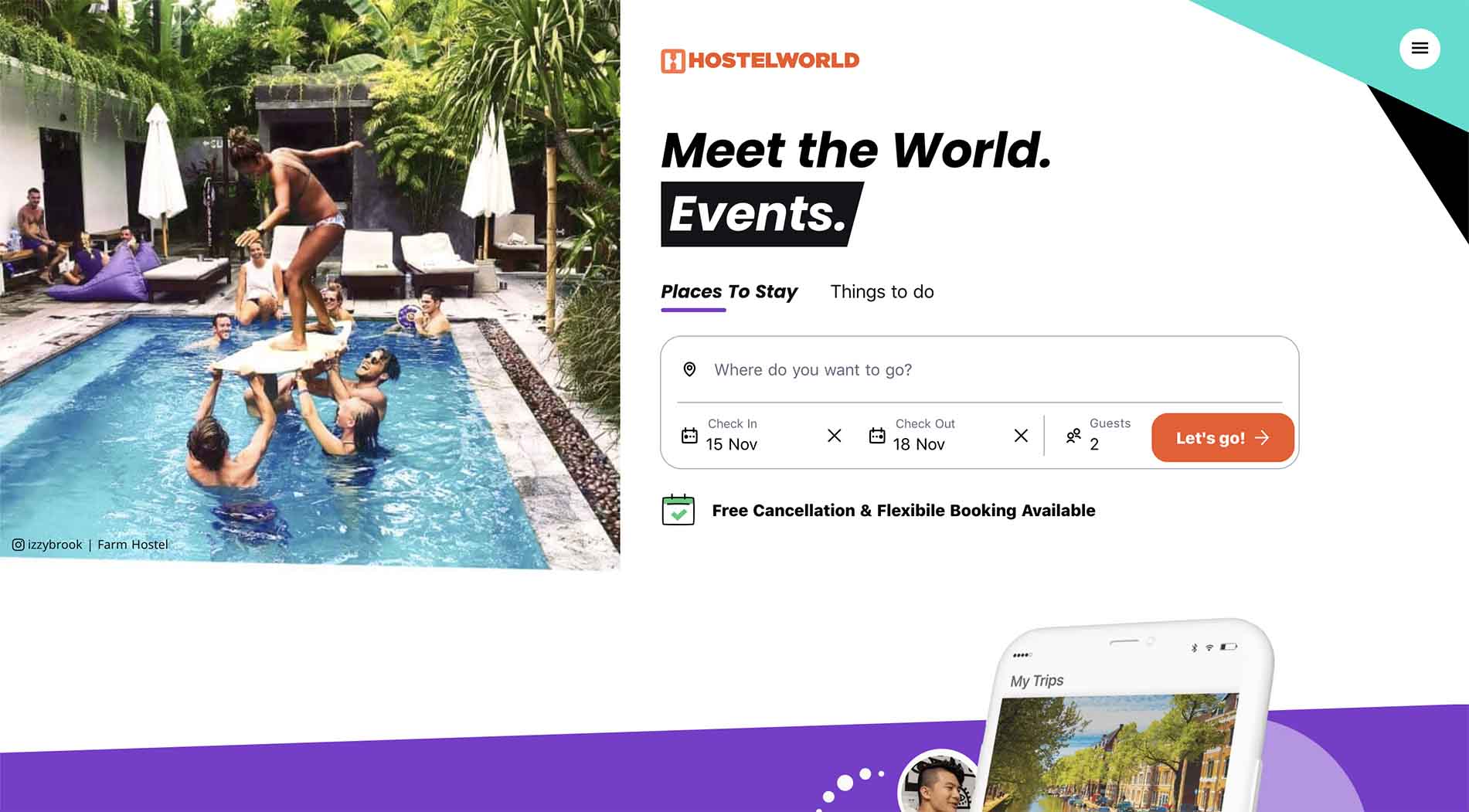 Got a budget-conscious audience? HostelWorld is a great alternative to Booking.com if your readers are college students, young people, or generally looking to travel long-term on a shoestring budget.
It's been a pretty long time since I stayed in a hostel, so I don't promote hostels myself. However, in our research we found tons of links to HostelWorld on top travel blogs and websites.
And even if you're not into hostels, HostelWorld seems to be branching out into the suddenly crowded market for travel experiences.
Tips for promoting hostels: Most people staying in hostels are doing it for budget-conscious reasons. So promote hostels in content targeting a younger demographic (such as college students).
Interrail Pass / Eurail Pass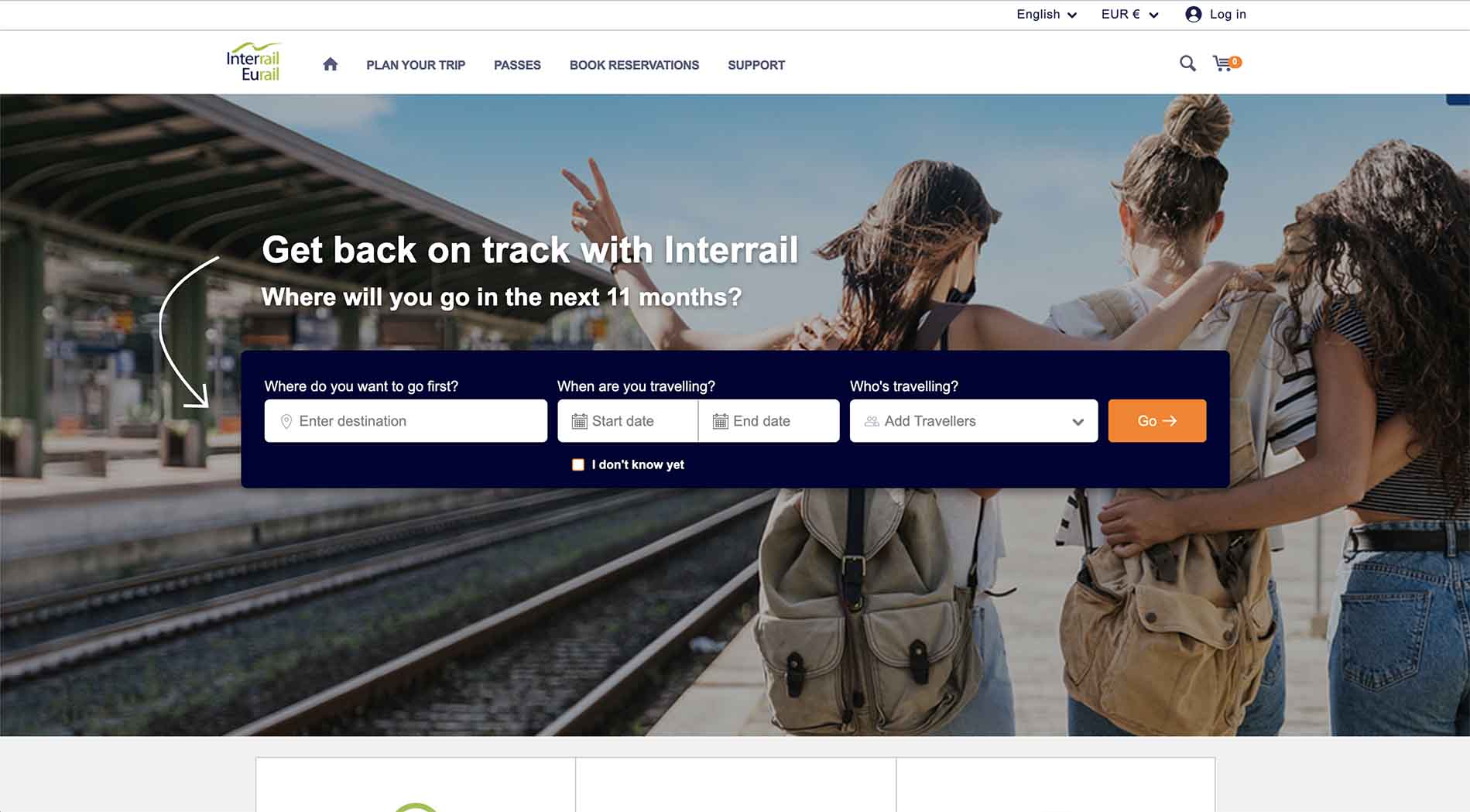 Eurail is a rail pass which permits travel through 33 European countries by train. It gives travelers unrivaled flexibility. If you miss a train, in most cases you can simply hop on board the next one.
You also save the hassle of booking train tickets in advance, though in most cases you still have to make a reservation with a small 10-20€ surcharge for high-speed and night trains.
Eurail have both multi-day and multi-country passes that travelers can tailor to their journey. Travelers can also choose a single-country pass, in case they want to just travel one country extensively by train.
Interrail is basically the same thing but designed for European residents.
Either way, you can earn a 3% commission. And with an average order value of £298.27 ($408.85), this could mean an average commission around $12.
REI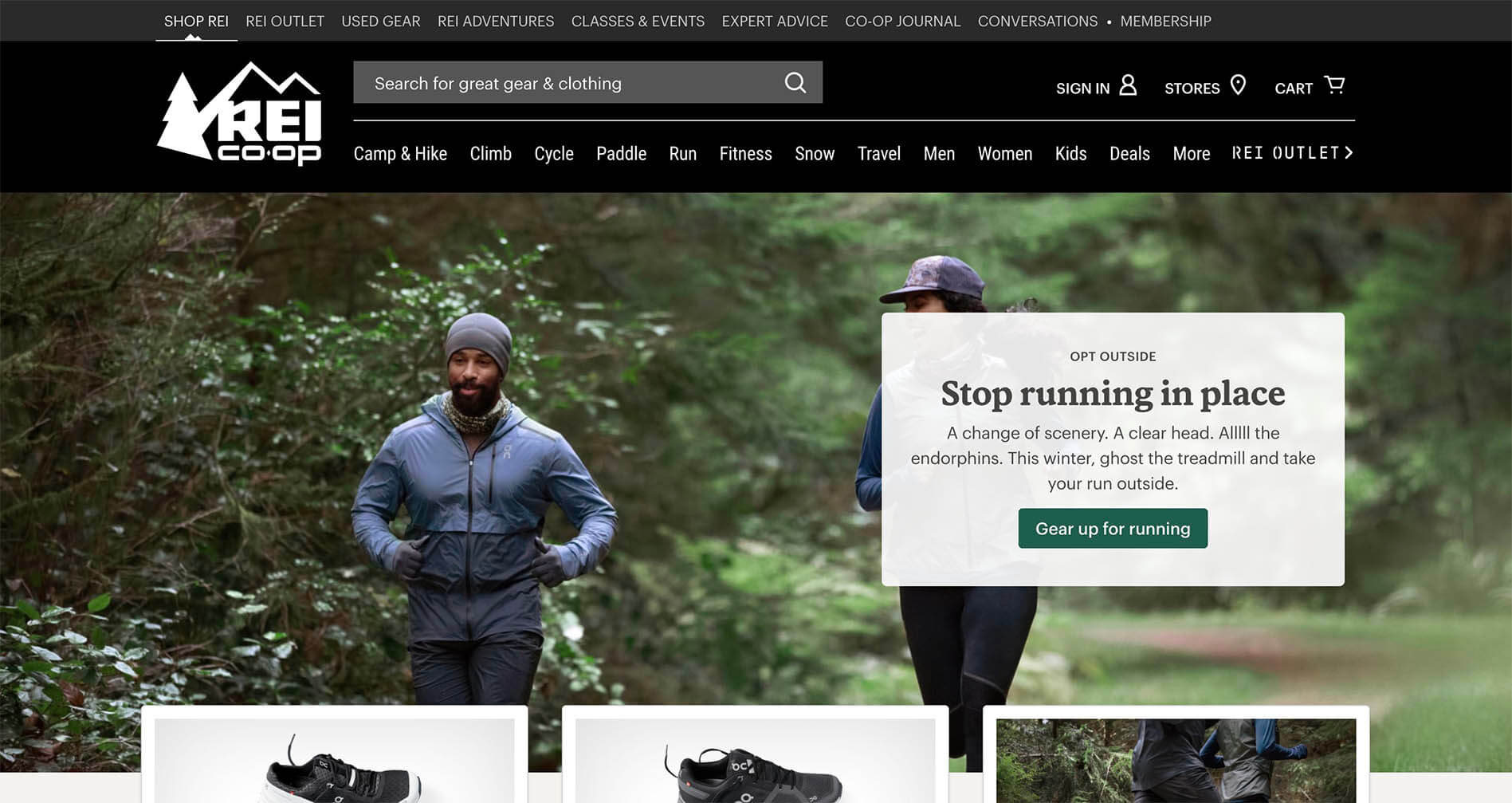 Program name: REI Affiliate Program
Network / Software: AvantLink
Commission: 5%
Cookie duration: 15 days
Brands: Arc'teryx, Black Diamond, Columbia, Merrel, Mountain Hardwear, Osprey, Outdoor Research, Patagonia, prAna, REI Co-op, Salomon, Shimano, and Smartwool.
Markets: US
Alternatives: Patagonia at 8%, or Osprey at 8%
REI is the most promoted affiliate program for outdoor gear after Amazon, according to our analysis.
It's not exactly a surprise, as REI is a trusted name with a lot of brand loyalty behind it. They offer a wide range of products from camping and hiking gear to gear for climbing, cycling, kayaking, running, snow sports, and more.
REI is a perfect brand to promote whether your website is focused on travel, nature, outdoors, or sports.
The tricky part is that AvantLink and REI are particular about who they accept into their program. So you'll need to apply with an established website for a chance to get accepted.
REI offers over 200 articles from popular brands like Arc'teryx, Black Diamond, Columbia, and Patagonia.
So if you're able to get in, those brand pages are a great place to start for insights into REI's most popular and high-converting products and product categories.
TripAdvisor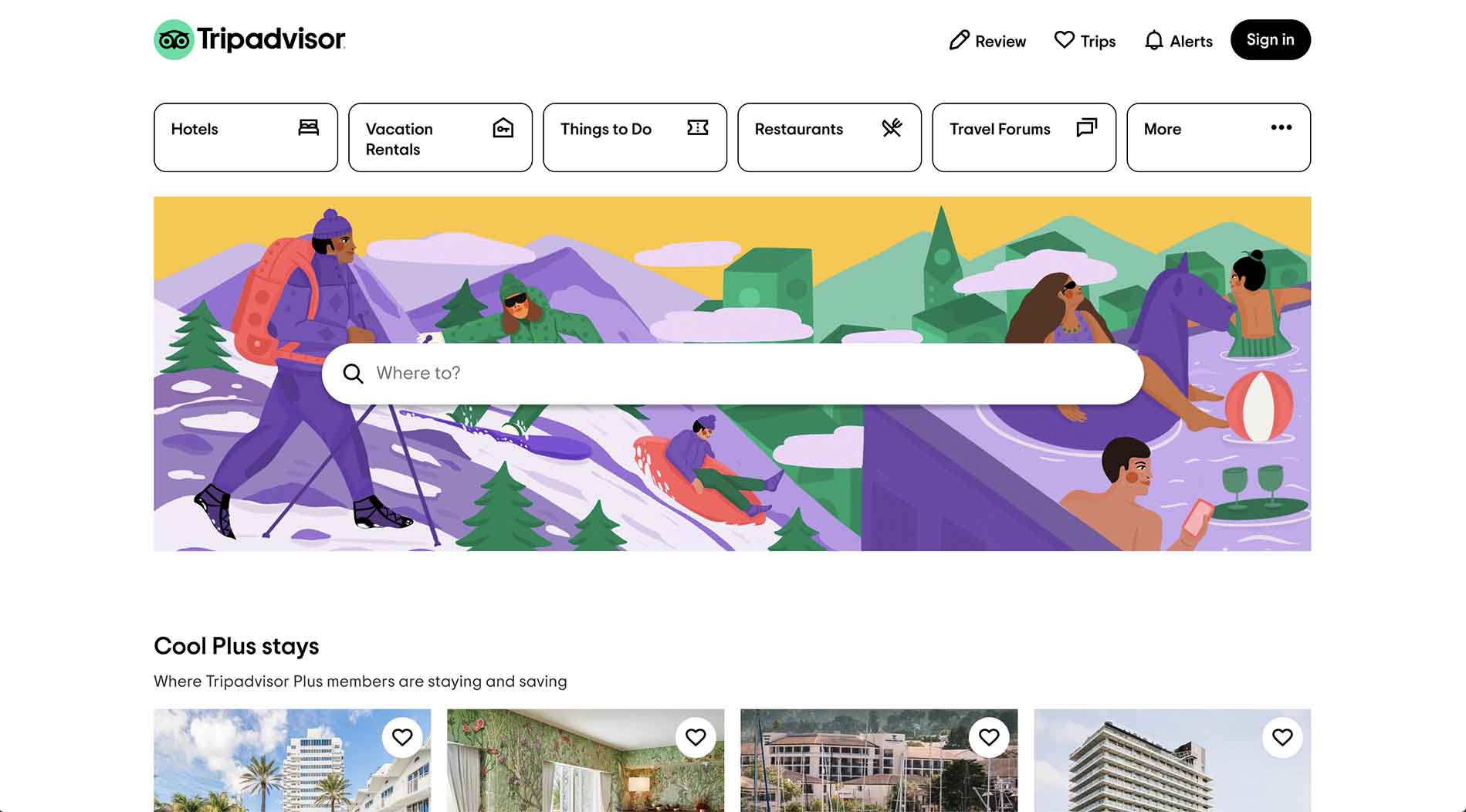 TripAdvisor is one of the most popular trip-planning websites online. On TripAdvisor, you can link to restaurants, attractions, and accommodation.
Basically, the TripAdvisor affiliate program shares revenue with affiliates based on leads, rather than sales. That means you'll generate many more, smaller commissions (think, $0.20 - $0.50 in most cases) than you would if you linked directly to the accommodation providers that TripAdvisor partners with.
But it's important to know that you'll only generate affiliate revenue if the click you send to TripAdvisor results in a click out to a hotel property. No other type of click out generates a commission for you.
Whether or not this is a good strategy for you heavily depends on the type of content you're writing. For content that's early in the trip-planning journey, this could make sense. But there you're still hoping to get lucky, as opposed to being intentional about the kind of content and links you're promoting.
If you're writing guides designed for people who are actively booking their stay, promoting hotels through Booking.com, Agoda, or Hotels.com will likely prove more profitable.
G Adventures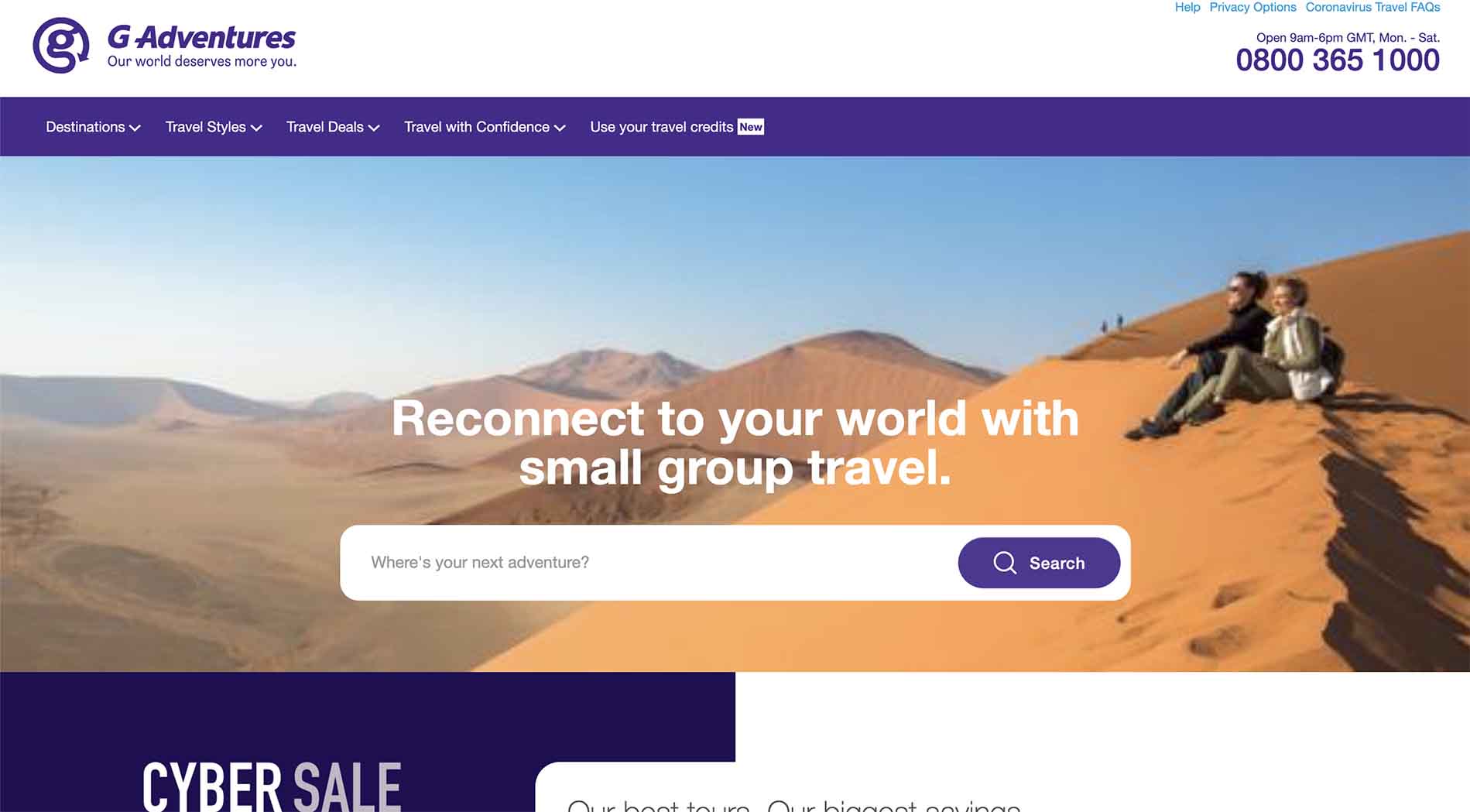 Whereas GetYourGuide, Klook, and Voyagin are all tour companies, G Adventures focused on multi-day, small-group tours that rack up a big price tag — and resulting commission.
According to their FAQs, G Adventures' average order value is $2,600. At a 6% commission, that's $156 per sale on average.
Naturally, buying a tour like this is a much longer decision-making process. Luckily G Adventures also gives its affiliates a generous 90-day cookie window.
This makes it a great option if you're able to capture a reader's email address and send them a travel guide on the location, and following up with a couple emails about this tour. Sometimes these tours also have sales, too.
Tips for promoting small group, multi-day tours: Focus on destinations that may be more difficult to reach individually, or organized cross-country tours for Americans visiting Europe.
You'll notice their website features destinations like Machu Pichu, which can be complicated to reach on your own. Same story for places where travelers may not feel confident driving themselves.
In our research, we noticed both G Adventures and Intrepid Travel being promoted most heavily on South and Central America-focused travel websites.
Intrepid Travel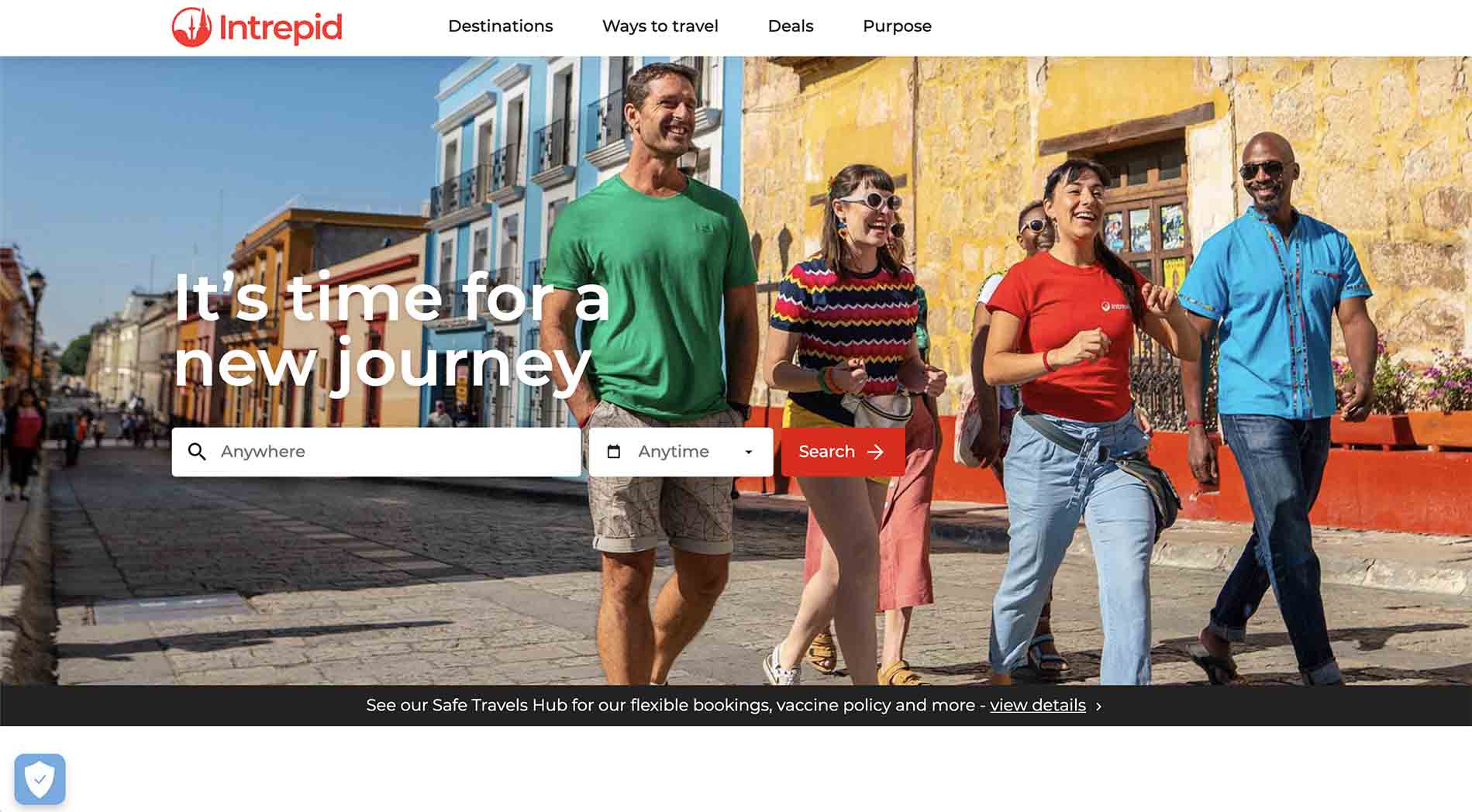 Intrepid Travel is an alternative to consider for a lot of the same destinations as G Adventures. They cater primarily to North American and European travelers going to places in South and Central America, Asia, Africa, and the Middle East.
Here are some examples of the types of trips you'll find on Intrepid Travel: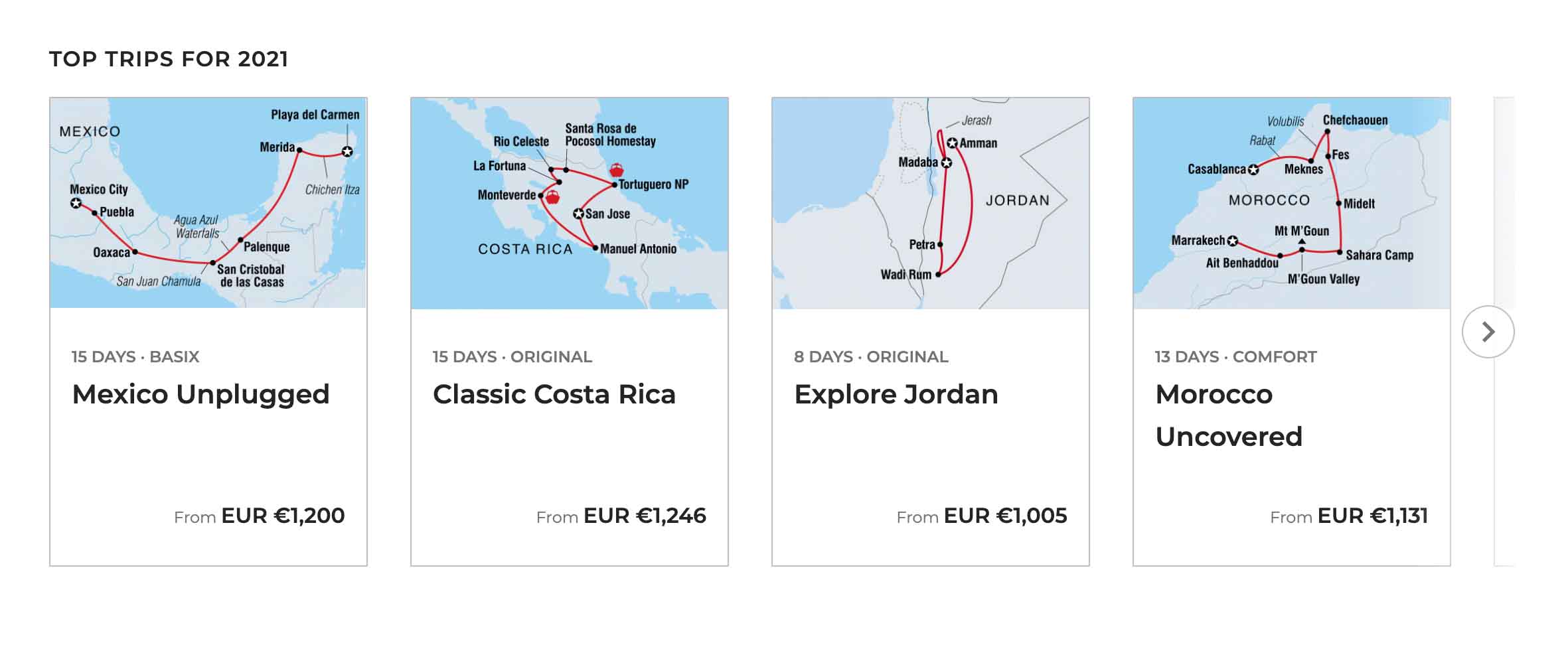 Similar to G Adventures, they also sometimes have sales, which you can share with your email list or promote on relevant pages on your travel blog.
Again, focus on destinations that can be complicated or difficult to reach without a tour. Or locations where people might feel more safe or comfortable traveling in a small group, like the ones Intrepid Travel offers.
CityPASS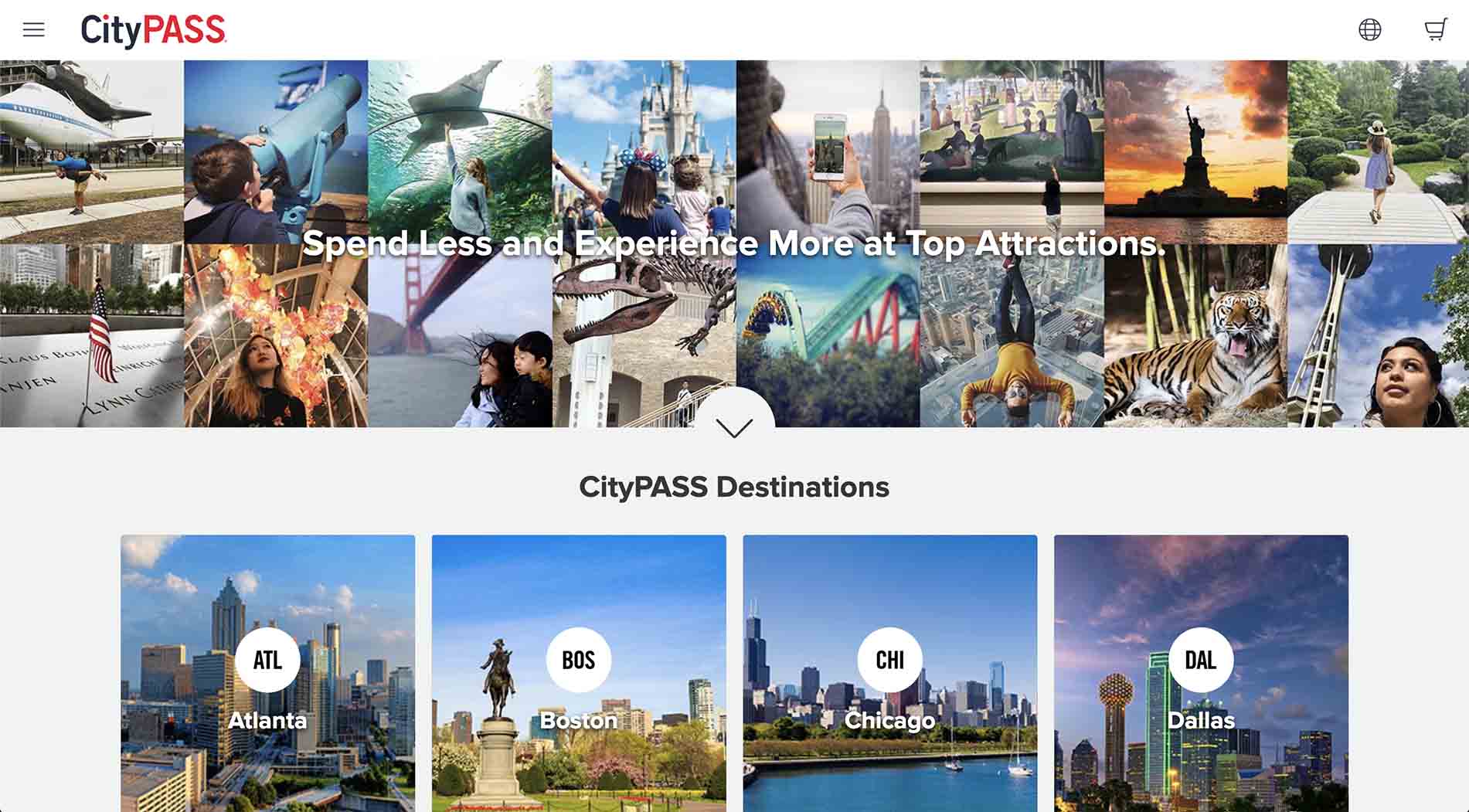 Are you promoting large US or Canadian cities on your travel blog as an affiliate? CityPASS could be a great addition to help your audience access deals and attractions with a single purchase.
CityPASS tickets tend to include attractions like SeaWorld, Legoland, zoos, museums, cruises and more. We found them promoted most often on family travel websites, probably because dealing with tickets can be a pain if you've got kids in tow.
The top destinations mentioned on the CityPASS homepage include Atlanta, Boston, Chicago, Dallas, Denver, Houston, New York City, Orlando, Philadelphia, San Diego, San Francisco, Seattle, Southern California, Tampa Bay, and Toronto.
You can easily include CityPASS links near any of the attractions in "things to do" guides that you're recommending anyway.
Of note, other online travel agencies like GetYourGuide, Klook, and Viator also often have passes to these types of attractions. So it's worth testing out which leads to a higher affiliate RPM for your article.
Priority Pass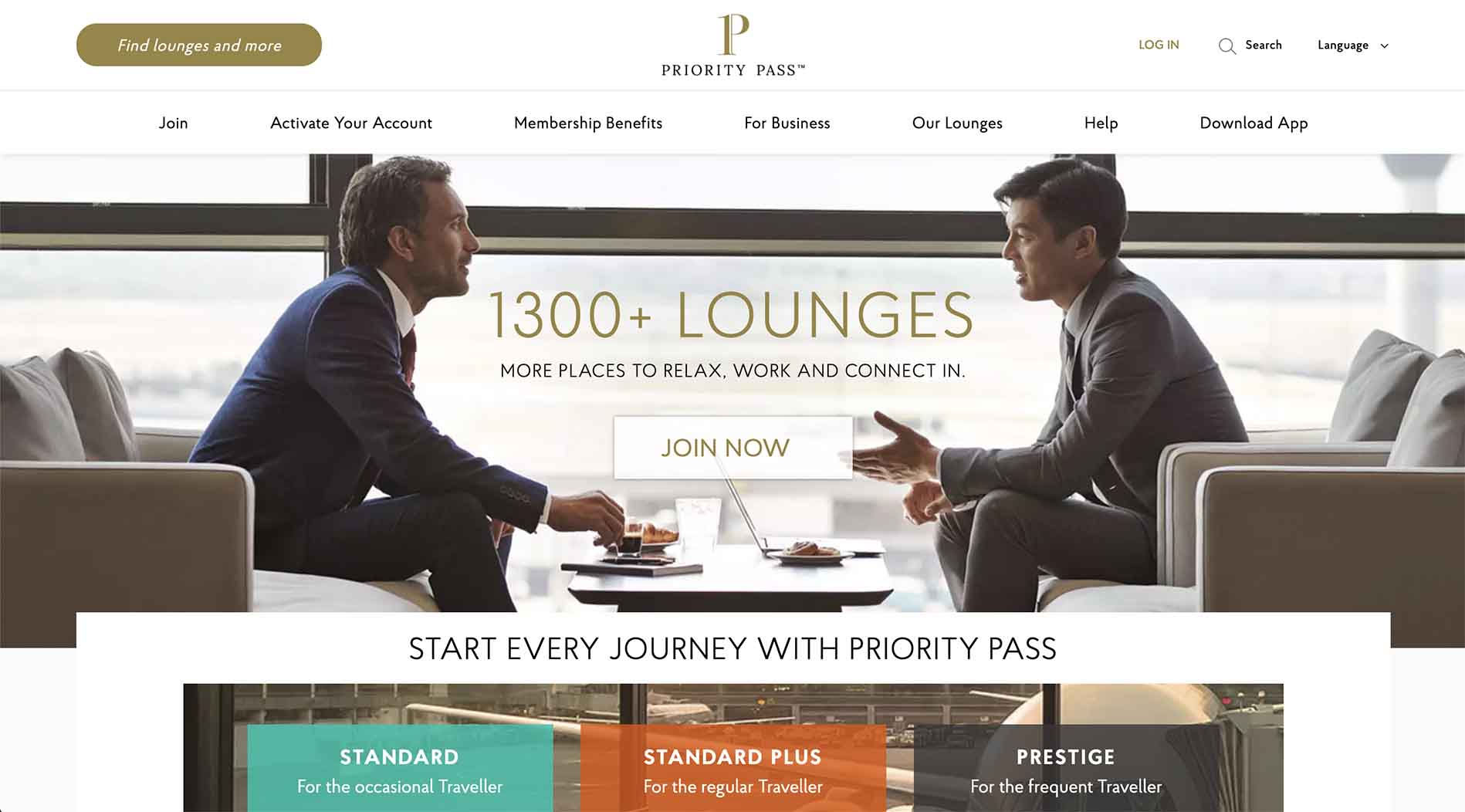 Got an audience of luxury, business, or just frequent travelers? Priority Pass is membership that gives pass-owners access to over 1300 comfortable airport lounges around the world.
Most memberships are offered on an annual basis, and range from $89-$359 per year when discounted. At a 10% commission rate, that's $8.90-$35.90 per conversion which is definitely respectable on the upper end.
Note: On ShareASale they'll give you a 15% commission for the first month, but in all liklihood it'll take you long enough to figure out the best ways to promote the PriorityPass that you won't earn a ton during that time period.
World Nomads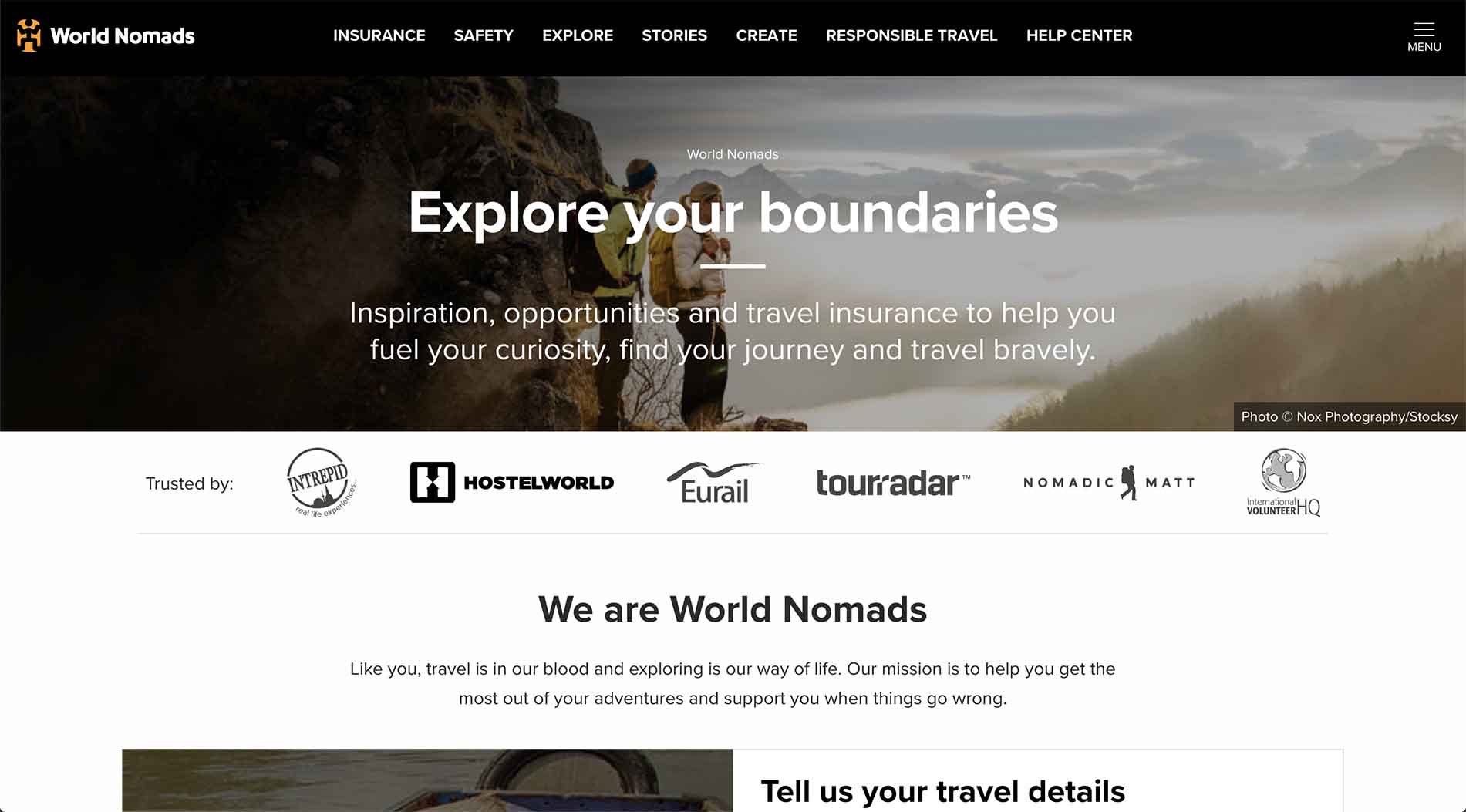 One of the big benefits of travel insurance affiliate programs is you can include them in a wide range of existing content.
The downside is, trying to rank for most terms including the word "insurance" is probably not going to be easy.
While collecting our data, we noticed that a fair number of big name travel blogs include links out to travel insurance on almost 100% of their long-form content. If you've got a common footer at the end of your articles, this might be a good spot to include a link to World Nomads.
Think about destinations where safety is a concern, and share any personal experiences you may have with claiming insurance.
Including an "Is [City Name] Safe" section in existing travel guides and itineraries is a good way to start.
SafetyWing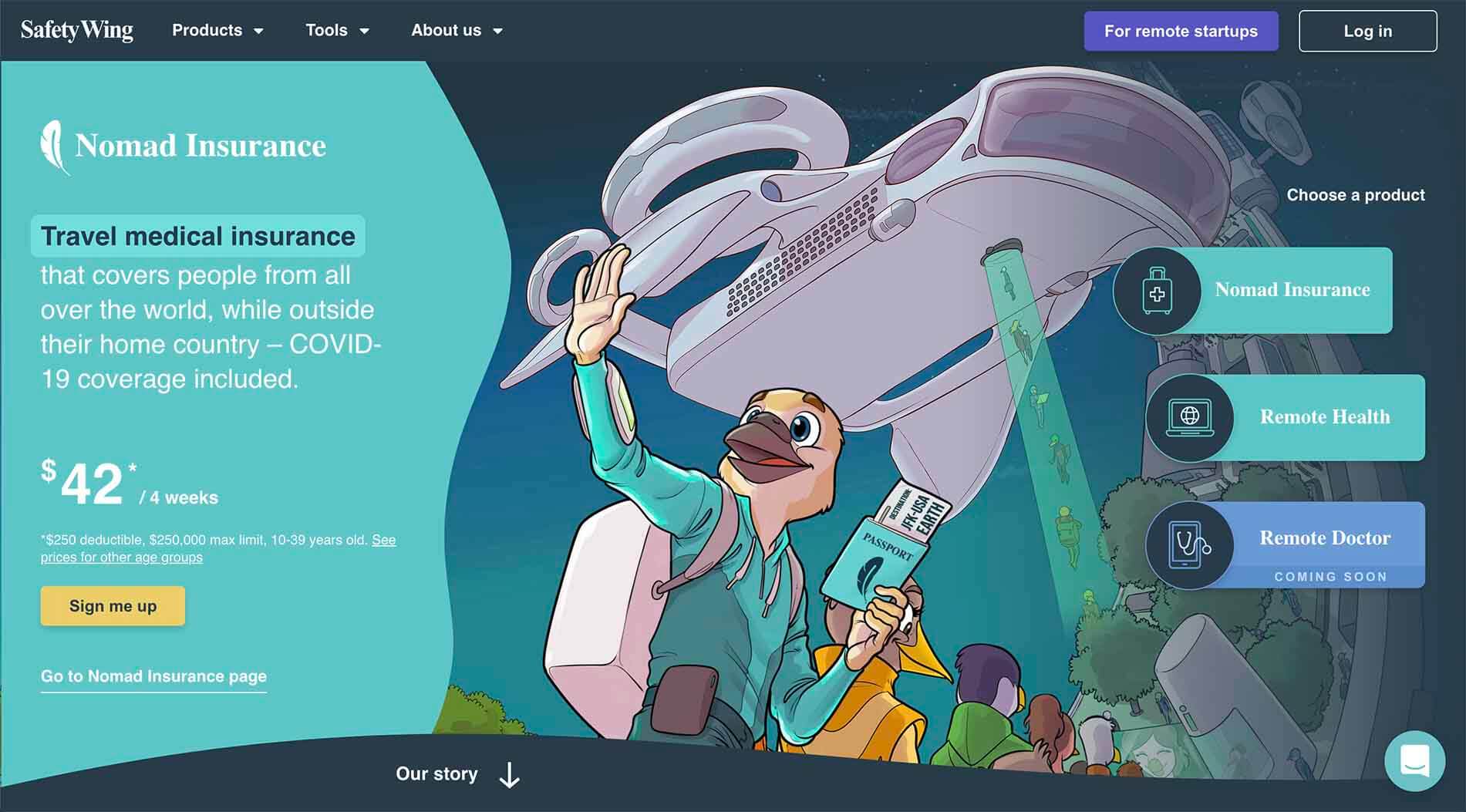 One of the most popular alternatives to World Nomads is SafetyWing. As opposed to being just focused on travel insurance, SafetyWing also offers insurance for full-time nomads and is among the first companies to do so.
As an "Ambassador", you can promote both the Nomad Insurance and the Remote Health insurance at a rate of 10%.
The difference is, Remote Health is a 12-month policy that gets paid out in installments. So you can actually continue to earn for each month that the person you referred remains insured (which they're obligated to do by contract).
Here's an example from the website:

A pretty excellent payout for just 10 referrals per year.
Wise (formerly Transferwise)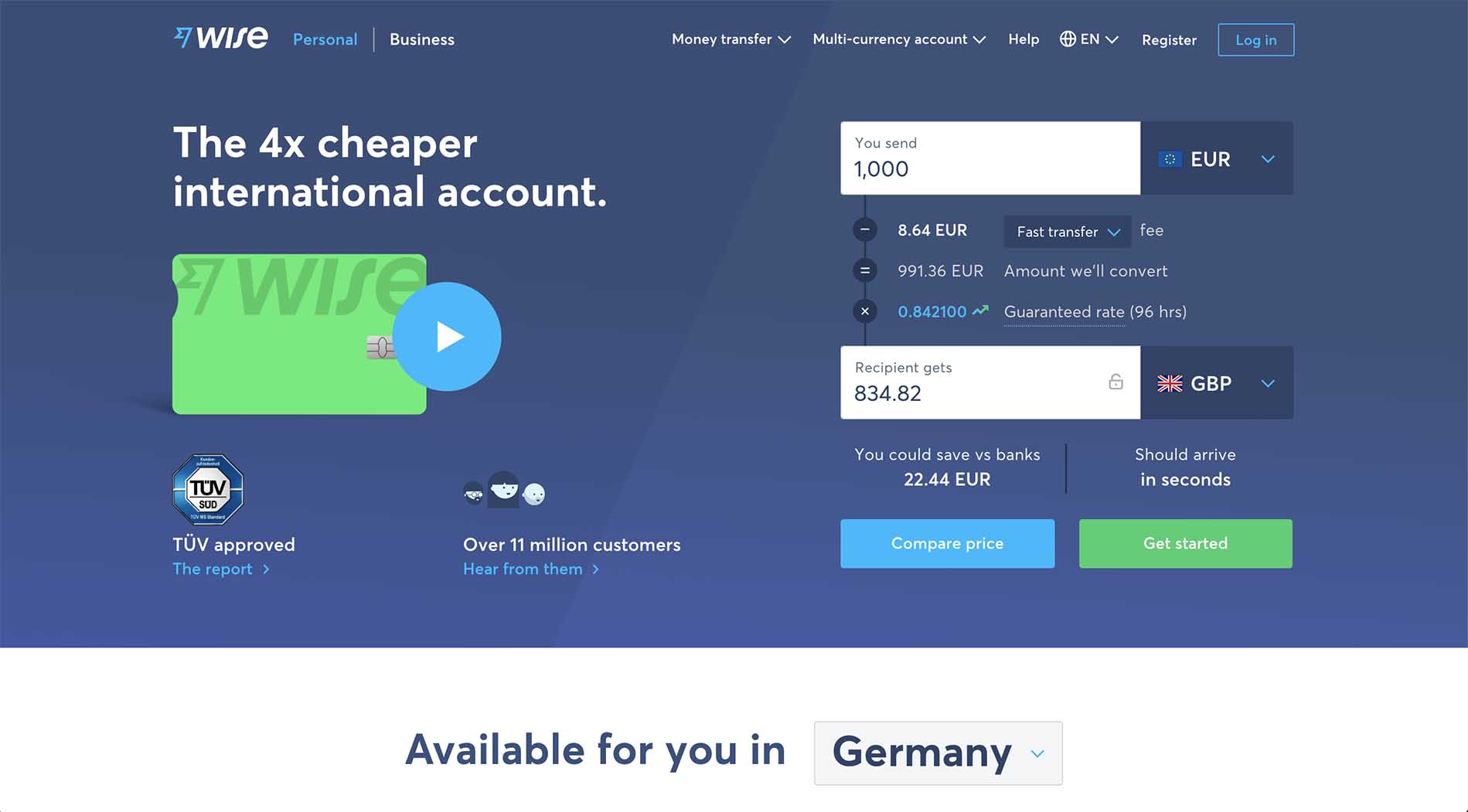 Wise (formerly Transferwise) is a bank account that makes it cheap and fast to transfer money between countries. They offer a so-called "Borderless" account, which is bank account that allows you to hold balances in different currencies.
Fun fact, I'm a Wise user myself and have found it really useful to be able to accept affiliate payouts in various currencies, and then pay bills in the currency they're owed in, instead of losing money to currency conversion in between!
Wise is a handy product for anyone who travels internationally. Digital nomads, frequent travelers, and people doing international business are all great candidates to refer to Wise.
Commissions are a flat rate and will vary a bit depending on what your payout currency is. For the UK program, it's £10 for personal users, and £50 for business users.
Note that you only get paid for funded accounts, not just signups. But thanks to the "forever" cookie, you'll get credit for any account you refer that gets funded no matter how long it takes them to do it.
Omio
Omio is a one-stop-shop for booking transportation. Trains, busses, flights, and ferries can all be found on Omio's website.
So if you're explaining to readers how to reach a specific location on your travel blog (for example, "Paris to Versailles"), the Omio affiliate program could be an easy plug when it comes to trains, busses, and flights.
Just be aware that there are transportation affiliate programs which may perform better. For example, car rentals and travel tours both tend to offer higher percentage commissions on a similar order value.
But for good measure, offering several options and then measuring which ones drive clicks and conversions is always your best bet.
Ferryhopper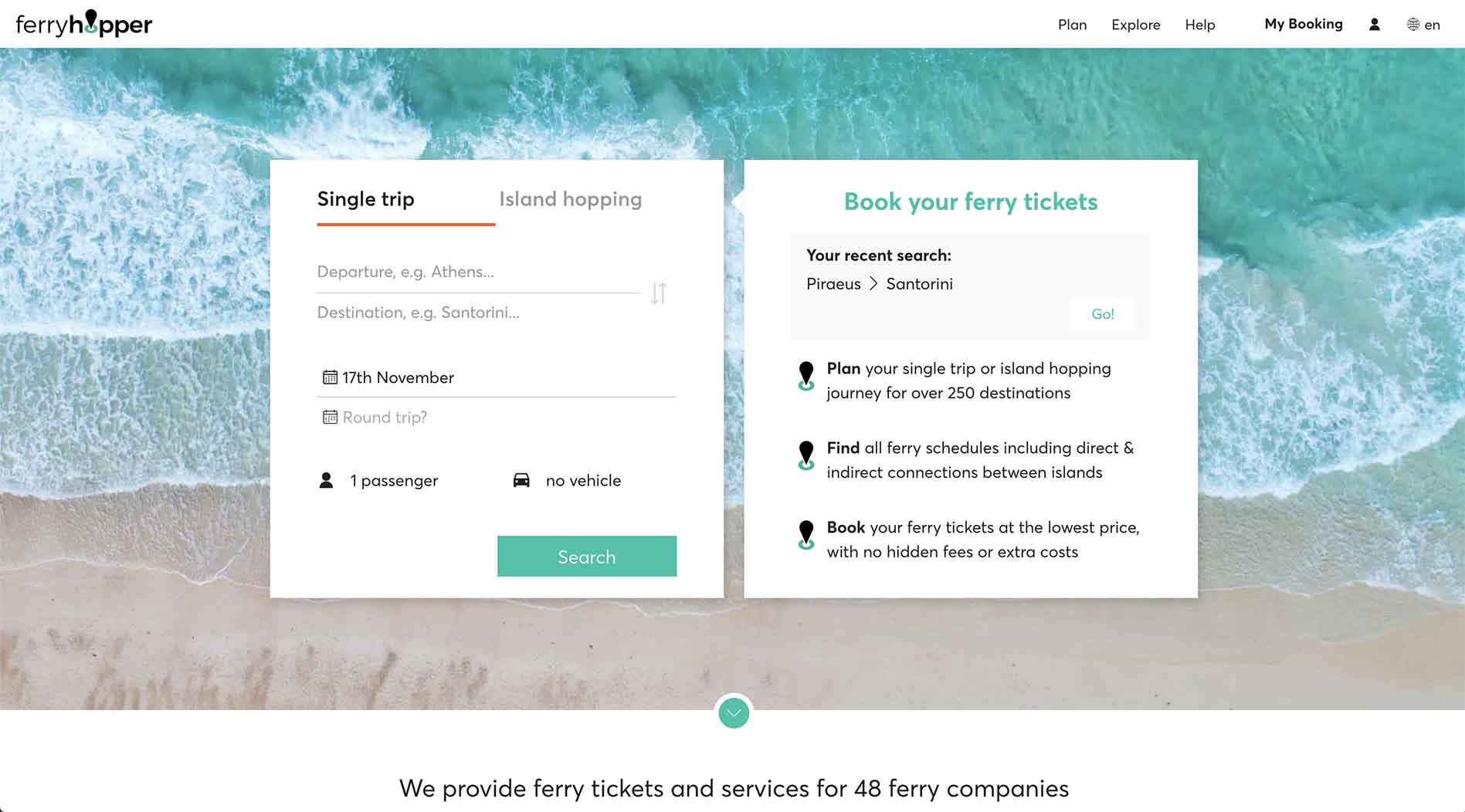 Ferryhopper is a service that lets you book ferry transportation between the Greek Islands. Unlike a lot of other providers, they don't put an extra service charge on top, so you know your readers are genuinely getting the best deal.
That said, the base commission rate of 1% isn't super high. Considering most ferries are pretty affordable when booked in advance, this isn't likely to be the backbone of your travel blog's affiliate income.
But we did see this heavily promoted on a number of Greece-focused travel websites. So if that's a region you're covering, consider adding some content about ferries to the mix.