13 Best Travel Affiliate Programs for Bloggers in 2021 (Based on Data)
By Monica Lent · Updated Jun 12, 2021
Before starting Affilimate, I spent 5 years as a travel blogger and photographer. At that point, travel affiliate revenue was the biggest part of my monthly earnings.
But travel is a huge industry, and the best travel affiliate programs are going to vary based on the geographies you cover, your audience's location, and the niche within travel you focus on.
So unlike most lists of travel affiliate programs, this one is based on data instead of just copying the same "Top 10" list you'll find on every other page.
We analyzed the world's most popular travel blogs and websites to discover the most promoted travel affiliate programs, merchants, and products.
Here's an example of one of our reports from a site you've definitely been to before, if you're a travel blogger or content creator in the travel vertical: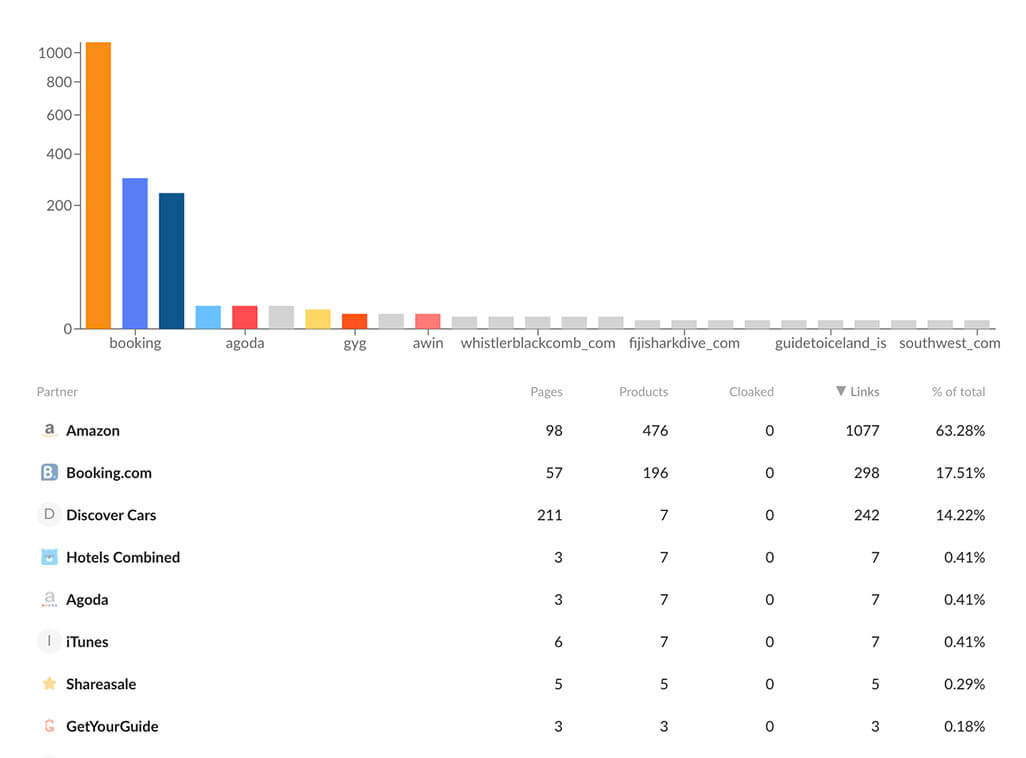 From here we dove deeper into the networks to tease out the top merchants and products, in order to create this guide.
All based on publicly available data, collected and analyzed using our Affiliate Link Scanner.
Apart from the raw data, yours truly has been blogging about travel for the last 5 years. So I'll be sharing examples and experience from what's worked for me.
Before we dive into the recommendations, there's something to keep in mind when teasing out travel affiliate programs that will work for your website.
How to choose a travel affiliate program
While this list of travel affiliate programs is going to work for a lot of people, what's important to note is that the best programs for you will depend on where your readers are.
This is because people tend to buy from brands they are familiar with and already trust.
Our data is heavily drawn from websites catering to an American audience. If your audience is located in a different part of the world, you'll find alternatives listed under each option as well.
However, we include travel affiliate programs that are also suited for people traveling to and from all parts of the world.
Last thing: Tips for Promoting Travel in 2021
One last thing before going into the data.
With the pandemic, people are eagar to travel in a socially distanced way. As such, the content you produce in anticipation of the Summer of 2021 would do well to reflect this.
Think outdoor activities, national parks, road trips, RVs, private tours, and a heavy focus on domestic travel (wherever you are). You can promote promote services like travel insurance, or digital products like language-learning products.
Enough fluff, onto the recommendations!
Travel Affiliate Programs
Here are the best travel affiliate programs, based on the most promoted products and merchants from top travel blogs and websites:
Most of these fit into a few main categories: accommodation, tours, transporation (car rentals, ferries, flights, and trains), and travel planning, insurance, and gear.
Read on for the best ways to promote products from each program, alternatives, and tips based on my experience as a travel blogger.
Booking.com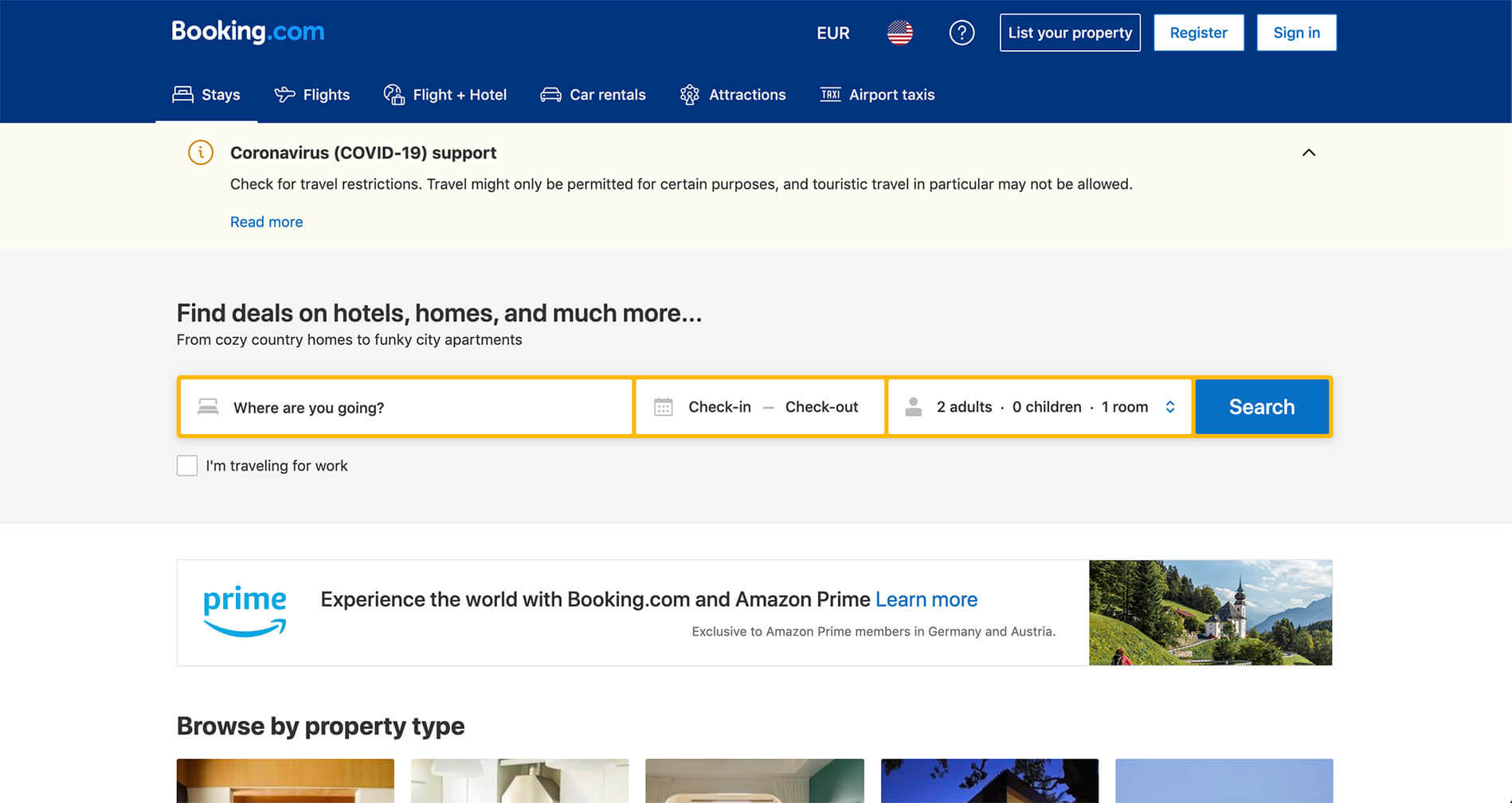 Booking.com is the single most popular travel affiliate program from all our research. And for good reason: despite a high cancelation rate and lack of a cookie, the commission structure still results in hefty affiliate commissions.
Booking's parent company, Booking Holdings, also owns a number of other properties listed in this guide, such as Agoda, Kayak, HotelsCombined, and RentalCars.com.
In 2017, 89% of its gross profit was made outside the United States, primarily because of hotel bookings on Booking.com. This makes Booking a great option for recommending hotels and accommodation for international visitors.
Tips for promoting Booking: Booking links are a great addition to itineraries, hotel reviews, and where to stay guides. If you've personally stayed somewhere and loved it, make your recommendation clear early on in the relevant article.
HostelWorld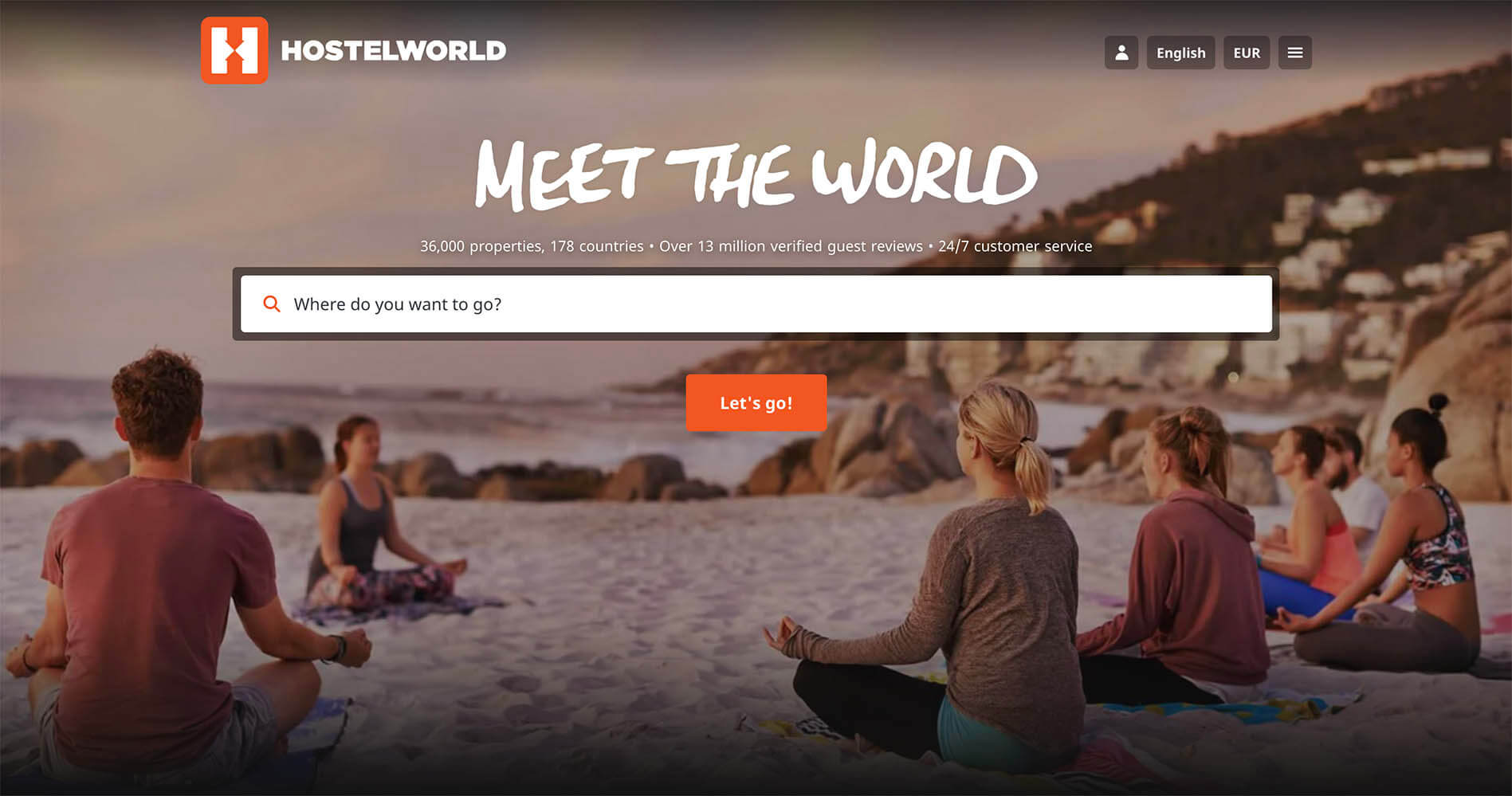 It's been a pretty long time since I stayed in a hostel, so I don't promote hostels myself.
However, in our research we found tons of links to HostelWorld on top travel blogs and websites. And usually, when someone goes through the effort to include them contextually in a lot of places, it means there's money to be made.
Tips for promoting hostels: Most people staying in hostels are doing it for budget-conscious reasons. So promote hostels in content targeting a younger demographic (such as college students).
GetYourGuide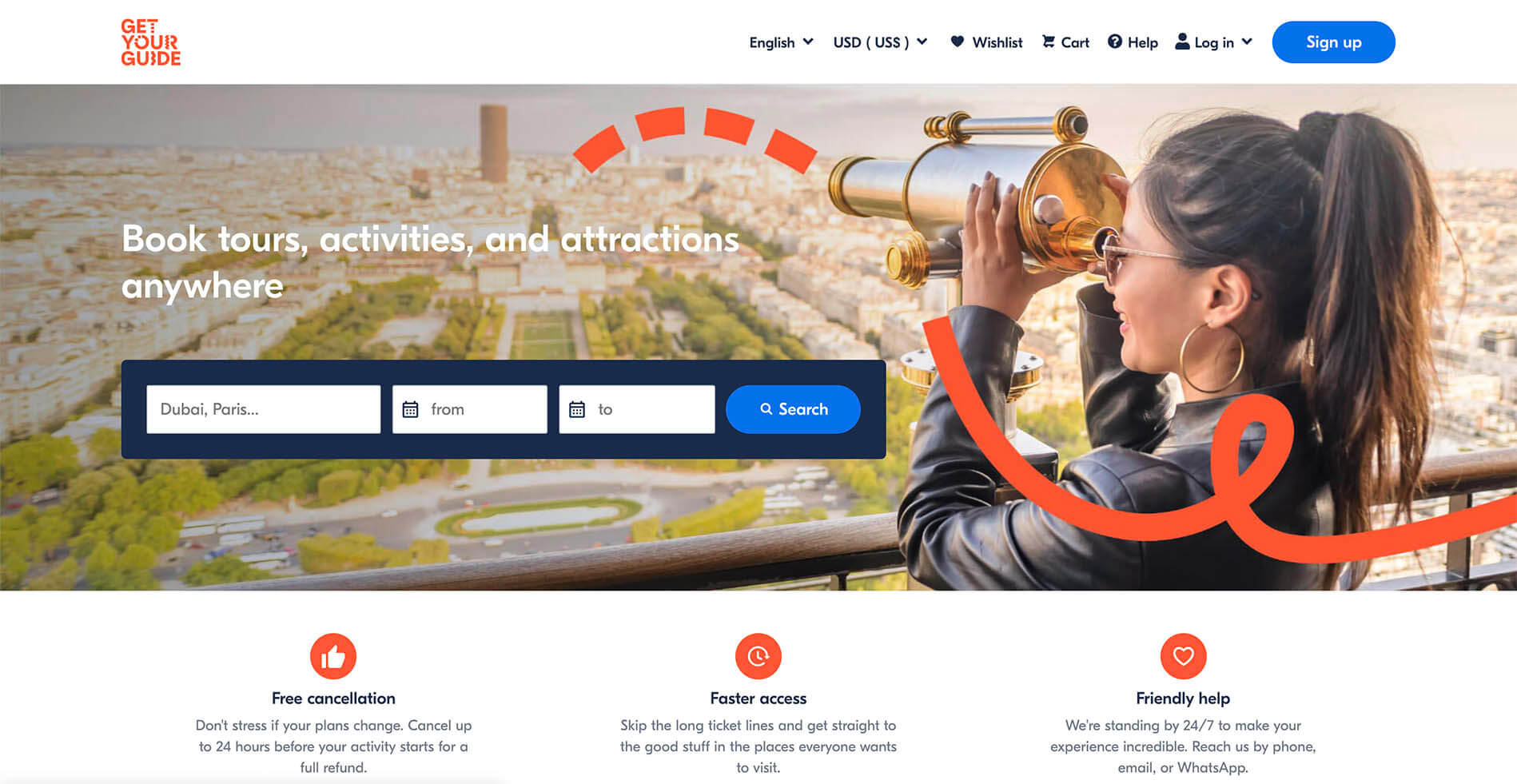 GetYourGuide is a Berlin-based online travel agency (OTA).
As such, they tend to do best with activites in European cities, whereas other tour providers are stronger in other geographics (e.g. Klook and Voyagin in Asia, and Viator in the United States).
Before the pandemic, I personally had great success with GetYourGuide. They also regularly share data with affiliates to help us write about trending content and link to high-converting tours.
We've also shared tips before on how to improve your GetYourGuide conversion rate if you're already an affiliate and looking to improve your revenue with them.
Tips for promoting tours: Link to tours on articles about things to do in a city, itineraries, day trips from a city, how to reach a place, food tours, or guides to a location-specific activites or bucketlist experiences (such as "snorkel with Manta Rays in Hawaii", for instance).
One thing to consider is that people browsing "things to do" posts tend to fall into two camps: people who are dreaming of a destination and people who are already there.
As such, these kind of posts can result in good revenue for affiliates, but have a lower RPM because the traffic intent is split between far future planning and immediate booking: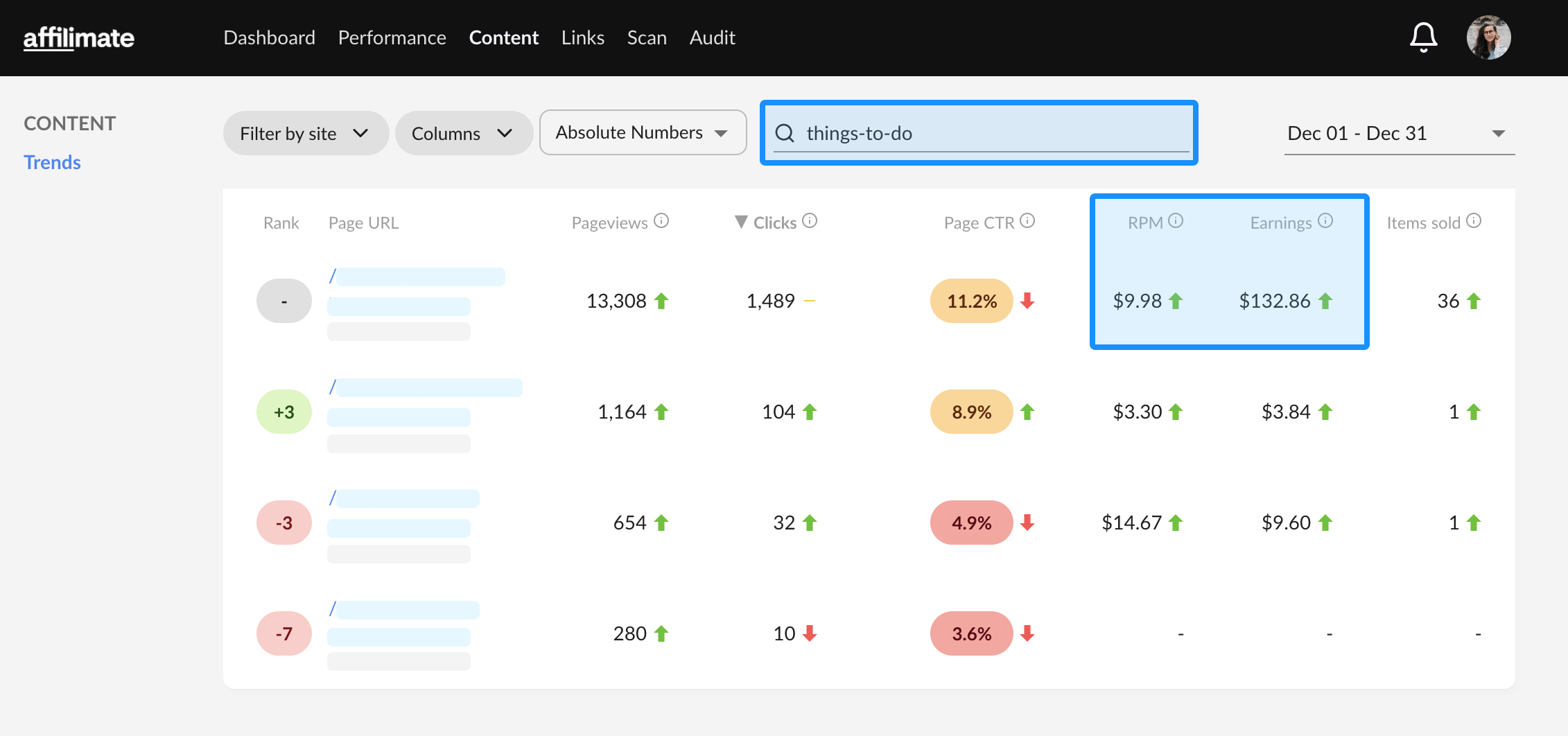 Here you can see by the click-through rate (CTR) that the intent is relatively weak, despite this top post being well-optimized from an on-page standpoint.
If you're not currently tracking post-level affiliate earnings and RPM across networks, our tool can help you automate that and get clear reports like this one:
Continuing with OTAs, here are two more for destinations in Asia.
Klook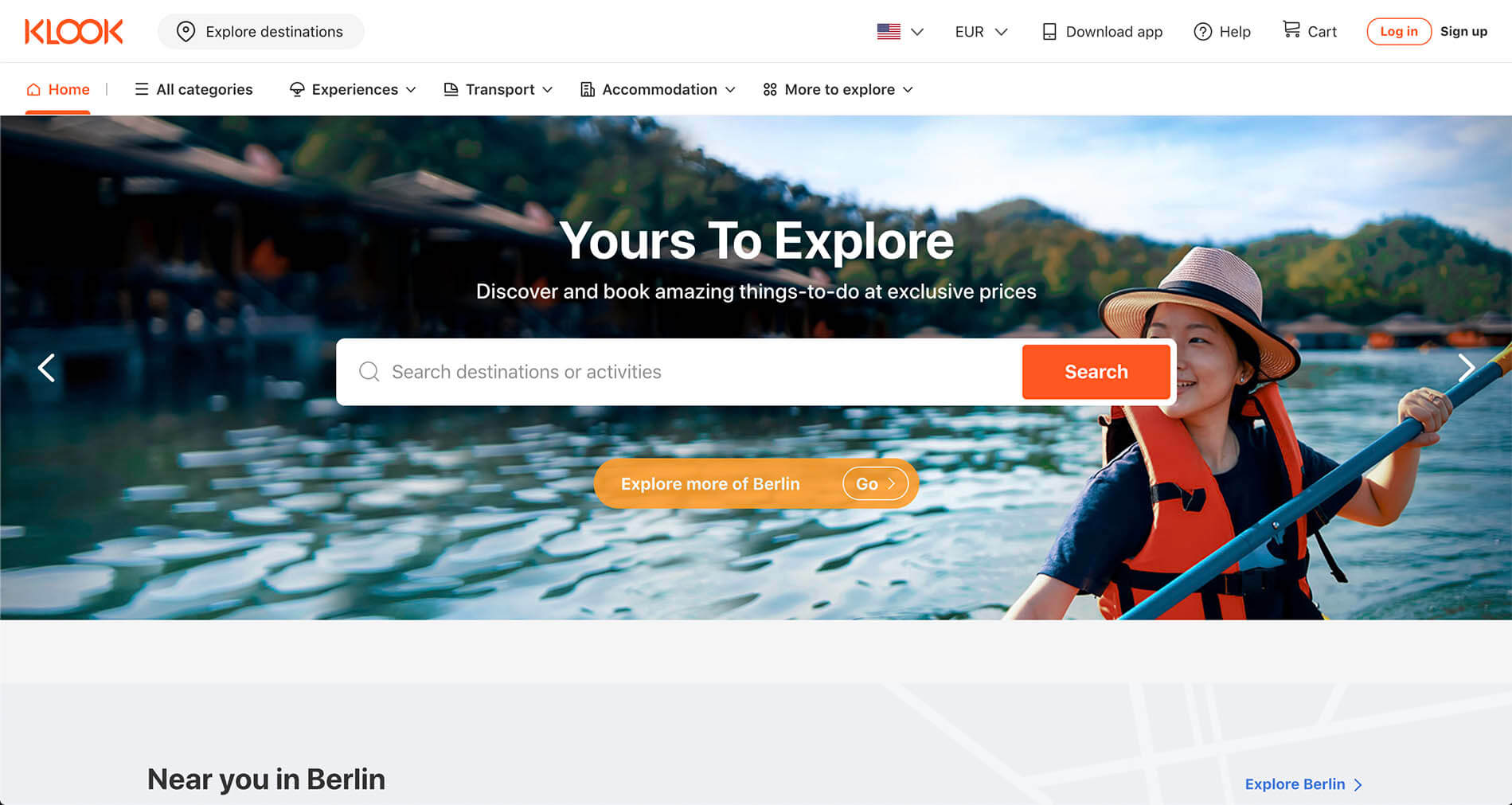 Klook is a Hong Kong-based OTA, and as such performs best when promoting tours, guides, and tickets in Asian countries like Japan, Korea, Singapore, China, Taiwan, and Vietnam.
Right on the bottom of their homepage, you can see a pretty clear list of their top performing activites and tours if you're looking for ideas on what content to create: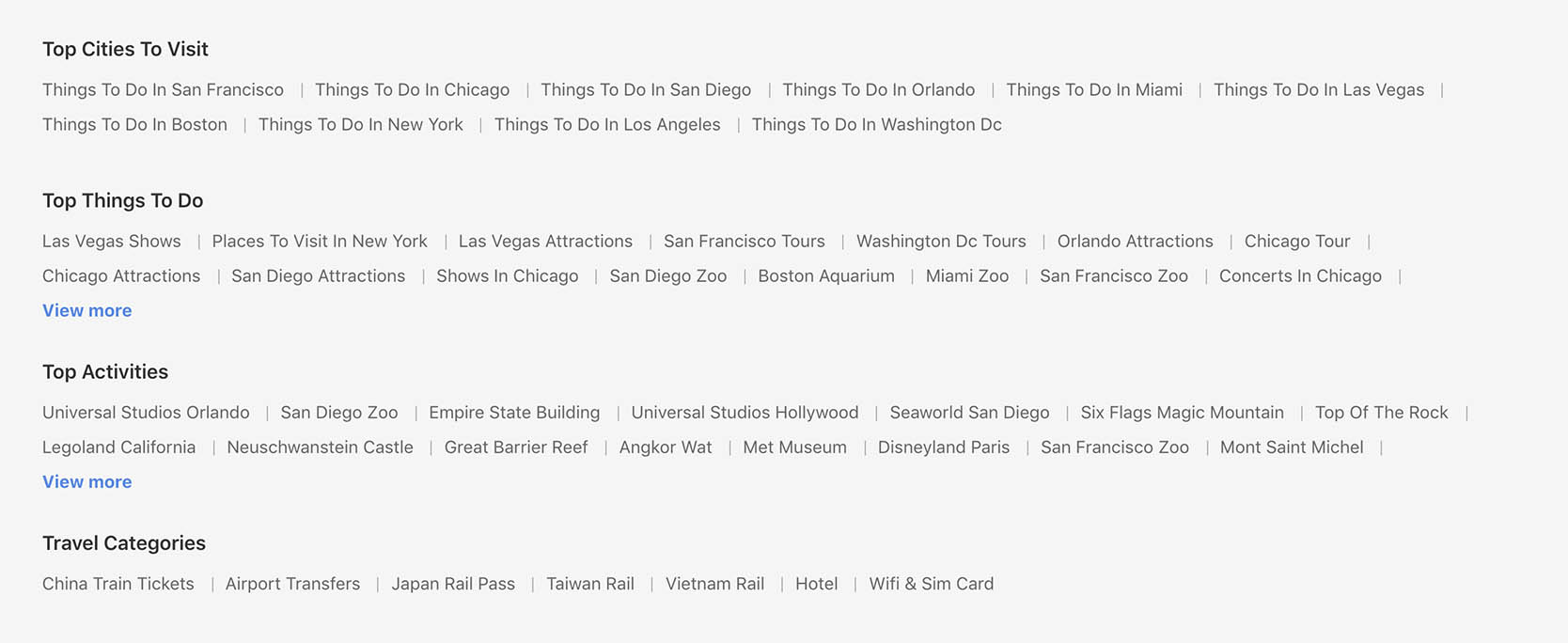 Apart from tours and activites, Klook is also a reseller of train tickets, WiFi rentals, and Sim cards.
Voyagin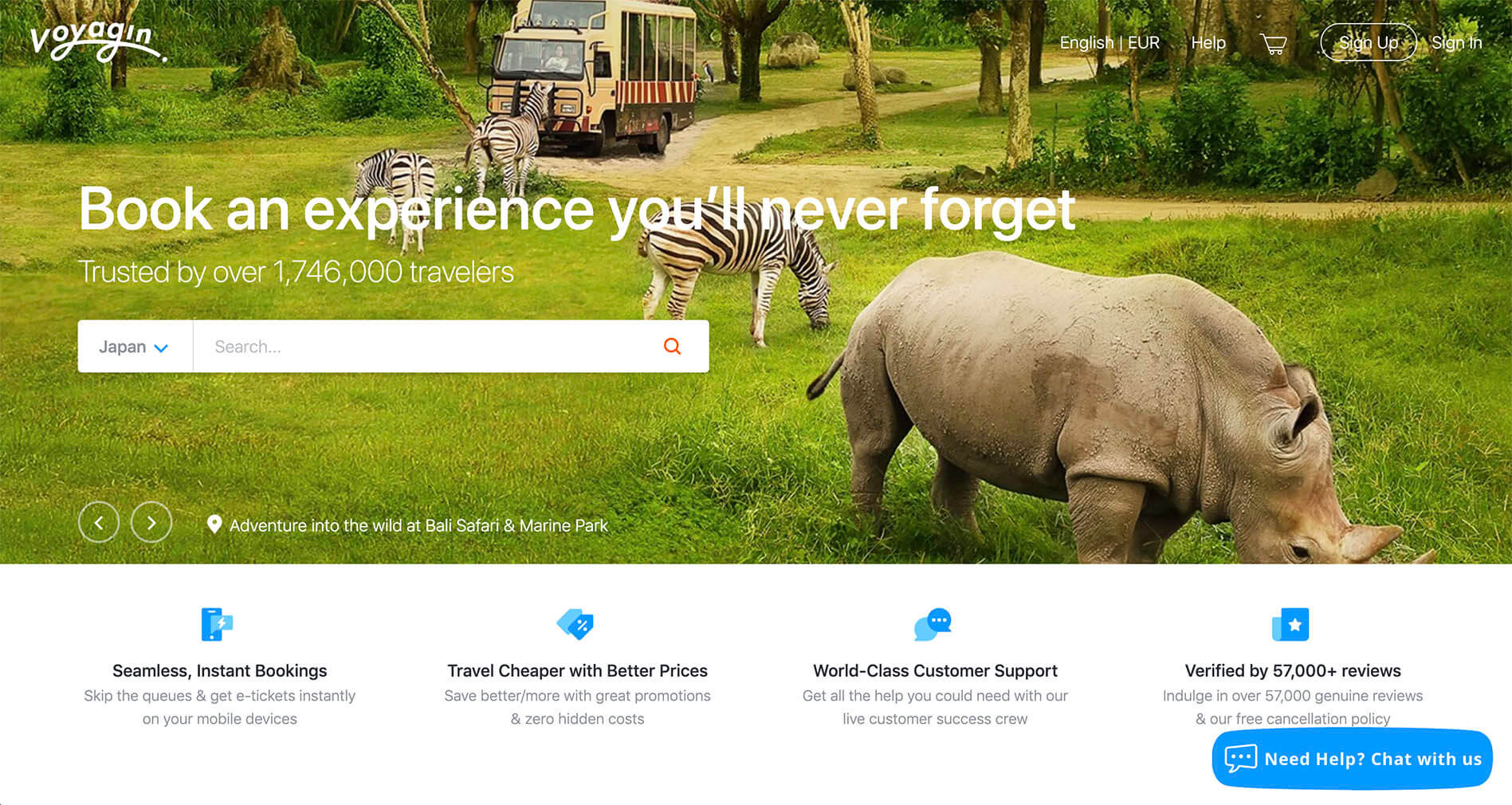 Similar to Klook, Voyagin is an Asia-focused OTA. Their homepage makes it clear what their top destinations are: Tokyo, Singapore, Seoul, Bali, Bangkok, Kyoto, Osaka, and Phuket.
In general, a company's home page is a great place to get ideas about which of their tours or destinations are performing well — it would make zero sense to link from that prime real estate to something that's performing suboptimally.
REI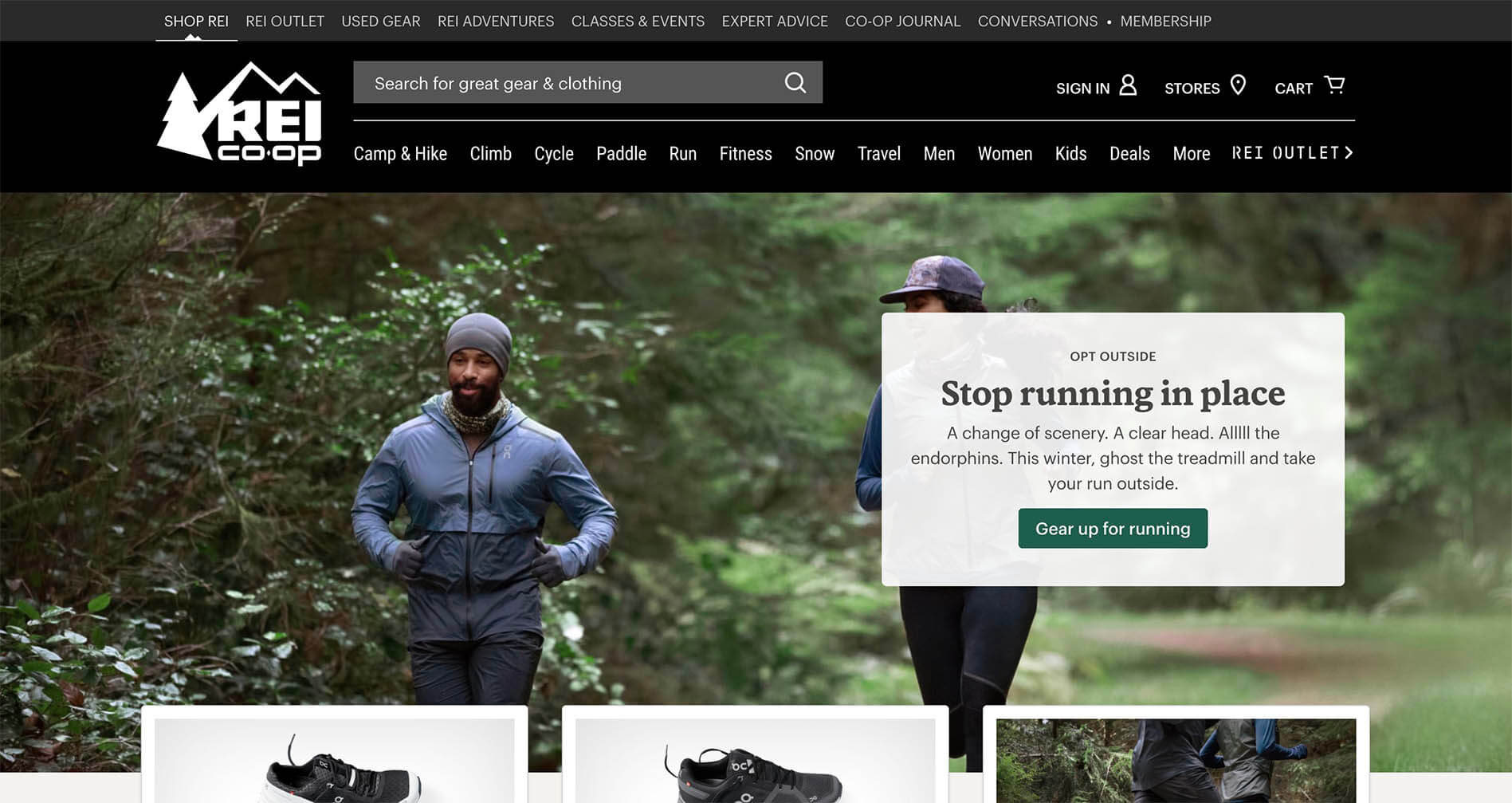 REI is easily one of the top outdoor affiliate programs, though it can be hard to get accepted to it.
REI is available via AvantLink, which can be a pretty selective network to get access to. But if you manage to get in, REI has a great selection of outdoor items for the active traveler: camping and hiking gear, shoes and clothes, and deals you can promote as well.
G Adventures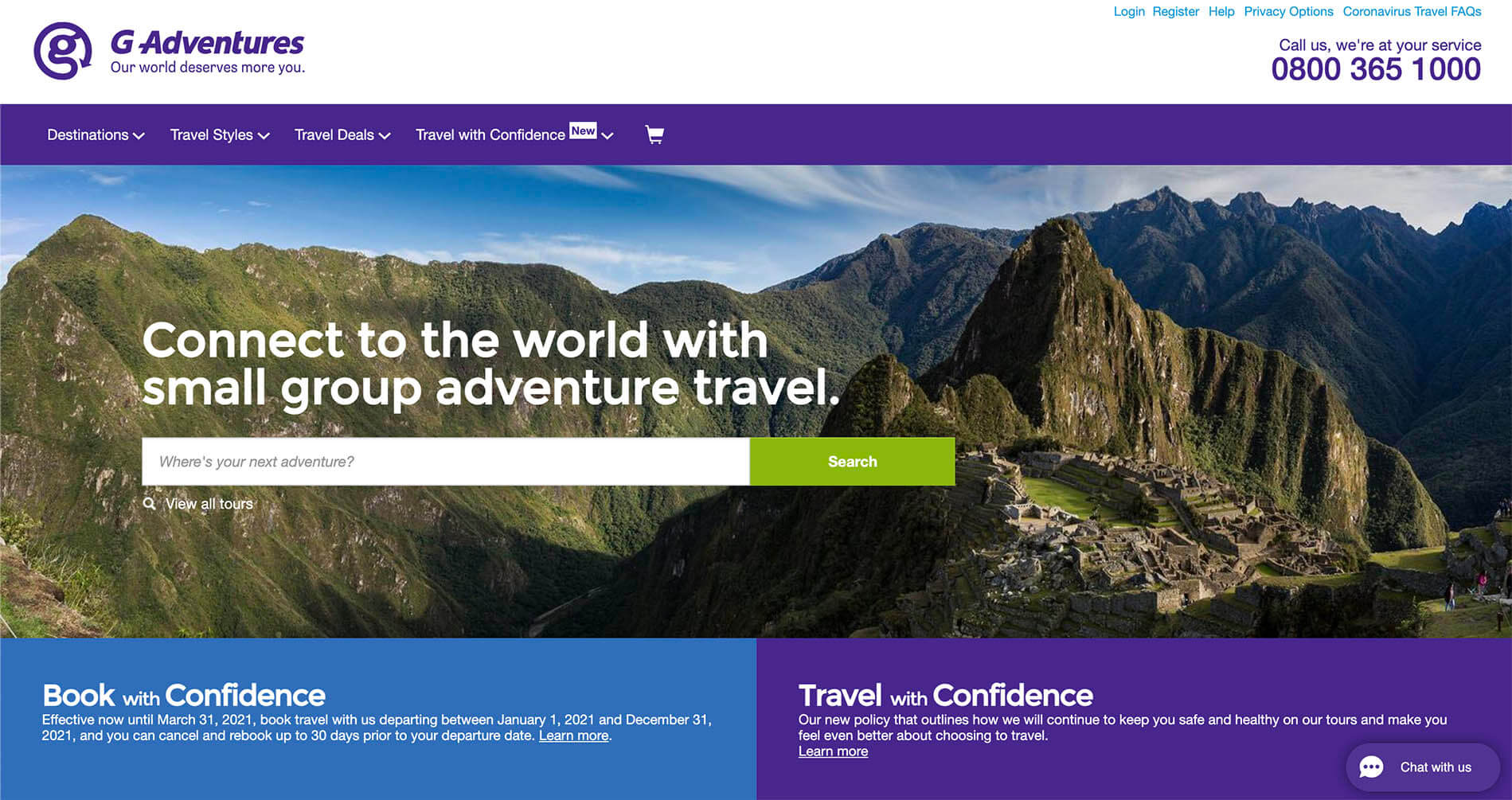 Whereas GetYourGuide, Klook, and Voyagin are all tour companies, G Adventures focused on multi-day, small-group tours that rack up a big price tag — and resulting commission.
According to their FAQs, G Adventures' average order value is $2,600. At a 6% commission, that's $156 per sale on average.
Naturally, buying a tour like this is a much longer decision-making process. Luckily G Adventures also gives its affiliates a generous 90-day cookie window.
This makes it a great option if you're able to capture a reader's email address and send them a travel guide on the location, and following up with a couple emails about this tour. Sometimes these tours also have sales, too.
Tips for promoting small group, multi-day tours: Focus on destinations that may be more difficult to reach individually, or organized cross-country tours for Americans visting Europe. You'll notice their website features destinations like Machu Pichu, which can be complicated to reach independently. Same story for places where travelers may not feel confident driving on their own.
In our research, we noticed both G Adventures and Intrepid Travel being promoted most heavily on South and Centraal America-focused travel websites.
Intrepid Travel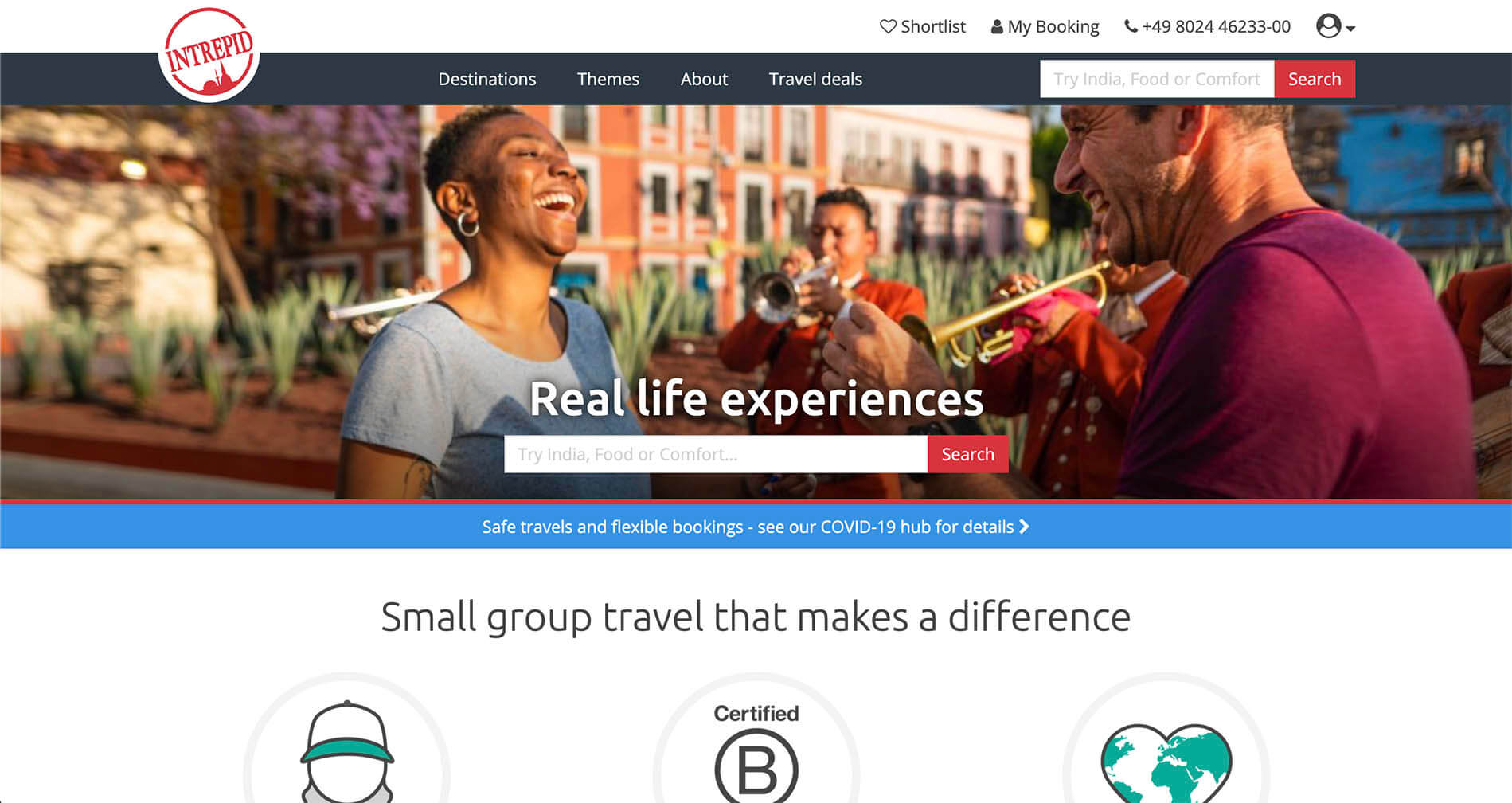 Intrepid Travel is an alternative to consider for a lot of the same locations as G Adventures. They cater primarily to North American and European travelers going to places in South and Central America, Asia, Africa, and the Middle East.
Similar to G Adventures, they also sometimes have sales, which you can share with your email list or pomote on relevant pages on your travel blog: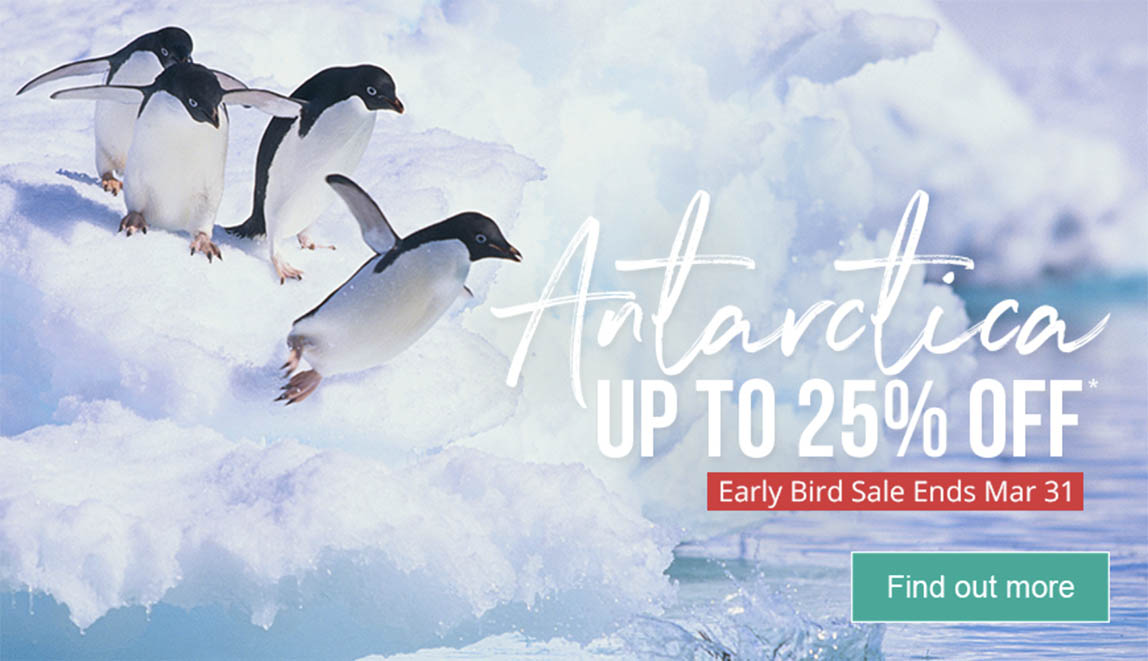 Similar to my tips on G Adventures, focus on destinations that can be complicated or difficult to reach without a tour. For instance, the deal above is for a tour to Antarctica — somewhere people don't typically plan to travel independently.
CityPass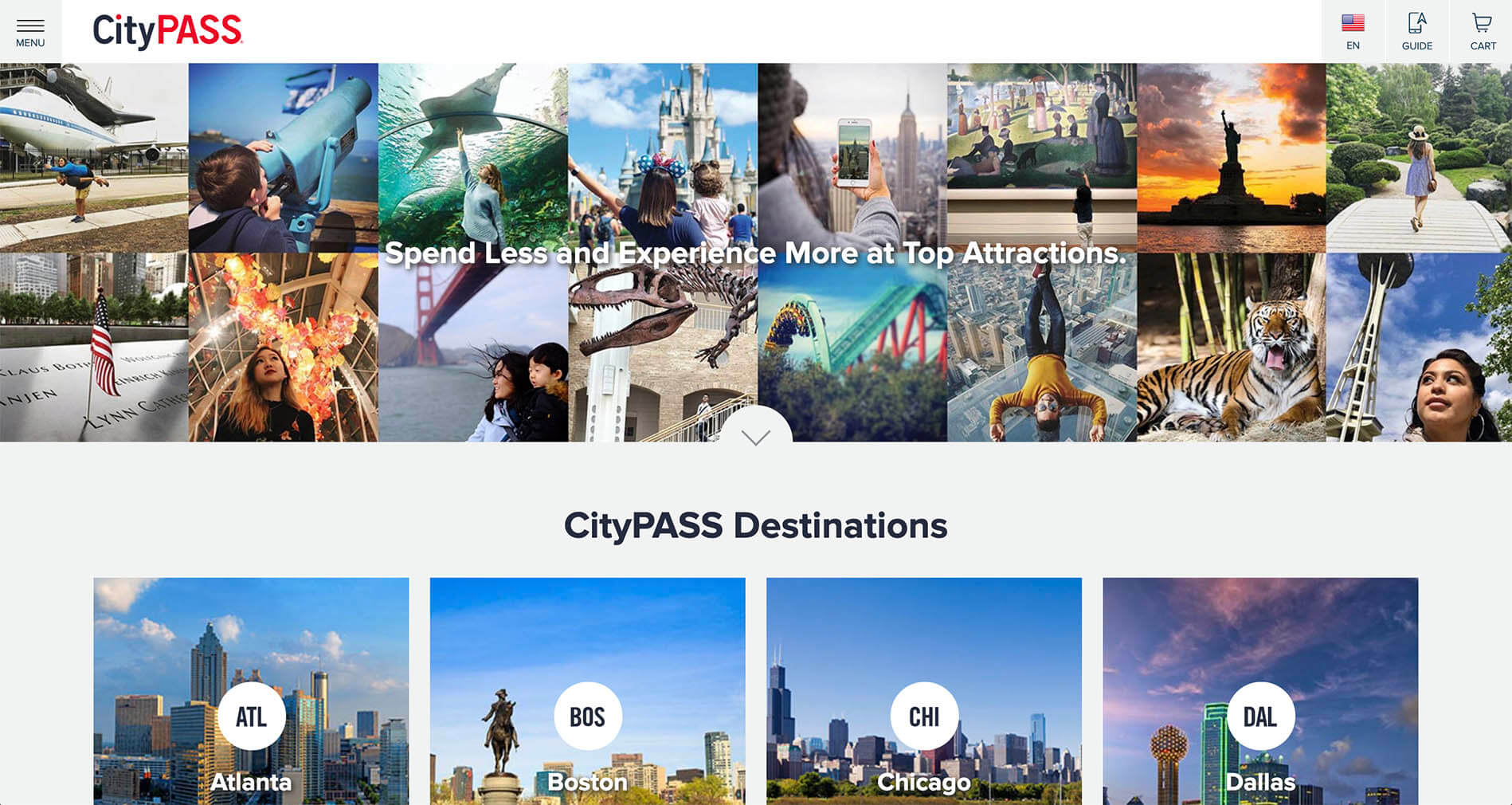 All bets are off in terms of domestic travel in the United States this Summer, but one of the most popular options for tours and tickets in US cities is CityPass.
If your blog primarily covers US destinations, consider researching which activities you recommend in your itineraries and things-to-do guides, and see which are also covered by CityPass.
RentalCars.com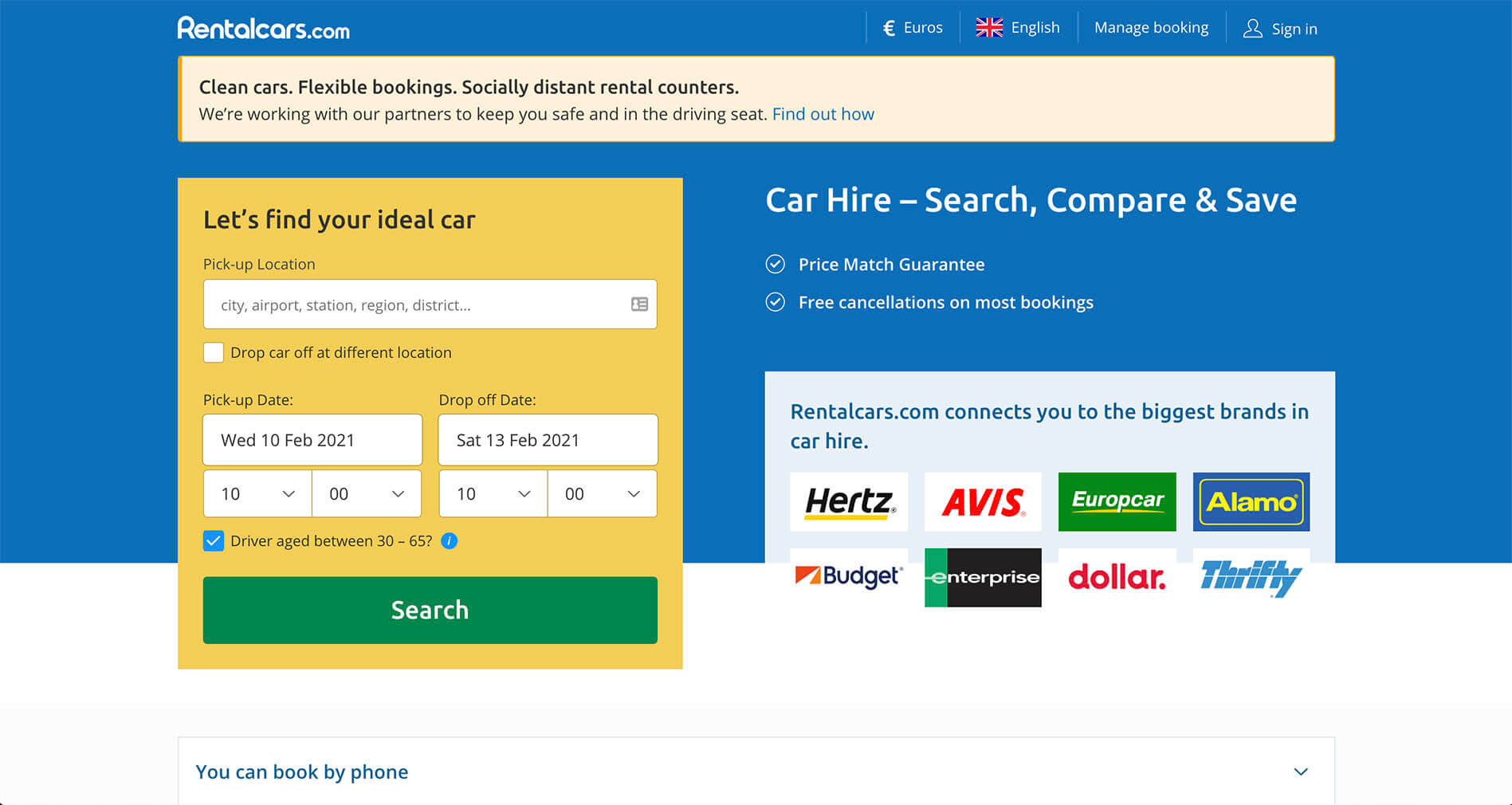 Transporation is a big opportunity for travel bloggers looking to find profitable affiliate programs.
Apart from just RentalCars.com, which is a great option for booking rental cars, there are options from a ton of other angles: airport pickups, transfer shuttles, and tours to get from one place to another.
RentalCars.com and Discover Cars (listed below) were by and far the two most popular car rental affiliate programs we found on travel blogs during our research.
Tips for promoting rental cars: Obviously, it works best to promote rental cars for places where you might like to have a car to get around, and parking isn't too terrible. Think road trips, regional trips, and destinations where people are likely to visit multiple towns or cities in a single trip.
The longer the person's trip is, the more commission you earn. So thinking about destinations where people tend to spend a longer amount of time driving around is can be helpful.
Discover Cars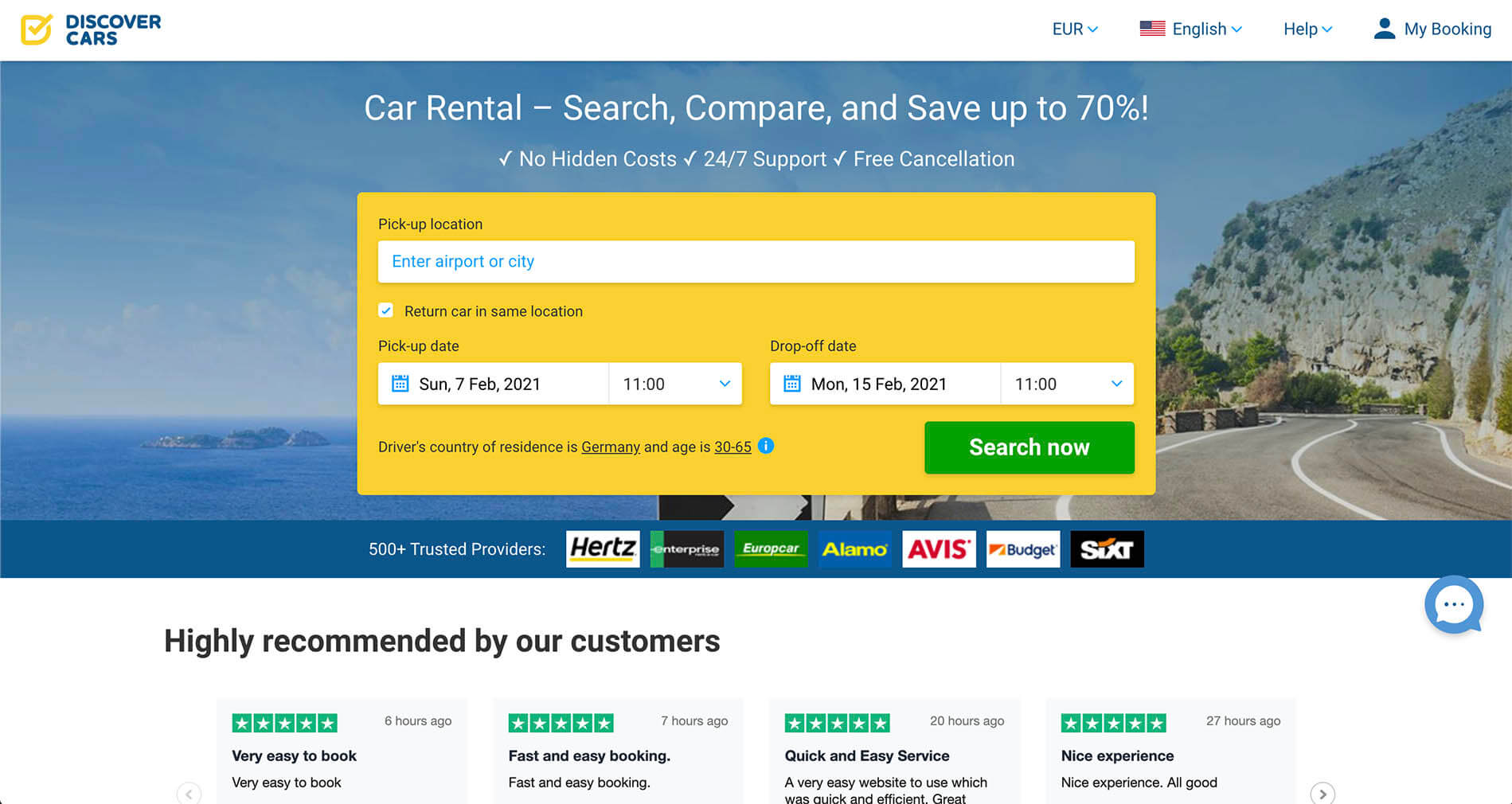 Discover Cars is a brand I wasn't familiar with until compiling the data for this article. But then I saw it everywhere! According to their merchant page on ShareASale:
We partner with some of the top webmasters in the travel vertical who are earning on average $2,500 USD per month with a traffic of 100K.
This means average commissions vary from $20-$50 per sale, and with a super generous 1-year cookie, it's easy to imagine that adding some car rental links to your existing content could be pretty profitable.
You may find it interesting to try out both RentalCars and Discover Cars and see which one converts better for your readers.
Interrail Pass / Eurail Pass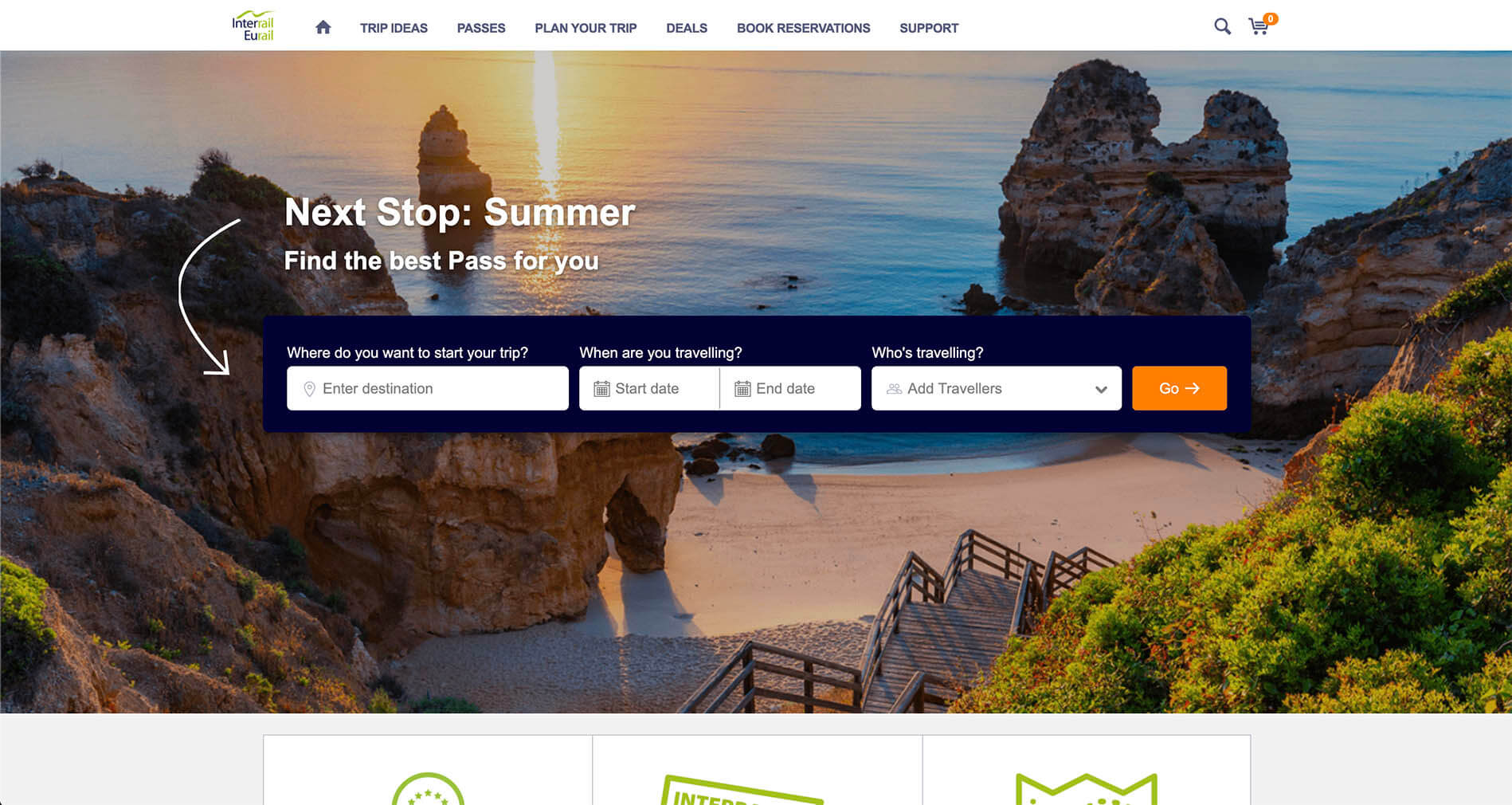 Eurail is a rail pass which permits travel through 33 European countries. They have multi-day and multi-country passes that travelers can tailor to their journey.
Its counterpart, Interrail, is the other side of the same coin: Interrail is for European residents, and Eurail is for non-residents.
Either way, you can earn a 3% commission. And with an average order value of £298.27 ($408.85), this could mean an average commission around $12.
World Nomads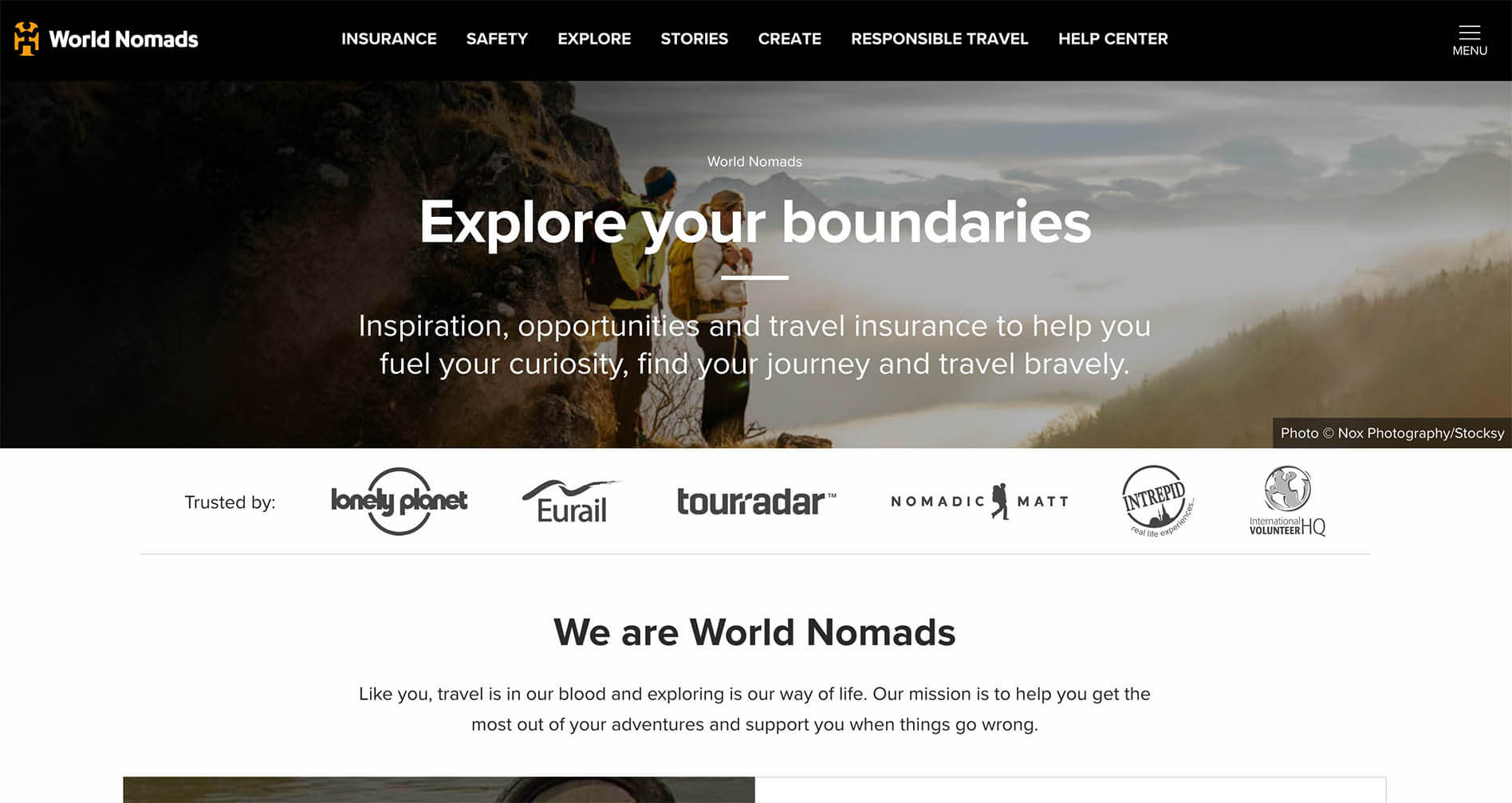 Travel insurance affiliate programs are great because you can include them in a wide range of existing content.
While collecting our data, we noticed that a fair number of big name travel blogs include links out to travel insurance on almost 100% of their long-form content.
As long as you're writing about places where people may consider safety somewhat of a concern, it makes sense to include a link out to a travel insurance provider you can recommend.
Including an "Is [City] Safe" section in existing travel guides and itineraries is a good way to start.
Safety Wing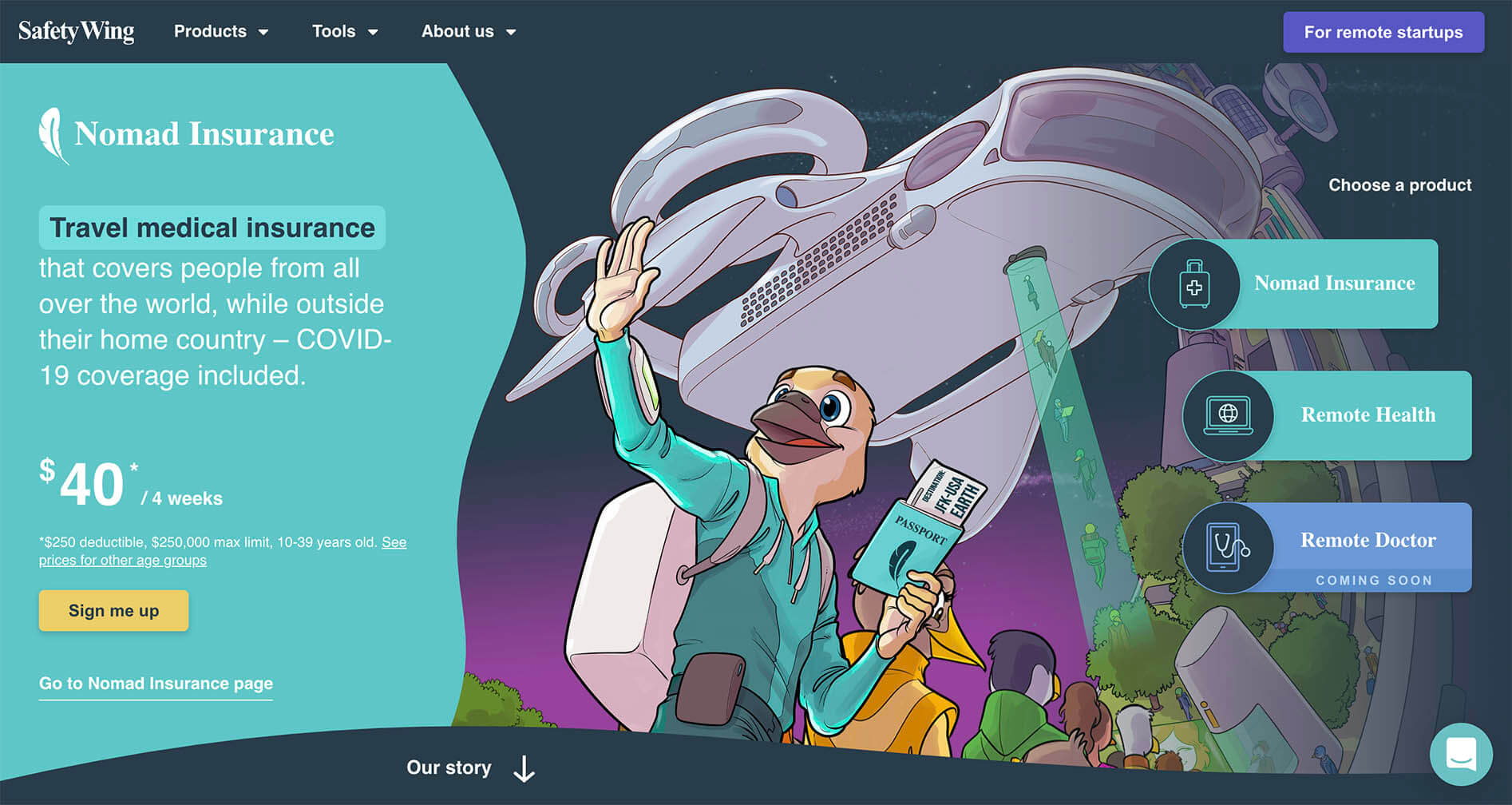 While World Nomads focuses on travel insurance, Safety Wing both offers that as well as health insurance for digital nomads. If your travel blog or website caters more towards long-term travelers and digital nomads, getting familiar with Safety Wing makes a lot of sense.
That's a wrap! What we didn't include
We haven't included luggage, camera gear, airport lounge passes, ferries, flights, or pretty much anything you can purchase on Amazon as part of a packing list.
Those are all great options, but tend to be very niche-specific within whatever part of travel you're focusing on (for example, travel in Greece, luxury travel, adventure travel, or even more specific).
If you'd like us to cover any of these in more depth, let us know on Facebook here!
Are you juggling a ton of affiliate networks and links?
If you're running a travel blog, there's a high probability you're a member of a number of different affiliate programs and networks.
Affilimate helps you collect your affiliate data (clicks, revenue, and content analytics) into a single place so you an optimize conversion and monitor performance.
Get your free Affilimate account and try it for 15-days.