13 Best Niche Site Ideas + Live Examples (2023 Guide)
By Monica Lent · Updated Jan 21, 2023
So you're on the hunt for your next big niche? Welcome to the club.
Experienced affiliates and site owners know that choosing a good niche is what determines how much content and how many links it takes to reach profitability.
But it's not as simple as picking something that's profitable for other people.
To build your first successful niche website, you need to choose a topic you enjoy or have an edge in. Then, find good affiliate programs with strong commissions, and discover plenty of buyer keywords to write about. Oh, and it shouldn't be too competitive either.
There's a reason the pros spend weeks or even months choosing a niche and doing niche research. And in this guide, you'll get an idea as to why.
Want to learn what a niche site is, how to gather niche ideas that play off your strengths, and get some tips on affiliate niches worth entering this year? Here's what I have for you in this guide:
What is a niche site?
A niche site is a website that focuses on a very specific subset of a broader market with the purpose of monetizing its traffic. Niche sites usually generate revenue through through ads, affiliate marketing, or digital products like online courses, private communities, or ebooks.
What makes niche sites so attractive is they can be operated semi-passively and usually have high profit margins.
Finally, successful niche websites can even sell for multiples between 20-40x on marketplaces like Empire Flippers and FE International.
Empire Flippers reports the average "content business" sold for a 39x multiple in 2020: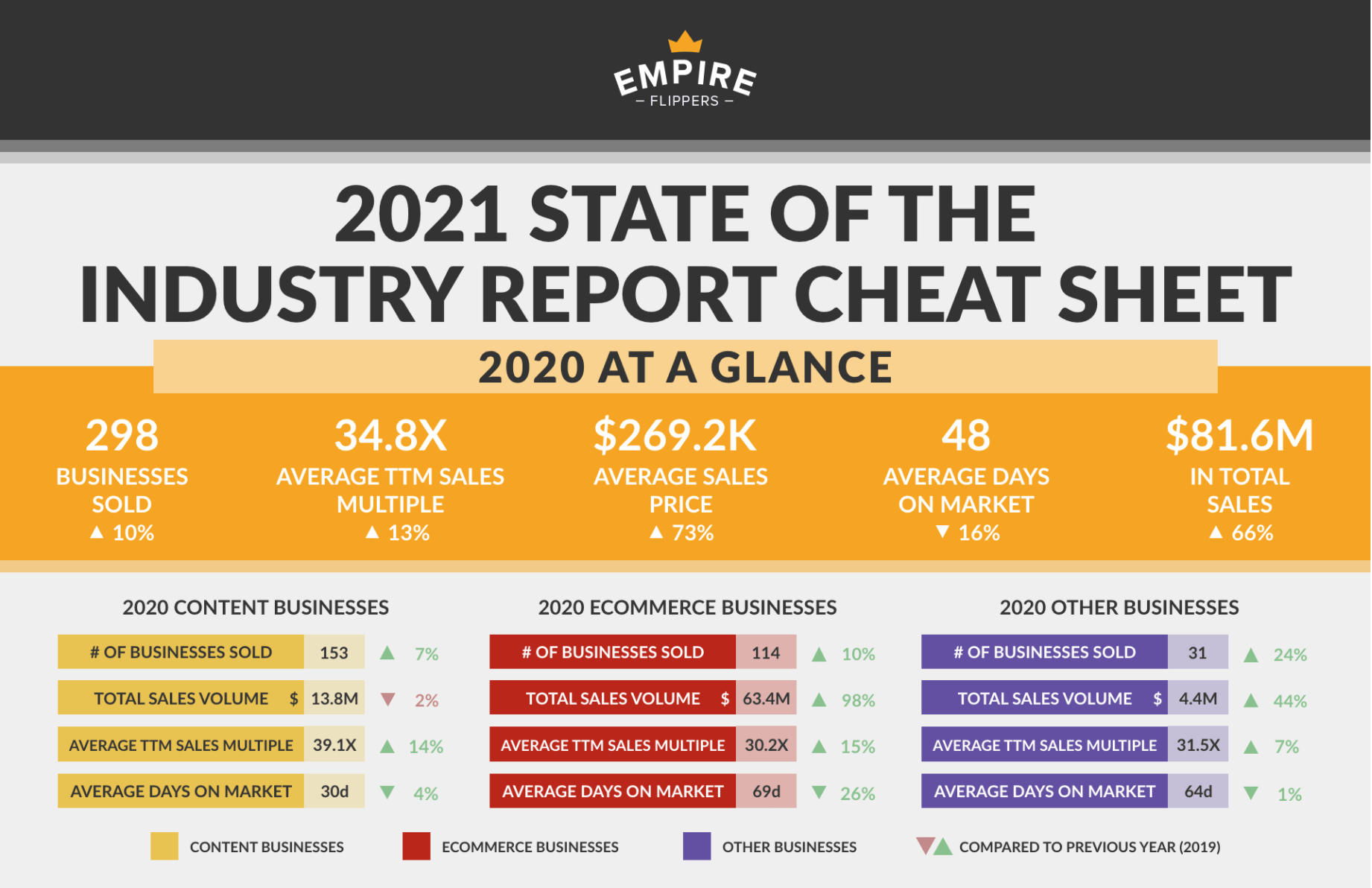 That means a niche website consistently earning $2.5K per month can go for as high as $97,000. Three years of revenue, up front in cash.
Sounds amazing right? The truth is, there are efficient — and inefficient — ways to get there.
And it turns out, the hosting you choose, the website builder you pick, or which plugins you install aren't going to be the driving factors in your site becoming successful.
The most important decision you'll make is which niche to enter.
Why's that? The niche you choose affects every aspect of the business. From the content you write, to the products you can create and promote, how easy tasks are to outsource, and honestly just how much you'll enjoy building the website.
That's why it's so important to pick a niche that both makes money, and you actually like.
How to pick a niche that's good (for you)
When you're doing niche research — especially for first-time site owners — you should favor an element of passion, personal interest, or unique advantage.
Not only will it help you stay motivated long-term, but you'll be able to create content and build a brand with personality and authenticity. Something that is very hard when you just don't care about the topic you're covering.
For example, when I started a travel blog 5 years ago, I started by writing about visas and working abroad. Even though there are plenty of affiliate programs in that niche, the topic got boring quickly. So I pivoted to photography and trip guides.
If I'd stuck to a profitable niche I wasn't passionate about, there's no way I would've managed to publish the 100+ posts I did during that time. Or keep going for 5 years.
Here are a few ways I can recommend finding niche ideas: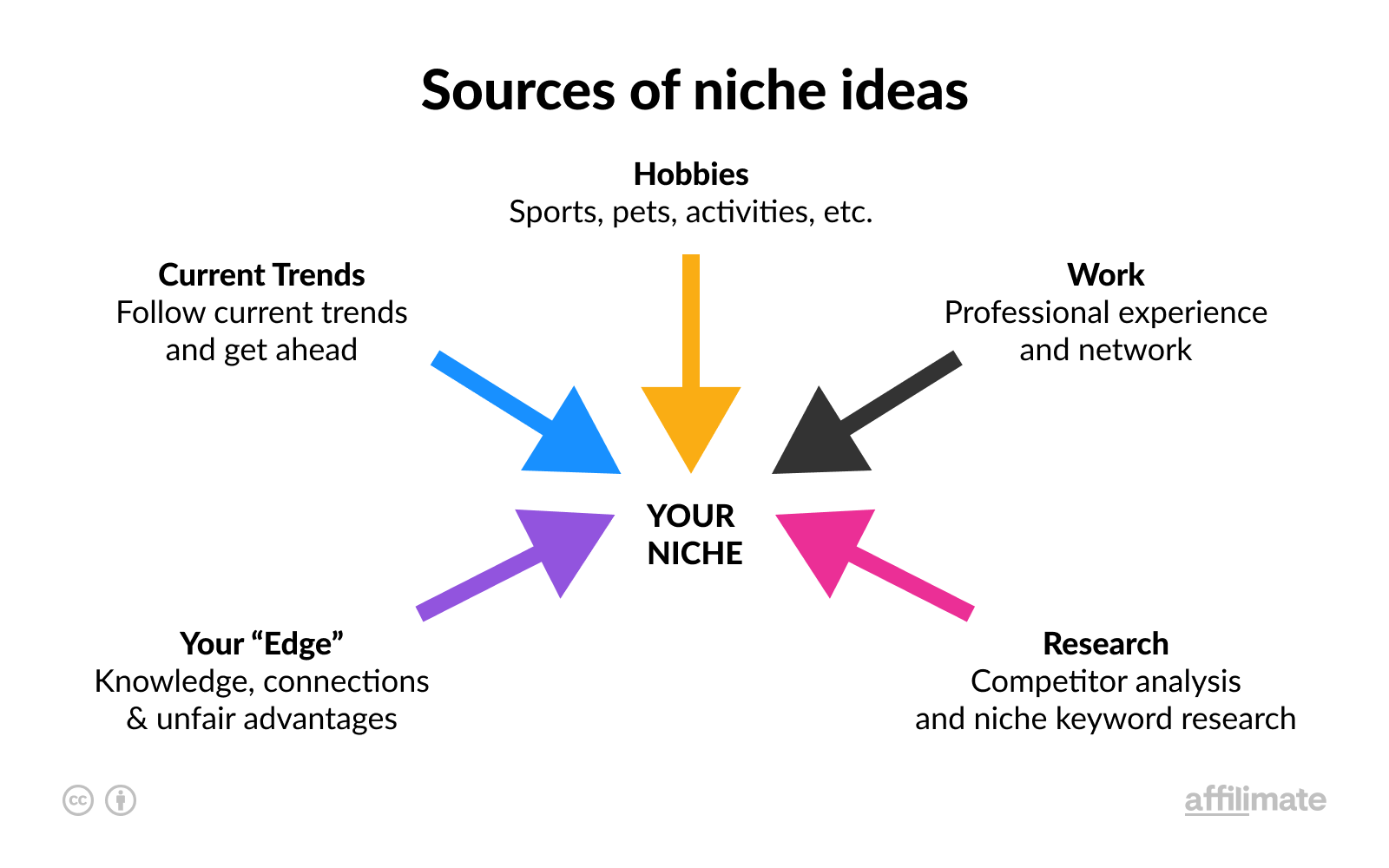 Here are 3 practical things to consider when choosing a niche:
Monetization opportunities — Check which affiliate products and programs are available in your niche and how much they pay. Look for high commissions ($50+), recurring payments, and ways to diversify through multiple programs.
Demand — Use keyword research tools to check for search volume, and niche research tools to identify growth, or decline, in demand. Go for an evergreen niche if you value consistent monthly revenue.
Competition — Classify sites ranking for your target keywords, and see how many smaller sites are holding their ground in the search engine results. Collect a list of initial buyer intent keywords and see how hard it will be to rank.
Note: The niches below are all very broad. For each niche, you'll want to think about subniches where you can start and then expand later. Each niche will have examples of possible subniches you can draw ideas from.
List of 13 Best Niche Ideas
At Affilimate, niche site owners sign up for our product every single day. And the niches people successfully monetize never cease to surprise me. Which means, many of the best niches (somewhat ironically) won't show up in any list of the best niches. Not even ours.
So take on each of these niche ideas, and look at them from a creative angle.
Finding a way to blend a unique audience with shared goal, plus diverse monetization methods, is what will give your business and brand a defensible moat.
1. SaaS products
SaaS stands for Software-as-a-Service, and is the broad category that includes products like email marketing tools, SEO tools, website builders, and CRM software.
Pretty much any software that you subscribe to and pay for on a recurring basis can be described as SaaS.
And that's exactly why SaaS is one of the best affiliate niches: many companies will give you a slice of those recurring payments, too. Which means a single sale can lead to many months of predictable revenue.
Here's a concrete example of a site in this niche: Email Tool Tester.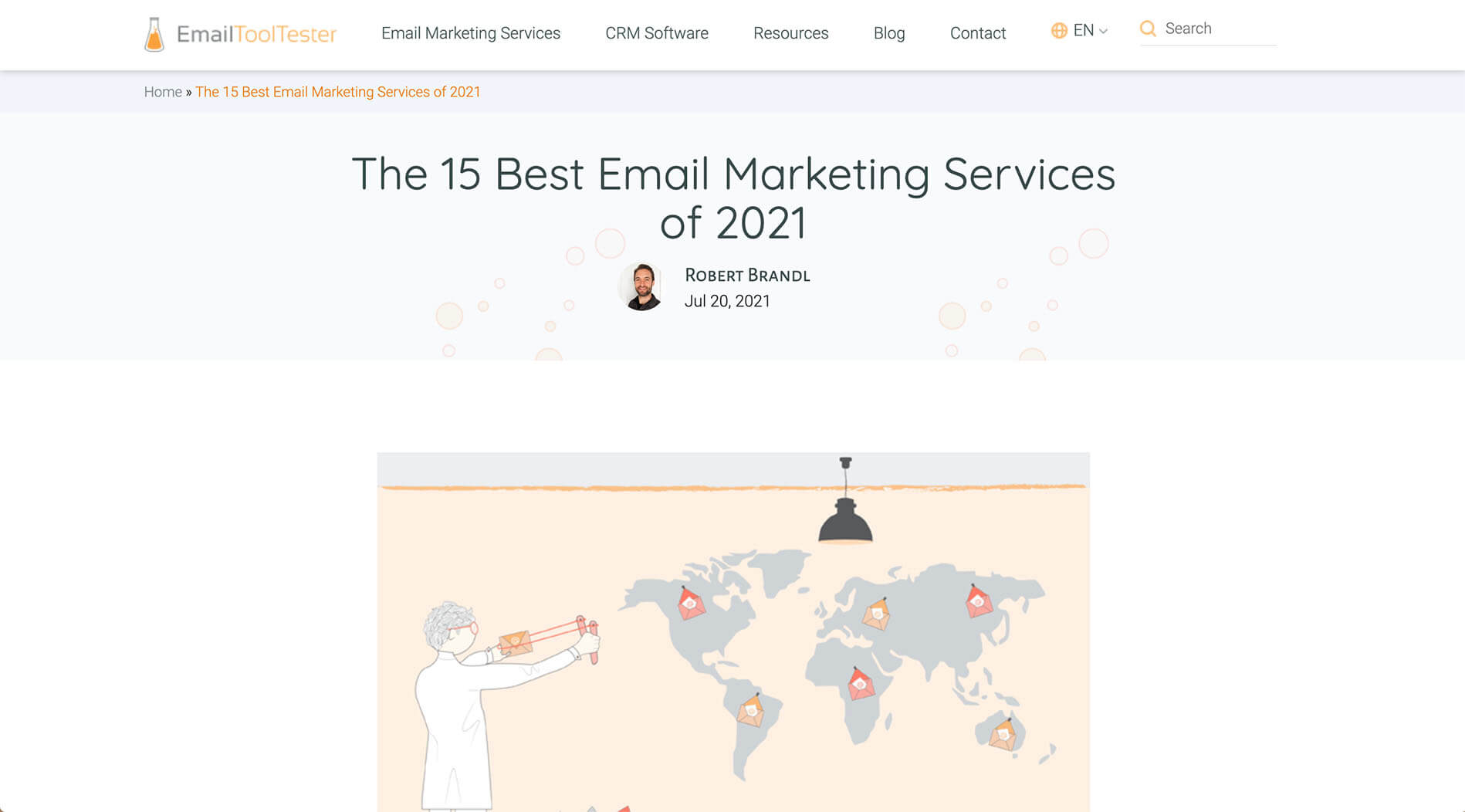 They've rounded up a list of email marketing tools. Their top-recommended tool for marketing automation — ActiveCampaign — pays a 20% recurring commission.
Meaning, if you refer a customer that spends $100 per month with ActiveCampaign, they'll pay you $20. Over the course of a year, that's $240 for a single conversion.
You can imagine how this adds up — and quickly.
There are tons of great SaaS affiliate programs out there. Especially with the rise of remote work starting in 2020, remote collaboration tools and software are becoming increasingly popular. Zoom, for example, still expects sales to rise over 40% during 2021.
Tips for starting a SaaS niche site
One thing you'll notice in this space is people starting super niche. For example, Email Tool Tester started out reviewing just email tools. Meanwhile, they've also expanded into adjacent areas like CRM software.
You can do the same. Switch it up by either focusing on a single software category (like "webinar software"), or by introducing that software to a novel audience (think, "salon software" or "appointment tools for mechanics").
Finally, consider adding Tutorial-type content to your site combined with product roundups and reviews. The longtail of tutorial keywords is borderline infinite, if you're not able to rank for the big terms out the gate.
2. Outdoor gear
Road trips, outdoor activities, and national parks have surged in popularity since 2020. To give you an idea, Yellowstone National Park in the United States received over 483,000 visitors in May 2021 alone. It's the busiest year since 2016.
Like a lot of niche ideas in this list, outdoor activities offer no end to the gear you can buy. Tents, backpacks, headlamps, hiking boots — the list goes on. And with premium gear getting so expensive, the commissions can be excellent, too.
Here's an example from the website Switchback Travel: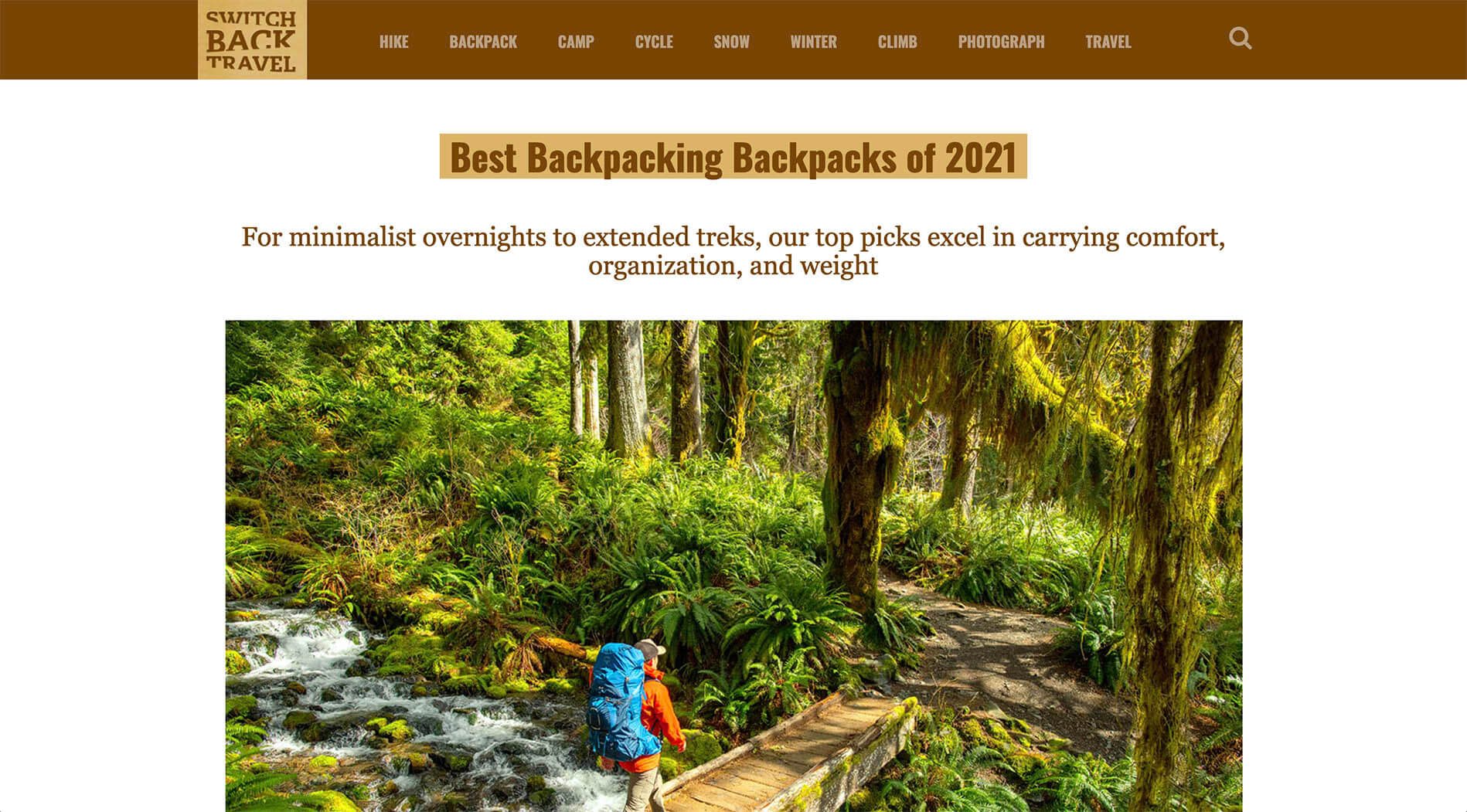 A key benefit to an outdoors niche site is that you have alternatives to Amazon Associates. Lots of outdoor affiliate programs offer comparable or better commissions, and command enough brand loyalty to drive conversion. You'll notice the post by Switchback Travel is promoting products mostly through REI.
Another benefit is that the outdoors niche has tons of subniches you can explore and exploit. Instead of "outdoors", you can dig into cycling, camping, climbing, cycling, snowboarding, and more.
Just watch out for highly seasonal niches, which could be profitable, but make it hard for you to drive consistent revenue year round.
3. Online courses
Online courses are another space that have exploded over the last year. With the closure or reduction of in-person education, online courses and education have turned into a key way for people to teach themselves.
That's just part of why the e-learning industry is set to reach $457.8 billion in the next 5 years. To give you a comparison, the SEO market is estimated at less than 10% of that. Education is massive, and growing every day.
Courses themselves can be very profitable: both to create and to promote. As digital affiliate products, courses tend to offer high commissions since they cost the creator virtually nothing per additional student.
Here's an example of a site in the course niche called Class Central: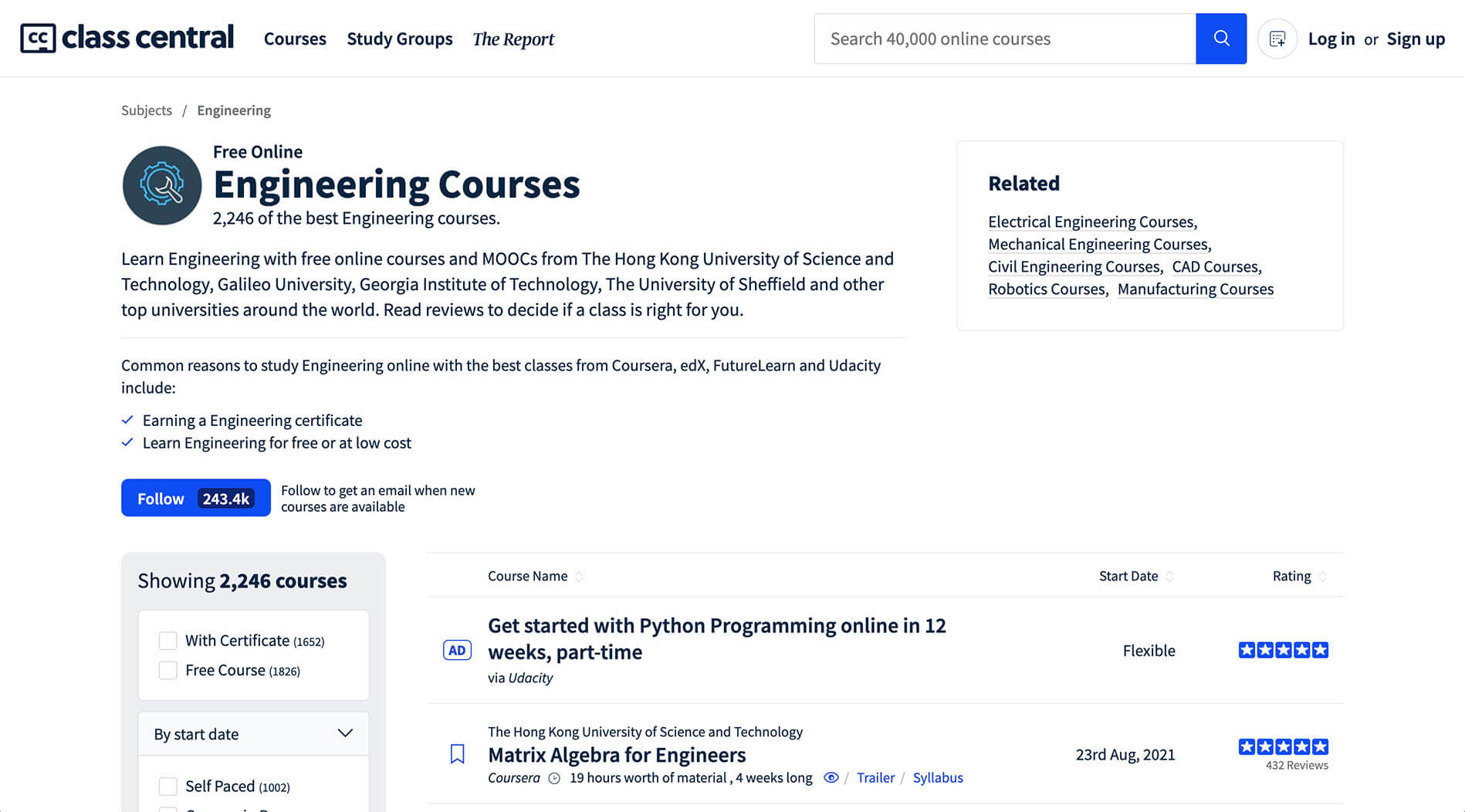 Unlike a lot of the blog-style content you'll find online, Class Central's content is clearly backed by a large set of data which they use to generate their content, lists, and landing pages.
Most of their courses link to one of a handful of education affiliate programs: Udacity, Coursera, Udemy, or edX.
One challenge with courses is that although you'll earn a solid commission (10-45% for Coursera, 15% for Udemy) is these courses tend to have lower price points. Typically between $15-$30 on Udemy, and $30-$100 on Coursera.
As such, you can up your commissions through two main strategies: go more niche into topics that tend to sell for higher price points (for instance, software development courses on Pluralsight), and promote premium courses directly from creators you like (such as independent Teachable courses).
Both of these strategies can increase your average order value, and therefore commissions.
4. Fitness
Health, wealth, and relationships some of the most stable, evergreen niches you can enter.
And while the Fitness and Health industries are dominated by massive players like Men's Health and Healthline, there's still opportunity to outrank them by going niche.
Here's an example from the home gym niche: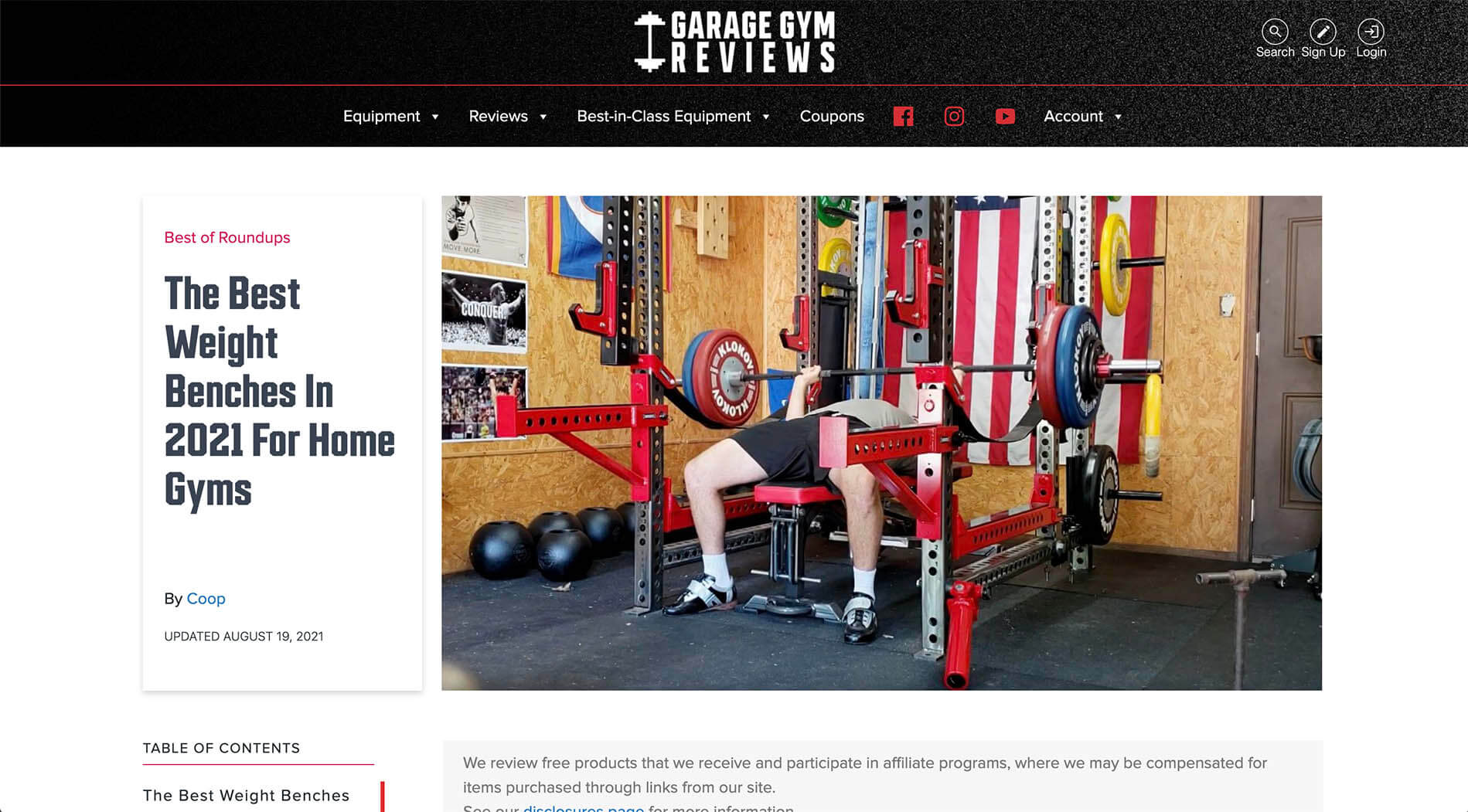 In this article, Garage Gym Reviews talks about the "best weight benches". They promote fitness affiliate programs like Titan Fitness, REP Fitness, and Rogue Fitness. Again, it's great to see Amazon alternatives to this buyer's guide.
While home fitness might be too broad, you can start with specific pieces of equipment or sports activities and build your site around that. As long as you pick a flexible brand name, you'll be in good shape (ha!) to expand later on.
5. Finance
Money makes money, and nowhere is that truer than the finance niche. Which is exactly why it's so incredibly competitive. Start a new site today and ranking for top terms like "best travel credit cards" is far out of reach.
But finance is still a great niche — you just have to approach it from a unique angle.
As an expat living in Germany, I'm always looking for information about expat finance, taxes, bank accounts and so forth. "Expat finance" is just one example of a sub-niche within finance.
You can go even further like this site, which focuses on expats in Germany: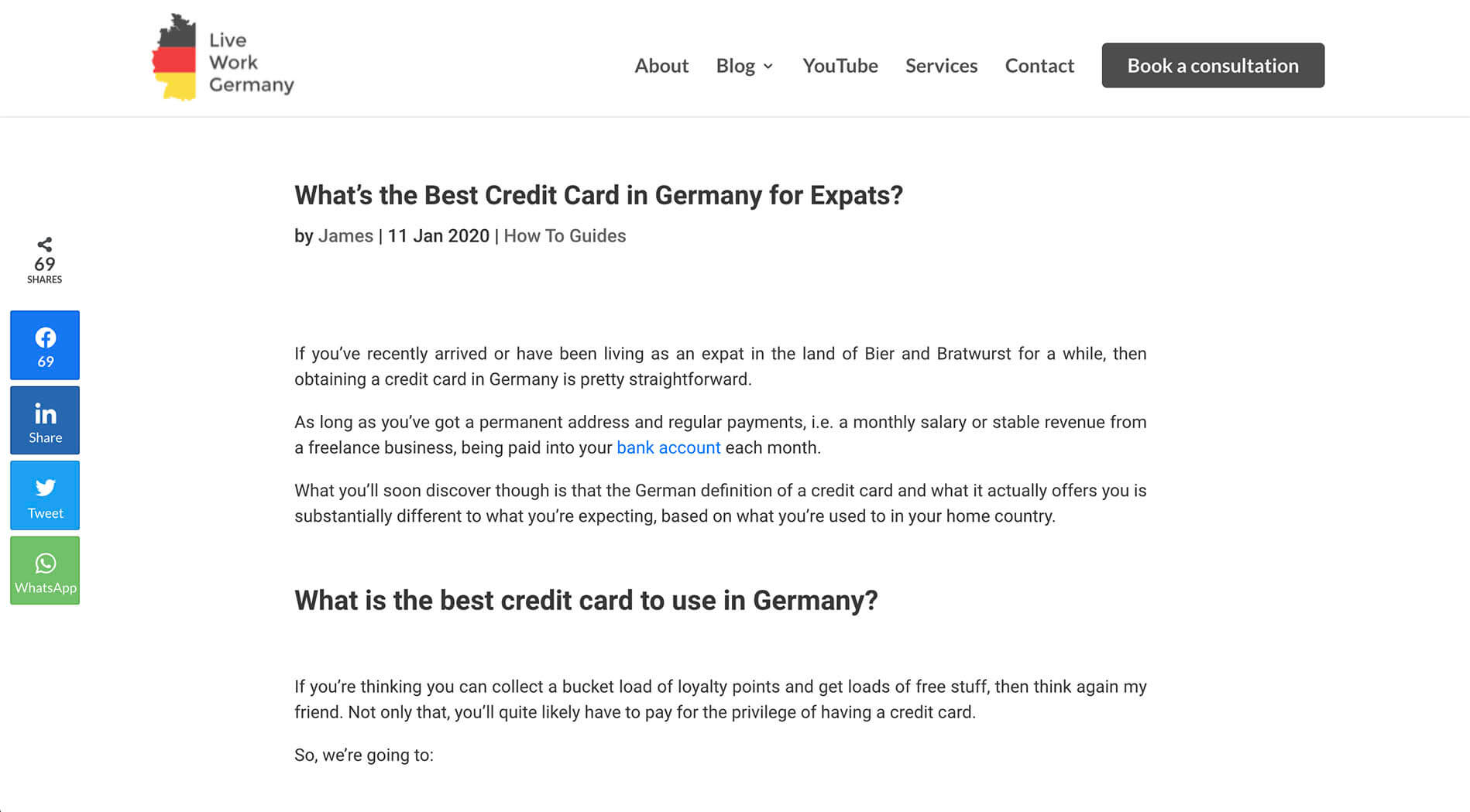 It's not obvious at first glance that there would be a significant financial component to a site like this, which is exactly what makes it work. With such a specific focus, you can use topical authority on the site's main topic to carve out a space in the otherwise competitive finance world.
6. Luxury fashion
Luxury fashion is a great example of a space where you don't have to do high volumes to earn respectable commissions. You just have to curate the right kind of audience (with deep enough pockets) and stay on top of trends and sales.
Take for example this article about luxury sneakers on Luxe Digital: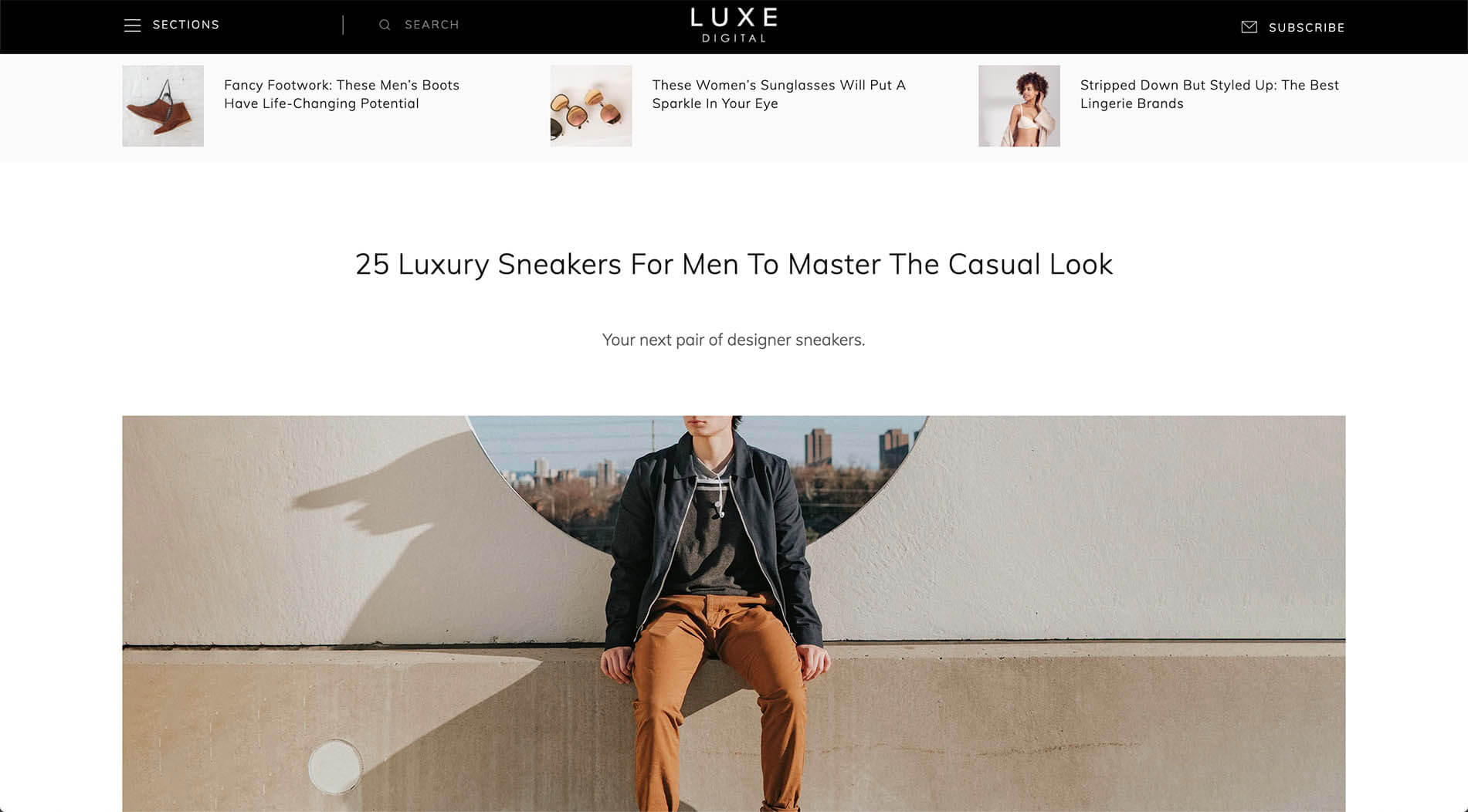 The premium sneakers in this article cost $268 through a retailer called Koio, with an affiliate program through Pepperjam with a 10% commission and 30-day cookie.
Which brings me to the other great part about the luxury fashion niche: you can work more directly with brands or retailers for commission increases than if you were promoting clothing through Amazon.
In fact, many of the luxury affiliate programs we've researched will up to double your commission rate if the partnership is successful.
The tough part is getting accepted. Many luxury brands are careful about their image, and only want to be associated with the classiest sites. Luckily, if you get rejected through an affiliate network, many are still available for similar rates through aggregators like Skimlinks and Viglink.
7. Photography
If you're not a photographer, you might not know about the "disease" they're most famous for:
GAS: Gear Acquisition Syndrome. Photographers' love of buying (very expensive) gear is so codified it has its own acronym. This makes photographers a great target audience, since their average purchases tend to be so high.
For example, the first lens in this list of Sony lenses costs over $700 on Amazon: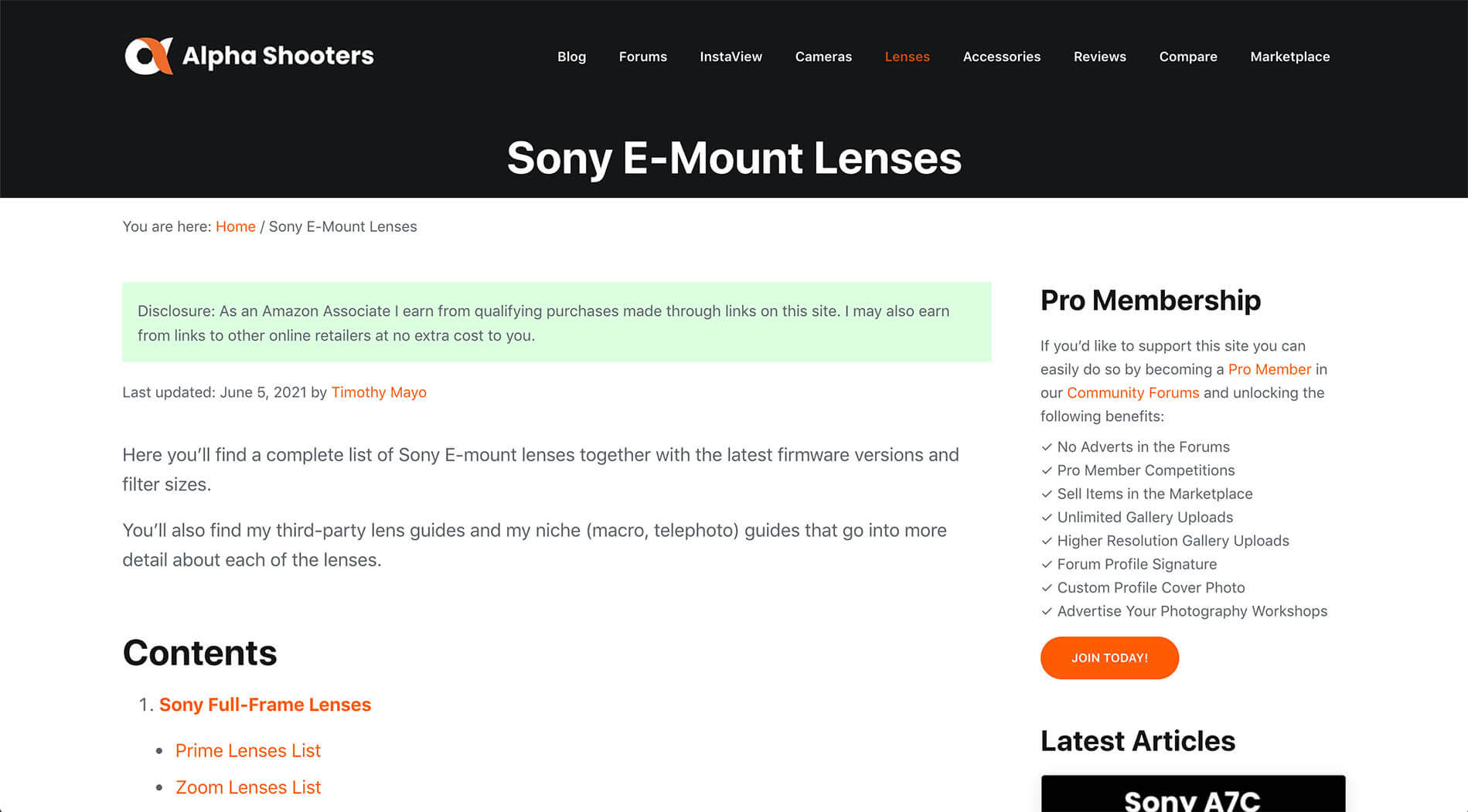 Even at 4% commissions, that's still $28. The same commission you would've gotten for selling a pair of luxury sneakers!
While the king of photography affiliate programs remains Amazon, there are other programs you can promote as alternatives for people who prefer to shop elsewhere. For instance, B&H Photo, or Park Cameras if your audience is in the UK.
Gear also isn't the only thing you can promote. Software like Lightroom and Capture One have affiliate programs, as do many providers of editing presets. With higher percentages, the commissions can be comparable to pricey gear anyway.
Tips for starting in the photography niche
The key to starting in the camera niche is you need to be a practitioner yourself. Photography includes so many technical terms, specs, and an understanding of how light, exposure, sharpness, detail, and so forth. Hiring external writers will also be a challenge if they aren't photographers, either.
Start small with a specific brand (like Sony or Canon), style of shooting (like street photography or weddings), or another angle that helps you establish topical authority on a subset of photography concepts.
You can definitely outrank the big guys like DP Review by being niche — I know this from personal experience.
8. RVs / VanLife
And guess who loves gear as much as photographers? RV owners.
If you haven't been following the #VanLife trend that started last Summer, there has been an explosion of new people starting "life on the road".
Turns out that keeping a van or RV in top shape requires a lot of maintenance. Expensive items they need include things like solar panels and generators, refrigerators, mattresses, and more. Here's an example from one RV niche site: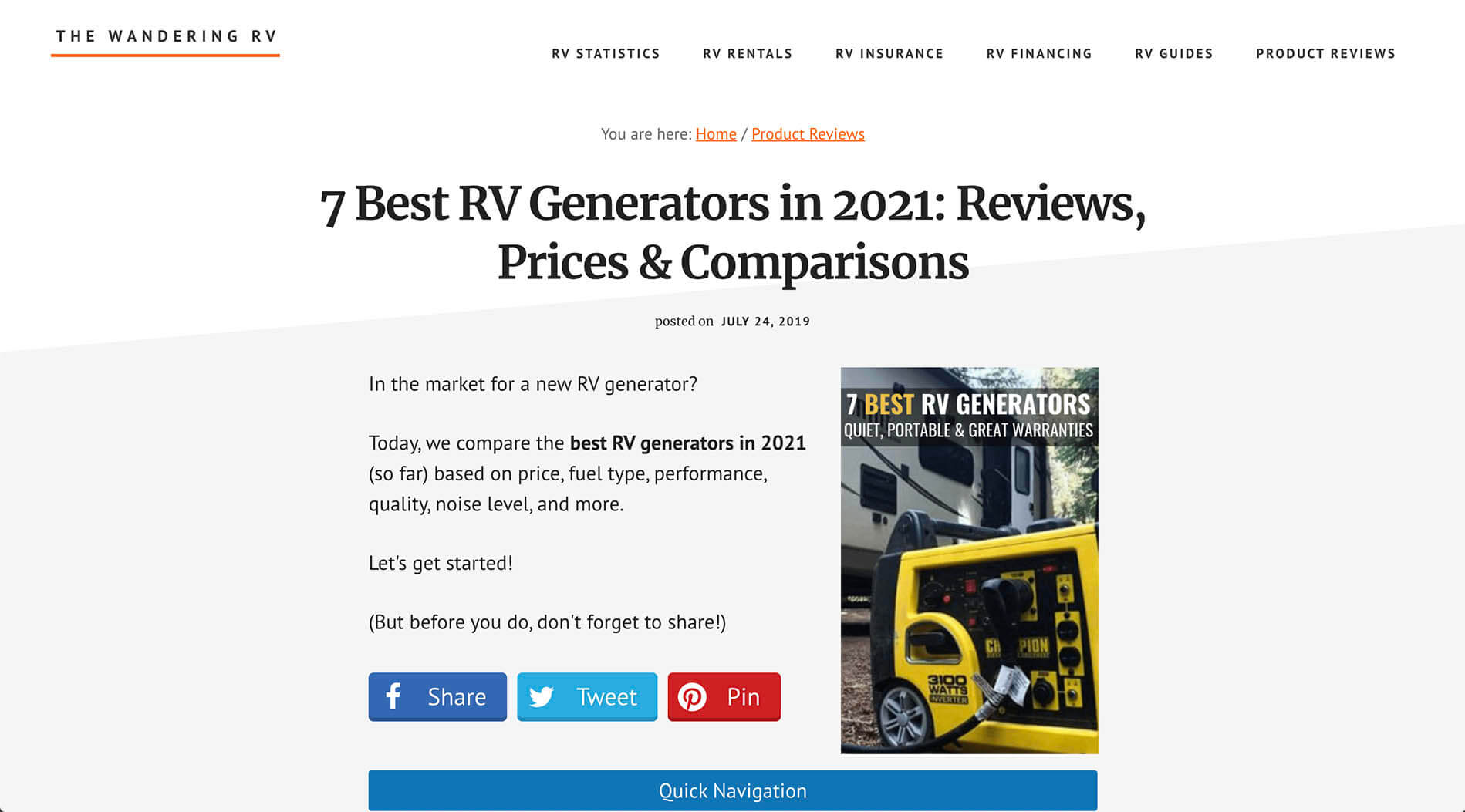 Besides RV maintenance itself, there's also an entire market of renting RVs and camper vans. These types of affiliate offers can nicely complement an existing travel or outdoors site.
9. Gardening
The pandemic spurred on a lot of new hobbies for a lot of people: perfecting your home office setup, baking sourdough, learning to cut your own (or your partner's) hair.
Gardening is yet another example. But even before the pandemic, gardening was huge.
One example of a gardening site that has publicly shared its numbers includes Epic Gardening. Its owner revealed a monthly revenue between $50,000-$100,000 long before the pandemic.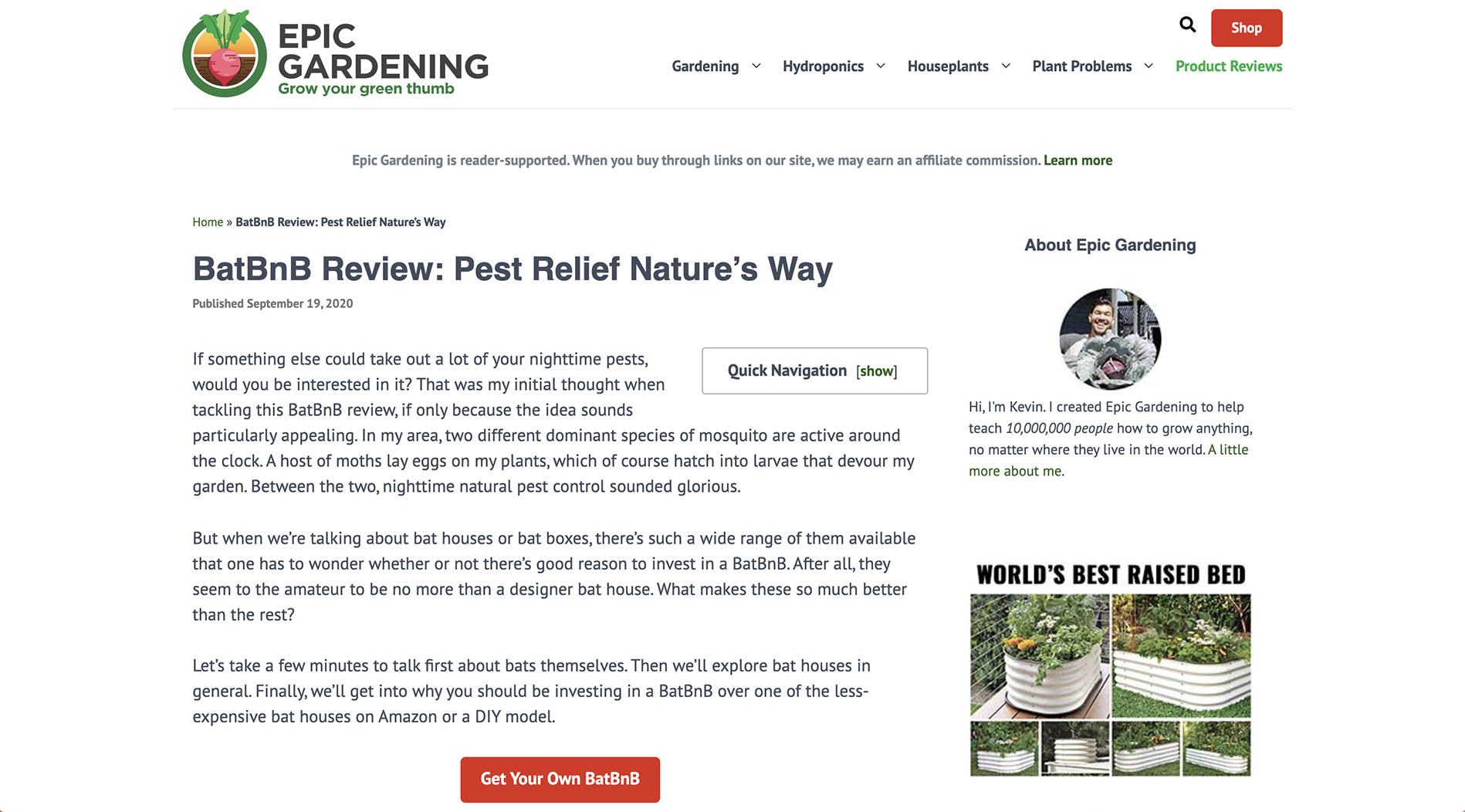 One of the main things to consider is that the gardening niche is highly seasonal. People start gardening in Spring, and work in their yards throughout the Summer. So the seasonality of your site will depend on which hemisphere you target.
10. Pets
Dog owners spend, on average, $1,200 per year on their furry friends – more than twice as much as cat owners! And since the pandemic started, they've been spending even more. This makes the pet niche ripe for entry.
"Dogs" is a broad niche inside the pet industry, but you can get even more specific. Like this Shiba inu blog: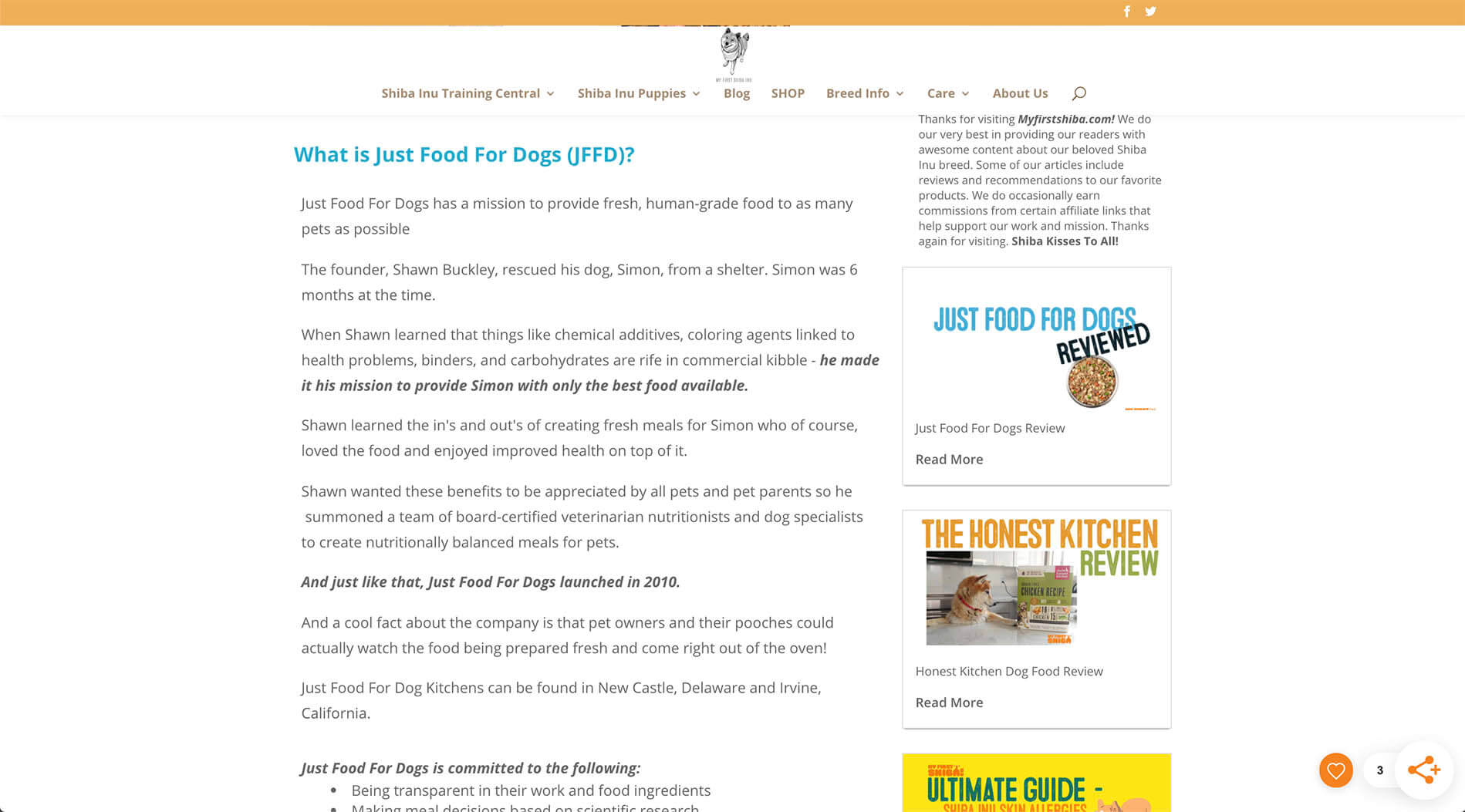 By going niche for either super unique pets, or specific breeds of more popular ones, you can unlock a lot of otherwise competitive keywords. For example, instead of targeting "best dog food brands" you can target "dog food for shiba inu."
There are also a lot of great pet affiliate programs beyond Amazon, so you've got a lot of options to diversify your affiliate income in the pet niche.
11. Vegan
Similar to how in the pet niche, you can take every pet keyword and add "for [breed]" to the end, the Vegan niche works the same way.
If you've never followed a plant-based diet, you might be surprised to learn how many of the products and foods you consume every day contain animal products or were tested on animals. That's why practically any product keyword on the planet can have "vegan" placed before or after it.
Take for example, this article about vegan toothpaste: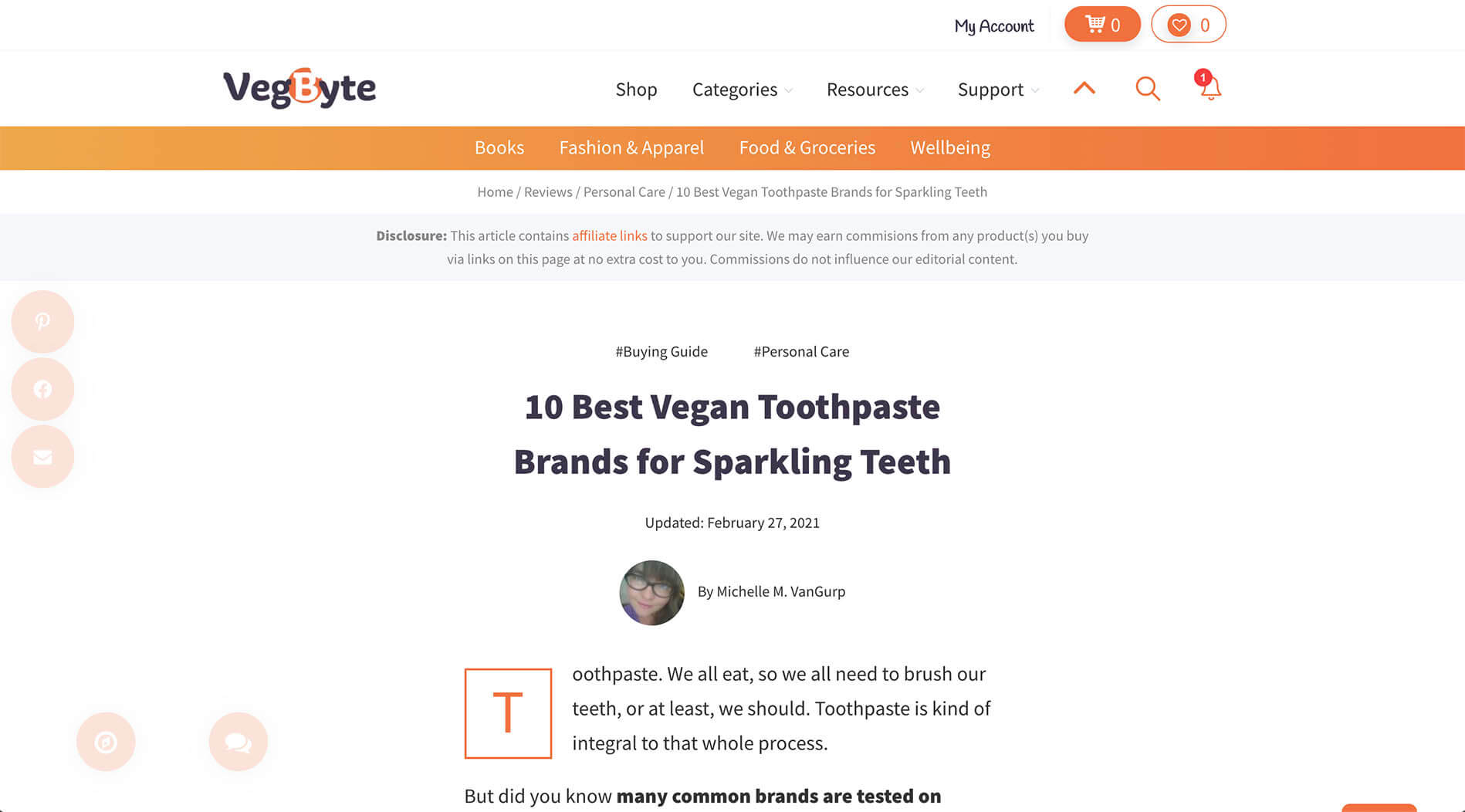 12. Coffee
The other day I was searching on YouTube for techniques for using my AeroPress, and came across James Hoffmann. He owns the top 3 YouTube results for the term "AeroPress":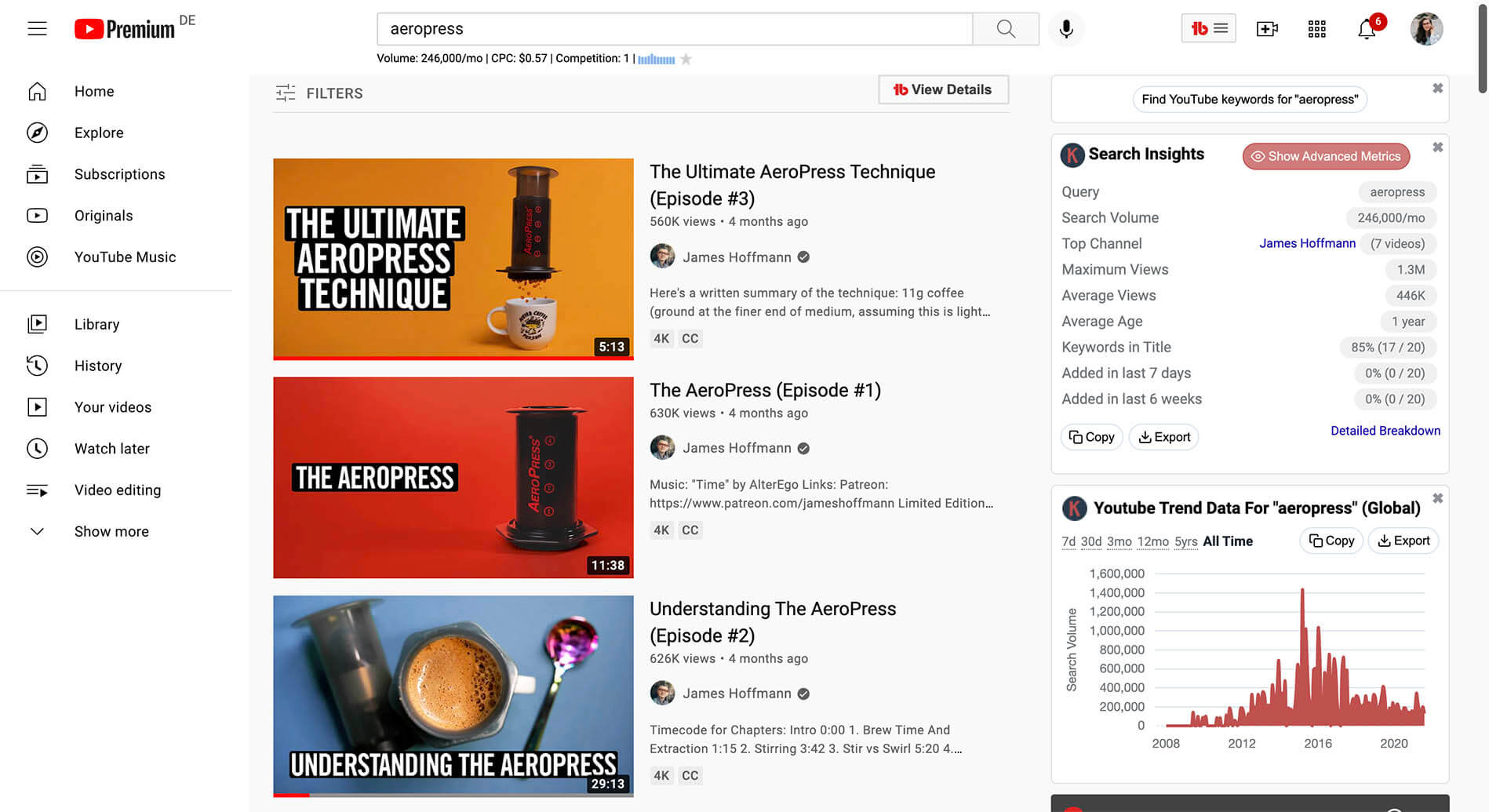 Turns out, he has almost ONE MILLION subscribers to his channel — dedicated entirely to making coffee. While I'm not entirely sure how many videos about making coffee I need to watch myself, it ties in nicely to this niche.
People are passionate about coffee. And while most people will settle for a budget-friendly Mr Coffee machine, the enthusiasts can spend hundreds of dollars on Italian espresso makers and premium coffee grinders.
Coffee is also an example where niche sites seem to have a chance of competing with the large authority websites. Take for example this post about the best budget espresso makers by Trusted Coffee Reviews: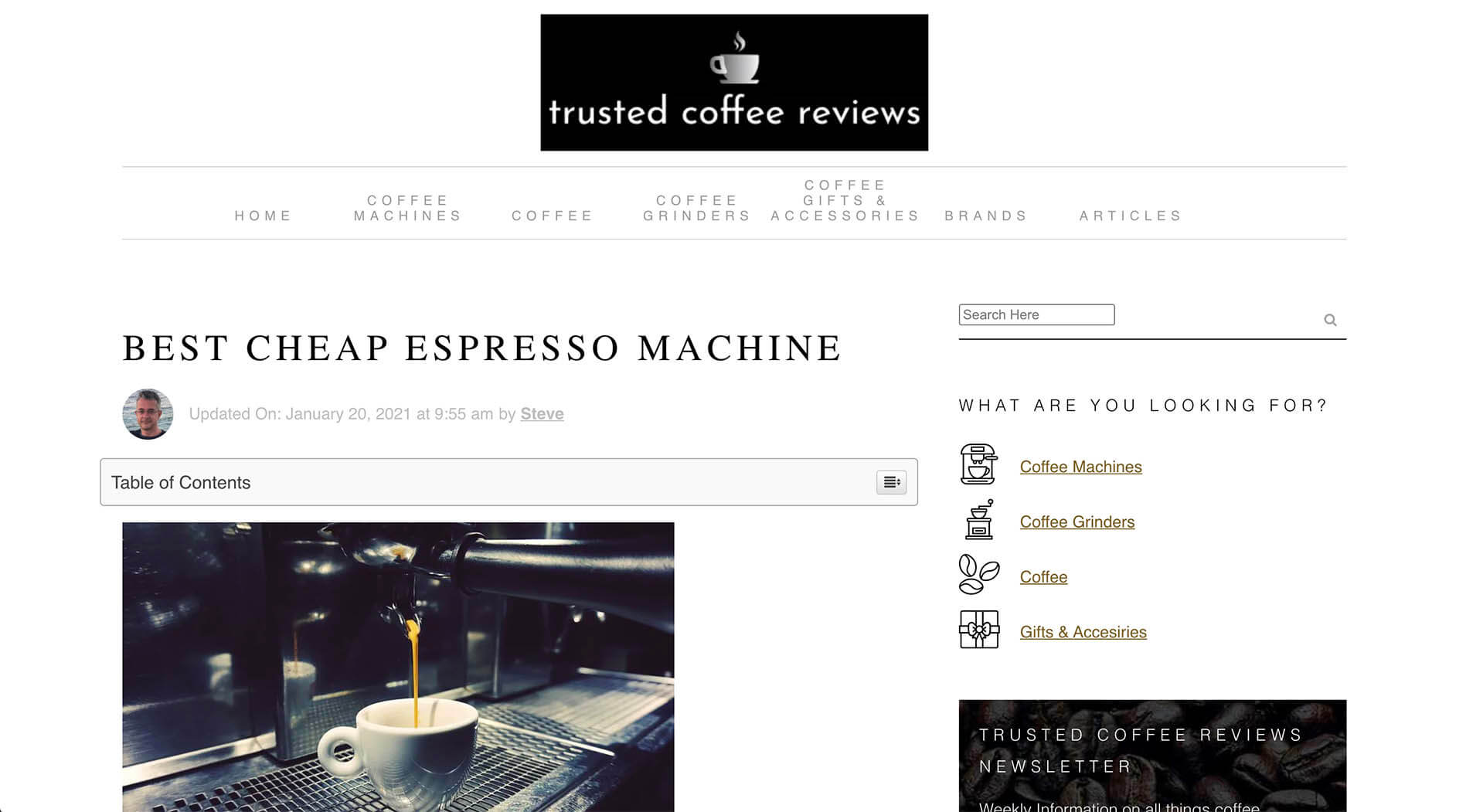 In this case, I found the site by searching for "best espresso maker UK", which led me to this .co.uk result. Here's at least one sign that you can get around the giants by focusing on a geography outside the United States.
13. Travel
Entering the travel niche right now might sound like a fool's errand. But the fact that people are skipping over it is exactly why there's opportunity in the space. One day, travel will rebound, and if you're not in a hurry to make money you can get ahead of the game until it does.
If there's anything I've learned from the travel community, it's starting on a niche geography (think, one specific country, region, or city). Locally focused websites rank higher and faster than generic travel websites. They're also much easier to build an audience and community around, since your articles will be highly relevant for most readers visiting the site.
The challenge with this approach is, you can eventually outgrow the location if the area you pick is too small.
Everyone in the travel industry is familiar with Santorini Dave, who started by writing about — you guessed it — Santorini.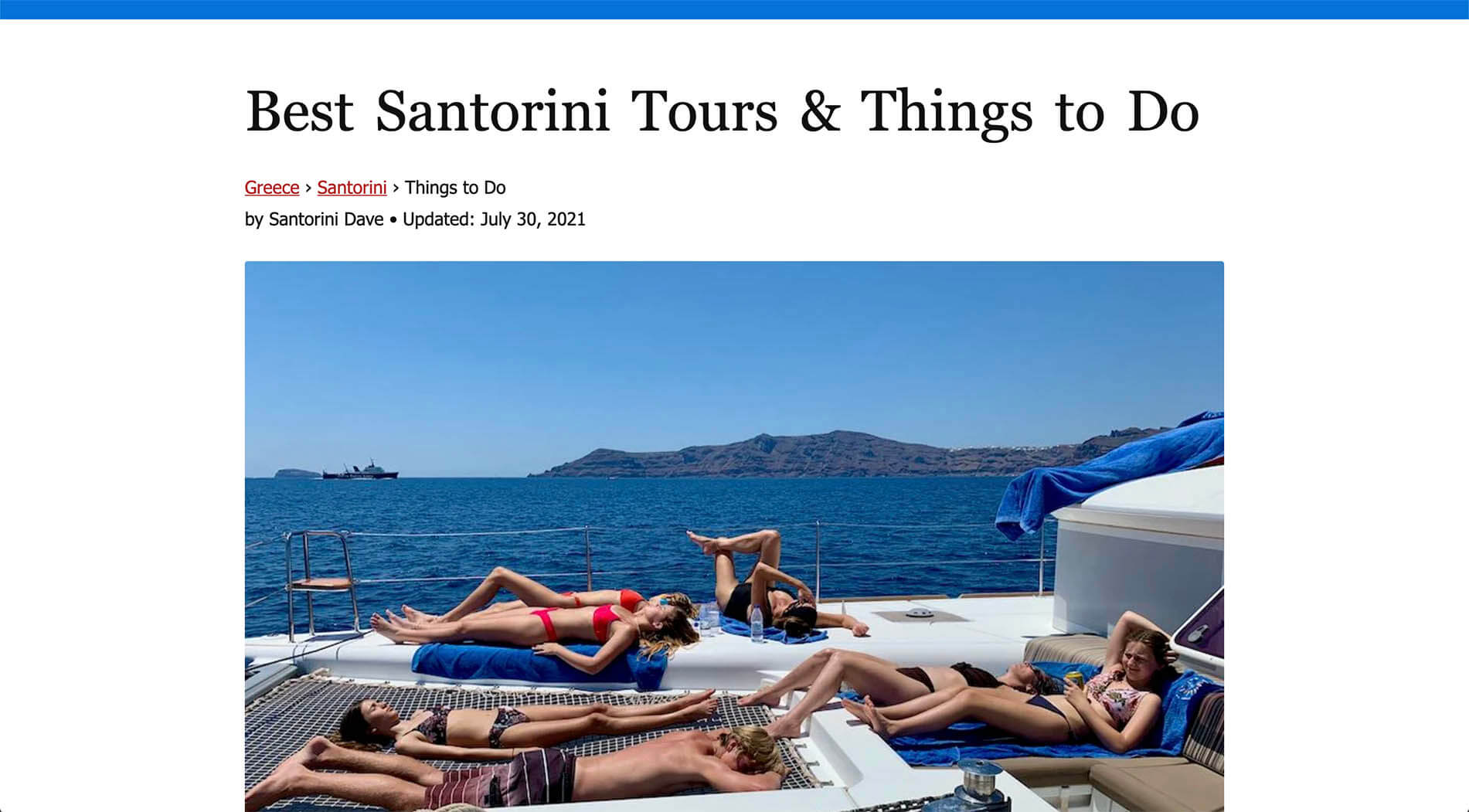 As a small island, eventually many of the topics around Santorini became exhausted. So now the site covers things to do in other locations, and seems to rank well for them, too.
Final thoughts on starting a niche site this year
As I shared at the beginning of this post, there are no end to the niches you can generate great revenue in today.
The key, especially for your first website, is to choose a topic that you enjoy yourself — or could learn to love by growing your website. This foundation will make it so much easier to stick with the site until the point where it's profitable enough to replace your salary, or sell through a brokerage.
And if you're entering a niche with a wide range of affiliate programs to join, think about signing up for Affilimate to track them all in one place.
Thanks for reading, may your niche site rank well and be wildly profitable. Til next time!