14 Best Photography Affiliate Programs in 2023 (Based on Data)
By Monica Lent · Updated Jan 16, 2023
As a photographer myself, I get the complexity of reviewing and promoting photography gear online.
I've also run two sites that promote photography gear as an affiliate.
People do take a long time to research and select photography gear. Commissions on consumer electronics are extremely slim. And for popular brands and profitable keywords, the competition is fierce.
The flip side is, photography equipment is also expensive.
Meaning, the average order values can be quite high.
So even if you're getting 2-4% on most programs that sell physical camera gear, each commission can range from $30-90 when people order $2,000 worth of gear at once.
You can also get much higher commissions if you venture into photography software, digital products like presets for Lightroom and Capture One, and other photography-adjacent products.
This guide to photography affiliate programs will show you how!
Sites we analyzed to compile this data
To find the top photography affiliate programs, we started by analyzing the bigger players of the photography niche. DP Review, Expert Photography, FStoppers, and PetaPixel are a few examples of the kind of sites we started with.
No surprise: Amazon is by far the #1 affiliate program used by top photography websites.
However, when we dug into sites belonging to different sub-niches within photography, we found more, interesting programs with potential.
We looked at niche websites and photography blogs based on camera brand (like Nikon, Canon, Sony, etc) and types of photography (astrophotography, street photography, mirrorless photography, etc).
Here's where we found photography affiliate programs that can complement a strategy that still leans heavily on Amazon for photography gear.
Photography Affiliate Programs
These affiliate programs are divided into a few main categories: camera gear, photo editing software, specialty camera gear (drones, action cams), and camera accessory brands.
B&H Photo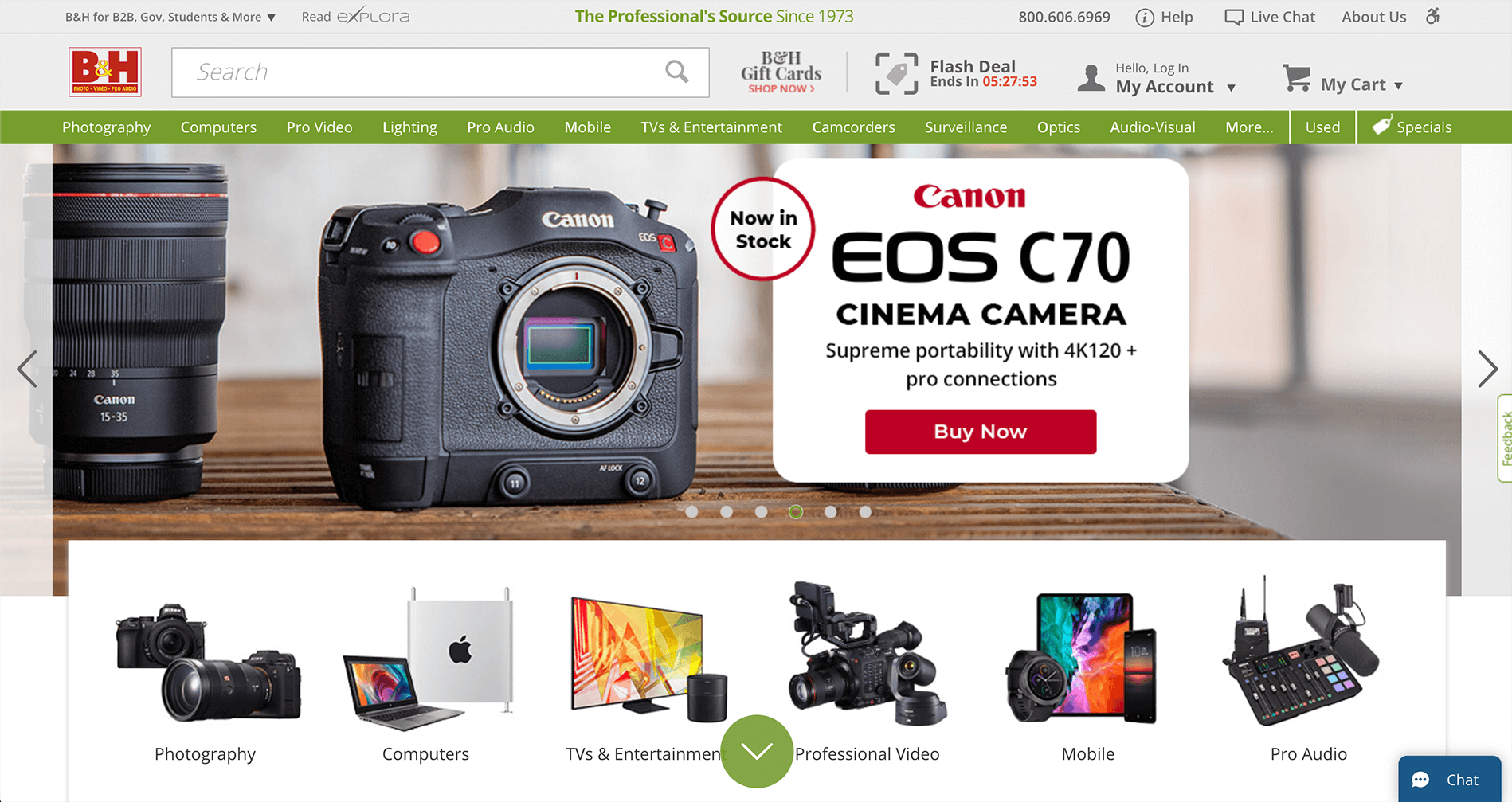 B&H Photo has one of the biggest photography affiliate programs in the world.
If you've got an American audience of professional photographers, adding B&H Photo links next to your Amazon links is a no-brainer. Pro photographers often prefer buying from B&H because they know their gear won't be gray market.
Gray market gear is basically camera gear sold by someone besides the authorized distributor or agent. Meaning, it may not actually have the same warranty or customer support you'd get when buying somewhere reputable like B&H, Adorama, or Focus Camera for a US audience, or Wex Photo or Park Cameras for a UK audience.
Your average consumer may not know about this, but if you've got an audience of pros, they'll care about making extra sure their photography gear is coming from a legit source.
Offers: Camera gear, computers, electronics, accessories, tripods, camera bags
Adorama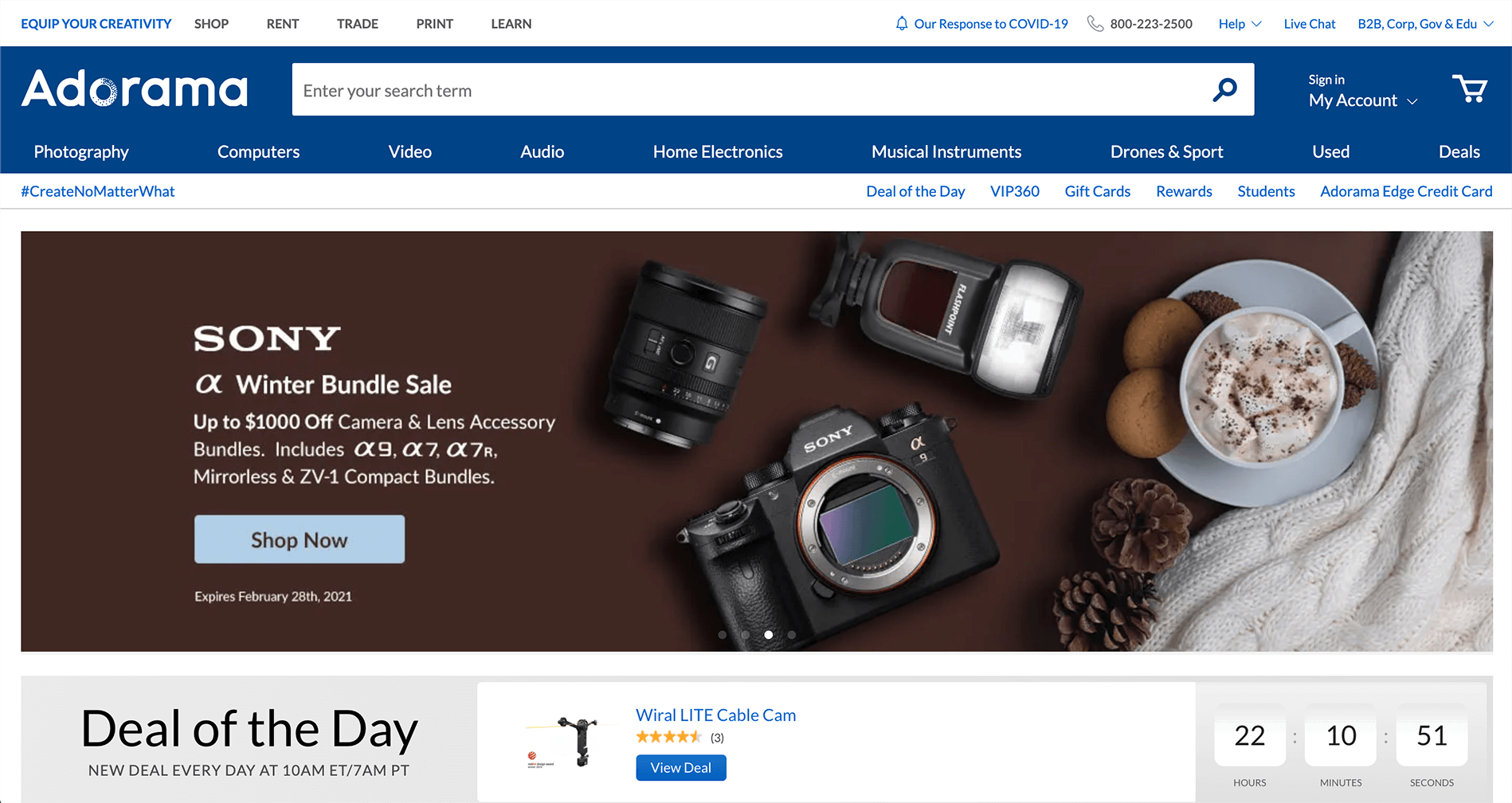 One of the main differences between Adorama and B&H Photo, besides the fixed 2% commission, is that Adorama has a lot of deals.
So if you are operating a photography affiliate site with a relatively defined set of readers who'd be interested in similar gear (for instance, like Alpha Shooters), keeping an eye on Adorama sales makes sense.
However, you are not allowed to send information about these deals directly via email without prior consent, per the Adorama terms of service:
You agree not to use or send any email, including but not limited to emails that you send to your customers promoting various offers or merchants, at any time, to advertise or promote Adorama's name, without prior written consent from us.
Offers: Camera gear, computers, electronics, accessories, tripods, camera bags
Focus Camera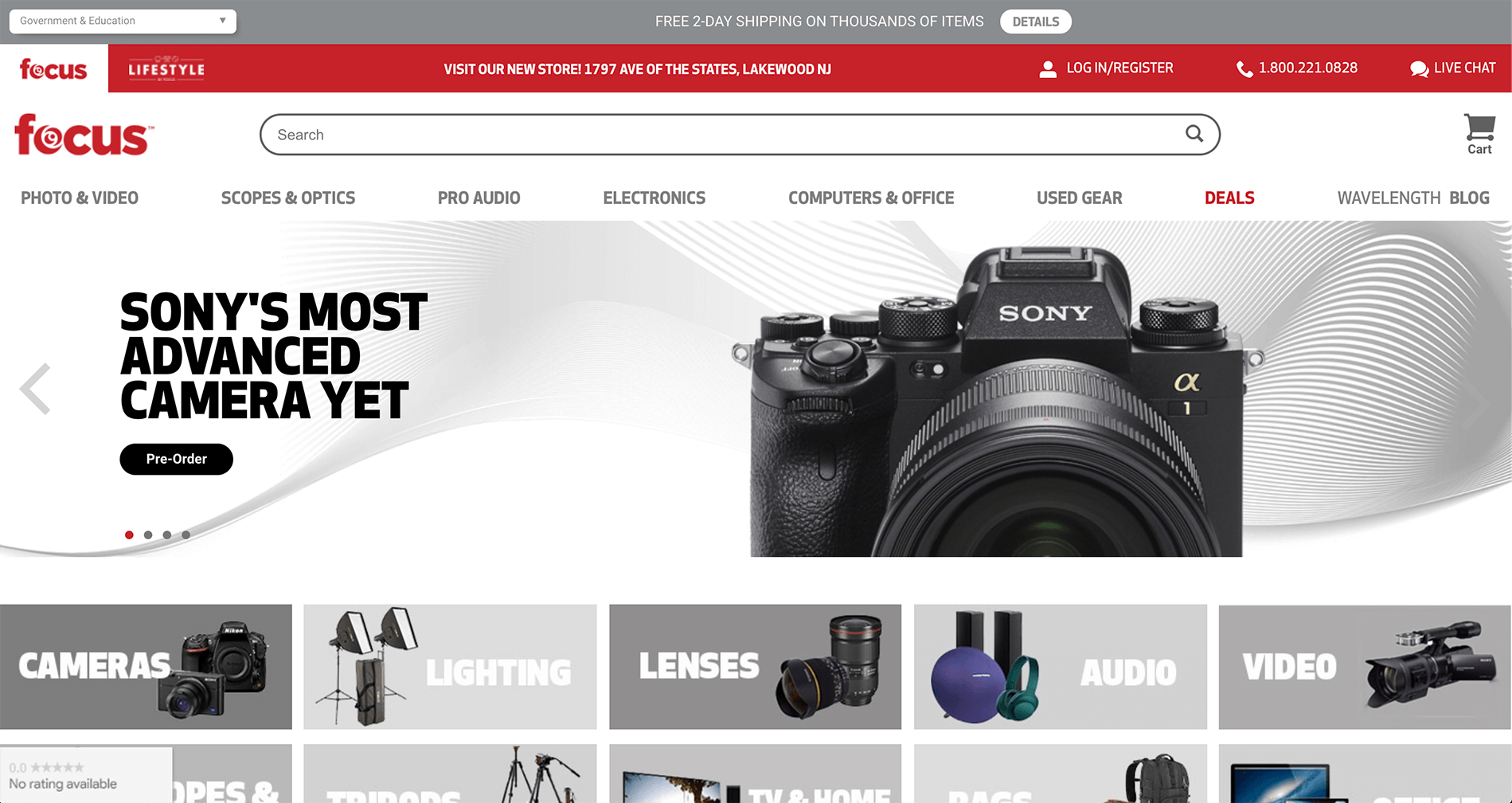 Along the lines of B&H and Adorama is Focus Camera. They're not mentioned nearly as often as the other two in the photographer blogosphere.
Like a lot of companies, the reviews of Focus Camera online are mixed (just a 3.1 rating on Trust Pilot). It's hard to say whether that's because the company isn't actively reaching out to satisifed customers as well as they could be (and we all know that dissatisfied customers are more motivated to leave reviews).
With this in mind, make extra sure to read the reviews on the Focus Camera website for any product you're promoting with them.
Offers: Camera gear, computers, electronics, accessories, tripods, camera bags
Wex Photo
Wex Photo Video is a UK-based photography shop, with a focus on camera and video. Compared to Focus Camera, they've got a 4.9 rating on Trust Pilot and a strong reputation among UK-based photographers. They also offer free delivery over 50£ and a 30-day return window.
Offers: Camera gear, GoPros, accessories, tripods, camera bags, studio lighting, printers, binoculars, telescopes, used gear
Park Cameras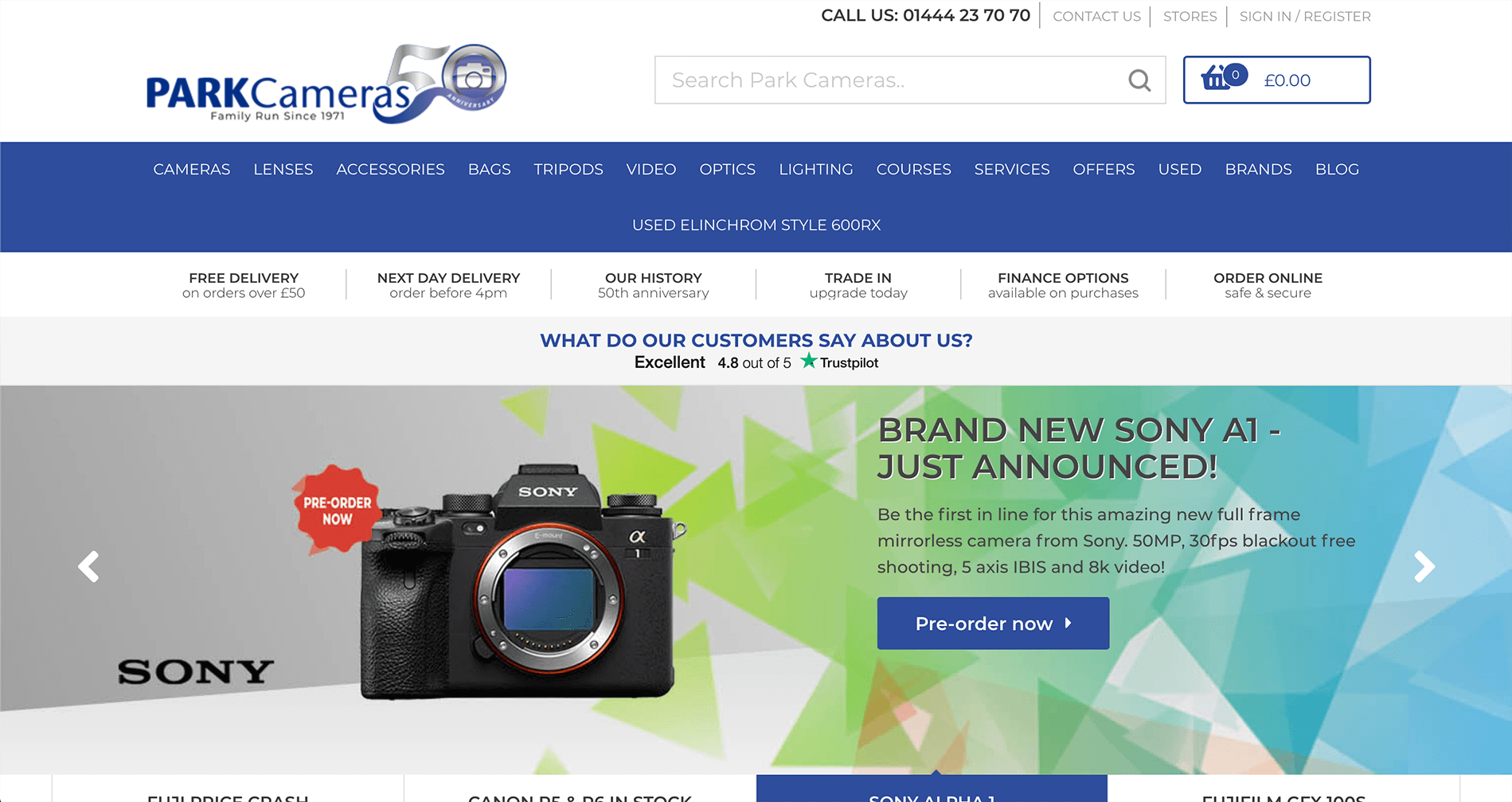 Park Cameras is a UK-based camera shop. What they've got over Park Cameras is free next-day delivery, though the EPC is slightly lower than Wex Photo. Both programs are available through Awin though, so it's simple to offer both options to your readers who're based in the UK.
Offers: Camera gear, lighting, tripods, camera bags, courses, used gear
Adobe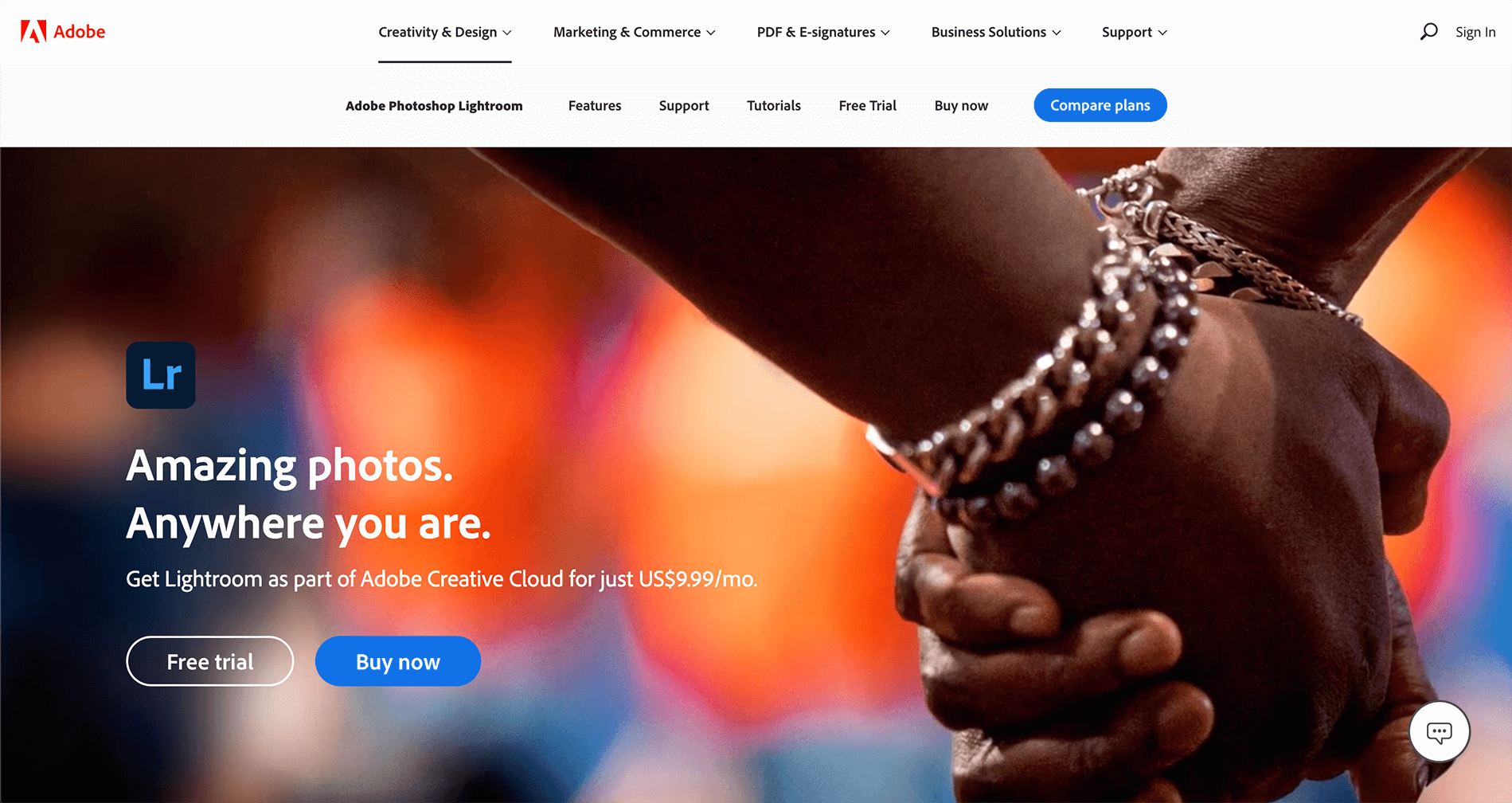 Program name: Adobe Affiliate Program
Network / Software: Partnerize
Commission: 85% of first month (for Creative Cloud), 8.33% of first year (for Creative Cloud), $72.00 for Adobe Stock subscriptions, 8.33% for single stock photo purchases
Cookie duration: 30 days
Markets: Global
Alternatives: Canva at $36.00 per sale of Pro plan
If you've been doing affiliate marketing for any amount of time, you'll quickly learn that software and non-physical goods tend to offer some of the best commissions. That's why we're including not just places to buy gear but also some of the most popular software photographers use day-to-day.
Adobe Lightroom is easily the most popular photo editing software used by photographers. If you do tutorials for Lightroom or create introductory content for photographers, this program could be a great fit for your site.
Offers: Photo and video editing software, stock photos (one-off or subscription)
Capture One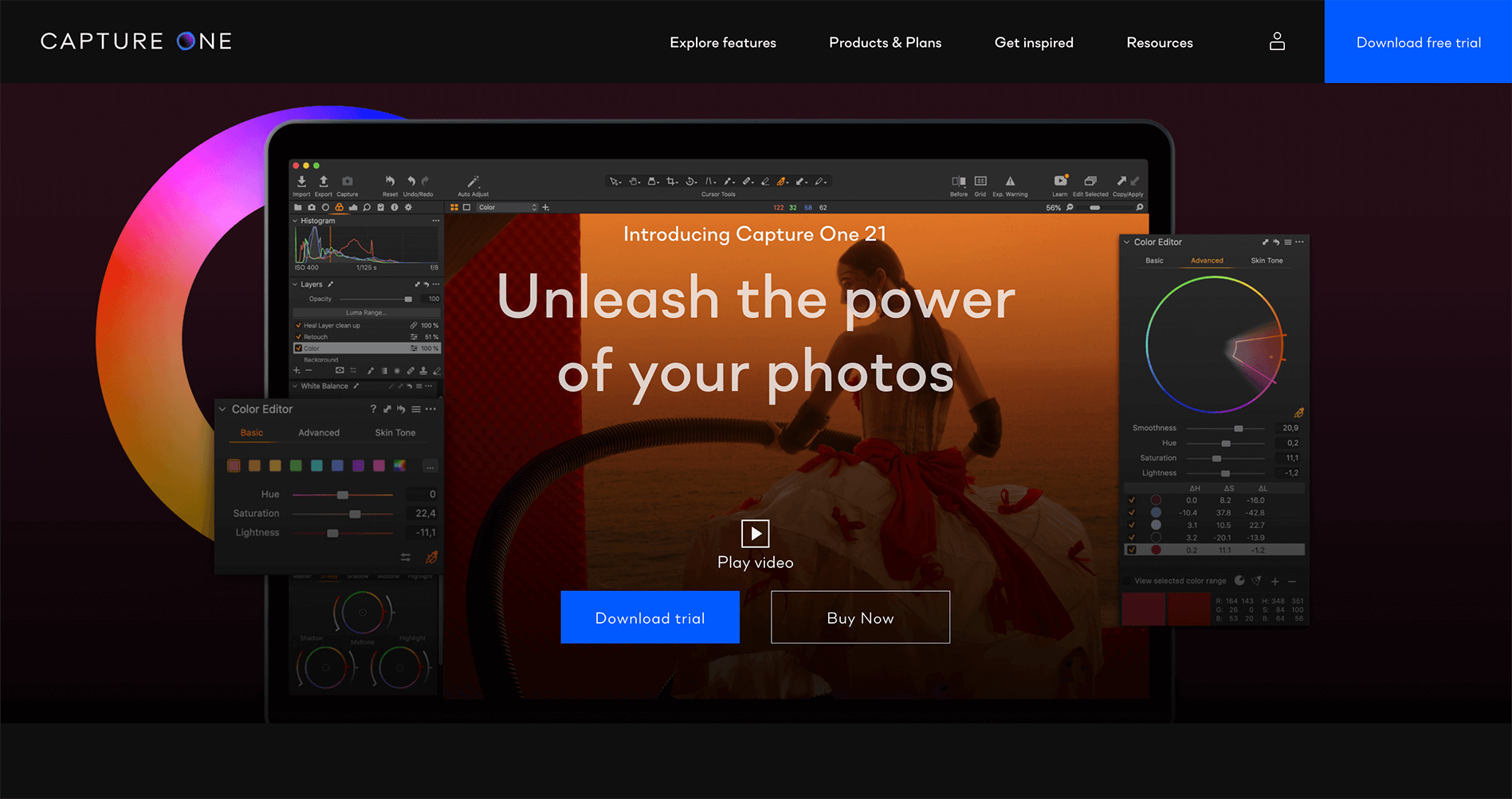 Capture One is a popular Lightroom alternative, especially for shooters of Sony and Fujifilm. What's interesting is that they only accept about 21% of their affiliate applications, according to the stats in Impact.
For that reason you might want to make sure your site has a clear focus on photography and tutorials, or maybe have already written about or used Capture One, before applying to this program.
Luminar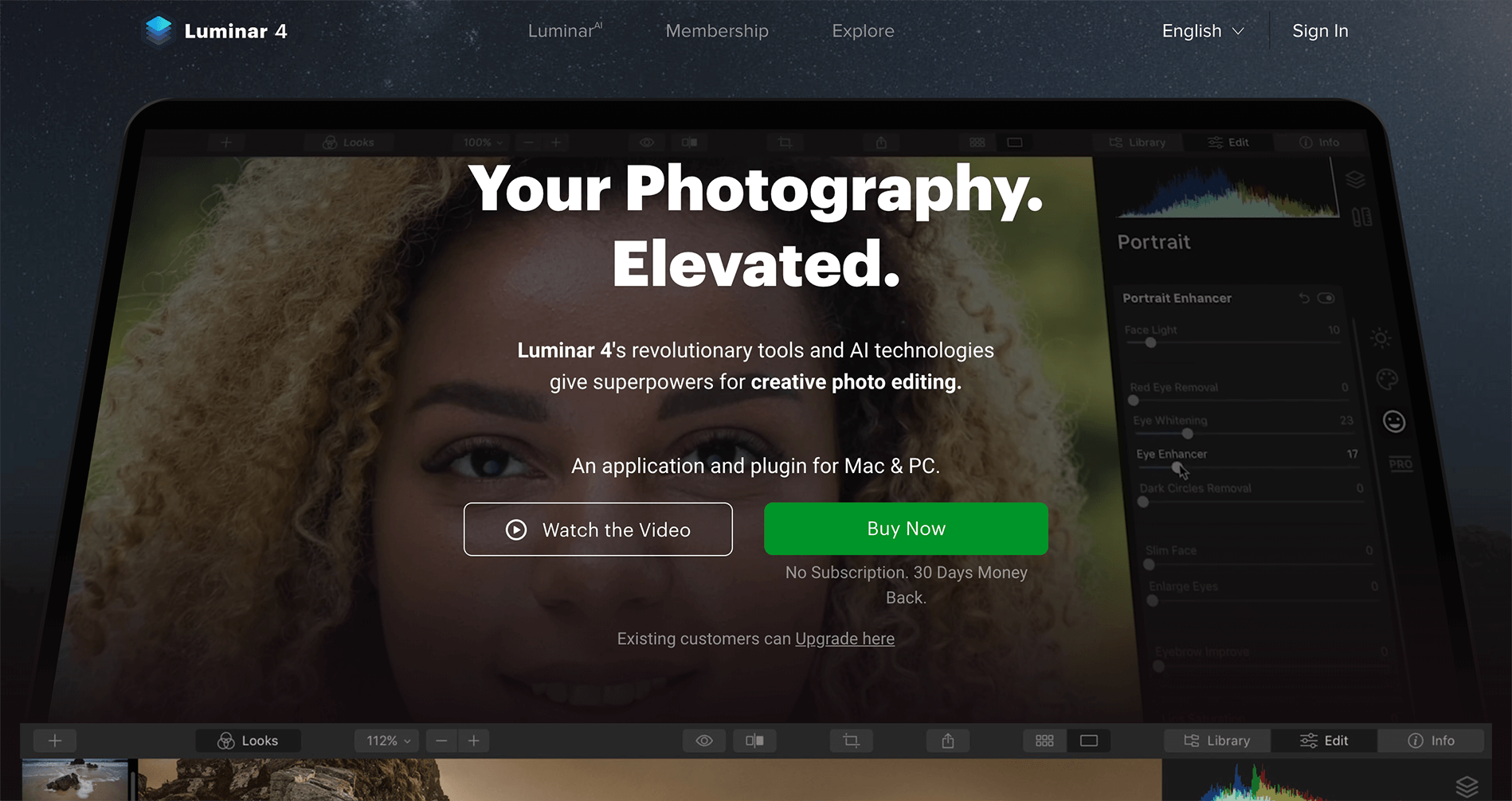 Skylum, the company behind photo-editing software Luminar, has a popular affiliate program available through Impact.
Apart from a generous commission and 90-day attribution, the company also offers discount codes for affiliates to share with their audience. According to their website, if you sell 25 copies of Luminar per month, that's around $495 in commissions.
Offers: Photo editing software
DJI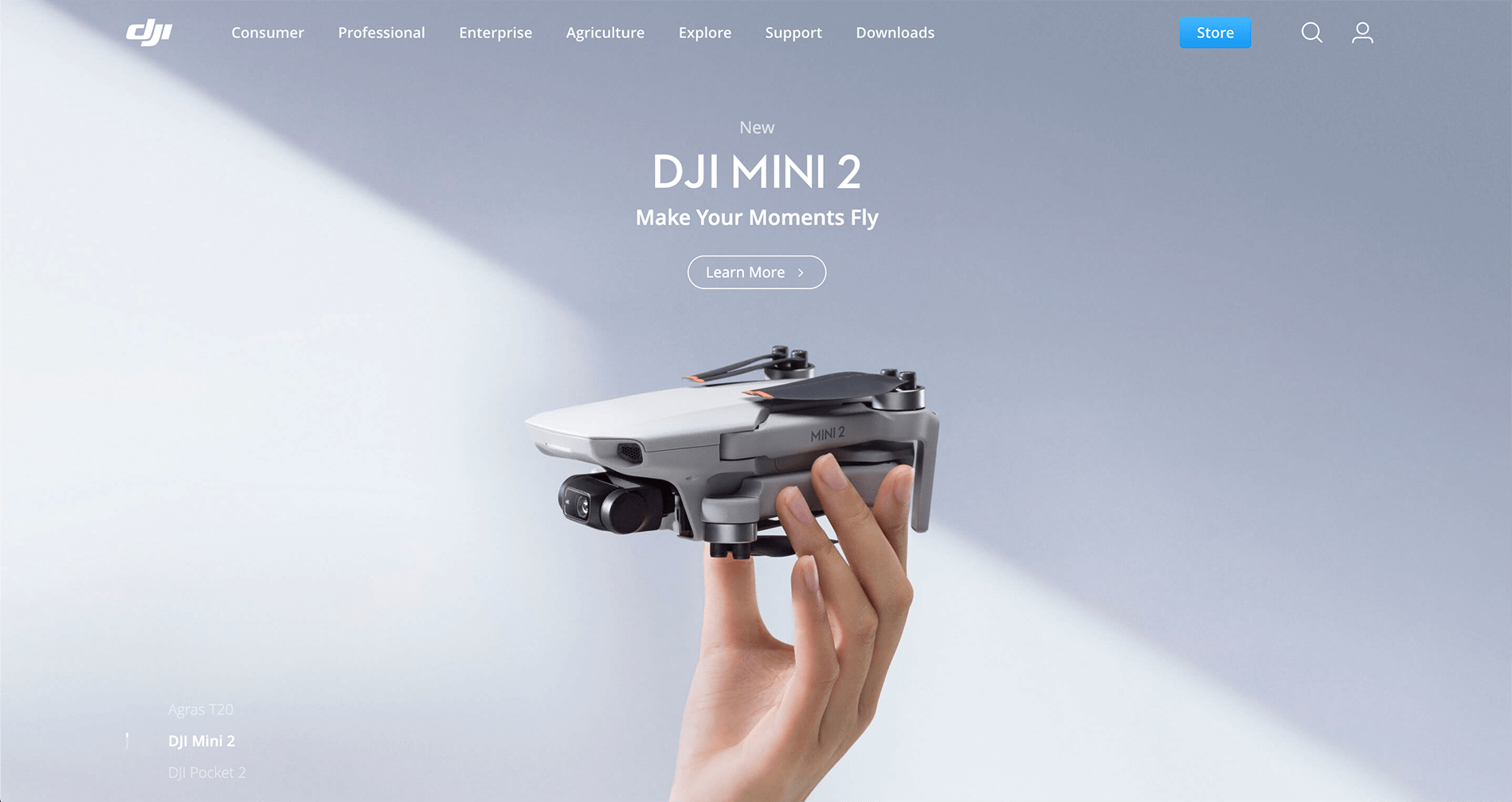 Drones can be a really profitable sub-niche inside the photography niche, given how expensive drones are. The DJI Mini 2 pictured above costs $449, or $599 with the Fly More combo. That means $13.47 or $17.97 in earnings, respectively, based on a 3% commission.
The $0.44 eEPC reported by ShareASale is also strong for consumer electronics like drones.
One important thing to know is that the direct affiliate program for DJI only results in DJI credit. You'll need to join the DJI program through either ShareASale or Skimlinks in order to earn cash for your conversions.
GoPro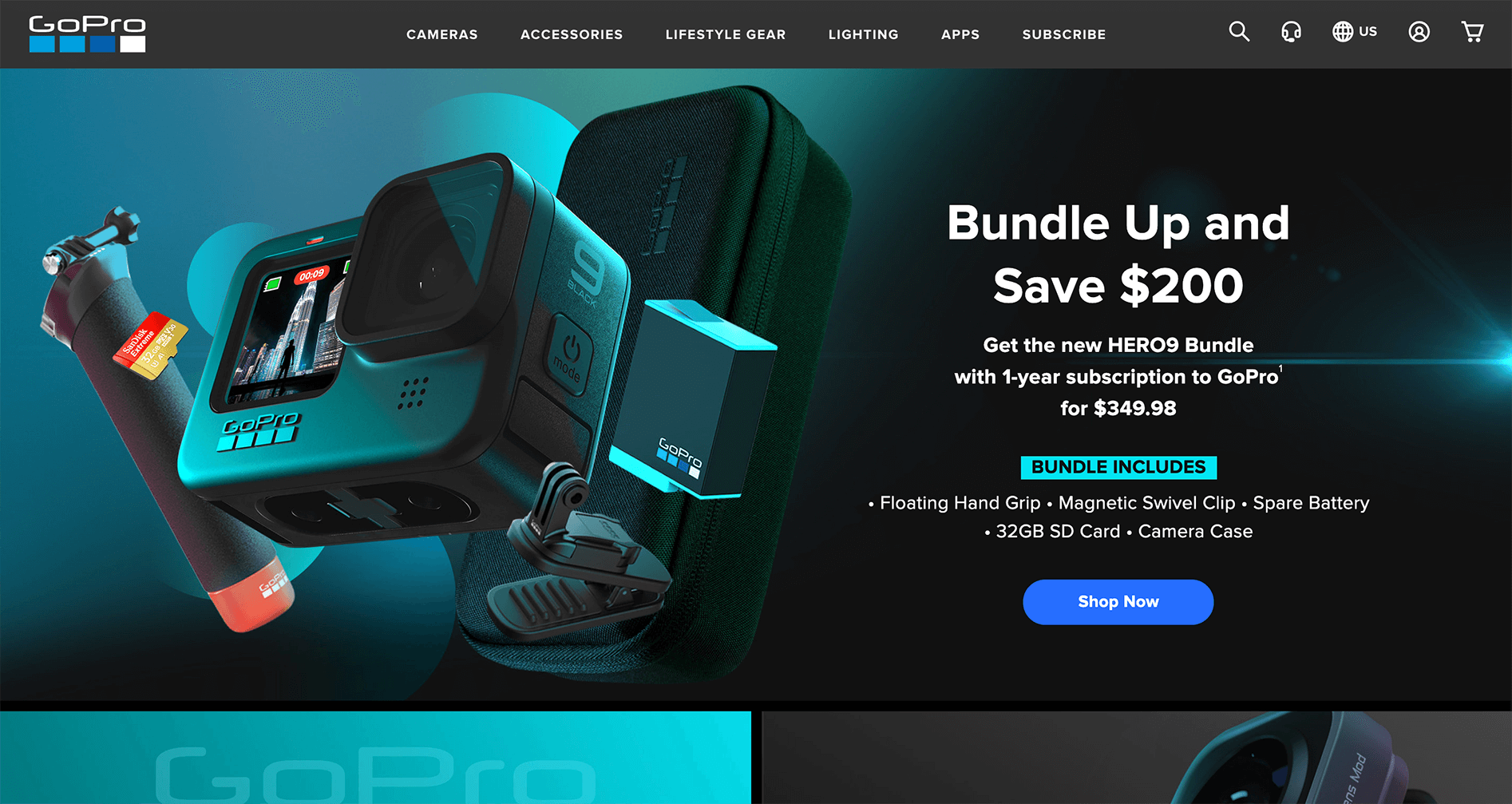 What's great about GoPro is the sprawling accessories market, meaning there is a ton to discover and review as an affiliate. On-brand GoPro accessories are also more expensive than third party gear, and their website heavily promotes bundling at checkout.
Unfortunately we don't know much about this program's performance from browsing their listing on Pepperjam, but it's worth adding some links direct to the GoPro store next to your Amazon links for people who prefer to buy direct from the brand.
Peak Design
Peak Design made waves with its carbon fiber travel tripod costing a cool $600, making it one of the most expensive travel tripods on the market.
It now looks like they've dropped the price to $349.95, but it should give you an idea of the premium feel and brand that Peak Design is going for.
Peak Design is probably known best for their camera bags, which cost between $80 and $250 on average. They also sell straps and have recently ventured into more mobile accessories and adapters.
Offers: Camera bags, tripods, camera straps
Market: Global (But free shipping only to US)
Think Tank Photo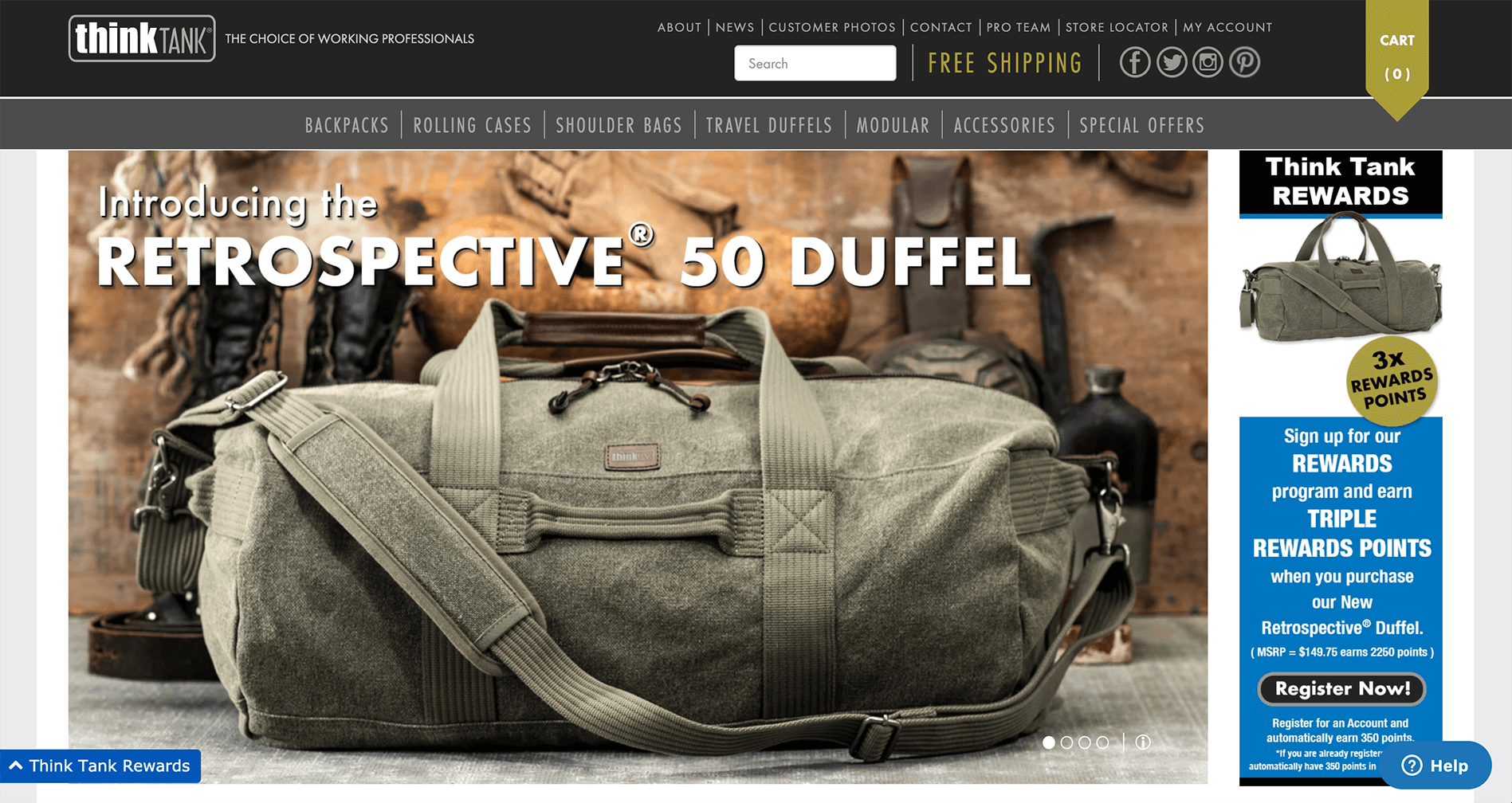 Think Tank Photo offers really utilitarian camera bags for professional photographers. Where Peak Design is more minimal and designed, Think Tank Photo is about fitting and hauling a lot of gear around.
Depending on your readers' background, Think Tank Photo could be a great fit. They focus heavily on their own backpacks, rolling cases, shoulder bags, and pretty much anything you need to move gear around.
Offers: Camera bags
Moment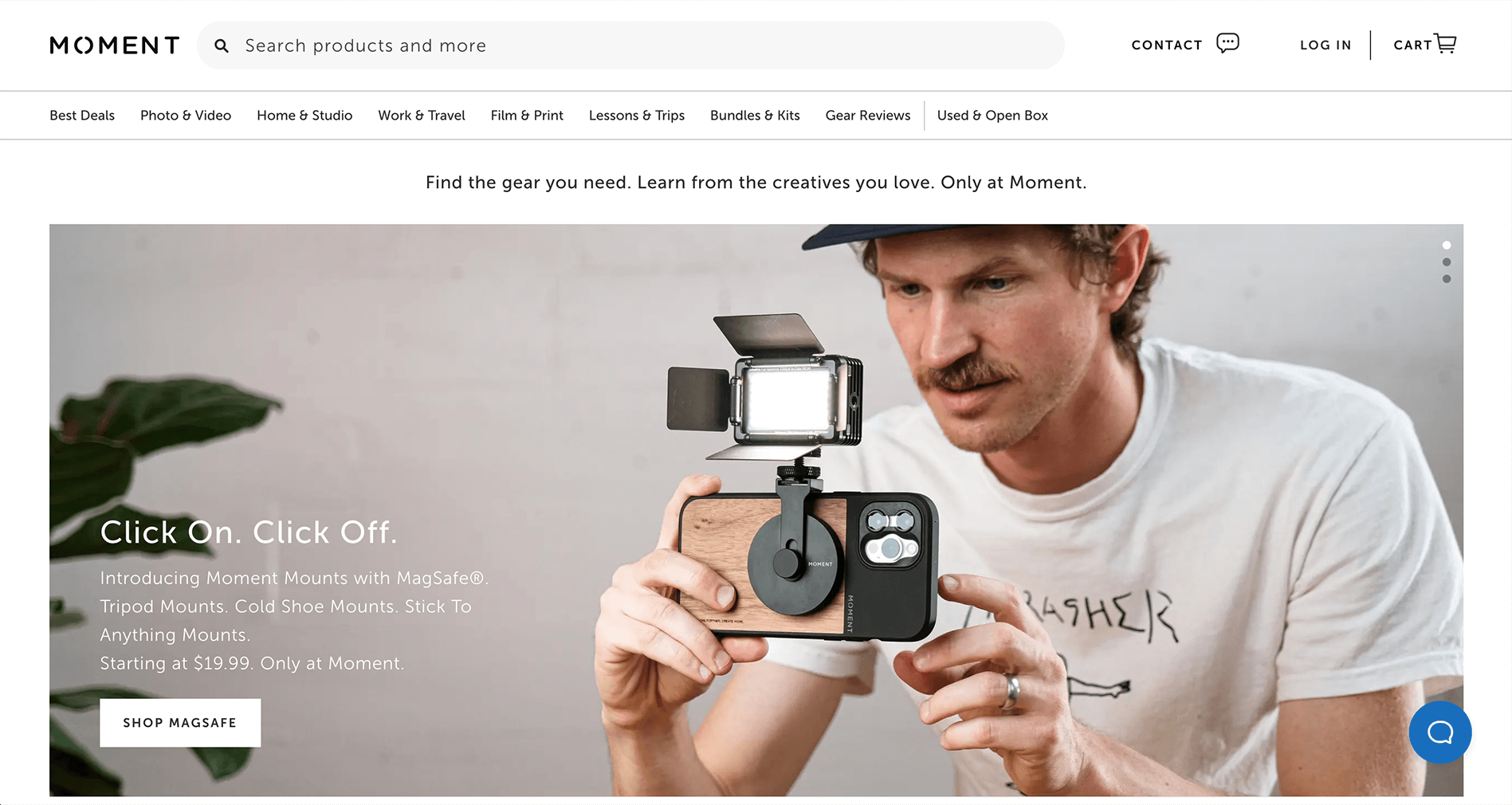 I'd venture to say that Moment is best known for its mobile photography accessories. As shown in the photo above, if you're looking to add cases, lenses, lights, and microphones to your mobile phone, this is a shop that'll help.
As an affiliate, this can be a great option if your audience is more hobby photographers or travelers. They also have interesting accessories for drone photographers.
One noteworthy point is that the comission brackets mentioned in Impact are 2-10%, whereas the affiliate landing page on the Moment website advertises 6-15% on gear.
Either way, the best commissions are on products made by Moment itself at 10%. Or, if someone books a photo trip through your link, you'll get a flat $200 commission.
Offers: Camera gear, bags, GoPros, drones, mobile photography accessories, lights, audio
Market: Global (US-based, mostly free global shipping)
Amazon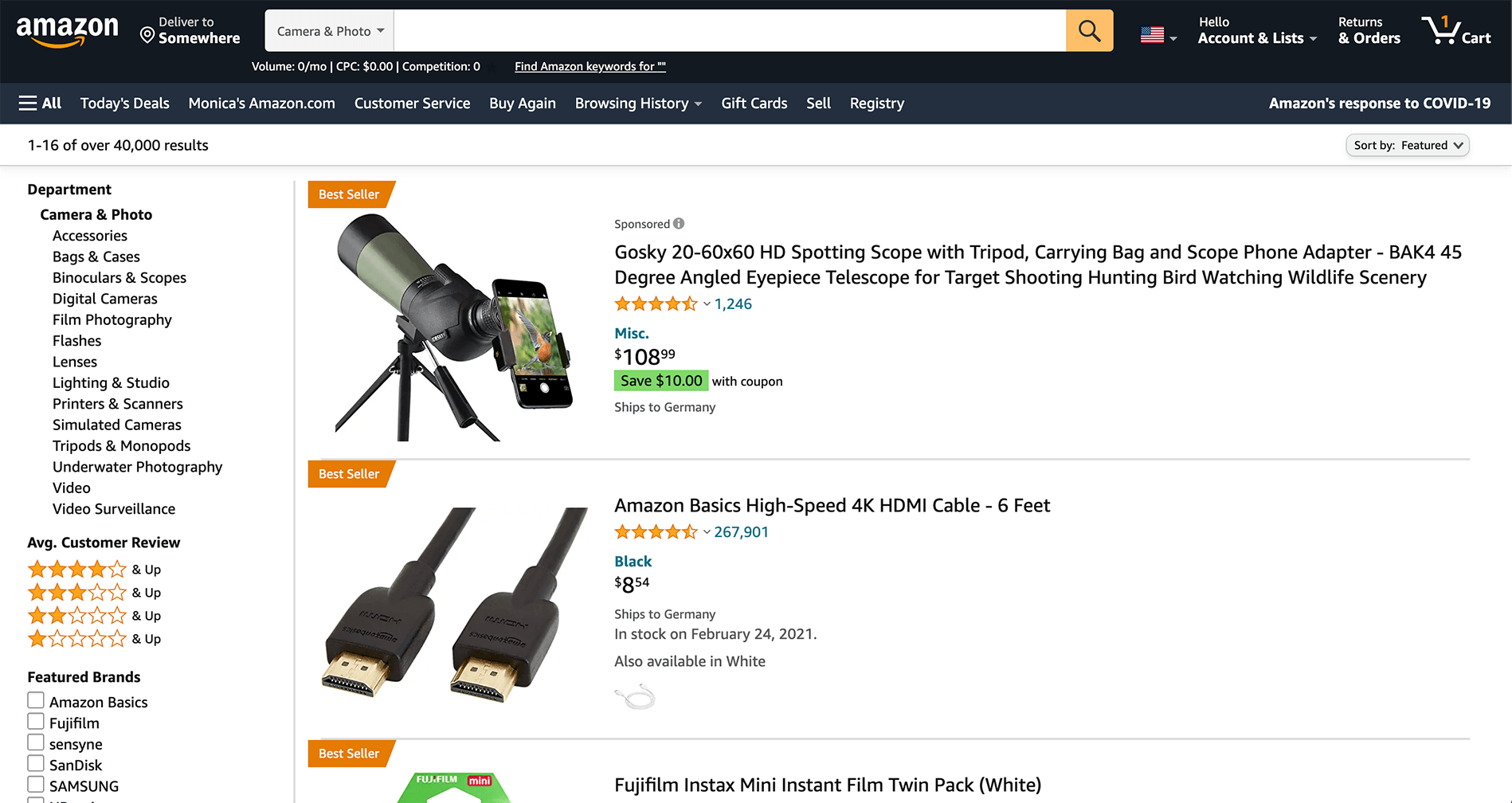 Program name: Amazon Affiliate Program
Network / Software: Direct
Commission: 4% commission
Cookie duration: 24 hours
Markets: Global
Alternatives: Walmart at 0.5% (Impact), 0-4% online sale commission, $0.00-$10.00 online sales commission depends on the item (Skimlinks), €4.00 (Lemonads), 2% (Rakuten)
Amazon is a great fallback option for promoting affiliate products, no matter the niche. The selection, ultra-high conversion rate, and sheer market penetration make it a selling machine.
The downside of Amazon is that the commission rates are relatively low. With plenty of items hovering around 4%, you can often promote the same products directly through the manufacturer for close to double or higher. Plus, the 24-hour cookie period is relatively unforgiving compared to industry standard cookie periods of 30 days or longer.
So whenever possible, include both a direct option and an Amazon option when promoting products. Encourage your readers to click both to compare prices, and you've at least got a cookie set on both websites.