14 Best Vegan Affiliate Programs for 2023 (Based on Data)
By Monica Lent · Updated Jan 16, 2023
Just a few years ago, it was unthinkable for fast food chains like Burger King and McDonalds to offer meat-free burgers. But today, veganism and plant-based diets are more mainstream than ever.
If you run a vegan blog, or focus on sustainability and healthy living, there are tons of great vegan and vegetarian affiliate programs to promote this year.
Some of the most common categories include groceries, meal prep and delivery, supplements and energy bars, and sustainble clothing.
Here's how we compiled this list of the best vegan affiliate programs for you to recommend your readers.
How we compiled this list of programs
First, we scraped and categorized affiliate links from dozens of top vegan food, lifestyle, cooking, beauty, fashion, and fitness blogs.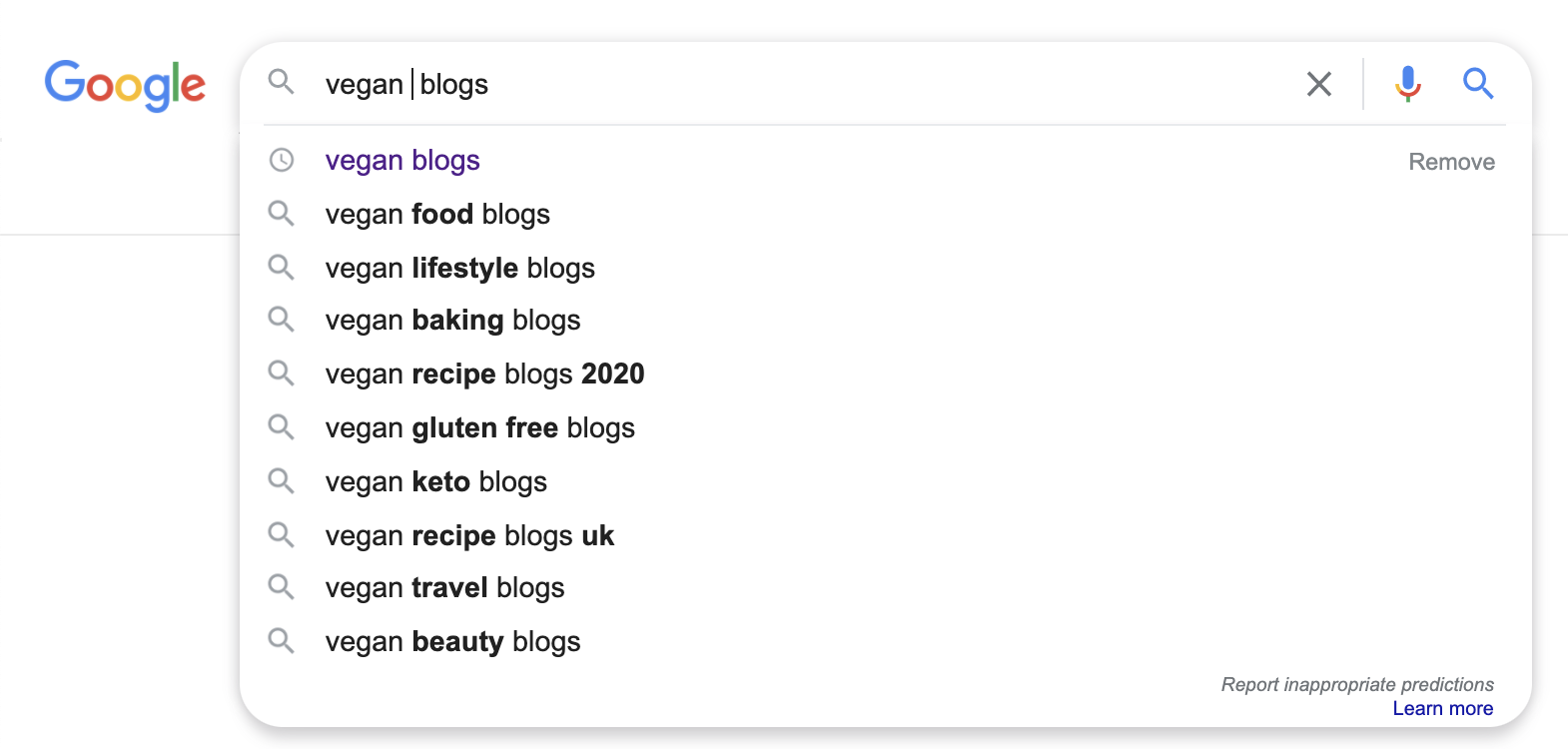 The best vegan affiliate programs are then ranked by the most linked-to affiliate programs and merchants on established websites in the niche.
The TL;DR is if you're a vegan cooking blog, you're probably focusing on Amazon.
Which, depending on your reasons for being vegan, might not be a brand you prefer to promote.
However, if you are focusing on lifestyle, fashion, beauty, fitness, and more, there are tons of non-Amazon vegan affiliate programs that are both high-paying and produce their products ethically.
Before we dive in, to our list of programs, let's talk about the specific kinds of products top vegan blogs are promoting the most.
Which products promote as a vegan affiliate
Assuming you want to get away from vegan recipes, which can be difficult to monetize, you can iterate through the alphabet using Google's autocomplete to find tons of ideas. A few we found include:
Food: vegan collagen, best vegan (protein powder, cheese, bread), omega 3 vegan
Clothing: vegan fashion brands, vegan shoes, vegan boots, vegan leather, (urban decay, uggs boots, etc. any brand name) vegan
Many of these will be pretty competitive, but you can use tools like Ahrefs Also Rank For report to find more attainable alternatives. For example, instead of "vegan protein powder", you might go after "lactose free protein powder".
Another way to do it is to start with great programs, and work your way backwards. Here are our 15 we think you should consider for your vegan blog.
Vegan Affiliate Programs
As usual, there are a lot of sub-categories within vegan affiliate programs: vegan beauty, makeup and fashion affiliate programs, vegan food affiliate programs, vegan-friendly outdoor affiliate programs, vegan fitness, keto, and supplement affiliate programs.
Here are the vegan affiliate programs top vegan blogs are promoting:
Sun Basket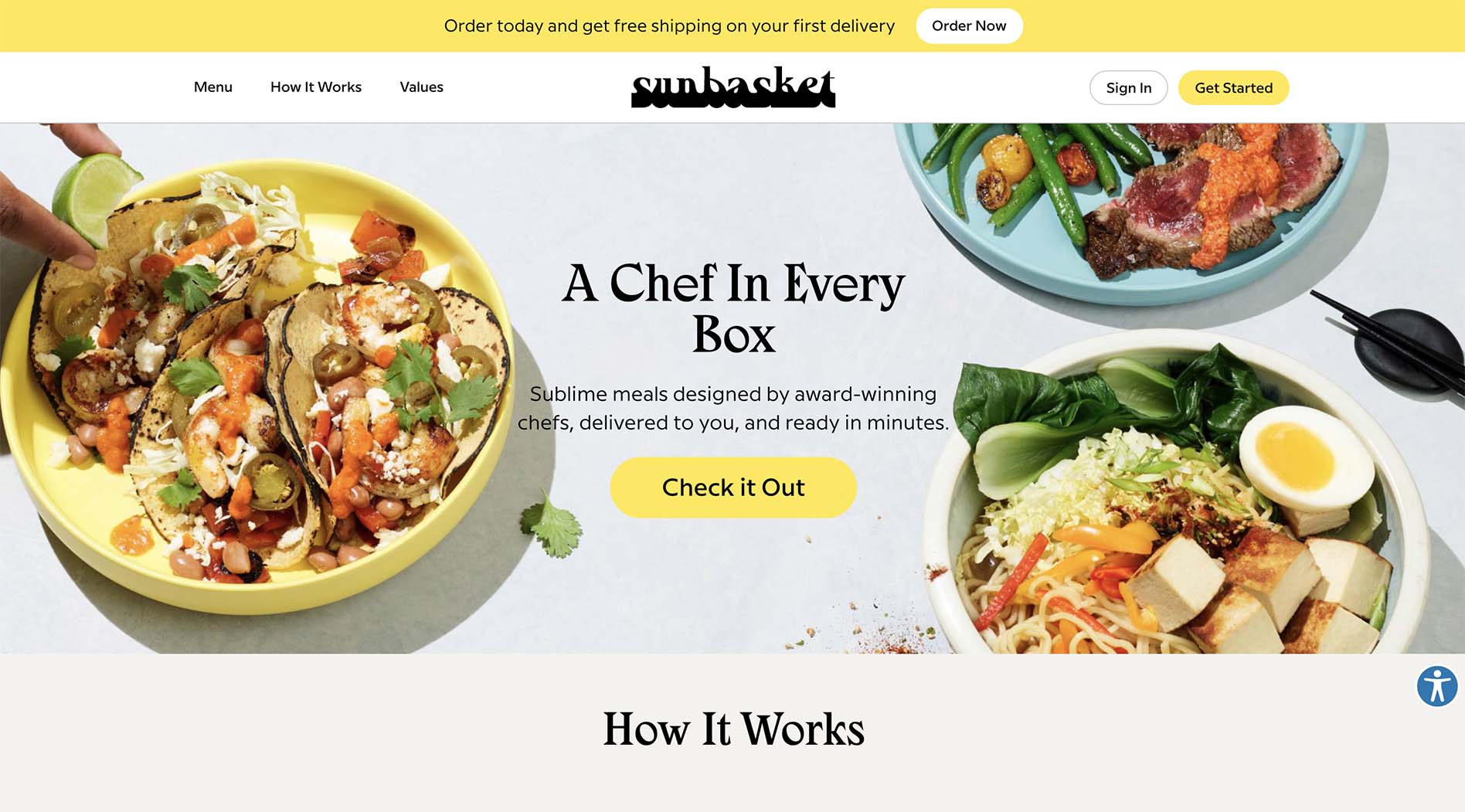 Sun Basket is a US-based meal prep and delivery service, which offers organic ingredients and costs as low as $8.99 per serving.
While they're not an exclusively vegan affiliate program, they do offer vegan meals every week to satisfy your plant-based readers. That makes Sun Basket a great affiliate program for vegan, vegetarian, paleo, gluten-free, dairy-free, and soy-free diets.
With the flat $20 commission from Impact (and apparently even higher from Skimlinks), Sun Basket's affiliate program is a must-try for vegan bloggers.
The 30-day cookie is the cherry on top, in contrast to alternatives like Green Chef which only offers a 7-day cookie.
Ethical Superstore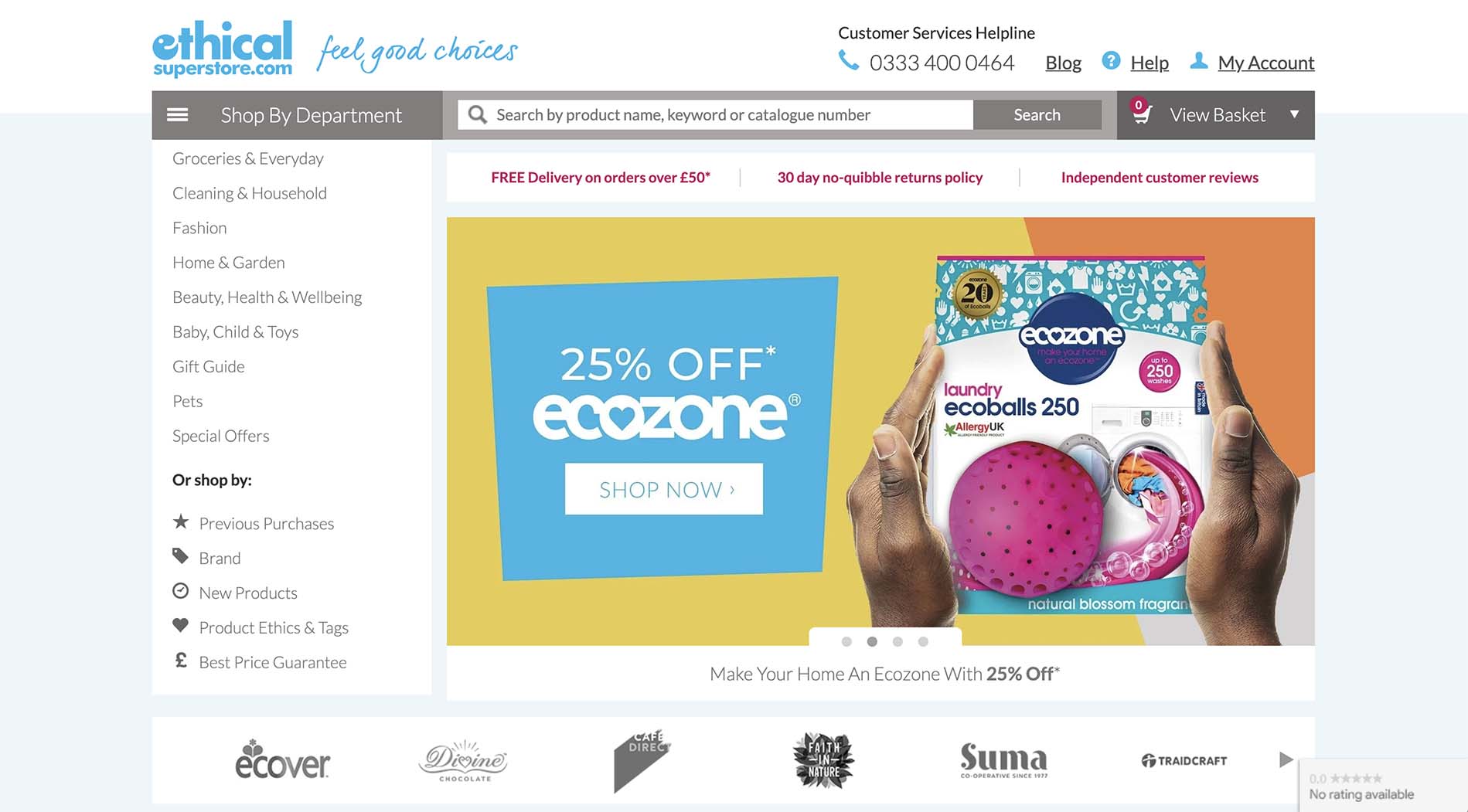 Next up is the Ethical Superstore, a treat for UK-based vegan bloggers who want to promote individual vegan food products and more.
Ethical Superstore has categories for groceries, cleaning and household, fashion, home and garden, beauty and health, baby and children, gifts, pets, and tons more.
The 20% affiliate commission for new customers is excellent on food products, especially in contrast to Amazon which cut rates on grocery products from 5% to 1% during the pandemic in 2020.
Not to mention the 30-day cookie.
FYI — Ethical Superstore offers different rates to content site owners in contrast to cashback and voucher websites. So to get these favorable commissions, you'll want to be writing original content for affiliate marketing.
Veecoco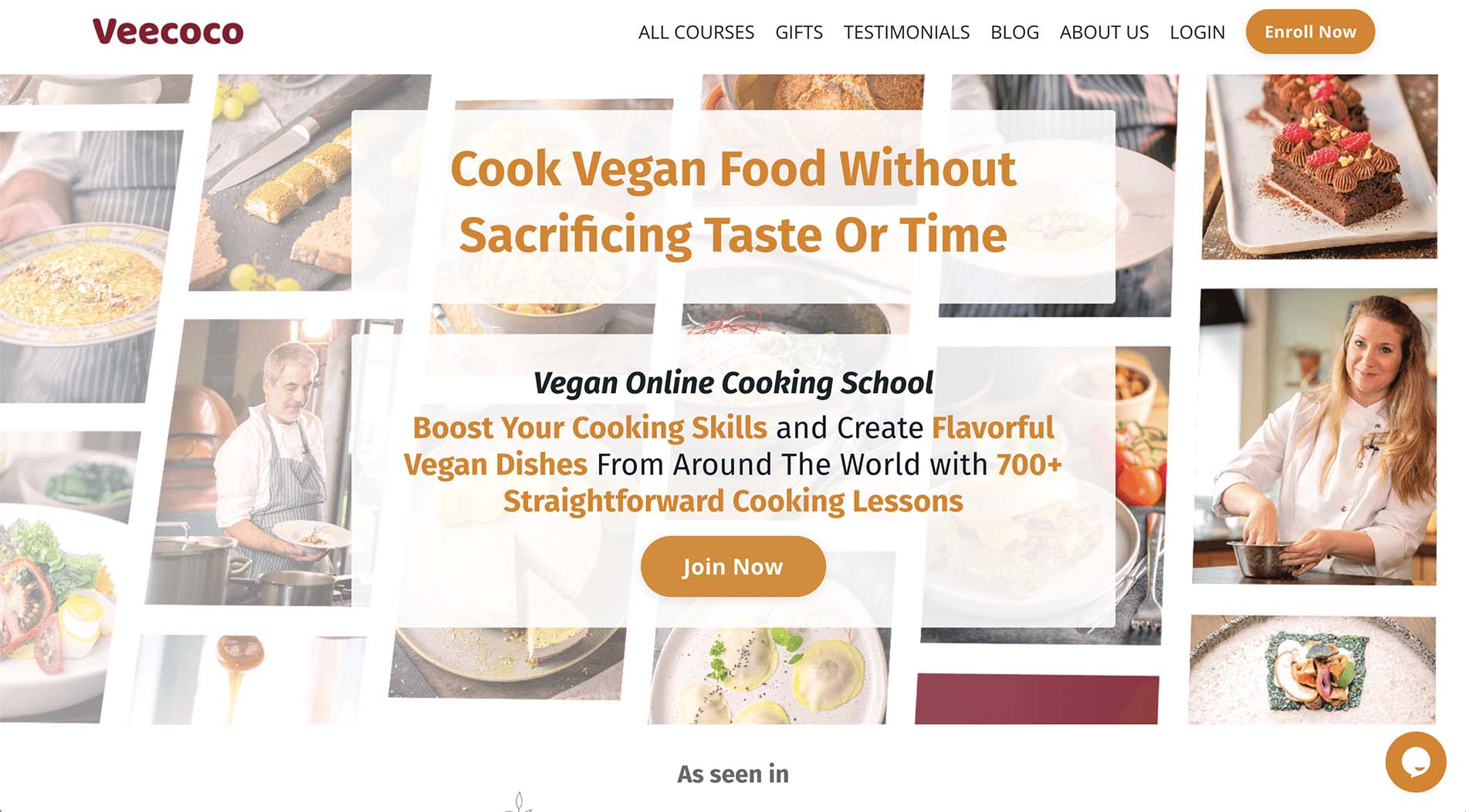 Veecoco is a vegan cooking school, which offers 700+ vegan cooking lessons distributed across 19+ courses. They've taught 6,000 students and each course is 100% vegan.
The best part about this affiliate program is that since it's a digital product, the commission is a massive 30%.
How does that turn into commissions? Each course has two plans: a 12-month membership for $297, or a one-off purchase of the course for $127.
At 30%, your commissions turn out at $89 and $38 respectively. Extremely solid.
Unfortunately they don't offer recurring commissions if someone joins the annual membership, but it's hard to complain about a nearly $90 payout up front.
iHerb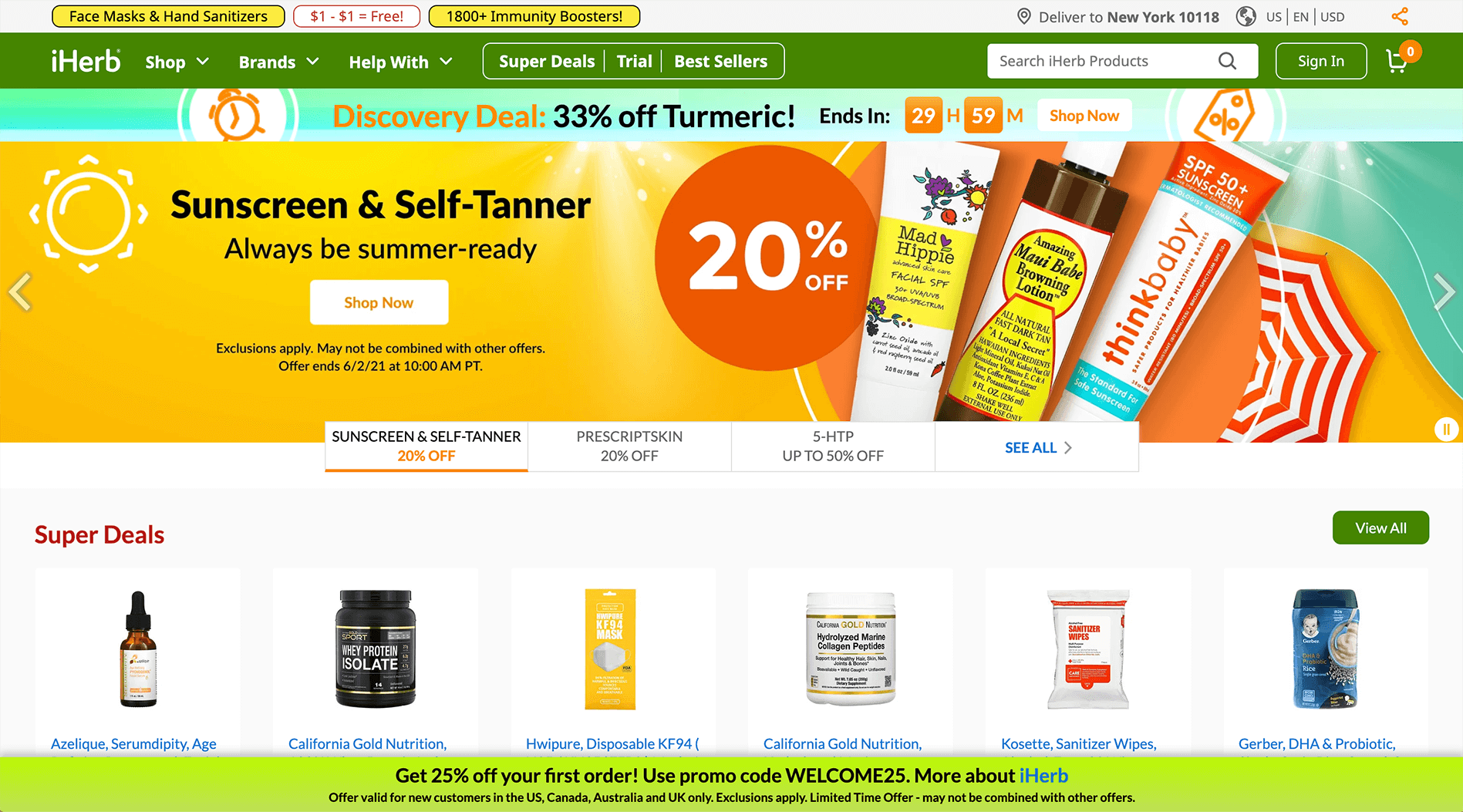 iHerb is a popular online marketplace for supplements and health products. If you can't promote the Ethical Superstore since you're not UK-based, iHerb is a great alternative.
Plus, iHerb has local versions of their website and ships to a ton of different countries. So you can practically join iHerb from any country in the world.
Inside iHerb, you can promote popular health supplements, sport supplements, groceries, beauty products, and pet supplies.
Anyone on a specialty diet, whether they're vegan, keto, paleo, or something else, generally tend to be health-conscious. That's why iHerb can be a great affiliate program for promoting supplements to people on all sorts of diets.
Veestro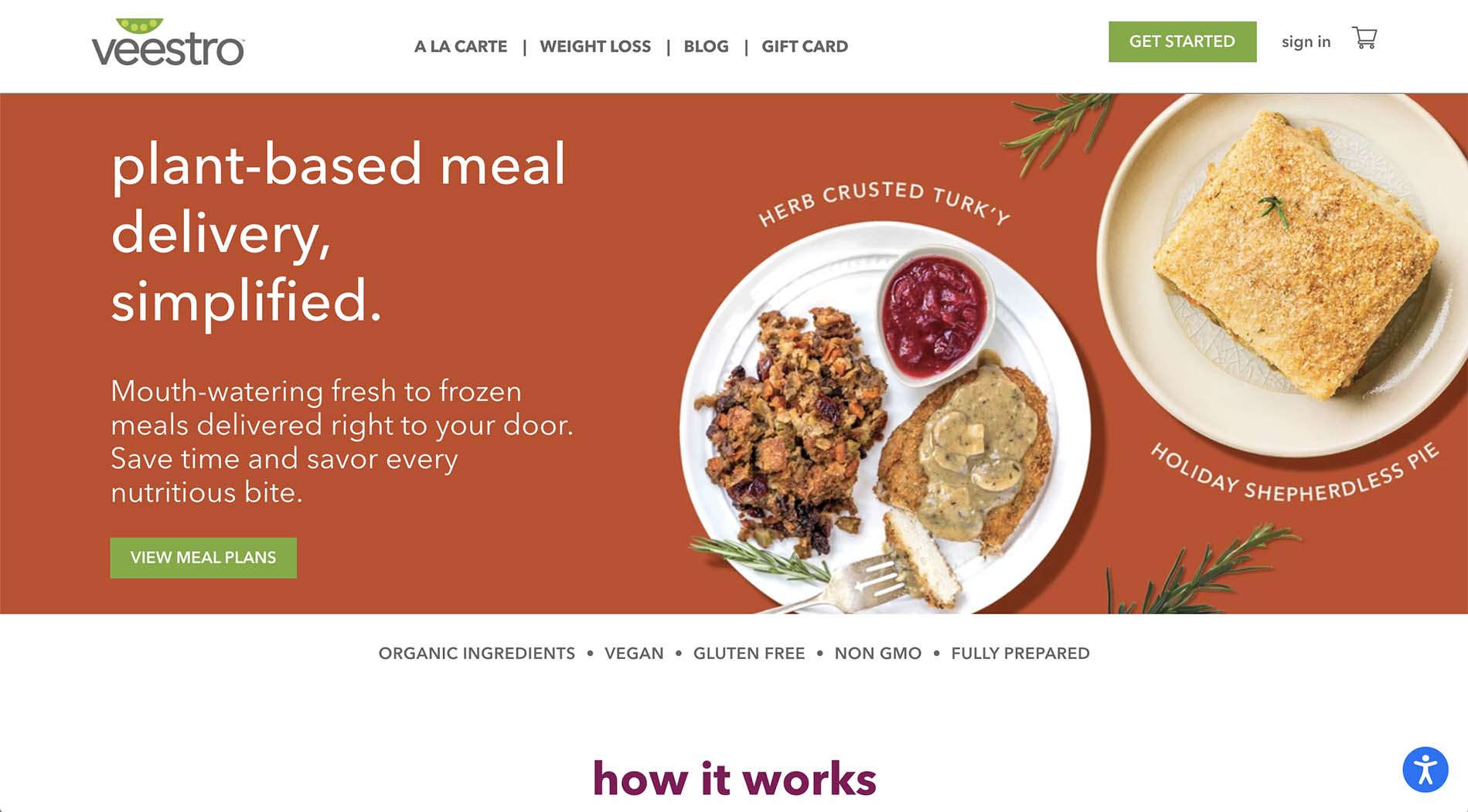 Unlike Sun Basket, Veestro specifically focuses on meal delivery for plant-based foods.
That means than when your vegan reader lands on the homepage, they'll feel instantly confident that there are options for them.
While many meal delivery programs offer fixed commissions for new customers, Veestro goes percentage based. Through Rakuten they're offering 5%, but through Refersion it's up to 10%.
With a self-reported average order value of $170, that's an average commission of $8.50 or $17 depending on which program you join.
AllPlants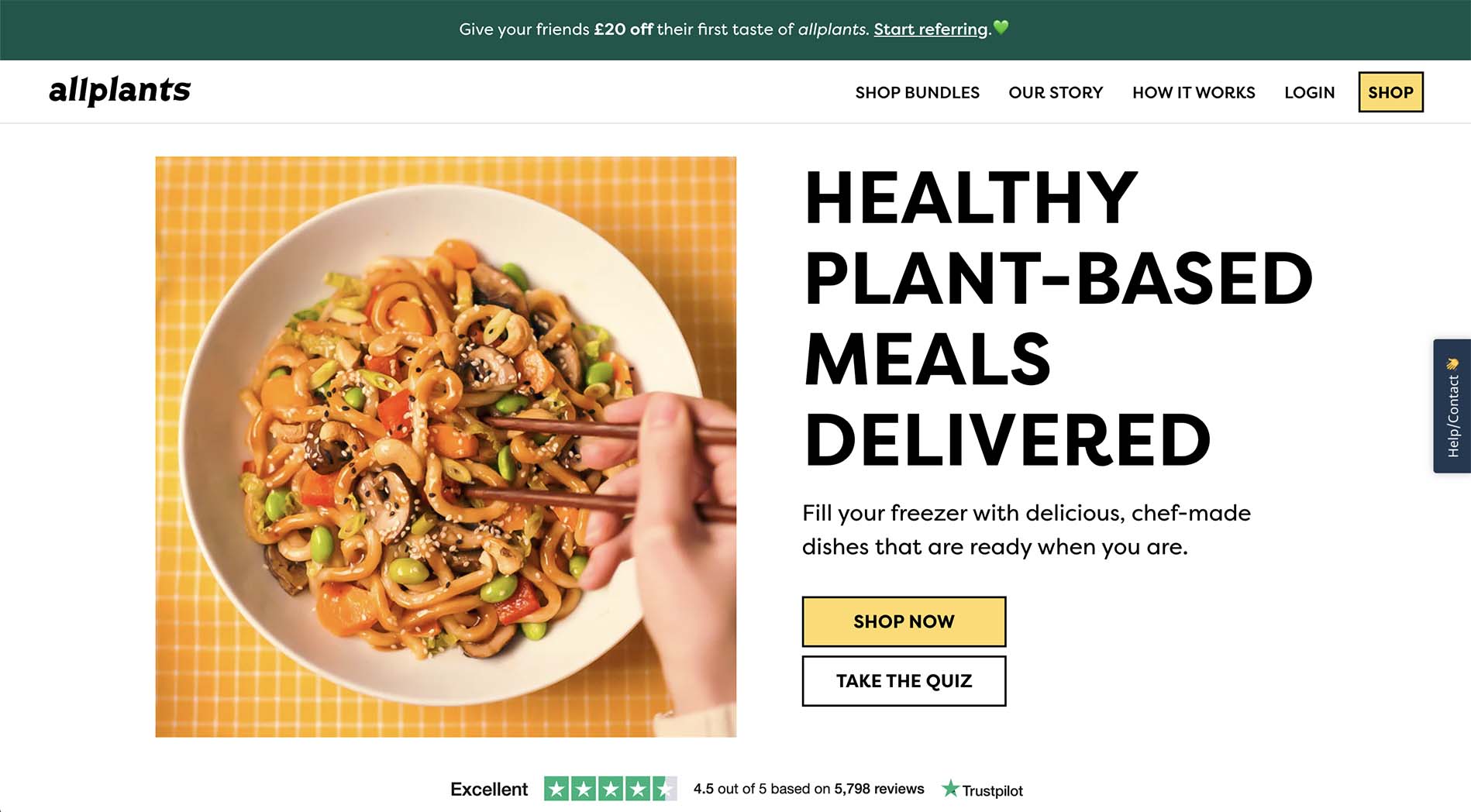 AllPlants is a tricky one, and we're not sure if this program is still operating. But plenty of links are still live, so we thought we'd include it.
AllPlants is a plant-based meal delivery service, similar to Veestro.
While their Awin-based program has become deactivated, it may be possible to join through a Tradedoubler account.
To apply for their affiliate program, you'll need to fill out a form on the website and presumably receive an invite to a private program.
Thrive Market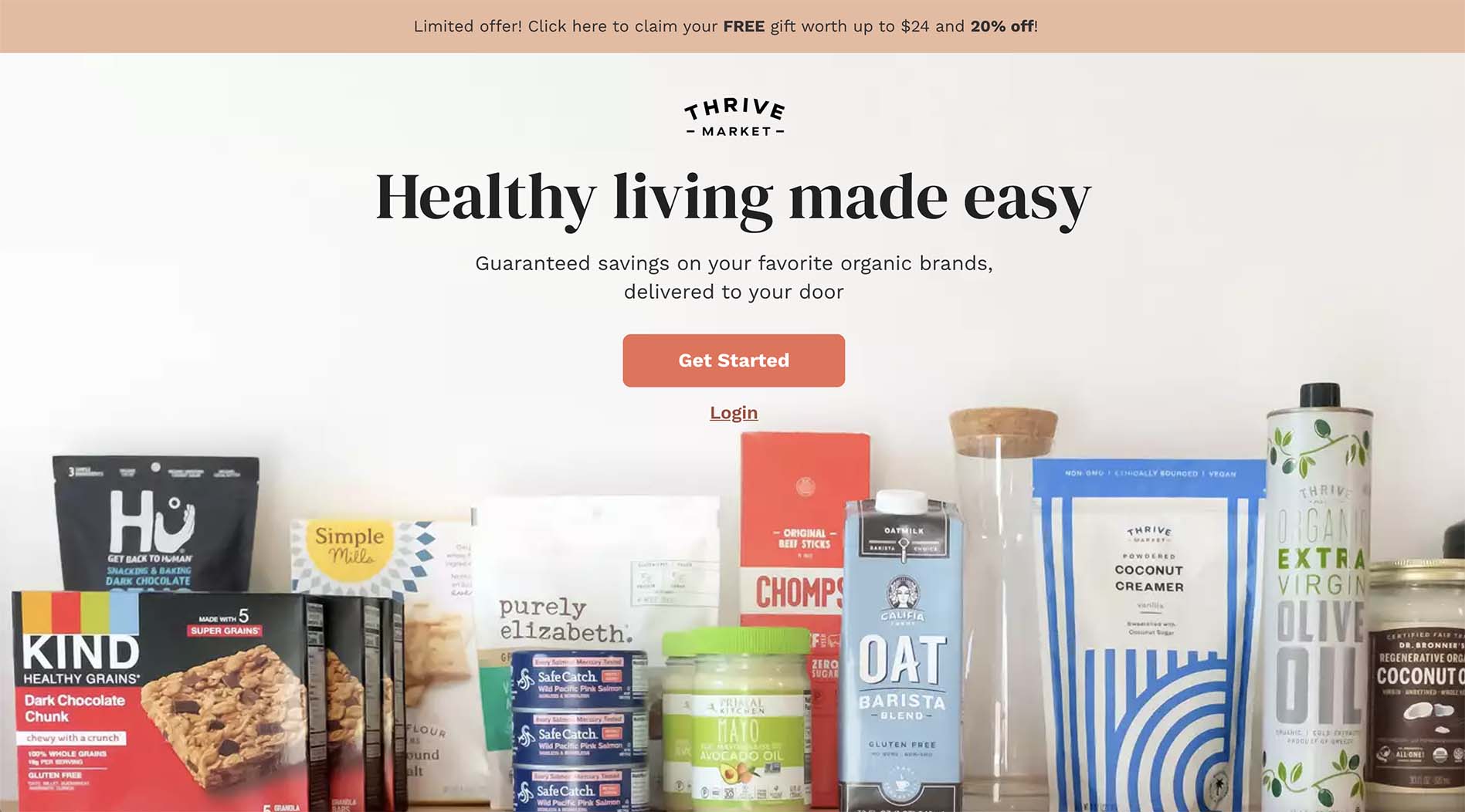 Thrive Market is an organic, online supermarket with a membership-based business model. For as low as $5/mo paid annually, members can access a huge array of organic food, wine, and beauty, kids, and home products.
Thrive Market is a highly talked-about vegan affiliate program thanks to the $40 flat commission you'll get for referring customers who subscribe annually.
The downside here is that the cookie period is just 24 hours.
So while the commissions are great, you'll need your readers to convert within a small conversion window to get credit for the sale.
Naked Nutrition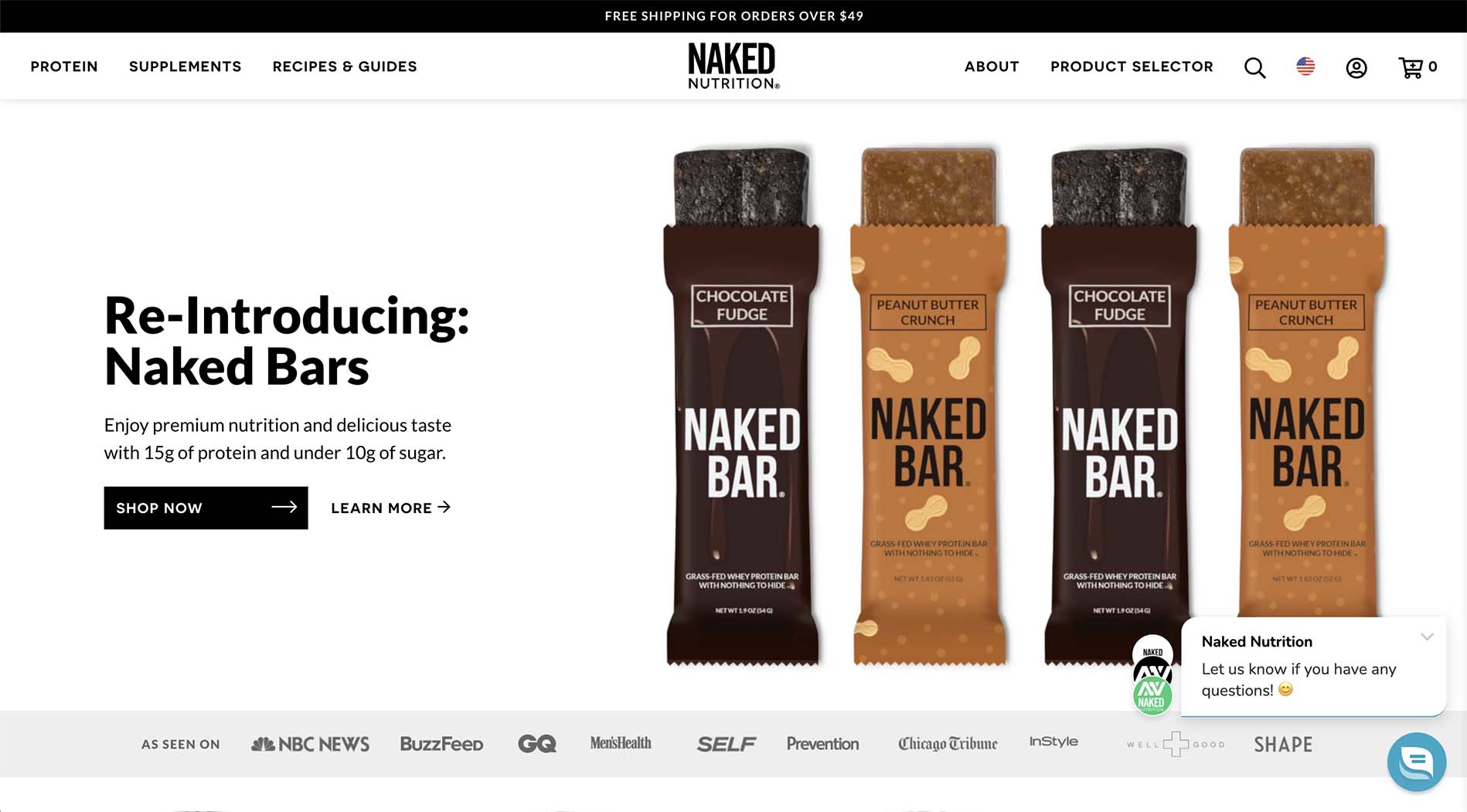 Program name: Naked Nutrition Affiliate Program
Network / Software: ShareASale
Commission: 10%
Cookie duration: 30 days
Markets: US
Alternatives: Built Bar at 7% per sale, 100% Coupon Code Matches Pattern: Must Match Pattern (ShareASale), 7% per sale, 100% Deal Commissions available via select Deal Creatives Coupon Code/Matches Pattern: Must Match Pattern (Skimlinks), 7% (Yazing), 1.49% network commission rate (Sovrn), (FlexOffers)
There are tons of affiliate programs that specialize in vegan fitness, supplements, and protein. One of the most popular is Naked Nutrition, which has its own brands for all of these products.
And unlike a lot of other brands, it focuses on additive-free options, which appeals to vegans trying to keep the ingredient list as minimal as possible.
For example, it's vegan Pea Protein Power has 600+ 5-star reviews and costs $54.99. Meaning a 10% commission on this product will net you $5.49.
If your vegan blog covers not just cooking and clothing, but also nutrition and fitness, the Naked Nutrition program is worth checking out.
Purple Carrot
Program name: Purple Carrot Affiliate Program
Network / Software: Impact
Commission: $25.00 for both subscriptions and one-off sales
Cookie duration: 30 days
Markets: US
Alternatives: Veestro at 5% (Rakuten), 10% (Refersion), or Sun Basket at $20.00 per order (Impact), $50.00 per order (Skimlinks)
Purple carrot is another US-based meal delivery service focusing on plant-based foods. As such, they're competing directly with like likes of Veestro and AllPlants.
The commissions are similar to other vegan meal delivery brands, at $25 flat.
Ultimately, if you wan to promote vegan meal delivery services inside the US, you'll want to test all of these options against each other and see which converts best.
Everlane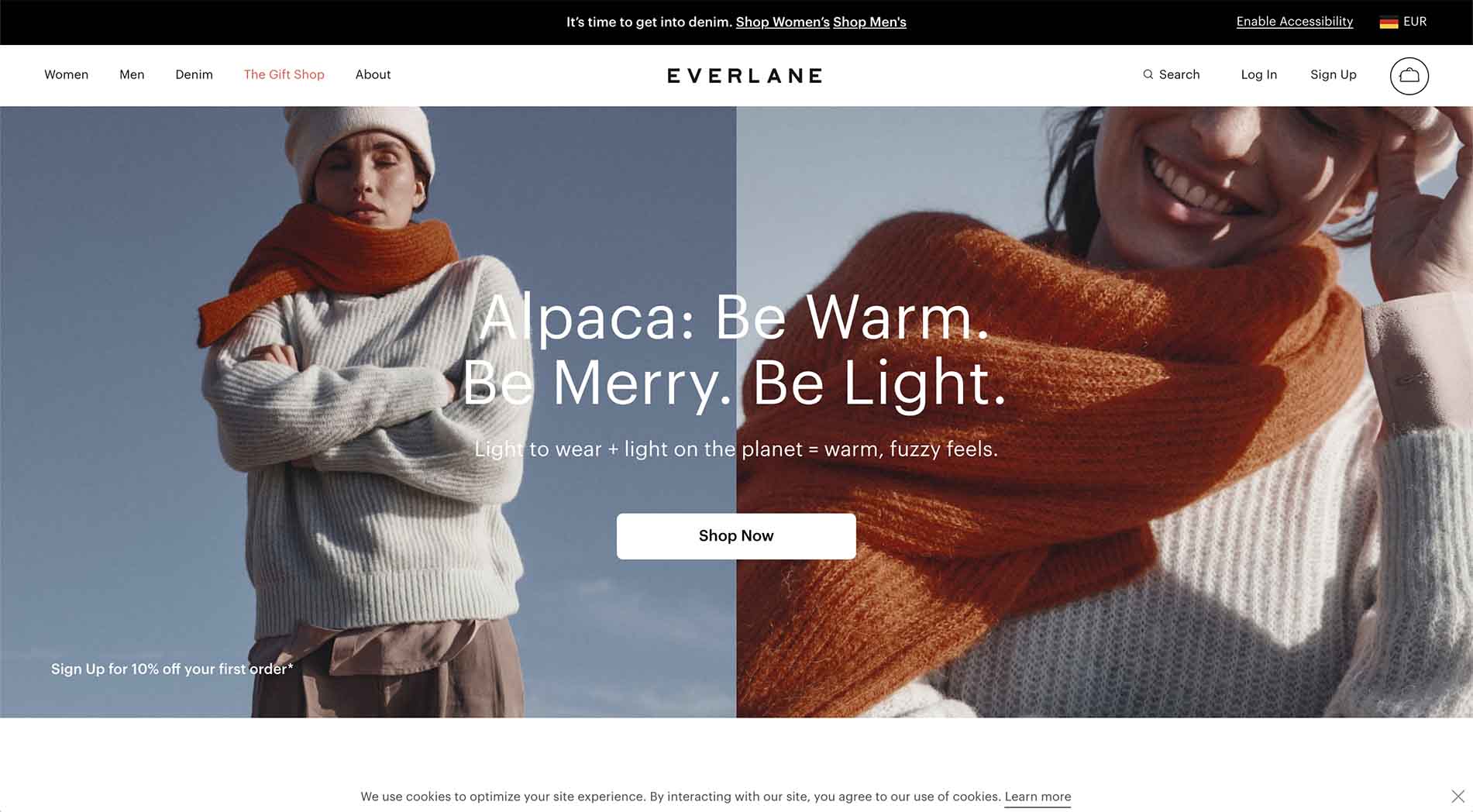 Program name: Everlane Affiliate Program
Network / Software: Pepperjam, Skimlinks
Commission: 10% (Pepperjam), 30% (Skimlinks)
Cookie duration: 7 days (Pepperjam), Not listed (Skimlinks)
Markets: US, UK, AU, CA, JP, SG, KR, CN, HK (Pepperjam), Global (Skimlinks)
Alternatives: Organic Basics at 15%
Everlane is a well-known sustainable fashion brand, known for sharing manufacturing costs directly on their website. Everlane sells shoes, bags, clothing, and more, often made out of plant-based materials like cotton and vegan leather.
Their styles will appeal to lovers of sustainable fashion, which vegans usually are.
Interestingly, it appears that their program with Pepperjam is offering a lower commission than going through Skimlinks. We're not sure if this is accurate or up-to-date, but it'll be worth testing both to see which results in a higher earning per click (EPC).
Organic Basics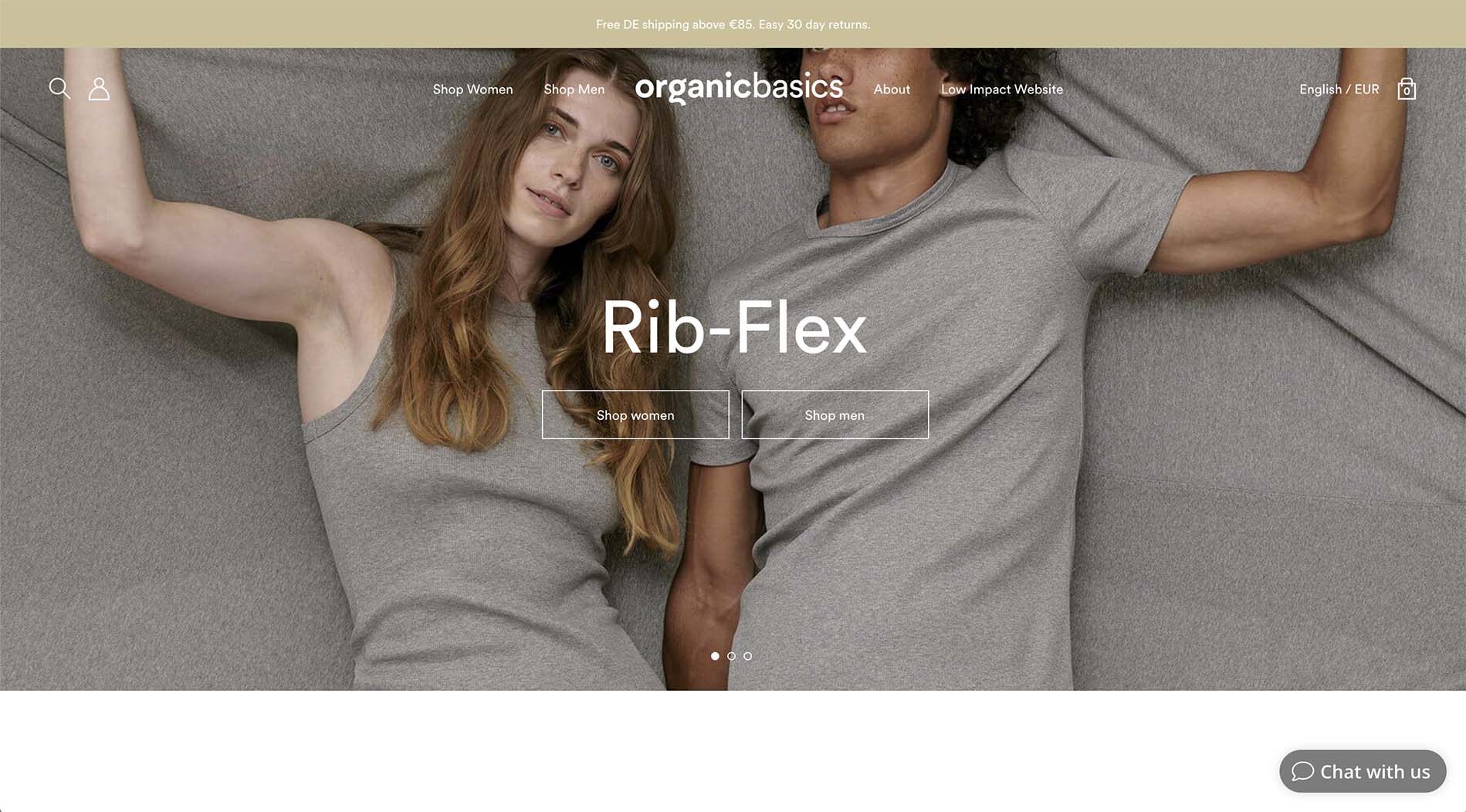 Another option for sustainability and wellness affiliate programs is Organic Basics, which offers everything from yoga pants, shirts, and shoes down to the sustainable underwear.
According to their Partner page, Organic Basics provides affiliates with a lot of benefits:
Free products to review
A 10% discount code for your audience
Event invitations
A chance to be featured on their social media
What's nice is they are pretty clear what kind of partners they're looking for: influencers with at least 1,000 followers and classy content.
It looks like they stick to it, too: according to Impact's metrics, Organic Basics accepts only 23% of applicants to their affiliate program.
But with a 1.66€ 30-day EPC, it's definitely worth applying if you're a fit for the program.
Green Chef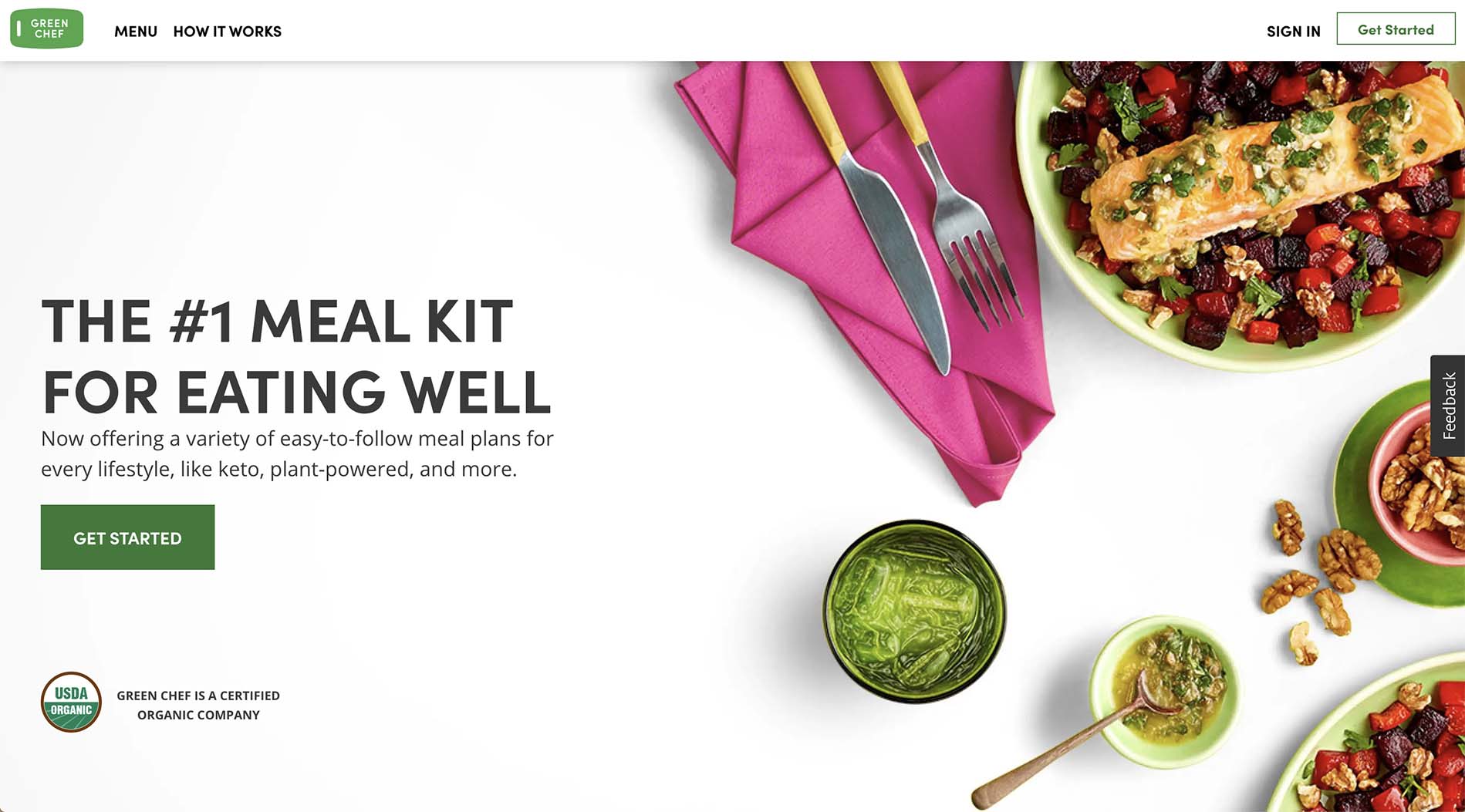 Green Chef is another meal delivery service, but it's not strictly vegan. Instead it positions itself as a healthy meal delivery service, but includes meat options such as keto and paleo as well.
As such, when promoting Green Chef you might want to link directly to their plant-powered meals landing page instead of the homepage.
At $15 per sale and a 7-day cookie, the terms aren't as favorable as Sun Basket or Purple Carrot.
But if your audience isn't strictly vegan, Green Chef could be a good option that appeals to people who are generally mindful of their diet if not plant-based.
Mindful Chef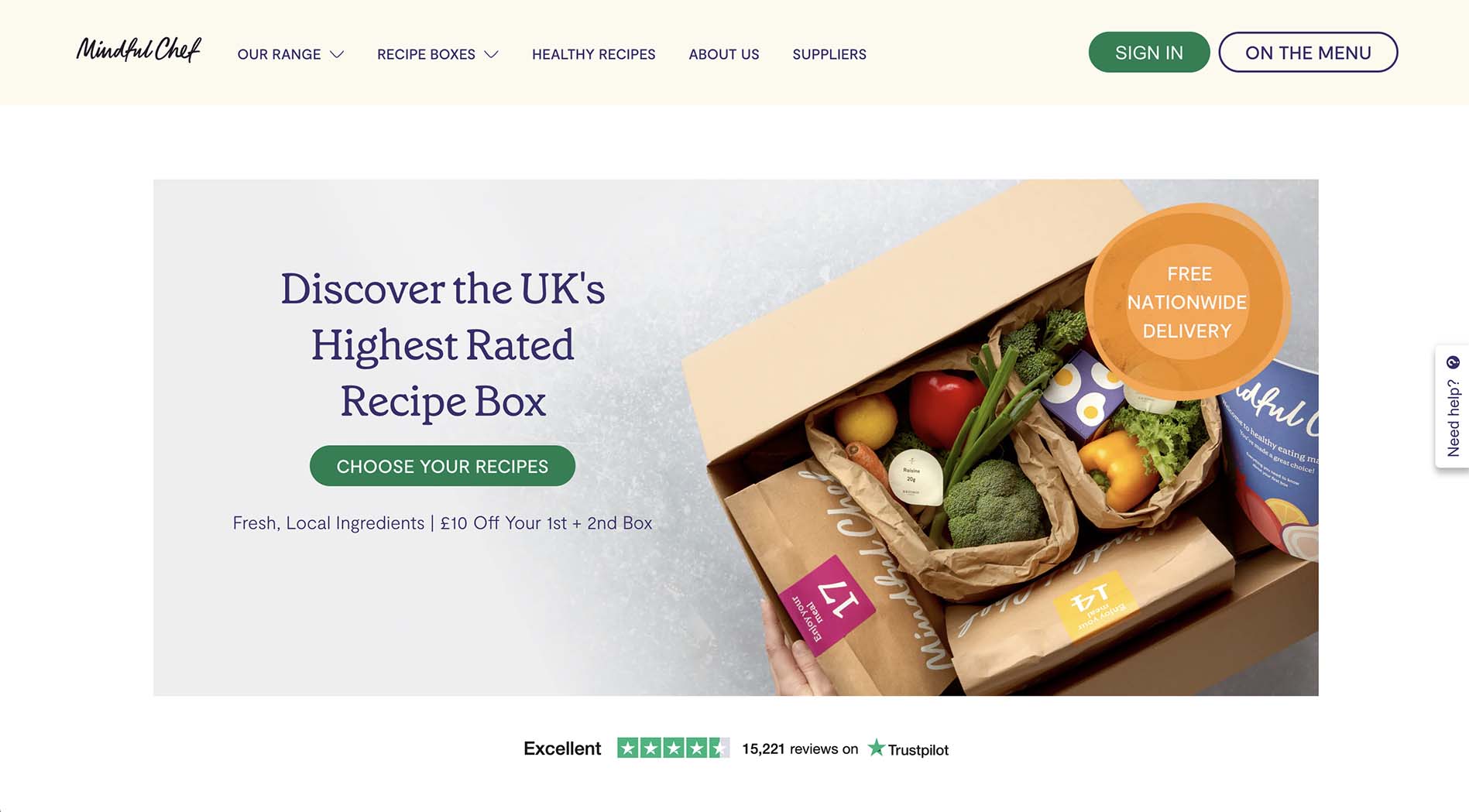 Mindful Chef is a meal prep service for UK-based customers, which prides itself on including fresh, local ingredients.
According to the notes on their affiliate program page, Mindful Chef is "the UK's only true provider of vegan recipe boxes".
Unfortunately, most UK-based programs don't offer the same level of commissions as similar brands in the United States.
So if you want to promote meal delivery, it's either £7 with Mindful Chef or £9 which Gousto which isn't vegan-exclusive.
Both are available through Awin, so it'll be easy to sign up for both and test which converts better for your audience.
Gousto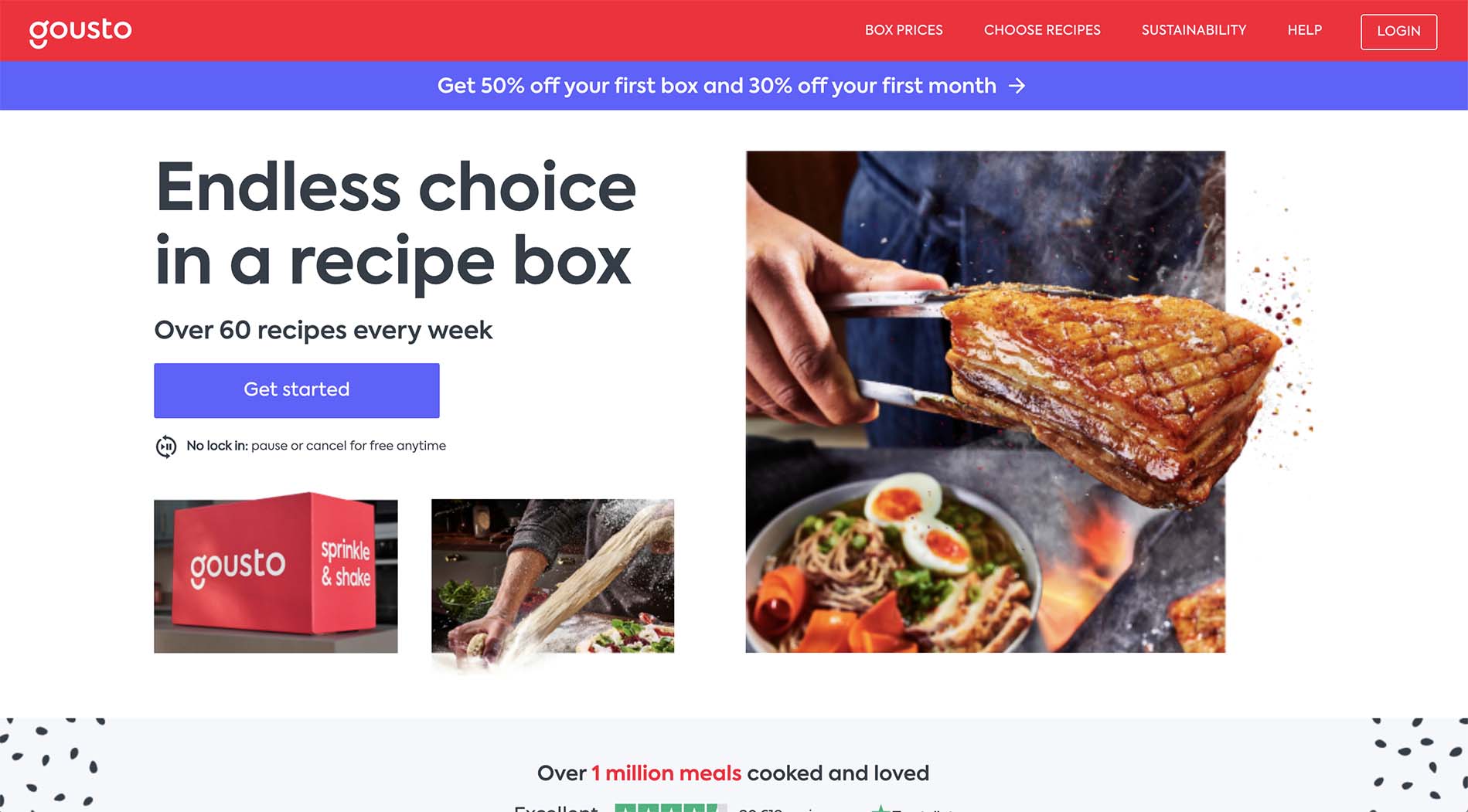 Like Mindful Chef, Gousto offers a meal prep delivery service for UK customers.
And while they have plant-based options, it's a lot harder to find them and the prominence of meat on the homepage might turn off your vegan readers.
Plus, you've got to scroll a long way through their meal categories to finally happen upon the "Plant Based" category.
Gousto does offer a better commission than its closest competitor, Mindful Chef, but the lack of focus on plant-based meals might cause vegan visitors to close the tab.