16 Best Food Affiliate Programs for 2023 (Based on Data)
By Monica Lent · Updated Jan 16, 2023
As a food blogger, the products you might start off wanting to promote as an affiliate aren't exactly profitable.
The reality is, most home cooks already have a decked out kitchen. And unless you're competing to sell air fryers or instant pots, you'll have a hard time selling the "major appliances" that most big-time bloggers are monetizing.
What's left? Trying to make a buck off of Sally's weekly groceries as an affiliate might sound ideal. But in reality, very few people do their entire supermarket run online.
Instead, food affiliate programs that generate a real profit require some out-of-the-box thinking.
Or rather, the exact opposite.
Subscription boxes and grocery memberships top our list of the best food affiliate programs, because they offer great flat commissions for sending new subscribers their way.
On top of that, specialty foods like vegan food, meal prep and delivery services, and more, all have the potential to line your pockets as a food blogger.
(And work way better than trying to make $0.05 while coaxing your reader to pick up your preferred plastic spatula on Amazon.)
Want to learn which food affiliate programs offer a solid ROI for your precious time between testing recipes? Read on.
How we prepared this list of programs
Real quick, I want to let you know how we prepared this list of food affiliate programs.
We started by gathering a list of the best food blogs on the planet, which also monetize with affiliate marketing. As part of our analysis, we included large cooking sites like Cookie and Kate, Smitten Kitchen, and Minimalist Baker. Plus, smaller sites (which we won't link here) who are focusing on smaller niches within food blogging like baking, desserts, vegan/keto/paleo, and so forth.
Then, we ran these sites through our Affiliate Link Scanner to suss out exactly which affiliate programs and merchants they link to most often.
Because after all, if someone's put in the effort to make 5-10 pieces of content about a single product, there's a high probability it's profitable.
The result is a list of the best food affiliate programs, based on what top food bloggers are promoting right now. We hope you like it.
Food Affiliate Programs
Food is a broad topic, so this list includes a sample of the best food and cooking affiliate programs, wine affiliate programs, meat, organic food and vegan affiliate programs.
Here's a list of the best food affiliate programs to promote this year:
ButcherBox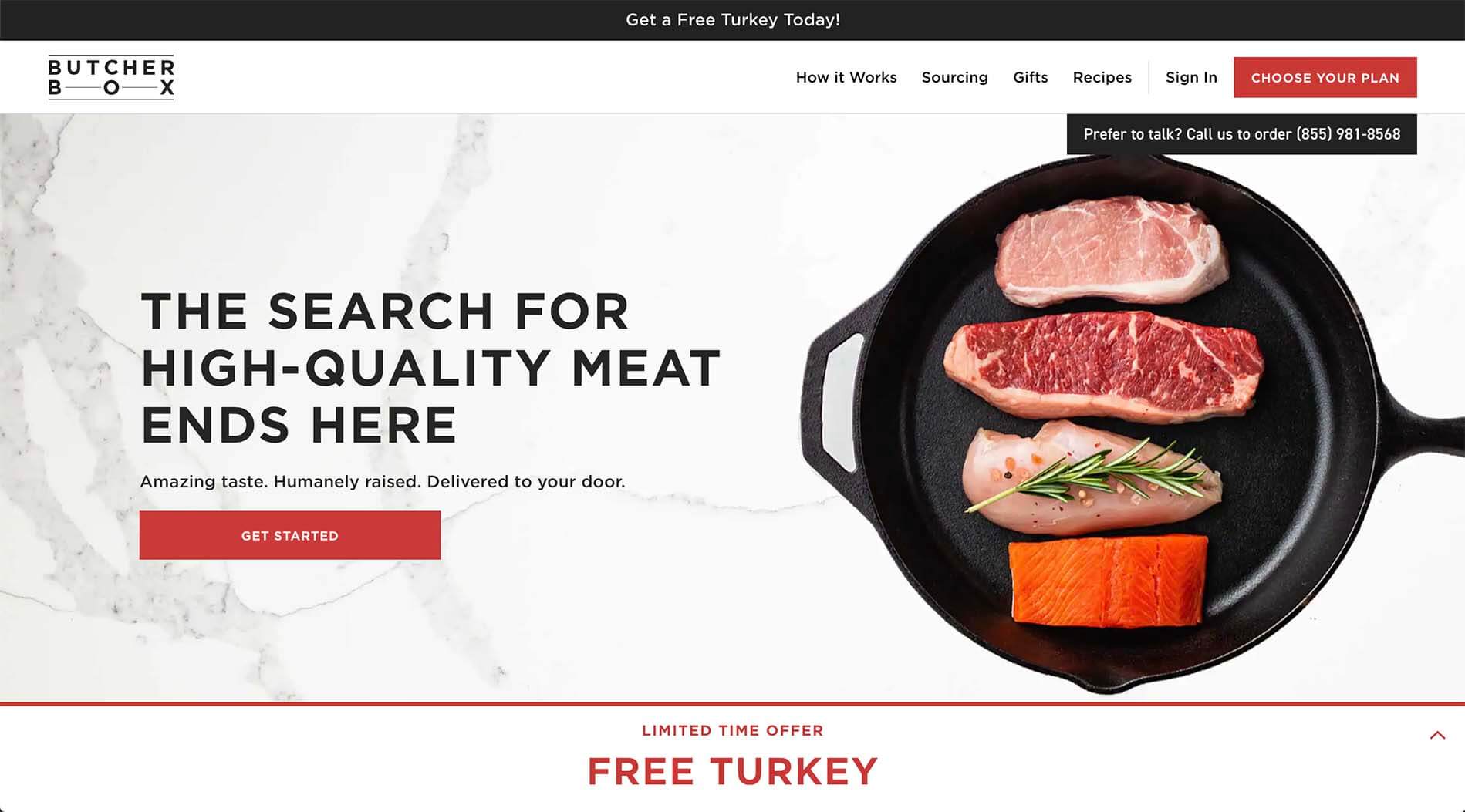 According to their landing page, ButcherBox gave out a whopping $1 million in affiliate commissions last year alone. And with a nearly 5.5% conversion rate according to ShareASale, it's not surprising.
From what we can tell, ButcherBox converts. What is it exactly?
In a nutshell, ButcherBox is a meat subscription membership. They offer different types of "boxes" you can subscribe to, and get a variety of meats to your door on a monthly basis.
The price per box ranges is $137 per month for any of the standard boxes. Boxes on offer include a mixed box including free-range and organic chicken, pork, and seafood, a beef and chicken box, beef and pork box, or the diehard fan's "All Beef Box." A custom box can be arranged for an extra $22/mo.
In terms of the ideal audience, ButcherBox says it right on their landing page: paleo loyalists, fitness junkies, or busy moms, consumers who are looking to save time without sacrificing quality.
This should give you a pretty clear idea of the niches where you can promote ButcherBox to your audience: paleo and fitness, parents, cooks, and consumers of all kinds.
Give it a try yourself, and include it in any meat-heavy recipes or those that focus on using a grill.
HelloFresh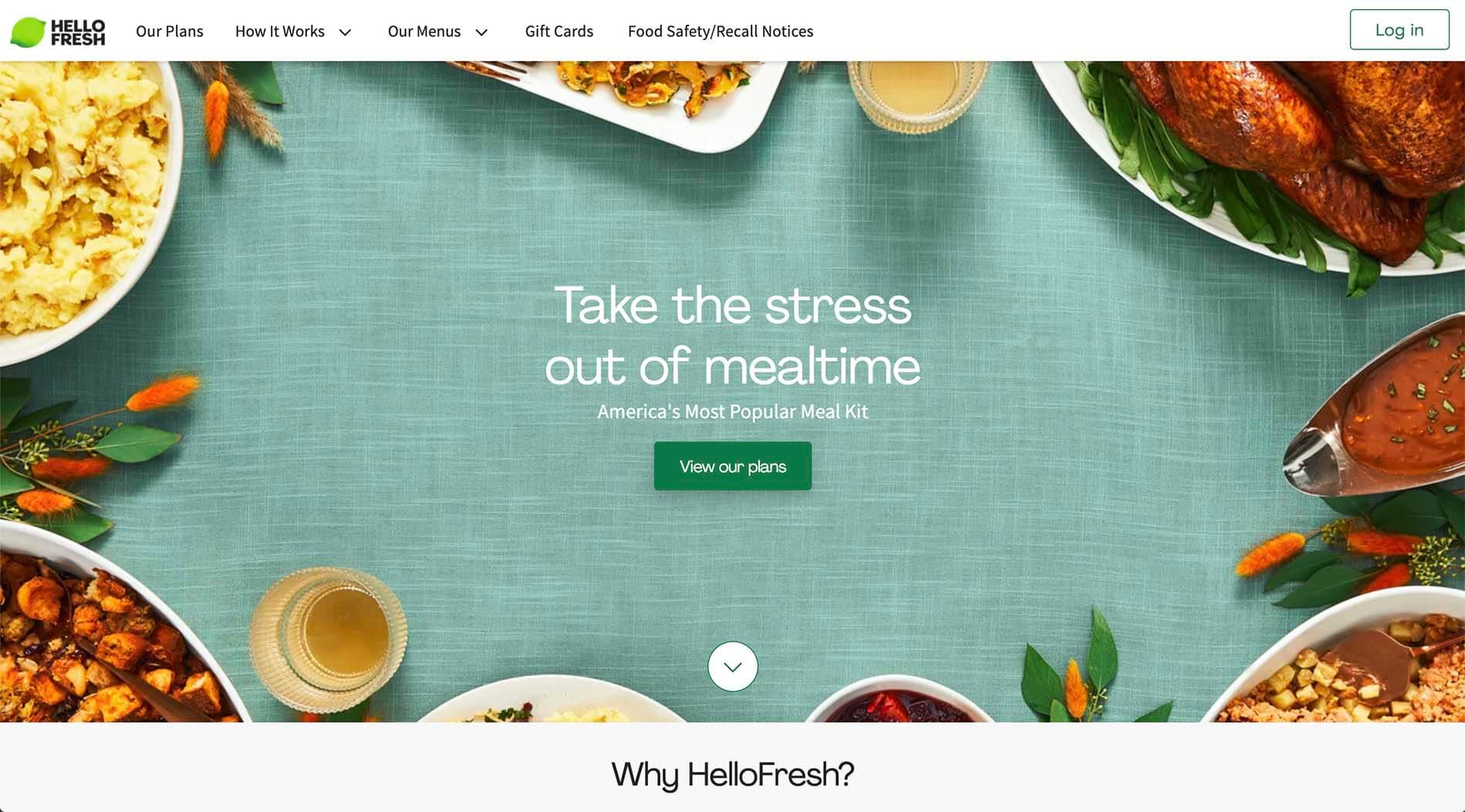 Program name: HelloFresh Affiliate Program
Network / Software: Impact
Commission: £8.00 per sale, 25% of order value (Impact), CA$20.00 on the first sale (Impact)
Cookie duration: 30 days (Impact), 14 days (Impact)
Markets: UK (Impact), CA (Impact)
Alternatives: Sun Basket at $20.00 per order (Impact), $50.00 per order (Skimlinks)
HelloFresh is a subscription meal kit service available in the US, Europe and the UK, Canada, and Australia. Like the name says, it focuses on fresh, quality ingredients.
According to a case study with Silverbean, the target customer for HelloFresh are young families with disposable income. So if you're running a family-oriented food blog in a region HelloFresh operates in, this could be a perfect match for your audience.
The flat commissions offered by HelloFresh vary by region, but are all pretty standard when compared to specialty mealkits like Purple Carrot and Veestro (both vegan subscription boxes).
Food52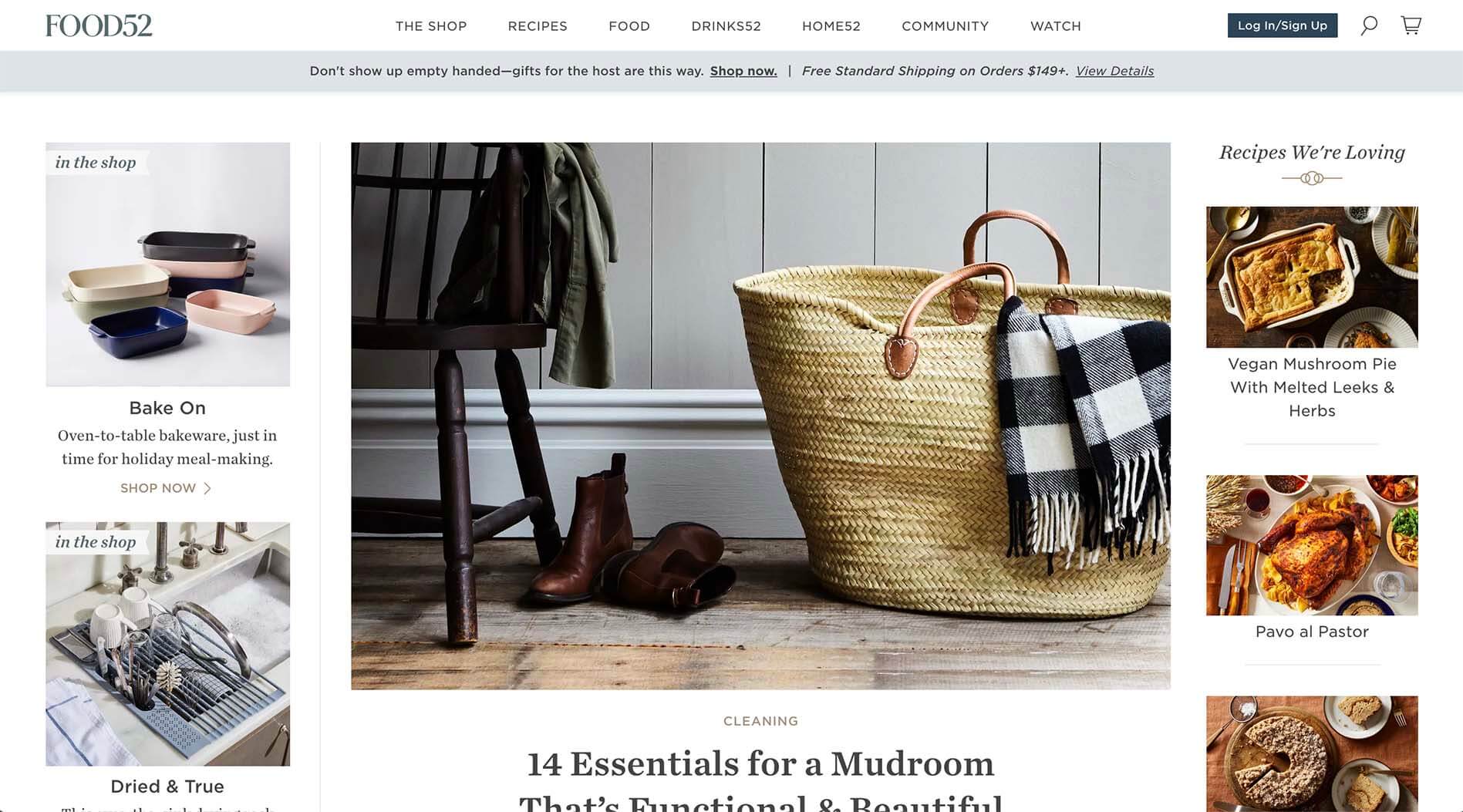 Food52 is famous for its recipes, but also has an extensive online shop with a massive selection. Here's a screenshot just to give you an idea of just how much you can buy direct from Food52: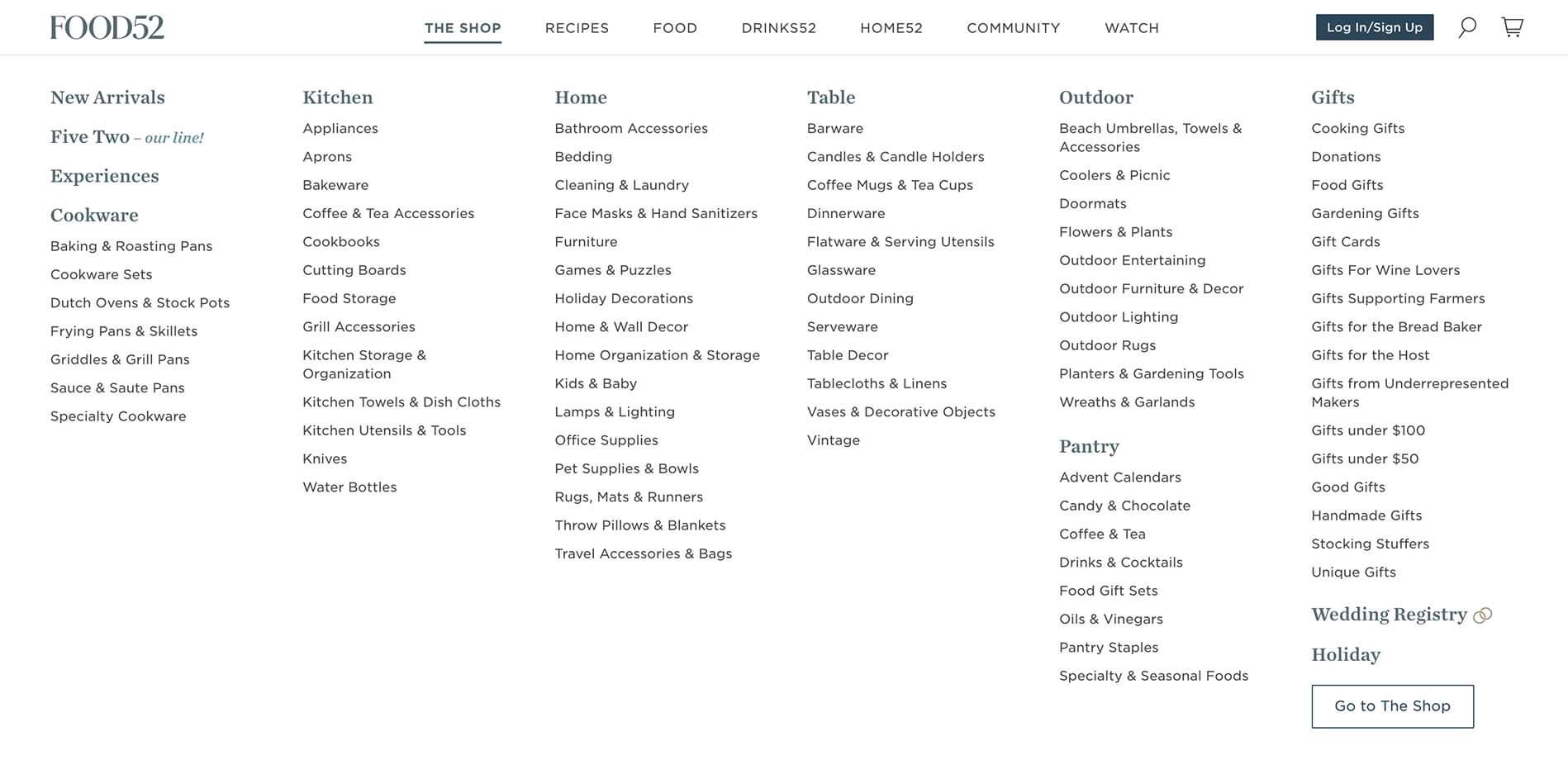 So if you're looking for a home and kitchen affiliate program, Food52 is a stylish option with a great 9% baseline commission.
Inside the Food52 shop, you'll find items like cookware, kitchen essentials, home, table, outdoor, pantry, and gifts. Besides all fanciest accessories for your home and kitchen, Food52 also sells ingredients inside their "Pantry" section.
So if you were thinking about promoting something on Amazon, why not bet on Food52 for double the commissions and 30x the cookie period?
If it matches the aesthetic of your blog — and your readers — head over to Partnerize to join the Food52 program.
Sur la Table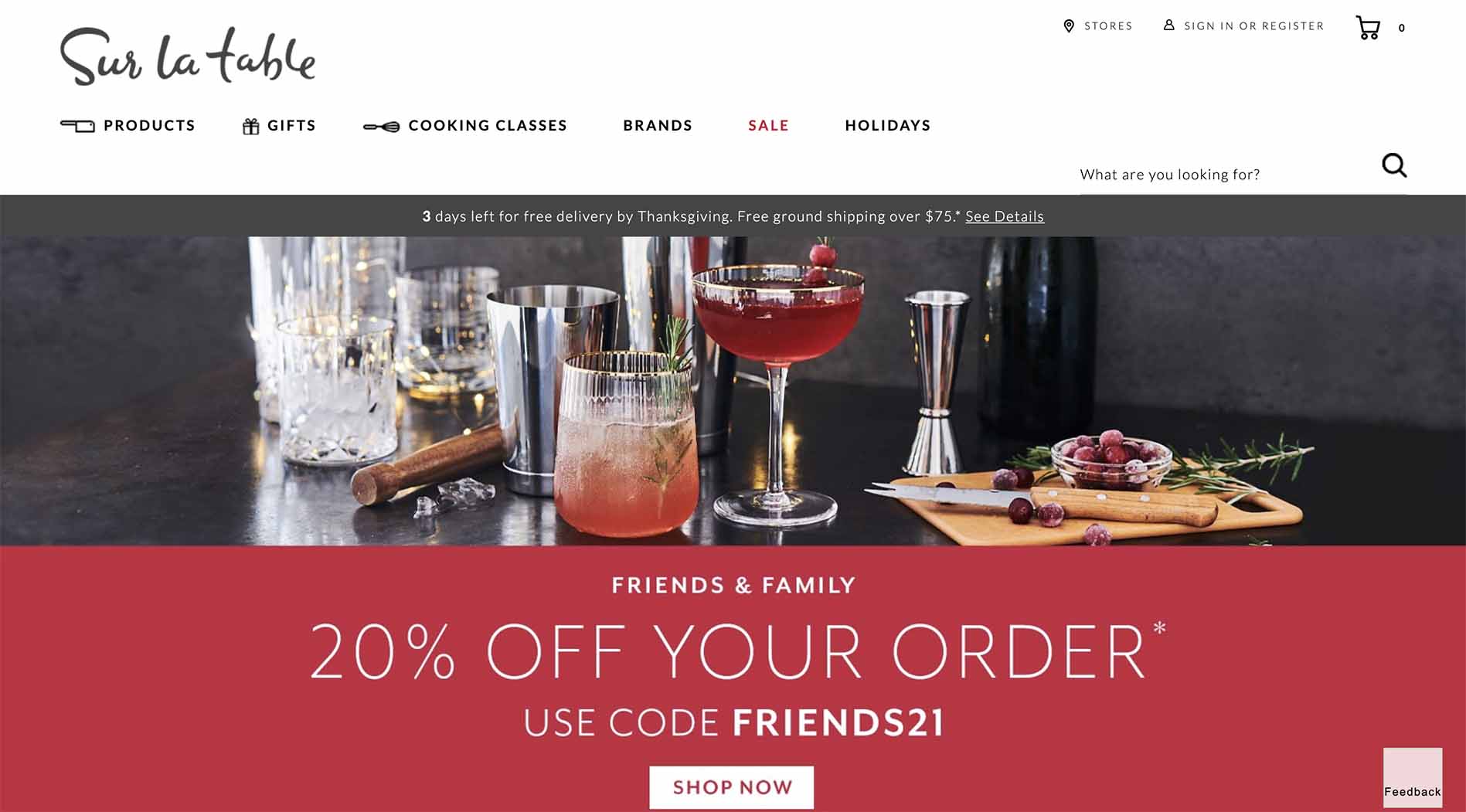 Sur la Table's affiliate program features cookware, kitchen products, and even cooking classes you can promote to your audience.
It's one place to buy some of the most iconic kitchenware brands, like Le Creuset and Breville. Just be aware that most people will buy these kind of items on Amazon, so you should probably offer both links to your readers and allow them to decide.
NatureBox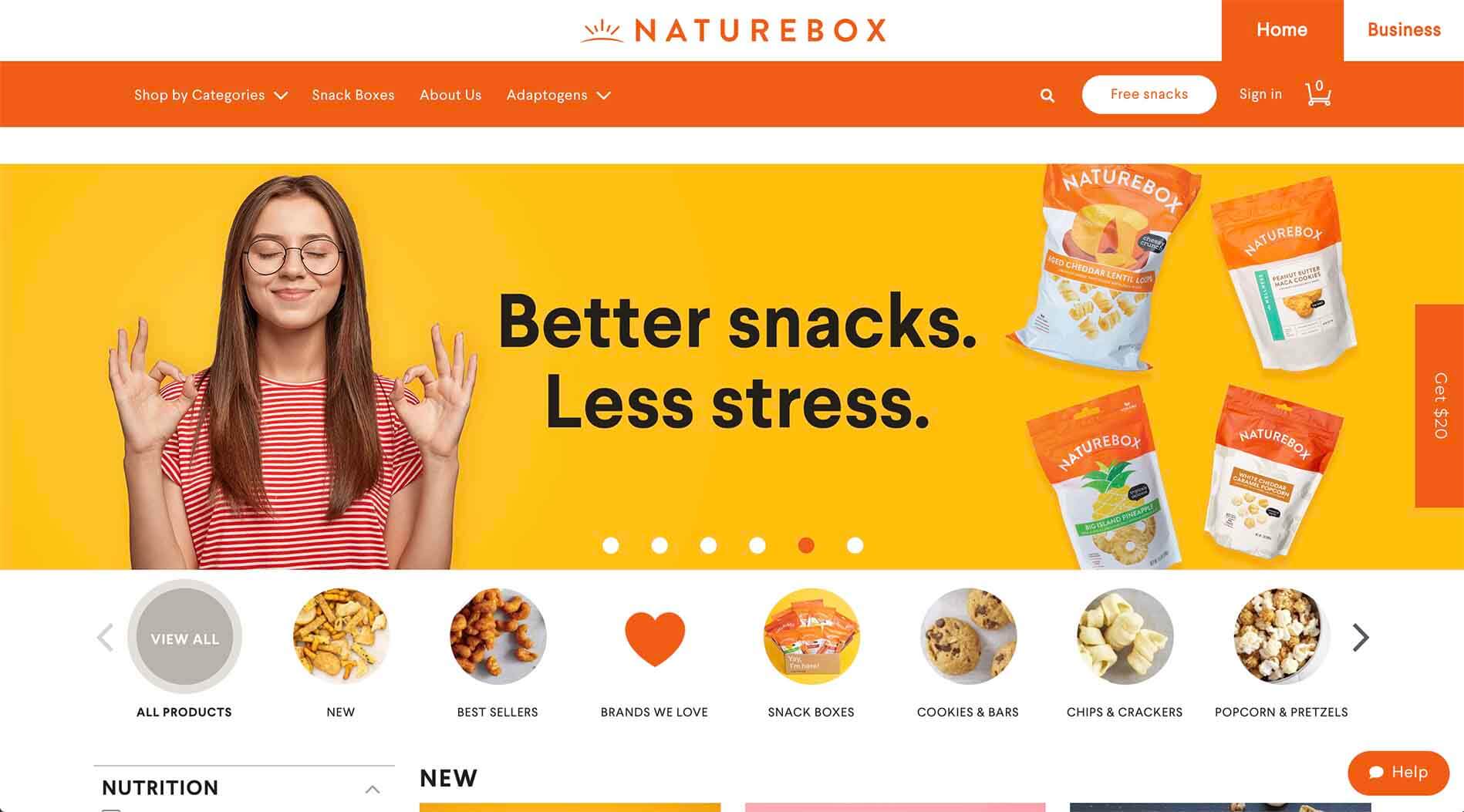 NatureBox is a monthly membership that offers wholesome snacks without artificial sweeteners, flavors, or colors. Specifically, the snacks inside NatureBox feature adaptogens like Maca, Moringa, Turmeric, and Ashwagandha, as well as CBD snacks and gummies.
So if you're looking for a superfoods affiliate program with organic and vegan ingredients, NatureBox might be worth sharing with your audience.
MamaSezz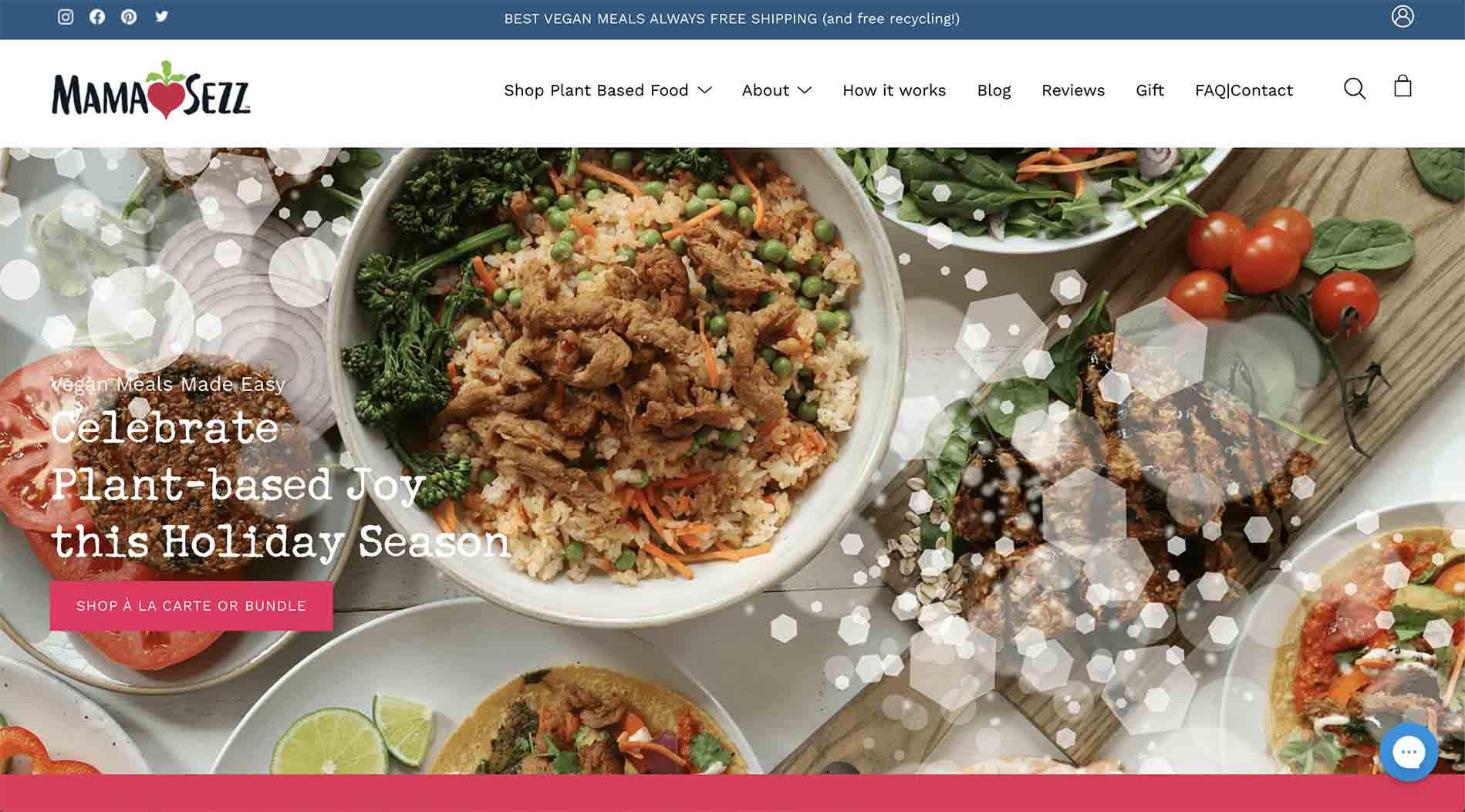 MamaSezz is a plant-based meal service, which in particular offers a lot of meat-substitute type foods. Vegan burger salads, vegan protein burgers, and vegan pasta marinara are all featured prominently on the homepage.
According to their affiliate landing page, MamaSezz has an average order value of $150 which means you'll earn roughly $15 per successful referral. The 90-day cookie is much longer than most other meal prep services, making this one worth trying (and waiting) to see how it pans out.
Purple Carrot
Program name: Purple Carrot Affiliate Program
Network / Software: Impact
Commission: $25.00 for both subscriptions and one-off sales
Cookie duration: 30 days
Markets: US
Alternatives: Veestro at 5% (Rakuten), 10% (Refersion), or Sun Basket at $20.00 per order (Impact), $50.00 per order (Skimlinks)
Purple carrot is another US-based meal delivery service focusing on plant-based foods. As such, they're competing directly with like likes of Veestro and AllPlants.
The commissions are similar to other vegan meal delivery brands, at $25 flat.
Ultimately, if you wan to promote vegan meal delivery services inside the US, you'll want to test all of these options against each other and see which converts best.
Veestro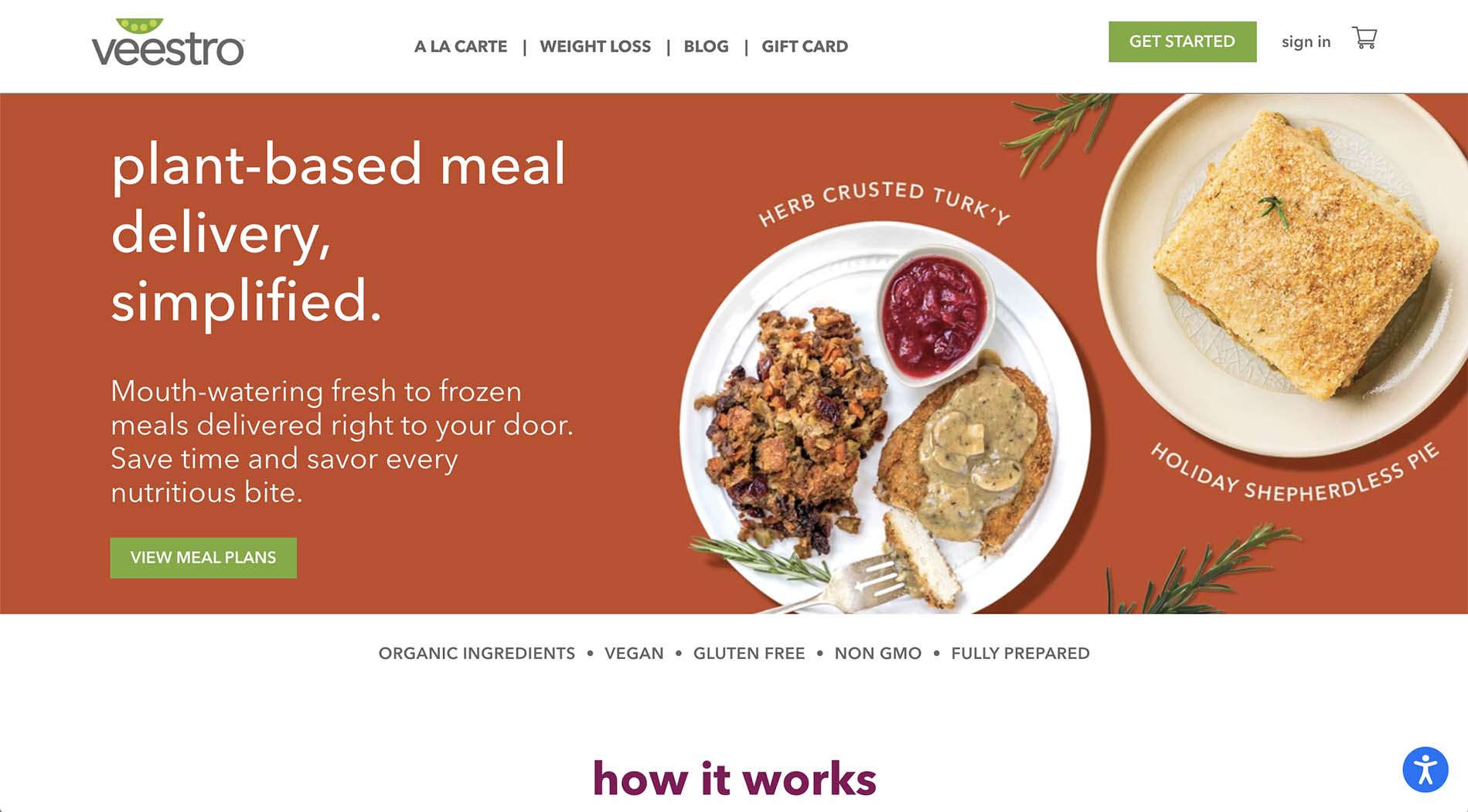 Unlike Sun Basket, Veestro specifically focuses on meal delivery for plant-based foods.
That means than when your vegan reader lands on the homepage, they'll feel instantly confident that there are options for them.
While many meal delivery programs offer fixed commissions for new customers, Veestro goes percentage based. Through Rakuten they're offering 5%, but through Refersion it's up to 10%.
With a self-reported average order value of $170, that's an average commission of $8.50 or $17 depending on which program you join.
Dry Farm Wines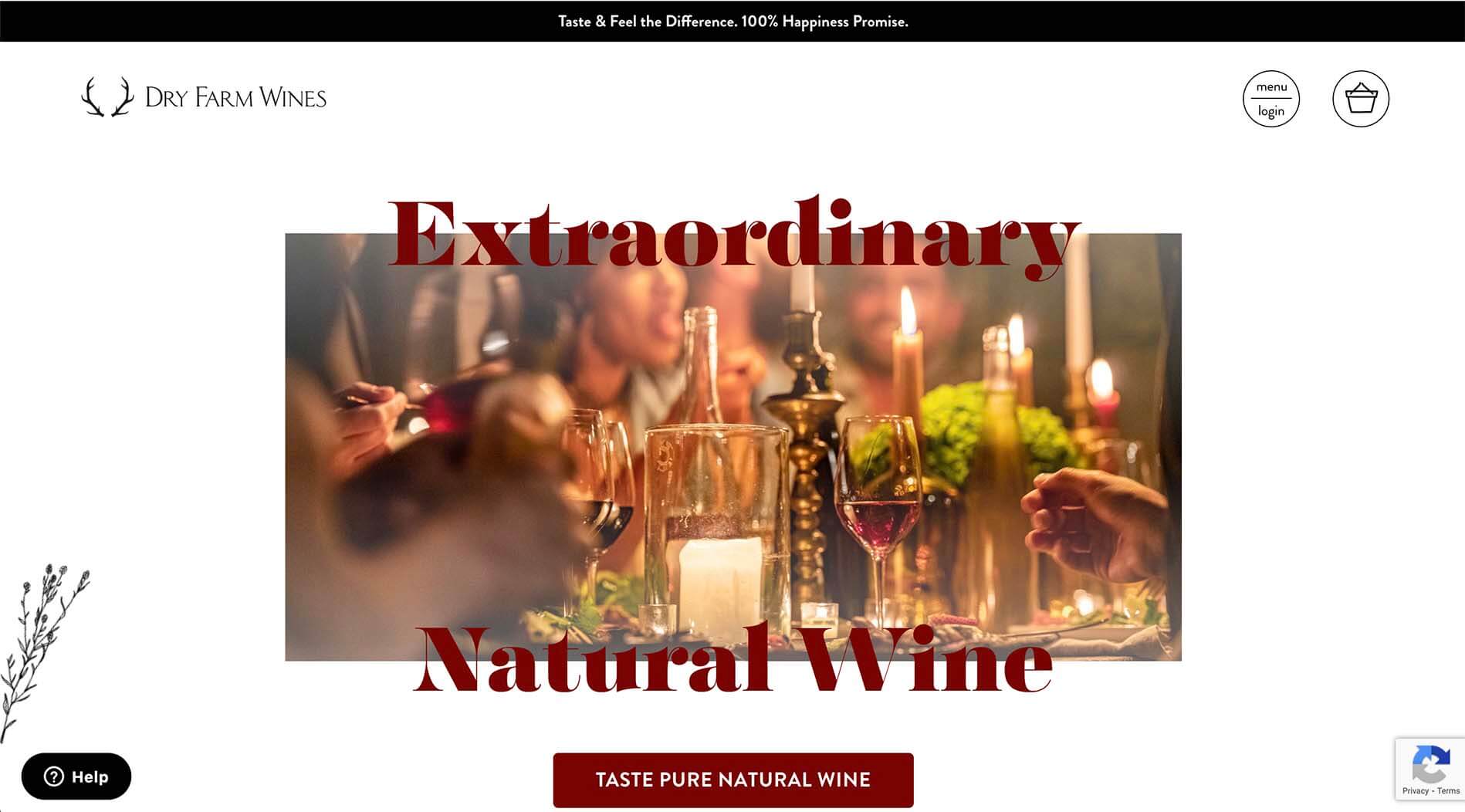 Dry Farm Wines is a wine subscription club that offers natural, artisan wines. They're free of sugar and contain lower alcohol content than traditional wines.
One of the things that makes Dry Farm Wines' affiliate program unique is that offers recurring commissions. This means you get paid every month for each customer you refer, as long as they maintain their membership.
Recurring commission affiliate programs can be incredibly lucrative if you make the effort to educate your readers about the benefits of the membership first.
The team at Dry Farm Wines does lay out some expectations for affiliates: a website or business operated in the United States, and a social following or email list of over 5,000 contacts.
Their goal is to have each affiliate convert 10 orders within the first 90 days. If you don't meet this expectation, you may risk getting booted from the program.
What's good about this approach is that if you end up performing well, you'll get individual attention and tips from the Dry Farm Wines team. And that's what an affiliate partnership is all about.
Lifeboost Coffee
Lifeboost Coffee's affiliate program promises the highest commission in the coffee industry: $10 per person. Compared to the other coffee affiliates, it may not be the all-time-highest payout, but it could very well be the most dependable one.
Why?
Lifeboost did not just throw together an affiliate program over the weekend. According to their landing page, they perfected their sales funnel by spending $4 million on ads over the past two years.
Thanks to their very expensive, err, extensive research, you'll get to promote only the highest-earning offers. Therefore, you may see more conversions even if you have a starter affiliate website.
Not to mention that their coffee is super healthy and sustainably sourced.
Ethical Superstore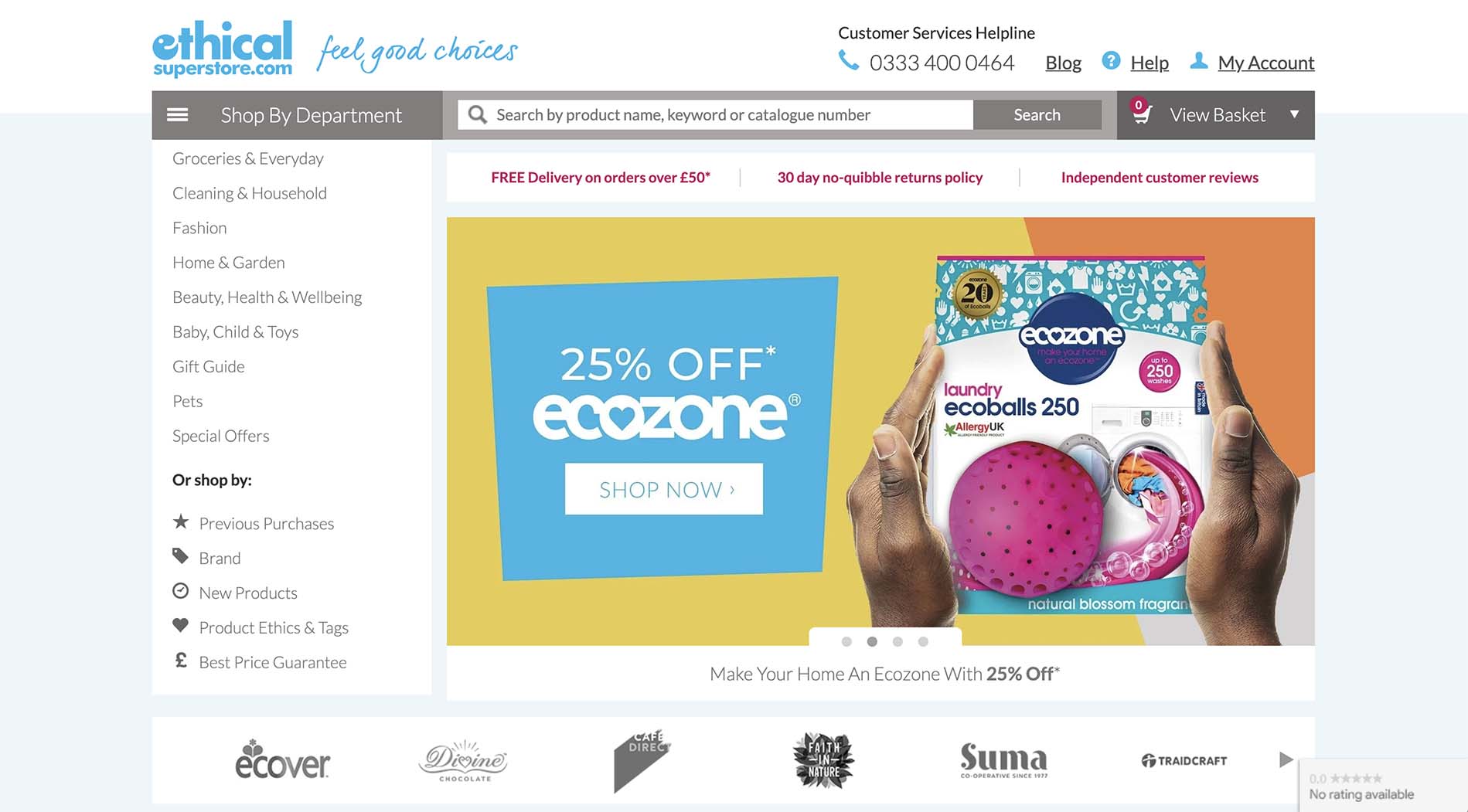 Next up is the Ethical Superstore, a treat for UK-based vegan bloggers who want to promote individual vegan food products and more.
Ethical Superstore has categories for groceries, cleaning and household, fashion, home and garden, beauty and health, baby and children, gifts, pets, and tons more.
The 20% affiliate commission for new customers is excellent on food products, especially in contrast to Amazon which cut rates on grocery products from 5% to 1% during the pandemic in 2020.
Not to mention the 30-day cookie.
FYI — Ethical Superstore offers different rates to content site owners in contrast to cashback and voucher websites. So to get these favorable commissions, you'll want to be writing original content for affiliate marketing.
Snake River Farms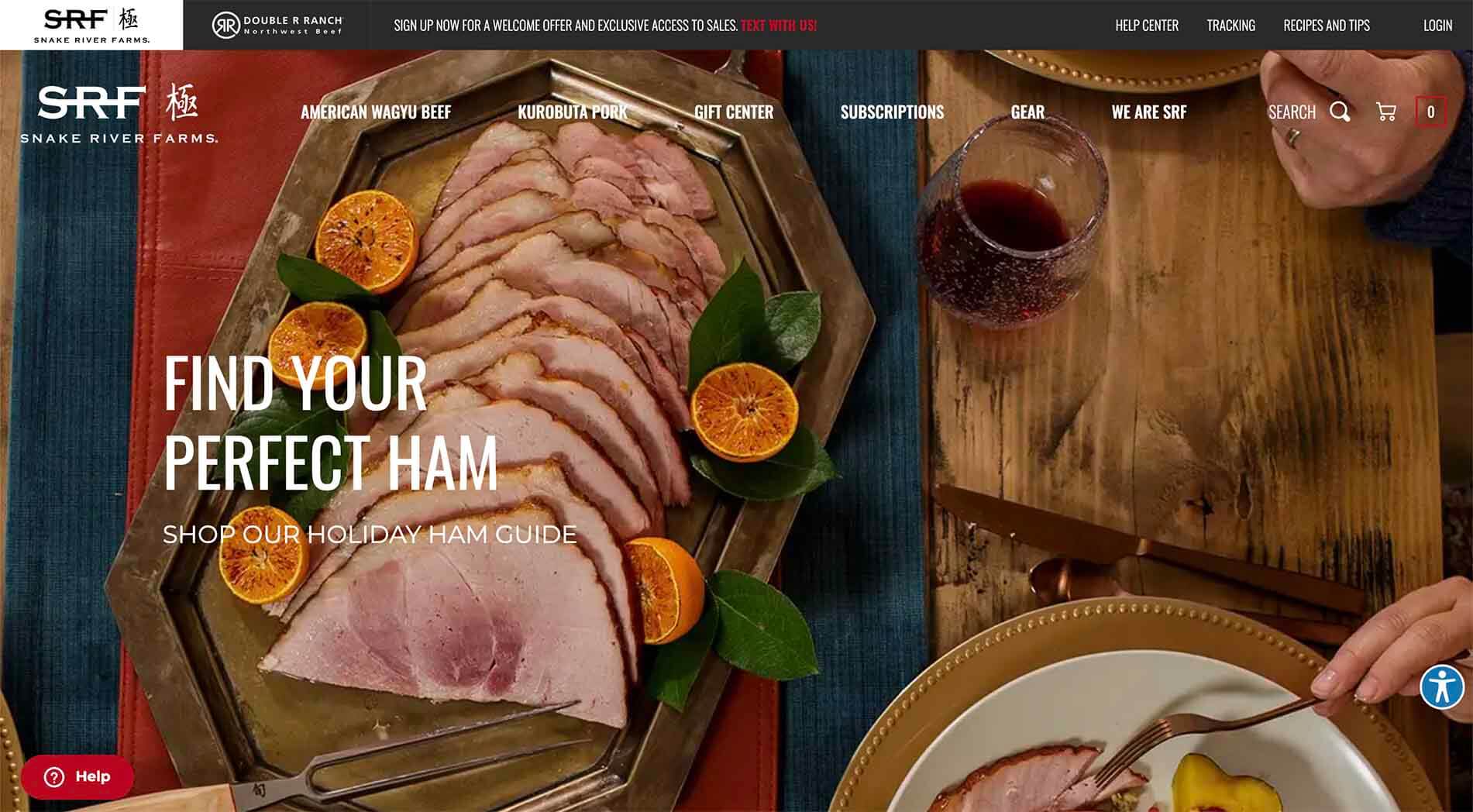 Snake River Farms and its sister brand Double R Ranch specialize in American Wagyu beef, Kurobuta pork, and Northwest source-certified beef.
Customers can order a variety of steaks and pork cuts, or even subscribe to the Snake River Farms monthly membership.
Each serving runs between $20 and $66, which is probably why they've got a "high average order value" according to their affiliate landing page.
If your audience loves meat — or there's just a meat-associated holiday season coming up like Thanksgiving, Christmas, Father's Day — this could be a great place to send your readers who are looking for a premium product.
Sun Basket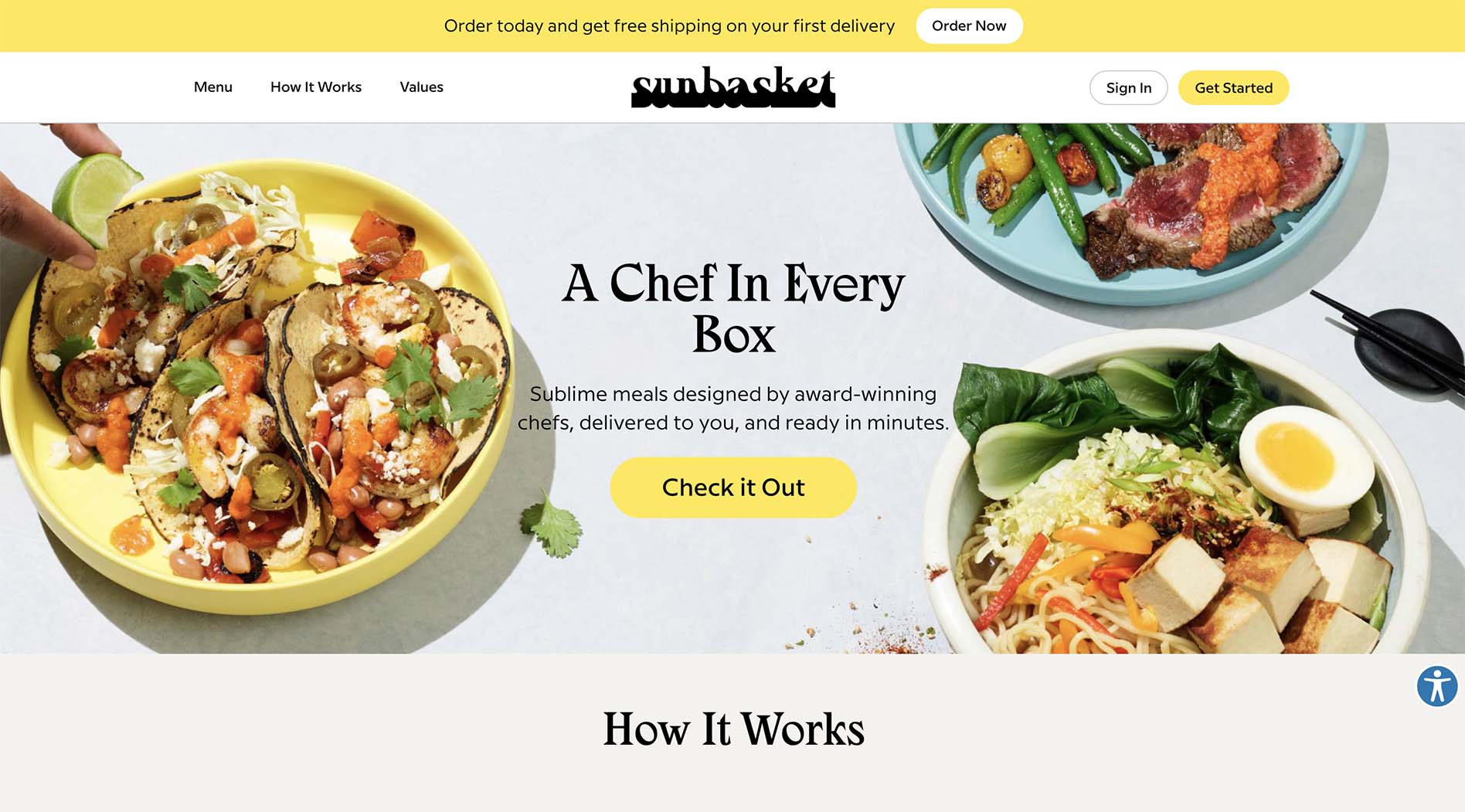 Sun Basket is a US-based meal prep and delivery service, which offers organic ingredients and costs as low as $8.99 per serving.
While they're not an exclusively vegan affiliate program, they do offer vegan meals every week to satisfy your plant-based readers. That makes Sun Basket a great affiliate program for vegan, vegetarian, paleo, gluten-free, dairy-free, and soy-free diets.
With the flat $20 commission from Impact (and apparently even higher from Skimlinks), Sun Basket's affiliate program is a must-try for vegan bloggers.
The 30-day cookie is the cherry on top, in contrast to alternatives like Green Chef which only offers a 7-day cookie.
Thrive Market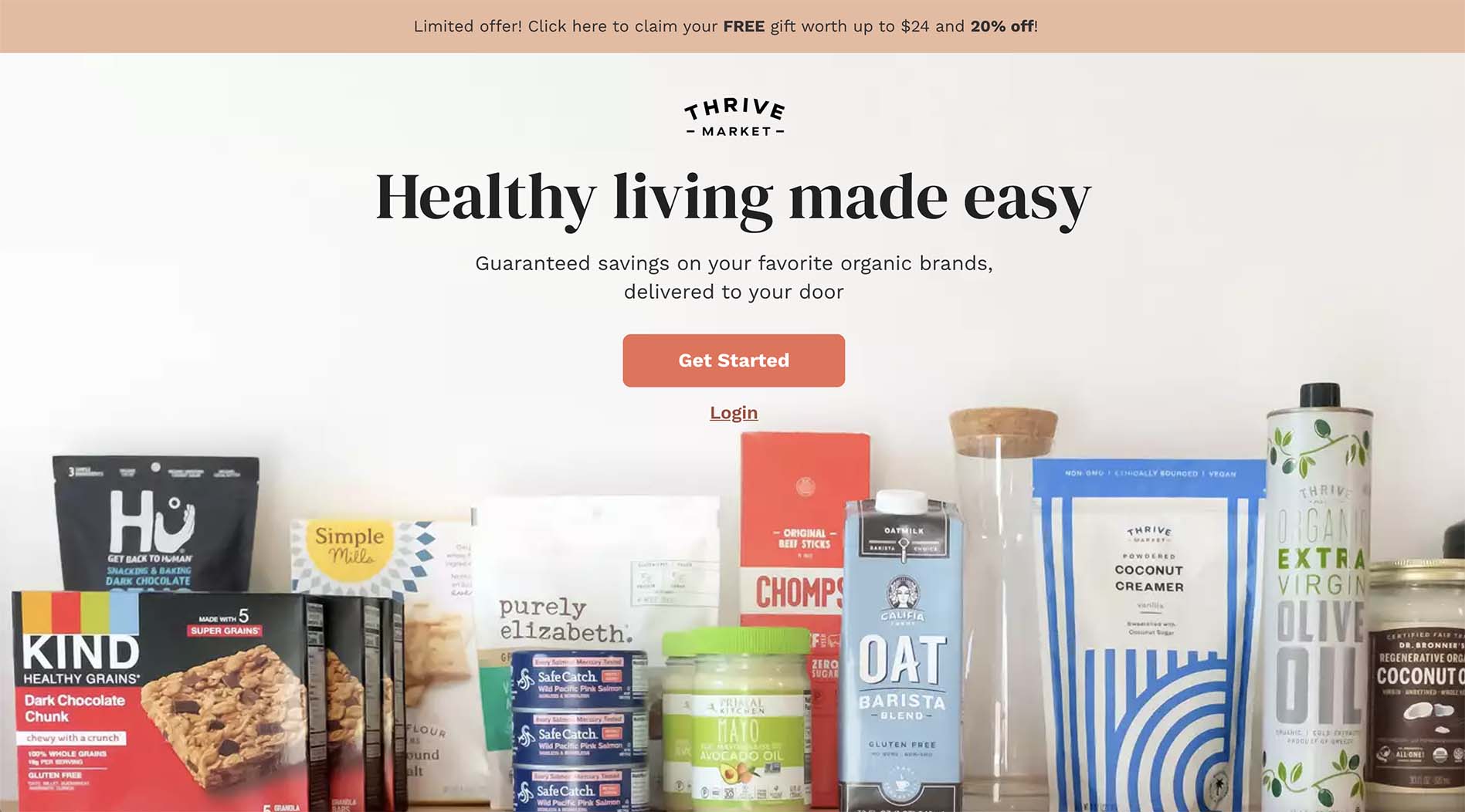 Thrive Market is an organic, online supermarket with a membership-based business model. For as low as $5/mo paid annually, members can access a huge array of organic food, wine, and beauty, kids, and home products.
Thrive Market is a highly talked-about vegan affiliate program thanks to the $40 flat commission you'll get for referring customers who subscribe annually.
The downside here is that the cookie period is just 24 hours.
So while the commissions are great, you'll need your readers to convert within a small conversion window to get credit for the sale.
Vitamix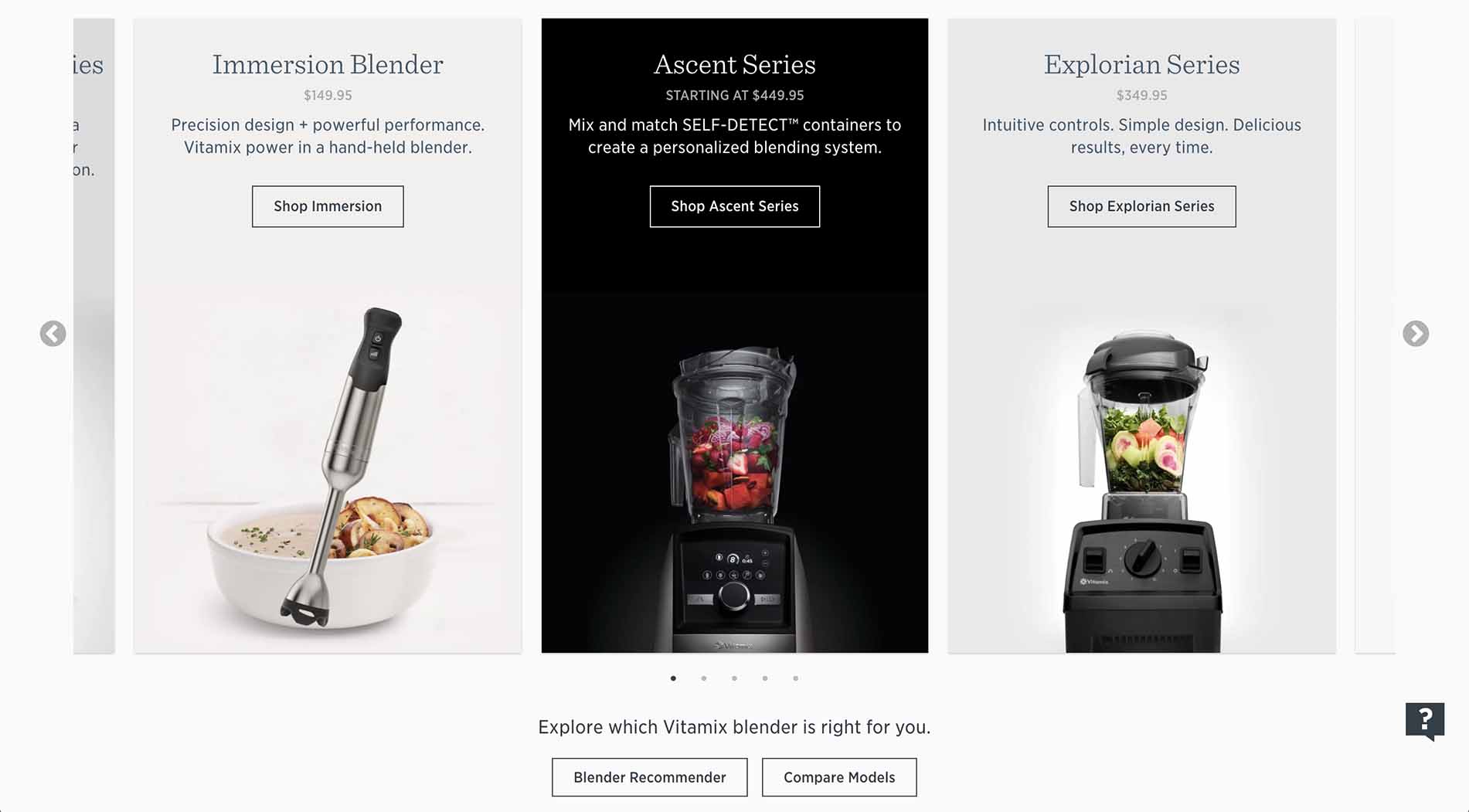 Every food blogger worth their Himalayan pink salt knows that the Vitamix is the Tesla of blenders (that is, unless you're #TeamBlendtec in which case, look away).
For the uninitiated, Vitamix is a blender company with signature blenders running about $450 on average. Which might seem excessive, except that they can run so fast you can literally cook soup in them.
Talk about power.
The thing is, most people buy blenders from retailers like Amazon. So if you're going to join the Vitamix affiliate program — which does offer a far better commission rate and cookie period — you'll want to promote it alongside an Amazon Buy button so your readers have a choice.
iHerb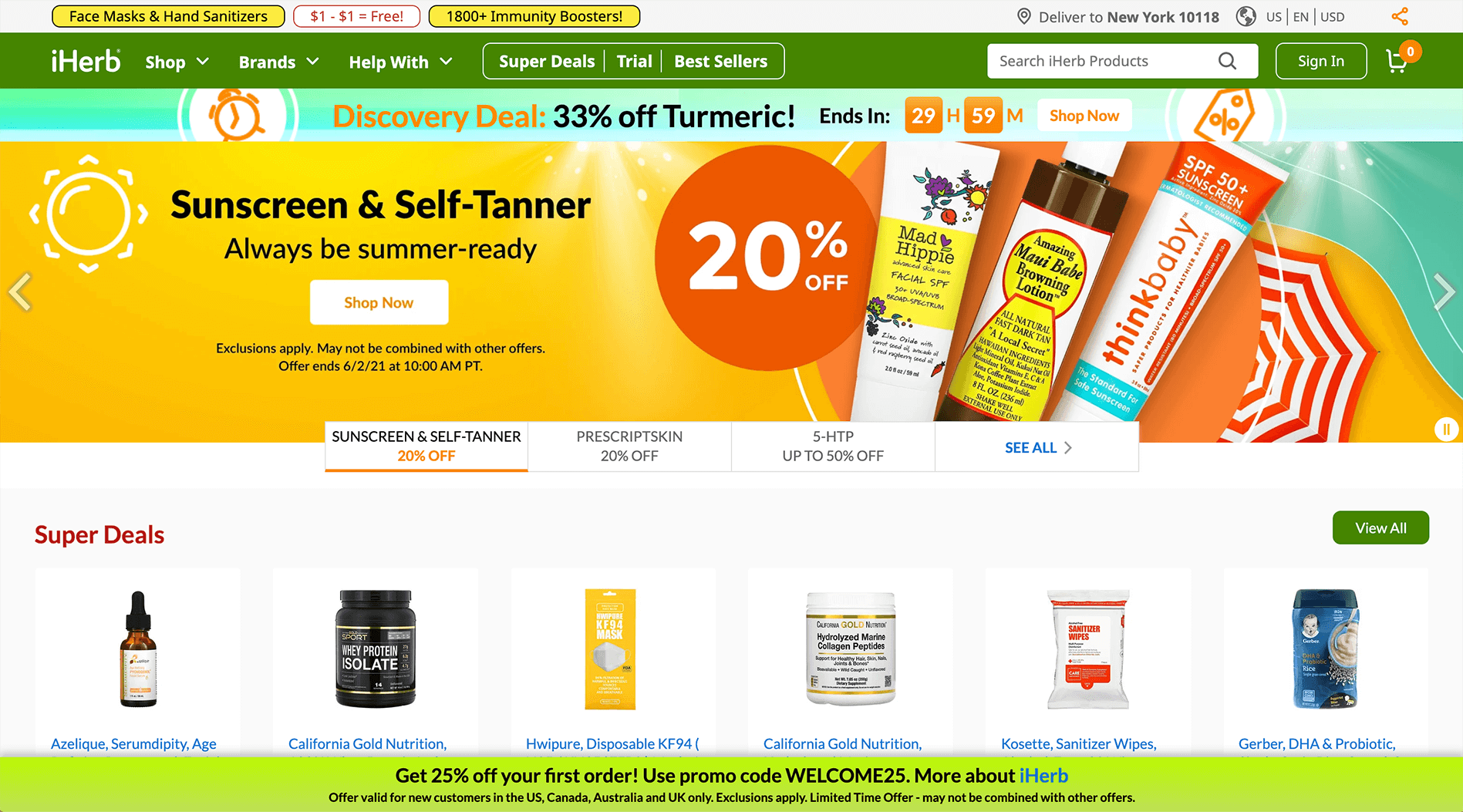 iHerb is a popular online marketplace for supplements and health products. If you can't promote the Ethical Superstore since you're not UK-based, iHerb is a great alternative.
Plus, iHerb has local versions of their website and ships to a ton of different countries. So you can practically join iHerb from any country in the world.
Inside iHerb, you can promote popular health supplements, sport supplements, groceries, beauty products, and pet supplies.
Anyone on a specialty diet, whether they're vegan, keto, paleo, or something else, generally tend to be health-conscious. That's why iHerb can be a great affiliate program for promoting supplements to people on all sorts of diets.