Skimlinks Review: Pros, Cons, and Expert Insights in 2023
By Chrissy Kapralos · Updated Jul 10, 2023
Skimlinks is a UK-based affiliate network with over 15 years in the business, 48,500 merchants, and 50 affiliate network partnerships. Learn if they're a match for your affiliate business with this Skimlinks review!
Is the merchant's commission worth the network's commission?
This is a question many affiliates find themselves asking when considering an affiliate subnetwork. Even if there is a trade-off to be made, subnetworks have real perks, like faster access to affiliate programs, exclusive merchant promos, and performance insights to inform your strategy.
Skimlinks is one of these.
Acquired by Connexity (now owned by Taboola) in 2020, Skimlinks has made waves in the affiliate marketing world with its 48,500 brand partners and impressive claim to facilitate "one sale per three seconds." Plus, the company knows how to engage its audience, as seen by its annual Commerce Awards for Publishers (CAPS). From big names like Target and Wayfair to the more niche Selfridges & Co. and B&W Photo, Skimlinks has an abundance of merchants for affiliates to choose from.
But what do Skimlinks publishers really think about the platform? What makes Skimlinks stand out from other networks? We'll cover everything you need to know about this network and how to maximize your results with Affilimate's Skimlinks integration.
How to Become A Skimlinks Affiliate
So, can anyone join? Well, anyone can sign up to Skimlinks, but the network takes about 2-3 business days to make their decision. We'll walk through the approval criteria later: first, let's get you signed up.
1. Enter your name and email address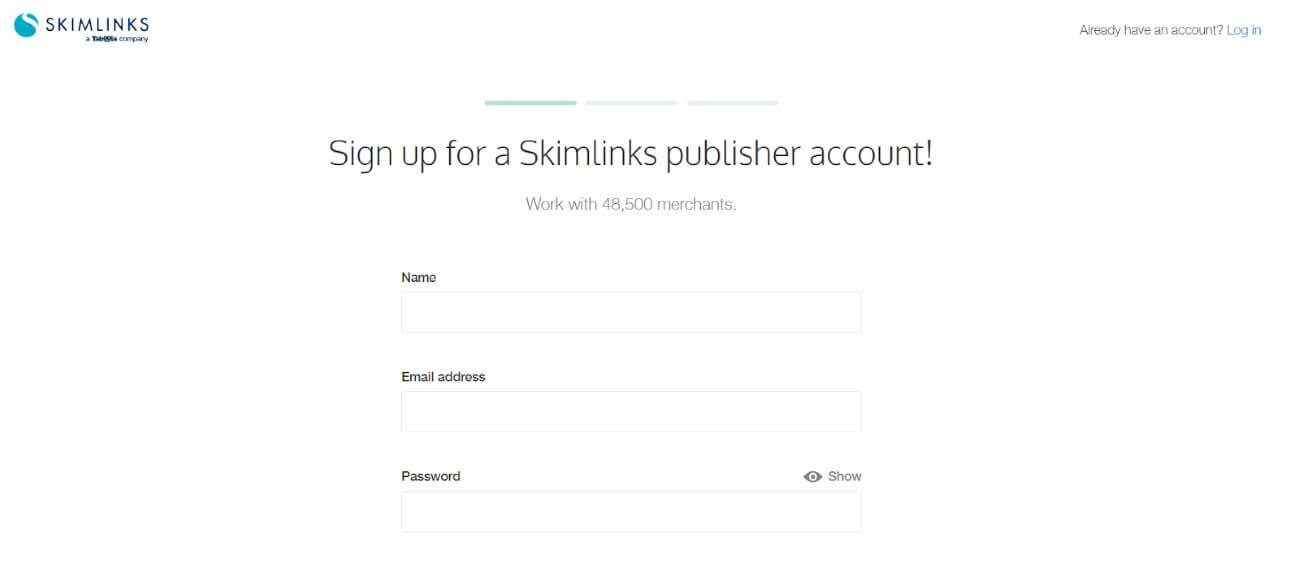 Pretty straightforward, right? Make sure you use your affiliate site business email address, not that old Hotmail account! You'll also be prompted to create a password that meets Skimlinks' security criteria.
2. Share your business name and website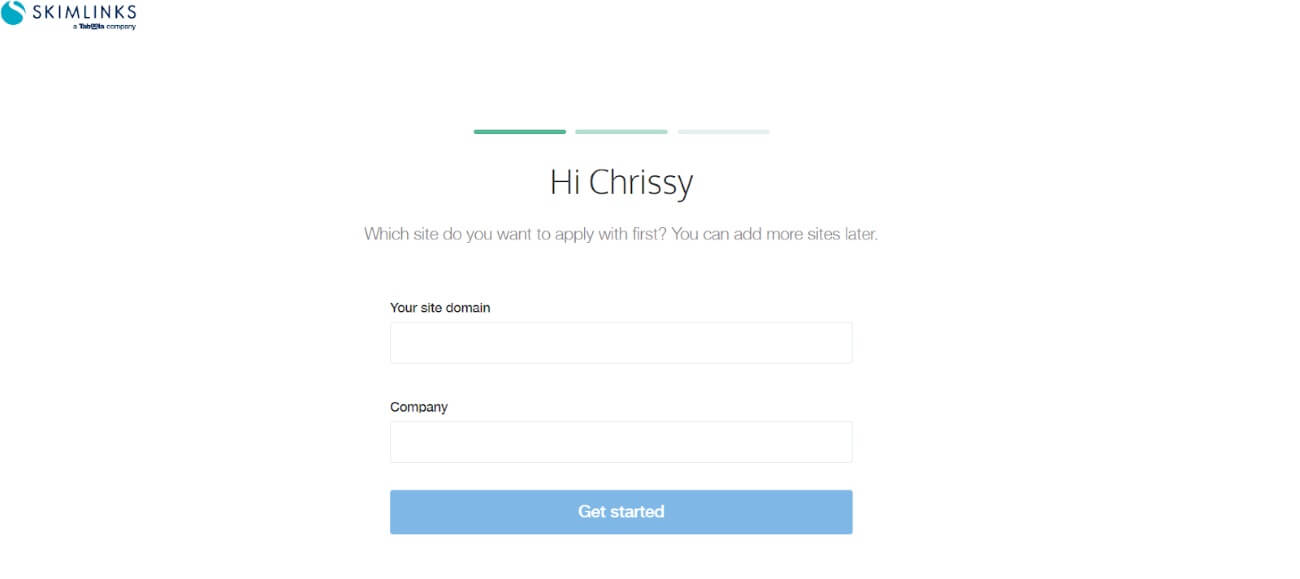 Remember to look over your affiliate website before including it in your submission.
Is your site actually live? Content up-to-date? Do you have a privacy policy and terms and conditions page – two valuable items that Google will need to crawl your site?
Remember, Skimlinks staff personally reviews every application, approving only those publishers who have a clean business profile and solid overall reputation. One important item they'll look for is proof of ownership. If your affiliate site doesn't clearly state that you own it, you might receive a request for more information to prove as much.
Once you're satisfied, go ahead and plug in your website URL. Just don't include the https://. Skimlinks support says this is one of the most common reasons people can't sign up.
❌ https://yourwebsite.com
✅ yourwebsite.com
3. Check your email inbox
At this point, Skimlinks will email you a verification link to continue the process. Click it and move on to step 4.
4. Optionally, add Skimlinks' Javascript code to your website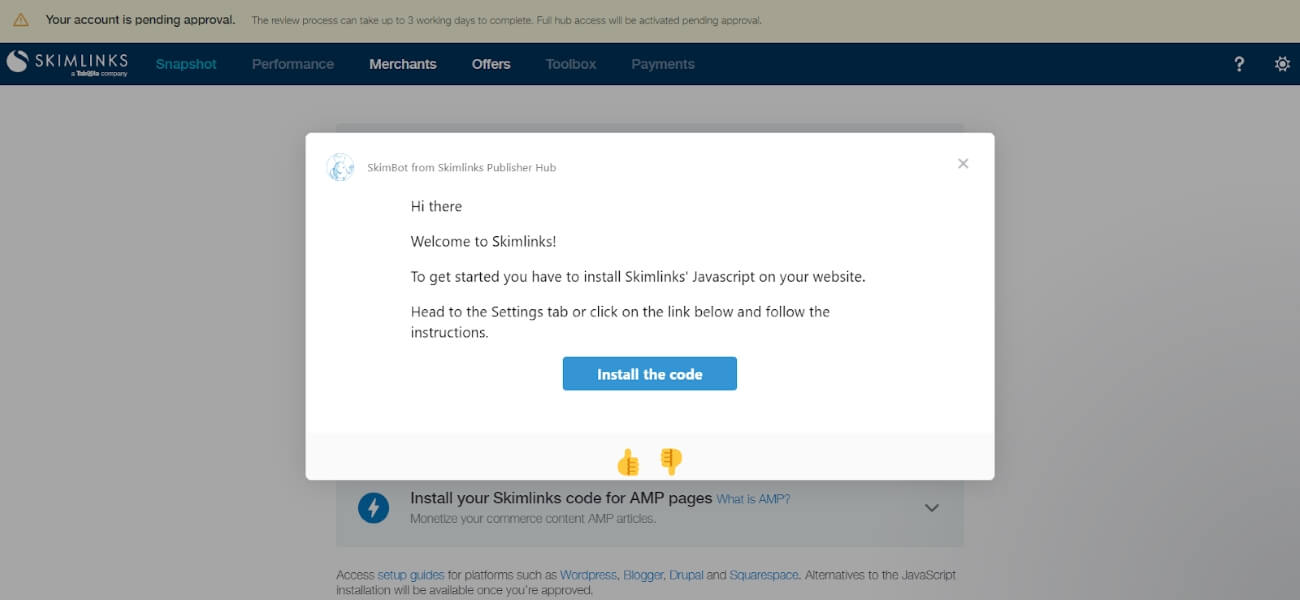 Don't worry; you don't have to pull out your programming manual or hire a developer. Skimlinks provides you with a unique Javascript code snippet only applicable to your affiliate website. This addition connects your website to Skimlinks.
Some marketers notice that adding the Skimlinks code causes their website to lag. If this happens, check out PageSpeed Insights on Google.
Otherwise, you can simply create normal affiliate links using Skimlinks' Tools right inside their dashboard.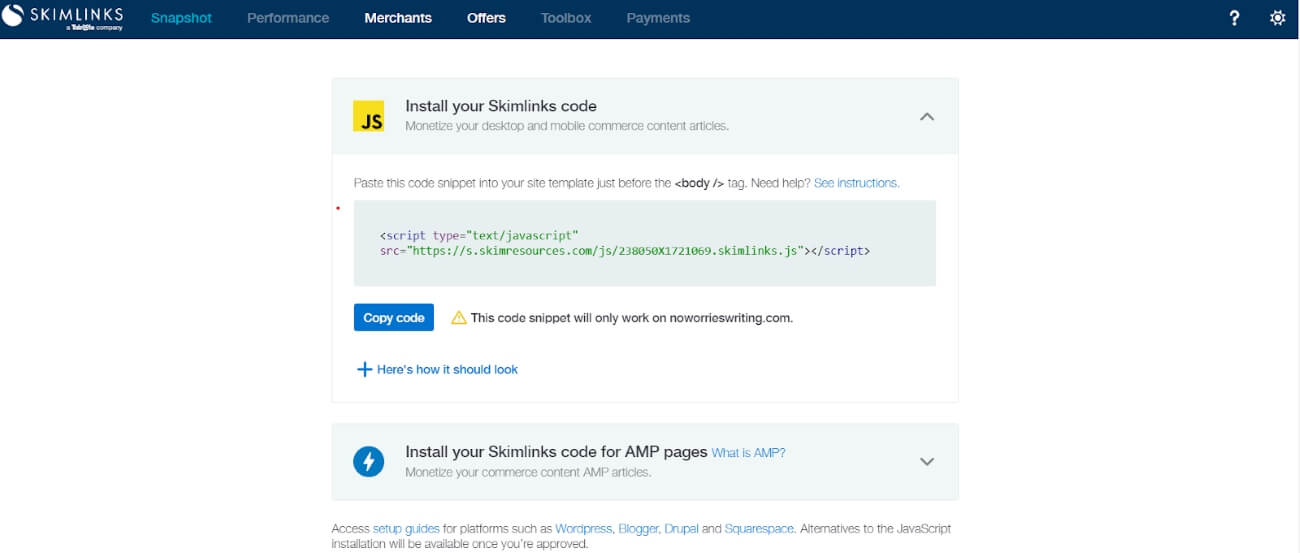 If you're still not sure that everything's working as it should, check out this Skimlinks support article for more insight.
5. Wait for approval
Skimlinks support says you'll usually hear back on your application within two days.
So what are their staff reviewers looking for? According to Skimlinks' policy:
Ineligible content: You won't get approved if your content is religious, pornographic, political, violent, hateful, duplicated, related to illegal activity, or tailored to kids under 13. Additionally, you can't use any brand names on your website domain or mimic another brand's site in such a way that readers might think you're the brand.
Traffic sources: Skimlinks requires publishers to have significant web traffic from North America, Europe, and the Asia Pacific (APAC). You won't be approved if you're located in North Korea, Sudan, Iran, Syria, Cuba, or Myanmar.
Compliance: Your content must comply with US Federal Trade Commission (FCT) and UK Advertising Standards Authority (ASA) guidelines, including for affiliate disclosures. Additionally, you must comply with the UK's Interactive Advertising Bureau's voucher code of conduct.
Ineligible publishers: Cashback sites, loyalty sites, mobile apps, and downloadable software applications aren't eligible to join the Skimlinks network.
On top of all that, Skimlinks only works with publishers that they feel will bring value to their merchants and readers. Your content should incorporate strong UX and engagement factors to try to be genuinely helpful, and actively solve pain points for your readers.
6. Install the Skimlinks editor toolbar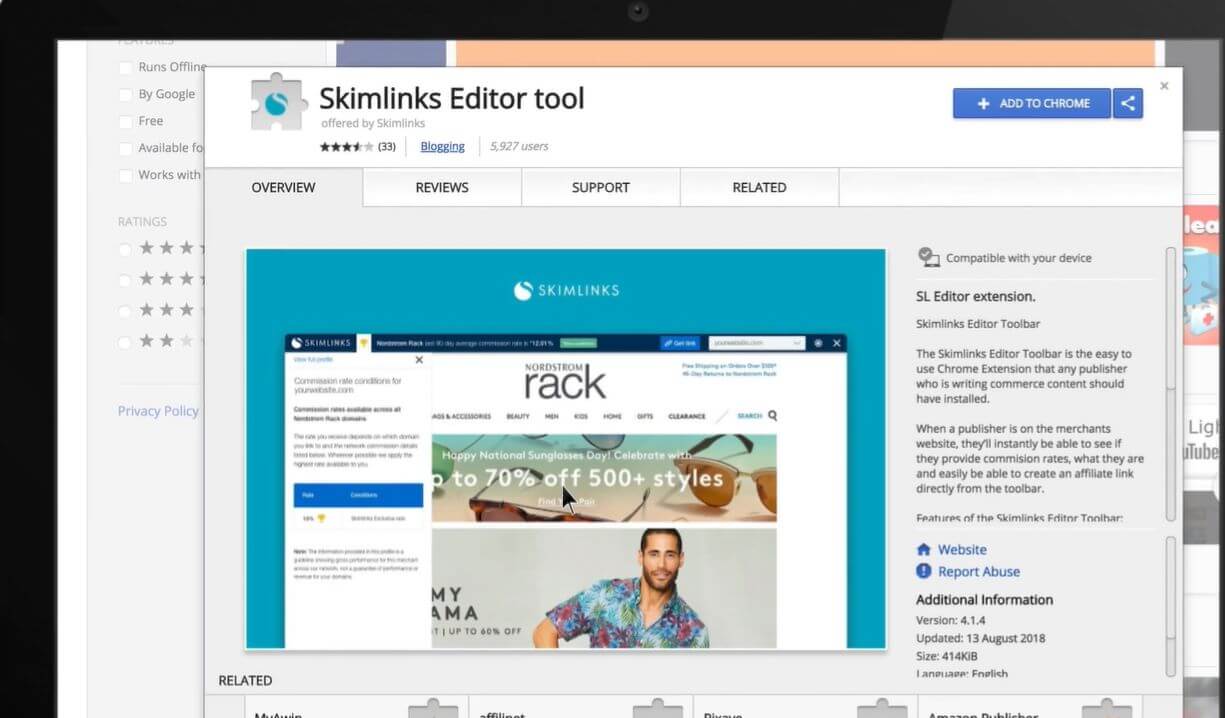 Approved by the Skimlinks team? Congrats! You've taken care of your Skimlinks login tasks.
Next, you'll want to install the Skimlinks editor toolbar – a Chrome extension that will keep you well-informed. Once you install the toolbar, you'll see whether a given merchant site offers a commission and how much, average rates, and other data to help you easily craft affiliate links for your content. The toolbar also helps you instantly convert ecommerce links to affiliate links.
Skimlinks Pros And Cons
Pro #1: Wide range of affiliate programs
Skimlinks offers something for everyone. They boast some of the highest merchant and publisher numbers in the network game (48,500 merchants and 60,000 publishers). We noticed their programs span pretty much every industry, from automotive to makeup.
On top of that, Skimlinks has partnerships with over 50 other affiliate networks. Pepperjam, Commission Junction, and Awin are all in Skimlinks' pocketbook, so affiliates can join more programs across fewer networks. Skimlinks also features exclusive rates (sometimes twice as high), which don't hurt either.
Pro #2: Great program assessment criteria and data for publishers
We know; 48,500 merchant programs may seem like a lot to sift through. But Skimlinks makes the process pretty seamless by categorizing each merchant. First, you can search and filter merchants by:
Name or domain
Categories, subcategories, or industries
Country (Merchants that service multiple countries are highlighted)
Rate type (exclusive, preferred)
Program type (CPC, CPA, dynamic)
Favorites (merchants you've "hearted")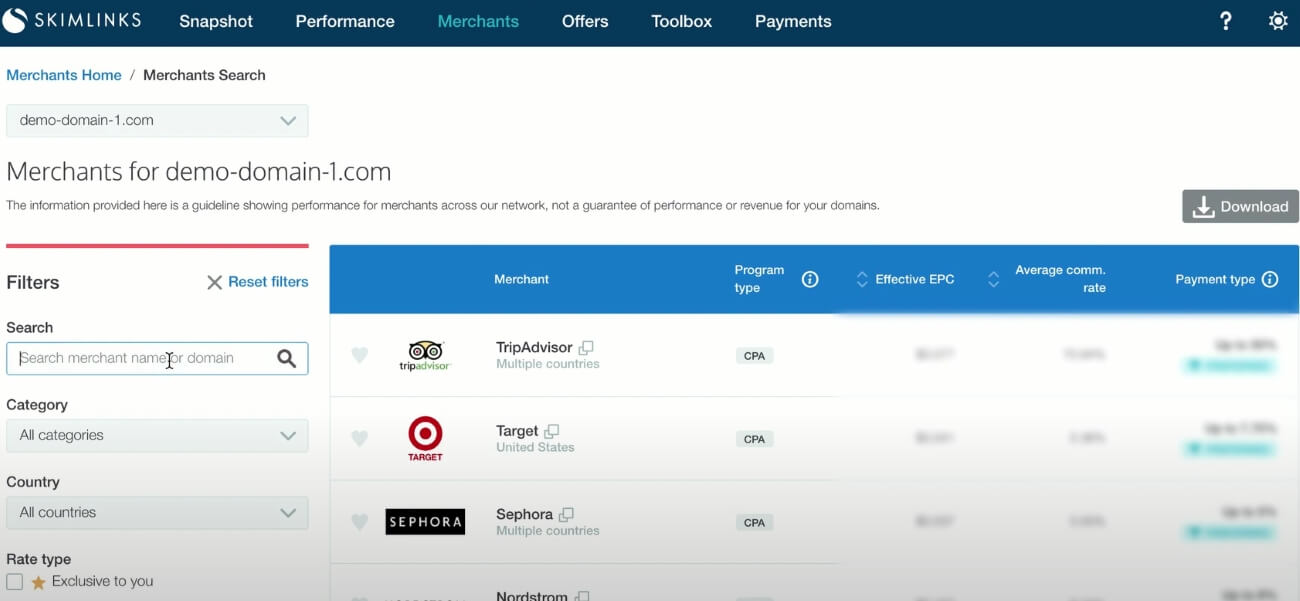 Once you've narrowed down your list of prospects, you can assess programs even further by measuring earnings per click (EPC). This is a great metric to predict what commission you'll make from each merchant. Remember: don't be scared of merchants on the lower end. EPC is an average that might not apply to your site – like if you're a niche publisher, for example. Still, higher EPCs are generally more desirable.
Finally, Skimlinks supplies publishers with ample information about each merchant before you sign on with them.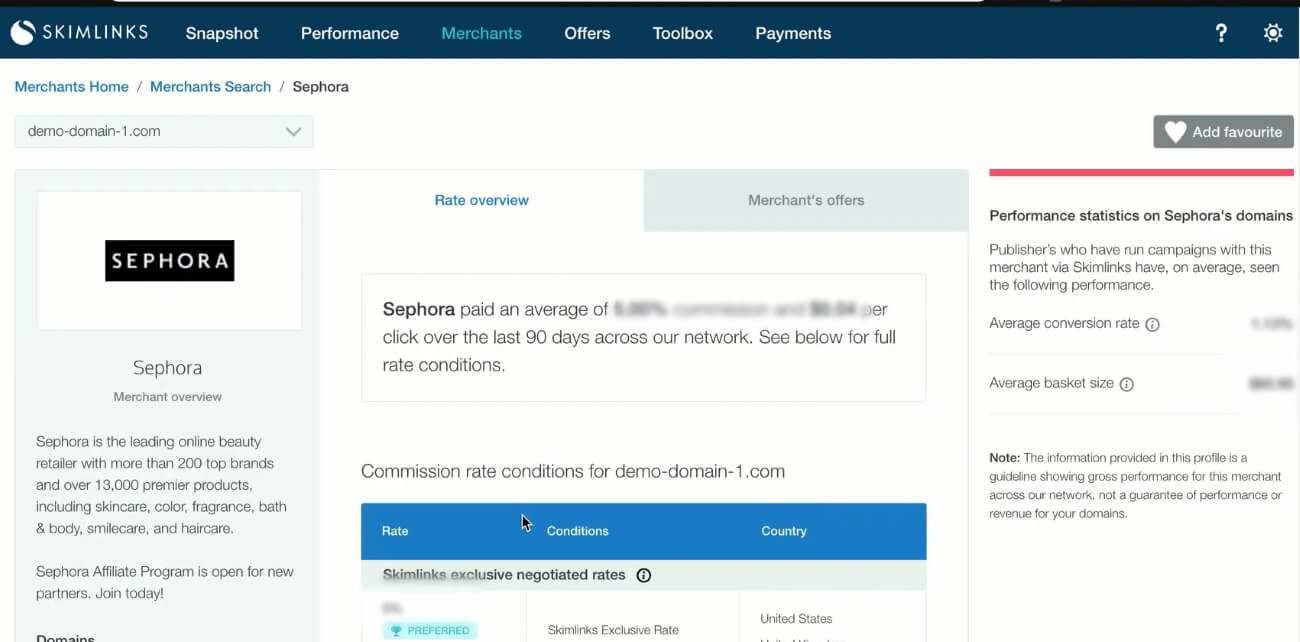 We love the data transparency here. Skimlinks tells you the average commission rate and CPC each merchant has shelled out over the last 90 days. They even outline performance metrics on the right-hand side for each domain, as well as preferred rates for Skimlinks users.
Any coupon queens in the house? You'll love browsing through each merchant's Skimlinks promo on this page, great for current content about the latest deals. Skimlinks reminds us that coupon offers improve publisher conversion rates by 8.5%.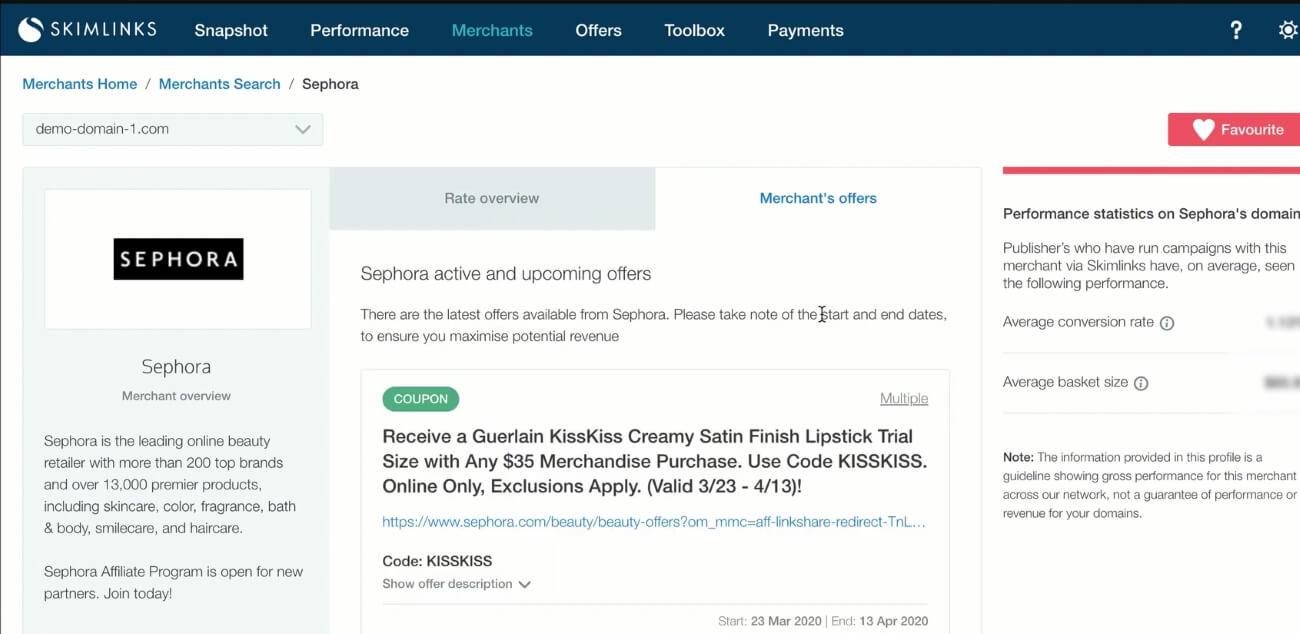 Pro #3: Automatically converts links to affiliate links
Notice any links that haven't been turned into affiliate links on your site? You might miss one or two, but if you're on Skimlinks, they'll pick up the slack.
Nina Clapperton, owner of travel blog ottawathingstodo.com, has used Skimlinks for four years on and off:
I like that it converts all the links on my site – especially when I first learned about affiliates after a year of blogging and had all sorts of links I hadn't converted. It made it very easy to convert them automatically before I could go in and adjust them myself.
Luz Perez Brown, founder of Willow and Jax, concurs:
I love that you don't have to set up accounts with each individual merchant to participate in affiliate linking, and how quick and easy it is to create short links for your projects.
Con #1: Payment delays
Skimlinks doesn't pay publishers until they receive payments from the merchant. From what we've heard, most publishers are paid in a timely fashion.
However, some publishers have targeted their frustration at Skimlinks despite the payment delay likely caused by the merchant. Consider this YouTube review:
We made over $2,800 with [our] affiliate site for June and we still didn't get [paid] after more than 3-months' profit…Support is just telling us that merchants haven't paid.
Jennifer Aspinwall, founder of the travel blog World on a Whim, cites similar concerns, though she also notes Skimlinks isn't too different from other networks:
I'm not going to sugarcoat it…it takes a while to get paid. But, most affiliate programs do.
This makes sense because as a subnetwork, Skimlinks is the last in a longer chain of payments. The merchants needs to pay the network, then the network needs to pay Skimlinks. So while the payments are reliable, they will take a little longer thanks to the extra layer involved.
Con #2: Publisher website lag
Some reviews cite issues with site speed after adding Skimlinks' Javascript code onto their site. World on a Whim's Aspinwal says:
The script will most likely slow your site down because it adds a lot of redirects to your blog.
But Skimlinks recognizes the snag and shows users how to troubleshoot the issue on their FAQ page.
Skimlinks Reviews
Skimlinks has plenty of online reviews to sift through on review sites like Trustpilot, Sitejabber, and G2. We picked some of the most insightful ones to give you a detailed look into the network.
One common denominator? Convenience.
Convenient to use, easy partnerships
Skimlinks is my favorite affiliate network platform. From a publisher's perspective, they make it super easy to monetize content. I don't have to join dozens or hundreds of individual brand affiliate programs, but can just use Skimlinks' line of code on my site and hundreds of links across articles turn into affiliate links. It really could not be easier. (I don't know of any other program that does this).
- Elizabeth Joy, Trustpilot
This is consistent from what we heard from our own clients, as well. Most people applaud Skimlinks' easy access to affiliate programs and quick implementation. These similar reviews paint a more comprehensive picture:
Skimlinks is such an easy way to monetise your links. As there are so many merchants on Skimlinks, it means you can monetise your content easily and conveniently, without working from loads of different affiliate marketing platforms. The set-up was super easy, and Tyra was so helpful. She responded to any of my queries quickly and thoroughly. I can't recommend Skimlinks enough!"
- Sarah Sarsby, Trustpilot
I've been using Skimlinks for a year now and found it very easy to use, I just installed their JS and then I don't have any other technical thing to do. Just write about the products I recommend. They have a large range of merchants to work with and found it useful to try new ones and see what works best.
- Jay C., Sitejabber
Solid reporting features
Skimlinks' analytics and reporting features are top notch. I'm part of over 10 different affiliate networks and Skimlinks is far and away the most user friendly and useful! I always recommend Skimlinks to anyone with a blog that's interested in monetizing with affiliate marketing.
- Elizabeth Joy, Trutspilot
We took a look at Skimlinks' performance metrics and we agree with Elizabeth. The platform shows you important conversion data that you can filter based on:
Date
Merchant
Page
Link
Site
Device
Country
Product
Plus, we love the historical data and user-friendly visualizations of the affiliate performance.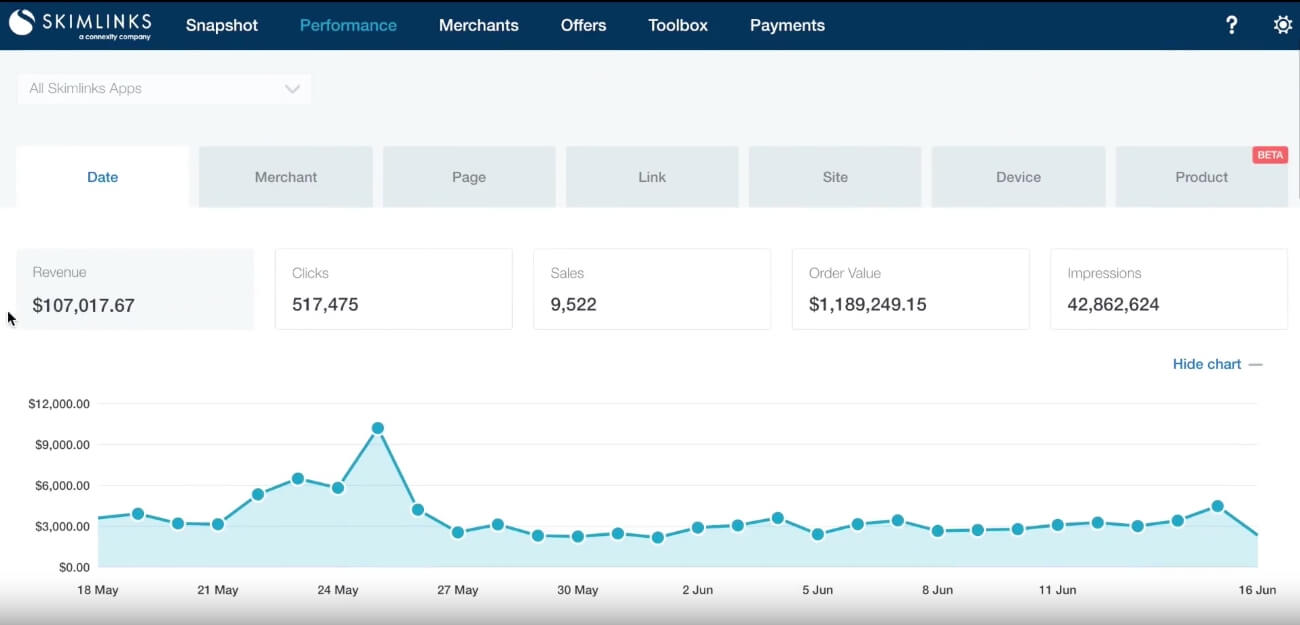 We did notice one odd review craving even more from Skimlinks when it came to performance data:
I suppose the search function within the analytics section could improve a bit, as sometimes unrelated items crop up in a search for something specific.
- Verified User, G2
We can't blame Skimlinks for being comprehensive though. Verified User from G2, if you're listening, you can hone-in on some of those metrics using Affilimate's Skimlinks integration! We'll keep tabs on all the data, whether you're curious about specific links, partnerships, or even user behavior on your site.
Slow(ish) customer support
Unfortunately, we noticed a few reviews that cited inadequate or tardy responses from Skimlinks' customer support team:
Skimlinks is a renowned and good affiliate network. Although, I have an issue. I'm an experienced affiliate marketer, and I tried to contact the Skimlinks team regarding info about registering as a publisher, but I didn't receive an appropriate reply from the support team. I will try to contact again soon and I hope this time I'm provided the details I want.
- Faraz Zia
Clapperton from ottawathingstodo.com agrees, adding this about Skimlinks customer support:
Mediocre. They're fast to respond but not super helpful.
Supporting over 60,000 publishers is no small feat. At the very least, their comprehensive help center should resolve most of the general account questions that publishers typically write in about.
Is Skimlinks the affiliate network for you?
Whether you're in the travel, automotive, lifestyle, or finance content affiliate niches, Skimlinks offers 48,500 merchant programs that you can choose from.
Diversity? Check. How about payment? While we give Skimlinks props for competitive commissions, we caution affiliates to prepare for slower payment times compared to other networks.
So is Skimlinks worth the time and effort? For access to exclusive rates and programs, we think so. While you might notice some reviews citing issues with payment schedules and Skimlinks' high pay cut, the network has a proven track record of improving affiliate marketers' cash flow and helping them take their business to the next level.
But even the most enthusiastic Skimlinks affiliate marketers drill down into the performance data themselves. With Affilimate, you can, too!
Affilimate's Skimlinks integration helps you see exactly which Skimlinks partnerships are and are not providing that ROI. We package all the hard-to-capture data for you in an intuitive graphic, so that you can actually visualize your next move. Check out our integration guide to learn how to get the most out of Skimlinks with Affilimate.
Now that you're signed up for Skimlinks and ready to make the most of the network, your next step is to use the Affilimate integration to see how readers are engaging with your affiliate marketing site, maintain your affiliate links, and focus on revenue.
Ready to get started? Claim your 15-day free trial.