7 Best Niches for Affiliate Marketing in 2023: Expert Tips & More
By Chrissy Kapralos · Updated Jan 28, 2023
Tom Cruise always plays the cool guy action lead — is he being typecast? Or does he recognize his perfect niche?
You might wonder the same when deciding on the best niches for affiliate marketing. Do you go for the safe, consistently in-demand finance niches? Or do you follow your heart and stick with your travel blog?
Turns out stability isn't the only factor crowning the top niche for affiliate marketing. The beloved action genre isn't the only reason Tom Cruise is successful — he brings something to the table, too.
Similarly, deciding how to choose a niche for affiliate marketing involves several factors:
Evergreen niches: Sometimes, boring is good for business. Steady income, consistent demand, and necessity make a niche evergreen. These niches usually aren't interrupted by hot fads, trends, or seasons. For example, people always need accounting services. Even if they're more sought-after in April, the demand is constant throughout the year.

But while evergreen niches are almost always ideal, some experts see situations where it isn't vital. Reuben Lim, owner of Fishing Sensei comments:
Whether to go for evergreen niches depends on your goals.
If you intend to sell your site in a few years, then your niche will only have to be viable until a few years after your website is sold (so that buyers will want to purchase your site).
High-ticket affiliate commission: Some products have higher commissions than others. You'll make more referring readers to legal software than to a kitchen whisk — that's just how it is. Of course, it's sometimes about the distributor as well as the product. Amazon and eBay are known for low commissions, ranging from 1%-5%, while some stores like Wayfair and Sweetwater have commissions ranging from 7%-15%.
High-intent buyer keywords: Not all keywords are equal. Low-intent keywords are plugged into Google at the start of a buyer's journey. These are window shoppers, not buyers. In contrast, high-intent keywords (also known as high commercial-intent keywords) signify a buyer's priming for purchase.
A niche you're an expert in: If you want readers to buy your products, they should trust your insights. And if you're a proven expert, it's hard not to.
Here's what Inês Nunes, founder of RandomTrip.net had to share about how being a subject-matter expert can benefit your affiliate marketing business:
Being a subject-matter expert makes all the difference in the long term.
It makes it easier to differentiate yourself from competitors and grow a loyal community (so you can depend less on organic or social channels in the future).
Trusted sources are also more likely to link to your content if you position yourself as an expert.

What if you're not an expert but willing to learn? Some experts see subject-matter expertise as helpful but not essential.
Charles Floate, founder of the marketing blog CharlesFloate.com shares some tips for non subject-matter experts to become successful affiliates:
The truth is that most successful affiliates don't need much specialist knowledge.
You can learn expert skills with enough research. Plus, there's the power of outsourcing. If your keyword research skills are finely tuned, hiring out your content production is the fastest and most efficient way to scale.
And here's what Ryan Becker, Head of SEO at Way.com thinks:
You don't need to be a subject matter expert, but you should at least work with subject matter experts or have them write your content.
Now let's look at how to pick a niche for affiliate marketing. (We know you're wondering.)
We've compiled some of the best affiliate marketing niches, and the unique benefits of each. Let's dive in!
1. Travel
Travel content is everywhere these days. If we had to guess how many travel blogs exist in cyberspace, we'd probably be looking at the millions — talk about competition.
What RandomTrip founder, Nunes says is a clear example of the difficulty that a travel blogger has to face when competing with other content creators in the same field:
To be successful, you need to conduct tons of research, visit destinations, get good pictures, and turn that into content that's unique from all the published content out there.
And many people create travel content, making it difficult to position yourself and get traffic, especially for popular destinations.
Plus, travel is far from evergreen. It's filled with seasonal peaks and valleys, vulnerable to world events like COVID-19 and regional natural disasters like hurricanes.
So why would we include travel as one of the best niches for affiliate marketing?
Travelers benefit from tons of products and services, which gives you an immense variety of high buyer-intent keywords to choose from. You also get to work with programs with higher-ticket items. First-class airline tickets, anyone? How about unique accommodations?
Once again, Inês from RandomTrip shares her insights:
The travel niche features strong and professional affiliates to work with.
Plus, travelers shop for accommodations, car rentals, flights, insurance, clothes, gear, credit cards, and more, giving you lots of options for affiliate programs.
Examples of keywords ranked in this niche:
"things to do in san diego" - KD 39, Volume 108K
"best hotels in vegas" - KD 34, Volume 20K
"flights to miami" - KD 52, Volume 111K
"rv parks near me" - KD 74, Volume 222K
Competitiveness: High (High Volume, Medium-hard KD, DR 50+)
Profitable travel affiliate programs
Top highly ranked affiliate travel websites
2. Beauty and Skincare
Ready for your closeup? Zoom in on the beauty industry, which reached $534 billion in revenue in 2022. Makeup artists, hair stylists, and Sephora enthusiasts have taken Instagram and TikTok by storm, sharing affiliate links while giving quick makeup hacks, skin cream comparisons, and expert tips.
But you better demonstrate serious credibility when discussing these products. We're not talking necessarily about academic credentials. You can be an average gal, but you better know your Caudalie from your Dermatologica. Research won't be enough — these days, readers want to know you've actually tried these products before they act on your recommendation to buy. That's why visual affiliate accounts are so effective for beauty and skincare products.
The beauty niche offers ample commission opportunities, ranging from 5%-10% for Sephora and Ulta, and even higher for Mac and Elf. Plus, you can rank for high buyer-intent keywords, with users seeking reliable advice about a product to inform their purchase.
Sure, some of these brands are pretty budget-friendly. But have you ever browsed for a solid moisturizer or foundation at Sephora? These shoppers have a higher average order value.
Is beauty an evergreen niche? We think so. While makeup and beauty trends go out of style, the underlying sentiment doesn't. People want to feel good about themselves, and beauty products help them do that. While heavy makeup may have appealed to more people a decade ago, the same companies that made those products are still around. They just sell more "hydrating" or "natural-looking" products to meet today's au naturel trend.
Examples of keywords ranked in this niche:
"eye shadow looks" KD 15, Volume 39K
"gel x nails" KD 21, volume 44K
"best self tanner" KD 41, volume 42K
"best vitamin c serum" KD 66, Volume 44K
Competitiveness: Medium (medium to hard KD, high traffic volume, DR 50+)
Profitable beauty and skincare affiliate programs
Top highly ranked affiliate beauty and skincare websites
3. Finance
Finance is evergreen because there is so much need for good advice. Credit cards, loans, investment products, and insurance are essential to day-to-day life. And if you can produce expert-backed content about these topics, you'll bring serious value to your readers.
But you'll fight tooth and nail for their attention.
Finance is an incredibly competitive niche. Sizing up authorities like NerdWallet and Forbes Money for buyer intent keywords is difficult, even if you're a subject matter expert.
On top of that, Google categorizes finance topics as "Your Money or Your Life (YMYL)" content, demanding demonstrated credibility and brand authority. If you don't meet that requirement, you'll get swept up in Google's back pages — where new brands go to die.
But with brand authority, patience, and serious targeting efforts, finance affiliate programs bring enormous rewards.
Filippo Ucchino, Founder of INVESTINGOAL, writes from the experience of a Forex specialist and has partnerships with programs like XTB, who offer $600 CPAs for certain countries. He shares his thoughts:
You have a niche full of high-ticket products at your disposal, with an EPMP (earnings per thousand page views) of even more than $700 and the possibility of ongoing commissions that raise the value even further.
Examples of keywords ranked in this niche:
"payday loans" - KD 88, Volume 280K
"car insurance quotes", KD 78, Volume 128K
"best cash back credit cards", KD 77, Volume 34K
Competitiveness: Very High (hard to super hard KD, DR 70+)
Profitable finance affiliate programs
Top highly ranked affiliate financial websites
4. Health and Fitness
The health and fitness niche is highly competitive and saturated with experts and ostensible experts alike. While evergreen, this giant niche is difficult to break through. Reuben Lim from Fishing Sensei comments:
A beginner is less likely to succeed in a big niche like health because they lack the skills and knowledge to keep up with the big guys.
Our advice? Seriously narrow down on a sub-niche if the health and fitness niche appeals to you. "Healthy eating," for example, is vastly competitive. A better option might be to look at specific diets like low-carb (keto) or vegan — though those are still relatively competitive sub-niches.
Sub-niching down applies to fitness, too. Fishing Sensei captures tons of affiliate links on its blog, narrowing down their audience to those who enjoy outdoor fitness activities, particularly sports like (you guessed it) fishing.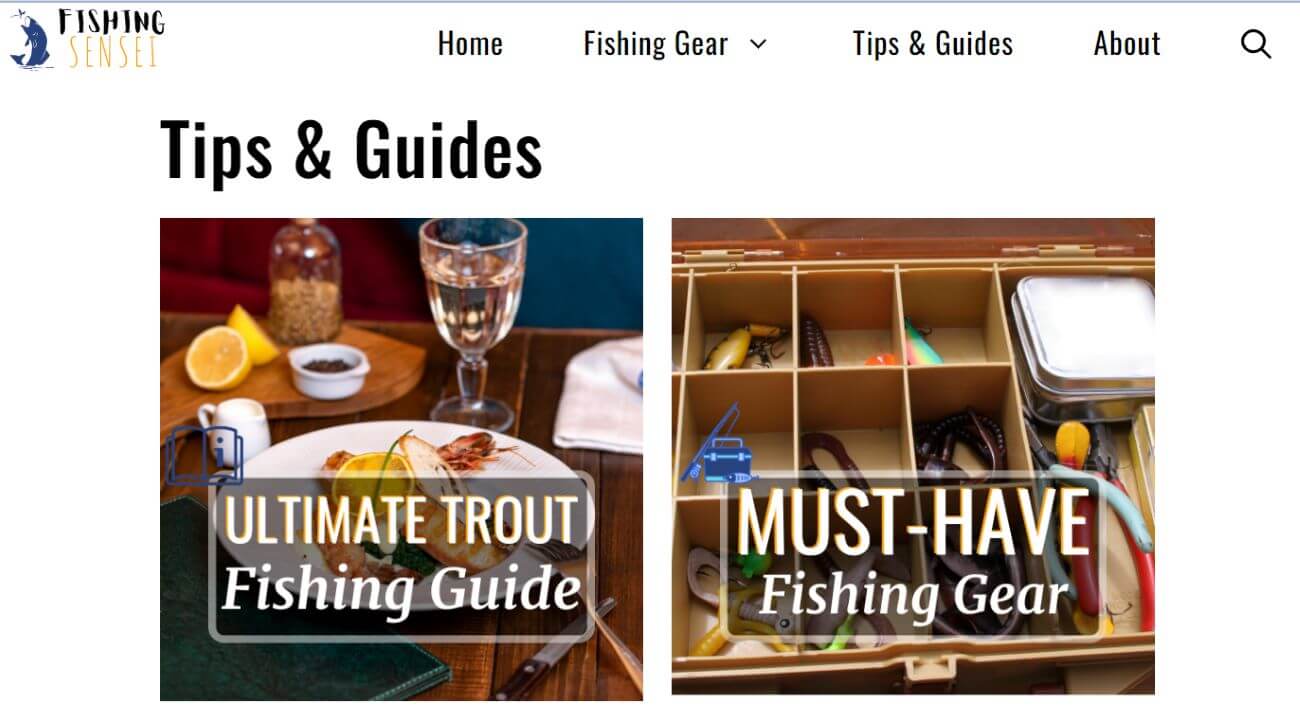 Commissions won't be high on food items — you'll promote Amazon tongs and blenders that'll fetch you only a few bucks (or cents) for each sale. Womp, womp. But if you have a solid SEO strategy and credibility in your sub-niche, those few bucks will quickly add up.
Meal kits have grown more popular lately, however, and they may lead to greater profit.
For example, MealKitComparison.com does a fantastic job leveraging an up-and-coming sub-niche by comparing multiple products — which means multiple affiliate links.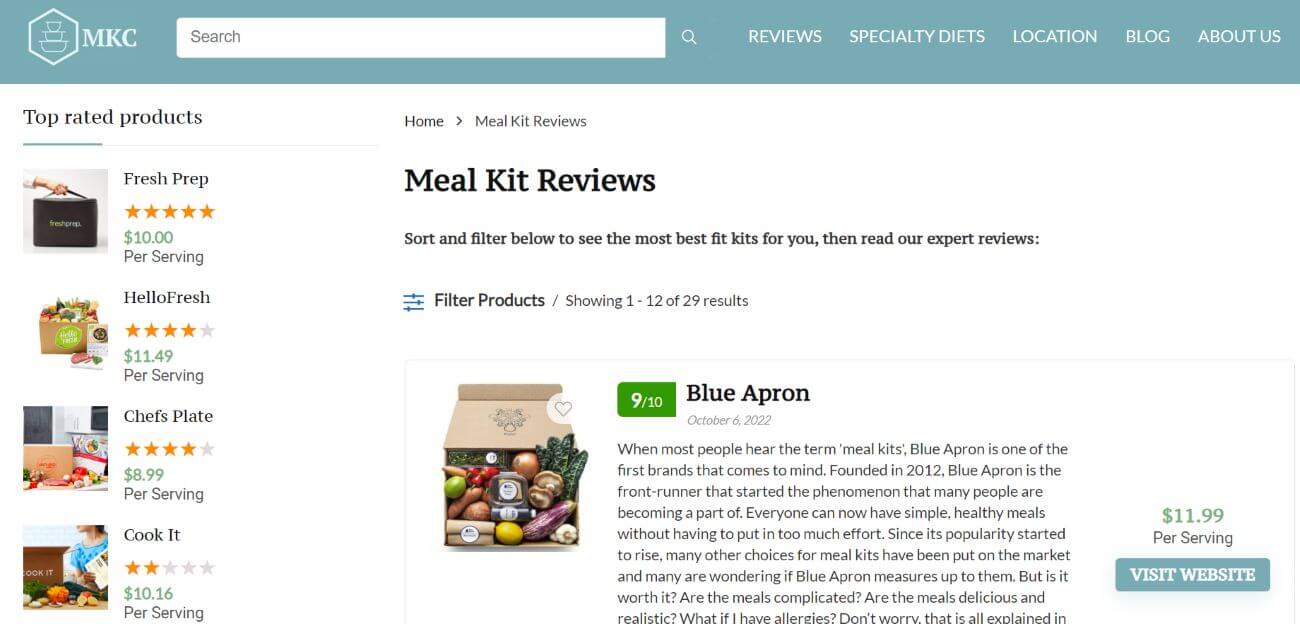 Now, commissions might be low in food niches, but they start to climb for health and fitness. For example, exercise equipment demands higher order values, allowing you to make more affiliate revenue. A 5% take home on a $500 ab machine starts to look better than what you'd get on the $5 pair of tongs.
And for high commission rates off the top, supplement affiliate programs are your friends. You're looking at upwards of 30% in commission, and supplement bottles can get pricey.
Examples of keywords ranked in this niche:
"high fiber foods", KD 78, Volume 175K
"best keto snacks", KD 34, Volume 10K
"best cbd oil for dogs", KD 42, Volume 4.6K
"yoga pants", KD 38, Volume 127K
Competitiveness: High (hard-super hard KD, high volume, DR 70+)
Profitable health and fitness affiliate programs
Top highly ranked affiliate health and fitness websites
5. Education
Remember when Elon Musk described college as fun, but not for learning?
He discounts the value of traditional academic institutions, describing how the modern learner can achieve an education through YouTube and Reddit.
The e-learning market caught on by offering more and more non-traditional education methods, surpassing a $315 billion market value just last year.
And the sheer variety of courses lends itself nicely to abundant buyer-intent keywords.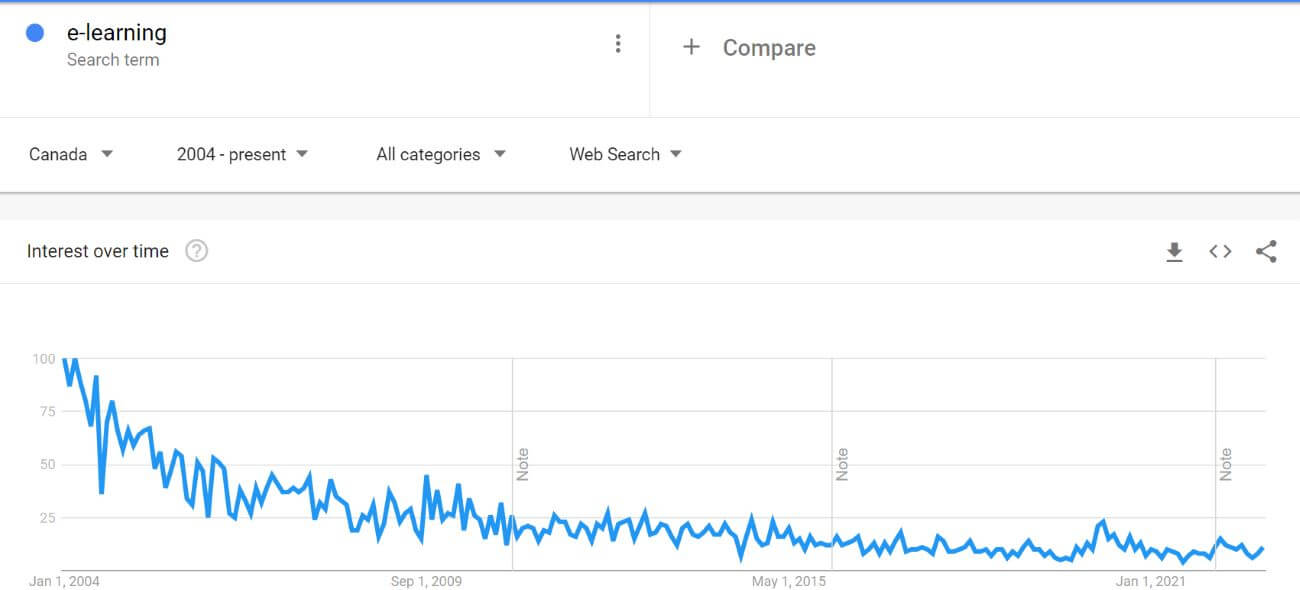 With the exception of the 2004 dip, e-learning has had consistent demand and interest in the last fifteen years. Hello, evergreen!
Platforms like LinkedIn Learning, Udemy, and Coursera love using affiliates to garner more course sign-ups. And they're high-ticket programs, rewarding marketers with impressive commissions. LinkedIn Learning pays 35% per sale, while Coursera goes as high as 45%. And if you're after language affiliate programs, Rocket Languages' commission can reach a whopping 70%!
Here's what Alex Elkhoury, Growth Manager at VentureKite, a digital media company with a 12-website portfolio, has to say about the competitiveness in education niche:
Online learning has been the most lucrative yet challenging affiliate vertical for our programming blog, Hackr.io.
Highly saturated and highly competitive, this space can be difficult to navigate for new players but has room for those willing to put in the work.
So, let's talk about that work. For a piece of the education affiliate revenue pie, your brand must dress to impress. For example, MasterClass won't accept affiliates that rank for words like Download, Torrent, or Coupon. Udemy demands at least 1,000 monthly web visitors and 1,000 social media followers.
Examples of keywords ranked in this niche:
"acting classes near me" - KD 12, Volume 31K
"por vs para" - KD 18, volume 17K
"best online course platforms"- KD 66, volume 900
"how to become a consultant" - KD 39, volume 2.2K
Competitiveness: High (high KD, medium-low traffic, website DR 50+)
Profitable digital education affiliate programs
Top well-ranked education affiliate websites
6. Luxury Fashion
Luxury affiliate programs don't offer immense commission rates like education, but the average order value is much higher. What's better: 8% on Jimmy Choo's $700 Romy stilettos or 10-35% on Coursera's $70 certification?
But fashion is far from evergreen, no matter how much Kim Kardashian might protest. For example, COVID-19 hit luxury designers hard in 2020. Salvatore Ferragamo dropped $377 million in sales; Nordstrom closed 16 stores.
So why does luxury fashion come up in our list of affiliate marketing niche ideas?
Luxury keywords have low-to-medium density, making luxury fashion a less competitive niche for affiliate marketing. However, you're also dealing with a smaller audience — meaning less traffic, but perhaps more quality visitors.
Steve West, founder of EntrepreneurNut, shares his thoughts about what narrowing down your niche can do to help scale your affiliate business and improve conversion rate:
As you narrow down your niche, you will, of course, scale down the size of the overall market you're aiming to help.
A lot of newbies would think this is a bad thing, but the opposite is actually true.
The more we can define our niche and, therefore, our target audience, the more we can tailor our message to speak directly to these people.
This is one way we can help improve our conversion rate when the time comes to sell products.
What do luxury shoppers love more than anything? Exclusivity. That means a smaller audience is A-OK as long as they're willing and ready to spend. Our advice is to hone in on your niche research here and create highly targeted content for your luxury audience.
Examples of keywords ranked in this niche:
"louis vuitton purse", KD 21, Volume 305K
"paul smith socks", KD 0, Volume 161K
"cartier love bracelet", KD 22 Volume 130K
Competitiveness: Medium (low-medium KD, high volume, DR 60+)
Profitable luxury fashion affiliate programs
Top-ranked affiliate luxury fashion websites
7. SaaS and Digital Products
The beauty of digital products is they often have subscription models. We're talking recurring commissions, buyer intent keywords, and high commission rates in the booming SaaS and VPN industries. Cha-ching — every month.
All the services you once used in person have moved to the cloud. Plus, the rise of remote work has created a higher demand for new and old digital products alike.
Don't have a tech audience? It doesn't matter. There's probably a digital product that'll fix one of your audience's problems.
Take the travel industry, for example. If your audience is into vacation rental management, there's a whole host of software programs like Wheelhouse, Guesty, and Lodgify that automate and streamline some of that process.
How about content audiences? Who wouldn't like to generate more traffic and learn about SEO services like Semrush or Clearscope?
And if you're catering to an audience of fellow affiliate marketers? Affilimate's Affiliate program has a generous 20% recurring commission waiting for you.
Examples of keywords ranked in this niche:
"what is my ip" - KD 41, Volume 800
"how to make a website" - KD 95, Volume 27K
"what can i sell to make money"- KD 42, Volume 9.5K
"best print on demand sites" KD 45, volume 2.3K
Competitiveness: Medium (High KD, high volume, high DR)
Profitable digital products affiliate programs
Affilimate - Commission rate of 20% (recurring forever)
Semrush - Flat commission $0.01 to $200 per sale
Pipedrive - Commission rate of 33% (recurring 12 months)
Top highly ranked digital products affiliate websites
Picking a profitable niche is just the beginning
Bottom line? You have tons of profitable affiliate opportunities in niches like travel, finance, digital products, and more. But the best niches for affiliate marketing won't be the same for every marketer. Consider your interests and skills and how you can combine them with a profitable affiliate niche.
Looking for more ways to optimize affiliate performance? Start with niche research, but then jump in and put your theories to the test. Try out different products and see what resonates with you and your audience. But even with the right niche, you'll need some support managing your links and measuring progress.
We never had clarity on our affiliate revenue across all our 12 sites until we integrated Affilimate. In just one month of integration, we were able to discover simple opportunities that doubled revenue for specific pages.
Affilimate helps visualize your affiliate marketing, from analytics to clicks, revenue, and more. See for yourself — book a free demo today!