18 High Ticket Affiliate Programs to Scale Your Revenue in 2023
By Natalie Robin · Updated Sep 17, 2022
Over 150 blog income reports prove that high ticket affiliate marketing is a significant revenue generator for top earning bloggers and content creators.
Since the data shows that it's lucrative, you might be wondering, "How can I get started?" Well, it turns out that generating revenue through high paying affiliate programs is more challenging than you might think.
High ticket affiliate marketing is competitive: programs are very selective, and it requires building strong trust with your audience to actually convert sales.
In this post, we'll be covering high ticket affiliate marketing for beginners so that you can learn how to hone your efforts on partnerships with huge potential earnings.
Read on to learn:
What is high ticket affiliate marketing?
High ticket affiliate marketing focuses on generating revenue through affiliate programs with high commissions.
Payouts for programs that are considered high ticket start at a flat rate of around $300, or 40% per sale, and can increase exponentially depending on the product.
This is because a higher Average Order Value (AOV) is one of the most effective levers for increasing your affiliate sales.
In short, high ticket affiliate marketing programs generate higher profits from fewer sales, which is a much more efficient way of selling.
However, it also requires a refined and targeted affiliate strategy to be successful.
Data shows that 95% of brand new affiliate marketers fail to actually convert sales. And with expensive affiliate marketing items, it can be really difficult to make your first commissions.
This is because higher profits make selling affiliate marketing high ticket items more competitive than low ticket offers. And with higher costs also come more discerning customers, who want to weigh their options in order to make the best purchasing decisions.
This is why you need a strong content strategy in place to start high ticket affiliate marketing.
Developing a content strategy for high ticket affiliate marketing
The key to high ticket affiliate marketing is becoming a credible source in the eyes of your audience of potential buyers.
And one way to do that is through frequent, value-driven communication.
This aligns with what affiliate marketer Lisa Dietrich from Minikredite has found to be the best sales strategy for high ticket affiliate products:
People are more likely to trust a product recommendation from someone who's actually used it.
So by trying out the product, I build credibility with potential customers. It also shows that I'm not simply trying to make a quick sale, but am genuinely interested in helping people find the right product for their needs.
Hands-on, experience-based product reviews give you an edge for high ticket products because it shows the audience you know what you're talking about.
To give you another example, say you're a YouTuber promoting affiliate links for luxury handbags. You could create an informational video series talking about the pros and cons of different bag models.
You could critique different brands with the goal of educating your audience, and give them your honest opinion while placing relevant affiliate links and promo codes in the video descriptions.
By keeping your tone informative, you will build trust and set yourself up as an expert in your industry. As a result, your audience will refer to your links in the future when they're ready to make a purchase.
Here's an example video of this informational content strategy in action in the luxury goods niche:

In this content strategy, you're not trying to make a hard sell. Rather, you're building genuine relationships with your audience based on information that helps them make better purchasing decisions.
This strategy can be applied to all kinds of content channels, from Instagram, to TikTok, to email, and to your blog.
How to start high ticket affiliate marketing
If you're wondering how to do high ticket affiliate marketing, it's actually as simple as signing up to platforms and beginning to promote your favorite products.
This is why many online content creators gravitate towards affiliate marketing – it has a low barrier to entry.
But it's not without its challenges. Apart from high competition and selective programs, Max Benz, founder of Banking Geek, shared that the longer sales cycle can be one of the biggest obstacles:
One of the biggest challenges is the longer sales cycle.
With high ticket items, it can take weeks or even months for a sale to go through. This can be frustrating for affiliates who are used to getting quick commissions.
And since high ticket items have a longer sales process, there's often also a bigger chance of rejected commissions. This means that affiliates may get rejected for commissions more often than with lower-priced items.
You have to choose products carefully, and understanding the sales process, to be successful with high ticket items.
With this in mind, here are concrete steps to start high ticket affiliate marketing:
Step 1. Establish your brand
In order to join high ticket affiliate programs, publishers typically have to have an established platform, a quality body of content, and an engaged audience.
The requirements make sense, because without achieving these initial benchmarks, affiliates will have a hard time converting even low ticket offers.
Therefore, if it's your goal to target high commission affiliate marketing programs, focus on publishing relevant, high quality content on a frequent and consistent basis to build your audience.
Step 2. Apply to high ticket affiliate programs
Another caveat to high ticket affiliate marketing is that the requirements to join these programs are stricter than usual. Here are a few questions to ask yourself before signing up for your dream high ticket affiliate partnership:
Does my brand come across as professional? High ticket affiliate marketing programs are often run by industry-leading brands that need to uphold a quality content standard. Keeping their affiliate programs exclusive protects their reputation and brand image, and ensures that affiliate partners will actually convert sales. Before applying to high ticket affiliate programs, assess your content, the user experience of your website, and the quality of your writing to ensure that it's up to par.
Have I built trust with my target audience? As Max Benz shared, people typically take their time before purchasing high ticket items. This is why developing credibility in your niche is especially important as a high ticket affiliate marketer. This is where a strong affiliate strategy can guide you in the right direction.
How can I ensure my affiliate content ranks competitively? With larger commissions come more competition, so high ticket affiliate marketers have to be strategic about standing out from the crowd. Whether it's increasing your website's domain authority and targeting buyer intent keywords, or partnering with well-known content creators to establish credibility, getting creative with your marketing efforts can pay off.
Having an established brand and audience ensures that you'll be applying to programs with the strongest portfolio possible. You can find great high ticket affiliate marketing programs to apply to in this post below.
Step 3. Build Your Sales Strategy
There are many different strategies and traffic drivers that can help you to convert sales on affiliate marketing high ticket items. Choosing the right one will depend on the product you're promoting.
For example, when it comes to the best traffic sources for high ticket items, Bhujal Patel the affiliate marketer behind My Digital Kube has this to share:
Ranking organically with long tail keywords related to our products has worked really well for us, and it's relatively easy.
With high ticket items, you don't need a ton of traffic. You just need the right traffic. And that's why going for long tail, lower volume keywords can still pay off.
Another high ticket affiliate marketing example includes introducing your audience to a company's low ticket offer first in order to get them in the door.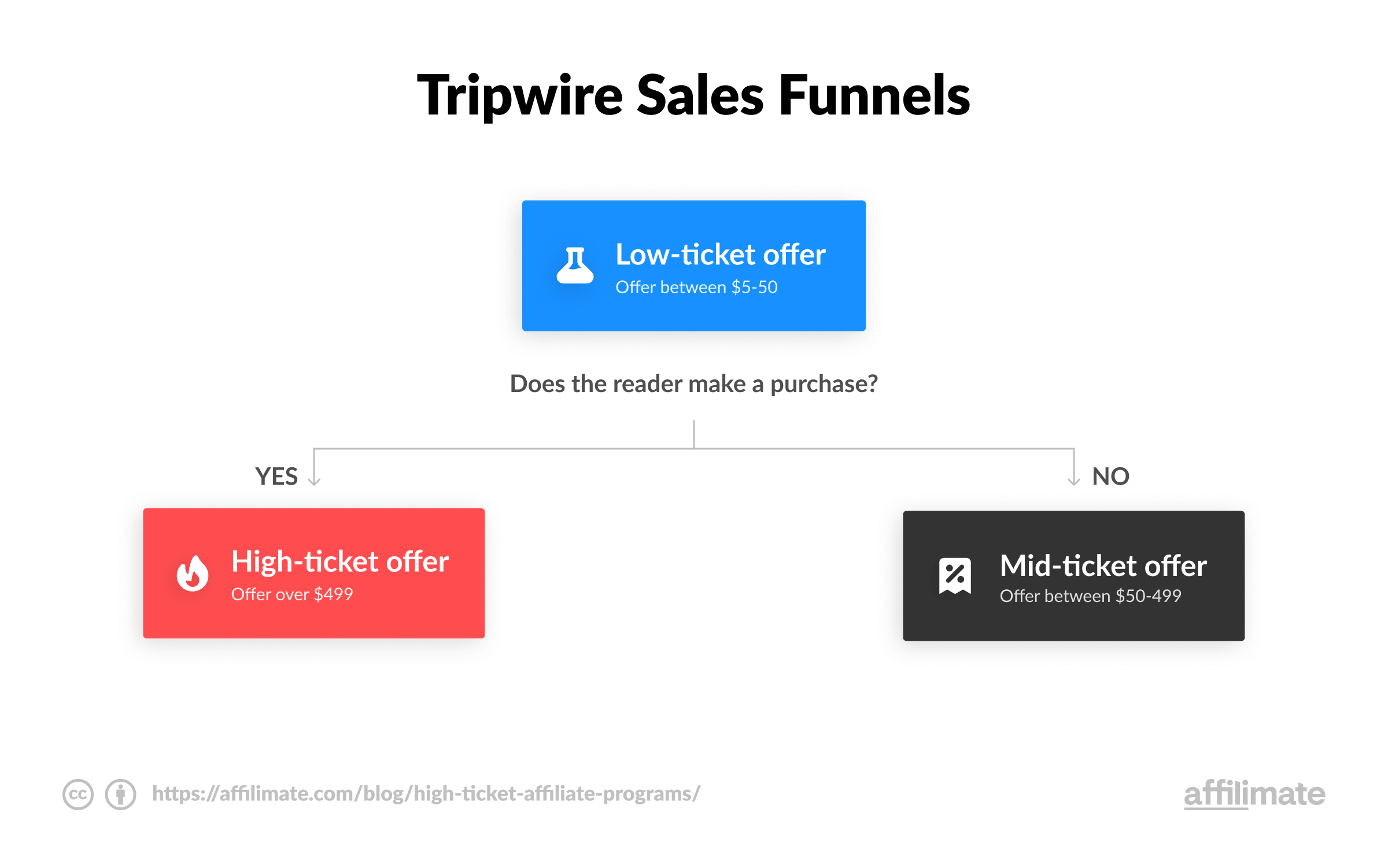 For example, say you're promoting a platform that offers SEO services. You could first create an email sales funnel that leads subscribers to a low priced SEO video tutorial.
Once they achieve positive results with that product, you can introduce them to the high ticket SEO online course that's run by the same company.
At this point, they will have already built trust with the brand through the low ticket offer, and will be more willing to purchase a high ticket product from the same brand.
By creating this kind of email sales funnel, you can organically introduce your audience to products that are relevant in a way that helps them achieve their overall goal.
Types of high ticket affiliate marketing commission structures
High ticket affiliate marketing programs have a variety of payout structures which can affect your earnings.
Understanding these commission terms will help you choose products that generate the most revenue with as little wasted effort as possible.
The different affiliate commission payment structures include:
Recurring commissions from subscription renewals. If you want to be as "hands off" as possible, then affiliate programs with recurring commissions could be a good fit
High percentage commission rates. If you primarily promote physical products, prioritizing items that have high commission percentages along with a high price tag can be a good focus.
High flat rate commission payouts. Promoting a product with a high flat rate can convert really well through an email marketing campaign. For example, an online education program, or a software product for small business owners.
Lifetime commissions. With lifetime commissions, you earn a commission on every purchase that a particular client makes, as long as they remain a customer.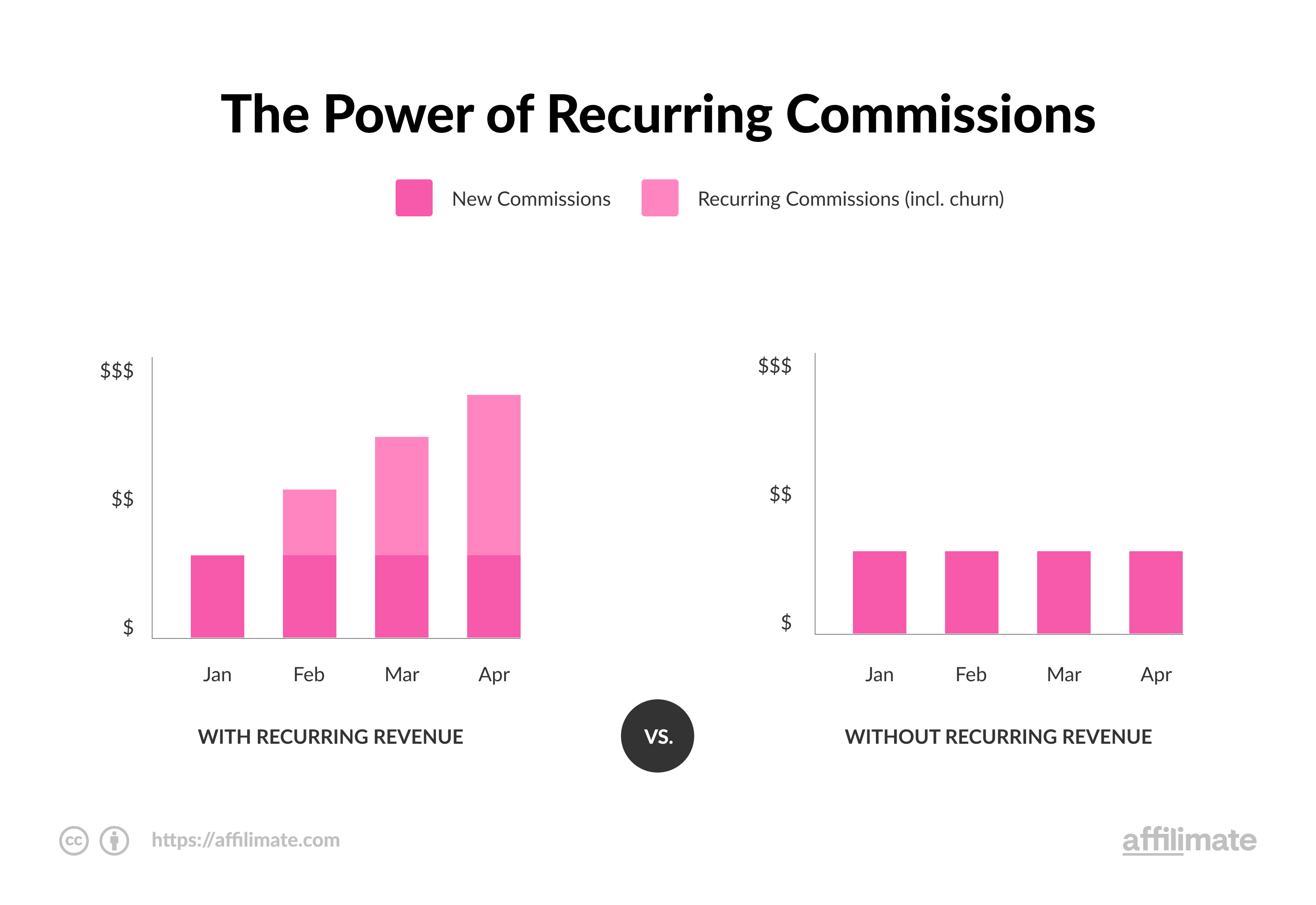 You can implement one or all of the above, but understanding these different payout structures will help you start high ticket affiliate marketing out on the right foot.
Best high paying affiliate programs
One thing is for certain: top earning content bloggers see the value in high ticket affiliate marketing, with 84% of online publishers creating content exclusively for affiliate marketing.
Revenue from high ticket affiliate marketing programs can range from a few hundred, to tens of thousands of dollars. This depends on the website and its niche, the strength of the content marketing strategy behind it, and how long the brand has been been established.
Ready to get started with high ticket affiliate marketing programs?
Here are some of the best highest paying affiliate programs from high converting industries:
Our first category is SaaS Platforms. Publishers in the business niche can promote SaaS platforms, which are known to convert exceptionally well.
This is in part because SaaS products are able to immediately serve an audience that's ready to purchase right away. Here's why promoting SaaS programs can be lucrative for affiliates:
Buyers commit to SaaS products for the long haul. SaaS affiliate programs perform really well because when people sign up, they typically intend to use it for a long time (ex: building a company website, developing a keyword calendar). For affiliate marketers, this translates to recurring monthly commissions on high ticket subscription renewals
SaaS platforms have enterprise-level pricing. SaaS platforms frequently have packages for individuals and large enterprises, with premium subscriptions priced in the tens of thousands of dollars.
High commissions thanks to great margins. Affiliates of SaaS products can earn thousands per sale thanks to the great margins of a digital product. SaaS affiliate programs also frequently pay commissions on a recurring subscription basis, which is an added benefit.
Semrush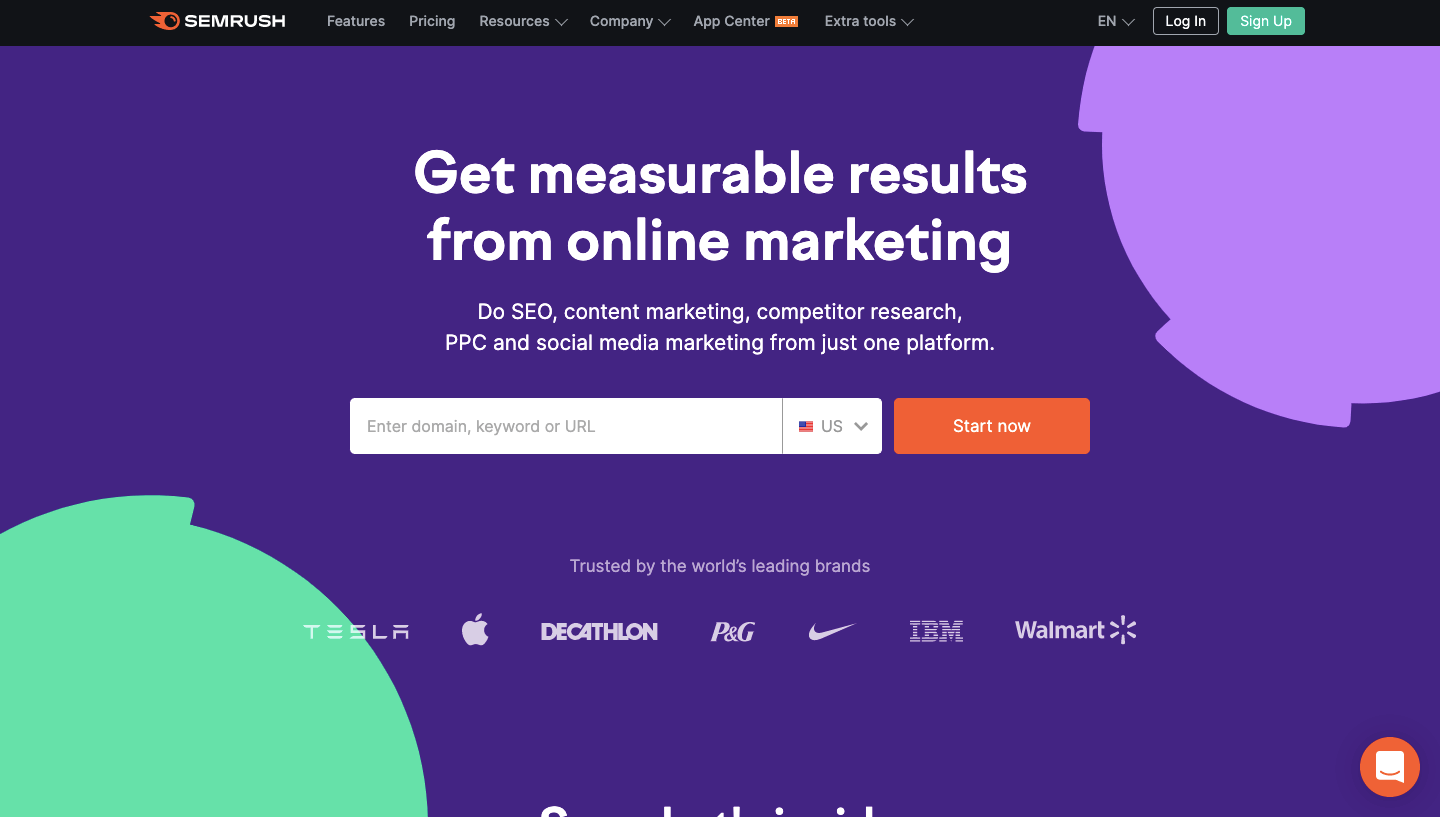 Semrush is a leading online visibility management SaaS platform that offers businesses around the world the opportunity to harness the full potential of search engine optimization, pay-per-click, content, social media, competitive research campaigns, and more.
The company boasts a roster of industry-leading companies including Tesla, P&G, and Forbes as clients. Subscription plans initiate at $129.95 per month.
Affiliates can partner with the Semrush program to earn a $200 commission per new subscription sale.
Here's what affiliates can look forward to:
Access an extensive array of comprehensive training resources
Utilize a diverse collection of pre-designed, high-converting promotional materials
Regular incentives and exclusive offers
A responsive and dedicated support team, and more
Semrush is one of the most trusted keyword and SEO tools on the market, which means that companies searching for their services will likely have already heard about them.
As Semrush is a familiar face among marketers, it makes their affiliate program easier to convert.
HubSpot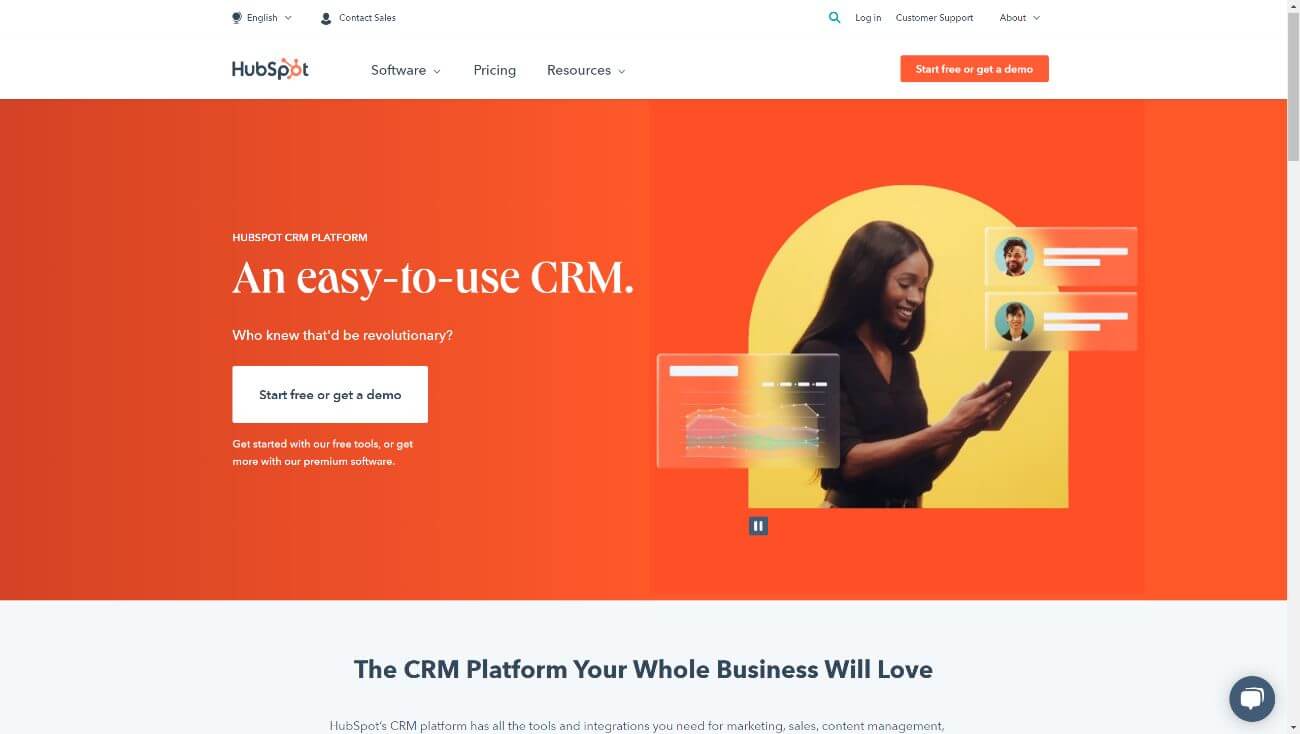 HubSpot is a digital services platform specializing in inbound marketing, and was founded by two MIT grads in 2004. Their services include a CRM platform, marketing hub, sales hub, and operations platforms.
HubSpot prices start at $18 a month for beginners, and increase to $3,600 a month for enterprises. Customers have the option to pay upfront, or commit to monthly payments for one year. The total price for an annual marketing package ranges from $216 to $43,200 a year depending on the customer's needs.
Hubspot affiliate program offers a commission of 30% on recurring sales, with a lengthy cookie duration, ranges from 180 to 370 days. Other exclusive benefits are also available once affiliates reached more than 100 new signups, and move to either of two premium tiers "Super Affiliate" and "Elite Affiliate".
Shopify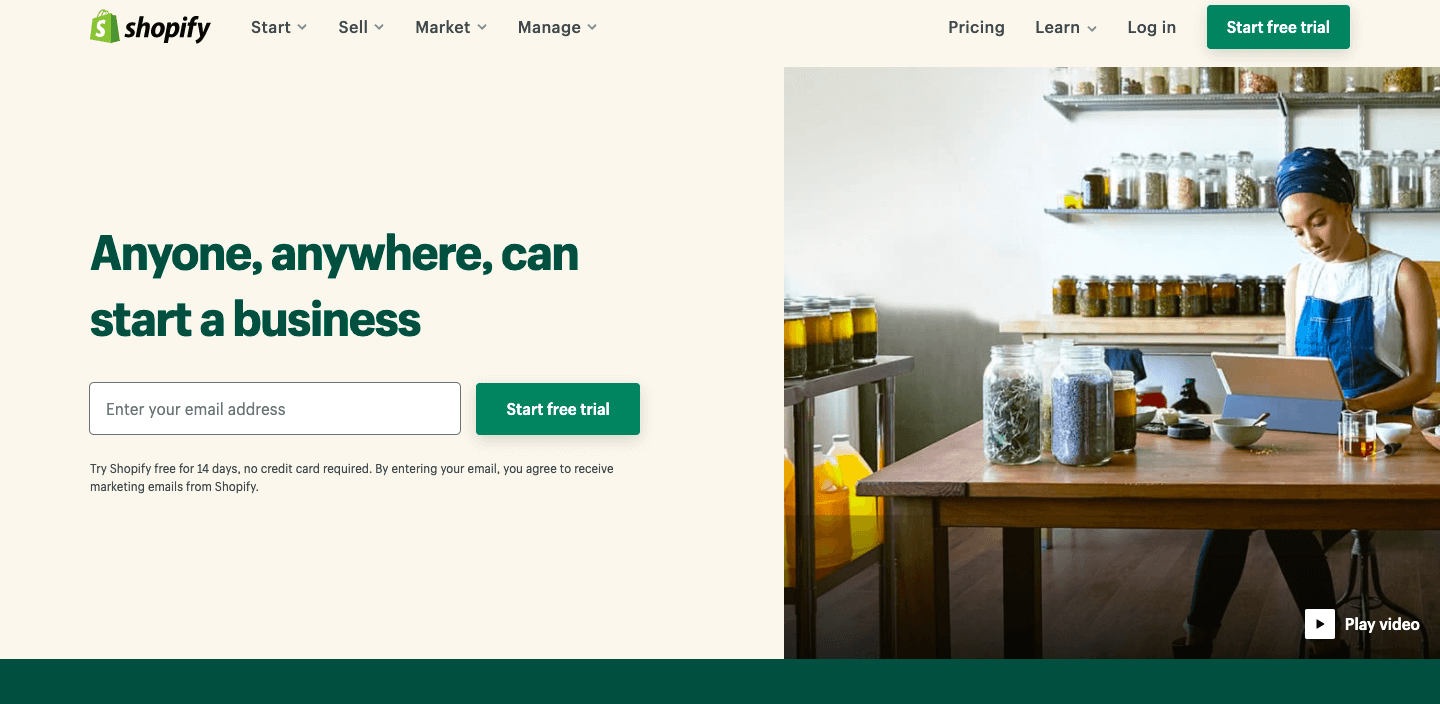 If you want to have your ecommerce store, you can either create one on your own or simply use Shopify! It is a great ecommerce platform for entrepreneurs who are just starting out, with a stellar affiliate program, too.
Affiliates earn an average of $58 per signup, but this is calculated in the following way:
Affiliates earn a 200% bounty for each successful merchant they refer to Shopify. This means that they earn 2x the monthly plan price selected by the merchant that they referred, after the merchant has been active for 2 months.
In short, your referral needs to stick around for at least two months for you to get paid, but once they do, you get two months worth of commissions as a single payout.
That said, commissions aren't recurring and if the referral buys an annual plan, you still only get the 2 months commission.
You'll be paid via PayPal, and the payment threshold is a low $25 to get your commissions.
ConvertKit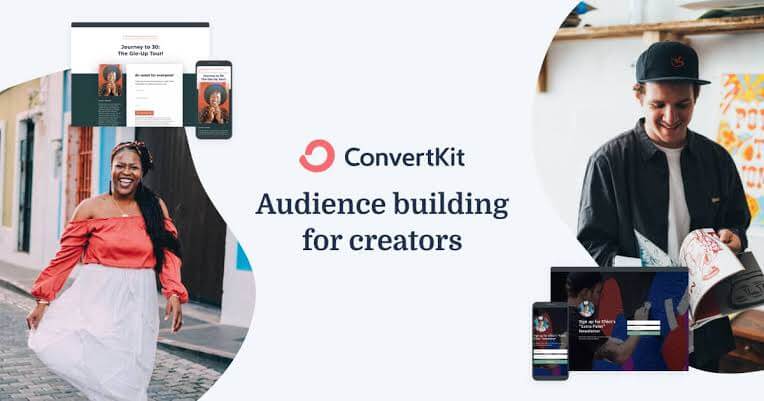 Program name: ConvertKit Affiliate Program
Network / Software: Linkmink
Commission: 30% recurring
Cookie duration: 90 days
Markets: Global
Alternatives: ActiveCampaign at 20-30% commission
ConvertKit is a popular email marketing platform that has quite a few interesting features. You can do everything from creating a basic landing page to sending a broadcast email to your list. It was built keeping creators in mind.
It's a dream tool for YouTubers, podcasters, and musicians. ConvertKit's paid plan starts at $9/month.
ConvertKit pays its affiliates recurring 30% commissions. Their plans are priced between $9 and $2,000 per month. It's one of the fastest-growing email marketing companies on the block.
Now that ConvertKit offers a freemium plan for up to 1,000 subscribers without certain features like automations, it might take you longer to see the ROI from this program. But teach your audience how to use ConvertKit's more advanced features, and you'll get a slice of every monthly payment they make.
Affilimate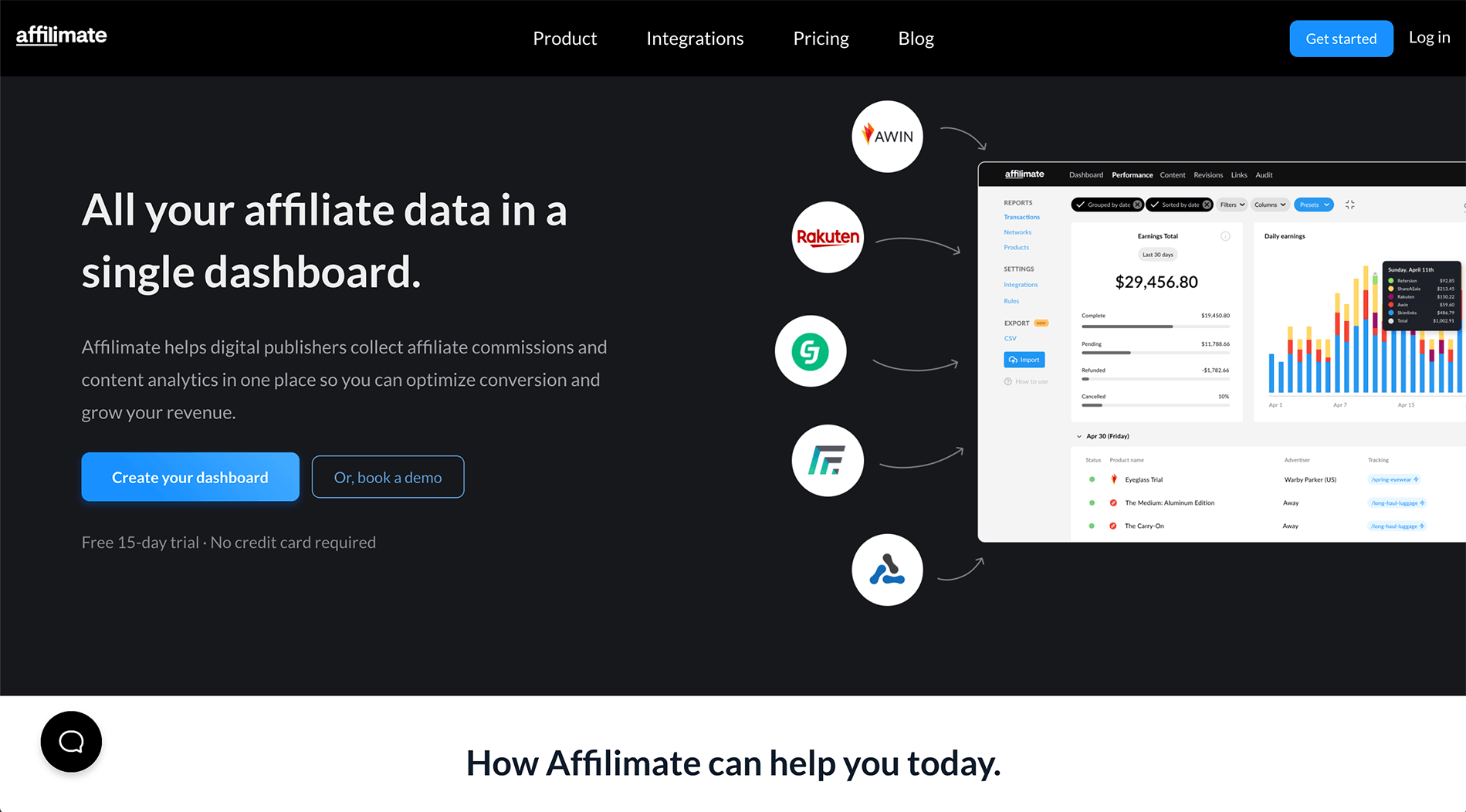 Got an audience of creators, affiliate marketers, or online business owners? There's a good chance that – like you – they're in a lot of affiliate programs. Collecting and analyzing data from all of them can be a nightmare if you try to do it with spreadsheets.
That's where Affilimate comes in. It aggregates your affiliate data and helps you run cross-cutting reports that connect your commissions back to the content on your site that actually drove the revenue.
And not only is the product a fit for affiliates, but commissions are a generous 20% recurring commissions, forever.
With plans ranging from $29 to $239 per month, you can net anywhere from $5.80 to $47.80 every month per referred customer for your first year. And if the customer buys annually, take that and multiply it by 10.
That's up to $478 per referred customer, up front.
ClickFunnels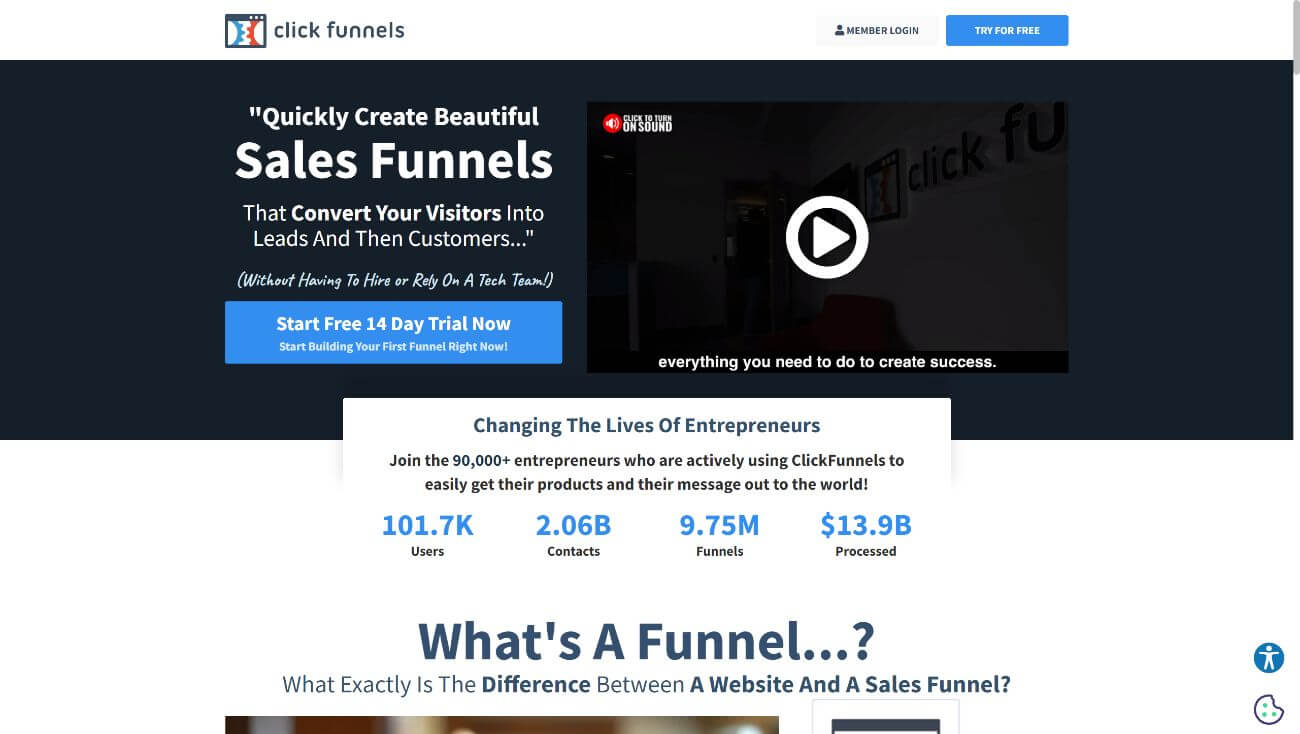 ClickFunnels is a US-based online marketing platform that makes it easy to create high converting sales funnels for online products and services.
You can use their platform to launch everything from ebooks, to webinars, to online courses.
The ClickFunnels drag-and-drop design system means that their platform is easy to use, even if you're not the most tech savvy, which is also a great selling point for affiliates.
Click Funnels sells its services on a subscription package basis ranging from $97 to $2,497 per month.
According to the company, many members pay for annual subscriptions upfront, which can reach several thousands of dollars. This also indicates that the products convert well.
With ClickFunnels, affiliates can earn recurring commissions of up to 40% each time a subscription is renewed, which makes it an advantageous high ticket affiliate marketing program for digital marketers.
ActiveCampaign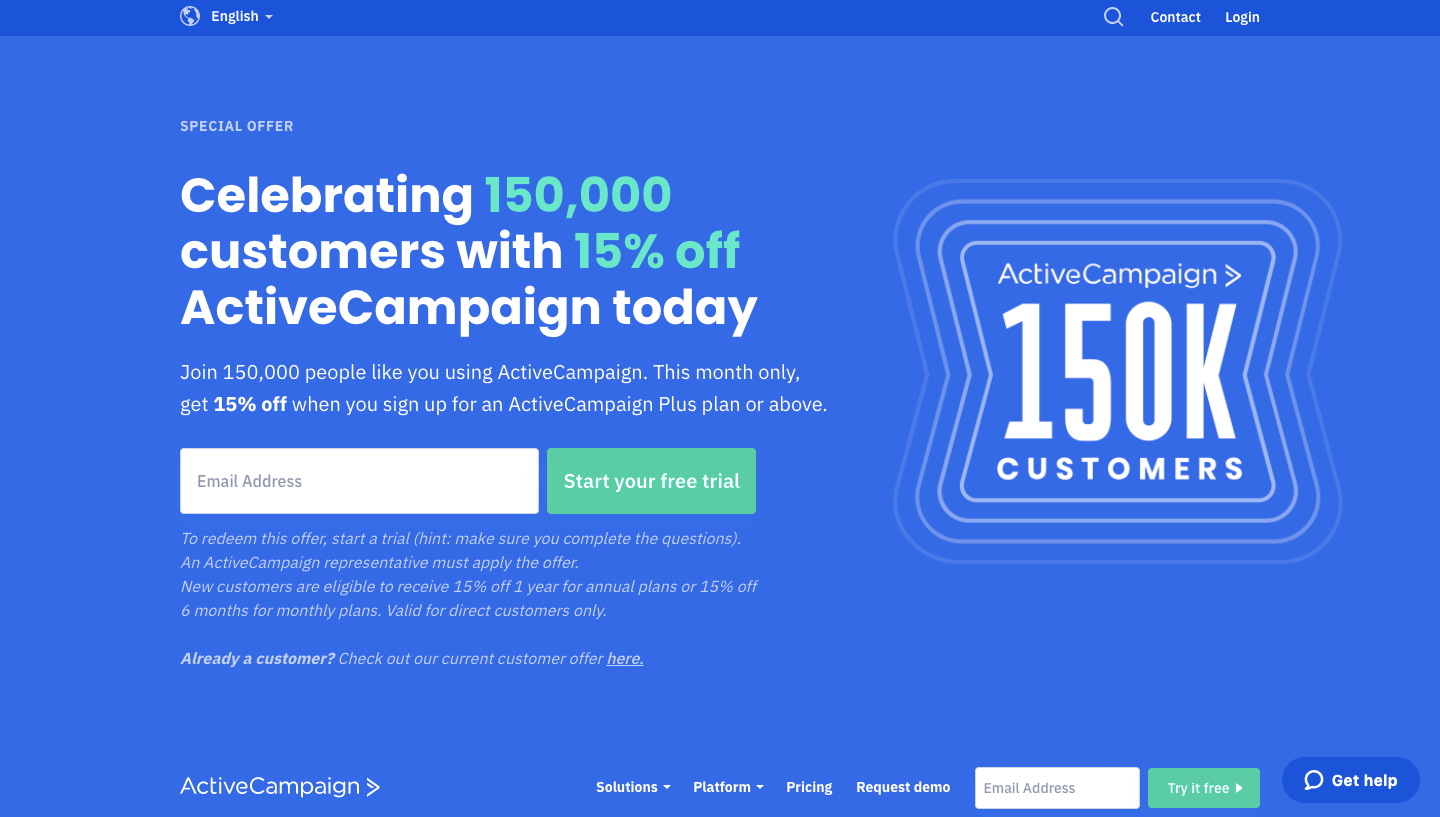 Program name: ActiveCampaign Affiliate Program
Network / Software: Direct
Commission: 20-30% commission
Cookie duration: Not listed
Markets: Global
Alternatives: Close at 10% recurring, ConvertKit at 30% recurring, or Pipedrive at 33% recurring for 12 months
ActiveCampaign is an automated customer experience platform that enables businesses to connect and engage with their customers through a simple yet powerful email marketing and contact management strategy.
It has a simple pricing plan that starts at $9 per month with limited email marketing features and automation. But for a bigger list, ActiveCampaign campaign costs scale up sharply. Especially if you want access to their more advanced features, such as the integrated CRM.
You can become an ActiveCampaign affiliate and earn up to 30% in commissions, with 20% as the base commission.
FreshBooks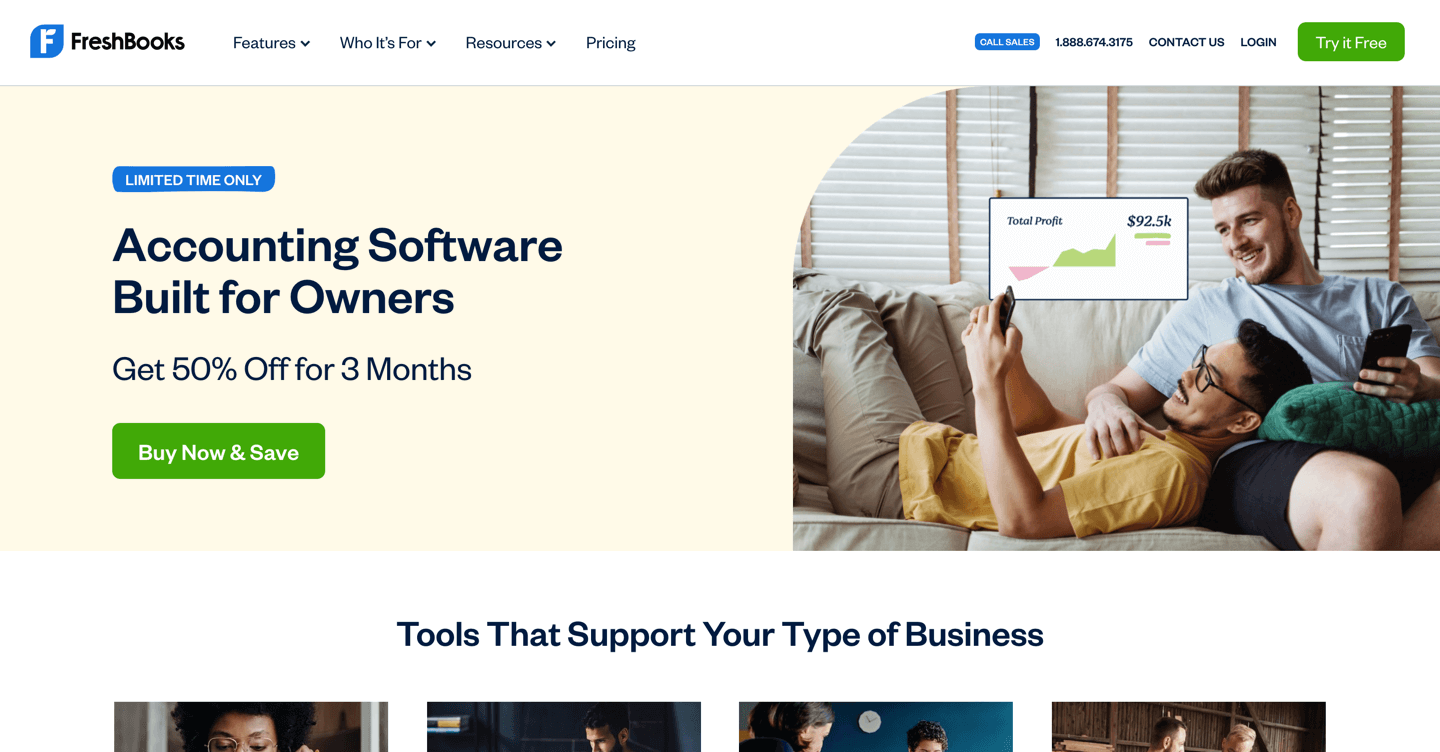 FreshBooks is a popular SaaS accounting solution that helps with automating invoicing, time tracking, expenses, and payment collection.
With FreshBooks, business finances can be managed from any part of the world. That said, it's most popular in the United States and with US-based businesses.
FreshBooks is user-friendly enough for businesses ranging from freelance writers to large corporations. Their Lite pricing plan starts at $15/month.
You can earn up to $10 per free trial, plus up to $200 for every paid subscriber.
Next up, online courses. Online courses also perform well, thanks to their ease of purchase, and high commissions. Here are a couple of reasons to consider promoting online courses:
High commission percentages and flat fees. Commissions for online courses are quite generous, often starting at 30% and increasing to a whopping 70% per referral. Flat fees for high ticket online courses start at several hundred dollars and increase from there.
Easy to promote. One of the highest converting ways to promote affiliate products is by sharing your own experiences. If an online course has helped you achieve results that your audience is also hoping to reach, you can share your perspective from an authentic point of view.
Teachable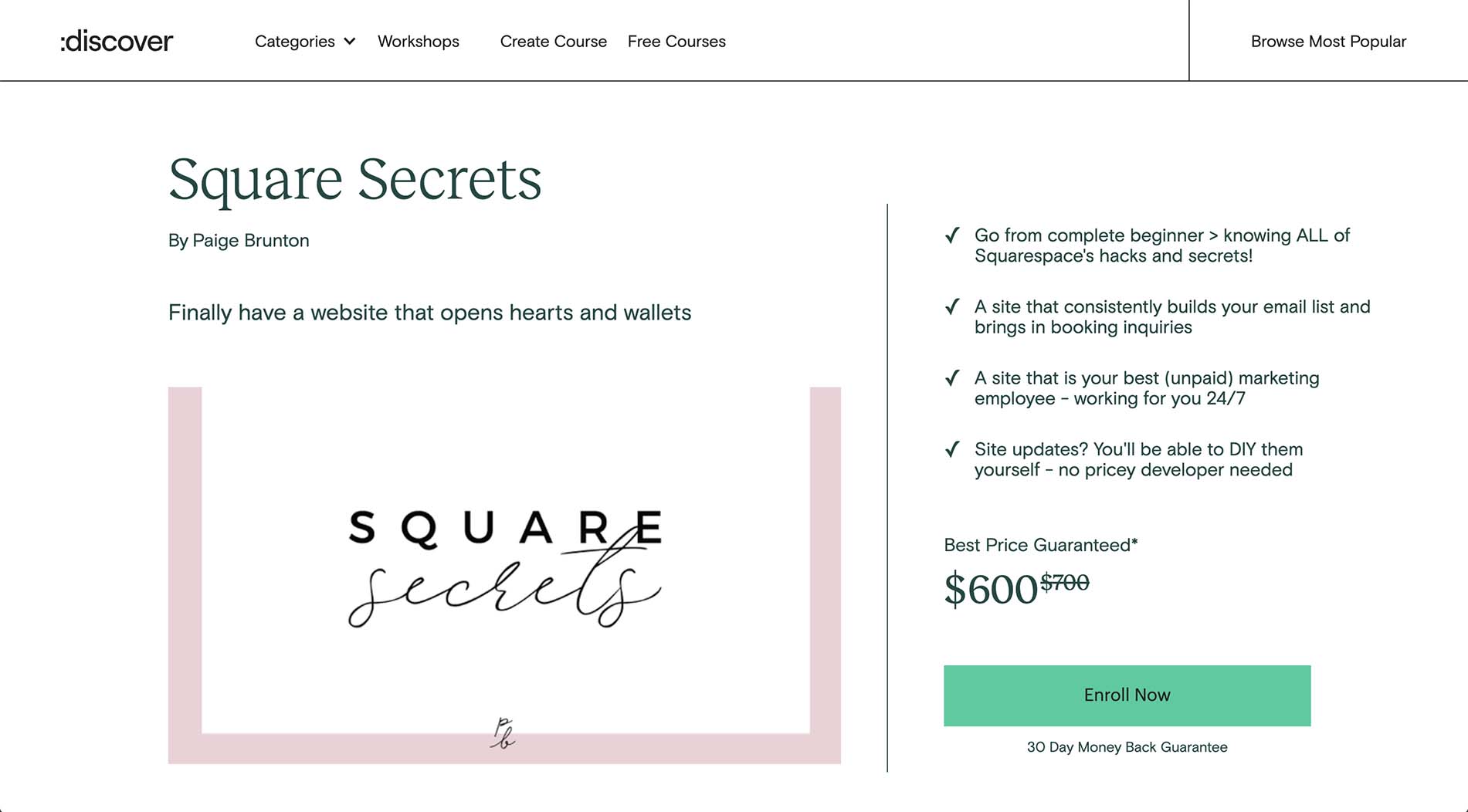 It is possible to promote Teachable as a software product, to an audience of course creators.
But beyond that, many Teachable course creators can run their own affiliate programs. Meaning, you can promote individual courses by Teachable instructors and earn a commission.
On one hand, this democratizes knowledge-sharing and allows for a wide range of courses. But this also means you must be careful to vet the courses you promote.
Teachable has a course discovery tool which you can use to discover Teachable courses in a bunch of different categories. Topics range from everything including fitness, investing, food, yoga, and more.
So no matter what topic you are covering on your website, there's probably a Teachable course you could try yourself and promote to your audience.
Note that not every Teachable course offers an affiliate program, and the terms can vary greatly between programs. Definitely check the individual course (or even email the instructor) before buying it if you are planning to write a review, and need to know the affiliate terms first.
Rocket Languages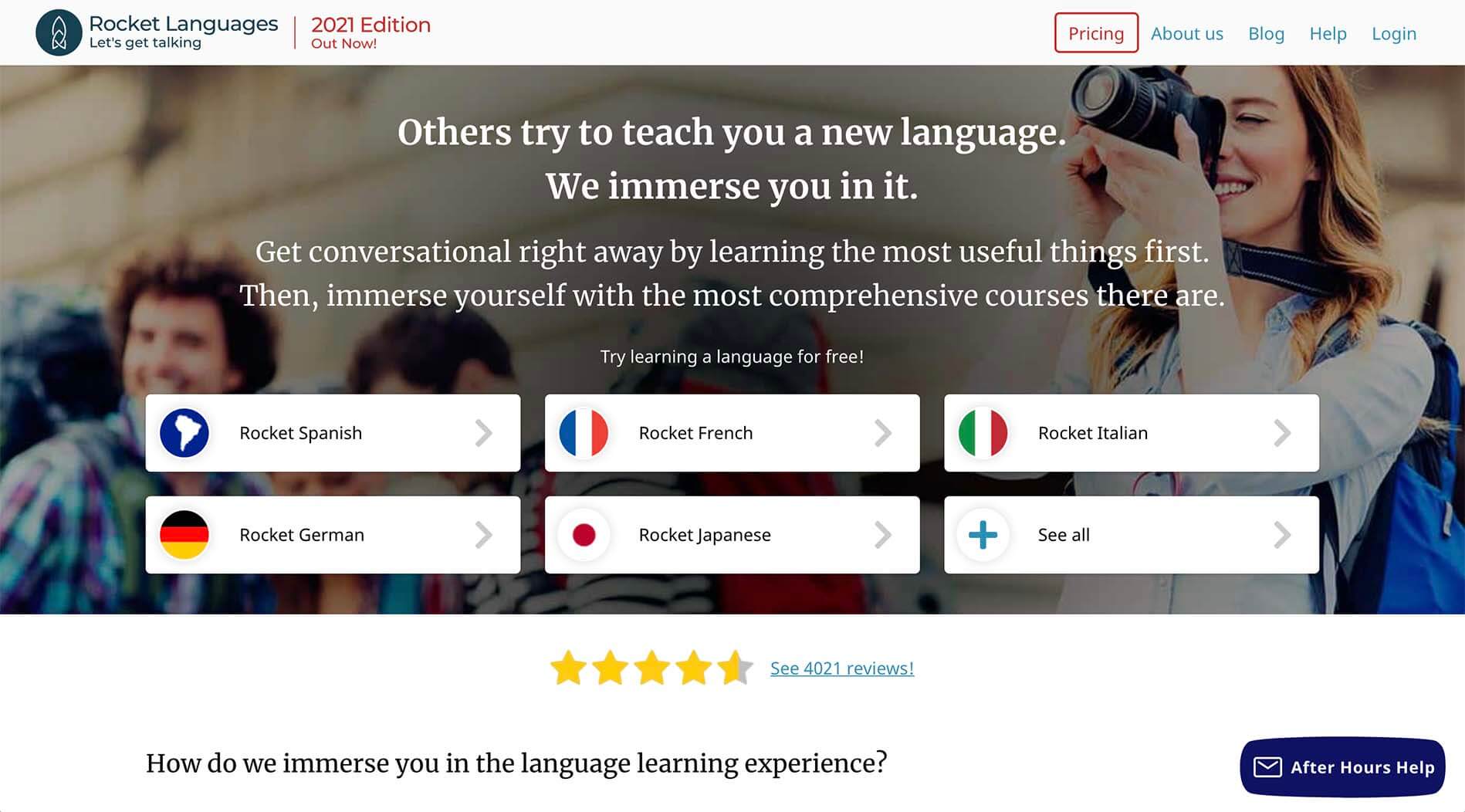 Rocket Languages is one of the most generous language affiliate programs and comes with a personal recommendation from one of Affilimate's customers and founder of French Together, Benjamin Houy.
Both the commission percentage and cookie duration are quite generous for the education industry and a high conversion rate is the cherry on top.
With their top courses priced at $449, your 40-70% commission rate can net between $179 and $314. Lower priced courses at $99 still provide decent commissions as well.
You can choose to promote one of 14 languages: Spanish, French, Italian, German, Japanese, Chinese, Korean, Russian, Arabic, Hindi, Portuguese, ASL, English. Monica recommends inserting their pre-made free trial form into high-performing blog articles to optimize for conversions.
Kaplan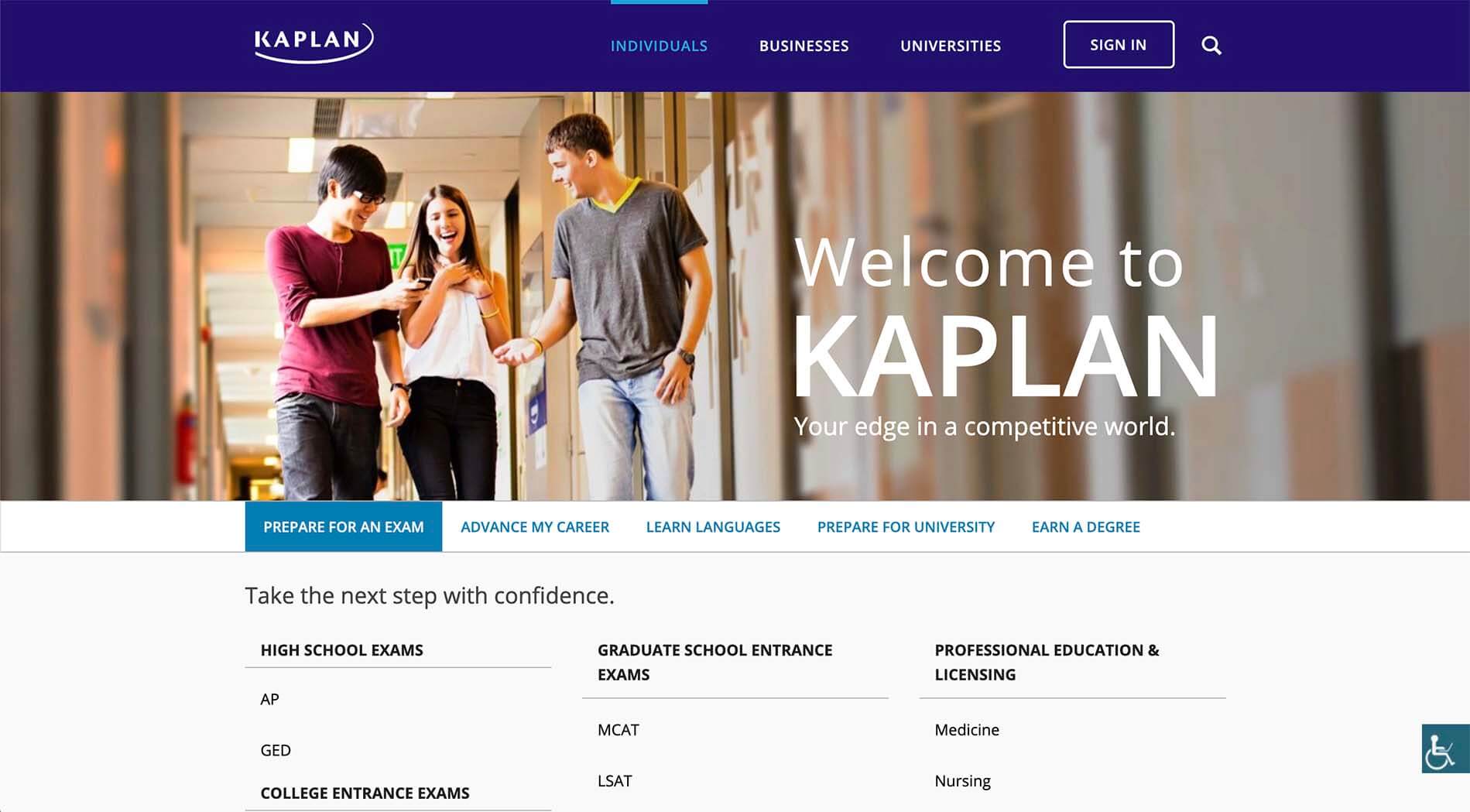 Kaplan is the oldest education program on this list. It started in 1938 when founder Stanley Kaplan tutored students in a New York basement. Now, the company offers everything from SAT prep for high schoolers to Bar review for soon-to-be lawyers. The brand is internationally recognized, with employees in 28 countries across the globe.
While the commission rate may seem low, the average purchase runs upwards of USD $1,200 (€1.1k), bringing the potential earnings up. The program also adds value to affiliates through co-branded "bespoke content and press releases", as well as discounted member pricing. Even so, it would take a high conversion rate to make this a viable affiliate choice.
Lambda School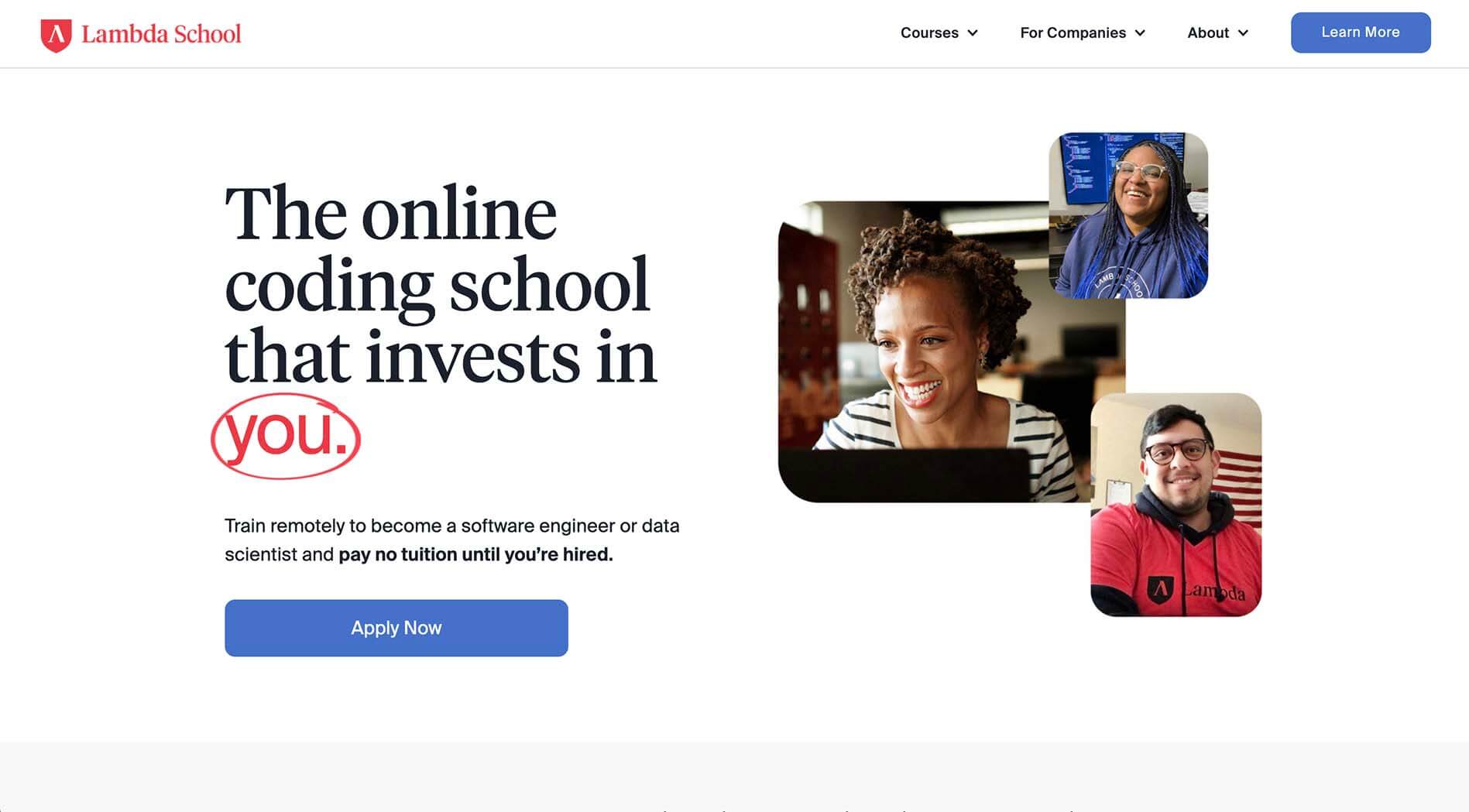 Lambda provides in-depth learn to code courses in exchange for a percentage of a future paycheck. Their programs cost no money down and instead rely on this income-sharing agreement.
Unlike other platforms, which offer highly specialized short courses or even singular classes, Lambda focuses on intensive, A-Z courses geared towards career changes or early career development. These classes used to take place in-person, but have since moved online.
Their affiliate program pays out a whopping $500 per student who begins the program. They offer a 90-day free trial prior to commitment, so while the commission is high, the payout period is longer than most.
Masterclass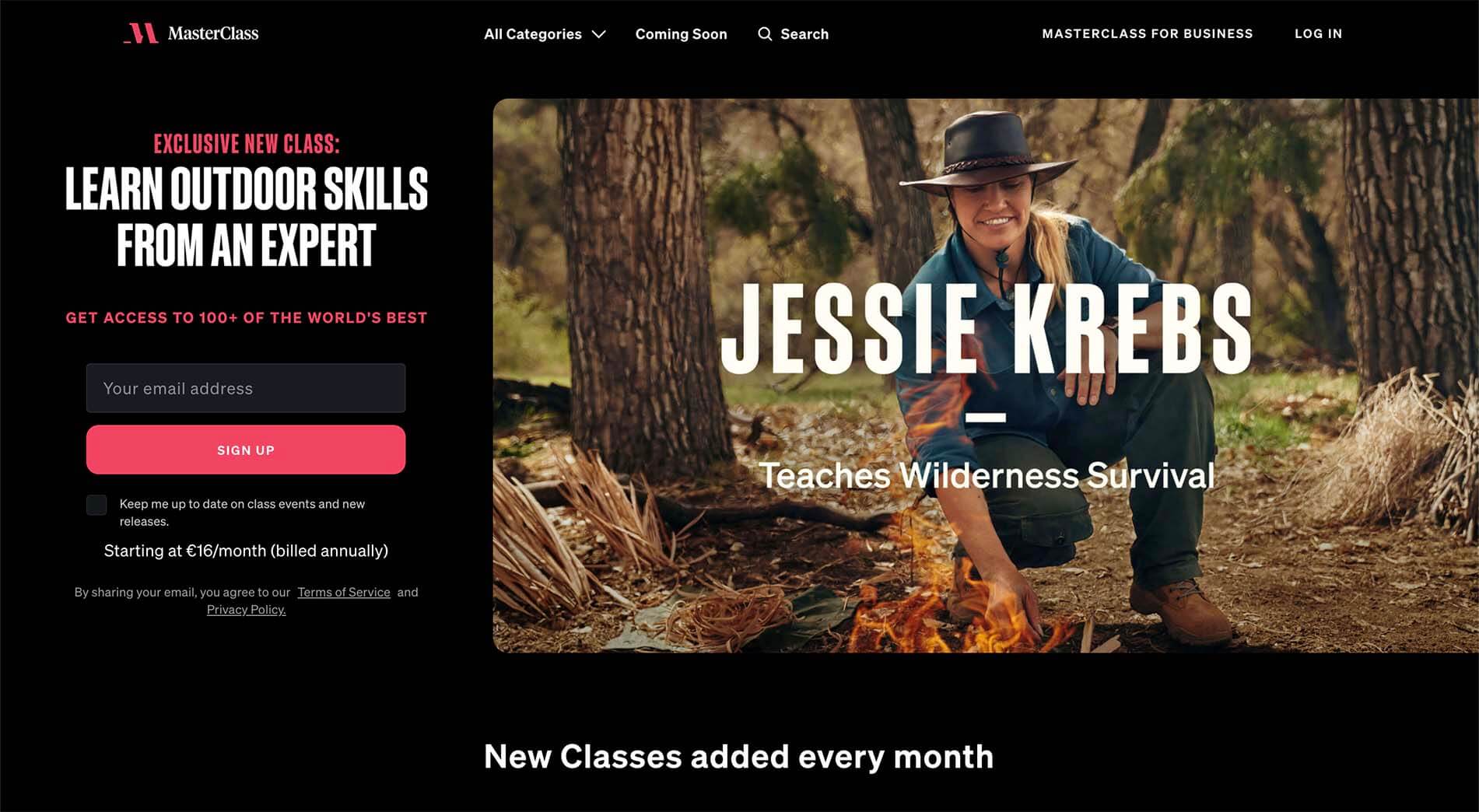 Program name: Masterclass Affiliate Program
Network / Software: Skimlinks, Impact
Commission: 25% Commission (Skimlinks), 25% per subscription purchase (Impact)
Cookie duration: 30 days
Markets: US, UK (Skimlinks), Global (Impact)
Alternatives: Udemy at 15% depending on publisher (Rakuten), 15% depending on publisher (Sovrn), 15% depending on publisher (Awin), 15% depending on publisher (AdmitAd), Coursera at 10-45% commission (Rakuten), 10% commission (Skimlinks), or Teachable at 30-70% Depends on the course, often 30-70%
Masterclass takes a unique approach to online learning by leveraging well-known celebrity voices such as Gordan Ramsey, Issa Rae and Steve Martin. Their videos have high production value and take on a podcast-like tone. Full disclosure: this is one of my favorite platforms to learn from.
However, Masterclass is very strict about brand image and will deny affiliates whose websites rank for search terms like "Download, Free, Torrent, Discount, Coupon, Promo, [or] Offer".
Their cookie window and commission payout is conservative compared to other programs that offer incentives for leads. While they offer tiered volume bonuses, their process is not as transparent as other affiliate programs.
Next, let's look at finance products. While financial services typically aren't quite as high ticket as SaaS products, they have the same ease of purchase. Here are a few reasons to promote the online finance niche:
High buyer intent. You know the saying, "Go where the customers are?" Well, most people now manage their finances online. They also search for financial planning products and services online, with the intent of checking it off of their to-do list quickly, and having it delivered to their email immediately.
High flat fee payouts for credit cards and loans. Finance platforms selling these products offer high flat fee payouts, that can be up to $400 per credit card lead, and several hundred dollars for insurance referrals.
Personal Capital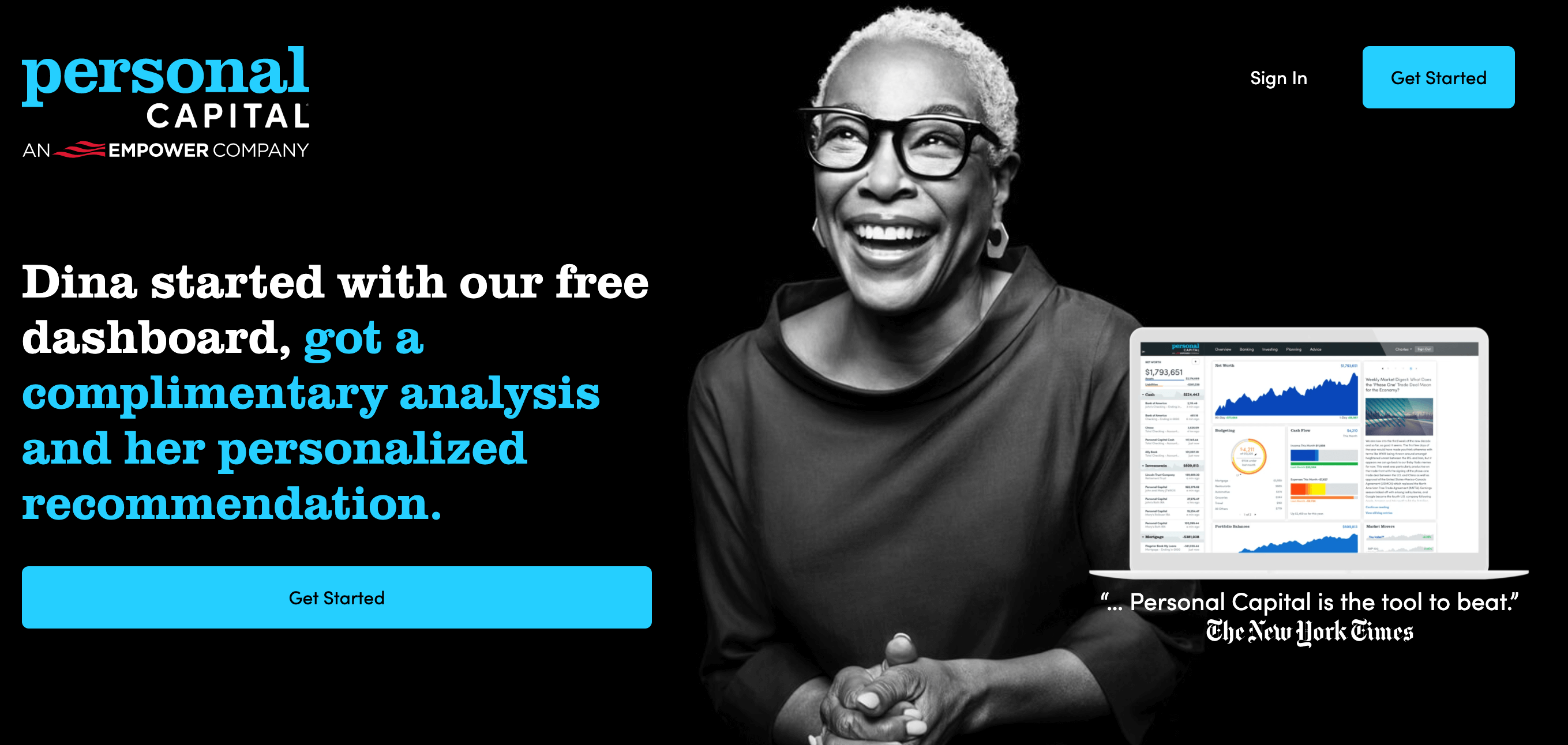 Personal Capital is one of the most actively promoted finacial affiliate programs. One site we analyzed linked to Personal Capital over 150 times on their site.
Not in the footer. Within the content.
That's how invested many finance bloggers are in this program.
It comes down to the product (and the profit): advanced financial technology, free planning and tracking tools, and competitive affiliate rates. Their paid offers are geared towards individuals with a net worth over $100k, but their free tools work for everyone.
High-net worth individuals frequently report unpleasant experiences with the Personal Capital sales team. A Purple Life includes an honest review on her resources page that reads, "They call me monthly and I find it annoying. If you sign up for Personal Capital and have more than $100,000 in your account they will call you to try and have you use their investing services."
With that being said, many users love the free personal tracking tool, and even A Purple Life says the sales calls are "a small price to pay for an awesome service."
American Express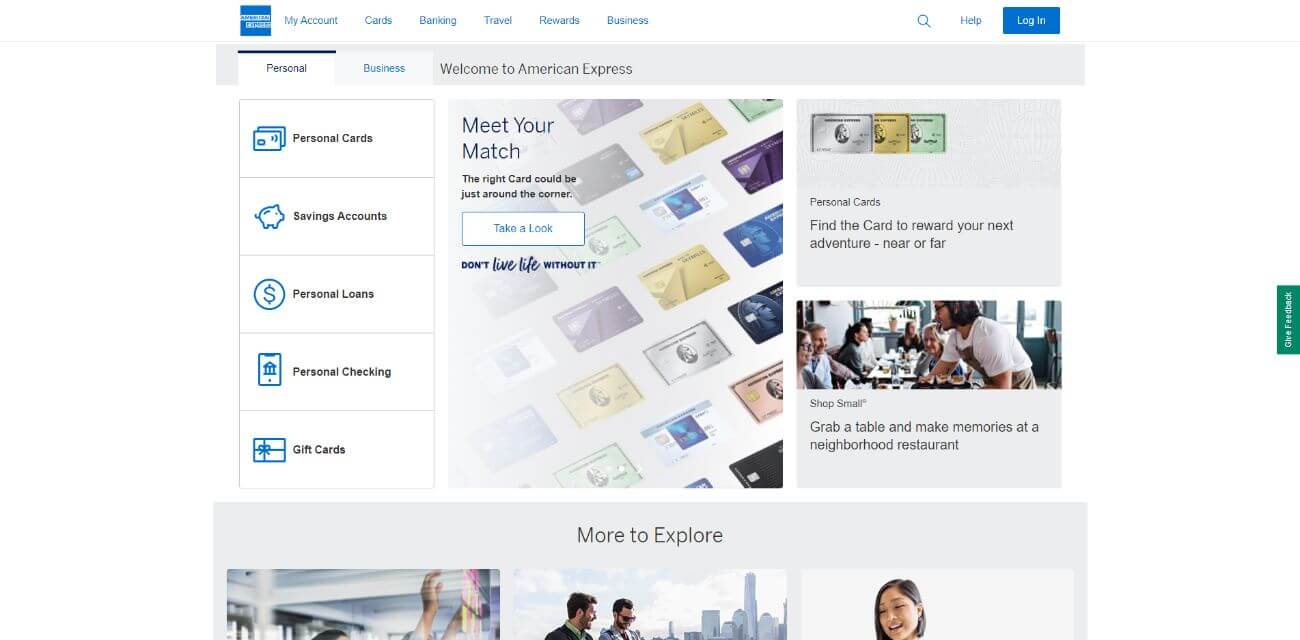 Program name: American Express Affiliate Program
Network / Software: Daisycon, Awin, CJ Affiliate, Bankrate Credit Cards
Commission: €2.50-€110.00 Different fees per product, maximum of € 110.00 CPS (Daisycon), €0.00-€84.60 depending on the product (Awin), CA$0.00-CA$350.00 depending on the item list (CJ Affiliate), (Bankrate Credit Cards)
Cookie duration: 30 days (Daisycon, Awin), 7 days (CJ Affiliate), Not listed (Bankrate Credit Cards)
Markets: Global (Daisycon), IT (Awin), CA (CJ Affiliate), Global (Bankrate Credit Cards)
American Express, or AMEX as it's more popularly called, is a brand that needs no introduction. A true stalwart, American Express has been in the business of financial services from as early as 1850. Since then, the company has built an enviable reputation for a highly-rated product portfolio and service excellence.
The American Express credit card offers the following benefits:
Each purchase unlocks savings for plane tickets, travel, gifts, or concert tickets
Early access to ticket sales for the best places and unique events
A unique collaboration with Air France/KLM in the form of Flying Blue cards
All purchases are insured against damage and theft
One or more extra card(s) are available at no additional cost
As an affiliate, you always get the most up-to-date collateral for marketing purposes. Expect to get your affiliate pay-outs in the form of monthly checks. In terms of earnings, you're looking anywhere up to €110 or CA$350, depending on the specific item and the network.
Finally, let's talk luxury. Affiliates promoting luxury goods industry have the opportunity to earn high commission rates based on high price tags. Here are a few factors to consider when promoting luxury affiliate programs:
The sky is the limit for commissions. Some of the most expensive luxury goods to promote as an affiliate include fine jewelry, watches, and designer handbags. If you are an expert on exclusive luxury, there's an opportunity to earn commissions in the tens of thousands.
Build trust in order to convert sales. Luxury is synonymous with excellence, which means the clientele is highly discerning. Luxury goods are the most difficult to convert customers as many people spend months researching items.
You will be competing with brick and mortar retailers. These retailers have the advantage of offering an in-person experience. Nevertheless, there are countless luxury affiliate marketers who regularly generate commissions from these high paying affiliate programs; it's simply about striking the right balance.
James Allen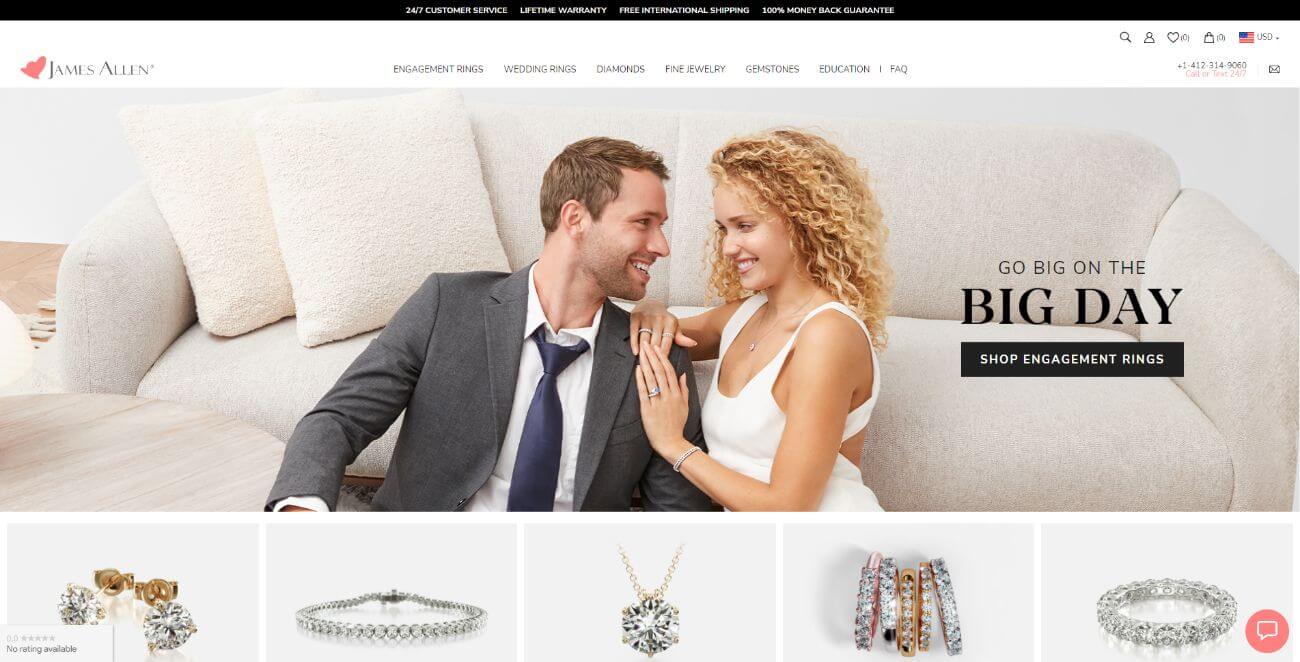 Program name: James Allen Affiliate Program
Network / Software: Post Affiliate Pro
Commission: 5%
Cookie duration: 30 days
Markets: Global
Alternatives: Blue Nile at $50.00-$100.00 reduced when certain promo codes are applied (Impact), 0.76% network commission rate (Sovrn), 2% online sale (Skimlinks), or Whiteflash at 0-5% per sale
According to our analysis, James Allen was closely tied with Blue Nile for the most popular jewelry affiliate program.
James Allen is a D2C online jeweler specializing in engagement rings for a global clientele. They offer a video viewing experience in addition to a grading certificate in order to give customers peace of mind when shopping online.
The James Allen affiliate structure is fairly generous, with a 5% commission rate and a 30 day cookie duration. According to their website, an average sale is $6,500, with a $275 commission per sale.
A potential drawback with any ring purchase is that customers might not be comfortable with purchasing such a high ticket, personal item online. This could present conversion challenges for affiliates.
However, if you are confident in the product and service you received, this affiliate program could be a good fit if you have a personal experience to share with your audience.
FARFETCH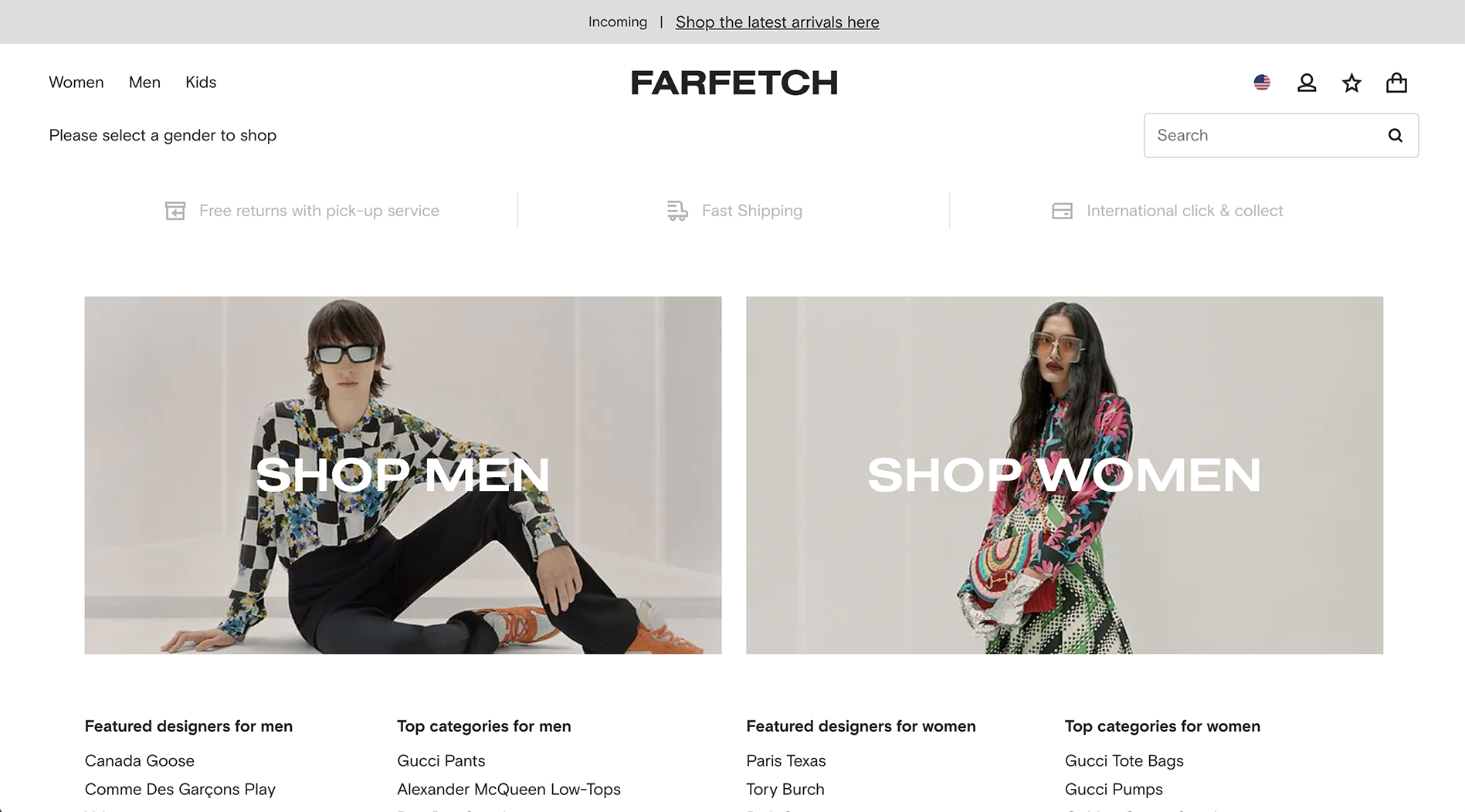 Program name: FARFETCH Affiliate Program
Network / Software: FlexOffers, Partnerize
Commission: 5.6% (FlexOffers), 7% (Partnerize)
Cookie duration: 30 days
Brands: Bottega Veneta, Burberry, Dolce & Gabbana, Fendi, Gucci, Khaite, Marine Serre, Off-White, Prada, SAINT LAURENT, Valentino, Valentino Garavani, Versace
Markets: US
Farfetch is taking a big bite out of the high end ecommerce space, and received quite a few links from the luxury blogs and fashion-focused websites we analyzed.
Like MR PORTER, the FARFETCH program is available through Partnerize with a quite generous 7% commission rate and 30-day cookie. This combination makes it an attractive offer to promote as an affiliate, especially given that it offers both mens and womens styles.
NET-A-PORTER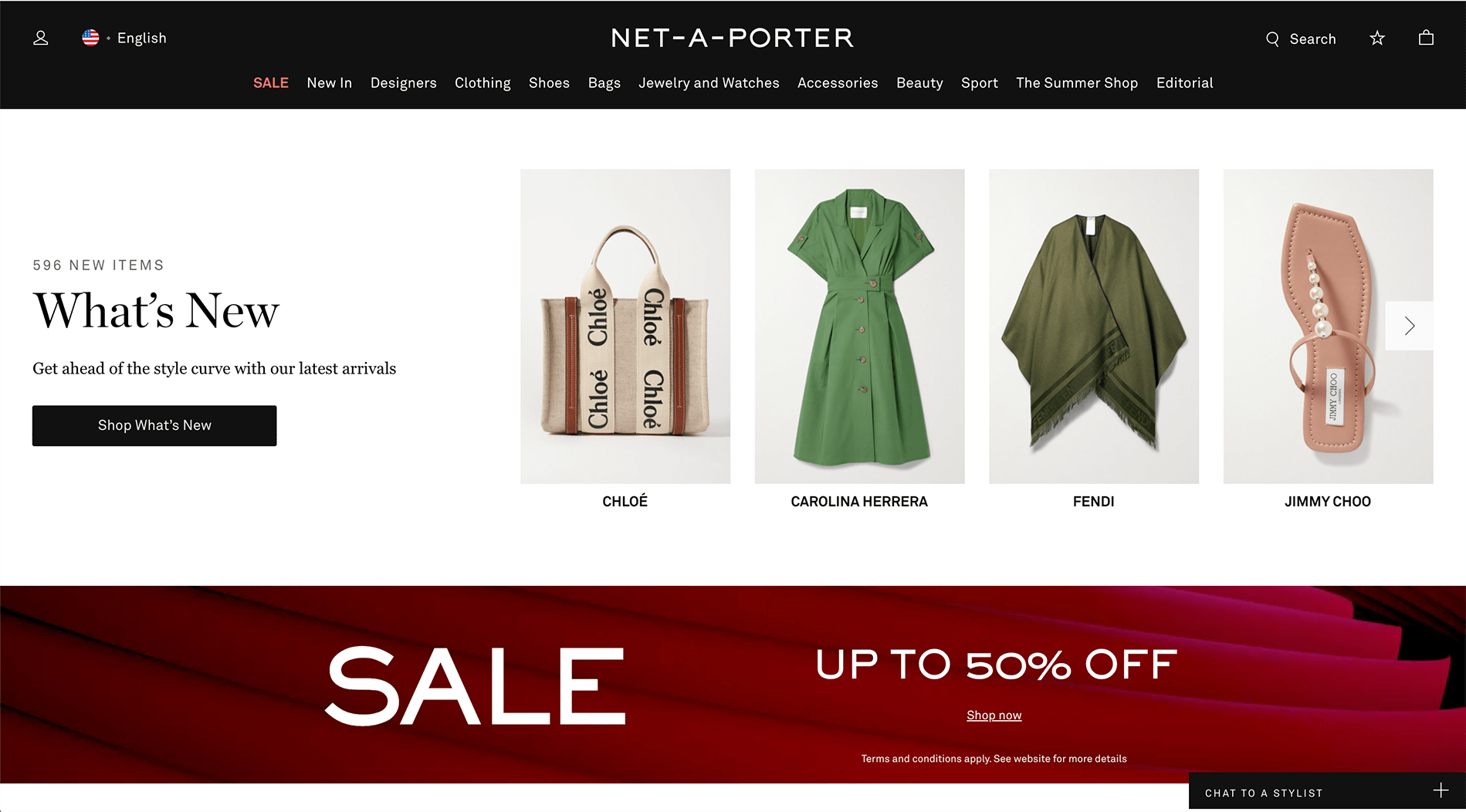 Program name: NET-A-PORTER Affiliate Program
Network / Software: Rakuten, Sovrn
Commission: 6% on most products, 4% on beauty, 3% on sale (Rakuten), 4% depending on publisher (Sovrn)
Cookie duration: 14 days (Rakuten), Not listed (Sovrn)
Brands: Alaïa, Balenciaga, Bottega Veneta, Cartier, Chloé, Dolce & Gabbana, Erdem, Fendi, Gabriela Hearst, Gucci, Loewe, Loro Piana, Proenza Schouler, SAINT LAURENT, Stella McCartney, The Row, Valentino, Versace, Zimmermann
Markets: Global
Founded in 2000, NET-A-PORTER changed the game when it came to shopping for designer clothing online. When it was purchased in 2018, the retailer was valued at over $6.4 billion dollars.
Perhaps unsurprisingly, we found that Net-A-Porter was consistently among the most-linked retailers on luxury fashion blogs.
If you're looking for the affiliate program for Louis Vuitton, Gucci, and Versace's products, this is likely the one you want. It's got a massive selection, including a sizable spot for sales.
Just be aware, most of these affiliate programs will offer a lower rate for sale items.
In the case of NET-A-PORTER, you're looking at a 3% commission instead of 6%.
Lastly, if you want to promote luxury watches as an affiliate, both NET-A-PORTER and its counterpart for menswear MR PORTER have got you covered. You'll find Cartier watches for men and women at both retailers.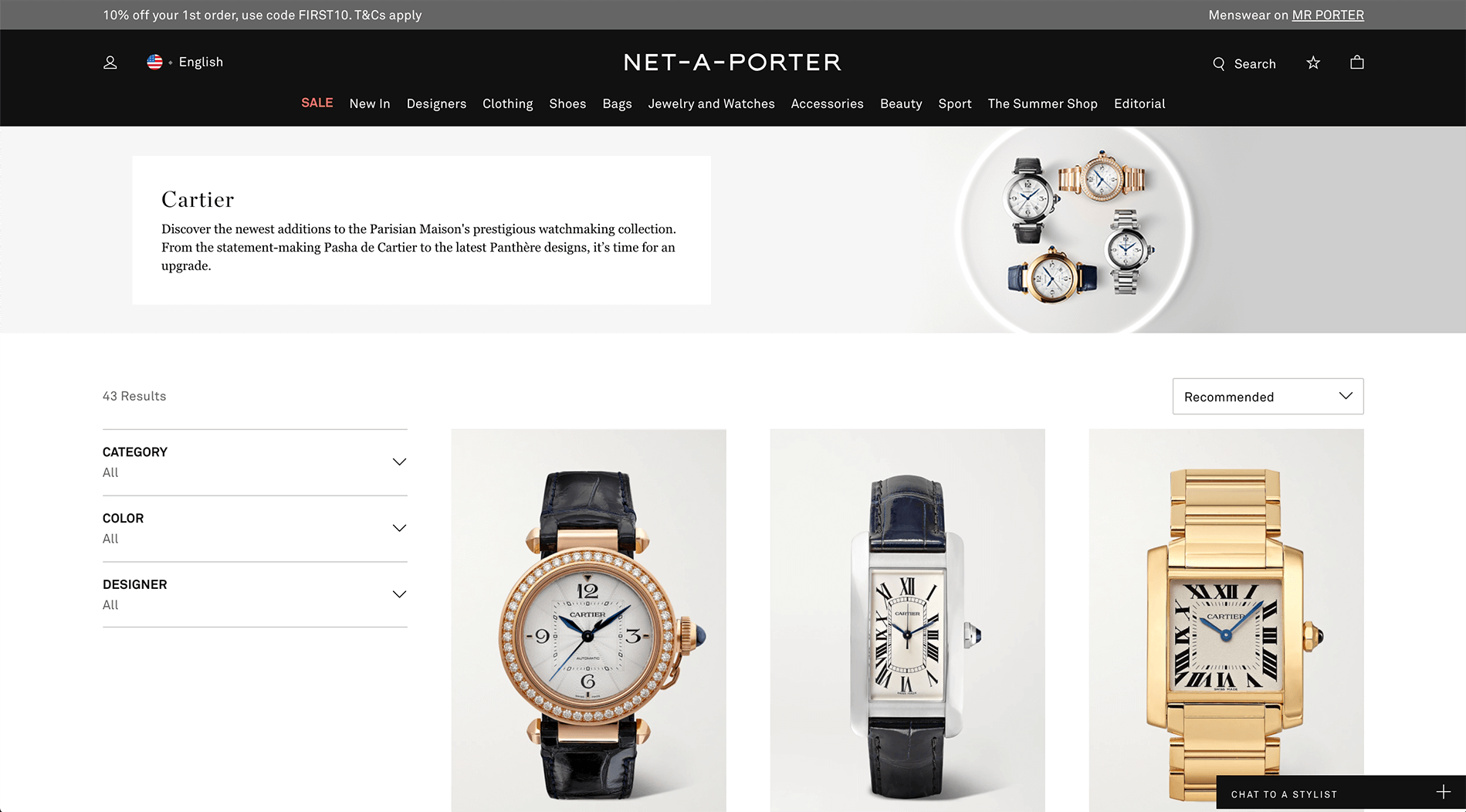 Tip: Net-A-Porter operates a private program on Rakuten, but you can also promote them through Sovrn without an extra approval process for a lower commission.
Final Thoughts
When it comes to high ticket affiliate marketing for beginners, the massive success of top bloggers suggests that it's beneficial to apply to these programs as soon as you have an established audience.
That being said, a challenge of high ticket affiliate marketing programs is that you are selling to a more discerning target market.
People are less inclined to part with $5,000 than they are with $50.
That's why affiliates have to take care to present themselves as the expert when recommending affiliate marketing high ticket items, no matter what niche they're in.
As a final note, when studying how to do high ticket affiliate marketing, marketers should take care to learn the payout structures of different programs, as well as the most lucrative products.
That way, they will be able to maximize their earnings, develop a strategic sales funnel, and a marketing strategy that actually generates high recurring revenue.