150 Blog Income Reports Reveal How Blogs Make Money
By Jessica Robin · Updated Jan 21, 2023
Ever wondered what it takes to create a million dollar blog? We looked at 150 blog income reports to figure out how blogs make money, and which types of blog types earn the most, so you can follow in their footsteps.
Blogging is touted as one of the best ways to make money online. And while that's true, it's a lot more nuanced than you may think.
Bloggers have to balance numerous income streams and develop unique strategies to make each one succeed. These strategies also vary by niche, meaning no one way of working will fit every profitable blog.
Want to understand all the ins and outs of blogger earnings? Read on to learn about:
How do bloggers make money?
The bloggers in this list of blog income reports primarily made money through display ads, selling online courses, affiliate marketing, and sponsored content.
Here are the four most popular ways to monetize a blog:
Display ads
Selling online courses
Affiliate marketing
Sponsored content
...and exactly how sites that share their numbers publicly are doing it.
1. Display ads
Display ads the ads that pop up before embedded videos and in between or alongside paragraphs. Tried and tested, display ads have proven effective money-makers on just about every online platform, from YouTube, to Instagram, to, of course, blogs.
For instance, Midwest Foodie's 4th quarter income report for 2021 indicated that 93% of their income for the quarter was from traditional ads run through AdThrive and Amazon Associates, with e-book sales, affiliate sales, and sponsorships making up the remainder.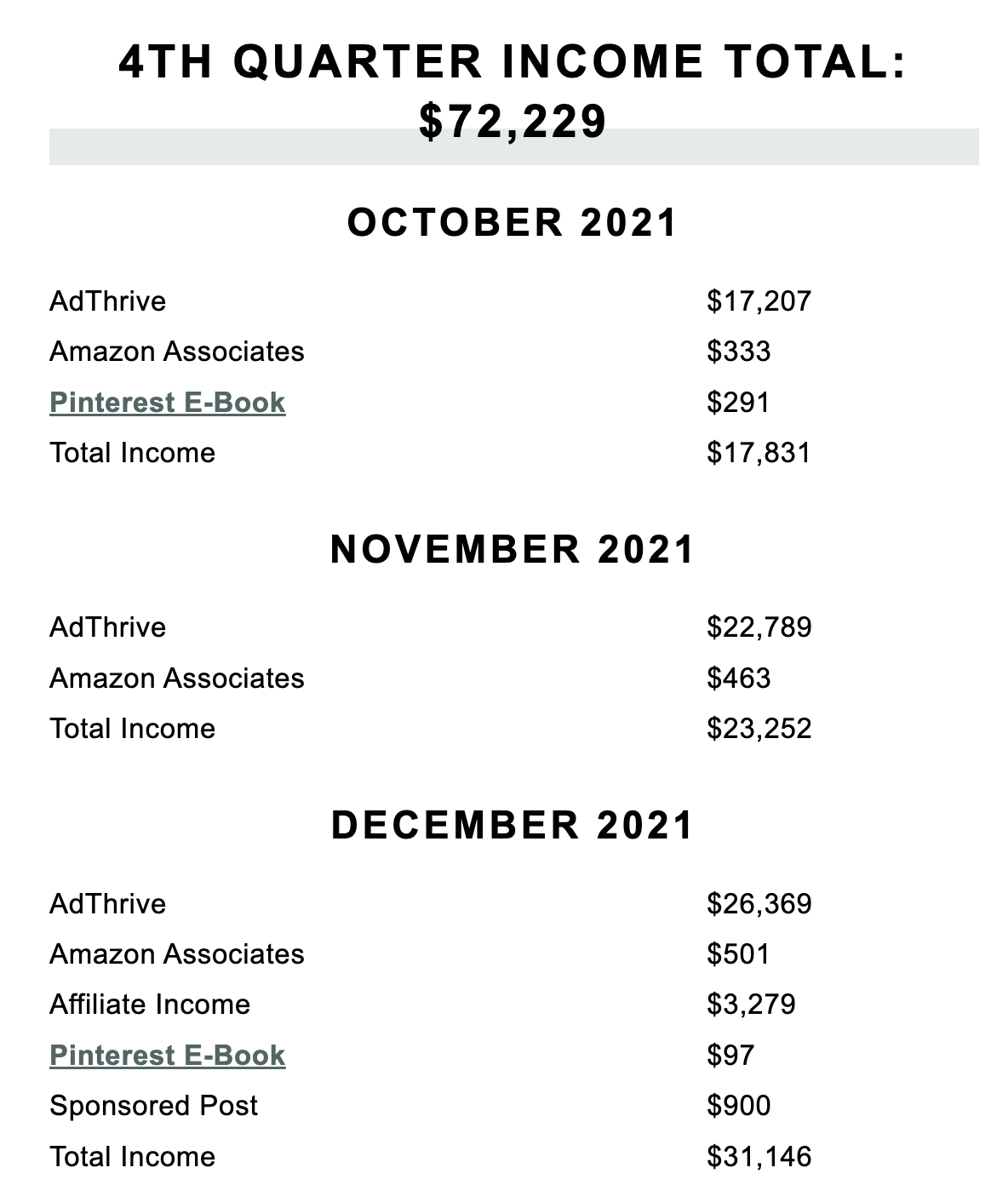 Some niches are more difficult to monetize than others because of industry norms, but display ads are suitable for pretty much any niche.
For example, many food bloggers usually earn relatively little on affiliate links because the products they link to in their recipes, like ingredients, usually have low commissions.
So, they tend to monetize through display ads instead.
2. Selling online courses
Selling online courses has blown up in recent years with the advent of Udemy, Coursera, and Skillshare. Even before the pandemic, the online education market was projected to hit $350 billion by 2025.
Since then, even more people turned to online education for entertainment, productivity, and hobby improvement.
A case in point is Ryan Robinson's blog. In his income report for March 2021, Ryan pointed out that his blog generated $17,989.63 just from sales of his course, Built to Blog.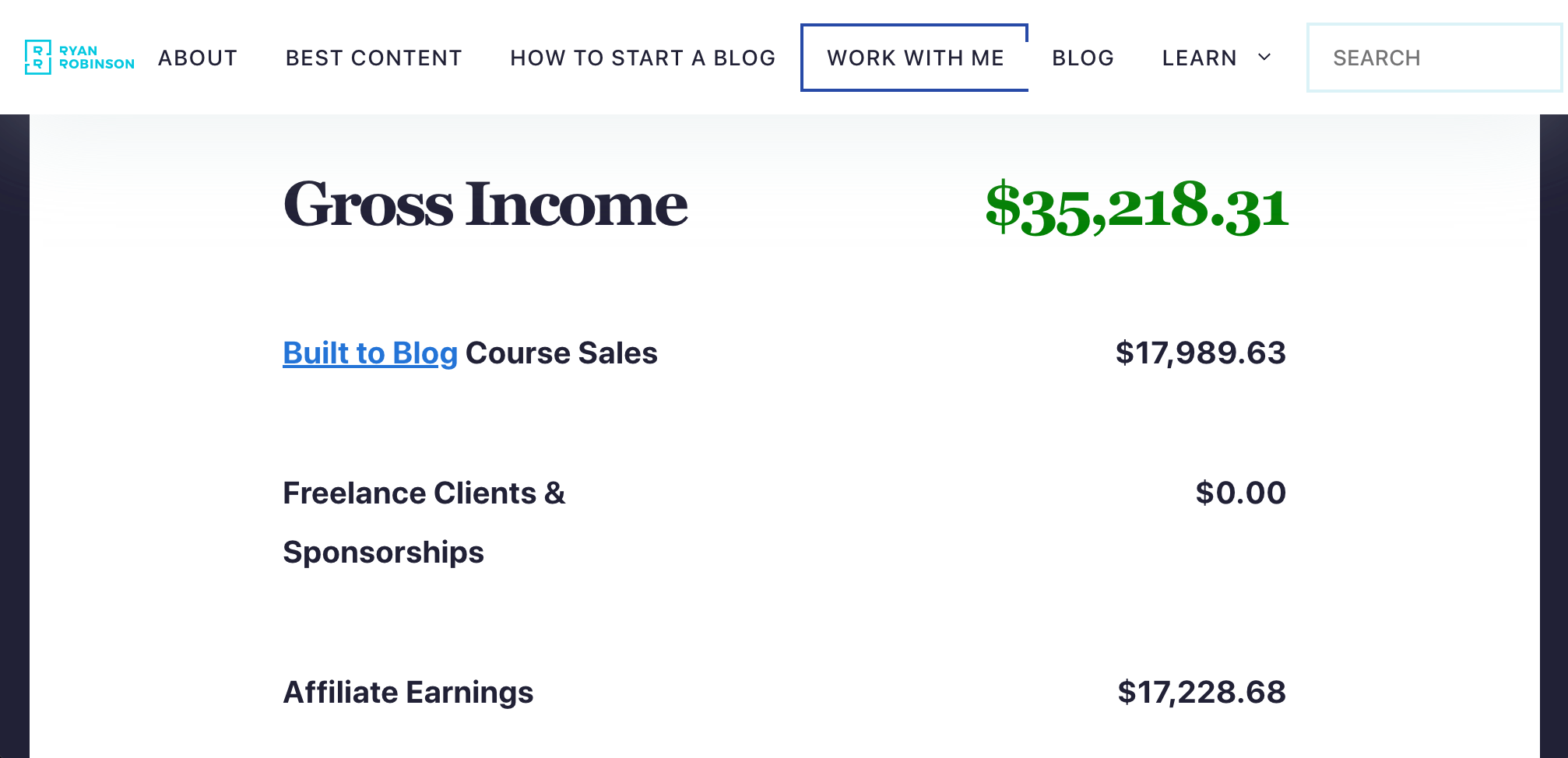 Ryan isn't the only one thriving with course sales. In June 2021, blogger Adam Enfroy, brought in $281,776 in blogging revenue. $193,808 (69%) of that was from course sales.
3. Affiliate marketing
Affiliate marketing is a business model where brands share revenue with publishers and content creators in exchange for leads and sales. It works similarly to a salesperson being paid a commission for a successful sale.
The way you refer sales, as a blogger affiliate, is through a special referral URL known as an affiliate link.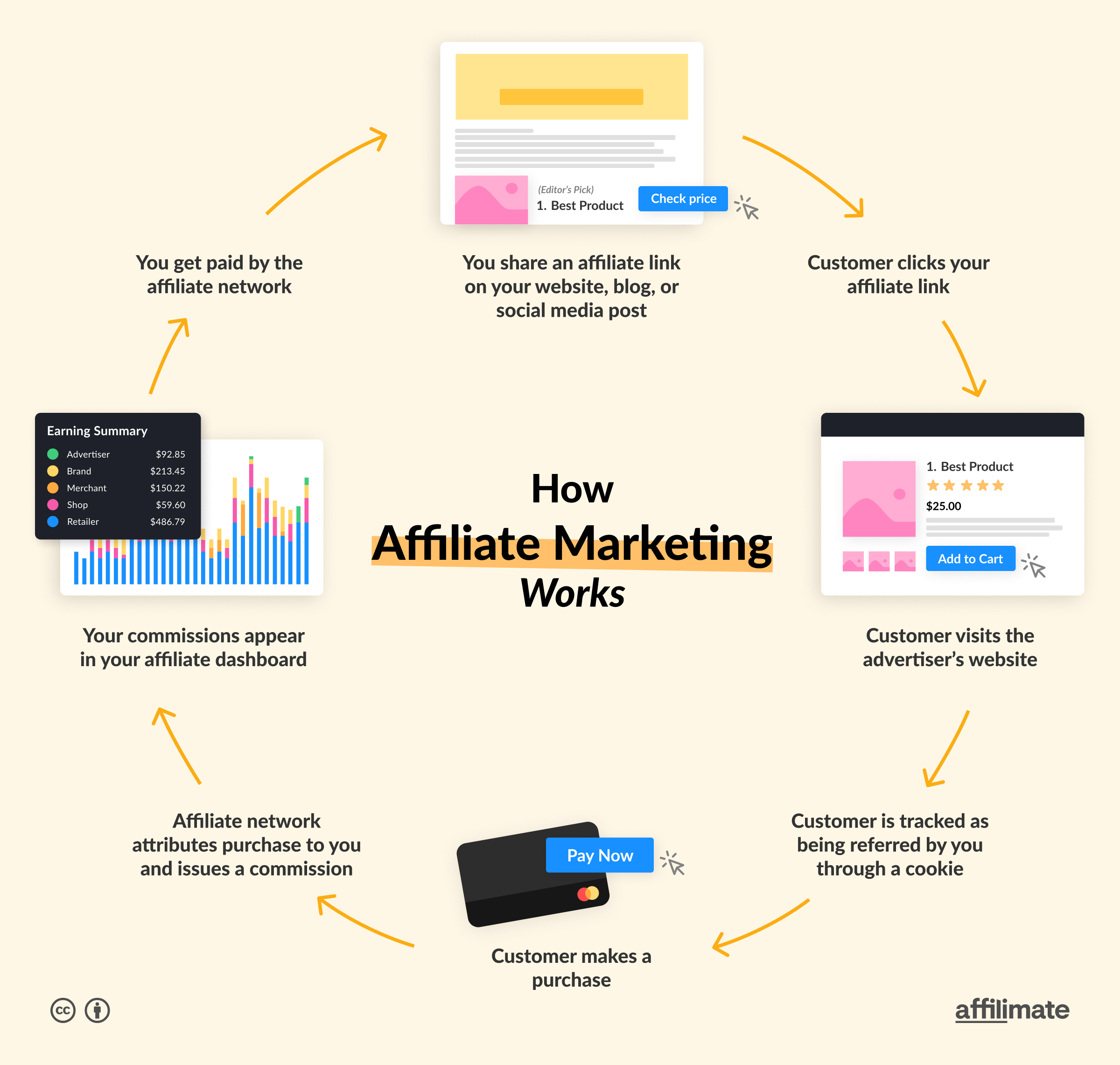 Affiliate marketing is one of the most popular ways that bloggers generate income. Like online courses, affiliate marketing has boomed in recent years.
But it can take longer to start seeing meaningful revenue than people think.
For instance, Amanda from A Dangerous Business, generated $3,486 just through affiliate marketing in September 2021. This travel blog has been running since 2011 and it's a case in point when it comes to the potential of affiliate marketing if you stick with it.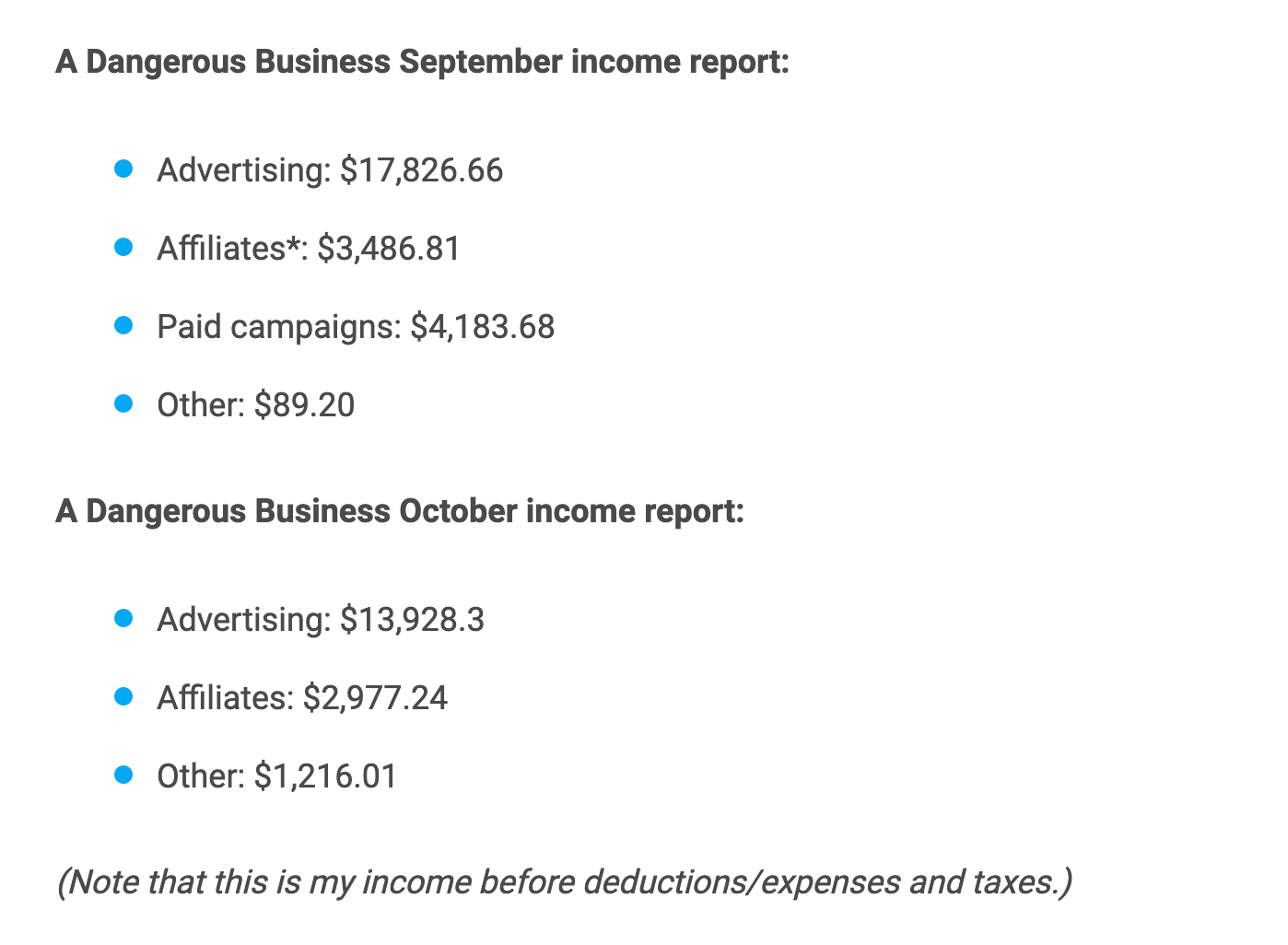 How does she do it? Amanda shares value-packed content ranging from packing lists to trip itineraries, and guides to instagrammable photo spots. The consistent, informative content has earned a sizable following of 144,668 unique visitors in September 2021.
4. Sponsored content
Sponsored content is blog posts, videos, email newsletters, or other types of content where the creator promotes a product or service in exchange for payment.
It differs from traditional advertising in that it's a transaction between the blogger and the promoted brand, rather than income from ad programs like Google AdSense, Mediavine, or AdThrive.
The blogger promotes a product or service through a blog post, and the sponsored product reaches its target market through the blog.
One example is Kelly Anne Smith's finance blog, Freedom in a Budget, which brought in $5,090.20 in December 2021. Of that, $2,000 was generated by sponsored content, where she promoted her camera and lighting tools, editing software, email service, and SEO tools.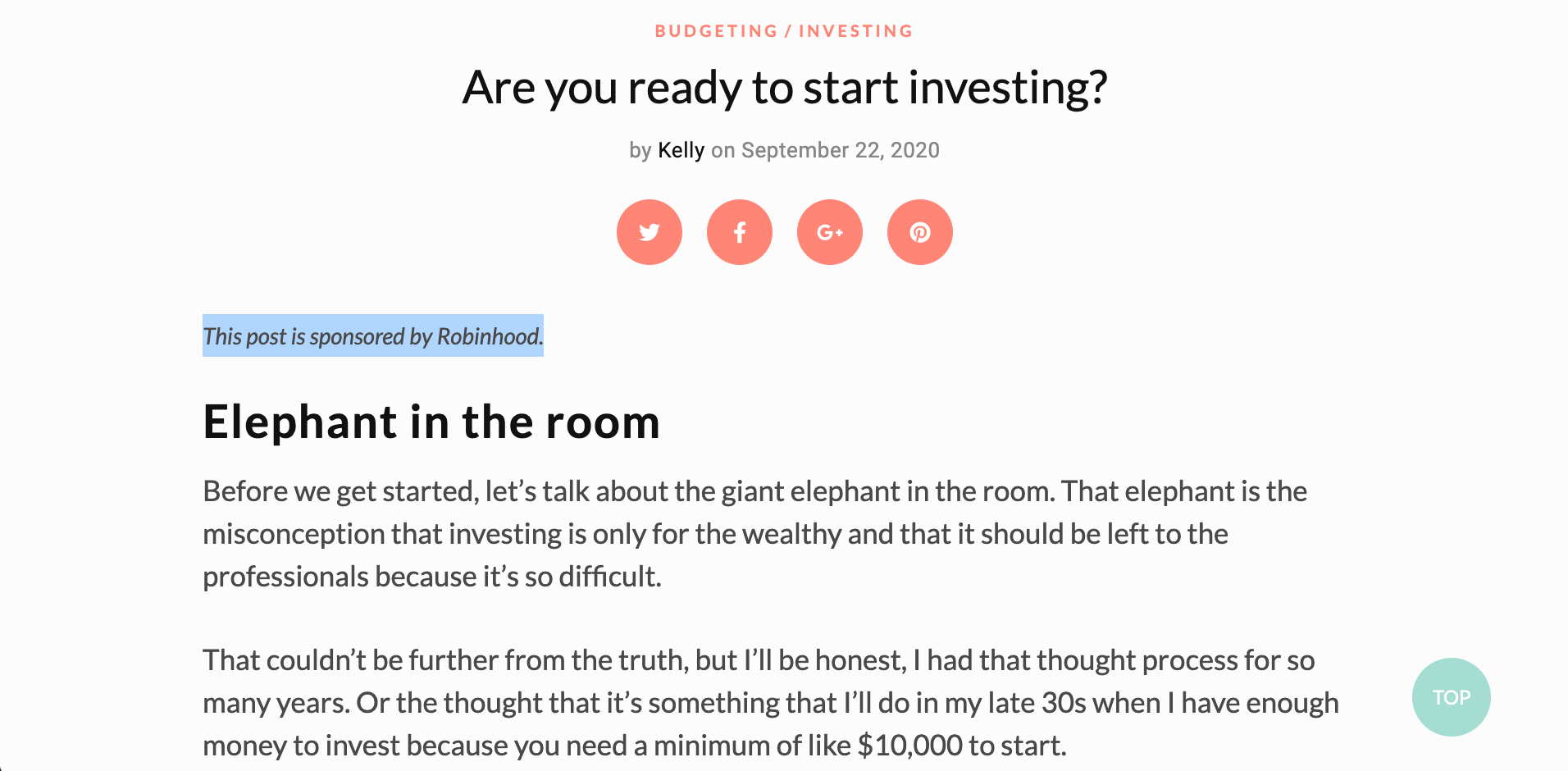 Which types of blogs make the most money?
Of the 150 blog income reports we analyzed, business blogs make the most money.
Business, entrepreneurship, business and podcasting, and business and blogging generated $1,020,187.65, or 67.5% of the total income of the blogs we analyzed.
The top three individual blogs with the highest monthly income are all business blogs.
It's important to note that these kinds of blogs make money by teaching others how to make money, so they have an incentive to share their income openly. There are countless high-income blogs out there that don't share their financials that didn't make it into our analysis.
Of the top earning blogs we could find, however, here's what we can learn.
1. Adam Enfroy – $281,776 (June 2021)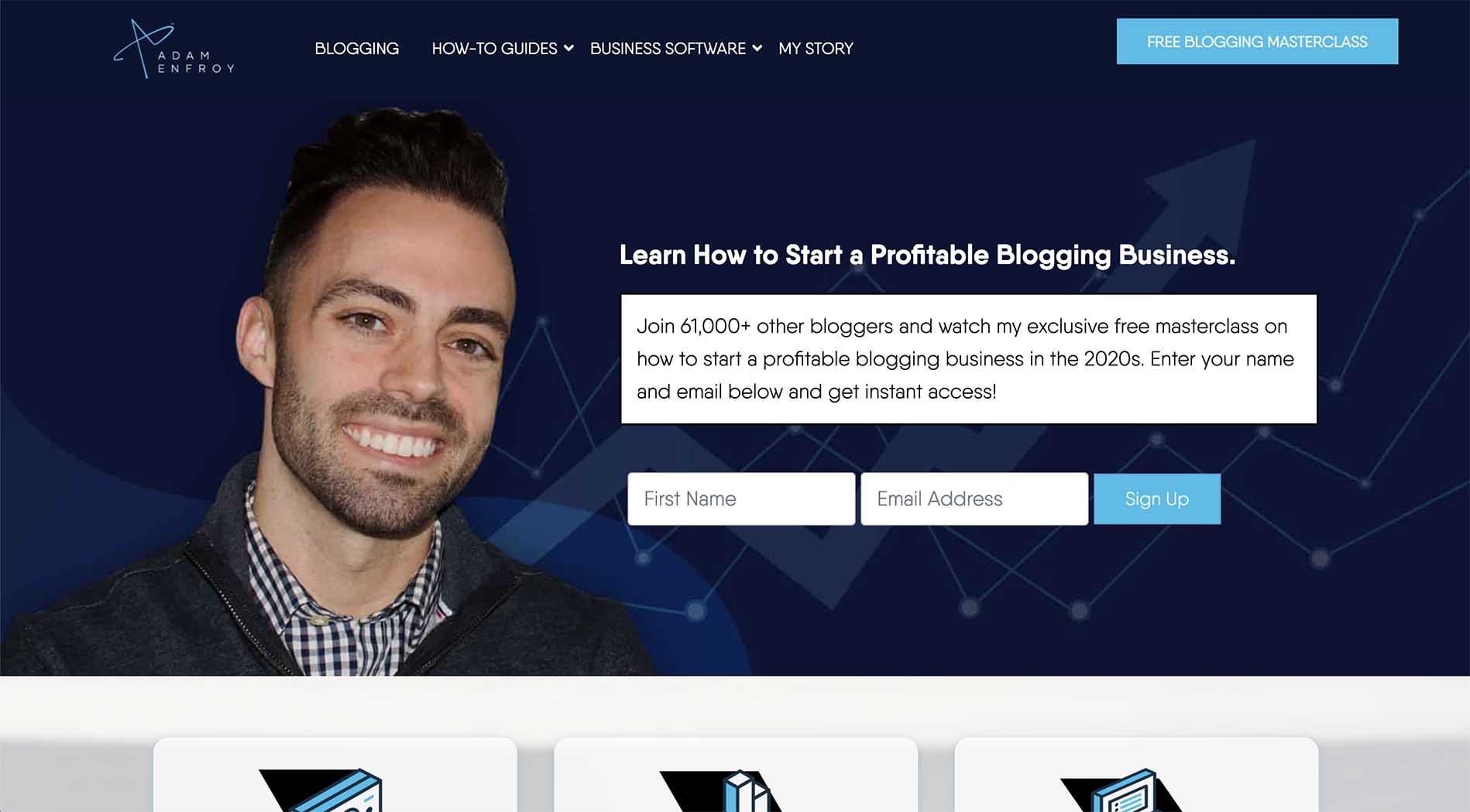 Adam Enfroy is a business blogger focused on scaling blogs. His content is primarily about tools to make money blogging, systems and software to scale, and blogging basics. His audience can find anything from foundational how-tos, to details about web hosting, CRM software, SEO, and email marketing on his blog.
Adam's incredible blogging success is due to a number of factors, but we can generalize them into one main pillar: value-driven content. Everything about Adam's blog is centered around value.
The website is crystal clear about what Adam does. Everything from the tabs included to the content of his blog makes it unequivocally clear that Adam makes a living blogging, and that he shares tools and skills to help others do the same. Site visitors know what they're getting almost immediately, and the content they get thereafter follows through, with valuable information and actionable insights that keep them coming back.
2. Entrepreneurs On Fire – $217,486 (December 2021)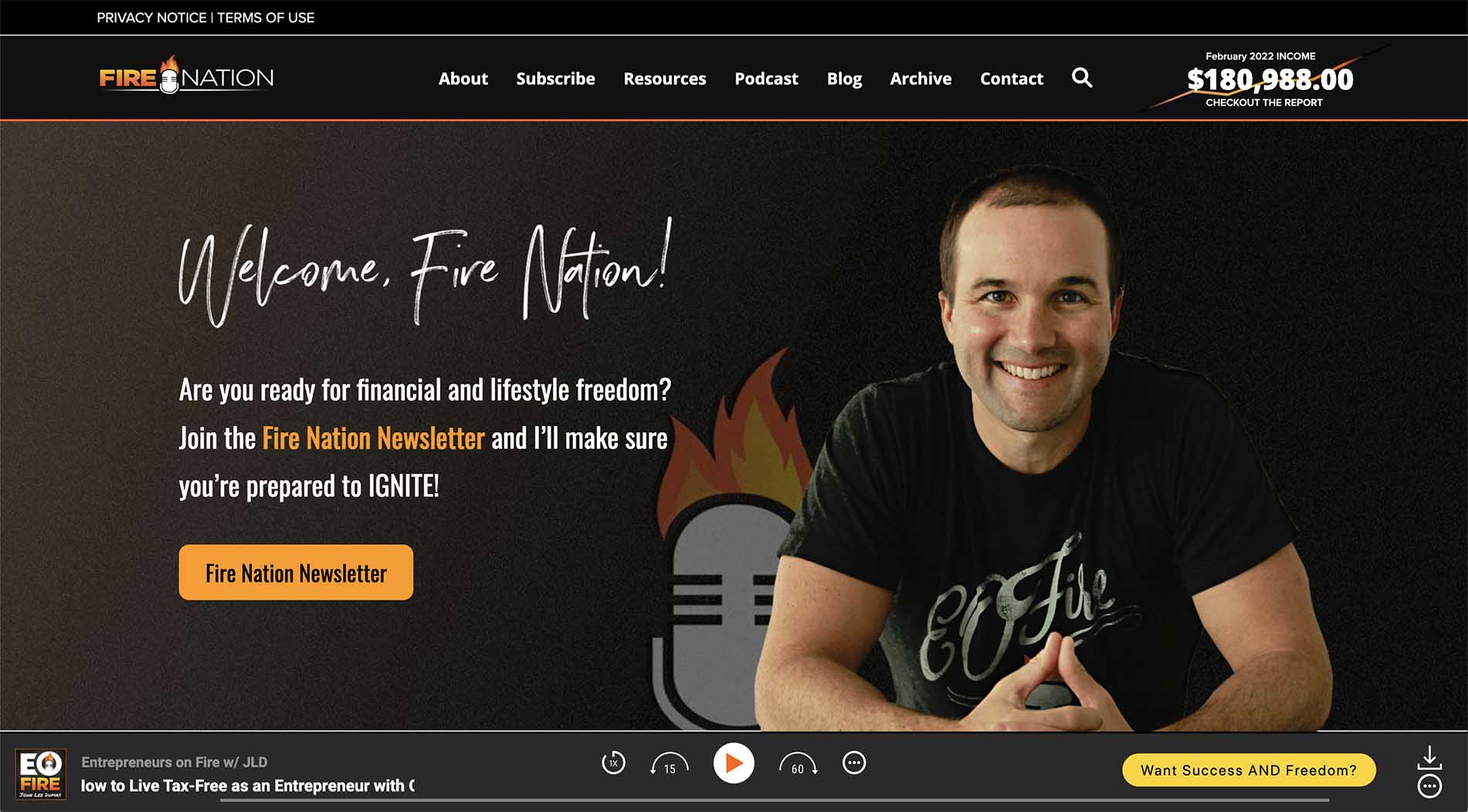 Entrepreneurs On Fire is a business and entrepreneur blog and podcast all about financial independence and early retirement for entrepreneurs. In December 2021, its creator John Lee Dumas brought in $217,486. For the whole of 2021, it generated $2,728,140 in income, generating $318,386 in the month of March alone.
83% of the year's revenue came from sponsorships from the podcast, which gets more than a million listens per month. This places him among the top business podcasts available today.
To generate income from sponsored podcast episodes, the podcasts first need to be popular. Entrepreneurs On Fire achieved that through their ultra-niched-down and audience-specific podcast content. Their podcast sponsorships all keep to the niche, promoting specific tools, platforms, and services that would appeal to their audience.
Entrepreneurs On Fire is a lesson in niching down. Just as with affiliate marketing, successful sponsorships come from a place of authenticity that will add value to the target market. Entrepreneurs On Fire is a shining example of that.
3. A Self Guru – $78,375 (June 2020)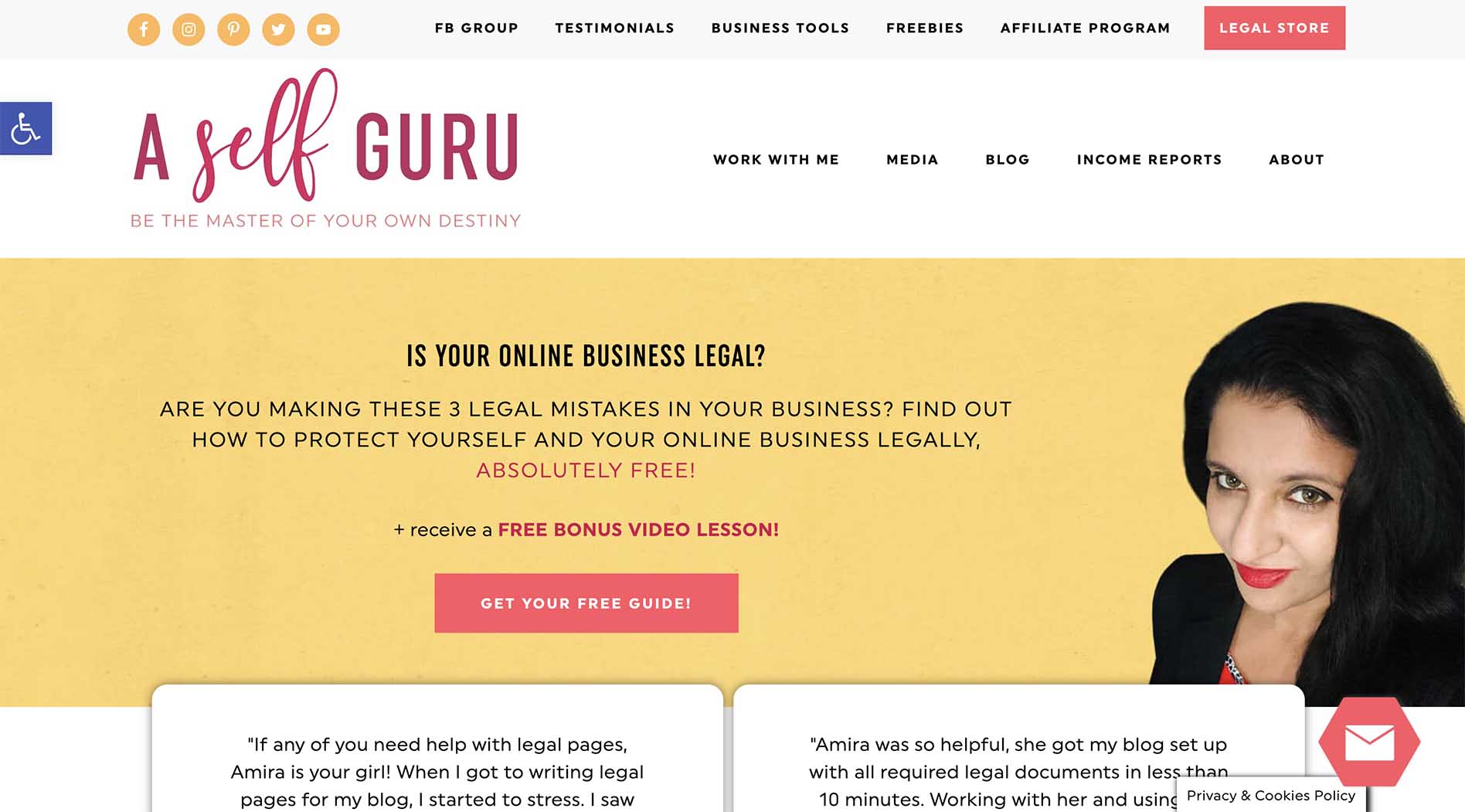 Business lawyer and blogger, Amira Irfan made $78,375 in June of 2020 through affiliate marketing, sponsorships, paid interviews, and selling her legal templates.
Her templates help online businesses ensure that they're legal and protected. Amira saw a gap in the market and used her legal background to fill it. The value her templates provide was instant, and she used her blog to promote them with relevant content like the articles, Are You Blogging Legally? and How To Make Your Website ADA Compliant.
Her success highlights how your skills and expertise can generate revenue if you monetize and promote them through an optimized, niche blog.
Blog income reports
Now that we've looked at the various ways bloggers earn a living and the highest earning blogs, it's time to get into the rest of the blog income reports we looked at.
Here's the comprehensive list of 150 income reports and a few take-aways.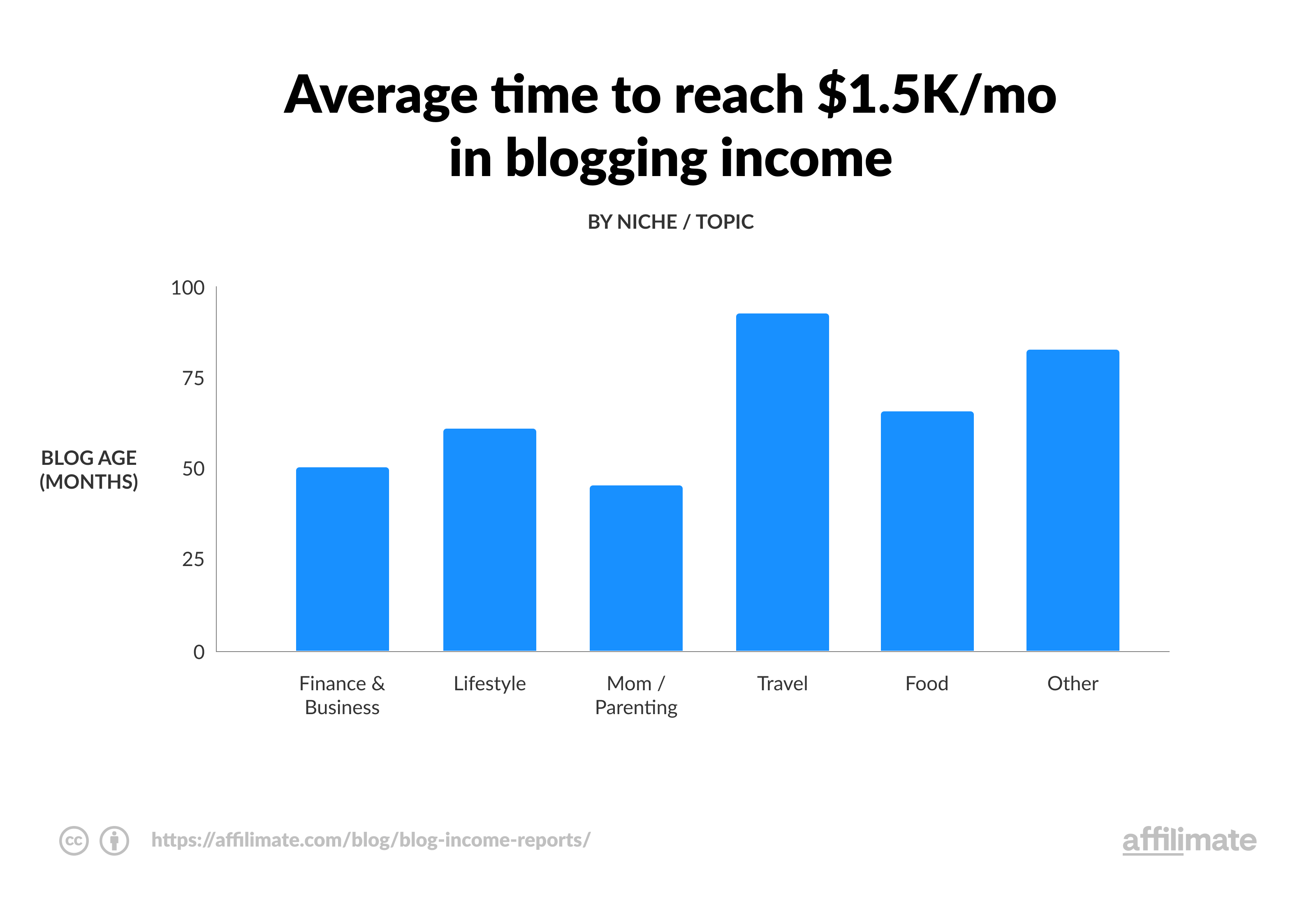 Travel Blog Income Reports
With the resurgence of travel in 2022, it's no surprise that the travel blogger salary has such great potential — it just takes a while to get there. Travel bloggers most commonly generate blogging revenue with in content like packing lists and with sponsored content like hotel reviews, travel insurance tips, and sight-seeing round-ups.
Here are some of the most popular travel blogs that share their income reports:
1. Nomad Numbers $212 ( Q2 2021)
2. Mathers on the Map: $242.38 (April 2020)
3. Johnny Africa: $2,200.00 (2021)
4. World Travel Family: $1,600 (November 2021)
5. Amy Fillinger: $3,317.37 (November 2021)
6. Site School: $11.32 (September 2021)
7. Living the Dream: $9,872.00 (December 2021)
8. Not A Nomad Blog: $5,994 (November 2021)
9. The Atlas Heart: $6,598.00 (June 2021)
10. By Leah Claire: $1,282.48 (October 2021)
11. Pen Fires: $17.61 (2020)
12. A Dangerous Business: $18,121.55 (October 2021)
13. The Cleveland Traveler: $2,279.07 (October 2021)
14. Travel Blog Stories: $1,560.00 (January 2020)
15. Wander Her Way: $1,181.33 (2021)
Finance Blog Income Reports
The financial niche can be value-packed for its audience, and full of possibilities to generate income through high ticket affiliate programs.
Fin Savvy Panda, a personal finance blog, made $27,689.76 in March 2021, and $20,327.19 came from affiliate marketing alone.
There is impressive affiliate marketing potential in the finance blogging niche, with bloggers making affiliate sales of remote work resources, saving and budgeting resources, survey sites, and cashback apps.
This niche is pretty competitive, however, so SEO and value-adding content are essential for affiliate marketing to take flight.
16. Wallet Squirrel: $582.16 (November 2021)
17. Bee Money Savvy: $1,640.63 (September 2020)
18. Financial Flamingo: $938.12 (July 2020)
19. A Fresh Start on a Budget: $3,353 (September 2021)
20. This Online World: $7,717.87 (2021)
21. Wealthy Nickel $3,049.75 (2020)
22. Budgeting is a Challenge: $2,141.07 (Q3 2020)
23. Lylia Rose: $4,657.10 (2020)
24. Project Financially Free: $5,146.23 (January 2021)
25. Perfection Hangover $3,464.24 (2020)
26. Swift Salary $2,020.00 (Q4 2021)
27. Freedom In A Budget $5,090.20 (December 2021)
28. Fin Savvy Panda $27,689.76 (March 2021)
29. Road to Free Life $7,457.56 (March 2020)
30. The Money Ninja$11,128.00 (March 2020)
31. Smart Nancials $6,017.81 (July 2020)
32. Monethalia $1,830.77 (2021)
33. Prosmartrepreneur $7,114.00(September 2021)
34. On budget Moms$513.06 (September 2021)
35. Blogging Money Life $568.83 (December 2021)
36. Striving Bloger$3.17 (September 2021)
37. My Road To Wealth and Freedom (December 2021
38. Brutally Honest Microstock$480.00 (December 2021)
39. The Debtist $99.87 (November 2021)
40. Reverse The Crush $183.16 (October 2021)
41. In My Twenties $0.00 (April 2021)
42. Megan Makes Sense$30.91 (September 2021
43. TraderScooter $3,504.11 (July 2020)
Lifestyle Blog Income Reports
Lifestyle blogs make an average blogger salary of $5,174 per month, and that's no surprise when 46% of people take recommendations from bloggers and vloggers into account in their purchasing decisions.
Lifestyle influencing is filled with opportunities for sponsorships and affiliate marketing especially. Like other niche blogs, lifestyle blogs take time before they turn a profit.
The blogs in this list that made more than $2,000 are older than 23 months, and the one that made the most ($43,000) is over 6 years old.
44. Mind Her Way $202.00 (July 2020)
45. Imperfect Idealist $2,260.65 (December 2021)
46. Budget & Mom Jeans $357.96 (October 2021)
47. Lifestyle with Leah $746.20 (March 2020)
48. Dupe or Design $1,441.32 (January 2021)
49. Boss Babe Chronicles $821.64 (September 2021)
50. Simply Hatch $2,412.96 (November 2020)
51. Tory Stender $5,867.00 (October 2020)
52. Nikki's Plate $5,867.00 (October 2020)
53. Joanna Rahier $3,277.88 (September 2021)
54. The Huntswoman$3,514.23 (September 2021)
55. Women Blazing Trails $4,250.00 (January 2020)
56. Let's Reach Success $3,292.00 (November 2021)
57. Heart's Content Farmhouse $4,292.27 (May 2021)
58. Guitar & Lace $7,723.83 (2020)
59. A Modern Homestead $10,356.00 (July 2020)
60. By Sophia Lee $43,000.00 (May 2020)
61. Anna in the House $3,752.65 (November 2020)
62. The Keele Deal $1,009.74 (November 2021)
63. With Houna $335.31 (October 2021)
64. Chit Chat With Katie $0.00 (November 2020)
65. Lemonade and Adventure $114.31 (December 2021)
66. Cassie Croggins $7,914.73 (November 2021)
67. Thrifts and Tangles $1,390.00 (November 2021)
68. Sophia Patel $340.34 (April 2021)
69. Beautiful Inspiring Creative Life $763.88 (August 2021)
70. Designs by Vee $378.21 (March 2021)
71. The Inner Workings $1.32 (December 2021)
72. Carly Schweet $12,406.00 (June 2021)
73. The Fit Delish $570.00 (January 2020)
74. A Love 4 Me $1,790.11 (January 2021)
75. Sidney Ever After $0.00 (September 2020)
Food Blog Income Reports
Food is one of the most ubiquitous blogging niches and a lot of competition comes with that. Most of these food blog income reports show affiliate marketing and traditional ads as primary sources of income, but they need to fight for their audience against thousands of competitors.
Many food bloggers make affiliate sales through pinterest, and drive traffic to their blog that way. Affiliate commissions in the food world tend to be relatively small, so most food blogs focus on sponsored content, which has made some of the blogs in this list $900 to $2000 per month.
76. Fork In The Road $3,752.65 (October 2021)
77. The Fiery Vegetarian $2,566.50 (September 2021)
78. Thyme And Joy $6,183.80 (August 2021)
79. Midwest Foodie Blog $31,146.00 (December 2021)
80. Cooking with Carbs $0.00 (November 2021)
81. Chelsea Joy Eats $789.14 (March 2021)
82. The Conscientious Eater $3,000 (January 2021)
83. The Bettered Blondie $9,027.34 (January 2021)
84. Root And Revel $33,750.00 (April - July 2020)
85. Tiffy Cooks $55.00 (October 2021)
86. Sweeter Than Oats $2.49 (May 2021)
87. A Sassy Spoon $9,390.10 (March 2020)
88. The Twin Cooking Project $1,397.12 (June 2020)
89. Hangry Fork $162.79 (December 2021)
90. In The Kitchen $2,992.89 (September 2020)
91. Hangry Woman $8,600.00 (2020)
92. For Fisk Sake $0.00 (June 2020)
93. Priya's Curry Nation $30.50 (April 2020)
Business Blog Income Reports
Blogs about business, entrepreneurship, online work, and blogging made up the majority of the income reports in this list as well as the top three highest earning bloggers on the list, probably because they have a niche-driven incentive to share their income.
The rise of side hustle culture, the growing popularity of FIRE, and the fall of the 9-5 all mean that people are after advice and ideas. The demand for business blogs is sky high, and that's why they do well.
94. Adam Enfroy $281,776.00 (June 2021)
95. One Hour Professor $10,662.00 (December 2021)
96. Outofthe925 $1,182.25 (January 2021)
97. RyRob $35,218.31 (March 2021)
98. Balkoni Hijau $120.00 (2021)
99. By Laura lancu $245.96 (September 2021)
100. White Hat Blogging (December 2021)
101. The Smutlancer $4,439.58 (December 2021)
102. Kevon Cheung $4,175.00 (November 2021)
103. Passive Income Unlocked $49,382.21 (December 2021)
104. Believersgist $1,544.22 (November 2021)
105. BloggersPassion$18,272.00 (December 2021)
106. Blogging for New Bloggers $30,423.77 (May 2020)
107. Side Hustle Directory $1,198.97 (December 2021)
108. The Blogger Intentitive $263.02 (October 2021)
109. ShannonMattern $21,518.68 November 2021
110. Blog For Profit $18,981.69 (January 2021)
111. She Dreams All Day $7,740.77 (April 2021)
112. Open Up The Cloud $4,000.90 (December 2021)
113. Full Time Blog $38,842.00 (Q2 2021)
114. A Self Guru $78,375.00 (June 2020)
115. Carl Broadbent $11,475.87 (December 2021)
116. The Entrepreneur Ride Along $16,146.67 (Q3 2021)
117. Blogging Business Owner $21.32 (July 2021)
118. Crochetpreneur $4,777.00 (October 2021)
119. Top Vincent $1,014.00 (August 2021)
120. Cheers to Blogging $533.33 (Q1 2020)
121. The Side Blogger $2,416.00 (September 2021)
122. Blog Blossom $930.49 (September 2020)
123. Boss Girl Bloggers $8,621.42 (2020)
124. Tara Reid $12,631.81 (March 2020)
125. The She Approach $15,899.33 (Q1 2020)
126. Entrepreneurs On Fire$217,486.00 (December 2021)
127. My Income Nook $282.58 (December 2021)
128. Below Average Blogger $1,833.05 (December 2021)
129. Bloggers On The Rise $12,795.00 (October 2021)
130. Minted Empire $931.00 (December 2021)
131. Arielle Phoenix $1,037.00 (December 2021)
132. Yoyao $5,230.70 (March 2021)
133. Craft of Blogging $33,539.00 (September 2021)
134. Anastasia Blogger $40,000.00 (2020)
135. Skip Blast $3,867.92 (August 2021)
136. Create And Go $30,000.00 (September 2021)
Health, Fitness Blog Income Reports
The online fitness industry has grown 77.33% since 2019, when it was estimated to be around $6.04 billion in value. With pandemic-induced gym closures, the online health fitness space has thrived as people found new ways to get and stay active, creating a booming (but competitive) market for health and fitness blogs.
137. Avocadu $47,317.56 (September 2021)
138. About Social Anxiety $1,241.57 (September 2021)
139. The Trusty Potter $11,235.06 (September 2021)
140. Cycle Baron $123.00 (September 2021)
Mom Blog Income Reports
The mom blog niche provides moms with parenting resources about pregnancy and what to expect, school lunch inspiration, gift ideas, and even tech. Mom blogs have significant influence and that's why they can generate impressive incomes, if they can master their SEO.
What Moms Love makes $30,000 per month with 95,000 to 137,000 monthly views. This blog makes money through sponsored content, ads, and affiliate marketing, and it gets 76.59% of it's traffic through search. Just like food blogging, mom blogging is filled with competition, so SEO becomes even more important if you want to succeed.
141. House Of Sonshine $487.86 June 2021
142. Mommy Explained $20.61 (December 2020)
143. Another Mommy Blogger $4,617.90 (December 2020)
144. Mom Makes Joy $1,095.62 (February 2020)
145. Approaching Home$51.00 (Q3 2021)
Other Blog Income Reports
The world of blogging is vast and there are many successful blogs that don't fit perfectly into the more popular niches. Don't be discouraged if the niche of your dreams hasn't been mentioned so far. These blog income reports are proof that just about any hobby can create an income-generating blog. Some strong affiliate niche research will help you get there.
146. Dad Fixes Everything $7,401.38 (September 2021)
147. The Flooring Girl $17,000.00 ( in between 2020 and now)
148. Photo Aspire $0.00 (July 2021)
149. The Writer And The Rose $0.00 (May 2020)
150. Own The Yard $5,210.27 (April 2021)
Are you trying to monetize your blog?
Making money from a blog takes longer than any blogger thinks when they're just getting started. But hopefully, this list of blog income reports shows it is possible as long as you keep going.
If you've already got an established website on your hand, check out Affilimate as a way to take the affiliate part of your blogging income to the next level.