Affiliate Marketing for Bloggers: A No-Nonsense Guide for 2023
By Chrissy Kapralos · Updated Jan 25, 2023
Display ads generate tons of money for bloggers. But guess what? Affiliate marketing brings even more. Combine the two and your blog becomes a mean, money-making machine.
Affiliate marketing for bloggers opens up a new world. A world of diversification, reader engagement, and extremely high earning potential for your blog.
$9.1 billion — that's what the affiliate marketing spend reached in 2021. It might not be as high as Google Ads, but the industry's fast-track up the value chain should turn every blogger's head. That, and the fact that 2021's affiliate marketing spend drove a whopping $71 billion in eCommerce sales.
Are you looking this way? You're joined by 84% of businesses, who see the ROI of affiliate marketing as higher than other marketing channels.
In this post, we'll help you transform your ad-reliant blog into a shiny, money-making affiliate program blog.
Tangible benefits, how-to steps, and affiliate marketing programs for bloggers are on the docket. But first, we need to get you out of your comfort zone.
Why is diversification vital for blog monetization?
Diversification is your friend. Gone are the days when you could securely rely on just one blog monetization strategy.
Sure, which blogger doesn't like display ads? If you have your traffic strategy down, display ads take care of the rest.
Here's what Liz Smith, Founder & Chief of successful travel blog Peanuts or Pretzels had to say about traffic for display ads:
Building traffic is the number one way to generate revenue with ads.
But it's not just any traffic; it's high quality targeted traffic. And this really all comes back to creating high-quality content that will not only attract readers, but keep them on your site longer.
But despite her success with ads, Liz advocates for diversification:
You really have to diversify with multiple revenue streams because things are always changing with blogging.
These changes make your blog vulnerable with display ads as a sole strategy. Here's how:
A reader's change of heart: Someone clicking on your ad might earn you a few cents commission. But is it worth losing that customer? Business coach Lilach Bullock sees driving traffic away as a con for advertising — visiting a new web page cuts time spent on your blog! You started with a customer interested in your content, and ended with a customer off your website. Who knows if they'll come back?
New content on an ad website: Since ads are targeted to the reader, you could have websites you don't endorse advertising on your site without evening knowing it. You have minimal control over this — and unaligned interests could hurt your blog and credibility.
Web traffic dips: Ad revenue depends heavily on web traffic. If you experience any dips, your ads become fruitless. Take Google AdSense, for example. We've talked to bloggers who report account suspensions for unclear reasons — a serious thorn in your revenue's shoulder. Plus, new bloggers typically need years to generate enough traffic to make money with ads.
Affiliate marketing solves every one of the above cons to display ads:
You have control over where your customer traffic goes.
You have more freedom to align affiliates with your values.
You can drive traffic from more diverse sources.
You'll earn revenue even in your earliest page views.
We studied blogger income from various sources, from online courses to sponsored content. One thing remained constant:
Bloggers with diversified income sources earned more than those who relied on one source.
Ryan Robinson's blog generated about $18,000 in online course sales for March 2021, along with another $17,000 in affiliate marketing! And that's the tip of the iceberg — some bloggers combine multiple strategies to reach monthly sales in the hundreds of thousands of dollars.
Affiliate Marketing for Bloggers: Basics
Affiliate marketing is a relationship between a brand and content creator, where the brand pays the creator a commission for referred traffic and purchases.
So, how does affiliate marketing for bloggers work?
Let's say you run a food recipe blog. You're writing about a delectable chili recipe, and you add a link to your favorite non-stick frying pan. Once a reader clicks that link, a unique cookie links them to your referral. They buy the product, and you earn a commission on that sale.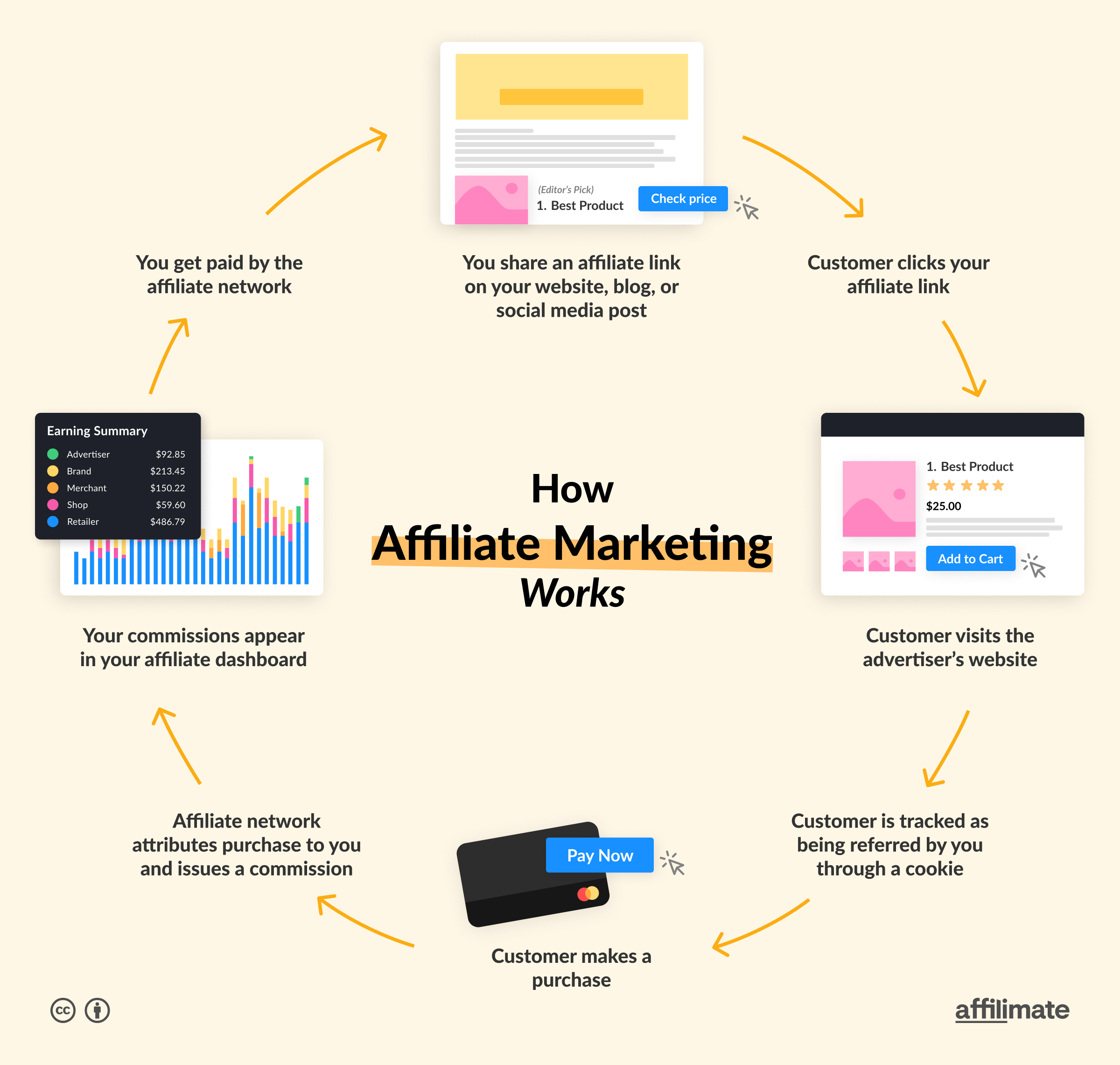 Brands might offer two affiliate marketing models to bloggers:
CPA (Cost per action): You earn a commission for every referred visitor that completes an action. This could look like buying a product or even signing up for a newsletter.
CPC (Cost per click): Maybe your lead didn't buy anything, but you still helped a brand get on their radar. This model rewards you for unique visitors to their webpage stemming from your content.
It's a win-win, really. Brands get leads and sales and reward bloggers (affiliate marketers) with a slice of the pie.
Now, for the content. Blog content is a popular place for high-converting affiliate links, of course. But you can also use social media posts and podcast content — all of which bring brands the highest profits through affiliate marketing.
5 Reasons to Start Affiliate Marketing for Bloggers
Still dining with display ads? You can keep that mid-week lunch, but affiliate marketing is a hot Friday date that deserves a place in your schedule.
Here's why:
1. Passive income with no upfront costs or credentials required
If you already have a blog, that's enough to qualify you for many affiliate partnerships and earn passive income. Brands use your blog to sell their products, and they don't charge you anything to do so. While subject matter expertise is an asset, it's not always mandatory for success in affiliate marketing. You can conduct research to create strong content or outsource the writing to other experts.
2. Buyer intent over page views
Don't get us wrong — you'll still need web traffic. But affiliate marketing invites you to dive deeper into your relationships with readers. The more credible and useful you are to your readers, the more likely they are to convert.
With affiliate marketing, web traffic needs quantity and quality. And quality reigns.
A smaller audience of highly targeted customers brings more success than thousands of empty page views.
3. Free products and experiences
The best affiliate marketers share brand products they themselves would actually enjoy.
This brings two benefits: first, you build trust with your readers.
And second? The merch!
Brands want you to sell their products, so it's not uncommon for them to physically share them with you.
Say you run an education blog. Wouldn't a brand new electronic planner get you pumped? Or you're a beauty blogger — hello, sparkly new eye shadow!
Of course, you'll need to market them as creatively as you can — a video reveal through Instagram reels; a comprehensive step-by-step guide; whatever converts your customers.
4. Enhance reader engagement
If your affiliate products bring readers value, they'll award you with more engagement. That means more word-of-mouth, comments, likes, and page views.
The trick is to tell a story of value. If readers believe a product improves your life, they'll buy it and appreciate the recommendation.
5. Build relationships with brands
We don't need to tell you the value of networking. You already know the value if you have a successful blog. After years, all the outreach, industry events, coffee chats, and mentoring gave you valuable insights to lead your work in the right direction.
That value doesn't go away just because your blog is successful now. Affiliate partnerships build your network and enhance your relationships with brands. Not only does it improve your own brand recognition, but it also offers useful contacts for future endeavors.
How to Start Affiliate Marketing for Bloggers
Ready to make more money? Here are some actionable steps to get your feet wet with affiliate marketing for bloggers.
1. Research affiliate niches and tactics
Do you have a beauty blog? Don't rush and link to that Amazon eyeliner right away.
Take your time and do your research. Explore top beauty affiliate programs, and look for successful beauty bloggers for insights on their experiences. This is confirmed by Rohan Kadam, founder of BikingKnowHow:
I started voraciously reading blogs and success stories of affiliate marketers, as I found them very inspiring. This helped me get creative and experiment with my blog's growth strategy.
Isabella Biava, founder of Boundlessroads.com, also cautions against jumping in blind:
Take an affiliate marketing course and learn the strategy. Stuffing your posts with affiliate links is not enough — I learned that the hard way.
Courses are an excellent way to improve your knowledge, but you also have a wealth of resources online. For example, our blog has countless articles about:
Statistics
Tutorials, how-to guides, and content ideas
Tools and techniques
Affiliate program guides by niche
2. Choose affiliate partners, programs, and products with your audience in mind
Over 80% of brands have affiliate programs. So, how do you sift them out? Your audience is top of mind, always. But here are some helpful tips to narrow them down:
Reputation and authority
Research brands and programs, and look for news stories and customer reviews. Additionally, seek out experiences other affiliate bloggers have with certain brands. For example, this affiliate blogger had some negative experiences with certain networks. Of course, no review is the truth set in stone. Use your judgment and inform yourself with varied resources.
Similarly, consider a brand's reputation in general and with your audience. For example, L'Oreal might be a household, reputable name. But to an audience of Gen Z makeup aficionados, who advocate for animal rights? Another pick might resonate better.
Reader Value
Does this brand's products bring value to your audience? Or do they simply offer the highest commission? You already know how hard it was to put your blog on your audience's radar. You had to appeal to them with personalized, unique, relevant, content. And SEO-ify it to the max.
You'll need to work just as hard to bring your readers to another webpage, and even harder to promote a purchase.
"You have to put your readers first," says Liz Smith, Founder of Peanut or Pretzels travel blog. "It's about them, not you. Their problems, their needs, their goals. Understand them as much as you can and create amazing content that helps them. Ultimately, your job is to help solve their problems and make their lives easier — and when you integrate affiliate products into that solution mix, that's when you have a higher chance of converting sales."
3. Create affiliate content and plug affiliate links
Which parts of your blog do your readers flock to? Where do they click and when? Find relevant affiliate products to link to in those areas. If your recipe blog gets extra traffic over the holidays, that's a great time to plug in a link for Williams Sonoma's Nordic Yuletide Cookie Stamps.
But mixing and matching isn't sufficient for your linking strategy. You need to create brand-spankin' new affiliate content.

Melissa Conn, Founder of Los Angeles Traveler shared her tips to write affiliate content that converts:
I'm most successful when writing about products I know extremely well, and I provide in-depth content targeted to where consumers are in the buying cycle. It's more work, but I find that writing narrowly focused articles that satisfy specific user intent provides the best conversions.
Have some room in your content calendar? Include these affiliate content ideas in your next outlines:
Product reviews (2022 Review of the Nixon Escape Duffel)
Product roundups (i.e., Top 10 Traveling Backpacks)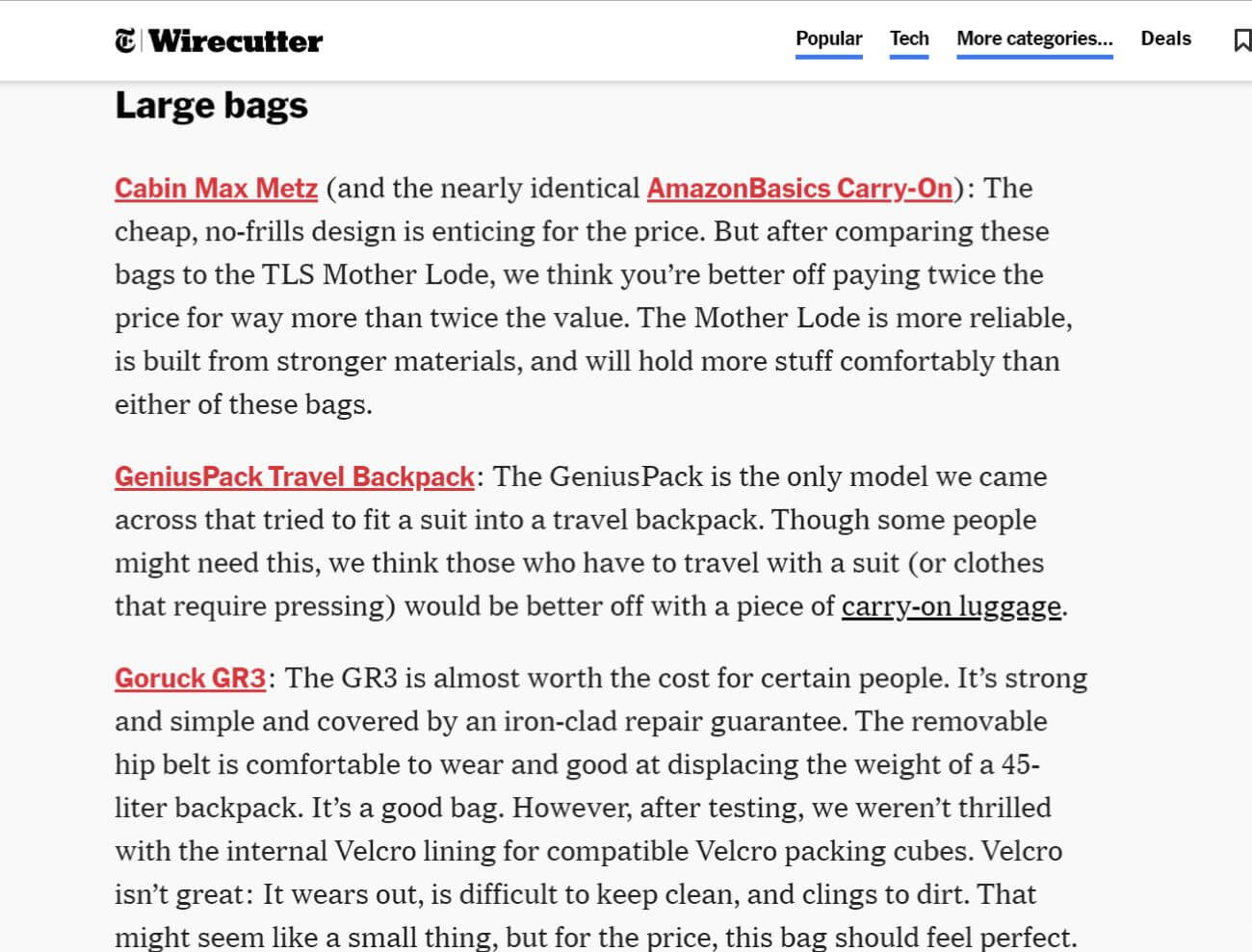 How-to guides (i.e., How to Plan a European Vacation Under $1,000)
After creating slammin' affiliate content, transparency is vital. See how Isabella puts an affiliate disclosure right at the top of her blog article?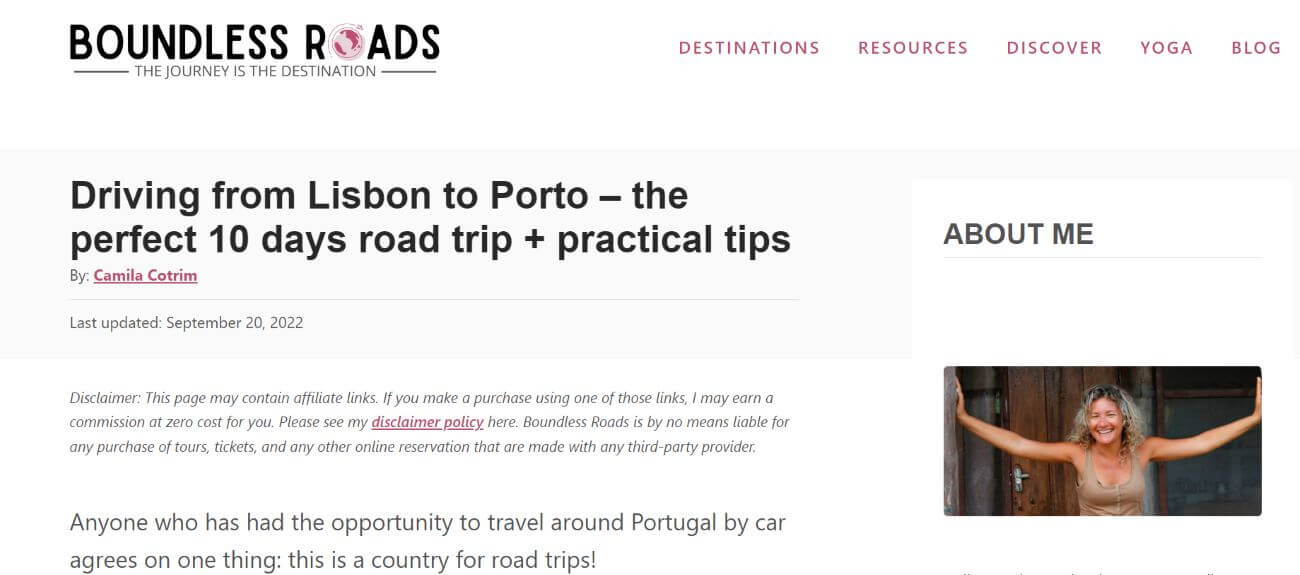 Need more inspo? Check out our complete guides on Commerce Content and Affiliate Marketing Content.
Once you identify high-quality links, you'll need to manage them. How do you keep track of links that convert (or links that are duds)?
Pssst. Our software has a handy affiliate link management feature, which keeps thousands of links organized, complete with clicks, revenue, and EPC.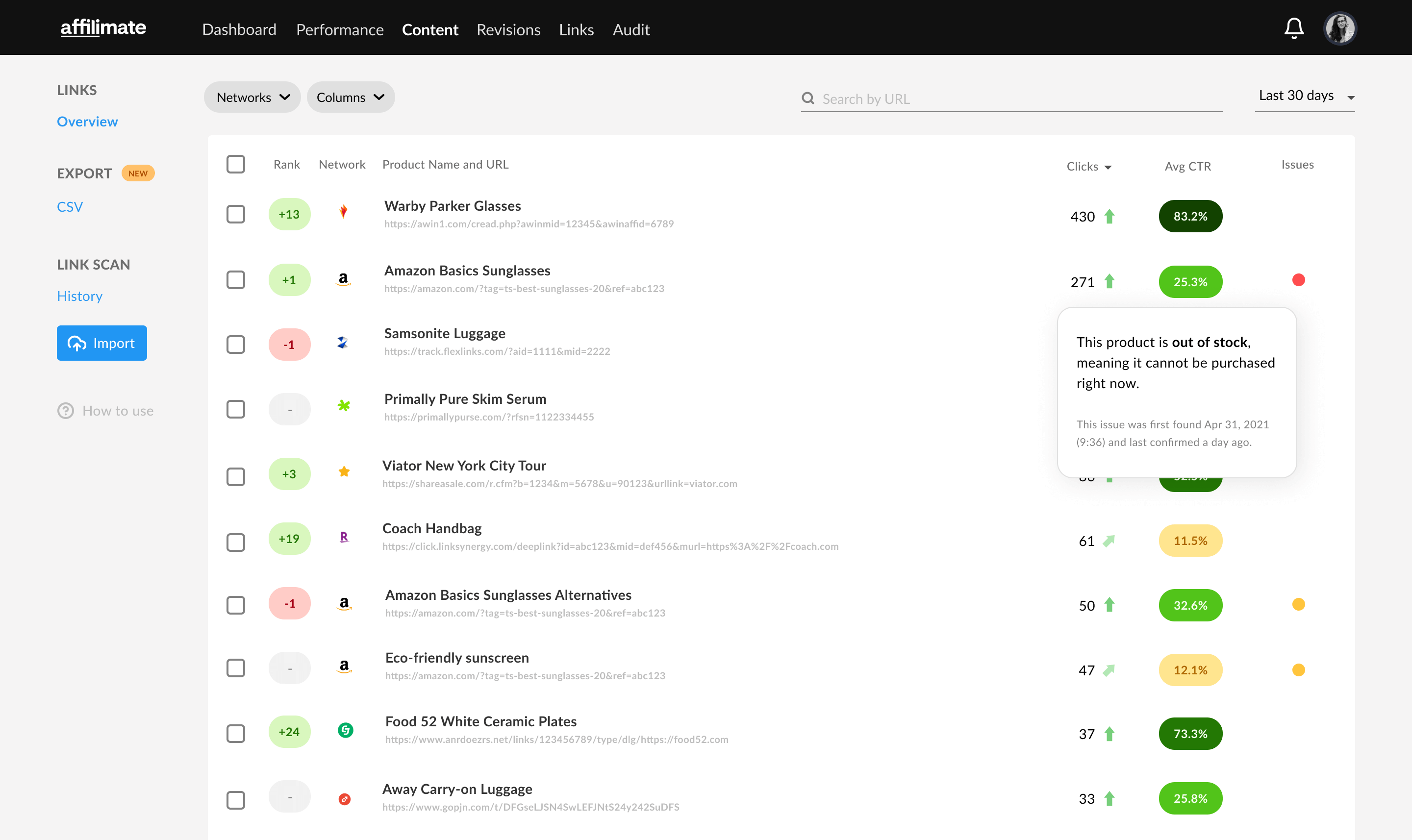 4. Promote your affiliate links and scale your income!
Pretty soon, your affiliate links will start buzzing with engagement and revenue. Continue the momentum and promote those affiliate links. Don't just include them in your blog articles; add them to:
Newsletters and email sequences
Podcast and video content
Resources pages
Social media
Online community forums
So you have a thousand affiliate links on your blog. Now what? You check up on ad performance and web traffic, right? Use analytics to measure success with affiliate links, too. Our Affiliate Dashboard shows you historical earnings, individual product commissions, and highest conversions in one place. You can use that data to promote profitable links even more, or improve slow ones.
You're well on your way to making serious cash, but let's quickly cover blogger affiliate programs for different niches.
Affiliate Programs for Bloggers
We can't stress it enough — the right affiliate program is crucial for revenue. Don't be afraid of being too picky. Consider the whole package before taking the plunge, assessing factors like:
Industry/Niche: Does the program have demonstrated experience in your industry?
Reader interest: Will your readers actually enjoy the products?
Commission and Average Order Value: Consider commission with how much your readers would spend. For example, a 1% commission isn't bad for products that cost over $1,000. But for the average $78 spent at Amazon? That's pretty low.
Market: Which countries does the program service? Is their market consistent with your audiences' locations?
Cookie duration: The time your buyer has to purchase the product after clicking your affiliate link. A short window is 24 hours, while more reasonable ones range between 3-7 days.
Check out some of the most popular affiliate programs for software, beauty, pets, education, and travel:
Canva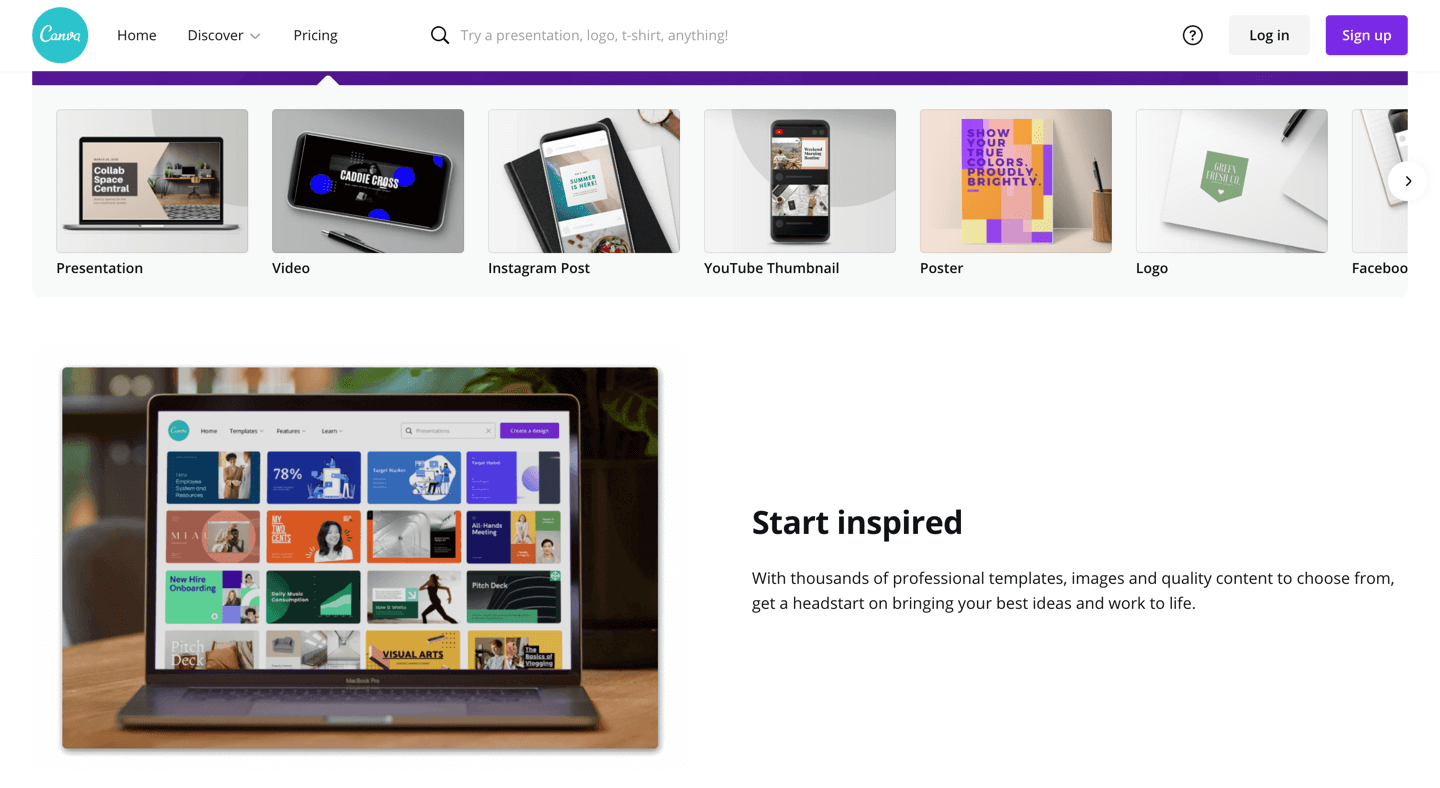 Canva is one of the most popular web-based platforms offering a range of design templates and layouts for designers and marketers to choose from.
Canva lets you create high-quality graphics and visual designs and is available in more than 100 languages. You can use Canva for free or opt to sign up for Canva pro which is priced at $12.99 per user per month.
Get on board the Canva affiliate program and earn $36 for each new Canva Pro subscriber that signs-up with your unique referral link.
NordVPN
NordVPN was founded by a group of friends seeking to create an accessible internet security tool. The company is based in Panama, with offices around the world. Notable features include a strict no-logs policy, file encryptions, and a secure password manager.
NordVPN has significantly invested into conveying its brand story through quality web design, copywriting and social media marketing. The brand has around 300k followers across social media platforms, which affiliates can tap into when communicating the credibility of the company.
NordVPN has an interesting affiliate program structure, in which affiliates earn different commission percentages based on which program customers sign up for. The commission rate is generous, at 40% to 100%, depending on the package, and 30% for renewals.
Sephora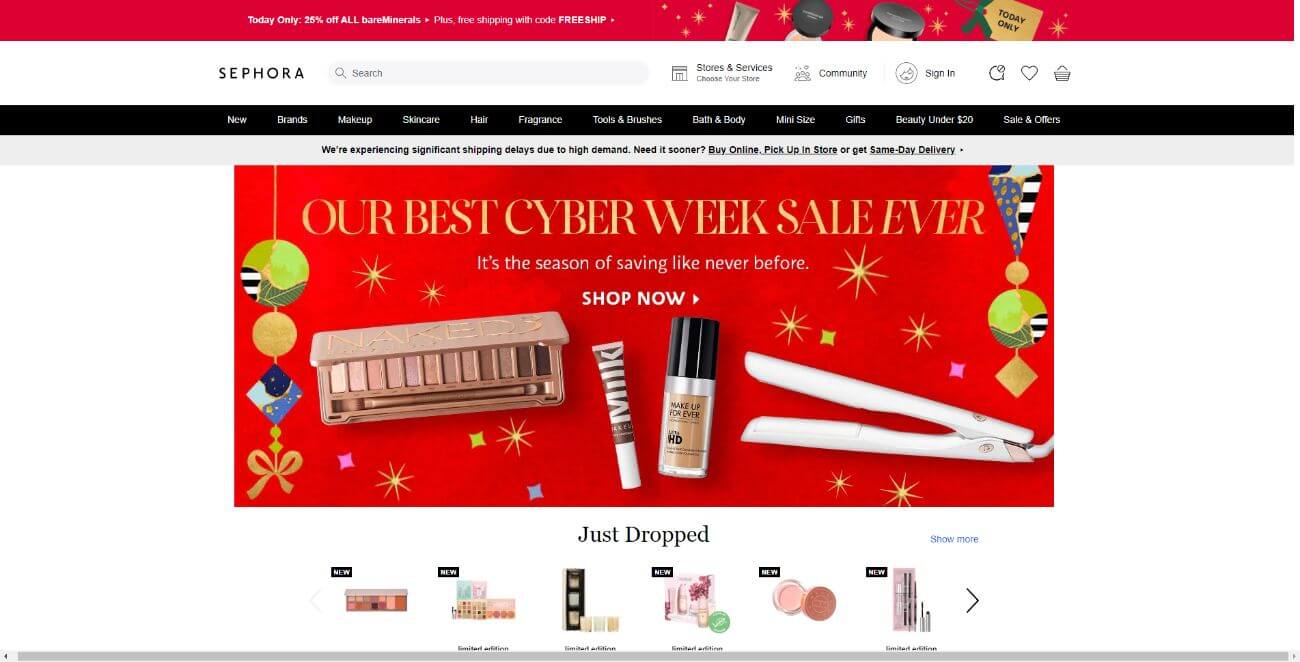 Program name: Sephora Affiliate Program
Network / Software: Rakuten, Impact, Sovrn
Commission: 0-5% base commission (Rakuten), 5% base commission (Rakuten), 3-8% web sale (Impact), 2.5-7% web sale (Impact), 4-10% web sale (Impact), 4% (Sovrn), 7.99% (Sovrn)
Cookie duration: 30 days (Rakuten, Impact), Not listed (Sovrn)
Brands: Charlotte Tilbury, Fenty Beauty, Huda Beauty, Too Faced, Dior, Chanel, Yves Saint Laurent, Rare Beauty, Fenty Skin, Dr. Jart+, AESOP, Bon Parfumeur, Moroccanoil
Markets: BR (Rakuten), KR (Rakuten), HK, AS, PH, TH, ID (Impact), SG, MY (Impact), NZ, AU (Impact), NZ (Sovrn), Global (Sovrn)
Sephora dominates the beauty industry with its omnichannel marketing approach. They are known for their early adopter mindset which is a tactic that has helped them not only be the first to embrace VR technology and m-commerce but also propelled them to come out profitable during COVID-19.
In one word, they know what they're doing and the customers love them for it.
Their affiliate program is just another example of their omnipresence. They are partnered with Rakuten, Impact, and Sovrn. You can earn a commission rate of up to 7.99%.
The best part is that you can leverage their free shipping and free sample offers in your content for any brand you choose, as a way to compel your readers to buy.
Acceptance into the program happens manually. Once you're in, you'll have access to affiliate-exclusive promotions and pre-made banners.
Etsy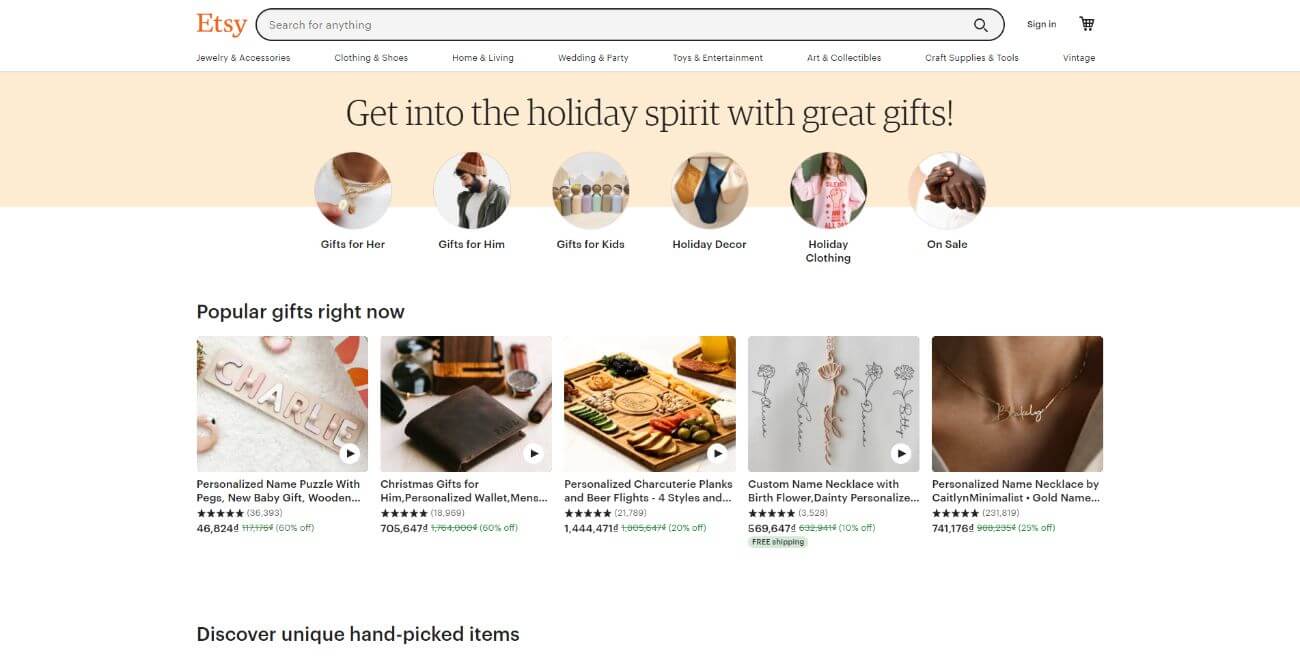 Etsy is an online retailer hosting all kinds of products from artists, and makers from around the world. You can find just about everything on their platform, from clothing and apparel, to homeware, to wedding accessories. Etsy is especially useful for customized gifts and unique finds.
If you're a lifestyle blogger, Etsy is a great affiliate option because it covers so many categories. The program offers an average 4% commission per sale, but because there's such a range of products and prices, commissions could be huge if you have a niche audience.
Zappos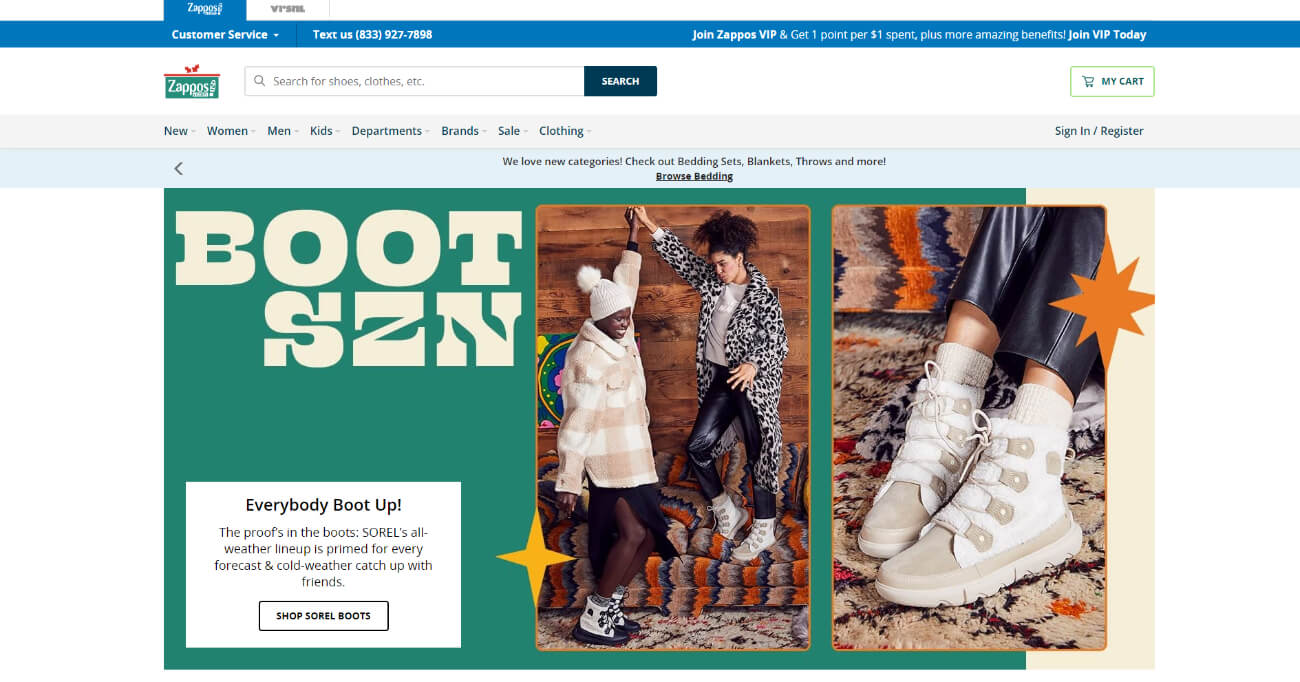 Back in 2009, Zappos was bought by Amazon for $1.2 billion. Since then, Zappos has expanded its offering from just shoes to eyewear, clothing, accessories and bags. The latest numbers from 2015 report $2 billion in annual revenue.
There's no question that Zappos is a name known in many households.
But when does it make sense to promote a brand on Zappos rather than Amazon?
Most affiliate content we analyzed does stick to promoting Zappos for what they're most known: shoes. This makes a lot of sense considering that Zappos offers a 7-10%, in contrast to Amazon which caps shoes at 4%. Zappos' cookie period is also comparatively generous at 30 days on CJ.
So if you're looking for the affiliate program for Nike, UGG, Vans, and Clarks, you can promote all those brands and over 1,300 more via Zappos.
The Zappos affiliate program landing page also reports an average order value (AOV) of $150. At a 7% commission rate, this pans out to a respectable average commission of about $10.50.
Finally, you can lean on Zappos' free shipping and free return policy to help your readers feel confident they won't regret their purchase.
Chewy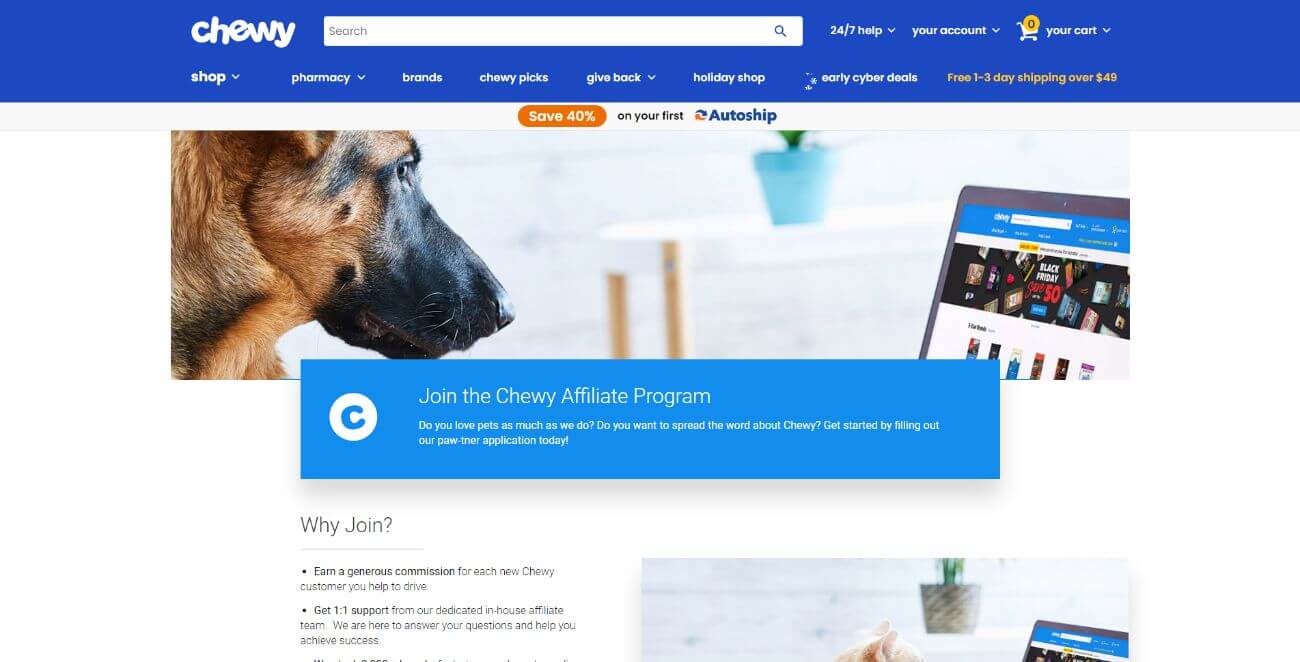 Program name: Chewy Affiliate Program
Network / Software: Partnerize, CJ Affiliate, Lemonads
Commission: 8% for new customer orders (Partnerize), $15.00 for new customer orders (CJ Affiliate), $20.00 (Lemonads)
Cookie duration: 15 days
Markets: US
Alternatives: Petflow at 10% for new customer auto-ship purchase, 8% for new customer one-time purchase, 6% for existing customer auto-ship purchase, 4% for existing customer one-time purchase (Skimlinks), 6% for new existing auto-ship purchase, 10% for new customer auto-ship purchase, 4% for existing customer one-time purchase, 8% for new customer one-time purchase (CJ Affiliate), 10.07% calculated average rate (Sovrn), 3.2% for existing customers one-time purchase, 6.4% for existing customer auto-ship purchases, 6.2% for new customer one-time purchases, 8% for new customer auto-ship purchases (FlexOffers), or Petco at 2% for each sale, 5% for each Vital Care program sign up (Impact), 92.16% net work commission rate (Sovrn), 4.8%, $8.00 on vital care (FlexOffers)
Chewy is a well-known pet supply store serving mostly the US market. They carry anything and everything from food to treats to grooming and even pharmaceutical products.
Their most notable savings scheme is the Autoship feature where buyers can save an extra 5% per order. This can be a significant amount when ordering dog food, for example.
Pet owners also don't need to wait for long to get their orders: Chewy offers 1-3 day shipping over just $49.
Your commission is $15 for each customer order (Partnerize and CJ Affiliate) or $0.44 EPC (LinkConnector). These are not the highest rates on this list, but Chewy makes up for it with 1:1 affiliate support and an affiliate-only newsletter.
Chewy's cookie duration is at a modest 15 days.
Udemy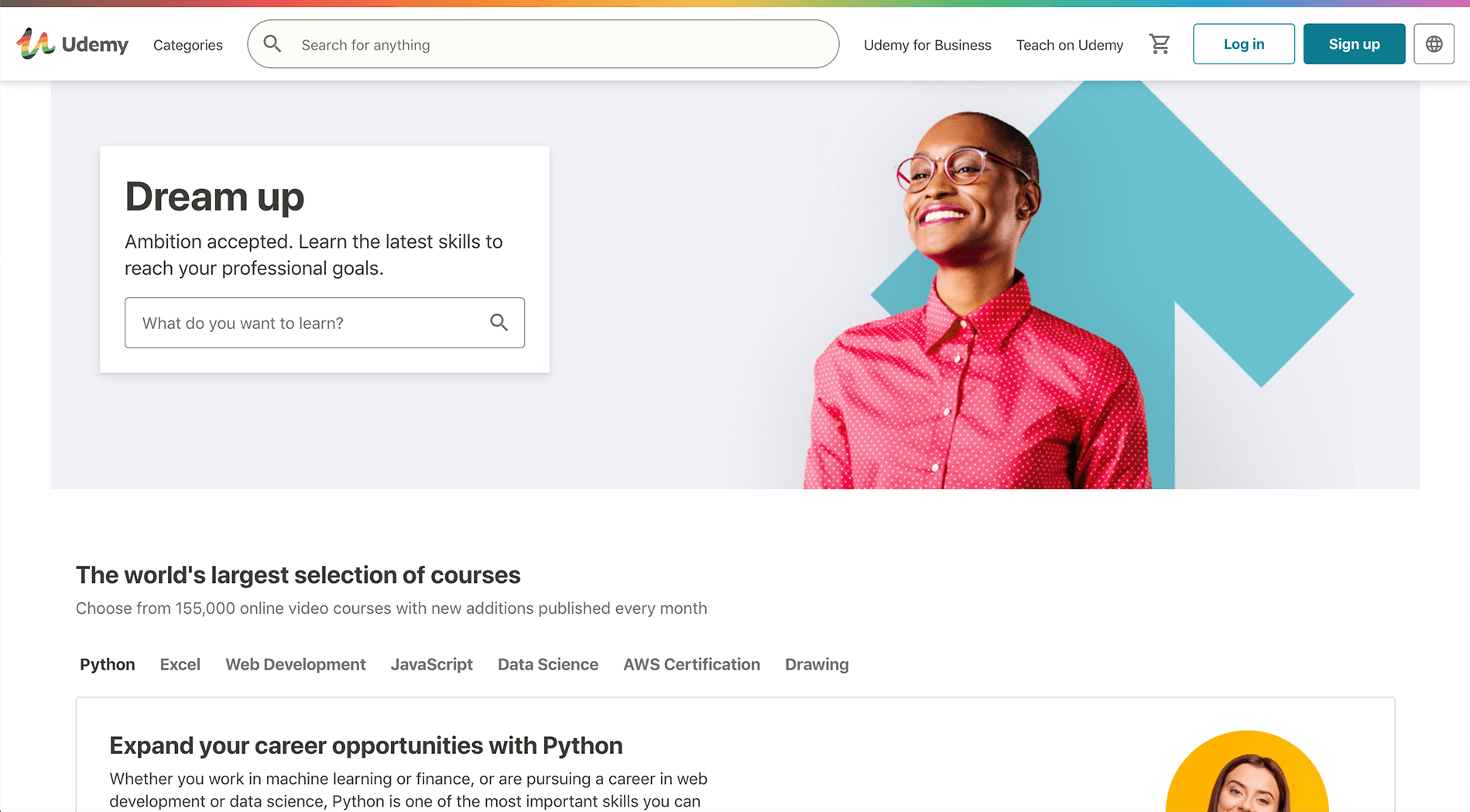 Program name: Udemy Affiliate Program
Network / Software: Rakuten, Sovrn, Awin, AdmitAd
Commission: 15% depending on publisher (Rakuten), 15% depending on publisher (Sovrn), 15% depending on publisher (Awin), 15% depending on publisher (AdmitAd)
Cookie duration: 7 days
Markets: US (Rakuten), Global (Sovrn), US, ES, NL, IT, FR, CA, PL, DE (Awin), US, RU (AdmitAd)
Alternatives: Coursera at 10-45% commission (Rakuten), 10% commission (Skimlinks), Masterclass at 25% Commission (Skimlinks), 25% per subscription purchase (Impact), or Teachable at 30-70% Depends on the course, often 30-70%
Udemy is without a doubt, one of the most popular education affiliate programs, according to our analysis of affiliate links from top elearning websites.
It has over 155,000 courses, each managed by independent instructors. Anyone can create and publish a course on Udemy, so be sure to vet the quality of courses before recommending them.
At only 7 days, it's cookie window is 75% shorter than the industry standard of 30 days. In practice, this means customers must arrive at your link ready to buy. Luckily, Udemy has a Marketplace Insights tool that you can use to gauge the most popular courses and perform niche research.
Although Udemy does provide assets like banners and images, these assets look like ads and in general do not convert as well as deep links. Deep links are hyperlinks that direct your audience to a specific place on a website. In this case, a specific course.
Adobe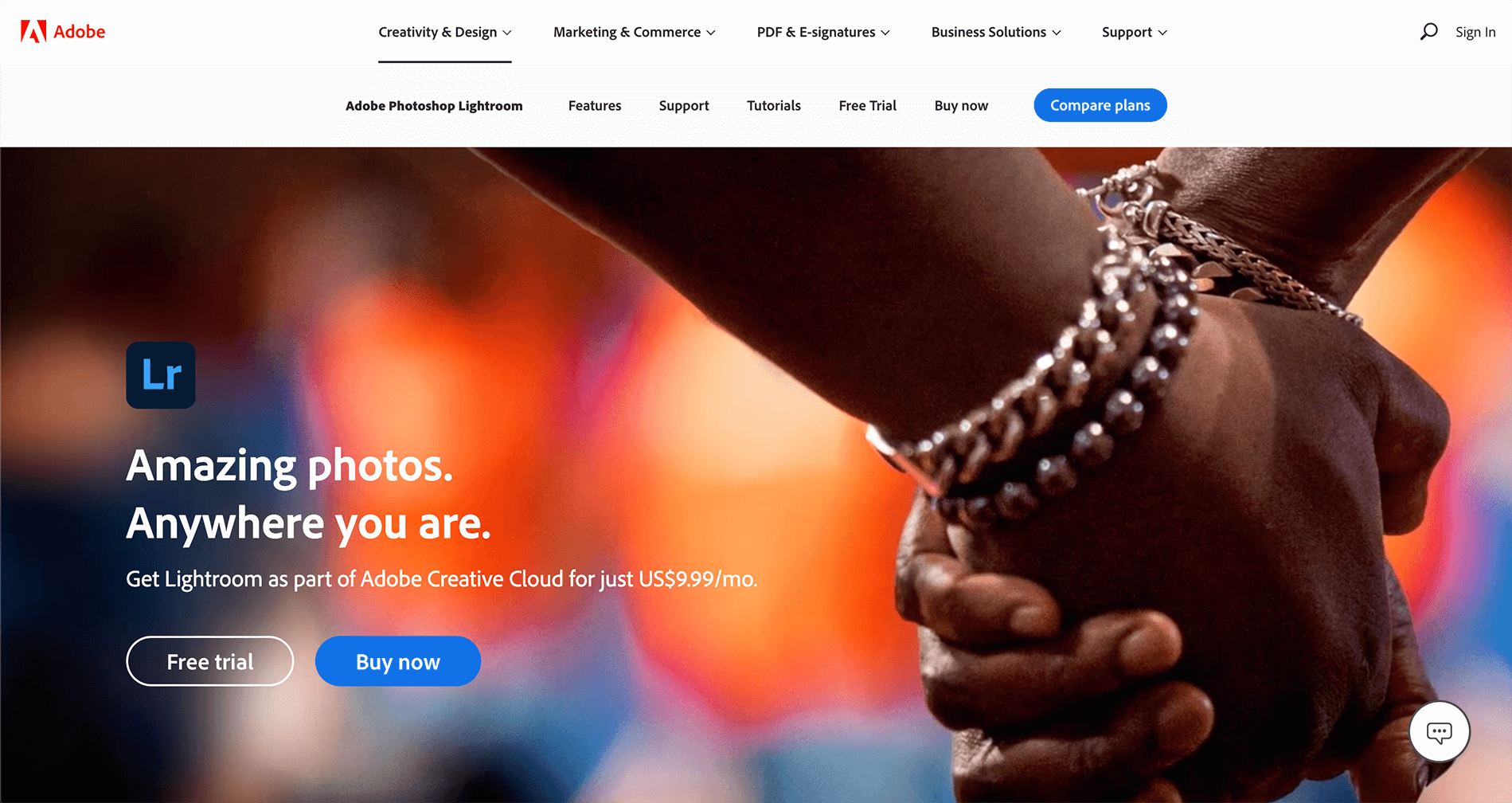 Program name: Adobe Affiliate Program
Network / Software: Partnerize
Commission: 85% of first month (for Creative Cloud), 8.33% of first year (for Creative Cloud), $72.00 for Adobe Stock subscriptions, 8.33% for single stock photo purchases
Cookie duration: 30 days
Markets: Global
Alternatives: Canva at $36.00 per sale of Pro plan
If you've been doing affiliate marketing for any amount of time, you'll quickly learn that software and non-physical goods tend to offer some of the best commissions. That's why we're including not just places to buy gear but also some of the most popular software photographers use day-to-day.
Adobe Lightroom is easily the most popular photo editing software used by photographers. If you do tutorials for Lightroom or create introductory content for photographers, this program could be a great fit for your site.
Offers: Photo and video editing software, stock photos (one-off or subscription)
TripAdvisor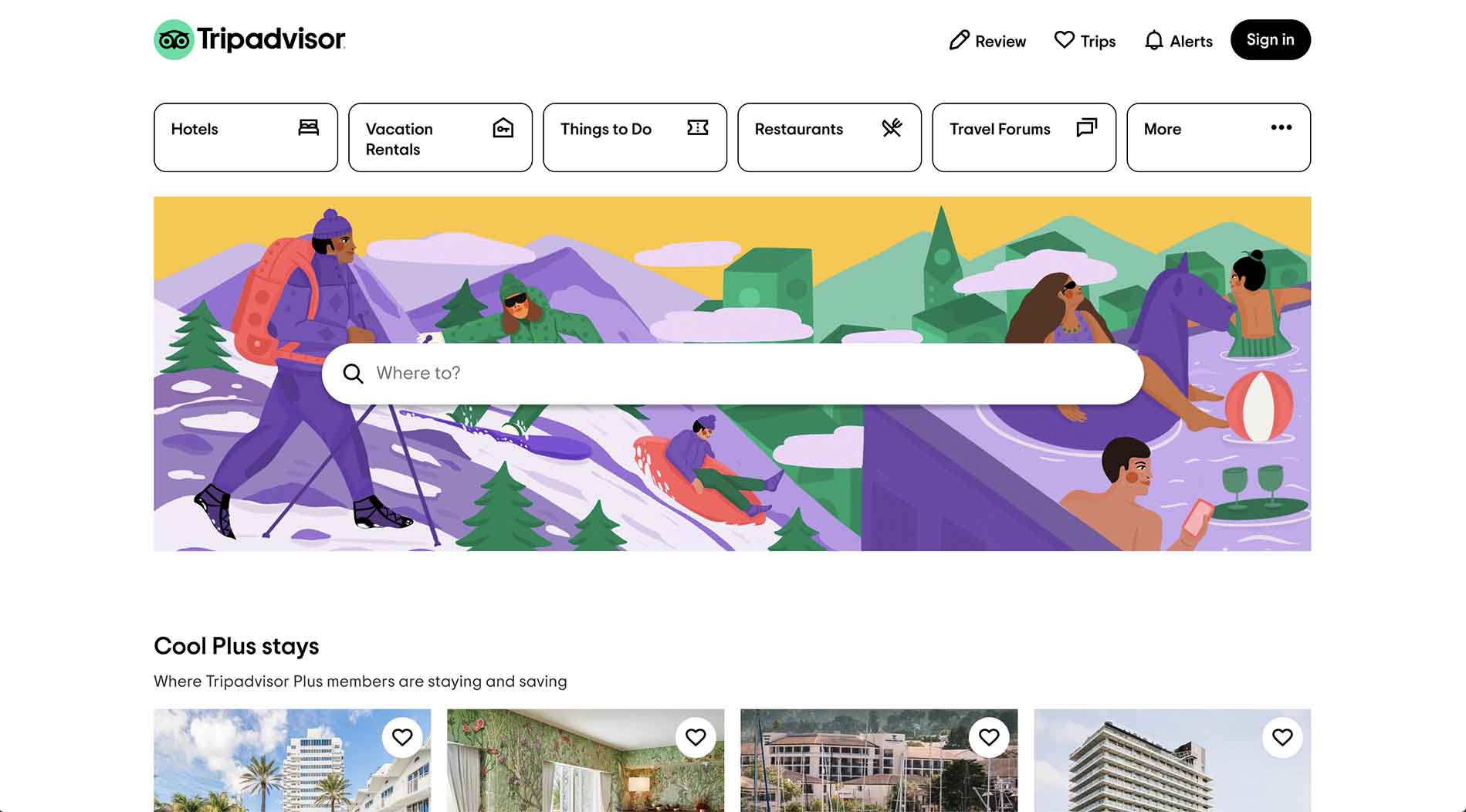 TripAdvisor is one of the most popular trip-planning websites online. On TripAdvisor, you can link to restaurants, attractions, and accommodation.
Basically, the TripAdvisor affiliate program shares revenue with affiliates based on leads, rather than sales. That means you'll generate many more, smaller commissions (think, $0.20 - $0.50 in most cases) than you would if you linked directly to the accommodation providers that TripAdvisor partners with.
But it's important to know that you'll only generate affiliate revenue if the click you send to TripAdvisor results in a click out to a hotel property. No other type of click out generates a commission for you.
Whether or not this is a good strategy for you heavily depends on the type of content you're writing. For content that's early in the trip-planning journey, this could make sense. But there you're still hoping to get lucky, as opposed to being intentional about the kind of content and links you're promoting.
If you're writing guides designed for people who are actively booking their stay, promoting hotels through Booking.com, Agoda, or Hotels.com will likely prove more profitable.
Final Thoughts
Affiliate marketing for bloggers is a wide-open door to lucrative passive income, networking connections, and happy readers.
CEO of WPMayor, Mark Zahra names affiliate marketing as the highest source of revenue in his decade of experience:
As long as we keep our content up-to-date and relevant, readers will keep coming and converting, generating affiliate commissions. Ads and paid services have been good to us too, but they require constant work to bring in new leads.
Remember that passion that keeps your blog alive in the first place. Remember how rewarding it feels for readers to relish your content. Carry that excitement into the rest of your affiliate marketing journey, and you'll see results.
But you might need a helping hand managing partnerships, links, and analytics. The right tech can help!
Our affiliate marketing software keeps your commissions, links, and data in one place and helps you grow your income. Book a demo with us today!