12 Best Credit Card Affiliate Programs in 2023 (Based on Data)
By Irene Lopez · Updated Jan 16, 2023
Foraying into personal finance in the form of credit cards can be highly lucrative for affiliate marketers. The financial services sector provides some of the largest commissions and payouts in the industry.
There is also a huge market for credit cards. The global credit card market size is expected to grow to $106.67 billion in 2026 at a CAGR (compounded annual growth rate) of 1.1%. It's also common for credit card owners to have more than 1 credit card at their disposal. In the United States, the average consumer owns 2.7 credit cards, with about 14% of consumers owning at least 10.
If you're considering dipping your toes into the world of credit card affiliate, bear in mind that while the rewards are satisfying, the market can be hugely competitive. That's why we've chosen some of the best credit card and payment service affiliate programs out there to feature in this list. Great products often sell themselves!
Several of the sites we've analyzed that made it to this list also include travel affiliate programs, especially luxury hotels, giving you more opportunities to increase your earnings. Also, take advantage of the dedicated support that's available on some of these programs to strategize ways to increase your sales!
How we compiled this list
Before we dig into the list, I just want to share how we compiled it.
To create this list of the best credit card affiliate programs, we analyzed which merchants 25 top finance blogs were sending their readers to with affiliate links using our Affiliate Link Scanner.
After all, if a famous blog about credit cards, travel hacking, and points-collecting is repeatedly linking to the same site, there's a good chance it's converting for those products and their audience.
The result is a list of the top credit card affiliate programs, based on the affiliate strategy behind the biggest and most successful sites in this niche.
All based on publicly available data.
Credit card affiliate programs
Here are the credit card affiliate programs for businesses, prepaid cards, and payment processing to promote, based on data:
American Express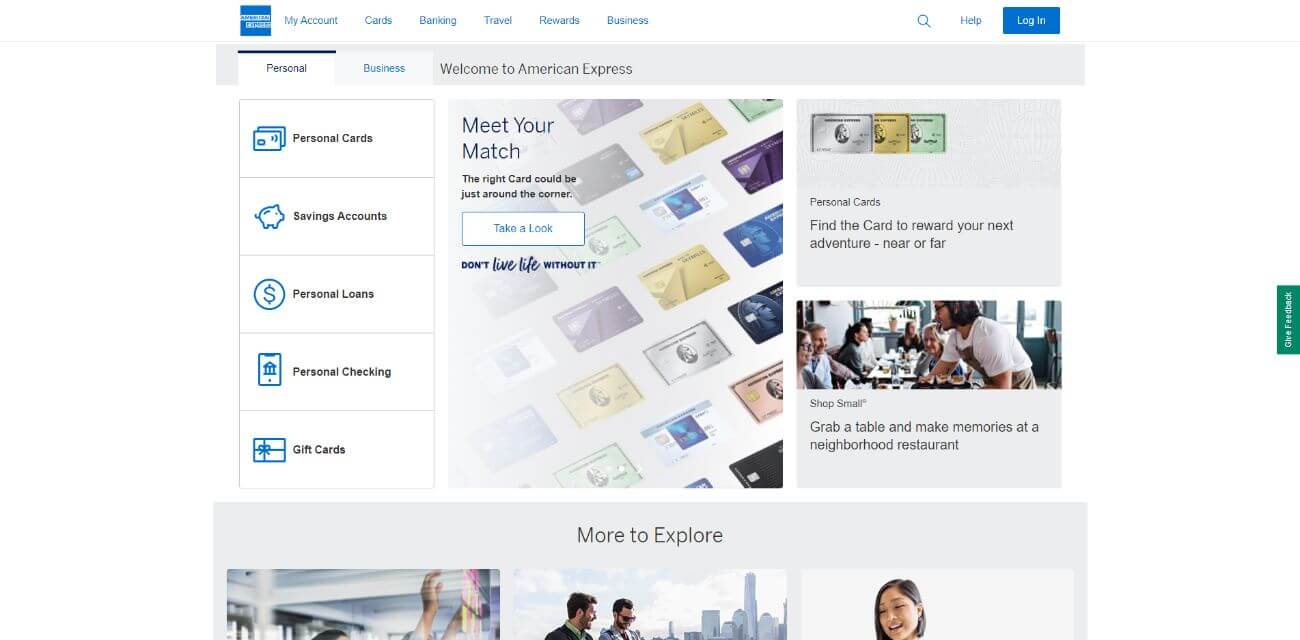 Program name: American Express Affiliate Program
Network / Software: Daisycon, Awin, CJ Affiliate, Bankrate Credit Cards
Commission: €2.50-€110.00 Different fees per product, maximum of € 110.00 CPS (Daisycon), €0.00-€84.60 depending on the product (Awin), CA$0.00-CA$350.00 depending on the item list (CJ Affiliate), (Bankrate Credit Cards)
Cookie duration: 30 days (Daisycon, Awin), 7 days (CJ Affiliate), Not listed (Bankrate Credit Cards)
Markets: Global (Daisycon), IT (Awin), CA (CJ Affiliate), Global (Bankrate Credit Cards)
American Express, or AMEX as it's more popularly called, is a brand that needs no introduction. A true stalwart, American Express has been in the business of financial services from as early as 1850. Since then, the company has built an enviable reputation for a highly-rated product portfolio and service excellence.
The American Express credit card offers the following benefits:
Each purchase unlocks savings for plane tickets, travel, gifts, or concert tickets
Early access to ticket sales for the best places and unique events
A unique collaboration with Air France/KLM in the form of Flying Blue cards
All purchases are insured against damage and theft
One or more extra card(s) are available at no additional cost
As an affiliate, you always get the most up-to-date collateral for marketing purposes. Expect to get your affiliate pay-outs in the form of monthly checks. In terms of earnings, you're looking anywhere up to €110 or CA$350, depending on the specific item and the network.
Chase
Chase has the unique distinction of having issued the largest number of credit cards — a whopping 93 million credit cards in circulation as of 2021, according to Shift. Not a biggie when you consider that Chase also serves nearly half of all American households with their financial products. This gives you just some idea of the brand recognition and potential reach of this company and it's not just limited to the US.

The company, more formally known as JPMorgan Chase Bank has a presence in over 100 countries worldwide.

Chase offers a number of different credits cards. Select your favorites or promote the entire bouquet of credit card offerings. Your benefits for referrals can vary depending on the credit card. So if someone purchases a Chase Freedom Credit Card through you, you get $100 cashback.

You also have the option to promote hotel-themed, airline-themed, and even Disney-themed credit cards for bonuses, miles, or rewards as the case may be. Another option is the ability to gain up to 100,000 points every year in exchange for having businesses sign up for their credit cards.

Reach out to Chase via their Twitter handle @ChaseSupportTwitter with the overlay 'Chase Support' if you need advice, support, or you want to discuss exclusive deals.
Capital One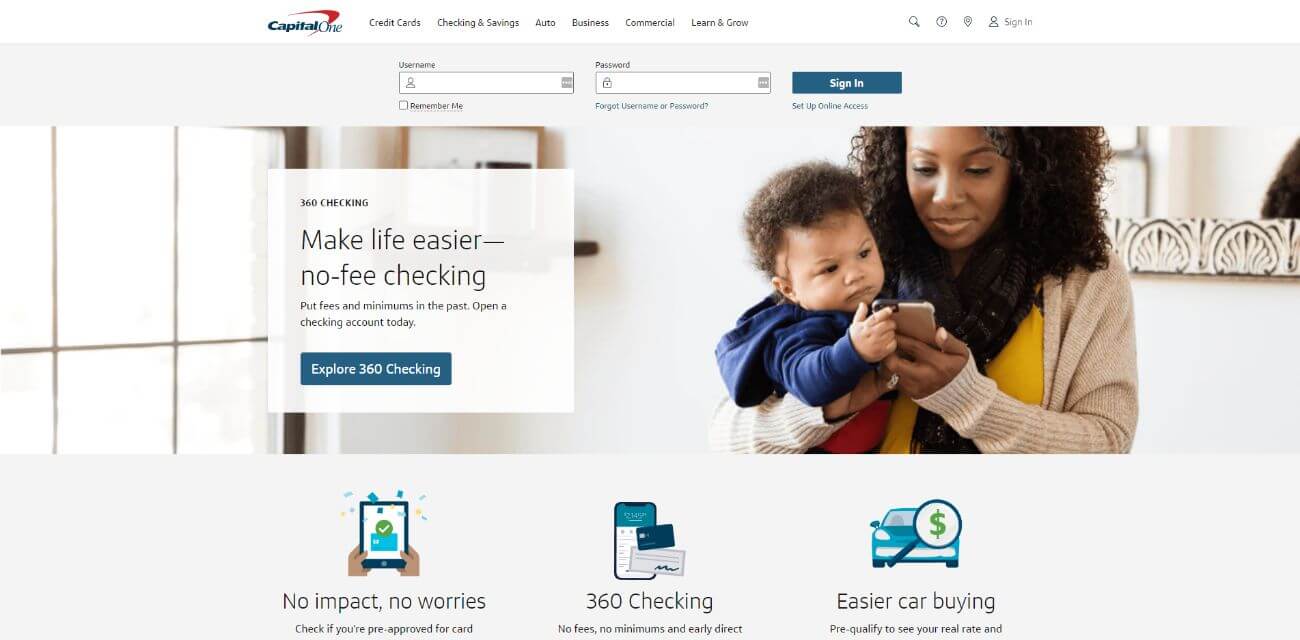 Capital One is one company that doesn't want to be segmented into financial services alone. A quick glance at their website tells you that they have some alternative services that can be an added incentive for your audience to buy. Examples:
A Capital One Shopping Tool that automatically scans for savings and applies them to your cart.
Small businesses can use the free Capital One Spring facility to get group deals.
Bear in mind that you already have to be a Capital One credit card holder in good standing to earn from their programs. You should also be holding any of these credit cards for eligibility to take part in the program: Quicksilver, QuicksilverOne, Savor, SavorOne, Venture, VentureOne, Platinum or Secured Mastercard® .

There's an initial sign up, registration, and sign up process to start with. After you've been approved, you'll get a personal referral link that you can use for promotions.

There's potential to earn up to $500 yearly on the program by driving signups but defer to the Capital One website for specific information. A 30-day cookie duration applies.
CreditCards.com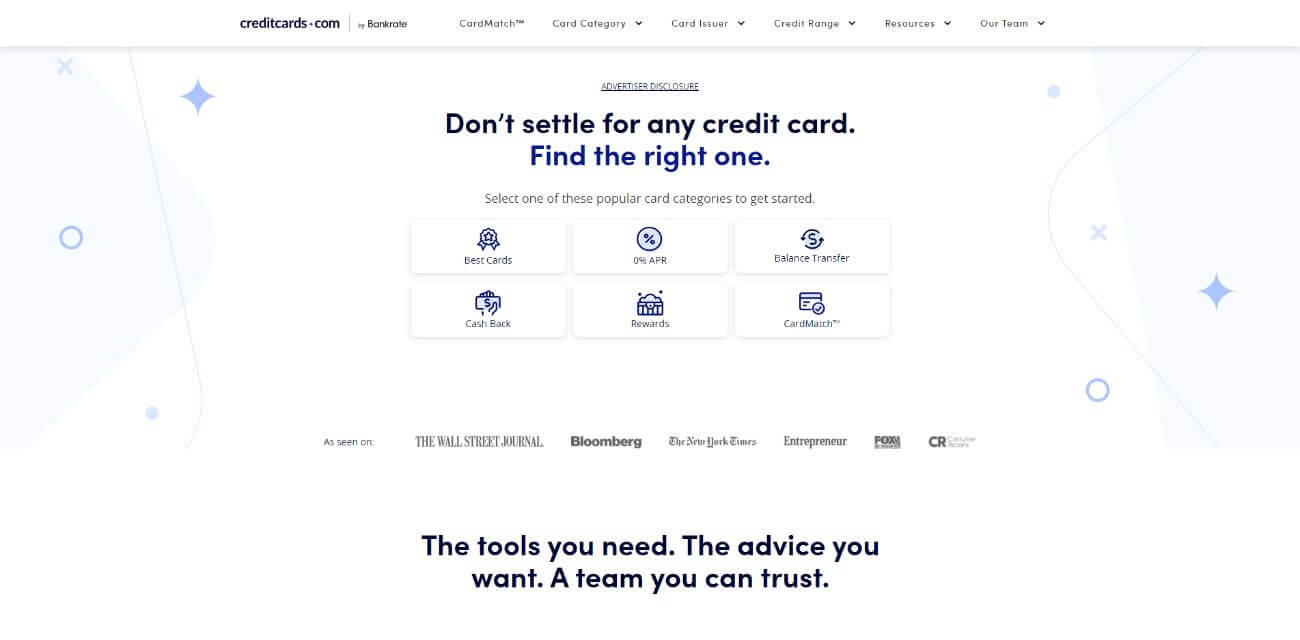 The aptly titled CreditCards.com has been designed to serve as a one-stop online resource for all things credit cards. The parent company Bankrate has been in the financial services industry since 1976, and they've also spent an impressive 17 years specifically developing and perfecting their credit card offerings.
CreditCards.com can be highly appealing to affiliate marketers who don't want to limit themselves to a specific company or credit card. Redirecting your audience to purchase credit cards via CreditCards.com can offer them more choice, enhancing their ability to find a 'best-fit' credit card. Speaking of best-fit, their Card Match tool present on the website helps customers find their ideal credit cards.
According to the Bankrate website, the following is on offer for affiliates:
Access to offers from the largest card issuers
Top monthly pay-outs, although specific commissions and cookie durations have not been visibly listed on their landing page
User-friendly tracking and reporting
Creatives and marketing collateral available online
Great customer support for affiliates.
M1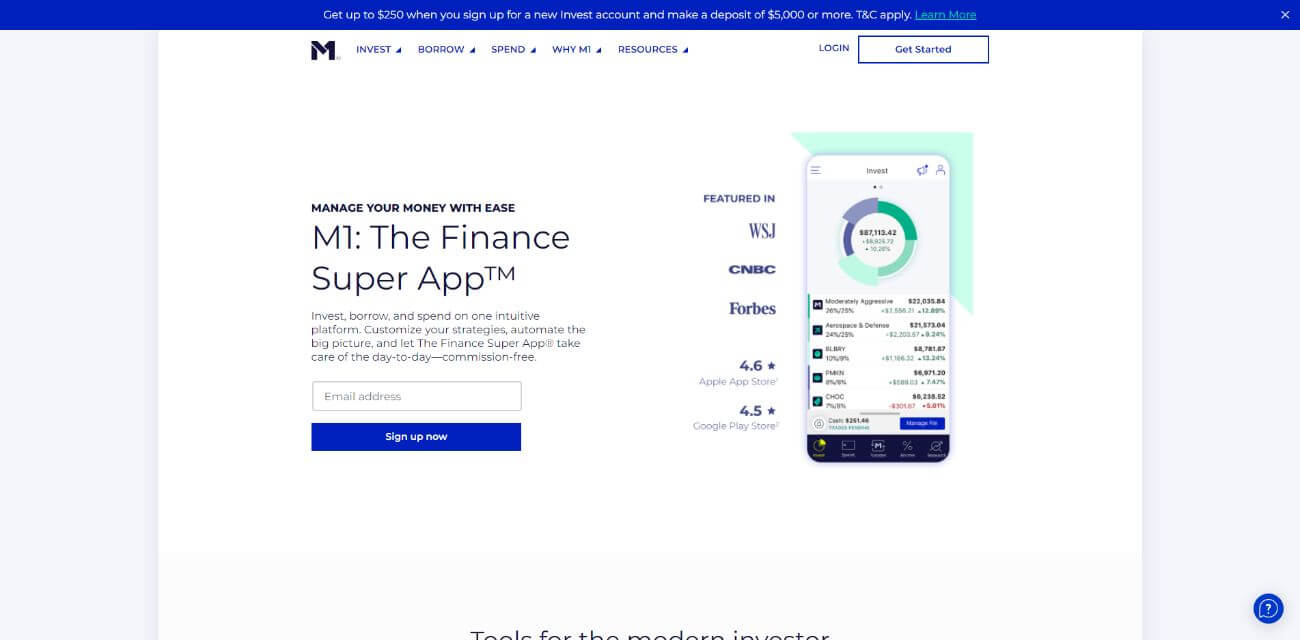 Program name: M1 Affiliate Program
Network / Software: Impact, Skimlinks, FlexOffers, Sovrn
Commission: $70.00 Qualified Funding, $50.00 Initial Funding (Impact), $25.00 Account creation, Initial Funding (Credit), $70.00 Credit Card Approval (Impact), $50.00 Initial funding, $70.00 Qualified funding (Skimlinks), $40.00 Initial Funding, $56.00 Qualified fundings (FlexOffers), $20.00 Initial Funding and Account Creation, $56.00 Credit Card Approval (FlexOffers), (Sovrn)
Cookie duration: 30 days (Impact, FlexOffers), Not listed (Skimlinks, FlexOffers, Sovrn)
Markets: US
M1 is one of the few credit card affiliate programs on this list that lays out most of the information you need as an affiliate marketer clearly and transparently on their website. You won't need to do much digging for this one, but more information on what you'll actually earn requires going through the sign-up and approval process.
M1 is uniquely focused on the topic of wealth-building and management powered by automation. They also have a supplementary app called The Finance Super Appfor mobile users. M1 provides options for investment as well as borrowing against investments. In terms of credit cards, they have 3 different options with varying entry requirements and benefits - the M1 and M1 Plus credit cards, and the exclusive Owner's Rewards Program card for investors.
What's in it for you?
Start earning as soon as you get approved
Extra boosts and commissions spread throughout the year
Access to their inner circle newsletter, one-one-support, creatives and marketing assets, in-person face time at live events
The ability to add SubIDs under your main referral link
Barclays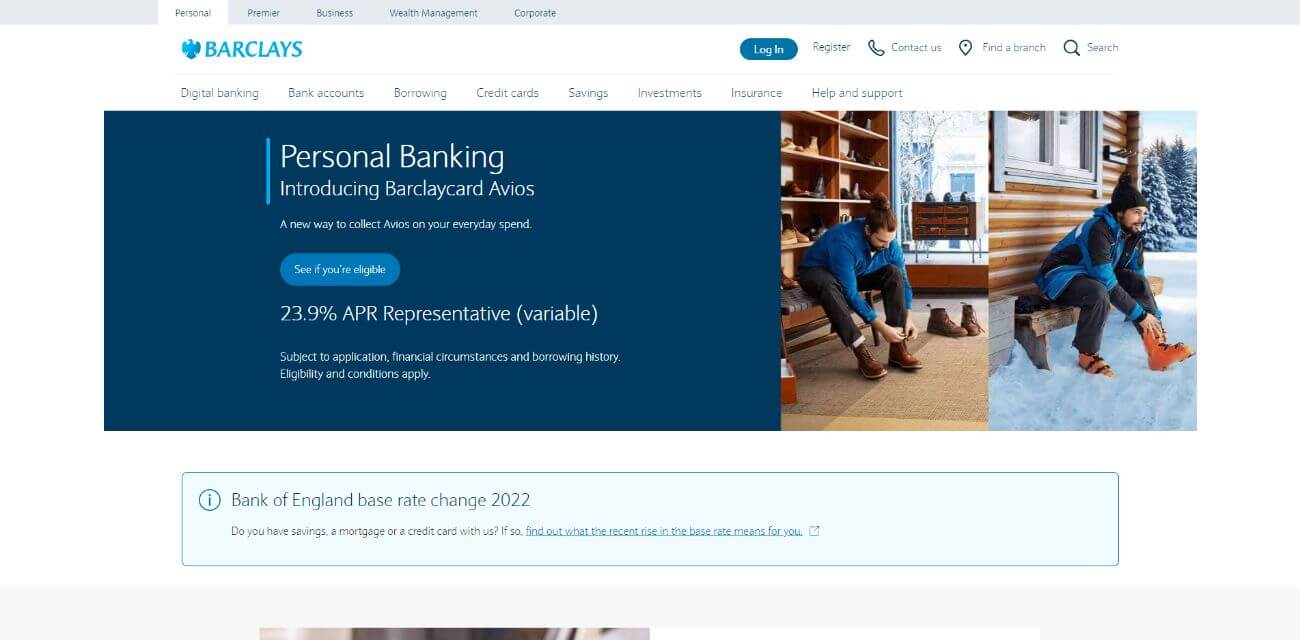 Barclays is a recognizable and trusted name in the world of banking and financial services. Through the Barclaycard affiliate program, you will be promoting two of their best credit card offerings — the Barclaycard Arrival Plus World Elite Mastercard and the Barclaycard CashForward World Mastercard. You can target both high net worth individuals as well as cost-conscious savers with the benefits provided on these cards.
Affiliate marketers gain the following benefits when signing up for the program:
Commissions on approved applications for either or both credit cards.
Access to marketing collateral in the form of text links and banner ads.
Redemptions bonuses that you can use for future redemptions.
In terms of what the credit cards themselves offer to the buyers, here are the basics to know:
The Barclaycard Arrival Plus World Elite Mastercard provides double miles on all purchases. Users also earn additional miles when they share travel stories in the mobile-friendly Barclaycard Travel Community.
The Barclaycard CashForward World Mastercard offers 1.5% cash rewards on every purchase. There's also a $200 cash rewards bonus on qualifying purchases.
Upgrade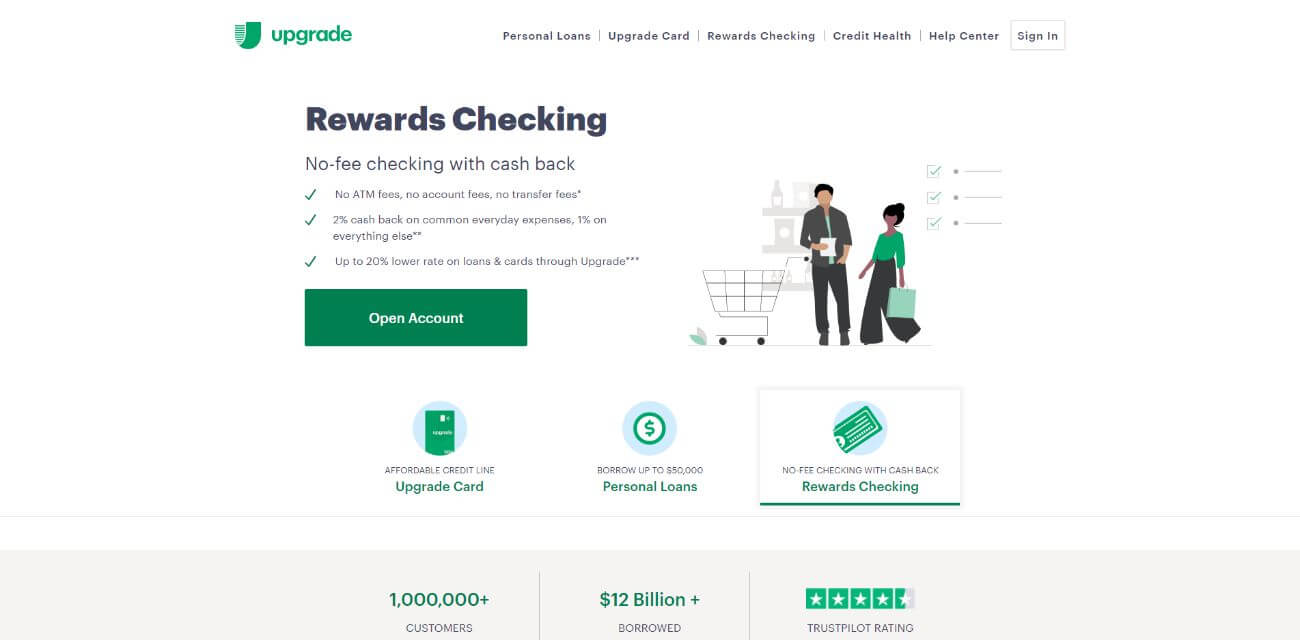 Upgrade isn't a credit card product per se. But the company offers affordable loans which they suggest can be used as a means to pay off high-interest credit cards. That makes Upgrade a great product for affiliate marketers looking to expand their reach to other related financial services verticals. Loans are available up to an amount of $35,000 with attractive low and fixed interest rates that 'never change'.
These affiliate marketing programs are available through Impact and FlexOffers currently. Expect to earn commissions in the region of 2% per personal loan issued and additional commissions in the range of $75-$200 on Impact. On FlexOffers, it's 1.6% per personal loan issued and $60-$160 additional commissions. The cookie duration is 30 days.
Chime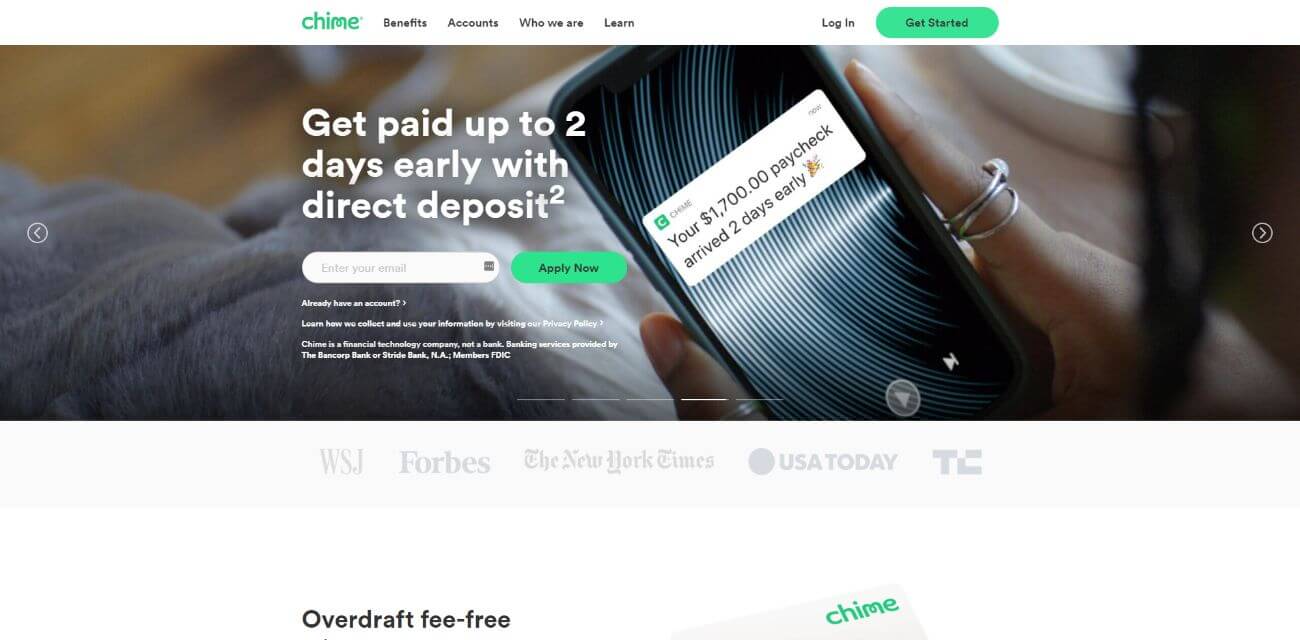 Chime was created to fill a gap in the banking industry to meet the needs of underserved customers and unmet needs. Fundamentally, it's an innovation-focused financial technology company that provides member-driven financial products that are not just better but also lower in costs than what's already available in the market.
While Chime is not a credit card offering, it's another product that the creative affiliate marketer can use to expand their audience and build extra commissions. For instance, customers can find Chime's financial offerings more attractive in comparison to getting high-interest credit cards!
They've designed their products to appeal to cost-conscious consumers looking for value-add services. Take, for example, the ability to overdraw up to $200 on debit card purchases and cash withdrawals without paying a fee (with conditions). Other benefits include no minimum balance requirements, no monthly service fees, no foreign transaction fees, and no transfer fees. And there are a lot more benefits worth checking out on the Chime website!
Chime offers flat commissions per successful enrollment. Expect to earn $8 on FlexOffers and $10 on CJ Affiliate. Sovrn hasn't listed their commission rates. Take note that CJ Affiliate offers a 1-day cookie duration on their program.
Square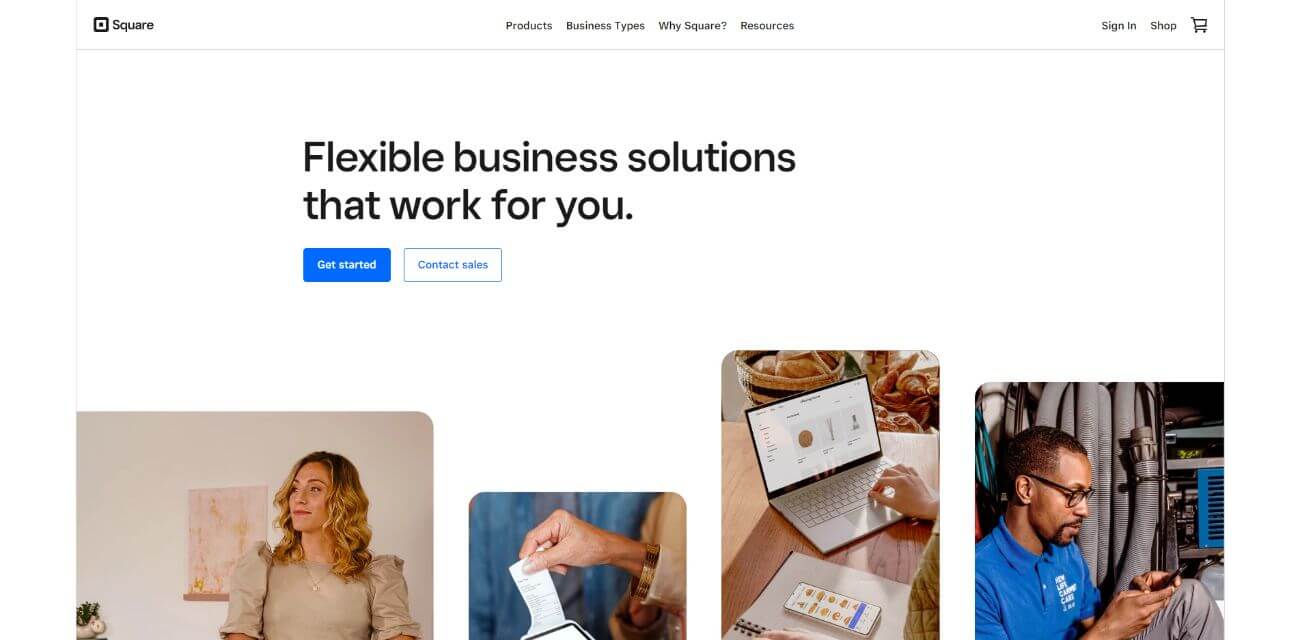 If you're a key influencer or an industry expert regardless of the niche, and you're teaching people how to build and grow an affiliate business online just like you, Square is an affiliate program worth looking into. Square offers services ideal for entrepreneurs looking to start, run, and scale a business online.
They have a range of different products to choose from and your commission structures can vary depending on the product. Potential buyers can choose from Square payments, Square financial hardware solutions, Square Payroll, Square for Retail, and many more products.
Commissions are provided per activation and 'select sales'. Expect to earn up to $233 depending on the product, on Impact. Square also has a longer-than-average cookie duration at 45 days. They don't appear to be strict about the type of website as long as it's related to their services and the content isn't objectionable, offensive, or from a prohibited industry. Refer to their landing page here for more information.
Other pluses for promoters are a dedicated program manager and marketing assets to place on your website.
SumUp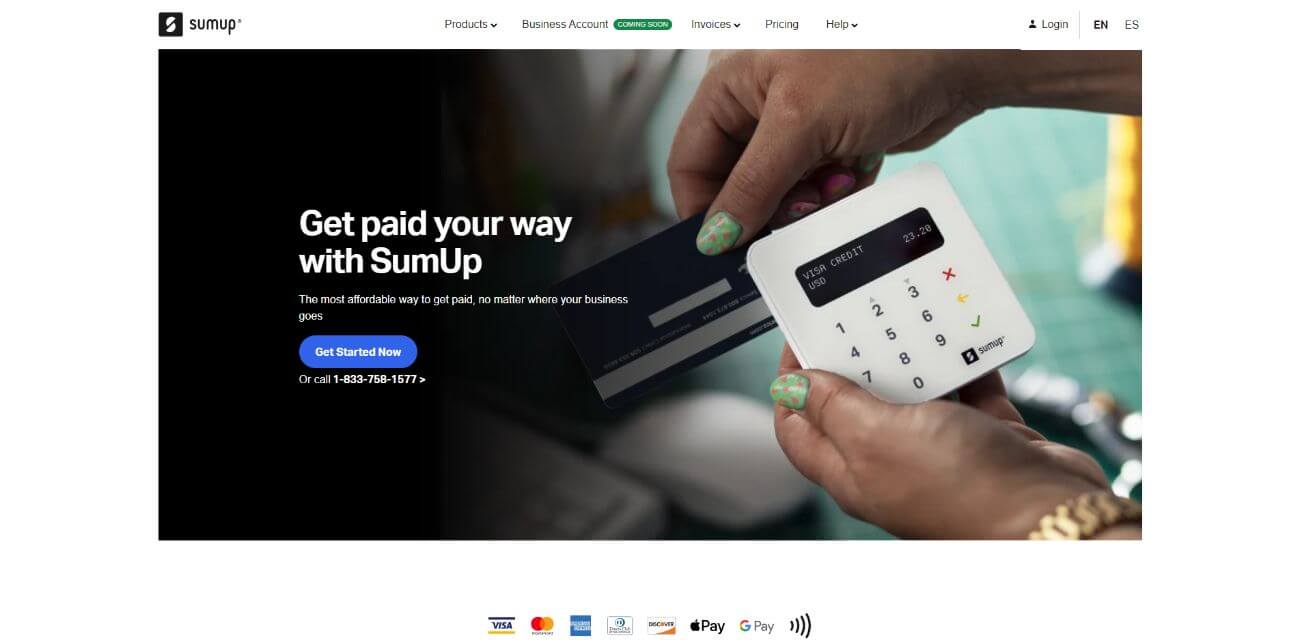 Program name: SumUp Affiliate Program
Network / Software: Post Affiliate Pro, Rakuten, Sovrn
Commission: €0.00-€35.00 for each sale, minimum payout €250 (Post Affiliate Pro), $15.00 SKU List Plus, $20.00 SKU List Pro, $25.00 SKU List Solo (Rakuten), (Sovrn)
Cookie duration: Not listed (Post Affiliate Pro, Sovrn), 30 null (Rakuten)
Markets: Global (Post Affiliate Pro), US (Rakuten), BR (Sovrn)
SumUp specializes in solutions for cashless payments i.e. card readers for credit, debit, and contactless payments. Again, an allied product that you can use while promoting credit card sales.
SumUp's commissions are attractive. To get a sense of the huge earning potential that's possible, the company states that you can expect to earn over £2,000 a month if you sell a minimum of 20 card readers during this period.
Commission structures can vary if you're choosing to go down the network route. Post Affiliate Pro gives you up to €35.00 per sale with a minimum balance of €250 required for pay-out. Rakuten offers between $15 and $25 depending on the product.
In terms of USPs, the card readers are simple to use and affordable with no monthly fees or binding contracts. As an affiliate, you also have access to a professional affiliate platform and personal support from the SumUp team.
Credit Karma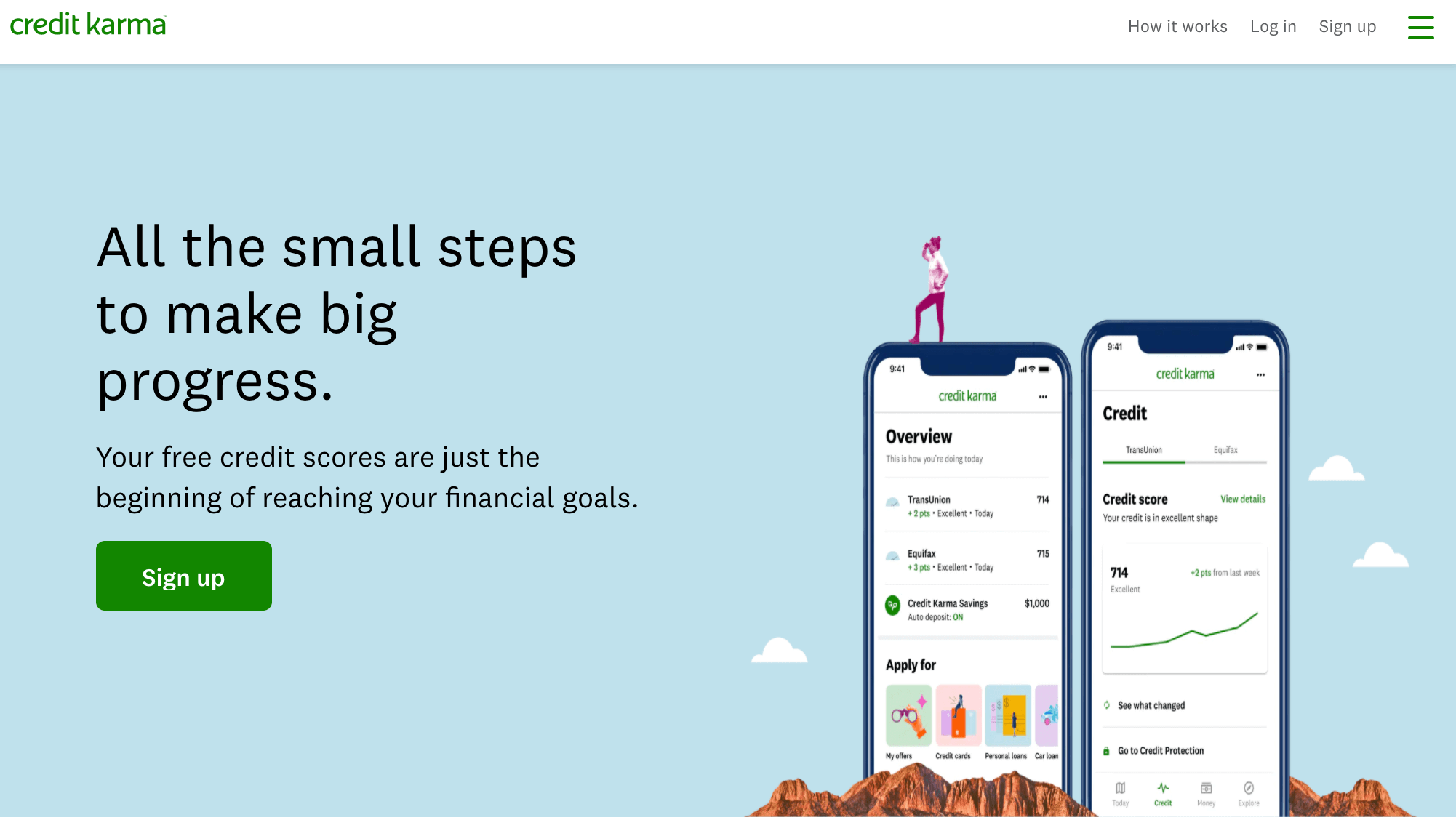 Credit Karma offers low commissions compared to other financial products, but the promotion process has way less friction due to it being a free service. You don't have to convince your audience to buy anything - instead, show the benefits of Credit Karma's free credit tools.
Credit Karma's cookie period is 30 days, and your lead just has to create an account for you to get paid. This makes it a relatively simple process compared to financial services that require users to deposit or spend money in order for affiliates to receive a payout.
Plus, you can recommend Credit Karma next to other similar financial affiliate products, like credit cards or banks that offer loans. This creates a unique cross-sell opportunity that maximizes earnings.
Credit Sesame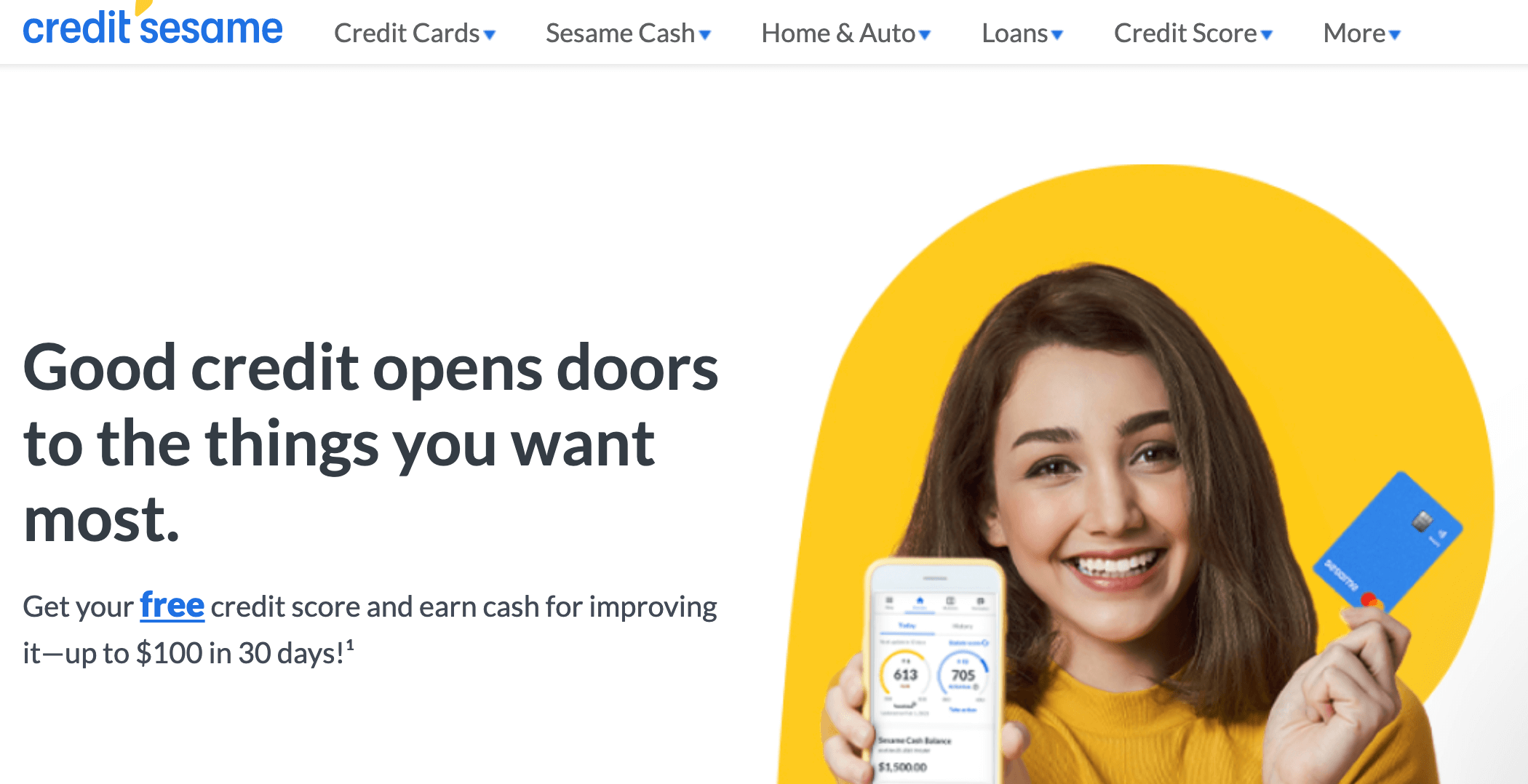 Credit Sesame and Credit Karma are relatively similar products. What sets Credit Sesame apart is that their free membership includes $50,000 of identity theft insurance alongside free credit reports. Since both are free products that offer slightly different value propositions, you can promote both products as complements to one another.
While Lifelock has a higher raw commission, it's important to note that your audience has to pay for it, which generally requires a longer sales funnel for affiliates.
In other words, it takes more time to convert an audience to a paid product than a free one, so look for the optimal point between conversion volume and commission rates.
Are you struggling with tons of affiliate platforms and links?
If you're running website that's monetized with affiliate marketing, there's a high probability your affiliate commissions are scattered across a ton of different platforms.
This makes it hard to get an overview of what's working well, efficiently test different products and programs, let alone optimize your content for conversion.
Affilimate was designed to fix that. It helps you collect your affiliate data (clicks, commissions, and content analytics) into ONE place so you can optimize conversion and grow your revenue.
Start your free Affilimate account and get tracking today.