14 Best Insurance Affiliate Programs in 2023 (Based on Data)
By Natalie Robin · Updated Jan 16, 2023
The insurance industry is one of the most lucrative niches in the blogging world, and insurance affiliate programs can be a great way to earn a piece of the profit.
Even before 2020, the insurance industry was one of the highest paying in the blogging world. In fact, insurance keywords can have a cost per click (CPC) of over $200.
As a result of the pandemic, insurance bloggers have a new opportunity to offer stability at a time when many are facing a lot of uncertainty.
Fintech startups in the insurance industry are making it easier than ever to apply to affordable insurance plans that offer families and individuals peace of mind.
Through easy to use online platforms, modern branding, and intuitive websites, these new platforms appeal to a millennial audience that's planning for the future.
However, it's not just new companies that are offering great insurance affiliate programs. Some industry mainstayers, like Chubb Insurance, and USAA could be great fits for affiliates with niche audiences of business owners or army vets.
Most of these companies offer payouts based on leads, so each time you generate a quote through your content, you earn a commission.
Read on to discover some of the most innovative insurance companies, and find which insurance affiliate program best suits your audience.
How we compiled this list
Before we dig into the list, I just want to share how we compiled it.
To create this list of the insurance affiliate programs, we analyzed which merchants 25 top insurance and finance blogs were sending their readers to with affiliate links using our Affiliate Link Scanner.
After all, if a famous blog about insurance and financial planning is repeatedly linking to the same site, there's a good chance it's converting for those products and their audience.
The result is a list of the top insurance affiliate programs, based on the affiliate strategy behind the biggest and most successful sites in this niche.
All based on publicly available data.
Insurance affiliate programs
Here are the best car / auto, life, health, travel, and pet insurance affiliate programs to promote, based on data:
Lemonade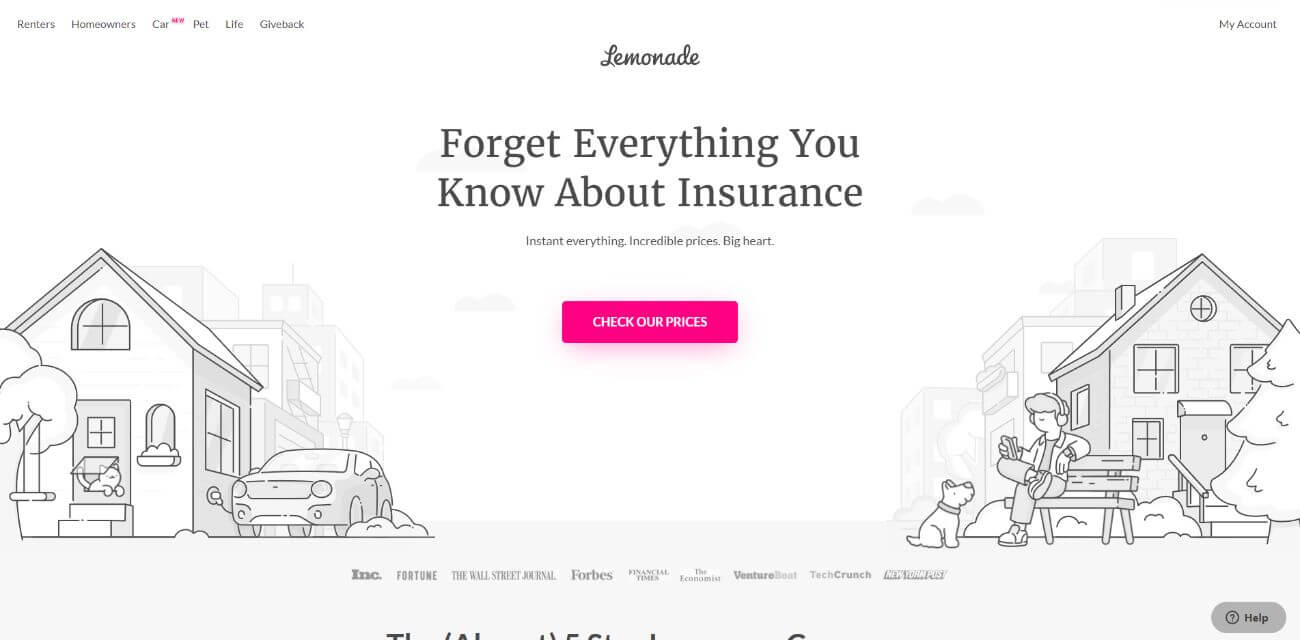 Program name: Lemonade Affiliate Program
Network / Software: Awin, Sovrn, AdmitAd
Commission: $15.00 Pet Lead, Renter Lead, Homeowner Lead (Awin), €30.00 per sale (Awin), (Sovrn), (AdmitAd)
Cookie duration: 30 days (Awin, AdmitAd), Not listed (Sovrn)
Markets: US (Awin), NL, DE, FR (Awin), Global (Sovrn), US (AdmitAd)
Lemonade is a New York-based fintech company founded in 2015. They've cut out the brokers to offer insurance online in as little as 90 seconds. Customers can sign up for home, car, pet, and life insurance with the click of a few buttons.
The Lemonade insurance affiliate program offers commission payouts based on the kind of insurance you're purchasing. These rates start at around $15 per lead generated, and affiliates are given a 30 day cookie window to convert sign ups.
As a fintech brand shaking up the insurance world, there are lots of opportunities to market with Lemonade. Millennials are notorious for their love of convenience, and Lemonade rolls out the red carpet as far as ease of use.
Cover-More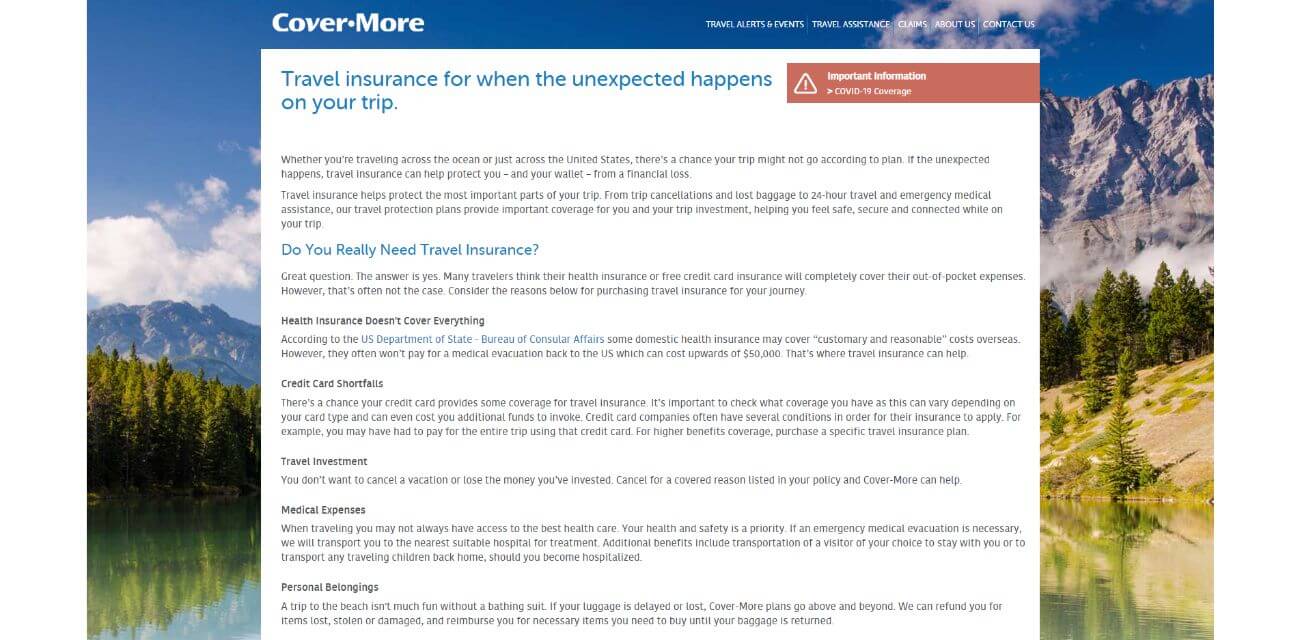 Cover-More is an Australian travel insurance provider. Their insurance plans include international and domestic travel, ski and snowboarding, and motorcycle and moped coverage.
Their affiliate marketing program offers 6.4% to 10% on every policy sold within 30 days.
From a marketing perspective, there are huge opportunities in travel insurance as travel revamps around the world. This is because travellers are more wary than before about making sure they are well-insured.
As a response to the pandemic, Cover-More has revamped their offerings to include an app with access to 24/7 emergency assistance, which could be a great selling point.
If you have an audience of frequent travellers from Australia or New Zealand, Cover-More could be a great insurance affiliate program.
Bestow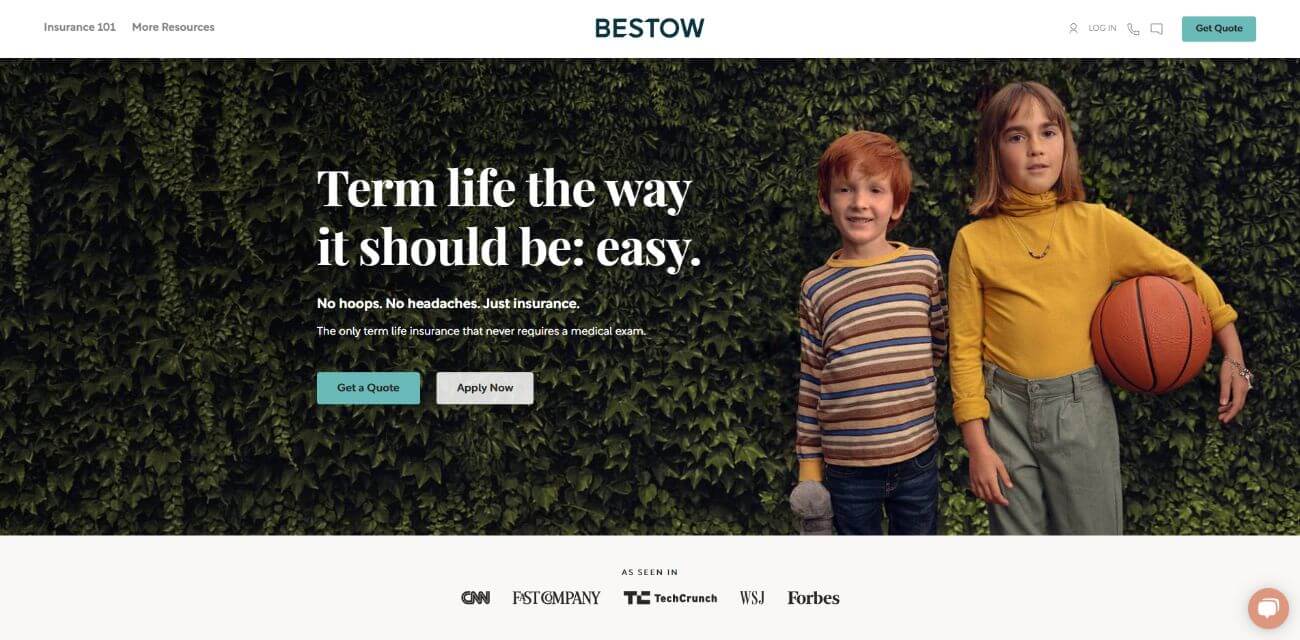 Bestow is a US-based fintech life insurance company founded in 2016. They make getting life insurance coverage simple by nixing invasive medical exams.
Bestow insurance policies cover between $50,000 and $1.5 million, offer 10 to 30 year terms, and are available for anyone from 18 to 60 years old. The company acquired Centurion Life Insurance in 2021, indicating plans to grow.
The brand has also significantly invested in user experience, slick design, and an intuitive website.
The Bestow affiliate program offers a flat commission rate of up to $40 per lead. It is marketed especially to new parents, newlyweds, homeowners, and small business owners.
If you have a US audience that's interested in hassle free life insurance, consider Bestow.
Fabric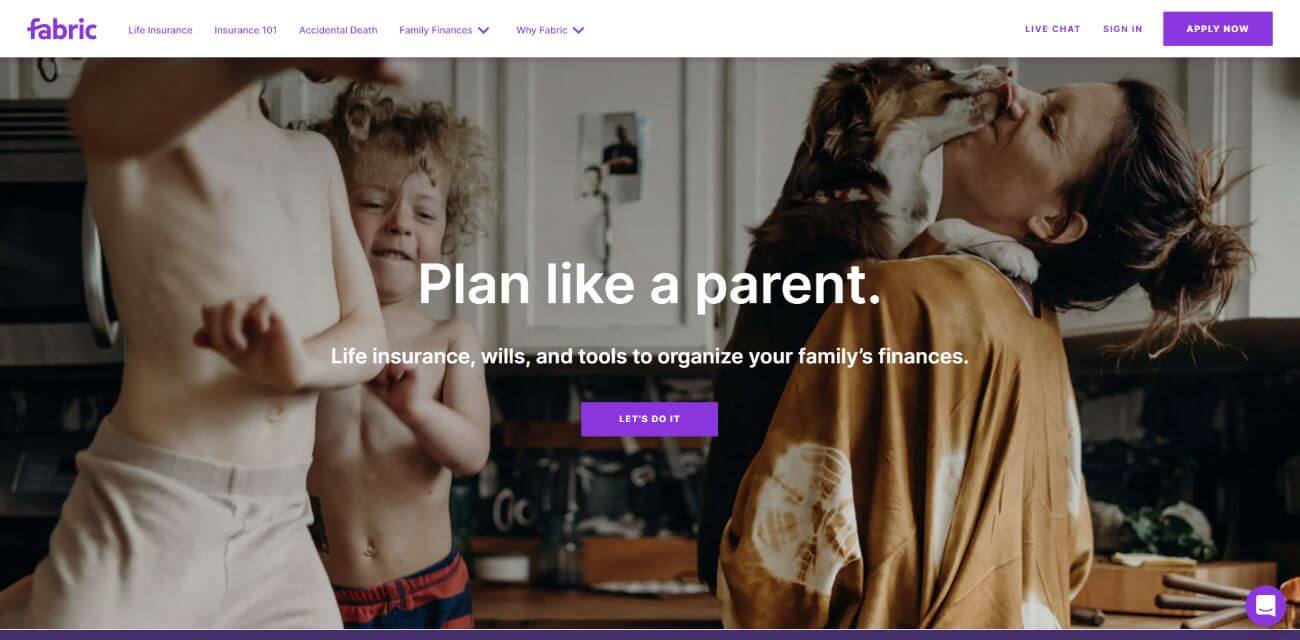 Fabric is a US-based fully digital insurance platform geared towards helping parents plan better. Their services include online wills, family financial planning, and life insurance. The company was acquired by Western & Southern Financial Group in January of 2022, which suggests big plans for digital expansion.
The Fabric affiliate program is quite generous, with an $80 to $100 commission on sales, or 64% on premium plans. Payment plans for Fabric insurance policies range from $14 to $41 dollars a month for $250K to 500K worth of coverage.
The cookie duration ranges from 1 day, to 30 days depending on the platform, so this is something that affiliates should keep in mind when signing up.
Allstate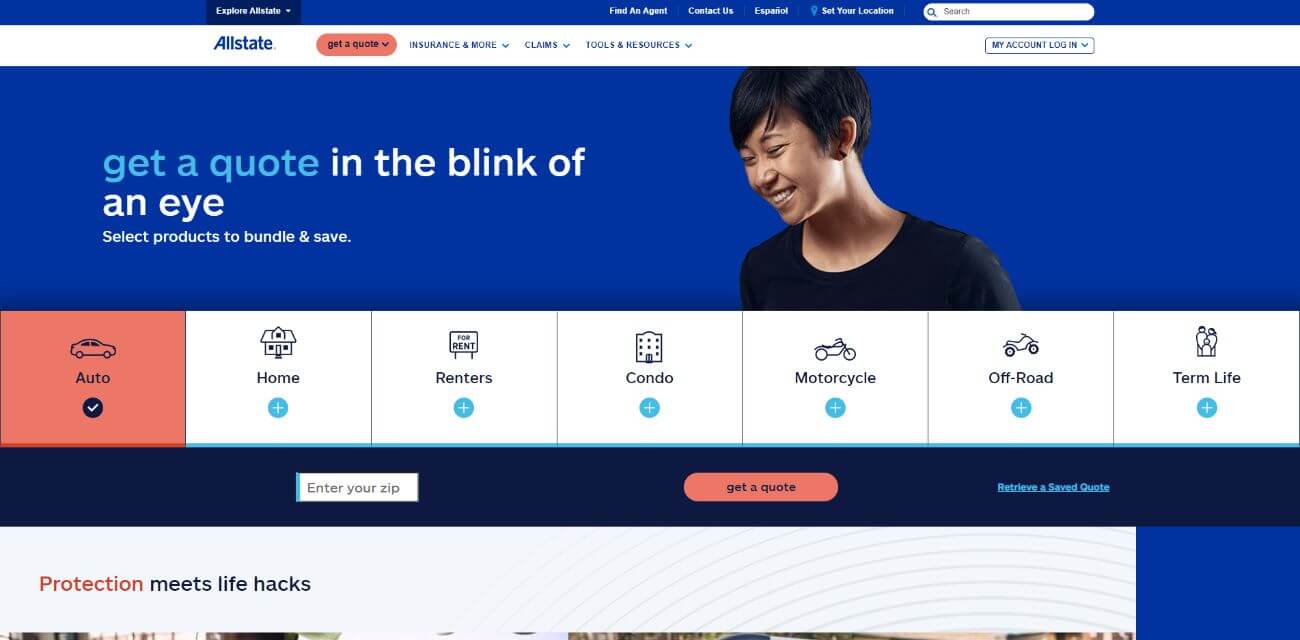 Program name: Allstate Affiliate Program
Network / Software: FlexOffers, Impact, Sovrn
Commission: $28.00 home quote sale, $6.40 auto/renters bundled quote & Moto Quote Per Lead, $13.60 auto quote lead (FlexOffers), $8.00 Auto/Renters Bundled Quote, $15.00 Auto Quote, $6.00 Moto Quote, $20.00 Home Quote (Impact), (Sovrn)
Cookie duration: 5 days (FlexOffers, Impact), Not listed (Sovrn)
Markets: Global
Allstate is an American insurance company that's been around since the 1930s. You might recognize the name thanks to their iconic infomercials on cable TV from the 2000s. The Allstate insurance range of products run the gamut from home, to business to vehicle, to life and identity coverage.
The Allstate affiliate program offers $6 to $28 per lead, depending on program. A potential downfall of this program is its very short cookie duration of only 5 days.
On the upside, Allstate is a household name for many Americans. They've developed strong brand recognition, which can help new customers to trust their products. As an affiliate, this brand credibility can really help to convert sales.
USAA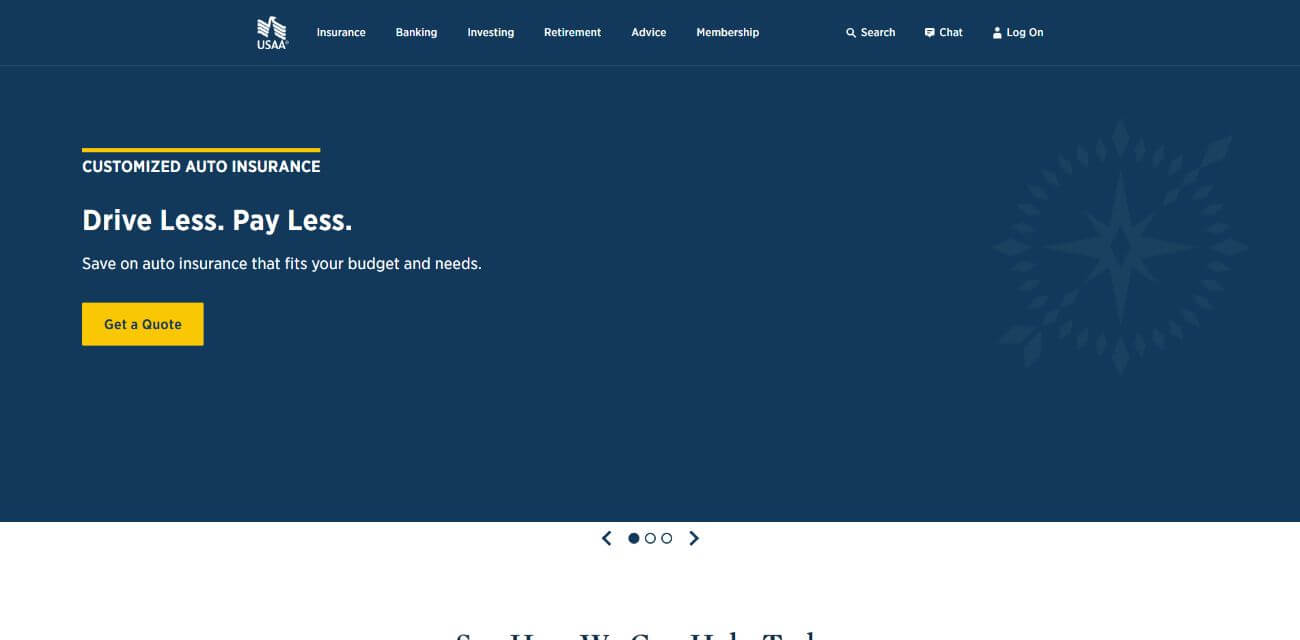 Program name: USAA Affiliate Program
Network / Software: CJ Affiliate
Commission: $36.00 Elig Quote Lead, $1.00 Eligibility Complete – Enterprise (Universal Tag), $4.00 Quote Complete - Umbrella Insurance (Universal Tag), $5.00 Quote Complete - Renters Insurance (Universal Tag), $10.00 Quote Complete - Homeowners Insurance (Universal Tag), $20.00 App Complete - VPP
Cookie duration: 30 days
Markets: US
USAA Insurance started in 1922 by army officers, and continues to exclusively serve the military community. Their services include banking, investing, retirement and insurance advice.
USAA Insurance also has a large social media following of over 1.3 milllion users across platforms, which affiliate marketers can lean on to convert sales.
The brand has also made some savvy content marketing moves, partnering with celebrity footballer Gronk for a recent media campaign.
CJ Affiliate hosts this insurance affiliate program, and offers $1 to $36 per lead within a 30 day cookie period.
If you have an audience that's connected to the American military community, this insurance affiliate program is the obvious choice.
Ethos Life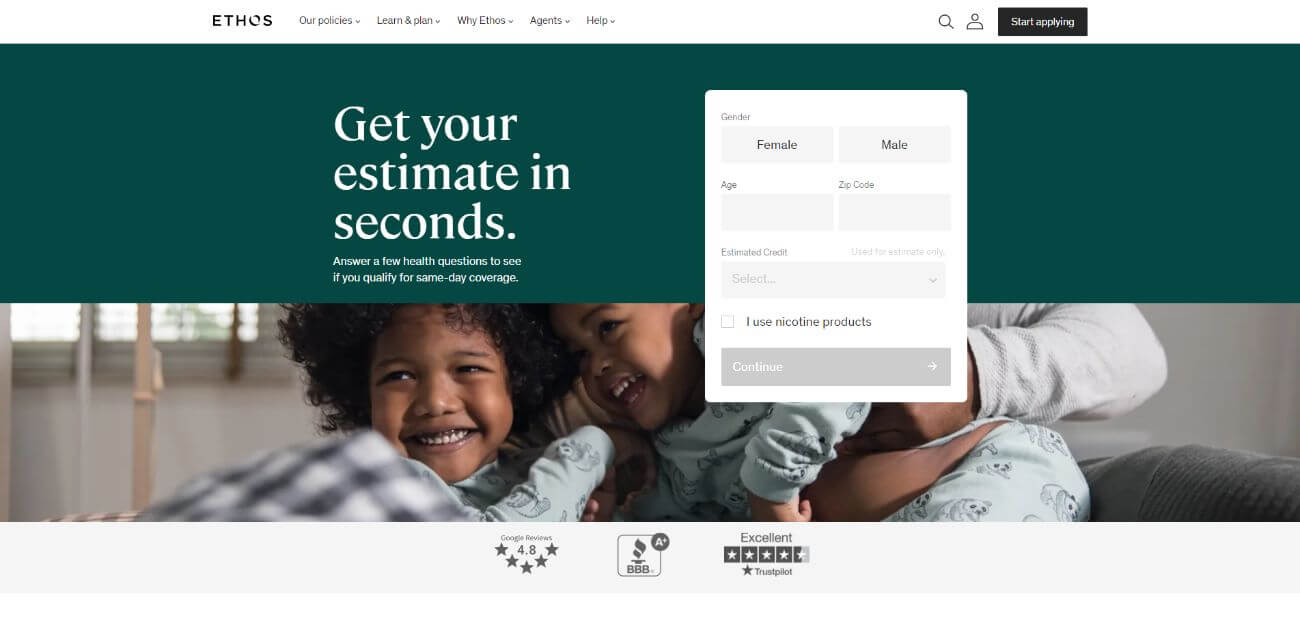 Ethos Life is a online insurance company based in fintech hub, Austin, Texas. It has a people-first policy when it comes to life insurance: transparent, affordable insurance services, available through a no-stress application process.
Ethos raised $200 million from investors in 2021, and earned a $2 billion valuation, with big plans for growth in the coming years.
Content creators can partner with Ethos through their insurance affiliate program, which can earn them up to $55 per sale.
The 7 day cookie window could be a turn off for some, however, since the purchase process is so easy, you might not need a longer cookie duration in order to convert sales.
If you're looking for a sleek, fast growing fintech company that resonates with younger demographics, look no further than Ethos.
Chubb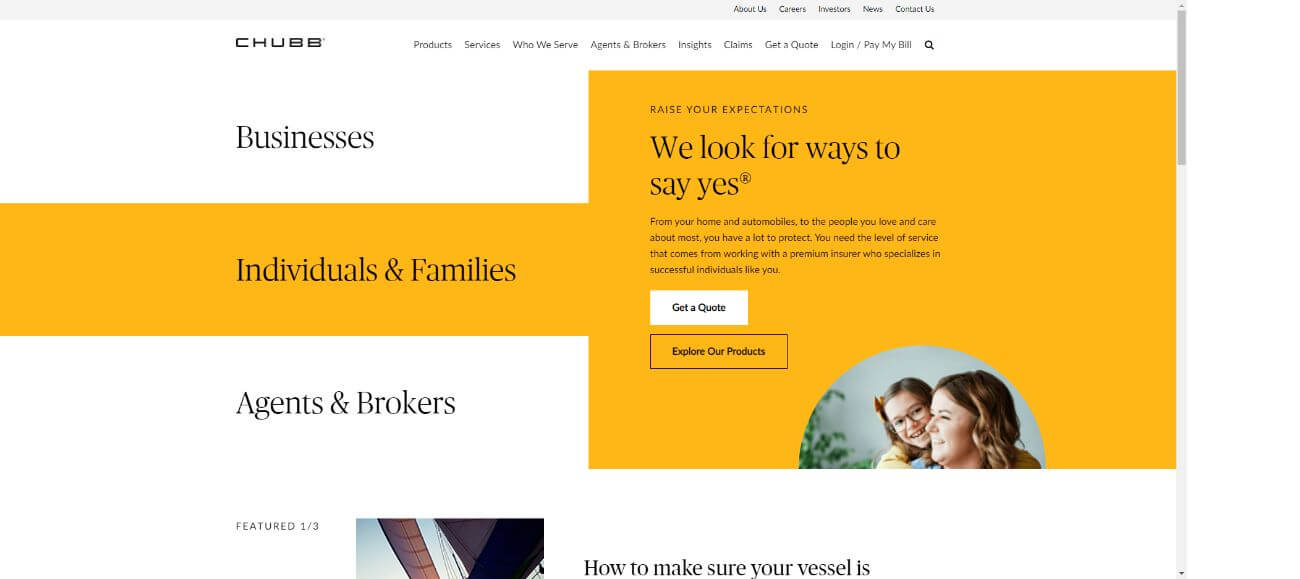 Chubb is a property and casualty services company based in the US, with a global presence. They insure commercial portfolios for large companies, and on the consumer side, high net worth individuals, among other clients.
The Chubb affiliate program offers around a 5% commission, with a seven day cookie window. The company has locations in 54 countries, so if you have an audience that owns properties worldwide, this could be a selling point for you.
Their website advertises that they insure for both business and pleasure: in this case, sailboats and cargo ships. So if you have an audience of business owners, or high net worth individuals, this insurance affiliate program could be a good match.
Liberty Mutual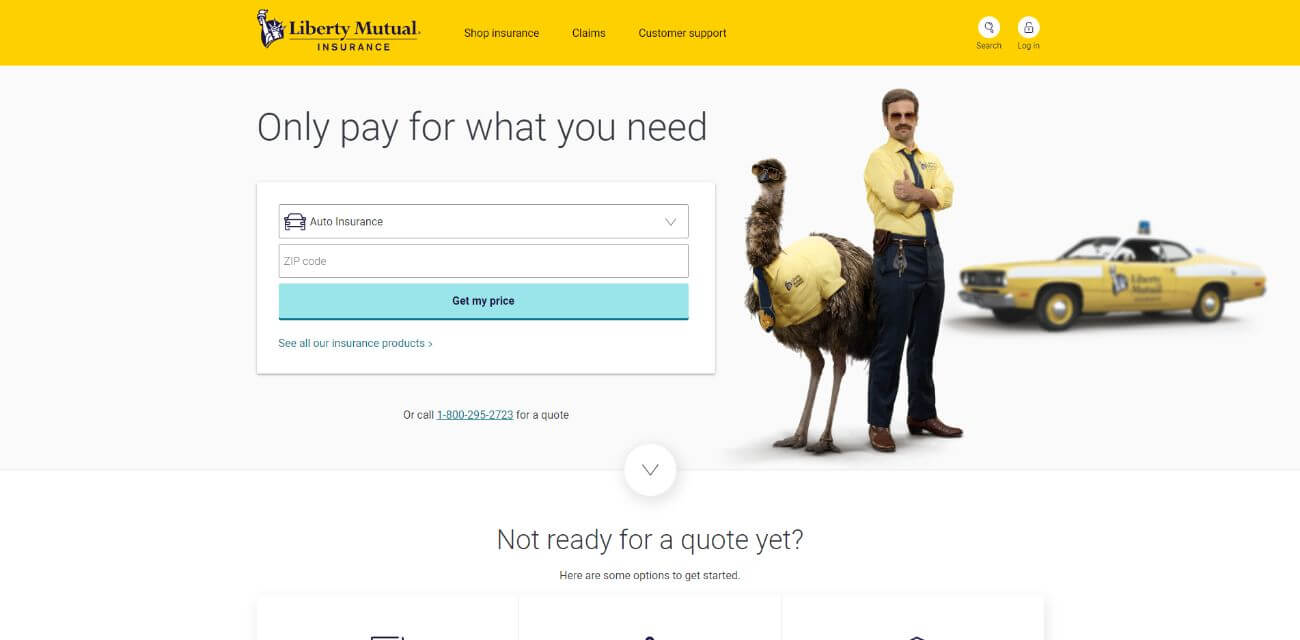 Program name: Liberty Mutual Affiliate Program
Network / Software: CJ Affiliate, FlexOffers, Sovrn
Commission: $3.00 per item on Item List: Renters, $10.00 per item on Item List: Home, Auto (CJ Affiliate), $4.00-$4.80 Renters Insurance Quote, $12.00-$13.60 Home Insurance Quote, $8.80-$10.80 Auto Insurance Quote (FlexOffers), (Sovrn)
Cookie duration: 30 days (CJ Affiliate, FlexOffers), Not listed (Sovrn)
Markets: US
Liberty Mutual is another household name in American insurance. They offer auto, casualty, risk, and property insurance, and are the 6th largest property and casualty insurance company worldwide.
The Liberty Mutual insurance affiliate program offers flat rate payouts of $3 to $13 dollars. Their cookie window is 30 days, which is quite generous compared to competitors on this list.
Liberty Mutual has over 2 million social media followers, demonstrating a high level of brand recognition.
If you're a happy customer of the Liberty Mutual insurance plans, this affiliate program could be a good match for you.
Embrace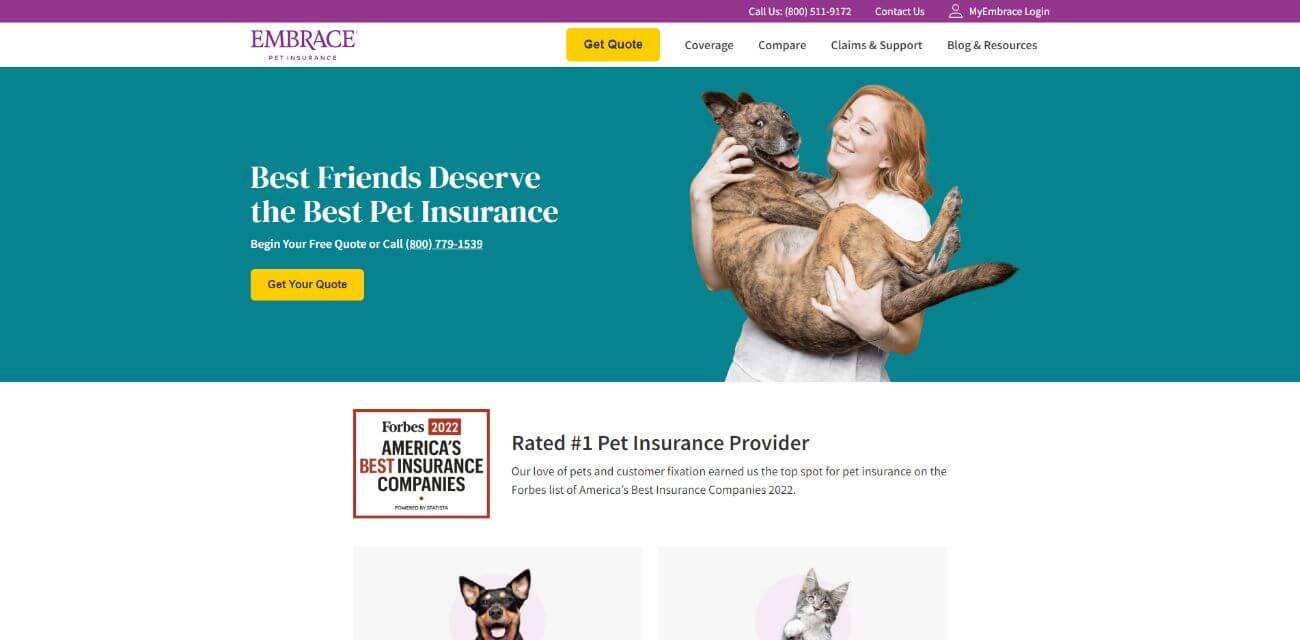 Program name: Embrace Affiliate Program
Network / Software: FlexOffers
Commission: $1.60 per lead (lead must have finished an online application and moved to page two of quote engine). Payout is $0.00 when the customer region is Washington Sate.
Cookie duration: 30 days
Markets: US
Have an audience of pet owners? The Embrace insurance affiliate program could be a great fit for your platform. Embrace stands out from competitors on this list as the only dedicated pet insurance company. The company was founded 2003 and is based in Cleveland.
Embrace services include wellness plans, personalized accident and illness policies. Affiliates can sign up to promote these services in return for a small commission.
The brand has also seen some notable press coverage, having been featured in Forbes, and PureWow, and a sizeable social media following of over 100k. These content marketing assets can help to support credibility for the brand when introducing it to your audience for the first time.
Insurify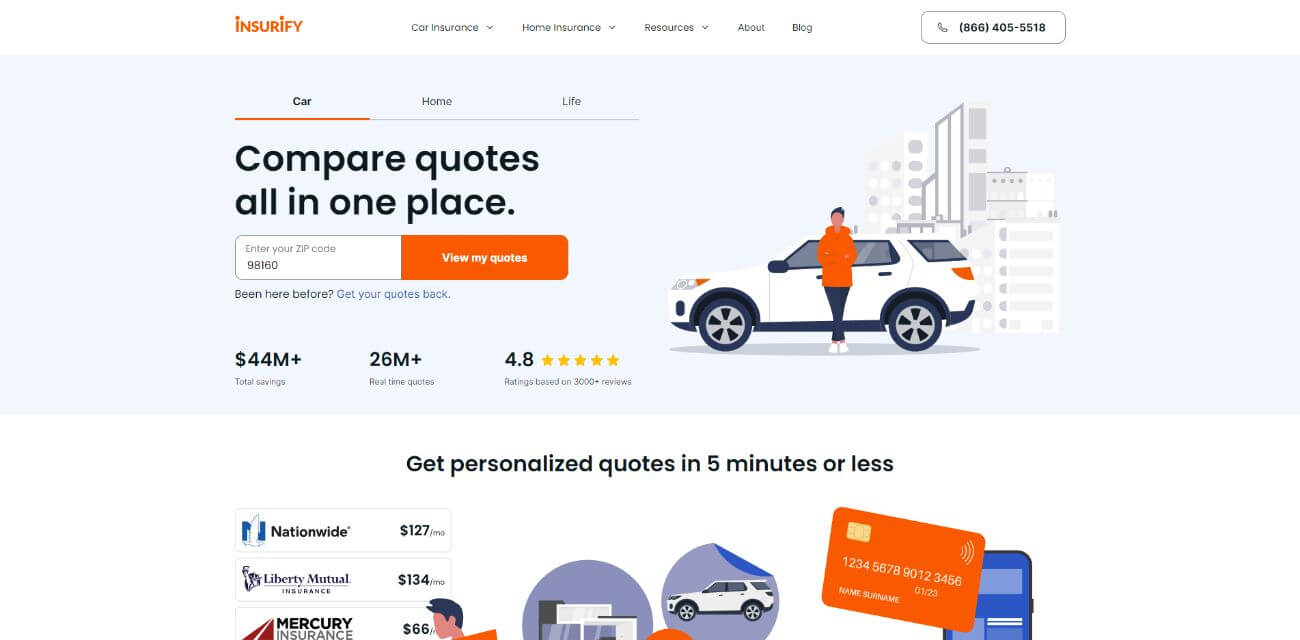 Insurify is an insurance agency that uses AI technology to simplify the insurance purchasing process. Insurify provides a selection of curated quotes from a range of providers, so that you can choose the plan that best suits your needs.
One thing to note is that the Insurify program doesn't allow certain marketing avenues. So make sure to read the fine print before working with them to ensure that you comply.
This is one of the highest paying insurance affiliate programs among this list, with payouts ranging from $10 to $15 per lead.
The company acquired $100 million in series B financing in 2021, so affiliates should be on the lookout for new partnership opportunities with Insurify as the brand grows.
World Nomads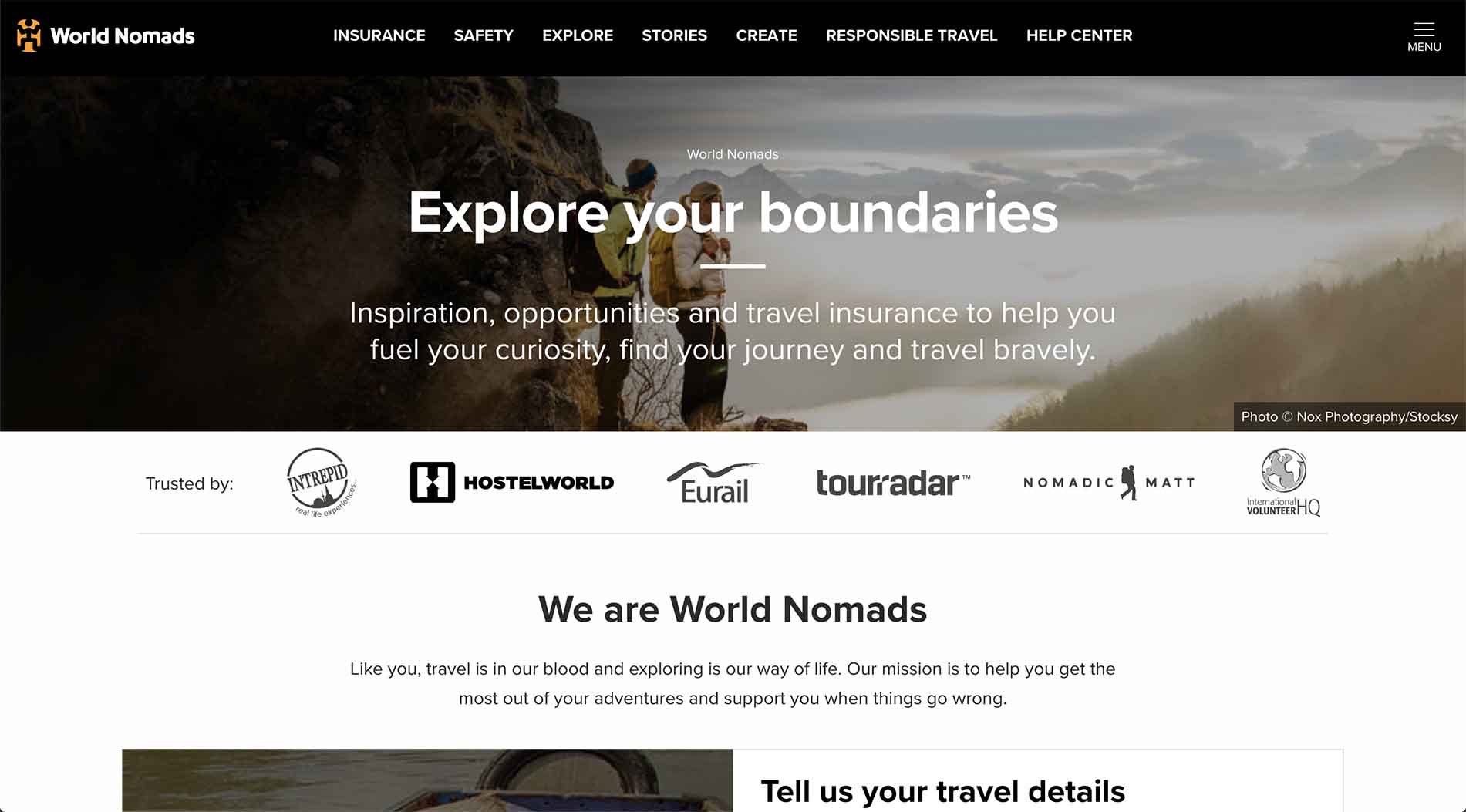 One of the big benefits of travel insurance affiliate programs is you can include them in a wide range of existing content.
The downside is, trying to rank for most terms including the word "insurance" is probably not going to be easy.
While collecting our data, we noticed that a fair number of big name travel blogs include links out to travel insurance on almost 100% of their long-form content. If you've got a common footer at the end of your articles, this might be a good spot to include a link to World Nomads.
Think about destinations where safety is a concern, and share any personal experiences you may have with claiming insurance.
Including an "Is [City Name] Safe" section in existing travel guides and itineraries is a good way to start.
SafetyWing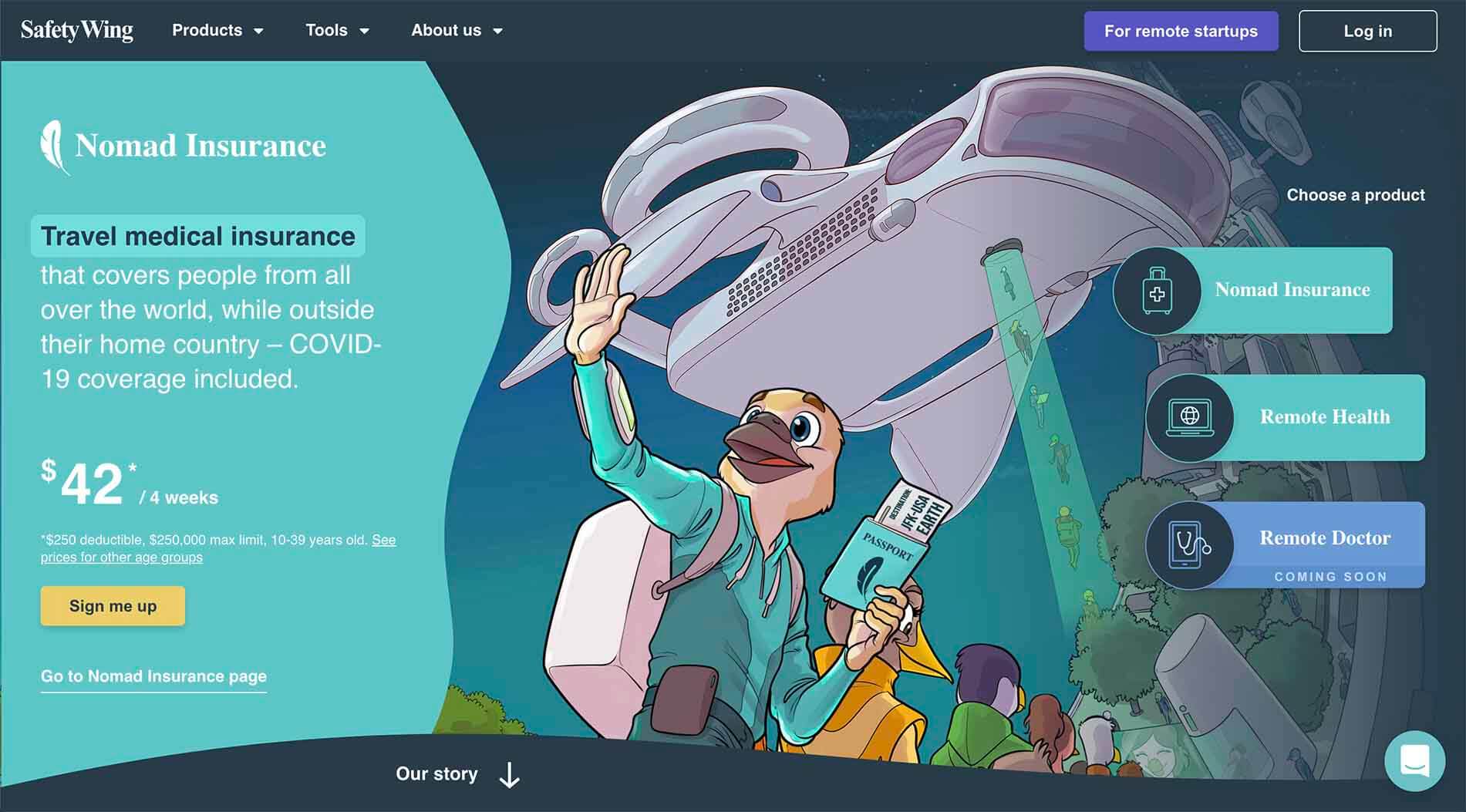 One of the most popular alternatives to World Nomads is SafetyWing. As opposed to being just focused on travel insurance, SafetyWing also offers insurance for full-time nomads and is among the first companies to do so.
As an "Ambassador", you can promote both the Nomad Insurance and the Remote Health insurance at a rate of 10%.
The difference is, Remote Health is a 12-month policy that gets paid out in installments. So you can actually continue to earn for each month that the person you referred remains insured (which they're obligated to do by contract).
Here's an example from the website:

A pretty excellent payout for just 10 referrals per year.
Pawp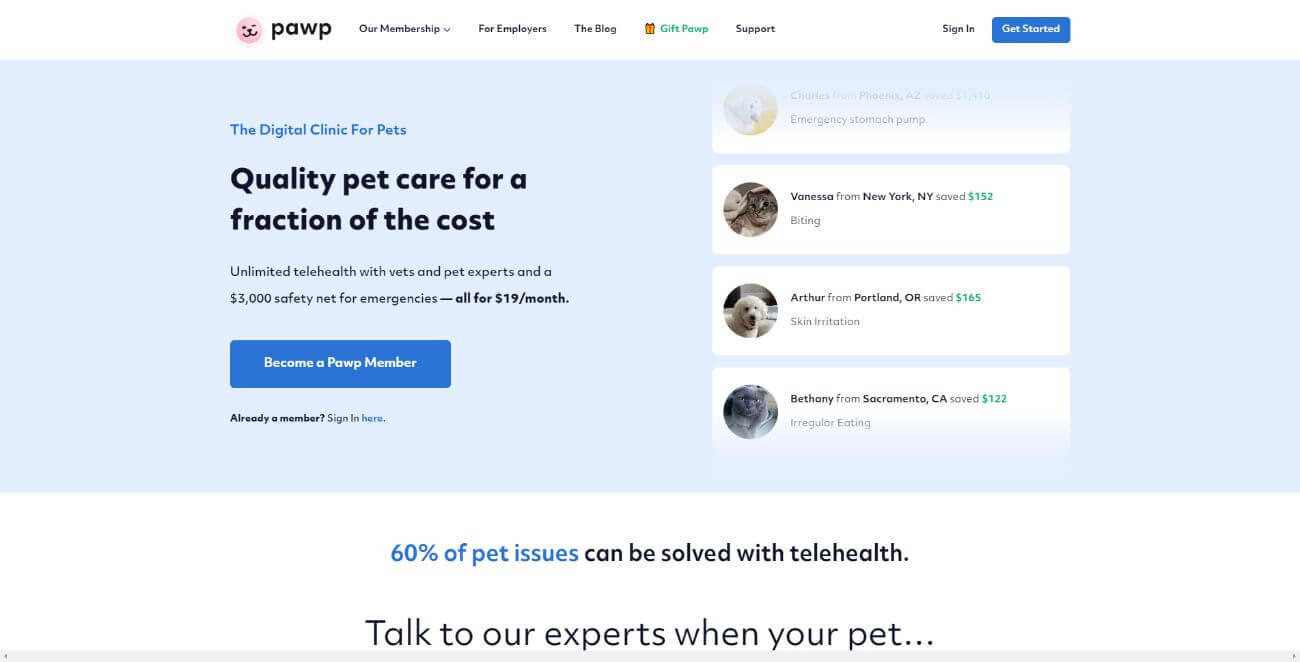 Program name: Pawp Affiliate Program
Network / Software: Awin, FlexOffers
Commission: $5.00 vet consultation, $10.00 default rate, plan subscription, $20.00 monthly subscription, yearly subscription, $30.00 gift membership (Awin), $59.00 on monthly subscriptions (FlexOffers)
Cookie duration: 30 days
Markets: US
Alternatives: Vetster at $30.00 for each appointment booking
If you've ever had a pet, you probably know that once an emergency hits, you'd give anything to save your pup. That's a natural reaction but it also comes with a hefty price tag. Think four figures or more.
Enter Pawp. Pawp is a pet insurance alternative where you don't have to worry about deductibles. Subscribers pay a flat fee per month which unlocks a $3,000 emergency fund that they can claim once per year. The emergency visit can happen to any US vet office.
It's a unique offering that could convince a lot of pet owners with its low monthly fee. In exchange for promoting it, you could be looking at a $60 payout per monthly membership. With that amount, this affiliate program lands in the top 3 of highest paying ones on this list.
Are you struggling with tons of affiliate platforms and links?
If you're running website that's monetized with affiliate marketing, there's a high probability your affiliate commissions are scattered across a ton of different platforms.
This makes it hard to get an overview of what's working well, efficiently test different products and programs, let alone optimize your content for conversion.
Affilimate was designed to fix that. It helps you collect your affiliate data (clicks, commissions, and content analytics) into ONE place so you can optimize conversion and grow your revenue.
Start your free Affilimate account and get tracking today.