12 Best Coffee Affiliate Programs in 2023 (Based on Data)
By Adrienn Tordai · Updated Jan 16, 2023
Can you imagine starting your day without coffee?
Neither can 30-40% of the world's population. Coffee consumption is growing and so is the number of ways to enjoy it. Coffee home delivery is becoming something that more and more people are happy to splurge on.
It's a lucrative affiliate landscape with three to five figures of potential monthly cashout. Niching down to only cater to true coffee aficionados, or big companies, could expand your earning potential even more.
In this article, we have collected a dozen of the most popular coffee affiliate programs. Through these programs, you can promote not just coffee but coffee machines, mugs, and other accessories, too.
You'll also find out which ones offer the highest commission rates and which one gives out free coffee to affiliate partners!
But first, here's how we collected this data.
How we compiled this list
To build this list of the best coffee affiliate programs, we scraped the affiliate links from 30+ coffee blogs and websites.
Then, we aggregated which affiliate programs and merchants earned the most links from hard-working coffee bloggers using our Affiliate Link Scanner.
The result is a list of the best coffee affiliate programs, entirely based on what top coffee websites are recommending the most.
Because after all, if a site's linked out to Volcanica Coffee over 250 times, there's a good chance it's converting for them.
It's worth noting, that a lot of coffee sites we analyzed heavily linked to Amazon for coffee-making equipment. While we haven't included Amazon on this list, it's a good fit if you plan to promote coffee gear to consumers.
Otherwise, you'll find higher-ticket affiliate offers for coffee machines used by pro-level baristas and coffee shops listed below.
Without further ado, here's they are.
Coffee affiliate programs
In addition to one-off coffee purchases, the affiliate programs in this list include coffee clubs and subscription affiliate programs, as well as organic and gourmet coffee affiliate programs.
Here are the best coffee affiliate programs based on our analysis:
Volcanica Coffee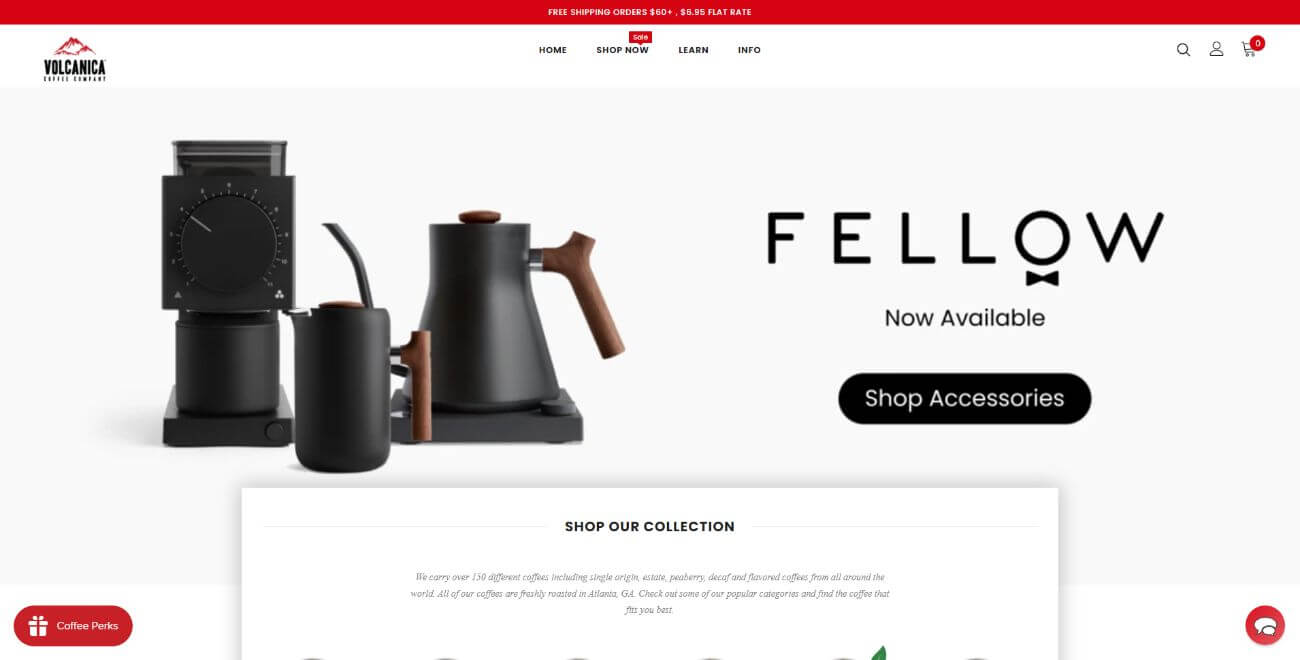 Program name: Volcanica Coffee Affiliate Program
Network / Software: ShareASale, Sovrn, Skimlinks
Commission: 10% (ShareASale), 10% (Sovrn), 15% (Skimlinks)
Cookie duration: 90 days (ShareASale), Not listed (Sovrn, Skimlinks)
Markets: Global (ShareASale), US, CA, MX (Sovrn), US (Skimlinks)
Volcanica Coffee is an affiliate favorite. When we analyzed the world's most popular coffee blogs, Volcanica came out as the most promoted brand.
It's easy to see why they run the most popular gourmet coffee affiliate program.
For starters, Volcanica has been a flagship roaster in the gourmet coffee scene since 2004. They specialize in estate (single-origin) coffees stemming from volcanic regions of the world.
Volcanica's affiliate program has everything you need:
10%-15% commission (it's one of the highest commission rates among top coffee programs)
+5% bonus commission if you give extra visibility to Volcanica coupons on your site
Regular offers and discounts to help you draw in more customers
Dedicated affiliate team
Fairly high, $74 average order value
30-day cookie period
Additionally, customers can claim free shipping at only $60 or above.
Overall, it appears to be a solid brand to recommend with great earning potential, and is clearly a favorite with affiliates.
Lifeboost Coffee
Lifeboost Coffee's affiliate program promises the highest commission in the coffee industry: $10 per person. Compared to the other coffee affiliates, it may not be the all-time-highest payout, but it could very well be the most dependable one.
Why?
Lifeboost did not just throw together an affiliate program over the weekend. According to their landing page, they perfected their sales funnel by spending $4 million on ads over the past two years.
Thanks to their very expensive, err, extensive research, you'll get to promote only the highest-earning offers. Therefore, you may see more conversions even if you have a starter affiliate website.
Not to mention that their coffee is super healthy and sustainably sourced.
Bean Box
Outside of their Ambassador/influencer program, Bean Box has a neat affiliate program, as well.
The brand is all about the "coffee isn't just a drink, it's an experience" concept. They offer regular coffee subscriptions, but their coffee gift box sets are what set them apart. Bean Box has a variety of combinations, as well as add-ons like tasting notes, roaster profiles, or artisan candy.
Their coffee is not only boasting a full, refined flavor, it's also affordable. Single packs start from $18 with their gift boxes ranging between $50-$80.
Overall, it's an excellent artisan coffee to recommend to readers, with up to 12% commission to top off your efforts.
Note: You may see the commission rate listed as 10% on public-facing affiliate landing pages, but when you log in to ShareASale, you'll see that it's actually 12%!
Pakt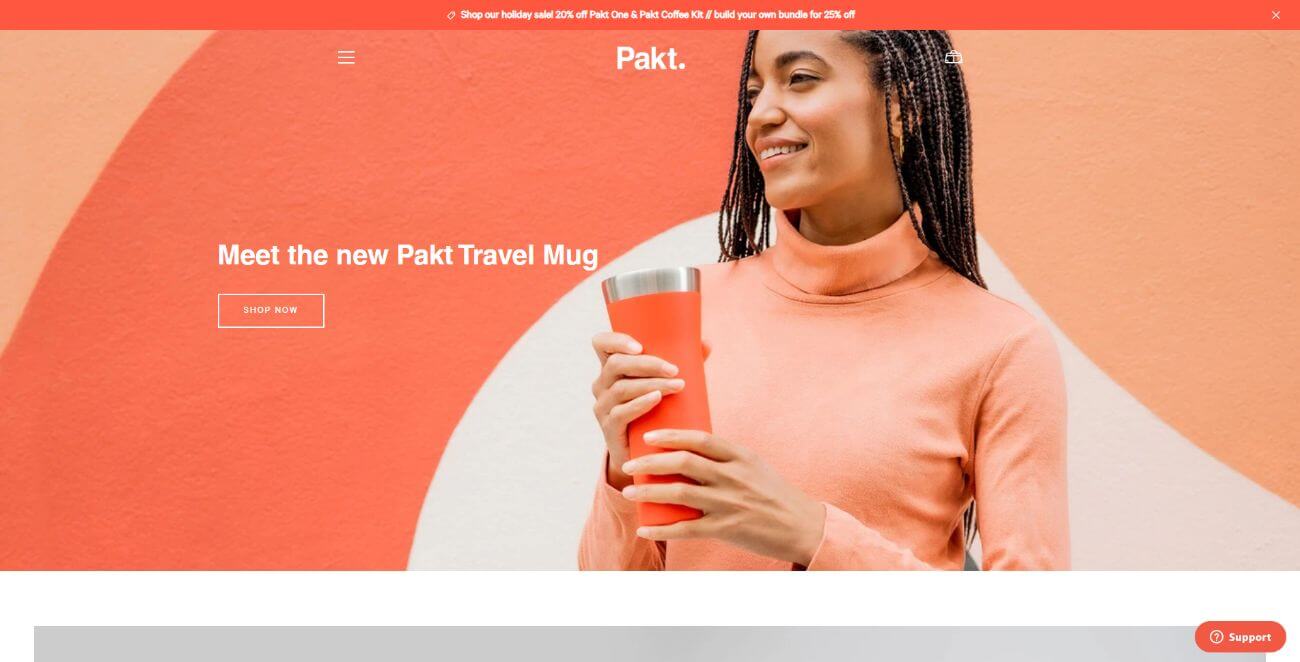 Good coffee should be good coffee on the go, too. Pakt, a company specialized in travel products, can be an excellent upsell opportunity on any coffee affiliate website.
For example, The Pakt Coffee Kit is a customer favorite that promises barista-quality coffee no matter where the caffeine craving finds you.
Other selling points include:
High-quality, safe product materials
BPA-free
100% plastic-free packaging
Your commission is up to 15% per sale with the average order value exceeding $275. The Pakt Coffee Kit alone sells for about $150-$189 (depending on the sale), so this upsell could provide a nice boost to your monthly earnings.
Cafe Last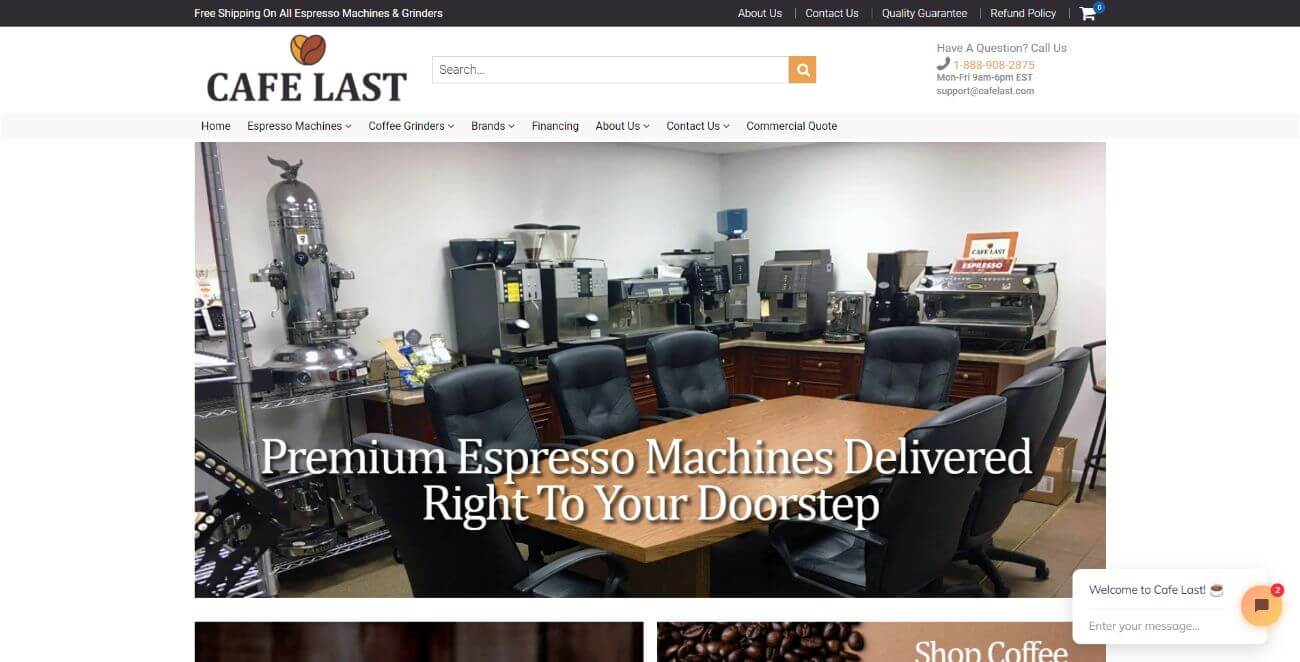 Cafe Last's catalog consists of espresso machines, coffee grinders, and coffee makers — all the hardware that coffee fanatics need to take their brewing technique to the next level.
Most of their customers are companies but they also service individual hobbyists. This can be a unique selling point for those coffee-lovers who want to stand out with more serious equipment.
The commission is 5% per sale with a generous 90-day cookie duration through LinkConnector. Yazing offers a similar "5% of sales" scheme (no cookie duration given).
The market is hot right now for coffee machines, as it is anticipated to reach $5.1 billion by 2027. There has been an increase in the number of cafes and restaurants across the world which resulted in the commercial sector dominating the buyer landscape.
In short, you could market Cafe Last's products to consumers but your affiliate earnings may hit the $1000s faster if you go after the big fish—commercial establishments.
1st in Coffee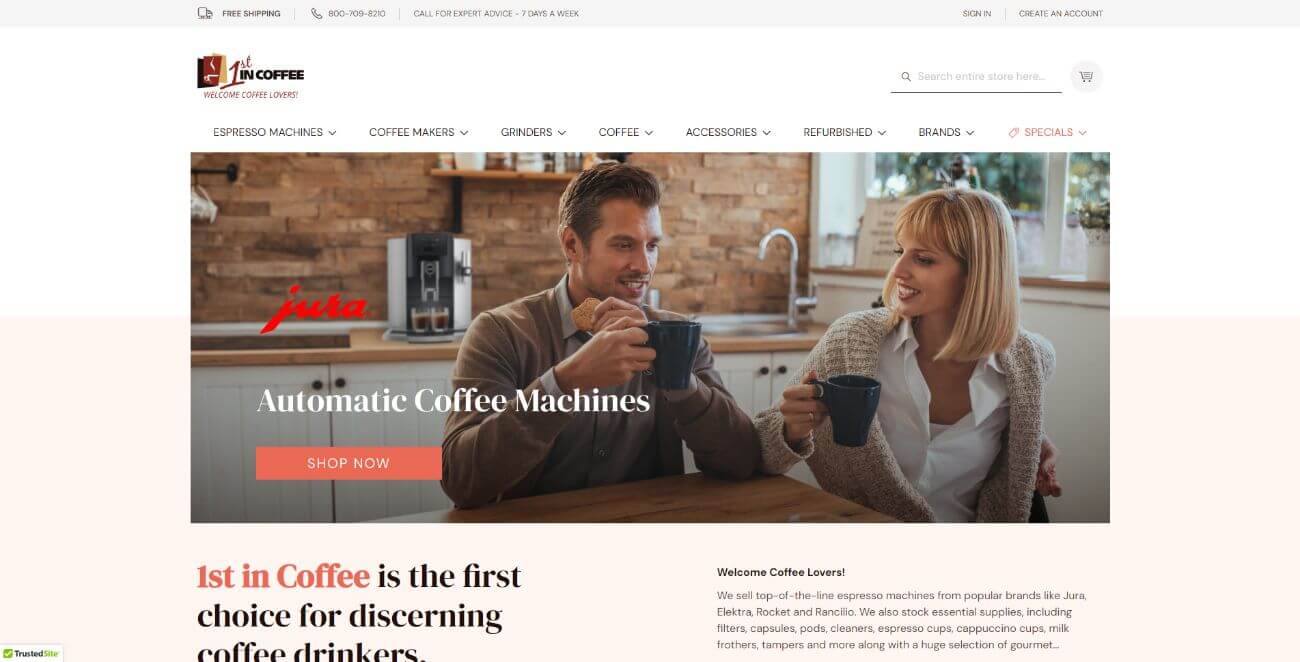 Program name: 1st in Coffee Affiliate Program
Network / Software: ShareASale, FlexOffers, Sovrn
Commission: 7% (ShareASale), (FlexOffers), 5% (Sovrn)
Cookie duration: 90 days (ShareASale), Not listed (FlexOffers, Sovrn)
Markets: Global (ShareASale), Global (FlexOffers), US, CA, UK (Sovrn)
Alternatives: Cafe Last at 5% (Yazing), 5% (LinkConnector), 4% (FlexOffers)
1st in Coffee offers reasonably priced coffee machines between $200 and $2,000, depending on the complexity. Their selection spans between single-serve machines and super automatics.
1st in Coffee serves mostly general consumers and prosumers. Their offers will work especially well if your audience consists of general coffee lovers to hardcore coffee bean aficionados.
The brand's dedicated affiliate management program will supply you with promotional material, a monthly newsletter, and a commission of up to 7%. In one word, they treat their affiliates well.
The great news is that 1st in Coffee carries coffee itself, too. Creating a well-aimed Instagram account and coupling it with a presentable affiliate website could be a solid plan for you to bring in the big bucks.
Wandering Bear Coffee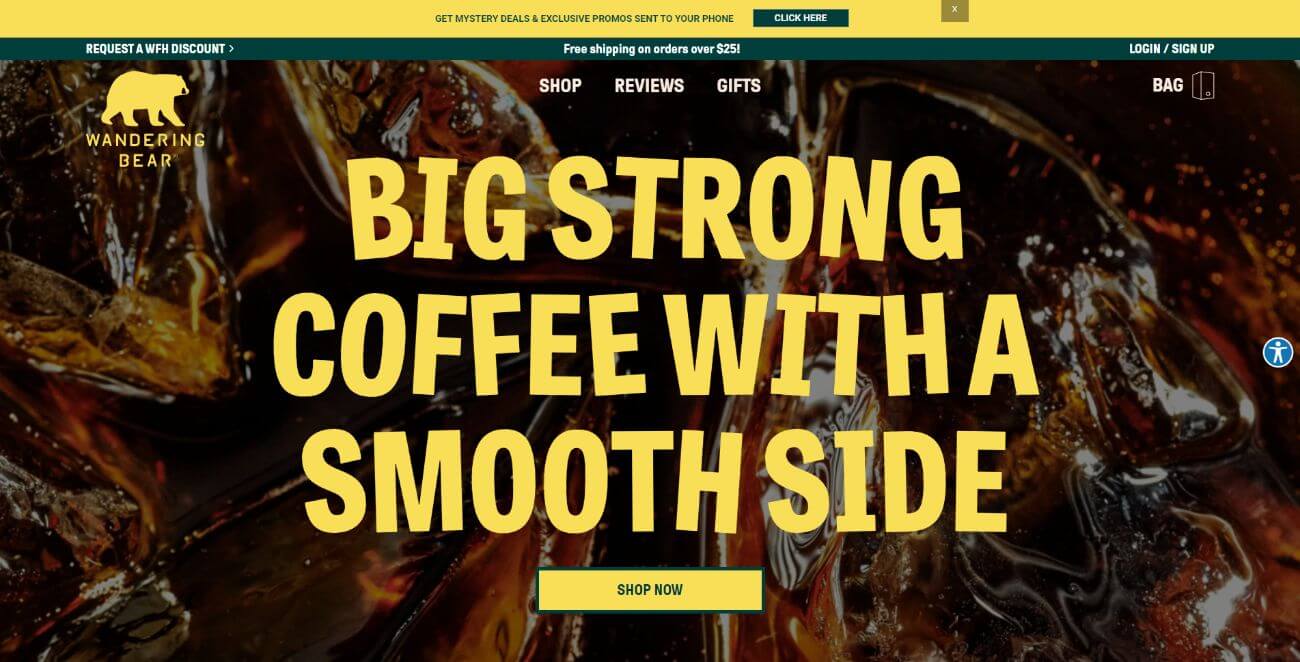 Very strong, organic, cold brew coffee.
If this coffee type sounds like something your audiences would pine for, then Wandering Bear Coffee's affiliate program is for you.
They are pioneers in the cold brew category (they launched their first cold brew box in 2014). Thanks to their experience, they bring their A-game to the table both in quality of product and tried-and-tested marketing.
With the world mostly working from home, this at-home, extra-strong specialty coffee can generate a steady interest from people who'd rather get their fix from their own fridge than a coffee shop.
With up to 2% in commissions and free coffee for affiliates, it's a delicious affiliate program to get behind.
Trade Coffee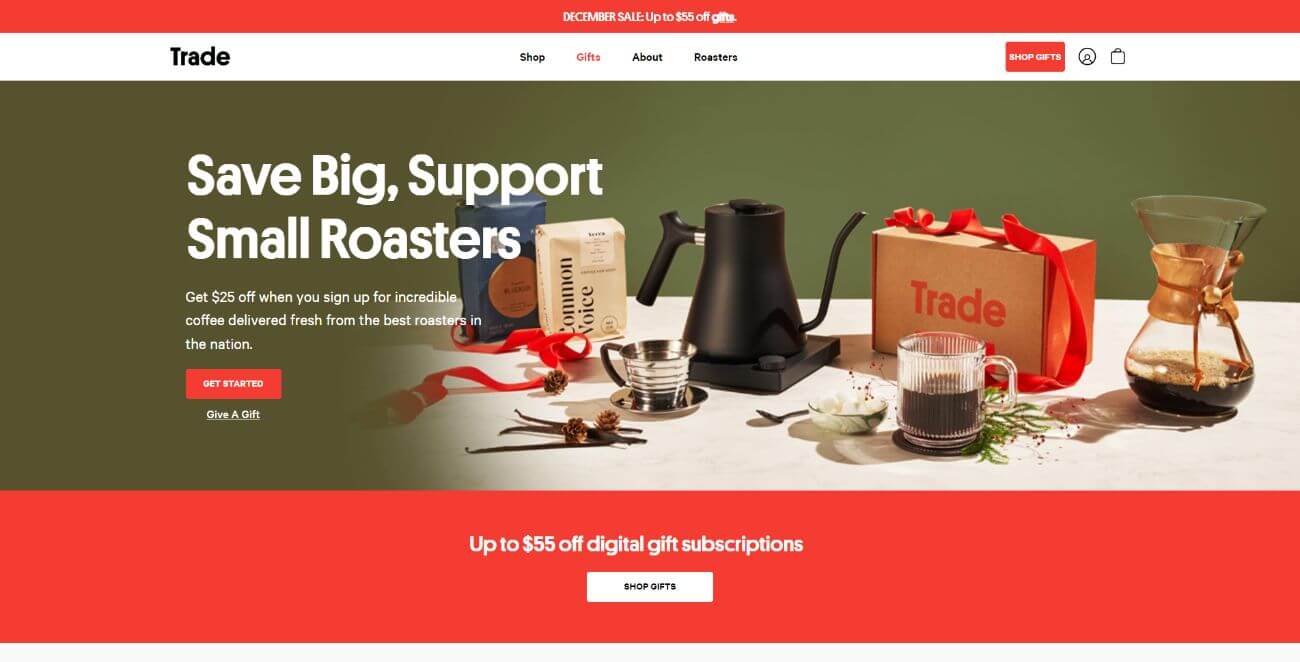 If you're looking to sell coffee and support local roasters, Trade Coffee is your best pick. Their roasted to order coffee is a highlight in the US landscape with mostly single-origin, high-quality coffee, hand-picked and tried by the Trade team.
Trade Coffee works for everyone and not just because of the taste. They have created a complete onboarding process for all new customers (or even newbies to coffee) where users can personalize their preferences to the finest detail.
This is a great marketing approach that's not seen on other coffee makers' websites, so you may expect better conversion rates, too.
Other selling points include flexible, free delivery, and regular discounts.
Combine their excellent products with a 6% commission and a 30-day cookie duration and you've got yourself a solid affiliate opportunity.
Peet's Coffee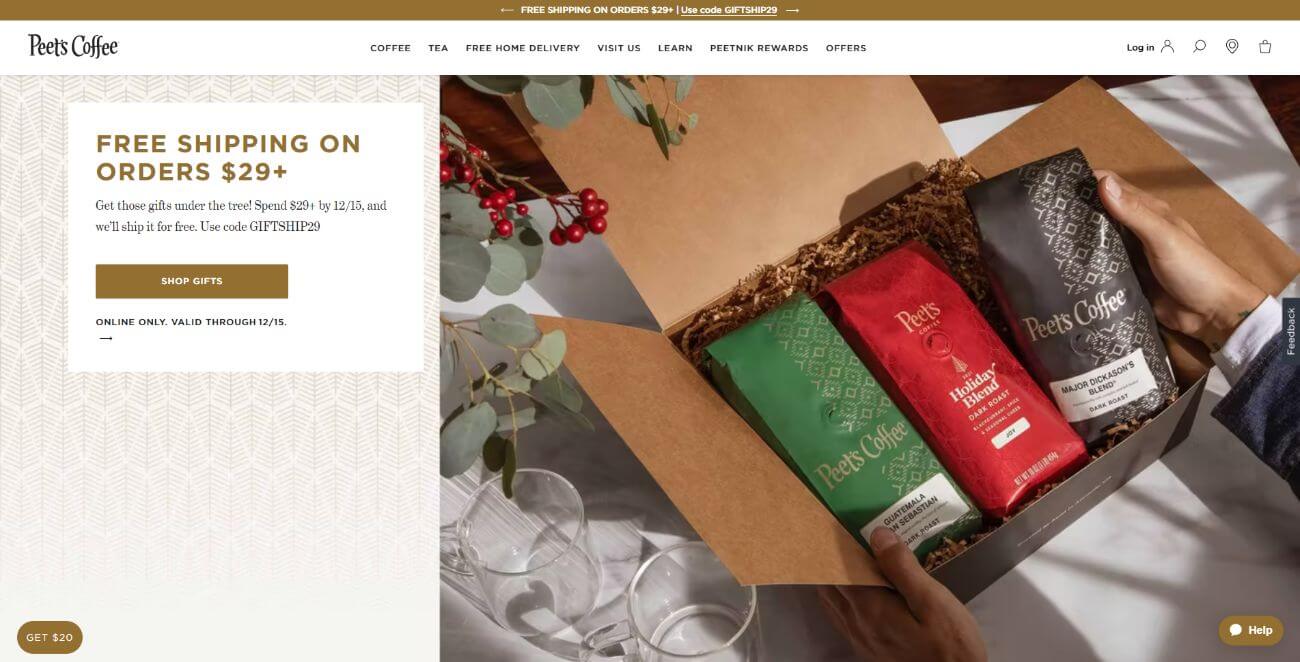 Program name: Peet's Coffee Affiliate Program
Network / Software: FlexOffers, CJ Affiliate, Yazing, LinkConnector
Commission: 3.2% excluding gift cards (FlexOffers), 4% for returning customers, 8% for new customers, $10.00 per item number 44960 (CJ Affiliate), 4% (Yazing), $0.05 earn per click (LinkConnector)
Cookie duration: 2 days (FlexOffers), 7 days (CJ Affiliate), Not listed (Yazing, LinkConnector)
Markets: US
Hand-roasted to order? Check. Delivered the same day as they're roasted? Check. Supporting a long-standing American coffee and tea company? Check.
Peet's Coffee has been making coffees and teas since 1966. The founder, Alfred, has set out to liberate America from its "lousy" coffee with something great. He has also personally trained three young entrepreneurs in 1971, who then went on to set up a small venture called Starbucks.
Alfred's entrepreneurial mindset still appears in every part of Peet's business, including its affiliate program. You can earn up to 8% in commission on standard orders and $10 per subscription.
Additional bonus if you have an international audience: Peet's delivers worldwide!
Peet's has a great potential for a solid affiliate income, all the while being a part of coffee history.
Koa Coffee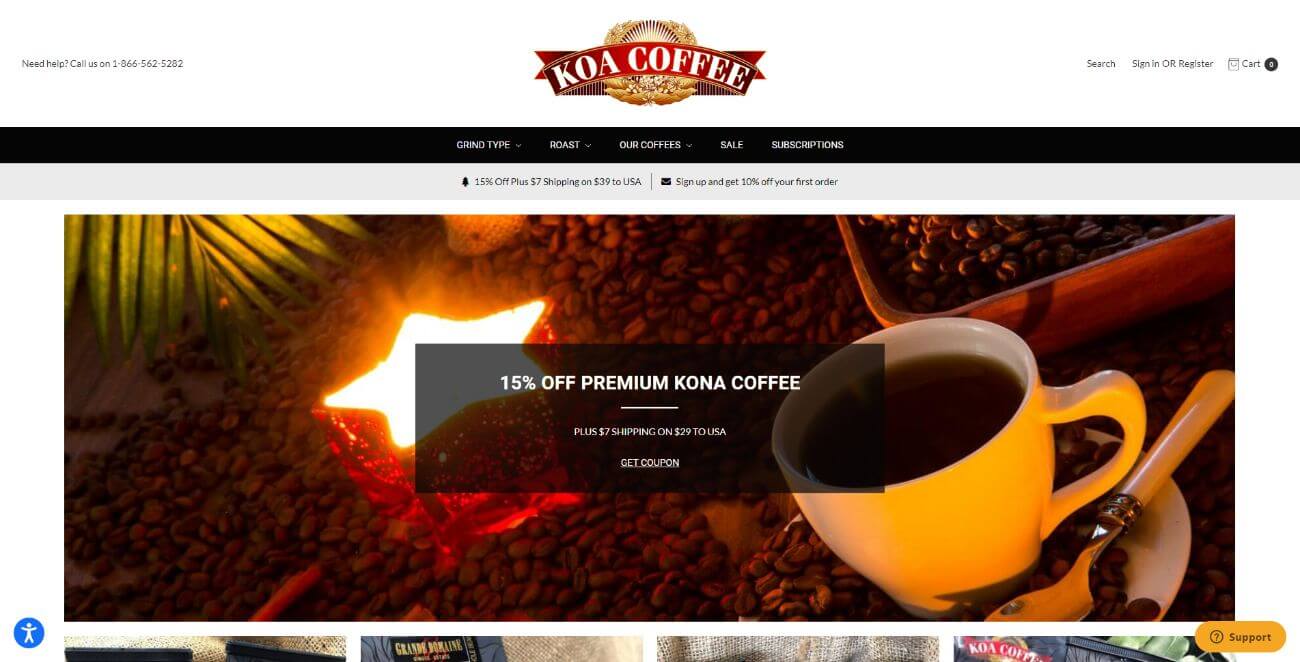 Koa Coffee specializes in hand-picked, premium Hawaiian coffee. The company's quality assurance is second-to-none. There's zero mechanical harvesting in the process—they have real people roasting the coffee, and real people packing every order (after sampling a cup from each roast, too).
You can find them on ShareASale, Yazing, or Skimlinks. Their commission is generally 10% per sale. However, if gross sales in the current month are greater than or equal to "750" (via ShareASale network) then you're granted 20% commission.
Top-selling Koa coffees range in price between $30 and $182.
Bonus: they deliver worldwide! If you have a global audience of coffee lovers, Koa Coffee can make a profitable addition to your affiliate portfolio.
Atlas Coffee Club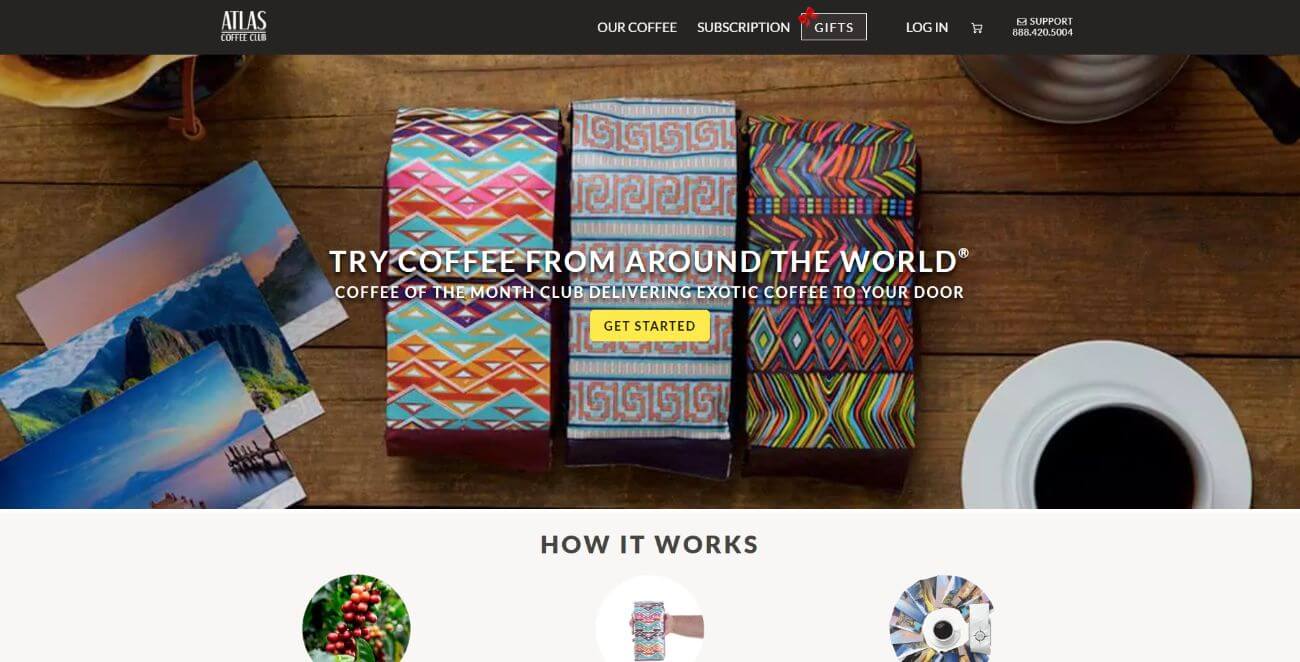 If you have an adventurous audience who loves to try new flavors, you could win them over with Atlas Coffee Club.
They run a travel-themed coffee subscription model where the customer gets to try a coffee from a different country each month.
What's great about their program is that they source premium, single-origin coffee only and pay "well above market prices" for the beans.
One drawback? Customers don't get to choose their own journey into the world of coffee. Monthly deliveries are curated by the Atlas team.
On the other hand, this feature could be presented as a convenience factor, so the program is still worth a shot.
They pay a flat fee of $10 per sale.
Tayst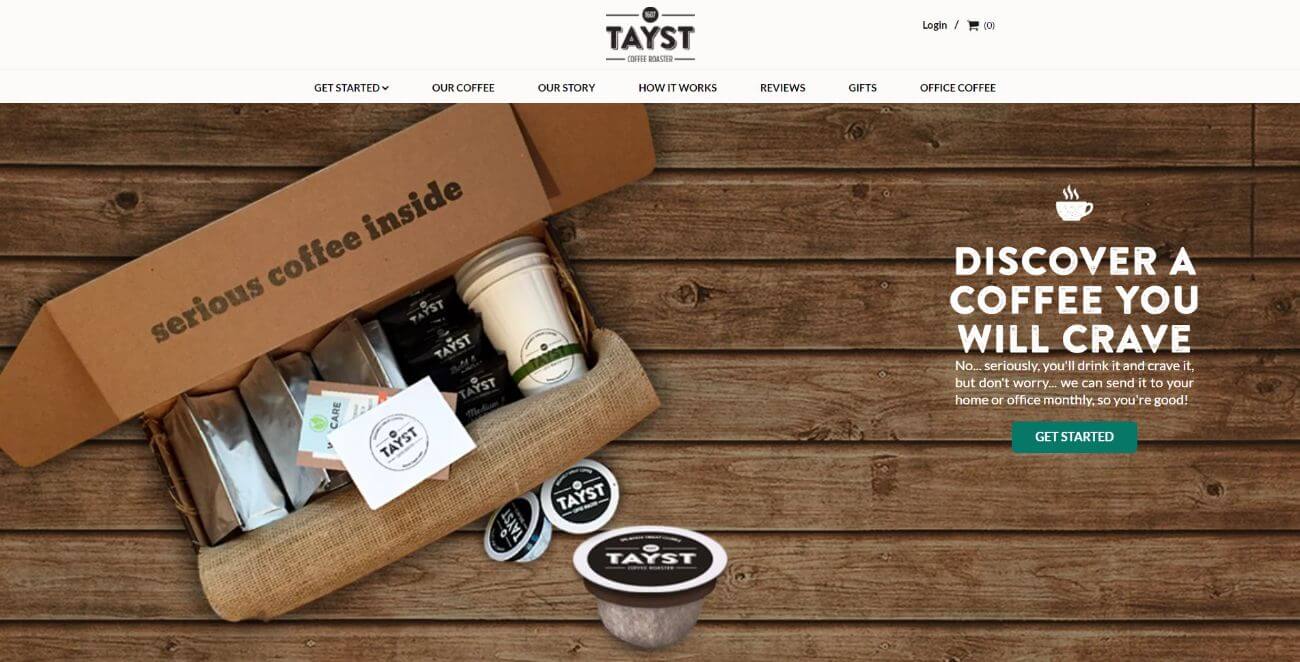 Global plastic production has reached 368 million metric tons. The market for non-plastic products is picking up the pace rapidly. Tayst is a subscription coffee service that comes with 100% compostable pods for Keurig machines.
They are a game-changer in the plastic-made coffee pod scene.
Every part of the pod is compostable: the lid, the ring, and the mesh, too. Tayst is also Rainforest Alliance Certified and packs its orders sustainably with only recycled or recyclable materials.
Their commission rate is up to $13 per sale with various affiliate networks to choose from.
If you're looking to draw in new, eco-friendly audiences, Tayst is an excellent choice with great earning potential. And you're saving the planet, too!
Are you struggling with tons of affiliate platforms and links?
If you're running website that's monetized with affiliate marketing, there's a high probability your affiliate commissions are scattered across a ton of different platforms.
This makes it hard to get an overview of what's working well, efficiently test different products and programs, let alone optimize your content for conversion.
Affilimate was designed to fix that. It helps you collect your affiliate data (clicks, commissions, and content analytics) into ONE place so you can optimize conversion and grow your revenue.
Start your free Affilimate account and get tracking today.