9 Best (Free!) Niche Research Tools for Affiliates in 2023
By Jules Costa · Updated Jan 28, 2023
Research is a critical part of entering a niche with a strategy. And though there are plenty of premium SEO tools for niche keyword research, many of them are prohibitively expensive for beginner affiliate marketers.
But there's another problem:
Everyone is using them. Meaning, everyone is making decisions based on the same information.
If you want to get an edge, use techniques and research methods your competitors are foregoing in favor of standard tools.
In this post, we'll share our 9 favorite niche research tools you can use for free. Plus, some tips and notes for using each one for niche research.
Here are the best niche research tools (that are also free):
1. Google Trends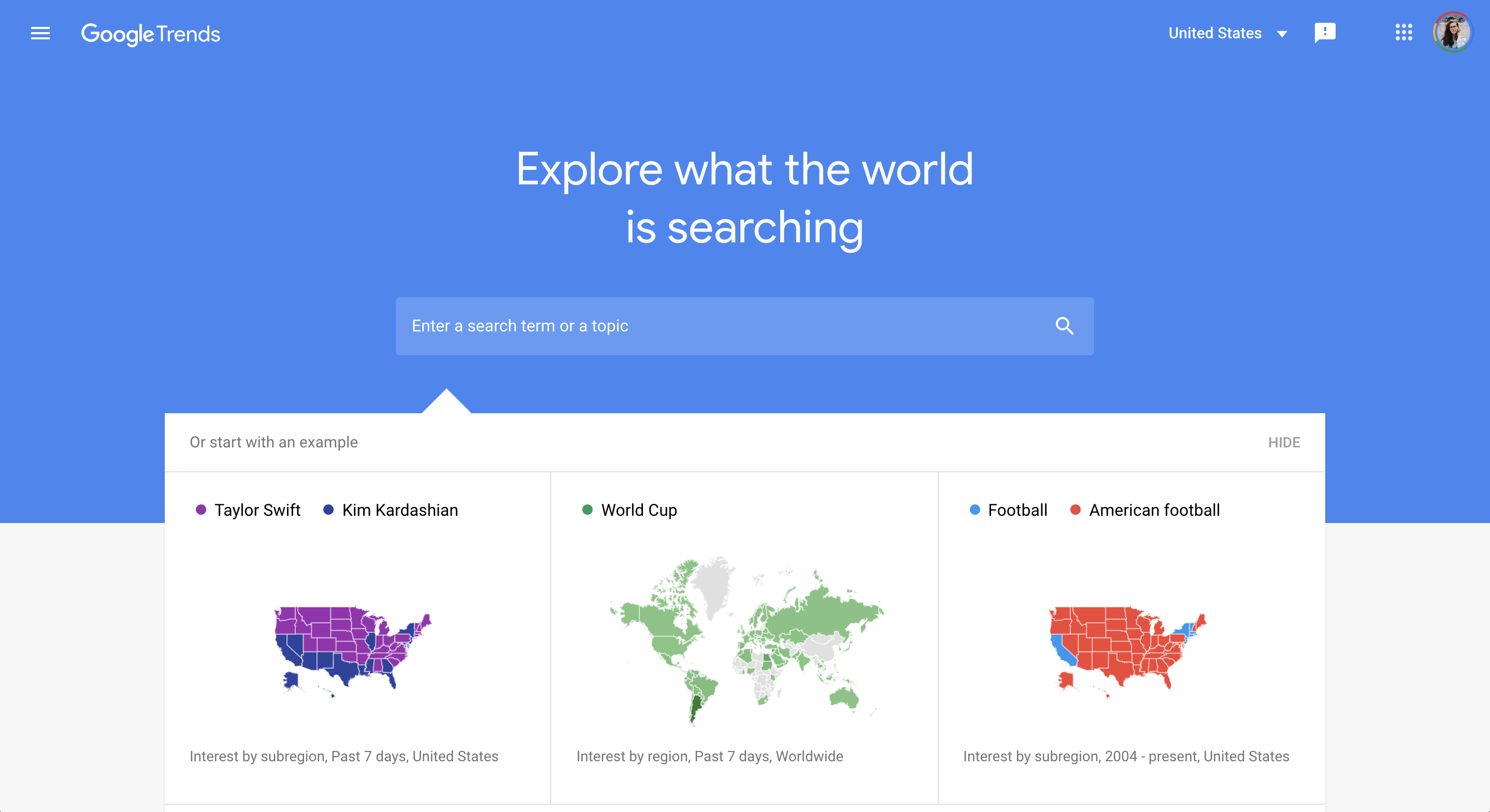 At 92.4% market share, Google is by far the most used search engine. And Google Trends tracks the popularity of search queries across the engine, allowing you to analyze both emerging topics and queries as well as long term trends.
The tool lets you filter across properties, compare search terms and topics, and even find related searches. While it's relatively well-known as a tool, lots of people fail to put their niche site ideas or keyword ideas into Google Trends to assess its potential. Here's how we recommend doing that.
Use Google Trends to find a niche
A powerful strategy to discover interesting niches on Google Trends is to focus on specific geographies instead of country-level statistics. This helps you find trends that may be starting locally, but have the potential to expand into other geographies.
Which is exactly how you get in on the ground floor of a niche that's forming. Here's an example: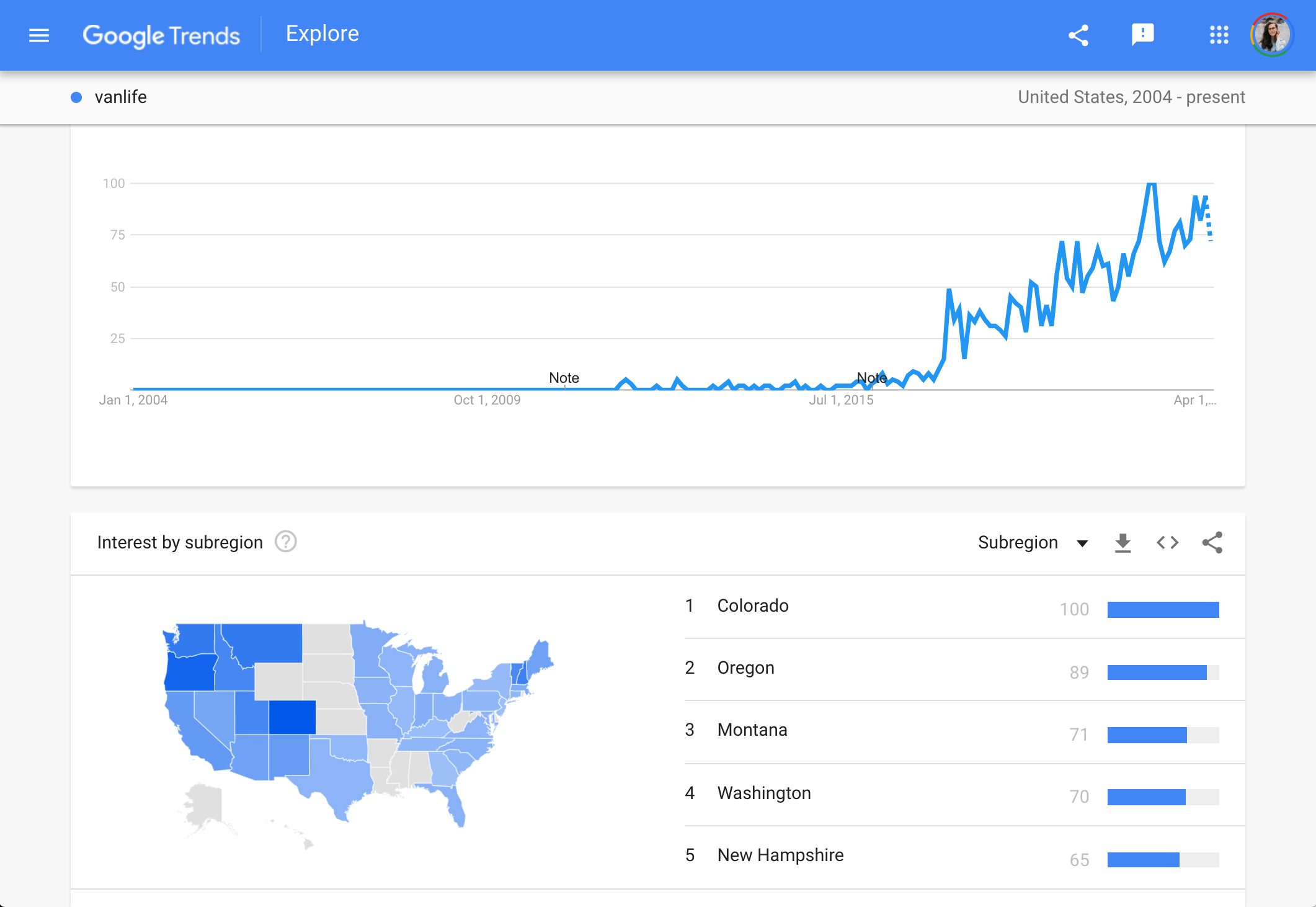 Vanlife, the concept of converting a van into a livable space, exploded during the pandemic. But as you can see, it hasn't taken off everywhere – yet. This trend is strongly concentrated in the Western US, but with a degree of interest all over the country.
Limitations of Google Trends
Although Google Trends is a go-to for niche research, it has its limitations. The biggest is that it shows you relative numbers and not absolutes.
So even if two terms rank at 100, it doesn't mean they have equal demand.
In Google's words:
"A higher value means a higher proportion of all queries, not a higher absolute query count. So a tiny country where 80% of the queries are for "bananas" will get twice the score of a giant country where only 40% of the queries are for "bananas"."
This proves true in our "Vanlife" query – even though it's got an interest of 100 in Colorado, that doesn't mean the state is experiencing a housing crisis thanks to mass move-outs and RV rentals. It just means it's at peak popularity compared to other US states.
With any tool, you'll want to validate your niche in other places and conduct competitor research before you pursue it.
2. Subreddit Stats
Reddit is an hotbed of niche communities, and Subreddit Stats is a platform that provides ranking lists, subscriber trends and other statistics for popular forums on Reddit. The platform also identifies top keywords and related niche subreddits, making it a great place to find content gaps in your industry.
"When someone asks a question on Reddit, it usually means that Google doesn't return a sufficient answer to that question," Chris Zacher, a content strategist at Inter Company, explains.
If you're seeing the same question again and again, that's a good sign that you've found an active niche community that would consume your content if you answer their questions.
Use Reddit to find a niche
With the help of Subreddit stats, you can look at subreddits that are exploding in popularity. Here's an example of a niche we found using this free niche research tool: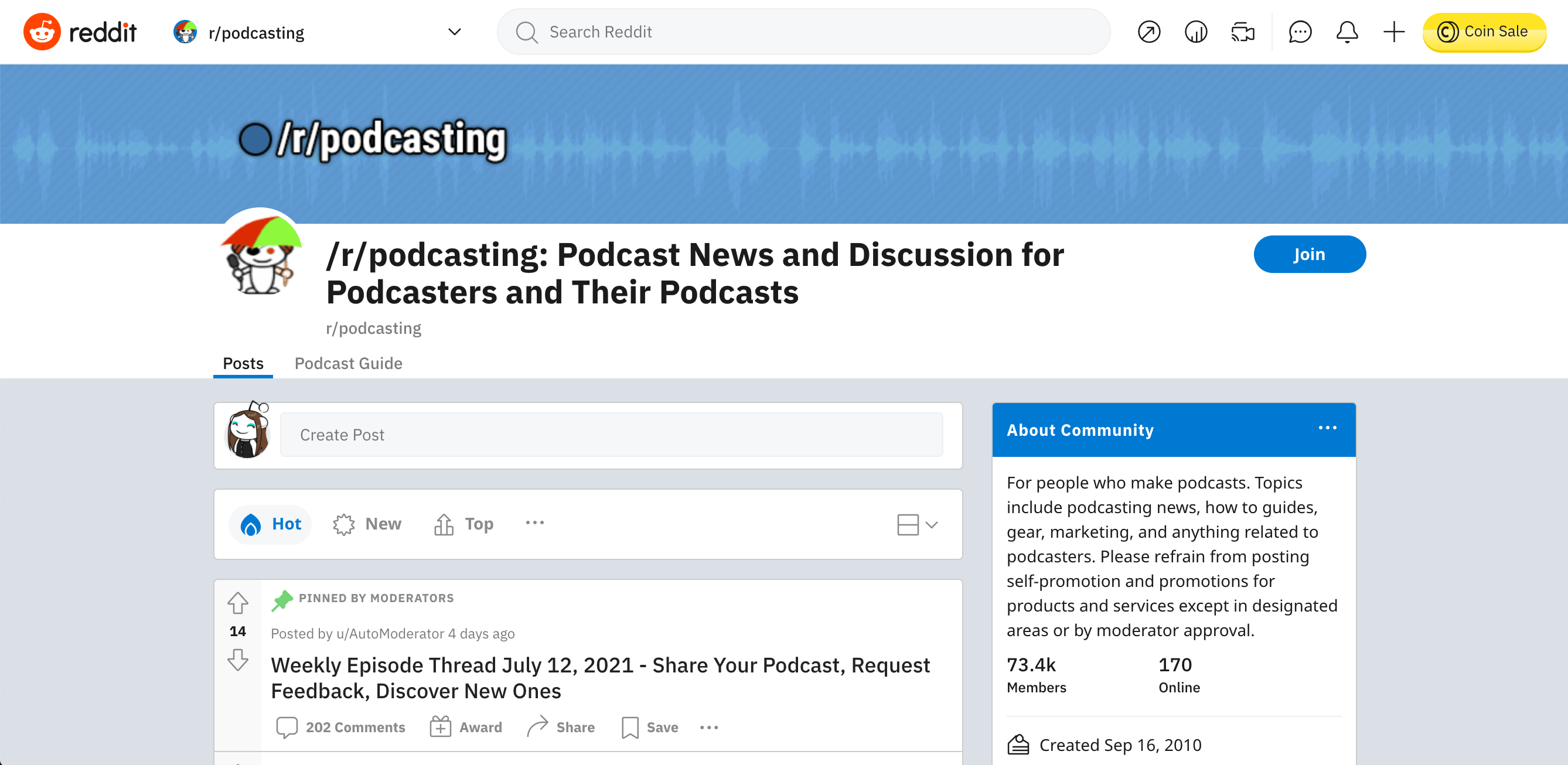 The subreddit r/podcasting has doubled in subscribers over the last two years. The most frequently asked questions relate to podcasting gear and audio-editing software, both of which can lead to great commissions. With so many people starting podcasts during the pandemic, it's not surprising at all to see this surge.
But your job is to decide whether you think it will hold up.
The nature of Reddit means that topics can blow up very suddenly but can also die off just as quickly. Chris recommends looking for questions with a lot of replies and using keyword research tools to validate them.
3. Localized Rankings
Localized rankings show what people are searching for in a specific country, region, or city. If your niche is extremely competitive overall, localized rankings help you get a foot in the door by narrowing in on a specific location.
There are two ways to approach this. The first is to start with the offer and use a tool like 5 minute site to figure out which zip codes search for that offer the most. For example, I searched for hamburgers, hot dogs and milkshakes within a 10 mile radius of New York.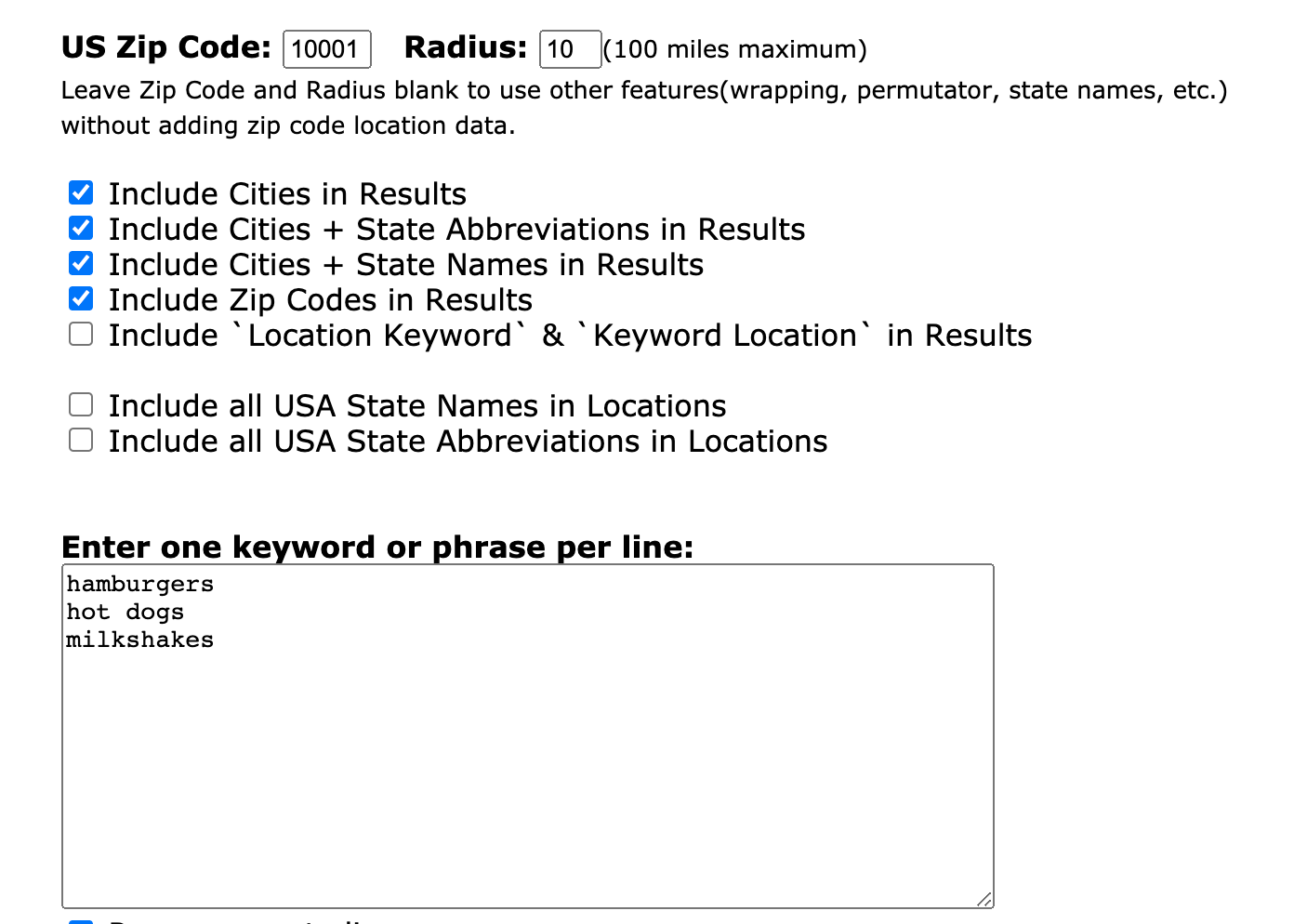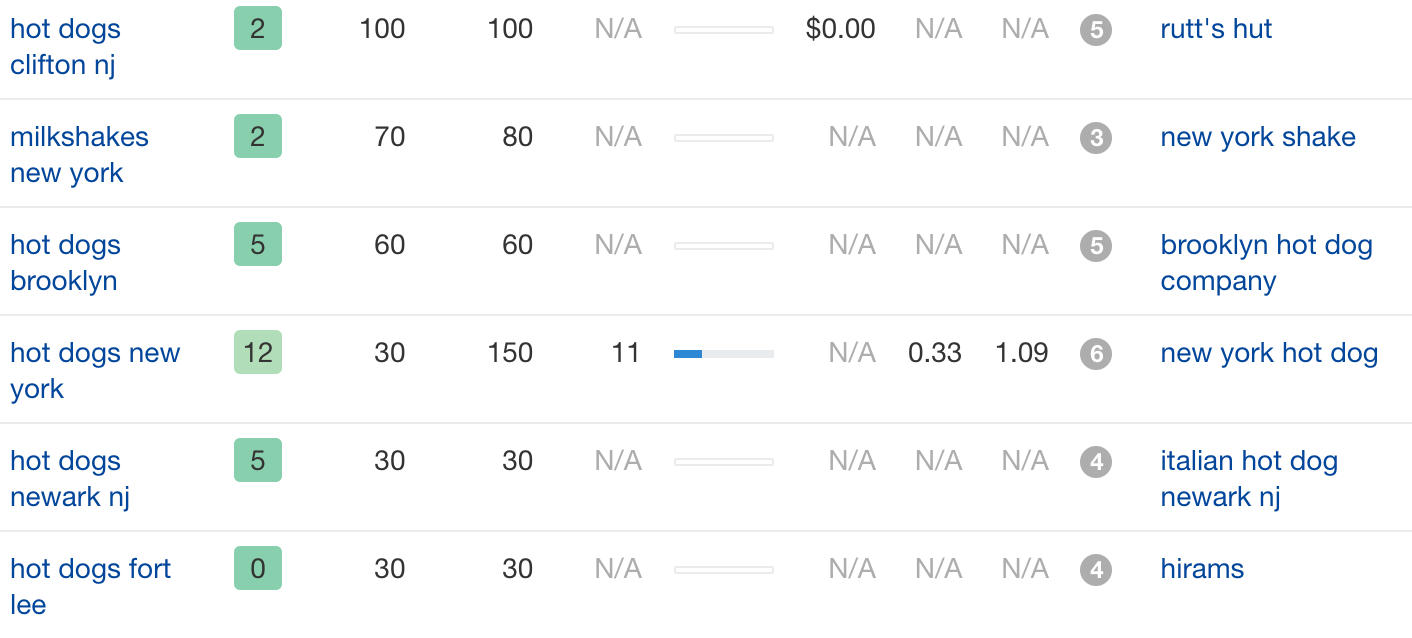 Step 1: Input a New York zip code (I used 10001) and the keyword terms. 5 minute site provides all the keywords associated with each zip code in a lok10 mile radius.
Step 2: Input those keywords into Ahrefs or another SEO tool (tools like Ubersuggest and Semrush have a free trial, whereas Ahrefs costs $7). Voila! I see that the highest volume search for the keywords I'm exploring are for hot dogs in Clifton, New Jersey. That's a pretty good indication that if I want to sell hot dogs, that's where I should set up my stand.
Step 3: I didn't do this for this search, but your third step would be to search competition in that area. How many hot dog stands are in Clifton? Is there anything that makes my hot dogs stand out?
The second way to run a localized search is to start with the location and then look for what people are searching. For this, you can use social media tools like Subreddit stats, or search for local websites that compile this information.
4. Google Search Console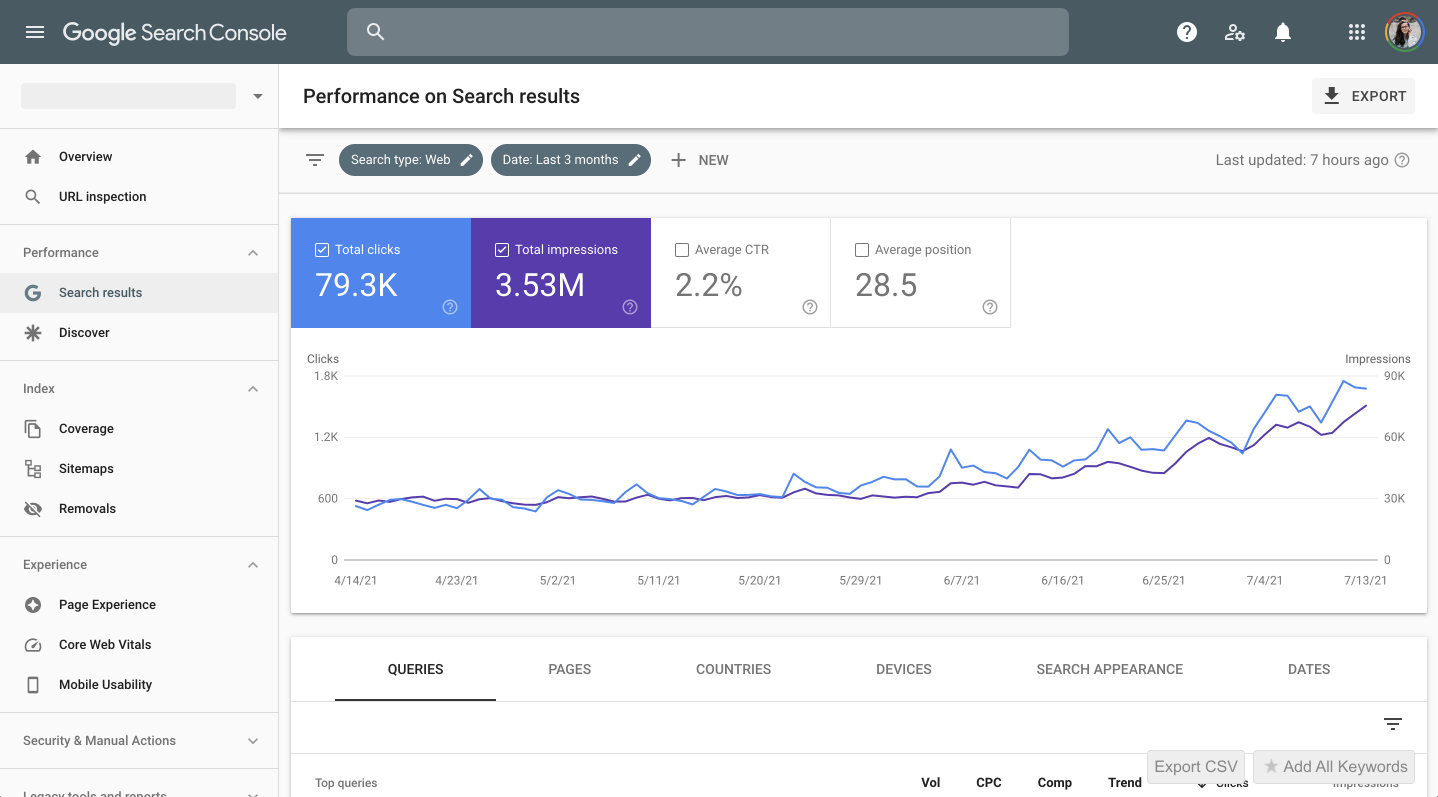 Google Search Console is a free SEO tool from Google that shows you the keywords you rank for and the number of page impressions that come from each keyword. It's a standard tool in the arsenal of SEO professionals, and something you're already doing.
But did you realize you can find niche ideas and keyword within your own website that your competitors will have a hard time finding?
Enter zero-volume keywords.
Use Google Search Console for niche research
Just because a keyword has zero-volume or low-volume in search doesn't mean that people aren't interested in it. In fact, you'll see that people are indeed interested when you consider the number of impressions and clicks a zero-volume keyword receives.
When you have a zero-volume search word or term with a relatively high number of impressions, you've may've found a niche gold mine. These are likely keywords that your competitors are not targeting because standard tools haven't picked them up. Which means you're a shark in blue waters. Here's how to do it:
Go to your Google Search Console's "Search Results" search
Using a tool like Keywords Everywhere, export your Query data next to the search volumes provided by Keywords Everywhere
In a Google Sheet, filter by zero search volume and sort by impressions or clicks.
You can use the tool to find an appealing niche by splitting out topics from your existing property into their own niche based on which keywords you are already ranking for, but that SEO tools like Search Console show as zero-volume terms.
Limitations of Google Search Console
While Google Search Console is an extremely helpful tool to analyse your own traffic and impressions, focusing on low and zero-volume search terms is still a gamble. Some zero-volume words are actually zero-volume and won't yield any results. But the tool is still worth using when writing about topics that help complete your topical authority in Google.
5. Answer the Public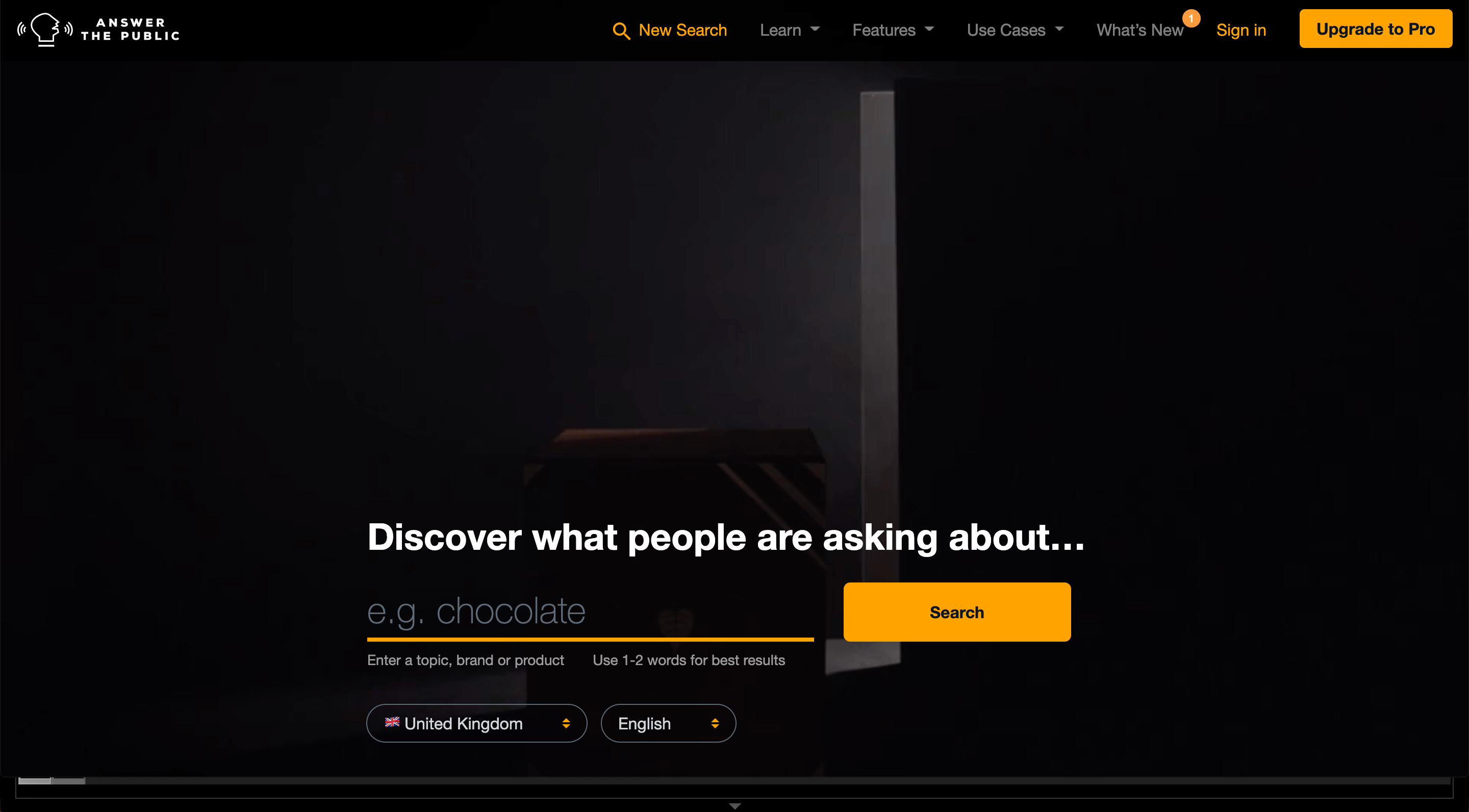 Answer the Public is a tool that shows you variants of search queries, specifically those in the form of a question (e.g. who, what, when, where, why, how). These variants can be used as long-tail keywords for niche markets and gives you an idea of related search queries for a topic.
Use Answer the Public for niche research
For example, searching the term "email marketing" shows that people who look into email marketing are also looking for information about direct mail, facebook ads, and software tools. You can target these less-competitive related keywords in order to grab a foothold in the market.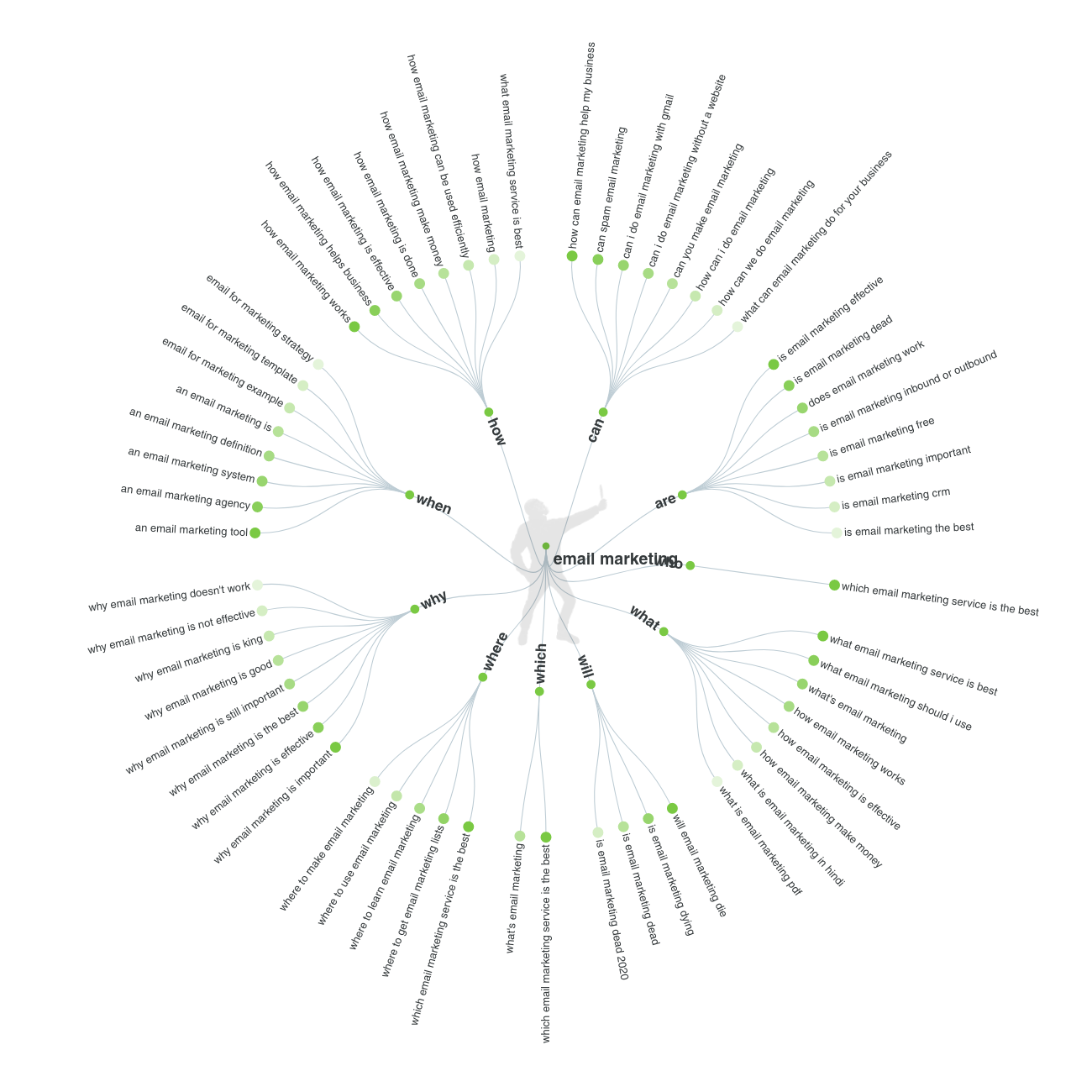 Like Google Search Console, you can use Answer the Public to find search queries (including those with low or zero volumes) that help determine a worthwhile niche. This is similar to the topic of using "People Also Ask" to help find undiscovered search terms. Essentially you're taking a peek into the psychology of what people are asking when they're thinking about a particular topic.
PRO TIP
Not every question shown in "People Also Ask" are actually...asked by people. Many of these are generated by subsections of articles that appear in Google, as proven by creating articles on novel topics.
Another interesting way to find related queries is to search your main term in Google, and then see which terms Google's autocomplete suggests next. These often differ from the "Related Searches" that appear on the page and can give you an insight into how people are using Google to explore the niche.
Limitations of Answer the Public
You only get a couple of free searches per day. So if you're not looking to spend money on tools and you have a lot of searches in mind, our next item in the list is likely to help.
6. Answer Socrates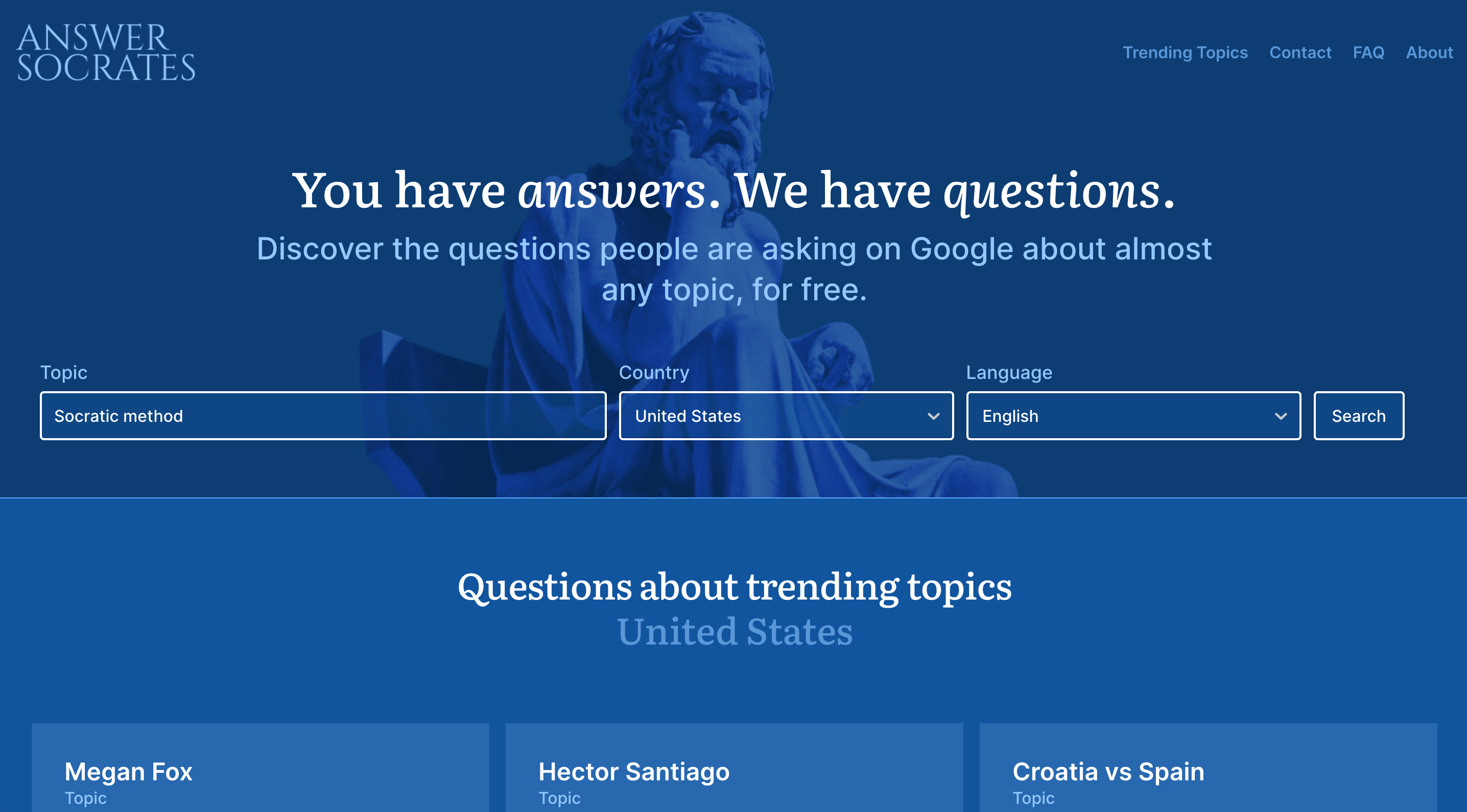 Answer Socrates is an Answer the Public alternative with unlimited free searches. It combines information from People Also Ask, Google autocomplete, and Google Trends. Instead of showing the information in a sort of tree shape, Answer Socrates groups respones based on the question word. Here's an example.
How to use Answer Socrates for niche research
It's as simple as putting your seed keyword into the tool and seeing which questions come up. This is a great way to discover buyer intent keywords you can write buying guides for.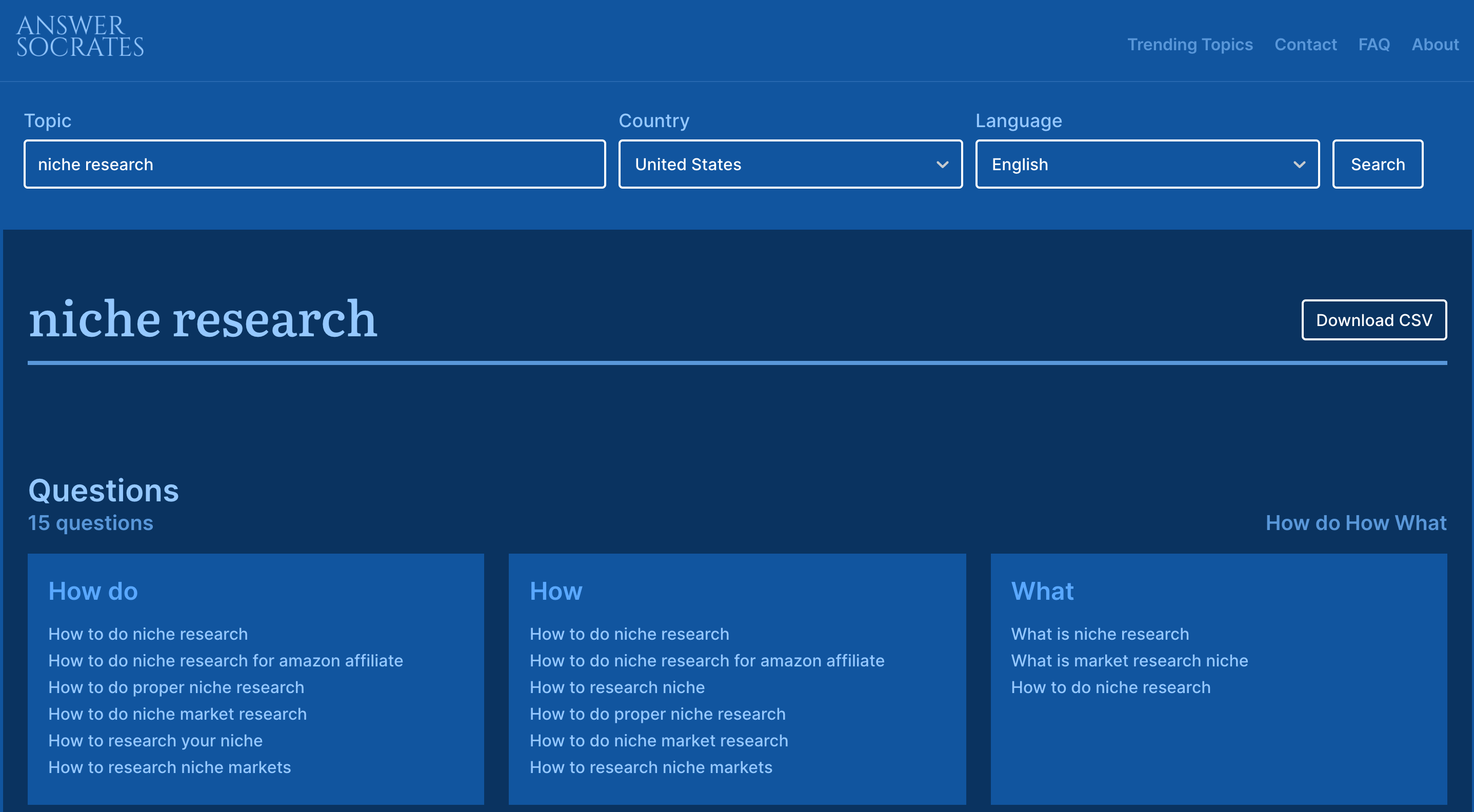 7. Exploding Topics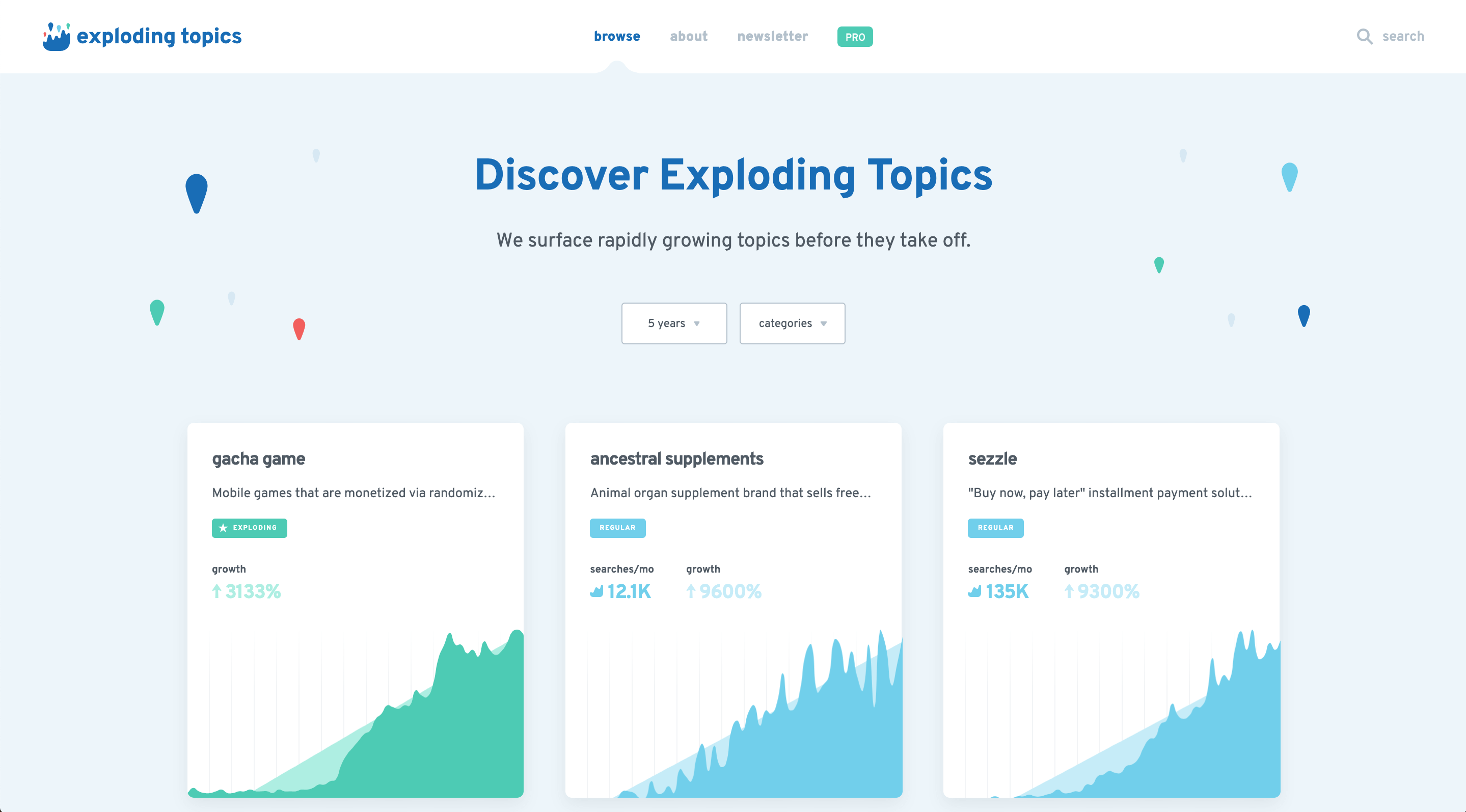 Exploding Topics is a platform that provides insight into trends before they become trends. You can explore topics by category and time period to give you insight on search numbers and growth. The platform classifies topics as "exploding" based on its growth trend.
How to use Exploding Topics for niche research
You can start by visiting the homepage and seeing which trends the team has selected. Exploding Topics also has a free newsletter, as well as a "Pro" version where you can see all the topics that are hidden on the homepage.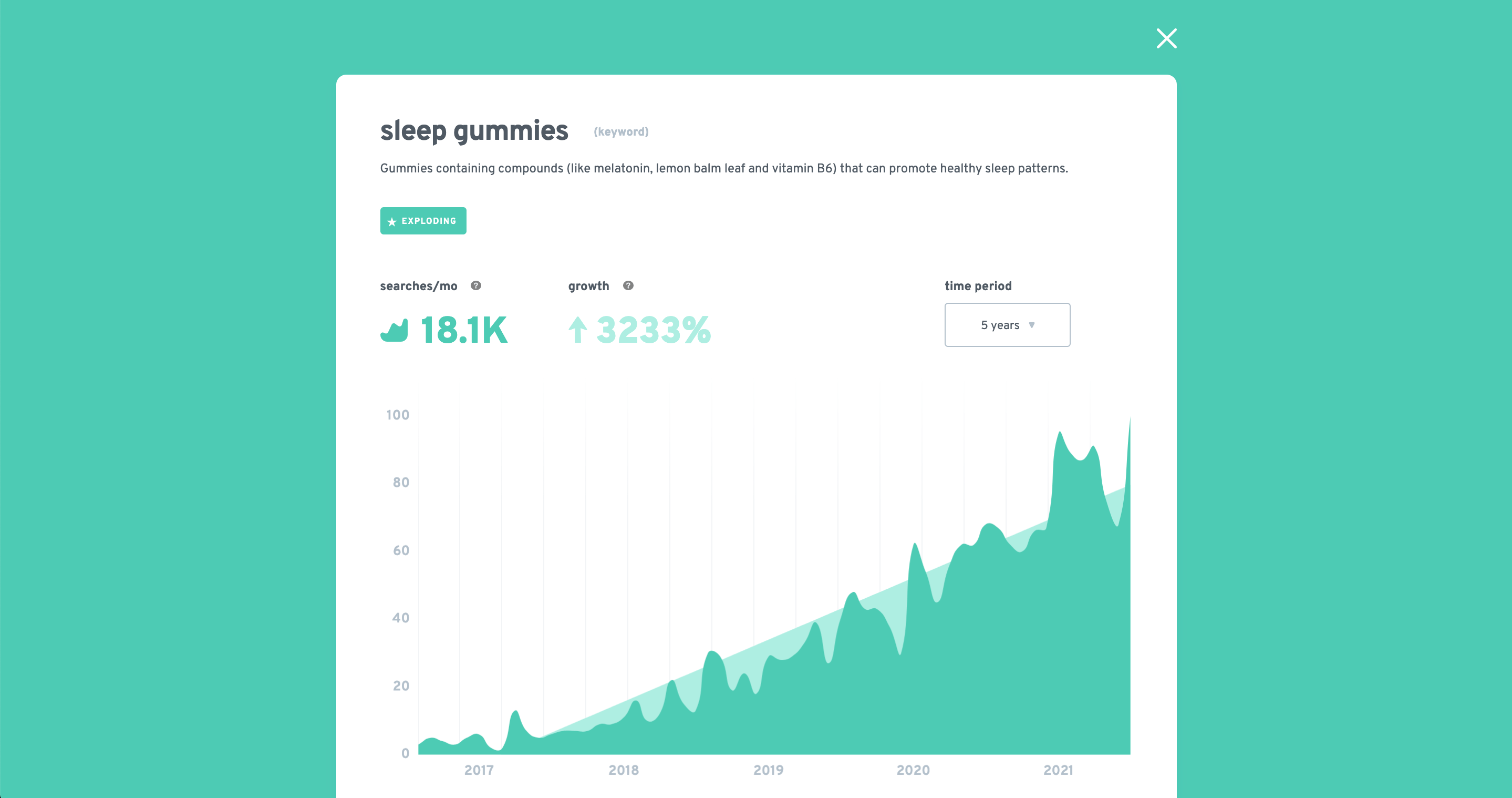 Limitations of Exploding Topics
If you find an exploding topic that sparks your interest, use SEO tools to validate that it's an upward trending market (and not just a fad).
Like Google Trends, Exploding Topics is best used as a starting point. It's great if you're looking for ideas or want to catch new trends in your niche. If you've already narrowed down your direction, you're better off using other tools that search capabilities. Also keep in mind that even if a topic isn't "exploding", it can still be a worthwhile and highly monetizable niche.
8. Statista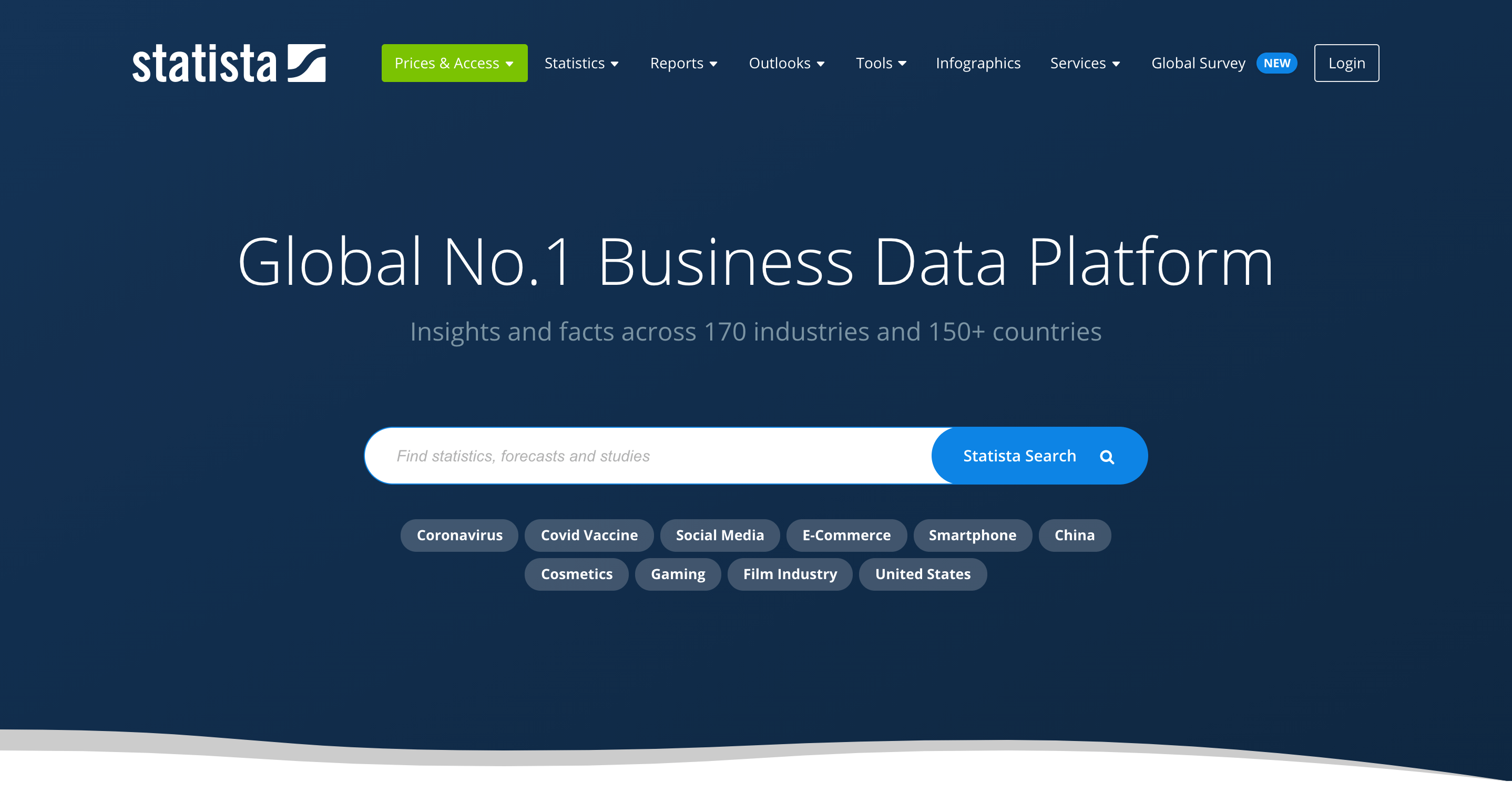 Statista is a self-described "business data platform", which provides statistics on ton of different industries. You can find studies, reports, and analyses by Statista which can help you determine whether the niche you want to enter (or its parent market) is growing, shrinking, or stable.
How to use Statista for niche research
For example, if you look for the term "Podcasting" in Statista's database you can find numerous reports about podcasting in the US, and worldwide. While some reports are paid, there are also many which are available for free or can help add to the information about the niche you've collected from other sources.

9. Similarweb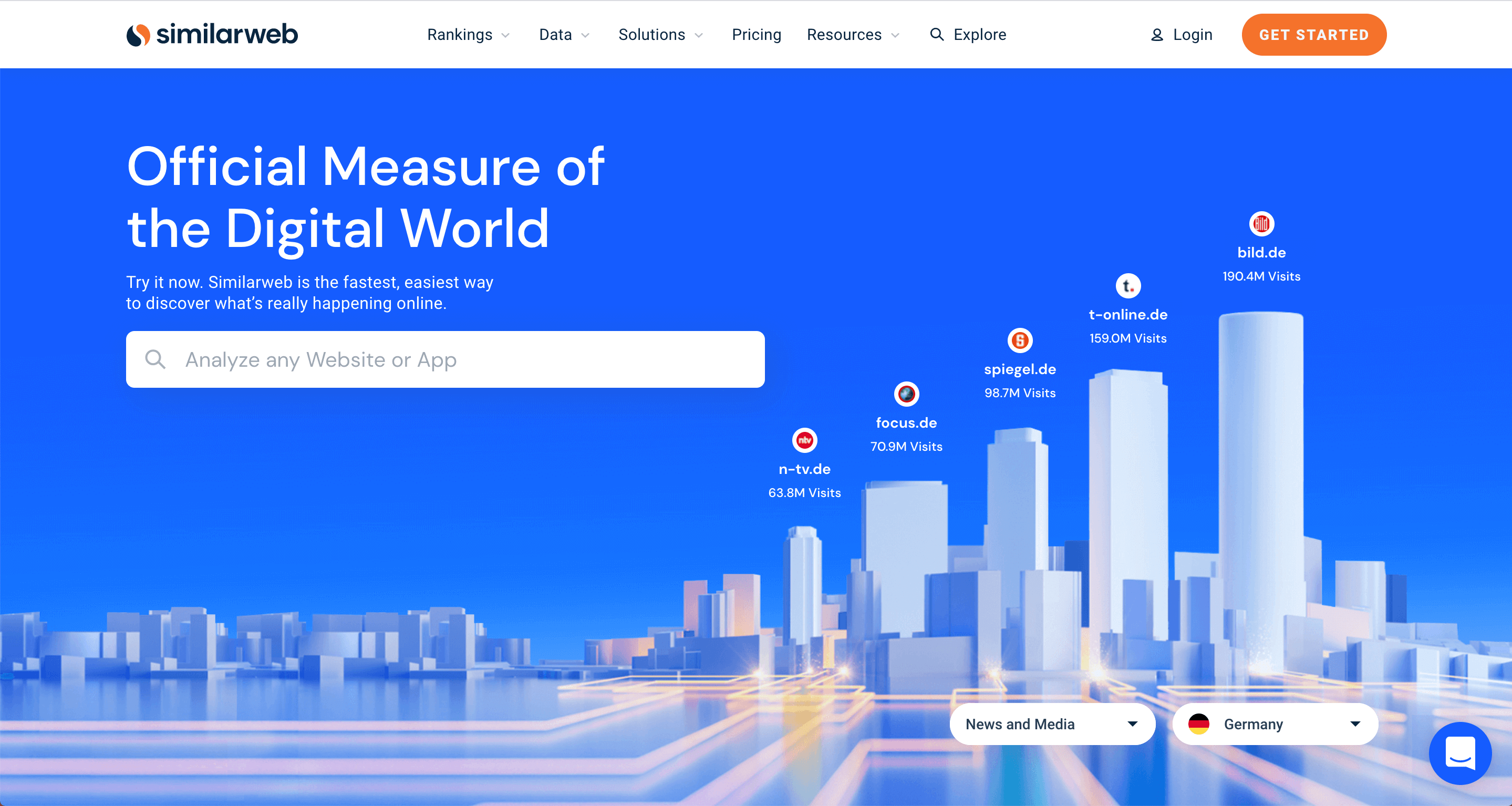 Similarweb is a traffic analysis tool, which unlike keyword research tools, also tries to tell you how much traffic a given website is receiving from non-organic channels like Direct traffic and referral traffic.
How to use Similarweb for niche research
If your strategy for acquiring traffic is purely SEO, but your competitors are receiving most of their traffic through referral or direct sources, this could be an indication that search demand for the topic isn't very high. For example, news websites tend to have a higher share of direct traffic, and ecommerce stores (especially with affiliate programs) more referral traffic.
This doesn't mean it's not possible to tackle the niche, but you might want to find other competitors to model your efforts after if the big players are getting their traffic from sources you can't easily replicate.
Ready to get started?
One of the most important things when starting a website in a new niche is diversifying your revenue streams and setting up your affiliate tracking properly. Check out Affilimate's Free 15-Day Trial to bring all your affiliate networks into a single dashboard and attribute your conversions back to content on your website.