How to Start Investing in Websites (According to Experts)
By Natalie Robin · Updated Jan 23, 2023
So you've heard about making money blogging, but have you ever thought about selling a blog?
Turns out it can be an equally profitable side of the same coin.
If you know how to grow a website that generates revenue, you already have many of the skills needed to start investing in websites.
In fact, some bloggers purchase promising small blogs and build them to earn tens of thousands within a year.
All without doing the initial website development, writing, and branding.
This means investing in websites can be highly profitable for anyone with a good handle on SEO, CRO, and digital marketing.
Read on to learn how website investing works, and whether it's a viable option for you.
Disclaimer: This article is not financial advice! Please make sure to do your own due diligence when evaluating investment opportunities for your business.
Website investing as an alternative asset?
In some cases, flipping websites can also have a faster return on investment than traditional investment options, including stocks, bonds, oil, and real estate.
In one example, The Website Flip acquired a wellness website for $5,650 in July 2020, and sold it six months later for $30,100, earning a 81.23% profit margin.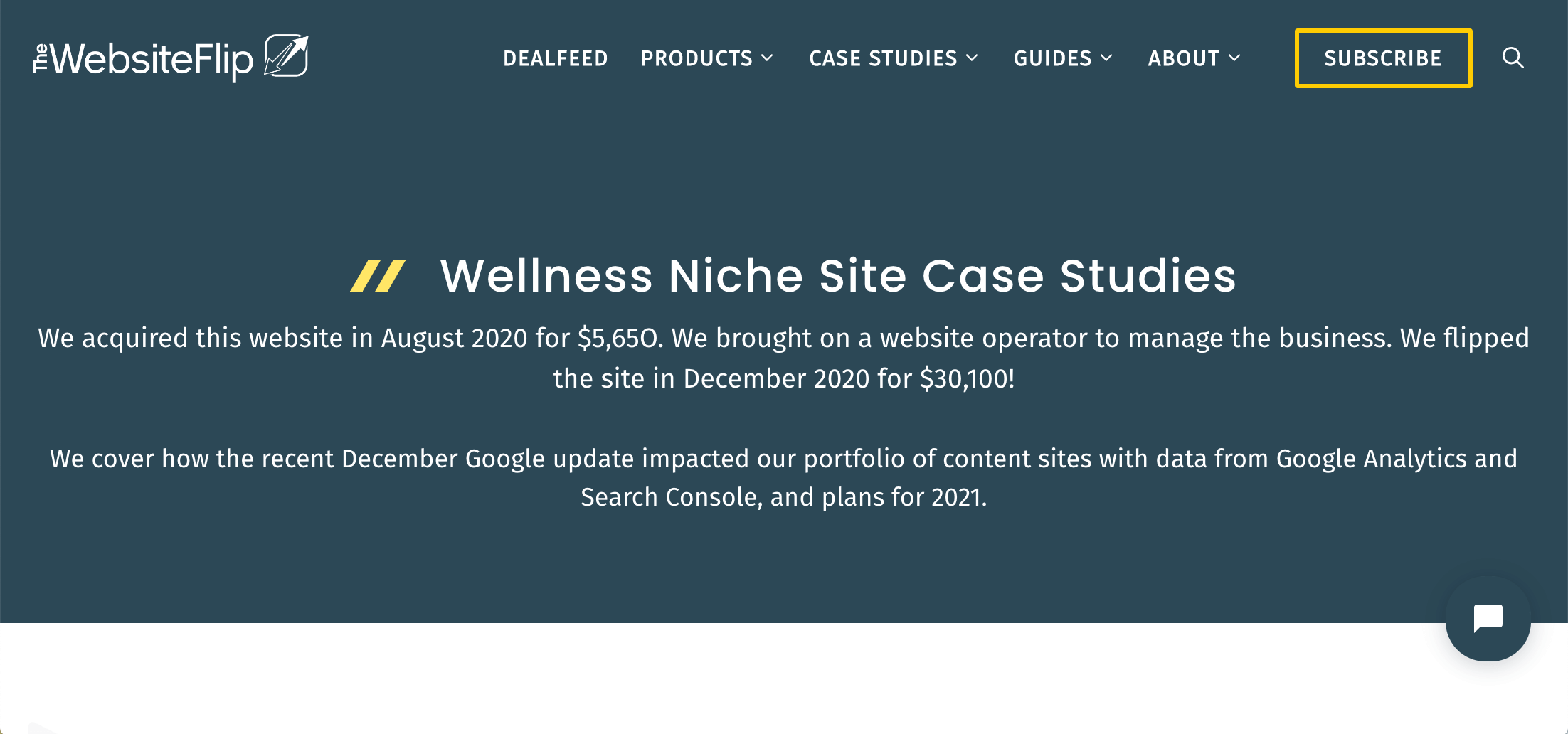 This is pretty substantial when comparing it to an average 10% annual return on real estate.
But, just like any other investment, websites come with risks, and the less you understand what you're doing, the riskier it is.
In this post, we're explaining how to buy a blog, sell a blog, website investing, and flipping domains for profit.
We've also included first-hand advice from blog investors who have successfully flipped and sold websites, so that you can avoid common (and potentially expensive) mistakes.
So, why should people invest in websites?
Here are four reasons why investing in websites can be a good option – particularly for those who are already well-versed in the website building world:
1. Websites can be low maintenance and low cost
With a little digging, you can find websites that only need a few small tweaks to be on the brink of big growth – for as little as $2000 depending on their monthly revenue.
According to the website broker Empire Flippers' 2021 year-end report, the average sales multiple of a website is 34.8x times its average monthly revenue within a 12 month period (TTM), and it's continuing to grow.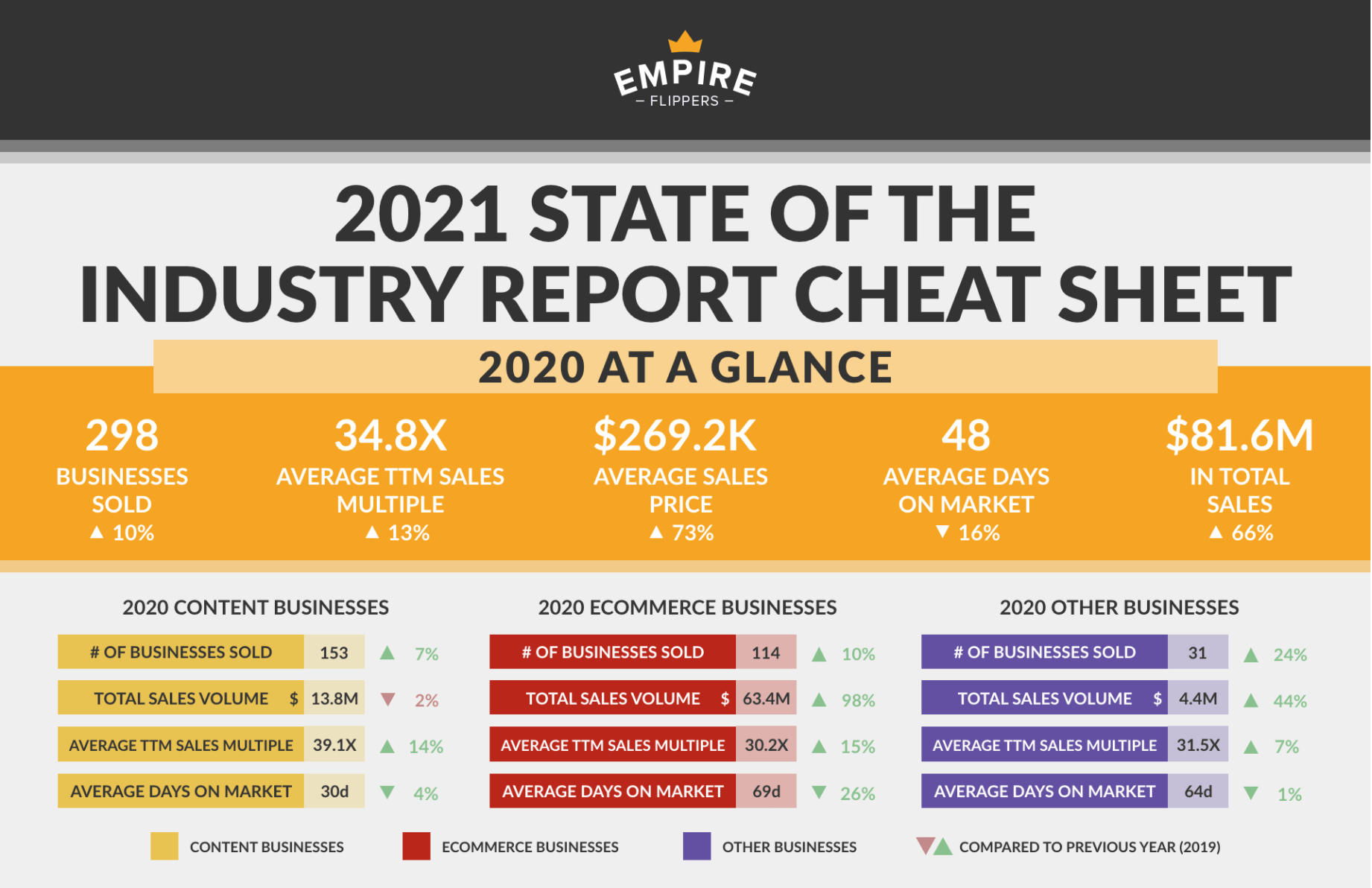 They found that this is because the online business model is low maintenance with a high profit margin.
So if a website is making $100 a month, you could buy or sell it for an average of $3,480.
And once you have a few key systems and outsourced tasks in place, maintaining a website can take only a few hours a month (depending on how hands-off you want to be).
2. Investing in websites is accessible
Unlike brick and mortar investments like real estate or retail businesses, you can manage websites from practically anywhere.
Plus, starting a website for a few hundred dollars will get you in the investment market far quicker than saving up for a 20% down payment on a house. Even if you purchase a small website instead of building one yourself, it's much cheaper.
This combination of low cost and easy access means that websites are an accessible investment to people of all demographics and locations, as long as they have an internet connection.
3. Complete control of website structure, and on-page SEO
Unlike traditional investments like stocks and bonds, flipping a website gives much more creative control.
You get to make the executive decisions on website design, structure, and SEO and keyword targeting efforts.
Now, if you know a lot about building websites and making them profitable, it can be great to take the reins as the "creative director" of sorts.
If not, then you'll likely need to hire an SEO consultant and/or content manager to help hone in on your website's earning potential.
For that, you'll need initial capital which might influence how you approach investing in websites.
4. You can earn a monthly profit from the site
Once you've identified the website you want to buy, you can profit from it in one of two ways. Or, do both, if you want to buy and hold for a while, and then eventually sell your site.

Option 1. Operate the website. With this option, you keep and operate the website and earn the monthly payouts. Depending on the website's business model, this can come from display advertising, affiliate marketing, sponsored posts, etc. If the website is established, you might not have to do much in terms of growth.
On the other hand, if you buy a website that isn't earning much monthly, you will have to dedicate time and resources in order to grow it to the point where it's consistently profitable.

Option 2. Flip the website. Another way to approach investing in websites is to flip them. Ever heard of house flippers? Or maybe you've got a friend who buys teardowns for cheap to renovate and sell them at a profit. Website flipping works the same way. You just have to make sure that the website you're buying has a strong foundation and potential.
The con to this is that you need some substantial finances to get started, since websites usually go for a 30-40x multiple of their monthly earnings.
Build vs. buy – when does each make sense?
Before deciding whether to buy or build a website, ask yourself what your expectations are for time commitment, willingness to face technical learning curves, and dedication to the website's brand.
You should also consider your knowledge of website building before jumping into investing.
For example, when it comes to determining whether you're ready to start investing in websites, here's what Mushfiq Sarker, founder of The Website Flip has to share:
Newbies should build a site from scratch, grow it, monetize it, and then sell it.
Then and only then, can they pursue buying and selling sites.
The person needs to understand the ins and outs of growing a site before flipping comes into the equation.
If you do have experience and can discern which websites are a good investment, here are a few other factors to consider when deciding on whether to buy or build websites.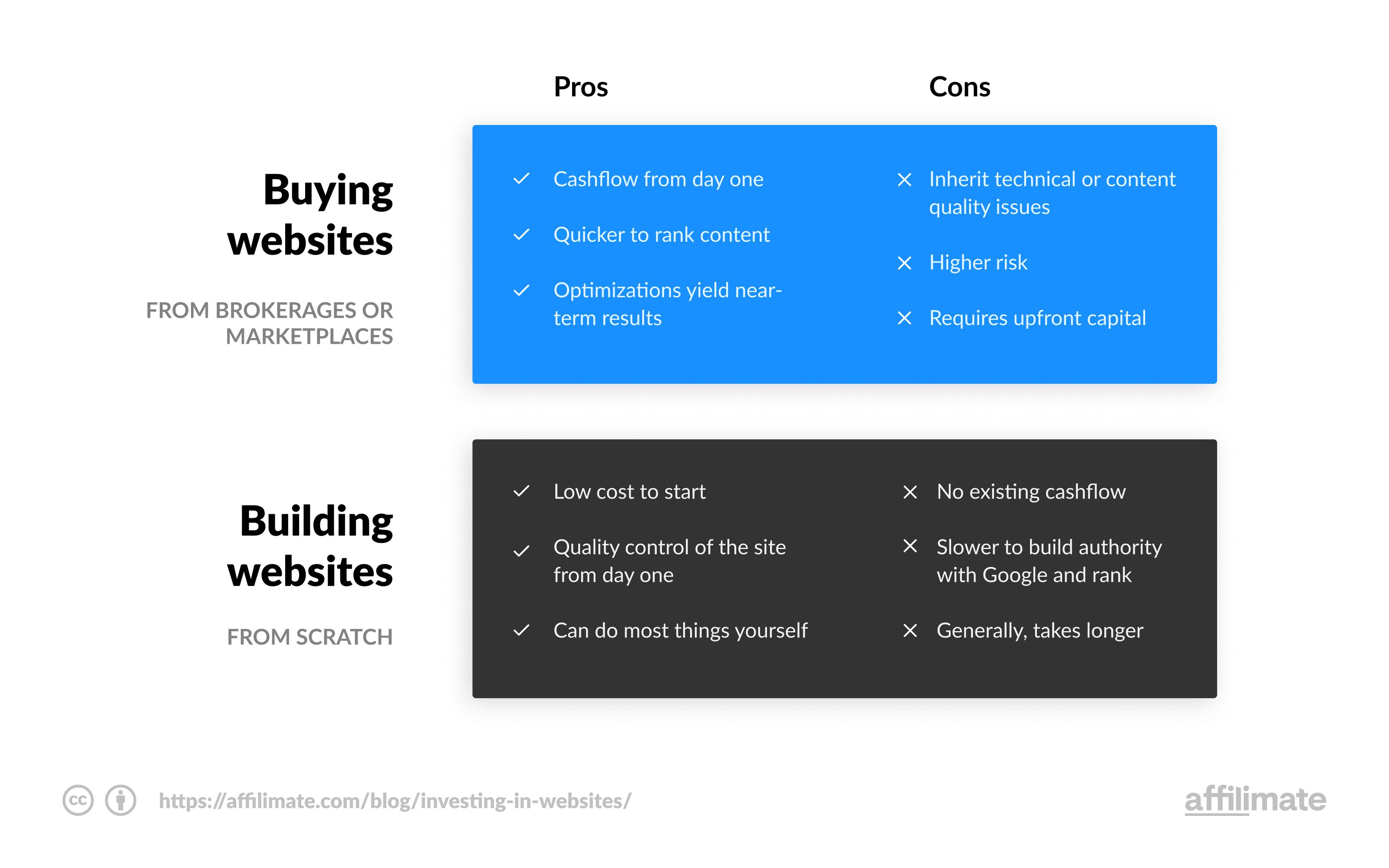 Option 1. Buying existing websites
There are a few different ways you can go about this.
You could buy a website that's been around for five years, has 30 articles, and 3,000 monthly pageviews, and is just finding its legs in terms of growing site traffic.
Per Empire Flipper's 2021 year-end report, on average, websites go for anywhere from 24 to 43 times their monthly revenue, also known as their "sales multiple."
This varies on a case by case basis, and it depends on monetization methods, and the industry that the website is in.
For the sake of this example, let's say this website makes around $200 a month.
With the sales multiples in mind, it would cost you between $4,800 and $8,600 to purchase the website outright.
And with a domain that's aged five years, you might be less likely to get stuck in the rumored Google "sandbox" which theorizes that new sites are penalized in rankings until they reach a certain age or level of trust.
So by this logic, older web pages and domains are prioritized and typically rank higher in the SERPs compared to brand new domains.
You have the benefit of already having a foothold with Google.
However, the site's existing content might not be written to your standards, which could require a lot of updating (AKA, time and money).
But if you know how to audit a website to optimize its revenue capabilities, buying established websites is a way to earn monthly revenue right off the bat.
You just need to have a bit of initial capital to get started.
Option 2. Building websites from scratch
Now, let's talk about building a website from scratch.
If you go this route, you'll have complete creative freedom to choose your niche, content pillars, and the overall vision of your website.
The upfront cost of starting a website doesn't have to be much – if you purchase the bare minimum hosting and a decent WordPress template, you can get started for under $100.
However, new websites typically take longer to rank and build traffic on Google.
One way of getting around this is by purchasing an expiring domain that has been registered for a few years, but doesn't have an actual website attached to it. You can do this on platforms like Odys or Sedo.
In either of these cases, you will have to dedicate a significant amount of time doing keyword research and writing content, either by hiring freelancers, or writing it yourself.
If you're brand new to the world of online business, this is a good way to learn the ropes.
How to invest in websites
Purchasing websites is an unregulated process, so do your due diligence to make sure that you're protecting yourself.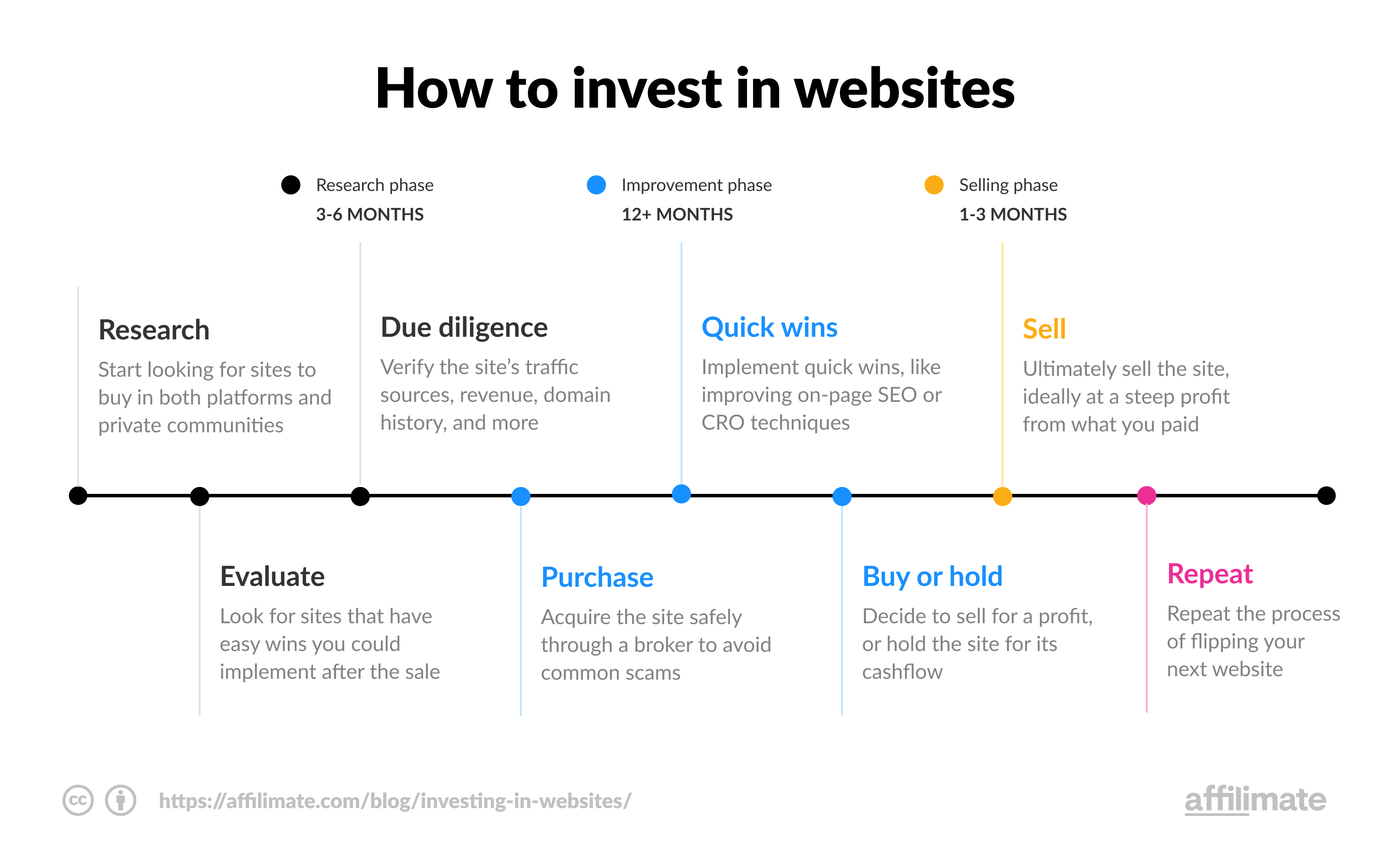 Here are seven steps on how to buy a blog, and flip and sell websites:
1. Research websites you may want to buy
Website brokerages and marketplaces are a good place to start browsing for sites to buy. You can peruse popular platforms including FE International, Flippa, BlogsForSale, and Empire Flippers, or reach out to individual sellers via private Facebook groups.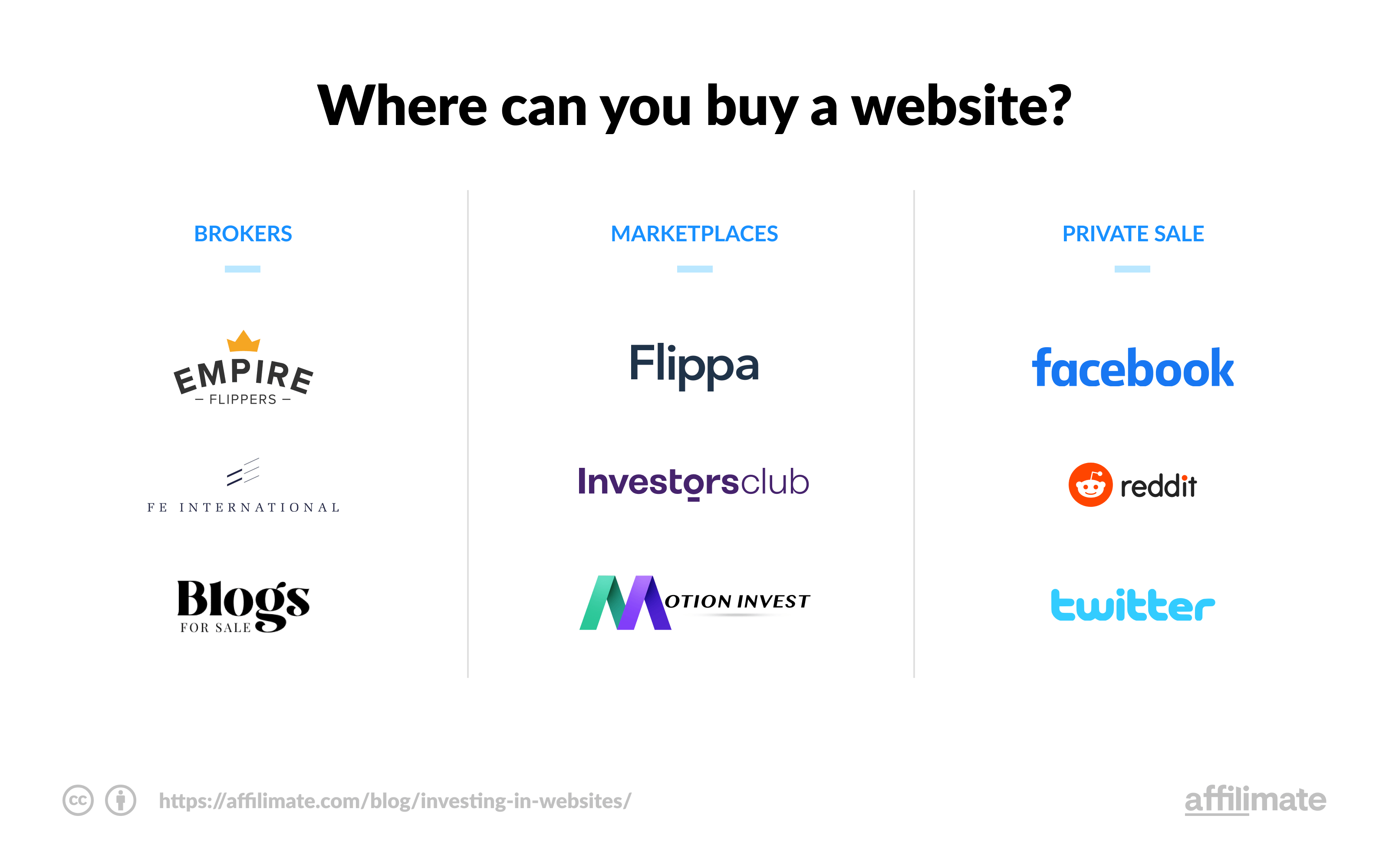 To get started, focus on websites that are in niches that you already know a lot about.
If your day job is as a real estate agent, it makes sense to purchase a blog about real estate or related industries.
This will give you an upper hand when identifying marketing and sales opportunities, rather than starting from scratch in an industry you know nothing about
You'll be able to determine why certain products on the site aren't converting and what content topics should be, because you understand how that audience thinks and buys.
2. Evaluate the opportunity
In this stage, try to find a few monetizable "easy wins."
Example: if the site is on a display ad network like Ezoic, but with a little more site traffic could be accepted on a premium network like Mediavine, you could see much bigger payouts fairly quickly.
Here are a few more questions to ask yourself:
Could conversions be improved by simply adding a larger CTA button?
Do the affiliate links have images?
Are they easily shoppable, or could they be improved with a few affiliate marketing tools like tables and grids?
Does a technical SEO audit using tools like Ahrefs and Semrush reveal opportunities for improving site health?
Ahrefs has some great resources on finding viable websites to invest in, like this video about buying undervalued websites: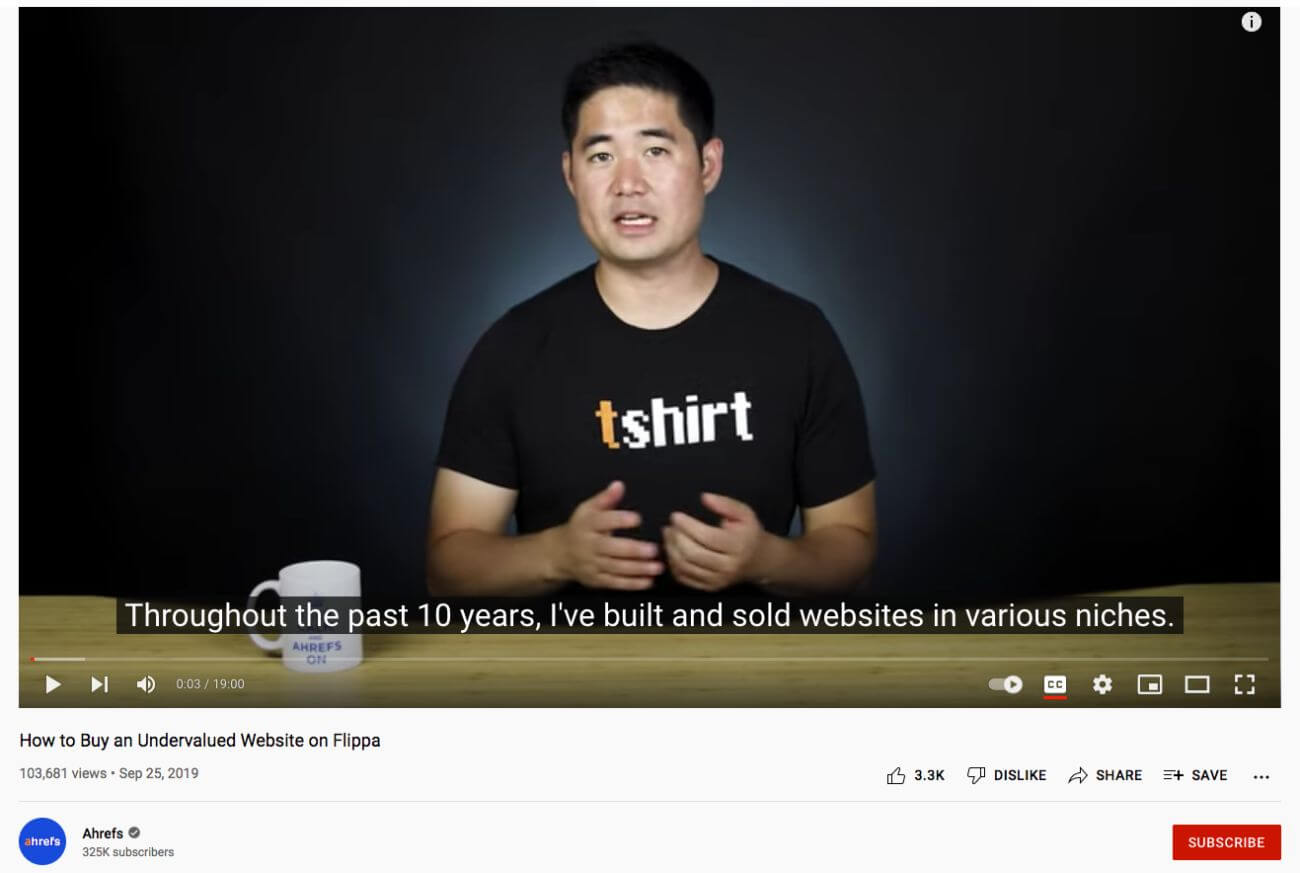 You can also look at the key aspects of each website to evaluate whether it's a good investment opportunity.
These factors include:
Proof of concept: Is this website already making money? How much? Is the revenue from diversified affiliate programs and traffic sources?
Website health: Does the site need to be optimized?
Existing organic traffic: How much organic traffic is this website getting? Are the visits legitimate, and which countries does the traffic come from?
Niche: Does this website's niche have potential to grow, or is it based around a trend that's going to die out? Or has the topic simply been written into the ground?
Backlinks: What does the site's backlink profile look like? Is it full of spammy links, or has the creator built a network of legitimate relationships?
Audience: Does the website have an engaged community, e.g., social media, email list, blog comments, etc.?
Answering these questions will give you great insight into whether or not a website has a chance of growing as an investment.
3. Do your due diligence
Due diligence is a must when making any investment decisions, and buying websites is no different.
Here's what Darcy Ogdon-Nolan, founder of The Bircher Bar had to share about his approach:
Take your time and be thorough.
We all know the website building game is fraught with danger so your goal when buying is to "stack the odds in your favor." There's quite a bit involved in a thorough audit.
But as a minimum, I always check the content quality of a number of pages, make sure traffic is nicely spread across the site and that there are no suspicious links to or from the site.
Follow a checklist of factors to assess before making a purchase to ensure you don't overlook anything important.
Here is a basic list of things you must look into before buying any website:
Site audit: Check for any discrepancies between what the website claims, and its actual data. Use SEO tools to check the analytics of the website and measure that against any claims of success.
Domain ownership history: Check domain ownership history through Whois, which is a database that records domain owner information. You'll be able to see who originally registered the domain, and who owns it currently.
Website content history: Use a platform like the Wayback Machine, which is an internet archive of all website's histories. Use it to see what kind of content was published on a website year over year. If the site has a history of publishing unsavory content, you may want to think twice about purchasing it. This would also negatively affect the site's backlink profile.
Website's tech stack: Find out what platform and coding language the website uses with a tool like BuiltWith, since this can influence how easy it is to maintain the site. If it's built on a well-known platform like WordPress, it will be fairly easy to navigate. But if it's a custom-built site, you may need to hire a developer for basic changes.
Technical issues: How well is the site running at the moment? Will you need to invest a significant amount of time getting it up to speed?
Check for plagiarism: This goes for images as well as text. You can face big fines if your site is found to be using another creator's content without permission. Not to mention you can be penalized for duplicate content. Check for plagiarism with tools like Grammarly and Copyscape, and for image sources through a simple reverse Google search.
Revenue streams: What revenue streams does the website currently have? If revenue is very centralized, e.g. they only have one affiliate platform, or digital product, find out why. It could be that the site owner just hasn't expanded, or it could also be because the website has reached its cap on revenue potential.
Traffic sources: If traffic is coming from one source, look into why that is. It's also smart to consider whether you can continue with that traffic source. For example, if you're considering purchasing a food blog that gets most of its traffic from Pinterest, ask yourself whether you'll be able to keep up the pace of cooking and taking new photos to upload. If you don't have the capacity, that might not be the blog for you.
4. How to safely buy a website
Now it's time to actually purchase the website!
But, how do you buy a website safely?
There are tons of scams out there, but fortunately escrow platforms are in place for website buyers and sellers to make secure transactions.
Escrow services hold the buyer's money until they receive the website and are able to verify its quality and legitimacy.
Just be wary of escrow scams, and read up on what the escrow process should look like before transferring any funds.
This is especially key if you find a website through an unregulated platform, like Facebook, or an online forum.
Where can you buy a website safely? The website investors we surveyed mentioned Empire Flippers, Flippa, and BlogsForSale as reputable brokers with escrow services, plus some fintech companies like Stripe also offer an escrow service.
5. Implement easy wins
Once you dive into growing your new website, assess how the site is currently being monetized, and find simple ways to generate more (again, zero-in on easy wins).
If the site is monetized through display ads, this can be as simple as fixing SEO issues like site speed and broken links.
Or, if the main revenue stream is affiliate marketing, optimize your conversions through data analytics tools like Affilimate.
For example, if you set up Affilimate and see that the first affiliate link on the page isn't generating much revenue, that's a great candidate to swap out for something higher-converting: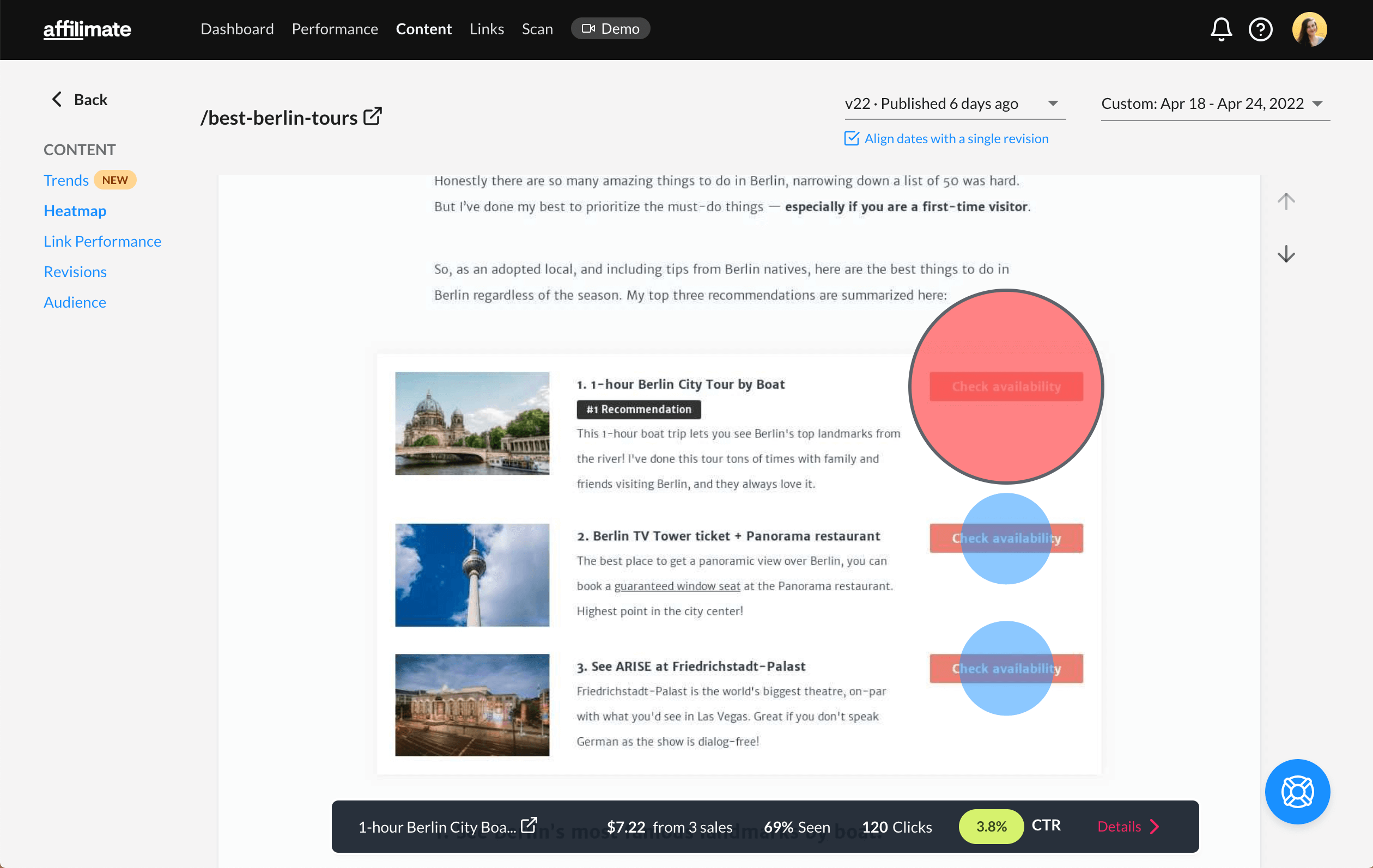 Affilimate Heatmaps points out where your conversion funnels are falling short so that you can easily improve them and multiply your earnings.
6. Should you flip or operate a website?
There are pros and cons to both flipping and holding onto websites.
On one hand, operating a website as a cashflow property allows you to enjoy consistent monthly payments and generally requires less maintenance and marketing.
On the other hand, flipping websites is much more time intensive and costly upfront, but you can see bigger payouts down the line since a sale nets you around 24-43x the monthly profit in one fell swoop.
And if you purchase a website with the intention of selling it again, you'll want to keep your "trailing twelve months" figure in mind.
TTM gives potential investors data on the site's profit history over the previous year. Check out The Empire Flippers 2021 annual report to learn more about it.
So, the sooner you can show positive growth the better, which might not be ideal for those who want "set it and forget it" kinds of investments.
This will be less expensive in the short term, but you won't see as much of a pay day as with flipping a high-value website.
When it comes to advice to those who want to flip or buy a website to operate for the first time, SEO consultant Jenny Abouobaia from SEO with Jenny shared her insight:
Consider what buyers are looking for and make sure you can present that.
Consider putting growth projections together in the same way you would do for a business plan. Show clear revenue streams and statistics. How much growth potential is there over the next three to five years, and how can someone do that?
For example, if it's a starter affiliate site monetized with Amazon, are there private affiliates someone could utilize? Make sure you have everything a potential buyer could possibly want to see ready.
7. Repeat the process
After flipping your first website and selling it, you can reinvest the profits to purchase another (or several) websites.
So, through website flipping, affiliate marketers and website owners can start to build a portfolio of profitable websites with several revenue streams.
Remember, your first website flip will be a learning curve, but as with any business model, once you understand what makes it successful, it's easy to replicate.
Is investing in websites worth it?
Based on what you've learned here, is investing in websites worth it?
It depends on the individual.
If you have a strong background in the digital marketing world, (particularly SEO and CRO), you could easily step into the website flipping world.
If you don't, as some of our website flippers noted, you can miss out important details when it comes to properly vetting a website's potential.
That said, it is hard to ignore a 50% average ROI.
If you want to jump into the website investing realm feet-first, do your due diligence and consult the experts on the site flipping platforms for the best outcome.