How to Track Amazon Affiliate Links with Unique Tracking IDs
By Monica Lent · Updated Jan 28, 2023
So you're making a little bit of money as an Amazon affiliate...but you might be wondering, exactly how can I see what was ordered on Amazon Associates, and which articles are converting best?
You're not alone.
Trying to get useful tracking on your blog posts with Amazon isn't as straightforward as it is with other affiliate programs.
Almost all of the Amazon affiliate alternatives can have this entire process automated for you, through Affilimate's dynamic subid tracking.
But hey, a lot of sites depend on Amazon for revenue, and having content-level tracking in place is going to really help you understand what content is actually earning you money so you can create more like it.
In this post, you will learn how to track Amazon affiliate links using the custom Tracking ID feature.
You'll see how it can help you get more granular insights on which posts on your website are earning money, which products are selling best, and how to use that data to run experiments and optimize your affiliate blog posts.
By the end of this article, you will know:
Which of your articles are earning you the most money on Amazon
Which of your articles turn traffic into revenue most efficiently (using RPM)
Which of your recommended products are most commonly returned and on what pages
What are people buying instead of the products you recommend (so you can recommend that directly instead and improve conversion)
Whether any of your changes to your article has screwed up your earning efficiency
We'll see all of this in two different reports, Affilimate Content Analytics: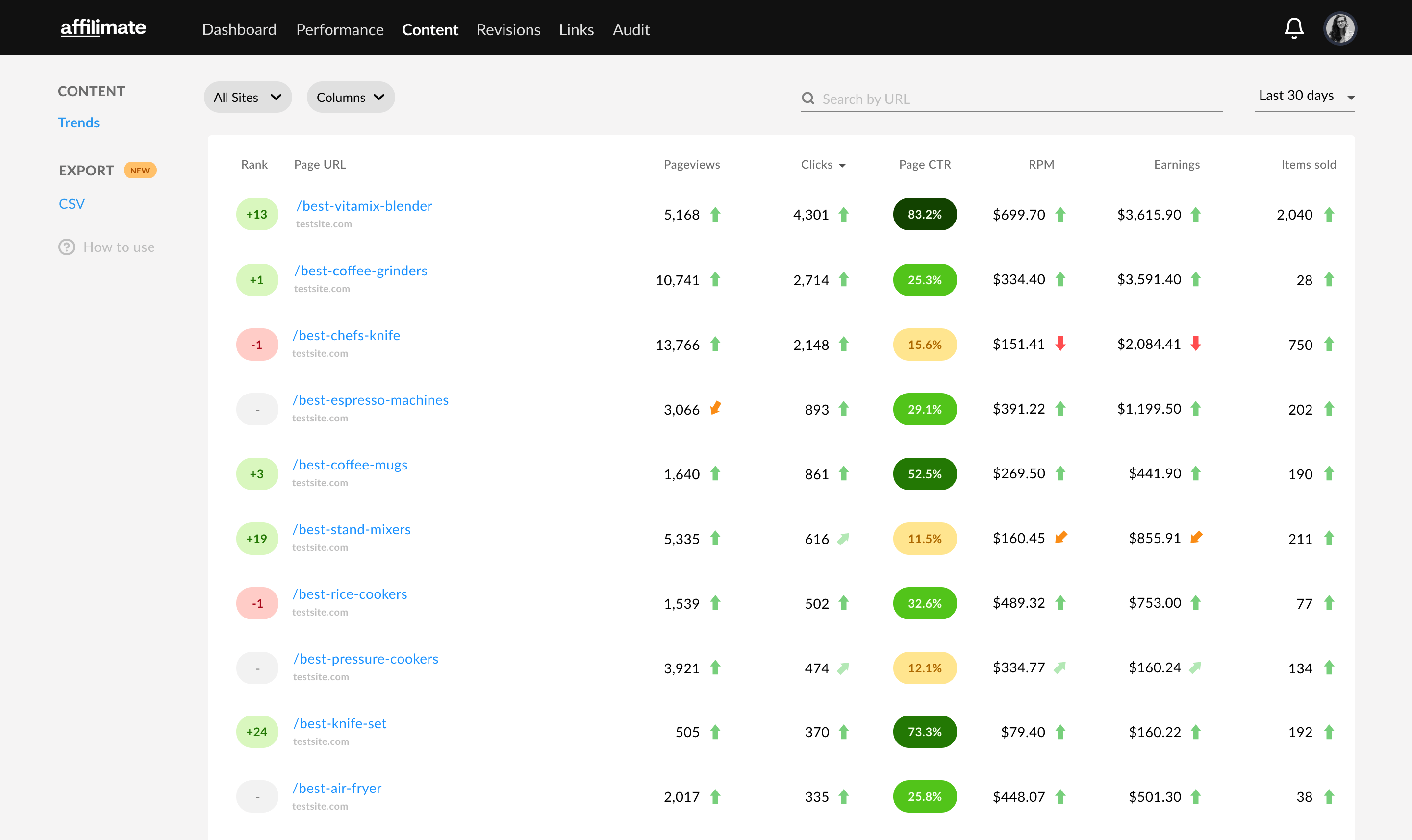 Second, we'll see the affiliate dashboard which we can group and filter for the remaining insights: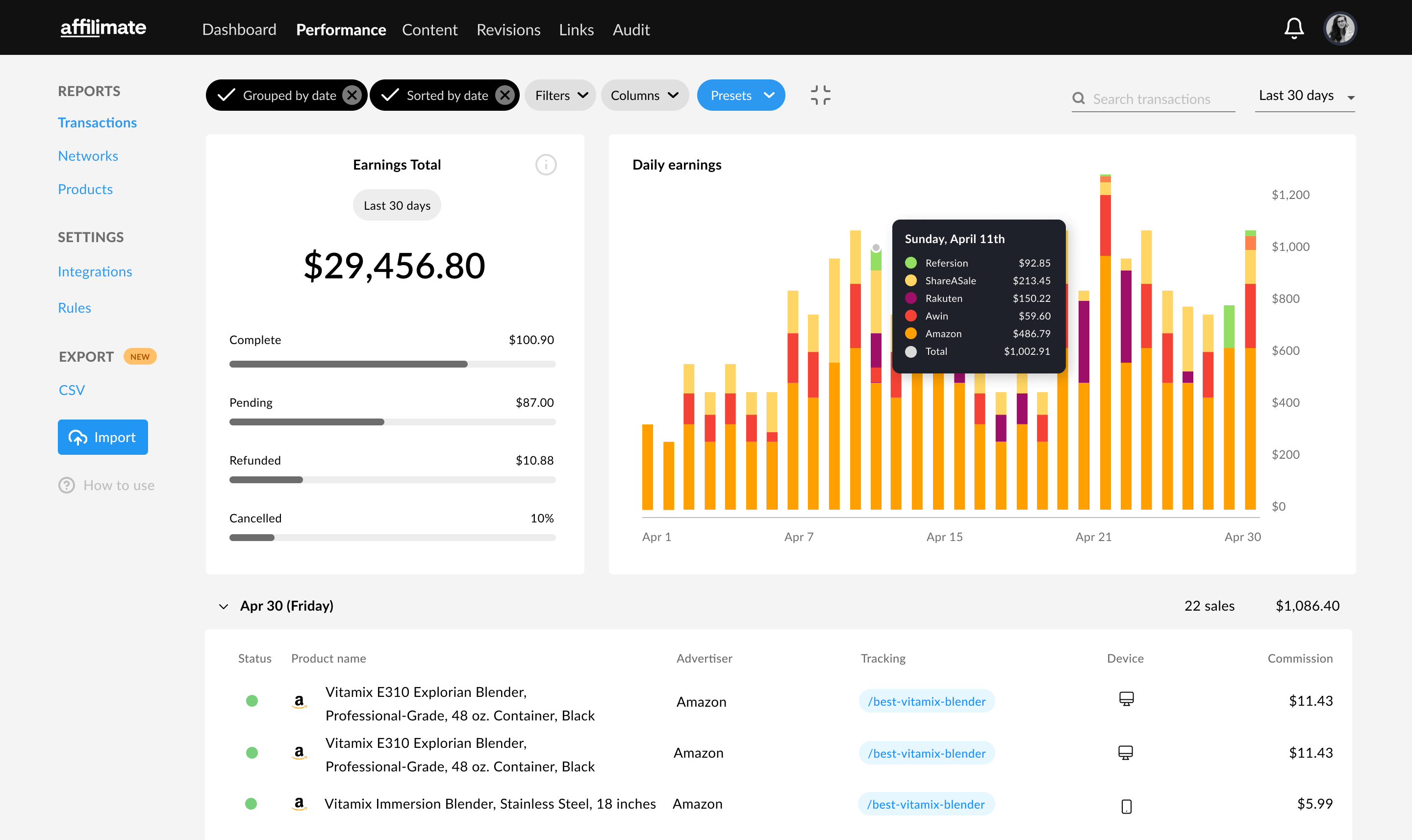 Let's go.
How Amazon Associates's default reports work
By default, there are a couple of different kinds of reports Amazon Associates Central gives you in Amazon's combined reporting dashboard:
Ordered items (clicks, items ordered through links, and ordered revenue)
Earnings (clicks, item count, revenue, bonuses, your commission)
Link Type performance (in case you're using the Product Advertising API or Native ads)
You can group this information by date or Tracking ID (which is what we're here to talk about!).
Let's say you clicked "Earnings" and grouped by "Date", it would look something like this: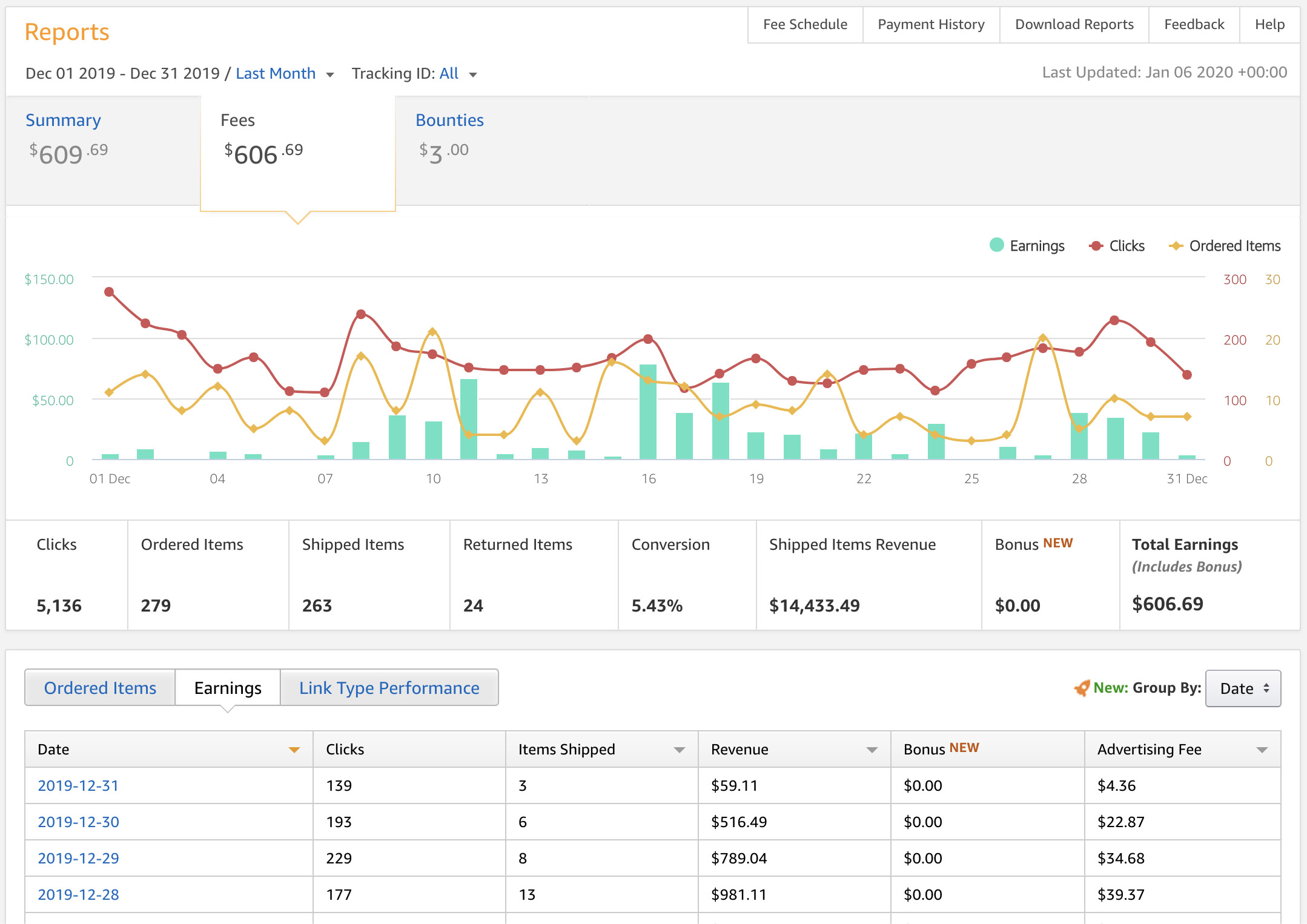 That's nice, but there are a number of things it doesn't tell us:
Which of my blog posts referred these clicks? Which ones made the sale?
Which items are the most sold, broken down my blog post?
Which of my blog posts resulted in the most returned items? What items get returned?
Which items from my blog posts aren't converting, and should be replaced?
Amazon used to tell us some of this information in a report called Content Insights, however this report was always very incomplete and has since been discontinued.
So I'm going to show you how to get a more accurate understanding of how your content is performing so you can write more content that converts and fix underperforming articles.
How to create tracking IDs in the Amazon Associates portal
The Amazon Associates portal gives us the ability to create up to 100 unique tracking ids.
You can use these in a number of different ways, but I would recommend that you create one unique tracking ID per blog post.
Here's how we will do this step-by-step:
Figure out which pages on your site are sending the most clicks to Amazon
Create unique Amazon affiliate tracking IDs for each page
Update or replace existing Amazon affiliate links with the new tracking ID
1. Figure out which pages on your site are sending the most clicks to Amazon
If you're wondering where to start, you can use Affilimate's Link Management feature to find which pages have the most clicks on Amazon Affiliate links: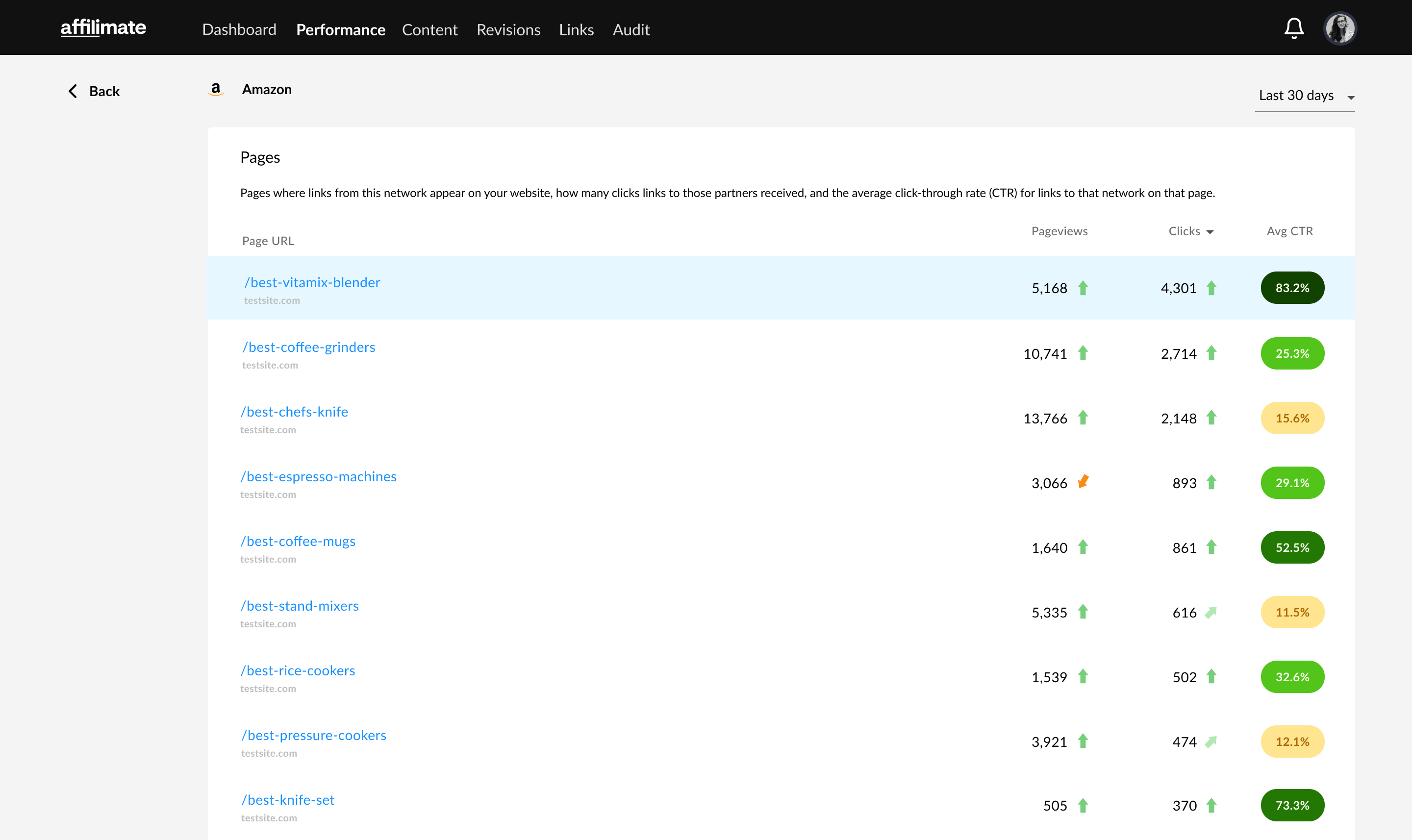 This report shows you each page on your website, sorted by the number of outbound clicks exclusively to Amazon affiliate links.
In this example, the top article is /best-vitamix-blender so let's start by creating an Amazon affiliate tracking ID for that page.
2. Create unique Amazon affiliate tracking IDs for each page
Open Amazon's page, Manage Your Tracking IDs. You can also find this page in the menu by clicking on your email address and then choosing "Tracking IDs" from the dropdown.
Click "Add Tracking ID" and then name it according to your blog post.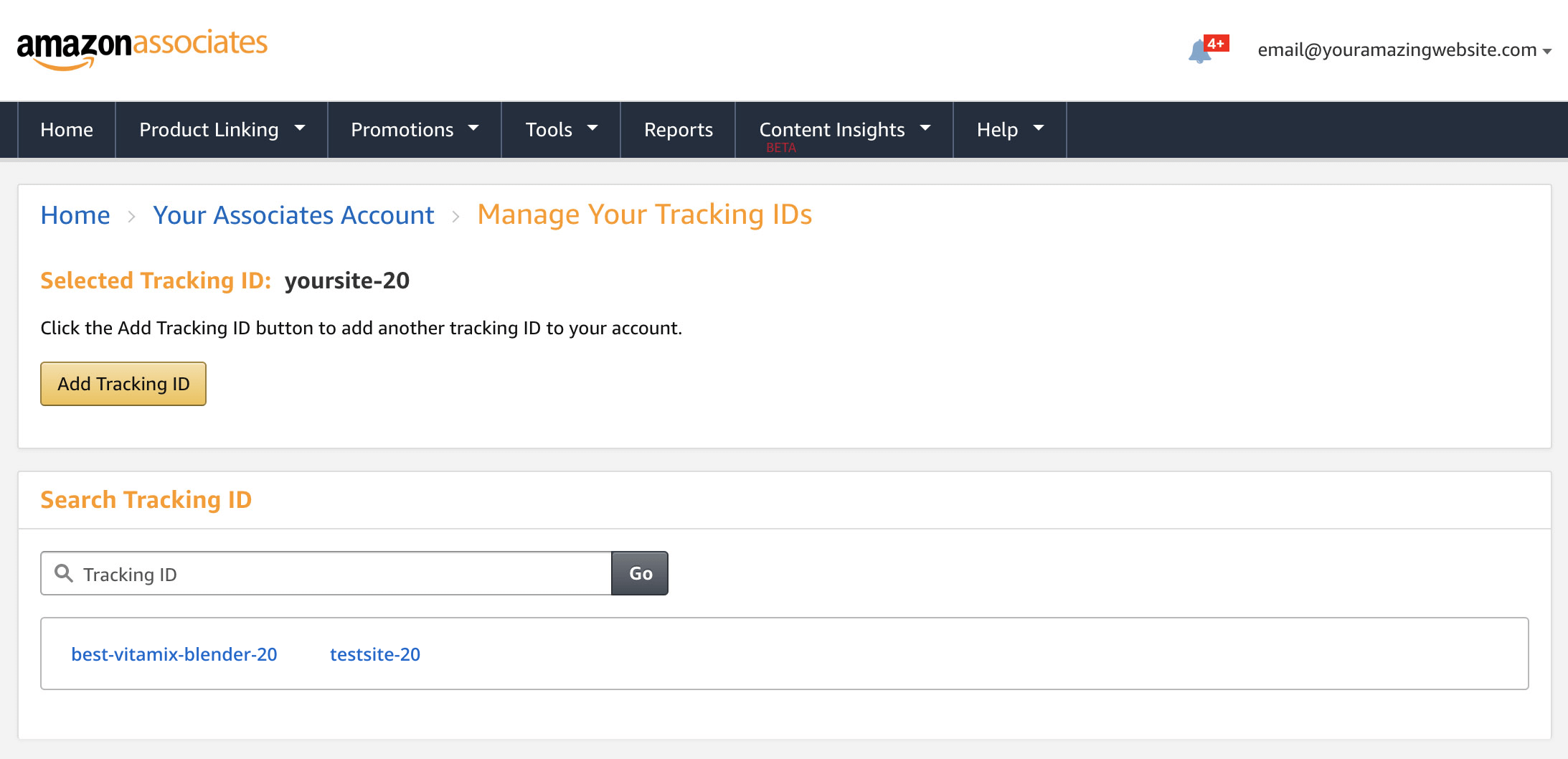 Type in a name that is similar to your blog post. For example, if our blog post's URL is /best-vitamix-blender then we'll type in "best-vitamix-blender".

Now, you can change the "Selected Tracking ID" simply by clicking the tracking ID under the "Search Tracking ID".

After you select the tracking ID you just created, any new links you create will be attributed to that tracking ID! Meaning, you can create new links for your blog posts, and any sales through those links will be attributed to that post.
Two important things to know when creating page-level tracking IDs:
It is not possible to edit or delete tracking IDs after you have created them! We recommend focusing on a few posts and see what the results are like before re-doing your entire site.
There used to be a limit of 100 tracking IDs per Amazon account. However you can now simply request more by submitting a request to Amazon Associates support.
3. Update or replace existing Amazon affiliate links with the new tracking ID
Go back to the Amazon Associates Home. We're going to start replacing the Amazon affiliate links in our posts.
If you are NOT using shortened Amazon links (such as amzn.to links), you do not need to re-create your Amazon links. You can edit your blog posts, and replace the "tag" value with the new custom Tracking ID you just created.
Here's how to do it in WordPress.
Step 1. Open the blog post you want to edit and use the "Code Editor"
The code editor will show you all the HTML, so you can more easily find and replace the tag! Find it by clicking the three dots in the top right corner of your WordPress article, and then choosing "Code Editor":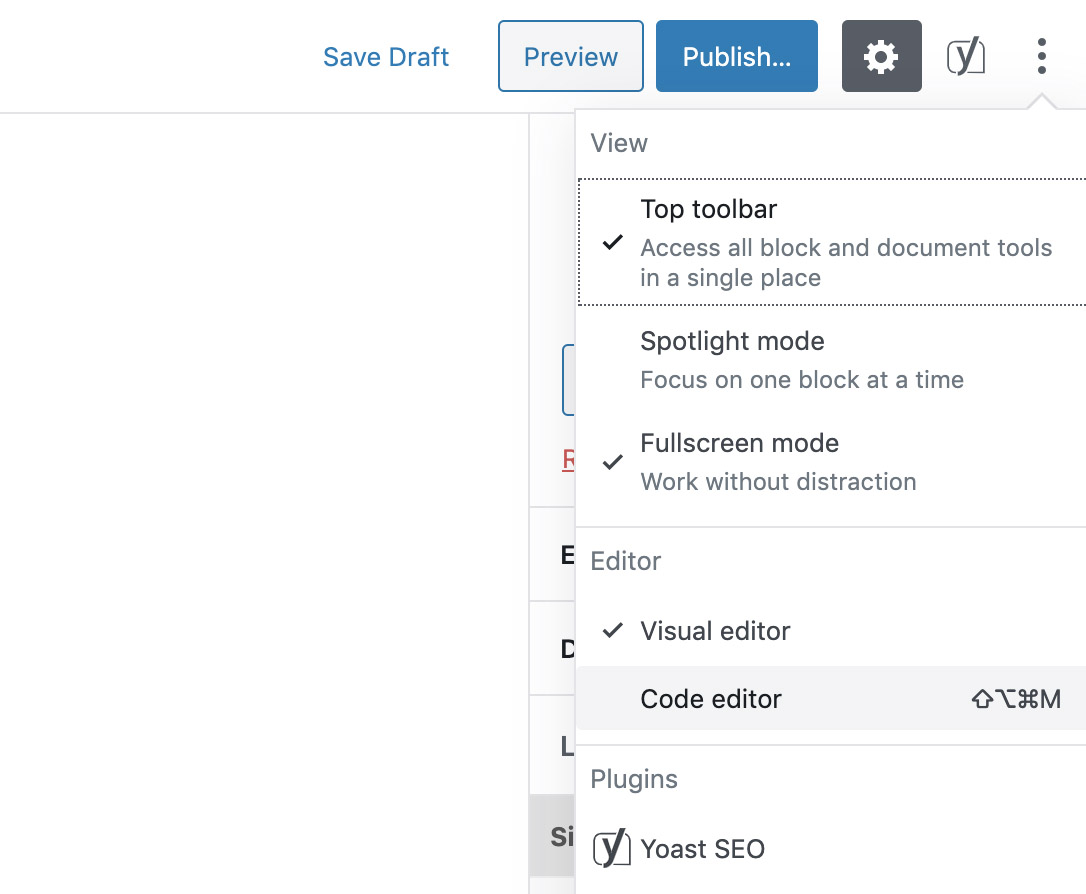 Step 2. Push "Command + f" (Mac) or "Ctrl + f" (Windows) and type "tag="
This will highlight all the Amazon links, and allow you to jump through each one and replace your old tracking ID with the new, more specialized one.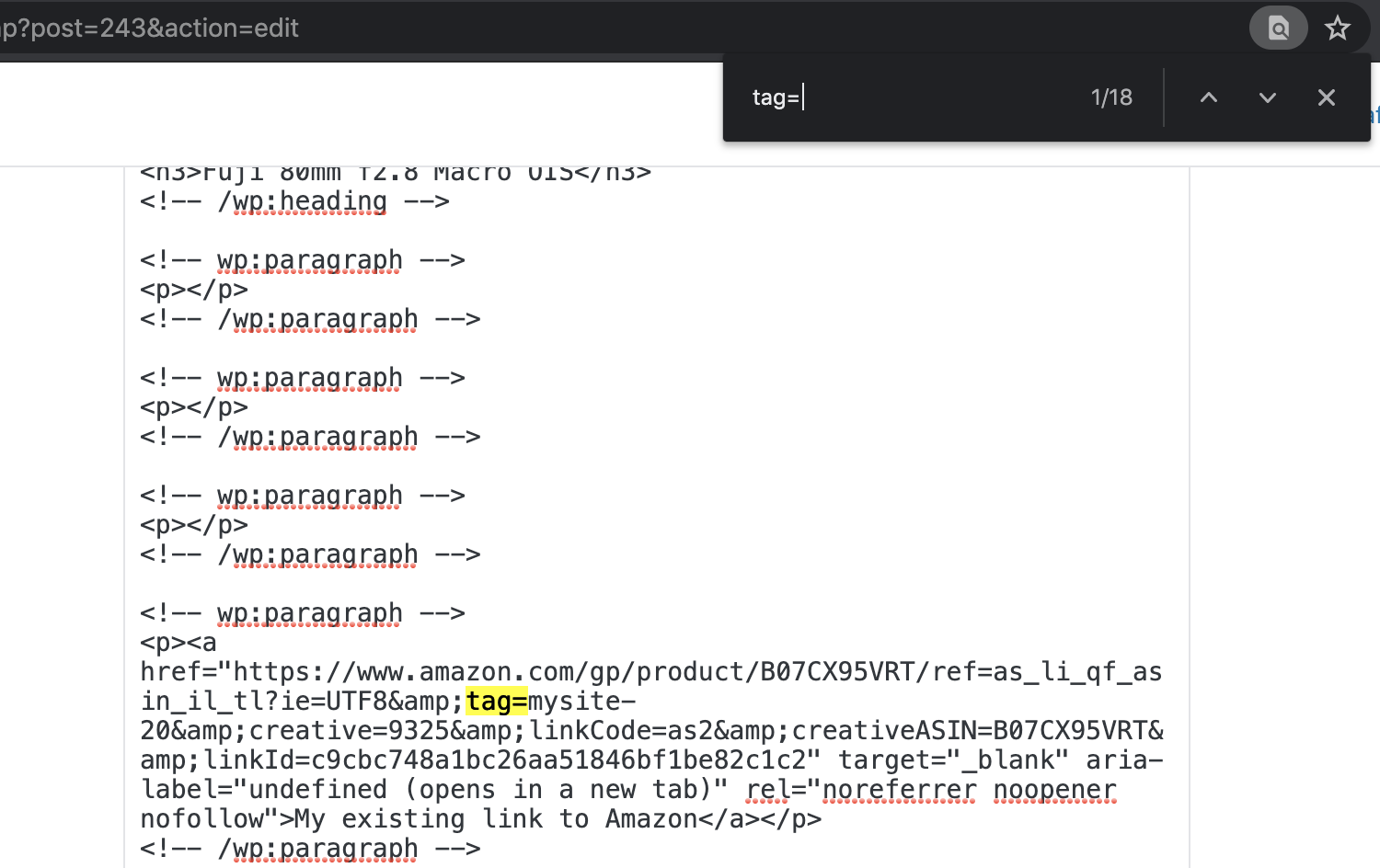 Step 3. Replace the text after "tag=" and before "&" with your custom Tracking ID
For example, if the tag part of the link begins like:
tag=mysite-20&
It will change to:
tag=best-vitamix-blender-20&
(Or whatever the name of the tag is that you just created in the Amazon Associates portal).
Note: The -20 at the end is always there for all links created for the US Amazon store. This number will be different if your primary store is in a different geography, like Germany or Australia.
Step 4. Repeat for every link and then save your article
It is totally OK to do these in batches. Start with your top 5-10 articles by outbound clicks on Amazon links using the Affilimate Partner Report, and then see how many sales with generic tracking IDs are still coming through.
Then, in the future, you'll use this next method to make sure all your NEW Amazon links have the best tracking possible.
Step 5. Create new Amazon affiliate links (Or replace amzn.to links)
After you've created and selected a new Amazon Associates tracking ID, it will be included in any future link you create.
For example, if I search for "Vitamix blender":
Our new Tracking ID is appended to the link! You can use this newly generated link to either replace an existing shortened amzn.to link, or as a new link in a new article.
Keep going until you've replaced the links in your blog post with new ids.
Note: Your IDs need to be unique globally, among all Amazon Associates. So if you get a message that says the ID is taken, just add a few numbers at the end, but keep the blog post name. If you run multiple sites on Amazon, consider a prefix before the slug. For example, if your website is called "bestblenderreviews.com", consider creating tags named "bbr-best-vitamix-blender-20".
Great, so now we have unique tracking IDs for all the Amazon affiliate links for every blog post. One important thing to keep in mind is that if you're using Amazon OneLink, it's not possible to map custom tracking IDs between Amazon stores. So your best tracking will still happen on the US store.
Now, what's the best way to use this data and actually optimize our blog posts?
Next I'll show you how to use these reports in Affilimate to get insights on how to improve your Amazon affiliate website's conversion rate.
Import Amazon Reports into Affilimate
By creating unique tracking IDs in Amazon on a per-page basis, the default Amazon reports will already give you some pretty handy insights about your content.
But we can take that a step further using Affilimate's Label Rules, Performance Reports, and Revision History:
Automatically calculate your earnings per page, RPM, and items sold (including trends)
Create custom reports without Excel to find your most profitable products (and those getting returned or purchased instead of your recommendations)
Whether any future changes to your articles hurt your earnings so you can reverse them
Step 1. Download your Earning reports from Amazon as CSV
Open your Amazon Reports and click the button called "Download Reports".
Choose the option CSV and only export Earnings. This is what gives us SKU-level data (meaning, knowing what was ordered):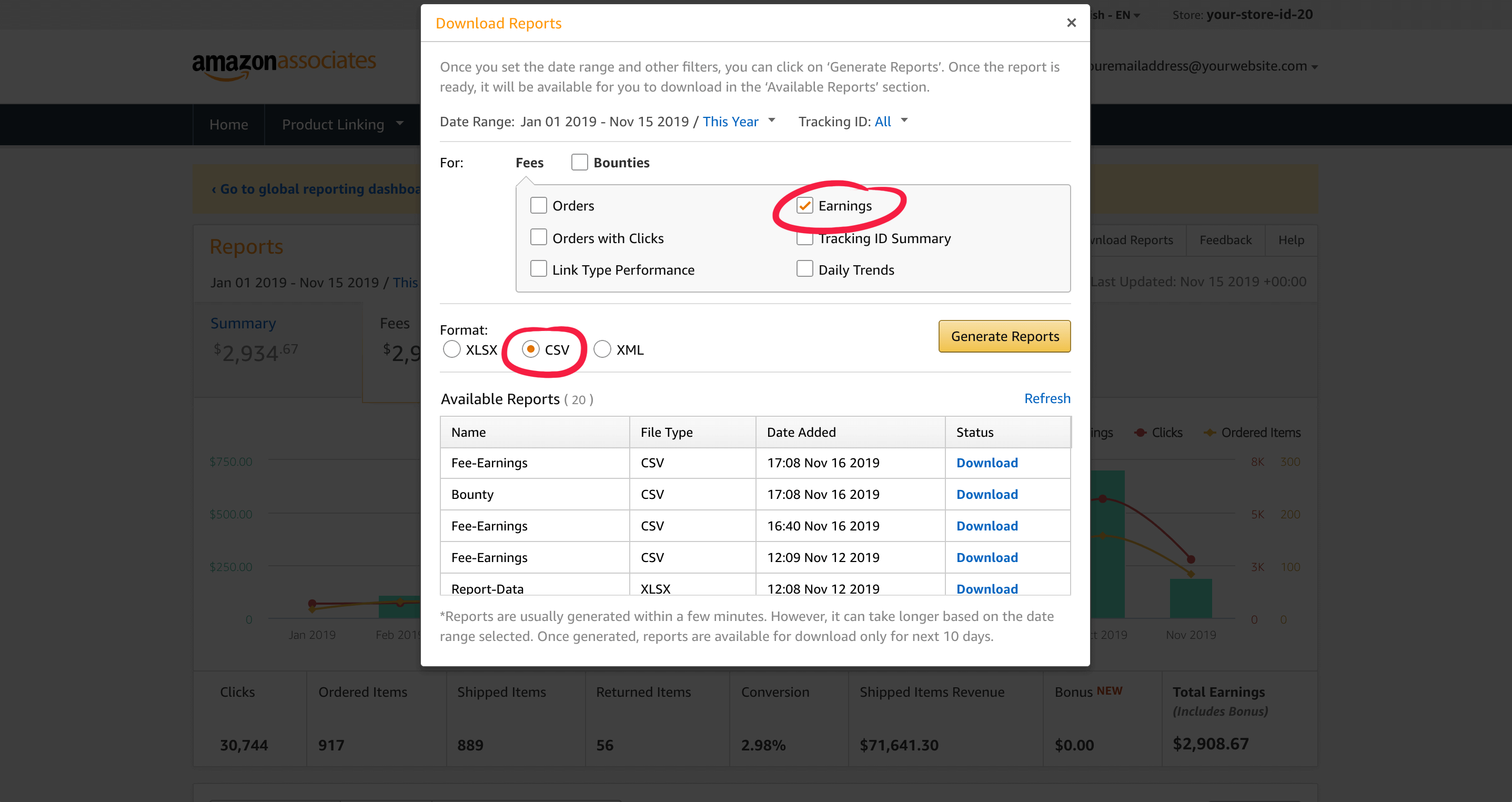 For a more detailed guide, you can see our article on Reporting with Amazon.
Step 2. Import the reports to Affilimate
Once you've downloaded the zip containing your Amazon reports, simply drag that into Affilimate: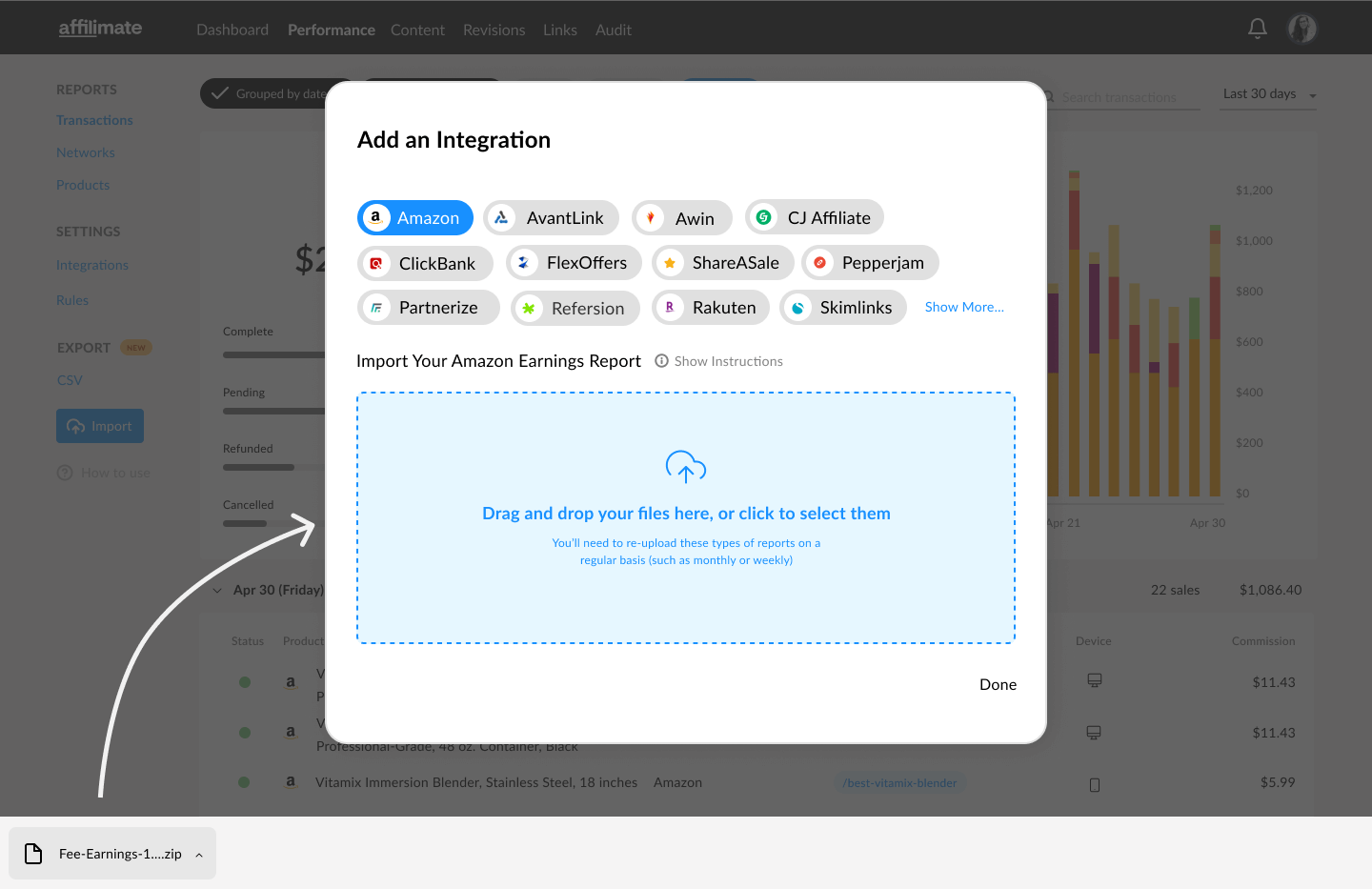 You'll see a preview of everything you've sold in the last time period. Confirm to upload those conversions.
Step 3. Create Label Rules for each unique tracking ID
Lastly, you can create "Label Rules" which will map every one of your Amazon tracking IDs to an article on your website. That's how all our page-level analytics are calculated.
You can actually skip this step until you start getting conversions from your updated links, because the easiest way to create these rules is simply after importing a fresh batch of Amazon reports.
Analyze your Amazon reports in Affilimate
Once you've got some properly attributed Amazon conversions coming in, you can use Affilimate's reporting presets and custom reports to analyze what is and isn't working well on your Amazon affiliate website.
Here are a few specific reports to try:
Page with most refunds report
This Performance Reporting Preset makes it easy to see which articles are resulting in the most refunds on your website.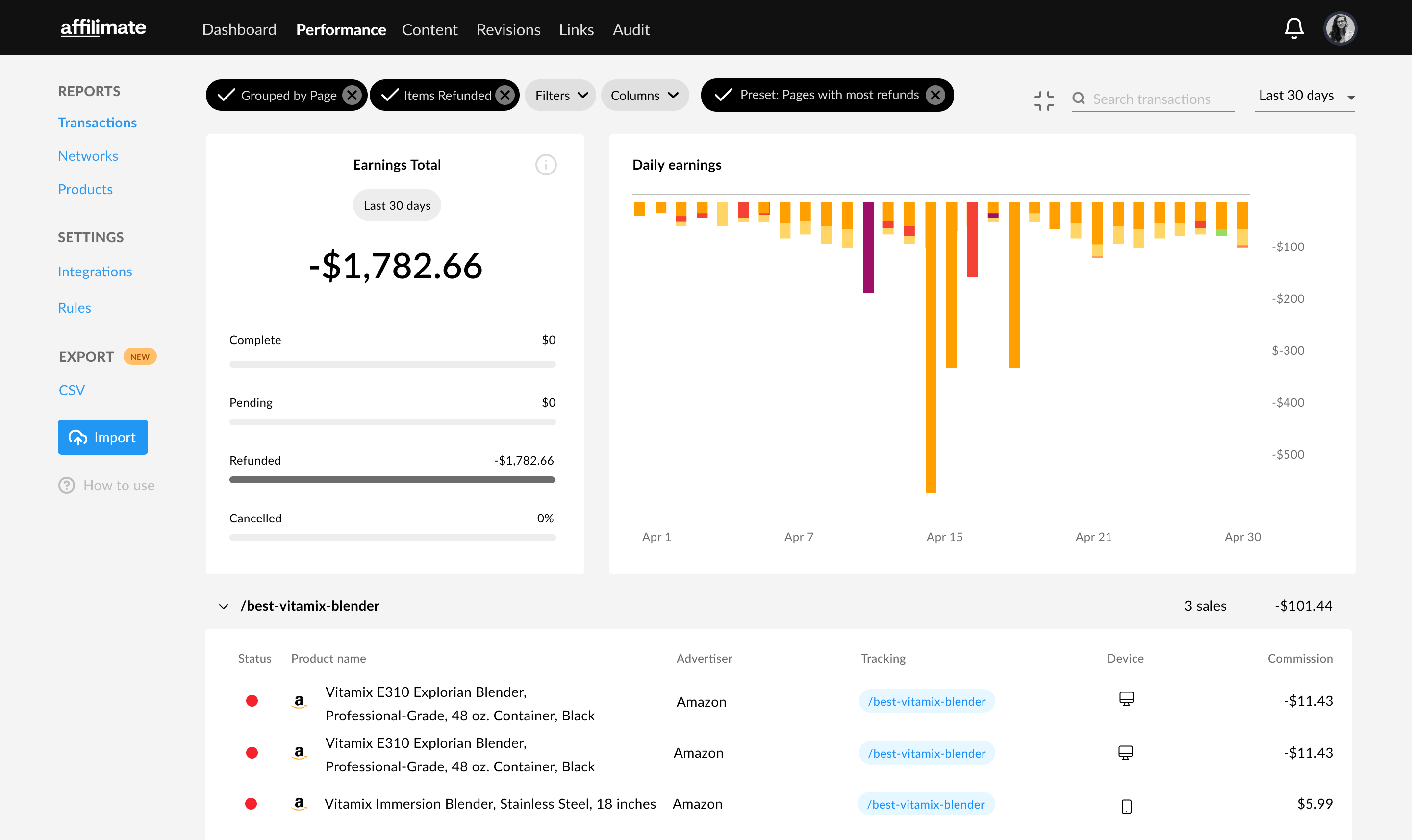 If you're seeing patterns, check whether the products being returned are outdated (e.g. new versions are available), have low reviews, have complaints about manufacturing, etc. and replace the links with better versions.
Most profitable products report
Figure out exactly which products you're recommending are earning you the most money. Consider writing a dedicated review article about those posts, or seeing what types of listicle review posts you can include that product in.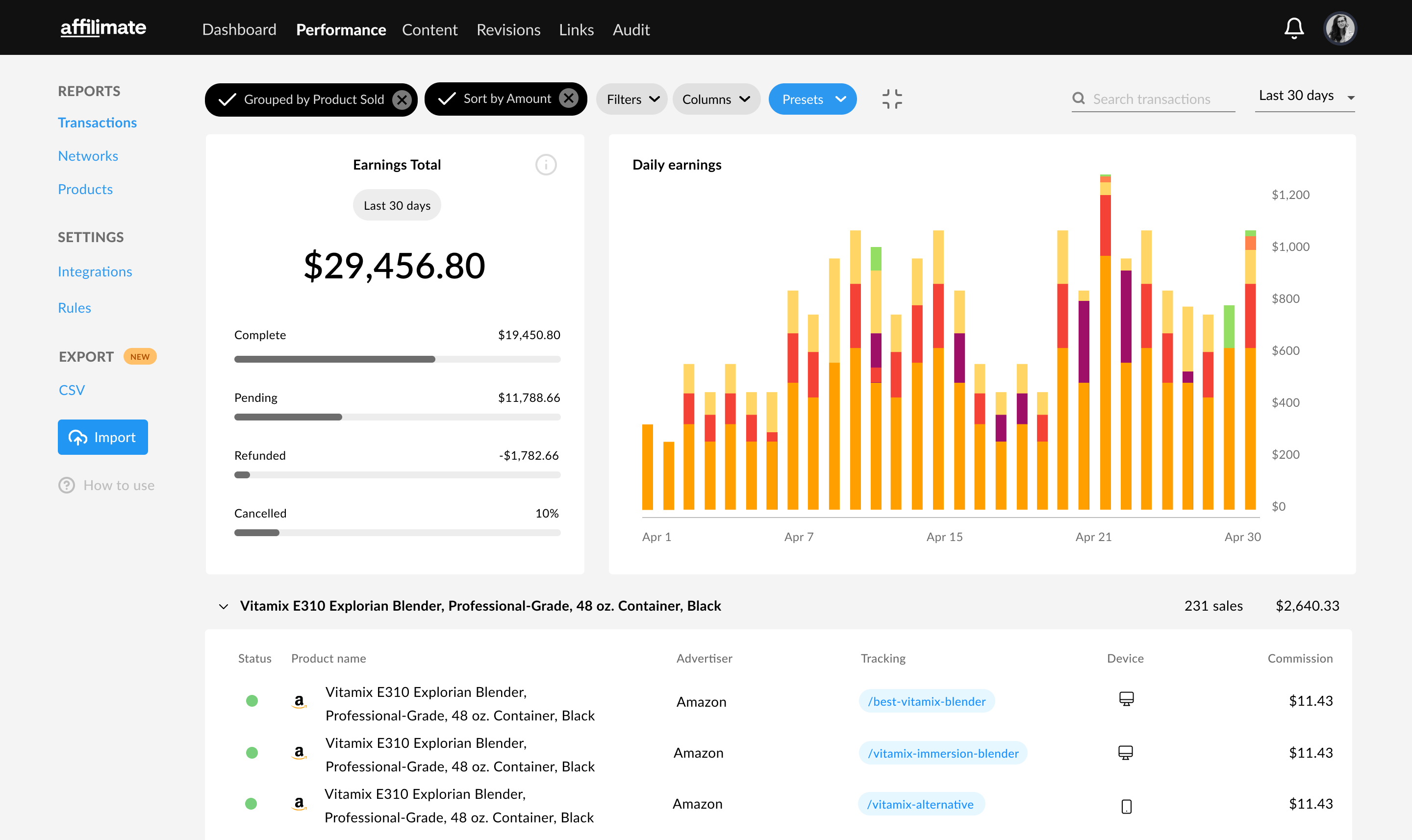 Most purchased products report
See which products are being purchased the most often, and which page people came from when they bought it.
If you see a product that you recommend being purchased often but the commission is low, consider switching to an alternative to Amazon's affiliate program for that item if the commission is higher.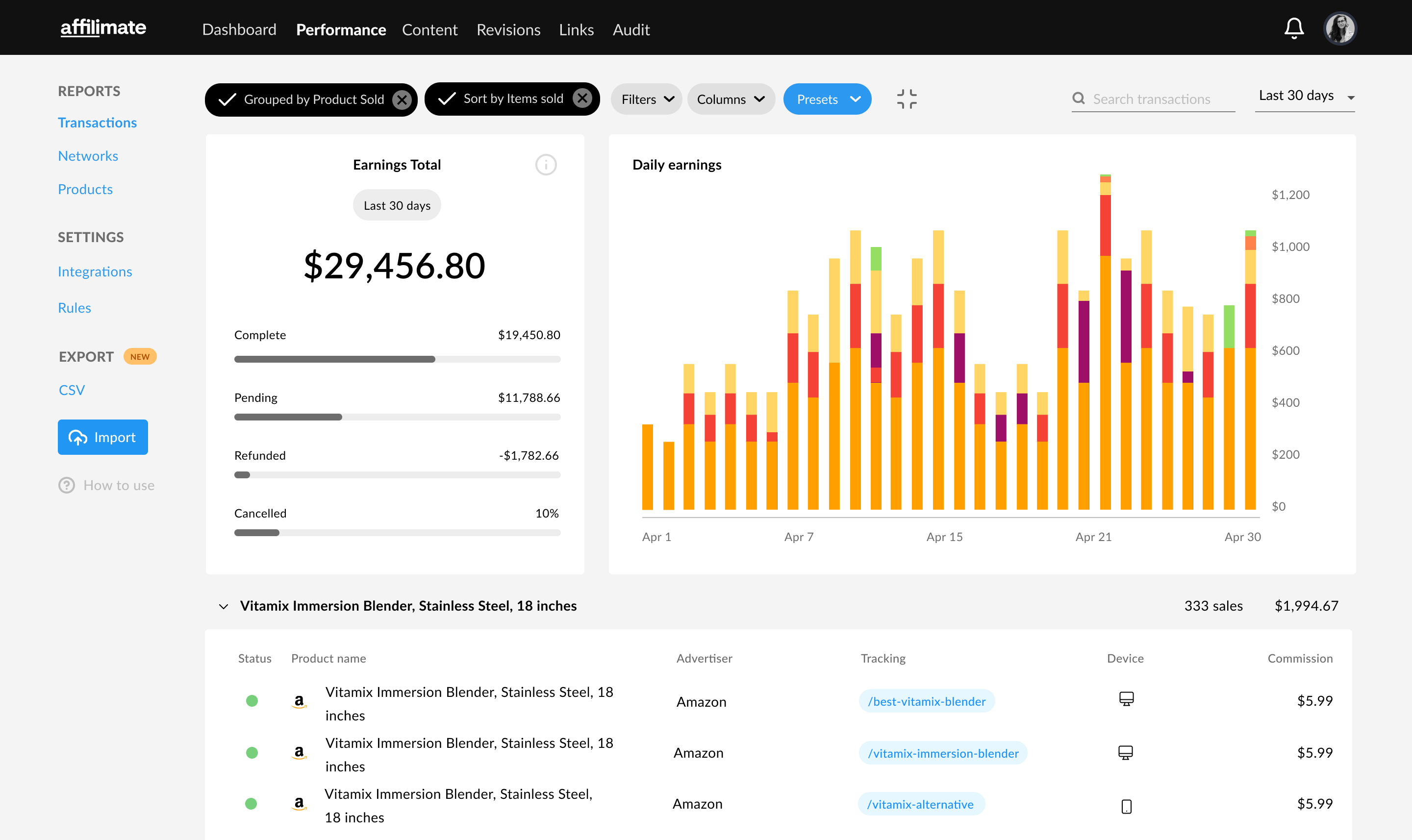 Then, you can test whether your page is more or less profitable by watching the RPM on the page's revision history.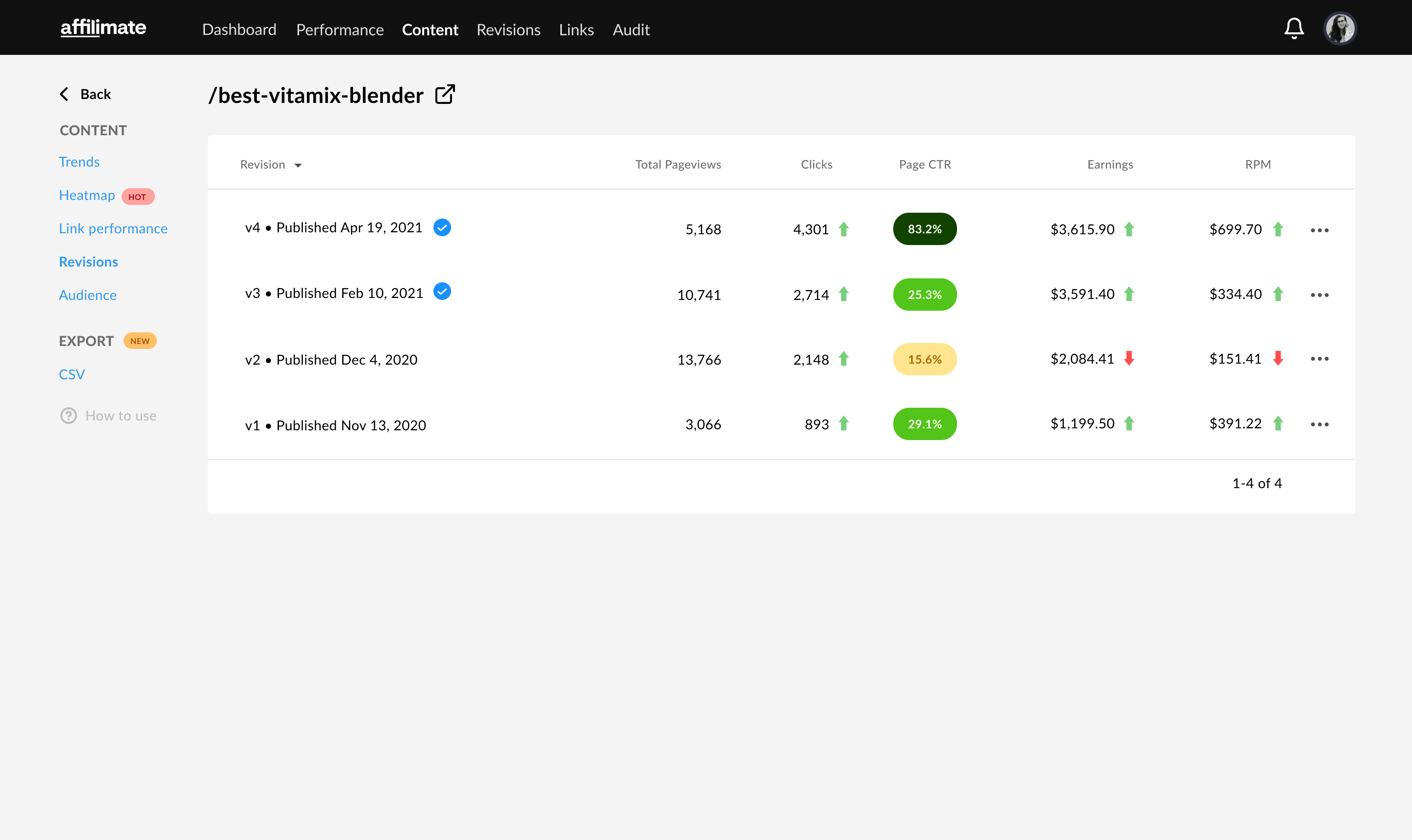 In this example, if you see that switching programs caused your RPM for the page to go up, there's a good indicator that the Amazon alternative is more profitable.
This includes considering Amazon basket size and average order value, since tracking IDs apply not only to recommended products but to all products in the basket.
Amazon broken links report
Affilimate's built-in Amazon broken link checker monitors your Amazon links for out-of-stock, temporarily out-of-stock, and other statuses that can affect conversion and revenue.
To use it, simply choose Presets on the Links report, and choose Amazon Links with Issues: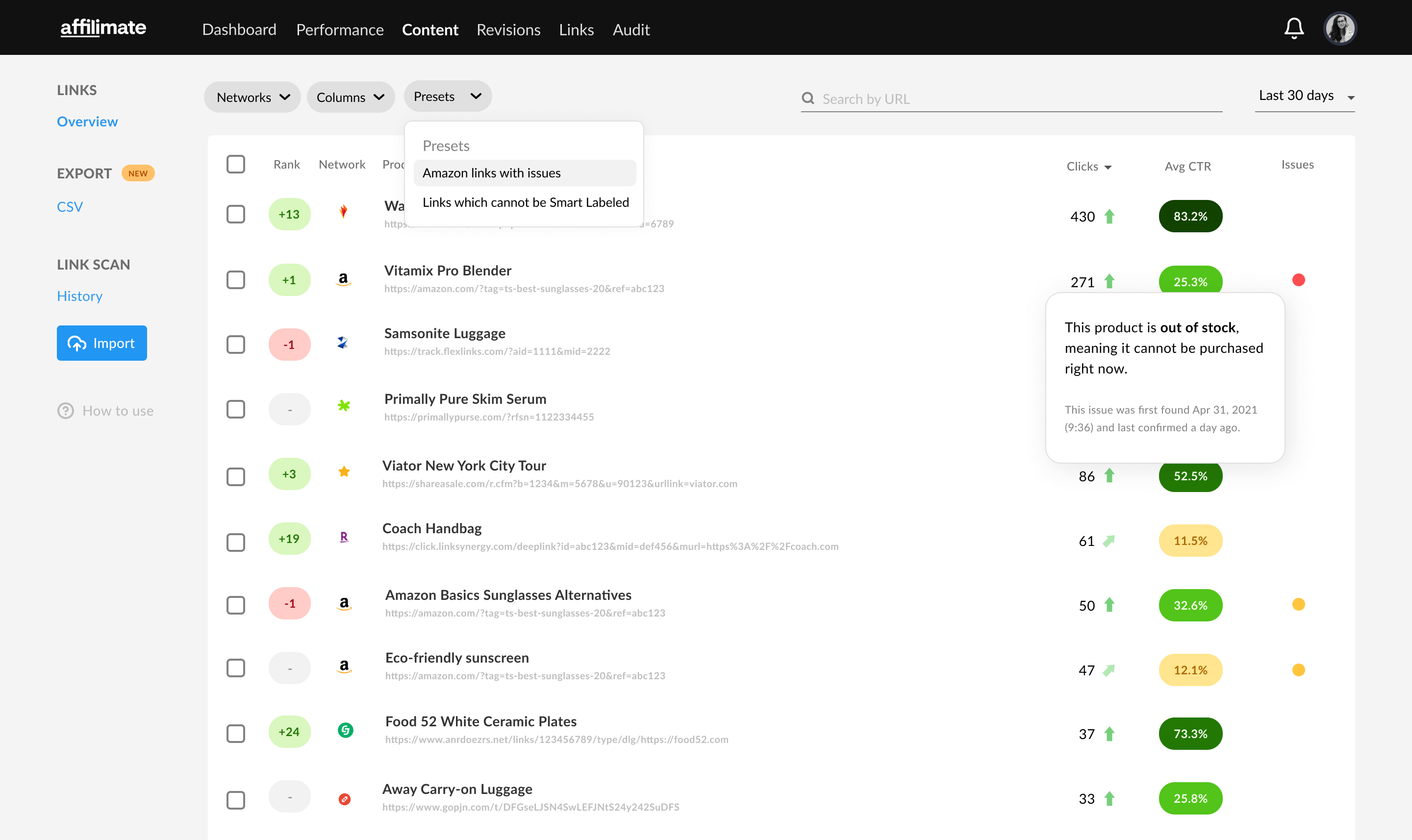 Top pages report
Find out which of your pages are actually earning the most, as well as which are most efficient at converting traffic into income through RPM (revenue per 1,000 pageviews).
If you have an article with high RPM, a few items sold, but low traffic, consider whether you should build links to that content and work on ranking it higher in Google.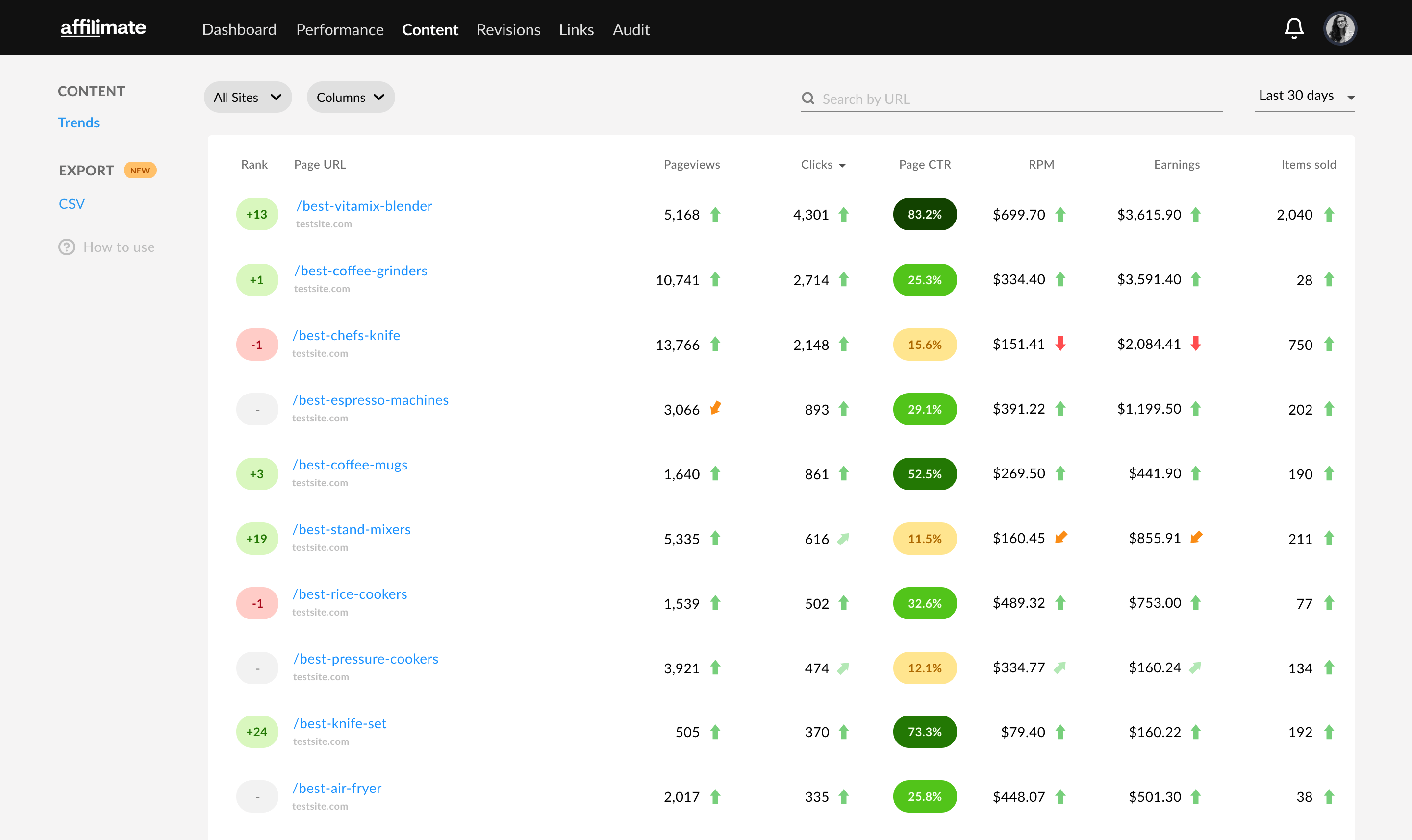 If you find articles with a great click-through rate and low earnings and RPM, consider whether you might be promoting poorly converting products (e.g. low reviews, out of stock, etc).
Amazon is a conversion machine so if you're sending people to the wrong item, that could be holding you back.
Want to go further?
If you're not a member of Affilimate yet, click here to start a free trial and start improving your affiliate revenue in a data-driven way.