Amazon Affiliate Link Checker: Now Included with Affilimate
By Monica Lent · Updated Jul 21, 2020
As of today, Affilimate's new Amazon Affiliate Link Checker is now enabled for everyone 🎉
The Link Checker will automatically check your Amazon affiliate links on a weekly basis for issues like broken links, out of stock products, temporarily unavailable products, and more.
You'll get alerts and be able to easily prioritize which Amazon links to fix based on whether they're already getting clicks.
We've included the Amazon Link Checker as part of all our plans at no extra cost. If you've ever looked at tools like this before, you'll know that most of them will run you at least $20 per month or more, depending on how many websites you have.
That's why we're really excited to bundle this feature into our existing plans as we continue our mission to be the most comprehensive affiliate optimization toolkit.
The Amazon Affiliate Link Checker is also part of our upcoming Site Audit feature, which you can read more about below.
Let's get into it! In this article, you'll learn:
What does our Amazon Affiliate Link Checker do?
How to set up the Affilimate Amazon Affiliate Link Checker for your account
What to do after you've fixed or replaced a link
Future plans for our Site Audit feature
Behind the Scenes: How does the link checker work?
Don't worry, it's mostly pictures 😊
Amazon Affiliate Link Checker
Here are some of the key features of our Amazon Affiliate Link Checker:
Prioritize which links to fix by using a report that sorts by clicks the links already receive
Distinguish different types of issues such as broken link, out of stock, temporarily out of stock
Check Amazon links in international stores including US, UK, Germany, Canada, and Australia
Get an in-app alert anytime a new link becomes broken so you don't forget to check your links
Check Amazon links across any websites you already track without any extra setup or fees
Doesn't slow down your website because all checks run on our servers
Let's look at how to get started with Affilimate and use the Link Checker results.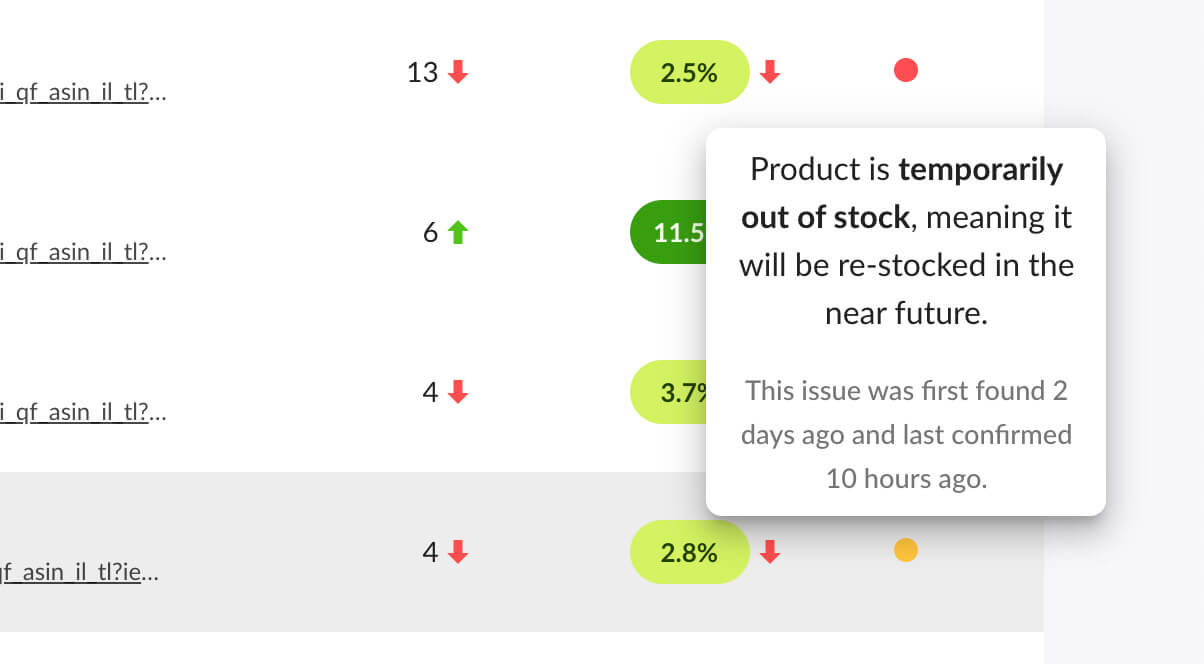 How to find broken and out-of-stock Amazon affiliate links
If you're already a member of Affilimate, you can skip down to the last step, Step #4. If you're not, start with a free trial, then follow this quick run-through of how to install Affilimate on your website and set up the Link Checker.
Step 1. Install Affilimate on your website
Affilimate is more than just a link checker, it's a complete affiliate analytics and optimization toolkit that helps you connect your conversion to your content and actually improve your affiliate revenue.
As such, you need to install our tracking snippet. It works exactly the same as Google Analytics, and won't slow down your website.
Once you sign up, you'll get a snippet you can copy and paste into your website. If you're using WordPress, you can either using a plugin like Insert Headers and Footers or simply copy/paste it into the footer.php file from your theme.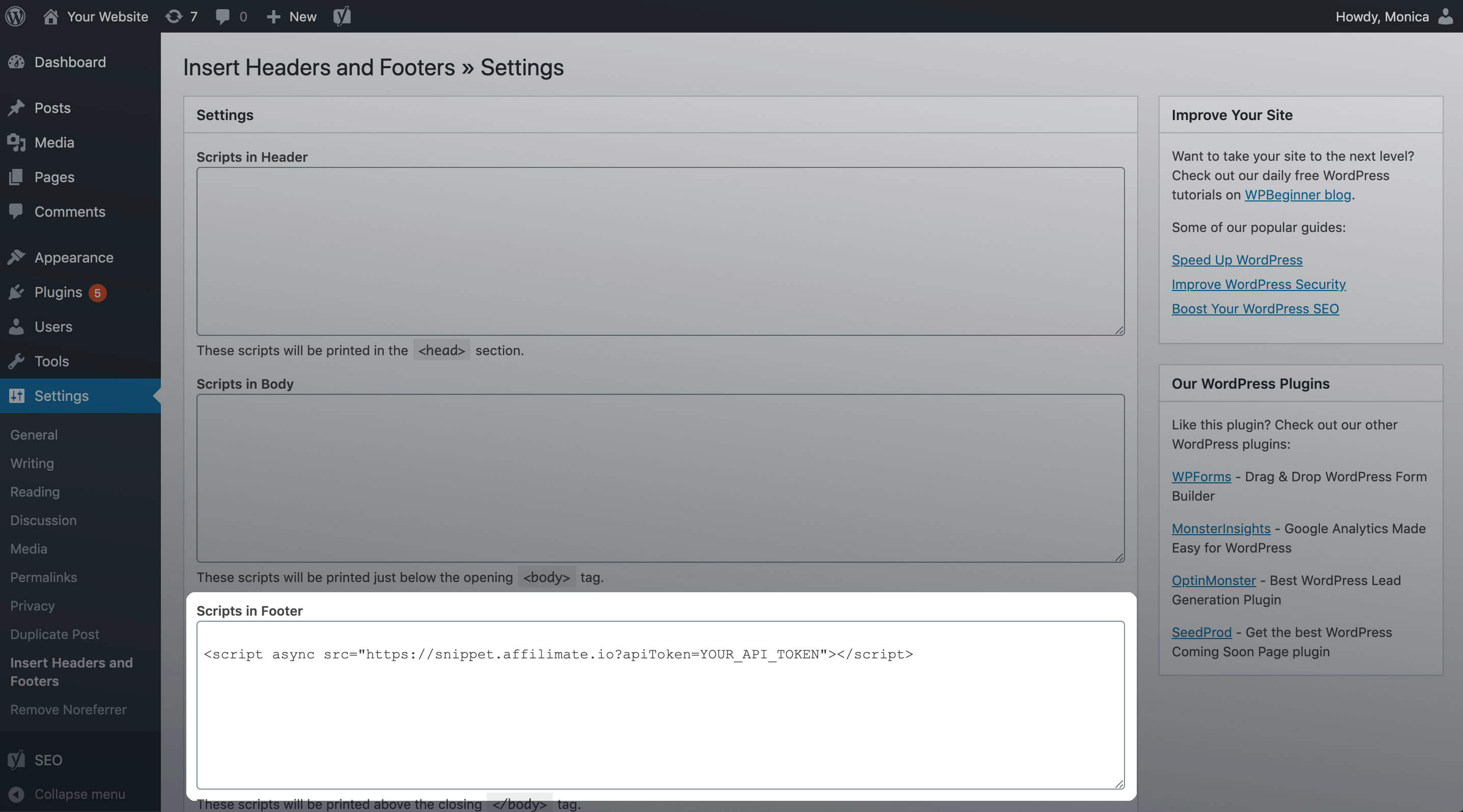 Affilimate works on just about any blogging platform, so if you're using something besides WordPress, read our complete installation guide if you're not sure how to install third-party JavaScript on your website.
Step 2. Import your existing affiliate links
After we verify your snippet was installed correctly, we'll crawl your sitemap and visit your pages to find affiliate links.
Our affiliate link scoring algorithm will recommend links for you to track. If the results look good, just push the button "Import All Links".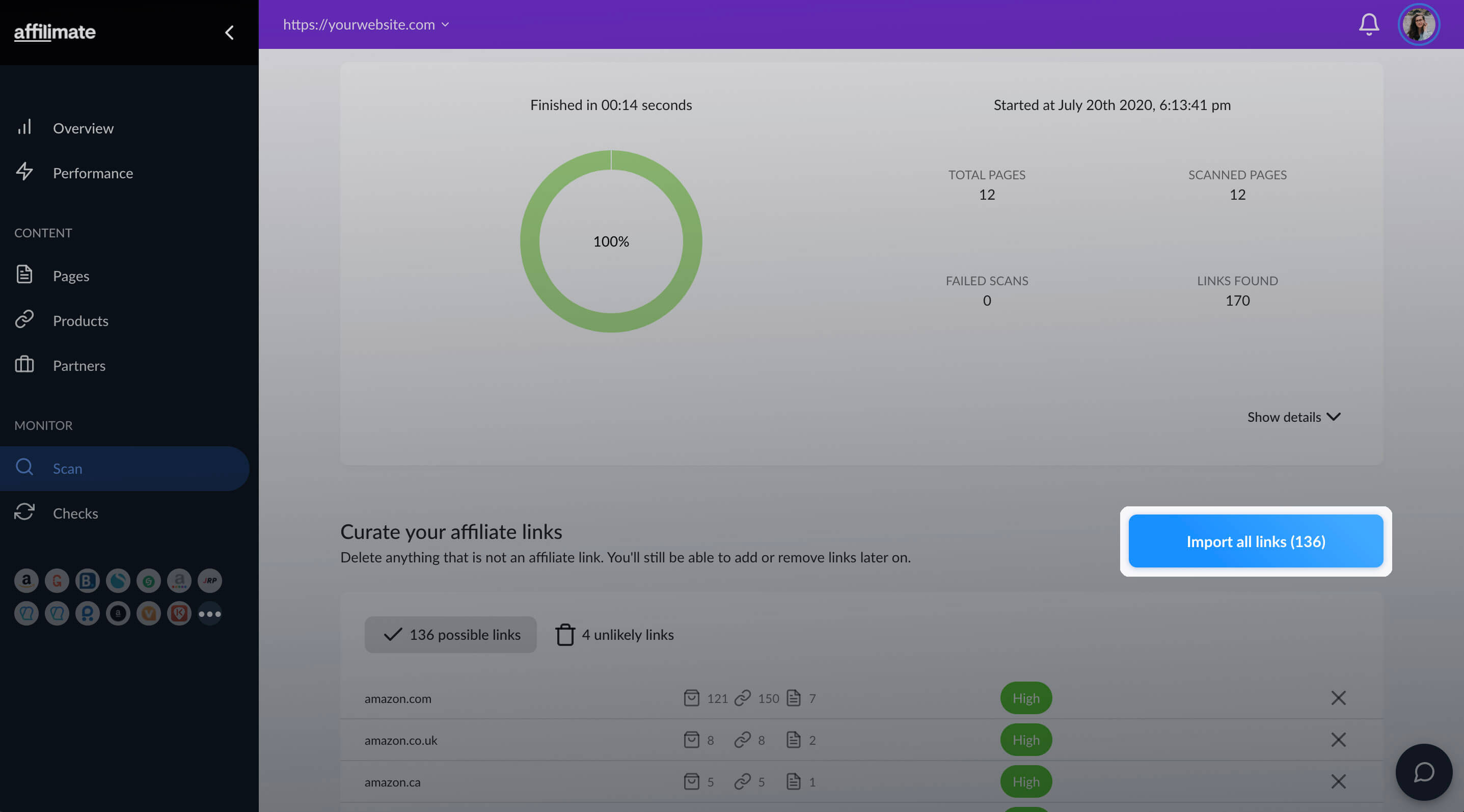 Step 3. Your links are scheduled to be crawled
Once your links are imported, any Amazon links are put on a schedule to be checked right away, and then weekly on Mondays after that.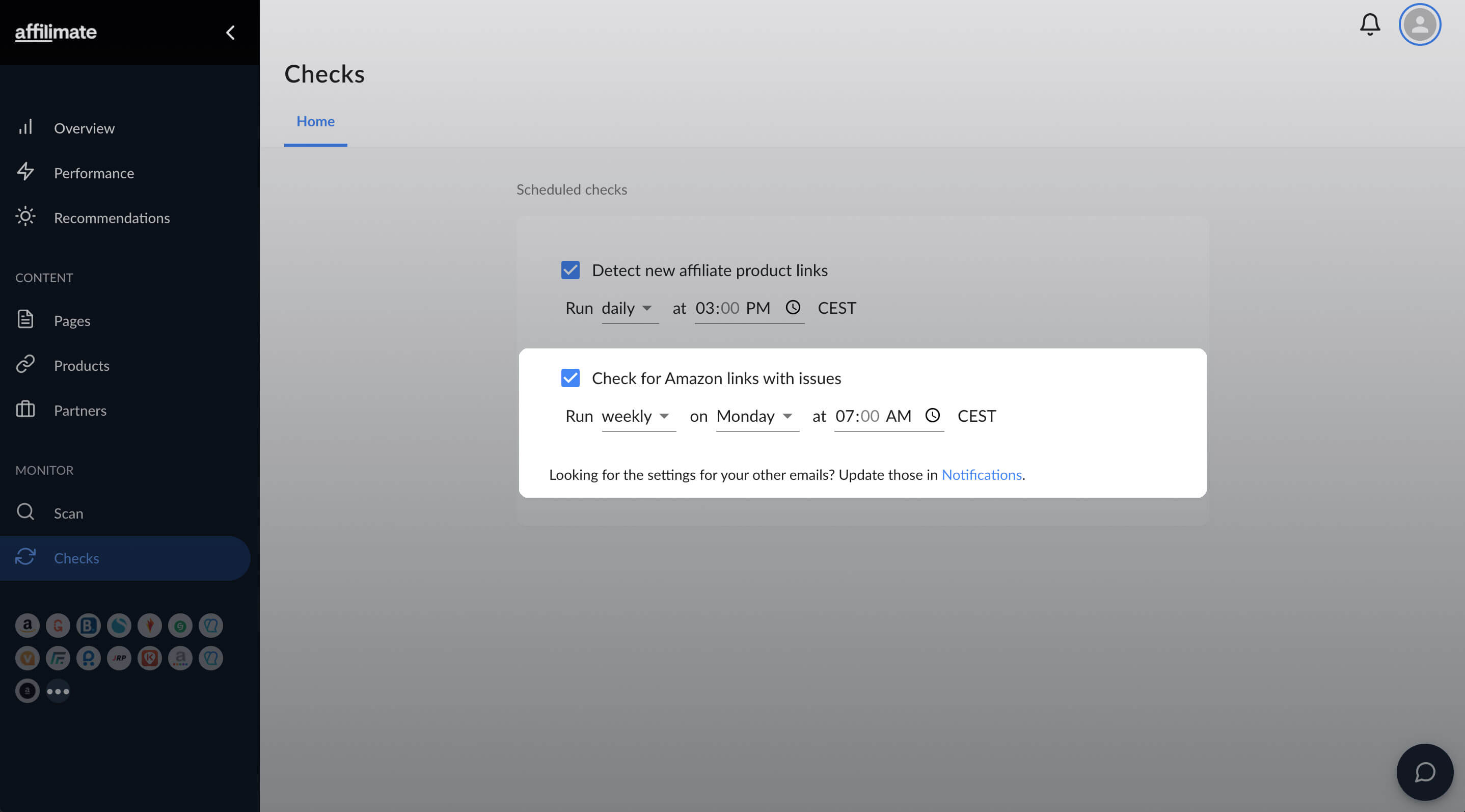 This process will run in the background. You can either come back later, or wait until a notification shows up inside the application.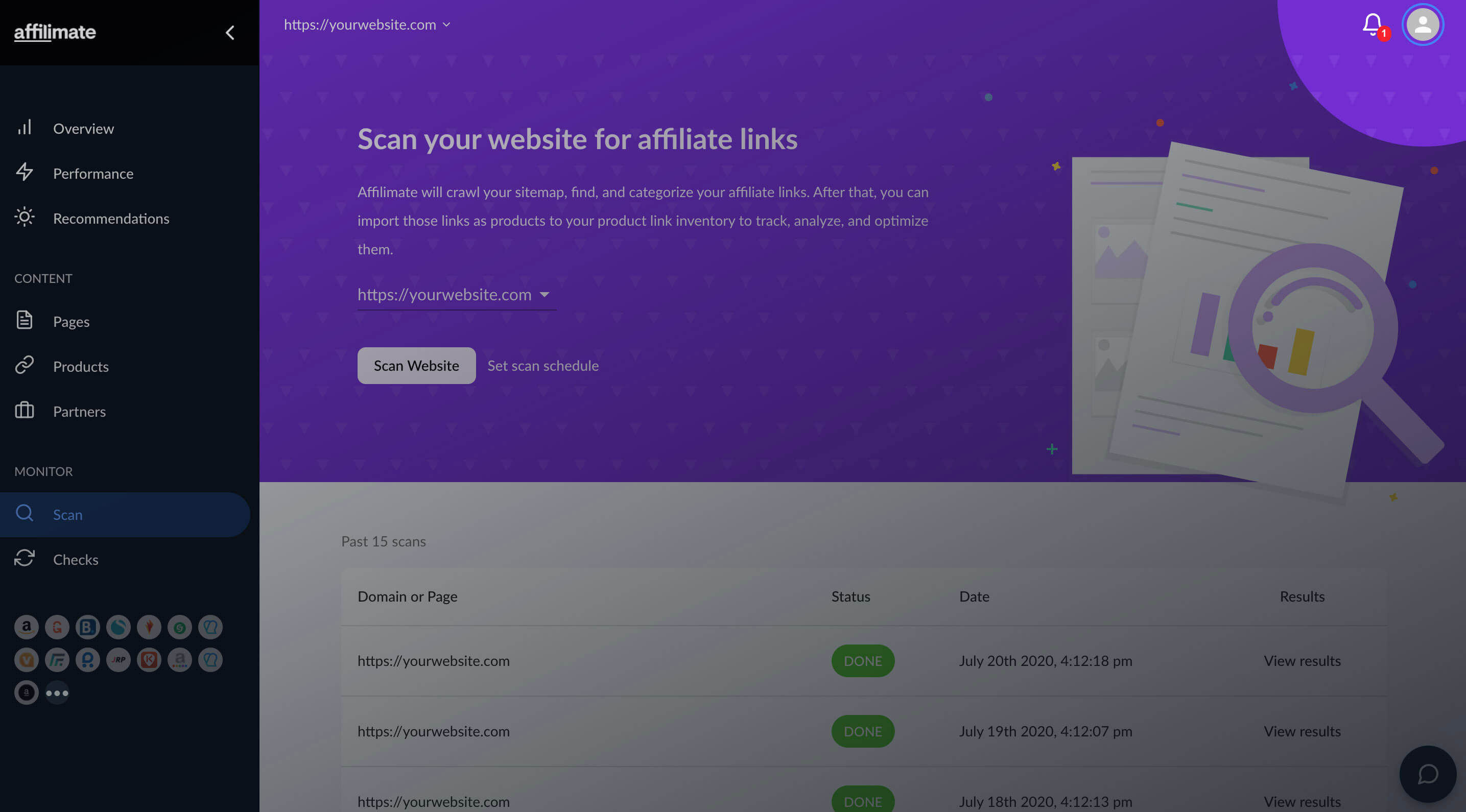 If you click the notification, you'll see that we've detected broken or out-of-stock affiliate links on your website.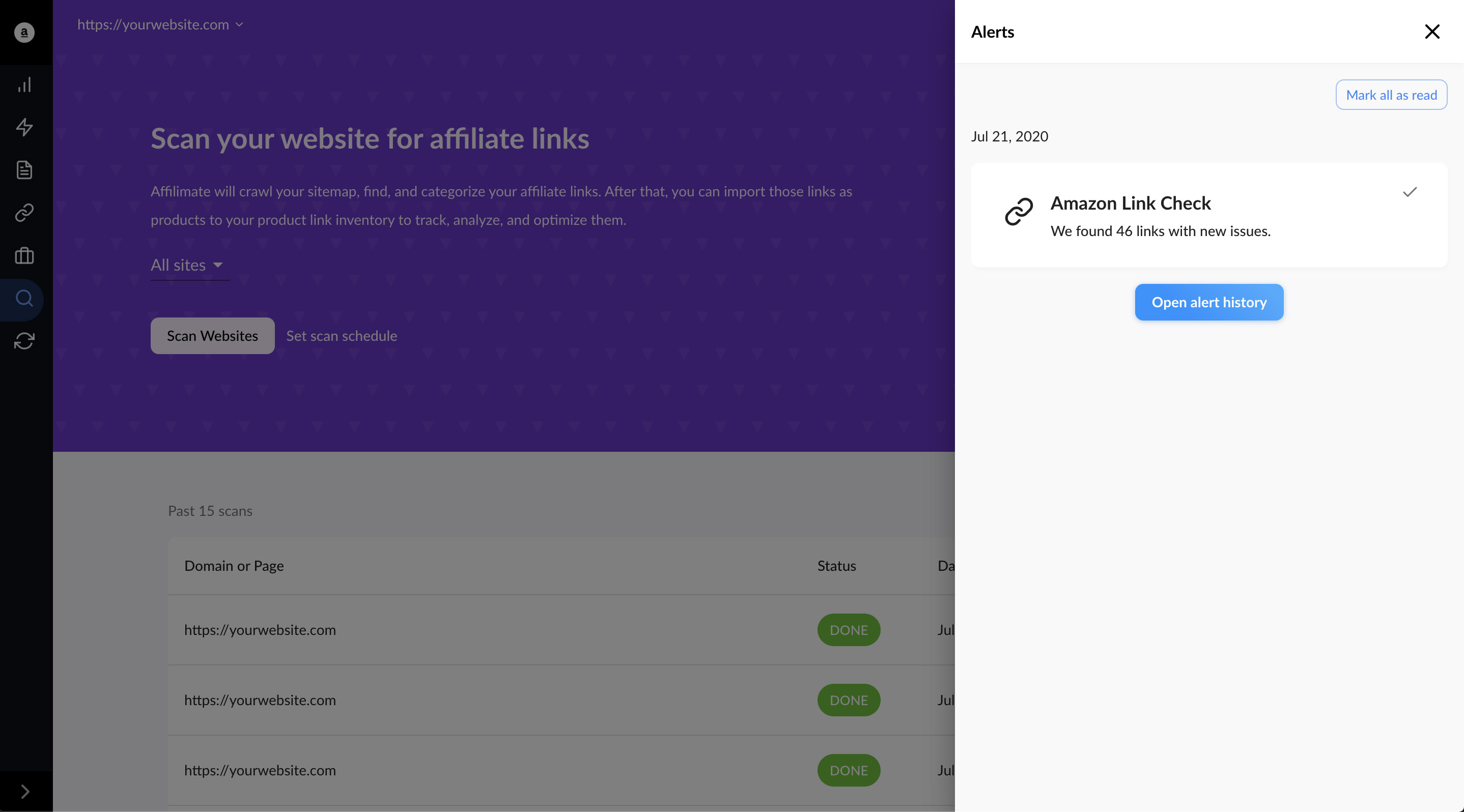 Clicking on the message will forward you to the "Amazon links with issues" reporting preset, or navigate to the Products page on your own and apply the preset yourself at any time.
Step 4. Use the "Amazon links with Issues" reporting preset
Open the Amazon Links with Issues Report, either by clicking that link or by using the Presets dropdown on the Products page.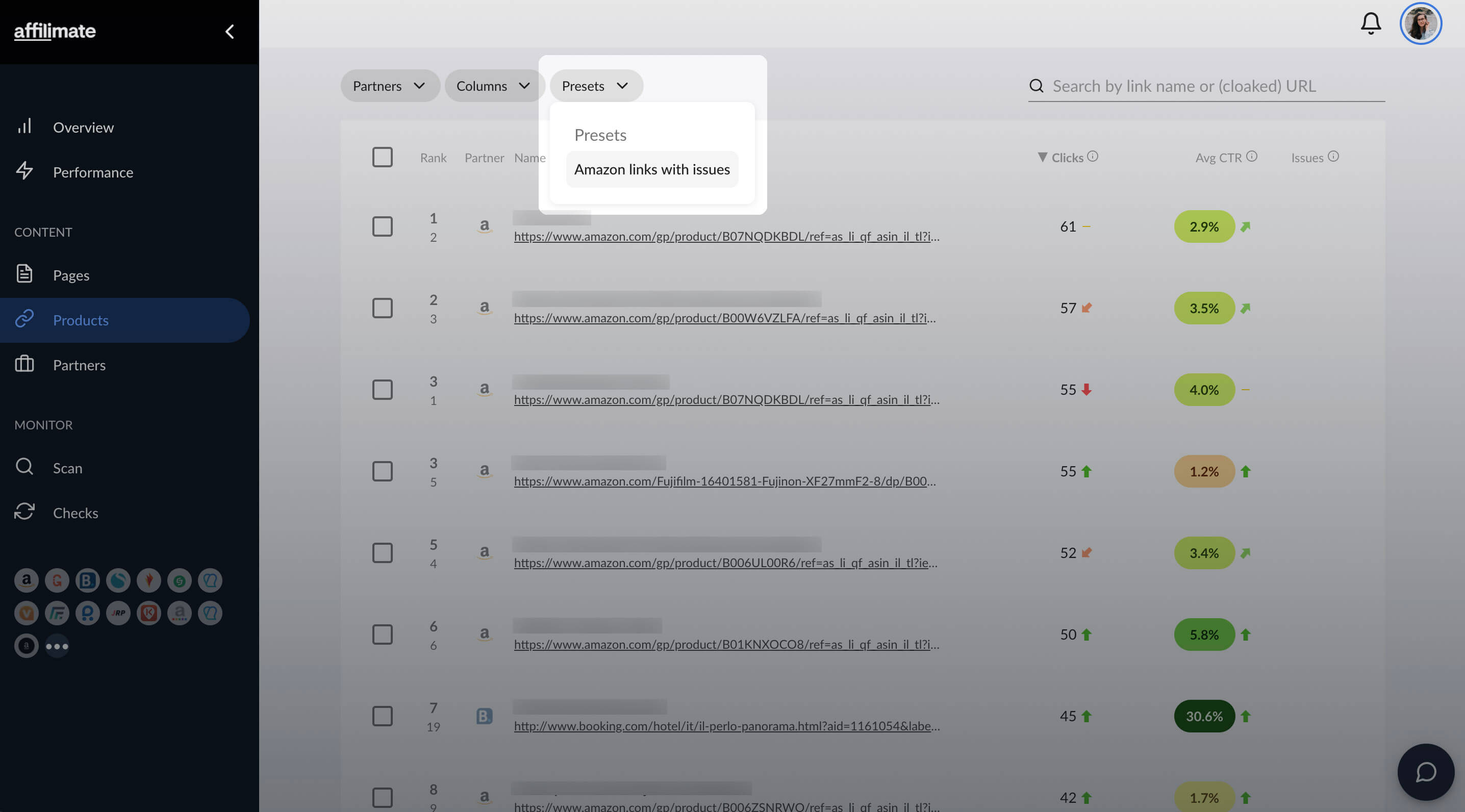 This will filter your affiliate links and display only those that point to Amazon and have at least one issue. They're sorted by how many clicks they've received on your website during the selected time period (by default, 14 days).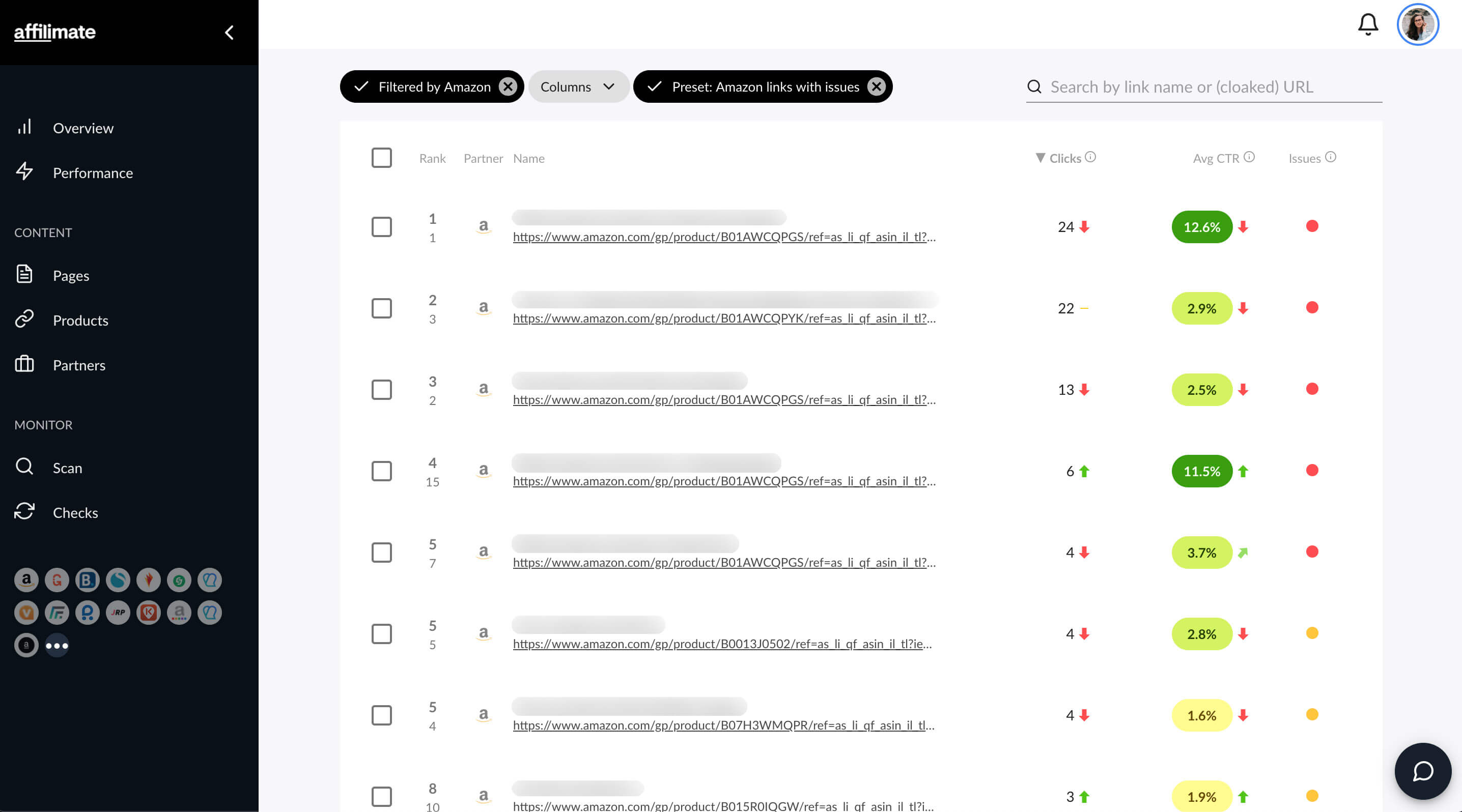 For the most part, you'll either see errors (in red) or warnings (in yellow). We distinguish between items that are out of stock for an unknown time period, and those that will be back in stock soon. The statuses you'll find include:
Not found (broken link)
Out of stock
Pre-order
Temporarily out of stock
Only available on marketplace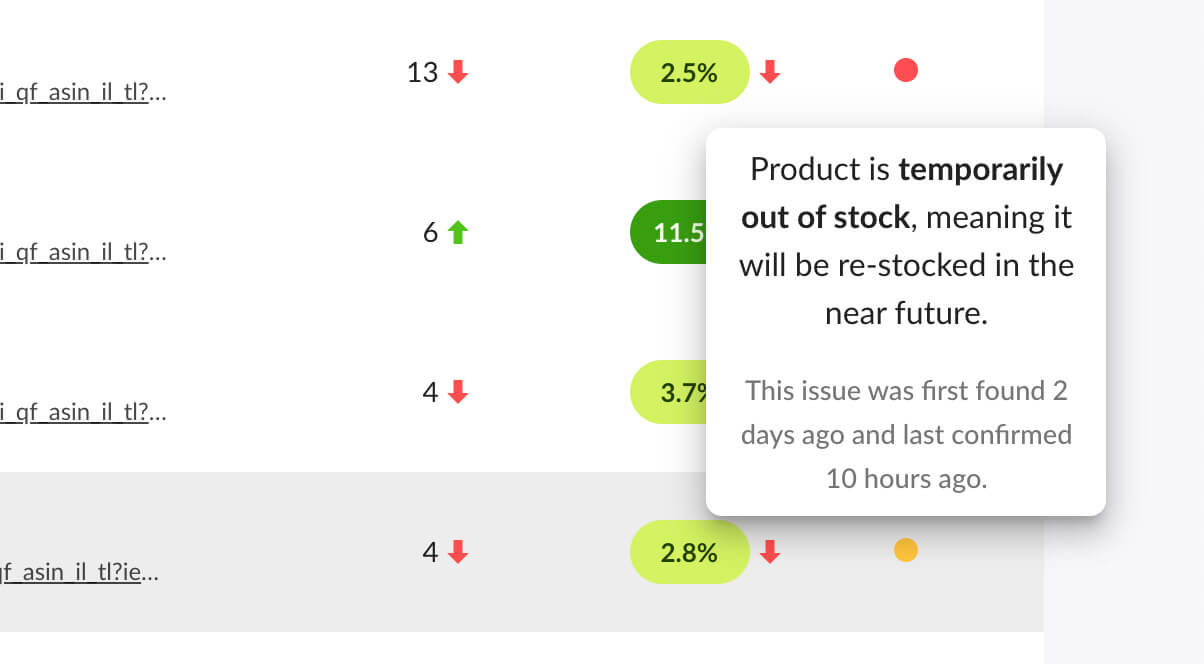 Based on what we've seen, many websites have dozens if not hundreds of Amazon links with issues.
If that's you, we recommend focusing on fixing links with errors that are already getting clicks!
For each product link with an issue, open the product details in a new tab where you can see the pages the link appears on.
In the near future, we plan to offer an export of this screen so you can hand off Amazon link-fixing to your VA or someone else on your team.
Lastly, don't forget to use unique Amazon affiliate tracking ids when you create those new affiliate links so they can be mapped back to your articles through Label Rules.
What to do once you've fixed or replaced a broken or out-of-stock link
Affilimate automatically checks your website for new affiliate links on a daily basis.
However, if you'd like to start tracking your new links right away, open Scan, select the website you've updated, and click "Scan Website".
Just make sure you've cleared any website caches before doing so 😉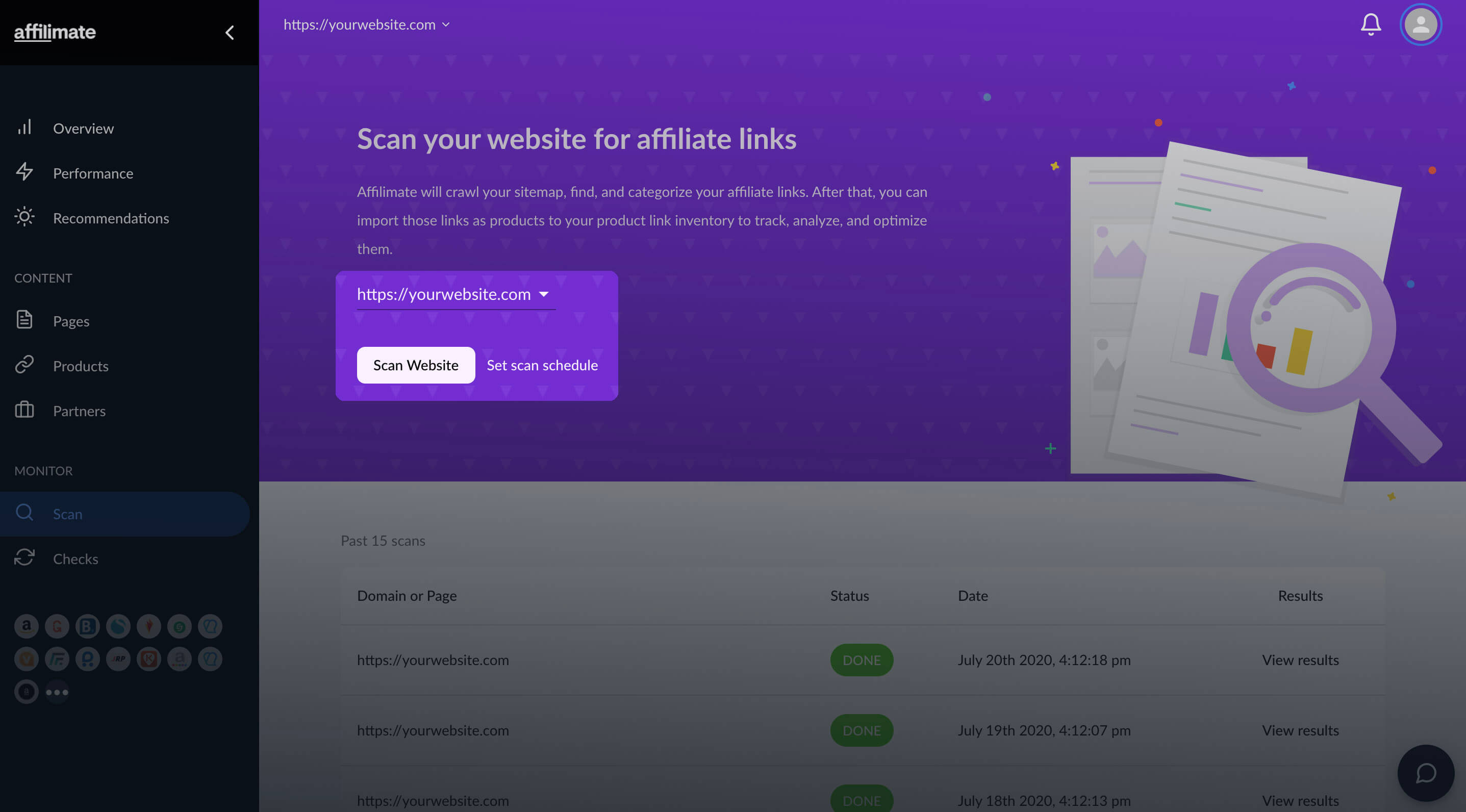 If we find new links, you'll get an alert.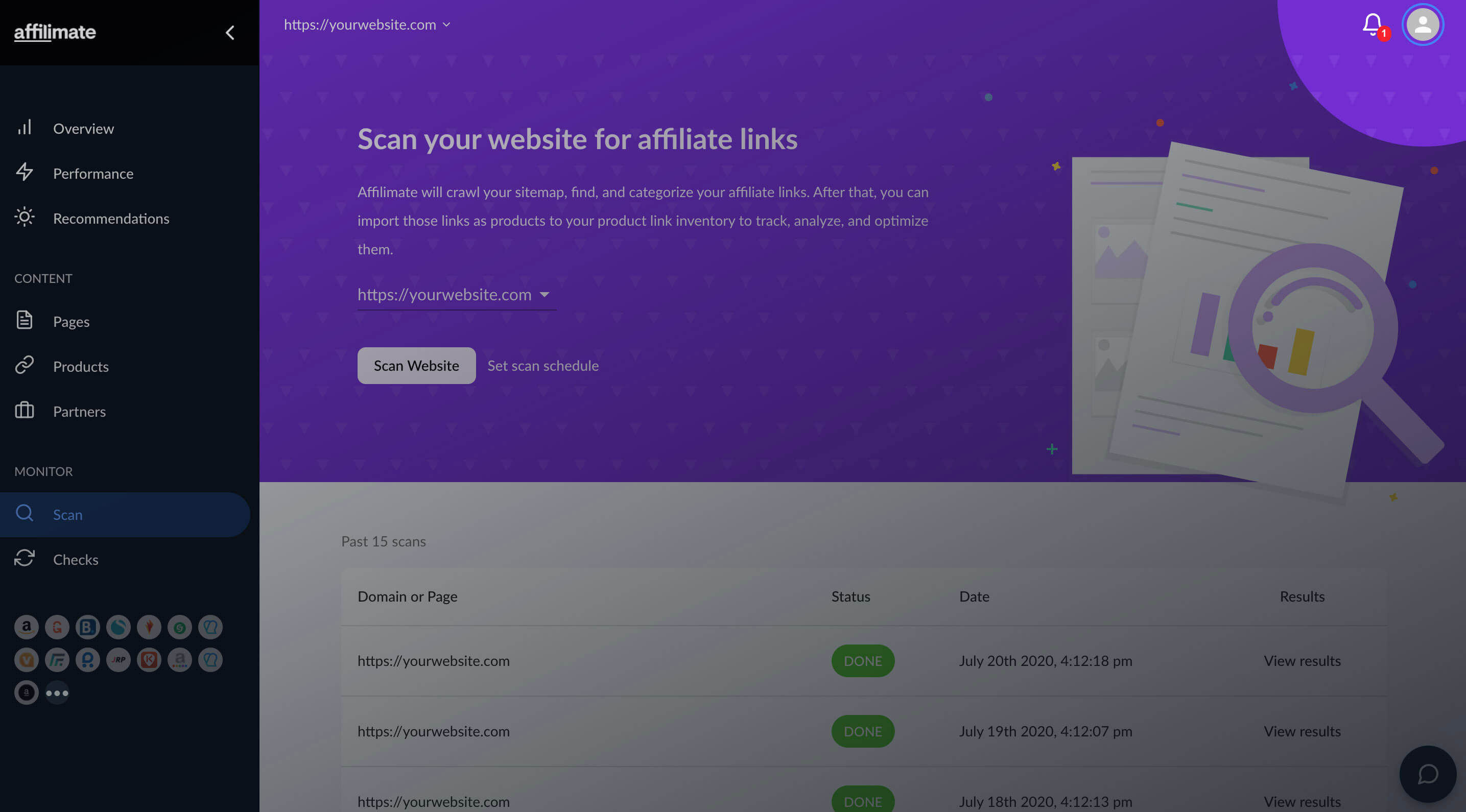 Click the alert and review and import any new affiliate links for tracking.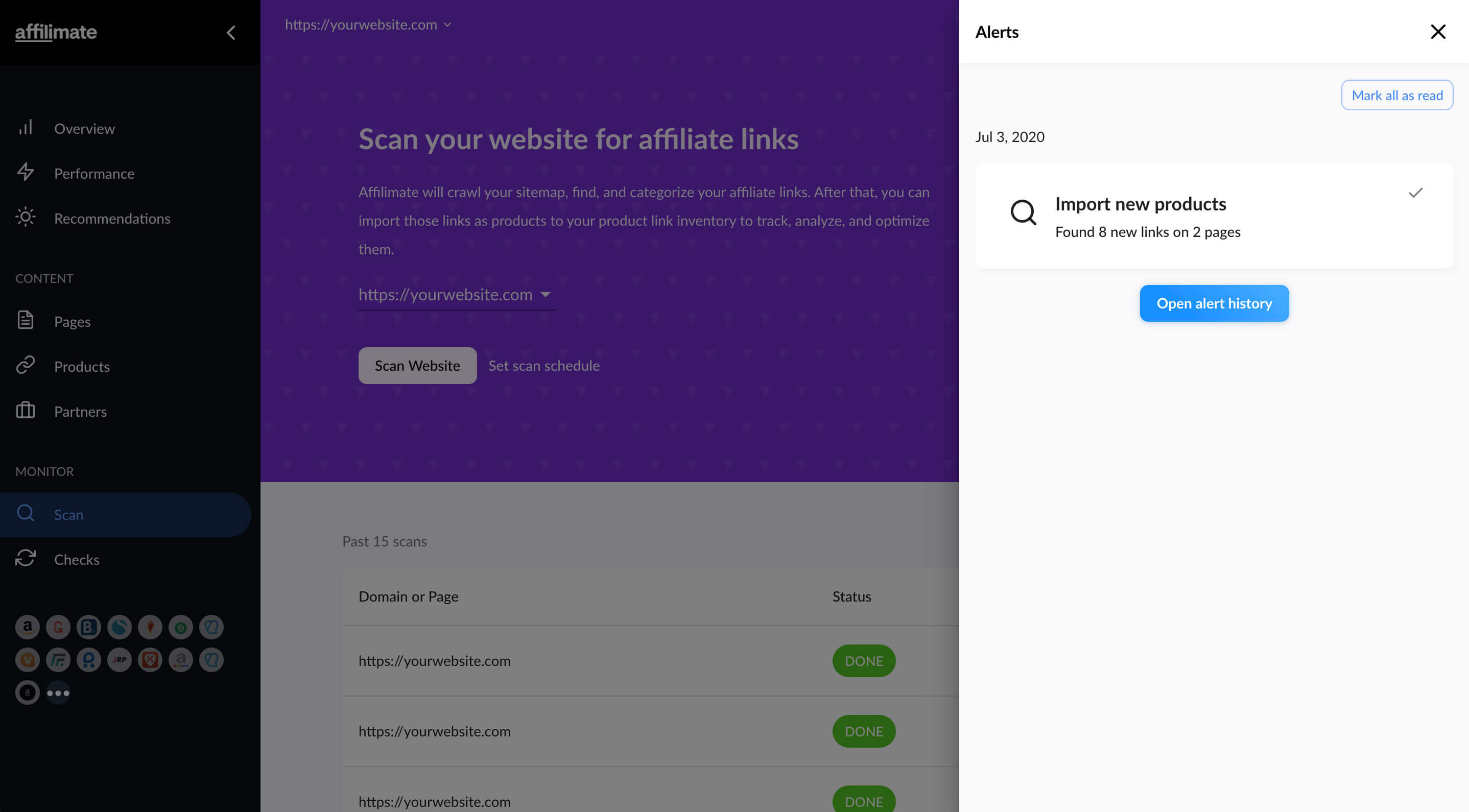 This will also trigger new Revisions for your updated articles, which is important for measuring whether fixing these links results in more revenue!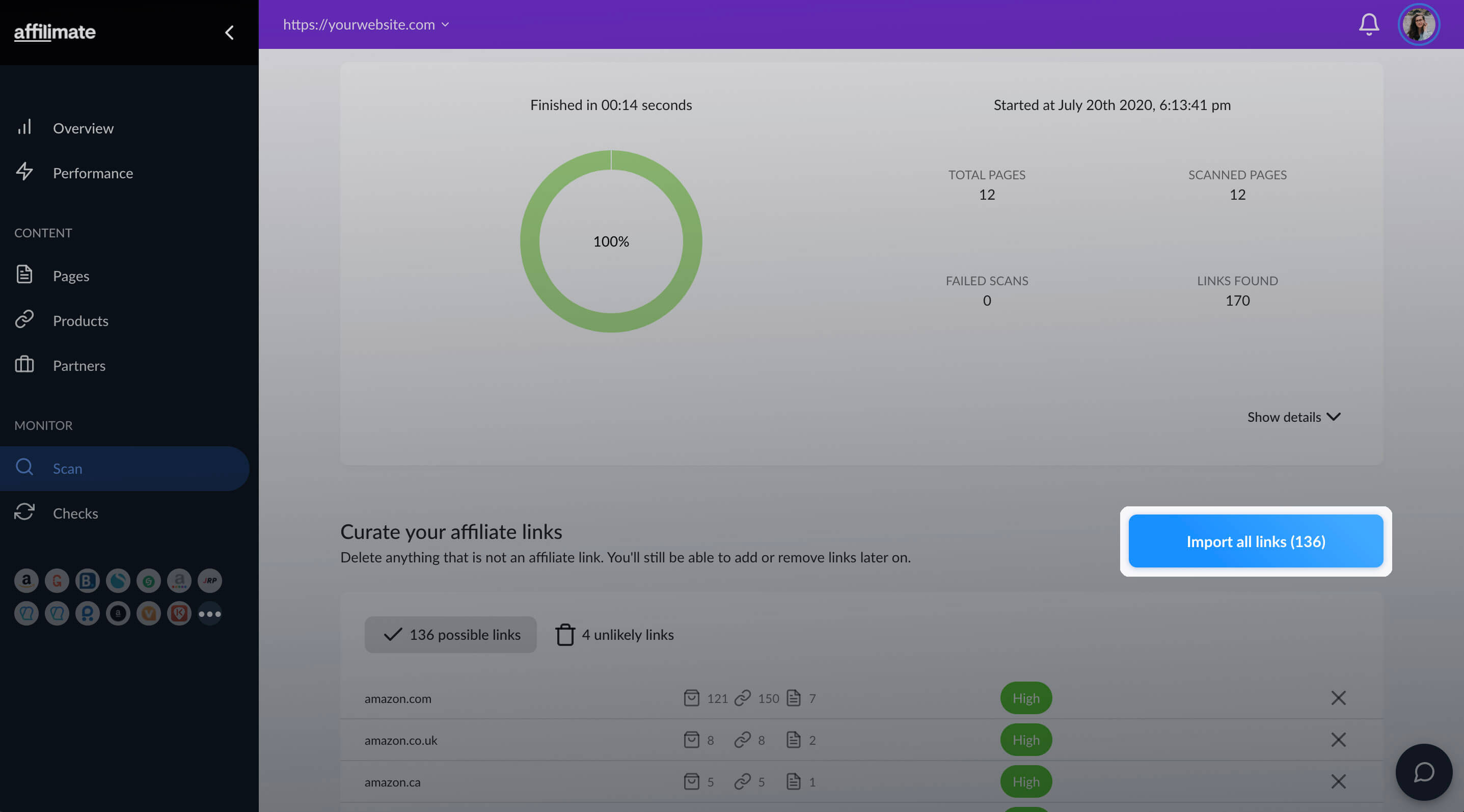 And with that, your new links are imported, tracked, and monitored ✔️
Our plans for the Site Audit
Affiliate links are messy by nature, and one of the biggest hurdles new members of Affilimate encounter is cleaning up their website for tracking.
There are a slew of common issues that prevent site owners from getting consistent, useful, and reliable tracking. For example:
Using the same Amazon Tracking ID across all affiliate links
Using link shorteners that don't pass on parameters, like bit.ly, fave.co, shrsl.com, and tidd.ly
Not having Thirsty Affiliates' parameter pass-through enabled
Missing or broken sitemap
That's why we're combining all of these things — plus affiliate link checking for advertisers like Amazon — into a new feature called Site Audit.
It's still in concept phase, but we wanted to share the direction with you guys ✌️
We believe a Site Audit function will improve your revenue directly through link checking and monitoring, and help you double down on strategies that work through comprehensive, cross-cutting attribution.
In the mean time, we also have a limited but free Amazon link checker which can be used up to 1x per month to run checks on your website, up to a certain number of links.
How does the link checker work?
I've added this little section at the bottom for the curious people who might wonder how this feature is implemented and if there's anything important for them to know.
We've implemented the Amazon Affiliate Link Checker through the official Product Advertising API.
This means, we are not scraping Amazon and we do not generate programmatic clicks on your affiliate links (which is against the Amazon Terms of Service) in order to find out the status of the products you're promoting.
Today, links checks run weekly however if it's helpful for people, we may offer the option of more frequent checks. Let us know in the Facebook group!
Questions, comments, feedback?
As always, join our private Facebook group for Affilimate members and share your feedback or ideas for how we can make this feature work better for your use case. See you there 👋