The Ultimate Affiliate Website Checklist: 20 Things to do Before You Launch
By Monica Lent   ·   July 23, 2020
Who doesn't love starting a new project? As with most things (diets, exercise, and business ventures) it's easy to start strong with a new affiliate website and then fall off the wagon.
This affiliate website checklist is designed to keep you on track as you ideate and launch your new affiliate site, so you don't forget anything important.
Note that this list shouldn't necessarily be completed in order, sequentially, because you'll want to do a lot of the research process in tandem to be confident you have a winner before you buy the domain.
1. Pick your niche
There are a ton of criteria for picking a good niche for an affiliate website. As someone who has seen a fair number of sites either get hammered by a Google update or seen affiliates who rely on a single program get wiped out by Amazon, here is my shortlist of things to consider:
Diversification opportunities — There people who are still wildly successful with Amazon-only affiliate sites, but I'd be hesitant to start one today where that's only way to monetize it. Whether this means affiliate programs besides Amazon, diversifying via info products, or something else — don't put all your eggs in the Amazon basket.
Whether Google is already rewarding highly niche sites — Check some of the existing keywords in the niche and see whether smaller sites are making an appearance on Page 1 of Google, or whether it's dominated by Amazon links or large review websites (e.g. CNET, Wire Cutter, WebMD, whoever the giants are in your niche).
Can you go big on volume or average order value — A lot of people make the mistake of going after niches where the thing you're selling is too cheap. This means you need a ton of conversions to turn a decent profit. I recommend looking for products to focus on that are either much more expensive ($100-$1000) or products with extremely high commission cuts (30-40%), unless you are willing to invest a lot in the site.
Opportunities for recurring commissions — Check if there are membership websites, subscription boxes, or digital affiliate products like software you can promote to further diversify your affiliate income.
Can you build a email list around the site — Especially to hedge against updates from Google, is there a good reason for someone to join your email list? For instance, sending out deals or news or a long-running interest in the topic.
Is the topic trending up, down, or stable — You can use a tool like Google Trends to validate whether interest is growing or shrinking in the topic you're interested in.
Do you find it interesting — You will need to learn a lot about the niche to come up with creative keyword ideas. Ideally it's a topic you already know about or find interesting in some way, and isn't absurdly difficult to write or commission copy about.
These are some of the things I thought about before creating my latest website. Ultimately, the question is relatively simple: can you make good commissions (based on AOV and/or commission percentage) and how hard is it to rank for the keywords you need to rank for without hating your life :) Next step, choosing a domain!
2. Buy a domain
Aspect 1. Ensure the site has a clean (or beneficial) history
You want to make sure this website has a clean history and has never been used in a spammy way, or as part of a Private Blog Network (PBN). One of the easiest ways to do this is to use The Wayback Machine to see the history of the domain. If it has no history, you're in the clear.
Officially, Google have said that domain age is not a ranking factor, though there are a lot of apparent counterexamples in the wild. They've also said that building on an expired domain can affect how your site is ranked.
Don't forget that even if you're not buying a domain from a place like a domain auction (such as Namecheap's Marketplace), it's still possible that the domain had previously expired and is now up for grabs. Checking out the history is still beneficial.
Aspect 2: Pick an easy-to-read and remember, brandable domain
People often ask me what makes a good domain name, and whether EMDs (exact-match domains) are still a good fit for an affiliate website. For the latter, what's important to remember is that the most famous Google penalty for EMDs was for those they consider spammy or low-quality back in 2012.
Otherwise, having a partial or full match in your domain can only help, especially if it sounds more like a brand than a search query.
Anecdotally, I don't personally run a ton of affiliate sites, but all my domains contain at least one aspect that clearly help Google understand what my websites are about.
More importantly: Your domain should be easy to read and spell, not have variations between US/UK spelling (e.g. thetravellinglady.co.uk vs thetravelinglady.com will confuse people), and memorable. It should sound like a brand, especially if you want to build an authority website with a corresponding community and social presence.
Aspect 3: Set up Whois guard
This is optional, but if you don't want your personal or business address showing up in the domain registrar, don't forget to set up Whois Guard. If you buy a domain from Namecheap, this is a free add-on.
3. Choose products to promote
As mentioned earlier, there are a couple of key considerations I'd recommend when you are deciding what to promote as an affiliate. These are the main criteria when it goes from simply thinking about the broad category of products and going into specific items:
Is the sales page on the site going to convert? Based on what you know about improving conversion, is there enough to actually lead people to buy. This can be things like good design, decent performance, mobile-friendly, etc.
Does the product have good reviews and is it up-to-date? Consider whether the product has some kind of social proof on the page like ratings and reviews.
Is there EPC data available and how high is it? Of course, taking this metric with a grain of salt, does the EPC represented by the affiliate network make sense based on the cost of the product and how the company's website looks? If anything, this number is likely to be inflated so double-check if you want to promote it if it's rather low.
Is this product offered on multiple sites I can test against each other — Not a deal-breaker, but it is nice to have the option to promote a product you really like on different sites and see what converts best.
How much additional research is required to purchase this item? — Is the item something people will be able to buy after reading your page? Is there a reason to go for a CPL instead of a CPA commission model?*
How much can I expect to make per conversion? As I mentioned earlier, it's often easier to earn more from selling a smaller number of expensive items than a ton of cheaper ones. The best is lots of conversions for expensive items, naturally.
*You may also want to consider CPA vs CPL in terms of how you're paid. CPA stands for Cost Per Acquisition (or Action), whereas CPL stands for Cost Per Lead. While most programs like Amazon are CPA (meaning, you only get paid if someone buys), other industries where buying things is more complex may offer payment per lead (for example, a car detailing service).
All your affiliate links, content, and commissions tracked in a single dashboard 💸
Affilimate connects on-page events with affiliate commissions, so you can optimize your conversion funnel and increase sales.
Free 30-day trial · No credit card required
4. Create a content plan
It's important to get an understanding of the size of the site you're aiming for, how much content you'll need to produce, and how much it's going to cost.
This content plan can be keyword-based and should also explain how the articles will link together and support one another.
It can also give you a good understanding of which content you want to start with, because it will support a lot of other related content.
There is no magic number for how much content to plan at the beginning (it'll vary depending on the size and depth of the topic), but starting with at least 50 articles in mind can be extremely helpful. You might want to plan even more if the topic of your website is broad.
Creating a content plan is also just a great way to learn more about the topic and see if you really find it interesting as you research it. You can also use this process to come up with more ideas of products you want to promote.
5. Register social media accounts
Before buying the domain, you might want to check that the social media accounts you want to associate with the website are available.
While a lot of affiliate sites tend to neglect the social media aspect of building their site, it can be a really helpful way to promote your content and give it an initial boost of visitors before it starts ranking in Google.
These days, pretty much every business has a social media presence and so should yours.
6. Change the default permalink setting in WordPress
Under Settings > Permalinks, change from the default "Plain" permalink setting to use "Custom Structure". Use the structure:
/%postname

As well as a plugin such as Yoast SEO, so you can create keyword-rich URL slugs.
7. Write some initial articles based on keyword research
Your website should have a mixture of content that converts and informational content.
By content that converts, I mean articles targeting keywords with buyer intent. This could be "best [product] in [year]" type keywords, "review" keywords, "[product] vs [alternative]" keywords. In short, these are the pages that people will find when they're looking to make a decision and your article will help them with that.
Failing to interpret searcher intent is easily one of the most common affiliate marketing mistakes, so don't forget to click through on the pages on the first page of Google and see what Google already believe is the intent of the person searching.
Apart from writing content for commercial intent keywords, you can mix in informational content that will use internal linking to prop up the so-called money pages.
8. Apply for affiliate networks
The easiest way to do this is if you've already got an existing website, the majority of affiliate networks will let you add additional websites to your existing accounts.
Just be aware that sometimes these URLs may have shared identifiers between the accounts, so if you are worried about your websites being "linked together", you may wish to set up an entirely separate affiliate account with a given network.
You can always set up the additional website and generate test links with both accounts and see if there are any common identifiers.
Reporting with Affilimate supports multiple connections per network, so you can easily monitor income from all your websites in one place, even if they live in different affiliate accounts.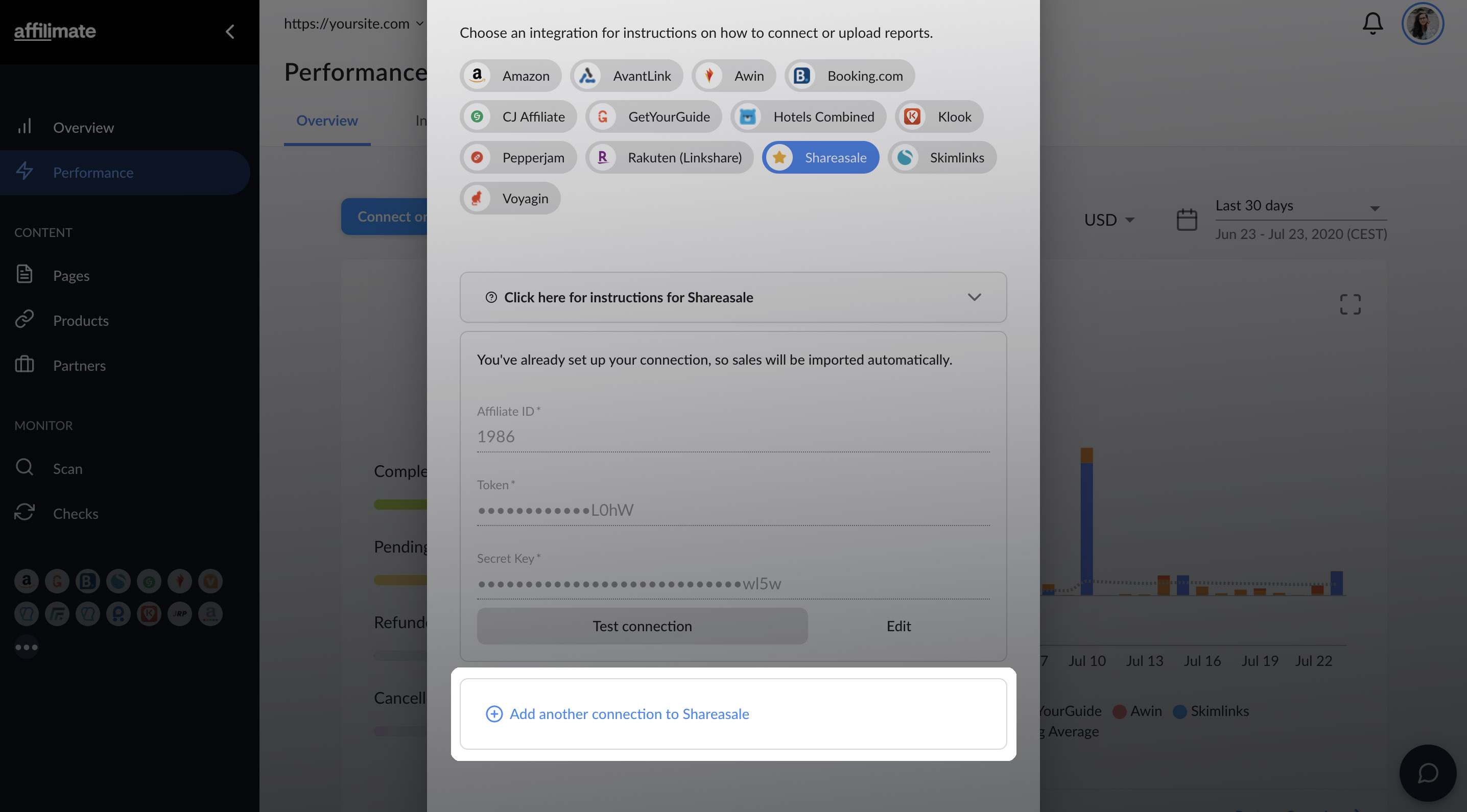 Be aware that some networks might want to see traffic or other "signs of life" before admitting you. That's why it's easier if you have the option to add an new site to an existing account.
Just make sure your website looks legit, has a nice theme set up, your about page and privacy policy are in tact — in short, it should look good before you apply!
9. Add your affiliate disclosure in your articles and privacy policy
What's required is going to depend a lot on your jurisdiction and if there are any specific requirements for the program you're joining. It's not possible to give legal advice on what's required, but to be on the safe side you should have:
Disclosure before the article begins
Disclosure in your privacy policy of specific programs you're a member of
Disclosure in the footer specific to Amazon (if you are an Amazon Associate)
Don't forget that Amazon does not allow you to use incentivizing language like "support this site" in your disclosure!
10. Create affiliate links with proper tracking enabled
If you're using any of the affiliate networks that Affilimate integrates with, you do not need to worry about setting up your own tracking.
The only thing you should not do is use shortened affiliate links.
Affiliate links created through shorteners like fave.co (Skimlinks), shrsl.com (ShareASale), tidd.ly (Awin), and so forth do not give you the option of doing subid tracking so you can figure out which links and content are converting!
Cloaked affiliate links are, however, completely fine for just about any affiliate network except for Amazon. We generally recommend Thirsty Affiliates for anyone who is looking for a plugin, though it's not strictly necessary for launching your site.
Always check the Affiliate Agreement with the network to see if cloaking is permitted, and which channels you're allowed to promote your affiliate links on.
To set up an Amazon affiliate website correctly from the beginning, read our in-depth guide on how to track affiliate sales on Amazon.
11. Place your affiliate links in your articles
Now that you're in the affiliate program and have updated your privacy policy and articles to properly disclose your links, you can go add them to your articles.
As a best practice, ensure that your links open in a new tab so that any visitor who decides not to buy can simply close that tab and end up back on your website.
12. Set up heatmap tracking
If you're not familiar with heatmaps, they basically give you an image of where people are clicking on your website and are one of the first and easiest steps you can take to improve the conversion rate of your affiliate website.
A lot of heatmap options are pretty slow, but Affilimate's heatmaps have two unique features:
They're fast
They track both clicks and conversions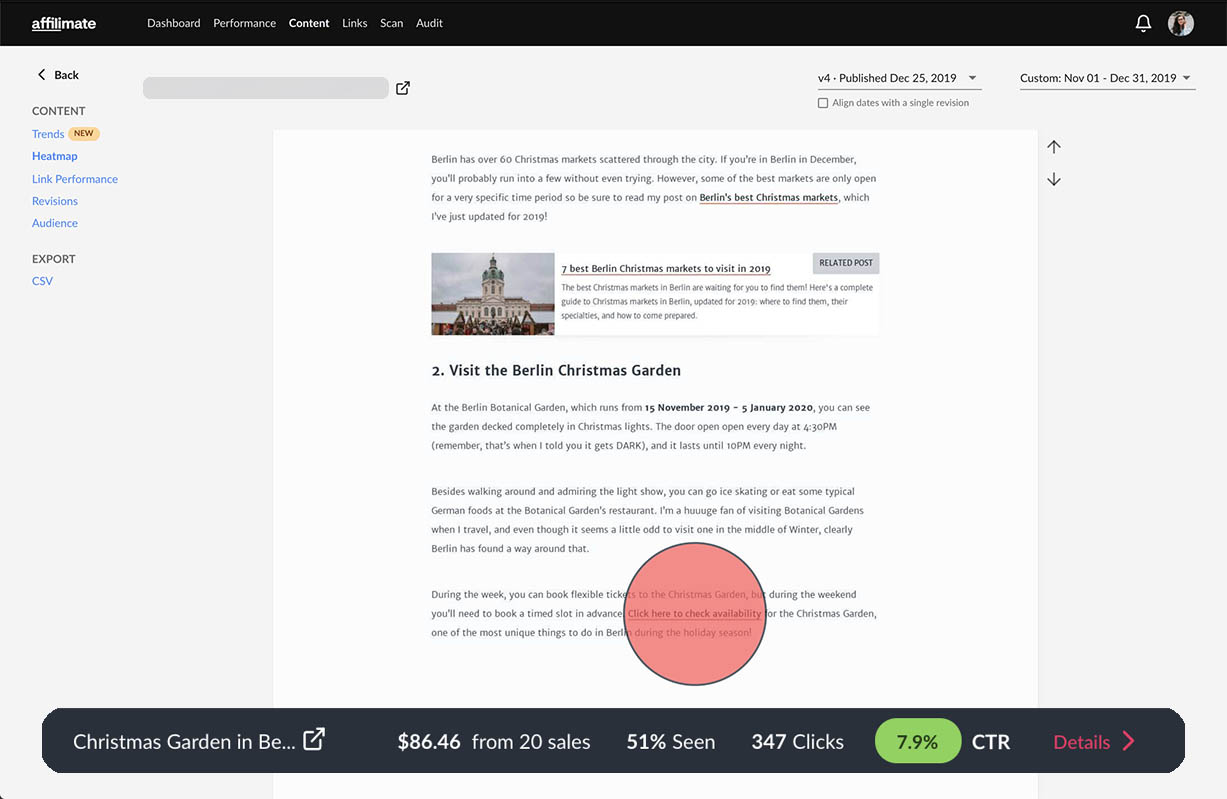 At the beginning it will take a while to get enough visitors to make your data statistically relevant, so starting earlier will save you waiting down the line.
All your affiliate links, content, and commissions tracked in a single dashboard 💸
Affilimate connects on-page events with affiliate commissions, so you can optimize your conversion funnel and increase sales.
Free 30-day trial · No credit card required
13. Make sure your affiliate links are nofollow
As with any link that Google consider "compensated", make sure you set affiliate links to nofollow.
This option is available in SEO plugins like Yoast SEO and Rank Math, but be sure to read the article linked above for how to remove the "noreferrer" attribute that WordPress adds automatically and violates the Amazon operating agreement.
14. Make sure your links and buttons stand out
As a general rule, no other elements on your page should have the same color as your CTAs (calls to action, like buttons and links).
You want to keep color to a minimum when possible, except for things that people are going to click.
This means avoiding things like table headers with big solid blocks of colors, using the CTA color for non-clickable elements like labels.
Notice how reserved our website is about using color. Everything is black and white, with the exception of our buttons and links which are all blue. These conversion tips apply to all types of websites, not just affiliate sites.
15. Ensure your on-site SEO is solid
This is a whole topic in and of itself, but just make sure you have at least the basics of SEO set up for your website so Google can crawl your site without getting confused.
Sitemap — Make sure you have one and it's working! Do a quick manual check to ensure all the pages you want are in there, and that the links match your canonical URLs.
Canonical URLs — Make sure these are set up correctly and you have redirects in place to handle normalizing trailing slashes.
Keyword for entire website — Pick a keyword you want the website to rank for, for example "vegan blog" or "film review blog" or whatever it is and include it in the title for your home page and ideally somewhere else on the page as well. For example, "Veggies For Life | The Vegan Blog for Foodies".
Clean headlines and subheadlines — Double check that your theme isn't using any elements like h1's, h2's, and h3's for styling purposes.
Good internal links between articles — Don't forget to internally link your content using natural but keyword-rich anchor text.
It is too much to try and explain this, but here is a resource about on-page SEO you can delve into deeper.
16. Ensure WordPress isn't blocking Googlebot!
After you've got all your initial content setup, make sure you uncheck the option in WordPress that blocks Google from crawling your website! You don't want to realize weeks or months down the line that you've been telling Google to stay away.
Go to Settings > Reading > Search Engine Visibility and make sure that the box for "Discourage search engines from indexing this site" is NOT checked.
17. Set up Google Search Console and submit your sitemap
Once you've ensured you've got your on-site SEO correct and you have initial content that's a good blend of commercial and informational intent, it's time to set up Google Search Console.
Make sure you have access to your DNS provider (if you're using Namecheap for your domain, this may also be the service managing your DNS). You'll be asked to verify ownership of the site by adding a TXT record on your domain.
18. Check your website is mobile-friendly
Whether you get more conversions on mobile or desktop will depend heavily on your niche, however being mobile-friendly is a non-negotiable for ranking higher in Google.
You have two concrete ways to try this out:
Use your website on your phone! See if it's annoying or easy to use and then tweak things.
Use the mobile-friendly testing tool in Google Search Console.
Don't neglect this, your website should be comfortable to use on a phone.
19. Set up a CDN for your website
A CDN stands for content-delivery network. What it does is store copies of your website's content on servers all over the world, so if someone in another country from your host requests your website, they receive it as fast as possible.
This can make a big difference if your website has a lot of code, images, etc.
It also saves you money on hosting and makes your website faster. Triple win.
The leader of CDNs is easily Cloudflare. They also have free plans, so you can start and scale your website without worrying about going viral costing you a bunch of money.
20. Set up tracking and aggregation for your affiliate links
Click tracking is important because it's a way for your readers to tell you what's the most interesting anchor text, products, and visual representation of content.
Then you can respond to that feedback and optimize your pages based on what your readers respond to best.
Aggregation is important because if you're not careful, you can end up in a dozen affiliate networks that all have incompatible data formats. This makes it a real pain to draw comparisons between networks or get a cross-cutting understanding of what's converting on your site and actually earning you money.
We're a bit biased in thinking that Affilimate is the best option for this 😉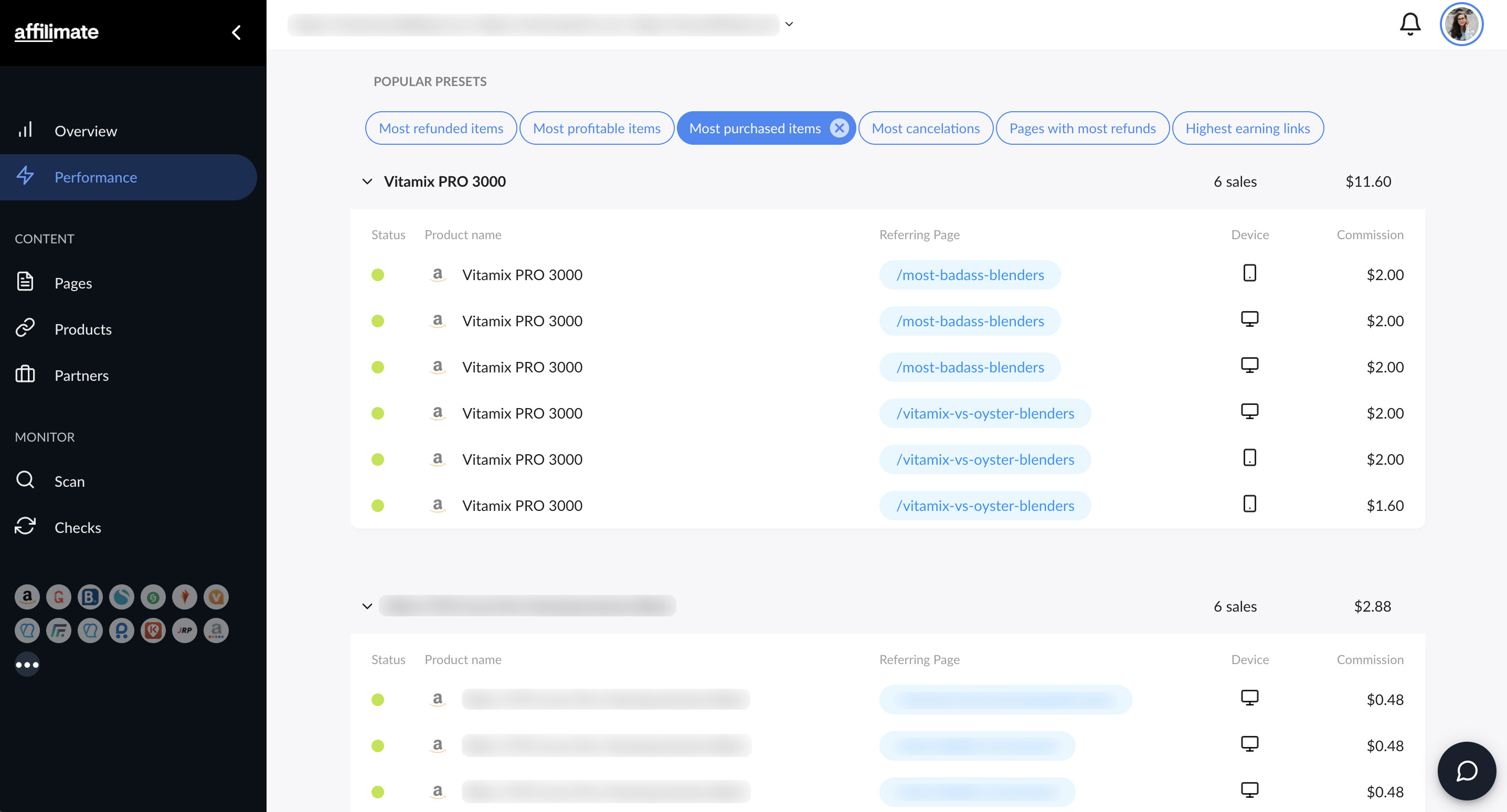 All your affiliate links, content, and commissions tracked in a single dashboard 💸
Affilimate connects on-page events with affiliate commissions, so you can optimize your conversion funnel and increase sales.
Free 30-day trial · No credit card required
Either click here to start a free trial, or subscribe to our newsletter to get future articles delivered to your inbox. No spam or sales, just value :)
Want more data-driven affiliate tips and strategies?
Find out anytime we publish an article. No spam or sales funnel. Unsubscribe anytime.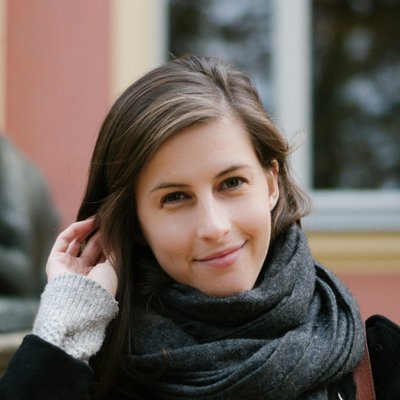 Monica Lent
Hi there! I'm a Monica, one of the co-founders of Affilimate. I blog, I code, and above all else I drink coffee.